Fine Art Definition – Explore the Meaning of the Types of Fine Art
The meaning of the term "fine art" has evolved and transformed over time. Fine art is generally understood as something that appeals to our visual or auditory senses and is produced through a creative process. This short article will take a closer look at how we define and understand the term "fine art".
What Is Fine Art?
Fine art, sometimes also called high art, commonly refers to a form of art that is aesthetically pleasing and that takes a certain set of skills to achieve. Examples typically included painting and sculpture. This understanding of fine art is often also called "art for art's sake" and it is generally seen as being superior to functional art, such as decorative vases.
Salvator Mundi (c. 1499 – 1510) by Leonardo da Vinci, located in the Louvre Abu Dhabi in the United Arab Emirates; Leonardo da Vinci, Public domain, via Wikimedia Commons
Fine art is also generally seen as superior to "applied art" or "craft", which are commonly also seen as utilitarian activities. This understanding of fine art is, however, quite limited and has been challenged and extended as new philosophies and technologies emerge.
Because of the ever-evolving nature of art, it is nearly impossible to provide a fixed fine art meaning or definition.
Types of Fine Art
Just as the definition of fine art is blurred and ever-changing, so are the lists of mediums used by fine artists. The list below of fine art examples is thus sure to change over time as technology changes and with the emergence of new artistic inventions. However, based on our current understanding of fine art, we can include the following fine art examples in our fine art definition:
Drawing
Painting
Printmaking
Sculpture
Installation
Fine art photography
Conceptual art
Textile arts
Performing arts
Digital art
Mixed media arts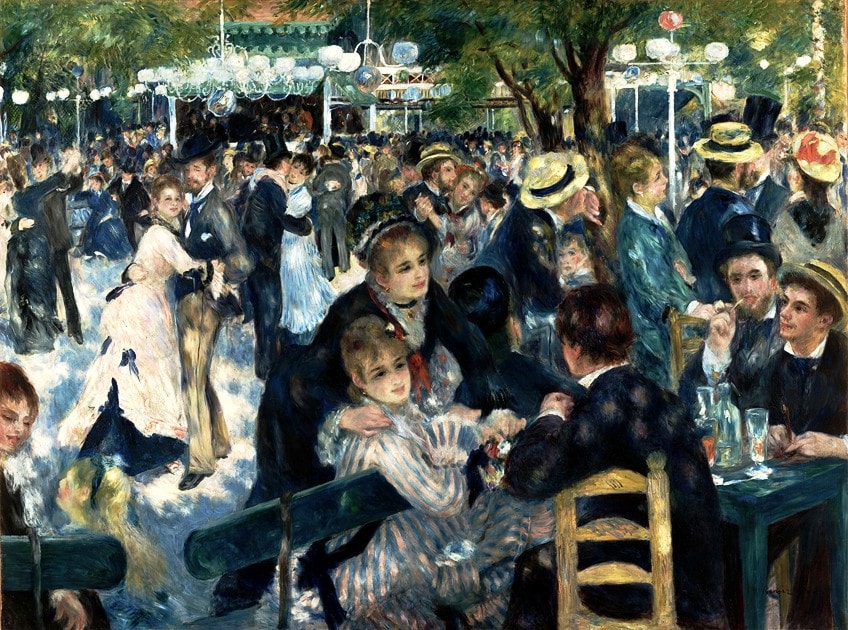 Dance at Le Moulin de la Galette (1876) by Pierre-Auguste Renoir, located in the Musée d'Orsay in Paris, France; Pierre-Auguste Renoir, Public domain, via Wikimedia Commons
Fine Arts vs. Crafts
There used to be a quite rigid understanding between fine art, which was seen as purely aesthetic, and craft, which was seen as functional. In the 20th century, when the term "visual art" became more prolific, the lines between fine art and craft became blurred. Mediums like silkscreen printing, which was predominantly a functional medium used for advertising are now also considered a medium of fine art.
Ceramics is another example of a medium that used to fit exclusively as a craft but can now also be considered fine art.
Covered ceramic Chinese teapot or wine pot with "powder-blue" glaze (between 1662 and 1722), located at the Metropolitan Museum of Art in New York City, United States; Metropolitan Museum of Art, CC0, via Wikimedia Commons
A Shift in the Fine Art Definition
The biggest shift in our understanding of fine art happened in the 20th century. One of the seminal moments that challenged our understanding of the meaning of art is when Marcel Duchamp submitted a porcelain urinal as his artwork to an exhibition in New York City in 1917.
The artwork, titled "Fountain", asked the public to consider what we define as art. Duchamp made a statement saying that anything can be seen as art when it is placed in the right venue.
Marcel Duchamp's Fountain (1917), photographed by Alfred Stieglitz at the 291 art gallery following the 1917 Society of Independent Artists exhibit, with the entry tag visible. The backdrop is The Warriors by Marsden Hartley; Marcel Duchamp, Public domain, via Wikimedia Commons
With this, Duchamp not only challenged the dominant fine art definition, but also the power that art institutions have to determine what is considered art. Artists continued this kind of intellectual experimentation in movements such as minimalism and conceptual art.
By the 21st century, there were many more mediums that were included in the fine art definition.
Famous Fine Art Paintings
Below is a list of some of the most famous fine art paintings. This list includes fine art painting examples from the enlightenment era to modern art and the avant-garde. Below are 30 of the most famous paintings from western art history.
Reading Recommendations
The book recommendations below are chosen to broaden our understanding of the meaning of fine art. These books introduce different types of fine art and show how the definition of fine art has changed over time.
Who's Afraid of Contemporary Art? (2020) by Jessica Cerasi
This book gives the reader a delightful and logical insight into the art world today. While decoding "artspeak", the author explains and demystifies conceptual art. The book aims to make the sometimes-daunting scene of contemporary art more accessible for a wider audience to enjoy.
Contains 40 color illustrations of artworks

A playful introduction to the world of contemporary art

The perfect go-to guide for looking at contemporary artworks
View on Amazon
How Photography Became Contemporary Art: Inside an Artistic Revolution from Pop to the Digital Age (2021) by Andy Grundberg
In this book, Andy Grundberg, who used to work as a critic for the New York Times, unpacks the development of photography as an art medium through the years. Grundberg knew many of the artists he wrote about personally, including Cindy Sherman and Gordon Matta-Clark, making his writing even more personal and engaging. Grunberg writes about his own experiences while he tells us about the 70s and 80s through the medium of photography.
Part memoir and part history
This perspective is given by one of the period's leading critics
Tells a larger story about the crucial decades of the 70s and 80s
View on Amazon
This article aimed to answer the question "what are fine arts?". While there is no clear fine art definition, we can look at what is historically considered fine art and expect that definition to change over time. Artists and thinkers are constantly challenging our ideas around art and shifting the boundaries of what should be considered fine art. Art enriches our lives and we should try to be open-minded and enjoy the development of art through the years.
Frequently Asked Questions
Is Graffiti Art?
Graffiti is often accused of being vandalism, but it has a very complicated relationship with art. While some graffiti artists are jailed, others, like Banksy, have received record sales. This is a difficult question that has no clear answer. It might be necessary to consider each piece of graffiti separately by looking at the intention and quality of the work.
What Is the Most Expensive Work of Art?
Many pieces of important art can be found in the permanent collections of museums worldwide, making them, in some way, priceless. Of these works that were sold in the past, the most expensive one was Salvator Mundi by Leonardo da Vinci, painted between 1499 and 1510, which was sold for 450.3 million dollars.
Why Are There So Few Famous Female Artists?
You might have noticed that our list of famous fine art paintings included no female artists. Most people can likely count the number of female artists they know of on one hand. These artists might include Frida Kahlo, Georgia O'Keeffe, Louise Bourgeois, Cindy Sherman, Marina Abramovic, or Yayoi Kusama. And all of these are artists that emerged only during the modern era. Part of the reason for this is that female artists were often overlooked in the past and they were also not allowed in art guilds and academies. This has started to change drastically in the 21st century, and for the first time ever, in 2022, the Venice Biennale has more female artists being represented than male artists in their main exhibitions.
Chrisél Attewell (b. 1994) is a multidisciplinary artist from South Africa. Her work is research-driven and experimental. Inspired by current socio-ecological concerns, Attewell's work explores the nuances in people's connection to the Earth, to other species, and to each other. She works with various mediums, including installation, sculpture, photography, and painting, and prefers natural materials, such as hemp canvas, oil paint, glass, clay, and stone.
She received her BAFA (Fine Arts, Cum Laude) from the University of Pretoria in 2016 and is currently pursuing her MA in Visual Arts at the University of Johannesburg. Her work has been represented locally and internationally in numerous exhibitions, residencies, and art fairs. Attewell was selected as a Sasol New Signatures finalist (2016, 2017) and a Top 100 finalist for the ABSA L'Atelier (2018). Attewell was selected as a 2018 recipient of the Young Female Residency Award, founded by Benon Lutaaya.
Her work was showcased at the 2019 and 2022 Contemporary Istanbul with Berman Contemporary and her latest solo exhibition, titled Sociogenesis: Resilience under Fire, curated by Els van Mourik, was exhibited in 2020 at Berman Contemporary in Johannesburg. Attewell also exhibited at the main section of the 2022 Investec Cape Town Art Fair.
Learn more about Chrisél Attwell and the Art in Context Team.
Cite this Article