Tenebrism – Understanding the Use of Tenebrism in Art
What is tenebrism? The method was created to bring excitement to a picture by using a spotlight effect, and it is often used in Baroque art. Today we will be looking at the tenebrism art definition as well as exploring a few examples of tenebrism in art.
What Is Tenebrism in Art?
If we are looking for a tenebrism art definition, we could say that tenebrism is a painting technique that uses deep darkness to generate a spotlight effect around well-lit objects. Tenebrism is widely seen in Italian and Spanish baroque works and is closely connected to the chiaroscuro artistic method, which is based on the equally stark juxtaposition of light and dark.
In principle, it's a creative method in which certain portions of the painting are kept entirely dark, enabling one or more regions to be brightly lit – generally from a solitary source of light.
The Difference Between Chiaroscuro and Tenebrism
The two painting methods of chiaroscuro and tenebrism appear to have a lot in common at first look. Both require the use of bright and dark sections that contrast. There is, nevertheless, a significant distinction. Tenebrism, often known as "dramatic lighting," is utilized only for a dramatic look. It allows the artist to highlight a face, a person, or a cluster of characters while leaving the painting's gloomy sections completely black.
Contrary to popular belief, chiaroscuro includes the employment of tiny quantities of shadow to enhance a subject's three-dimensionality.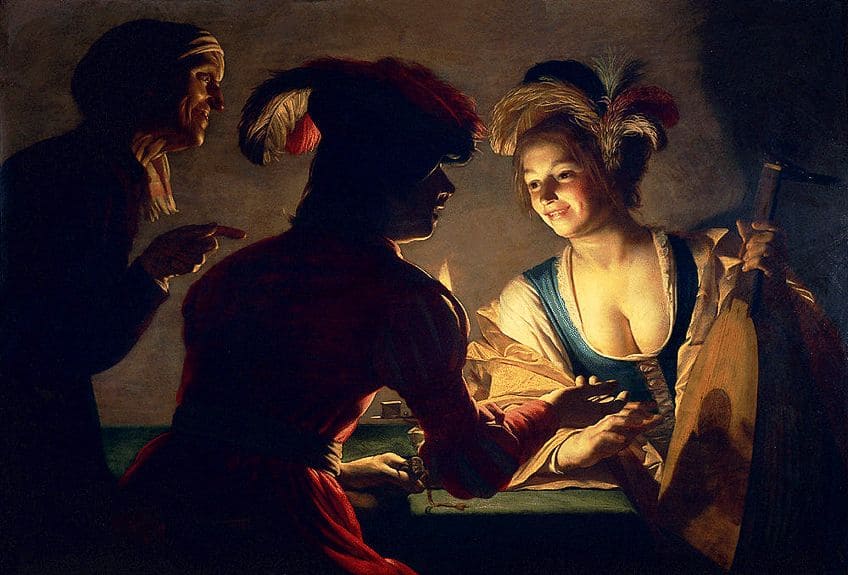 An example of chiaroscuro in The Matchmaker (1625) by Gerrit van Honthorst; Gerard van Honthorst, Public domain, via Wikimedia Commons
Peter Paul Rubens, for instance, uses chiaroscuro in his work Samson and Delilah (1610) to emphasize the strong strength of Samson's torso and the sensual contours of Delilah's bosom. Chiaroscuro is usually used to improve the modeling of human figures rather than to draw the audience's focus to a specific part of the painting or to blacken entire portions of the painting for a dramatic impact.
As a consequence, it's not too unusual to observe both techniques in the same artwork.
The History of Tenebrism
As we've seen, tenebrism is only utilized to create a dramatic effect, but chiaroscuro is a broader word that encompasses the use of less severe light contrasts to create the appearance of three-dimensionality.
Tenebrism had a short but substantial influence on the baroque artistic style.
Caravaggio
According to art scholars, the art method was created by the artist Caravaggio. Caravaggio was a developer of the chiaroscuro style, which balances dark and light, operating from Rome in the late 16th and early 17th centuries.
By utilizing similar strategies for dramatic lighting, he led to the creation of tenebrism as we know it today.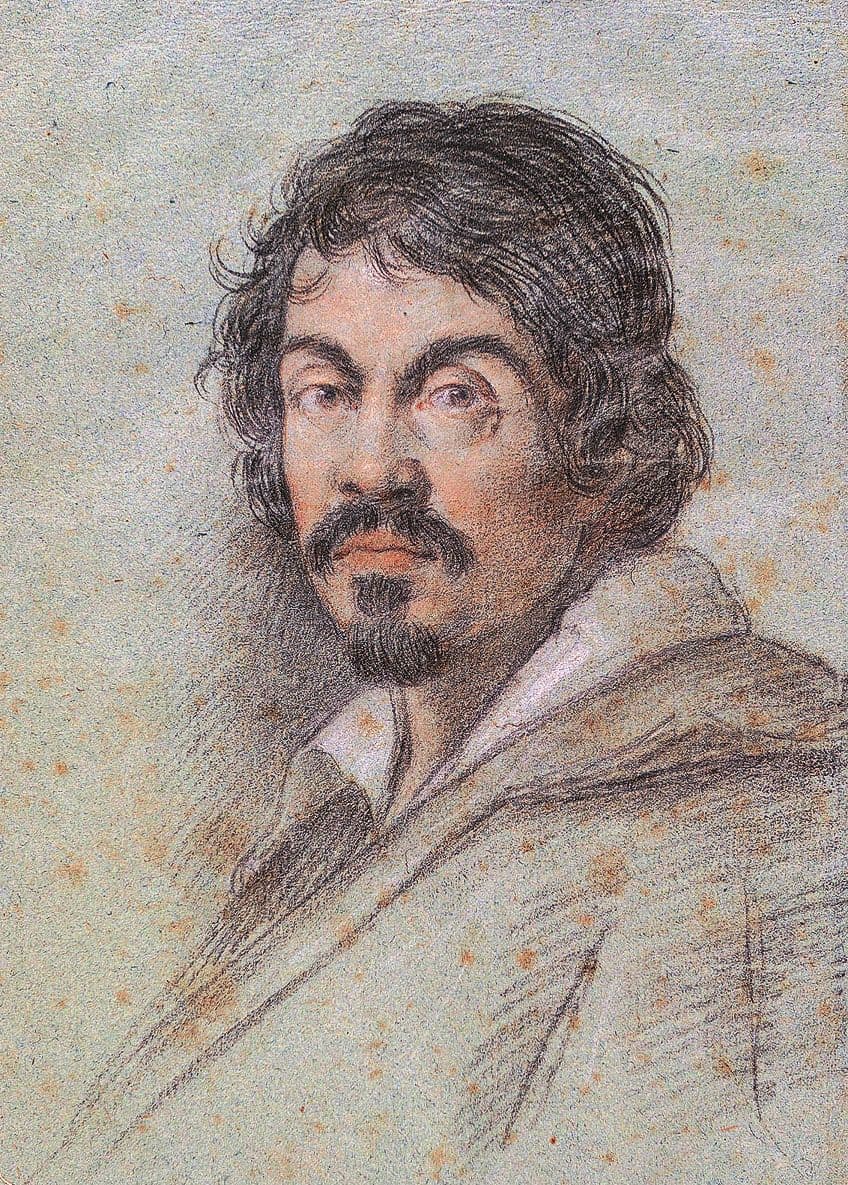 Chalk portrait of artist Caravaggio by Ottavio Leoni, circa 1621; Ottavio Leoni, Public domain, via Wikimedia Commons
Although Caravaggio is often credited with inventing the style, it was utilized by older painters such as Tintoretto, Albrecht Dürer, and El Greco. The phrase is mainly used by painters born after the 17th century.
Artemisia Gentileschi, a remarkable female Baroque painter, and Caravaggio disciple, was a brilliant advocate of tenebrism.
Spread of Tenebrism in Art
The tenebrism method acquired popularity among high art painters in Spain, especially Francisco Ribalta and Jusepe de Ribera, as it extended throughout 17th-century Europe. It also influenced artists who painted in the "candlelight tradition," in which all of the light on the canvas is emitted by a single candle. Dutch artists Godfried Schalcken, Rembrandt van Rijn, and Gerrit van Honthorst painted in this manner, as did French artists Trophime Bigot and Georges de la Tour.
Northern artists frequently established an atmosphere of quiet and tranquillity with their intense lighting, which was the polar opposite of the effect sought by Spanish painters.
Saint John the Baptist in the Wilderness (between 1604 and 1605) by Caravaggio, located in the Nelson-Atkins Museum of Art in Kansas City, United States; Caravaggio, Public domain, via Wikimedia Commons
They are usually just as interested in the painting's extremely faintly lit regions as it is in the spot-lighted ones, and their light disperses smoothly throughout most of the image area. Adam Elsheimer's name is not commonly utilized, even though he was a pioneer in painting night settings with little lighting. Tenebrism was popular throughout the Baroque era, but it did not survive into later eras of art history.
In contrast, the associated chiaroscuro approach maintained popularity in a number of styles from neoclassicism to romanticism.
Examples of Tenebrism in Art
The phrase can also refer to any artwork from around 1600-1630 that has comparable qualities. Tenebrism is commonly mistaken for tonalism, which refers to paintings that focus on contrasting sections of bright and dark hues rather than color.  The misconception stems from the fact that certain painters, such as Francisco Goya and El Greco, employed both styles.
It is an art style in which only the shadows are accurately portrayed, but the regions that are not in shadow look exceedingly dark, if not black.
To evade religious persecution, several Baroque artists employed this approach. Tenebrism is related to chiaroscuro in that it employs darkness and a light source, but it varies in that it uses strongly contrasting hues such as white and black rather than shades of gray or brown.
The Inspiration of Saint Matthew (1660) by Caravaggio
| | |
| --- | --- |
| Date Completed | 1600 |
| Medium | Oil on canvas |
| Dimensions | 292 cm × 186 cm |
| Current Location | San Luigi dei Francesi, Rome |
This work was an instant success, and it was followed by a string of masterpieces that established him as Rome's most intriguing religious artist. What distinguished Caravaggio was his true-life realism, which made his figures appear entirely real. Sadly, some orthodox ecclesiastics thought his art style was too obscene, even though it was much wanted by art lovers and other artists.
After his passing, his hallmark art style, centered on his utilization of tenebrism and chiaroscuro, became known as Caravaggism and influenced painters all throughout Europe.
Caravaggio's paintings are all particularly emblematic of the Baroque movement since the artist is regarded as a leader of Catholic Baroque. The employment of tenebrism is the most distinguishing aspect of his art, particularly in this picture. The contrast between light and dark is striking, and Caravaggio employs tenebrism to highlight specific areas of the picture. The light enters the picture from the right side, illuminating the side of Jesus' face as well as the faces of those seated at the table, particularly the face of St. Matthew.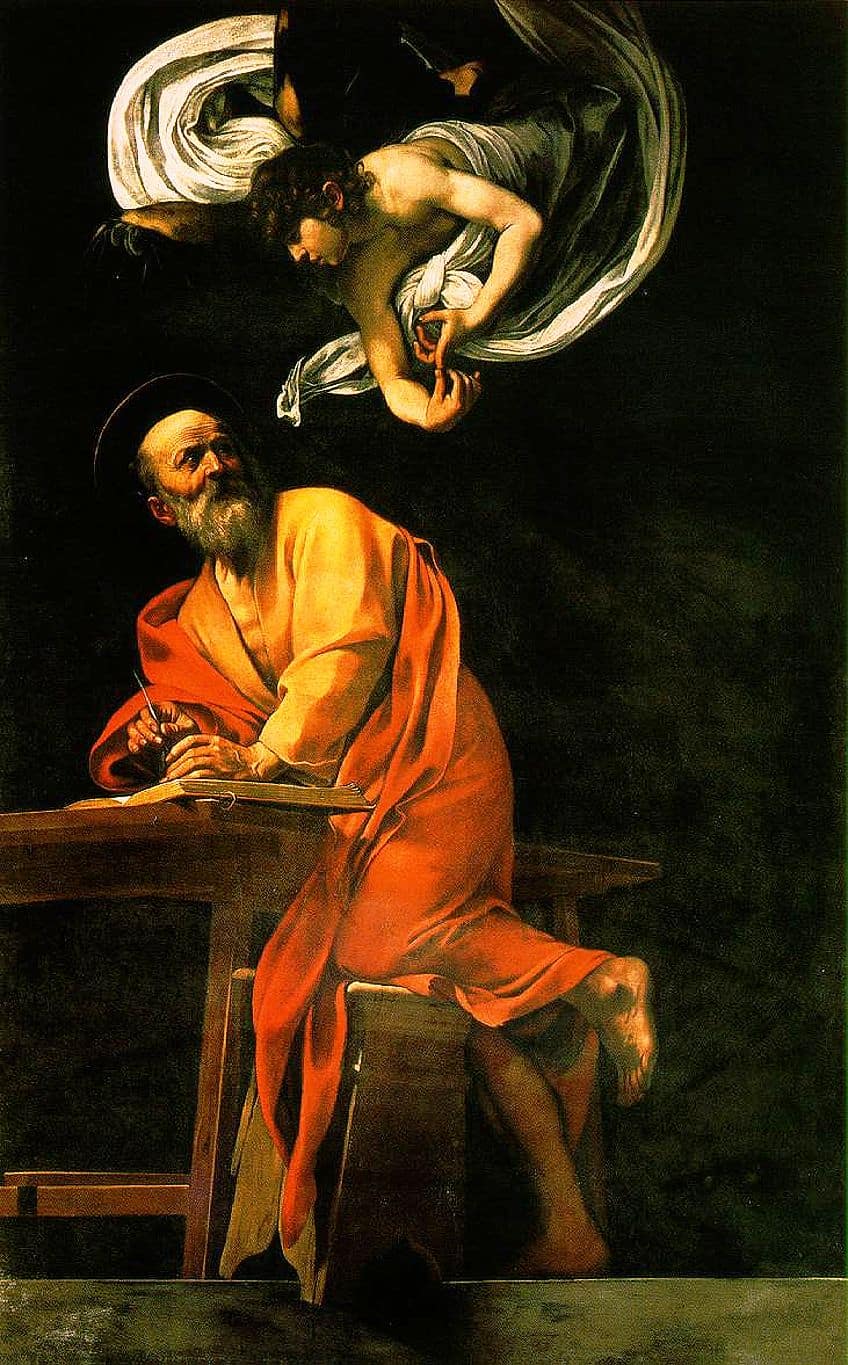 The Inspiration of Saint Matthew (1660) by Caravaggio, located in the collection of the Contarelli Chapel, Church of San Luigi dei Francesi, in Italy; Michelangelo Merisi da Caravaggio, Public domain, via Wikimedia Commons
The light heightens the impact of Matthew's appeal, and the radiance of his face makes his astonished and uncertain look very plain and evident. The brightness and appearance of Christ also reflect the new spiritual life that Matthew is about to embark on, whilst the other gloomy people and items represent Matthew's previous, worldly existence. The passion evoked by the intensity of the scenario, in addition to the employment of the tenebrism style, makes this painting particularly Baroque.
The artwork represents a precise point in time when Jesus bursts into the chamber with a ray of light, forcing Matthew to make a choice that would affect the trajectory of his life for the rest of his days: to serve Jesus or not?
Caravaggio makes a work that is incredibly emotive and dramatic via the use of tenebrism, strong contrast, and dramatic motion in the setting, making his art here an icon of the Baroque movement.
Two Women at a Window (1660) by Bartolomé Esteban Murillo
| | |
| --- | --- |
| Date Completed | 1660 |
| Medium | Oil on canvas |
| Dimensions | 125 cm x 104 cm |
| Current Location | Widener Collection |
Another great example of tenebrism is displayed in this artwork. The single source of light appears to come from outside, the figures illuminated from the exterior, made even more radiant by the juxtaposition of the extremely dark interior. While Murillo is most recognized for his religious works, he also created a multitude of genre paintings depicting characters from everyday life engaged in mundane activities.
These images frequently have a wistful appeal; "Two Women by a Window" is an excellent example.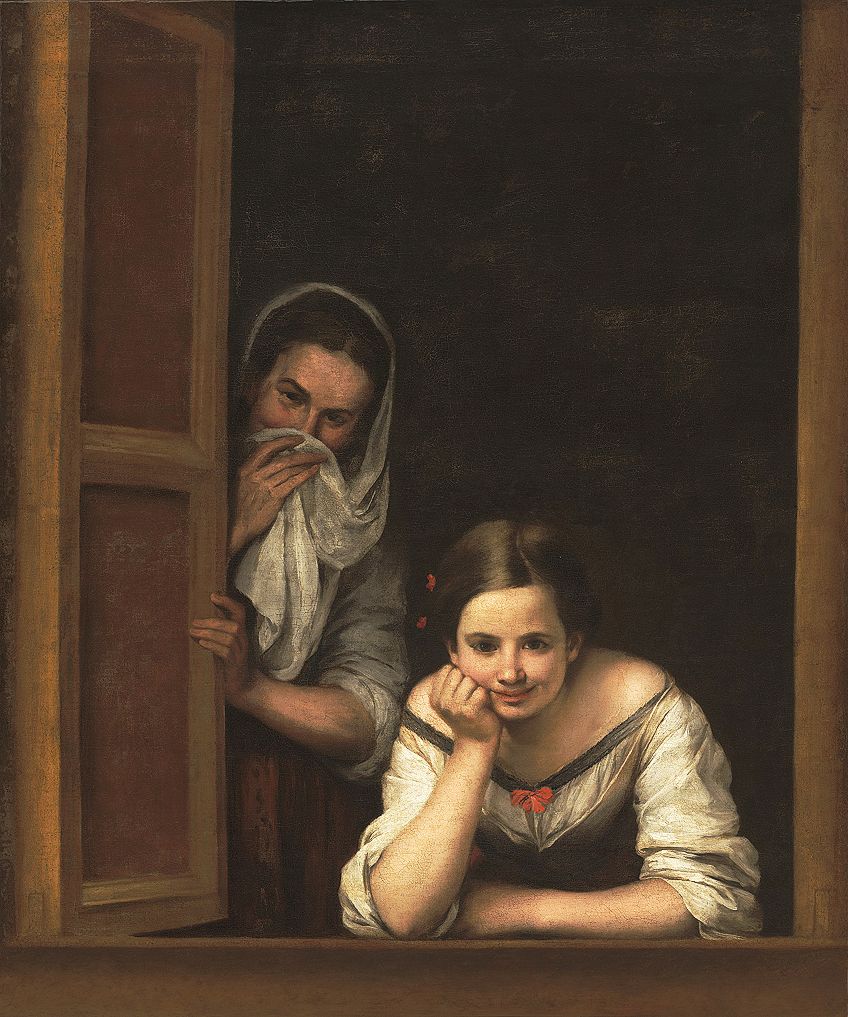 Two Women at a Window (1660) by Bartolomé Esteban Murillo, located in the National Gallery of Art in Washington D.C., United States; Bartolomé Esteban Murillo, Public domain, via Wikimedia Commons
A standing lady hides a smile behind a slightly opened shutters with her scarf, whilst the youthful woman rests on the ledge, amusedly peering out at the spectator. The age gap might imply a supervisor and her charge, a common pair in upper-class Spanish houses. Aristocratic decorum dictated that one cover one's smile or chuckle. The life-size individuals, beautifully sculpted and framed within an illusionistically colored window, are inspired by Dutch artworks designed to mislead the eye.
Murillo chose to darken their chamber, which means that just the window frames and the shutters can be observed. This draws our attention entirely to these two females, precisely as the artist intended. While his genre works were extremely popular, this artist is most known for his religious paintings.
Basket of Flowers (1711) by Rachel Ruysch
| | |
| --- | --- |
| Date Completed | 1711 |
| Medium | Oil on canvas |
| Dimensions | 46 cm x 62 cm |
| Current Location | Galleria degli Uffizi, Florence |
The flowers appear to shine with inner light due to the artist's use of tenebrism, even as their gently withered blooms and overrun blooms show the passing of destructive time. Rachel Ruysch was a Northern Netherlands-based Dutch still-life painter. She specialized in flowers, developing her unique style and attaining international recognition throughout her lifetime.
She had a good name as a still-life artist with an uncommon flair for the dramatic underlain by a thorough grasp of botanic species throughout her long life and far beyond it.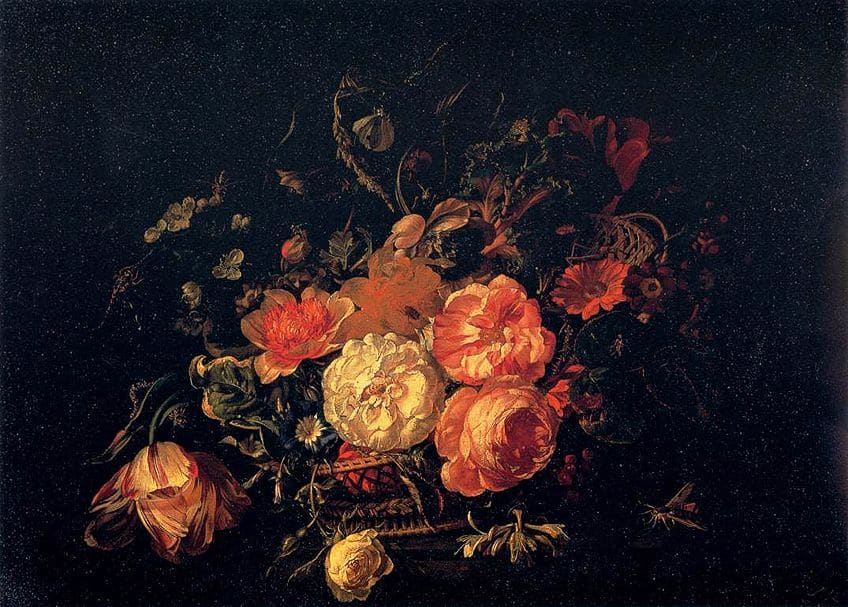 Basket of Flowers (1711) by Rachel Ruysch, located in the Uffizi Gallery in Florence, Italy; Rachel Ruysch, Public domain, via Wikimedia Commons
Modern Tenebrism
The notion of dramatic lighting became popular after the Renaissance in the Baroque period, and it can be seen in both Dutch and Italian paintings from that period. Tenebrism has an incredible way of producing a powerful and overwhelming feeling in artworks, but it also has a means of making the lit shapes and colors sparkle.
Popular fads in art have long passed over time, but tenebrism is an aesthetic that can still be observed and employed regularly by today's painters, each in a way that fits his or her own painting style.
A Man Singing by Candlelight (1625 – 1635) by Adam de Coster, located in the National Gallery of Ireland in Dublin, Ireland; Adam de Coster, Public domain, via Wikimedia Commons
Today the technique is still utilized by multitudes of artists in their works and can be seen in portraits, still-lifes, and even landscapes. Artists still using the technique include Richard Murdock, Brian Martin, Jeremy Mann, and many more.
Tenebrism is a Renaissance-era painting technique in which strong contrasts between light and dark are used to give the subject a feeling of bulk and weight. Tenebrism was most popularly identified with Caravaggio; though he was not the only one who used it, his work influenced many other painters who employed it. Tenebrism is distinguished by dramatic chiaroscuro and daring use of light and shadow, with the main purpose of creating the illusion of artificial light.
Frequently Asked Questions
What Is Tenebrism?
Tenebrism is an art technique that employs an extremely black palette, as well as dramatic light effects and chiaroscuro. The term is derived from the Latin term tenebrae, which means darkness. This style was characterized by direct drawing from the subject and striking contrast of light and shadow. Tenebrism was also called the chiaroscurist style as a result of this. Tenebrism has several similar themes, such as depicting Christ's agony on the crucifixion, death, and sights from Hell.
How Did Tenebrism Start?
As per art historians, the Italian artist Caravaggio created the art approach. Caravaggio, who worked from Rome in the late 16th and early 17th centuries, was a pioneer of the chiaroscuro technique, which contrasts dark and light. By using comparable spectacular illumination methods, he pioneered the creation of tenebrism as we currently know it. Although Caravaggio is frequently credited with originating the style, previous artists like Tintoretto, Albrecht Dürer, and El Greco used it as well.
What Is the Difference Between the Chiaroscuro Technique and Tenebrism?
At first glance, the two painting techniques of chiaroscuro and tenebrism appear to have a lot in common. Both involve the usage of contrasted bright and dark parts. There is, however, a substantial difference. Tenebrism, which is often referred to as dramatic lighting, is exclusively used for a dramatic effect. It enables the artist to emphasize a face, a figure, or a group of characters while leaving the darker areas of the picture entirely black. Contrary to common opinion, chiaroscuro incorporates the use of small amounts of shadow to enhance the three-dimensionality of a picture. Chiaroscuro is typically employed to enrich the modeling of imagery rather than to direct the viewer's attention to a specific area of the painting or to blacken vast sections of the painting for dramatic effect. As a result, it's not uncommon to see both methods used in the same piece of artwork.
Isabella studied at the University of Cape Town in South Africa and graduated with a Bachelor of Arts majoring in English Literature & Language and Psychology. Throughout her undergraduate years, she took Art History as an additional subject and absolutely loved it. Building on from her art history knowledge that began in high school, art has always been a particular area of fascination for her. From learning about artworks previously unknown to her, or sharpening her existing understanding of specific works, the ability to continue learning within this interesting sphere excites her greatly.
Her focal points of interest in art history encompass profiling specific artists and art movements, as it is these areas where she is able to really dig deep into the rich narrative of the art world. Additionally, she particularly enjoys exploring the different artistic styles of the 20th century, as well as the important impact that female artists have had on the development of art history.
Learn more about Isabella Meyer and the Art in Context Team.
Cite this Article