Who is Johannes Vermeer, when was Johannes Vermeer born, and how did Johannes Vermeer die? These are all pretty basic questions that you might want the answers to, but there is so much more to discover about Dutch painter Vermeer. Johannes Vermeer the painter produced artworks during the Dutch Baroque period, and interior household scenes were his specialty. Johannes Vermeer's paintings were created painfully, thus he did not create many artworks and died in poverty. Vermeer's artworks were mainly portrayals of people and rooms from his residence in Delft.
Johannes Vermeer's Biography and Art
Throughout his life, he was a mildly accomplished regional genre artist, with works displayed at The Hague as well as in Delft. However, he created very few canvases and was clearly not prosperous, placing his spouse and small children in arrears when he died. Vermeer painted carefully and meticulously, and he usually employed premium paints.
He is exceptionally well-known for his mastery of the manipulation and application of light in his creations.
The only supposed portrait of Johannes Vermeer, from his painting The Procuress (1656); Johannes Vermeer, Public domain, via Wikimedia Commons
The Early Years of Johannes Vermeer the Painter
On the 31st of October, 1632, Vermeer was christened in the Reformed Church. Digna Baltens, his mother, was originally from Antwerp. Balthasar Gerrits, Digna's father, pursued an ambitious life and was jailed for forgery. Vermeer's father, Reijnier Janszoon, was a cotton worker. As an intern in Amsterdam, Reijnier resided on the prestigious Sint Antoniesbreestraat, which at the time was home to many artists. Reijnier wedded Digna in 1615.
The couple relocated to Delft, where they had a daughter called Gertruy, who was christened in 1620. Reijnier was engaged in a struggle with a trooper called Willem van Bylandt In 1625, who perished five months later from his injuries. Reijnier began trading in artworks about this period. He purchased a magnificent lodge in the town center in 1641. The purchase of the lodge entailed a significant financial outlay. Johannes Vermeer would end up taking the family's business over after Reijnier died in October of 1652.
Family and Marriage
Dutch painter Vermeer wedded Catharina Bolnes, in April 1653. The blessing was held in the peaceful surrounding town of Schipluiden. Maria Thins, Vermeer's mother-in-law, was substantially richer than he was, and it was most likely she who urged Vermeer to convert to Catholicism before the wedding on the 5th of April. Vermeer's transition appears to have been made with sincerity, according to art historians.
His work "The Allegory of the Catholic Faith", completed in 1672, emphasized symbolic theological implications, particularly the rite of the Eucharist, rather than the artist's normal realistic themes.
Allegory of the Catholic Faith (c. 1670-1672) by Johannes Vermeer; Johannes Vermeer, Public domain, via Wikimedia Commons
It was created for a knowledgeable and devoted Catholic client, maybe for his "secret church." The pair eventually settled in with Catharina's mother, who resided in a pretty large house near Oude Langendijk, next to a concealed Jesuit church. Vermeer spent the remainder of his life at this house, working in the front bedroom on the second level. His wife bore him 15 children, four of whom died before baptism but were documented as "children of Johan Vermeer."
Johannes Vermeer the Painter's Career
It is unknown where or with whom Vermeer trained as an artist. Based on a contentious reading of a book published in 1668, some speculate that Carel Fabritius was his instructor. Scholars have discovered no strong proof to back this up. Leonaert Bramer, a regional authority was a comrade, although each of the artist's styles is quite distinct.
According to Liedtke, Vermeer educated himself using knowledge gleaned from one of his father's acquaintances.
Some experts believe Vermeer received his training from the painter Abraham Bloemaert. Vermeer's technique is comparable to a few of the Caravaggists, whose pieces are reproduced in the background of a few of his works as paintings-within-paintings, such as Finding of Moses (c. 1630) by Orazio Gentileschi.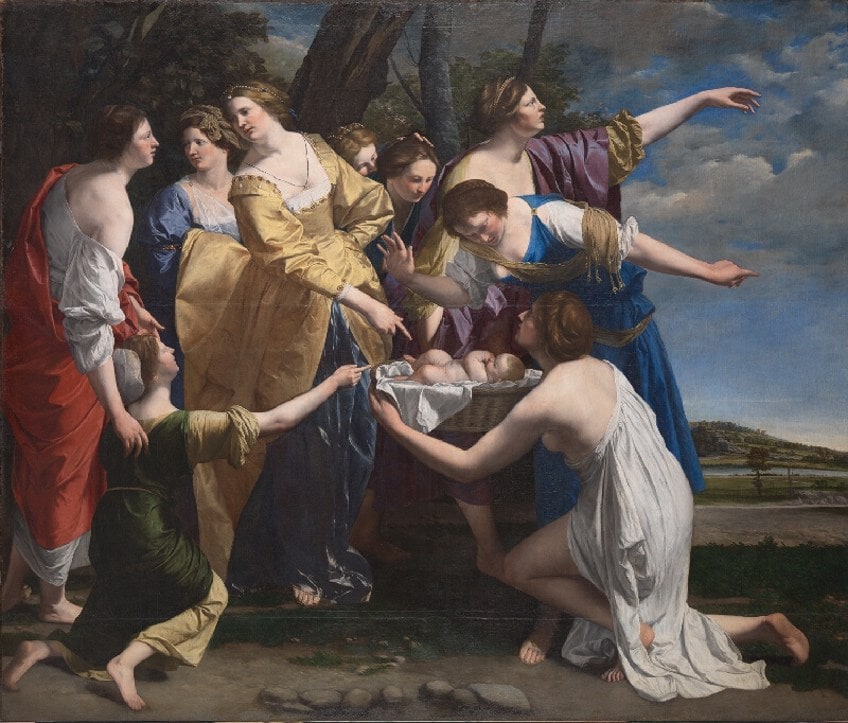 Finding of Moses (c. 1630) by Orazio Gentileschi; Orazio Gentileschi, Public domain, via Wikimedia Commons
Vermeer joined the Guild of Saint Luke on the 29th of December in 1653. According to the guild's archives, Vermeer did not submit the regular entry fee. It was a year of the epidemic, conflict, and economic disaster, and Vermeer was not unique in facing financial difficulties. The city was devastated by the Delft Thunderclap in 1654, which destroyed a substantial portion of the city. He may have found a sponsor in neighborhood art connoisseur Pieter van Ruijven, who granted him money around 1657.
Vermeer appears to have drawn influence from the work of the Leiden Fijnschilders group, such as fellow artist Frans Van Mieris. The Fijnschilders were painters of the Dutch Golden Age who attempted to achieve as realistic a copy of realism as possible in their painstakingly wrought, typically small-scale paintings from 1630 to 1710.
Although the name "fijnschilder" was used in the 17th century to distinguish between an artist who utilized conventional methods and one who, for example, was a house painter, it became a moniker for painters like Gerrit (or Gerard) Dou and his disciples in Leiden in the 19th century.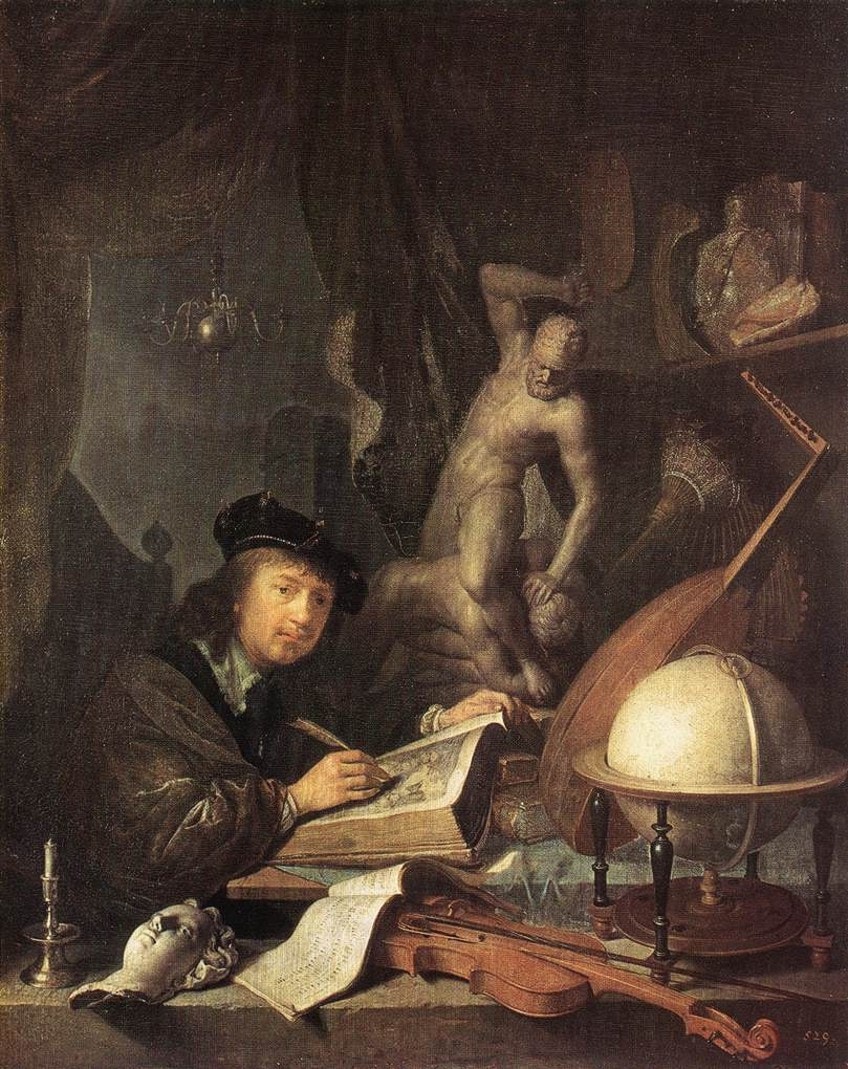 Painter in his Studio (1647) by Gerrit (or Gerard) Dou; Gerrit Dou, Public domain, via Wikimedia Commons
Vermeer was reacting to the popularity of Gerrit Dou's works, which sold for extravagant rates. Dou may have had an impact on Pieter de Hooch and Gabriel Metsu as well. Vermeer likewise charged above-average rates for his paintings, the majority of which were acquired by an undisclosed collector.
Metsu's impact on Johannes Vermeer is undeniable: the light source coming from the left, the marble floor.
Vermeer was most likely competing with Nicolaes Maes, who created genre paintings in a similar manner. Vermeer was chosen leader of the guild in 1662 and re-elected in 1663, as well as 1670, and 1671, demonstrating that he was regarded as an experienced artisan among his contemporaries.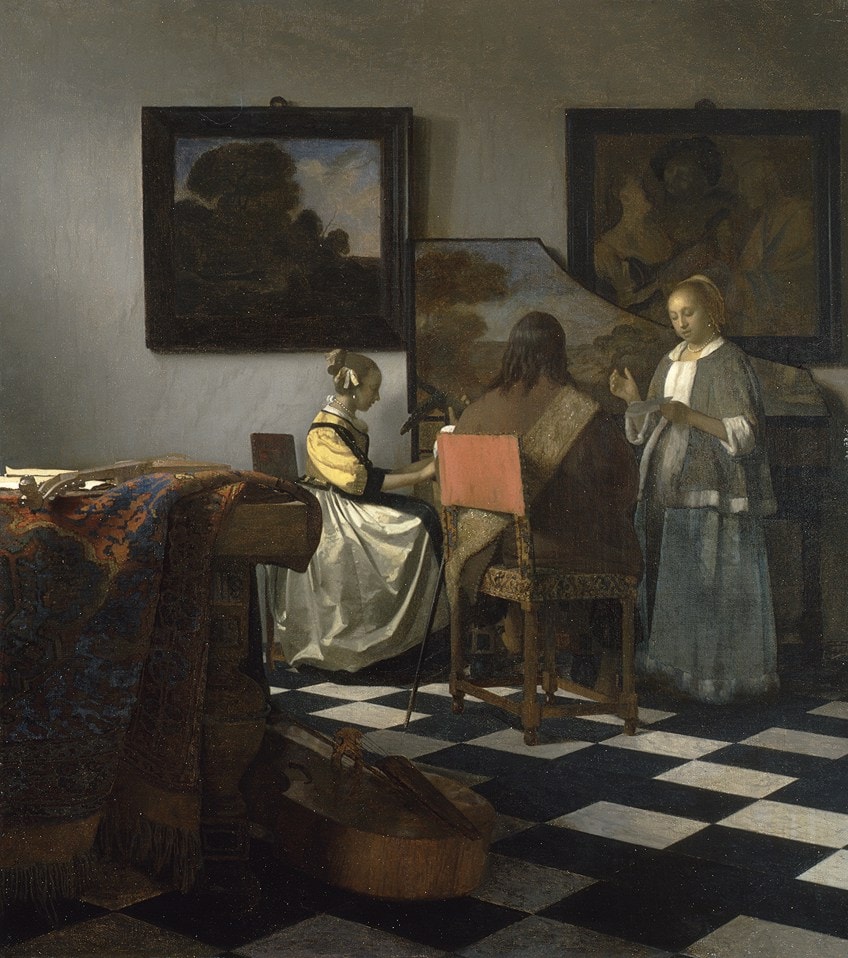 The Concert (1663) by Johannes Vermeer; Johannes Vermeer, Public domain, via Wikimedia Commons
Vermeer produced slowly, most likely completing three paintings each year on the commission. In 1663, Balthasar de Monconys paid him a visit to examine some of his works, but Vermeer had no works to present him. The ambassador and two French clerics with him were forwarded to Hendrick van Buyten, who had a pair of his artworks as security.
The Final Years of Dutch Painter Vermeer
After Louis XIV attacked the Dutch Republic in 1672, the Netherlands experienced a severe economic collapse. During the war, an English armada and two allied German dioceses assaulted the kingdom from the east, wreaking havoc. Many people were terrified, and tribunals, theaters, stores, and institutions were all shuttered. It took approximately five years for things to get better.
Vermeer was mentioned as a soldier of the city guards in 1674. He acquired 1,000 guilders from Jacob Romboutsz in the summer of 1675, using his wife's mother's house as security. Vermeer died in December 1675, following a quick period of illness. On December 15, 1675, he was buried at the Protestant Old Church. His wife later reported his death in a letter to her lenders as follows:
"…during the devastating war with France, he was not only incapable of selling any of his work but he was also left to sit with the works of other artists that he was trading in, to his huge loss. As a consequence, and due to an immense load of his children, he plunged into such degradation and degeneration, which he had taken so seriously that, as if in a fury, he went from just being sound to being deceased in a day or so."
Burial place of Johannes Vermeer in Oude Kerk, Delft, Netherlands; Ввласенко, CC BY-SA 3.0, via Wikimedia Commons
Catharina Bolnes said her husband died as a result of financial stress. Vermeer's business as an artist and an art dealer suffered as a result of the art market's downfall. On her own, she was required to try and raise all 11 children and hence requested that the High Court discharge her liabilities to her husband's lenders. The first floor of the home comprised of eight rooms, the contents of which were documented in an assessment performed a few months after Vermeer's demise.
Two stools, two artist's easels, two palettes, 10 canvases, a table, an oak draw desk, a tiny wooden cabinet, and "various items not worthy of being enumerated" were among the items in his workshop. Catharina and her mother received 19 of Vermeer's works as bequests. Vermeer's wife sold two additional artworks to Hendrick van Buyten in order to settle a large debt owed by Vermeer. These two little works by Vermeer were described as "two personages one of which the one sits and writes a letter" and" a personage playing on a zither."
Vermeer was a well-known artist in Delft, but he was virtually obscure outside of his city.
View of Delft (c. 1660-1661) by Johannes Vermeer; Johannes Vermeer, Public domain, via Wikimedia Commons
Pieter van Ruijven, a neighborhood patron, had acquired much of his production, limiting the likelihood of his popularity expanding. His modest corpus of work was influenced by a number of elements. Vermeer never took on any students, however, one historian believes he tutored Maria, his eldest daughter to produce. Furthermore, with so many children, his family commitments, as well as serving as both an art dealer and landlord in operating the family companies, may have absorbed much of his time.
His tenure as a guild leader and his amazing accuracy as a painter may have also reduced his production.
The Style of Johannes Vermeer's Artwork
Like most artists of his day, Vermeer may have begun his works tonally, using either monochromatic shades of grey or a restricted palette of greys and browns, over that he would layer more intense colors (colors such as red, yellow and blue,) in the manner of translucent glazes. There are no sketches definitively ascribed to Vermeer, and his paintings provide scant clues to his preparation procedures. No other 17th-century painter used the extortionately costly pigment lapis lazuli so extravagantly or soon in his career, such as can be seen in Girl with a Pearl Earring (1665).
Girl with a Pearl Earring (c. 1665) by Johannes Vermeer; Johannes Vermeer, Public domain, via Wikimedia Commons
Vermeer utilized this in more than simply natural components; the earth colors ochre and umber should be regarded as warm light inside an artwork's brilliantly lighted interior, which radiates its numerous colors onto the wall. In this way, he built a universe that was more flawless than any he had seen before.
Vermeer's comprehension of da Vinci's discoveries that the surface of everything partakes of the color of the neighboring object most likely influenced this working style. As a result, no item is ever viewed totally in its natural color.
The Girl with the Wine Glass (1659-1660) makes a comparable but much more stunning, but effective, use of natural ultramarine. The shadow of the red satin gown is under-painted in genuine ultramarine, and as a result of this underpinning blue paint layer, the vermilion and red lake combination put over it takes on a somewhat purple, chilly, and sharp effect that is quite striking.
The Girl with the Wine Glass (1659-1660) by Johannes Vermeer; Johannes Vermeer, Public domain, via Wikimedia Commons
Even after his alleged financial collapse during the so-called year of disaster in 1672, Vermeer proceeded to use natural ultramarine liberally, as shown in Lady Seated at a Virginal (1672). This might imply that Vermeer was provided with resources by a patron, which would be consistent with John Michael Montias' idea that Vermeer's benefactor was Pieter van Ruijven.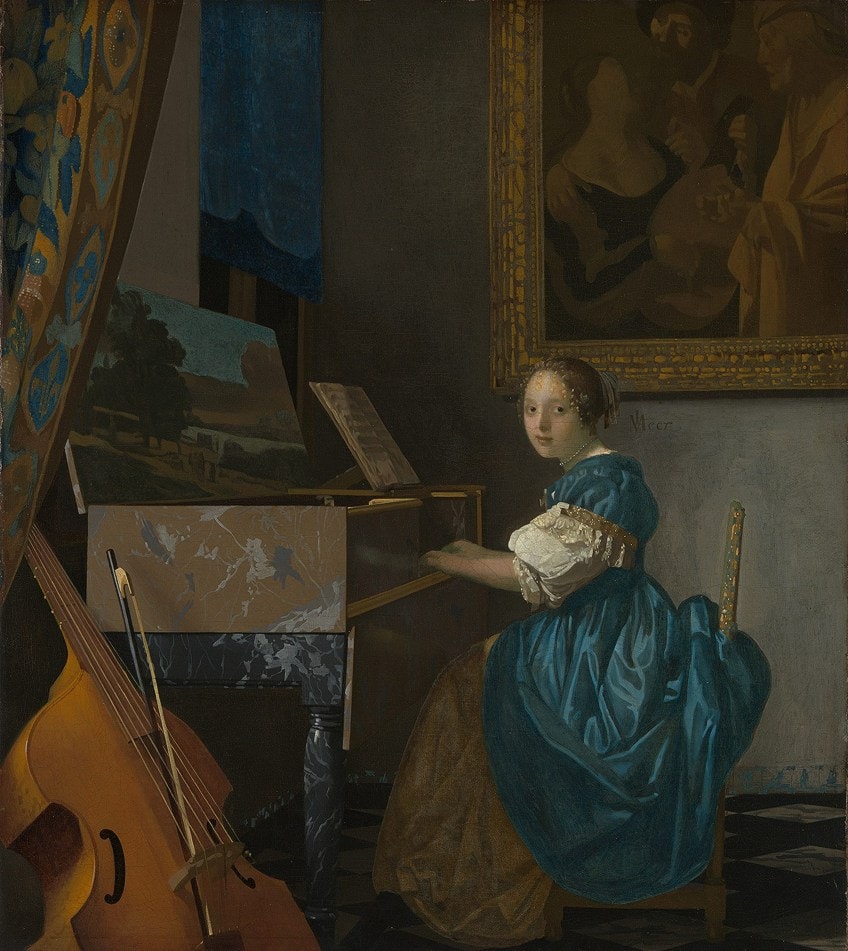 Lady Seated at a Virginal (c. 1672) by Johannes Vermeer; Johannes Vermeer, Public domain, via Wikimedia Commons
Excluding two allegories and two cityscapes, Vermeer's paintings are mostly genre works and portraiture. His subjects represent a cross-section of 17th-century Dutch social structure, ranging from a humble milkmaid at labor to the richness and grandeur of affluent elites and merchantmen in their spacious homes, such as The Milkmaid (1658).
Aside from these topics, his work contains theological, poetical, symphonic, and scientific reflections.
Dutch Painter Vermeer's Painting Materials
Vermeer's choice of colors was one component of his painstaking painting process. He is most renowned for his use of lead-tin-yellow such as in A Lady Writing a Letter (1665), ultramarine, as can be seen in The Milkmaid (1658), and vermilion. He also used bone black, ochres, and azurite in his work. Later pigment research disproved his assertion that he used Indian yellow in his famous work Woman Holding a Balance (1663). Only around 20 colors have been identified in Vermeer's work.
The Milkmaid (c. 1660) by Johannes Vermeer; Johannes Vermeer, Public domain, via Wikimedia Commons
Various Theories About Johannes Vermeer's Techniques
Vermeer's painting methods have traditionally been a matter of contention, owing to their virtually photorealistic meticulousness, despite Vermeer's lack of academic instruction and the lack of proof that Vermeer prepared any preparation drawings or traces for his works.
In 2001, David Hockney, a British artist released the book "Secret Knowledge", in which he asserted that Vermeer employed optics, especially some mixture of bent mirrors and camera obscura, to obtain exact placement in his works.
In 2001, Professor Philip Steadman released Vermeer's Camera, which suggested that Vermeer utilized a camera obscura to make his artworks. Steadman noticed that several of Vermeer's canvases were produced in exactly the same room, and he discovered six of them that are exactly the proper proportions if they were painted from within a camera obscura in the room's rear wall such as Officer and Laughing Girl (c. 1660).
Officer and Laughing Girl (c. 1660) by Johannes Vermeer; Johannes Vermeer, Public domain, via Wikimedia Commons
Advocates of these hypotheses refer to proof in some of Vermeer's works, such as the much-discussed shimmering pearly highlights in Vermeer's works of art, which they claim are the consequence of halation produced by the crude lens of a camera obscura. A camera obscura was also proposed as the technical origin of the "overstated" viewpoint shown in The Music Lesson (1665). Jenison made many reasons in favor of this method, the first of which was Vermeer's hyper-accurate depiction of light falling down the wall.
In a discussion with Jenison, neurobiologist Colin Blakemore points out that human eyesight cannot comprehend information regarding the absolute brightness of a situation.
The Music Lesson (c. 1662-1665) by Johannes Vermeer; Johannes Vermeer, Public domain, via Wikimedia Commons
Another change was the insertion of various highlights and contours that corresponded to the effects of chromatic aberration, which was especially visible in early optics. Finally, and probably most relevantly, the scrollwork on the virginal in the source picture has a noticeable curvature. This effect completely matched Jenison's approach, which was created by accurately reproducing the vision as viewed via a curved mirror.
The Works of Johannes Vermeer the Painter
Vermeer created less than 50 paintings, of which 34 have still survived. Only three artworks were dated by Vermeer himself; The Astronomer (c. 1668), The Procuress (1656), and The Geographer (1669). The Procuress (1622) by Dirck van Baburen was held by Maria Thins, Vermeer's mother-in-law, and it features in the backdrop of two of Vermeer's works. Vermeer also depicted the same topic. Most of Vermeer's works are on a smaller scale, with a cool palette dominated by yellows, greys, and blues.
Almost all of his paintings that still survive are from this time and are mainly residential interiors with a couple of individuals lit by a window from the left of the canvas.

LEFT: The Astronomer (c. 1668) by Johannes Vermeer; Johannes Vermeer, Public domain, via Wikimedia Commons | MIDDLE: The Procuress (1656) by Johannes Vermeer; Johannes Vermeer, Public domain, via Wikimedia Commons | RIGHT: The Geographer (1669) by Johannes Vermeer; Johannes Vermeer, Public domain, via Wikimedia Commons
They are distinguished by a feeling of compositional equilibrium and visual structure, which is brought together by a pearly light. Domestic or leisure activities are endowed with a lyrical sense of timelessness. A couple of his paintings exhibit hardening of style and are often regarded as his late works. This is when The Allegory of Faith (1670) appears.
Legacy of Johannes Vermeer's Paintings
For the first two centuries after his death, art historians mostly ignored Vermeer's works. Despite the fact that a small number of aficionados in the Netherlands appreciated his work, several of his pieces were mistakenly assigned to better-known painters such as Mieris or Metsu.
The contemporary resurrection of the Delft master started about 1860 when German museum curator Gustav Waagen viewed The Art of Painting (1666-1668) at the Czernin exhibition in Vienna and identified it as a Vermeer, despite the fact that it was ascribed to Pieter de Hooch at the time.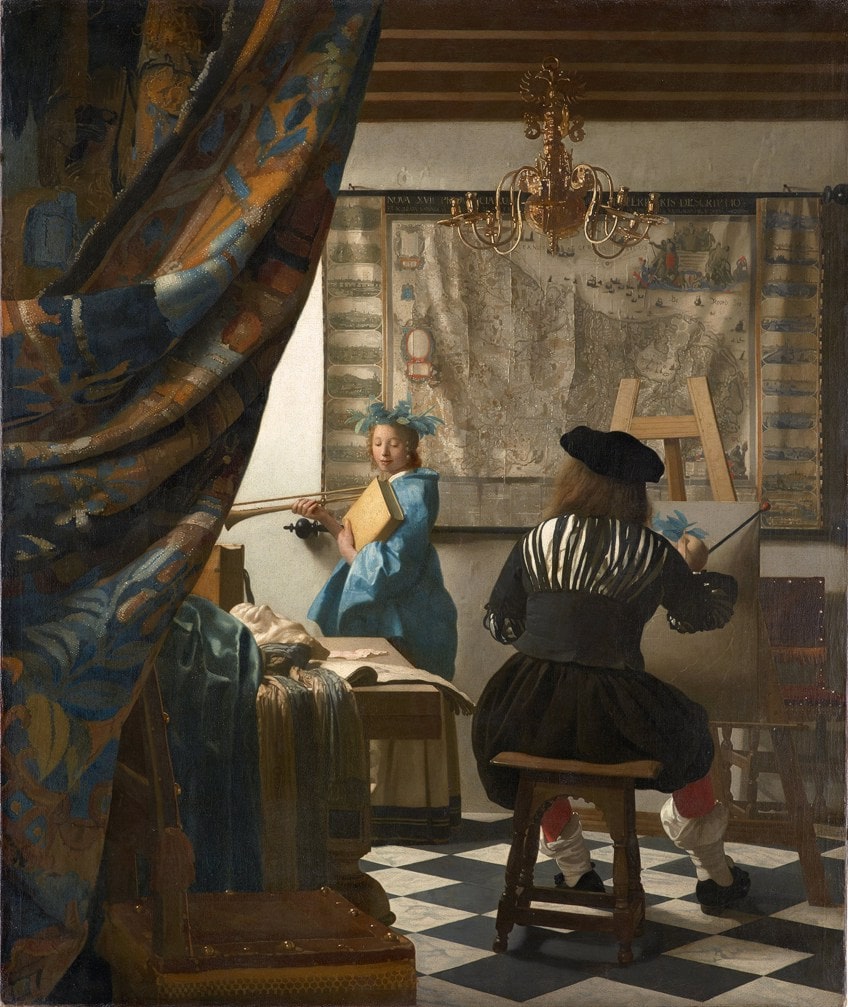 The Art of Painting (1666-1668) by Johannes Vermeer; Johannes Vermeer, Public domain, via Wikimedia Commons
Théophile Thoré-investigation Bürger's resulted in the publishing of his inventory of Vermeer's paintings in 1866. The catalog brought global awareness to Vermeer and included over 70 of his paintings, many of which he viewed as doubtful. Today, the acknowledged number of Vermeer's works is 34.
Following the revival of Vermeer's works, numerous notable Dutch artists, notably Simon Duiker, adopted his style.
Vermeer influenced other painters such as American Thomas Wilmer Dewing and Danish painter Wilhelm Hammershoi. Salvador Dalí, who created his own replica of The Lacemaker (c. 1670) – on order from patron Robert Lehman – and put enormous reproductions of the classic against a rhinoceros in various surrealist creations, was among Vermeer's fans in the 20th century.
The Lacemaker (c. 1670) by Johannes Vermeer; Johannes Vermeer, Public domain, via Wikimedia Commons
List of Important Johannes Vermeer Paintings
Dutch painter Vermeer worked very slowly and did not make many paintings. However, a resurgence in interest in his works occurred after his death. Here is a list of a few of his most important works:
The Procuress (1656)
The Little Street (1658)
Girl Reading a Letter at an Open Window (c. 1659)
Woman Reading a Book (1664)
Girl with a Pearl Earring (1665)
The Art of Painting (1668)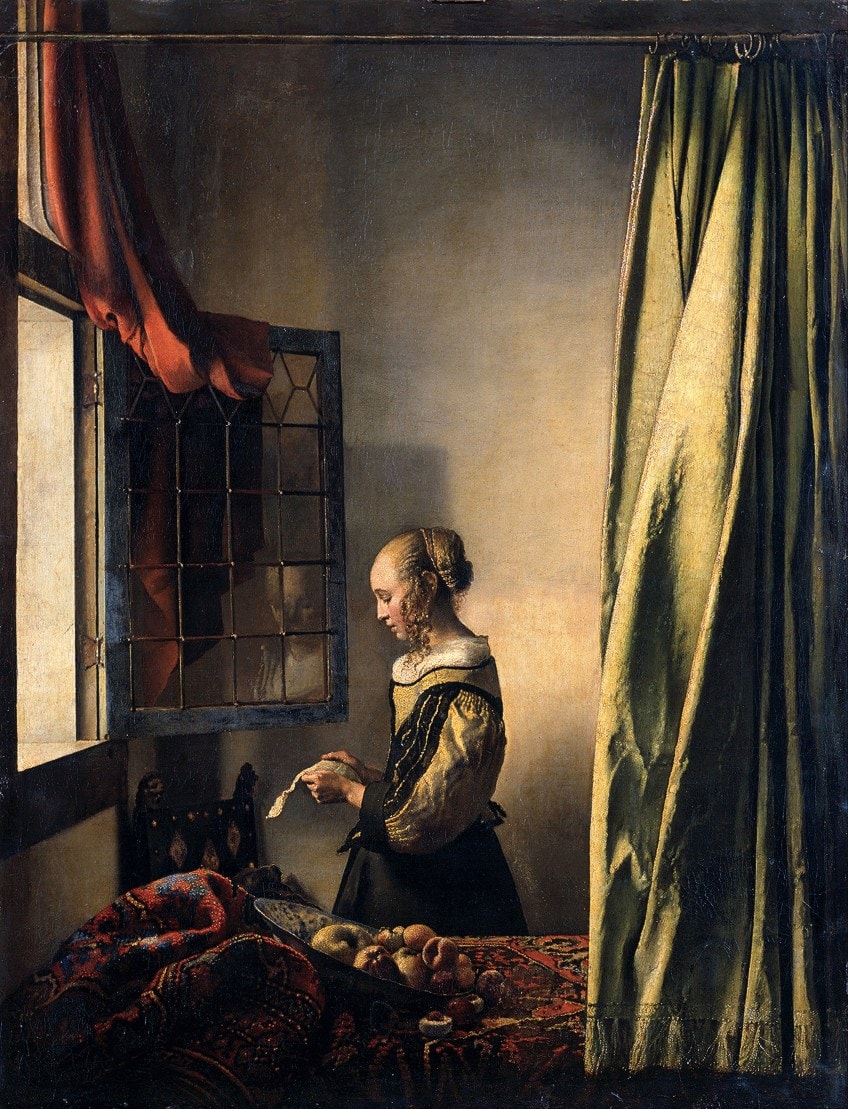 Girl Reading a Letter at an Open Window (c. 1659) by Johannes Vermeer; Johannes Vermeer, Public domain, via Wikimedia Commons
Further Reading
Today we have learned about the life and art of Dutch painter Johannes Vermeer. However, there is only so much info one can fit into a single article. If you are interested in learning more about the artist, then you should check out one of these excellent books that we can recommend on the subject.
Johannes Vermeer Journal: The Art of Painting (2014) by Johannes Vermeer
This lined diary is a nice bound notebook for you to scribble down whatever you want. A meaningful life is one worth documenting. The renowned work The Art of Painting by Dutch painter Johannes Vermeer, who flourished from 1632 to 1675, is included in this journal.
Lined journal of 100 pages
Beautifully bound for on-the-go journalling and note-taking
Features a famous Johannes Vermeer painting on the cover
View on Amazon
Senses and Sins (2005) by Peter Hecht
We would assume we know a lot about life and culture in Holland's Golden Age since we see elegant women in satin robes, servants in starched bonnets, and melancholy professors absorbed in research. However, the organized society of the Dutch elite shown in Senses and Sins contradicts our ideas of the past. In the course of the day, the woman of the household consumes wine, lap dogs fornicate on clean marble floors, and a rough-hewn farmer winces in disdain. This volume examines the numerous concepts and implications of the school of painting that is so poorly defined as "genre," and it reaches a much stronger description via works by a multitude of masters.
A presentation of diverse themes and meanings
This book aims to properly define "genre" paintings
An exploration of the true life and culture of the Dutch Golden Age
View on Amazon
That wraps up our look at Johannes Vermeer's biography and artwork. Johannes Vermeer the painter created artworks throughout the Dutch Baroque period, and his specialization was indoor domestic settings. Because Johannes Vermeer's paintings were painstakingly crafted, he did not produce many works and died in poverty. Vermeer's paintings mostly depicted people and rooms from his Delft home.
Read our johannes vermeer paintings web story.
Frequently Asked Questions
Who Is Johannes Vermeer?
Dutch painter Vermeer made works that are among the most adored and treasured pictures in art history. Although just roughly 36 of his paintings have survived, they are among the globe's best masterpieces housed in the world's top museums. Most of his later paintings—the ones for which he is best known—depict scenes of daily life in domestic settings. These works stand out for their clarity of light and shape, which transmit a peaceful, timeless feeling of dignity. Vermeer also produced allegorical subjects and streetscapes.
When Was Johannes Vermeer Born and How Did Johannes Vermeer Die?
Johannes Vermeer the painter was born in Delft on 31 October 1632. He died after apparently falling into a state of depression and madness. He passed away on the 16th of December, 1675.