Art in Context aims to provide the most accurate and helpful information, therefore our writer's team consists of educated and passionate art experts. Each team member brings in their own expertise and point of view to make our content unique. If you would like to learn more about the philosophy behind the website artincontext.org, you can visit our about page. Would you like to join our team? Get in touch with us.
Contemporary Art and Art History
Isabella Meyer
| Head of Content, Editor, Art Writer
Isabella studied at the University of Cape Town in South Africa and graduated with a Bachelor of Arts majoring in English Literature & Language and Psychology. Throughout her undergraduate years, she took Art History as an additional subject and absolutely loved it. Building on from her art history knowledge that began in high school, art has always been a particular area of fascination for her. From learning about artworks previously unknown to her, or sharpening her existing understanding of specific works, the ability to continue learning within this interesting sphere excites her greatly.
Her focal points of interest in art history encompass profiling specific artists and art movements, as it is these areas where she is able to really dig deep into the rich narrative of the art world. Additionally, she particularly enjoys exploring the different artistic styles of the 20th century, as well as the important impact that female artists have had on the development of art history.
Isabella has been working at artincontext.com since the beginning and enriches our website with her expertise and passion.
Jordan Anthony is a film photographer, curator, and arts writer based in Cape Town, South Africa. Anthony schooled in Durban and graduated from the University of the Witwatersrand, Johannesburg, with a Bachelor of Art in Fine Arts. During her studies, she explored additional electives in archaeology and psychology, while focusing on themes such as healing, identity, dreams, and intuitive creation in her Contemporary art practice. She has since worked and collaborated with various professionals in the local art industry, including the KZNSA Gallery in Durban (with Strauss & Co.), Turbine Art Fair (via overheard in the gallery), and the Wits Art Museum.
Anthony's interests include subjects and themes related to philosophy, memory, and esotericism. Her personal photography archive traces her exploration of film through abstract manipulations of color, portraiture, candid photography, and urban landscapes. Her favorite art movements include Surrealism and Fluxus, as well as art produced by ancient civilizations. Anthony's earliest encounters with art began in childhood with a book on Salvador Dalí and imagery from old recipe books, medical books, and religious literature. She also enjoys the allure of found objects, brown noise, and constellations.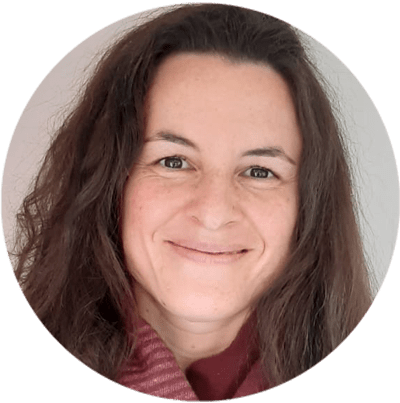 Alicia du Plessis is a multidisciplinary writer. She completed her Bachelor of Arts degree, majoring in Art History and Classical Civilization, as well as two Honors, namely, in Art History and Education and Development, at the University of KwaZulu-Natal, South Africa. For her main Honors project in Art History, she explored perceptions of the San Bushmen's identity and the concept of the "Other". She has also looked at the use of photography in art and how it has been used to portray people's lives.
Alicia's other areas of interest in Art History include the process of writing about Art History and how to analyze paintings. Some of her favorite art movements include Impressionism and German Expressionism. She is yet to complete her Masters in Art History (she would like to do this abroad in Europe) having given it some time to first develop more professional experience with the interest to one day lecture it too. Alicia has specialized in painting analysis for artincontext.org.
Chrisél Attewell
| Multidisciplinary Visual Artist, Art Writer
Chrisél Attewell (b. 1994) is a multidisciplinary artist from South Africa. Her work is research-driven and experimental. Inspired by current socio-ecological concerns, Attewell's work explores the nuances in people's connection to the Earth, to other species, and to each other. She works with various mediums, including installation, sculpture, photography, and painting, and prefers natural materials, such as hemp canvas, oil paint, glass, clay, and stone.
She received her BAFA (Fine Arts, Cum Laude) from the University of Pretoria in 2016 and is currently pursuing her MA in Visual Arts at the University of Johannesburg. Her work has been represented locally and internationally in numerous exhibitions, residencies, and art fairs. Attewell was selected as a Sasol New Signatures finalist (2016, 2017) and a Top 100 finalist for the ABSA L'Atelier (2018). Attewell was selected as a 2018 recipient of the Young Female Residency Award, founded by Benon Lutaaya.
Her work was showcased at the 2019 and 2022 Contemporary Istanbul with Berman Contemporary and her latest solo exhibition, titled Sociogenesis: Resilience under Fire, curated by Els van Mourik, was exhibited in 2020 at Berman Contemporary in Johannesburg. Attewell also exhibited at the main section of the 2022 Investec Cape Town Art Fair.
chriselattewell.com | Facebook | Artsy | Instagram
Nicolene Burger |

Multi-Media Artist, Art Writer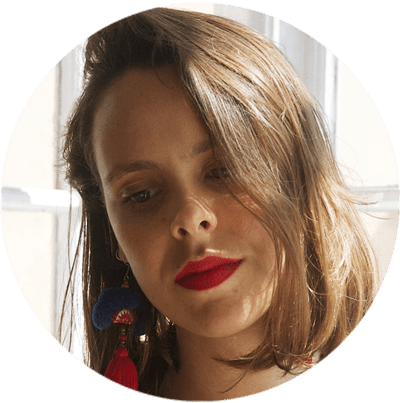 Nicolene Burger is a South African multi-media artist, working primarily in oil paint and performance art. She received her BA (Visual Arts) from Stellenbosch University in 2017. In 2018, Burger showed in Masan, South Korea as part of the Rhizome Artist Residency. she was selected to take part in the 2019 ICA Live Art Workshop, receiving training from art experts all around the world. In 2019 Burger opened her first solo exhibition of paintings titled, Painted Mantras, at GUS Gallery and facilitated a group collaboration project titled, Take Flight, selected to be part of Infecting the City Live Art Festival. At the moment, Nicolene is completing a practice-based master's degree in Theatre and Performance at the University of Cape Town.
In 2020, Nicolene created a series of ZOOM performances with Lumkile Mzayiya called, Evoked?. These performances led her to create exclusive performances from her home in 2021 to accommodate the mid-pandemic audience. She also started focusing more on the sustainability of creative practices in the last 3 years and now offers creative coaching sessions to artists of all kinds. By sharing what she has learned from a 10-year practice, Burger hopes to relay more directly the sense of vulnerability with which she makes art and the core belief to her practice: Art is an immensely important and powerful bridge of communication that can offer understanding, healing and connection.
nicoleneburger.com | Linkedin | Instagram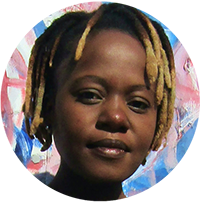 Heidi Sincuba was the Head of Painting at Rhodes University from 2017 to 2020 and part of the first Artist Run Practice and Theory course at Konstfack in Stockholm, 2021. They completed their BFA at Artez Arnhem in the Netherlands, MFA at Goldsmiths University of London, and are currently a Ph.D. candidate at the University of Cape Town.
Heidi Sincuba's own practice explores fugitivity through painting, drawing, text, textiles, performance, and installation. This praxis is founded on a conceptual intersection of biomythographic experimentation, existential automatism, and African ancestral knowledge systems. These methodologies of multiplicity result in a fluid and speculative aesthetic, continually manifesting and metamorphosing its material conditions.
Jaycene-Fay Ravenscroft is a writer, poet, and creative living in South Africa with over 6 years of experience working in a contemporary art gallery. She completed her Bachelor of Arts degree, majoring in Art History and Ancient History at the University of South Africa, with additional subjects in Archaeology and Anthropology.
With a passion for learning, Jaycene-Fay is very much inspired by symbology and the connection between everything in this world. Trained to analyze and 'critique' art, she is passionate about exploring the meaning behind each artwork she encounters and understanding how it connects to the artist's cultural, historical, and social background. Writing is Jaycene-Fay's way of having a finger in every pie: to research, share knowledge, and express herself creatively.
Armin Kific is a researcher and writer based in Pretoria, South Africa. He completed a degree in Political Science with majors in History and Philosophy in 2020, and has since completed an Honours in Anthropology and History. He is currently working towards a Master of Social Science at the University of Pretoria. Armin's knowledge of the arts spans across various mediums, and he is always looking for ways to marry art with social science. In 2021, he produced a short documentary film about the often-forgotten South African soul star Mpharanyana, integrating history, music, photography, and film. Armin is well-versed in art history, especially in the fields of political artwork and ancient artifacts. He enjoys exploring art history sources for information that has been lost or overlooked. He is also trained in biographical writing.
His favorite art movements include baroque, surrealism, and neoplasticism. Armin is an ardent supporter of indigenous art in South Africa, and is involved in an organization that looks to uplift South African artists following the challenges of Covid-19. By writing for ArtInContext, Armin continues to cultivate his artistic creativities and unite perspectives between art and society.
Emma completed her Bachelor's Degree in International Studies at the University of Stellenbosch. She majored in French, Political Science, and History. She graduated cum laude with a Postgraduate Diploma in Intercultural Communication. However, with all of these diverse interests, she became confused about what occupation to pursue. While exploring career options Emma interned at a nonprofit organization as a social media manager and content creator. This confirmed what she had always known deep down, that writing was her true passion.
Growing up, Emma was exposed to the world of art at an early age thanks to her artist father. As she grew older her interests in art and history collided and she spent hours pouring over artists' biographies and books about art movements. Primitivism, Art Nouveau, and Surrealism are some of her favorite art movements. By joining the Art in Context team, she has set foot on a career path that has allowed her to explore all of her interests in a creative and dynamic way.
Painting, Drawing, and Design
Charlene Lewis |

Writer for Color Theory and Painting



In 2005, Charlene completed her Wellness Diplomas in Therapeutic Aromatherapy and Reflexology from the International School of Reflexology and Meridian Therapy. She worked for a company offering corporate wellness programs for a couple of years, before opening up her own therapy practice. It was in 2015 that a friend, who was a digital marketer, asked her to join her company as a content creator, and this is where she found her excitement for writing.
Since joining the content writing world, she has gained a lot of experience over the years writing on a diverse selection of topics, from beauty, health, wellness, travel, and more. Due to various circumstances, she had to close her therapy practice and is now a full-time freelance writer. Being a creative person, she could not pass up the opportunity to contribute to the Art in Context team, where she was in her element, writing about a variety of art and craft topics. Contributing articles for over three years now, her knowledge in this area has grown, and she has gotten to explore her creativity and improve her research and writing skills.
Matthew Matthyssen | Drawing and Painting Artist, Writer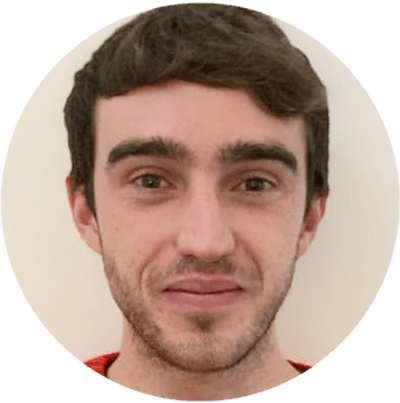 Matthew Matthysen is a multidisciplinary artist. He completed his fine art degree, majoring in History of Art and Contemporary Drawing Practice at the University of Witwatersrand, South Africa. The emphasis of Matthew's practice was a research-based approach into the philosophical effects on the human experience of the macro and micro-universe. Through various mediums, such as written and practical components, Matthew explores various ideas located within the conjoined space between science and philosophy.
Matthew has had various exhibitions before and throughout his year of studies and continues to do so. He has commissioned and sold various works to galleries and collectors. He currently sells work to an online gallery (Artgazette) and continues to make work for the public and private sector. Matt ist mainly working for artincontext.org and is responsible for the drawing tutorials.
Literature
Justin van Huyssteen is a freelance writer, novelist, and academic originally from Cape Town, South Africa. At present, he has a bachelor's degree in English and literary theory and an honor's degree in literary theory. He is currently working towards his master's degree in literary theory with a focus on animal studies, critical theory, and semiotics within literature. As a novelist and freelancer, he often writes under the pen name L.C. Lupus.
Justin's preferred literary movements include modern and postmodern literature with literary fiction and genre fiction like sci-fi, post-apocalyptic, and horror being of particular interest. His academia extends to his interest in prose and narratology. He enjoys analyzing a variety of mediums through a literary lens, such as graphic novels, film, and video games.
Website | Linkedin | Twitter | Youtube
Former Team Members
Demi Bucklow |

Illustrator, Fine Artist, Art Writer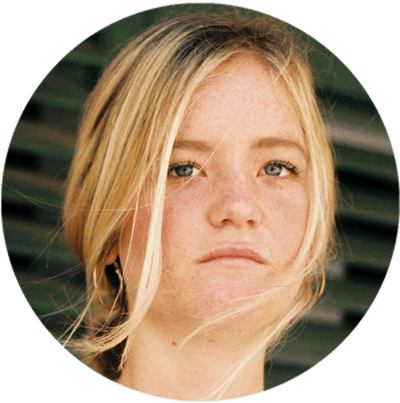 Demi Bucklow is an independent artist and photographer living in Cape Town, South Africa. Since graduating from the University of Cape Town in 2018 from Michaelis School of Fine Art with a degree specializing in fine art photography, she currently works as a freelance artist, content creator and writer. Demi's particular interests explore a range of multimedia illustration, collage art, photography and videography, darkroom processing and stop-motion animation. Her work is an exploration of nature and its phenomenon – somewhere between art and space.
Artistic practice presents the ability to communicate a vision. It is through techniques of pointillism and realism that form, and substance are explored as a metaphor for matter; super-imposing a thousand marks and points until an image is formed before our eyes. From illustrations to surrealist landscapes, Demi translates corporeality – mixing the obtuse and vacuous with the astute and expressive which leads to a mixture of irrevocable pondering over what is and what could be.
Kylie Deyzel is an interior designer and sustainability enthusiast from Cape Town, South Africa. She has a passion for writing and educating others on various interior design topics. Her favorite interior design topics include interior design theory, interior design history, and most of all: sustainable interior design.
She received her B-tech degree in interior design from the University of Johannesburg in 2018 and has worked at various interior design firms since and had a few of her own freelance interior design clients under her company name binnekant.