Jean-Honoré Fragonard was an influential French painter from the 18th century who elevated the genre of scene painting to a meditation on French society through his unique brushwork style and use of symbolism. Fragonard's paintings were known for depicting scenes of love that were deeply packed with hidden meaning. He was also renowned for his use of color and light which allowed one to discover new aspects of the artwork upon every viewing. Fragonard's artworks had a large influence on the Impressionists due to his expressive brushwork, and his themes are still deemed relevant by contemporary artists in the 21st century.
Jean-Honoré Fragonard's Biography
| | |
| --- | --- |
| Nationality | French |
| Date of Birth | 4 April 1732 |
| Date of Death | 22 August 1806 |
| Place of Birth | Grasse, France |
Fragonard's paintings were able to depict certain erotic symbols that his fellow artists and peers would be able to decipher easily yet were created with multiple levels of interpretation so as to render the underlying meaning hidden from the larger populace. He often used various scenarios to create a sense of tension, encouraging the audience to reassess their notions about the connection between men and women, humankind and the natural world, and even time itself.
Fragonard's artworks were distinct in their novel and subtle use of symbolism, which was used to provide a certain level of intellectual depth that remained unattainable to his contemporaries.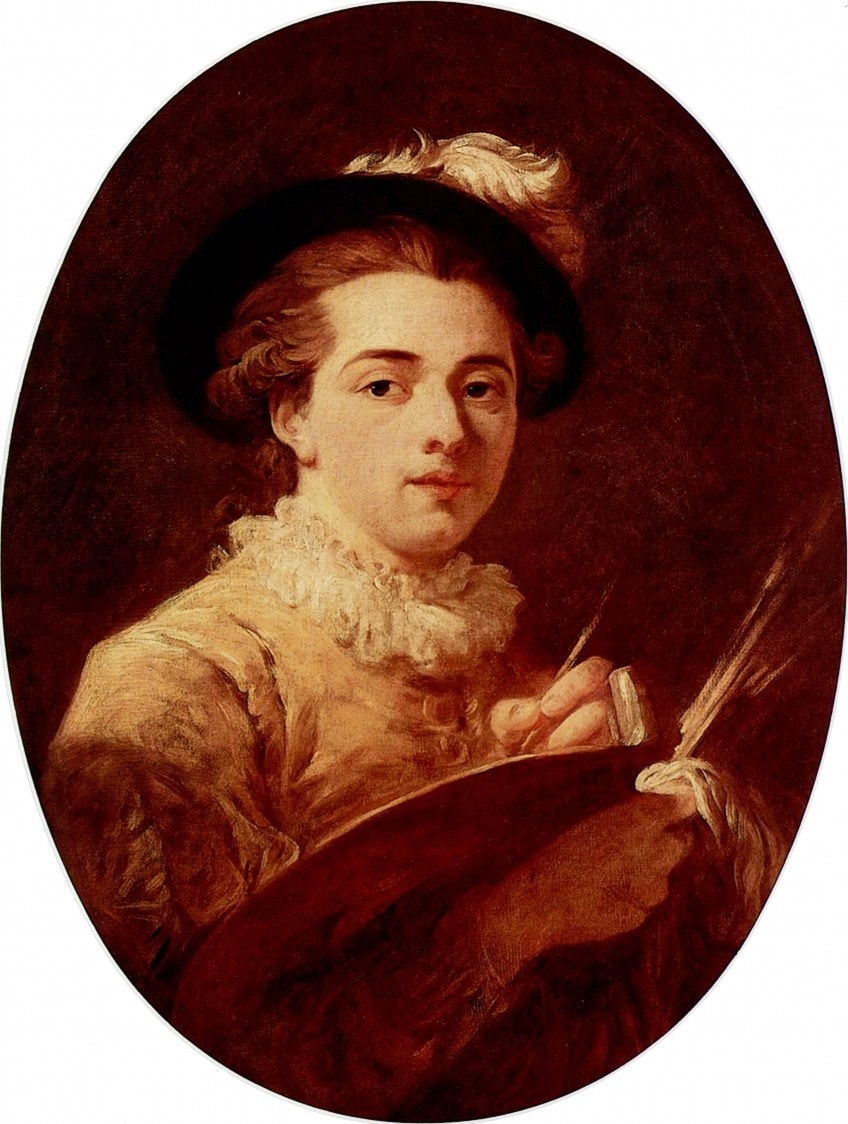 Self-portrait (c. 1660-1670) by Jean-Honoré Fragonard; Jean-Honoré Fragonard, Public domain, via Wikimedia Commons
Childhood and Early Training
Jean-Honoré Fragonard was born in Grasse to a family of traders and craftsmen. When he was six years of age the family relocated to Paris, but beyond that, not much is known about Fragonard's childhood. We do know that after failing his apprenticeship with a notary, he decided to pursue art. He experienced success at a rather early time in his career, despite many people's romanticized idea that he was an outsider to the established art world.
In fact, this was barely the case, as he had studied with several renowned artists such as François Boucher and Jean-Baptiste-Siméon Chardin, who would both influence Fragonard's painting style and use of symbolism immensely.
The French academy held a competition called the Prix de Rome annually which would offer five years of subsidized study in Rome as the main prize. For any young French painter, this was seen as the opportunity of a lifetime, and in 1752 Fragonard managed to win the prize on his very first attempt. He left for Rome in 1756 and spent the next five years learning to become a history painter.
After that, he returned to Paris and produced The High Priest Coresus Sacrificing Himself to Save Callirhoe (1765) to submit to the Academy, which was subsequently bought by the monarchy and used as the design for a tapestry embroidery. He was then commissioned to create a complementary piece for the artwork and provided with a studio in the Louvre. After that, he was inundated with both small and large private commissions.
The High Priest Coresus Sacrificing Himself to Save Callirhoe (1765) by Jean-Honoré Fragonard; Jean-Honoré Fragonard, Public domain, via Wikimedia Commons
Mature Period
Fragonard then married a girl who was 14 years younger than him in 1769 named Marie-Anne Gerard. The wedding was not without its controversies though, as the bride was clearly pregnant and gave birth to a daughter only a few short months after the ceremony. Even after the wedding, and throughout their entire marriage, there were rumors and stories of adultery surrounding the couple, although nothing was ever proven. In 1780, they had a son named Alexandre-Evariste, one of many French painters that would go on to study at the school of Jacques-Louis David.
Not only did Marie-Anne handle the family's finances, but it is also believed that she created many paintings that were originally attributed to Jean-Honoré Fragonard.
The young French painter had only been at the Academy for a few years before his art style started to ruffle the feathers of the faculty. They had planned for Fragonard's artworks to follow in the tradition of history painting, yet he preferred to produce smaller paintings that depicted scenes of a light-hearted nature that had gained popularity among his private clientele.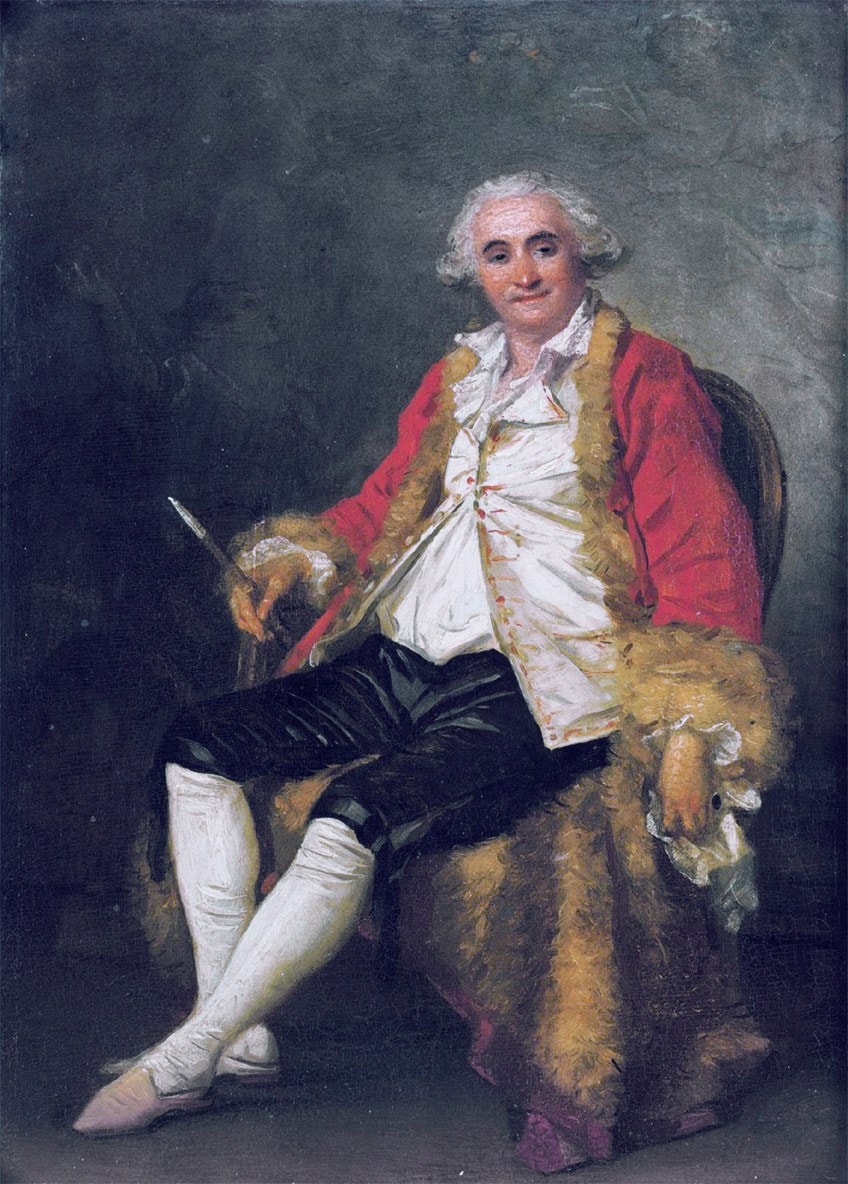 Portrait of Jean-Honoré Fragonard (1732-1806) (c. 18th century) by Marguerite Gérard; Marguerite Gérard, Public domain, via Wikimedia Commons
By the end of the 1760s, Fragonard's artworks had started to receive scathing criticism from writers and fellow artists alike who saw him as a sell-out who had no other intention but to make money and was wasting his talents. It is no secret that he most definitely made loads of money though, as he was one of the highest-earning artists of his era. Although he received many commissions, he was not able to fulfill all of them and often left works incomplete, or often if they were complete, they were nothing like what the client had requested.
For example, Marie-Madelaine Guimard, a famous performer in her time, commissioned Jean-Honoré Fragonard to produce a mural for her home.
The French painter postponed the job several times, and on one occasion requested more than double the agreed-on fee before agreeing to commence with the project. The exasperated performer eventually gave up on Fragonard and instead asked Jacques-Louis David to create the mural. It turns out that Fragonard was relieved that he no longer had to do the project and it initiated a life-long friendship between David and Fragonard. Soon after this, he was asked to go to Italy to serve as a guide to Bergeret de Grancourt, and on this trip, he produced many artworks of the travelers and their surroundings.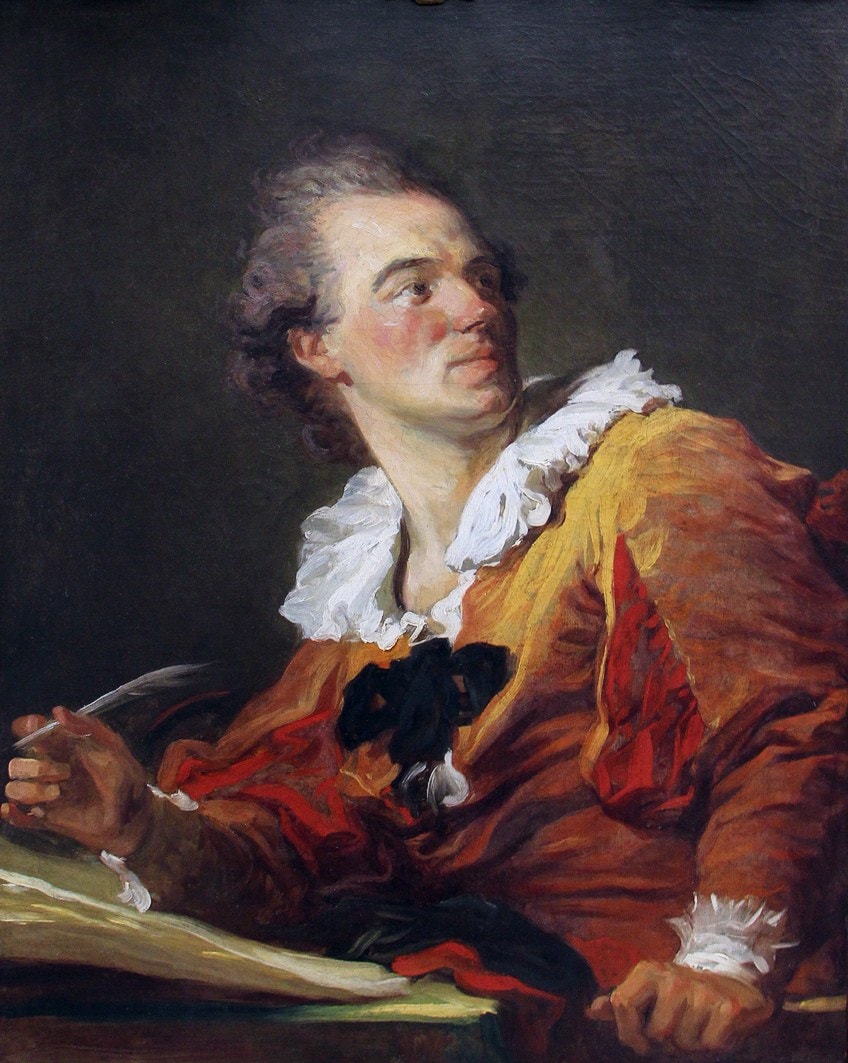 Inspiration (1769), self-portrait by Jean-Honoré Fragonard; Jean-Honoré Fragonard, Public domain, via Wikimedia Commons
Shockingly, Bergeret de Grancourt decided that Gragonard's paintings were his property as they had been created under his employment. They eventually took the case to court although there is no record of the outcome, with both sides offering different accounts as to how it played out. Even faced with such a dubious track record, Fragonard continued to get commissions, such as a five-painting deal for the Parisian Hotel de Toulouse in 1775, which took five years to complete.
Late Period
In his later years, the French painter focused on creating cabinet paintings for the public market that were highly valued. At the time, this move to a public audience was regarded as unusual for an artist of his stature and due to his unconventional approach, he changed the way in which artists interact with the art market. Although his clientele was still mostly the wealthy elite, he was afforded greater artistic independence than when required to work by commission.
He had often produced work for those who were considered a part of the Ancien Regime, yet he was known to be an ardent supporter of the revolution in France.
Self-portrait (c. 1800-1806) by Jean-Honoré Fragonard; Jean-Honoré Fragonard, Public domain, via Wikimedia Commons
There is, however, speculation as to whether this support was rooted in how he really felt or simply an opportunistic tactic. Fragonard's artworks were starting to fall out of fashion with the general public though, as there was a perceived association between the lavish style of Fragonard's paintings and the elite society that they were trying to overthrow. In his final years, Jean-Honoré Fragonard relocated his family to a villa in Grasse, and in 1792 he worked as a curator for the Louvre. Jean-Honoré Fragonard passed away in 1806, without any notable acknowledgment from the French people or media.
Legacy
Fragonard's wife and sister-in-law are considered to be the French painter's only two real pupils. During his career, the style of Fragonard's paintings influenced many contemporaneous fellow artists, yet none of them were able to reach anywhere near Jean-Honoré Fragonard's level of artistry, and most have them have been forgotten or not worthy of mention in the annals of art history.
Due to the cultural transformation of the French Revolution, it would take several generations for his work to resurface again, with a resurgence of interest occurring around 1865.
The Progress of Love: The Lover Crowned (1771-1772) by Jean-Honoré Fragonard; Jean-Honoré Fragonard, Public domain, via Wikimedia Commons
Due to this resurgence, Fragonard's artworks were once again in the public spotlight, leading to the discovery of a series of paintings he had created in Grasse known as the Progress of Love (1772) series. His work was particularly appreciated by the Impressionists who enjoyed his expressive brushwork, lighting details, and unique way of applying the paint to his canvas. One of his most well-known artworks, entitled The Swing (1767), has been referenced by several modern artists such as Kent Monkman and Yinka Shonibare.
Fragonard's artworks dealt with themes of the male gaze and gender roles, which were regarded as out of fashion for many years, have once again become relevant in today's society, resulting in modern artists looking back at the works of the French painter to reexamine artistic notions about sexuality.
The Swing (1767) by Jean-Honoré Fragonard; Jean-Honoré Fragonard, Public domain, via Wikimedia Commons
The Art Style of Jean-Honoré Fragonard
Fragonard's paintings were regarded as unique in their ability to display a sense of heightened drama through his use of specific settings and scenarios. He applied light to his works in a way that would lead the eye through the painting, thus creating a visual narrative of a deeper story being told within the painting. Each element of the environment would serve to add further drama to the scene, such as the trees, and skies which could convey either turmoil or bliss depending on how they were portrayed.
Blue skies would represent calm and a sense of resolution, while stormy skies and windswept branches would indicate tension.
It is evident that the French painter enjoyed the process of painting just as much as the outcome, as his brushstrokes seem to dance joyfully across the canvas, taking twists and turns, dips, sudden launches, and at other times, long fluid motions. This worked well with his specific manner of applying shade and light, as well as tone and color. If one observes Fragonard's work up close, the images become almost abstracted, which in many ways set the tone for many art styles that followed.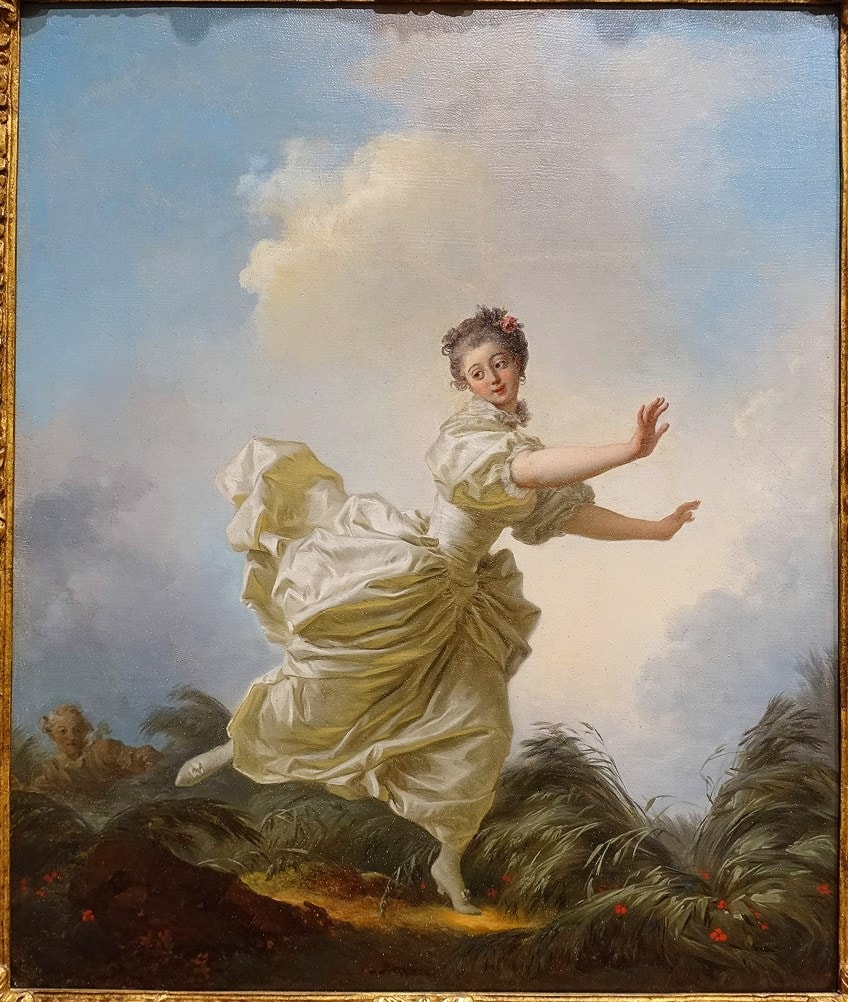 The Pre-Arranged Flight (c. 1772-1773) by Jean-Honoré Fragonard; Daderot, Public domain, via Wikimedia Commons
Notable Artworks
During his lifetime, Fragonard was one of the best-paid artists around. His style fell into disfavor during the French Revolution and it would take many years before it once again resurfaced in the public consciousness.
You can decide for yourself whether his name belongs in the history of art by looking at some of his artworks personally.
| | | | |
| --- | --- | --- | --- |
| Artwork | Date | Medium | Location |
| The Seesaw | 1752 | Oil on canvas | Museo Nacional Thyssen-Bornemisza, Madrid, Spain |
| The Bathers | 1765 | Oil on canvas | Musée du Louvre, Paris |
| The Swing | 1767 | Oil on canvas | Wallace Collection, London |
| The Writer | 1769 | Oil on canvas | Musée du Louvre, Paris |
The Bathers (1765) by Jean-Honoré Fragonard; Jean-Honoré Fragonard, Public domain, via Wikimedia Commons
Recommended Reading
In this article, we have taken a look at Jean-Honoré Fragonard's biography and art style. There is so much more to learn about this famous French painter though, so we encourage you to go out and find out even more. To make your search as easy as possible, we have found a few books that we can recommend to you.
Delphi Complete Works of Jean-Honoré Fragonard (2018) by Peter Russell
Fragonard's paintings are said to exude frivolity and joy, hallmarks of the Rococo style that was popular among the wealthy and elite. Fragonard's artworks represent the last great works created for the Ancien Regime in France. His works conveyed a sense of intimacy as well as hidden symbolism.
Presents Fragonard's complete works in beautiful detail
With concise introductions and hundreds of high-quality images
Includes reproductions of rare works by the artist
View on Amazon
Composition Notebook: Jean-Honoré Fragonard (2021) by Fine Arts Bottega
The Swing (1767) is regarded as one of the French painter's most iconic artworks. This beautiful notebook is perfect for writing down your artistic ideas or sketching your own future masterpiece. With Fragonard's painting adorning the cover, you will surely be inspired to write something expressive and meaningful. Use it as a diary, doodle pad, or even as a travel book.
Stand out of the crowd with this elegant and charming notebook

The perfect size for a composition notebook with an artistic cover

An all-purpose daily notebook for journalling, doodling, and more
View on Amazon
Jean-Honoré Fragonard was in many ways before his time. Although his art style was appreciated in his day, many aspects would influence art movements several generations later, and continue to do so today. His expressive brushwork, his hidden deeper symbolism, and his distinct application of light and color set him apart from any contemporaries who tried to emulate him.
Frequently Asked Questions
Who Was Jean-Honoré Fragonard?
Jean-Honoré Fragonard was a famous French painter. He was one of the wealthiest artists of his time and transformed the way in which artists sell their work to the art market. He built a reputation through his commissions but eventually opted to sell his works to the public which offered him greater freedoms than ever before.
What Was Jean-Honoré Fragonard Famous For?
Jean-Honoré Fragonard was a renowned colorist and created artworks that were appreciated by both the elite and the general French public. Although there were expectations that he would follow in the historical painter tradition, he gained far more pleasure creating joyful scenes of love and leisure. He was known to subtly incorporate symbols that were largely missed by those who were not aware of their deeper meanings.
Isabella studied at the University of Cape Town in South Africa and graduated with a Bachelor of Arts majoring in English Literature & Language and Psychology. Throughout her undergraduate years, she took Art History as an additional subject and absolutely loved it. Building on from her art history knowledge that began in high school, art has always been a particular area of fascination for her. From learning about artworks previously unknown to her, or sharpening her existing understanding of specific works, the ability to continue learning within this interesting sphere excites her greatly.
Her focal points of interest in art history encompass profiling specific artists and art movements, as it is these areas where she is able to really dig deep into the rich narrative of the art world. Additionally, she particularly enjoys exploring the different artistic styles of the 20th century, as well as the important impact that female artists have had on the development of art history.
Learn more about the Art in Context Team.