Théodore Géricault – A Founding Father of French Romanticism
Théodore Géricault was a French painter whose short career had a considerable impact on modern art, notably the expansion of French 19th-century painting. His revolutionary use of contemporary subject matter, enthusiasm for horses, blending of classical aspects with an atmospheric, painterly aesthetic, interest in horrific subjects, and sympathy for society's vulnerable and weak made him a uniquely complicated creator, but one who helped pave the way for Romanticism's increasing focus on subjectivity and emotion. The most well-known of Théodore Géricault's paintings, The Raft of the Medusa (1819), was a turning point in art history because it brought together the immediacy of current events and personal accounts with the traditional, huge framework of a significant Salon artwork.
The Life and Art of Théodore Géricault
| | |
| --- | --- |
| Nationality | French |
| Date of Birth | 26 September 1791 |
| Date of Death | 26 January 1824 |
| Place of Birth | Rouen, France |
Most of Théodore Géricault's paintings were based on astute observation, social consciousness, and, sometimes, a politically minded vision of the world. Many of his pieces, especially the later series of monomaniacs and his early depictions of guillotined heads, exhibit a distinct blend of realism and genuine emotion.
Théodore Géricault's paintings were entirely modern in their emphasis on current events and the realities of the human condition in that specific time period
Self-portrait or Portrait of an Artist in His Studio (c. 1820); Théodore Géricault, Public domain, via Wikimedia Commons
Childhood and Education
Théodore Géricault was the only offspring of rich, traditional parents. His father practiced as an attorney while his mother came from a tobacco-farming family. Géricault's family relocated to Paris when he was four years old, allowing him to attend the most renowned schools.
His sketching aptitude was noticed when he was 15, and he began taking painting seriously
Géricault's early life was not without tragedy. His mother passed away in 1808 before he finished high school. When his grandmother died four years later, he was bequeathed a substantial pension that would enable him to live a comfortable life and provide him the opportunity to pursue his artwork without financial constraints.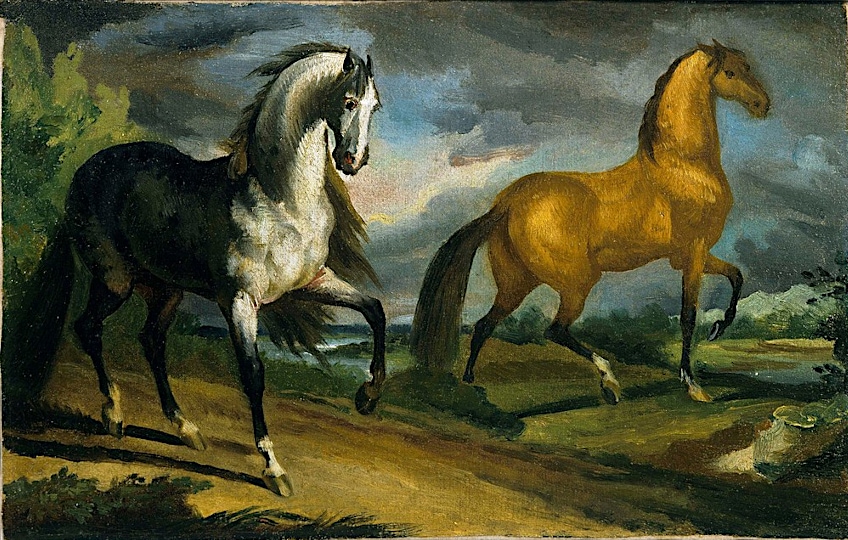 Two Horses (1808) is an example of the young Géricault's early work; Théodore Géricault, Public domain, via Wikimedia Commons
Early Training
Géricault had the good fortune to have studied under Carle Vernet and Pierre Bouillon before enrolling at the École des Beaux-Arts. To assist his son from being drafted into the military, Géricault's father arranged for a soldier to serve in his son's place in the army in 1812.
This reprieve from service gave the young French painter enough time to complete his work Charging Chasseur (1812), which earned him both notoriety and a medal when it was displayed at the Salon of 1812. Despite his dedication to his studies, Géricault frequently attempted to leave the studio to sketch horses.
He was finally ejected from Guérin's workshop following an argument with other pupils in which he flung a pail of water on the head of his teacher. Géricault served for a year in the Third Brigade of the Royal Musketeers in 1814.
The Charging Chasseur (1812); Théodore Géricault, Public domain, via Wikimedia Commons
The artist, who was widely regarded as elegant, attractive, and self-aware, must have been drawn to the status and romanticism linked with this position. He was also known to use paper rollers to make his normally straight hair look curlier, although he kept this a secret.
Géricault, like many other young painters of the time, competed for the prestigious Prix de Rome, which offered a paid study stay in Italy. Despite not winning the award, he opted to go to Italy by himself. While there, he encountered Michelangelo's artwork and the Baroque period, both of which had a major impact on his own works, particularly in his figural portrayals and spectacular use of light and shadow. The vacation also provided him with an opportunity to avoid the issues of an affair he was pursuing with his uncle's young bride.
While in Italy, Géricault made it his goal to examine the great masters, putting himself through a rigorous and serious curriculum: "To concern myself entirely with the manner of the Old Masters and write, without venturing out and remaining alone", he stated.
Studies of Classical statuary (between 1814 and 1815); Théodore Géricault, Public domain, via Wikimedia Commons
Nonetheless, he was attracted by life in Italy and followed reports of Italian criminals, and peasants, which together prompted some of his finest works of the time.
Gericault gradually began to abandon the conventional classical subjects prominent in French artwork at the time in favor of a more modern style of painting that entailed producing dramatic, visually complex stories with increased use of light and color.
This signifies the start of the Romanticism movement, of which Géricault was an early proponent.
Free horse racing in Rome (1817); Théodore Géricault, Public domain, via Wikimedia Commons
Mature Period
When Gericault returned to Paris in 1817, the Romanticism movement was in high gear, as seen by his large-scale landscapes illustrating the various times of day, all finished in 1818.
These paintings were ordered by his uncle, the same uncle with whose wife Gericault had an affair. When she gave birth to an illegitimate child in August 1818, his uncle refused to accept the paintings, and they remained in the artist's workshop until his death.
The fact that Géricault fathered a baby out of wedlock remained a family secret until 1976 when it was unearthed by researchers.
Evening: Landscape with an Aqueduct (1818); Théodore Géricault, Public domain, via Wikimedia Commons
During his brief career, Géricault painted series of works centered on certain themes, such as horses, military action scenes and soldiers, Spanish and Latin American revolutionary heroes, and lastly Orientalist topics. These themes are consistent with the Romantic aesthetic that influenced Géricault's contemporaries.
Several of the early Romantic artists, including Ary Scheffer, Eugène Delacroix, Paul Huet, and Léon Cognet, studied at Guérin's workshop, as did Géricault. Given their master's Neoclassical influence, they developed a style that exalted emotions and values like liberty, heroism, sorrow, and wonder. Géricault, like his fellow Romantics, was drawn to majestic and frequently terrifying topics. Géricault has been portrayed as a melancholy man who was attracted by the images of mental illness, violence, and death, but it is more probable that these topics provided fertile ground for him to stretch the boundaries of his creative expression.
In his most renowned work, The Raft of the Medusa (1819), Gericault applied his fascination with horrific motifs to a contemporary subject.
The Raft of the Medusa (1819); Théodore Géricault, Public domain, via Wikimedia Commons
The work dealt with the very contentious shipwreck of the French ship the Medusa, presenting one of the clearest and greatest representations of French Romanticism. Géricault was so preoccupied with completing this painting that it is said he cut his prized hair, knowing that his pride would prohibit him from leaving his workshop to appear in public. Following The Raft of the Medusa's polarized reaction at the 1819 Salon, Géricault traveled to England, where he lived for more than a year.
While in England, Gericault was afflicted with sciatica, pneumonia, and melancholy.
An example of Géricault's lithographic work: Various Subjects Drawn from Life and on Stone: A Paraleytic Woman (1821); Cleveland Museum of Art, CC0, via Wikimedia Commons
Despite these ailments, Gericault liked strolling the streets of London. He absorbed himself completely in London society, associating with English artists, going to boxing events, and riding horses. He was struck by the condition of the English poor, though, and produced a series of lithographs on the issue, as well as other works depicting English rural life and athletic events.
Furthermore, during his career, Gericault worked extensively with the relatively new technique of lithography, becoming fairly adept as a printer.
Later Period
Despite having achieved significant creative accomplishments, Géricault's latter years were difficult. His health deteriorated more, he became depressed, and he began engaging in harmful conduct.
This darkening of his mood may have inspired his final big work, the Monomaniacs: a series of disturbing portraits of the mentally ill.
A Madwoman and Compulsive Gambler (1820); Théodore Géricault, Public domain, via Wikimedia Commons
Géricault was required to have a tumor removed from his spine during his final days because of several horse-riding incidents that happened in the spring of 1822.
He declined anesthesia to observe the parts of his body while the surgeon executed the procedure since he was always interested in the body as a reservoir of creative inspiration.
Géricault died in 1824 at the young age of 33 as a result of his multiple afflictions.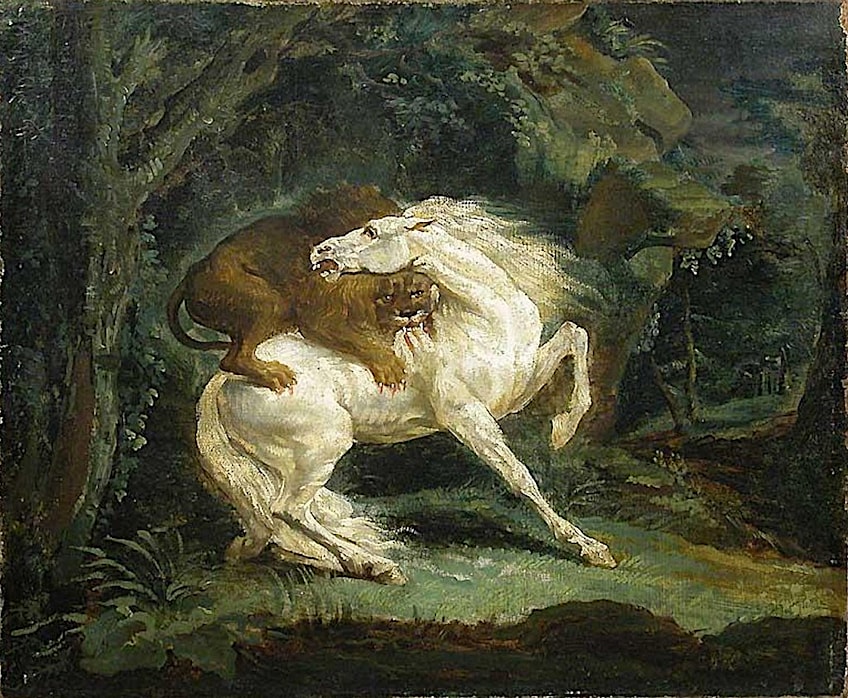 Horse Attacked by a Lion (1821); Théodore Géricault, Public domain, via Wikimedia Commons
Notable Géricault Paintings
Géricault's innovative approach to artmaking influenced the Romanticism art movement. His utilization of contemporary subject matter, as well as intricate stances and dramatic light effects, influenced the work of subsequent Romantic artists such as Ary Sheffer and Eugène Delacroix.
Géricault, like them, delved into the depths of the human mind, employing the physical body as an external metaphor for the soul.
Here are a few Géricault paintings to look out for.
| | | | | |
| --- | --- | --- | --- | --- |
| Artwork | Date Completed | Medium | Dimensions (cm) | Current Location |
| Charging Chasseur | 1812 | Oil on canvas | 349 x 266 | Musée du Louvre, Paris, France |
| Male 'académie' Seated and Seen from Behind | 1816 | Oil on canvas | 35 x 25 | Musée des Beaux-Arts, Rouen, Rouen, France |
| The Raft of the Medusa | 1819 | Oil on canvas | 491 x 7716 | Louvre Museum, Paris, France |
| Cattle Market | 1820 | Oil on paper marouflé on canvas | 21 x 17 | Fogg Art Museum, Cambridge, Massachusetts, USA |
Despite drawing inspiration from the Old Masters, particularly Michelangelo, Géricault broke away from the refined Neoclassical style of art by using quick, expressive brushstrokes and opposing light effects. This focus on the exotic, emotional, and transcendent, which is today known as Romanticism, is most exemplified in Géricault's paintings. The concept that the personal, emotional response of the particular artist was what was important to the artist would last into the 20th century.
Frequently Asked Questions
Who Was Théodore Géricault?
Géricault's innovative approach to artmaking influenced the Romanticism art movement. His utilization of contemporary subject matter, as well as intricate stances and dramatic light effects, influenced the work of following Romantic artists. Géricault delved into the human mind, utilizing the physical body as an outer metaphor for the soul.
Who Created The Raft of the Medusa Painting?
It was produced by the famous French painter, Théodore Géricault. It has since become one of the most famous artworks of the Modern era. Some of the painters who have taken direct inspiration from that artwork include Max Ernst, Sandra Cinto, Vik Muniz, Jeff Koons, Peter Saul, and Frank Stella.
Isabella studied at the University of Cape Town in South Africa and graduated with a Bachelor of Arts majoring in English Literature & Language and Psychology. Throughout her undergraduate years, she took Art History as an additional subject and absolutely loved it. Building on from her art history knowledge that began in high school, art has always been a particular area of fascination for her. From learning about artworks previously unknown to her, or sharpening her existing understanding of specific works, the ability to continue learning within this interesting sphere excites her greatly.
Her focal points of interest in art history encompass profiling specific artists and art movements, as it is these areas where she is able to really dig deep into the rich narrative of the art world. Additionally, she particularly enjoys exploring the different artistic styles of the 20th century, as well as the important impact that female artists have had on the development of art history.
Learn more about Isabella Meyer and the Art in Context Team.
Cite this Article