Contemporary art is the art made today. But this term is stickier than that because the term Contemporary art's meaning is not always the same as other art movements as we've seen in the Modern art era. The term is marked by a change in the way that artists look at their art-making, and we can see much innovation in terms of the mediums that they use and the ideas they present. In this article, we will be unpacking the idea of Contemporary art – looking at some of the themes of contemporary art, as well as examples of contemporary art.
What Is Contemporary Art?
The definition of contemporary art is the art made in the latter half of the 20th century until now. This art responds to the modern times we live in, focusing on broad contextual frameworks – from political and cultural, themes of identity, and advancing technology. Artists make art based on concepts and react to the world's political and cultural lives.
Contemporary art is not merely about the aesthetic pleasure of looking at an artwork, but is much more focused on sharing ideas. Contemporary art is marked by its diversity of mediums and styles.
Characteristics of Contemporary Art
Although the most important feature of contemporary art is that there are no real defining characteristics of it, there are some common features that are shared by contemporary art as a whole. Some of these characteristics include:
Contemporary artists are involved in innovation with new ideas and new art forms, using anything at their disposal from video games to engineering to plastic surgery. The artists use diverse mediums.
Artworks are made with a concept behind them, and each artwork will have a reason beyond existing as a purely aesthetic object.
Some contemporary artists work in groups but there are no large movements like there were in the modern art era.
The mediums are a part of the meaning-making process that artists invent for themselves.
There is also a movement towards a less eurocentric view of art, and many more artists from diverse parts of the world are acknowledged and receiving more attention.
Is Contemporary Art the Same As Modern Art?
The words contemporary and modern are technically synonyms, but these two phases in the history of art are very different. Contemporary art's meaning involves much more context. Contemporary art is considered postmodern, which means that it came after Modernism.
Contemporary art is different from modern art movements such as Pop art or Surrealism. Modern art was marked by artists being self-referential (making art about art).
Rose sculpture by Isa Genzken, an example of contemporary art; Christoph Müller, CC BY-SA 3.0, via Wikimedia Commons
Artists created art movements, with similar ideas and technical challenges which occupied the thoughts of many different artists. In the Contemporary art era, artists create art that responds to the unique experience of living in the technologically advancing world wherein we find ourselves, each story unique. Artists create artworks based on their unique experiences. There are no overarching ideas and ideologies, and artists do not create new "-isms" such as Surrealism and Fauvism.
Modern artists created artworks focusing on the artmaking process itself – such as when Impressionists created artworks responding to the invention of the camera – inspired by the idea of capturing light on a minute-to-minute basis. Contemporary artists do not all have an overarching medium that they explore, and each artist uses the medium as a way to explore larger themes and ideas.
Contemporary art responds to ideas of the modern world in a way that suits this moment in history and time – with each artist focusing on a life-long journey of art-making about the intricacies of living in the world in their own way.
Examples of Contemporary Artworks
We will now be looking at some of the most famous Modern Contemporary artworks made to date, describing how these artists innovate and create new exciting artworks. These artworks are merely a glimpse at the diverse ideas that artists work with, but give a taste of the amazing work being made and the exciting and important ideas that artists work with every day.
Cut Piece (1964) by Yoko Ono
| | |
| --- | --- |
| Artwork Title | Cut Piece |
| Artist | Yoko Ono |
| Year | 1964 |
| Medium | Performance Artwork |
| Where It Was Made | New York City, USA |
Cut Piece (1964) is an early example of contemporary art. It is a performance artwork. In the 1960s, artists like Yoko Ono became known to host events called Happenings, wherein the artist gave art viewers and participants the power to make art themselves or have a hand in art-making.
Most of these events were only momentary and would only exist later in photographs, or in a final artwork that would have less meaning without the context of the performance.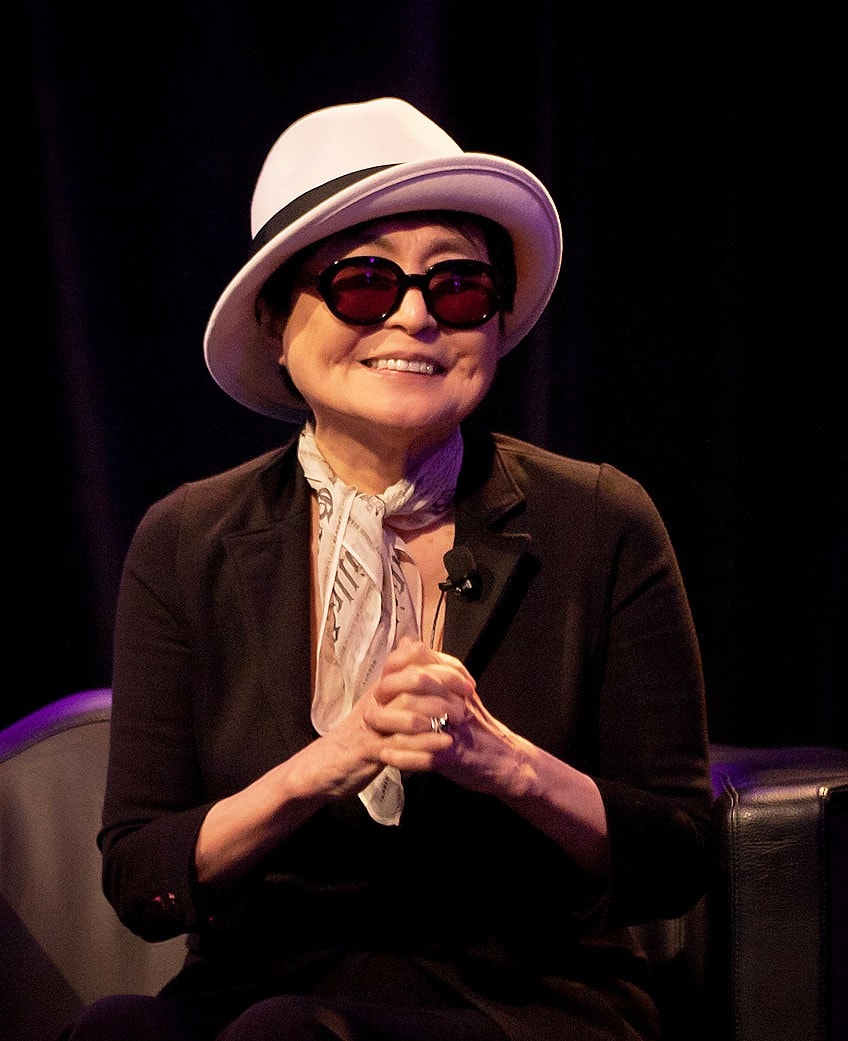 Photograph of artist Yoko Ono in 2011; Earl McGehee – www.ejmnet.com, CC BY 2.0, via Wikimedia Commons
Cut Piece is one of these events, wherein the artist asked people to cut pieces from her clothing as she sat motionlessly. As the artist grew more and more exposed, the audience became quieter and more shocked, the artist recalled. This provocative artwork also put the artist in various levels of danger as she put her trust in the audience that they would only cut her clothing and not use her scissors for other purposes.
Infinity Mirror Room (1965) by Yayoi Kusama
| | |
| --- | --- |
| Artwork Title | Infinity Mirror Room |
| Artist | Yayoi Kusama |
| Year | 1965 |
| Medium | Installation Artwork |
| Where It Was Made | New York City, USA |
Kusama's Infinity Mirror Rooms (1965), of which there are many different variations, are considered installation artworks. Using mirrors, the artist transformed the intense repetition of her early paintings into a three-dimensional space and perceptual experience. There are at least twenty distinct Infinity Mirror Rooms in the world. These rooms create kaleidoscopic visions with multimedia aspects, all of which create a strange illusion of the room being infinite, and the audience members also being infinite.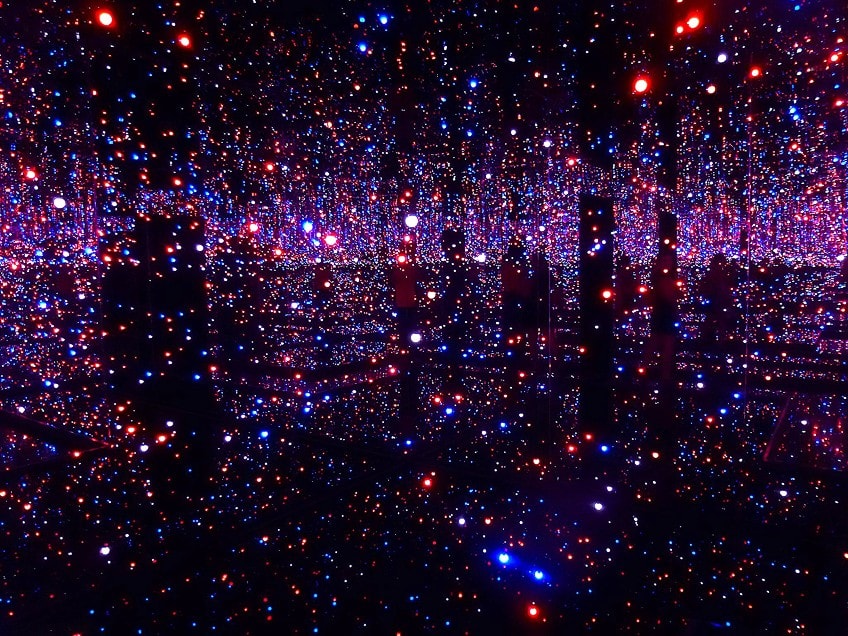 An Infinity Room installation by Yayoi Kusama; Pablo Trincado from Santiago de Chile, Chile, CC BY 2.0, via Wikimedia Commons
The first of these rooms, Infinity Mirror Room: Phalli's Field, showcases a room filled with hundreds of polka-dotted phallic shapes covering every surface of the room. The labor-intensive work made the artist consider other ways to create the effect of being entirely surrounded by these long, rounded objects. The artist is famously linked with the polka dot and with circles, stating that creating circles endlessly comforted her.
This artwork also made the audience members the subject of the work, and the body's existence in the space alters it and gives it more meaning.
Spiral Jetty (1970) by Robert Smithson
Spiral Jetty (1970) is an example of a Contemporary Land artwork. This artwork was built onto the Great Salt Lake in Utah and consisted of mud, salt, and basalt rocks that were built into a 1500-foot-long spiral that bent around anticlockwise.
This spiral could be viewed from above depending on the water level of the lake. This meant that the earth itself changed the meaning of the artwork, as sometimes it didn't exist or was hidden, and at other times the earth let us get a glimpse at it.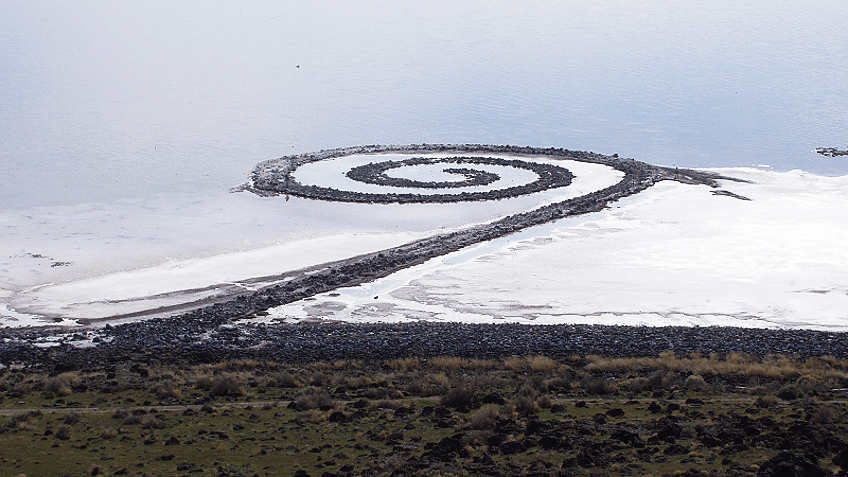 Spiral Jetty (1970) by Robert Smithson, located at Rozel Point in the Great Salt Lake, Utah, United States; Sculpture: Robert Smithson 1938-1973Image:Soren.harward at en.wikipedia, Public domain, via Wikimedia Commons
This artwork is one of the most famous Land artworks. Land artists typically use the land itself as a medium, making work that is inspired by and exists in the earth, without being detrimental to the earth. This type of art was also quite infamous for being unable to sell – no one could possibly buy a piece of the lake, and this decommercialization in the art market was also a new aspect of Modern Contemporary art that made it different from Modernism.
Rhythm 0 (1974) by Marina Abramović
| | |
| --- | --- |
| Artwork Title | Rhythm 0 |
| Artist | Marina Abramović |
| Year | 1974 |
| Medium | Performance Art |
| Where It Was Made | New York City, USA |
In a similar artwork from years apart, Marina Abramović created the Rhythm 0 (1974) performance. The artist gave audience members 72 objects with which they could do anything that they felt they wanted. These objects included scissors, a rose, shoes, a chair, leather strings, a scalpel, a gun, a feather, a bullet, and some chocolate cake, among others.
The artist stood still for the six hours of the performance, while audience members became more and more violent. One audience member cut open the artist's neck, while another held the gun to the artist's head.
The audience ended up in a fight about how far certain members of the public were willing to go with their violent acts. At the end of the performance, all those who had participated ran away to avoid confronting what they had taken part in. This artwork became a shocking example of human nature, as well as how far art could stretch beyond being a traditional painting on a wall.
The Dinner Party (1974) by Judy Chicago
| | |
| --- | --- |
| Artwork Title | The Dinner Party |
| Artist | Judy Chicago |
| Year | 1974 |
| Medium | Feminist Art, Installation Art |
| Where It Was Made | New York City, USA |
Judy Chicago's famous artwork was a large installation artwork. The medium of installation refers to an artwork wherein audience members can be fully immersed, an artwork you can walk into. This large installation included multiple tables set in a triangular shape.
The artwork has hundreds of components, but "The Dinner Party" (1974) sets up an imagined banquet where the artist invited 39 women from history to literally and figuratively "have a seat at the table".
There are place settings for women from history and mythology – from Sacajawea, Susan B. Anthony, and Emily Dickinson, to the Primordial Goddess. These place settings mostly depict stylized images of female anatomy such as vulvas. This artwork created quite a shock with the blatant display of female anatomy and the bulkiness of all the hundreds of parts that make up the work.
This artwork has come to be known as one of the most important pieces of feminist art in history and is on permanent display at the Brooklyn Museum in the United States of America.
Alma, Silueta en Fuego (1975) by Ana Mendieta
| | |
| --- | --- |
| Artwork Title | Alma, Silueta en Fuego |
| Artist | Ana Mendieta |
| Year | 1975 |
| Medium | Photography, Land Art, and Body Art |
| Where It Was Made | USA |
Ana Mendieta was a Land artist and also called herself a Body artist who used photography to capture her work. In the Contemporary era, artists also started using digital and photographic means to create and display their ideas, and the use of video has become commonplace.
"Alma, Silueta en Fuego" (1975) is only one artwork in a series wherein the artist used her own silhouette, camouflaged into natural environments.
She drew comparisons between the female figure and the landscape, and in this specific artwork, the artist pointed at the violence experienced by women and their bodies, as well as by the earth. These artworks are along a Feminist theme, but can also be seen as Environmental art focused on the earth and our treatment of our natural resources. Asked about her own work, the artist stated, "Through my earth/body sculptures, I become one with the earth … I become an extension of nature and nature becomes an extension of my body."
Self (1991) by Marc Quinn
| | |
| --- | --- |
| Artwork Title | Self |
| Artist | Marc Quinn |
| Year | 1991 |
| Medium | Blood, stainless steel, Perspex, and refrigeration equipment |
| Where It Was Made | London, UK |
Self is a self-portrait made by artist Marc Quinn in 1991. The artist used his own bodily materials to create this sculpture – his own blood. The artist cast his own head with ten pints of his own blood collected over a few months. This artwork was made during a time wherein the artist struggled with dependency, and this relates to the way that the sculpture needs electricity to maintain its shape.
The materiality of the artwork is also very significant here – making the self-portrait the closest material to his own body that the artist could – using parts of his actual body.
In this way, the artist experimented with new materials in a way that made it the most meaningful. This is a great example of contemporary art that uses the medium meaningfully. This is not merely another bust of a head made with any material, the medium becomes a part of the message.
Dropping a Han Dynasty Urn (1995) by Ai Weiwei
| | |
| --- | --- |
| Artwork Title | Dropping a Han Dynasty Urn |
| Artist | Ai Weiwei |
| Year | 1995 |
| Medium | Performance Artwork |
| Where It Was Made | China |
In 1995, the Chinese artist and activist created this provocative example of contemporary artwork. The artist used what he called a "cultural ready-made" – a 2000-year-old urn from the Han Dynasty. As the title suggests, the artwork itself consisted of the artist dropping and destroying an important piece of Chinese history. When asked about the artwork, the artist, known for his controversial artworks criticizing the Chinese government, quoted their leader Mao Zedong, "The only way of building a new world is by destroying the old one."
Having paid hundreds of thousands of dollars for the urn, destroying it was not only a loss for the culture but also for the artist himself. Some say this artwork was even unethical to create. There is also some debate as to whether the artist used a real piece of antiquity or a fake, but his silence on the matter remains scandalous to his audience.
In this artwork, one can see that the artist used the idea of the ready-made, inspired by Marcel Duchamp's use of ready-mades. These are objects found and used in everyday life which are repurposed for creating artworks. In this sense, referring to such a potent part of Chinese history as a ready-made is outrageous in itself. The destruction of it is only one aspect of what makes this artwork so powerful.
By dropping the urn, the artist is also letting go of cultural values in hope of creating a better future.
The 99 Series (2014) by Aïda Muluneh
| | |
| --- | --- |
| Artwork Title | The 99 Series |
| Artist | Aïda Muluneh |
| Year | 2014 |
| Medium | Photography |
| Where It Was Made | Ethiopia |
Aïda Muluneh is a Contemporary artist who also uses photography. Her portraits in The 99 Series (2014) consider postcolonial Africa. She uses portraiture, mostly of women from her hometown of Addis Ababa, in a way that challenges traditional portraiture. The 99 Series includes women dressed in theatrical garments, with faces painted.
The artist uses these portraits and her photography to address women's gender roles and identity in Ethiopia. The photos in this series are calm, using white and red symbolically.
The white face is referred to as a mask by the artist, which encapsulates the way that representation is altered for political advantages. Most of the hands in these photos are red, referring to them being bloodstained. These hands try to control the portrait, covering the women's faces – referring to the dark history of colonialism and the way that this has impacted African nations.
Ultimately this series analyzes what it is like for Muluneh to be an African woman, always considered an outsider everywhere she went.
In this way, her own personal story becomes universally applicable to many women all over the world and gives an insight to others who do not understand what it is like. This story is described by the artist as, "a story we each carry, of loss, of oppressors, of victims, of disconnection, of belonging, of longing you see paradise in the dark abyss of eternity."
Girl with Balloon (Shredded Painting) (2018) by Banksy
| | |
| --- | --- |
| Artwork Title | Girl with Balloon (Shredded Painting) |
| Artist | Banksy |
| Year | 2018 |
| Medium | Art on Canvas with Shredder in Frame |
| Where It Was Made | London, UK |
Banksy, known for his street art, made news in 2018 when he had an artwork up for auction at Sotheby's in London. As soon as the artwork was sold and the auctioneer slammed his gavel, the artwork started beeping and the artwork was shredded by its frame.
The artist had secretly put a shredder inside the frame. As soon as it was sold, one of his most famous artworks was instantly destroyed.
In an Instagram post, the artist later said, "The urge to destroy is also a creative urge." Banksy is famous for his powerful and simplistic graffiti artworks and the prank-like shredded artwork shows that humor is also an important part of Modern Contemporary art.
Here you have learned about the different characteristics of Contemporary art, and have seen some examples of the inspiring and exciting artworks created in the last 60 years. The examples of Contemporary art here show how different and diverse art-making can be, and lets us get a glimpse of the stories and the lives that other people from all over the world live. From Land art to Performance to Installations, artists are creating impressive new things every day so that they can convey a message – our only job is to listen and understand!
Take a look at our contemporary art webstory!
Frequently Asked Questions
What Is the Definition of Contemporary Art?
Contemporary art is the art being made today – based on living life in the technologically advanced world and all of its political and cultural stories.
Is Contemporary Art the Same As Modern Art?
Contemporary art and modern art are not the same – even if the two words are synonyms. Modern art describes the time period in art-making before contemporary art emerged.
What Are Some Characteristics of Contemporary Art?
Contemporary art is diverse in styles and techniques, and the most important characteristic is that each artist makes work in their own way about an aspect of living in the world today.