Jan van Eyck was a well-paid artist and master of painting, from triptychs to polyptychs and altarpieces, this 15th-century painter was a major influential figure of early Northern Renaissance art. This article will introduce you to the Bruges artist and provide you with some key insights into his life and some interesting facts about Jan van Eyck.
A Jan Van Eyck Biography: The Early Netherlandish Painter
Who was Jan van Eyck? Born between 1380 and 1390, soon-to-be famed Netherlandish painter Jan van Eyck was first recorded at the John of Bavaria court in The Hague in transaction records dated between 1422 and 1424. While there seems to be no account of the artist's birth or place of birth, the first record details payments made to a man called "Master Jan the painter", who was known to be a court painter of the valet de chambre rank.
This ranking title was commonly used in the latter part of the Middle Ages around the 14th century.
| | |
| --- | --- |
| Artist Name | Jan van Eyck (Johannes de Eyck) |
| Date of Birth | c. 1380 – 1390 |
| Date of Death | 9 July 1441 |
| Movements, styles, themes | Northern Renaissance, Early Netherlandish |
| Medium | Oil painting |
So, where was Jan van Eyck from? Towards the end of the 16th century, van Eyck's place of birth was thought to be in Maaseik, although his surname was also said to be affiliated with a place called Bergeijk. Jan van Eyck also had siblings; a sister, Margareta, and two brothers, who were also said to be painters but no traces of their births have ever been found.
There are no records to situate where Jan van Eyck received his artistic training, but it was found that he often used Latin, Greek, and Hebrew alphabets, indicating that he received somewhat of a classical education.
This classical education was rare for a painter, and this caught the attention of the Duke of Burgundy, Phillip III. According to many historians and painters like Giorgio Vasari, Van Eyck was held in extremely high regard and considered the inventor of oil painting. Phillip ensured that Van Eyck was paid well and was a strong supporter of ensuring he had his artistic freedom to paint whenever he wanted.
Portrait of Jan van Eyck (1572) by Johannes Wierix; Attributed to Johannes Wierix, Public domain, via Wikimedia Commons
Van Eyck's painting style consisted of the International Gothic style, which was later overtaken by his preference for Naturalism and Realism. The International Gothic style began in Burgundy, France as well as Italy between the 14th and 15th centuries.
It was defined by an aesthetic of "courtly sophistication" involving the representation of monarchs with sacred figures, illuminated manuscripts, and paintings such as the "Adoration of the Magi" (1420-1422) by Lorenzo Monaco.
Van Eyck's subject matter spanned both secular and religious themes, including commissioned portraits and altarpieces. Today, Van Eyck has approximately 20 surviving paintings and is best known as the painter of one of the most stolen artworks in the world, the Ghent Altarpiece (1420-1432).
Early Career of Jan Van Eyck
Jan van Eyck's early career began as an official to the ruler of Holland, Zeeland, and Hainault, John III the pitiless. John III owned a small workshop dedicated to the redecoration of the Binnenhofpalace at the Hague. Following John III's death in 1425, Van Eyck relocated to Bruges, where he caught the attention of Philip the Good. After being appointed as a court painter for Philip, the records seemed to pick up and were thoroughly documented.
Van Eyck was a diplomat, court painter, and a senior member of a group called the Tournai painters' guild.
In 1427, it is recorded that Van Eyck traveled to Tournai for a dinner party in his honor and was accompanied by two master painters of Early Netherlandish painting, Rogier van der Weyden and Robert Campin.
So-called self-portrait of Jan van Eyck from The Source of Life and the Triumph of Church over the Synagogue (c. 1874); Anonymous Unknown author, Public domain, via Wikimedia Commons
With his upgraded status in the court, he no longer relied on commissioned work, and over time, he demonstrated the true nature of his artistic freedom. His technical skills flourished and, as you can imagine, this was any artist's dream; to be financially supported and express oneself freely.
With this freedom to create, Van Eyck began experimenting with oil paint and various techniques.
His luck in the art scene at the time was well-sustained since his reputation or status never wavered compared to his peers. Van Eyck also collaborated with his brother, Hubert van Eyck, on many works, the most famous being the Ghent Altarpiece, which was a long project that lasted between the mid-1420s until 1432. Jan van Eyck's other brother, Lambert van Eyck, was also documented as supervising his brother's workshop after his death.
Famous Jan Van Eyck Paintings
Jan Van Eyck is regarded as the most celebrated Early Netherlandish painter. The Early Netherlandish style was also referred to as the "Flemish Primitives" and refers specifically to those artists who were active during the 15th and 16th centuries in the Burgundian and Habsburg Netherlands regions. The style was highly popular in present-day Belgium and included artists from Bruges, Leuven, Ghent, Brussels, Tournai, and Mechelen. It is believed that this era of painting was founded by both Robert Campin and Jan van Eyck.
Below, we will explore some of Van Eyck's most famous paintings that best display the artist's talents.
Ghent Altarpiece (c. 1420 – 1432)
| | |
| --- | --- |
| Artist(s) | Jan van Eyck and Hubert van Eyck |
| Date | c. 1420 – 1432 |
| Medium | Oil on panels (12) |
| Dimensions (m) | 5.2 x 3.75 |
| Where It Is Housed | St. Bavo's Cathedral, Ghent, Belgium |
Also called The Adoration of the Mystic Lamb, this complex 12-panel oil-painted artwork is a polyptych altarpiece commissioned by Jodocus Vijdts and Elisabeth Borluut. Jan Van Eyck and his brother commenced the massive project around the 1420s and completed it around 1432.
The painting is regarded as one of Europe's best masterpieces and one of the world's first large-scale oil paintings that documents the style between the Middle Ages and Renaissance art.
The upper portion of the inner panels depicts the heavenly redemption and includes scenes of the Deisis, which was a traditional depiction of Jesus Christ on a throne holding a book with the Virgin Mary and St. John the Baptist at his side. On the outer panels, Van Eyck included scenes depicting Adam and Eve with the central panel containing an image of a gathering of clergy members, saints, sinners, and soldiers at the adoration of the Lamb of God. The reference to the lamb of God refers to Jesus.
The Ghent Altarpiece or The Adoration of the Mystic Lamb (open, 1432) by Jan van Eyck; Jan van Eyck, Public domain, via Wikimedia Commons
The bottom four panels are divided into two sections; a few sculptural grisaille paintings depicting St. John the Evangelist and St. John the Baptist. Grisaille paintings refer to paintings that are executed entirely in different shades of gray or other neutral colors and are a decorative manner of painting meant to imitate sculpture.
The two outer panels consist of donor portraits of the Vijdts and his wife, Elisabeth. On the top row, Van Eyck depicts the archangel Gabriel with a scene of the Annunciation. The Annunciation refers to the announcement that Mary received that she would bear a child by virgin birth. On top of this image are the sibyls and prophets.
The significance of this altarpiece is credited as an important painting that signifies the advancement of Western art through its depiction of the observation of nature and the representation of these biblical figures. Van Eyck placed more emphasis on the depiction of earthly objects as opposed to the religious themes, and this is seen in the incredible detail on the background landscape.
The Arnolfini Portrait (1434)
| | |
| --- | --- |
| Date | 1434 |
| Medium | Oil on oak panel |
| Dimensions (cm) | 82.2 x 60; panel: 84.5 x 62.5 |
| Where It Is Housed | The National Gallery, London |
Perhaps one of the most analyzed paintings of all time, The Arnolfini Wedding or The Arnolfini Portrait was painted in 1434 and depicts a full-length double portrait of the Italian merchant Giovanni di Nicolao Arnolfini and his wife at their home in Bruges. One of the most interesting features of this painting is its complex composition accompanied by the use of an expansive picture space using a mirror and a geometric orthogonal perspective.
Sounds complicated, right? In the double portrait, Van Eyck presents his mastery over form, color, and brushwork.
Some even describe this painting as the representation of an actual marriage contract that took the form of a painting and was as revolutionary as Italian works by artists like Donatello. The National Gallery purchased the painting in 1842 and has since remained there.
The Arnolfini Portrait (1434) by Jan van Eyck; Jan van Eyck, Public domain, via Wikimedia Commons
Van Eyck amplified the color intensity of the painting by employing a painting technique that includes multiple layers of translucent glazes. He also demonstrated his strong technical skills for Realism by using glowing colors to illustrate the opulence nature of the figures. Instead of tempera, Van Eyck also used an oil paint with a longer drying time while mixing the color "wet-on-wet" (alla prima) to portray slight variations in color and shade and elevate the appearance of three-dimensional forms.
It is believed that he also used a magnifying glass to paint the microscopic details such as the amber beads next to the mirror.
What makes this painting even more significant was that its display of Illusionism was remarkable considering the era it was painted in. Van Eyck skillfully portrayed the effects of light in an interior space that aptly captures the space of the room along with the figures occupying it. The painting is also a subject of debate for many art historians who wish to consider this the first example of a modern painting defined by the depiction of an "everyday life" scene.
Some other interesting objects in the painting include a small dog as the symbol of lust or loyalty and perhaps thought of as a representation of the couple's desire to have children. The dog is believed to be a Griffon terrier or a Bolognese dog, which served as a lap dog gifted to the wife. The green dress on the woman is said to symbolize hope and the potential of becoming a mother.
The luminosity of the color also alludes to the wealth of the Arnolfini family, since the shade of green was a particularly difficult shade to achieve and quite hefty to accomplish.
The oranges in the window allude to the innocence and purity that were present in the Garden of Eden prior to the fall of man and were uncommon symbols of wealth in the Netherlands. In Italy, however, the oranges were a symbol of fertility in marriage. Oranges were also an expensive fruit to import at the time and are another nod to the lavish lifestyle of the family. The painting is also very much like a contemporary cover of a Time magazine.
Madonna of Chancellor Rolin (1435)
| | |
| --- | --- |
| Date | 1435 |
| Medium | Oil on panel |
| Dimensions (cm) | 66 x 62 |
| Where It Is Housed | The Louvre Museum, Paris, France |
This famous Jan van Eyck painting was commissioned by Nicolas Rolin, the chancellor of Phillip and one of the most high-profile figures in Burgundy. The chancellor is seen painted as a votive portrait (a portrait within a larger painting) opposite the Virgin Mary who is being crowned by an angel while she presents the baby, Jesus, to the chancellor. The scene is set in a spacious corridor (loggia) with ornate columns and bas-reliefs surrounding the figures. The background landscape shows the hometown of the chancellor, Autun. The virtues of the Virgin Mary are represented by the little garden in the background.
The interior of the loggia also highlights the different sources of lighting emanating from the center and the windows on the side.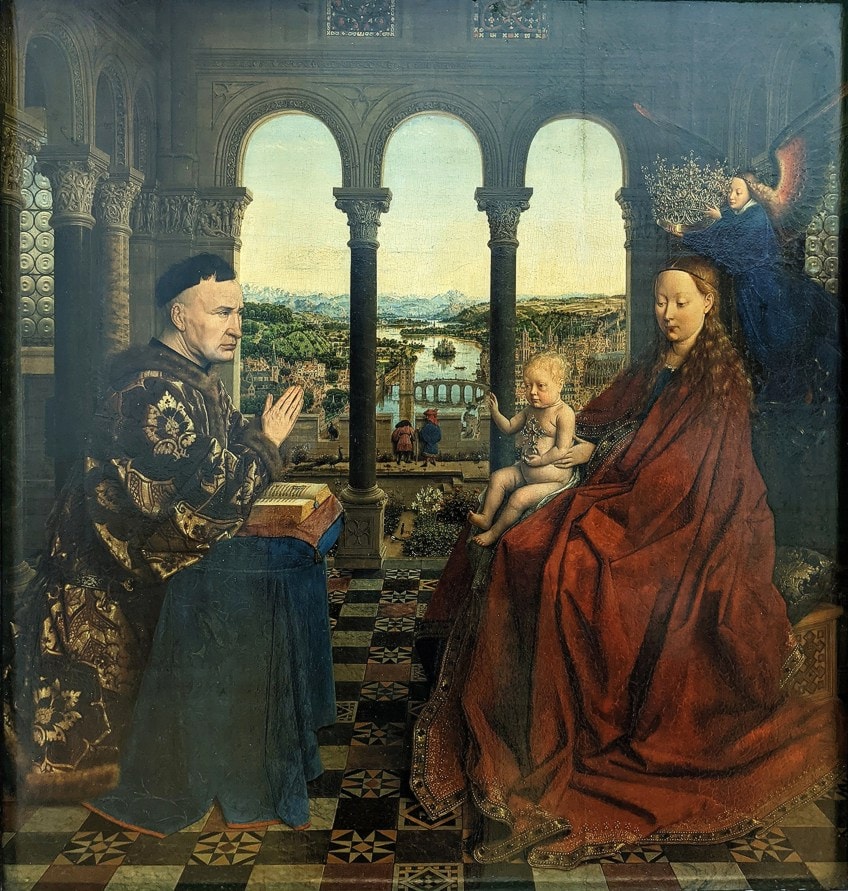 Madonna of Chancellor Rolin (1435) by Jan van Eyck; Jan van Eyck, Public domain, via Wikimedia Commons
In the far distance, one can see two figures wearing chaperons peering over the balcony. It has been speculated that this is probably a representation of the artist and his assistant. The small figure on the right is seen wearing a red hood, which is similar to the one seen in Van Eyck's self-portrait housed at the National Gallery.
The two magpies close to the figures symbolize pride and immorality, regarded as evil while the "good" was portrayed by the peacocks representing Christ.
The painting was initially made for display at the Autun Notre-Dame-du-Chastel until the church was burned in 1793. Afterward, the painting took shelter at the Autun Cathedral where it was later transferred to the Louvre Museum in 1805.
Portrait of Margaret van Eyck (1439)
| | |
| --- | --- |
| Date | 1439 |
| Medium | Oil on wood |
| Dimensions (cm) | 41.2 x 34.6 |
| Where It Is Housed | Groeningemuseum, Bruges |
This portrait shows Van Eyck's wife, Margaret, who he married around 1432 and was 15 years younger than him. Not much is known of Margaret other than the records referring to her as Damoiselle Marguerite. It is believed that she probably came from an aristocratic family of lower nobility as seen in her portrait. Her portrait is known to be one of Van Eyck's earliest surviving paintings, portraying the 34-year-old Margaret facing the viewer at a slight angle. Van Eyck painted her against a black background while she appears wearing a red woolly gown with a gray fur lining.
The presence of fur on clothing in Medieval times represented a woman's sexuality.
Portrait of Margaret van Eyck (1439) by Jan van Eyck; Jan van Eyck, Public domain, via Wikimedia Commons
Her horned head covering, known as a wimple, is embellished with fine lacework. Van Eyck went out of his way to emphasize his wife's features and this can be seen in her disproportionate head to her body and unusually high forehead.
The geometric patterns created by her wimple along with her V-shaped neckline aid in the emphasis on her face.
Two years after painting this portrait, Van Eyck passed away. At the top and bottom of the frame, he inscribed Greek lettering reading "my husband, Johannes, completed me in the year 1439 on 17 June at the age of 33. As I can". The last sentence "As I can" was a motto for Van Eyck and a pun on his name. The motto was also found in several other paintings and two portraits.
Interesting Facts About Jan Van Eyck
Jan van Eyck was a dynamic character whose career only emanated success and fortune in his pursuit of artistic expression. Below, we will take a look at some interesting facts about Jan van Eyck that shed light on his work and artistic career.
Master of Pictorial Illusionism
Jan Van Eyck had a great start to his artistic career that bolstered his value and allowed him to produce some of the best Renaissance paintings. Among his technical painting skills, he possessed an "unrivaled" ability in pictorial illusionism, which can be seen in the landscape of his painting, The Crucifixion; The Last Judgement (1440-1441). The painting is a perfect display of the artist's excellence in the natural landscape and is seen in his depiction of the cloud formations and cracked earth.
His ability to manipulate oil as a medium to depict light in an objective and logical manner within pictorial scenes is worthy of high praise.
The Crucifixion; The Last Judgement (1440-1441) by Jan van Eyck; Jan van Eyck, Public domain, via Wikimedia Commons
Embedded Messages and Hidden Self-Portraits
Jan van Eyck was also known to deceive the viewer's eye by including tiny inscriptions, using grisaille painting techniques, and painting mirrors to reflect objects and figures that are unseen and occur separately. One such example is seen in the Arnolfini Portrait (1434) painting, which features a convex mirror on the background wall. In the mirror's reflection, one can see two figures entering the space, one figure believed to be Van Eyck as indicated by his signature above, which states "Jan van Eyck has been here. 1434."
Van Eyck sets up a continuous scene between the real and the pictorial world and situates himself discreetly.
A close-up of the artist's signature in The Arnolfini Portrait (1434) by Jan van Eyck; Jan van Eyck, Public domain, via Wikimedia Commons
The painting, Portrait of a Man in a Red Turban (1433) is rumored to be a self-portrait of Van Eyck himself due to the direct nature of the sitter's gaze, which was unusually confrontational and possibly a self-portrait of the artist himself. Another painting, Virgin and Child with Canon van der Paele (1436), also contains Van Eyck's self-portrait.
This makes it a display of his textural Realism and challenges the viewer through a reminder of his "ostensible realism being an artifice", as seen on the shield of Saint George.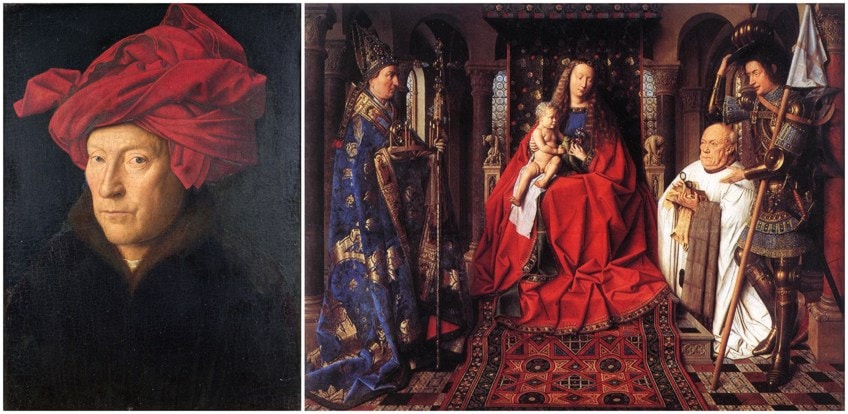 LEFT: Portrait of a Man in a Red Turban (1433) by Jan van Eyck; Jan van Eyck, Public domain, via Wikimedia Commons | RIGHT: Virgin and Child with Canon van der Paele (1436) by Jan van Eyck; Jan van Eyck, Public domain, via Wikimedia Commons
Recognition Beyond Bruges
Jan van Eyck also gained popularity in Italy and even received a few Italian patrons. After his death, a few of his paintings were also exhibited in Italy. It is believed that it was through two Genoese traders who commissioned the artist that news of Van Eyck's talents reached Italy.
Not the Best Painter of Sheep
Upon the restoration of the Ghent Altarpiece (1420-1432), it was found that the central panel containing a sacrificial lamb was slightly disturbing. The disturbing part was the original depiction of the lamb itself, which received criticism from many as being "ugly".
According to specialists, the lamb's face was repainted over some time in the 16th century to mend the animal's original expression, which was probably even more "disturbing".
Close-up detail of the lamb in Jan van Eyck's Ghent Altarpiece (1420-1432) before and after restoration; Van Eyck brothers, Public domain, via Wikimedia Commons
Top Book Recommendations
Now that you have caught a glimpse into some of the best paintings of Jan van Eyck and his artistic career as a pioneer of the Early Netherlandish painting era, you can now do some extra research by looking out for the books below.
Here is a list of highly-rated book recommendations to add to your cart.
The Ghent Altarpiece and the Art of Jan Van Eyck (1972) by Lotte Brand Philip
Available in hardcover, this book is a great addition for any collector of Jan van Eyck artwork or avid reader into one of his most famous paintings, the Ghent Altarpiece (1420-1432). According to a review, this book is said to be one of the most insightful sources for information on the 12-panel painting, and the author's use of "reverse engineering" to uncover the original presentation of the altarpiece is unique. The book is definitely a top-rated read for any fan of art from the Northern Renaissance.
An insightful source on the history of van Eyck's

Ghent Altarpiece

A thorough treatment and original presentation of the piece
Recommended to those interested in

Northern Renaissance

art
View on Amazon
Van Eyck (2020) by Till-Holger Borchert, Jan Dumolyn, and Maxmiliaan Martens
Featuring around 350 full-color illustrations, this book covers all you need to know about the Flemish Renaissance painter, Jan van Eyck and his comprehensive skill set in art. This book served as an accompanying catalog for the 2020 Ghent exhibition for Van Eyck's work, held by the Museum of Fine Arts. This book unpacks some of the myths around the artist's painting techniques and a few essays by global experts on his influence over new perspectives in painting. This is a perfect resource for any art scholar or Van Eyck enthusiast.
A

stunning compilation of the works of Jan van Eyck

Published in 2020 alongside a tie-in exhibition on the artist
Includes essays by leading experts as well as 350 color illustrations
View on Amazon
Van Eyck in Detail (Portable) (2020) by Maximiliaan P. J. Martens and Annick Born
This book illustrates the highly-detailed and close-up images of Jan van Eyck's best paintings as if through the magnifying lens of the artist's technique itself. To achieve his remarkable skill in Realism, van Eyck often studied the realm of flora and fauna and their varying light conditions. Rendered with acute clarity, this book showcases some of the finer details often missed in the grand splendor of Van Eyck's large-scale paintings. These full-scale reproductions are organized by their respective themes and are accompanied by a Jan van Eyck Biography along with information on how the artist achieved his final images. This book is a must-have for any artist aspiring to achieve similar technical skills to Van Eyck.
A compact, affordable introduction to Flemish painter Jan van Eyck
Filled with superbly reproduced full-page images of the artist's works
An unprecedented look at the works of one of the top masters
View on Amazon
Jan van Eyck may not be great at painting sheep, but he still holds many titles that place him as not only an artist who produced some of the greatest Renaissance paintings but also a potential inventor of oil painting and the owner of one of the most looted paintings in the world. Who could beat that?
Take a look at our Jan van Eyck paintings webstory here!
Frequently Asked Questions
Who Was Jan Van Eyck?
Jan van Eyck was one of the first painters to lead the era of Early Netherlandish painting within the Northern Renaissance.
Where Was Jan Van Eyck From?
Jan van Eyck was believed to be from Maaseik in Belgium, born around 1380.
What Is Jan Van Eyck's Most Famous Painting?
Jan van Eyck's most famous painting is considered to be the Ghent Altarpiece (1420-1432), followed by The Arnolfini Portrait (1434).
Did Jan Van Eyck Invent Oil Painting?
It is untrue that Jan van Eyck actually invented oil painting, since the medium existed in paintings for millennia prior to Van Eyck's practice. He is, however, regarded as a master of oil painting such that he acquired the so-called title, inventor of oil painting.
Isabella studied at the University of Cape Town in South Africa and graduated with a Bachelor of Arts majoring in English Literature & Language and Psychology. Throughout her undergraduate years, she took Art History as an additional subject and absolutely loved it. Building on from her art history knowledge that began in high school, art has always been a particular area of fascination for her. From learning about artworks previously unknown to her, or sharpening her existing understanding of specific works, the ability to continue learning within this interesting sphere excites her greatly.
Her focal points of interest in art history encompass profiling specific artists and art movements, as it is these areas where she is able to really dig deep into the rich narrative of the art world. Additionally, she particularly enjoys exploring the different artistic styles of the 20th century, as well as the important impact that female artists have had on the development of art history.
Learn more about the Art in Context Team.