Banksy is a somewhat enigmatic character, known for his street art, political views, and films. Banksy's artwork combines stenciled images with social commentary in a satirical yet dark manner. Banksy's street art can be found worldwide on walls, streets, and bridges. The identity of the person behind these original Banksy artworks remains a mystery.
Banksy's Art and Life
| | |
| --- | --- |
| Nationality | English |
| Date of Birth | Unknown |
| Medium | Street art |
| Place of Birth | Bristol, England |
Banksy's art emerged from the underground scene of Bristol in the 1990s, which was known for the collaborative efforts of its musicians and artists. Banksy's paintings were inspired by a member of Massive Attack, the trip-hop musical group. The member, 3D, was not only a musician but also a respected graffiti artist. Banksy's street art can be found on walls in public spaces, and these Banksy paintings have often been sold – including the wall they were created on!
Original Banksy art can be classified as temporary art, although he has also sold pieces officially through his own company.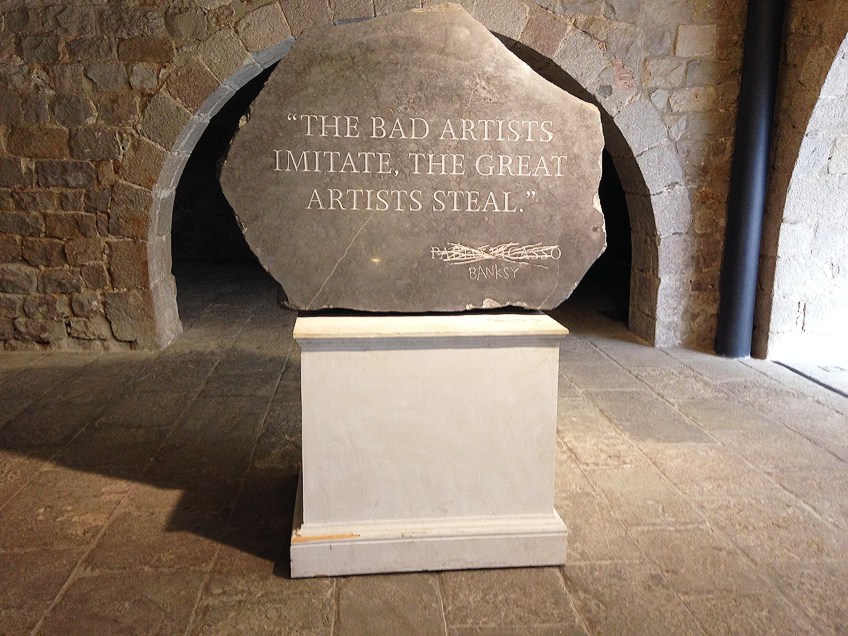 A Banksy "quote" at the Museu Picasso in Barcelona; Patian, CC BY-SA 3.0, via Wikimedia Commons
The True Identity of Banksy
The true identity of Banksy remains the subject of debate and speculation. He was once described by someone who had interviewed him as a white man in his late 20s with silver chains and a silver tooth. Banksy is of course, reluctant to share his real identity as graffiti art is illegal. According to most reports, he gained an interest in art when he was 14 years of age, was expelled from his high school, and had even been sent to prison for petty crimes. It is believed that he grew up in Bristol and moved to London in the early 2000s.
With anonymity comes rumors, and several people have been suspected of being the real Banksy over the years.
One of them is Robin Gunningham, a man born in Yate, close to Bristol, in 1973. Several of his ex-schoolmates have agreed with this possibility, and research carried out at the Queen Mary University was able to correlate the creation of Banksy's artwork with where Gunningham was believed to have been at that time.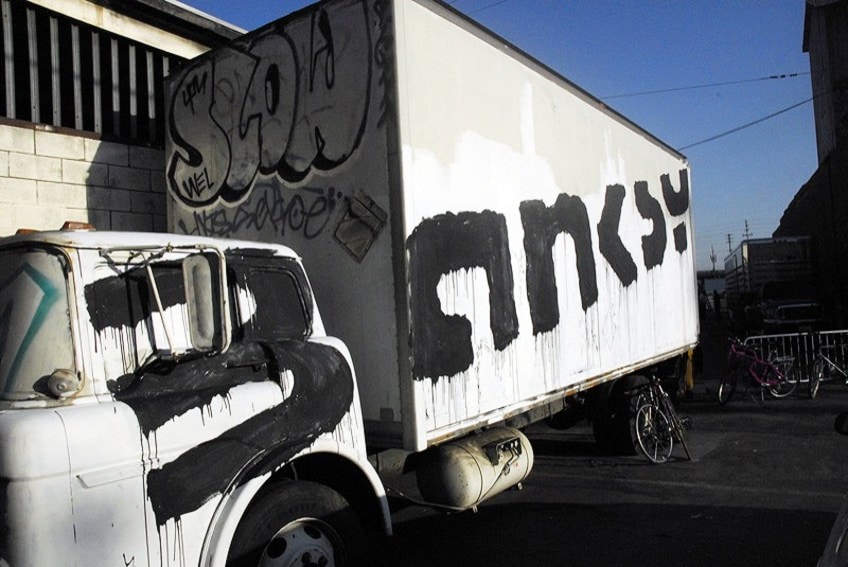 Banksy's signature on the side of a truck; Photo BitBoy, Signature probably Banksy, CC BY 2.0, via Wikimedia Commons
His friends from Bristol Cathedral School mention that at one point Gunningham started using the pseudonym Robin Banks, which he subsequently shortened to Banksy. Two album cover art designs from 1993 both have his signature on them, and the famous musician Goldie once referred to him as Rob in an interview.
Another Rob who has been the subject of much speculation is Robert Del Naja (3D) from Massive Attack, who is believed to be a good friend of Banksy (if not Banksy himself).
Early Career
Along with two other street artists known as Tes and Kato, Banksy was part of the DryBread's Crew in Bristol who started as freehand artists in the early 1990s. Banksy drew inspiration from local artists as well as other members of the underground scene in Bristol such as Inkie and Nick Walker. Banksy met Steve Lazarides around this time, a local photographer who would help Bansky sell his work, and also later became his agent.
By the 2000s, Banksy's street art had started incorporating stencils which allowed him to create pieces much quicker than with the freehand style he has previously employed.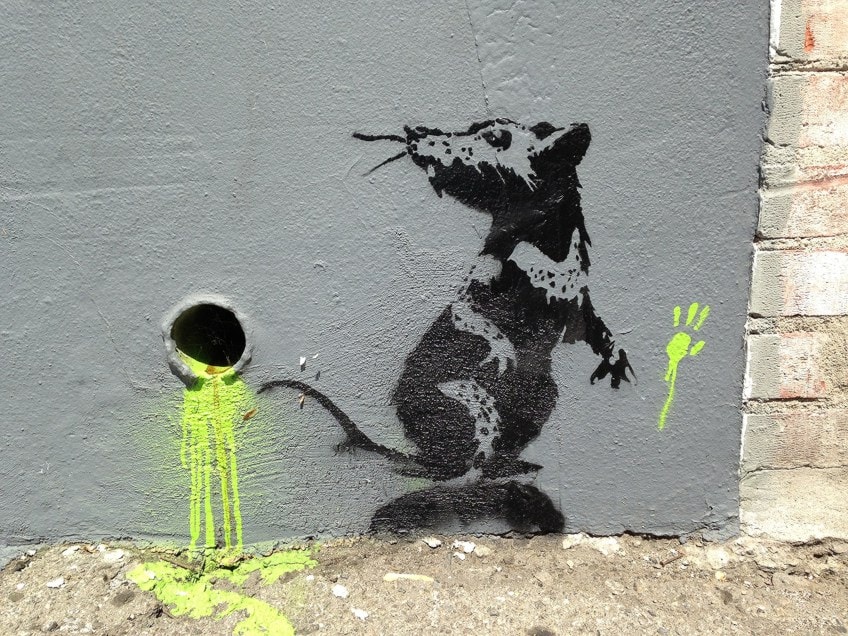 One of Banksy's famous stenciled rats; bahniuk, CC BY 3.0, via Wikimedia Commons
According to Banksy, he decided to change to stencils after being chased by police for his graffiti around the city streets. He hid under a massive rubbish bin on wheels and noticed the serial number stenciled underneath.
It then dawned on him that he could create a design with a stencil and quickly spray it onto any surface – and do it multiple times.
In 1997, the first large original Banksy artwork appeared in Stokes Croft on the wall of a building that once displayed advertising for an attorney firm. It depicted a teddy bear about to throw a Molotov cocktail at a group of police in riot gear and was titled The Mild Mild West.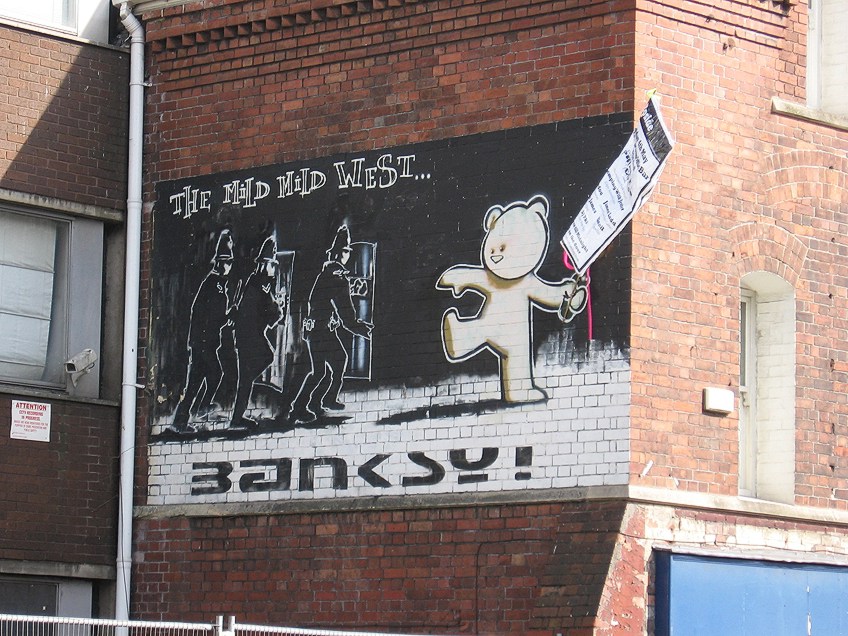 The Mild Mild West (1997) by Banksy on the wall of a building in Stokes Croft, Bristol; Banksy, CC BY-SA 2.5, via Wikimedia Commons
Banksy's street art usually features a combination of satirical and humorous images along with a slogan to create a message that was anti-capitalist or anti-war. Not every one of Banksy's paintings has been preserved though, with a few such as Gorilla in Pink Mask (2002) painted over either intentionally or unwittingly.
Early Exhibitions
Banksy held his first exhibition in Los Angeles on the 19th of July 2002, at a small gallery named 33 and a Third where it ran for a month. The exhibit was called Existencilism (a clever mix of the words existentialism and stencil) and featured Banksy's artworks such as Leopard and Barcode (2002) and Love is in the Air (2002). At an exhibit titled Turf War, which took place in a warehouse in London in 2002, Banksy painted on various animals.
This caused an uproar among a few activists, one of which chained herself to one of the building's railings in protest.
However, the paint was deemed safe for use on animal skin by the SPCA, which declared that the conditions for the animals were suitable enough for the exhibit to continue. Banksy's paintings were also shown at exhibits such as his subversive works that took already existing pieces and adapted them in some manner, such as his version of Water Lily Pond by Monet, which now included litter strewn among the lilies as well as a discarded shopping trolley.
Fake Notes and More Exhibitions
Banksy printed fake banknotes in 2004, featuring Diana's head instead o the Queen's, and the words "Banksy of England" where it would usually say "Bank of England". People even tried to use the fake cash in stores after an unknown person threw them out into the crowd at a festival that year. Ironically, these fake notes now sell on eBay for very real money. They were also thrown into the crowd at Reading Festival that year. A limited quantity of posters made from 10 undivided notes was printed and sold to commemorate the death of the Princes of Wales.
The American Numismatic Society posted images of these notes on their website in 2016, after which they received a stern email from the Bank of England stating that it was a criminal offense to publish images that were copyrighted by the bank, whether altered or not.
He found himself at odds with the animal activists in 2006 once again when he held a three-day exhibit in a warehouse that featured a painted live elephant. Banksy had stated that it was meant to represent a statement about poverty and that the elephant was used to paint and had been in many movies, yet due to continuing pressure, the elephant was not painted on the last day of the exhibit.
The Banksy Effect in the 2000s
Banksy produced a piece that featured the Queen as a lesbian, which was bought by Christina Aguilera for £25,000, and another of Banksy's artworks featuring Kate Moss was bought for £50,400 in 2006. It was created in the same style as Warhol's Monroe silkscreens.
Many other street artists gained popularity during this time, which came to be known as the "Banksy Effect", as their own success seemed to be based on his.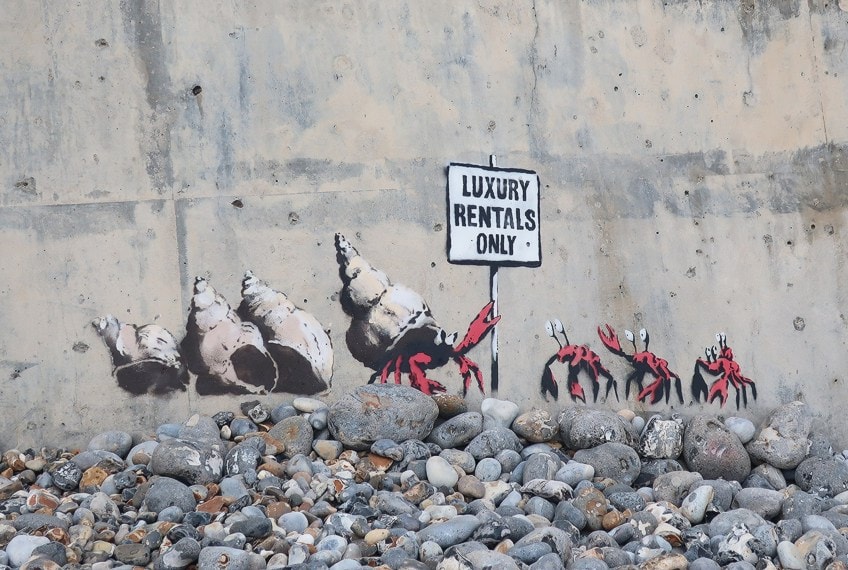 A section of the sea wall defenses on Cromer east beach decorated with a Banksy artwork in the town of Cromer, Norfolk, England; Hugh Venables / Banksy on Cromer groyne
Throughout 2007, he would continue to break his previous records for the asking sales prices of his works at auctions. During the second day of an auction of his works at Sotheby's, Banksy uploaded an image of people inside an auction house with the caption "I can't believe you idiots buy this s**t!"
In 2007, a house with a Banksy mural on one of the walls was put on the market for sale. However, all the prospective buyers wanted to have the mural removed once the property was bought and the owners of the house were not keen on that idea.
After not being able to find a buyer who would preserve the mural, they decided to rather put it up for sale through an online art gallery and market it as an original Banksy artwork with a house attached. A Banksy painting of two Pulp Fiction characters clutching bananas instead of guns was painted over by the cleaning staff of Transport for London.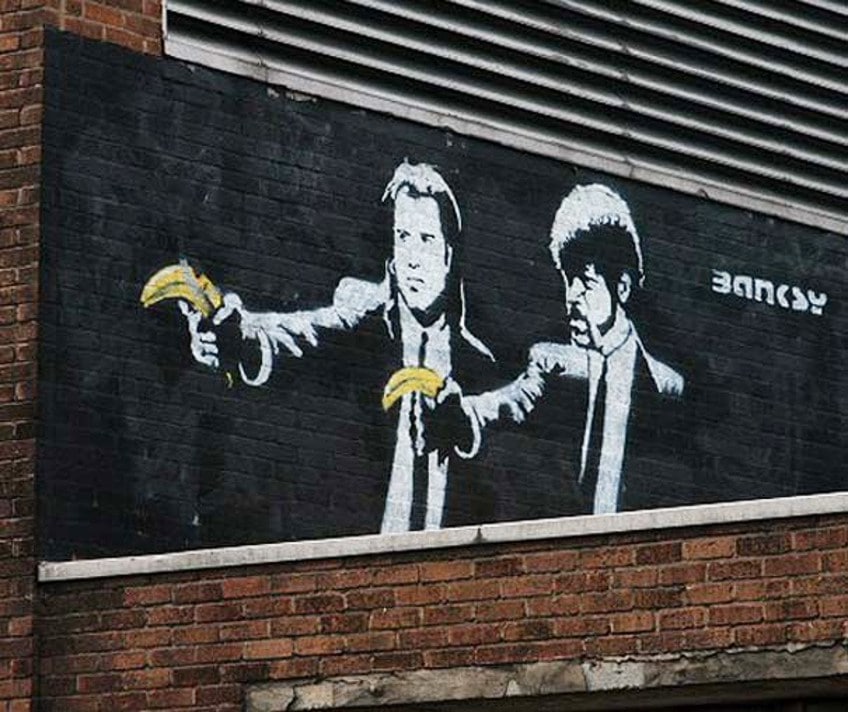 Banksy's street art of two Pulp Fiction characters; Bruce Krasting, CC BY 2.0, via Wikimedia Commons
It was a much-loved piece and there was an outcry from residents over its removal, but the company replied that it devalued the area and encouraged crime and decay and that their cleaning staff was not paid to be art critics, they were paid to clean. Banksy then created another work on top of where the old one had been, this time featuring the characters wearing banana costumes.
A graffiti artist known as Ozone tagged over Banksy's painting and wrote in the corner that if Banksy did a better job next time, he would leave it alone.
Later that year, Ozone would be killed by an underground train, and Banksy would pay tribute to the young artist and critic by painting a mural of him over the Pulp Fiction artwork that Ozone had once defaced. One of Banksy's artworks Space Girl and Bird broke even further personal sales records, selling for £288,000 on the 27th of April 2007. In 2007 he was named the greatest living British artist, but in true Banksy fashion, he did not turn up to receive the award in order to maintain his anonymity.
It seems like everything Banksy does is done in a tongue-in-cheek manner, which makes it difficult to know what he is really about. If one had to go and search for his manifesto on his website, you would instead find a diary entry by a British Lieutenant which recounts a story about a shipment of lipstick that had been sent to a group of people who had just been liberated from a concentration camp in order to make them feel more human again. Banksy's street art can be observed in a few scenes of the movie Children of Men (2006), such as a stencil of two law enforcement officers embracing.
Very few official exhibitions of his work were held, with many galleries selling his works without actually representing him, such as the first major exhibit of his work in New York at the Vanina Holasek Gallery, which featured more than 60 Banksy paintings and prints.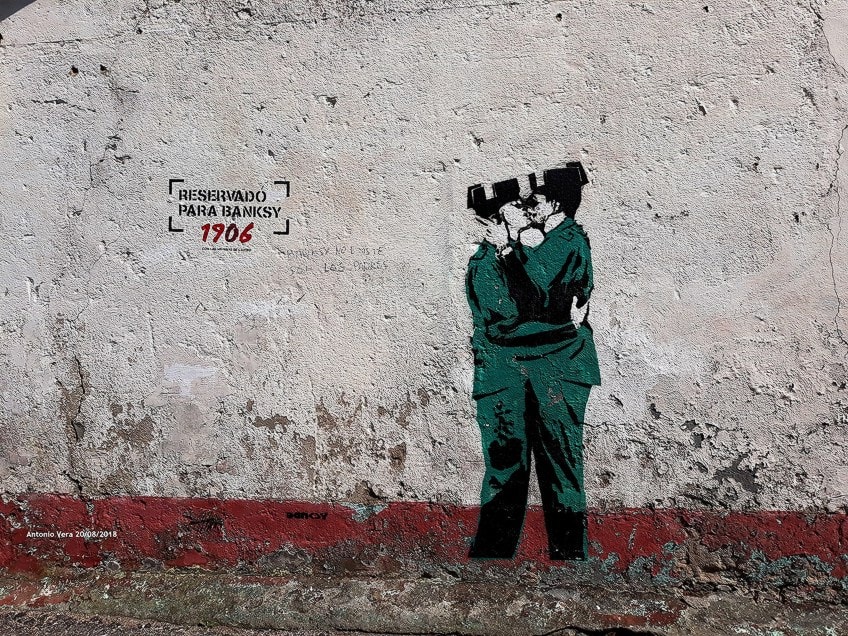 A piece by Banksy on a wall in Ferrol, Spain; Antonio Vera, CC BY-SA 2.0, via Wikimedia Commons
The Late 2000s
In 2008 a couple from Norfolk made the news when they sold their mobile home which featured original Banksy art on the walls. He had asked the couple 10 years prior if he could use it as a canvas in exchange for two tickets to the Glastonbury Festival. Originally the couple had paid only £1,000 for the mobile home, which they subsequently sold for £500,000.
Due to the ever-increasing popularity of Banksy's street art at this time, there were many other artists who created works heavily inspired by his style, which sometimes made it hard to discern if it was an original Banksy artwork or simply another artist influenced by him.
An unconfirmed Banksy work on a wall of Tottenham High Street in London; Alan Stanton, CC BY-SA 2.0, via Wikimedia Commons
A stencil of a child writing "Take this society" appeared in the middle of the roundabout at Holland Park in 2008. Although there was no way of telling for sure, it was attributed to Banksy and removed after three days following remarks from a town councilor that it was not art but pure vandalism. Banksy then traveled to New Orleans in August of 2008 to paint murals on several derelict buildings to commemorate the third anniversary of the Hurricane Katrina disaster. On the 29th of that same month, a stencil painting of a Ku Klux Klan member having from a noose was found on a wall by residents in Ensley, Alabama, and it was subsequently attributed to Banksy.
After a few days, it had been sprayed over with black spray paint.
The Village Pet Store and Charcoal Grill was Banksy's first official exhibit of his works in New York. As the name suggests, it was a statement on the polarities of our use of animals as either products or pets, with animatronic animals including a hen brooding over her chicks which were chicken nuggets pecking packets of barbecue sauce, and a rabbit putting makeup on in a mirror (they are often cruelly used to test cosmetic products). One of Banksy's artworks titled One Nation Under CCTV was created in April of 2008. Six months later, the city council of Westminster announced that it would be painted over as it was illegal to create art on public property.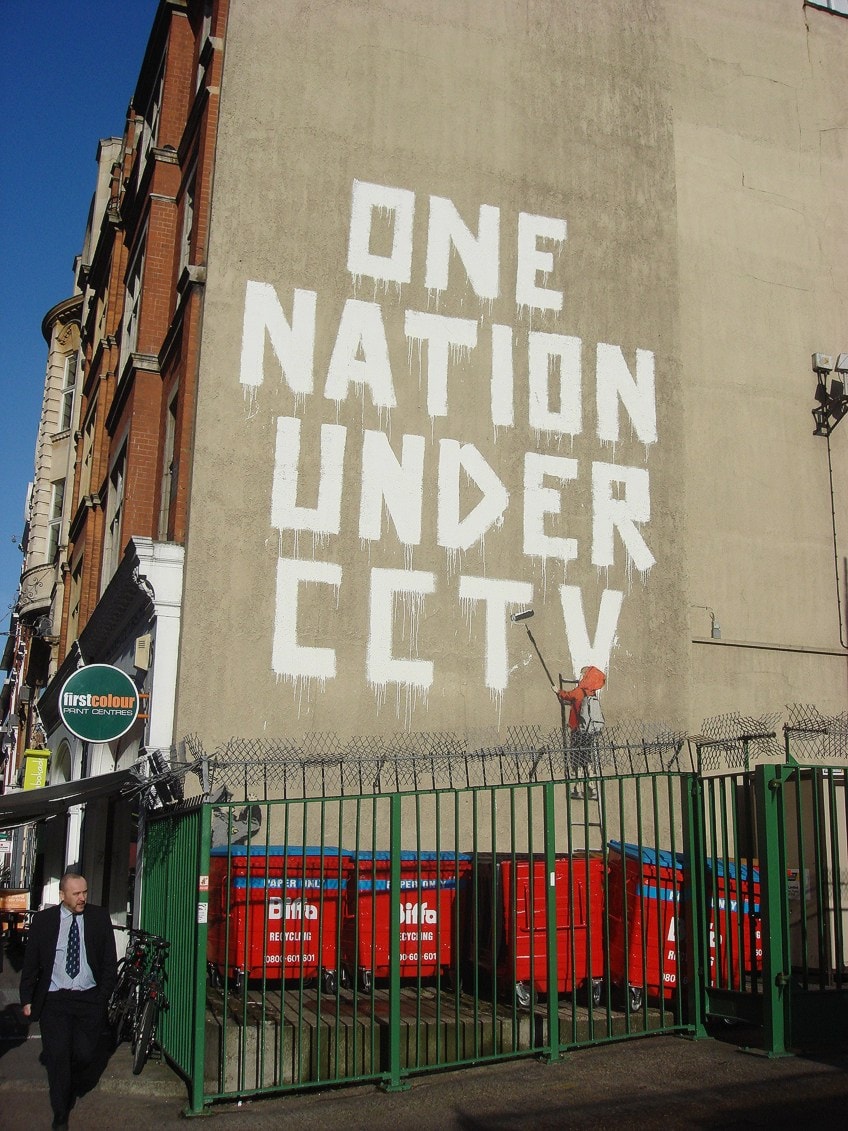 One Nation Under CCTV (2008) by Banksy on a wall of Newman Street, London; Oxyman, CC BY-SA 3.0, via Wikimedia Commons
It further stated that it did not matter if the artist was well-known or not, it was still against the law and that Banksy should not be treated any differently to a child who might have done the same thing. It was believed that by leaving Banksy's street art intact, they would effectively be telling every child with a spray can that it was okay to vandalize governmental property.
A Banksy artwork in Melbourne was destroyed in late 2008.
Locals tried to preserve what was left by covering it in a sheet of Perspex, but someone had poured silver paint through the gap on the top after that, rendering it completely covered. That year, he also held an exhibition in an old tunnel and invited artists from all over the world to come and exhibit their work.
In early 2009, the artist announced that he was cutting ties with his agent and that his works would now only be available through his company Pest Control. His largest exhibit to date would be held in June of 2009 at the Bristol City Museum, which featured 78 of Banksy's new artworks. The show received great reviews and support, with over 8,500 guests attending on the first weekend alone and a total of 300,000 guests over the 12-week run.
One of Banksy's paintings that had originally been painted on the side wall of a house in 2003 for a music video was painted over in 2009, after the local council in Hackney forced the owner of the house to have the painting removed as it was classified as graffiti despite the fact that owner had given his permission for the mural to be created on his own property. That same year, a graffiti war broke out between Banksy and another artist named King Robbo. Banksy had apparently painted over one of Robbo's works, causing the artist to retaliate by painting over Banksy's artwork.
This has resulted in many of Banksy's street artwork being tagged over by artists in retaliation for his apparent lack of respect for other artists' work.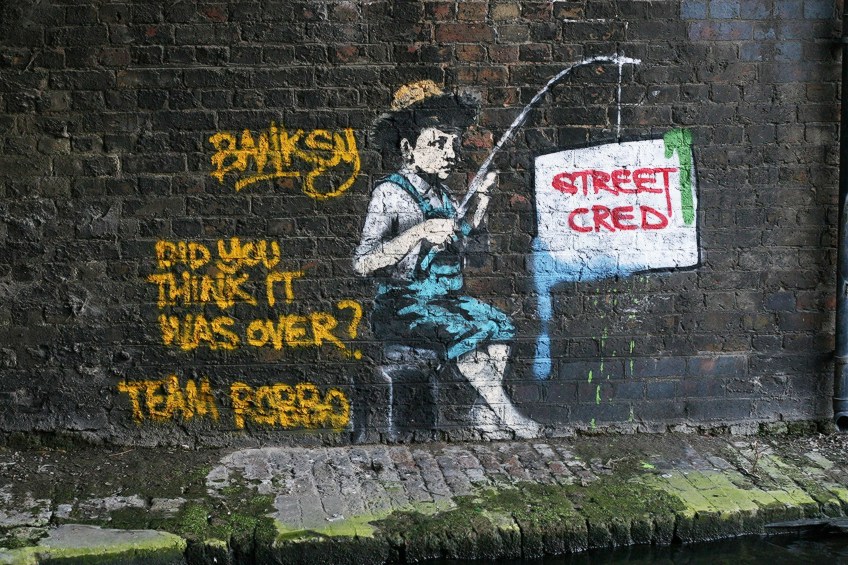 Rival street artist King Robbo alters a Banksy artwork under the bridge near Camden Lock; Bob Bob from L o n d o n, CC BY 2.0, via Wikimedia Commons
The United States and Exit Through the Gift Shop
In 2010, Banksy made his directorial debut in Exit Through the Gift Shop which premiered at the Sundance Film Festival. An altered version of his work, Forgive us Our Trespassing, was used in a poster for the movie and displayed at London Bridge Station. The Original Banksy artwork featured a boy kneeling with a halo spray painted around his head. In the poster, the halo had been removed due to its association with graffiti art. However, as should have been anticipated – a graffiti artist sprayed a bright halo around the head of the boy in the poster.
Following that incident, Transport for London removed the poster completely.
A copy of Banky's Forgive us Our Trespassing on a wall in Park City, Utah; Derrick Shields, CC BY-SA 4.0, via Wikimedia Commons
Five of Banksy's artworks popped up around the city to coincide with the release of the film, with Banksy paying various landlords around Chinatown $50 each to stencil his works on their walls. A month later, several more of Banksy's paintings were found around the city of Ontario in Canada, however, very few of them still remain, with the majority removed or painted over in the last 10 years. Banksy's paintings would also appear around Detroit such as one piece that depicted a boy holding a spray can with the words "I remember when this was all trees" written next to him. It was subsequently removed by the 555 Gallery, which intended to preserve it at their exhibition space in Detroit and not sell it.
The documentary film was nominated for Best Documentary Feature at the 2010 Academy Awards.
In a statement released by Banksy, he jokingly said that he was surprised to be nominated, and that even though he did not agree with the idea of ceremonies for awards, he was willing to make an exception for those he had been nominated for, and that the only naked person painted in gold previously in his home was himself.
In the days leading up to the awards ceremony, the streets of Los Angeles were covered in Banksy's street art, and many people wondered if perhaps he planned to attend the ceremony in disguise in case he won. He did not win though, so we will never know if it was something he had planned to do or just pure speculation.
The Last 10 Years
In 2011, Banksy took part in a campaign in his hometown of Bristol which sought to stop the opening of a Tesco store in their neighborhood, feeling it would affect the family-owned stores in the area. He created a piece featuring a stenciled Tesco bottle that had been made to look like a petrol bomb.
The campaign had led to violence between the demonstrators and police on the streets of Stokes Croft, and Banksy had created the poster to raise funds to get those who had been arrested during the clashes released.
In 2012, one of his artworks in Melbourne that were created during his visit in the 1990s, Parachuting Rat was destroyed by accident by plumbers who were trying to install new pipes in the building on which the work had been painted.
In 2013, an artwork of Banksy was removed from the side of a store in north London and later appeared in the catalog for Miami's Fine Arts Auctions. This news badly upset the residents of the town from which it had been taken, who viewed it as the theft of an artwork created for their town. The auction house insisted that everything was above board and that there had been no wrongdoing, yet the local councilor continued to campaign for the return of the artwork.
On the day the work was meant to be auctioned, the gallery announced that it would no longer be put up for sale.
Also in 2013, Banksy set up a pop-up boutique that featured around 25 of his paintings that were for sale at $60 each to tourists. He posted a message to his website noting that this would be the only time that the boutique would be there. The stall was watched over by an older gentleman who did not sell a single piece in the first four hours after it had been open. Even the old man seemed surprised when a few of them managed to sell later in the day. Two of those sold paintings were later sold at an auction for $214,000.
In 2015, he visited the Gaze strip and painted a few pieces, such as a small kitten on the side of a house that had been destroyed by Israeli forces. It was an extremely impactful scene to the artist, yet he felt that if he wanted the photo to gain any traction online, then it should feature a kitten, as that seemed to be the only thing that caught people's attention online.
Although he did not intend on taking a side in the conflict, he stated that upon seeing the devastation of the entire neighborhood, he felt the hopelessness that the locals were experiencing, and noted that these kinds of environments were not good for raising children, only vengeful people who would want to exact revenge.
In 2017, to commemorate the 100th anniversary of the control of Palestine by the British, the artist funded the construction of Bethlehem's Walled Off Hotel, which is open to the public and features rooms designed by artists such as Dominique Petrin, Sami Musa, and Banksy himself. The hotel also features an art gallery. In 2018, one of Banksy's paintings named Balloon Girl sold for £1.04 million at an auction in Sotheby's. Little known to anyone besides Banksy himself, the frame of the artwork contained a paper shredder, and just as the painting was sold, an alarm bell started ringing, and the painting started to be pushed through the shredder, exiting through the bottom of the frame in cut strips.
The auction house acknowledged to the press that it had been a prank pulled by the artist, and the resulting coverage from the press made it possibly the most famous stunt ever pulled off in the art world, with some auctioneers estimating that in its shredded state, the work had most likely doubled in value. When asked about why he has shredded his own work, he replied that the urge to destroy something is itself a creative urge – which is something that Picasso had actually originally said.
It is not known how the shredder was activated, although it has been suggested that Banksy was among those present at the auction, with some even suggesting that he can be seen in video footage, holding a camera and filming the shredding.
In a video posted to social media by the artist, he shows how he constructed the piece and how it was actually meant to shred the entire painting and not stop towards the ends as it had done at auction. The woman who had won the bid for the artwork opted to go through with the transaction, and the artwork was retitled Love Is in the Bin. Although critics say that artwork was lost at the auction, the artist himself believes that it was only born upon shredding, adding that it was in fact, the first artwork to be created at its own auction.
Banksy art on a wall of Regent's Canal in Little Venice, London; Mario Sánchez Prada, CC BY-SA 2.0, via Wikimedia Commons
We know very little about the person behind the art, but maybe that's the point. In a day when often the concept of celebrity is often more important than the talents they possess, it is refreshing for an artist to take a backseat to their own art. However, that is not totally true with Banksy, as although we might not know his identity, his persona has still been a large part of his appeal and works. His style of art is rebellious, anti-establishment, and driven by social statements about the world around him. Banksy's artwork belongs to both no one and everyone simultaneously, regarded as both petty vandalisms to be removed, and national heritage to be preserved.
Take a look at our Banksy art webstory here!
Frequently Asked Questions
Who Created Banksy's Paintings?
The artist known as Banksy remains a figure clouded in secrecy regarding his true identity. There have been many individuals put forward as potentially being the real Banksy through the years, such as Rob Gunningham. There have even been studies carried out at a university which aimed to try and correlate the creation of the works with Gunningham's apparent movements geographically from year to year. Even his old schoolmates think that Rob is Banksy, as they recall when he changed his name to Robin Banks, and friends would call him Banksy for short. There have been several other people suspected of being the artist through the years, from a councilman who was eventually compelled to leave his job rather than spend his time trying to prove he wasn't someone else, to the founding member of the music group Massive Attack, who were apparently good friends of Banksy.
What Is Banksy's Street Art About?
Banksy is able to impart social commentary in an often-humorous manner, providing a satirical look at the current state of the world. His works are created to spark conversation and debate on a variety of subjects such as war, famine, natural disasters, and capitalism. That is not to say, however, that he does not make any money from his art. Banksy's paintings have increased in value at auction steadily year after year, and his Girl with Balloon sold for £1,4 million at Sotheby's in 2018. As the artwork was sold, though, the paper shredder that had been built into the picture frame was activated, causing the entire painting to be stripped into shreds.