If this is your first time hearing about Grant Wood, you may have certain questions. For instance, when was Grant Wood born, where was Grant Wood born, and what did Grant Wood die from? But most significantly, you are most likely wondering why he was famous and what kind of art he made. To answer those questions, we will examine the relevant facts about Grant Wood by exploring Grant Wood's biography.
Grant Wood's Biography
| | |
| --- | --- |
| Nationality | American |
| Date of Birth | 13 February 1891 |
| Date of Death | 12 February 1942 |
| Place of Birth | Anamosa, Iowa |
Grant Wood was part of the Regionalist movement which strove to steer away from the European style of art and subjects and focused on local American rural subject matter such as austerity, community, and hard work. Moving away from the avant-garde style that was popular in Europe, he portrayed the Midwest with the same precision and clarity he had seen in Renaissance artworks.
He also incorporated the curves and lines of Art Deco to create a distinctly American aesthetic.
Childhood
Grant Wood grew up in Anamosa, a small rural town in Iowa. When he was 10 years of age, his father passed away abruptly, and his mother relocated to Cedar Rapids with the children. Wood and his older brother were required to work a variety of various odd jobs to help provide for their family. His youth on the farm inspired him throughout his artistic career.
The sights he experienced there distinguished his work from that of other realists.
Grant Wood's boyhood home in Cedar Rapids, Iowa. It is now listed as one of the most endangered historic sites in Iowa; Iowa Historic Preservation Alliance, CC BY-SA 3.0, via Wikimedia Commons
He concentrated on the golden, magical recollections of childhood and a life of simple joys in sync with the elements, instead of the more mature work and socioeconomic vulnerability that typically accompany farming. Wood's passion for art grew at the Cedar Rapids school, and he started entering contests in 1905.
After winning the third position in a national contest, he decided that he would become a professional artist.
Early Training
Wood immersed himself in several art-related activities accessible across the Cedar Rapids region when he transferred to Washington High School in 1906. He and a fellow artist, Marvin Cone, started building stage sets for neighborhood theaters and assisting at the Cedar Rapids Art Association, organizing shows and safeguarding galleries. He also illustrated for the school yearbook and worked on interior decoration projects, which he did until the 1930s.
After completing school, Wood attended a summer program that was taught by Ernest A. Batchelder, a notable exponent of the Arts and Crafts movement, and he also studied life drawing under Charles Cumming.
He relocated to Chicago in 1913, completing night school while working as a jeweler, initially with Kalo Silversmithing and subsequently in his little store, Volund Craft Shop. In 1916 he returned to Cedar Rapids after he accepted monetary responsibility for his family, motivated by the collapse of the craft shop venture and his mother's mounting financial difficulties.
Midnight Ride of Paul Revere (1931) by Grant Wood, located in the Metropolitan Museum of Art in New York City, United States; Grant Wood, Public domain, via Wikimedia Commons
He operated as a home builder and interior decorator, as well as a camouflage designer during the first World War. Following the war, he went on to teach art at a Middle School, emphasizing cooperation and the link between artistic work and community. Wood's narration emphasized his adoption of modernist concepts during a display of a student project, Imagination Isles (1921), exhibited to the students in the grandiose form of 19th-century panoramas.
He told the students that no human being could reach these islands – only the spirit could visit – but that painters were educated to dwell in the imaginary, and that they were there to assist regular people who usually only engage with the tangible world step outside of themselves and guide them on a spiritual trip.
He did not create art in the cutting-edge modernist techniques of the day, but he shared the modernist attitude of the artist's role as a spirit advisor independent from the physical and corporate world.
Daughters of Revolution (1932) by Grant Wood, located in the Cincinnati Art Museum in Ohio, United States; Grant Wood, Public domain, via Wikimedia Commons
He embarked on a long-awaited summertime tour to Europe in 1920. In 1924, he went back to France to study at the Julian Academy in Paris, and he then traveled to Italy. During this time, he produced landscapes in an Impressionist manner. Though his style evolved greatly, the ornamental designs of flora and light found in his early work continued to be a highlight of his mature style.
In 1925, Wood quit teaching to devote his complete attention to his painting.
He was supported by his companion David Turner, whom Wanda Corn characterized as "the shrewd and industrious mortician" and who functioned as a type of manager for the artist. Turner lent Wood the guest house next to his funeral parlor. Wood turned the area into a unique, functional, and creatively designed artist's studio. After returning home from Paris, he was taken aback by the unique beauty of his rural neighborhood and saw it in a new light.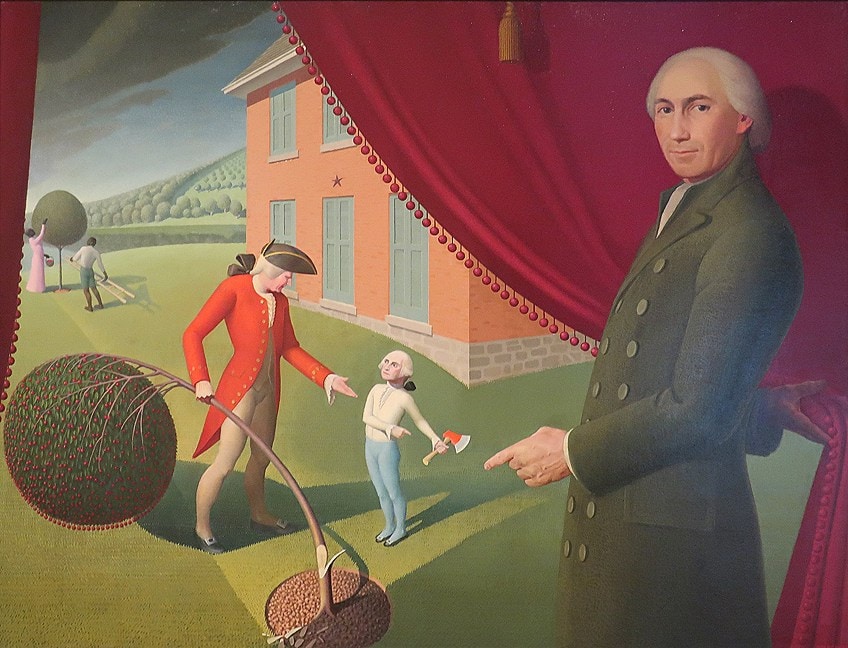 Parson Weems' Fable (1939) by Grant Wood, located in the Amon Carter Museum in Texas, United States; Grant Wood, Public domain, via Wikimedia Commons
His Cedar Rapids friends, their outfits, their houses, the designs on their table cloths and drapes, the equipment they used: he suddenly recognized all of this mundane stuff as inspiration for art. Around this period, the artist developed his unique personal style, which comprised denim overalls – the utilitarian, functional form of clothes common across the region, thereby portraying himself in the Regionalist image. He became the city's multi-talented artist, creating murals, portraits, and home decorations.
Wood's connection with Regionalism was strengthened by the community's encouragement, which included both like-minded painters and those eager to pay him for his work.
Wood's themes were based on regional tropes – farmland owners, chatty old women, small-town financiers, masons, and so on – but he portrayed them with fondness and humor, instead of the hatred prevalent in the literature of the time. Cedar Rapids artists were not alone in their interest in genuine, local cultural development; they were part of a much bigger societal shift that took place between the world wars.
Spring in Town (1941) by Grant Wood, located in the Swope Art Museum in Indiana, United States; Grant Wood, Public domain, via Wikimedia Commons
Both economic and emotional regeneration from the Great Depression rested on a national character created through regional accomplishments. Despite his commitment to regional subjects, a trip to Germany influenced Wood's mature approach. In 1928, he traveled to Munich, where he encountered the meticulous realism of Flemish masterworks by Hans Holbein, Hans Memling, and Albrecht Dürer.
The style reminded him of his own works as a boy, before he was trained to adopt a softer, emotive technique.
Mature Period
Wood's status quickly rose from that of a regional jack-of-all-trades to that of a nationwide established Regionalist artist. In 1930, American Gothic (1930) was awarded a medal in the Art Institute of Chicago's yearly event. The painter was 39 at the time, and this was only his third exhibition outside of his native state.
His life significantly changed in 1934, when he was chosen supervisor of the Public Works mural project and was appointed professor of art at the University of Iowa.
American Gothic (1930) by Grant Wood, located in the Art Institute of Chicago in Illinois, United States; Grant Wood, Public domain, via Wikimedia Commons
Wood, who was known to secretly be gay, suddenly married Sara Maxon in 1935 and relocated to Iowa City, leaving behind the safety and protection of his hometown. Wood engaged himself anew in the art world in Iowa City, releasing a Regionalist Manifesto and regularly displaying it in large national exhibits. Wood, on the other hand, had a difficult time during this period. After barely three years of marriage, his mother passed away, and he had insufficient time for painting, critics questioned if the artist had reached his peak.
His various illustration efforts and lithographs served as a target for critics who believed his work was overly illustrational and his image was overly reliant on attention from the media.
Late Period and Death
The source of Wood's most serious personal problems, however, was his division at the University of Iowa. These disagreements caused him grief until his untimely death in 1942, and they also led to the diminishment of his reputation in the art world. In 1934, when Wood was employed as a "liberal" painter, he worked in a more modernist manner than many of his peers. When new management was established in 1936, the new department chair who favored avant-garde modernism, branded him as a "reactionary." Conflicts over topics and teaching methods erupted.
Wood wrote to the Director in 1940, protesting about the chairman's general dismissal of his works and requesting that the studio and history departments be split.
The University was eager to keep Wood, their most recognized professor, but his plea was refused. Rather, they placed him on leave for the 1941 academic year. The director used Wood's absence to undermine him, openly denouncing his paintings and displaying slides at conference presentations to indicate where he produced from photos.
Fall Plowing (1931) by Grant Wood, located in Viola, Iowa, United States; Grant Wood, Public domain, via Wikimedia Commons
While opinions on style and modernity were divided, homosexuality was the one charge that might have wrecked Wood's image even by insinuation in 1940. However, the troubles in the art department were well documented, and no comment was made on Wood's private life. The director proceeded to undercut him by writing articles encouraging supporters of authentic art to oppose "communazi" art, such as Regionalism.
Despite these attempts, Wood was still considered popular with art collectors at the time.
Wood was granted a new studio in 1941, and he was freed from the Director's oversight. What did Grant Wood die from though? Wood's output had just begun to return to normal when he was confirmed to have pancreatic cancer in October of that year. The artist passed away a few months later, in February 1942.
Legacy
Wood is still regarded as one of the most beloved and divisive American Regionalist artists. American Gothic (1930), possibly the most recognizable piece of contemporary American art, as well as the most imitated, is also outstanding.
However, the professional quarrels he faced at the University of Iowa over both his creative value and sexuality tainted his historical legacy, leaving him, as some authors have put it, in a continual state of rebirth.
Self-Portrait (c. 1925) by Grant Wood, located in the Figge Art Museum in Iowa, United States; Grant Wood, Public domain, via Wikimedia Commons
Wood's realism approach and the ideology of Regionalism became the WPA's "visual language." The initiative and its impact on artists aligned well with Wood's personal idea of community and artist cooperation. Wood's homosexuality provides a new channel for re-evaluative study, which has grown significantly over the last 30 years.
Important Artworks
Now that we have looked at all the facts about Grant Wood, we can explore some of his artworks. There is a full article about his works already, but you can check them out for yourself by examining our list and putting the painting titles in Google. In the table below, you will find a few of the most well-known Grant Wood artworks.
| | | | |
| --- | --- | --- | --- |
| Artwork Name | Date | Medium | Location |
| American Gothic | 1930 | Oil on beaverboard | Art Institute of Chicago |
| Midnight Ride of Paul Revere | 1931 | Oil on composition board | The Metropolitan Museum of Art, New York |
| Victorian Survival | 1931 | Oil on composition board | Carnegie-Stout Public Library, Dubuque, Iowa |
| Dinner for Threshers | 1934 | Oil on hardboard | Fine Arts Museums of San Francisco |
| Parson Weem's Fable | 1939 | Oil on canvas | Amon Carter Museum of American Art, Fort Worth, Texas |
Recommended Reading
In this article, we have taken a look at Grant Wood's biography. Yet, there is always more to learn about an artist than can be written in a single article. So, if you would like to learn more about his work, check out one of these relevant books.
Grant Wood: A Life (2010) by R. Tripp Evans
Grant Wood, America's most celebrated and misinterpreted regionalist artist, is shown to be everything but straightforward in this significant new biography. We witness Wood as an artist tormented and motivated by childhood images, as well as his complicated connection with his father. We witness Wood's homosexuality, as well as how his cultivated masculinity was a masquerade that influenced his work.
A biography of America's most acclaimed and misunderstood painter
Explores his life and work more deeply and insightfully than before
Many never-before-seen documents included
View on Amazon
Grant Wood: American Gothic and Other Fables (2018) by Barbara Haskell
This thorough study is jam-packed with new material and offers new insights into the career of one of the important personalities of American art. Working mostly in the conventional genres of portraits and landscape, Wood instilled in his works a tangible tension rooted in his era's enormous epistemological and social changes. This book examines Wood's work from a range of angles, presenting the artist's work in all of its delicate complexity and rejecting the notion that Wood can be defined merely as a Regionalist painter.
A major reevaluation of an iconic 20th-century American artist

A comprehensive study of Grant Wood's life and career
Includes several works published here for the first time
View on Amazon
Grant Wood is described by many people as one of the most significant artists of American art in the 20th century. He disregarded the European trends in favor of a regional flavor that celebrated the people and land of America. It was a difficult time to be a homosexual and he had to try and hide his sexual preferences from others.
Frequently Asked Questions
When Was Grant Wood Born and Where Was Grant Wood Born?
Wood was born on the 13th of February in 1891. He was born in the small Iowan town of Anamosa, United States. He was one of four children and grew up in a rural environment. This environment would one day serve as inspiration for his artwork upon returning home from a trip abroad.
What Did Grant Wood Die From?
He died of pancreatic cancer just a few months before his 51st birthday. He passed away on the 12th of February in 1942. Ironically, it was just after his works and life had started to seem like they were on the rise again following a succession of ups and downs.