Marcel Duchamp – Explore Marcel Duchamp's Art and Interesting Life
Marcel Duchamp was born in the late 19th century. The art he produced during his life was very much ahead of its time. For this reason, it was not appreciated until nearly 50 years after its creation. Duchamp's art is now widely recognized and highly acclaimed. In the modern-day, he is seen as a creative genius and is credited with having paved the way for Conceptual art.
Artist in Context: Who Is Marcel Duchamp?
| | |
| --- | --- |
| Date of Birth | 28 July 1887 |
| Date of Death | 2 October 1968 |
| Country of Birth | France |
| Associated Art Movements | Cubism, Dada, Surrealism, Conceptual Art |
| Genre/Style | Conceptual Art |
| Mediums Used | Painting, Sculpture, Collage, Short Films, Body Art, Found Objects |
| Dominant Themes | Erotica, Humor |
Marcel Duchamp is considered to be one of the most important contributors to modern art. But this was not always the case. Upon first being exhibited to the public many of his works were considered highly controversial.
His offbeat and outspoken art was far too progressive for the early 1900s. However, in current times he is celebrated for his uniqueness and creativity.
The Birth and Early Life of Marcel Duchamp
Marcel Duchamp was born Henri-Robert-Marcel Duchamp on 28 July 1887. He was born in the small city of Blainville-Crevon in the Normandy region of France. He came from a very artistic family in which his maternal grandfather and three of his siblings were successful artists.
His parents encouraged their children to express their creativity and were very supportive of their decisions to pursue careers in art.
Duchamp's father, Éugene Duchamp, was a notary and in 1895 became the mayor of Blainville-Crevon. His mother Lucie spent her time looking after their six children. In her spare time, she enjoyed painting and often taught her children basic painting skills. She also familiarized them with the works of great artists, particularly Claude Monet. This influence is highly evident in Duchamp's very early paintings, which have a distinctly Impressionist style.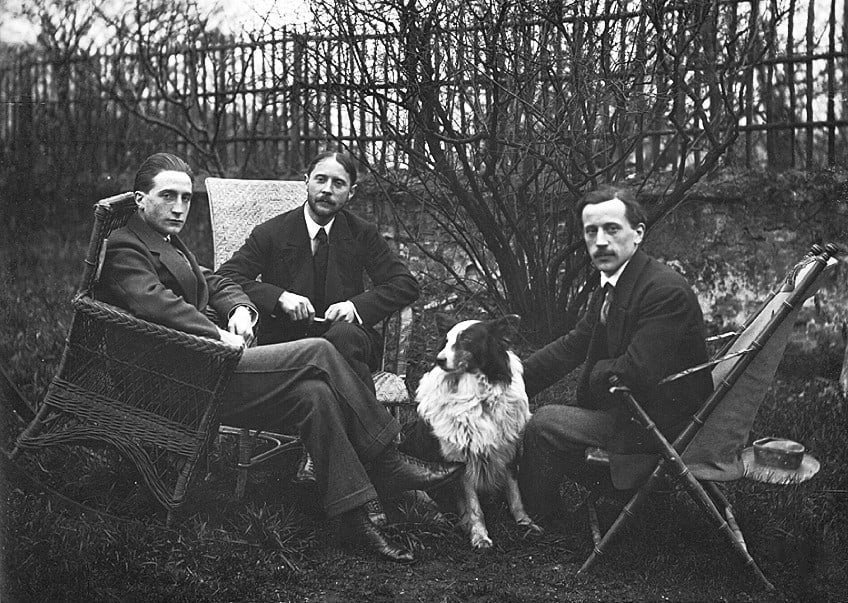 Three Duchamp brothers left to right: Marcel Duchamp, Jacques Villon, and Raymond Duchamp-Villon in the garden of Jacques Villon's studio in Puteaux, France, 1914, (Smithsonian Institution collections); Unidentified photographer, Public domain, via Wikimedia Commons
Although he later became very close with his brothers, they had already left home when Duchamp was a little boy. For this reason, growing up his playmate was his sister Suzanne. The two children were both very imaginative often inventing their own games, which they played together.
Duchamp also attempted watercolor painting in his youth. In these cases, Suzanne would often pose as a model for him.
Education and Career
When he turned eight years old, Marcel Duchamp was sent to boarding school at the Lycée Piérre-Corneille in the nearby city of Rouen. His education at Lycée Piérre-Corneille lasted until he was 16 years of age. Duchamp was not a very diligent student, however, he still excelled at certain subjects such as art and mathematics. He even won prizes for both.
The praise he received for his art urged him to follow in his older brothers' footsteps and become an artist.
In 1904, Duchamp moved to Paris to study art at the Académie Julian. However, he does not claim to have learned much during his time there and often skipped classes to play billiards. Instead, he credits his brother Jacques Villion as the person who taught him the most about art. During this time, Duchamp experimented with several art styles including Impressionism, Post-Impressionism, Cubism, and Fauvism. He was forever trying out new things to develop his style.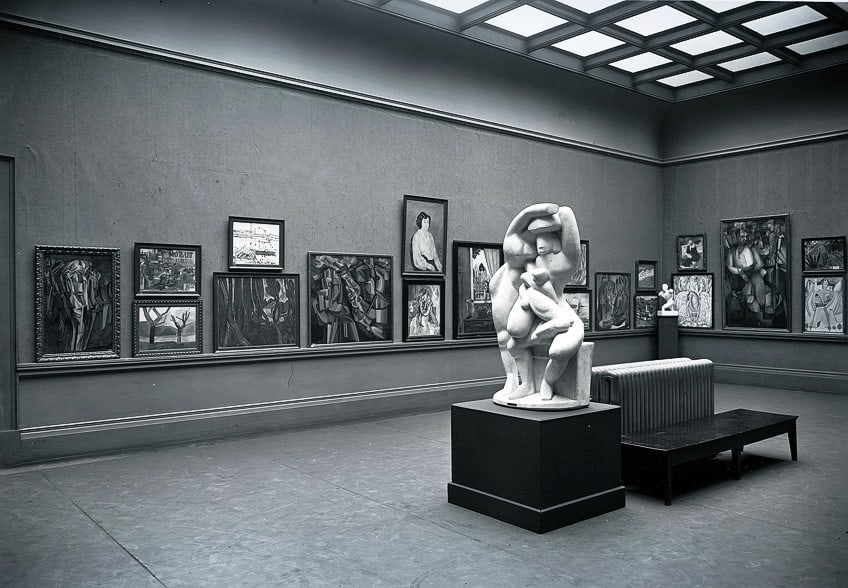 The Cubist room (Gallery 53) from the International Exhibition of Modern Art at the Armory Show, Art Institute of Chicago (March 24 – April 16, 1913); Anonymous photographer. Shot 100 years ago., Public domain, via Wikimedia Commons
Whilst in Paris, Duchamp sold small cartoons and sketches to make some extra pocket money. These cartoons were often witty, containing some form of a visual or verbal pun. Creating art that contained humor, or that was more than simply visual, was something that Duchamp would come to be known for. In later years he would be quoted saying, "Humor and laughter- not necessarily derogatory derision- are my pet tools. This may come from my general philosophy of never taking the world too seriously- for fear of dying of boredom."
Until 2001, France had compulsory military conscription for all men. Thus, in 1905 Duchamp was required to enlist.
He was fortunate enough to enlist in a time of little conflict. Therefore, his time in the infantry was spent working for a printer. This would prove beneficial to his art career as he learned a lot about typography and printmaking.
Painting
Following his time in the military, Duchamp returned to painting. Aided by the connections he made through his brothers he managed to get his paintings displayed at the Salon d'Automne in 1909 and then again at the Salon des Independants in 1909. This allowed him to begin gaining a reputation on the Paris art scene. During this time, his paintings were not very out-there and consisted primarily of landscapes and portraits in a post-Impressionist style. He also painted a few nudes, although they were very tame compared to his later works.
In 1911, Duchamp painted "Portrait (Dulcinea)", which would later come to be known as a forerunner for his famous "Nude Descending Staircase No. 2" (1912).
The painting portrayed his signature style of showing movement through the use of multiple figures. The painting was considered quite erotic as it showed a woman in various stages of undressing. However, unlike Duchamp's later paintings, the figure of the woman is still clearly evident.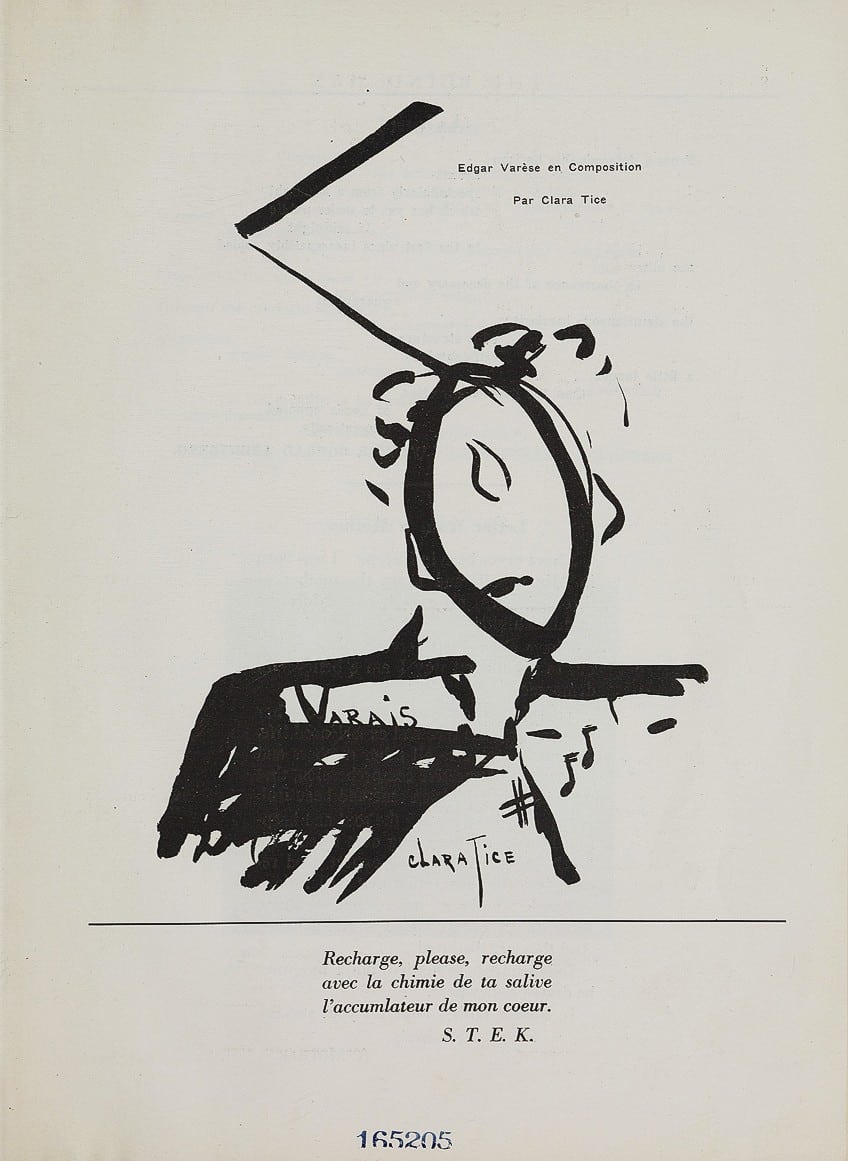 The Blind Man (1917) by Man Ray, Marcel Duchamp, and Henri-Pierre Roché, located at the Metropolitan Museum of Art in New York City, United States; Man Ray, CC0, via Wikimedia Commons
In 1912, Duchamp displayed his famous Nude Descending Staircase No. 2 for the first time at the Salon des Independents. Many of the other artists who were exhibiting, particularly Albert Gleizes, were against the painting being put on view. Although Cubism had become quite normal by then, Duchamp's interpretation of it had not. They did not like that the figure was not distinguishable. Critics stated that it looked like "an explosion in a shingle factory."
Many believe that this criticism is what deterred Duchamp from painting for a number of years. Although Duchamp had taken a break from painting, he had not completely given up on art.
During this period, he spent time in Munich where he visited art galleries and attended theatrical performances, most notably Impressions d'Afrique. These activities, along with the literature he was consuming at the time such as The Ego and Its Own (1844) by Max Stirner, changed his mindset. They inspired him to begin conceptualizing one of his greatest works The Large Glass (1923). This would mark his departure from "retinal art".
Post-Retinol Art
Upon returning from his travels, Duchamp began working at the Bibliotéque Saint-Geneviéve as a librarian. This would become his primary source of income and would allow him the time to pursue all of his interests, which at the time were math, physics, and sometimes art. Whilst spending time in his studio, Duchamp attached a bicycle wheel to the top of a wooden stool.
Although he had not intended it to be a work of art, it would later be titled "Bicycle Wheel" (1913) and considered by many to be the first readymade art piece.
In 1914, the First World War broke out in Europe. Duchamp was able to escape the draft due to a weak heart. However, most of his brothers and male friends were called to service. As a result, Duchamp felt very alone in the world. Luckily for him, his paintings had started to gain traction in America. A few were sold for fairly large sums of money. This allowed Duchamp the financial stability to move to New York City.
Even though he did not speak much English, Duchamp was immediately taken with New York. It was progressive, multi-cultural, and teeming with young artists. To make a living Duchamp began giving French lessons. This in turn helped him to pick up English, making his living situation in the States much easier. It was not long before Duchamp became ensconced in the New York art scene.
Although World War I still raged, many people had grown tired of the troubles of wartime. As a reactionary movement, Dada was created. Dada was a movement that affected music, literature, film, and art. It was all about absurdity, anti-war sentiment, and a desire to do things differently than before. The movement spread throughout Europe as well as the United States. It was huge in New York, however, it had a much more carefree nature there than it did in Europe.
It was during this time of glorified insanity that Duchamp began making readymade art.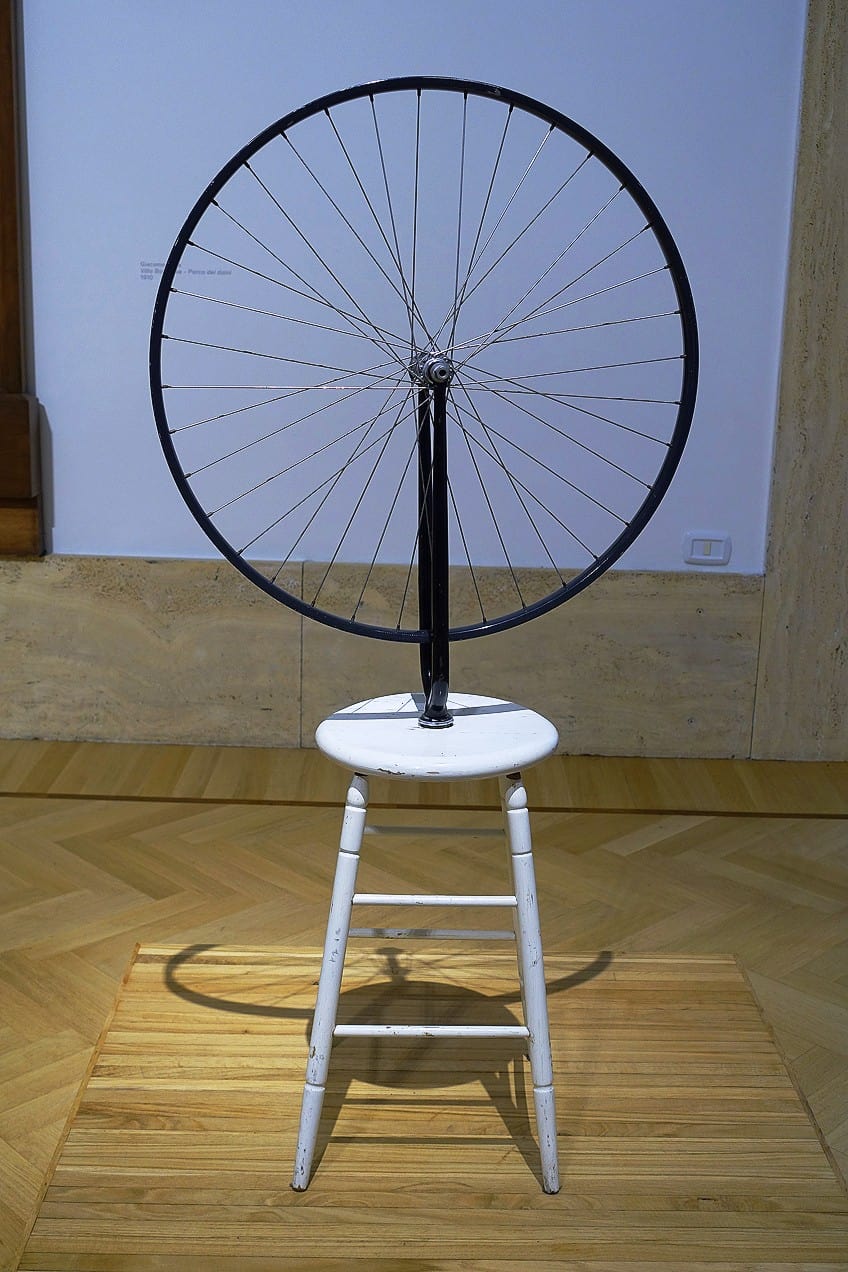 A 1913 replica of Bicycle Wheel by Marcel Duchamp, made in 1964 and located at the Galleria nazionale d'arte modern in Rome, Italy; Daderot, Public domain, via Wikimedia Commons
Marcel Duchamp's art was dubbed readymade art. This was a term he created himself, which described the art he began producing in the 1910s. Readymade art was art made from everyday objects. These objects were barely changed or distorted, on occasion, multiple items would be placed together to form what is known as an assemblage. The first official readymade was titled Bottle Rack (1914) and was exactly that.
Duchamp's readymades redefined the very concept of art and what made one an artist. They were highly controversial at the time, with many not considering them to be art in the first place.
One of the most famous Marcel Duchamp works was created in 1917. It was a porcelain urinal that Duchamp titled The Fountain and signed with the pseudonym "R. Mutt." People were shocked and disgusted at the readymade. It was banned from many exhibitions as few believed it to be art. This raised the question, "What defines a piece as art?", which is the exact reaction Duchamp had wanted. As the publisher of The Blind Man a Dada magazine, Duchamp had the perfect platform to explain his art to the outraged public.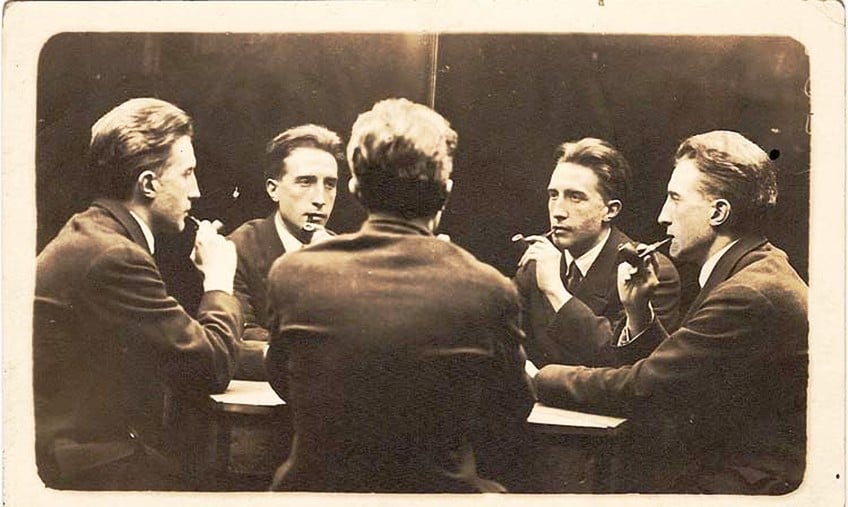 Five-Way Portrait of Marcel Duchamp, taken on 21 June 1917 in New York City; AnonymousUnknown author, Public domain, via Wikimedia Commons
First, he explained the process behind creating his readymade art. He stated that choosing an object that would become art was just as creative an act as if he were to paint or sculpt something himself. By then taking away the object's original functionality, it then ceases to be that object. For example, by removing the urinal from the rest of the plumbing, it can no longer be used and is therefore not a urinal anymore. The final step is to give the piece, which is now only functional as a work of art, a title. The given title adds to its meaning.
Stepping Away from Art
Duchamp created 13 readymade art pieces in total. As they were not a success many of the originals do not survive. However, in more recent times they have been recreated. After he had grown tired of his readymades Duchamp was said to have retired from art. He had a new obsession that gripped him in a way that art had not. This new love of his was chess. He would go on to play professional chess, as well as published literature on the subject, through the 1930s.
During the 1940s, Duchamp dipped his toe back into the artistic pond.
Whilst he did not create any art himself, he became somewhat of an art consultant. He advised many art collectors, including his close friend Katherine Drier, on all matters of modern art. He also acted as editor for several art magazines such as VVV and View.
In the 1960s, the was a resurgence in Marcel Duchamp's works. Young artists such as Jasper Johns had discovered his readymades and thought them arts of brilliance. Duchamp's thought-provoking, cerebral art was finally understood almost 50 years after its conception. World-renowned art galleries, such as the Tate Gallery in London, began hosting exhibitions of his works.
His popularity was increased by the fact that many believed that he had retired from art many years before.
Final Years
However, Duchamp had one final work of art left in him. In 1966, he finished the painting Given: 1. The Waterfall, 2. The Illuminating Gas. The painting gives the illusion of looking through a keyhole. Through this keyhole the viewer sees the nude body of a woman, believed the be based on Duchamp's lover Maria Martins, lying on the grass with a gas lamp in her hands.
However, the painting was only seen by the public in 1969 following Duchamp's death.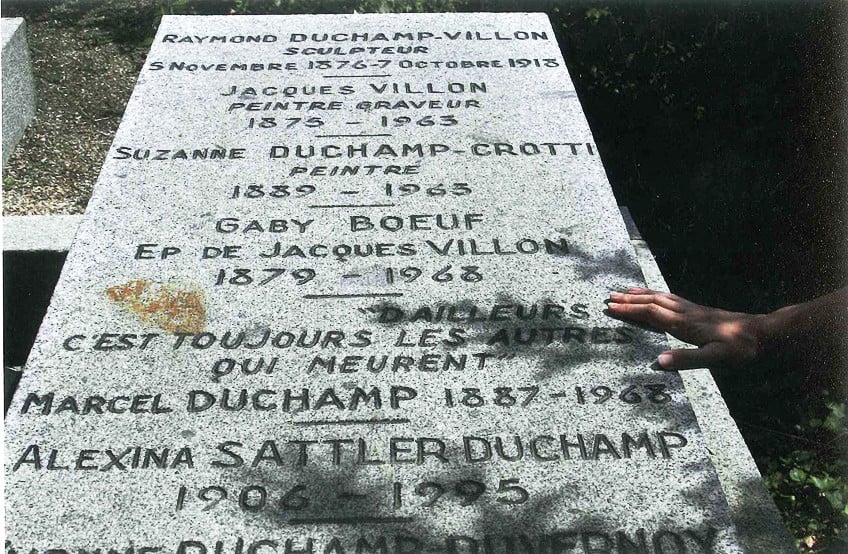 Marcel Duchamp's gravestone in Rouen, France with the epitaph "D'ailleurs, c'est toujours les autres qui meurent" (Besides, it's always the others who die); Mmmmmmmduchamp, CC BY-SA 4.0, via Wikimedia Commons
In 1968, Marcel Duchamp died of a heart attack at his home in Neilly-sur-Seine. He was found in his art studio. Although the world was at a great loss, Duchamp had lived a full and vibrant life. The impact that he had made on the art world was profound. Many believe that his contributions paved the way for conceptual art.
His works caused people to think about the very notion of art and what it meant to be an artist. For this reason, his legacy will likely go on indefinitely as new generations rediscover his works.
Artistic Characteristics of Marcel Duchamp
It is very difficult to put an artist such as Marcel Duchamp into neat little categories. Although his body of work is not as large as many other famous artists it is certainly very diverse. To try to get a holistic picture of Marcel Duchamp's art the following characteristics shall be looked at, art movements, themes, mediums, and finally pseudonyms.
Art Movements
The following section will be divided into two sections for clarity. The first will include the influence various art movements had upon Marcel Duchamp's paintings. The second section will focus primarily on how his art affected certain art movements such as Surrealism and Dada.
Influence of Art Movements on Marcel Duchamp
Duchamp loved variety throughout his life. He was never interested in doing one thing for too long. This is likely why he took multiple breaks from art in the pursuit of other interests such as chess. His love of variety also encouraged him to experiment with several different art movements in his early years.
Duchamp's mother, an amateur painter herself, taught him about the works of great Impressionists. However, by this time Impressionism had grown outdated. Post-Impressionism and the works of artists such as Van Gogh were far more relevant.
Thus, Duchamp began experimenting with the art style in his paintings. During this time, he created works such as "Church at Blainville" (1902), "Man Sitting at the Window" (1907), and "Two Nudes" (1910).
Photograph of Leon Hartt, Marcel Duchamp (middle), and Mrs. Hartt; half-length, standing; George Grantham Bain Collection, Public domain, via Wikimedia Commons
Duchamp did not stick with post-Impressionism for long. The next art style he explored in his work was Fauvism. Fauvism was not popular for very long and thus his interest in it was also short-lived. He did, however, create paintings such as Nude With Black Stockings (1910) and The Bush (1911), which showcase a Fauvist style.
Cubism was a highly popular art movement in Europe during the early 20th century. Artists such as Picasso, Braque, and Cézanne were considered figureheads of the movement. Intrigued by the movement Duchamp began creating his own Cubist paintings.
In all of these paintings, he kept a very simple color scheme of browns, beiges, and blacks with an emphasis on form rather than color.
Photograph of Marcel Duchamp (Rrose Selavy) by Man Ray. Reproduced on the cover of New York Dada magazine. Photograph of a "readymade" made of a Rigaud brand perfume bottle with a modified label. The photograph was published on the cover of New York Dada, New York, April 1921; Man Ray, Public domain, via Wikimedia Commons
Examples of such paintings include Portrait of Chess Players (1911) and Transition of Virgin into Bride (1912). Duchamp experimented with Futurism for some time. However, his works were a unique combination of Cubism and Futurism that confused many people. His first attempt at this style was Sad Young Man on a Train (1911). However, although they were similar, this painting did not gain nearly as much attention as its predecessor Nude Descending Staircase No. 2 (1912).
The latter was considered highly controversial as many believed it to be intentionally unattractive, something that was unusual in art at the time.
Finally, because Duchamp was always more interested in the message behind paintings than their appearance Symbolism was another movement he practiced. Some of the paintings he created intended to be Symbolist were Yvonne and Magdelaine Torn in Tatters (1911) and Young Girl and Man in Spring (1911). There are many theories as to the meaning behind Young Girl and Man in Spring. Whilst some believe it to be a referral to Bosch's Garden of Earthly Delights (c. 1515) others believe it to be a representation of love. However, the heart-shaped image in the center of the painting, along with the fact that he gave it to his sister Suzanne as a wedding gift reinforces the second theory.
Influence of Marcel Duchamp on Art Movements
Marcel Duchamp was not simply influenced by art movements and the works of other artists. He made a profound impact on certain art movements, such as Dada and Surrealism, himself. Such is the cycle for many great artists, they are inspired by others until they become the inspiration themselves.
During the 1910s, the Dada movement was huge in New York. The movement, which had spread from Europe, affected art, music, literature, and film.
At its essence was rebellion and absurdity, a reaction to the harsh wartime conditions. This was when Duchamp began making his readymade art. Those that were interested in the Dada movement loved the provocative nature of Marcel Duchamp's works. His readymades refined art and what it meant to be an artist. Many were also humorous, such as L.H.O.O.Q (1919), which was much needed during a time filled with sadness and trauma.
Duchamp also made an impression on the Surrealist art movement. He wrote and created graphics for many famous Surrealist magazines of the 1940s.
Examples of this include Please Touch, which was the graphic created for the cover of the 1947 edition of Le Surréalisme, as well as Female Fig Leaf the cover for the 1956 edition. Most of Duchamp's Surrealist works were explicitly erotic and were a direct influence on the works of Man Ray, who was a close friend of Duchamp.
Themes
Marcel Duchamp was constantly changing and evolving his art. However, there are a few key themes that enjoyed throughout his career as an artist, which adds a degree of consistency to his work. Some of the themes will be briefly discussed to further understand the artist and his thought processes.
Erotica
Marcel Duchamp started creating art with erotic themes quite early on in his career. Many of his paintings from the year 1910 were nudes such as Paradise, Adam and Eve, Standing Nude, and Nude With Black Stockings.
However, at this stage, his nudes were typically not posed suggestively and were not explicitly erotic.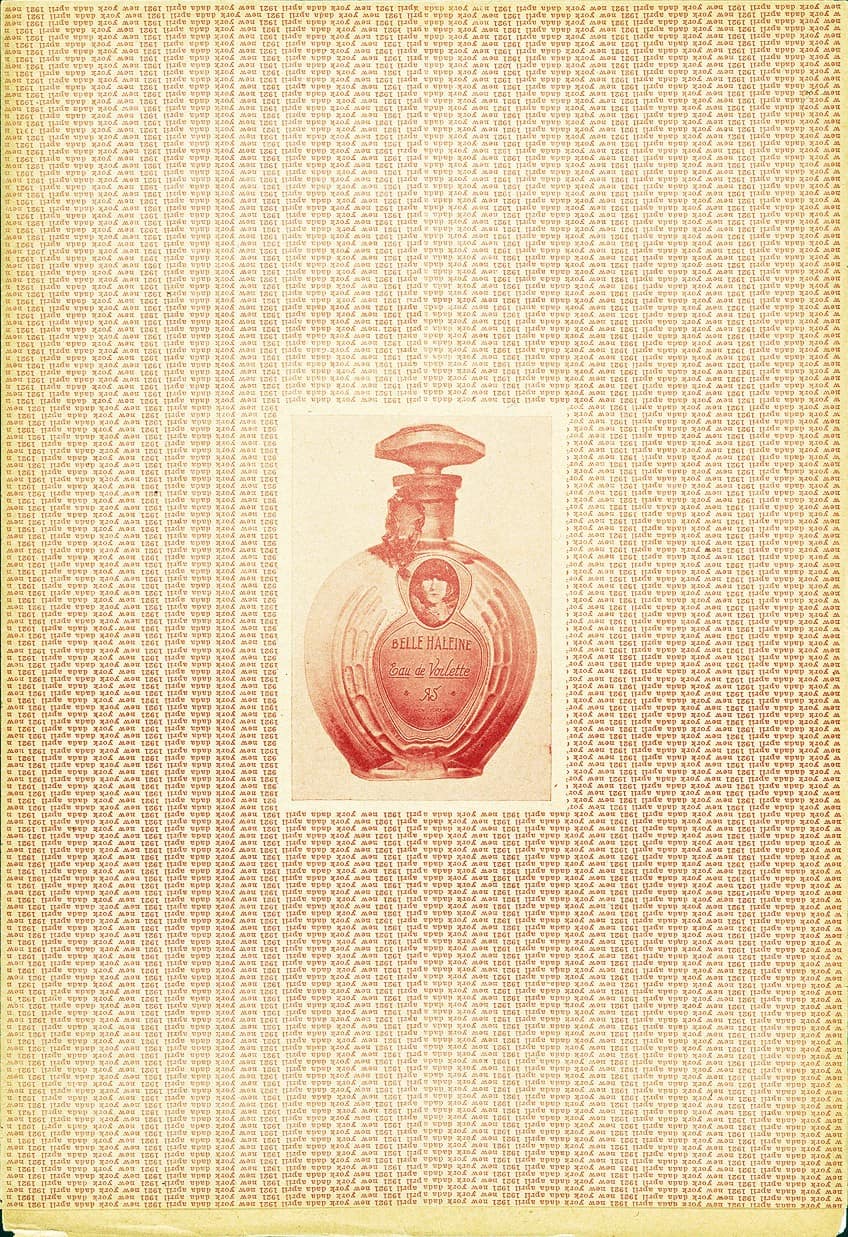 Another version of a photograph of Marcel Duchamp (Rrose Selavy) by Man Ray. Reproduced on the cover of New York Dada magazine. Photograph of a "readymade" made of a Rigaud brand perfume bottle with a modified label. The photograph was published on the cover of New York Dada, New York, April 1921; Man Ray, Public domain, via Wikimedia Commons
By the 1940s, after Duchamp had somewhat returned to the art world, many of the graphics he created were intended to be highly provocative and erotic. Examples of this can be seen in the art he created for the covers of the Le Surréalisme magazine. The 1947 cover titled Please Touch showed a singular breast on a black background. The cover created for the 1956 edition, called Female Fig Leaf, was even more uncensored, showing a close-up of a woman's legs.
Duchamp did not only create risqué graphics for magazines. His last two paintings were also very erotic in nature.
The first Study for Given: 1. The Waterfall, 2. The Illuminating Gas (1949) was simply a study for the second Given: 1. The Waterfall, 2. The Illuminating Gas (1966). Both paintings show the nude body of a woman with open legs from various angles. The model used for the body was said to be Duchamp's lover and sculptor Maria Martins.
Cerebral Art
Marcel Duchamp was very vocal about his desire to create art that stimulated the mind rather than simply pleasing the eye. Even as a young man the cartoons he sold always contained some form of hidden message or humorous element.
As early as the 1910s, Duchamp quit painting to pursue less "retinol" forms of art.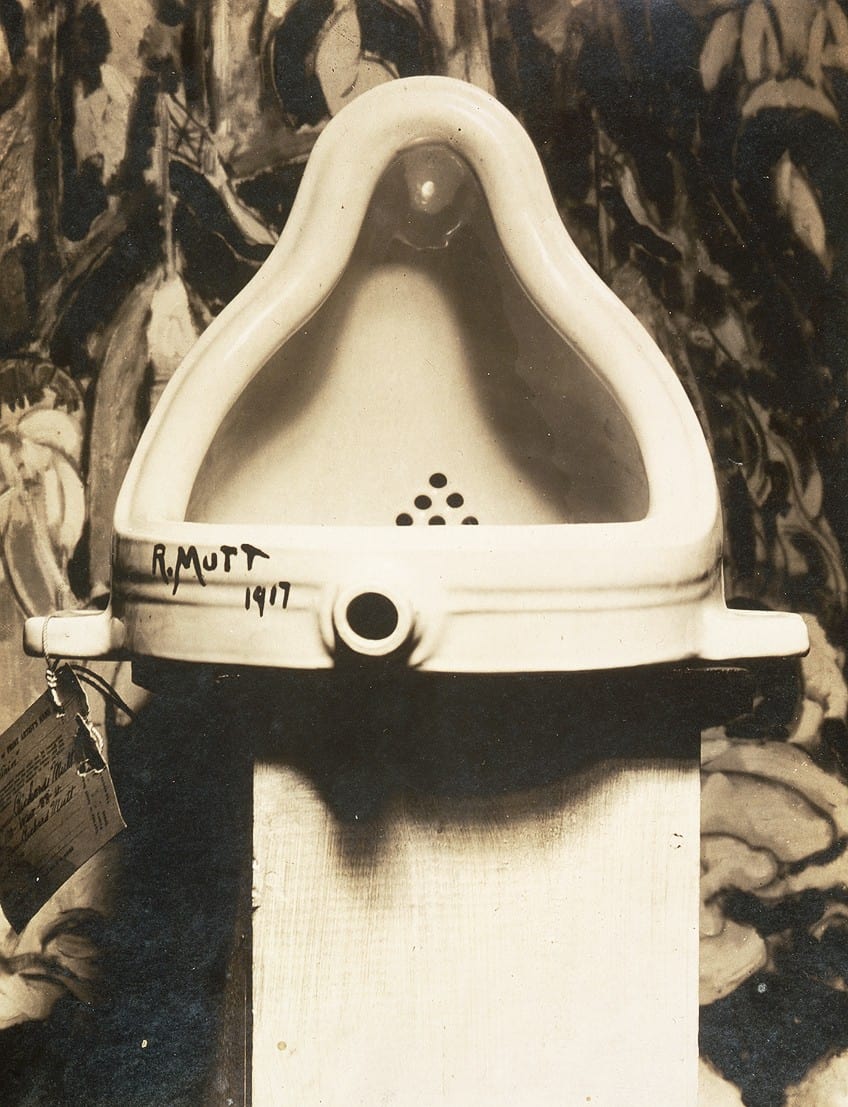 Fountain (1917) by Marcel Duchamp, photograph by Alfred Stieglitz; Marcel Duchamp, Public domain, via Wikimedia Commons
Duchamp's readymade artworks are forerunners for conceptual art, meaning that the interest of the pieces lay in the message behind them rather than simply their visual representation. One of his most famous readymades was The Fountain (1917). The public was scandalized by this piece thinking it vulgar. The majority did not even consider it art. Duchamp's primary intention of the piece was to spark a discussion of what constituted art. However, many believe it to also be related to a comment he made in which he stated, "The only works of art America has ever given are her plumbing and her bridges."
In 1942, Duchamp created an installation piece for The First Papers of Surrealism exhibition in New York. The installation was called "16 Miles of String" and consisted of a web of string that covered a display of paintings.
Some of the paintings were his own and some belonged to other artists. The point of the installation was to obscure the artworks to show the boundaries, which prohibit us from truly seeing art. Several school children were hired to run and play around the exhibition to add a further element of distraction.
Important Marcel Duchamp Exhibitions
Marcel Duchamp's art was displayed in several exhibitions throughout his lifetime. Since his passing, his works continue to be exhibited in galleries all over the world and are more popular than ever. This section will look at some of the more noteworthy exhibitions related to the artist.
Salon des Indépendants
There are a few reasons why the Salon des Independants exhibition held in Paris in 1912 is so important to Duchamp. The exhibition was held quite early on in his career before he really gained a reputation as an artist. However, this changed when Duchamp displayed Nude Descending Staircase No. 2. at the Salon des Independents.
Although it was criticized by art critics and the public alike it certainly got people talking. Eventually, Marcel Duchamp's paintings became so highly discussed that they were considered fashionable and sold for a substantial price.
Another reason why the 1912 Salon des Independants was so important in Duchamp's career is that it marked the ending of painting for him for the next 50 years. It was after this exhibition and all the controversy surrounding Nude Descending Staircase No. 2 that Duchamp took his trip to Munich.
Here his outlook on many things changed and he decided to no longer make what he referred to as "retinol art".
The Barbara and Aaron Levine Collection
The Barabara and Aaron Levine Collection at Hirshhorn Museum and Sculpture Garden in D.C. is one of the most extensive collections of Marcel Duchamp paintings and artworks. The exhibition began in November 2019 and will run until June 2022.
It includes many of his most famous works as well as unseen preliminary studies.
Photographs of the artist, as well as books about his life and art, are included in the display. An interactive chess board is included in the exhibition to showcase Duchamp's other interests and encourage audiences to engage with them.
A Closer Look at Marcel Duchamp's The Large Glass (1923)
A lot of Marcel Duchamp's art has been discussed already. Thus, to avoid repetition this section will briefly look at what many believe to be his magnum opus. Duchamp worked on The Large Glass, originally titled The Bride Stripped Bare by Her Bachelors, Even, for close to a decade. He also intentionally sold it unfinished as he believed that add a further element to it. In 1927, whilst being transported to the art collector Katherine Drier the glass panels cracked.
Duchamp was delighted and believed this to be the final touch that was needed to finish the artwork.
The Large Glass consists of two glass screens stacked on top of one another. Duchamp made it clear the artwork was not a painting by using very unconventional materials such as wire and dust fixed with adhesive. The Large Glass is heavily inspired by mechanical diagrams and thus is quite difficult to interpret without context. This requirement to look further into the artwork and think about its meaning was signature of Duchamp.
In the first panel of the artwork is the non-human shape intended to be the bride. She is said to be undressing in an attempt to entice and tease the bachelors in the panel below. The nine bachelors are also more mechanical than human in appearance. They all share a singular goal, which is to win over the bride. In the lower right-hand corner of the top panel are nine black dots. These are meant to represent their shots or attempts at winning the affections of the bride.
As the viewer can see, none were successful. This was intended to illustrate the turmoil of love and attraction.
The Large Glass was like nothing that had been created before. It was both spontaneous and thoroughly planned out. Its mysterious and unique appearance has intrigued audiences for generations. The Large Glass is now housed at the Philadelphia Museum of Art. Although the worth of the artwork has not been made public, precursory sketches of it can sell for up to $10.000. Thus, it is a highly valued piece that has only grown in demand since Duchamp's rise in popularity.
Reading Recommendations
Marcel Duchamp was a complex individual who lived a long and eventful life. Thus, this article was just a short insight into his life and works. If you enjoyed reading about one of the most controversial and groundbreaking artists of the modern time, a few Marcel Duchamp biographies will be listed below for your convenience.
Dialogues With Marcel Duchamp (1979) by Pierre Cabanne
Dialogues With Marcel Duchamp by Pierre Cabanne was published by Da Capo Paperback in 1979. It is a compilation of quotes and dialogues from the artist himself. This book focuses primarily on his artwork rather than his biography, although it does give many personal insights into the process. Dialogues With Marcel Duchamp also includes commentary by the artist Jasper Johns who was a huge fan and highly inspired by Duchamp's work.
An appreciation by Jasper Johns

An introduction by Robert Motherwell

Most comprehensive interview with Duchamp to date
View on Amazon
Duchamp: A Biography (1998) by Calvin Tomkins
Duchamp: A Biography by Calvin Tomkins was published by Holt Paperbacks in 1998. This Marcel Duchamp biography emphasizes the man behind the artworks. It follows his rich life from boyhood to old age, with all of the twists and turns in between. The book also focuses on the impact that Duchamp made on the art world and the works of other artists.
A rich biography of Duchamp's life
Emphasizes the man behind the artwork
Focuses on the impact of Duchamp's art
View on Amazon
Marcel Duchamp: Works, Writings, Interviews (2009) by Gloria Moure
Marcel Duchamp: Works, Writings, Interviews was written by Gloria Moure and published by Ediciones Polígrafa in 2009. Moure managed to gather a collection of Duchamp's writings which denote the thought process behind many of his works. Transcripts of Duchamp's interviews are also included to fill in some of the gaps in his writings. Finally, she includes in-depth analyses of his works to further educate readers about the meanings behind them.
Analyzes his work in its entirety
Explores the artist's many-faceted activities
A gathering of all Duchamp's key interviews and writings
View on Amazon
Marcel Duchamp was an artist who was very much ahead of his time. His works only began to gain recognition almost 50 years after their creation. However, now that his work is more understood, he is thought of as a creative genius. His cerebral artworks paved the way for Conceptual art, which flourishes in the modern-day.
Frequently Asked Questions
Who Is Marcel Duchamp?
Marcel Duchamp was a French artist who lived between 1887 and 1968. He is most known for the contributions he made to the Dada and Surrealist movements. His art was highly thought-provoking, particularly his series of readymade art pieces. His works influenced the work of many later artists such as Jasper Johns and Andy Warhol. He is also credited with being a seminal figure in conceptual art.
Why Did Marcel Duchamp Stop Making Art?
From the 1920s, Marcel Duchamp seemingly retired as an artist. He did this in order to pursue other interests, namely chess. Duchamp played chess professionally for many years and even published articles and books on the subject. However, in 1966, two years before he died, Duchamp created one final painting called Given: 1. The Waterfall, 2. The Illuminating Gas. This resulted in a massive rediscovery of his artworks in the 1960s.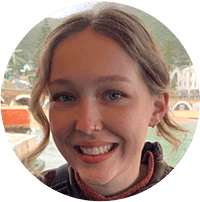 Emma completed her Bachelor's Degree in International Studies at the University of Stellenbosch. She majored in French, Political Science, and History. She graduated cum laude with a Postgraduate Diploma in Intercultural Communication. However, with all of these diverse interests, she became confused about what occupation to pursue. While exploring career options Emma interned at a nonprofit organization as a social media manager and content creator. This confirmed what she had always known deep down, that writing was her true passion.
Growing up, Emma was exposed to the world of art at an early age thanks to her artist father. As she grew older her interests in art and history collided and she spent hours pouring over artists' biographies and books about art movements. Primitivism, Art Nouveau, and Surrealism are some of her favorite art movements. By joining the Art in Context team, she has set foot on a career path that has allowed her to explore all of her interests in a creative and dynamic way.
Learn more about the Art in Context Team.
Cite this Article