"Starry Night" van Gogh – In-Depth Analysis and Facts
From a painting that was supposedly just a study of a starry night to becoming an overnight sensation by an artist who is immortalized and remembered for cutting off his own ear. This is of course the beloved Vincent van Gogh, who painted The Starry Night (1889). In this article, we will discuss this painting in more detail by looking at why it was painted and the stylistic elements that have kept it swirling in all our memories.
Artist Abstract: Who Was Vincent van Gogh?
Vincent Willem van Gogh was born on 30 March 1853 in the Netherlands. He attended a couple of boarding schools during his youth and worked as an art dealer at Goupil & Cie from 1869. Van Gogh was not a successful artist and had a mentally challenging life. Although his art developed as he matured as an artist, he nonetheless had various occasions where he was admitted to psychiatric hospitals. After a stint with Paul Gauguin, van Gogh also cut a part of his ear off. He sadly committed suicide on 27 July 1890 by shooting himself in the chest and only dying more than 24 hours afterward.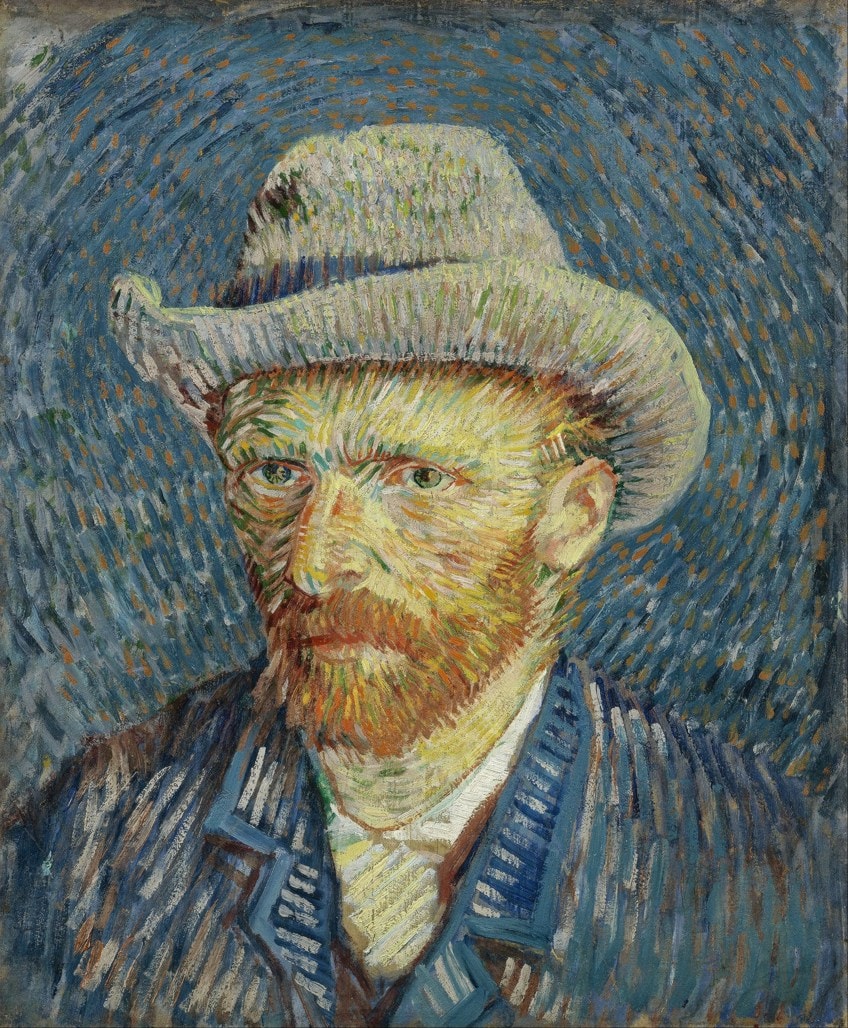 Self-portrait with grey felt hat (1887) by Vincent van Gogh; Vincent van Gogh, Public domain, via Wikimedia Commons
The Starry Night by Vincent van Gogh in Context
Although Vincent van Gogh was not a famous artist when he was alive, he left a legacy of artwork few, if any, can compare with. The Vincent van Gogh paintings collection is infused with the depth of his emotional, mental, and spiritual inner world. He was what we call a "tortured" artist and experienced considerable inner turmoil.
His art depicts bright and colorful landscapes and objects with expressive and dynamic brushstrokes.
Below we will explore how van Gogh brought his inner dimensions to life on his canvases, namely the painting The Starry Night (1889). We will first look at a contextual analysis and where van Gogh was at the time of painting this starry night. We will also discuss how van Gogh fit into the Post-Impressionist movement of the time.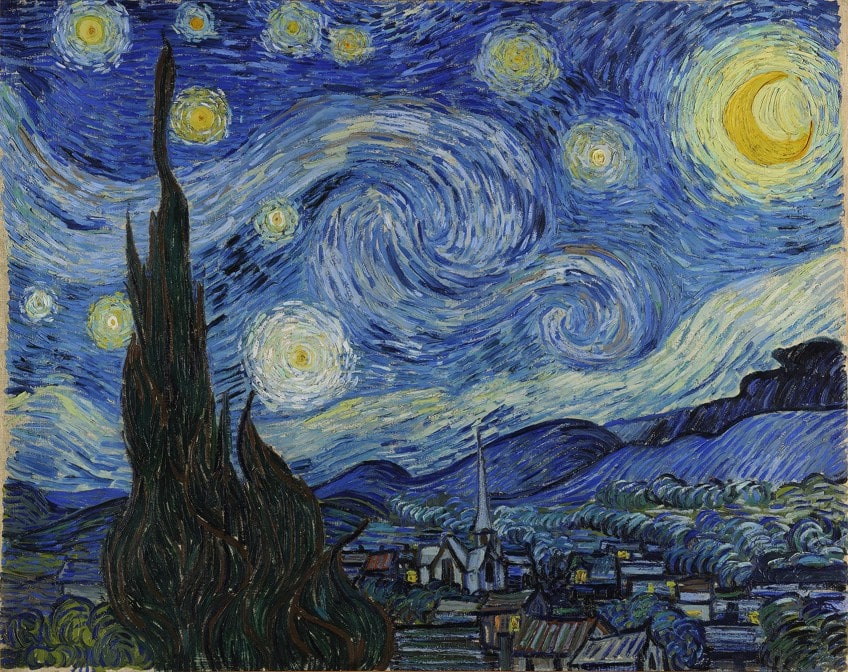 The Starry Night (1889) by Vincent van Gogh; Vincent van Gogh, Public domain, via Wikimedia Commons
Lastly, we will provide a formal analysis of The Starry Night painting and place a telescopic view on the artist's utilization of color, form, and perspective. There is a lot happening and swirling in his iconic painting and all of it adds to The Starry Night's meaning. So, let us look further.
| | |
| --- | --- |
| Artist | Vincent van Gogh |
| Date Painted | 1889 |
| Medium | Oil on canvas |
| Genre | Landscape |
| Period / Movement | Post-Impressionism |
| Dimensions | 73.7 x 92.1 centimeters |
| Series / Versions | Nocturne Series |
| Where Is It Housed? | The Museum of Modern Art |
| What It Is Worth | The worth is estimated to be over $100 million |
Contextual Analysis: A Brief Socio-Historical Overview
When van Gogh painted The Starry Night in 1889, he was staying in the Saint-Paul-de-Mausole mental asylum in Saint-Rémy-de-Provence in the southern parts of France. The preceding events leading up to his admission to the hospital were quite tumultuous and involved a confrontation with his acquaintance and fellow Post-Impressionist painter Paul Gauguin, and van Gogh cutting off a part of his own ear. He reportedly experienced a severe psychotic break after these events and would have various more.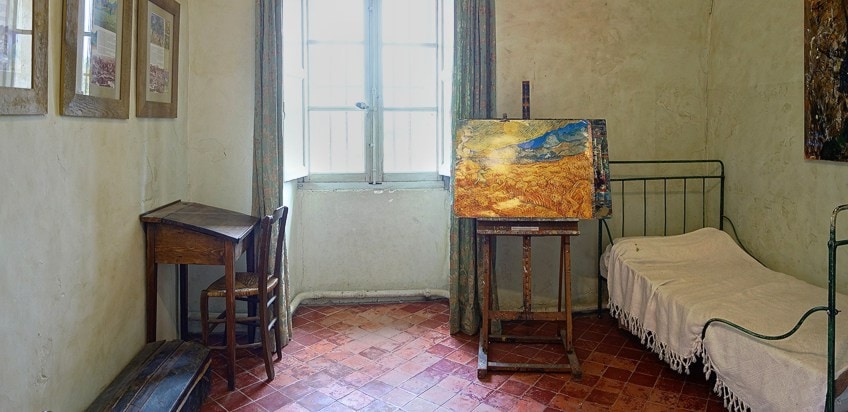 Van Gogh's bedroom at the Saint-Paul-de-Mausole mental asylum in Saint-Rémy-de-Provence; Velvet, CC BY-SA 4.0, via Wikimedia Commons
During his stay he had two rooms, one was a bedroom, and one was utilized as a painting studio. His subject matter was of the asylum and its surrounding gardens, although he was able to move around more than most of the other patients. His room, which was apparently east-facing, had a view of the French Alpilles mountain range, which inspired a lot of his landscapes.
However, his painting studio did not have a view of the mountains, but it is believed van Gogh painted a lot from memory, imagination, and other artworks.
A Little Bit More About Post-Impressionism
During the 1880s, several artists moved away from the realists' approach of painting from nature and the world as they saw it. This approach is referred to as en plein air, which means "outdoors" in French. The Impressionists focused on portraying the real aspects of life and not so much the depiction of the more traditional and classic subject matter we see from Renaissance paintings.
Colors and brushwork were more expressive and artists were not focused on the type of stylistic elements like symmetry, order, and form. It is often described as an optical form of art because artists focused on how they perceived the natural world and painted it accordingly. One of the leading figures during this new and revolutionary modern period of art was Claude Monet.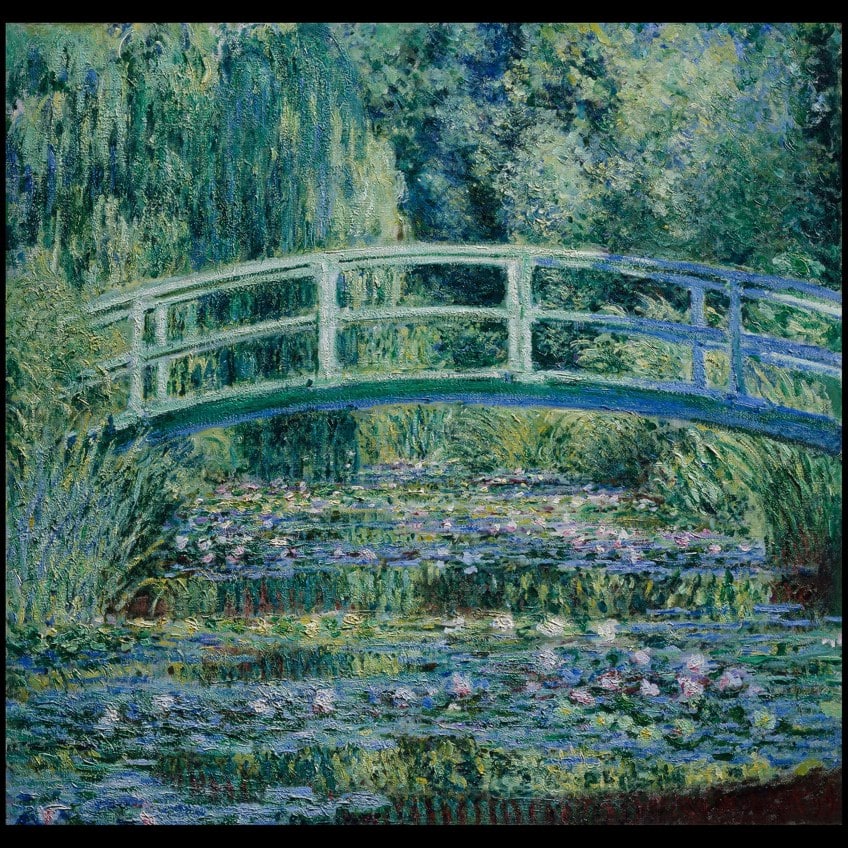 Water Lilies and Japanese Bridge (1899) by Claude Monet; Claude Monet, Public domain, via Wikimedia Commons
There was no one set of rules for Post-Impressionists, which followed directly after, as they all approached their art in different ways and styles. However, a common thread was that artworks were generally more abstract and symbolic, not as focused on trying to depict the natural environment as the Impressionists were. Some artists like Paul Cézanne focused on how compositions relied on fundamental forms as he stated, "Treat nature in terms of the cylinder, the sphere, the cone".
Artists like Paul Gauguin and van Gogh depicted their subject matter rooted in more emotional perspectives and symbolism.
Gauguin developed a style called Synthetism, which referred to the "synthesis" of all the influencing elements of what makes the artwork. This includes the formal qualities of colors and lines, the external subject matter, and the subjective feelings of the artist, and as mentioned earlier in the case of van Gogh, can be derived from imagination and memory.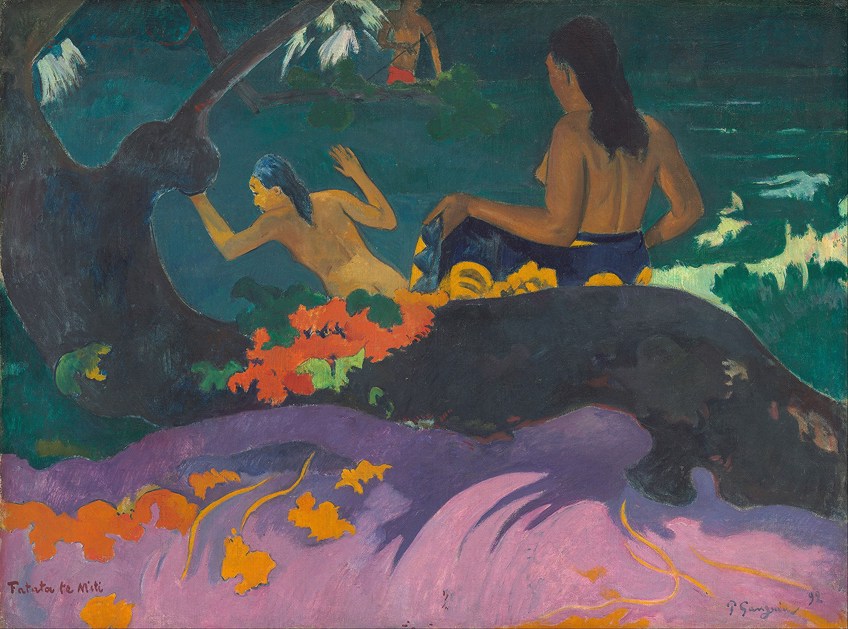 Fatata te miti (By the Sea) (1892) by Paul Gauguin; Paul Gauguin, Public domain, via Wikimedia Commons
Paris, the Yellow House, and a Severed Ear
As per van Gogh's invitation to join him, he and Paul Gauguin worked closely together in the French city called Arles during the 1880s. They rented and worked in the same space, which was referred to as the "Yellow House", for a couple of months. Van Gogh moved to Arles from Paris.
Whilst in Paris, he lived with his brother Theo for a while and acquainted himself with the art society there. He also held and participated in several exhibitions.
Interestingly, during van Gogh's time in Paris, he met several important figures from the Impressionist movement, namely, Edgar Degas, Claude Monet, Camille Pissarro, and Georges Seurat. These artists also influenced van Gogh's style and, apparently, he utilized a lighter color scheme as a result.
Back to the Yellow House. This move was part of van Gogh's goal to start a new community for artists in Arles, including his desire to have Gauguin there to be a part of it. It was Gauguin's unique style and use of different colors from when he lived in Martinique that inspired both Vincent and Theo van Gogh who saw these paintings after Gauguin's return to Paris.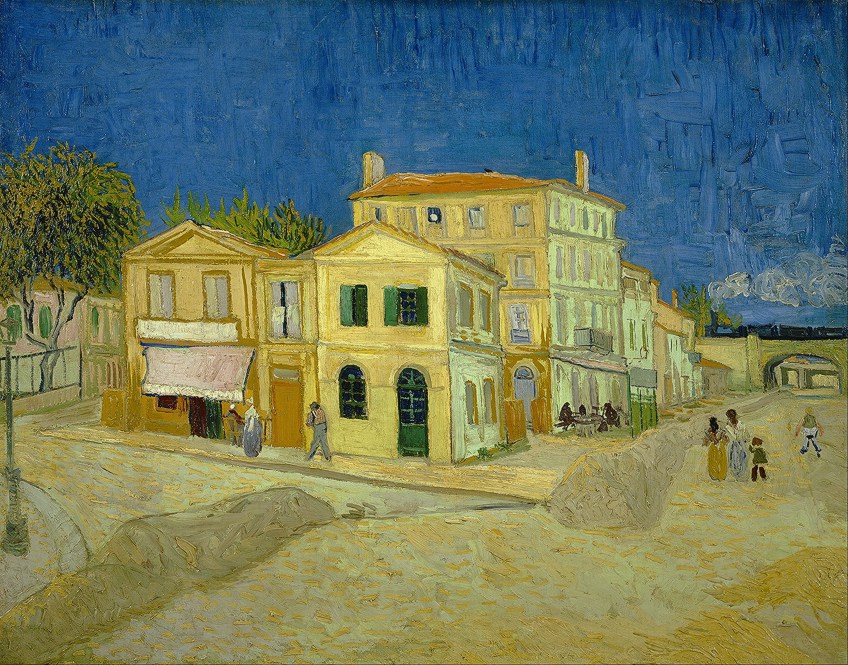 The yellow house ('The street') (Arles, 1888) by Vincent van Gogh; Vincent van Gogh, Public domain, via Wikimedia Commons
The paintings were reportedly at the home of Gauguin's acquaintance, Émile Schuffenecker. The brothers bought one of these paintings called The Mango Trees (1887) and a few other works and drawings. Importantly, Theo van Gogh became Gauguin's art dealer and contributed to his artistic success in Paris. It is also believed that Gauguin's venture to Martinique could have inspired Vincent van Gogh to also leave the city to find another place of artistic inspiration – in this case, Arles.
It was a tumultuous partnership between Gauguin and van Gogh because the artists were quite different in their styles.
Nonetheless, the two shared artistic visions and are believed to have explored the expression of emotions through the use of different colors, a characteristic we are all aware of with both artists' works. From Gauguin's autobiography Avant et aprè (1903), he is quoted as stating that the two artists created a large body of artworks during their collaborative period, "unbeknownst to the public, two men accomplished in that period a colossal amount of work, useful to both of them. Perhaps to others as well?"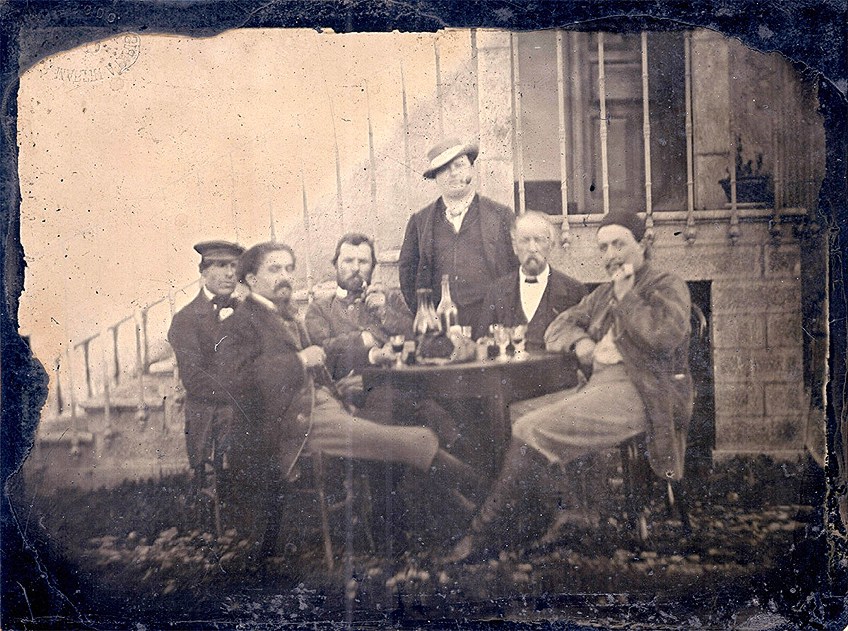 Thought to be Vincent van Gogh (third from the left, with pipe) in conversation with Paul Gauguin, Émile Bernard, Félix Jobbé-Duval. André Antoine is standing between them. Anonymous photograph, 1887; L'artauprésent, CC BY-SA 4.0, via Wikimedia Commons
The two artists did in fact achieve a "colossal amount of work", reportedly creating over 50 works collectively. But, sadly, their differences interrupted them and whatever happened between the two, Gauguin ended up leaving the yellow house and van Gogh severed part of his ear.
This brings us full circle again to the events of van Gogh's stay at Saint-Paul-de-Mausole.
He apparently voluntarily admitted himself. His bouts of mental disruptions could have been part of the reason why it became difficult for Gauguin to remain at the house. However, the two acquaintances are remembered to have remained in touch with one another through writing letters; Theo van Gogh also continued supporting Gauguin as an artist through his work as an art dealer.
Theo van Gogh
Theo van Gogh is worth mentioning here because he was an important person in Vincent van Gogh's life, not only because the two were brothers – Theo was younger than Vincent – but he also provided considerable financial support to Vincent as well as advice and guidance on various matters.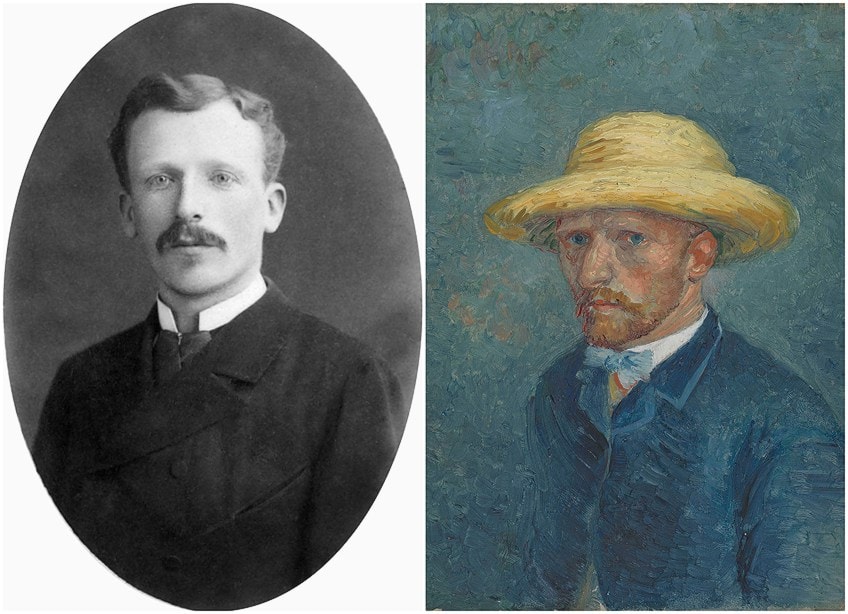 LEFT: A photograph of Theo van Gogh, c. 1888; Public Domain, Link | RIGHT: Portrait of Theo van Gogh (1887) by Vincent van Gogh; Vincent van Gogh, Public domain, via Wikimedia Commons
Because Theo was an art dealer, some may wonder how much is The Starry Night worth and where is The Starry Night painting now? However, this painting was handed over to Theo when Vincent died and eventually became part of the collection of the Museum of Modern Art in New York in 1941 through the art dealer Paul Rosenberg.
A lot of what we know about Vincent van Gogh's artwork and life comes from around 600 letters between him and his brother, although he did write other letters to acquaintances such as Paul Gauguin, Émile Bernard, and Anthon van Rappard.
These letters were compiled into a book, published in 1914, by Theo's wife, Johanna van Gogh-Bonger after the two brothers' deaths.
Formal Analysis: A Brief Compositional Overview
Below we explore van Gogh's, The Starry Night further, first, we will look at what exactly we are looking at in this swirling nightscape of colors and brushstrokes, which will lead us on to discuss van Gogh's stylistic elements like his use of color and technique.
Subject Matter
Let us start with the foreground, to the lower-left corner we see a dark cypress tree reaching up into the sky, it has been likened to long flames reaching upwards. We see the top tendril nestling itself in-between some of the large yellow orbs of stars in the sky.
Similarly, we can also notice the long spiral of the church situated in the middle ground of the composition. This is echoed with the cypress tree in the foreground.
Looking at the middle ground, we see what appears to be a small village, the said church as the central focal point. To the right, the village is flanked by a hilly area that flattens out from the right to the left side of the composition.
An interesting fact about the village is that it was believed to be created from van Gogh's imagination, perhaps from sketches done of Saint-Rémy. Some sources also suggest it could have been from his memories of where he grew up, such as the church steeple resembles churches from Holland and apparently not churches found in France.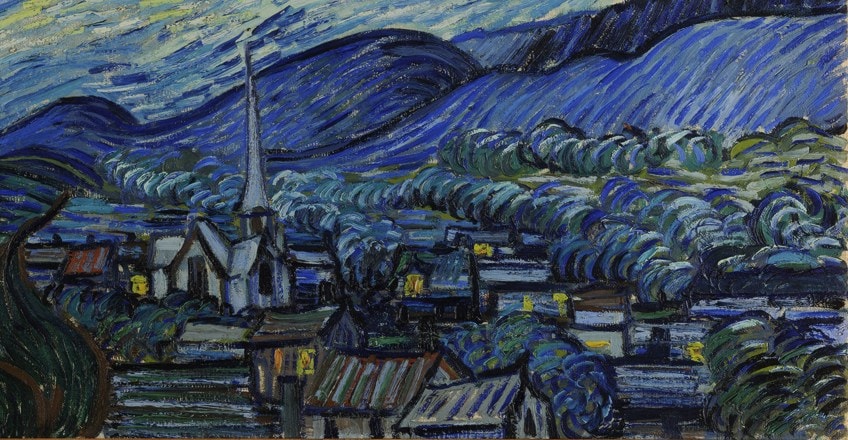 A detail of The Starry Night (1889) by Vincent van Gogh; Vincent van Gogh, Public domain, via Wikimedia Commons
The foreground and middle ground make up almost one-third of the painting, with the other two-thirds making up the vast expanse of blues that make the night sky. The way van Gogh depicted the night sky is bright and quite light; it is not a dark evening. This is undoubtedly the effect created by the moonlight and light from the stars, which appear as pulsating shining orbs of light. In fact, van Gogh emphasized their shine with auras of yellows and whites, but we will get to his color scheme further below.
We see around 11 stars in the sky with the crescent moon brightly shining, almost like a sun, in the top right corner. The night sky is lit up, giving us a clear view of the entire village and surrounding landscape.
A Matter of Swirls: Color and Light
Vincent van Gogh's The Starry Night is a matter of swirls, and this is what makes his composition, and emphasizes the subject matter. There is significant dynamism in The Starry Night, created from the thick application of brushstrokes in flowing and circular lines.
Just look at the large swirls curling in the center of the sky. If we look for a while, we might think the sky will start moving almost like each swath of swirl moves in on the other like tectonic plates, but here they are, ephemeral in the sky.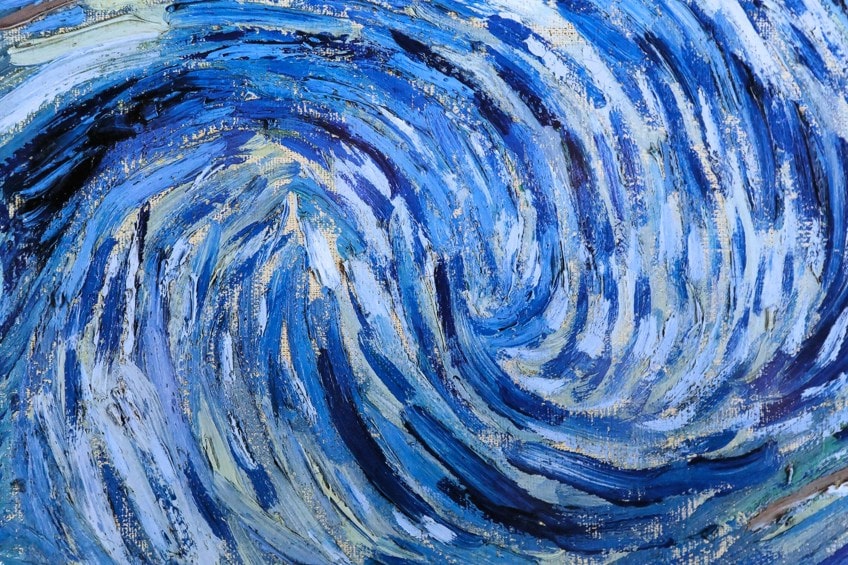 A detail of the swirls in The Starry Night (1889) by Vincent van Gogh; Frank Vincentz, Public domain, via Wikimedia Commons
Van Gogh creates a sense of movement with choppier white lines as the sky meets the mountains in the background – these seemingly move in unison as the mountain range becomes increasingly flatter. The white swathes appear like snow or fog creating a blanket over the hilltops, equally making the hilltops appear rhythmic. We see this effect in the brushstrokes delineating the Cypress tree in the foreground. Van Gogh brings the entire composition to life with the way he applies color and brushstrokes.
If we look at each star, and the moon, there is an aura of yellow and white surrounding it. Some are painted in white and others yellow, but we notice that van Gogh uses these colors in combination, which also creates softer tones of yellow, especially around the crescent-shaped moon.
This also points to van Gogh's utilization of complementary colors and his cognizance of these formal elements that make a painting.
Additionally, in The Starry Night van Gogh also utilized darker hues of blue to create contrast. We see this in this starry night background near the hillside, especially to the far right in the middle ground where the hilltop meets the sky. This appears almost black in color, which is juxtaposed with that foggy white swath of the sky that we mentioned above.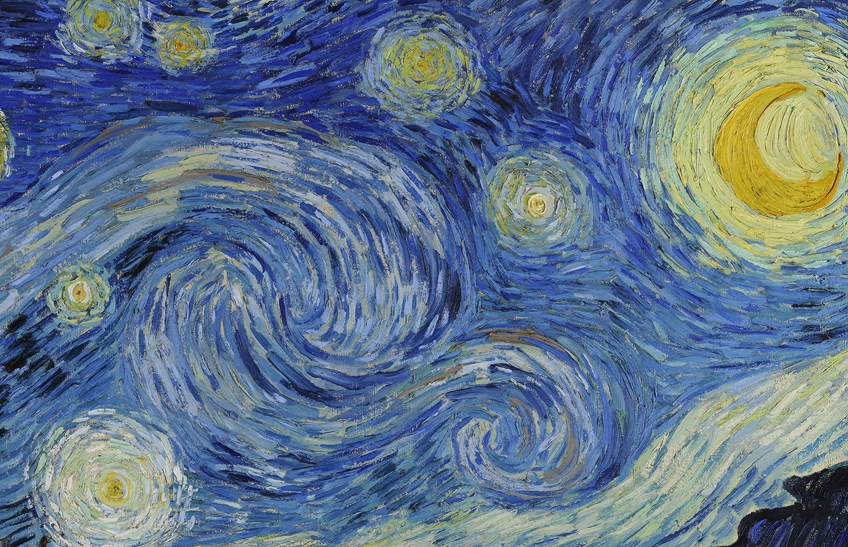 A detail of The Starry Night (1889) by Vincent van Gogh; Vincent van Gogh, Public domain, via Wikimedia Commons
The moon itself is a brighter shade of yellow and there is another star to the left of the composition that is also in a brighter yellow, it lies directly across from the moon. This star is Venus, the Morning Star. It is believed that van Gogh witnessed the Venus star in the morning while staring out of his window. In one of the letters to his brother Theo, Letter 777 (1889), van Gogh wrote:
"This morning I saw the countryside from my window a long time before sunrise with nothing but the morning star, which looked very big."
The application of colors and brushstrokes creates a moving textural composition and a study of the night. In fact, van Gogh referred to this painting as a "Night effect" in one of his letters to Theo (Letter 806, 1889). Van Gogh sent his "Night effect" along with another "consignment of canvases".
Perspective and Space
Van Gogh's The Starry Night is a rich combination of vertical, horizontal, diagonal, and circular lines, made from the utilization of thick brushstrokes and outlines. As we have stated, these create a sense of movement and quite visibly create a whole new perspective, one that is flowing and seemingly of another world, some would describe the painting as almost hallucinogenic.
Perspective is further highlighted by the looming verticality of the Cypress tree in the foreground. We see this verticality echoed in the steeple of the church in the near distance, which gives the impression of depth.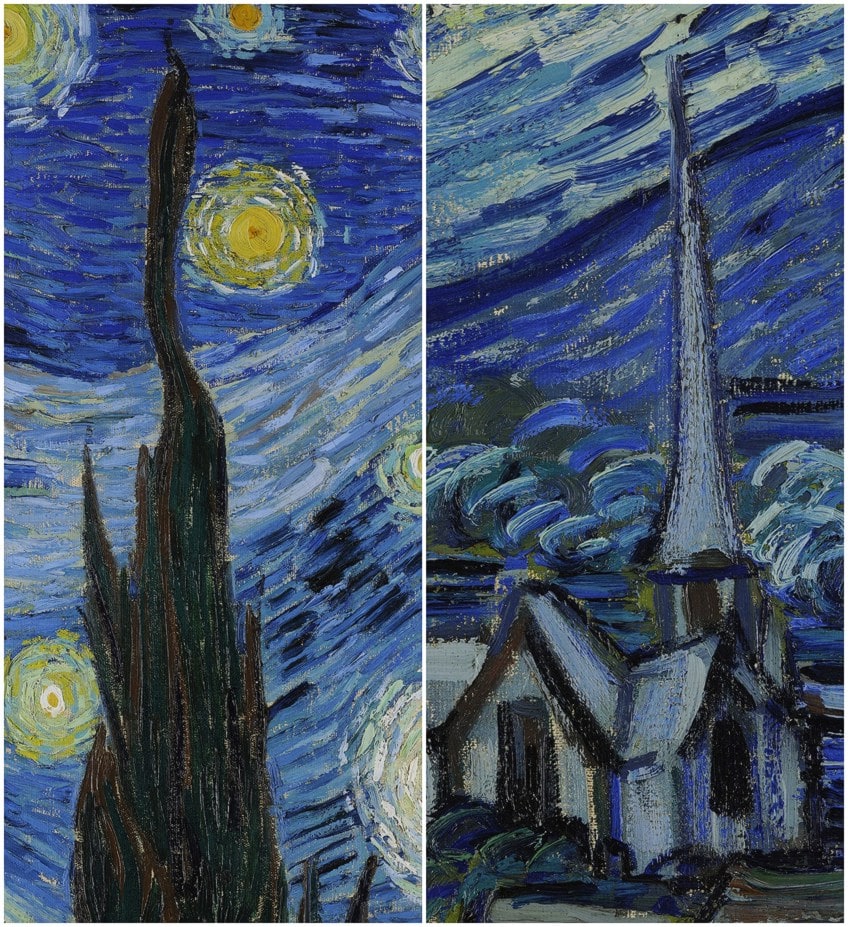 The verticality of the Cypress tree (left) is reflected in that of the steeple of the church (right), from The Starry Night (1889) by Vincent van Gogh; Vincent van Gogh, Public domain, via Wikimedia Commons
This perspective plays directly with the spatial aspects of the composition, and the large expanse of the sky makes the village appear smaller and almost not as significant as the sky above, which seemingly takes precedence.
However, this is understandable as van Gogh's intention seemed to be rooted in studying the night sky and how to stylistically depict this.
Symbolism and Style
There are several ideas around The Starry Night meaning. Some believe van Gogh painted The Starry Night as a symbol of his inner turmoil, especially regarding the Cypress tree in the foreground, which supposedly symbolizes death. However, it is suggested he painted the Cypress tree for the purposes of stylistic study and not so much for the inherent cultural meaning of it.
Van Gogh mentioned studying the depiction of Cypress trees just like he has with wheatfields, in one of his letters to Theo. In Letter 783, 1883, he wrote about ideas he had and that a "wheatfield or a cypress are well worth the effort of looking at them from close at hand". He further explained about the Cypress tree, saying:
"[they] still preoccupy me; I'd like to do something with them like the canvases of the sunflowers because it astonishes me that no one has yet done them as I see them."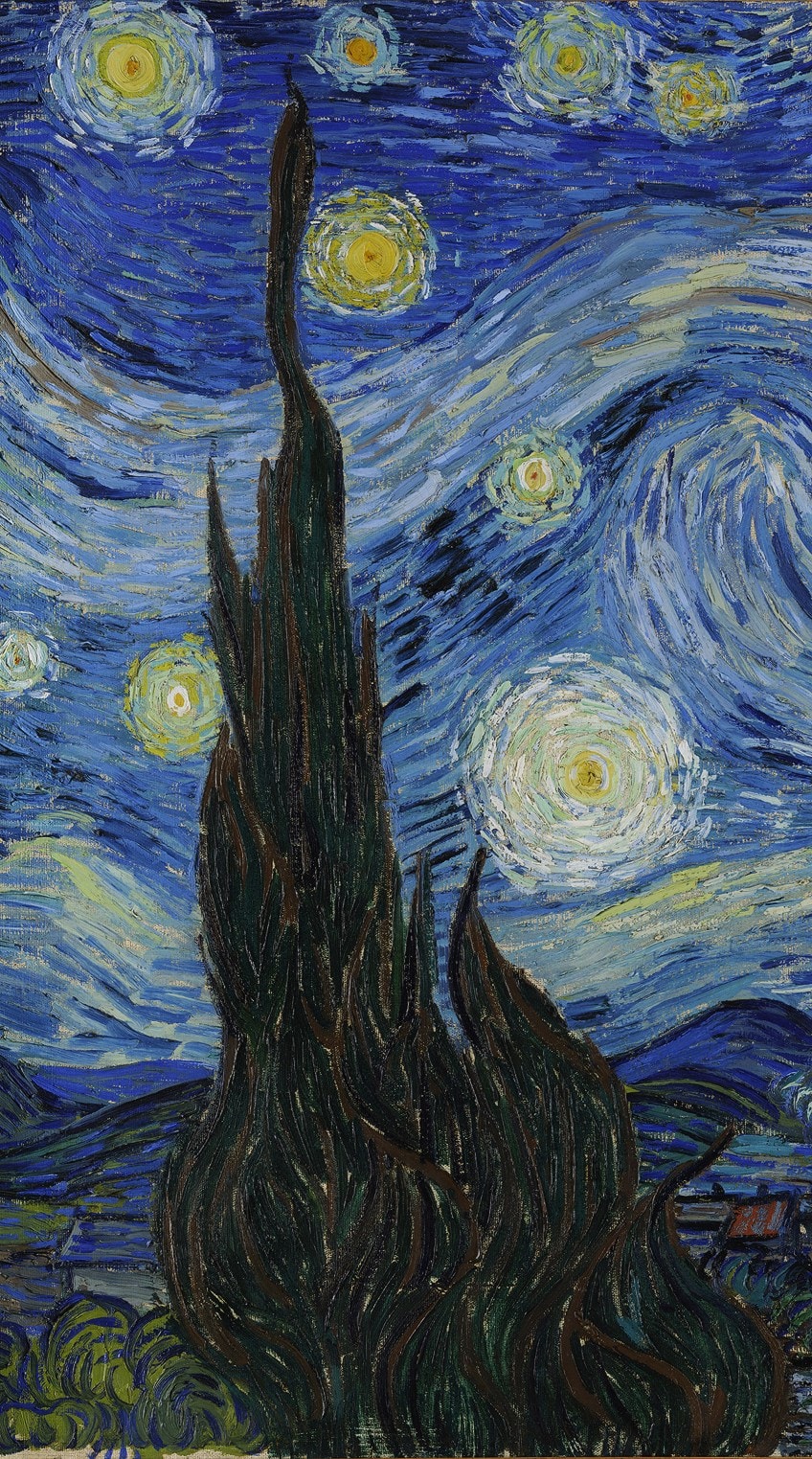 A detail of the Cypress tree in The Starry Night (1889) by Vincent van Gogh; Vincent van Gogh, Public domain, via Wikimedia Commons
In The Starry Night, van Gogh shows us his personal expression even though this is a night study of the natural environment. This touches on his stylistic experimentations of the time. It also includes how his colleagues like Gauguin approached painting because while van Gogh was more inclined to paint scenes en plein air, Gauguin painted more abstracted artworks.
This was a matter of question for van Gogh as he also wrote about it in one of his letters to another colleague, Émile Bernard, where he explained that he "allowed" himself to be "led astray into abstraction" when Gauguin and he lived and worked together.
He further explained that his painting was a failure, saying that he "once again" allowed himself to be "led astray into reaching for stars that are too big".
Theo van Gogh also commented on The Starry Night and Vincent's veer towards a somewhat different style. He remarked in one of his letters (Letter 813, 1889): "I clearly sense what preoccupies you in the new canvases like the village in the moonlight or the mountains, but I feel that the search for style takes away the real sentiment of things". He then continued that he could see the "same preoccupations" with Gauguin's paintings, which just showed more "memories of the Japanese, the Egyptians, etc."
Ultimately, Vincent van Gogh's The Starry Night painting has been the topic of numerous art historical postulations and many point to this painting as being a symbol of van Gogh's expression of a higher realm of existence.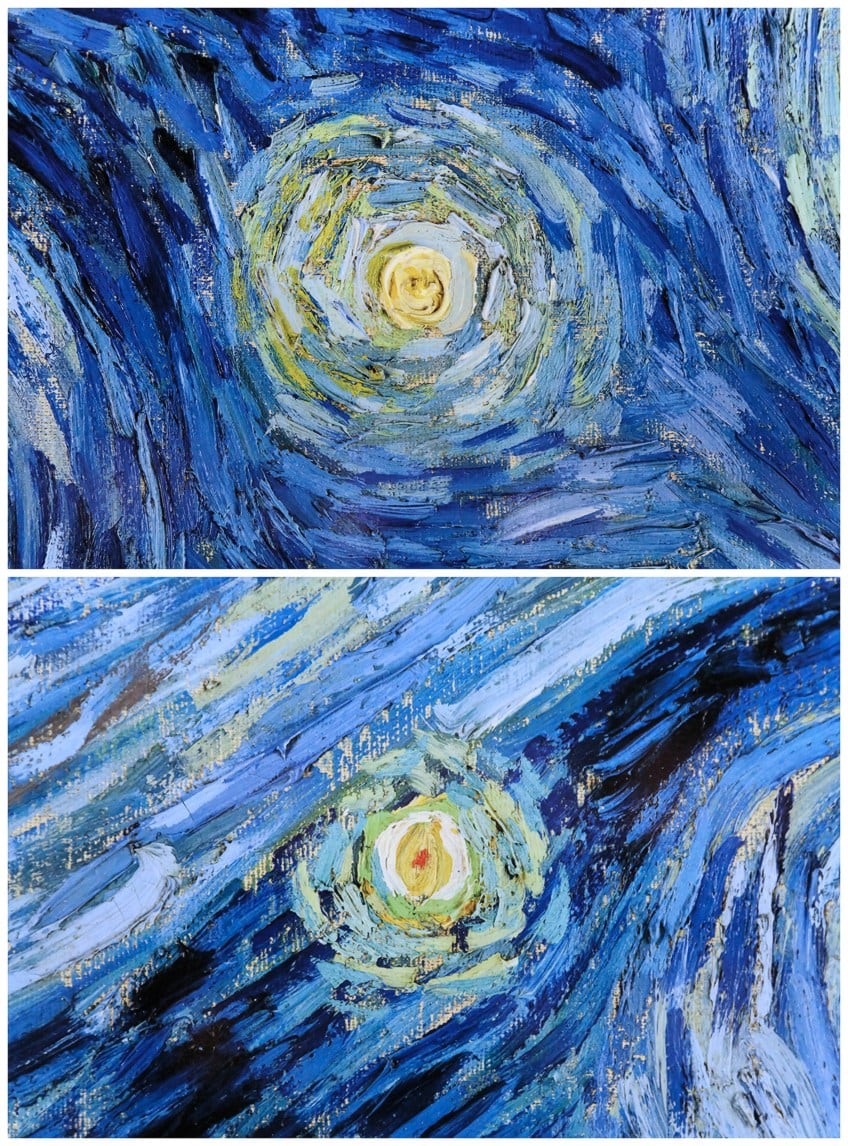 The stars and swirls of Vincent van Gogh's The Starry Night (1889); TOP: Frank Vincentz, Public domain, via Wikimedia Commons | BOTTOM: Frank Vincentz, Public domain, via Wikimedia Commons
The swirls have been believed to be van Gogh's depiction of the cosmos as well as possibly the wind. Martin Bailey, a reporter who is also known as a specialist on Vincent van Gogh, has presented the theory that the artist was inspired by the waves we see in the Japanese painter, Katsushika Hokusai's woodblock print called The Great Wave off Kanagawa (1831).
Apparently, van Gogh was an avid admirer of the Japanese style and a collector of Japanese art. This is also important because during the middle of the 1800s up to the early 1900s, the Japonism style, especially the Ukiyo-e Japanese woodblock prints, was significantly influential in European art styles.
Van Gogh and many other artists from the Impressionist movement were influenced by it, especially how perspective and space were utilized as well as how colors were applied in bright tones.
Not to Be Confused With the Other Starry Night
Vincent van Gogh painted the above-mentioned The Starry Night in 1889, however, this is part of a series of other Vincent van Gogh paintings of night scenes by the artist, these are typically known as the Nocturne series. He painted Starry Night Over the Rhȏne in 1888. This version is the River Rhȏne in Arles.
In it we see two figures standing in the foreground on the river bank. We also notice the loose use of brushstrokes and colors depicting how the light from the city reflects on the river and we see the yellow orbs of stars in the sky we have come to know so well from his later The Starry Night painting.
Van Gogh painted this starry night background scene outside using the light from a gas lamp. This is quite different from how he painted the later version, which was completely inside, in his art studio.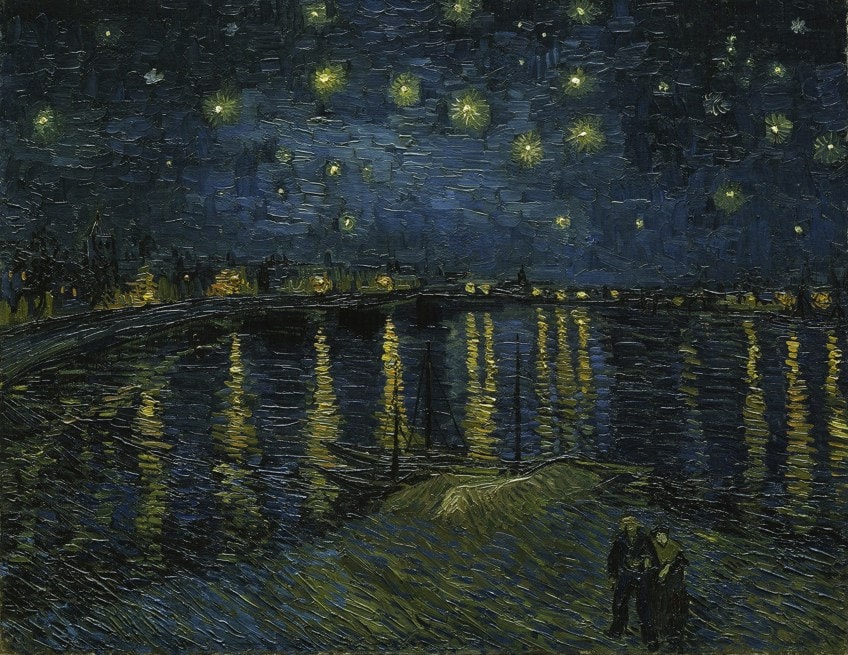 Starry Night Over the Rhȏne (1888) by Vincent van Gogh; Vincent van Gogh, Public domain, via Wikimedia Commons
The other painting in van Gogh's night series is called Café Terrace at Night (1888), which was also painted in Arles at the Place du Forum. Here we see a view of a cafe to the left with the warm glow from the interior lighting. We also see the illuminated night sky above with sparkling stars and the road below moving into darkness further ahead.
Van Gogh wrote about his composition and enthusiasm about painting the scene at night in one of his letters to Willemien van Gogh, his sister. In Letter 678, 1888, he explains the colors he utilized to paint the darkness, "Now there's a painting of night without black. With nothing but beautiful blue, violet, and green, and in these surroundings the lighted square is colored pale sulfur, lemon green. I enormously enjoy painting on the spot at night". In the same letter, van Gogh also mentioned his eagerness about painting the starry sky next, as this was one of his earlier night scenes. He explains:
"I definitely want to paint a starry sky now. It often seems to me that the night is even more richly colored than the day, colored in the most intense violets, blues, and greens".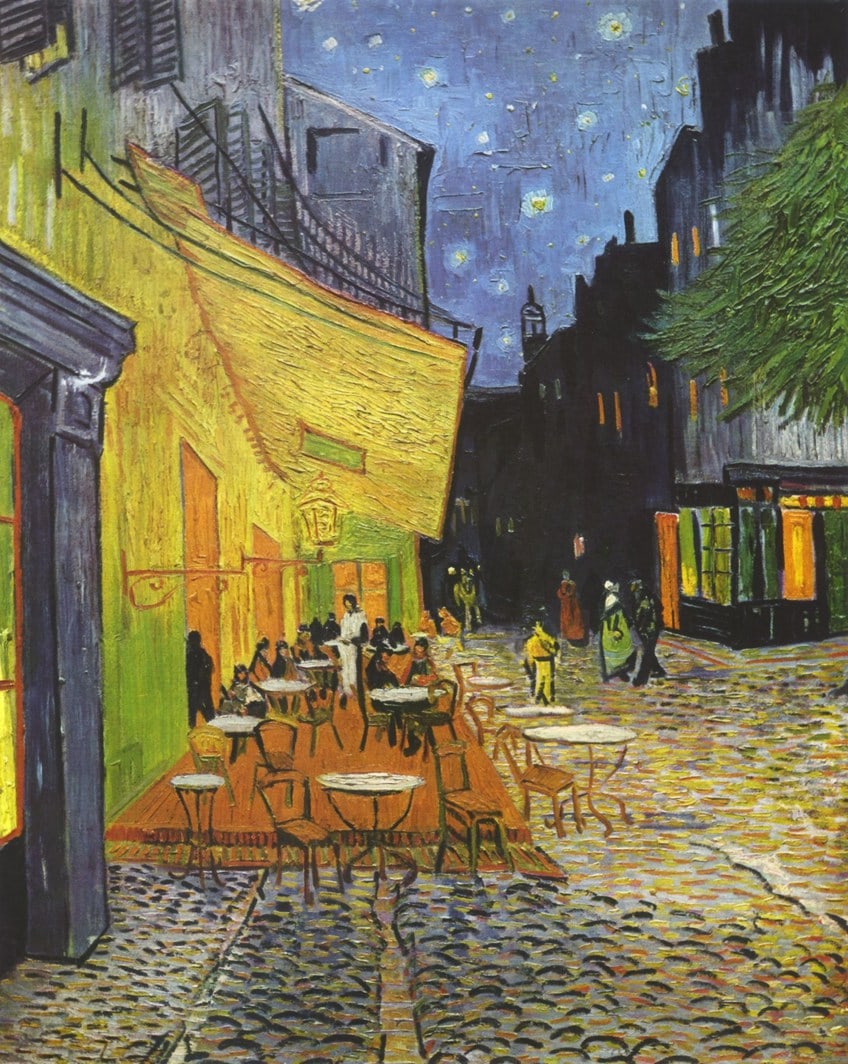 Café Terrace at Night (1888) by Vincent van Gogh; Vincent van Gogh, Public domain, via Wikimedia Commons
This is a testament to how van Gogh enjoyed experimenting with different colors to achieve the effects of not only different types of light at night, whether natural or artificial as we see from inside the café but daylight too. He also painted from the natural environment around him, testament again to the Impressionistic style, however, he combined this en plein air approach with his emotions and how he experienced these surroundings.
Reaching for the Stars
Dutch painter Vincent van Gogh created hundreds of paintings and sketches throughout his life as an artist, but he did not achieve wide success like other artists. Only after his death did he become popular, and sometimes his paintings even stole the show, The Starry Night (1889) discussed in the article above was one of them. Now considered a masterpiece from the Post-Impressionism art movement, The Starry Night is the star of the show and a 21st-century pop cultural scene easily spotted on memorabilia ranging from mugs to magnets.
Vincent van Gogh did not have an easy life, he experienced considerable mental challenges and struggles that undoubtedly affected the way he made his art, and possibly even enhanced his own personal style. He was a man deeply devoted to depicting beautiful scenes of the natural world in rich textures and colors that not only showed his expressive artistic style, but also his inner world.
This inner world was seemingly just like his use of complementary colors, a mix of inner turmoil, but not without a mix of his sincere appreciation of the beauty of the world he experienced during the day and night. Vincent van Gogh was sadly his own victim, committing suicide in the end and leaving all his artwork to his brother Theo van Gogh, but it was his collection of artworks that continued his legacy and lives on for him.
Take a look at our The Starry Night painting webstory here!
Frequently Asked Questions
Who Painted The Starry Night?
The Starry Night (1889) painting is a famous oil painting by Vincent van Gogh, who was part of the Post-Impressionism art movement during the 19th century.
Where Was The Starry Night Painted?
The Starry Night (1889) was painted while Vincent van Gogh was staying at the mental institution called Saint-Paul-de-Mausole in the town called Saint-Rémy-de-Provence, which is in France. Many sources suggest van Gogh painted this scene from memory, imagination, and other works of art. It was also painted in his studio at the asylum, which did not have a view of the mountains. However, his bedroom window, which was in a separate room, had a view of the mountains.
How Many Starry Night Paintings Are There?
Vincent van Gogh completed two paintings with similar titles depicting night scenes (although there were others exploring the nighttime). His first rendition was called Starry Night Over the Rhône (1888), which was a depiction of the Rhône River located in Arles where van Gogh lived at the time. However, this painting should not be confused with another titled The Starry Night (1889), which was when the artist lived in the mental asylum in Saint-Rémy-de-Provence.
Where Is The Starry Night Painting Housed?
The 1889 version of The Starry Night by van Gogh is now housed in the Museum of Modern Art (MOMA) in New York City. The Starry Night original painting was initially in Theo van Gogh's possessions and then after Theo's death, it was the property of his wife. Through different hands, The Starry Night eventually found its way to the French art dealer Paul Rosenberg, from whom the MOMA acquired it in 1941.
How Much Is The Starry Night Worth?
The Starry Night original painting by Vincent van Gogh, painted in 1889, is estimated to be worth over $100 million. However, this painting is one of van Gogh's masterpieces and it can also be argued that there cannot be a price for it – it is priceless.
Alicia du Plessis is a multidisciplinary writer. She completed her Bachelor of Arts degree, majoring in Art History and Classical Civilization, as well as two Honors, namely, in Art History and Education and Development, at the University of KwaZulu-Natal, South Africa. For her main Honors project in Art History, she explored perceptions of the San Bushmen's identity and the concept of the "Other". She has also looked at the use of photography in art and how it has been used to portray people's lives.
Alicia's other areas of interest in Art History include the process of writing about Art History and how to analyze paintings. Some of her favorite art movements include Impressionism and German Expressionism. She is yet to complete her Masters in Art History (she would like to do this abroad in Europe) having given it some time to first develop more professional experience with the interest to one day lecture it too.
Alicia has been working for artincontext.com since 2021 as an author and art history expert. She has specialized in painting analysis and is covering most of our painting analysis.
Learn more about Alicia du Plessis and the Art in Context Team.
Cite this Article