Jacques-Louis David – Introducing This Neoclassical French Painter
French painter Jacques-Louis David created Neoclassical artworks that were possibly the last fine examples of historic painting in the traditional sense. Jacques-Louis David's paintings were produced in the classical Greco-Roman style, yet with the moral philosophies of the Enlightenment era blended in. He was the official painter for many regimes, ranging from Louis XVI to Napoleon Bonaparte. He also opened a studio but his students eventually rebelled against him – but to learn more about that, let's take a look at Jacques-Louis David's biography.
Jacques-Louis David's Biography
| | |
| --- | --- |
| Nationality | French |
| Date of Birth | 30 August 1748 |
| Date of Death | 29 December 1825 |
| Place of Birth | Paris, France |
David was the very first French painter to combine classical concepts with spatial accuracy and minimalistic compositions. His paintings generated images of philosophical clarity with few artistic embellishments to distract the viewer, rejecting the ornamental and painterly qualities of the Rococo period.
Jacques-Louis David's paintings were created at a time when art that conveyed a strong moral message was in high demand.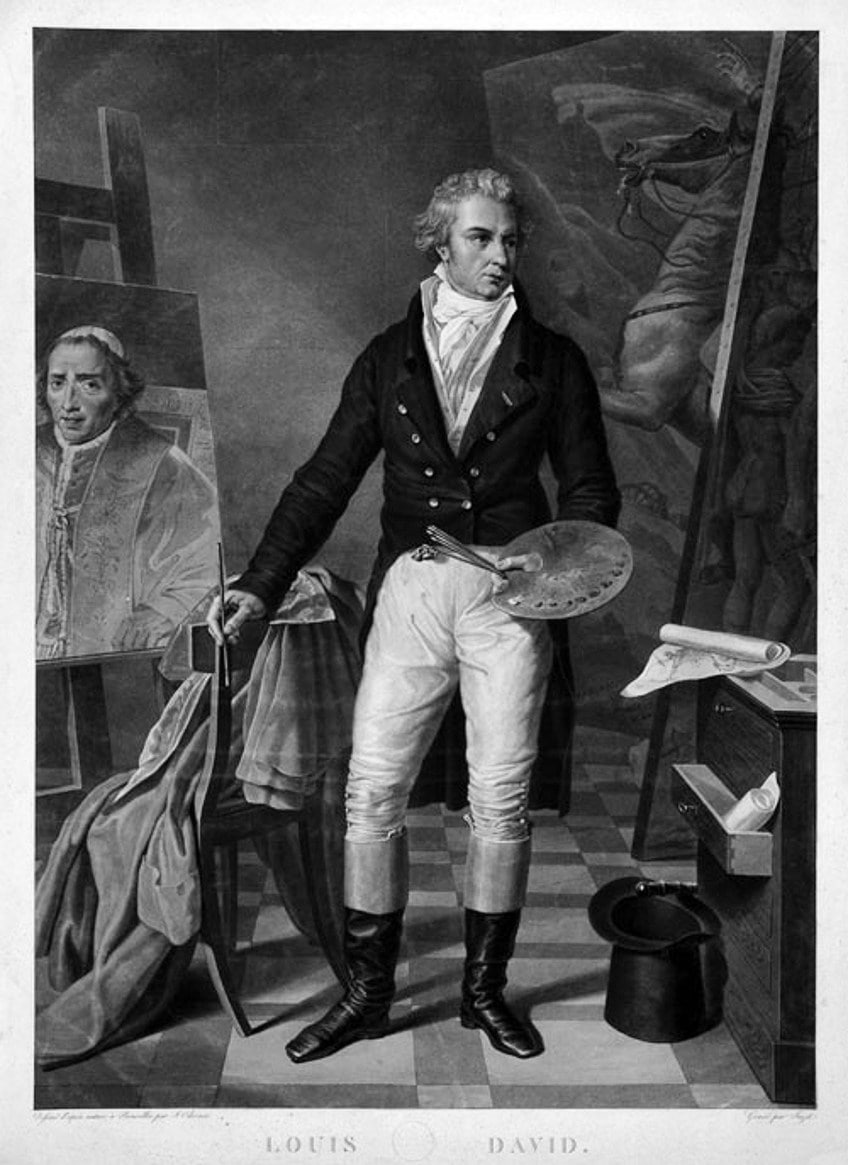 An etching of Jacques-Louis David in his studio by Jean Pierre Marie Jazet, after F. Odevear; etching: Jean Pierre Marie Jazet, after F. Odevear, Public domain, via Wikimedia Commons
Childhood
After the murder of his father in a gunfight, nine-year-old Jacques-Louis David was brought up by his architect uncles and was sent away to study at boarding school. David took little notice of his family's expectations that he would pursue architecture or law as a profession, opting to become an artist instead. One of Jacques-Louis David's relatives arranged for him to apprentice with Joseph-Marie Vien – an artist said to have a compatible style with David.
David was inflicted with a facial injury during a fencing match with a friend, permanently impeding the artist's speech and resulting in a tumor.
Early Training
Jacques-Louis David enrolled at the Royal Academy in 1766. He was keen to gain the renowned Prix de Rome (which subsidized a residence in Rome), but he was unsuccessful at first. David was not what one would call a gracious loser, attempting to starve himself after failing to win and openly expressing his dislike for the artist who won, Joseph-Benoît Suvée. He was convinced that the judges did not like him, and these insecurities followed him throughout his career.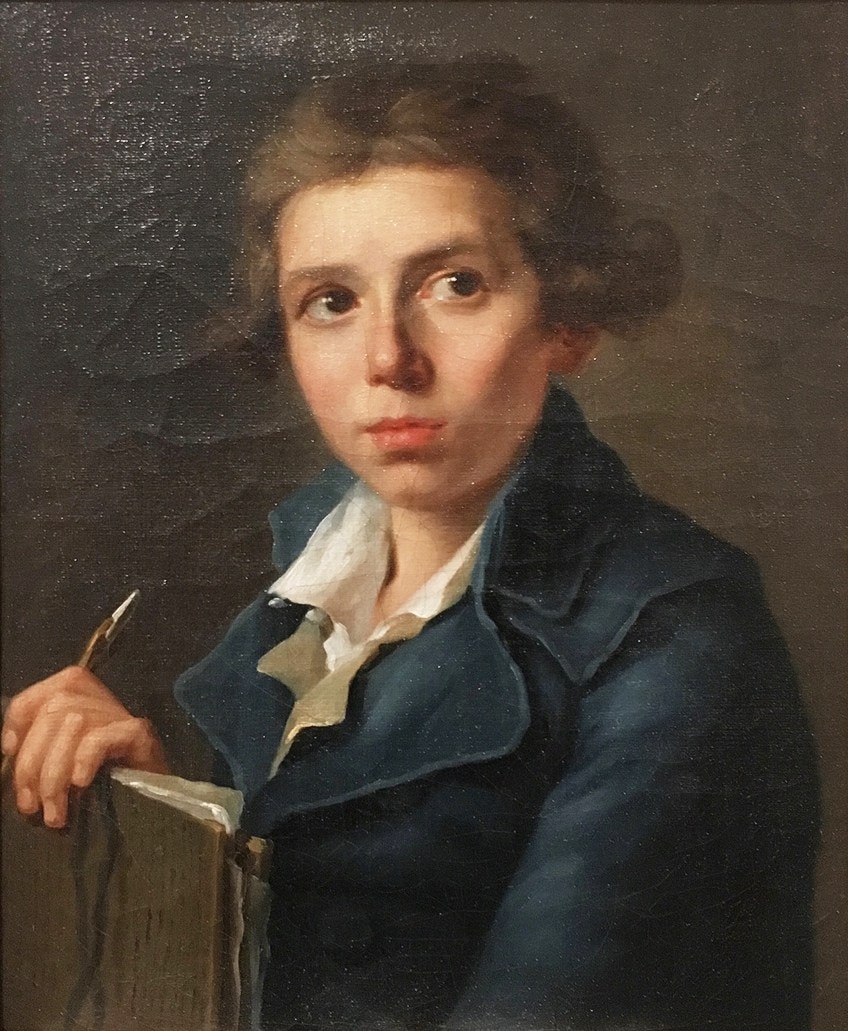 Portrait of Jacques-Louis David as a teenager (c. 1765) by Joseph-Marie Vien; Joseph-Marie Vien (1716-1809), Public domain, via Wikimedia Commons

In 1774, after entering and losing on five occasions, he finally won the prize he had wanted for so long, telling his friends that it was the first time in many years that he could finally breathe properly again. St Roch Interceding with the Virgin for the Plague Stricken (1780) was his first commissioned work after arriving in Rome, and it immediately brought him public admiration.
He found himself in such a great position that he was even offered another year's scholarship in Rome, but he decided to return to Paris to launch his career as an artist.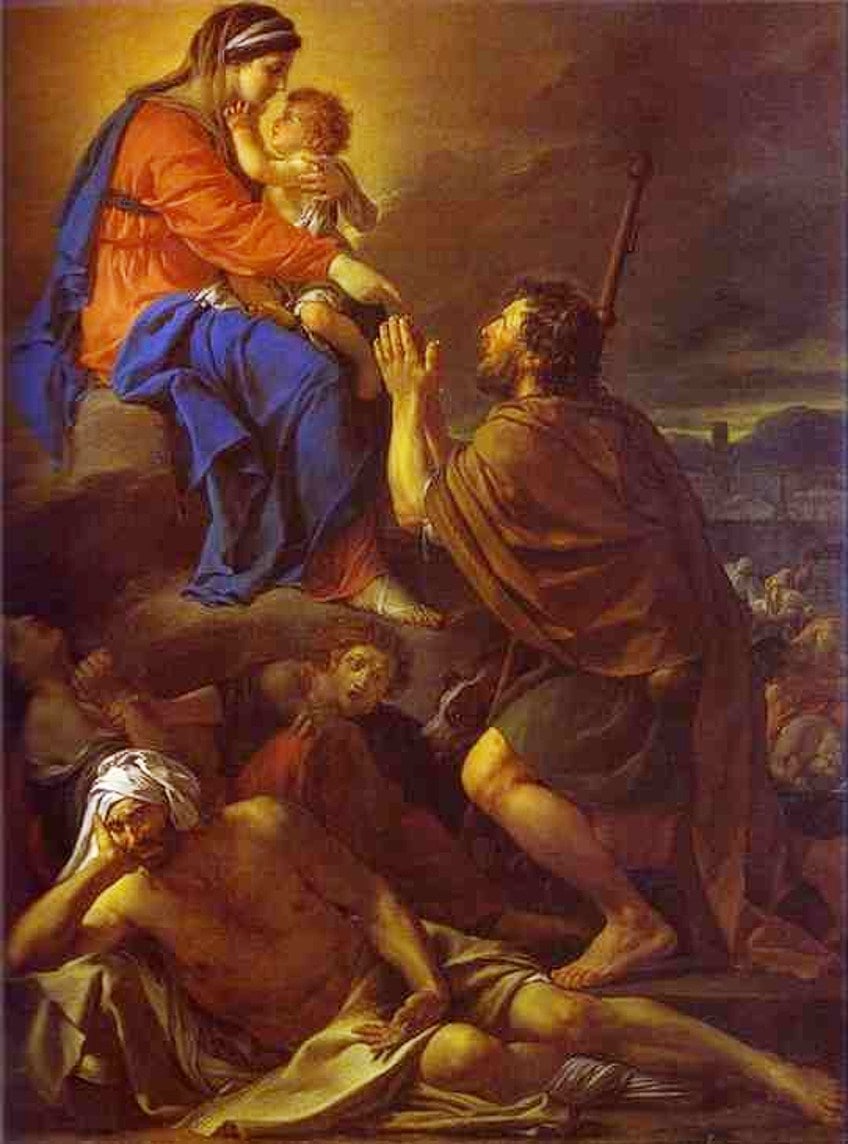 St Roch Interceding with the Virgin for the Plague Stricken (1780) by Jacques-Louis David; Jacques-Louis David, Public domain, via Wikimedia Commons
Mature Period
In Paris, Jacques-Louis David's paintings were gaining recognition as was his contentious behavior, which regularly clashed with the French Royal Academy. Despite his attitude and refusal to follow normal exhibition procedures, the meticulous execution of his paintings and their dramatic stories positioned him as the pioneer of the new classicizing genre. This style was a reaction to the highly decorative Rococo period artwork which often featured scenes of immorality and leisure.
Artists like Denis Diderot continuously vocalized their concerns that art should be a tool that conveys social morals and virtues to a large audience.
David then married a woman named Suzanne, and they had four children together. They were able to support the family with the income that he had received for painting influential French families, as well as her own personal wealth. David was also able to instruct younger artists as a member of the Academy, and his School of David became a respected studio where the younger generation of French painters could acquire their skills. These students would eventually turn against him and his style, though, laying the foundations for modernism in rejection of the traditional style he was teaching. He could also be a very petty tutor, especially if he felt that one of his students was gaining more recognition than him.
Jacques-Louis David (c. 1813/1815) by the studio of Georges Rouget; National Gallery of Art, Public domain, via Wikimedia Commons
Even though The Oath of the Horatii (1784/1785) would become a symbolic icon of the resistance during the French Revolution of 1789, it was actually originally created for a monarch years prior to its use for that purpose. He would ultimately turn into a full-blown revolutionary himself, siding with the extremist Jacobin group. He witnessed the execution of old friends who opposed Revolutionary beliefs as a part of the National Convention. He even voted in favor of Louis XVI's murder, prompting his wife to divorce him. His work was also used to encourage and honor the Revolution and its supporters, most notably Jean-Paul Marat.
According to one contemporary reviewer, the artwork was a touching testament to what can be accomplished when an artist's political inclinations are represented in his art.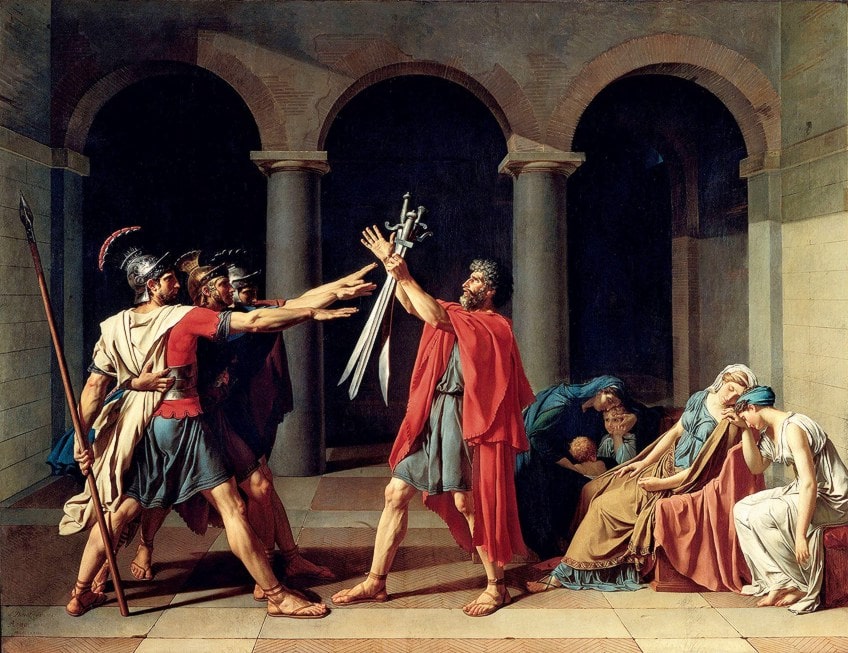 The Oath of the Horatii (1784/1785) by Jacques-Louis David; Jacques-Louis David, Public domain, via Wikimedia Commons
Marat was instantly declared a political hero, and the image became an emblem of sacrifices in the name of the revolution. "I am making it my obligation to respond to the noble patriotism that will forever preserve the history of this most remarkable revolution." David wrote. However, David's connection with the Jacobins would eventually become a liability, and he was imprisoned for disloyalty in August 1794. He was granted amnesty a year later amid growing concerns that he would attempt to commit suicide.
Late Period
In November 1796, David's ex-wife returned, and they remarried. In December 1795, he was offered a position at the Academy of Painting, which had superseded the Royal Academy as France's premier art institution. His art was in high demand once again, thanks in part to his acquaintance with France's new ruler, Napoleon Bonaparte. Around 1800, when David and many of his students were fueling Napoleon's propaganda campaigns, a number of painters at his workshop sought inspiration from the Medieval past of France.
Fleury Richard, Pierre Henri Revoil, and François Marius Granet were among the painters from southern France who produced small-scale pieces with a fine, painstaking finish in what later became known as the Troubadour genre.
In December 1803, Napoleon appointed the French painter a Knight of the Legion and requested a painting commemorating his election as Emperor. This political connection would culminate in David's exile when Napoleon fell from office in 1815. The government of King Louis XVIII targeted people who had supported Napoleon's rule, such as David, and as punishment, he was exiled from the country. He then moved to Brussels with his wife in 1816 and stayed there for the rest of his life. Despite his declining health, he proceeded to paint, receiving portrait commissions and completing his final major work, Mars Disarmed by Venus, in 1824.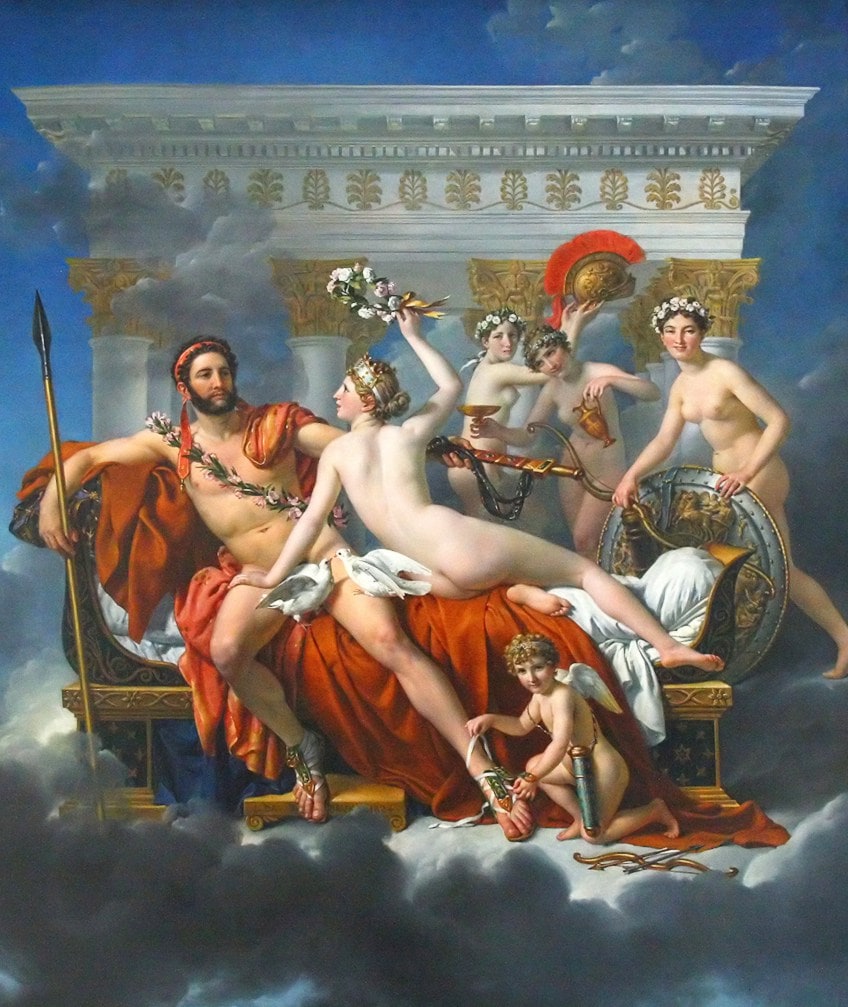 Mars Disarmed by Venus (1824) by Jacques-Louis David; Jacques-Louis David, Public domain, via Wikimedia Commons
A few of his students attempted to persuade him to travel back to France, but he declined, maybe because he was outraged at the nation that had rejected him and perhaps because he knew that the Neoclassical style was no longer appreciated there. David even lectured a student who had asked for his signature on an amnesty application, saying:
"Never tell me again what I need to do to get home. I have no obligation to do absolutely anything; I have already achieved all that is possible as far as my nation is concerned. I established a magnificent school and created iconic paintings that attracted students from all across Europe. I've done my part; now it is time for the government to follow suit."
David passed away in 1825 while residing in Brussels. Unfortunately, his wife had traveled to Paris for medical care as she was ill herself and was not able to be there when he died. The French government refused to bring his remains to France for cremation. After his wife passed away, their son reportedly put David's heart in her casket and buried her in Paris. The French authorities attempted to retrieve his remains in 1989 as part of the Revolution's 200th anniversary, but the Belgian authorities declined on the grounds that his tomb had over time become a historical monument in Belgium.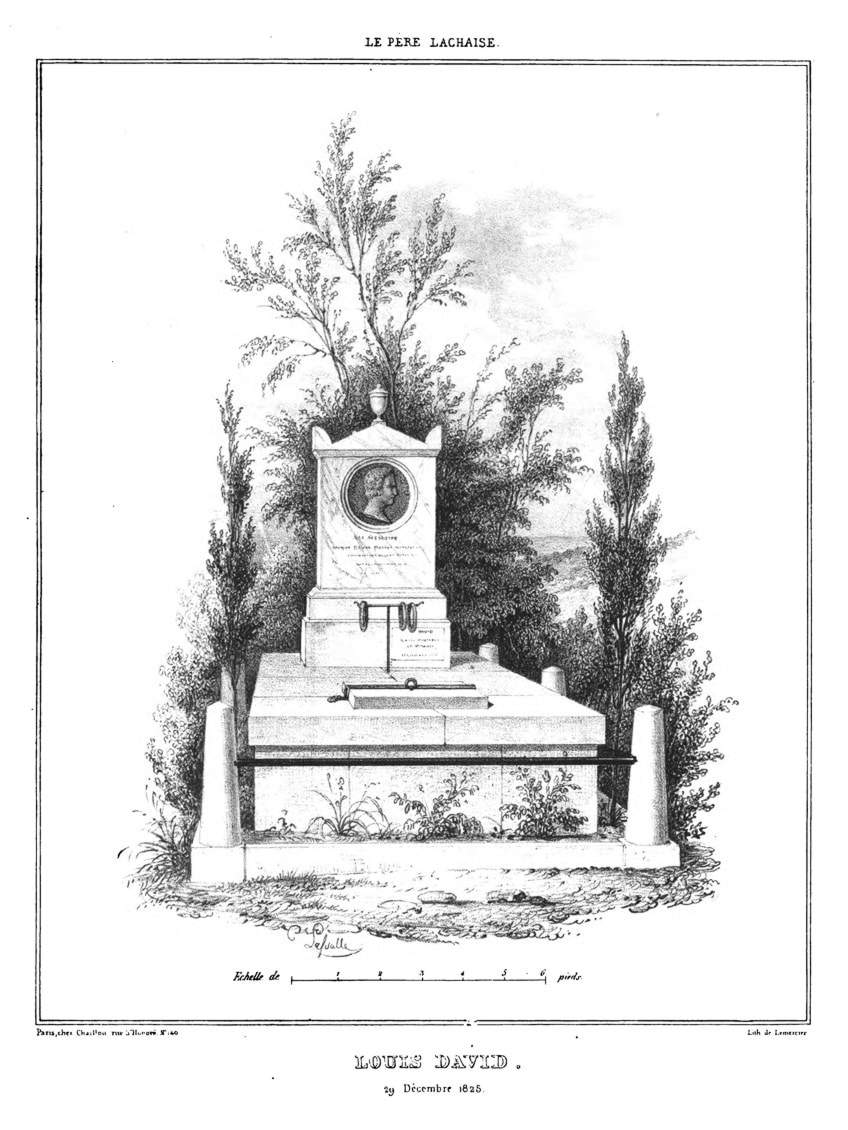 Drawing of the funerary monument of Jacques-Louis David in the Père-Lachaise cemetery (1839); Émile Lassalle, Public domain, via Wikimedia Commons
Legacy
Jacques-Louis David's paintings were used to alter political views, earn acceptance with governing regimes, and incite revolutions. His direct participation in politics connected history painting to present events and this responsiveness would inspire succeeding artists to reflect the modern world. The Romantics would later drastically redefine the narrative of criticizing those in power, depicting emotionally driven storylines in a more painterly aesthetic.
Furthermore, David's influence on Modernism is most visible in his effect on Romanticism, which was linked to the emergence of Modern art.
Romanticism arose straight after Neoclassicism; its rejection of Neoclassicism's distinct moral world and visual clarity was also a criticism of David's principles. His pupils moved away from David's austere themes and toward more sensual and complex Greco-Roman mythologies, laying the groundwork for Romantic art. In following Romanticism's artistic alternative, French painters looked outside their borders, copying British counterparts, notably in landscapes and portraits.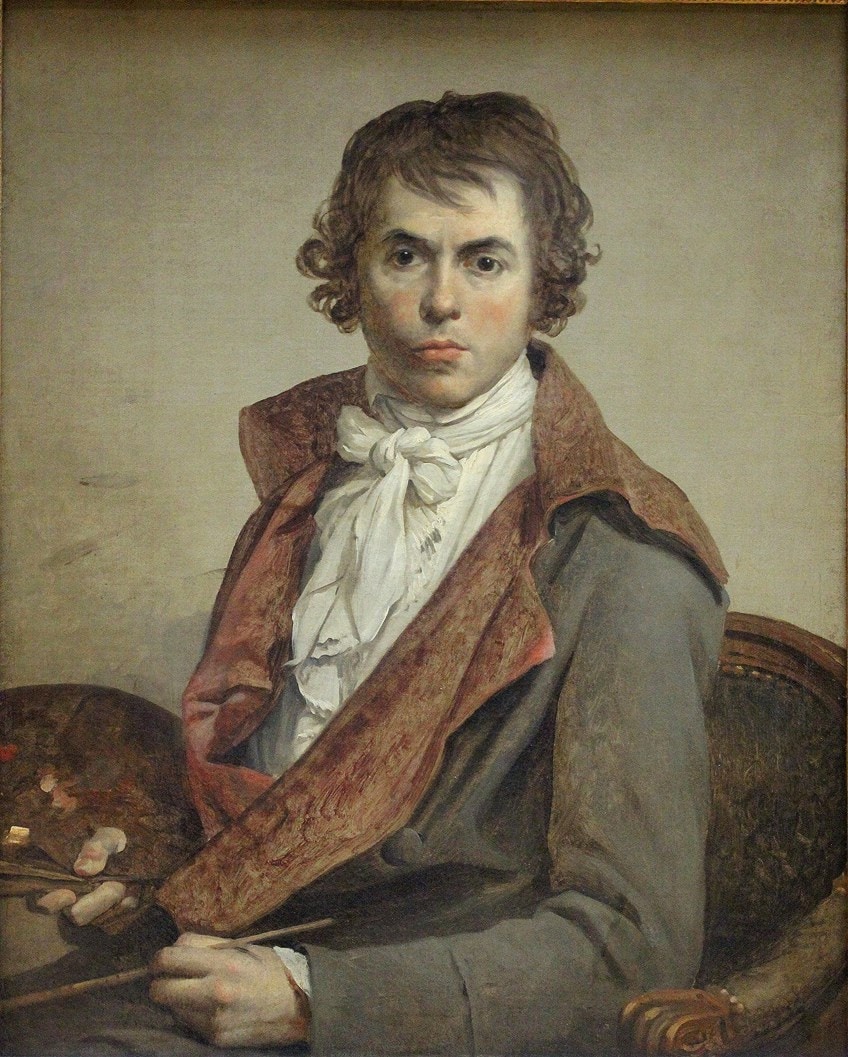 Self-Portrait (1794) by Jacques-Louis David; Jacques-Louis David, Public domain, via Wikimedia Commons
Furthermore, the lines between Neoclassicism and Romanticism were dissolved, as seen by the paintings of many of David's former students. By 1840, the appearance of artists like Théodore Chassériau, whose composite approach mixed Davidian classicism with the painterly qualities of Romanticism and the exotic themes of Eugène Delacroix, embodied the generation's conflicting aesthetic tendencies. Painters who were directly affected by Romanticism, such as Pierre-Auguste Renoir and Paul Cézanne, may be traced back to Jacques-Louis David and his workshop.
Jacques-Louis David's paintings were such a feature of art history in the 20th century that it was frequently referenced by other artists who wanted to make strong political statements in their own eras.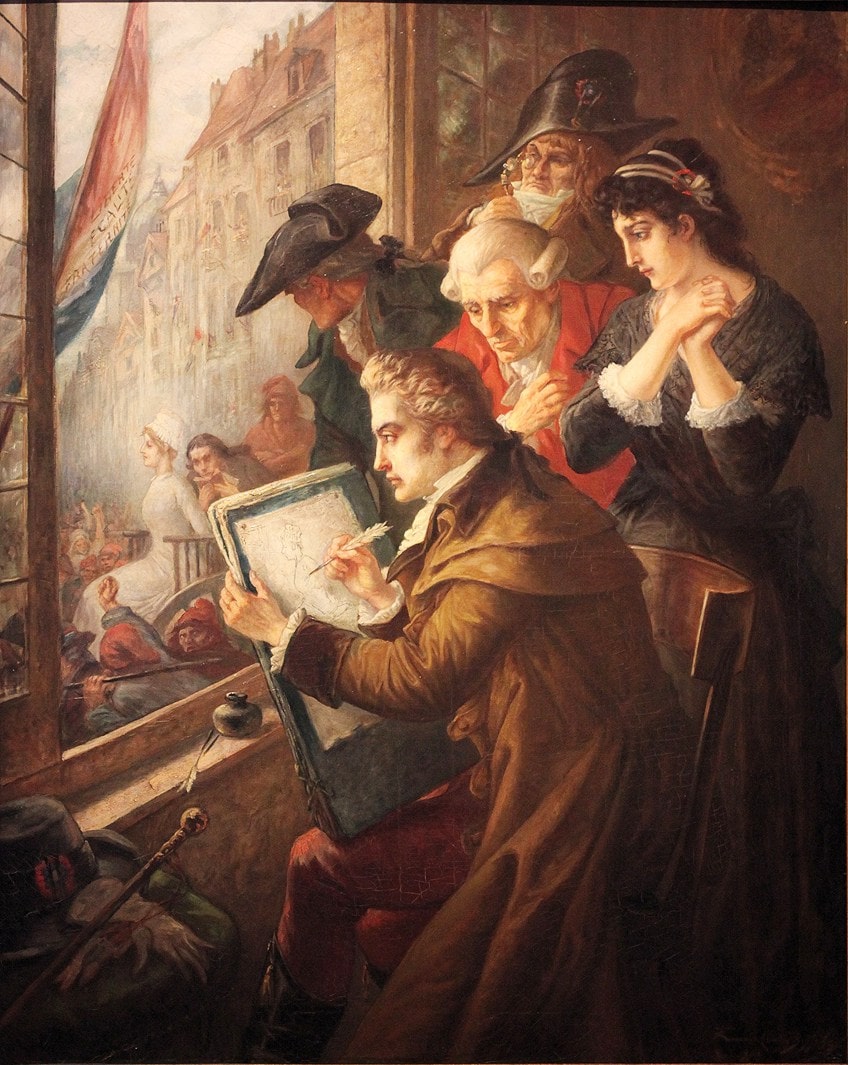 Painter David drawing Marie-Antoinette led to her execution, 1793 (1900) by Joseph-Emmanuel van den Büssche; Photograph by Rama, Wikimedia Commons, Cc-by-sa-2.0-fr, CC BY-SA 2.0 FR, via Wikimedia Commons
Art Style and Accomplishments
Although Jacques-Louis David's paintings would become synonymous with the 1789 Revolution, his initial achievements were iconic depictions of heroic acts commissioned by royal and noble customers who embraced the neoclassical aesthetic as the newest style. David adjusted this Neoclassical style to stay relevant in the unstable late-18th and early-19th centuries. He received major commissions from royalty, the Revolutionary state, and Napoleon Bonaparte, who all exploited Jacques-Louis David's paintings to support their claims to power.
David was a competent politician who adjusted his trade to the demands of each of his patrons while being most remembered for his activities throughout the French Revolution when he served on the National Council and directed propaganda efforts.
This skill demonstrated his ability to work with the current issues of the time and adapt to diverse political activities. David's workshop became the most significant training environment for painters in the late 1700s and early 1800s. Despite the fact that many of his pupils would ultimately rebel against this method and turn to the rapidly growing Romantic movement, his legacy was defined by several generations of painters who could trace their lessons back to Jacques-Louis David's workshop.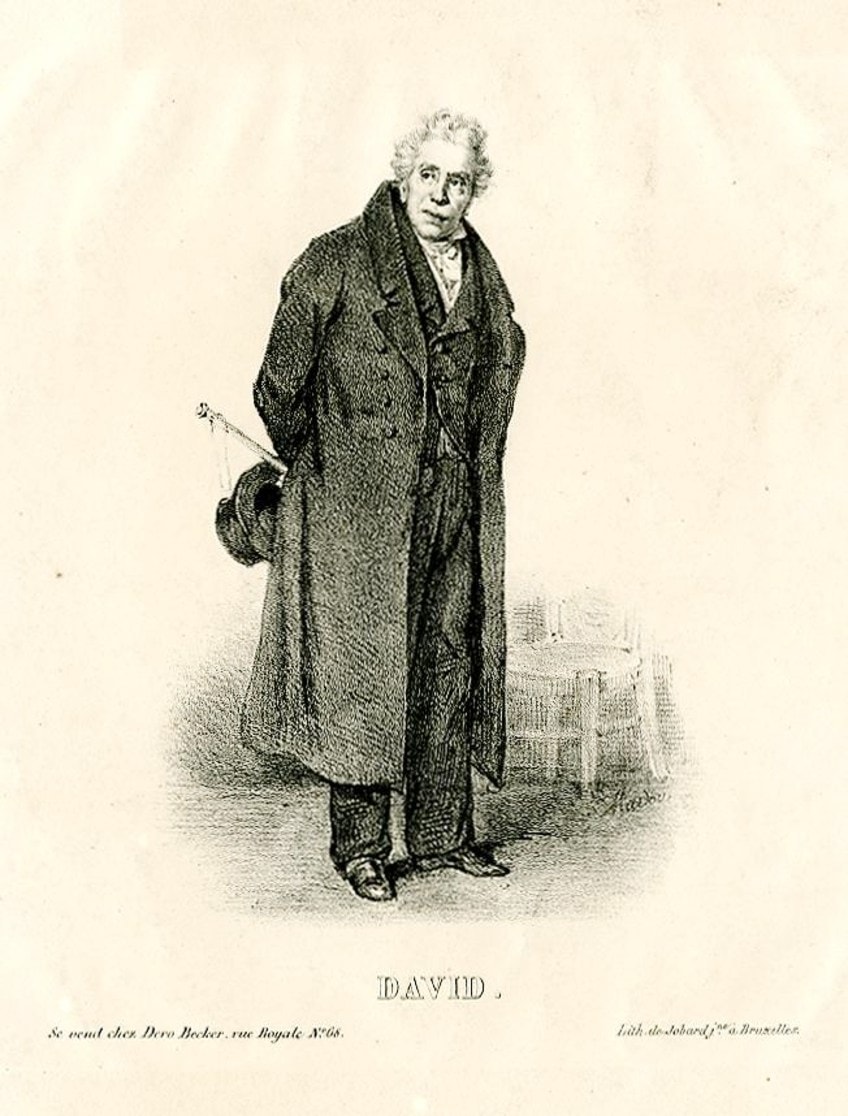 David (c. 1820s) by Jean Baptiste Madou; British Museum, Public domain, via Wikimedia Commons
Jacques-Louis David's Notable Artworks
Jacques-Louis David's paintings were both beautiful to look at as well as strong political messages. No matter what one's political inclinations are, we can still appreciate the detailing and coloring, and perspective applied in his works. Here are a few notable examples of his Neoclassic style that made him a renowned artist all across Europe.
| | | | |
| --- | --- | --- | --- |
| Artwork | Date | Dimensions (cm) | Location |
| Saint Jerome Hears the Trumpet of the Last Judgment | 1779 | 29 x 19 | Montreal Museum of Fine Arts, Montreal, Canada |
| Saint Roch Interceding with the Virgin for the Plague-Stricken | 1780 | 260 x 195 | Musée des Beaux-Arts, Marseille, France |
| The Lictors Bring to Brutus the Bodies of His Sons | 1789 | 323 x 422 | Louvre Museum, Paris, France |
| Napoleon Bonaparte crossing the Alps at Grand Saint Bernard | 1802 | 260 x 221 | Château de Malmaison, Rueil-Malmaison, France |
| Apelles Painting Campaspe in the Presence of Alexander the Great | 1812 | 96 x 136 | Palais des Beaux-Arts de Lille, Lille, France |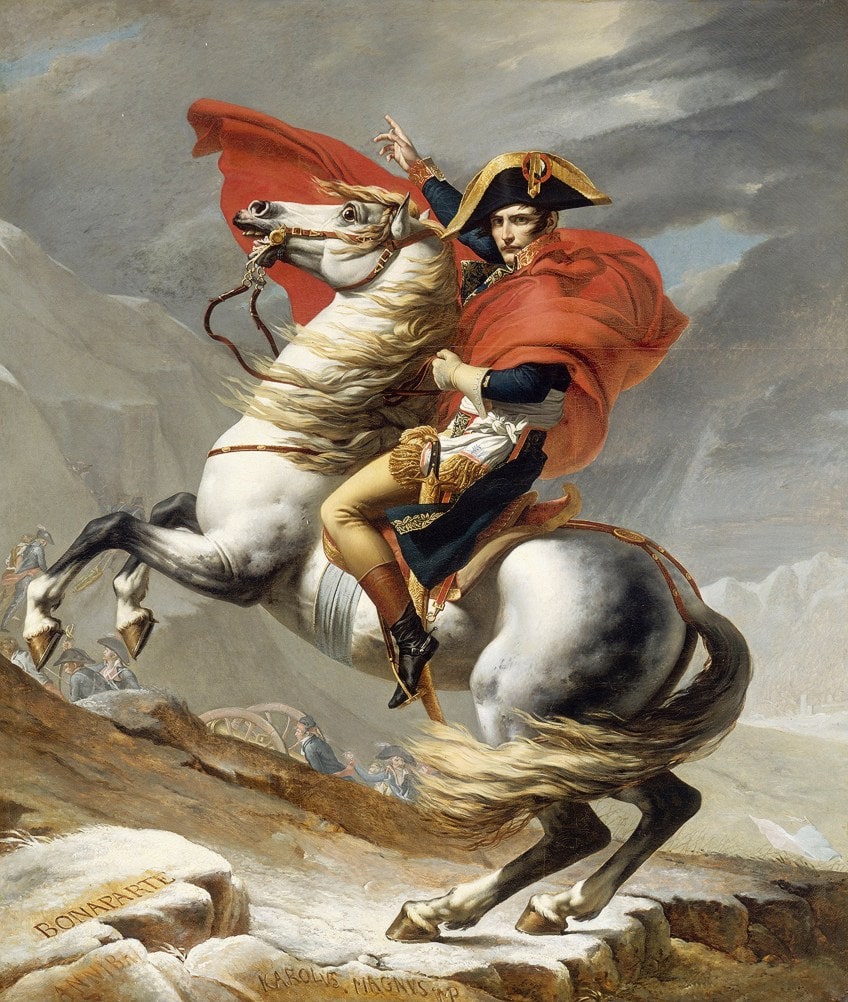 Napoleon Bonaparte crossing the Alps at Grand Saint Bernard (1802) by Jacques-Louis David; Jacques-Louis David, Public domain, via Wikimedia Commons
Jacques-Louis David's Drawings
Jacques-Louis David was Europe's most renowned painter when he died in 1825; he was regarded as the person who pushed neoclassical art to perfection. Yet, while David and his artworks were both praised – or loathed, dependent on the audience's political attitude – his sketches, the basis of everything he created, were almost unnoticed. Over 2,000 sketches were included in the auction of his possessions in 1826, and the catalog's compiler was clear about their significance.
He wrote, "It will be simple, in these exercises, to trace step by step the growth of the one who lifted the school rather abruptly from a clumsy and sluggish manner to a discipline and clarity befitting of the old masters of Italy".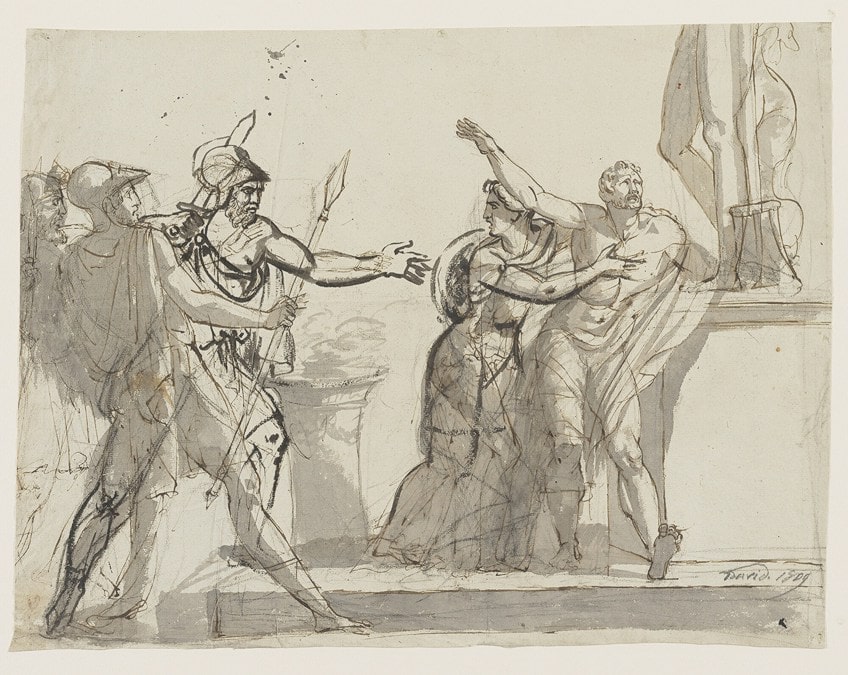 A study of four Classical figures by Jacques-Louis David, 1809; Jacques-Louis David, Public domain, via Wikimedia Commons
They were not just artworks but also historical records. Despite this, just two of his artworks were previously shown in public. David's reasoning behind their public display was rational: the first was an announcement of his new Neoclassical manner, crafted in Rome, with which he was about to rewrite modern French artwork; and the second, was a method of promotion designed to attract donors for a large canvas to be mounted in the National Assembly.
David, on the other hand, preserved his sketches for the sole use of himself and his pupils, or as mementos to friends and partners, for the remainder of his career.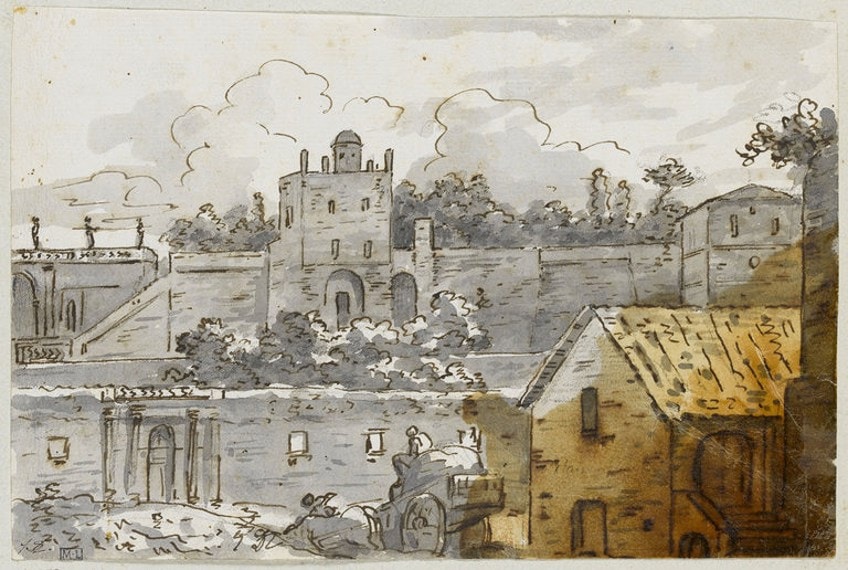 Landscape with wall, turret and casino, and a hay cart (unknown year) by Jacques-Louis David; Jacques-Louis David, Public domain, via Wikimedia Commons
David played a crucial part in giving artistic expression to the final days of the Old Order, the Revolution, and the Napoleonic expedition during his career. While he did so, he transitioned through many styles before returning to soft Classicism. The production of drawings was essential to his profession. David's sketches rarely offer a clear impression of the man himself. Sketches were practical things for David – a journal of what he had observed and, more significantly, a resource for painting composition.
The canvas was fundamental, and sketched themes – shuffled, jumbled, reproduced, and altered – were the techniques by which he achieved the required clarity in his paintings.
Using these Rome sketches as a starting point, he developed a technique that he would use in all of his big canvases. With his illustrations in front of him, he would first pencil in the figures, then the building backdrop, and last the posture placement.
As the composition progressed, he would focus on specific individuals, typically sketching them naked to begin with.
The scenario was then improved further with more meticulous sketches of the entire scene and the use of gray washes to examine the fall of light. The desired design was copied on a new sheet, and oil paint was used to set the colors.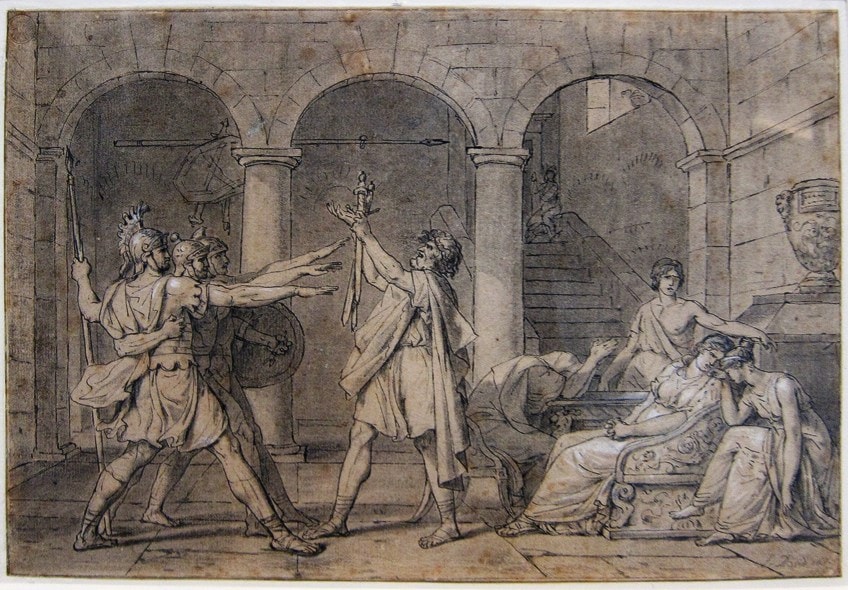 Study for The oath of the Horatii (c. 1785) by Jacques-Louis David; Jacques Louis David, Public domain, via Wikimedia Commons
Before he got everything straightened up and moved to the canvas for painting, he created enormous black and white chalk drapery sketches. David died in 1825 after being struck by a carriage as he walked out of a theater. Only then did the extent of his involvement with his drawings become clear, and how important they were to his vision of a masterpiece requiring a mixture of intellect and inexhaustible determination on the artist's side, as he sought to bring his creation closer to completion.
Irrespective of what they depict, his artworks are undeniably images of his own unwavering tenacity.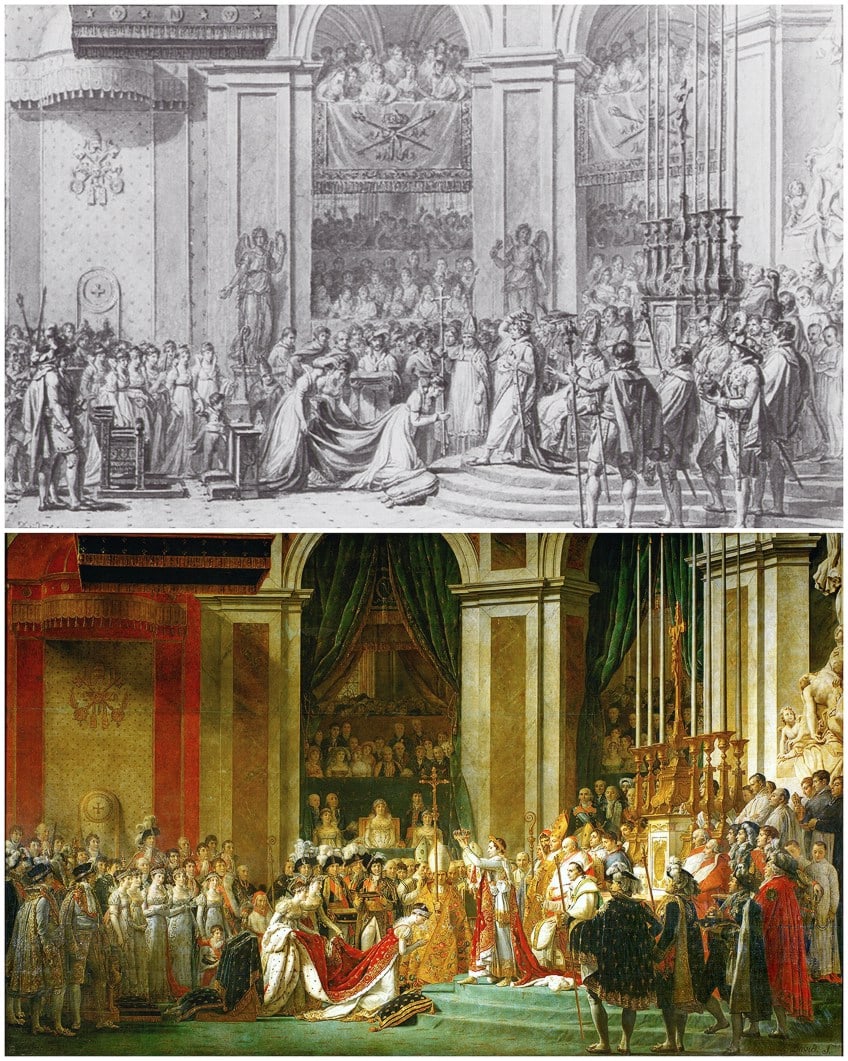 TOP: Study for The Coronation of Napoleon (1805) by Jacques-Louis David; Public Domain, Link | BOTTOM: Coronation of Emperor Napoleon I and Coronation of the Empress Josephine in Notre-Dame de Paris, December 2, 1804 (1805-1807) by Jacques-Louis David; Jacques-Louis David, Public domain, via Wikimedia Commons
Recommended Reading
Now that you have had a chance to read through Jacques-Louis David's biography, perhaps it has sparked a desire to learn even more about this important French painter. You might even want to explore all of Jacques-Louis David's paintings in book form. Here are a few recommended books covering everything you would like to know about Jacques-Louis David.
Jacques-Louis David, 1748-1825 (1989) by Arlette Schnapper
Jacques-Louis David's academic studies and creative career have shaped him into a history painter, a genre regarded as "the great genre" since the 17th century. Until his exile, the artworks he regarded as most significant are historical compositions influenced by mythology or the history of Greek and Roman antiquity. From the start of his profession until his last days in Belgium, he portrayed his friends and relatives, as well as nobility and royalty.
The complete oeuvre of Neoclassical artist

Jacques-Louis David

Official publication of the

Louvre and Musée National du Château

The academic studies and complete creative career of the artist
View on Amazon
Jacques-Louis David (Masterpieces) (2019) by Maria Tsaneva
Jacques-Louis David is regarded as the Neoclassical movement's leader, symbolizing its iconographic aesthetic. From the Revolution on, he attempted to apply his antique influence to current issues by creating pieces with a modern theme. This book will introduce you to some of his most iconic masterpieces, ranging from his politically inclined pieces to his aesthetically pleasing artworks.
A well-researched look at French painter Jacques-Louis David

Beautifully produced pictures of David's masterpieces in color

An introduction to some of the artist's most iconic masterpieces
View on Amazon
Jacques-Louis David was the most politically engaged artist who ever lived. He was a leading figure of the extreme Jacobin party and a personal friend of Revolutionary leader Maximilien Robespierre. He put on extravagant propaganda events for France's new republic. He even served time in prison for his activities during the Reign of Terror. Despite all of his political involvement, he was a highly respected artist whose Academy drew students from all across Europe to come and study under the master artist. Eventually, though, those same students would turn against his traditional style, moving towards emerging movements such as Romanticism.
Take a look at our Jacques-Louis David paintings webstory here!
Frequently Asked Questions
What Art Style Did Jacques-Louis David Use?
Jacques-Louis David's style displayed a return to the classic style of the Romans and Greeks. This style is referred to as Neoclassicism. The representation of classical events, people, and themes in austere linear style, employing historical locations and clothing, was distinctive of Neoclassical art. Its emergence was greatly fostered by the increasing academic interest in classical antiquity that developed all through the 18th century. It was a reaction to the heavily ornate Rococo art which focused on leisure and pleasure, whereas Neoclassicism was viewed as a manner in which ethical notions could be imparted to a wide audience.
What Are the Common Features of Jacques-Louis David's Paintings?
David's historical works, such as the Oath of the Horatii (1784), have a strong sense of solemnity, in addition to a particular quality of stance and motion, as well as drapery designs influenced by Greek sculpture. Although some of these aspects have been seen in the artistic creations of American and British artists, the figurative conflicts in Jacques-Louis David's images are much more intense: not only are they set against more monumental backdrops, but there is also no indication of the distinguishing characteristics of Baroque artwork, such as diagonal motions in the composition, huge crowds of people, and fancy drapery.
Isabella studied at the University of Cape Town in South Africa and graduated with a Bachelor of Arts majoring in English Literature & Language and Psychology. Throughout her undergraduate years, she took Art History as an additional subject and absolutely loved it. Building on from her art history knowledge that began in high school, art has always been a particular area of fascination for her. From learning about artworks previously unknown to her, or sharpening her existing understanding of specific works, the ability to continue learning within this interesting sphere excites her greatly.
Her focal points of interest in art history encompass profiling specific artists and art movements, as it is these areas where she is able to really dig deep into the rich narrative of the art world. Additionally, she particularly enjoys exploring the different artistic styles of the 20th century, as well as the important impact that female artists have had on the development of art history.
Learn more about Isabella Meyer and the Art in Context Team.
Cite this Article