Few subjects enthralled the famous Impressionist, Claude Monet, quite like water lilies. Between the years 1896 and 1926, it is estimated that Monet created around 300 paintings with water lilies as their focal point. His most famous Water Lilies (1926) paintings can be found in Paris at the Musée de l'Orangerie. The exhibition has been dubbed "the Sistine Chapel of Impressionism", and has left audiences enamored for almost a century.
Who Was Claude Monet?
Monet is one of the most well-known artists in the world. For this reason, there are thousands of books and articles dedicated to his biography. This article gives a brief description of his life and career in order for the reader to understand more about the man behind the paintbrush.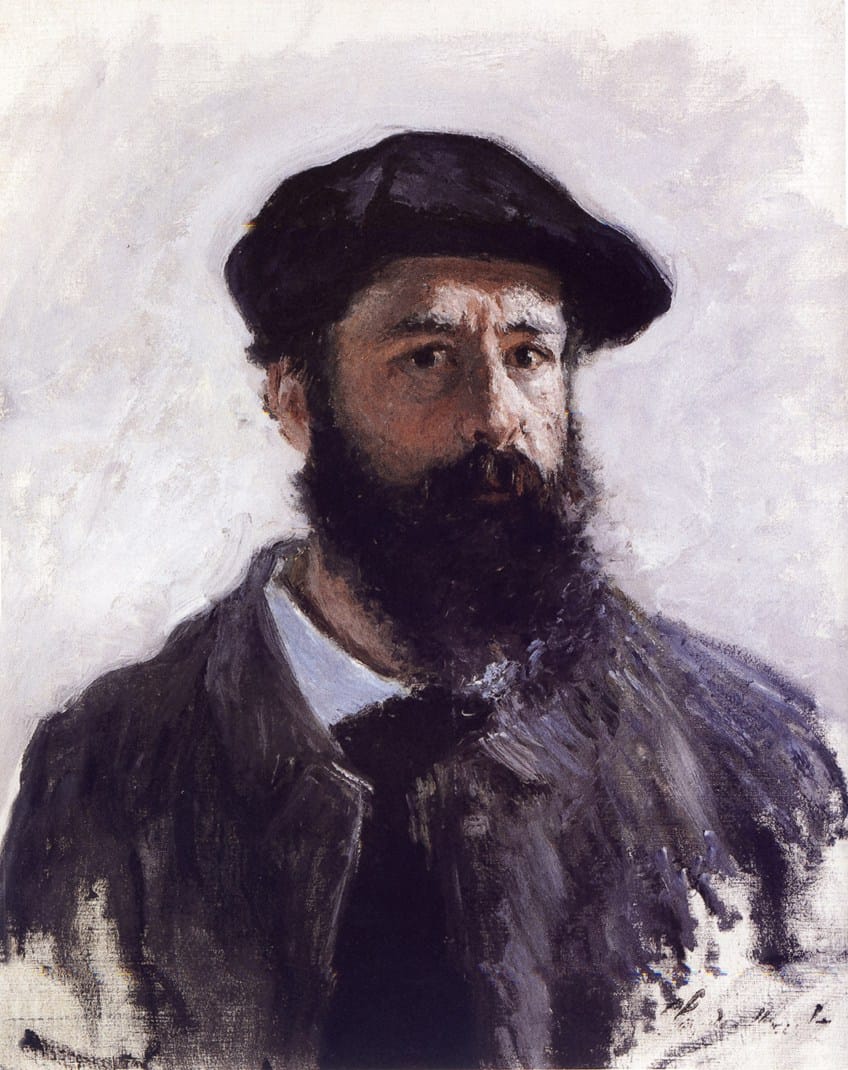 Self-portrait in Beret (1886) by Claude Monet; Claude Monet, Public domain, via Wikimedia Commons
The Birth and Early Life of Claude Monet
Claude Monet was born Oscar-Claude Monet on 14 November 1840 in Paris. His mother Louise-Justine, whom he loved dearly, was a singer. His father Claude-Alphonse was a wholesale merchant who hoped that his son would one day take over his business.
It became clear from a young age that Monet had a gift, and would inevitably pursue an art career.
Whilst his mother was supportive of his dreams, they caused a great deal of friction between him and his father. When he was five years old, Monet's parents moved to Le Harve in Normandy. Here, he would attend Le Harve secondary school of the arts. Although he loved art and showed a great aptitude for it, he was bored by the formalities of the academic art training. He preferred instead to draw cartoon-like depictions of people. As a teen, he earned small amounts of pocket money by selling these sketches to friends, acquaintances, and passers-by.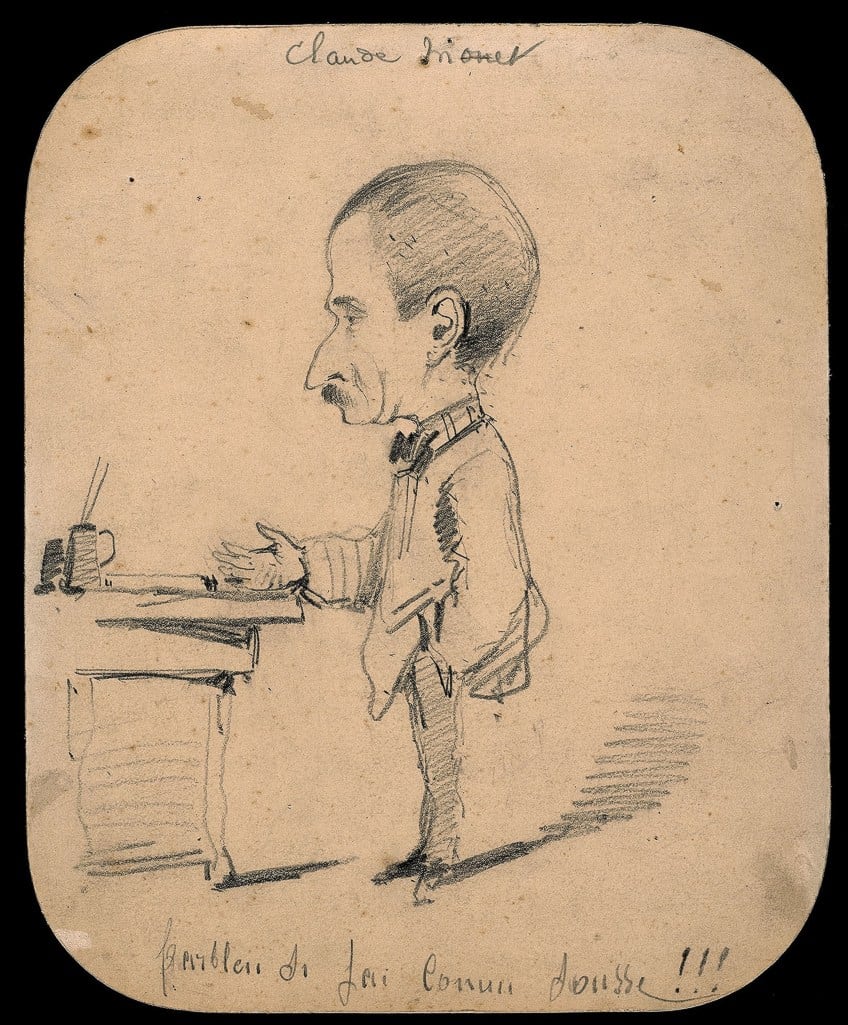 Caricature of a Man Standing by Desk (recto) (1855-1856) by Claude Monet; Claude Monet, Public domain, via Wikimedia Commons
In 1857, Monet's beloved mother passed away. This would cause his father to move the two of them in with his aunt Marie-Jeanne Lecadre so that she could care for him. Although he was devastated by the death of his mother, Lecadre was just as supportive of his art as she had been. By this stage, his father had been forced to accept that his son was going to be an artist. However, it still caused tension between the two.
Around the time of his mother's death, Monet met Eugène Boudin.
Monet would state that Boudin had a profound influence on his art and taught him many things. Notably, Boudin was one of the first artists to paint en plein air. He took Monet on many painting expeditions in the French countryside and taught him to paint what he saw. This practice of painting en plein air would be continued by Monet throughout his lifetime.
Claude Monet Painting by the Edge of a Wood (1885) by John Singer Sargent; John Singer Sargent, Public domain, via Wikimedia Commons
Education and Career
Between the years 1858 and 1860, Monet studied art at the acclaimed Académie Suisse in Paris. It was here that he met many other soon-to-be-famous artists such as Camille Pissarro and Paul Cézanne. The artists bonded over their mutual appreciation of nature as well as their joint disdain for the restrictions of academic art. In 1861, at the age of 21, Monet was conscripted into the French Army. He was part of the soldiers that were sent to Algeria, which was at that time a French colony.
Monet was hugely inspired by his time in Algeria. He was particularly fascinated by the way the warm, Mediterranean climate affected the color of the light.
However, in 1862, Monet fell ill and had to return to France. Upon returning to France, Claude Monet took up classes in the studio of the Swiss painter Charles Gleyre. It was here that he met more of his artistic peers, including the now-famous Pierre-Auguste Renoir and Frédréric Bazille. He and Bazille in particular became very close and traveled around France, painting the scenes they witnessed along the way. Some of his most well-known early paintings come from this time, including Women in the Garden (1866).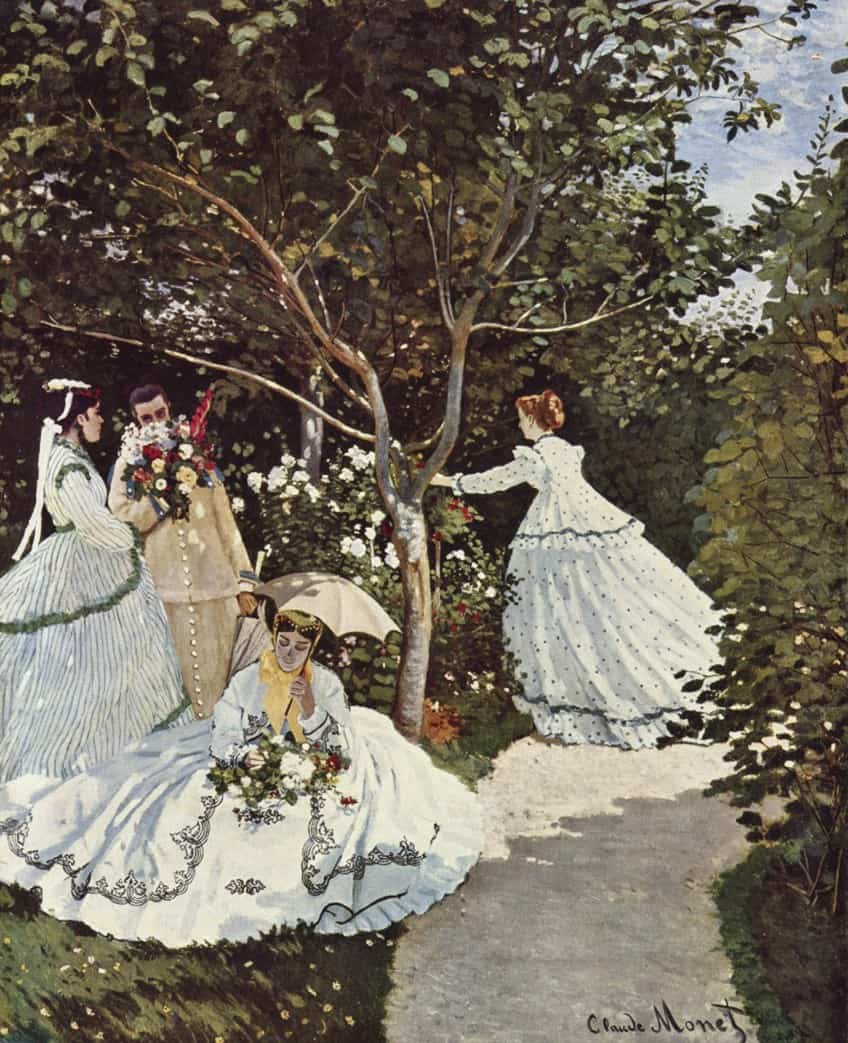 Women in the Garden (1866) by Claude Monet; Claude Monet, Public domain, via Wikimedia Commons
Some of the paintings he created during their trip were also accepted into the Paris salon, such as Mouth of Seine at Honfleur (1865). Monet would submit many paintings to the Paris Salon between 1865 and 1870. However, only a few of these attempts would be successful. Like many of his artist friends, his works were too progressive for the Salon.
Those that were accepted were still not all that profitable. Monet persevered though, trying desperately to create a name for himself as an artist.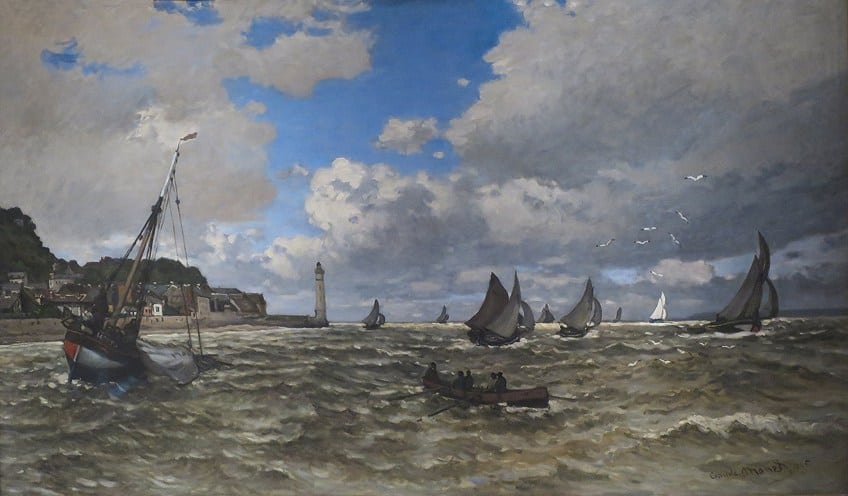 Mouth of the Seine, Honfleur (1865) by Claude Monet; Claude Monet, Public domain, via Wikimedia Commons
Due to his lack of success, Monet still relied heavily on his father for financial support. However, in 1867 this came abruptly to an end. Monet and his partner and model Camille Doncieux welcomed their first son Jean into the world. Whilst the couple were overjoyed, Monet's father was outraged that they had had a child out of wedlock. Thus, he cut his son off. Unable to afford to look after himself or his family, Monet was forced to move back in with his aunt.
Heartbroken due to being separated from Camille and their son, he threw himself into his work.
To his luck, Monet was reunited with his lover and child a year later. The couple had moved to Étretat near to Loui-Joachim Gaudibert, Monet's biggest patron at the time. Here he would complete a number of projects for Gaudibert, a great supporter of the arts. Monet would live here with his family in relative stability for the next two years.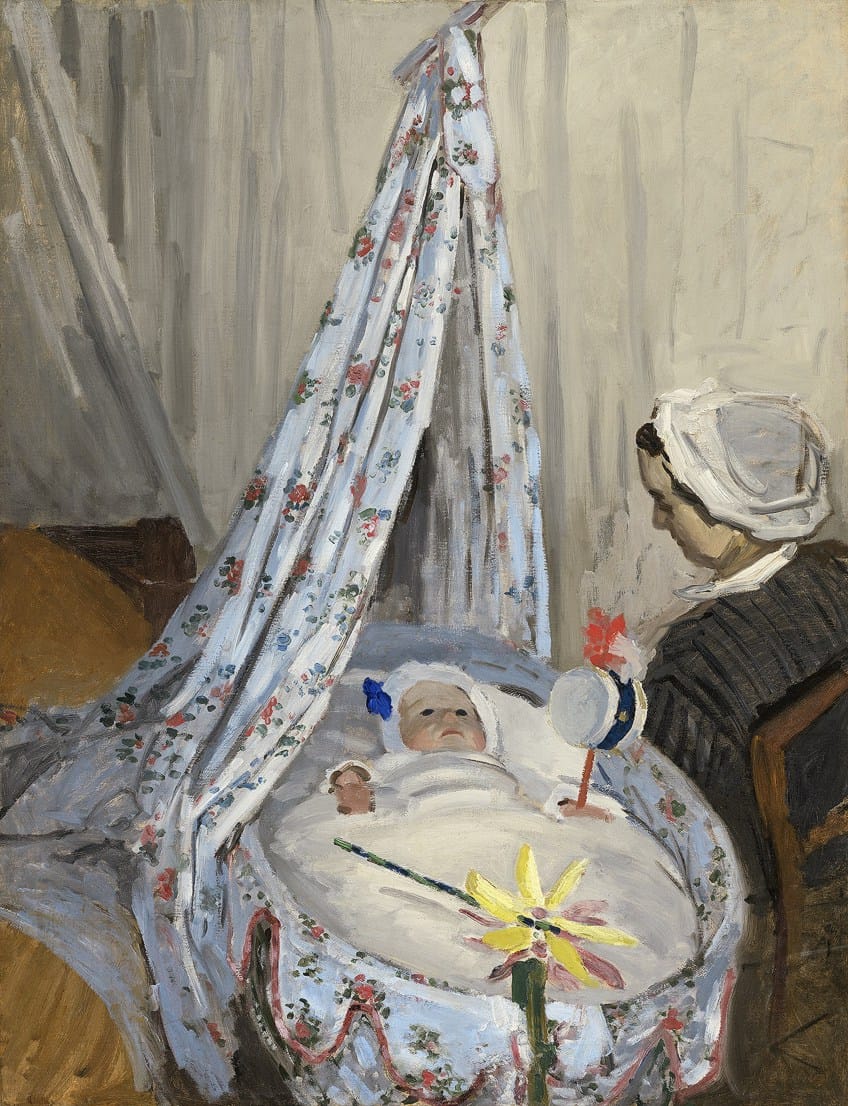 The Cradle – Camille with the Artist's Son Jean (1867) by Claude Monet; Claude Monet, Public domain, via Wikimedia Commons
In 1870, Monet and Camille decided that it was time for them to get married. However, their domestic bliss did not last long. In July of the same year, the Franco-Prussian war broke out. In order to avoid having to enlist in the army once more, Monet fled with his family. They spent their year in exile between England and the Netherlands. Whilst staying in London, Monet made the acquaintance of art dealer Paul Durand-Ruel. Durand-Ruel was a valuable friend to have and would help Monet achieve the wealth he possessed later in his life.
At the end of the war in 1871, Monet and his family returned to France and moved to the small town of Argenteuil, near Paris.
Here, they moved into a small house with a garden. This would mark the start of Monet's passion for gardening as well as painting his garden. During their stay in Argenteuil, almost all of Monet's paintings featured the house and or garden.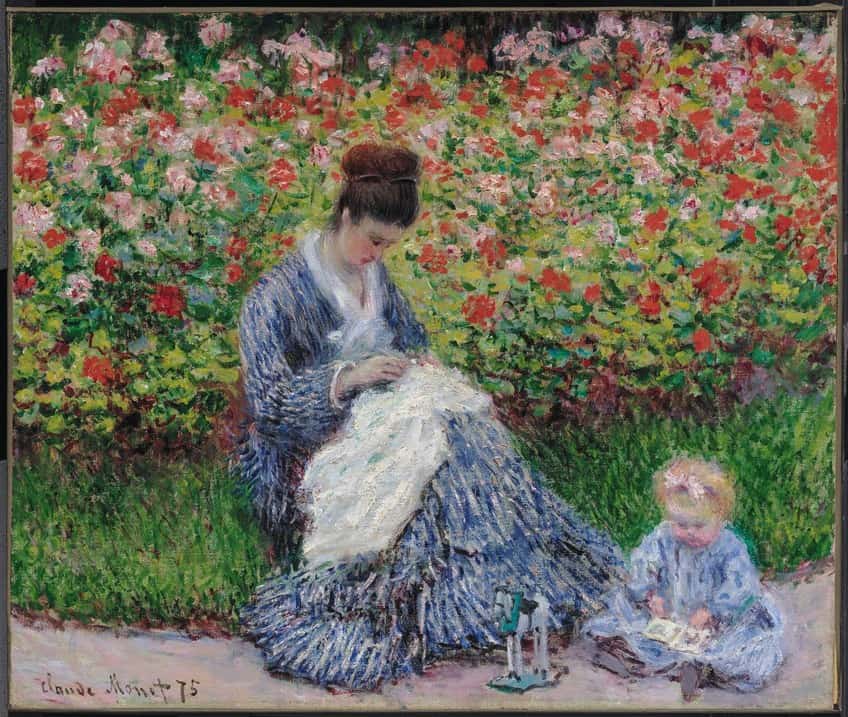 Camille Monet and a Child in the Artist's Garden in Argenteuil (1875) by Claude Monet; Claude Monet, CC BY-SA 4.0, via Wikimedia Commons
However, things were not as picturesque as they may seem. Money was still very tight and the family had run up a great deal of debt whilst away. This resulted in some of Monet's first award-winning paintings being taken to repay some of these debts.
In 1874, frustrated with their constant rejection from the Paris Salon, a group of artists called the Anonymous Society of Painter, Sculptors, and Engravers organized their own exhibition.
Amongst the group was artists such as Monet, Pissarro, Cézanne, and Renoir. Although the exhibit was high it was a momentous event in the history of art. For it was here that the Impressionists got their name. One of the paintings Monet chose to display at the exhibition was Impression, Sunrise (1872). Poking fun at the name and making reference to the group of artists' "unrefined" style, the art critic Louis Leroy called the art they produced "Impressionism". Monet would participate in four of the eight Impressionist Exhibitions.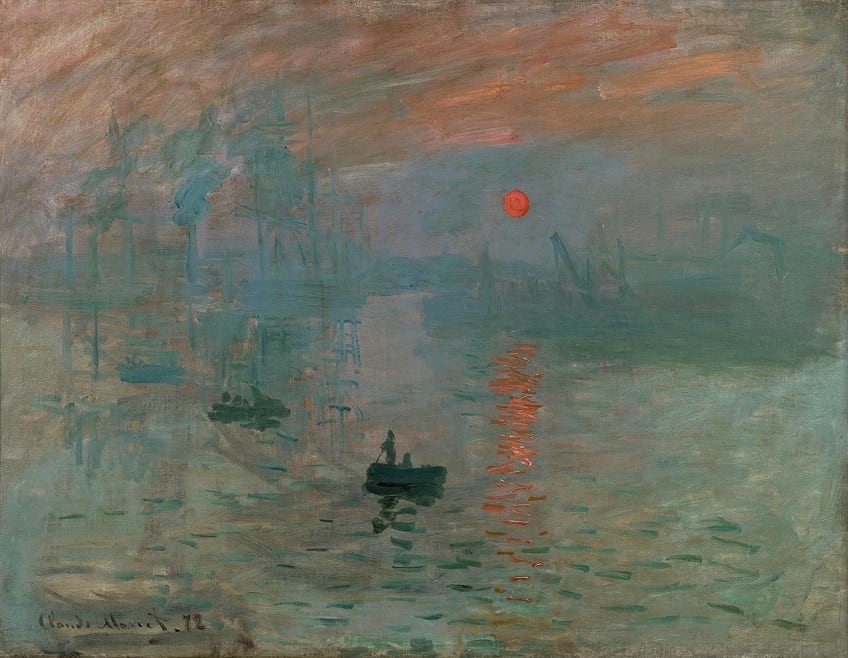 Impression, Sunrise (1872) by Claude Monet; Claude Monet, Public domain, via Wikimedia Commons
The year 1878 was both happy and sad for Claude Monet. His wife gave birth to their second son Michel, but this would come at a cost. At the time she fell pregnant, they did not know that Camille was suffering from uterine cancer. The carrying and delivering Michel greatly exacerbated her symptoms. She died a year later.
This plunged Monet into a deep depression, which can be seen in the art he produced during this time, which had a much darker color palette.
In the early 1880s, Monet and his sons moved in with friends of his, Ernest and Alice Horschedé, and their children. He enjoyed it here and created many paintings featuring their daughter Suzanne, who would act as his model. Monet's luck slowly started to turn around after a successful exhibition in 1883. Shortly afterward, he traveled to Italy and the Netherlands in order to paint new scenery. These paintings all did very well and some were even sold in the United States.
The Monet and Hoschede families, c. 1880. From left to right: Claude Monet, Alice Monet, Michel Monet, Jean-Pierre Hoschede, Blanche Hoschede, Jean Monet, Jacques Hoschede, Martha Hoschede, Germaine Hoschede, and Suzanne Hoschede; Unknown photographer, about 1886, Public domain, via Wikimedia Commons
Life in Giverny
Back on his feet, Monet moved to Giverny in 1883. He rented a house, the garden of which would inspire many of his paintings for the next 40 years. Monet was an avid lover of plants and became obsessed with turning the garden into a paradise in which he could paint.
As he became wealthier, he poured more money into his garden, turning it into a masterpiece.
By the time he was able to buy the house in 1890, the garden required the help of seven gardeners to maintain it. His most ambitious landscaping project was installing a massive pond in which he grew native, as well as imported, water lilies. It was this very pond, and the Japanese-style bridge over it, that would inspire all of his water lily art. He even had permanent easels put up all around the pond so that he could paint en plein air with ease.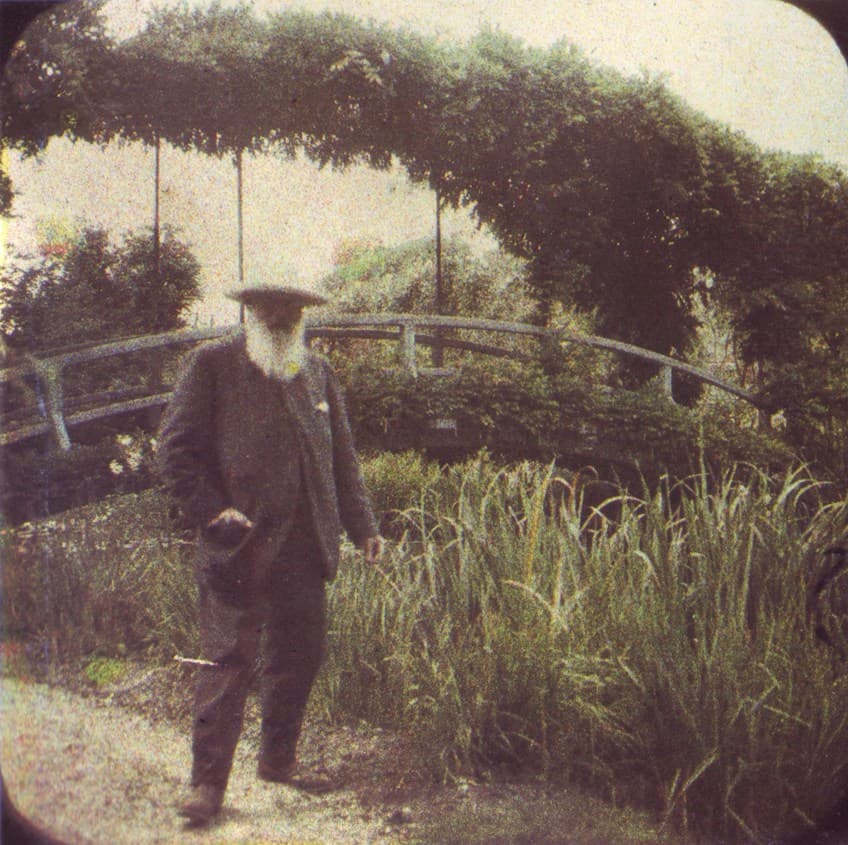 Claude Monet standing in front of his Japanese bridge in his garden at Giverny, c. 1917; Étienne Clémentel (1864-1936), Public domain, via Wikimedia Commons
Unfortunately, it did not seem that Monet's life could remain carefree for long. After the death of Ernest Hoschedé, Monet married his widow Alice, in 1892. The two were very happy together for a time. However, in 1911 she too passed away leaving the artist distraught. Three years later, his son Jean succumbed to sickness and died. The death of his loved ones took a huge toll on Monet. Jean's wife Blanche, who was Alice's daughter, moved to Giverny to care for him.
In his final years, Monet suffered from cataracts, which greatly impacted his ability to paint.
Portrait of Claude Monet by the photographer Nadar in 1899; Nadar, Public domain, via Wikimedia Commons
He destroyed many of the paintings he created during this time in later years once his sight had improved thanks to cataract surgery. In 1926, when he was 86 years old, he died of lung cancer. He was buried at the church in Giverny next to his son Jean's grave. At his funeral, Georges Clemenceau, Monet's closest friend, took the black shroud off of his coffin and replaced it with a floral one saying, "No black for Monet!"
Claude Monet's house and gardens in Giverny were left to his son Michel. In 1966, at the age of 88, Michel donated the house to the French Academy of Fine Arts. Although they became untamed for a time, they have since been restored to their original magnificence.
Fans of Monet can visit his home and see the inspiration for his water lily paintings.
The Artist's House at Giverny (1912-1913) by Claude Monet; Claude Monet, Public domain, via Wikimedia Commons
Claude Monet's Water Lilies (1926) Paintings in Context
Claude Monet was not an overnight sensation and was only considered an esteemed artist in his later years. However, in the modern day, his paintings continue to increase in value. Among these are his famous water lily paintings. Although Monet created hundreds of paintings of water lilies, the focus of this article will be the eight-paneled painting entitled Water Lilies, which is housed at the Musée de l'Orangerie in Paris.
| | |
| --- | --- |
| Artist | Claude Monet |
| Date Painted | 1926 |
| Medium | Oil on canvas |
| Genre | Landscape |
| Period/Movement | Impressionism |
| Dimensions | Eight 1,97-meter-high panels with varying lengths |
| Series | Water Lilies series |
| Where Is It housed? | Musée de l'Orangerie, Paris, France |
| What Is It worth? | Unknown |
War and Water Lilies
Claude Monet's Water Lilies series was started in 1914, during the beginning of the First World War. Although Monet's home in Giverny was not affected by the war raging in Europe, Monet was fighting his own battle at home. In the same year, his first son Jean passed away. He was still morning the loss of his second wife Alice, who had died a few years prior. The death of his loved ones had really put Monet in a bad space.
At this stage, Monet was 74 years old and one of the last remaining Impressionists.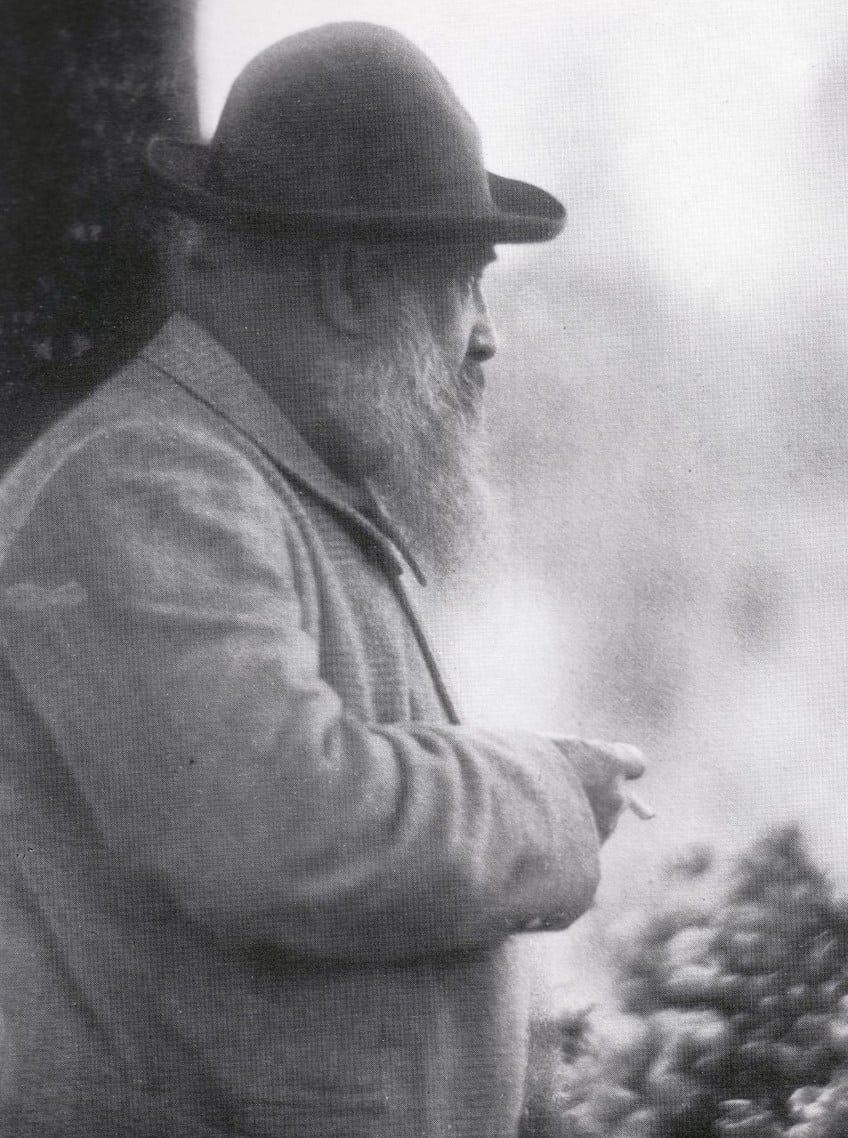 Portrait of Claude Monet, early 20th century; Bruce Tuten, CC BY 2.0, via Wikimedia Commons
Other than the deaths of his family members, he also mourned those of his friends and artistic peers, such as Cézanne and Renoir, who had already passed on. Monet felt very alone in the world because of this. The art world was no longer interested in Impressionism but more so in post-Impressionism, and the newly emerging Cubism. Many people believed that Monet was already dead at this stage and thus did not consider him relevant anymore.
In order to harness all of his pain and loneliness, Monet decided to throw himself into his art.
He decided he needed to create a series of paintings on a grand scale as his final magnum opus. Like most of his art from the last 30 years of his life, he chose to base the series on the water lilies in his pond. However, unlike many of his previous water lily art, no bank of the pond or sky is present. The viewer looks directly at the pond's surface as if immersed in it. Which was exactly what Monet intended.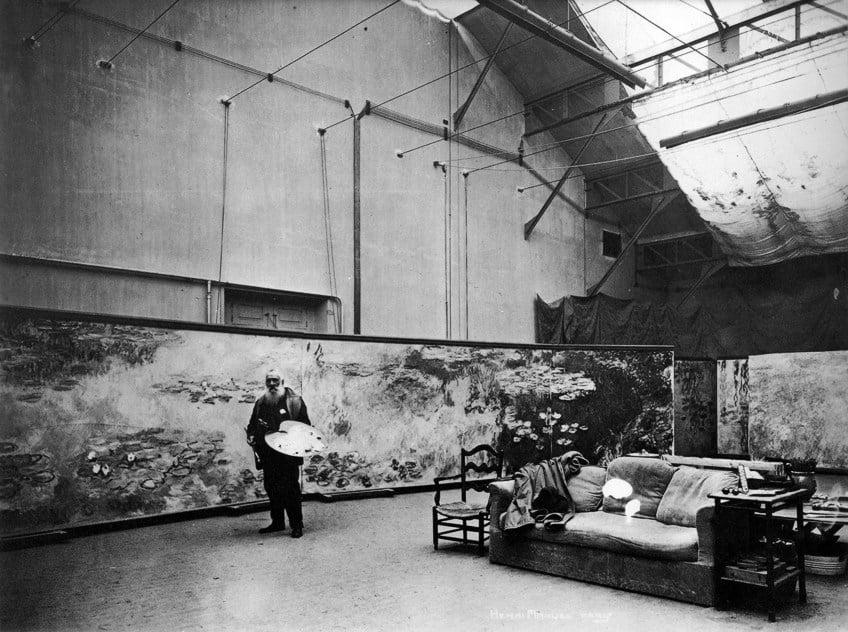 Claude Monet in his studio, standing in front of one of his Water Lilies paintings, 1920; Anonymous, Public domain, via Wikimedia Commons
In 1918, following the Armistice, Monet reached out to his close friend and politician Georges Clemenceau. He stated that he had almost completed two panels which he wanted to donate to the French government as a symbol of peace. Clemenceau urged Monet to create more than two panels in order to make a whole series of his paintings.
Two years later, it became official that Monet would donate a series of decorative panels to the state. He gave very specific instructions as to how the panels should be displayed and where they should be housed.
Monet was very reluctant to hand over his panels as completed, however. During this phase of his life, he was filled with self-doubt and continued editing, and sometimes destroying, his work long after the due date agreed upon. In fact, it was only when he died in 1926, that the panels were actually handed over to the state. They were exhibited to the public a few months later at the beginning of 1927. The eight curved panels lined the walls of two ovular rooms in the Musée de l'Orangerie, in Paris. They remain housed there to this day.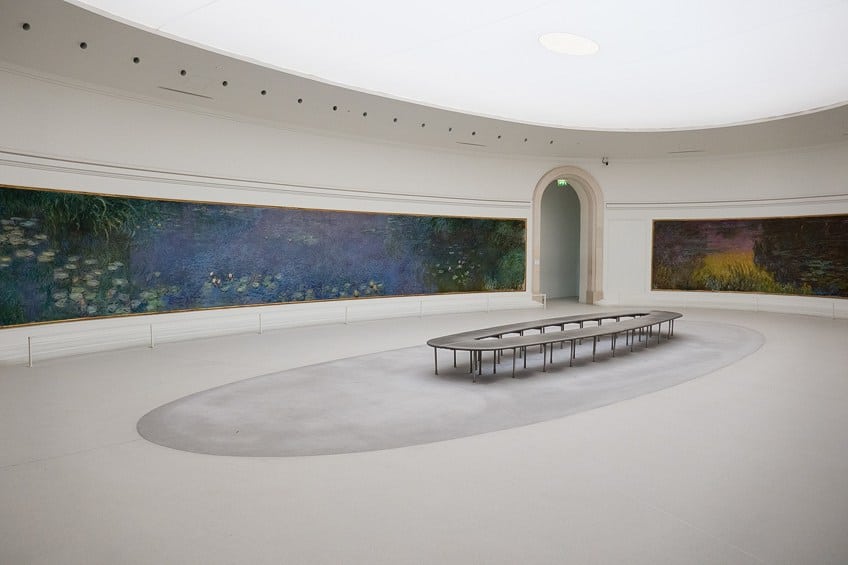 One of two rooms in the Musée de l'Orangerie containing some of Monet's Water Lilies. Pictured are The Water Lilies: Morning (left) and The Water Lilies: Setting Sun (right); Brady Brenot, CC BY-SA 4.0, via Wikimedia Commons
A Hidden Gem
Although this is one of the most revered exhibitions in the world today, upon its opening the Water Lilies series did not receive much attention from the public. The art scene had grown bored of Impressionism and had moved on to the next new thing, which was at that time Fauvism, Cubism, and Surrealism. There were even many times in which temporary walls were put around Claude Monet's Water Lilies paintings in order to showcase other works of art on top of them.
It was only in the 1950s that Monet's art became popular once more.
In 1955, the Museum of Modern Art in New York City bought and displayed one of the water lily paintings still stored in Monet's studio. This attracted many viewers and led people to start drawing comparisons between Monet's work and that of famous abstract artists of the time, such as Jackson Pollock. From this time onwards, Monet's work remained highly respected in the eyes of the public.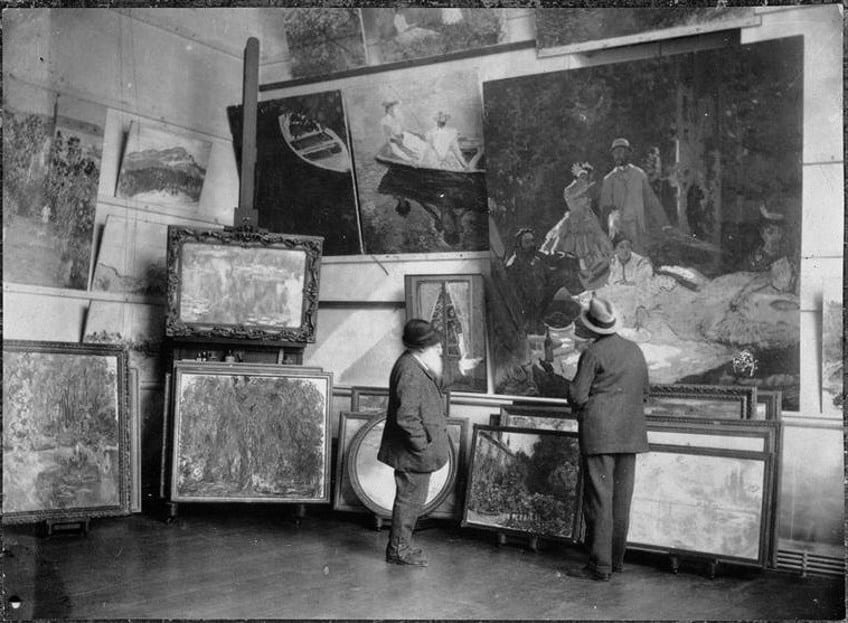 Monet and his paintings in his studio, 1920; Grand Palais, Public domain, via Wikimedia Commons
A Little Bit More About Impressionism
Monet is one of the most famous Impressionists in the world. In fact, the whole movement was named after his painting Impression, Soleil Levant. But what is Impressionism? And why was Monet so taken with it?
One of the most prominent features of Impressionism is a focus on nature. Natural scenes, such as fields, trees, rivers, etc, are captured in the majority of Impressionist paintings.
Monet was no exception to this rule. He was a nature lover and horticulture enthusiast. He spent almost all of his time either painting en plein air or gardening. Thus, one can safely say that like most Impressionists, nature was Monet's biggest muse.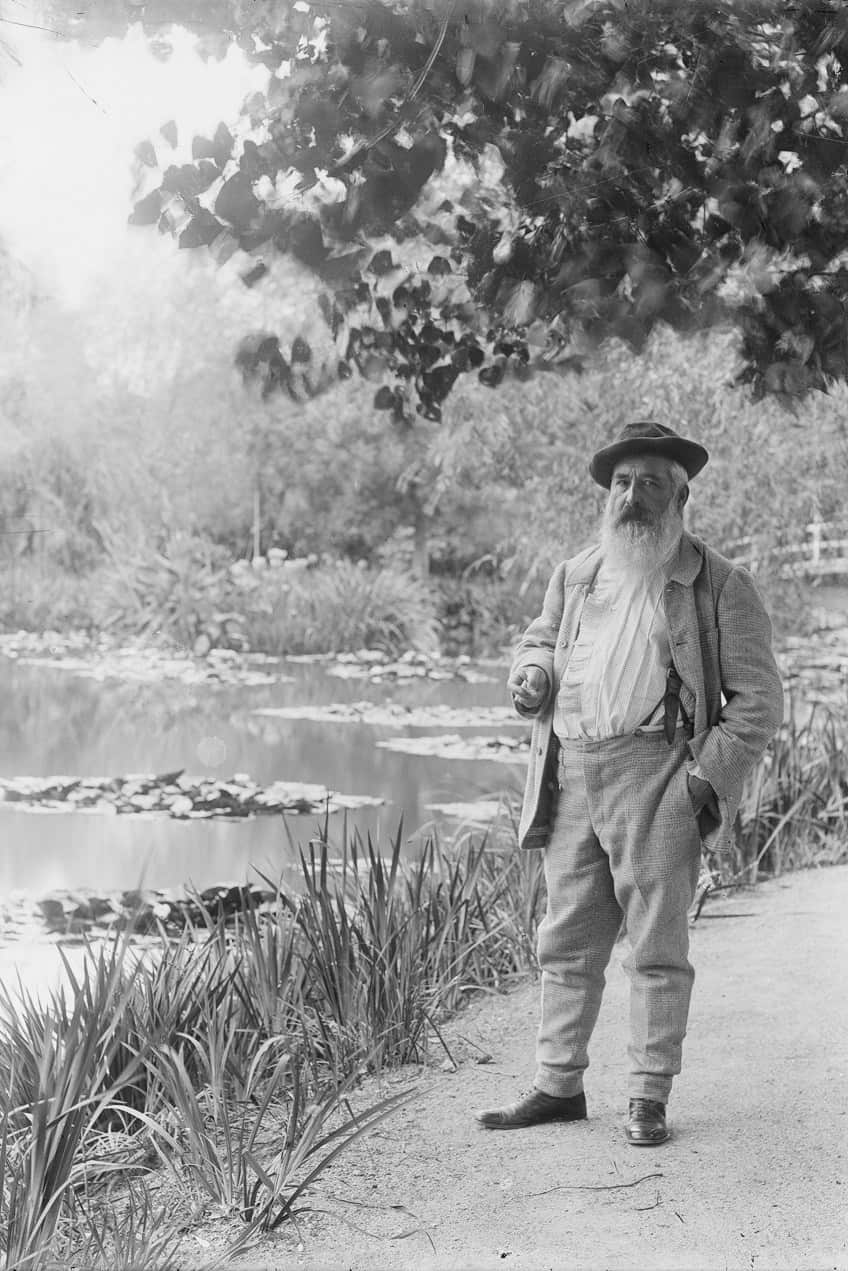 Claude Monet standing outside in his garden at Giverny, 1905; Jacques Ernest Bulloz, Public domain, via Wikimedia Commons
Another key feature of Impressionism is a desire to accurately portray natural light. Monet was fascinated by the way that the different seasons or times of day could affect the appearance of light. In order to capture these changes, he created numerous paintings of the same subject matter in different seasons and at various times of the day.
Examples of this can be seen in his collection of paintings of haystacks and water lily art.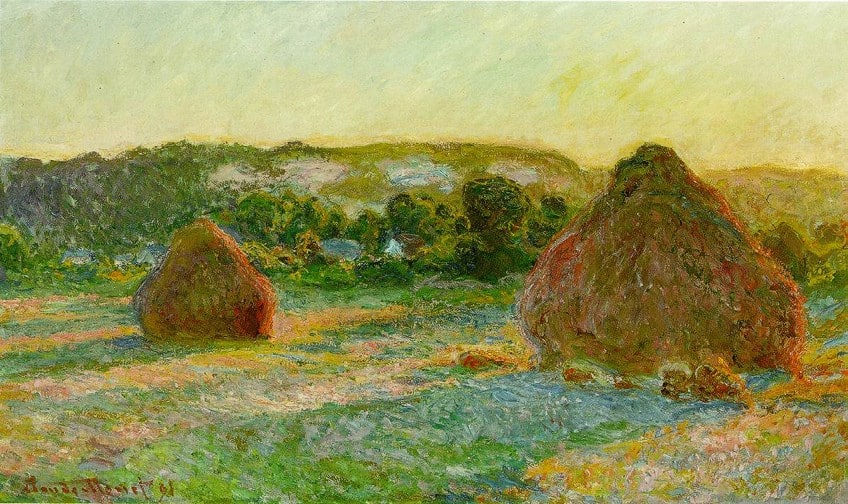 Stacks of Wheat (End of Summer) (1890-1891) by Claude Monet; Claude Monet, Public domain, via Wikimedia Commons
Finally, Impressionism was all about feeling. Monet never hesitated to put his emotions into his paintings. His 1879 painting Camille Monet on Her Deathbed, is full of emotion and grief at the passing of his first wife, and mother of his children, Camille.
He continued to paint Camille for many years after her passing in order to try to cope with her death.
In the early 1900s, after the passing of his son Jean and second wife Alice, Monet's heartbroken state was also clear through his dark color palette. It was these feelings of loneliness that encouraged him to create his Water Lilies series in the first place.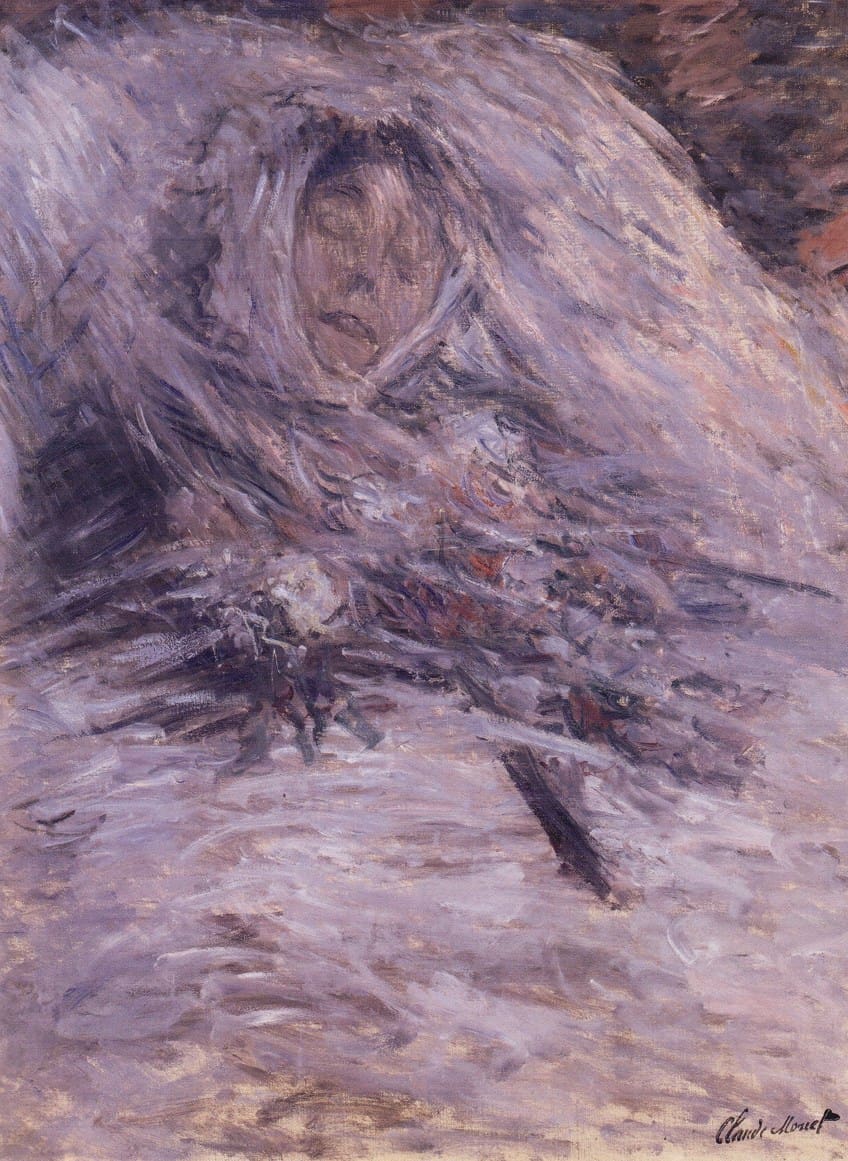 Camille Monet on Her Deathbed (1879) by Claude Monet; Claude Monet, Public domain, via Wikimedia Commons
Losing Sight
Monet had struggled with a few issues with his vision in his youth. But they had been short-lived. In the early 1900s, however, they had returned and were not as temporary as before. In 1913, Monet went on a trip to London to see an ophthalmologist about his sight.
It was determined that he had cataracts and that his sight would continue to diminish unless he had surgery.
Even though friends and doctors try to persuade him, Monet refused to go through with the cataract surgery. He was terrified that something would go wrong and he would lose his sight completely, much like fellow Impressionist, Mary Cassatt. Thus, as time passed, his vision began to worsen. This had a profound impact on his ability to paint, which was notable in his artwork. He struggled particularly with perceiving the correct hues of colors. Thus, the works he created during this time are a lot darker and more abstract.
Adamant not to go through with the surgery, Monet had to try to find ways of adapting to his impairment. Firstly, he made sure to label his paints with their exact tone. He then meticulously kept these in order so that he would know exactly which color he was using. Secondly, when painting en plein air, as he so loved to do, he always made sure to wear a hat with a wide brim in order to block the glare of the sun.
Finally, during this time, Monet often had to fill in the finer details using his imagination, as he could not actually see them. This gave a more abstract look to his paintings. In 1923, Monet finally conceded to cataract surgery. Over the next year or two, his eyesight began to improve dramatically. Although this did wonders for his ability to paint, it also allowed him to see the imperfections he could not see before. For this reason, he destroyed many of the paintings he had created before undergoing surgery. Those he did not destroy he would spend hours editing and changing.
Although Monet was unhappy with the paintings he created pre-surgery, many have credited them as a forerunner and inspiration for the Abstract art movement.
Formal Analysis: A Brief Compositional Overview
This section of the article will take a closer look at the actual paintings in Claude Monet's Water Lilies series. In order to do this, the subject matter, color and light, perspective and space, and symbolism and style will be explored.
Subject Matter
Monet's famous water lily paintings have the ability to entrance audiences. They are so beautiful and have an air of mystery and intrigue surrounding them. Thus, in order to allow the reader to understand Monet's fascination with water lilies a few questions will first be answered.
How many water lilies did Monet paint? Monet painted close to 300 paintings of water lilies, which is why it can be quite confusing when someone refers to "Monet's water lilies". However, some of his most famous water lilies are those from his series entitled Water Lilies, which constitutes eight curved panels that form one continuous loop.
During the last three decades of his life, Monet was consumed by painting water lilies, which is why there are so many with this subject matter.
Where did Monet paint his Water Lilies paintings? Right in his back garden, in fact!. Monet was an ambitious gardener and avid horticulturalists. He wished to create a beautiful landscape that could inspire his art without him having to leave his home. Although he had created gardens for his art before, none were quite so impressive as those at his home in Giverny.
Here, he took on the colossal task of building his water garden, which he filled with every variety of water lily he could get his hands on.
Finally, why did Monet paint water lilies? Of all the flora in his impressive garden, why was Monet so taken with these aquatic plants? The reason is mainly due to the water itself, rather than the actual lilies. He loved the way that light, clouds, and trees were reflected on the pond's surface. This created another dimension in which the sky and the ground were merged as one, anchored by clusters of water lilies.
Water Lilies (1917-1919) by Claude Monet; Claude Monet, Public domain, via Wikimedia Commons
Color and Light
Monet never shied away from color. Even his most pastel shades were never insipid and could draw the eye straight to them. In his eight-paneled Water Lilies series, one can see the strong command over color that he possessed. The series shows a progression of time, and thus various lighting such as in Water Lilies – Morning (1926) and The Water Lilies – Setting Sun (1926).
The two panels are complete opposites in terms of color palettes, with the former containing soft shades of blue and green, and the latter containing a mix of dark hues contrasted with sunset tones.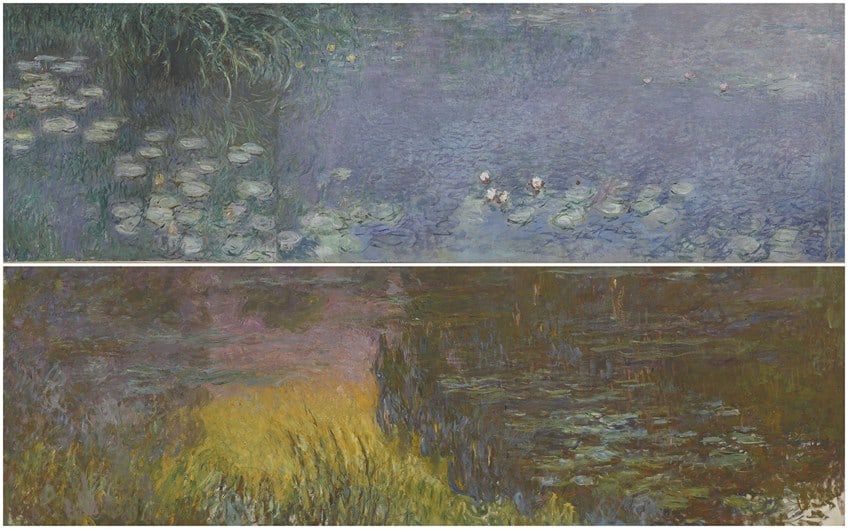 TOP: Water Lilies – Morning (1926) by Claude Monet; Claude Monet, Public domain, via Wikimedia Commons | BOTTOM: The Water Lilies – Setting Sun (1926) by Claude Monet; Claude Monet, Public domain, via Wikimedia Commons
Although each panel displays its own lighting and colors, they somehow blend seamlessly with one another. Monet blends the colors together as effortlessly as they change in nature. This incredible understanding of light and color was achieved after making countless studies of the same subject matter in a variety of lighting.
It is clear by looking at the accuracy of lighting and color in his works as to why Monet is considered one of the masters of painting.
Perspective and Space
One of the clearest evolutions one can see in Monet's water lily paintings is a change in perspective. The first paintings he completed of water lilies often contain the bank of the pond or his famous Japanese-style bridge in order to give space and perspective. However, over time, he slowly zoomed into the water's surface until there was no longer a clear background or foreground.
Monet's decision to remove these orientating landmarks was completely intentional. He wanted the viewer to be immersed in the painting.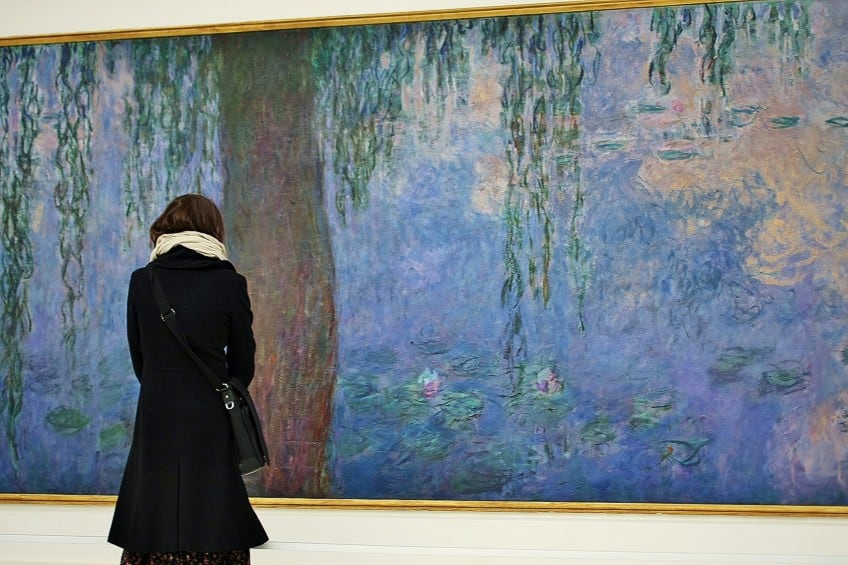 A person viewing Monet's Water Lilies at the Musée de l'Orangerie; Adrian Scottow from London, England, CC BY-SA 2.0, via Wikimedia Commons
This is particularly the case with his Water Lilies series at the Musée de l'Orangerie. The large-scale panels make the pond appear life-sized so that the viewer feels as though they are in the water amongst the lilies. One stares simultaneously at the reflections cast on the water's surface, as well as into the depths of the pond. The water lilies are the only way in which the viewer can orientate themselves.
Symbolism and Style
There is a great deal of symbolism in Monet's Water Lilies series, much of which is aided by its style. Firstly, Monet wished to portray an endless loop of time, progressing from morning to sunset. The curved shape of the panels, which line the two ovular rooms, helps to achieve this perception.
The two rooms were constructed in such a way, as per Monet's wishes, that they form an infinity sign. Thus, further reinforcing the idea of a continuum.
TOP: Four of Claude Monet's Water Lilies in the Musée de L'Orangerie in Paris. From left to right, The Water Lilies: Morning, The Water Lilies: Setting Sun, The Water Lilies: The Clouds, and The Water Lilies: Green Reflections; Brady Brenot, CC BY-SA 4.0, via Wikimedia Commons | BOTTOM: Four of Claude Monet's Water Lilies in the Musée de L'Orangerie in Paris. From left to right, The Water Lilies: Clear Morning with Willows, The Water Lilies: Trees Reflections, and The Water Lilies: Morning with Willows; Brady Brenot, CC BY-SA 4.0, via Wikimedia Commons
As mentioned above, Monet blurred the lines between heaven and earth in his water lily art. This was in order to bring the elements together. Monet was a huge fan of Japanese art and philosophy, thus harmony of the elements highly appealed to him. The Water Lilies series was intended to create tranquil imagery of sky and water, which would inspire meditation. Although he often became frustrated with his paintings, they were Monet's form of meditation.
Although they were not appreciated when they were first exhibited to the public, the world has opened its eyes to the beauty of Claude Monet's "Water Lilies" paintings. His famous water lily paintings draw tourists to galleries all over the world and encourage collectors to spend millions of dollars to possess them. This article showcased just a small portion of Monet's incredible body of work. If you enjoyed what you read, we encourage you to explore some more.
Take a look at our Monet Water Lilies webstory here!
Frequently Asked Questions
How Many Water Lilies Did Monet Paint?
Monet was obsessed with catching everyday subject matters in every light possible. For this reason, he created multiple paintings of the same subjects at various times of day, as well as at different times of the year. This can be seen in his plethora of water lily paintings, of which there are almost 300.
Why Did Monet Paint Water Lilies?
Monet loved to garden; it was his second favorite creative outlet, after painting. He spent a great deal of time and money diverting a nearby stream in order to build a pond in his garden. He then filled this pond with local and imported water lilies in a variety of colors. It was his pride and joy, as well as his subject of meditation. The beauty of the water lilies and the reflections of the sky in his pond inspired him to paint ceaselessly in order to immortalize them.
Where Did Monet Paint Water Lilies (1926)?
In 1883, Monet rented a house in the village of Giverny, that he would later buy, in 1890. At this home, Monet took on landscaping projects of epic proportions. One such project was building a gigantic water garden in which he grew hundreds of water lilies. It is these multicolored lilies that inspired Monet's paintings.
Emma completed her Bachelor's Degree in International Studies at the University of Stellenbosch. She majored in French, Political Science, and History. She graduated cum laude with a Postgraduate Diploma in Intercultural Communication. However, with all of these diverse interests, she became confused about what occupation to pursue. While exploring career options Emma interned at a nonprofit organization as a social media manager and content creator. This confirmed what she had always known deep down, that writing was her true passion.
Growing up, Emma was exposed to the world of art at an early age thanks to her artist father. As she grew older her interests in art and history collided and she spent hours pouring over artists' biographies and books about art movements. Primitivism, Art Nouveau, and Surrealism are some of her favorite art movements. By joining the Art in Context team, she has set foot on a career path that has allowed her to explore all of her interests in a creative and dynamic way.
Learn more about the Art in Context Team.