Andy Warhol – A Look at the Life and Pop Art Paintings of Andy Warhol
Before Andy Warhol's artworks were featured in galleries, he was already a highly prolific commercial illustrator. Andy Warhol's paintings of household brand objects and celebrities have pushed him into the upper echelons of the world of Pop art paintings. What is Andy Warhol's net worth and how did he become so well-known around the world? We will discover the answer to these questions as well as many more fascinating facts in our in-depth Andy Warhol biography and artworks sections.
An Andy Warhol Biography
| | |
| --- | --- |
| Nationality | American |
| Date of Birth | 6 August 1928 |
| Date of Death | 22 February 1987 |
| Place of Birth | Pittsburgh, Pennsylvania |
Andy Warhol's artworks from his time working as a commercial illustrator have lately been recognized as the initial works where he first learned to influence public tastes. His drawings during this time were typically comical, ornamental, and quirky, in contrast to the cold and mechanical spirit of his Pop art paintings. He rose from the squalor and uncertainty of an Eastern European expatriate household in Pittsburgh to become a captivating beacon for counterculture New York and, eventually, a position in high society.
Many saw Andy Warhol's rise as echoing one of Pop art's aspirations: to bring prevalent aesthetics and topics into the elite galleries of fine art. His finest success was elevating his own image to the realm of public icon, symbolizing a new degree of renown and popularity for the great artist.
Childhood
Andy Warhola was born in the Pittsburgh region to a migrant family originally from Czechoslovakia. Warhola was a clever and artistic youth as a child. His mother, an amateur painter herself, supported his creative inclinations by buying him his first camera when he was nine years old. He was reported to suffer from a mental condition that confined him to his house for extended periods, and in all those moments, he listened to the radio and surrounded himself with imagery of Hollywood celebrities.
This early introduction to current events, he subsequently stated, inspired his fixation with pop culture and celebrities.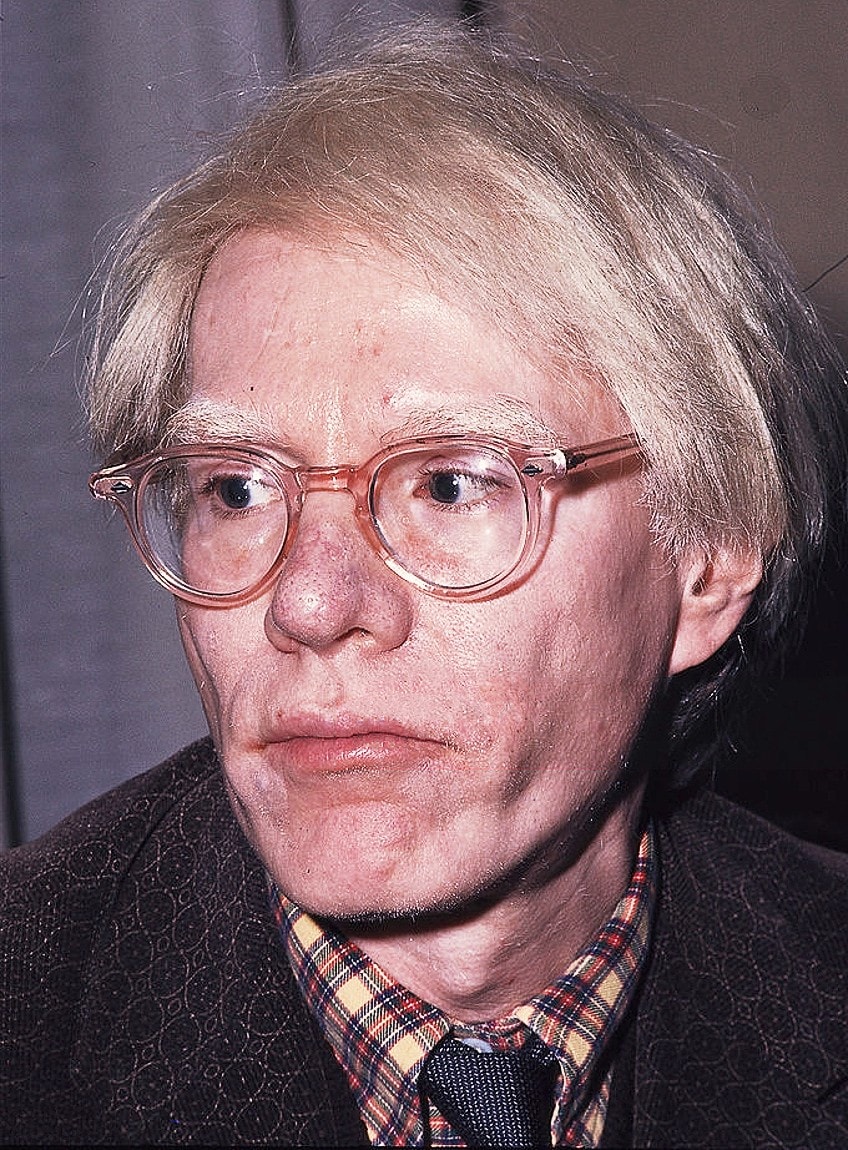 Photographic portrait of the American artist Andy Warhol at his exhibition dedicated to Black transvestites in the US. Ferrara, November 1975; Unknown (Mondadori Publishers), Public domain, via Wikimedia Commons
When Warhol was 14 years of age, his father died, designating the family funds to be used exclusively for further education for one of the brothers. The family thought that Warhola would gain the most benefit from college instruction.
Early Training
After graduating from high school at the age of 16, Warhol enrolled at Carnegie Mellon University, where he received formal training in visual design. Soon after graduating, in 1949, he moved to New York City to work as a commercial artist. His first job was for Glamour magazine, where he penned an article titled "Success is a Job in New York."
Throughout the 1950s, Warhol maintained a profitable commercial illustration career, working for magazines such as "Vogue", and "The New Yorker".
Photograph of Andy Warhol in New York in 1950; [1], Public domain, via Wikimedia Commons
Andy Warhol modified his surname from Warhola to Warhol at the beginning of the 1950s and chose to break out on his own as a professional artist. His corporate art knowledge and skills, mixed with his involvement in American pop society, impacted his most noteworthy works. Warhol took note of new rising artists, particularly Jasper Johns and Robert Rauschenberg, whose work motivated him to broaden his own artistic exploration.
Warhol began utilizing advertising and comic panels in his artworks in 1960. These early Pop art pieces were distinguished by more emotive and artistic techniques, with clearly discernible brushstrokes.
These techniques were also said to have been inspired by Abstract Expressionism. Nonetheless, his subsequent pieces, such as Brillo Boxes (1964), would show a strong reaction against Abstract Expressionism by eliminating virtually all evidence of the artist's handiwork.
Mature Period
He started his most productive phase in September 1960, after relocating to a home in Manhattan. He had no designated workshop environment in his previous home environment, yet now there was ample space to work. Keeping with the topic of commercials and comic strips, Andy Warhol's paintings in the early 1960s were mostly based on graphic imagery from news materials and graphic arts. Painting freehand, he would then trace the picture with paint straight onto the canvas, without the need for a pencil drawing below. As a consequence, Warhol's early 1961 pieces are often more painterly.
In 1961, he started working on the famous Campbell's Soup Can pieces. The series used a variety of processes, but the bulk was made by projecting reference photos onto canvases, reproducing them with a lead pencil, and afterward, he would paint over them.
With this method, Warhol was able to conceal the majority of the artist's touch. In 1962, Warhol began experimenting with silk screening. Producing a picture onto a porous screen, then adding paint or inks using a rubber sponge, was the stencil method.
This was another method of creating while erasing signs of his hand; similar to the stencil procedures he used to make the Campbell's Soup Can pictures, this also allowed him to replicate the theme numerous times over the same visual, generating a serial image reminiscent of mass manufacturing. Usually, he would begin the piece by applying a layer of color that would match the stenciled image once it was complete.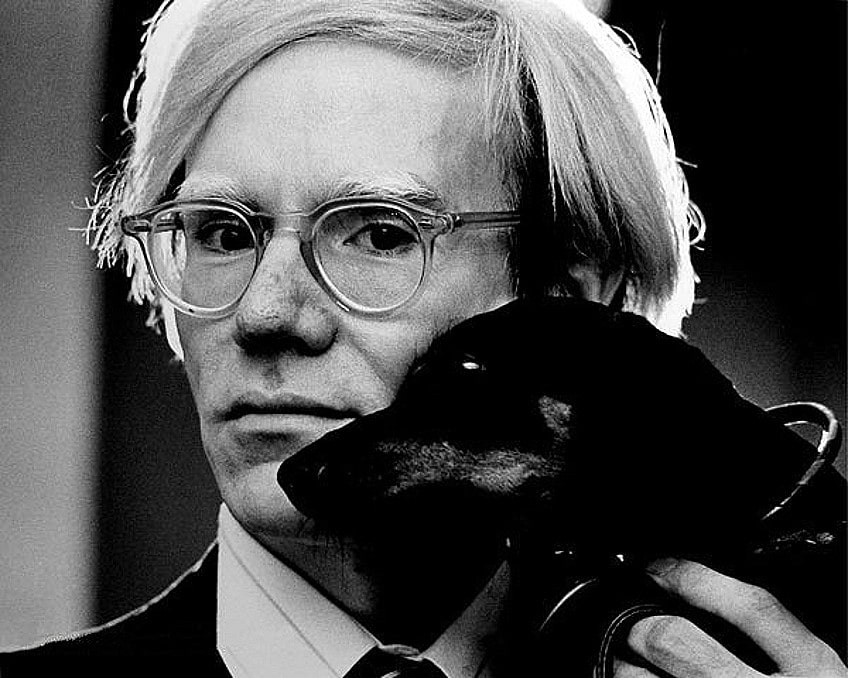 Photograph of Andy Warhol with Archie, his pet dachshund, taken in 1973; Jack Mitchell, CC BY-SA 4.0, via Wikimedia Commons
His earliest silkscreened artworks were modeled on both the front and back sides of banknotes, and he continued to use this process to produce several series of pictures of other consumer products and commercial things. Freight and processing labels, soda bottles, coffee container stickers, soapbox labels, and autos were all represented by him. Beginning in the fall of 1962, he began to create photo-silkscreen pieces, which entailed copying a photograph onto porous silkscreens.
Baseball (1962) would be his first, and many that followed frequently used commonplace or startling images taken from tabloid newspaper pictures of automobile collisions and civil rights demonstrations, cash, and consumer home items. In 1964, Warhol relocated to what he nicknamed "The Factory." Because he had gained some fame as an artist by this point, he was able to recruit many workers to assist him in completing his work.
He could now more definitely remove his hand from the canvas and generate monotonous, mass-produced pieces that seemed devoid of value and asked the question, "What defines art?" This was a notion initially proposed by Warhol's hero, Marcel Duchamp.
Warhol had a longstanding interest in Hollywood, as seen by his classic pictures of Elizabeth Taylor and Marilyn Monroe. He also dabbled in installations, most notably when he reproduced Brillo boxes in their original dimensions and then screen printed their label designs onto slabs of plywood.
Warhol started to work with cinema in 1963 in order to maintain his exploration of other mediums. Two years later, during a tour for an exhibition of his paintings, he announced that he would stop painting to focus only on movies.
Although he never fully realized his vision, he did make several films, the majority of which starred the Warholstars, an eclectic and varied group of individuals who attended The Factory and were recognized for their unusual lifestyle.
In 1967, he also created a concept called The Exploding Plastic Inevitable (EPI). The EPI was a multi-media event that combined The Velvet Underground music group with displays of film, lighting, and dancers, ending in a sensual theatrical encounter. Warhol had been self-publishing creator's publications since the 1950s, but Andy Warhol's Index, his debut mass-produced volume, was released in 1967. He went on to write numerous additional books and, in 1969, he co-founded Interview magazine with his colleague Gerard Malanga.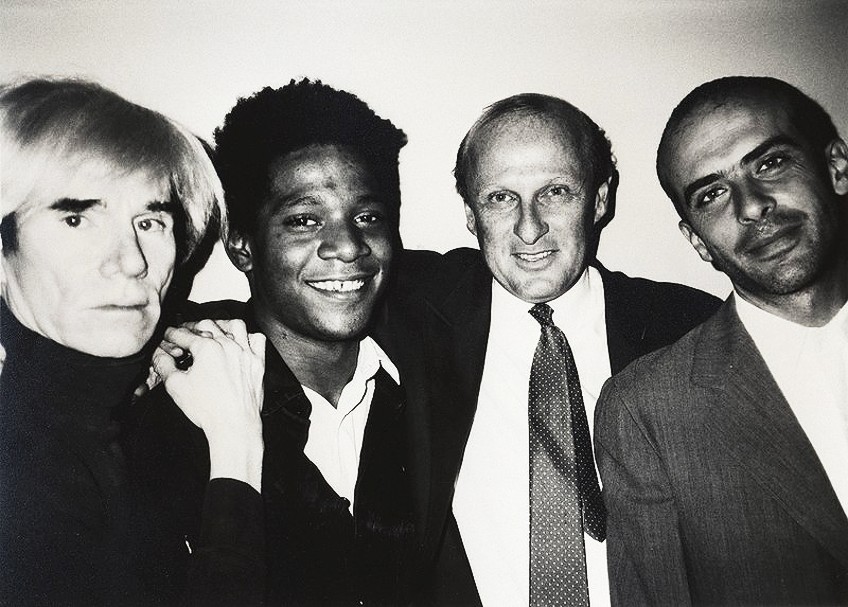 Photograph of Andy Warhol, Jean-Michel Basquiat, Bruno Bischofberger, and Fransesco Clemente in New York, 1984; Galerie Bruno Bischofberger, CC BY-SA 4.0, via Wikimedia Commons
The magazine, which is devoted to celebrities, is still in print today. This signaled the end of The Factory scene in the 1960s. Warhol thereafter sought company in New York's upper crust, and for most of the 1970s, Andy Warhol's artworks consisted primarily of contracted portraits produced from printed Polaroid images. The most noteworthy exception is his renowned Mao series, which was created as a response to President Richard Nixon's trip to China.
Without the glitter and market appeal of his early pictures, critics perceived Warhol as selling out his creative genius, and this later phase was considered a period of decline. Warhol, on the other hand, considered financial achievement as an essential objective. He had successfully transitioned from graphic designer to corporate artist at this point.
Late Years and Death
Andy Warhol's paintings returned in the late 1970s and early 1980s, producing pieces that occasionally bordered on abstraction. His Oxidation Painting sequence, created by peeing on a canvas of copper paint, reflected the Abstract Expressionists' immediacy and the raw energy of Jackson Pollock's drip works.
In his later years, Warhol resorted to religious themes; his depiction of "The Last Supper" by Leonardo da Vinci is particularly well-known.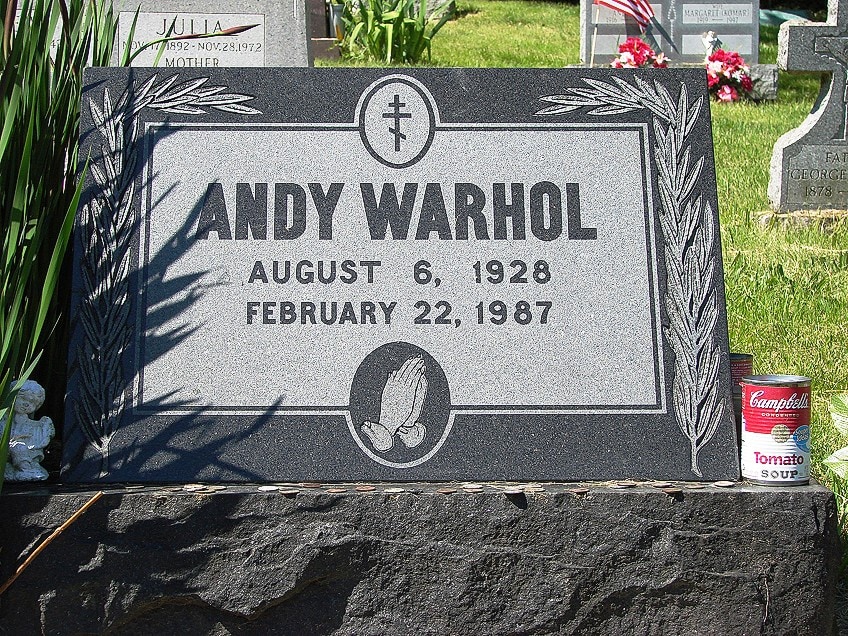 Gravestone of Andy Warhol at the St. John the Baptist Byzantine Catholic Cemetery, Pittsburgh; Allie Caulfield, CC BY 2.0, via Wikimedia Commons
Warhol combined the holy with the profane in these pieces by contrasting oversized logos of businesses against pictures of Christ and his Apostles. Warhol passed away on the 22nd of February, 1987, at the age of 58, as a result of postoperative problems after a regular gall bladder treatment. He was buried in his birthplace of Pittsburgh. Moreover, 2,000 individuals joined Warhol's ceremony at St. Patrick's Cathedral.
Legacy
Warhol exploited popular culture and corporate methods to create art that resonated with a broad audience, rejecting the utopian ideas and intimate feelings represented through abstraction. He was a founding father of the Pop art genre, elaborating on Duchamp's views by attacking the basic meaning of art.
His creative risks and persistent innovation with topics and media established him as a forerunner in nearly all areas of visual art. His unique sense of fashion, celebrity, and company aided him in achieving the mega-star stature he desired.
In 1994, the Andy Warhol Museum in Pittsburgh, Pennsylvania, opened, containing a substantial collection of Andy Warhol's paintings. Much controversy still accompanies the renowned screen-printed pictures that helped Warhol establish himself as a Pop painter in the early 1960s. His Death and Disaster series, as well as his Marilyn images, are viewed by many as genuine displays of his anguish amid public events. On the other hand, others regard them as early signs of "compassion weariness," or the populace's reduced ability to sympathize with circumstances that are far from them.
Others consider his photos as screens, placed between us and heinous events to capture and process trauma. Although artists have leaned on pop culture all through the 20th century, Pop art paintings represented a significant new stage in the separation of lower and higher art forms.
Andy Warhol's artworks from the early 1960s were essential in initiating these advancements, but it is debatable that his subsequent practices were as impactful in broadening the repercussions of Pop art paintings into other spheres and then further decimating the boundaries between the realms of high craftsmanship and prevalent culture.
Despite the fact that Warhol continued to produce paintings on an intermittent basis during his career, he "retreated" from the medium in 1965 to concentrate on making experimental films. These pictures have recently garnered international prominence due to years of isolation, and Warhol is now recognized as one of the century's most significant directors, a founding father of indie cinema. Critics have usually considered Warhol's career as declining after he was attacked by Valerie Solanas in 1968.
They have prioritized his early works over the things that occupied his focus in later years, such as partying, collection, publishing, and creating contracted portraits. However, others have come to believe that all of Warhol's initiatives constitute his most important legacy since they foreshadow the many hobbies, occupations, and initiatives that engage artists today.
Andy Warhol's Artworks
By the early 1960s, Pop art was regarded as an innovative genre that various artists were embracing separately; some of these forefathers would later become identified with the trend. Warhol adopted this new approach, in which common topics may be included in the artist's palette. He built his subsequent style and topics from these origins. Instead of focusing on a distinctive subject matter, as he began to do, he focused on a unique style, gradually removing the handcrafted from the artistic approach.
Coca-Cola 3 (1962)
| | |
| --- | --- |
| Date Completed | 1962 |
| Medium | Casein on Cotton |
| Dimensions | 176 cm x 137 cm |
| Current Location | Private Collection |
"I just create things that I've always thought were lovely, things that you use every day and don't think about." Warhol's remark encapsulates his approach; his artworks place everyday objects front and center. This is true of the hand-painted image of a soda bottle.
Another challenge to Abstract Expressionism's dominance, Warhol's "Coca-Cola" is the same size as many of the famous canvases of the period but lacks abstractions.
However, there are also additional parallels. Coca-Cola, like the iconic Stations of the Cross series of paintings by Barnett Newman, is composed of a massive, black mass on a white background. The bottle screams at the spectator, seeking the type of attention Motherwell's deep canvases got – yet irony reigns supreme.
Gold Marilyn Monroe (1962)
| | |
| --- | --- |
| Date Completed | 1962 |
| Medium | Silkscreen |
| Dimensions | 211 cm x 145 cm |
| Current Location | Museum of Modern Art |
Marilyn Monroe's life, profession, and grief became a national preoccupation after her early demise from overdosing on sleeping pills in August 1962. Warhol, who was obsessed with celebrity and pop culture, got a black-and-white promotional photograph of her and utilized it to produce multiple series of pictures.
All of the "Marilyn" artworks shared the premise that Monroe's picture was duplicated over and over again, much as it was published in newspapers and publications at the time.
After seeing dozens or hundreds of such photographs, a spectator no longer sees a person portrayed, but is instead left with a symbol of popular, commercial culture. The image was transformed into another cereal box on the shop aisle, one of the hundreds of identical boxes. Warhol expands on the notion of iconography in Gold Marilyn Monroe by putting Marilyn's visage on a very huge golden-colored background.
The background is evocative of Byzantine religious icons, which are still the focal point of Orthodox beliefs today. Instead of a deity, we see a picture, which gets a little gaudy upon closer scrutiny, of a lady who rose to renown and died in a terrible catastrophe.
Warhol's work quietly criticizes our society's elevation of superstars to the realm of the holy. Again, the Pop artist used everyday items and imagery to provide highly specific insights into the values and environment of his contemporaries.
Sleep (1963)
| | |
| --- | --- |
| Date Completed | 1963 |
| Medium | Black and White Film |
| Dimensions | 16mm |
| Current Location | Museum of Modern Art |
During an era of incredible inventiveness in the early 1960s, Warhol proceeded to disrupt the status quo using a different medium, cinema. Approximately the course of his career, Warhol produced over 650 films on a wide range of themes. His films were praised by the world of art, and their impact can still be recognized in performing arts and experimental cinema. Tilda Swinton performed in an art installation at the Museum of Modern Art (MoMA) in 2013 in which she slept in a glass cage, while writer, actor, and filmmaker Lena Dunham recently voiced her wish to duplicate Sleep, but with herself as the focus.
"Sleep" is one of the creator's first works and his first effort into experiential filmmaking, which became one of his trademarks. This six-hour film delves into John Giorno's sleeping habits, who at the time was Warhol's boyfriend.
The audience sees Giorno via Warhol's eyes, with a strip of Giorno's bare torso in every scene. Although it appears to be a continuous sequence of pictures, it is really rolls of film overlaid and spliced together and looped. Warhol's work was centered on repetition, as well as his obsession with the banal.
Everyone requires sleep, and Warhol has once again converted commonplace into creative expression.
In the chronology of Warhol's films, Empire and Eat (1965) followed Sleep. Empire is an eight-hour documentary about the Empire State Building at sunset, while Eat is a 45-minute short about a person consuming a mushroom. Warhol's topics were as varied as his filmography, delving deeper into more overt aspects such as homosexual culture.
Orange Car Crash Fourteen Times (1963)
| | |
| --- | --- |
| Date Completed | 1963 |
| Medium | Silkscreen |
| Dimensions | 269 cm x 417 cm |
| Current Location | Museum of Modern Art |
Orange Car Crash is part of Warhol's series, which occupied most of his time at the time. He would often utilize horrible and violent photos from daily newspapers and replicate them across the canvas using the photo-silkscreening process. The image's repetition, fragmentation, and deterioration are vital not only in producing the impact of the images but also in sanitizing the image.
When a spectator sees the violent photo for the first time, he or she is left distressed and scared, however, seeing that photo replicated over and over again weakens the image's potency, as the sight of tragedy becomes another mass-market image.
Art critic Christopher Knight has presented an alternative way to approach this and other pieces from Warhol's Death and Disaster series. The automobile collision shown is strikingly similar to the photograph of Jackson Pollock's death in a car incident on Long Island in 1956.
Warhol is telling spectators that Abstract Expressionism is no longer alive and well. So perhaps Warhol was less concerned with popular art and more involved in offering very precise and exclusive art world comments. Likewise, in Warhol's Electric Chair series, there is a "Silence" sign at the rear of the shown electrocution room, which Warhol associates with John Cage's modernist works with sounds.
Furthermore, Warhol's "Race Riot" series is a reaction to contemporary painters such as Robert Rauschenberg, Jackson Pollock, Ad Reinhardt, and Frank Stella's numerous iconic abstract works called Black Series.
Brillo Boxes (1964)
| | |
| --- | --- |
| Date Completed | 1964 |
| Medium | Silkscreen |
| Dimensions | 43 cm x 43 cm x 35 cm |
| Current Location | Museum of Modern Art |
Using the silkscreen process again, but this time on plywood, Warhol provided the viewer with accurate duplicates of everyday items seen in homes and stores. This time, his artworks are stackable; they are sculptures that can be stacked in a variety of ways in the gallery – yet each box is identical; one is no better than the other.
Rather than the sequence of slightly varied paintings that many great painters have created (think Monet's haystacks or cathedrals), Warhol emphasizes that these things are all the same and (in his opinion) wonderful!
Making these objects in his "factory," Warhol mocks (or wonderfully stimulates) the art world and the artist-creator once more. Warhol had a special attachment to Brillo Boxes. Warhol was born in Pittsburg, a steel city that was once affluent but is now in a state of disarray. Brillo is steel wool, a substance commonly used by women to keep their magnificent American homes' kitchenware gleaming.
Did Warhol appreciate the product itself, or did he find the retail displays ludicrous, or did he love the juxtaposition of steel and wool in one welcoming package as a homosexual man?
Campbell's Soup 1 (1968)
| | |
| --- | --- |
| Date Completed | 1968 |
| Medium | Screenprint |
| Dimensions | 89 cm x 58 cm |
| Current Location | Multiple Prints in Museums and Galleries |
By the 1960s, the New York art industry had settled into a rut, and the highly unique and sought-after paintings of the Abstract Expressionists had grown cliché. Warhol was one of the painters who believed it was his purpose to reintegrate graphics into his works. Muriel Latow, the gallerist, and interior designer recommended to Warhol that he paint items that people use every day, which led to the concept of painting soup cans.
From 1962 through 1964, he created the famous soup tins, Brillo boxes, and soda bottles.
He started his work in consumer commercial design and went on to become a huge success. He used his trade expertise to develop a picture that is both immediately identifiable and aesthetically interesting. Consumer products and commercial images were flooding Americans' lives with the wealth of the time, and Warhol set out to gently replicate that abundance using pictures seen in advertising.
He replicated the sense of being in a store on canvas. As a result, Warhol is credited for conceptualizing a new style of art that exalted (and yet critiqued) the purchasing tendencies of his peers and current customers.
Mao (1973)
| | |
| --- | --- |
| Date Completed | 1973 |
| Medium | Silkscreen |
| Dimensions | 43 cm x 43 cm x 35 cm |
| Current Location | Art Institute of Chicago |
In this portrait of Mao Zedong, Warhol blends paint and silkscreen, part of a series he developed in response to President Richard Nixon's 1972 trip to China. Warhol used a black-and-white photograph of Mao from his Little Red Book to make hundreds of paintings depicting the authoritarian ruler in various sizes.
Some of these artworks are massive in scale, representing the domineering character of Mao's authority over China, as well as the incredible cult of personality Mao possessed.
This gigantic scale is also reminiscent of the towering propagandistic images seen throughout China and during the Cultural Revolution. However, by generating hundreds of identical photos and arranging them on the wall, Warhol transformed the imagery of Mao into a supermarket commodity, similar to Coca-Cola bottles arranged on the shelves. Warhol's Mao is now a consumer commodity, a fundamental tenet of capitalism – or the precise concept that communists oppose.
Warhol takes it a step further. The graffiti-like splashes of color, the scarlet rouge, and blue eye shadow essentially "de-face" Mao's picture – an act of defiance against the Communist disinformation campaign by leveraging its own lauded image against itself.
As a further joke, Warhol utilizes Modernist art tropes such as expressive brushstrokes around Mao's face. The brushstrokes are a symbol of personal expression and creative freedom – the same concepts that Mao's Cultural Revolution opposed.
Oxidation Painting (1978)
| | |
| --- | --- |
| Date Completed | 1978 |
| Medium | Metallic Pigment on Canvas |
| Dimensions | 193 cm x 132 cm |
| Current Location | Museum of Fine Arts |
Oxidation Painting, produced late in Warhol's tenure, is one of a series of artworks made by the creator alone, or with a number of his friends, by peeing on a canvas of copper paint that was spread horizontally on the floor and then leaving the outcome to oxidize.
The end effect was a metallic sheen with a stunning depth of texture and color, evocative of the work of Abstract Expressionists like Jackson Pollock.
Warhol put a lot of thought and design into these pieces, and he is cited as remarking, "These paintings have technique, too. If I asked someone to produce an Oxidation painting and they didn't think about it, the result would be a shambles. Then I made it myself, which is a lot of effort, and you attempt to figure out a nice design."
Rorschach (1984)
| | |
| --- | --- |
| Date Completed | 1984 |
| Medium | Synthetic Polymer on Canvas |
| Dimensions | 417 cm x 292 cm |
| Current Location | Museum of Modern Art |
Although Warhol's early work signaled a significant split with Abstract Expressionism, he continued showing interest in abstraction throughout his life, and in 1984, channeled his thoughts into his huge series of Rorschach artworks. They were influenced by the Rorschach test, which was developed by Swiss psychologist Hermann Rorschach. The test demands patients to describe what they see in a series of 10 standardized inkblots; Rorschach felt that by doing so, we may obtain access to unconscious ideas.
Many abstract paintings, according to Warhol, functioned similarly: rather than artists being able to express thoughts through abstract form, as many thought, he felt that spectators simply superimposed their own notions onto the works.
His "Rorschach" images were hence a sort of satire of abstract art: they were mirrors that reflected the viewer's own ideas, and at times they resembled anatomy or floral designs.
General Electric with Waiter (1984)
| | |
| --- | --- |
| Date Completed | 1984 |
| Medium | Acrylic Oil on Canvas |
| Dimensions | 111 cm x 150 cm |
| Current Location | Collection Unknown |
Warhol started partnering on artworks at the urging of art dealer Bruno Bischofsberger. He initially collaborated with the Italian Francesco Clemente, then with the considerably younger Haitian-American painter Jean-Michel Basquiat, and then with Keith Haring. In the early 1980s, Warhol's fame was fading, and he had painted nothing since the 1960s.
However, his collaboration with Basquiat, which lasted between 1984 and 1985, re-energized him and positioned him among a younger and trendier group.
General Electric with Waiter is representative of the images the couple created together: Warhol provided larger headlines, brand names, and commercial pieces, while Basquiat added his emotive graffiti. The comic elements inherent in both Pop art and graffiti contributed to the series' appeal.
Self-Portrait (1986)
| | |
| --- | --- |
| Date Completed | 1986 |
| Medium | Synthetic Polymer on Canvas |
| Dimensions | 111 cm x 150 cm |
| Current Location | National Gallery of Art |
Throughout his tenure, Andy Warhol's self-portraits reflect an overarching message. It may be said that Warhol's most popular painting was the image of himself, which he recreated throughout his career. Consider this: Warhol began his art career as a geeky, introverted, balding designer and concluded it as a star whose fame rivaled his finest portrayals.
The emphasis in this painting is on Warhol's head and wig.
Warhol creates a sense of movement by combining repeating pictures that are slightly different from one another and then overlaying the images. Self-Portrait, completed at the end of his life, depicts the artist in his wig and makes spectacular use of lights and shadows.
Recommended Reading
Did you enjoy this Andy Warhol biography? If you want to learn even more about Andy Warhol's paintings and life, then try out one of these books. We have selected them to help further your knowledge of Andy Warhol's artworks.
The Andy Warhol Diaries (2014) by Andy Warhol and Pat Hackett
In honor of its 25th anniversary, the popular classic is reintroduced to a new audience, with an additional introduction by Warhol's long-time friend, Pat Hackett, reflecting on Warhol's continuing cultural effect. This international literary hit shines a light on one of America's most powerful and divisive characters. Warhol's journal is immensely entertaining and interesting, filled with surprising insights about the lives, passions, and professions of the rich, famous, and spectacular.
Spanning the mid-1970s until just a few days before his death
More than twenty thousand pages of Warhol's diary
An international literary sensation
View on Amazon
Warhol (2015) by Klaus Honnef
This book presents Warhol's diverse, prolific output, which changed divides between "high" and "low" art and merged themes of living, making, and consuming that continue to be key concerns of modern experience. Andy Warhol is widely regarded as the most influential proponent of the Pop art movement. He was a critical and innovative observer of American culture who investigated fundamental subjects such as materialism, consumerism, the press, and fame.
A concise biography of Warhol's life
Chronological summary of the oeuvre of Andy Warhol
Approximately 100 illustrations with explanatory captions
View on Amazon
Even today, practically everybody who hears the name "Andy Warhol" would recall his renowned pictures of soup cans and Marilyn Monroe. While Warhol's image became synonymous with Pop art and commanded the public's impression of him, his life and career are considerably more varied and complex than that. Because of the breadth and depth of Warhol's popularity, as well as his purposeful attempts to baffle his biographers, it has been difficult to put together an accurate or full portrait of him. We also recommend to read through some of Andy Warhol's quotes.

Frequently Asked Questions
Where Is the Andy Warhol Museum?
It is situated on Pittsburgh's North Shores. It is North America's biggest museum solely devoted to a particular artist. Andy Warhol, a Pittsburgh-born pop art star, has a large permanent collection of work and documents at the museum. The museum's plans were unveiled in October 1989, almost three years after Warhol's death.
What Is Andy Warhol's Net Worth?
We know he's wealthy, but what exactly is Andy Warhol's net worth? He had a net worth of $220 million at the time of his death, after factoring in inflation and the valuation of his art. Andy Warhol was a key figure in the 1960s Pop art painting movement.
Isabella studied at the University of Cape Town in South Africa and graduated with a Bachelor of Arts majoring in English Literature & Language and Psychology. Throughout her undergraduate years, she took Art History as an additional subject and absolutely loved it. Building on from her art history knowledge that began in high school, art has always been a particular area of fascination for her. From learning about artworks previously unknown to her, or sharpening her existing understanding of specific works, the ability to continue learning within this interesting sphere excites her greatly.
Her focal points of interest in art history encompass profiling specific artists and art movements, as it is these areas where she is able to really dig deep into the rich narrative of the art world. Additionally, she particularly enjoys exploring the different artistic styles of the 20th century, as well as the important impact that female artists have had on the development of art history.
Learn more about Isabella Meyer and the Art in Context Team.
Cite this Article