Cindy Sherman has been examining the creation of identity for nearly 40 years. Cindy Sherman's photography experimented with the visual and social conventions of art, fame, and gender. Cindy Sherman's self-portraits form the bulk of her photographic work. Cindy Sherman's art, like that of other artists such as Richard Prince and Louise Lawler, was part of the Pictures Generation's oeuvre – a collective who emerged in the 1970s and reacted to the widespread media environment around them with both wit and critique, utilizing visuals from adverts, cinema, broadcast TV, and publications for their output.
The Life and Art of Cindy Sherman
| | |
| --- | --- |
| Nationality | American |
| Date of Birth | 19 January 1954 |
| Date of Death | N/A |
| Place of Birth | Glen Ridge, New Jersey |
The main purpose of this article is to give one an overlook of Cindy Sherman's art and life by answering questions such as "what was the purpose of Cindy Sherman's photography" and "what is Cindy Sherman's work most famous for?".
Cindy Sherman's photos are mostly self-portraits in which she portrays herself in a variety of settings and as numerous imaginary characters. So why is Cindy Sherman's work still relevant today then? Let's find out.
Childhood
Cindy Sherman was born in Glen Ridge, a suburb of New Jersey, on the 19th of January, 1954. Cindy's family relocated to Huntington, Long Island, soon after she was born, where she was brought up as the last child of five siblings.
Despite her parents' indifference to the arts, Cindy Sherman opted to pursue art in college in the early 1970s, attending the State University of New York.
Early Training
Sherman stayed in Buffalo from 1972 to 1976; she started as a painter but immediately became disillusioned by what she saw as the medium's limits. The 1970s were an eclectic age for artists working in the wake of Minimalism, and Sherman turned to photography because she felt "there was hardly anything more to express via painting."
Despite initially having failed a mandatory photography class, she eventually chose to redo the course, which sparked her interest in the field.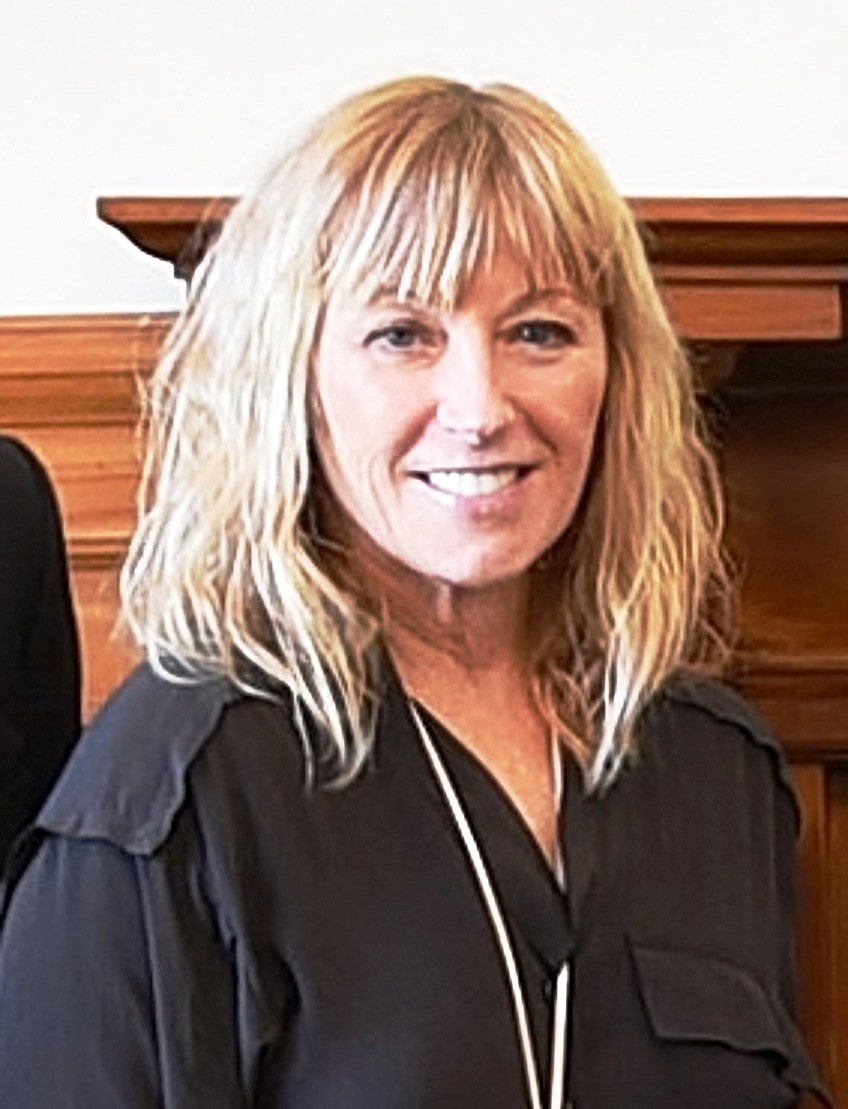 Cropped photograph of artist Cindy Sherman, taken in 2016; New Zealand Government, Office of the Governor-General, CC BY 4.0, via Wikimedia Commons
During her time studying her courses, she met the artists Charles Clough and Robert Longo, with whom she would co-found Hallwalls Center for Contemporary Art in 1974, which still operates as a vibrant, multi-arts center to this day. Sherman and Longo were together until 1979. Sherman was introduced to Conceptual art and other innovative art forms and media while studying with Barbara Jo Revelle, a globally regarded art educator.
Sherman relocated to New York City after graduating to pursue her career in photography. She started taking images of herself in 1977, using her downtown living and workspace loft as her principal backdrop, a series she would later describe as the "Untitled Film Stills".
She plays the role of "Everywoman" in this series. Sherman refashioned herself into many feminine tropes, including the girlie pin-up, the film noir bombshell, the homemaker, the prostitute, and the beautiful heroine in distress. Sherman worked on the black-and-white series for roughly three years, so by 1980 she had nearly exhausted a plethora of supposedly ageless clichés alluding to the "feminine."
Mature Period
Cindy Sherman's photos cemented their place in the New York art community with the release of Untitled Film Stills, which led to her debut solo exhibit at The Kitchen, a non-profit exhibiting space. She was soon commissioned to produce the centerfold graphic for Artforum magazine. The editor Ingrid Sischy dismissed images of Sherman in a pink robe because they were too raunchy. It's unclear whether the following series, Disasters and Fairy Tales, shot from 1985 to 1989, was in some way a reaction to that deed of rejection, but it's a far darker enterprise than its tarted up predecessor.
Its bleak palette and images covered with puke and mold pushed viewers to discover beauty in even the ugliest and most repulsive. Her following series focused on the venerable painting tableau. Sherman was featured as a model once more in History Portraits, but this time she took on the role of one of European art history's most iconic "leading women."
Sherman, who was residing in Europe at the moment of its development, took influence from the West's major museums. That intermission was followed in 1992 by Sherman's "Sex Pictures", a project undertaken in response to the censoring of Andres Serrano's artwork.
Sherman replaced her own form for that of a doll in the Sex Pictures. The photographs, which are meant to startle and antagonize the public, showed lewd doll-on-doll acts and artificial sexual organs. Sherman was awarded a MacArthur Fellowship shortly after beginning work on this project.
Sherman transitioned from still art photography to movies in 1997, supported in effect by her then-husband, film director Michel Auder. With the thriller "Office Killer", she made her directorial debut. Sherman appeared in John Waters' 1998 comedy Pecker a year later.
Sherman has spent the previous decade donning clown make-up in a collection of still photographs and she has explored meticulously produced female "urbanized" personas in a solo exhibit at Metro Pictures in New York (2008). Sherman shot herself in different states of awful make-up in the later series, superimposing staid, very self-conscious photographs over staged home and faux-monumental environments.
The Legacy of Cindy Sherman's Art
Cindy Sherman is the supreme participant-critic of widespread consumerist society, endlessly actively engaging in its everyday actualities while questioning its fundamental assumptions. She embodies the 1980s method of "image-scavenging" and "appropriation" by creatives desiring to reconsider the so-called reality possibilities of widespread visual images and their alluring clutch on our collective and individual psyches.
Cindy Sherman's self-portraits, in particular, have revealed a new and culturally critical capability for a media that was previously thought to be an instrument of journalistic accuracy or aesthetic gratification.
This "readymade" value of the analytically applied photograph, in which the creator takes a preexisting impression or tradition and delicately transforms it into something more fundamentally troublesome, if not mentally and emotionally disconcerting, has come to typify much of the output of a new generation that disregards easy categorization.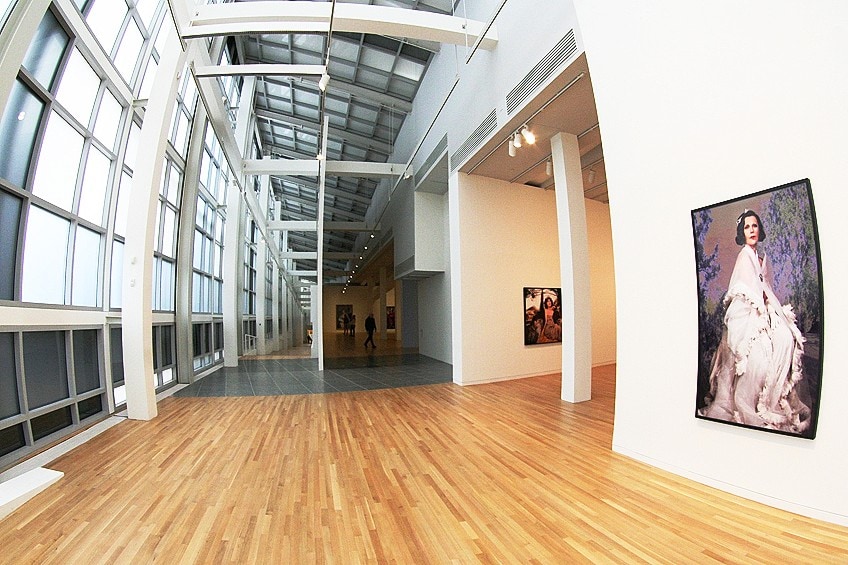 A work by Sherman displayed in the Wexner Center for the Arts in Ohio; Vince Reinhart, CC BY-SA 2.0, via Wikimedia Commons
Furthermore, since the late 1990s, Cindy Sherman's photos have been particularly noted as expanding onto a new, "extended field" of photography, with much work defined by a "fusion of story and stasis," such as that of Anna Gaskell, Jeff Wall, and Sharon Lockhart. Such artists expand Sherman's anti-narrative attitude to the form and its subject matter in artwork that frequently indicates unresolved stories and situations ripped from every day and shockingly obscure surroundings.
Douglas Crimp, writing in the magazine October, describes Sherman's work as "a mix of photography and conceptual art that exposes femininity to be a result of portrayal."
Sherman, on the other hand, does not regard her work to be feminist, noting, "The material is what it is, and ideally it's viewed as feminist material, but I'm not going to go about spewing theoretical nonsense about feminist crap." Many academics underline Cindy Sherman's art's connection to the idea of the gaze. Scholars like Laura Mulvey, in particular, have examined Sherman's Untitled series in connection to the masculine gaze.
Mulvey writes in a 1991 article about Sherman that ′′the accouterments of the feminine battle to adhere to a veneer of attractiveness haunt Sherman's iconography,′′ which acts as a parody of various voyeurisms documented by the camera.
Others wonder if Sherman's conflict with the masculine gaze and a feminine struggle was a purposeful concern and whether this intentionality is relevant in understanding Cindy Sherman's feminist stance.
Noteworthy Examples of Cindy Sherman's Photography
Cindy Sherman's self-portraits are both profoundly present and extend long traditions in photography that compel the viewers to reevaluate stereotypical portrayals and presumptions, including ideological satire, caricatures, and other culturally vital disciplines. Sherman's numerous variants of self-portraiture techniques share one significant feature: in the overwhelming bulk of her photographs, she effectively meets the audience's gaze, no less in the particular instance of staged sex dolls, as if to imply that a foundational propensity for deceit is really the only "quality" that sincerely binds us.
Photography, long thought to be a media that precisely "mimics" reality, in Sherman's hands both develops and analyzes its perceived subject. In this regard, Sherman's distinct style of portrait photography serves as a metaphor for the subjective character of all human intellect and the ephemeral quality of human vision.
Untitled Film Still #13 (1978)
| | |
| --- | --- |
| Date Completed | 1978 |
| Medium | Black and White Photograph |
| Dimensions | 18 cm x 23 cm |
| Current Location | Museum of Modern Art, New York |
This photo comes from the Untitled Film Still sequence from the late 1970s, in which Sherman first established a ubiquitous public image for herself as a quick-witted critic on the female role models of her adolescence, along with those of a previous generation.
Sherman uses her own picture in this instance to indicate the key figure of the 1960s "coming of age" story, the youthful female on the cusp of realizing her "true femininity," or the stereotypical virgin.
Sherman discovered how to see beyond mass media tropes and appropriate them in a humorous and sardonic manner. This made audiences self-conscious about how illusionary and highly structured "female portraiture" could demonstrate on closer examination as they grew up in the 1970s during the rise of Feminism. Some critics accuse Sherman of pandering to the male gaze and fostering women's objectification.
Others see Sherman's approach as a critical-ironic satire of feminine tropes. Others argue that both scenarios are true at the same time, with Sherman consciously playing stereotyped female roles to challenge their pervasive nature. At the same time, her acceptance of these positions unavoidably leads to her further objectification. Many of these criticisms, according to cultural and media analyst Jui-Ch'i Liu, center on male spectatorship, but interpreting the pictures from the viewpoint of female viewers suggests the potential of mediating their own "interest and identity in response to these images."
Sherman has also stated that the works were designed particularly for female audiences, saying: "Even though I have never consciously considered my artwork to be feminist or ideological, everything in it was inspired by my perceptions as a woman in this milieu. That's something I don't believe males would understand ".
Untitled Film Still #21 (1978)
| | |
| --- | --- |
| Date Completed | 1978 |
| Medium | Black and White Photograph |
| Dimensions | 18 cm x 23 cm |
| Current Location | Museum of Modern Art, New York |
In 1996, when the Museum of Modern Art revealed that it had recently purchased Cindy Sherman's whole Untitled Film Still catalog, the curator realized they had secured one of the most iconic pieces of the 1980s American "appropriation" movements. The term refers to American creators' imitation of former artistic masterpieces or widely circulated visuals in the mainstream media in the first half of the 1980s, and analytically remaking them to evoke a sense of discomfort in the audience.
This often implied that society had become primarily a contest of dramatic masquerading and egocentric trickery.
"Sherman's distinctive ability and taste expressed generally held issues in the society overall, about the function of mainstream media in our existence, and about the manner in which we build our personal identities," said Peter Galassi, then-curator of photography.
Sherman plays the part of a small-town girl who stumbles across the Big City. She is often skeptical of the city's lights and gloom at first, only to be lured by their obvious allure.
Untitled #92, "Disasters and Fairy Tales" (1985)
| | |
| --- | --- |
| Date Completed | 1985 |
| Medium | Color Photograph |
| Dimensions | 60 cm x 121 cm |
| Current Location | Metro Pictures |
This picture, from the Disasters and Fairy Tales collection, depicts Sherman as a damsel in despair. She is huddled on the ground, anxiously looking away from the viewer. She appeared to have just stepped off the production of a horror movie, with damp hair and a strained posture.
The sparse lighting emphasizes the composition and adds an eerie tone to the overall image.
Sherman brilliantly invokes one of the film industry's oldest, quasi-racist "cheap tactics," that of a helpless female or privileged school girl (notice the stereotypical outfit of crisp white blouse and checkered skirt) being encroached upon by some horrific, wicked creature. The role may be traced back to a plethora of pop culture icons in common comic books, graphic novels, Theatrical musicals, and other mid-century media.
Sherman displays how art may operate as a visual "truth elixir," an agent of cultural progress by stopping a spectator in one's tracks and suggesting how certain preconceptions are culturally learned, not necessarily "natural," by preserving the picture into a type of sorrowful, secular symbol.
Untitled #209, "History Portrait" Series (1989)
| | |
| --- | --- |
| Date Completed | 1989 |
| Medium | Color Photograph |
| Dimensions | Unknown |
| Current Location | The Estate of Jean-Michel Basquiat |
Sherman assumes the identity of the Mona Lisa in this Italian Renaissance-style picture. Sherman, dressed in a 15th-century Italianate gown, joins forces with one of history's most renowned paintings. The shot is not a genuine reproduction; it is supposed to evoke the original without physically reproducing it, with the mental gap between the genuine and the counterfeit just barely visible, yet disturbing nonetheless.
Sherman can advise that viewers reconsider their acquaintance with the original and consider how its representational norms continue to constrain how we, decades or centuries later, see any image of the "female."
Untitled #264 (1992)
| | |
| --- | --- |
| Date Completed | 1992 |
| Medium | Chromogenic Color Print |
| Dimensions | 162 cm x 111 cm |
| Current Location | Metro Pictures |
The creator intended the Sex Pictures series to startle the unwitting observer by arranging anatomical dolls in compromising situations. The image, clearly apart from genuine pornography, bitterly remarks on the increased dehumanization of females in life and art since the beginning of time.
Her surroundings are claustrophobic, her figure little more than an instrument of primal desire, and the paraphernalia of "beauty," such as a toothbrush, scant underwear, and the like, are scattered about her carelessly.
Sherman removes some norms from their regular contexts, where they are frequently disguised by a slew of surrounding needs, and blatantly reframes them as subjects of concentrated, analytical attention. Neither a scientific probe nor a political statement could communicate the impact with such stunning accuracy.
Sherman "made strange" the commonplace or the ordinary in ways that imply we regularly go through our existence while asleep.
Untitled (2004)
| | |
| --- | --- |
| Date Completed | 2004 |
| Medium | Color Photograph |
| Dimensions | 162 cm x 111 cm |
| Current Location | Metro Pictures |
In several of her most recent pieces, Sherman portrays a depressed or melancholy clown. She poses herself in front of artificially modified surroundings, wearing extravagant make-up and imaginative costumes, to explore the clown subject's extremities – its powerful yet surface laughter, its implicit grief, and possible, hidden wrath.
This snapshot, set up similarly to a beauty shot, concentrates on the clown's face while the weird creature peers unflinchingly at the audience.
The observer is virtually pushed to make sense of the hilarious image because of the several features of severe distortion in color, body type, emotion, and context. The relatively direct concentration of the clown's gaze prompts us to consider why we consider such a person amusing, and whether the reasons for our common laughing may be linked back to a terrible truth of human conduct that is typically left unchecked in ordinary reality.
Untitled (2008)
| | |
| --- | --- |
| Date Completed | 2008 |
| Medium | Color Photograph |
| Dimensions | 162 cm x 111 cm |
| Current Location | Metro Pictures |
Sherman investigates the position of the urban American homemaker, in one of her most contemporary nameless series, a figure who is sympathetic, pitiful, and frequently too near to identification for comfort. Sherman's ensemble of individuals once again evokes emotions of anxiety and unpleasant self-recognition by juxtaposing feminine types urgently wanting to seem "cultured" but failing miserably to overcome the social difference between so-called "excellent breeding" and simple uncomfortable "social climbing."
Sherman never clearly defines her position in connection to such photographs, leaving interpretation to the individual viewer, which tells more about the person reading these photos than the persons shown in their polished, mirror-like surfaces.
Recommended Reading
When it comes to learning about an artist, owning your own book is the best way to do so! You can take your time to discover the artist in your own home, whenever you like. Here are a few books we can recommend if you would like to learn more about Cindy Sherman's self-portraits and lifetime.
Cindy Sherman (2012) by Eva Respini
This collection, produced to correspond with the first significant show of Cindy Sherman's art in North America in over 15 years, offers an extraordinary variety of work spanning the groundbreaking artist's 35-year oeuvre. The publication offers a vivid study of Sherman's ongoing research into the production of modern identity and the nature of representation, showcasing roughly 180 pictures from the mid-1970s to the present, including new pieces taken for the exhibition and never previously published.
Presents a stunning range of Sherman's work over her 35-year career
Approximately 180 photographs from the mid-1970s to the present
New and never before published works made for the exhibition
View on Amazon
Cindy Sherman: Clowns (2012) by Maik Schlueter
"We are thrilled to showcase Clowns, one of Cindy Sherman's most fantastical photographic series, in conjunction with her planned retrospective exhibition at the New York Museum of Modern Art in 2012. For almost 40 years, she has astounded the art world with her "role portraits"—her collections are landmarks of conceptual portraiture—and in Clowns, she examines the terror of laughing and the hilarious. "I turned to clowns to highlight the complicated emotional abyssal depths of a painted grin," Sherman explained. "This book contains the whole series of 18 color images she made between 2003 and 2004, proving her status as one of the most brilliant and important painters of our time."
Presents one of Sherman's most fanciful photographic series, Clowns
Includes the series of 18 color photographs between 2003 and 2004
Justifies Sherman's reputation as an outstanding and influential artists
View on Amazon
Cindy Sherman has established herself as one of the most recognized photographers of the late 20th century by turning the lens on herself. Despite the fact that the bulk of her shots are of her, they are not self-portraits. Sherman, instead, uses herself as a vessel for reflection on a wide variety of modern issues, such as the position of the woman, the purpose of the artist, and others. Sherman has built a distinct personal style through his cryptic and varied pictures. Sherman has explored hard and crucial themes regarding the position and depiction of women in society, the media, and the nature of art production via a variety of distinct series of works.
Frequently Asked Questions
What Was the Purpose of Cindy Sherman's Photography?
Cindy Sherman's photography aims to depict the multiple roles and personas of herself and other contemporary women. Sherman began painting in a super-realist manner at art school in the aftermath of American feminism, but by the end of the 1970s, she had switched to photography. Cindy Sherman is well-known for her photographs, notably her so-called hidden self-portraits that remark on societal roles.
What Is Cindy Sherman's Work Most Famous For?
The American photographer has been recognized for her photos that remark on societal roles and sexual stereotypes, notably her meticulously disguised self-portraits. Cindy Sherman's self-portraits challenge gender and individuality. Sherman's utilization of her own physique in roles or identities in her work is what made her renowned, with her pioneering series Untitled Film Stills being particularly notable.
Why Is Cindy Sherman's Work Still Relevant Today?
Sherman's work, which always features the artist disguised in makeup and costume, is a mix of performance and critique. Her concern about the impact of popular culture on identity is still important today because popular culture is ever-changing. Sherman has continued to evolve, portraying a wide range of human kinds and preconceptions in her photographs.