Gustav Klimt – A Look at the Life and Klimt's Artworks
It is often seen in our modern-day pop culture and the object of affection for many. It is a lustrous display of passionate affection between two lovers wrapped in a golden cocoon. You probably know this famous painting. It is none other than The Kiss (1907 to 1908) by Gustav Klimt. This is the artist we will be exploring in this article, from when he was born to how he became one of the most famous artists of the 20th century.
Artist in Context: Who Was Gustav Klimt?
Below we will discuss in detail the question many art lovers would ask, "Who was Gustav Klimt?". The Austrian artist, Gustav Klimt, was one of the famous artists of the 20th century known for his decorative style of painting. He produced numerous paintings with central themes of eroticism and women. Let us start from the beginning.
| | |
| --- | --- |
| Date of Birth | 14 July 1862 |
| Date of Death | 6 February 1918 |
| Country of Birth | Baumgarten, Austrian Empire |
| Art Movements | Symbolism, Art Nouveau, Vienna Secession Movement |
| Genre / Style | Decorative style of painting |
| Mediums Used | Painting, Drawing, Objets d'art |
| Dominant Themes | Eroticism, Women, or the "femme fatale" |
The Birth and Early Life of Gustav Klimt
Gustav Klimt was born on 14 July in 1862 in Baumgarten, the 14th district of Vienna, the capital of Austria. His parents were Anna, a musical performer, and Ernst Klimt, a gold engraver. He had six other siblings, two brothers, and four sisters, and was the second born.
Klimt's family experienced financial hardships and moved home often. Additionally, Klimt lost one of his sisters, Anna, in 1874 to an illness. His other sister, Klara, also experienced emotional and mental distress. His two brothers, Georg and Ernst, were also artists.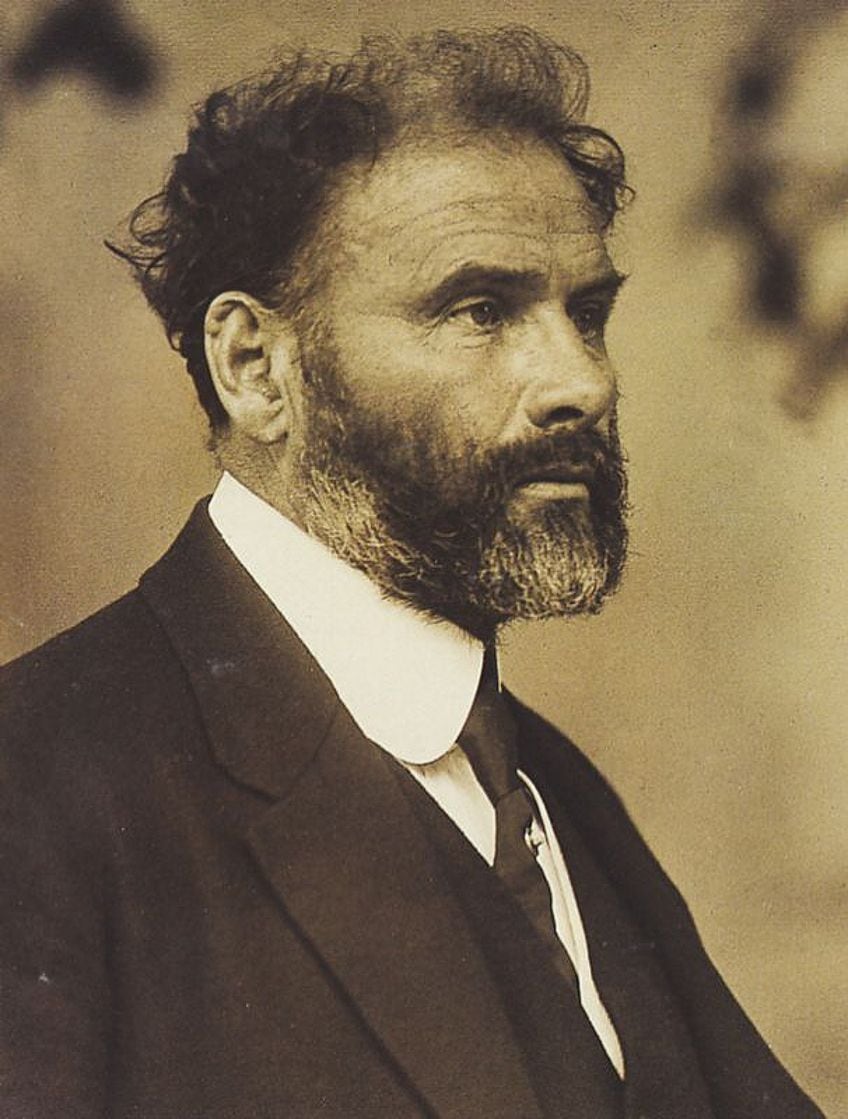 Photograph of Gustav Klimt, 1905; Моріс Нар, Public domain, via Wikimedia Commons
Education and Career
During Klimt's younger years, at age 14, he took the entrance examination to the Viennese School of Arts and Crafts (Kunstgewerbeschule), which he passed. His studies were in architectural painting from 1876 to 1883. He started his artistic skills by drawing from copies and casts and then from real life. After he went through the initial training for drawing, he advanced to painting and excelled at this.
Klimt studied other artists like Venetian Renaissance Titian and the Flemish Baroque Peter Paul Rubens. Some of the notable artists and scholars that inspired Klimt during his early years were Diego Velázquez, a Spanish Baroque painter, and Hans Makart, who was an Austrian artist specializing in history paintings. He was a popular figure in the Viennese art circles.
The "Company of Artists"
After Klimt completed his studies and graduated from Kunstgewerbeschule, he started the "Company of Artists" with his brother Ernst and their friend Franz Masch. The three artists started this around the early 1880s. Their artistic services included creating decorative murals and paintings for various upper-class figures.
They painted theaters, churches, public buildings, other spaces like homes.
Some examples include the staircase paintings in the Kunsthistorisches Museum (Museum of Fine Arts) in Vienna and the ceiling paintings in the Vienna Burgtheater. In 1888, the Austrian Emperor Franz Josef I presented the group with the award called the Golden Order of Merit.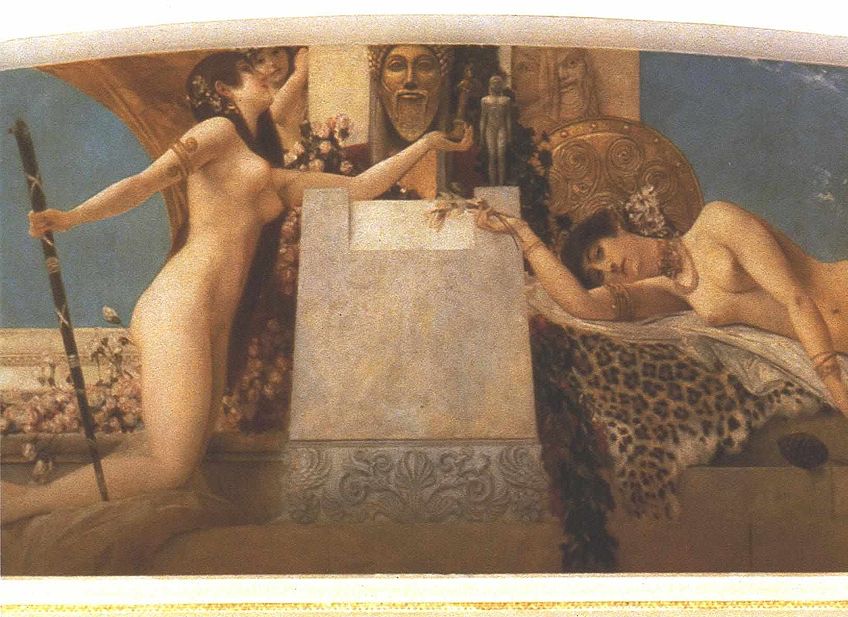 Altar of Dionysos (1886-1888) by Gustav Klimt, painted on the ceiling of the Vienna Burgtheater; Gustav Klimt, Public domain, via Wikimedia Commons
From 1890 to 1891 Klimt was a member of the Vienna Artists' Association, broadly known as the Vienna Kunstlerhaus ("Artist's House"). This was a more conservative group of artists, and the organization oversaw the exhibition space for contemporary art in the city of Vienna.
In 1894 the Company of Artists received a commission to paint for the University of Vienna, specifically the Great Hall's auditorium ceiling. The group lasted for around seven years and their murals appealed to a niche group of people that accommodated more traditional academic styles of art.
A Turning Point for Klimt's Artistic Style
There was a turning point in Klimt's artistic style when he lost both his father and brother in 1892. This left the artist financially responsible for the rest of his family. The deaths deeply affected Klimt and inevitably his artistic style, which became more symbolic in nature, moving away from the academic and traditional styles of art that he practiced.
During this time, Klimt became acquainted with his past-on brother's widow's sister, Emilie Flöge.
The family also had a home in the countryside, which Klimt visited often. Emilie Flöge was reportedly a lifelong companion to Klimt. It is believed his famous painting, The Kiss (1907 to 1908), was of the two. Klimt was also a father to 14 children.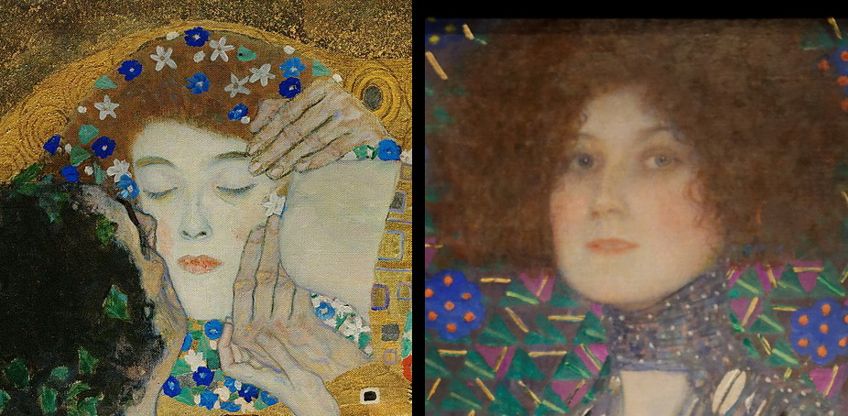 Details of Klimt's The Kiss and Portrait of Emilie Flöge, with Emilie Flöge as the model in both; shakko using 2 Klimt's painting, CC BY-SA 4.0, via Wikimedia Commons
The Vienna Secession (Wiener Sezession)
Eventually, Klimt left the Vienna Artists' Association, this was around 1897, due to various disputes about other artists not receiving the same privileges to exhibit their art. The Artists' Association gave more preference to conservative art and did not allow contemporary arts, like applied and decorative arts, to be displayed.
As a result, Klimt and a few other artists started a new organization called the Vienna Secession; this was in April of 1897. It was named after the Munich Secession from 1892. The organization's focus was to highlight artists from all over the world and to move away from strict adherence to traditional, classical modes and rules of art.
It was to give artists a place to display their works, not only for the public to see it, but also to reach possible collectors.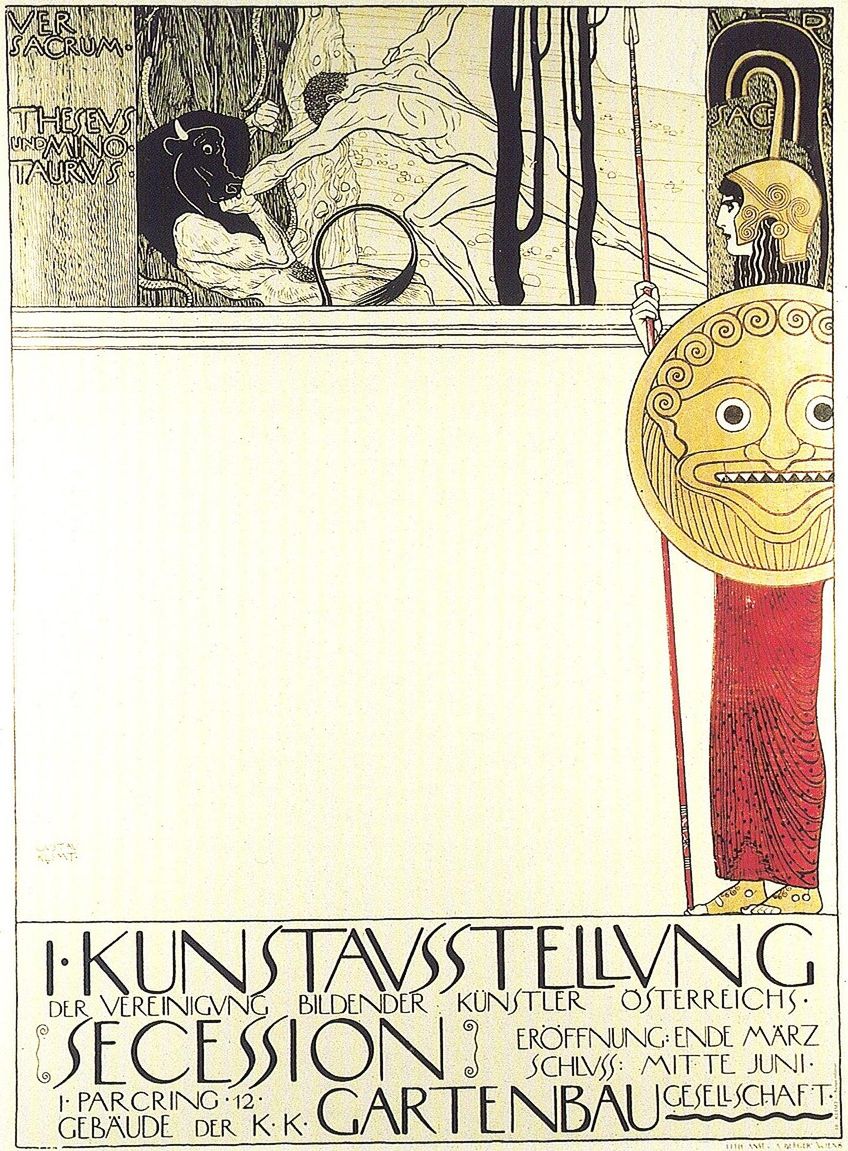 Art exhibition of the Association of Visual Artists Austria, 1898, designed by Gustav Klimt; Gustav Klimt, Public domain, via Wikimedia Commons
It also sought to move away from the "commercialism" from the conservative Kunstlerhaus that produced artworks according to what people wanted. At that time, it was more "established" art in line with traditional models of what art should be. The Kunstlerhaus also received a 10% commission from artworks sold through their exhibition space.
The Vienna Secession group was composed of Gustav Klimt; he became the first president of the group, and other artists like Koloman Moser, Carl Moll, Josef Hoffmann, Joseph Maria Olbrich, Wilhelm Bernatzik, Max Kurzweil, Ernst Stöhr, Josef Maria Auchentaller, and others.
The group consisted of a variety of artists like painters, designers, and architects.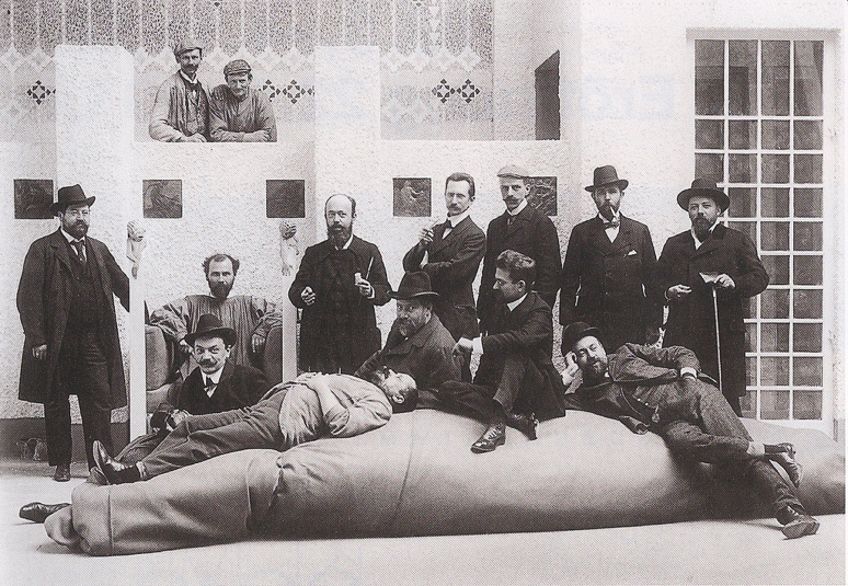 Group portrait of members of the Vienna Secession at the 14th exhibition in 1902: From left to right: Anton Nowak, Gustav Klimt (in the chair), Koloman Moser (before Klimt with hat) Adolf Böhm, Maximilian Lenz (reclining), Ernst Stöhr (with hat), Wilhelm List, Emil Orlik (seated), Maximilian Kurzweil (with cap), Leopold Stolba, Carl Moll (reclining), Rudolf Bacher; Moritz Nähr, Public domain, via Wikimedia Commons
The group started a journal in 1898 called Ver Sacrum ("Sacred Spring") of which Klimt also contributed to. The journal consisted of the work made by the artists in the group, including photographs from their exhibitions. The group was influenced by different styles, including Japanese art, Art Nouveau, and elements of ancient art.
In celebration of their 14th exhibition, held in 1902, Klimt painted the Beethoven Frieze (1902) in honor of the musical composer Ludwig van Beethoven. He painted it onto the wall itself in the Secession Building, which was the exhibition space for the group. The frieze measures seven feet in height and 112 feet in width.

The Beethoven Frieze (1901) by Gustav Klimt; Gustav Klimt, CC0, via Wikimedia Commons
Klimt resigned from the Vienna Secession group during 1905, he and a few other members were at odds with various aspects of how the group was run, and the different viewpoints led to some members going their own way.
Art Nouveau also played an important role in Gustav Klimt's artworks and was one of the primary art movements during the late 1800s and early 1900s. It was a Modern art style that relied predominantly on modalities like design, architecture, and decorative arts. It was characterized by a fluidity of forms and shapes, especially foliage and flowers.
Art Nouveau also sought to elevate the status of arts that were more craft-based, alongside the traditional, and academic, modes of art like paintings. As explained by some scholarly sources, it sought to "abandon the historical styles of the 19th century".
Art Nouveau was also an international style and shared similarities with the Vienna Secession movement.
The "Golden Phase"
The "Golden Phase" refers to a period of Klimt's later art style where he utilized gold leaf in his artworks. It is believed he was inspired by the artworks he saw from his travels to Ravenna and Venice in Italy; these are both regions with prominent mosaic artworks. In fact, in a letter to Emilie Klimt wrote that there is a lot that is "pathetic" about Ravenna, but "the mosaics are tremendously splendid".
Some of Klimt's famous art pieces from his golden period includes his early painting, Pallas Athene (1898), Judith I (1901), Portrait of Adele Bloch-Bauer I (1907), and the previously mentioned, The Kiss (1907 to 1908).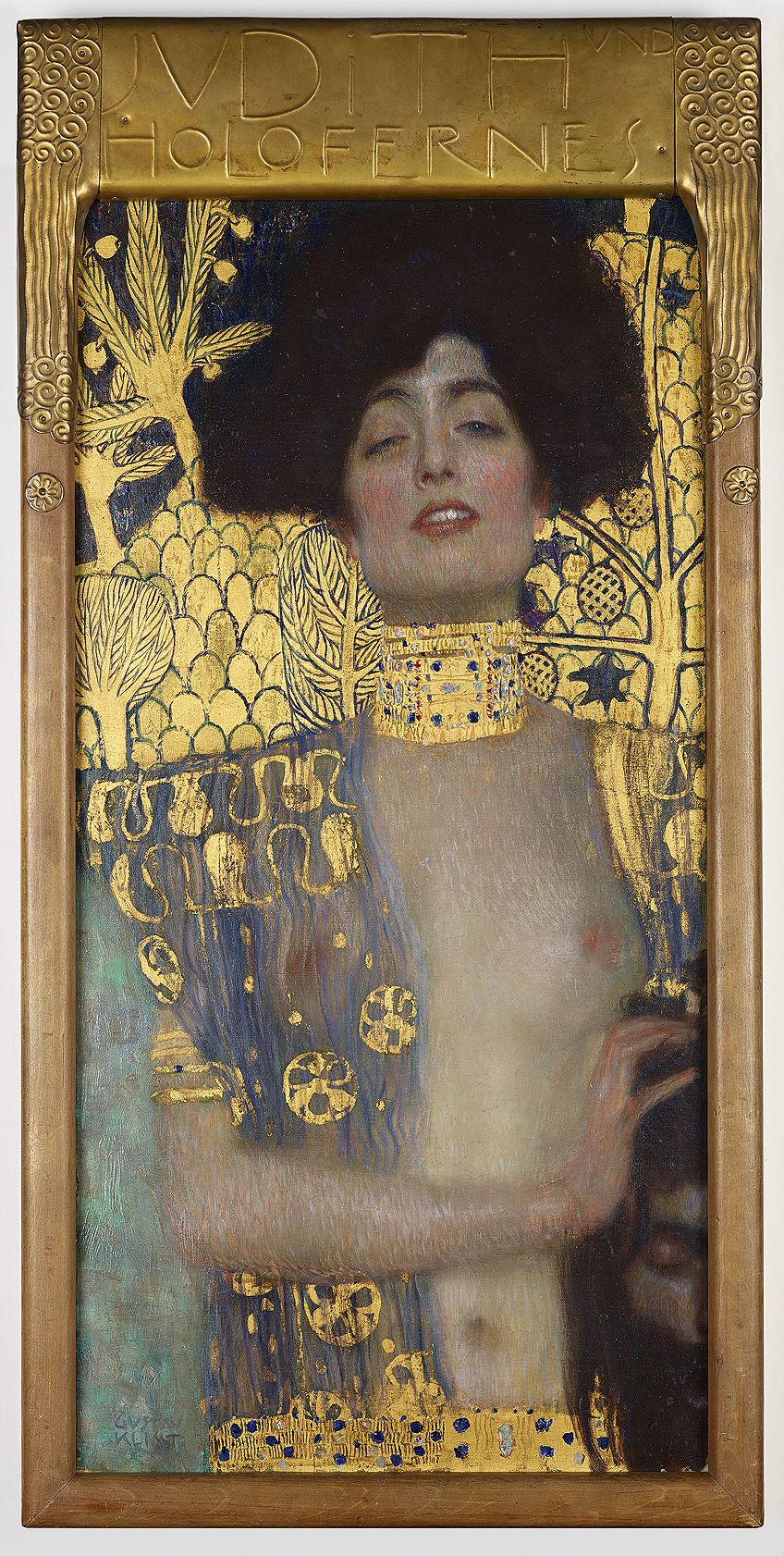 Judith I (1901) by Gustav Klimt; Gustav Klimt, Public domain, via Wikimedia Commons
Artistic Characteristics of Gustav Klimt
Gustav Klimt is believed to have enjoyed working in his home only wearing his robe (excluding underwear) and his sandals. He is known to have worked mostly in a quiet environment and kept his private matters to himself.
His private matters have been a topic of debate among the scholarly world because it is not certain whether he ever had sexual relations with his female models. He was known as being quite an erotic person, in fact, he is also quoted as saying, "All art is erotic".
It has also been speculated whether he ever had a romantic relationship with Emilie Flöge.
His painterly process was also believed to be lengthy as he enjoyed taking his time with his subject matter. Most of his subjects were women, and he was more interested in panting others than himself. In another letter to Emilie, he wrote about his preference over portraying women rather than painting a self-portrait.
Klimt's style and approach to producing art were diverse; his female portraits were of wealthy women like Adele Bloch-Bauer and others. He received critique about his art resembling pornography, especially his ceiling painting called Medicine (1900 to 1901), which was done for the Great Hall of the University of Vienna.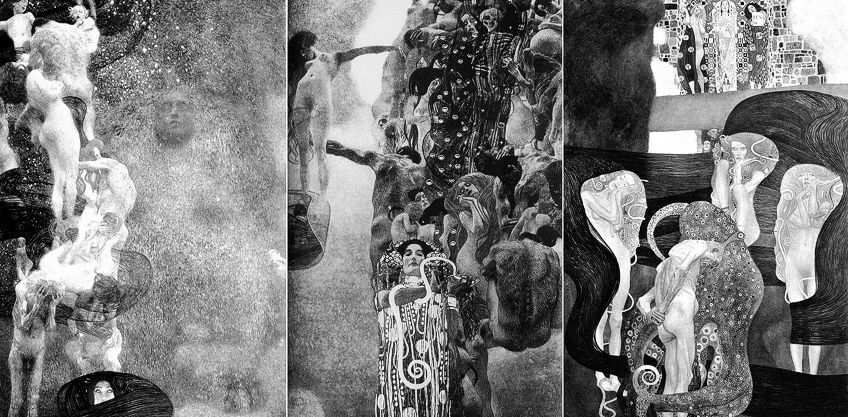 Gustav Klimt's lost works, which were destroyed in 1945. From left to right is Philosophy, Medicine, and Jurisprudence; Gustav Klimt, Public domain, via Wikimedia Commons
Apart from Klimt's proclivities towards nudity and being quite comfortable with portraying sexuality and sensuality, his work was also difficult to understand, vague in its conveyance, showing us how he delved into the Symbolism style. This includes his other two paintings done for the Great Hall, Philosophy (1897 to 1898) and Jurisprudence (1899 to 1907).
If we take a closer look, starting with Philosophy, which was also the first of the three paintings, Klimt depicted various figures, seemingly aimless and all vertically composed on the right side of the composition. The left side depicts an almost ephemeral vestige of a woman.
Klimt summed it up by explaining, "On the left a group of figures, the beginning of life, fruition, decay. On the right, the globe as mystery. Emerging below, a figure of light: knowledge".
In the second painting, Medicine, there are various figures clumped to the right and one female to the left appearing to be floating. We see two arms reaching across this divide of human bodies, one from the left and one from the right. We will also notice a strong female figure centrally placed near the bottom of the composition, this is the Greek goddess of health, Hygieia. She holds a snake and what is known as the cup of Lethe, which was a river in Hades, the underworld.
In the third, and last painting, Jurisprudence, a wraith of a man is held by a large octopus, he stands as if he is a captive. There are three women around him gazing at him and the scene in front of them, these are reportedly the three furies, otherwise known in Greek mythology as the Eumenides. In the far background, we will notice three female figures who are also meant to depict the goddesses of Law, Justice, and Truth.
Apart from the above-mentioned erotic and vague nature of the Gustav Klimt artworks, he also enjoyed working with different costumes and other objects. We see numerous of his female models donning fanciful fur and other costumes. Again, women were his main subject matter and the archetype of the "femme fatale" was a large aspect of what he conveyed.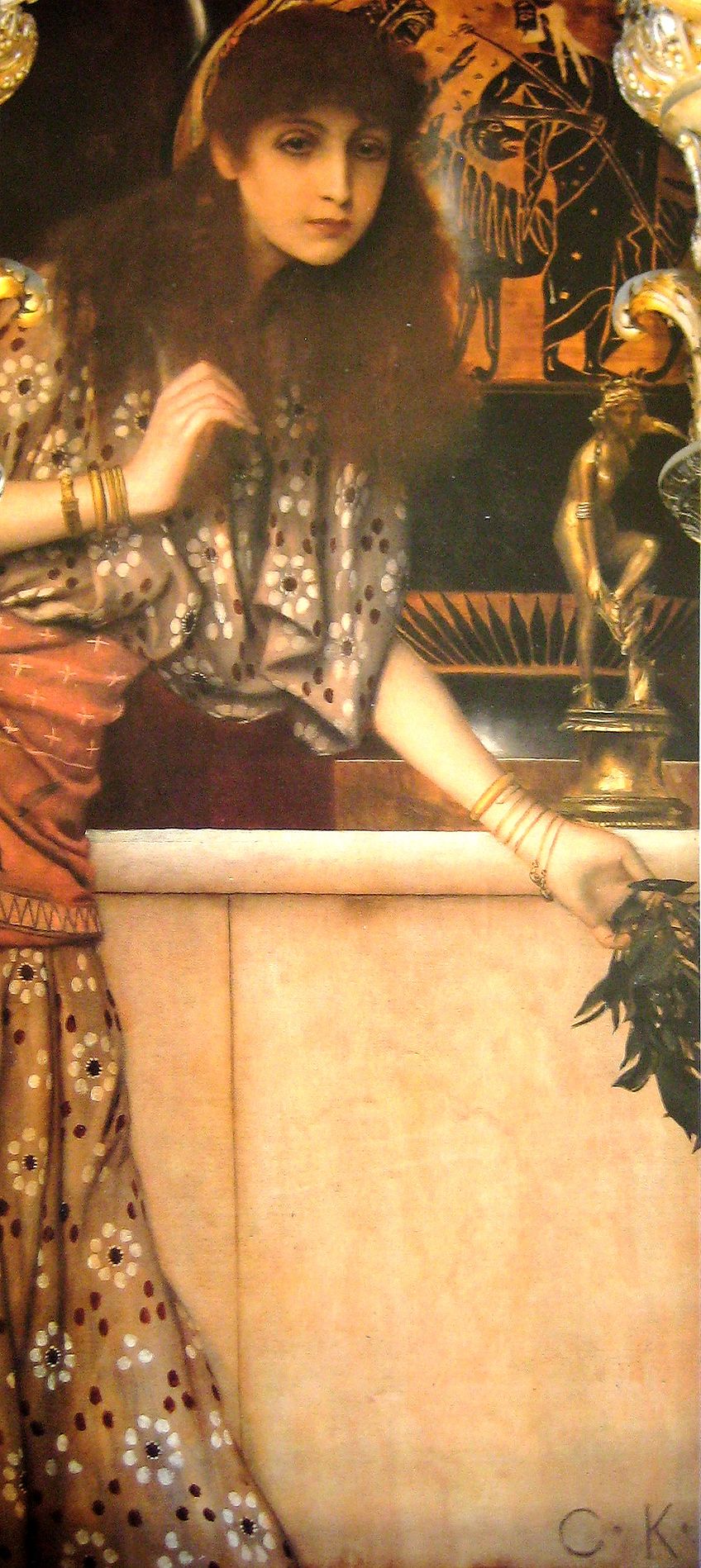 Intercolumniation Girl from Tanagra by Gustav Klimt (Ceiling above the grand staircase, Kunsthistorisches Museum, Vienna); Culturawiki, CC BY-SA 4.0, via Wikimedia Commons
We see the above-mentioned femme fatale figures in his earlier work, Ancient Greece II (Girl from Tanagra) (1890 to 1891). This was completed as part of murals depicting history from Egyptian times to the Renaissance. Klimt depicted his figures as females.
However, he also depicted the everyday woman compared to a woman that appears God-like or mythical as we might expect for ancient and classical portrayals of art.
Klimt was also inspired by Japanese art, which became more prominent during this time in history and was referred to as Japonism. We see various motifs utilized like Japanese fans and kimonos in his painting Lady with Fan (1917 to 1918). It was not only Japanese styles that influenced Klimt, but Byzantine styles too, evident in the golden backgrounds in the abovementioned painting and many others.
Important Exhibitions by Gustav Klimt
Below are some of the more important exhibitions and publications by Klimt as well as projects that he supervised during his career.
International Exhibition of Art in Rome (World's Fair)
One of the Gustav Klimt paintings, Death and Life (1908 to 1910) won first prize in 1911 when it was part of the International Exhibition in Rome. Klimt also exhibited this painting in various other countries, over a period of several years, including Dresden, Germany in 1912.
In 1913 it was exhibited in Budapest, Hungary, and Mannheim, Germany.
In 1914 it was exhibited in Prague, the Czech Republic. In 1916 it was exhibited in Berlin, Germany, and then in Stockholm, Sweden, in 1917. During 1918 it was exhibited in Copenhagen, Denmark, and Zurich, Switzerland. From the 1920s it was exhibited in Vienna, reportedly a few times. In 1958 it was exhibited in Venice, Italy, and then in America during 1965, namely New York, and the same year in London, England.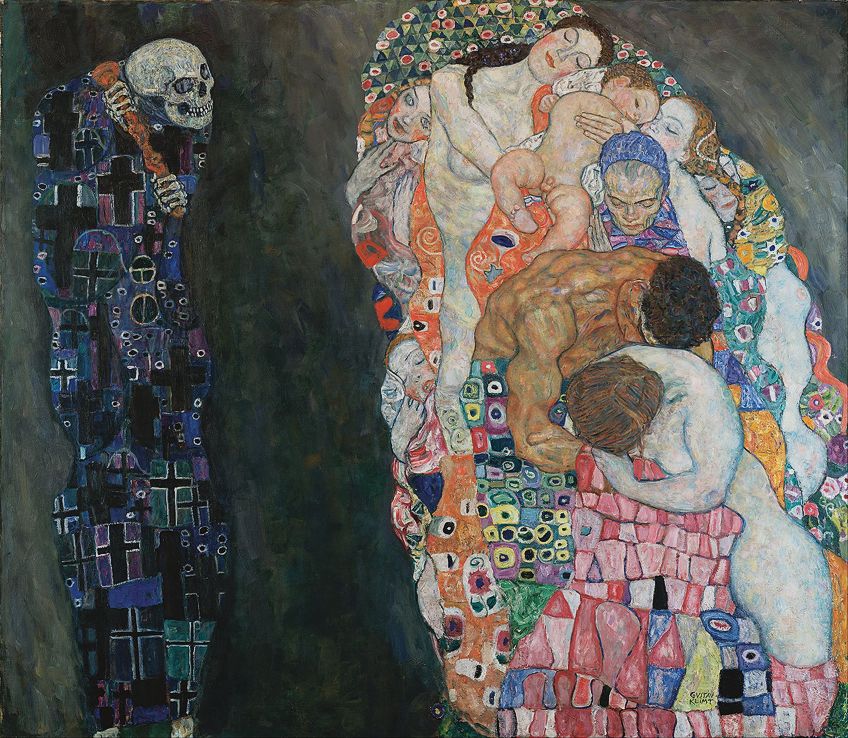 Death and Life (c. 1910) by Gustav Klimt; Gustav Klimt, Public domain, via Wikimedia Commons
Das Werk Gustav Klimts (1908 to 1914)
Klimt also had a folio set named Das Werk Gustav Klimts (1908 to 1914), created and published by H.O. Miethke from the Miethke Gallery in Vienna. It was a collection of various prints by Gustav Klimt, done in collotype format. Klimt collaborated with the Miethke Gallery to produce the various prints of his prominent paintings for art clients and collectors. There were 50 prints of which Klimt made a golden signature for each.
There were five themes that categorized the prints and the relevant Klimt art dedicated for each theme. These were namely, Biblical/Mythical, Allegorical, Portrait, Symbolist/Erotic, and Landscapes.
Gustav Klimt Artworks
Below is a list of some of the famous Gustav Klimt paintings, although he also produced a collection of sketches, of not only his famous female figures but of landscapes too. The media used in the Gustav Klimt sketches consisted of pencils (neutral and colored) and black chalk.
There are apparently over 170 Gustav Klimt sketches that have been organized by the Albertina Museum located in Vienna. There have been several notable art historians who started documenting the Gustav Klimt sketches.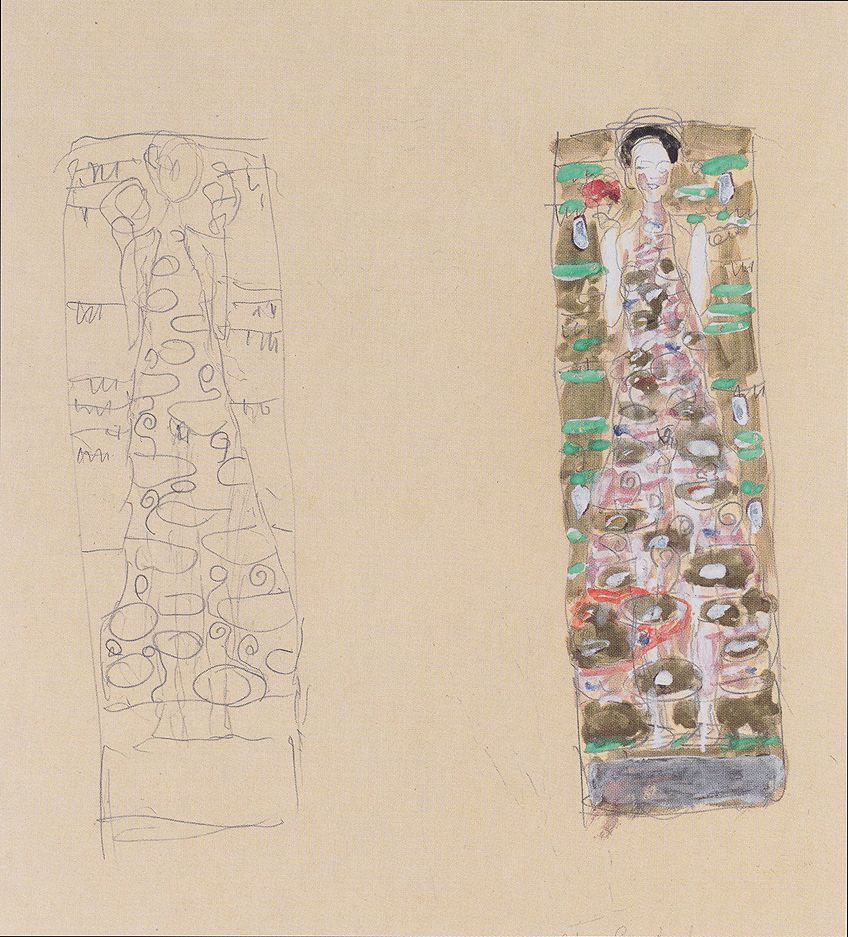 Sketches for the jewelry sheet for Otto Wagner by Gustav Klimt, 1911; Gustav Klimt, Public domain, via Wikimedia Commons
During the 1960s the Albertina Museum started this process, however, it was Doctor Alice Strobl who created a catalog, three volumes long, documenting the Gustav Klimt sketches and drawings, which was completed from 1980 to 1984. In 1989 there was an additional volume added to the catalog.
The catalog consisted of around 3900 Gustav Klimt artworks.
Doctor Marian Bisanz-Prakken took over the project from Doctor Strobl during 1990 and reportedly worked on around 400 more Gustav Klimt drawings, processing and documenting these according to current information.
Gustav Klimt Drawings
Although there are hundreds of Gustav Klimt drawings, below we list only a handful as examples of the type of sketches the artist made, these include the following:
Two Female Nudes Standing (c. 1900)
Girl Seated in a Chair (1904)
Portrait of a Woman (c. 1910)
Frau bei der Selbstbefriedigung (1913)
Nude Figure (c. 1913 to 1914)
Girl Seated in a Chair (1904) by Gustav Klimt; Gustav Klimt, CC0, via Wikimedia Commons
Gustav Klimt Paintings
Below we list a few of the famous paintings among the Gustav Klimt art collection, ranging from some of his earlier works as well as the works he completed as commissions for various buildings. We will also notice Klimt painted a few landscape paintings, and this became an interesting subject matter for him during the last few years of his life. Below we provide a list with the respective medium used and dimensions for each painting.
| | | | |
| --- | --- | --- | --- |
| Title | Date | Dimensions | Medium |
| Pallas Athene | 1898 | 75 x 75 centimeters | Oil on canvas |
| Medicine | 1900 – 1907 | 430 x 300 centimeters | Oil on canvas |
| Philosophy | 1900 – 1907 | 430 x 300 centimeters | Oil on canvas |
| Judith and the Head of Holofernes | 1901 | 84 x 42 centimeters | Oil on canvas |
| Beethoven Frieze | 1901 – 1902 | 2.15 x 34 meters | Casein paint, gold, and graphite |
| Emilie Flöge | 1902 | 178 x 80 centimeters | Oil on canvas |
| Jurisprudence | 1903 – 1907 | 430 x 300 centimeters | Oil on canvas |
| The Three Ages of Woman | 1905 | 180 x 180 centimeters | Oil on canvas |
| Portrait of Fritza Riedler | 1906 | 153 x 133 centimeters | Oil on canvas |
| Danäe | 1907 | 77 x 83 centimeters | Oil on canvas |
| Portrait of Adele-Bloch Bauer I | 1907 | 138 x 138 centimeters | Oil on canvas |
| Hope, II | 1907 – 1908 | 110.5 x 110.5 centimeters | Oil on canvas |
| The Kiss | 1907 – 1908 | 180 x 180 centimeters | Oil on canvas |
| The Park | 1909 – 1910 | 110.4 x 110.4 centimeters | Oil on canvas |
| Avenue in Schloss Kammer Park | 1912 | 110 x 110 centimeters | Oil on canvas |
| Mäda Gertrude Primavesi | 1912 | 149.9 x 110.5 centimeters | Oil on canvas |
| The Virgin | 1913 | 190 x 200 centimeters | Oil on canvas |
| Eugenia Primavesi | 1913 – 1914 | 140 x 85 centimeters | Oil on canvas |
A Closer Look At Klimt's Paintings: The Kiss (1907 – 1908) and Portrait of Adele-Bloch Bauer I (1907)
We all know Klimt's famous painting The Kiss, oil on canvas, but what do we really know about it? Below, we will place this work of art under the microscope, so to say, not only because it is one of his more popular and reproduced paintings, but because it holds a golden display of beauty and symbolism that, for any art enthusiast, will be worth knowing.
The Kiss painting is part of Klimt's Golden Phase and has been known as a good example of Art nouveau. What we see at first glance is a golden cocoon with two figures wrapped inside, embracing lovingly. The man is leaning down to kiss the woman who seems happily surrendered to the act and the man's embrace. Her right arm is around his neck while her left hand holds his right hand lovingly.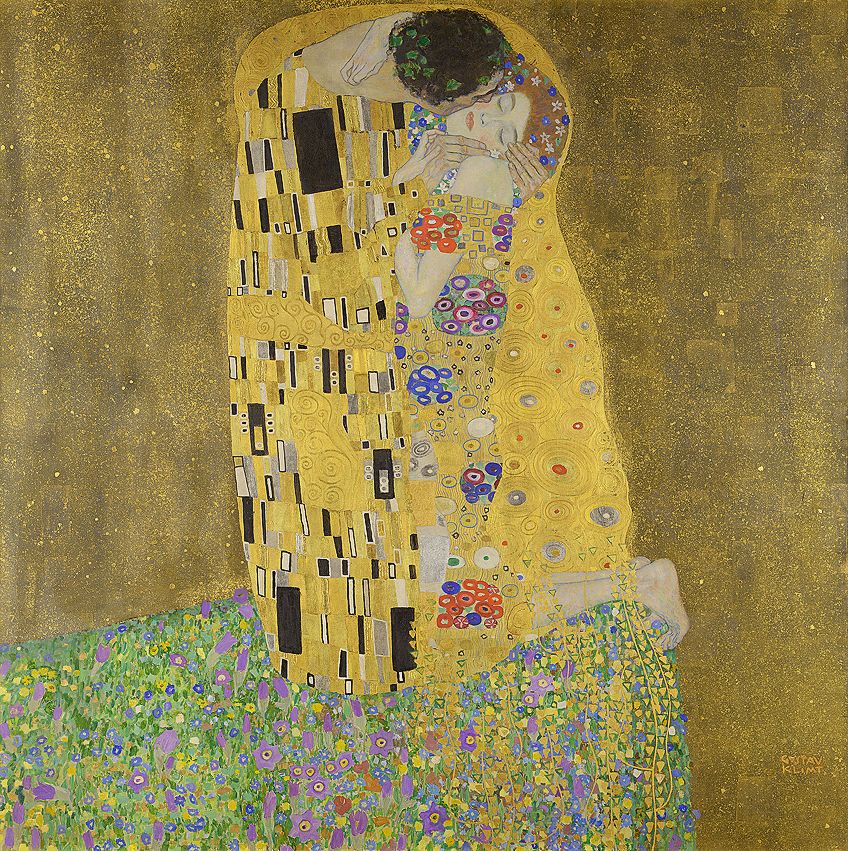 The Kiss (1907-1908) by Gustav Klimt; Gustav Klimt, Public domain, via Wikimedia Commons
The composition around the couple has been described as a meadow, evident by the greenery that they are standing on. It also appears as if they are standing right on the edge of it. The woman is not standing and we see her on her knees. It is almost as if the couple is having a sweet picnic. There are petite flowers dangling from the bottom of the woman's quilt and falls over the edge of the embankment.
What draws our attention to this painting is the golden quilts wrapped around the couple.
Klimt painted this with his characteristic gold leaf, including silver, and the organic motifs we so often find from the Art Nouveau style. The composition also appears flattened and two-dimensional. Furthermore, there is also a resemblance made to William Morris' fabrics. William Morris was from the Arts and Crafts Movement in Britain and a textile designer.
The quilt around the man appears with rectangular patterned patches of blacks, whites, grays, and a few decorative dots here and there. The woman's quilt has circular spiral patterns. On the man's head, there is a green crown made of leaves and on the woman's head, there is a crown made of flowers.
There is debate about who the model was for this painting; some sources suggest it was Emilie Flöge or "Red Hilda", another female model. The male is also unknown, and maybe some would think this was Klimt himself. Both identities are not completely verified and we are left with a painting of just two people in a loving embrace.
In fact, this is a clear depiction of the theme of this painting, which is tied to love, intimacy, and sexuality.
Even if we look beyond The Kiss at other paintings by Klimt we will notice his characteristic golden depictions. The painting Portrait of Adele Bloch-Bauer I (1903 to 1907) is another fine example and also one of his best examples. It depicts his model, Adele Bloch-Bauer, in a sitting position, but she almost becomes one with her golden surroundings. We are also unsure of the chair she sits on.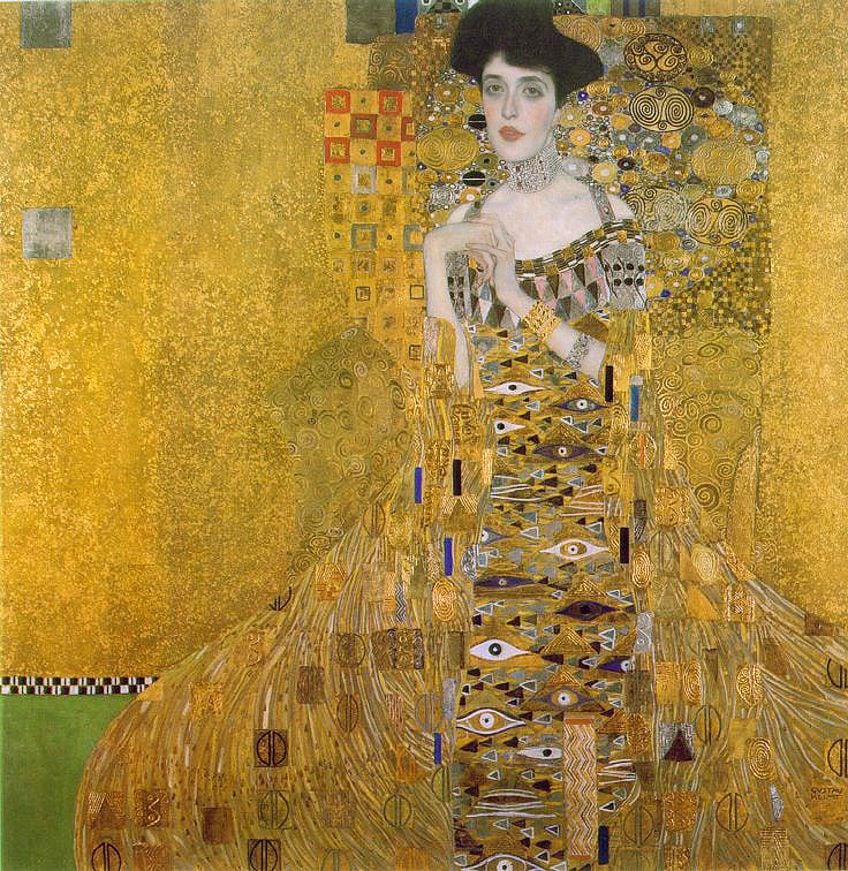 Portrait of Adele Bloch-Bauer I (1907) by Gustav Klimt; Gustav Klimt, Public domain, via Wikimedia Commons
Her patterned gilded garments melt into the patterned gilded walls around her, this also indicates Klimt's veer to depicting more abstracted work, showing his focus on the decorative over the identity of the woman. Klimt also drew inspiration from other sources like Egyptian motifs seen in the numerous little "eyes" decorating her dress. The influence of the Byzantine mosaic style is also evident in the neck jewelry worn by the model.
Klimt painted the second version of Adele, titled, Portrait of Adele Bloch-Bauer II (1912). This version appears wholly different from the first and we do not notice Klimt's gold leaf additions. However, we do notice the geometric, leafy, and flowery patterns adorning the model and the space around her.
A fun fact about both paintings of Adele is that these were stolen by the Nazis during World War II, but were eventually returned to their rightful owners, the Bloch-Bauer family, during 2006.
Always Golden
Gustav Klimt's style has been known as risky. He subverted many academic and traditional styles and created a wholly new look with the female as the central force, so to say. His rich ornamentations and gold leaf incorporated in many of his paintings became his artistic signature and it would be safe to say that even art history novices will know when they see a work of Klimt art.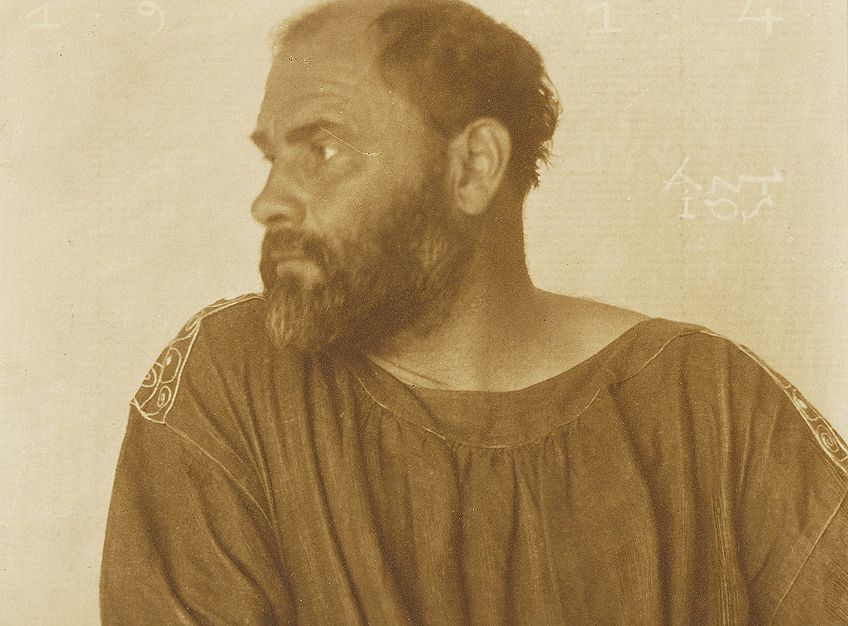 Photograph of Gustav Klimt, 1914; Josef Anton Trčka, Public domain, via Wikimedia Commons
An important aspect of all the Gustav Klimt artworks, that goes beyond the golden resplendence of women, is the symbolism. We see the rawness of life, from sex, nudity, death – all arranged in his own artistic gaze and style, which still reflects the fundamental commonality we all share: the rawness of being human.
Book Recommendations About Gustav Klimt
Below are a few recommended books about Gustav Klimt, his artworks, and various other facets of his life, including his time during the Secessionist movement and his focus on females as his primary subjects. Although there are numerous books to choose from, and it might be confusing which ones are the best, it is worthwhile to start with almost any book about Gustav Klimt. The books below all give a good introduction to the artist and his artworks.
Gustav Klimt: Art Nouveau and the Vienna Secessionists (Masterworks) by Michael Kerrigan (2015)
Gustav Klimt: Art Nouveau and the Vienna Secessionists (Masterworks) (2015), published by Flame Tree Illustrated, is an illustrated edition of Gustav Klimt's art and his time in the Vienna Secessionist movement. It explores Gustav Klimt and the various other artists who were involved in this group. It is ideal as a coffee table book and is rich in illustrations, suitable for the art enthusiast and art historian.
Klimt was a quintessential artist of the art nouveau movement
This book focuses on the diversity of the Secession movement
With illustrations to provide color and glamour to all art lovers
View on Amazon
Gustav Klimt. The Complete Paintings by Tobias G. Natter (2017)
Gustav Klimt. The Complete Paintings (2017), published by TASCHEN, is an illustrated account of Gustav Klimt's art and life. It is for Gustav Klimt art lovers who would like to delve deeper, beyond the popular paintings we all know. It is a large book in size (10.5 x 2 x 13.69 inches and 9.58 pounds) and may suit well as a coffee table book, however, this book is also very well illustrated and gives detailed and extensive information for both the casual art lover and art historian.
A collection of all of Klimt's works alongside historical commentary
With quality illustrations, luminous spreads, and new photography
Examines the art world's polarized reception to Klimt's pictures
View on Amazon
Gustav Klimt at Home by Patrick Bade (2018)
Gustav Klimt at Home (2018) is an illustrated publication about Klimt's life and art. It is great for anyone who does not know anything about Gustav Klimt and would like to read an overview of the artist's life. It is also filled with illustrations to accompany the content making it easy and enjoyable to read. This book can become a coffee table book as well as a book on the shelf for reading or researching purposes.
Explores the influences of Vienna on Klimt's life and work
Fully illustrated with paintings, archived imagery, and photographs
Get insight into the effects of the people and places of Klimt's life
View on Amazon
Regardless of the phase of Klimt's artwork, whether it is his earlier phase with the Company of Artists, his Golden Phase, or his later phases painting landscape, one trend that will always be remembered by Klimt art lovers, and the world, was his unique style and artistic skill – he will remain gilded amongst the master artists of the Modern era.
Take a look at our Klimt art webstory here!
Isabella studied at the University of Cape Town in South Africa and graduated with a Bachelor of Arts majoring in English Literature & Language and Psychology. Throughout her undergraduate years, she took Art History as an additional subject and absolutely loved it. Building on from her art history knowledge that began in high school, art has always been a particular area of fascination for her. From learning about artworks previously unknown to her, or sharpening her existing understanding of specific works, the ability to continue learning within this interesting sphere excites her greatly.
Her focal points of interest in art history encompass profiling specific artists and art movements, as it is these areas where she is able to really dig deep into the rich narrative of the art world. Additionally, she particularly enjoys exploring the different artistic styles of the 20th century, as well as the important impact that female artists have had on the development of art history.
Learn more about Isabella Meyer and the Art in Context Team.
Cite this Article