Having witnessed Abstract Expressionism, Conceptual, and Pop art, painter David Hockney is arguably Britain's greatest living artist and undeniably the most popular artist in the world. Even before homosexuality was decriminalized in 1967, Hockney was a successful, openly gay, young artist. Since then, he has remained the golden boy of contemporary Western art.
David Hockney Makes a Splash
| | |
| --- | --- |
| Date of Birth | 9 July 1937 |
| Date of Death | N/A |
| Place of Birth | Bradford, United Kingdom |
| Art Movements | Abstract Expressionism, Pop Art |
| Genre/Style | Painting, Photography, Collage, Digital |
| Mediums Used | Oil paint, watercolor, charcoal |
| Dominant Themes | Swimming pools, California, Los Angeles, luxury, homosexuality, Naturalism, space, portraiture, Modernism, Cubism |
The most well-known David Hockney paintings and photographs have reflected a preoccupation with the city of Los Angeles. Through intimate portraits of the California elite and lavish landscapes of turquoise swimming pools and plush properties, he would one day become the most expensive living artist in the world.
He has never stopped drawing and experimenting with new artistic means.
A David Hockney Biography
The David Hockney biography began on the 9th of July 1937, in a Victorian city near London called Bradford. Bradford was green but industrial. Growing up, the beautiful countryside, which was a mixture of pastoral and wildland, was just a few miles away. As a child, he would walk there from his family home, and even then, he was captivated by the light of the sun and the gloomy gothic landscape.
His mother was a Methodist and very supportive of Hockney. His father was eccentric and had also studied art at night school in Bradford, but wound up doing odd jobs, including being a clerk in his final years. After the war, his father had tried his hand at upcycling secondhand bicycles. David Hockney remembers watching his father paint lines on the handlebars and falling in love with the gesture of painting.
The young Hockney was a bright student who was already interested in becoming an artist by the time he was in elementary school. At the age of 11, David was awarded a scholarship to study at the Bradford Grammar School.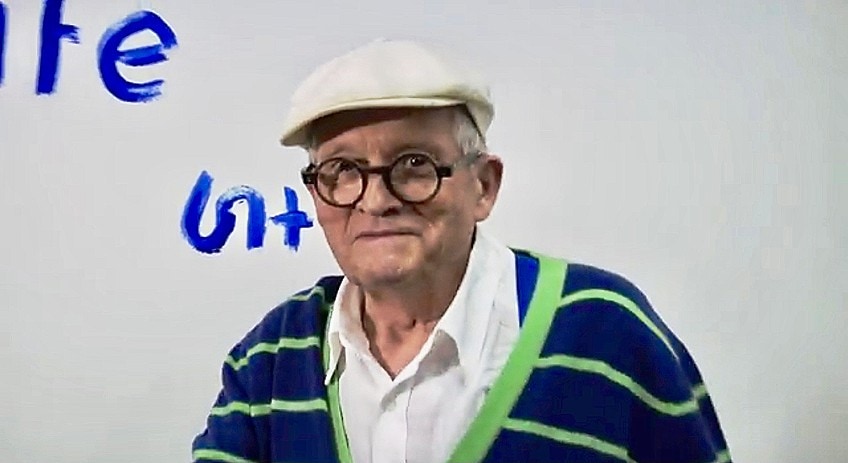 Photograph of artist David Hockney at the Centre Pompidou in Paris, France, in 2017; Connaissance des Arts, CC BY 3.0, via Wikimedia Commons
His parents wanted to make sure David had a good education. At 16, he enrolled at the Bradford School of Art. There he studied observational drawing and ignited his passion for painting. The David Hockney Self-Portrait (1953) shows the young Hockney with a mop of dark hair and thick-framed glasses. Even though he had not yet found his signature bleach blonde look, his image consciousness was already clear.
"Portrait of My Father" (1955) was David Hockney's first oil painting. His father, who encouraged his son's interest in art, had bought him an old canvas at a jumble sale. David painted over it and asked his father to pose for a new painting. His father agreed on the condition that he could set up a mirror system and watch the painting take shape. Hockney submitted this early installation of the David Hockney portraits to be exhibited at the Leeds Art Gallery, where he made his very first sale at 17 or 18 years old.
In 1957, Hockney graduated top of his class. When he was 18, he visited London for the first time. He took the train there and hitchhiked back. At the National Gallery and the Tate Gallery, he discovered Modern painting from the likes of Picasso, which he had never seen in the museums and galleries of Yorkshire. He would continue hitchhiking to London and eventually leave Yorkshire at the age of 21.
Early Career
In 1959, the 22-year-old painter David Hockney was awarded another scholarship for the Royal College of Art in London. Though he was interested in Modern art, he was trained in drawing and academic painting, in which he excelled. In his first year at college, he saw a hair product advertisement on television that claimed blondes had more fun, and just like that, he became a lifelong blonde. Hockney would not be the artist he is today without the hard work and good times he had at the Royal College of Art.
By the 1960s, David Hockney's paintings had departed from traditional academic painting and taken a new and more personal direction. He stopped painting figures from life and portrayed them more stylistically, as seen in "The Third Love Painting" (1960) and "Kaisarion" (1960).
Even as a student, he started to win awards, receive attention, and make a name for himself on the London art scene. Hockney first went to New York in 1961 when he was 24. He then traveled to Berlin, Rome, Florence, and Egypt.
His works began to explore his homosexuality, which was unprecedented in British art. "We Two Boys Together Clinging" (1961) was a cheeky declaration at a time when homosexuality was still criminal. The image demonstrates the artist's foray into Abstract Expressionism. Here, Hockey experimented with lettering and words, which operated as figures.
The source material for Hockney's early work were images of models from Physique, a fitness magazine subliminally marketed towards gay men. The term Pop Art was introduced by a British critic Lawrence Alloway in connection with a group of artists that Hockney was associated with.
Installation view of David Hockney's Mr and Mrs Clark and Percy (1970 -1971) in an unknown venue (possibly Tate Modern), ca. 2016; Francisco Anzola from United States, CC BY 2.0, via Wikimedia Commons
Tea Painting in an Illusionistic Style (1961) is another example of Hockney toying with Pop. He was looking at packaging and consumerism, conflating the famous British brand Typhoo Tea with odd imagery of a curious figure who appears to be steering the box. Hockney explored perspective and depth in his rendering of the box.
This is by no means Hockney's best work, and he admits that in his strain to get the image right, he accidentally misspelled the word "tea". Nonetheless, the object represents Hockney in a moment where he was eager to address the commercial world whilst indulging in a bit of nostalgia in using his mother's favorite brand of tea. No other David Hockney artwork screams Pop Art the way Tea Painting does.
Hockney's experiments with Abstract Expressionism, French Art Brute, and Pop Art would ultimately reroute him closer to home, where he was exposed to a dynamic group of artists including Peter Blake and Francis Bacon, who had briefly taught at the Royal College.
The Hollywood Hills
In 1964, as soon as Hockney graduated, he left London for California. Having watched Hollywood movies and pictures of palm trees in his childhood Hockney had a hunch that Los Angeles was the place for him. It was love at first sight. The move hugely impacted the 26-year-old's career, who would become the seminal painter of Southern California.
He had enough money to live and paint for a year. At first, he thought he could cycle everywhere, but quickly realized he needed to get a driver's license. Driving around in an open car through the Hollywood Hills, he got a sense of how big it was and began seriously observing the landscape for the very first time, which inspired a new kind of landscape painting.
The bright colors of sunny California made their way into his work instantly as he found new ways to depict water. He thought Los Angeles looked fresh, sexy, and sunny, and he appreciated the recognizability of the landscapes. He said he had not seen people painting pictures of Los Angeles and took it as a challenge.
Hockney's practice took off in his Los Angeles studio, where he also took up polaroid photography depicting the environment and life in California. Swish landscapes and swimming pools became common motifs and Hockney began producing his famous Los Angeles paintings.
In California around 1978, David Hockney's paintings started to have more loosely applied paint, similar to the Impressionists and reminiscent of van Gogh. By then, his use of color and application of paint had changed, as seen in Santa Monica Boulevard (1980), along with his understanding of perspective. He completed paintings of interiors inspired by modern Los Angeles homes such as Hollywood Hills House (1982).
In addition to glass and mirrors, water is a recurring theme in Hockney's work. These reflective surfaces fascinate him because they are hard to describe verbally and pictorially. They are also the simplest way to draw the eye, mimicking transparency on the surface of the painting.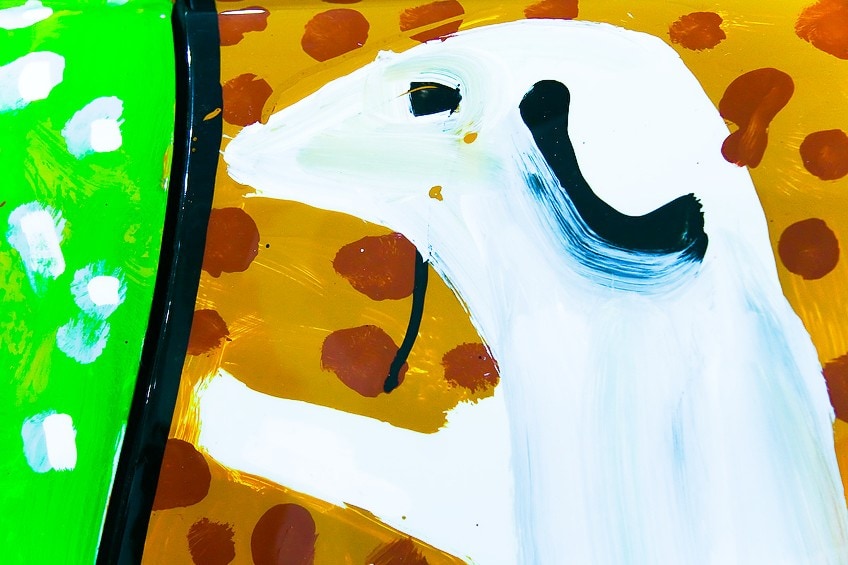 A close-up photograph of the 1995 BMW 850 CSi designed by David Hockney; Tim Wang from Beijing, China, CC BY-SA 2.0, via Wikimedia Commons
A Bigger Splash (1967) is an iconic Hockney image and was made around April to June of 1967. It was painted from a photograph. The stillness of the photograph makes it unreal as the human eye cannot capture frozen time. The range of marks Hockney made were experiments towards evoking movement in the splash. While there is no figure, the pool, the sky, the palm trees, the director's chair, and the yellow diving board are dramatized by the sign that someone has just jumped into the water.
During this period, Hockney became an international superstar.
He had been teaching at the University of UC Berkley when his art was heralded as refreshing and new in an era where American Abstraction was the status quo. His images contributed to the cool, minimalist California aesthetic. In 1976, he published his first monograph, David Hockney by David Hockney: My Early Years.
Double Portraits
Adhesiveness (1960) was his first attempt at a double portrait, which would become one of his characteristic genres. David Hockney said it was his first serious painting. He was interested in the relationship between his subjects, who were invariably attached as relatives, friends, or lovers. David Hockney's portraits are mostly double portraits and revisit the conversation piece, which was an 18th century aesthetic, creating an interaction between figures. The strange distance is created through the figures' relative occupied space.
One of the best-known David Hockney portraits, "Mr. and Mrs. Clark and Percy" (1970), is a double portrait. His subjects were his close friends Celia Burtwell and Ozzy Clark, who were a power couple in the swinging sixties of West London, Chelsea.
Ozzy was a fashion designer and Celia was a fabric designer. Though he represented them as a married couple, they were about to be divorced. Their bodies imply a polarity. Celia stands proudly in her dramatic dress and Ozzy is seated with the cat on his lap and a foot sinking into the shagpile carpet, indicating ease.
Portrait of an Artist (Pool with Two Figures) (1972) depicts a life of privilege and freedom. Set in a house in Saint Tropez in the south of France, this is a painting. The two figures are good-looking; they live lives of luxury and leisure, yet the clothed observer, Hockney's former partner Slazenger, stands on the edge of the pool in which a swimmer does the breaststroke, giving the painting a sense of psychological tension.
My Parents and Myself (1976) shows Hockey's interest in the meta double portrait. This is actually a David Hockney self-portrait as he followed artists like Diego Velázquez, who used a mirror to incorporate a portrait of himself into his double portrait. The following year, a new double portrait of his parents, My Parents (1977), used the same technique but, instead of a reflection, he represented himself as a picture on the wall, through the 1976 double portrait of his parents My Parents and Myself (1976).
Another conspicuous David Hockney self-portrait is the meta double portrait "Looking at Pictures on a Screen" (1977), in which Hockney forces the viewer to view a painting of a person viewing a painting.
In Model with Unfinished Self Portrait (1977), the curtain creates the illusion that there is a space behind the model where the artist sits drawing, but the title tells us that the unfinished self-portrait of the artist working at the table is leaning against the studio wall while a model is posed sleeping on the couch in front of it. It is a painting within a painting.
Secret Knowledge
David Hockney has said the way in which images are made gives us more information about them. For him, the way an image is made is as important as why it was made. His book, Secret Knowledge (2001), is Hockney's study in the use of optics in the works of the great masters. Western art has been dependent on optical devices for 400 years. Optical projections would have been used by artists over the long history of Western art.
Hockney debunked the misconception that cameras were invented in the 19th century.
Lenses developed in the 17th century, making it possible to make projections in the form of a camera obscura. Hockney did not invent these theories, but he has popularized them and placed them at the center of the art debate.
For David Hockney, photography is a means of transposing an image onto a flat surface. It is a chemical invention, while the camera is a precedent of this process.
There is no doubt that these artists used the concave mirror, nor is there a logical reason why artists would not use every tool available. The question then becomes about why artists are so secretive about their techniques. The answer is human nature. Artists may not want to share trade secrets with their competitors. Others may think that admitting to using such devices diminishes their reputation for skill or genius.
David Hockney Photography
Hockney began tackling photography initially with polaroids. He realized the problem with photography was that the camera records the world from a single, static focal length and perspective, producing an unimaginative way of seeing the world. David Hockney's photography wanted to challenge what he calls "the tyranny of vanishing point perspective".
David Hockney's photography is based on his interest in the differences between camera vision and human vision. To challenge the camera's monocular vision, Hockney explored ways of seeing that shattered single-point perspective.
He wanted to depict the world from all its perspectives. He would do this by showing whole figures that feel quite close by positioning the camera at varying heights. He expanded the medium, using the photographs to create a collage and embracing the grid, which operates as frames or windows.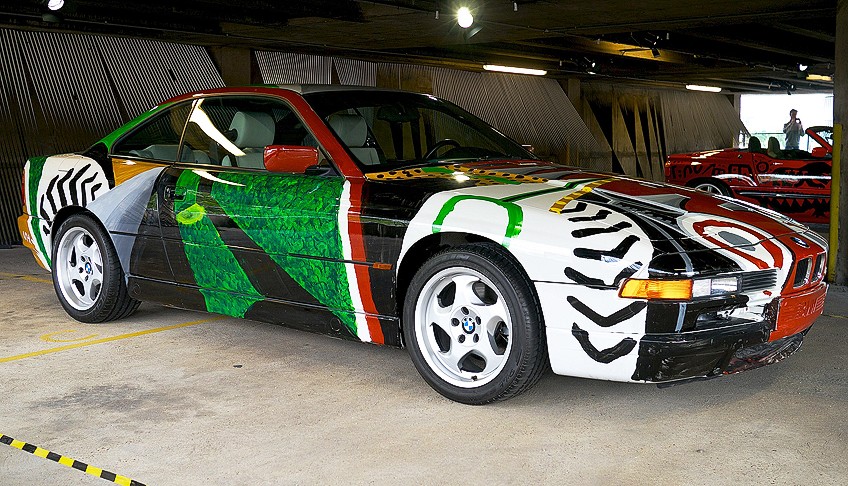 David Hockney's 1995 BMW 850CSi at a London show of the BMW Art Car Collection 1975 – 2010, in Hackney, London, in 2012; Edvvc from London, UK, CC BY 2.0, via Wikimedia Commons
In the 1980s, painter David Hockney took to using the photograph to dramatize the sense of space. The Grand Canyon is one of the largest landscapes in the world. Standing on the edge of the Grand Canyon, one must look in even though there is no single focal point. As such, it is unphotographable and presented an interesting technical challenge. Hockney's A Closer Grand Canyon (1998) is an interpretation of space and its edge at the Grand Canyon. His series of polaroids called joiners were photographed in bits to form a richer whole.
This resulted in his famous photomontage, Pearblossom Highway 11 – 18th April (Second Version) (1986). He had been commissioned by Vanity Fair and while he was driving in the Southwest, he found a subject on Pearblossom highway. Pearblossom Highway is a collage designed to mimic the subjective, Cubist experience of space.
One of the key elements in the making of this piece was a ladder that allowed Hockney to photograph the different elements from different points of view. The lettering on the road was shot from a ladder looking down. The stop sign was shot from a ladder but from eye level. His process involved moving all over to achieve various viewpoints and vanishing points.
Hockney's contribution to the problems of photography and the age-old issues of transforming a lived experience onto a two-dimensional surface has been applauded. Even though they were made with photographic equipment and techniques, Hockney's photographs pertained more to the world of painting.
iPad
David Hockney has always embraced new technologies, including photography, collage, photocopying, faxes, and eventually image software such as Paintbox and Photoshop. David Hockney's artwork switches between any available styles or media that allow for autographic expression. He is aware of the implications of new media and thinks they have revolutionary potential.
In 2009, he began working on his iPhone and later with a stylus on his iPad. The device increased his drawing output.
He has always drawn, but since he always has his iPad on hand, he can complete artworks quicker than with any other medium. Using this new medium, Hockney has produced numerous landscapes and portraits, including Untitled no. 2 (2010).
He realized that on the iPad, he could establish colors quicker and was seduced by the special effect of the luminous screen of the device. Hockney has found this feature useful for achieving luminous subjects and subtle ranges of color. The iPad offers him tools that would be impossible if he had been restricted to pen and paper.
Mature Work
Nature has become an increasingly dominant motif of David Hockney's artwork. Compelled by the beauty of his surroundings, Hockney has always done landscapes. His thoroughly Anglo-American works are the perfect blend of extravagant color and measured restraint. In 1997, Hockney spent six months in Yorkshire to be close to his old friend Jonathan, who was terminally ill. Jonathan suggested that Hockney spend his time painting his native Yorkshire and Hockney obliged.
His vivid landscapes of somber Yorkshire, such as "Yorkshire Fields, North Yorkshire" (1997), were possible of his Americanized color pallet.
When Hockney began the Yorkshire paintings, their scale was meant to mimic that of the landscape. Because the original studio he had was very small, the paintings were made outside. Each painting consisted of six big canvases that would be assembled to make one whole. This was a logistical decision as these broken-up canvases were easier to transport. He even devised a method of painting very big surfaces without the use of ladders. While he is well-known for these large-scale paintings, he is also capable of working on a small scale.
At the beginning of the new millennium, Hockney embraced watercolor, returning to favored subject matter such as portraits, still lifes, his dogs, interiors, and landscapes. Hockney's process revisits nostalgic, traditional themes and techniques.
He often painted en Plein air. Depicting a bunch of trees near a body of water, Bigger Trees (2007) is one of the more popular images from this period. Consisting of ten panels and measuring four and a half meters by twelve, Bigger Trees is Hockney's biggest en Plein air painting.
The English Countryside
David Hockney's artwork is apolitical, but no one can deny that Hockney loves England. He has always returned to Yorkshire where his mother lived, and he spent many Christmases in East Yorkshire, Bridlington even while he was living abroad. Thus, his eventual return to England seemed like a logical move that spoke to what mattered to him and his practice right at the time. In 2008, Hockney moved into his Bridlington studio. This was his largest ever studio and it allowed him to work on a massive scale.
Hockney has known the Yorkshire landscape all his life so, from 2010 onwards, he began experimenting with new ways of depicting it.
Working with film, his team in Bridlington produced digital photography landscapes using new advanced cameras. The Jugglers (2012), which could be called a Cubist video, depicts a large space in which each frame represents a separate moment. The multi-camera video work is evocative of the multipaneled paintings, allowing Hockney to make the photographic image operate more like reality.
To experiment further with depicting the vastness of space and the tallness of trees, Hockney returned to the canvas. Because he was interested in capturing nature at different times of the year, David Hockney's paintings resumed working from observation.
The Waltagate Woods, where some of the most exciting works of this period were made, show extraordinary color. He could complete a panel within a day or two and produced about nine full-scale paintings a year. He took advantage of natural effects like mist. He worked fast and when the mist was gone, he figured out how to commit it to memory. Through oil paint, he layered time, illuminating it for the viewer. Hockney's time spent in these woods was also a revelation of the complex quality of the landscape.
Normandy
After living in London, Los Angeles, Paris, and Bridlington, the artist was taken by the French Normandy. This is where he currently lives and works. A gallery owner, friend, and now-neighbor had suggested this quaint place and Hockney warmed to the tranquility of Normandy.
Since 2019, the painter has devoted himself to representing the northern French landscape, along with its textures, colors, and natural transitions.
The work he created during the period was on show at Paris' Erengere Museum. Part of it was inspired by Claude Monet's Water Lilies (1840–1926), which are housed in the Musee de Lengereie in Paris, the same building that's now exhibiting his Frieze (2020-2021), which measures 90 meters long and one meter high.
Like Monet before him, the passage of the seasons seems to be what currently pre-occupies Hockney. The artist has spent much of the COVID-19 pandemic in Normandy.
He still wakes up early in the morning and has maintained his work ethic. In the 1960s, it might have taken Hockney months to complete one painting. After a lifetime of experience, his process has become swifter and more refined, and he has become more productive than ever.
A Living Legend
David Hockney biography boasts a glittering career. For over seven decades, the art world has kept him in its warm embrace. He was world-renowned since he was a student and went on to have exhibitions in major museums across the world, which were blockbuster media events with paintings amongst the most expensive of any living artist.
People who meet Hockney find him delightful, eloquent, and always willing to discuss his work with his adoring audiences.
His works are currently being canonized in major retrospectives, such as that at the Los Angeles County Museum in 1988. This was his first and surveyed 20 years of work, including 250 pieces in various forms.
In 2017, he received a major retrospective that traveled from the Tate in London to the Centre Pompidou in Paris, and then finally to the Metropolitan Museum of Art in New York. The large retrospective spanned six decades, starting with Hockney's student works to the California swimming pools, the Yorkshire Landscapes, and his latest iPad drawings.
In 2018, one of Hockney's most famous paintings, "Portrait of an Artist (Pool with Two Figures)" (1972), went up for auction at Christie's in New York. It became the most expensive artwork by a living artist, momentarily usurping Jeff Koons. The painting was purchased for a dizzying $90 million.
The Heart, the Hand, and the Eye
The painter David Hockney has an oeuvre that strikes a chord because he weaves his persona into the life of a painting. The David Hockney biography may be rooted in the mundane dreariness of post-war Britain, but it is colored by his sexy, tropical life in Los Angeles. Whether it was the Yorkshire countryside or the Normandy blossoms, Hockney never pinned himself to one movement, style, or place. Indeed, his work has defiantly escaped categorization within ongoing art movements and trends, which is what makes them shine.
Hockney often uses a Chinese saying: "In painting, you need three things: the hand, the heart, and the eye." At 74 years old, all three seem to be in perfect working order. Hockney is clearer about the kind of work he still wants to produce and has become increasingly prolific. He continues evolving and responding to his immediate surroundings, keeping himself on his toes. This is a man who loves to draw and is not keen on slowing down.
Frequently Asked Questions
Does David Hockney Do Still Lifes?
Besides favorite subjects like his friends and dogs, David Hockney's artwork includes still lifes and daily objects like ashtrays, glasses, and spectacles. At a time, he was particularly interested in the very near object.
Why Is David Hockney's Painting Called A Bigger Splash?
A Bigger Splash (1967) is so named because it is the first of a series of three paintings. A Little Splash (1966), Splash (1966), and A Bigger Splash (1967). The titles are used to describe the size of the painting rather than the actual splash.
What's Up with David Hockney and Smoking?
David Hockney is famous for publicly defending his right to smoke, and criticizing what he calls the health police.
Heidi Sincuba was the Head of Painting at Rhodes University from 2017 to 2020 and part of the first Artist Run Practice and Theory course at Konstfack in Stockholm, 2021. They completed their BFA at Artez Arnhem in the Netherlands, MFA at Goldsmiths University of London, and are currently a Ph.D. candidate at the University of Cape Town.
Heidi Sincuba's own practice explores fugitivity through painting, drawing, text, textiles, performance, and installation. This praxis is founded on a conceptual intersection of biomythographic experimentation, existential automatism, and African ancestral knowledge systems. These methodologies of multiplicity result in a fluid and speculative aesthetic, continually manifesting and metamorphosing its material conditions.
Learn more about the Art in Context Team.