Elements of Art – An Analysis of the Seven Art Elements
Did you know that when you look at a work of art, you are really looking at several art elements composing it? Like an orchestra, each instrument has a part to play, culminating in a beautiful visual symphony. In this article, we will unpack the building blocks of art that will help you recognize how art elements are used to establish a sense of completeness and how one can distinguish between the art elements and principles of art. Read on to learn more about these fundamental elements!
The Fundamentals: What Are the Elements of Art?
In simple terms, the elements of art are understood as the parts that make up a single work of art. These are often described as methods or components in the visual arts. There are typically seven primary elements of art namely; color, value, line, shape, form, texture, and space. We will discuss each of these in more detail below.
Artists can apply the seven elements of art in numerous different ways to create artworks that are visually appealing and expressive.
Art elements can apply to almost all types of artworks, including paintings, drawings, designs, or any other form of visual composition. So, why is it so important? It is important to understand the elements of art if you are an art student, or even if you are an art enthusiast because they act as guidelines or tools to not only compose an artwork but to analyze it. Furthermore, in planning how to incorporate such elements in your artwork, you can be sure to guide the viewer's eye to your intended subject. Once the art elements are understood, the possibilities are seemingly endless as to how they can be applied. Here is the overview:
| | |
| --- | --- |
| Elements of Art | Characteristics |
| Color in Art | The main aspects of color include the color wheel, different color schemes, primary, secondary, and tertiary colors, hues, tones, tints, shades, saturation, color intensity, value, color temperature, complementary colors, and analogous colors. |
| Value in Art | This refers to the light and dark aspects of color and is understood by differences in low-key, high-key, and middle-key variations. |
| Line in Art | The main types of lines include horizontal, vertical, diagonal, short, long, curved, and zig-zag lines, which can be applied to form the fundamental structure of an artwork. Lines can also help create different effects and convey movement, rhythm, and emphasis. |
| Shape in Art | Shape ranges from square, circular, triangular, or rectangular and can be two-dimensional, geometric, or organic. |
| Form in Art | Form is described by any three-dimensional structure that contains a width, height, and depth, and ranges from cubic, spherical, pyramidal, or conical to geometric or organic. |
| Texture in Art | This refers to the "surface quality" of artworks, which can be real or implied. |
| Space in Art | Space refers to the three-dimensionality or depth created in a composition. It is comprised of positive and negative space, which can be utilized to create different effects. |
Have you ever looked at a painting without knowing what the elements of art are? Did it just look like a picture to you? Without the knowledge of these tools, we are not able to go deeper into the underlying structure of visual composition. In other words, art elements provide the framework for understanding an artwork.
It is almost like learning a language, such that each element of art plays a role in forming a visual "sentence".
As such, some art sources describe the elements of art as a form of "visual literacy" that all those who wish to engage with it in a meaningful way, should strive to learn. So, the next time you visit an art gallery, you can be sure to better appreciate the work of art, whether it be a complex sculpture or minimalist painting.
What About the Principles of Art?
Before we discuss the seven elements of art in more detail, we need to provide a brief overview of the principles of art. The principles of art are also referred to as the principles of design or the principles of organization. These principles provide structure to how the art elements are utilized and applied, and are often understood as the tools that organize them.
It is important to note that the principles of art vary according to different art sources, however, these are the most widely referred to. These include the principles of balance, contrast, emphasis, harmony, unity, proportion, rhythm, movement, variety, repetition or pattern, and scale.
Understanding the Seven Elements of Art in Detail
By understanding each art element and how they can be used to enhance and artwork's visual impact, you can be more confident in creating works that convey themes that are important to you. Below, we will dive deeper into the seven elements of art with a detailed definition of each element and how they are applied in the visual arts.
Color is Critical
Also known as a "hue", color is a critical art element because it reveals the main subject of the composition while guiding the viewer's eye to important shapes and forms. Color is best understood for its role in evoking strong emotional responses. When applied strategically, color can create a well-balanced visual composition that is used to convey styles of Realism, Naturalism, and many other art approaches.
One can immediately gauge the impact of color in famous artworks such as "The Blue Horses" (1911) and "The Yellow Cow" (1911) by the German Expressionist Franz Marc.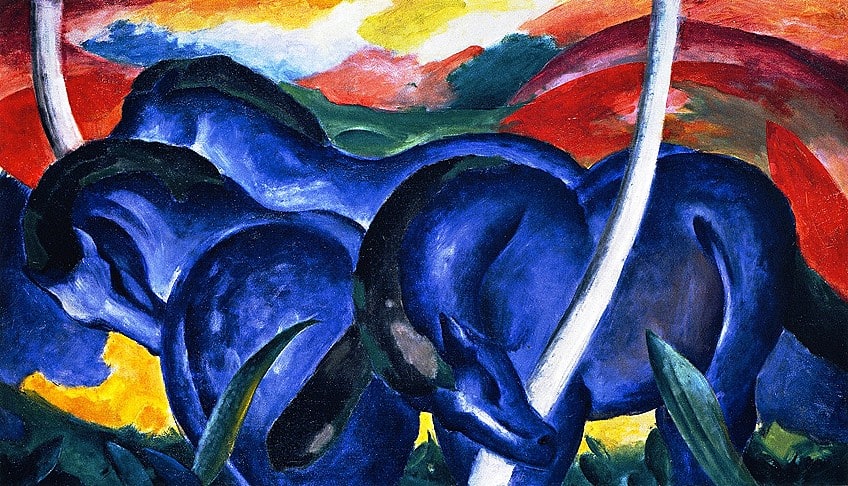 The Blue Horses (1911) by Franz Marc, located at the Walker Art Center in Minnesota, United States; Walker Art Center, Public domain, via Wikimedia Commons
In painting such as Marc's The Blue Horses, one identifies the color blue in the horses, which is a traditionally unrealistic portrayal of horses. Rather, the use of blue in this case holds a deeper spiritual meaning that also alludes to Marc's notions on masculinity, given that the symbol of the horse has been emulated as a signifier of masculinity since the modern era. In contrast to the blue hues of The Blue Horses is Marc's use of yellow as a symbol of femininity in The Yellow Cow, which is an example of how color has been attributed to themes and concepts that have no set physicality, yet with color, can adopt new meanings.
Color Science and the Color Wheel
So, what is color? The science of color involves the process of how "visible light" is formed. To understand the importance of color, one also needs to understand the makeup of color and how we perceive it. The human eye perceives light as specifics colors, depending on its wavelength and the reception of light from cells in our eyes. This brings us to the debate around whether color is real since it is something that is perceived in the presence of light.
Of important note is also the understanding that light is only a small portion of the entire electromagnetic spectrum, and is the only form from the spectrum that the human eye can perceive.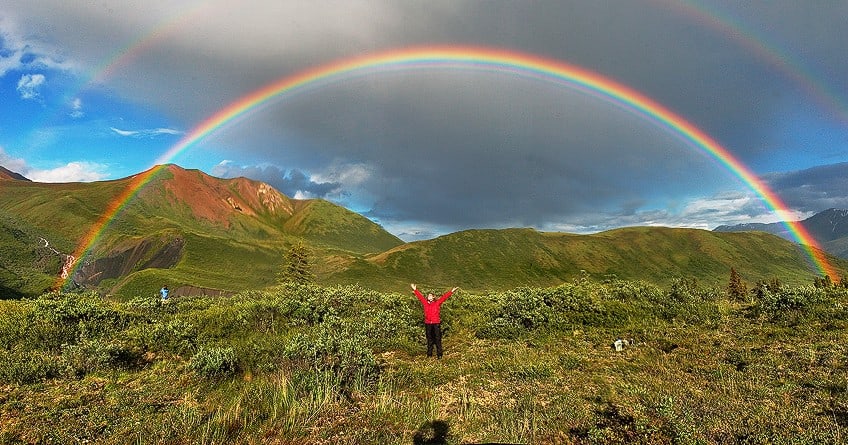 Double Alaskan rainbow and supernumerary rainbows on the inside of the primary arc. The shadow of the photographer's head on the bottom marks the center of the rainbow circle (antisolar point); Eric Rolph at English Wikipedia, CC BY-SA 2.5, via Wikimedia Commons
It is important to note that there are other forms of light like ultraviolet or infrared light that we cannot see and make up part of the electromagnetic spectrum.
In total, there are seven colors visible to the human eye. These include violet, indigo, blue, green, yellow, orange, and red.
These colors are in the order of their wavelength size, which ranges from the lowest to the highest. We can better understand these colors from their various divisions, which is best summarized in the color wheel. The color wheel was invented by Sir Isaac Newton in 1666 and has since been a useful tool that organizes the different colors into three groups, namely; primary, secondary, and tertiary colors. Blue, red, and yellow are the primary colors; orange, green, and purple are secondary colors, and red-orange, red-purple, blue-purple, blue-green, yellow-green, and yellow-orange are the tertiary colors.
It is important to note that secondary colors emerge from a combination of primary colors and tertiary colors come from a combination of primary and secondary colors.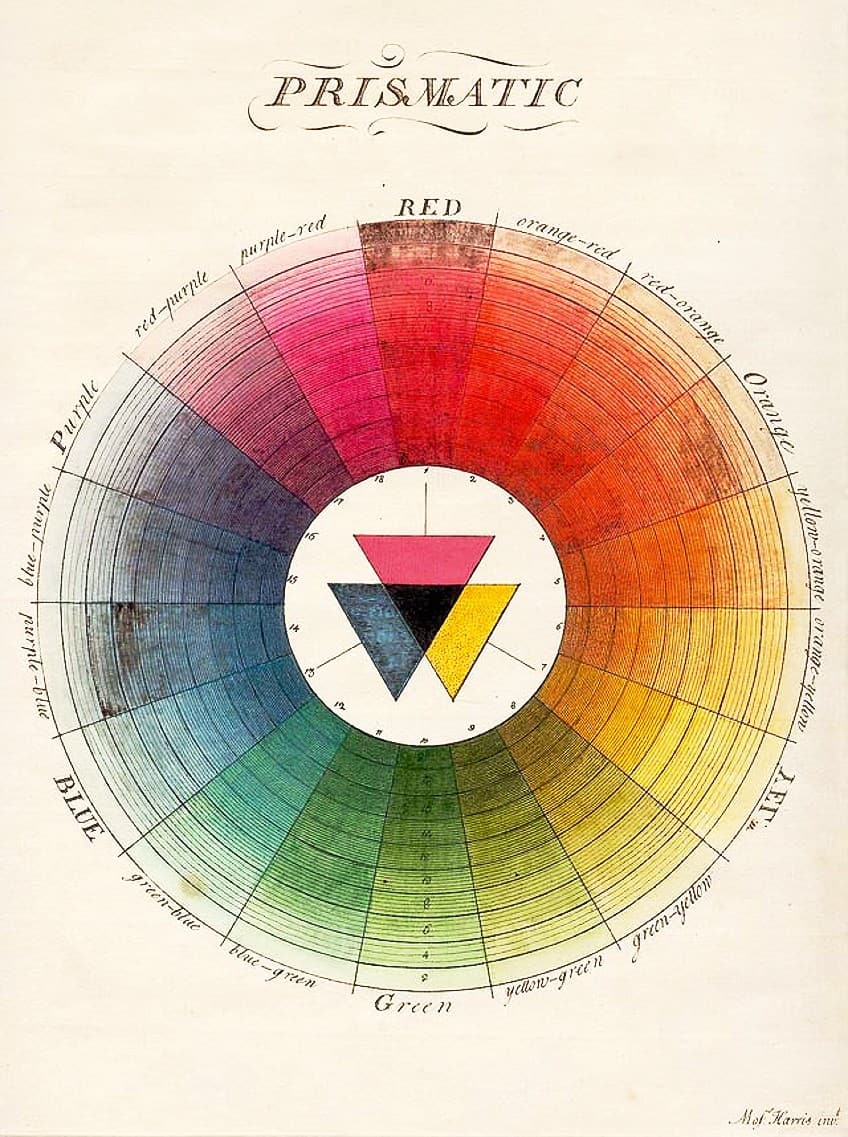 Moses Harris, in his book The Natural System of Colours (1776), presented this color palette; Moses Harris, The Natural System of Colours and Ignaz Schiffermüller, Versuch eines Farbensystems (Vienna, 1772), plate I, Public domain, via Wikimedia Commons
The primary colors, as noted above, produce various additional colors when combined. There are also complementary colors, which refer to the colors opposite one another on the color wheel. For example, blue is opposite orange, red is opposite green, and yellow is opposite purple. Each of these opposites are known as complementary colors.
Temperature in Color
Temperature in color refers to cool or warm colors, however, some sources suggest that this is also related to psychology and what we associate colors with. According to color science, color temperature is a measurement or scale that relates the colors of light radiated by objects to a temperature. The effect? As the temperature increases in color, so too does the emitted light, which changes toward hues that are bluer. Depending on the intensities and combinations of color, it has been suggested that some cool colors could appear warmer than others and vice versa.
If we look at colors like red or yellow, it gives us a sense of warmth and is associated with the sun or fire. Conversely, if we look at blue or green, it might give us a feeling of being cold and we could associate it with water or foliage.
Color Intensity and Saturation
Color saturation, otherwise understood as intensity, is often described as the brightness or brilliance of a hue and its level of intensity. The word "pure" is also used to describe when color is at its highest intensity because then, it is at its purest form and highly saturated.
How would you describe the opposite of a saturated color? Colors that appear dull or muted are understood as colors with low intensities.
A Meadow in the Mountains: Le Mas de Saint-Paul (1889) by Vincent van Gogh, located at the Kröller-Müller Museum in Otterlo, the Netherlands; Vincent van Gogh, Public domain, via Wikimedia Commons
Colors with less saturation will appear weaker or paler because of other colors like gray, white, or black added to it. Other colors can also be combined to adjust the saturation level. We will see an example of high saturation in the post-Impressionist painting titled A Meadow in the Mountains (1889) by Vincent van Gogh.
Another classic example can be seen in the work of the French Impressionist Claude Monet and his painting "Impression, Sunrise" (1872), which showcases a combination of colors with high and low saturation.
Value
Value is another important art element that can greatly impact how color is perceived. Value refers to the light or dark quality of color. Value is established when white or black is added to a color such that when white is added, it is referred to as a "tint" and black is added, it is referred to as a "shade".
The color value can often be detected if an image is viewed in black and white to expose its grayscale values.
Furthermore, value can also create different meanings or emotional effects in an artwork by adding emphasis. Colors that are represented as darker or lighter can create various "moods" or suggest the time of day. It can also highlight part of the subject or create a focal point in the composition.
Texture
Texture is broadly defined as the surface quality of an artwork. There are two ways texture can be utilized, namely implied or real. The implied texture will give the illusion of surface quality and can range from textures that are rough, smooth, hard, or soft. Texture can also be perceived through gestural marks and two-dimensional markings. For example, photographs can have a "grainy" texture and two-dimensional drawings in graphite can emphasize different textures of objects.
Examples of texture in art was best captured by artists of the Northern Renaissance like Albrecht Dürer, who skillfully rendered his subjects with meticulous detail. This can be seen in works like "Young Hare" (1502), where one can spot the immaculate detailing on the hare's fine hair.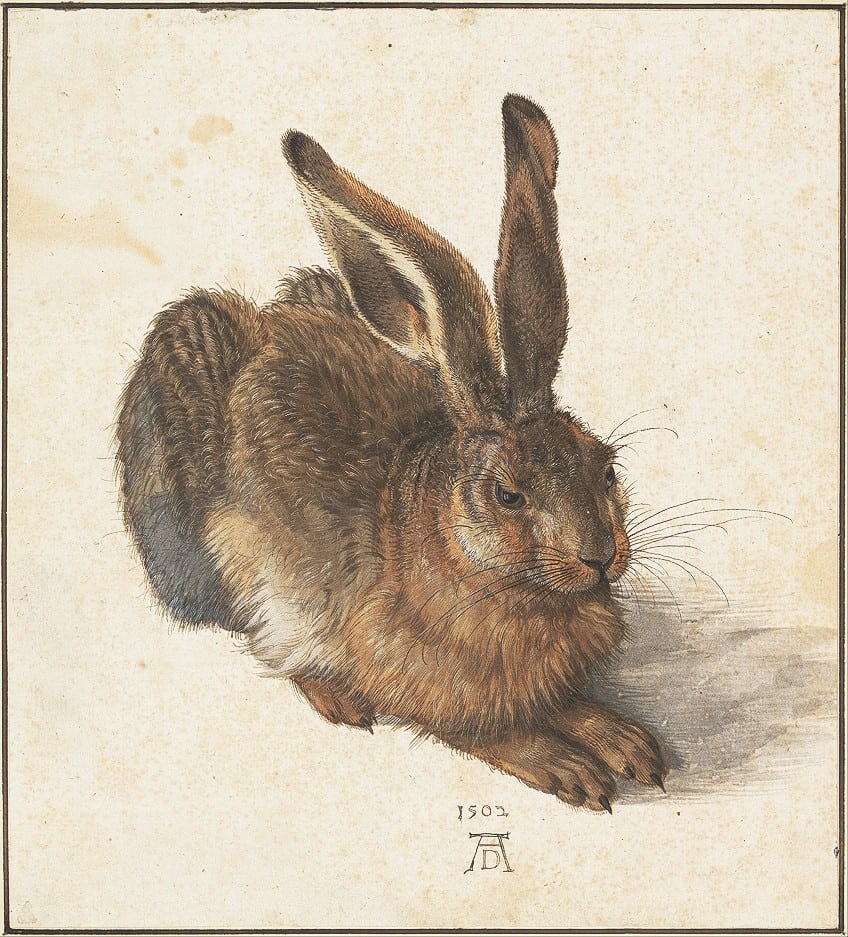 Young Hare (1502) by Albrecht Dürer, located at the Albertina Museum in Vienna, Austria; Albrecht Dürer, Public domain, via Wikimedia Commons
In the Dutch Golden Age, objects in still life paintings appeared almost real, which is usually described as "Realism" or "Naturalism". An example of this style is found in Banquet Piece with Mince Pie (1635) by Willem Claesz Heda, whose application of texture is seen in the smooth and shiny surfaces of the metal objects, as well as the crumpled fabric of the tablecloth.
Real texture refers to a tactile surface, which can be either the paint on a canvas, the material of a sculpture, or an architectural structure. The Abstract Expressionist Jackson Pollock, who would physically drip or pour paint onto his canvases, is a good example of this.
In Pollock's Autumn Rhythm (Number 30) (1950), which was created with enamel paint, we can see the tactile texture of the paint, which establishes rhythmic patterns all over the composition and is also one of the art principles we mentioned earlier.
Sculptures also provide tactile textures ranging from marble, stone, wood, plastic, or any other medium. We see this in marble sculptures like Pietà (1498 – 1499) by Michelangelo, which also implies texture as seen in Mary's robes, which adds emphasis to the figure.
Other examples of texture in sculpture include the giant stainless steel animal sculptures created by Jeff Koons.
His famous balloon animals are larger than life and give the impression of a balloon that one would find at a birthday party. Although these sculptures have hard surfaces, they give the illusion of being as soft and fragile as an inflated balloon. An example includes Balloon Dog (Magenta) (1994 – 2000).
Shape
There are two primary types of shapes characterized by geometric and organic shapes, the latter of which is also referred to as a free form shape. Geometric shapes refer to objects like circles, squares, rectangles, or triangles and are described as two-dimensional and created by lines.
Other art elements like space and color can also contribute to creating a shape by emphasizing the negative and positive elements in the work or contributing to the color saturation and value of the subject.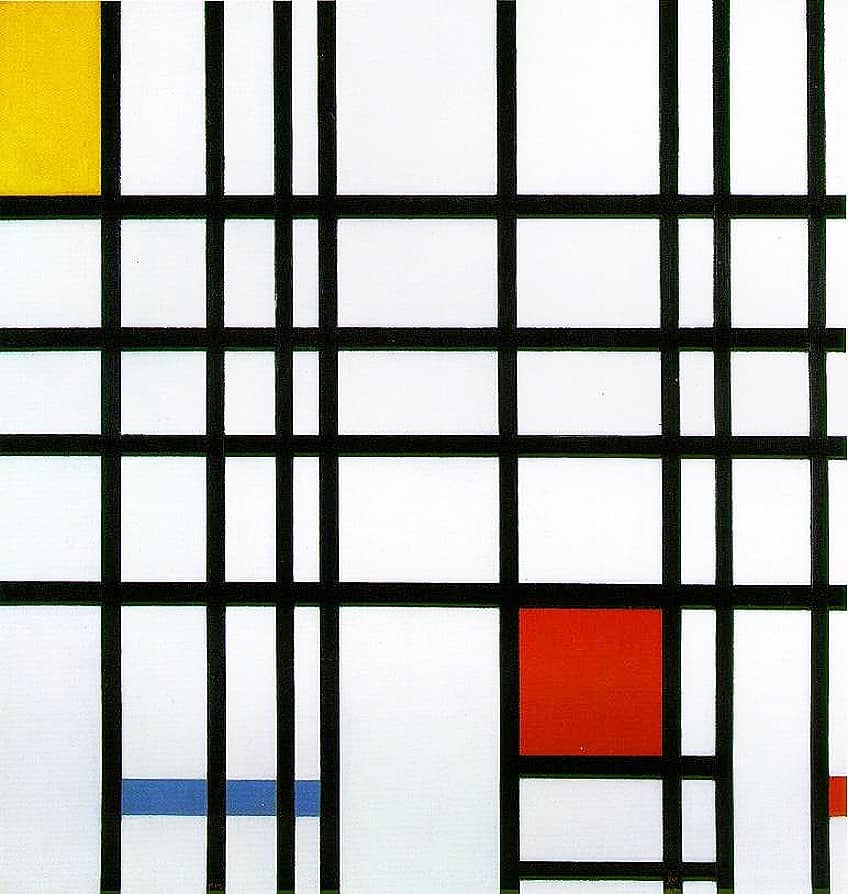 Composition with Yellow, Blue, and Red (1937 – 1942) by Piet Mondrian, located at the Tate in London, United Kingdom; Piet Mondrian, Public domain, via Wikimedia Commons
Some of the best examples of geometric shapes in art are from the famous Abstract artist Piet Mondrian and the Polish-Russian painter Kazimir Malevich. Mondrian's Composition with Yellow, Blue, and Red (1937 – 1942) depicts various squares and rectangles created by the placement of thick black lines across the canvas.
Another famous example of shape in painting can be spotted in the "Black Square" (1915) painting by Malevich, which popularized the significance of simple geometric shapes in Abstract art.
Form
Form is another art element that relates to three dimensional structures. There are different types of forms that can range from spherical, cubic, pyramidal, conical, cylindrical, and many other types. In art, form can also be described as geometric or organic.
Form refers to the artwork's entire framework or "body", whether it describes the form of the subject or the physical form of a sculpture.
An example of form in art can be seen in the stainless steel Cloud Gate (2006) sculpture by Anish Kapoor in Chicago. The famous sculpture relies on an organic form, which resembles the shape of a bean shape.
The application of almost all other art elements like color, line, texture, and space can inform the outcome of the artwork's form.
For example, with additional shading, a geometric circular shape can appear three-dimensional, thus turning into a spherical form. Techniques such as shading can also highlight an organic form. Similarly, outlines or contour lines can provide more definition to the subject.
Line
Line is an important art element that is found in almost all types of artworks and provides the fundamental structure for the subject. Lines can vary in shape and length, from short, long, vertical, horizontal, and diagonal lines to curved, straight, thin, and thick lines.
There are numerous ways to leverage lines in a way that helps you to create different effects in an artwork.
As we mentioned earlier, art principles are tools that organize art elements. Principles like movement, rhythm, perspective, pattern, or emphasis determine how lines are utilized. If lines are applied in repeated patterns, they can create a sense of movement and rhythm giving the artwork meaning and emphasis. A famous and often-used example comes from Roy Lichtenstein's Pop art painting In the Car (1963). The use of horizontal lines in this composition adds emphasis and creates the idea of movement and speed.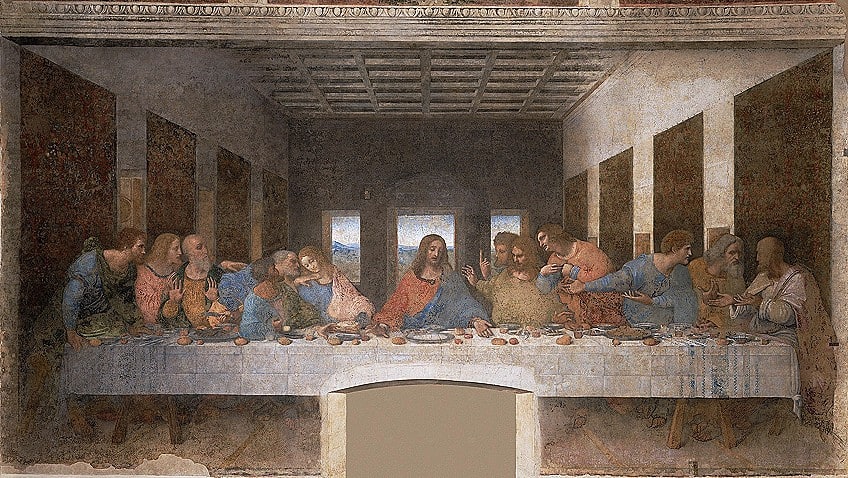 The Last Supper (c. 1495 – 1498) by Leonardo da Vinci, located in the refectory of the Convent of Santa Maria Delle Grazie in Milan, Italy; Leonardo da Vinci, Public domain, via Wikimedia Commons
Lines can also draw attention to a focal point, for example, in Leonardo da Vinci's The Last Supper (c. 1495 – 1498). Here, we see lines in the painted tapestries, along the left and right walls of the composition. The alignment of the tapestries creates a horizontal line that focuses our attention on the endpoint by the window in the background, which also highlights the central figure, Jesus Christ.
There are seemingly endless ways that lines can be utilized to create dramatic compositions. Whether it is through perspective methods or outlines, lines provide much room for experimentation.
Space
Space is about the depth portrayed in a composition, which relates to its three-dimensionality. This typically refers to paintings or drawings, which depict the "illusion of space". In sculptural or architectural art, space is defined as the area around the object, including the space occupied by the object, and whether it has openings or not.
There are also different types of space, namely positive and negative space; positive space refers to the object or subject and negative space is the space around it.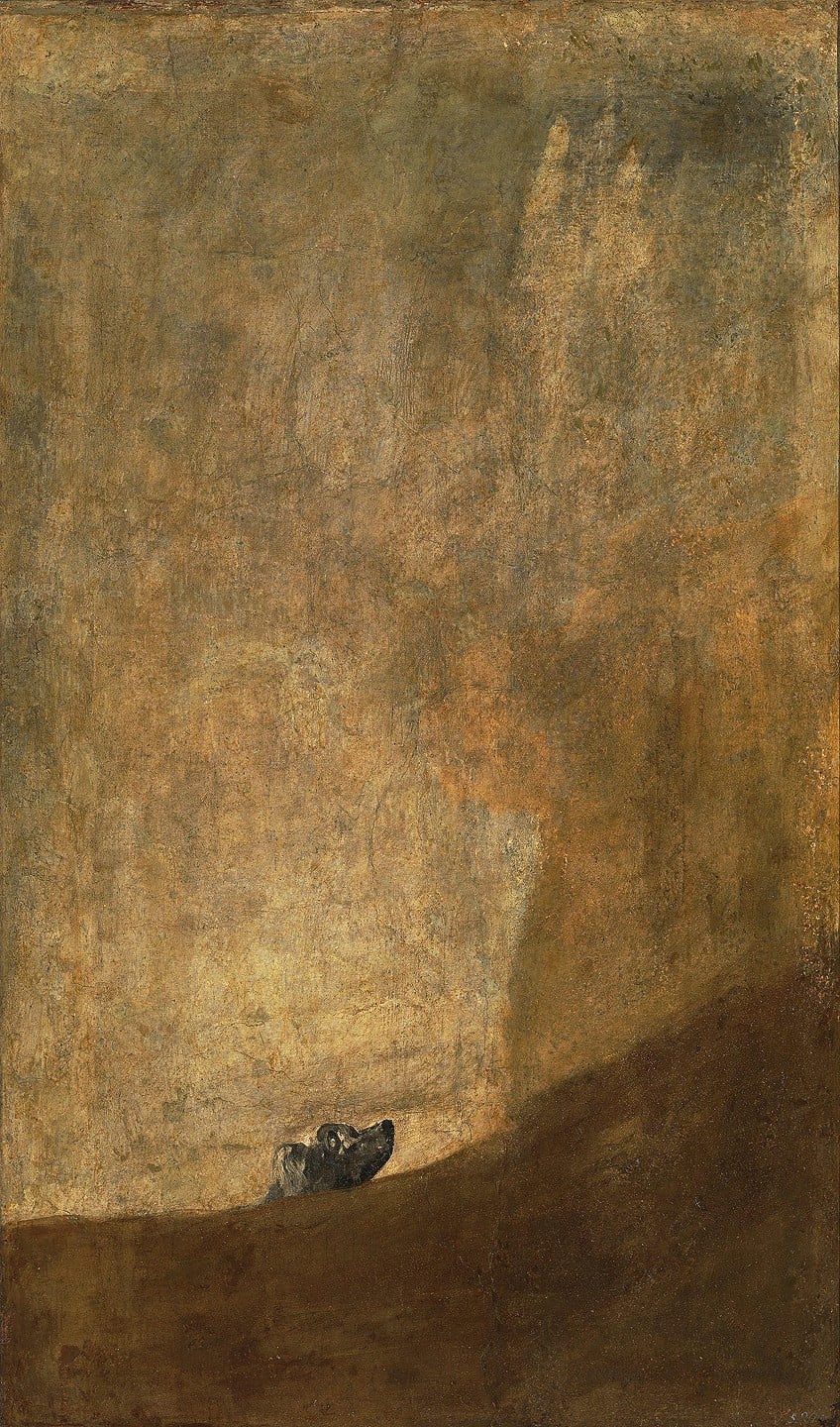 The Dog (c. 1819 – 1823) by Francisco Goya, located in the Museo del Prado in Madrid, Spain; Francisco de Goya, Public domain, via Wikimedia Commons
An example of this is in Francisco Goya's Black Painting series and The Dog (c. 1819 – 1823), which features a large open space with a dog in the lower portion of the composition. This large area of space can also create emphasis and draw our attention to the dog below.
There are also techniques that assist in creating depth on a two-dimensional surface. These methods include linear and atmospheric perspectives, which employ other art elements like line, color, and value to enhance spatial effects.
In linear perspective, parallel lines that "recede" into the background to a single focal point create the illusion of space. This is what we see in Leonardo da Vinci's The Last Supper (c. 1495 to 1498) mentioned above. Atmospheric perspective involves the use of color and value to create a hazy effect of the subject in the distance of a composition. By strategically applying space where necessary, you can be confident that your artwork will carry a great visual impact.
With these seven art elements in mind, your art practice is sure to improve. There is always more than meets the eye in any artwork and by understanding how art elements are utilized strategically, will also enhance your analytical capabilities.
Take a look at our art elements webstory here!
Frequently Asked Questions
What Are the Elements of Art?
The elements of art include color, value, texture, line, shape, form, and space that can be used to create harmonious works of art. These art elements can also be used to analyze paintings, drawings, sculptures, graphic art, or any other type of art. Art elements are used to enhance an artwork, establish the subject, convey emotions, and guide the viewer's eye to the main aspects of a composition.
How Many Art Elements Are There?
There are typically seven elements of art. These include value, color, space, texture, line, form, and shape, and are recognized as the most common art elements, among many sources and scholars. The seven elements of art are used in conjunction with the principles of art to create impactful works of art.
Why Are the Elements of Art Important?
The elements of art are incredibly important to enhance the impact of your artwork. Artists should learn more about the art elements and how to use them to not only create more visually impactful art but to critique it. Most importantly, one cannot create art without using even a few elements combined to depict, represent, and convey the message, image, or concept behind the artwork.
Alicia du Plessis is a multidisciplinary writer. She completed her Bachelor of Arts degree, majoring in Art History and Classical Civilization, as well as two Honors, namely, in Art History and Education and Development, at the University of KwaZulu-Natal, South Africa. For her main Honors project in Art History, she explored perceptions of the San Bushmen's identity and the concept of the "Other". She has also looked at the use of photography in art and how it has been used to portray people's lives.
Alicia's other areas of interest in Art History include the process of writing about Art History and how to analyze paintings. Some of her favorite art movements include Impressionism and German Expressionism. She is yet to complete her Masters in Art History (she would like to do this abroad in Europe) having given it some time to first develop more professional experience with the interest to one day lecture it too.
Alicia has been working for artincontext.com since 2021 as an author and art history expert. She has specialized in painting analysis and is covering most of our painting analysis.
Learn more about Alicia du Plessis and the Art in Context Team.
Cite this Article