Functional art is an art form often overlooked, yet it is vastly interesting, exciting, and, unlike art for art's sake, it is also useful! Functional art, also called "Utilitarian art", has existed for centuries and spreads over many different cultures. Simply put, Functional art refers to art objects that are created with both aesthetics and utility in mind. Including everything from functional sculpture to furniture, to tableware and lighting, this article unpacks what is functionality, and when it becomes art.
What Is Functional Art?
To provide a Functional art definition, it is useful to first ask "what is functionality?" Functionality is the quality of a product or object that describes its suitability to serve its intended purpose. Functionality thus describes how practical functional objects are.
When thinking about Functional or Utilitarian art, it thus refers to an object that both has a practical and aesthetic function.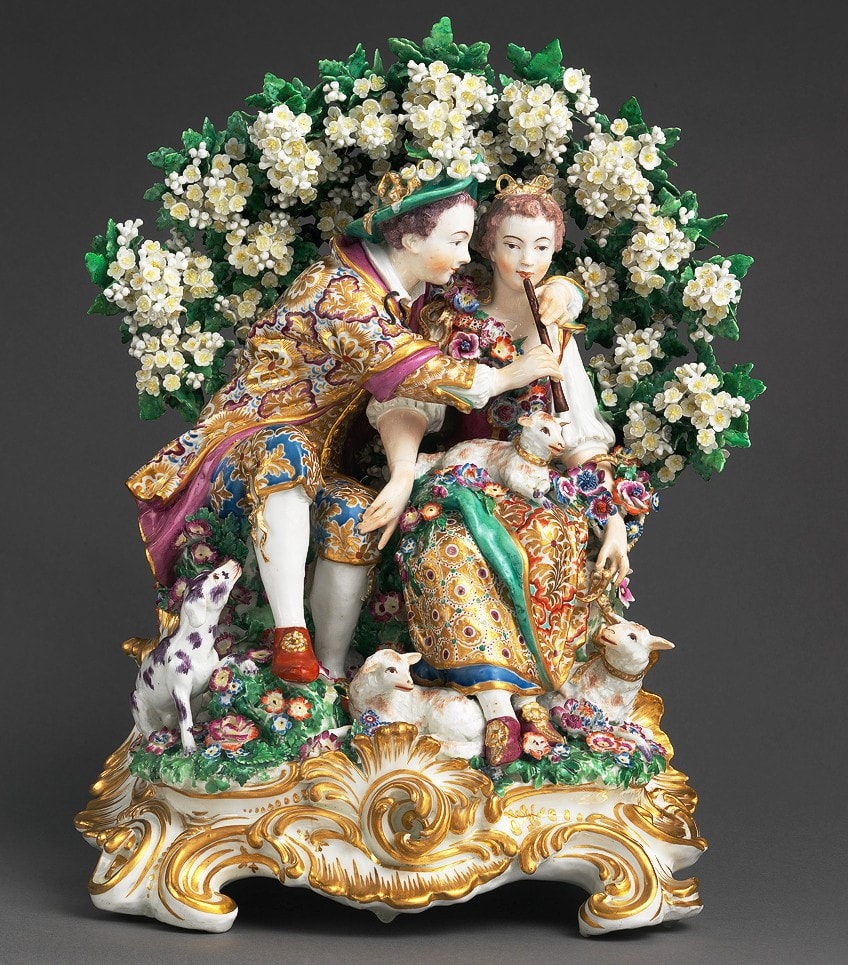 The Music Lesson ceramic sculpture, created by the Chelsea porcelain factory (c. 1765). Located in the Metropolitan Museum of Art in New York City, United States; Chelsea porcelain factory, CC0, via Wikimedia Commons
Typically, art is collected, displayed, or stored carefully. Functional art, which not only serves a decorative purpose but also has practical uses, is just as collectible and can be as valuable as any other art form. More and more galleries are displaying functional objects in their exhibitions, and they too are avidly procured by collectors.
The Functional art definition is remarkably inclusive and the following section will dive deeper into the multitude of different Functional art examples and forms.
How Did Functional Art Develop?
One of the most important institutions that played a vital role in the development of Functional art was the Bauhaus school. The Bauhaus school was founded in 1919 by German architect Walter Gropius. The vision of the institution was to educate its students in such a way that would blur the line between design and high art. The school had an unusual curriculum and had practicing artists such as Wassily Kandinsky and Paul Klee as teachers.
Pressure from the Nazi government and financial difficulties forced the school to close in 1933, but its teachings were so influential that it leaves their mark on art to this day.
Today the influence of the Bauhaus's focus on the unification of function and design can still be seen in architecture, design, and fine art. Many universities and art institutes around the world today have joint departments with architecture and design. This, however, is not only true in the case of educational institutions, but also for museums and galleries.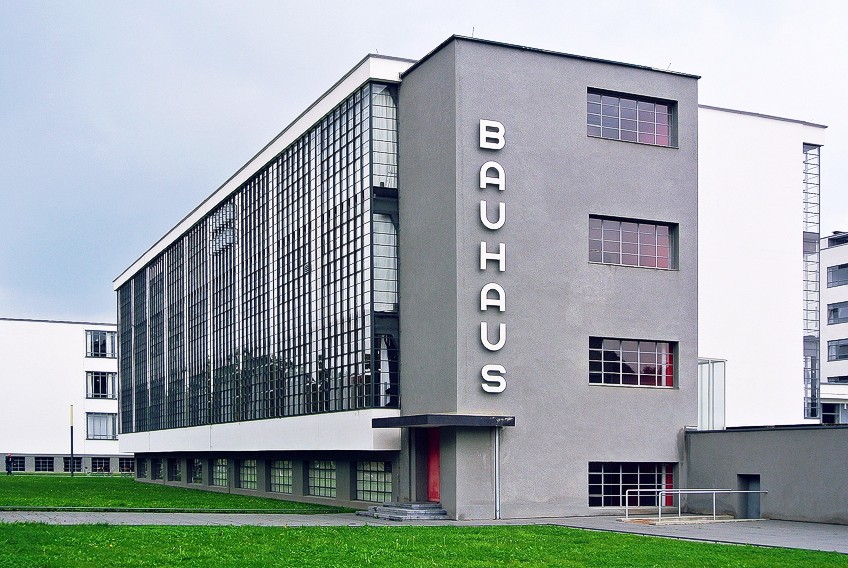 The Bauhaus building in Dessau, which was designed by Walter Gropius. It was the longest-serving of the three Bauhaus locations (1925 – 1932); Spyrosdrakopoulos, CC BY-SA 4.0, via Wikimedia Commons
In 1932, the Museum of Modern Art opened its department of architecture and design, making it one of the first museum institutions to recognize the relevance and significance of Functional art. Functional art, however, existed long before the 20th century and the Bauhaus school.
The Museum of Modern Art's design collections honors this history through its collection of Functional art objects that stretch over more than eight decades.
The collection also includes a wide range of objects, stretching from cars and helicopters to tableware and appliances. The Museum, true to its vision, focuses its collection on modern times. Functional art, however, goes back centuries and the collection and appreciation of Utilitarian art is also not a new phenomenon as it reaches back to ancient cultures.
Functional Art Examples
When answering the question "what is Functional art?", it is useful to consider some Functional art examples. From ancient Chinese vases to functional sculpture, to lighting and furniture, the Functional art genre is very inclusive.
Ceramics and furniture are the most common examples of Functional art as they can be both beautiful and conceptual in design and artistry.
Other interesting examples include fixtures such as door handles or knockers that are collected due to their artistic qualities and cultural significance. There are however many other forms of Functional art and some of the most significant examples are discussed in the section below.
Mae West Lips Sofa (1972) by Salvador Dalí
| | |
| --- | --- |
| Artist | Salvador Dalí |
| Artwork Title | Mae West lips sofa |
| Date | 1972 |
| Medium | Polyurethane foam with a red polidur coating |
| Size (cm) | 110 × 183 × 81.5 |
| Collection | Museum Boijmans Van Beuningen, Rotterdam |
An excellent example of Functional art is Spanish surrealist artist Salvador Dalí's lip-shaped red sofa. The sofa is considered a functional sculpture that is made from polyurethane foam, coated with glossy red paint. The lips are inspired by the actress Mae West, who supposedly fascinated Dalí. Dalí painted the actress in 1935. In this painting, titled Mae West's Face which May be Used as a Surrealist Apartment, Dalí painted the face of Mae West in the form of a furnished apartment, where the lips were sofa, the eyes as framed paintings, and the nose as a fireplace.
A rich British art patron, Edward James, who was a collector of Surrealist art, was enchanted by this painting.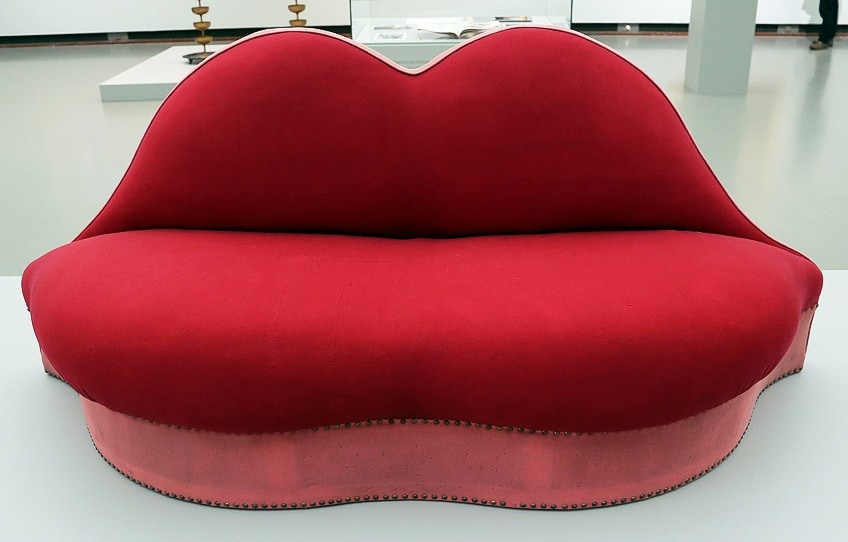 The Mae West Lips Sofa on display at the Museum Boijmans Van Beuningen in Rotterdam, the Netherlands (2017); Sailko, CC BY 3.0, via Wikimedia Commons
James commissioned Dalí to create the red lip sofa as a Functional art piece for his living room, based on the Mae West painting. The sofa is currently housed in Rotterdam in the Museum Boijmans Van Beuningen, whilst another version of the sofa is kept in the Dalí Theatre and Museum in Spain.
Yet two more versions are housed in England at the Victoria and Albert Museum and the Brighton Museum. Apart from these different versions of the original sofa, many other copies and fakes have furnished the houses of many people.
Some of the most famous personalities that owned an iteration of the sofa include Christian Dior and Elsa Schiaparelli.
The Tutankhamun Lamp (1983) by Alberto & Diego Giacometti
| | |
| --- | --- |
| Artist | Alberto & Diego Giacometti |
| Artwork Title | The Tutankhamun Lamp |
| Date | 1983 |
| Medium | Resin cast |
| Size (cm) | 49,85 x 46,67 x 18,1 |
| Collection | Private Coll |
Many might recognize the famous name of the renowned sculptor Alberto Giacometti. Though Alberto Giacometti was a famous fine artist, he also dabbled in Functional art, especially when teaming up with his brother, Diego Giacometti. Diego Giacometti deeply supported his brother's career as an artist and was often seen as his studio assistant to his brother.
Alberto Giacometti's love for his brother is clear in his work and the face of Diego Giacometti appears in many of his drawings and sculptures.
The strong connection between the two brothers can also be seen in the many archives of photographs and letters that characterize their love and respect for each other. Diego Giacometti was, however, more than a mere assistant and was a talented sculptor himself. To separate himself from his already famous sculptor brother, Diego Giacometti decided to specialize more in furniture design. Alberto Giacometti, however, also teamed up with his brother at times and the brotherly duo created many pieces of sensitively designed Functional art together.
One of these pieces is The "Tutankhamun Lamp", a cast resin lamp inspired by ancient Egypt. More specifically, the piece directly references an alabaster lamp found in the tomb of King Tutankhamun in 1922.
The Giacometti version of the lamp was first designed in 1936 by Alberto Giacometti for Jean Michel Frank. Alberto Giacometti designed the original version in plaster, and he is quoted to have loved the plaster medium for its fragility and tactility. Diego Giacometti later, in 1983, cast the same lamp in resin.
Lockheed Lounge (1990) by Marc Newson
| | |
| --- | --- |
| Artist | Marc Newson |
| Artwork Title | Lockheed Lounge |
| Date | 1990 |
| Medium | Fiberglass-reinforced polyester resin core, blind-riveted sheet aluminum, rubber-coated polyester resin |
| Size (cm) | 87 x 168.3 x 61.6 |
| Collection | The Art Gallery of South Australia, Adelaide, Australia |
This sleek and curvy metallic lounge chair with its futuristic design is more than a mere piece of furniture. Designed by Australian designer Marc Newson in 1990, the Lockheed Lounge was sold at a London auction house in 2015 for a staggering £2,434,500.
At nearly two and a half million pounds, this chair was regarded as the most expensive design object in the world at the time.
Lockheed Lounge (1990) by Marc Newson, as seen in the National Gallery of Victoria in Melbourne, Australia; I, Sailko, CC BY-SA 3.0, via Wikimedia Commons
The Lockheed Lounge owes its high price tag not only due to the talent and name of the designer, nor to the quality of the materials used, fiberglass and aluminum, but also thanks to its presence in a famous music video.
In 1993, the cultural icon and musical legend Madonna used this chaise lounge in her music video "Rain".
Boomerang (2006) by Ai Weiwei
| | |
| --- | --- |
| Artist | Ai Weiwei |
| Artwork Title | Boomerang |
| Date | 2006 |
| Medium | Crystal glass lusters, plated steel, electric cables, LED lamps |
| Size (cm) | 700 x 860 x 290 |
| Collection | Queensland Art Gallery; Gallery of Modern Art, Queensland, Australia |
The controversial Chinese artist Ai Weiwei has a history of bringing everyday objects into the white cube art space. Ai Weiwei has many times acknowledged drawing inspiration from Dada artist, Marcel Duchamp. Duchamp, who is most famous for his urinal and upturned bicycle wheel, is well known for bringing banal objects into the fine art white cube.
Duchamp's work, however, is almost the opposite of Functional art as he takes something that had a function and makes it art by removing its functionality and displaying it as an object to be only admired. Nonetheless, Duchamp's "ready-mades" challenged the notions of what is considered art, just as many Functional artworks do.
Just as Duchamp's work challenges convention and asks for new possibilities to be opened up for art, so does a lot of Weiwei's work aim to shift the meaning of what is considered art.
One of his Functional artworks takes the shape of a massive chandelier, titled Boomerang. A chandelier is an object associated with opulence, and Weiwei's chandelier seems to be the ultimate opulence due to its shine and size. Boomerang is made from a staggering 270 000 crystal pieces that are illuminated with LED lamps.
This chandelier stunningly illuminated waterfall-style chandelier takes up the entire gallery space, sized at approximately seven by nine by three meters!
The work is not only exquisite to look at and serves a function of lighting, but it also has conceptual value. The chandelier is exhibited in the Queensland Art Gallery in Australia and which adds a cultural reading to the work. This is because the chandelier is shaped like the iconic Aboriginal throwing tool, the boomerang, and with its reference to both wealth and culture, the artist poses the question of how the country acquired its wealth and what the cultural implications of this opulence hold.
Real Time Series (2009 and ongoing) by Maarten Baas
Artist
Maarten Baas
Artwork Title
Real Time Series
Date
2009 and ongoing
Medium
Varied
Size
Size Varies
Collections
Rijksmuseum, The Netherlands

Victoria Museum Melbourne, Australia
Maison Rouge Paris, France
Clocks might be some of the most functional objects in our everyday lives, yet, Dutch designer Maarten Baas, sees clocks as conceptual and contemporary art. Baas is regarded as one of the most influential furniture and object designers alive today. His limited edition designs are often unique in that it has some imperfection that is celebrated by the artist/designer.
Moreover, his designs have conceptual significance as it often critiques the culture of consumption since the twentieth century in society.
One of his works that shows this potently is his Real Time clock series, which he launched in 2009 at the Salone Del Mobile in Milan, Italy. In the Real Time series, Baas plays with the tension between human creativity and mass-produced products. Exploring the concept of time, Baas' Real Time series consists of several timepieces where 12-hour films are used to display time. In these 12-hour films, the Baas, in real-time, performs to be a clock himself, by manually drawing on, and erasing, the hands of the clock as time moves on, minute for minute.
Schiphol clock by Maarten Baas; Jim.henderson, CC BY-SA 4.0, via Wikimedia Commons
This creates the illusion of the artist/designer being physically inside of the clock, continuously and permanently communicating the time in an analog fashion. Since the launch of his Real Time series, Baas has been commissioned to expand from films and grandfather clocks to include an iPhone app and even the clock in the international terminal of the Amsterdam Schiphol airport.
In the Schiphol clock, a man in workwear is seen standing full length in the massive clock and carefully painting, cleaning, and repainting the arms of the clock as time moves on. The series expanded even further when Baas teamed up with the Carpenters Workshop Gallery, where they collaborated on clocks including the Rijksmuseum, Grandmother, Bell, and Self Portrait Clocks.
In some of his performances, the viewer can see Baas in the clocks smoking, eating, and drinking champagne.
The British Library (2014) by Yinka Shonibare
| | |
| --- | --- |
| Artist | Yinka Shonibare |
| Artwork Title | The British Library |
| Date | 2014 |
| Medium | 6,328 books, Dutch wax print fabric, gold foil, software, networked, world wide web, table, and chairs |
| Size | Overall display dimensions variable |
| Collection | Tate Modern |
Yinka Shonibare is a British-Nigerian artist whose work could be considered contemporary and postcolonial. Some of his work can however also be considered Functional art. The most obvious example of this would be his beautiful aluminum and stainless-steel chair covered in Dutch wax fabrics. A lesser obvious example of Functional art within his work is his installation work titled The British Library.
In his work, Shonibare addresses colonialism and postcolonialism whilst exploring issues around cultural identity and globalization.
In both his chair, titled Windy Chair I (Orange and Blue), and in his installation, The British Library, Shonibare uses colorful fabrics that are laden with colonial histories. Shonibare was born in the UK but spent most of his childhood in Lagos, Nigeria. He returned to London to pursue his Master's in Fine Arts where he started to more intensely investigate post-colonial issues within art.
Artist Yinka Shonibare in 2012; Daren Clarke, CC BY 2.0, via Wikimedia Commons
By using strikingly colorful Dutch wax fabrics in his work, Shonibare references Europe's influence in the West African markets where these fabrics were sold. These fabrics, produced in Europe and sold in Africa, were catered to the style of the locals and quickly became part of African cultural heritage. African families even commissioned unique designs for celebrations and commemorations. By using these fabrics in his artistic practice, Shonibare references many complexities related to colonial history, cultural hybridity and appropriation, and questions of identity and nationalism.
In his work, "The British Library", Shonibare created an installation of 6,328 hardback books individually covered in colorful Dutch wax printed fabric, displayed on shelving and including a table and chairs.
Each of the books has names printed in gold leaf on the spines. These are the names of first- or second-generation British immigrants who made remarkable contributions to British history. The names include both famous names, and lesser-known names. On the table in front of the books, the visitors could access a website (which is also part of the artwork) through tablets.
On this website, visitors can learn more about the names of the people printed on the books. The website also provides other forms of research for visitors to read and learn more about British Immigration history. The website also celebrates the ongoing contributions to British culture and history by immigrants as visitors can, if it applies to them, share their own immigration stories.
"The British Library" is thus a conceptual and beautiful art installation, whilst simultaneously being a resource for learning, exchange, and research.
Shonibare embraced public engagement with the work and explained that the work is intended to provoke reflection and debate. The seating area created as part of the installation creates a physical space that invites this kind of interaction where discussions around identity, belonging, history, culture, and refuge are encouraged. The installation is thus more than art and can be seen as an artwork that serves a cultural function of learning and exchange, within a physical place and beyond.
Spotley Cru (2017) by the Haas Brothers
| | |
| --- | --- |
| Artist | The Haas Brothers |
| Artwork Title | Spotley Cru |
| Date | 2017 |
| Medium | Beaded chair, brass |
| Size (cm) | 161.3 x 111.8 x 99.1 |
| Collection | Unknown |
The Haas Brothers is a design team composed of twin brothers Nikolai and Simon Haas. The Haas brothers were born in Los Angeles into a creative household with a painter and stone carver father, and a writer and opera singer mother. When they were still young, the family moved to Austin, Texas, where the two brothers learned the skills of stone carving and construction from their father.
When they were 19, the brothers went their separate ways, with Nikolai Haas moving to New York to pursue his music, and Simon Nikolai moving to Providence to study architecture and painting at The Rhode Island School of Design. In 2007, the twins moved back to Los Angeles whilst still pursuing their music and painting individually.
Together they started working on small construction and design projects for friends who commissioned them. In 2010 they were approached for a very special commission that would change their lives.
Sony Studios in Los Angeles approached the brothers in September of 2010 to do work for them on a small Johnston Marklee project, and as a result, the brand "The Haas Brothers" was born. Since this project, their brand has grown tremendously and has become synonymous with quirky and experimental works, including playful functional sculpture, fine art, fashion, and set design for film and print media.
They are also known for their extensive and unique use of materials, ranging from porcelain and brass to resins, beads, and fur. Their Functional art pieces display both their skill as craftsmen and their curiosity as creatives.
An example of these is their range of chairs and couches that have both the style and personality of strange and curious animal-like psychedelic monsters. An example of this is their famous Spotley Cru chair, created in 2017 from brass and beads. The Haas Brothers gave the chair extra personality in a photograph posted on their Instagram account where the chair is gazing with its monster eyes into a quirky monster-like mirror with the caption "Spotley Cru Vanity Moment".
Apart from furniture design, the Haas Brothers have also worked on fabric design for Versace and created sets for Lady Gaga's music videos. The work of the Haas Brothers is blurring the line between art and design as they are also exhibited by blue-chip art galleries and have been taken on by gallerist Marianne Boesky.
The Haas Brothers continued to be represented by the design gallery, R & Company, which exhibited their work in a solo exhibition at the Bass Museum in Miami in December 2018.
Reading Recommendations
The book recommendations below are focused on artists, designers, and institutions that have blurred the lines between functional objects, design, and high art. Some books are more focused on catalogs, whilst others explore more the conceptual side of Functional art. All of these, however, are sure to inspire and broaden our understanding of what is considered to fall under the Functional art definition.
Ai Weiwei: Spatial Matters – Art Architecture and Activism (2014) by Ai Weiwei
Ai Weiwei's work is already introduced in this article. Whilst not all of his art is considered Functional art, many of his work is both functional and conceptual. What makes Ai Weiwei's Functional artworks so unique, is his careful consideration of space. This book offers a broader insight into the work of Ai Weiwei, especially focusing on his multidisciplinary practice that includes conceptual art, architecture, filmmaking, designing, curation, writing, and publishing. Working with the artist, the editors zoom in on the ways Ai Weiwei carefully considers the spatial matters in his activist installation-orientated work.
Richly illustrated exploration of Ai Weiwei's installations

Includes excerpts from Ai Weiwei's famous blog

Focuses on the artist's use of space
View on Amazon
Artists' Homes (2018) by Tom Harford-Thompson
This is a richly illustrated book where writer and photographer Tom Harford-Thompson gives us a peek into the great living and working spaces of artists and craftspeople. From musical studios to industrial warehouses to an eco-conscious treehouse, this book is sure to amaze and inspire. The book includes the spaces of famous names such as Billy Childish, Penny Rimbaud and Gee Vaucher, and Liam Watson.
A look at the interiors, lifestyles, and houses of artists and creatives

Presents individual, eccentric homes and workspaces
Includes 350 illustrations, with 300 in color
View on Amazon
Artists and designers creating Functional art have continuously shifted and challenged the boundaries between art and design. This article explored the nuances that exist within the world of Functional art. While Functional art is something that can be explained as something that is both aesthetic and has a utilitarian value, this article investigated how Functional art can be much more than only beautiful and practical. The artists discussed in this article introduce to us different ways in which Functional art can also be emotionally moving, conceptually challenging, and culturally significant.
Frequently Asked Questions
What Is Non-Functional Art?
Non-Functional art can typically be described as art forms whose only function is to be appreciated as a piece of art. This appreciation can be on a visual, intellectual, or sensory level, but the art does not serve a utilitarian purpose. Non-Functional art can be described as all modes of fine art, including painting, sculpture, installation, and photography, to name a few. This kind of art is typically displayed and not used for daily functionality. While non-Functional art is typically valued for its sensibility or aesthetics, Functional art is valued for both its function and aesthetics.
Can Music Be Functional Art?
In some cases, music can be seen as performing a social function, thus making it Functional art. Think for instance of the music being used for educational purposes. Music is often used at elementary and pre-school levels as a useful tool to stimulate learning. Apart from an educational function, music also serves other social functions and cultural functions. The music in such cases is not only beautiful but also serves a purpose, for example providing a sense of united nationality through a national anthem. Music can also be motivating and encouraging, for example when crowds cheer on athletes with anthems and songs. But is music a Functional art? This question does not have a straightforward answer. Whilst some music is purely created for abstract listening, and thus might not be seen as a form of Functional art, other forms might serve an educational, social, or cultural function and can thus be considered Functional art.
Is Fashion Functional Art?
Like in the case of music, fashion could also in some cases be considered Functional art, and in others cases not. Big Haute Couture fashion houses like Versace, Gucci, and Louis Vuitton have regularly in the past few decades collaborated with artists to create unique pieces of clothing that are both an expression of the artist and something that can be worn. Consider for instance Takashi Murakami's Louis Vuitton handbags. Established and reputable fine art institutions are also blurring the lines between art and fashion, like the Metropolitan Museum of Art, which hosts major exhibitions of different fashion designers.
Chrisél Attewell (b. 1994) is a multidisciplinary artist from South Africa. Her work is research-driven and experimental. Inspired by current socio-ecological concerns, Attewell's work explores the nuances in people's connection to the Earth, to other species, and to each other. She works with various mediums, including installation, sculpture, photography, and painting, and prefers natural materials, such as hemp canvas, oil paint, glass, clay, and stone.
She received her BAFA (Fine Arts, Cum Laude) from the University of Pretoria in 2016 and is currently pursuing her MA in Visual Arts at the University of Johannesburg. Her work has been represented locally and internationally in numerous exhibitions, residencies, and art fairs. Attewell was selected as a Sasol New Signatures finalist (2016, 2017) and a Top 100 finalist for the ABSA L'Atelier (2018). Attewell was selected as a 2018 recipient of the Young Female Residency Award, founded by Benon Lutaaya.
Her work was showcased at the 2019 and 2022 Contemporary Istanbul with Berman Contemporary and her latest solo exhibition, titled Sociogenesis: Resilience under Fire, curated by Els van Mourik, was exhibited in 2020 at Berman Contemporary in Johannesburg. Attewell also exhibited at the main section of the 2022 Investec Cape Town Art Fair.
Learn more about the Art in Context Team.