Famous Paintings of Women – The 15 Most Iconic Female Portraits
Throughout recorded history, artists have created sculptures, female portraits, and paintings of women that have become world-renowned. From the earliest fertility statues to modern-day masterpieces, people have always enjoyed exploring the subject matter of women in art. Perhaps it is the innate beauty and curvaceous lines of the female form that serves as inspiration for the artists that created these masterpieces. And let us not forget the women themselves, many of whom were also talented artists who painted many a masterpiece, but were omitted from the art history narrative because of their gender. This article will look at some of the most iconic paintings of women, from works done by the "greats" like Botticelli and da Vinci to self-portraits by female artists like Frida Kahlo and Mary Cassatt.
Fifteen Famous Paintings of Women
While many world-renowned male painters have made famous paintings of women, there are also a few beautiful examples of women painting self-portraits of themselves. Let us take a closer look at fifteen famous paintings of women and what made them so popular.
Birth of Venus (1485) by Sandro Botticelli
| | |
| --- | --- |
| Artist | Sandro Botticelli |
| Year | 1485 |
| Medium | Oil on Canvas |
| Dimensions | 1,72 m x 2.78 m |
| Current Location | Uffizi Gallery in Florence, Italy |
Florence, Italy, is the birth town of Sandro Botticelli, born in 1445. He was an artist in the early Italian Renaissance movement. Today Botticelli is most well remembered for his paintings of mythological subjects, although he also painted many other subjects such as religious figures and female portraits. He created many renditions of the Madonna and child motif as well as helped in the painting of the Sistine Chapel. Here, he contributed to beautiful scenes such as Youth of Moses, The Temptations of Christ, and Punishment of the Sons of Corah.
Although many portraits have been attributed to him, there is only a number that can accurately be determined as being his work.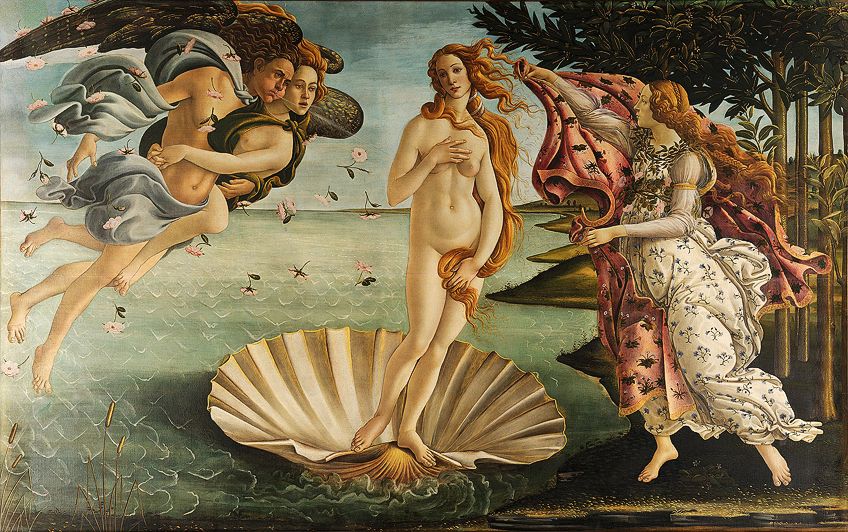 The Birth of Venus (c. 1485) by Sandro Botticelli; Sandro Botticelli, Public domain, via Wikimedia Commons
Highly famous and prolific, his artwork The Birth of Venus is likely to be the single most iconic painting of a woman ever created. This painting portrays the goddess Venus as she arrives at the shoreline on a shell after her birth, from which she emerged naked and fully formed. To her left is the winged god of wind, Zephyr, who can be seen blowing at her with visible radiating lines, trying to help the shell vessel to the shore. On her right is the Hora of Spring, one of three Greek minor goddesses. In the painting, we can see her holding out a cloak with which to cover Venus upon her arrival onshore.
Mona Lisa (1506) by Leonardo Da Vinci
| | |
| --- | --- |
| Artist | Leonardo Da Vinci |
| Year | 1506 |
| Medium | Oil in Canvas |
| Dimensions | 77 cm x 53 cm |
| Current Location | The Louvre Museum, Paris |
Mona Lisa was painted in 1506 by the master artist, Leonardo da Vinci. Another artist from Italy, da Vinci was born in the year 1452. Although he never had any formal schooling, he is remembered today for his contributions in many schools of thought such as art, science, maths, and technical inventions. He is considered to be one of the most exceptional humans in history and not just an extraordinary artist, but a genius of his time. He was left-handed but was known for writing in unconventional ways, like from right to left or back to front. He tried to keep his concepts from prying eyes by developing a style called "mirror writing".
Portrait of Mona Lisa del Giocondo (1503-1506) by Leonardo da Vinci; Leonardo da Vinci, Public domain, via Wikimedia Commons
Regarded as one of the most famous paintings ever made of a female, da Vinci created the Mona Lisa in 1506. This portrait is of a woman named Lisa Gherardini, who was wed to a nobleman, Francesco del Giocondo. In classical renaissance style, the portrait shows half the body in front of a natural landscape. To depict the relationship between nature and humans, da Vinci created curved lines in her hair and clothing that continue into their surroundings, forming part of the natural lines of the rivers and mountains. It is her everlasting beauty and hint of a smile that has made her one of the most recognizable women in art.
Self-Portrait as the Allegory of Painting (1639) by Artemisia Gentileschi
| | |
| --- | --- |
| Artist | Artemisia Gentileschi |
| Year | 1639 |
| Medium | Oil on Canvas |
| Dimensions | 98.6 cm x 75.2 cm |
| Current Location | Hampton Court Palace |
Artemisia Gentileschi was born on the 8th of July 1593 In Rome, Italy. She was a Baroque painter and is considered by art historians to be among the most celebrated 17th-century painters. She was a remarkably accomplished female artist, having created art professionally since the incredibly young age of fifteen. Opportunities were far and few during this time, especially for female artists, and Gentileschi helped pave the way for many female artists that followed.
Although the painting we are exploring today is that of a woman painting herself, she was also known for incorporating themes of female mythical figures, biblical figures, and females in history.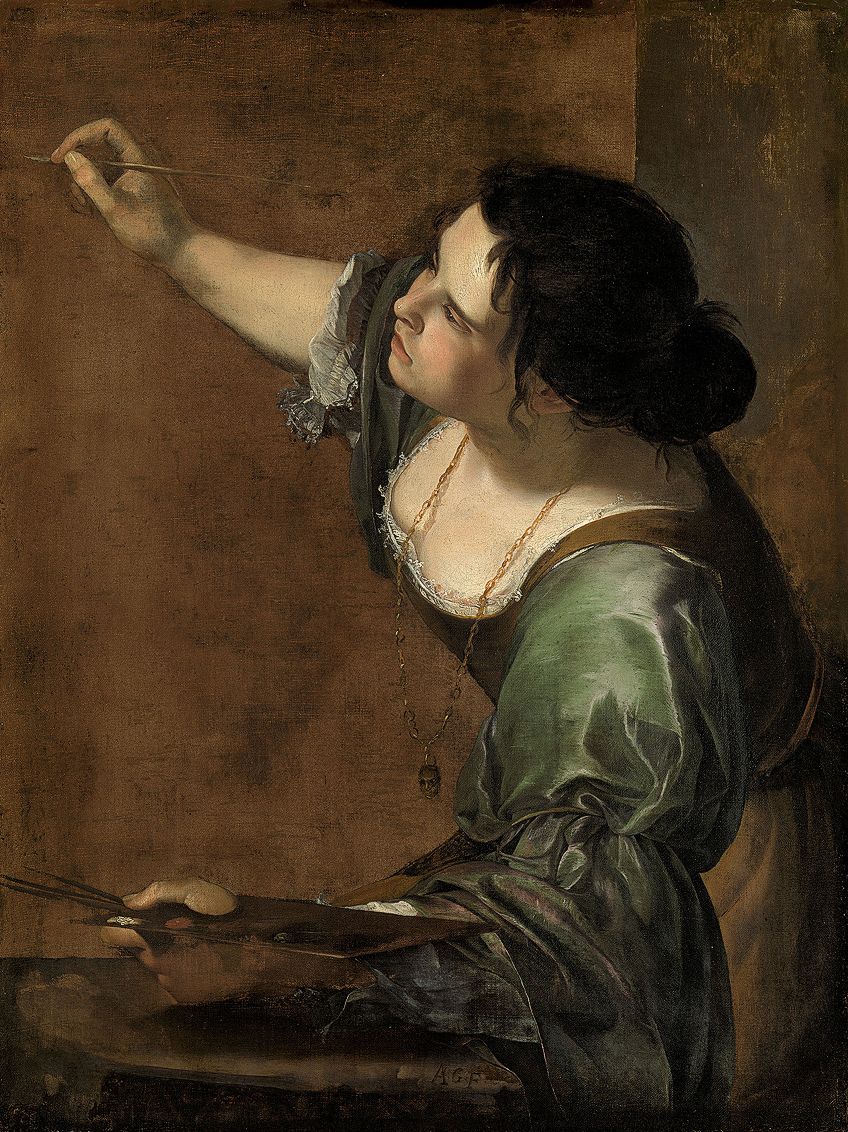 Self-Portrait as the Allegory of Painting (1638-1639) by Artemisia Gentileschi; Artemisia Gentileschi, Public domain, via Wikimedia Commons
It is believed that Charles I invited Gentileschi to London in 1638 and that it was there that she painted her famous self-portrait. The painting is meant to represent the allegorical feminine figure of painting personified. This perception of painting arose from the book Iconologia by Cesare Ripa, where he had described painting as a woman of beauty, with dark full hair, and a face that emotes a feeling of imaginative depth. In this manner, she was able to identify herself as the embodiment of painting, something that the male artists were not able to accomplish to such a personal degree as she had.
Girl With a Pearl Earring (1665) by Johannes Vermeer
| | |
| --- | --- |
| Artist | Johannes Vermeer |
| Year | 1665 |
| Medium | Oil on Canvas |
| Dimensions | 44.5 cm x 39 cm |
| Current Location | Mauritshuis Museum, The Hague |
Domestic scenes and the life of middle-class people were the focus of the works by Dutch Baroque artist, Johannes Vermeer. He worked over long periods with each painting, taking immense care in applying details slowly and at an unrushed pace. He is most notable for his exquisite and masterful use of light in his artworks. Vermeer achieved moderate success in his lifetime, having received dome recognition at the Hague, but his modest paintings were made from particularly expensive paint, which left his family in debt when he passed away in December of 1675.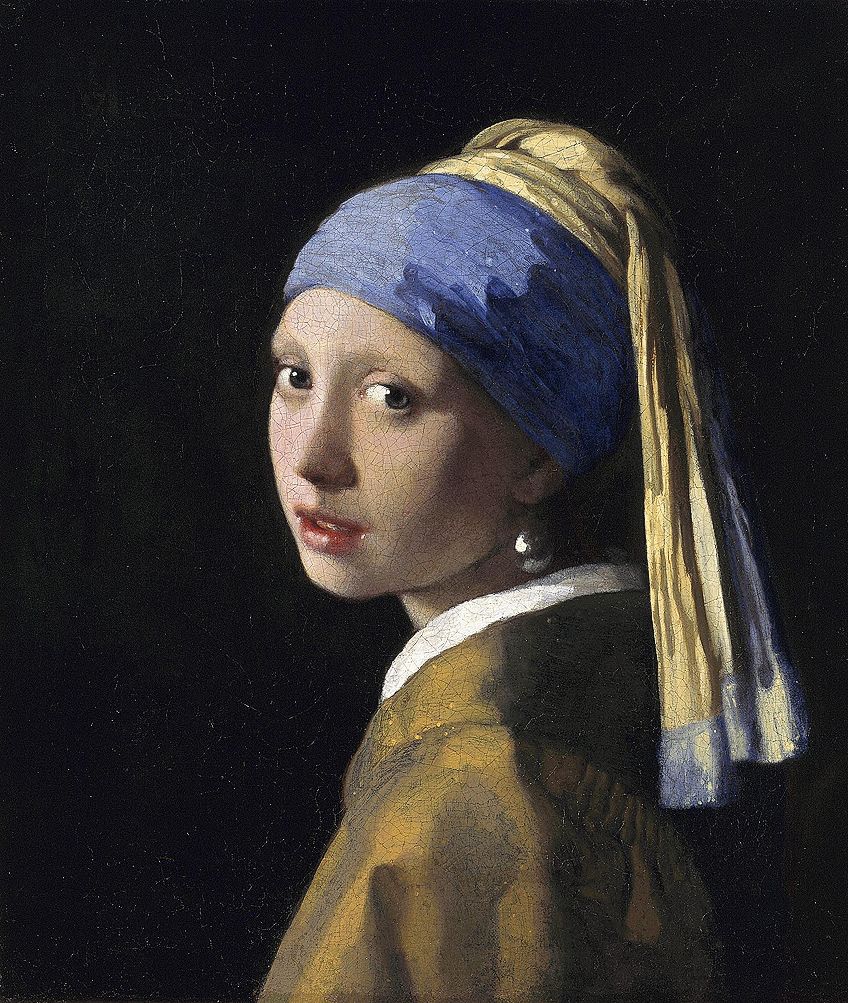 Girl with a Pearl Earring (ca. 1665) by Johannes Vermeer; Johannes Vermeer, Public domain, via Wikimedia Commons
One of his most renowned artworks is the beautifully lit Girl with a Pearl Earring, one of the most recognizable female portraits in art history. Over the centuries, this painting has gone by many different names, including the "Mona Lisa of Holland", until finally being named in recognition of the earring in the latter years of the twentieth century. Due to the size, shape, and highly reflective surface, some historians have brought doubt over the exact material of the earring, saying it looked more like tin than pearl.
After recent restorations, many elements of the painting have been enhanced, such as the subtle colors and the penetrating gaze of the woman. After much restoration of this artwork, it was also discovered that the background we see as very dark, was once a deep green.
Olympia (1856) by Edouard Manet
| | |
| --- | --- |
| Artist | Edouard Manet |
| Year | 1863 |
| Medium | Oil On Canvas |
| Dimensions | 130.5 cm x 190 cm |
| Current Location | Musée d'Orsay, Paris |
Edouard Manet was born in Paris, France on the 23rd of January, 1832. Considered a Modernist painter, he was a key figure in helping the transition from Realism to Impressionism with his 19th-century depictions of modern life. He was born into a family with strong political ties and was expected to follow politics as a career, an idea he rejected early in life to pursue his desire to become an artist. During the last two decades of his life, Manet formed strong relationships with other contemporary artists of his time and developed a unique style that was renowned for its innovation, influencing many future painters to come.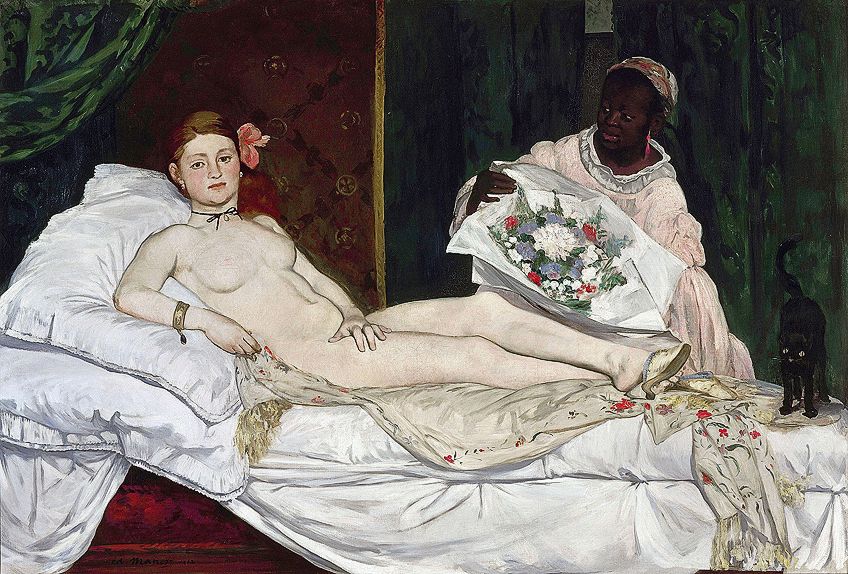 Olympia (1863) by Édouard Manet; Édouard Manet, Public domain, via Wikimedia Commons
Olympia first appeared in the Paris Salon exhibition in 1865. It portrays a naked woman reclining on a bed, while her servant brings her a bouquet of flowers. Victorine Meurent was used as the model for Olympia and Laure was the model for Olympia's servant. The model's defiant stare caused much outrage among the general public, as many details of the painting hint at her being a working girl or prostitute. These details included her earrings and bracelet, the orchard nestled in her hair, and the shawl on which she reclines. These were all considered symbols of the wealthy and overtly sensuous in theme.
Many art critics of the time despised the work and conservatives wanted it destroyed, but over time it has become a highly regarded and empowering example of female art.
Whistler's Mother (1871) by James McNeill Whistler
| | |
| --- | --- |
| Artist | James McNeill Whistler |
| Year | 1871 |
| Medium | Oil on Canvas |
| Dimensions | 144.3 cm x 162.3 cm |
| Current Location | Musee de Orsay in Paris |
James McNeill Whistler was an American artist born in Massachusetts in 1834 but spent the majority of his time in the United Kingdom. He was most active during the era known as the American Gilded Age, and his works were known for their moral and sentimental undertones. His signature was said to resemble a butterfly with a long stinging tail, which was said to be reflective of the various aspects of his personality, such as his soft painting style yet aggressive public persona.
He was both an artist and musician, finding similar themes running through both subjects, leading to him naming certain artworks after musical terms such as "harmonies" or "arrangements," thus underpinning his emphasis on tonal harmony. He was considered the founder of Tonalism.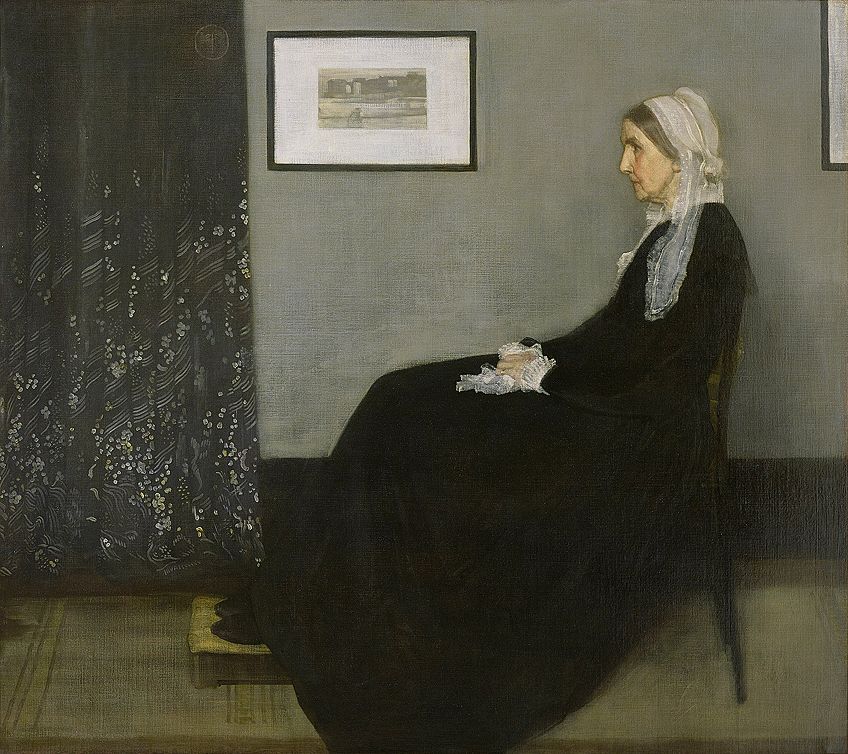 Whistler's Mother (or Arrangement in Grey and Black No. 1) (1871) by James McNeill Whistler; James McNeill Whistler, Public domain, via Wikimedia Commons
His most famous work of art is also one of the most easily recognized female portraits in art today, portraying his mother sitting in a chair, looking quintessentially motherly. It is also known as Arrangement in Grey and Black no. 1 and was said to have been painted when she was living in London. Some historians have speculated that his mother was a fill-in for a model who was not able to attend the session. His mother, Anna Mcneill Whistler, was in her late 60s at the time and was eventually painted seated after complaining about having to stand on her feet for long periods.
Woman With a Parasol (1875) by Claude Monet
| | |
| --- | --- |
| Artist | Claude Monet |
| Year | 1875 |
| Medium | Oil on Canvas |
| Dimensions | 100 cm x 81 cm |
| Current Location | National Gallery of Art, Washington DC |
Claude Monet was born on the 14th of November 1840 in Paris, France. Monet hardly needs an introduction as he is, rightfully so, considered to be one of the most famous of all painters hailing from France. In fact, Monet is also considered to be the pioneer or father of the Impressionist movement. He sought to paint nature subjectively as he viewed it and not how it was perceived by others. This has led to him being revered as a key figure leading up to the Modernist movement.
Throughout his lengthy career, he was famed for being the most outspoken authority on the Impressionists philosophies, which emphasizes the painter's perspective as opposed to the objective view of the natural world.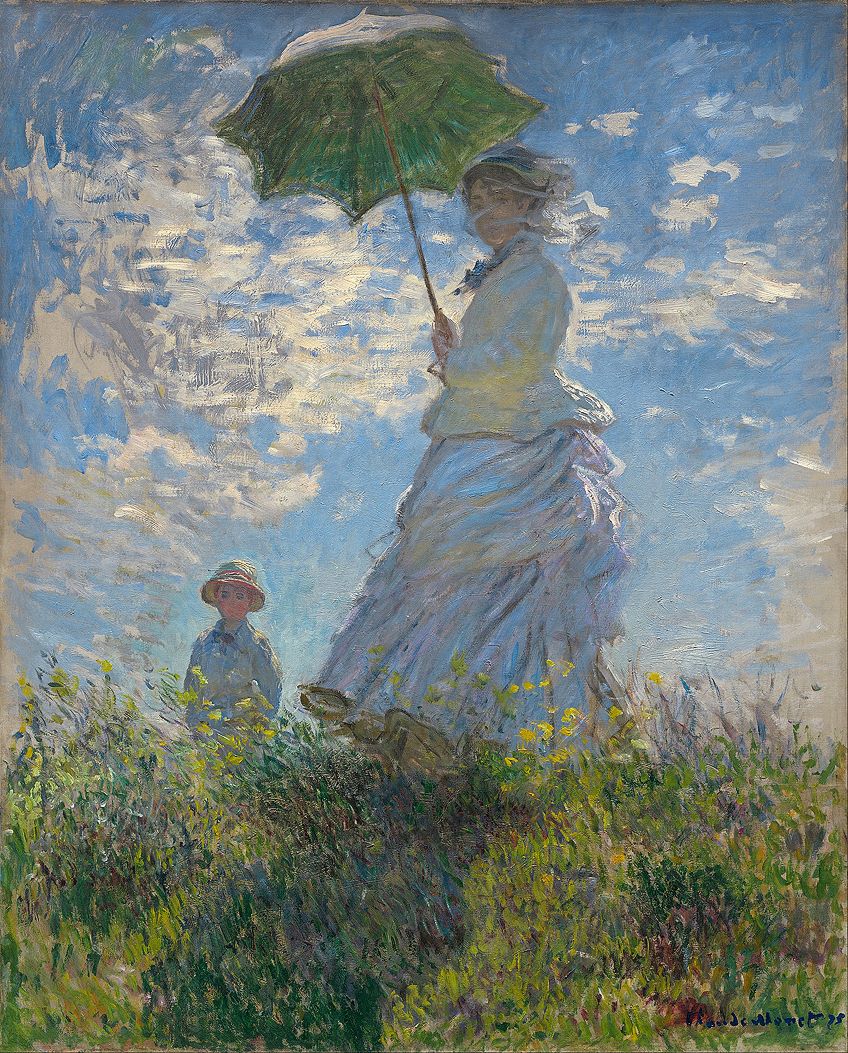 Woman with a Parasol – Madame Monet and Her Son (1875) by Claude Monet; Claude Monet, Public domain, via Wikimedia Commons
Woman With a Parasol portrays his first wife and son walking through a meadow in Argenteuil on a windy day. It is also known as The Stroll, and it exemplifies Monet's use of color in the typical style of Impressionism. The spontaneous feel of the painting has been credited to the fact that it was most likely painted outdoors in one session. At 100 cm by 81 cm, it is one of his largest works from that period. About a decade later, he painted two similar pieces using his next wife's daughter, Suzanne Monet.
The Cup of Tea (1881) by Mary Cassatt
| | |
| --- | --- |
| Artist | Mary Cassatt |
| Year | 1881 |
| Medium | Oil On Canvas |
| Dimensions | 92.4 cm x 65.4 cm |
| Current Location | Metropolitan Museum of Art |
A female American artist, Mary Stevenson Cassatt was born in Pennsylvania on the 22nd of May, 1844. Although born in the United States, she spent much of her life in France. She was friends with Edgar Degas and she exhibited her work alongside other contemporary male Impressionists. Her work often depicted images of the lives of women in privately social settings, such as the close relationships between mother and child.
Alongside Berthe Morisot and Marie Bracquemond, Gustave Geffroy claimed Cassatt to be one of "the three great ladies of the Impressionist movement". Her work has been compared to her fellow counterparts such as Degas, as both strove to portray light and movement with a modern sensibility.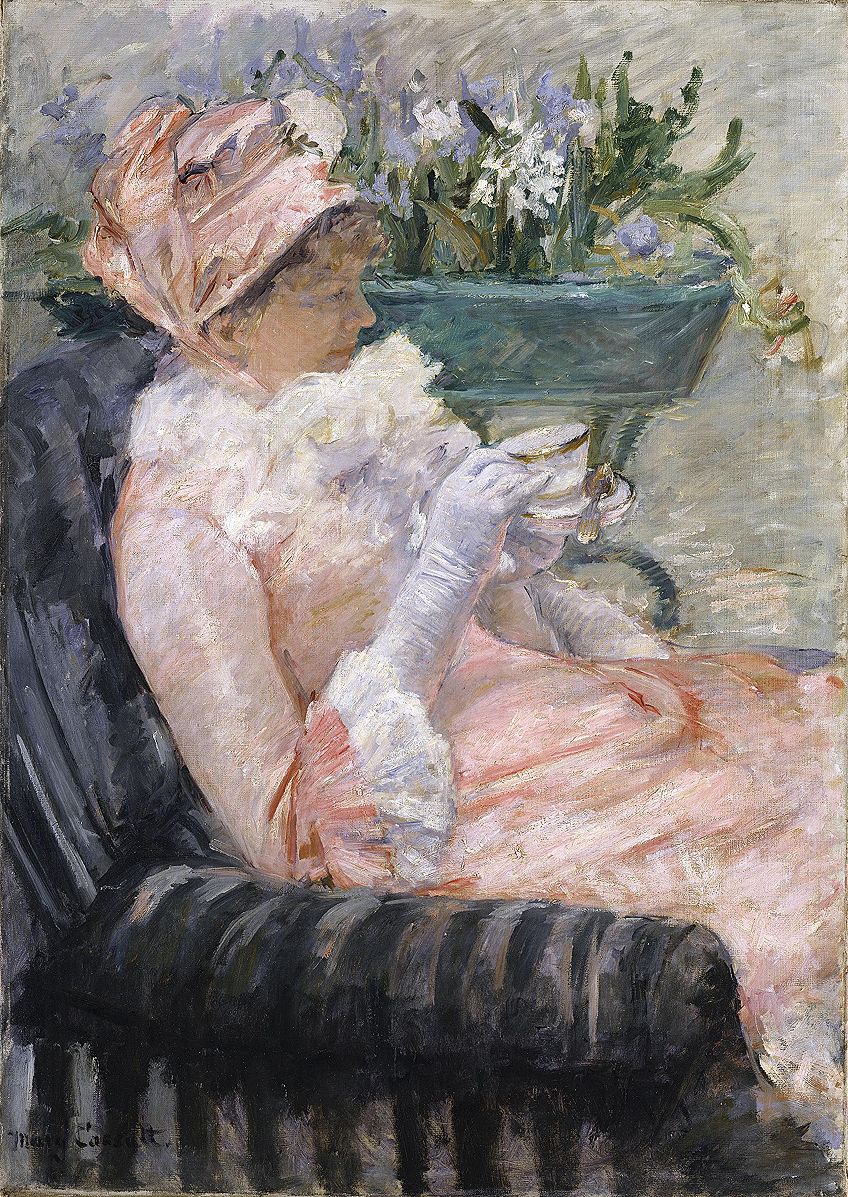 The Cup of Tea (c. 1880-1881) by Mary Cassatt; Mary Cassatt, Public domain, via Wikimedia Commons
Mary Cassatt painted The Cup of Tea in 1881, during a time when having afternoon tea was for wealthier women, a daily social ritual. This theme fitted with Cassat's desire to depict everyday life as it was during the 1880s. The rest of her family moved to Paris in 1877 and thereafter, her sister Lydia was often used as a model for Mary's various paintings. Cassatt's paintings were a study in contrasting colors, high-keyed palettes, and brilliant brushwork, and these elements display how she embraced Impressionism in her artworks.
For a woman painting in a predominantly male-led era, she still set herself apart with her unique techniques and style.
The Portrait of Madame X (1884) by John Singer Sargent
| | |
| --- | --- |
| Artist | John Singer Sargent |
| Year | 1884 |
| Medium | Oil on Canvas |
| Dimensions | 234.9 cm x 109.8 cm |
| Current Location | Metropolitan Museum of Art, Manhattan |
Although he was born in Florence, John Singer Sargent was an American artist, born on the 12th of January, 1856. He created an estimate of 900 oil paintings as well as more than 2,000 watercolors and is regarded as the leading portrait painter in his lifetime.
John Singer Sargent was born in Florence, Tuscany, to American parents. Before moving to London he trained in Paris and spent most of his time living in Europe. The Portrait of Madame X was exhibited at the Paris Salon and he had hoped it would cement his position as a Parisian painter of society, but unfortunately, it was marred by scandal. The following year, he left for England and continued a highly renowned career as an artist of portraits.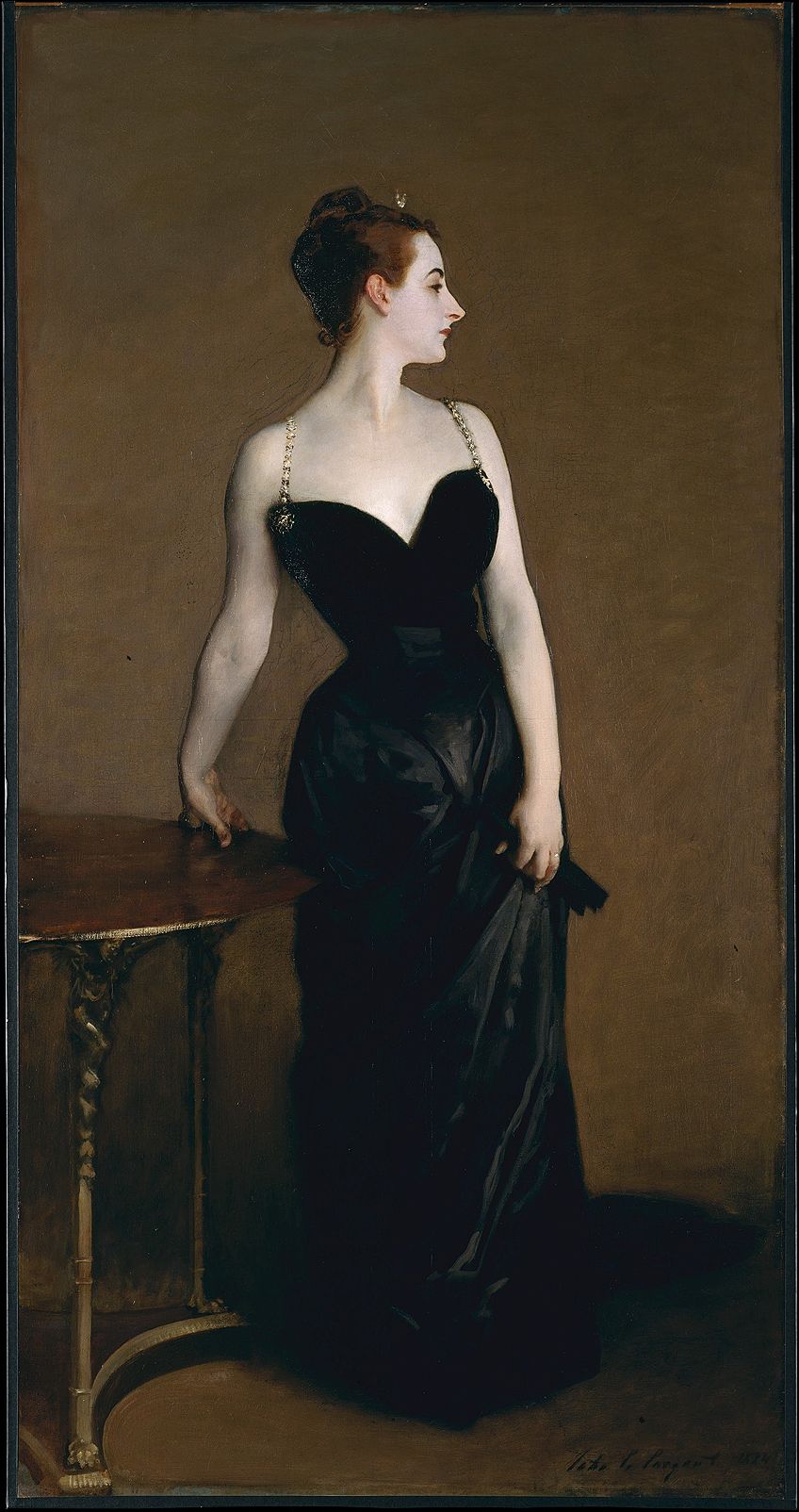 Madame X (Madame Pierre Gautreau) (1883-1884) by John Singer Sargent; Metropolitan Museum of Art, Public domain, via Wikimedia Commons
The Portrait of Madame X was considered controversial at the time as it was suggested that her pose was sexually provocative. Sargent purposefully and carefully chose the pose for the model, Virginie Gautreau, with her body facing forward in a bold stance while her head is painted in profile view. The model was painted wearing a black dress made of satin that both hides and reveals the form simultaneously in this woman painting.
Critics of the painting remarked that the artist had intentionally created aspects of the painting to enhance the curves of the woman, such as the table she is leaning against for support.
Woman in Her Bath Sponging Her Legs (1884) by Edgar Degas
| | |
| --- | --- |
| Artist | Edgar Degas |
| Year | 1884 |
| Medium | Pastel |
| Dimensions | 19.7 cm x 41 cm |
| Current Location | Musée d'Orsay, Paris, France |
Edgar Degas was born in July of 1834, in Paris, France. Degas also worked with many mediums including, prints, bronze sculptures, and drawing, although he is most well known for his Impressionist oil paintings. Many of his paintings portray dancers and dancing, as the depiction of movement was of particular interest to him. This interest can further be observed in his painting of bathing naked women and racing horses. He also painted portraits that were revered for their masterful display of intricate human emotions.
He is regarded by most art historians as one of the original fathers of Impressionism, although he claimed to not like that term and preferred the description of Realism. Unlike other Impressionists, many of his works depicted the indoors.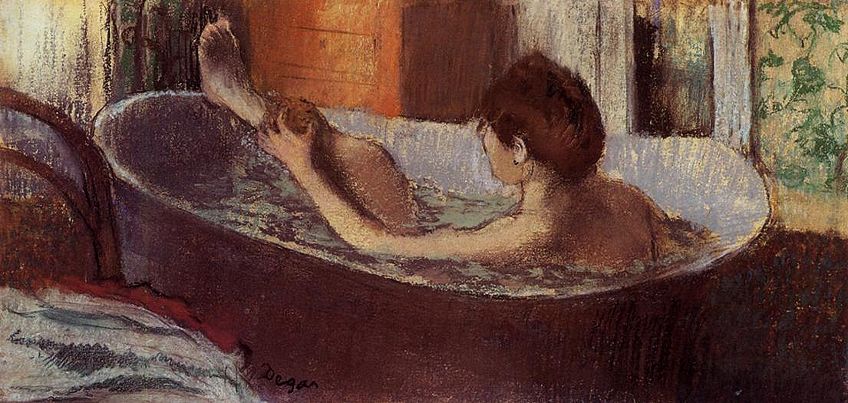 Woman in a Bath Sponging Her Leg (c. 1883) by Edgar Degas; Edgar Degas, Public domain, via Wikimedia Commons
Edgar Degas created Woman In her Bath Sponging Her Legs as part of a series of naked female portraits made with pastel. He did not want to copy the classic nude art of the Romans or Greeks but rather wanted to represent real women in art, engaged in the usual everyday activities that took up their time, such as bathing. Many of his works were sketched spontaneously first and then completed and detailed further later in his studio. This painting depicts grace of movement, his gentle lines curving in a manner that relaxes the viewer and creates an ambiance fitting of one that is experienced when bathing.
The Crystal Ball (1902) by John William Waterhouse
| | |
| --- | --- |
| Artist | John William Waterhouse |
| Year | 1902 |
| Medium | Oil on Canvas |
| Dimensions | 120 cm x 87 cm |
| Current Location | Private Collection |
John William Waterhouse was born in Rome, Italy, on the 6th of April 1849 to English painter parents. He was known for his work in the Academic Style before moving on to the Pre-Raphaelite style. He was particularly known for depicting women in artworks, with themes ranging from the Legends of Arthur to Greek Mythology. A favorite theme of his was to create works of art inspired by classic authors such as Keats, Shakespeare, Homer, Ovid, or Tennyson.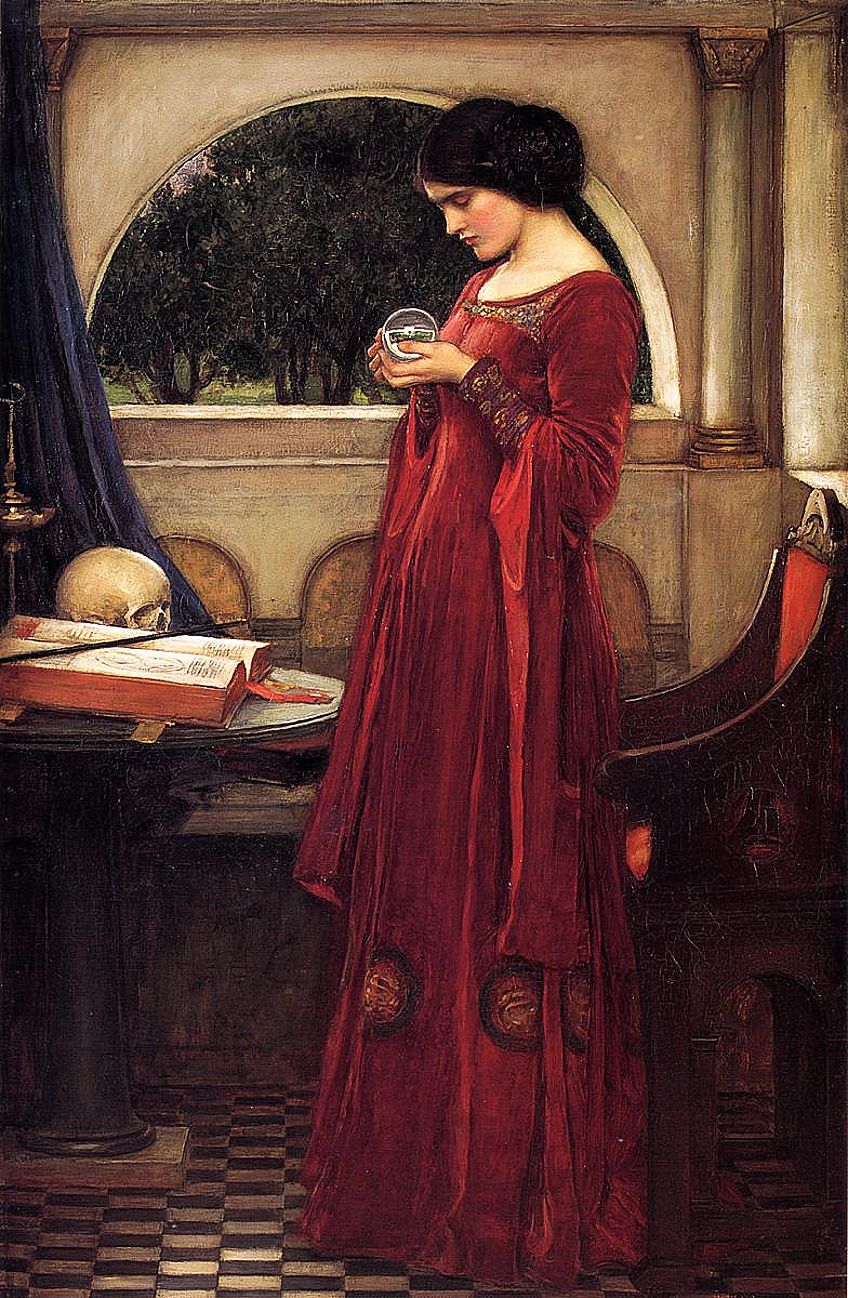 The Crystal Ball (1902) by John William Waterhouse; John William Waterhouse, Public domain, via Wikimedia Commons
John William Waterhouse painted The Crystal Ball in 1902, and he exhibited it later that same year along with The Missal at the Royal Academy. One can observe the influence that the Italian Renaissance had on the artist's work by the use of circles, as well as the use of horizontal lines and vertical lines in relation to each other. When compared to the Gothic era, it was apparent that his art showed a noted departure from the usually pointed arches found in the architecture of this period.
Now belonging to a private collector, the painting was restored to its original beauty after a previous owner covered up the skull on the table. The detail and texture captured by the artist on the velvet dress are exquisitely detailed.
Woman with a Fan (1918) by Gustav Klimt
| | |
| --- | --- |
| Artist | Gustav Klimt |
| Year | 1918 |
| Medium | Oil on Canvas |
| Dimensions | 100 cm x 100 cm |
| Current Location | Austrian Belvedere Gallery |
Part of the Vienna Secession movement, this symbolist painter was also a very well-known and prominent figure. Gustav Klimt was born on the 14th July 1862 In Baumgarten. The main subject matter in his art was the female form and his work is known for its heavily erotic undertones. Besides female portraits, he was also known for painting landscapes. Compared to other artists within the Vienna Secession movement, Klimt's work displays the most influence of Japanese art techniques and styles.
Woman with a Fan reflects Gustav's mixture of his distinctive style and the influence of Japanese art in modern art, known as Japonism. This was one of his last works, having been completed in the same year that he passed away.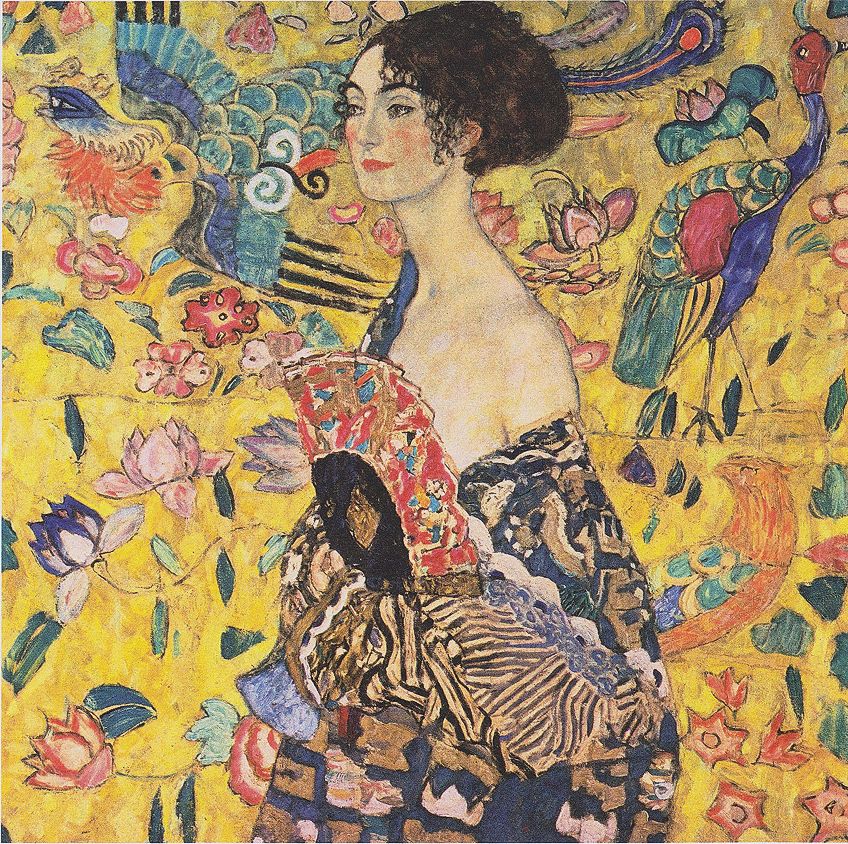 Woman with fan (1917-1918) by Gustav Klimt; Gustav Klimt, Public domain, via Wikimedia Commons
Originally part of the avant-garde movement known as Viennese Secession, Klimt's later works were regarded as more passionate and emotive compared to his earlier art. During this period he took more risks in both style and technique.
The background is reminiscent of his gold period with its distinct yellow hue. The flowers and birds are painted in his distinctively exuberant use of the color palette. The painting reflects much of its Japanese influence with the stylized and vibrant patterns that imitate the woodblock printing aesthetic. This work perfectly represents the evolution of the artist's journey through art, by mixing the holy with the erotic, the ornamental, and with the finer aspects of art in perfect balance.
Self Portrait with Thorn Necklace and Hummingbird (1940) by Frida Kahlo
| | |
| --- | --- |
| Artist | Frida Kahlo |
| Year | 1940 |
| Medium | Oil paint |
| Dimensions | 47 cm x 61 cm |
| Current Location | Harry Ransom Center, Austin, Texas |
Frida Kahlo was born on the 6th of July 1907, in Mexico City, Mexico. She was most well known for her many self-portraits. A rare example of a woman painting her own portrait, she embraced her cultural identity by her utilization of naive folk art styles. She used her art to explore such topics as class, gender, and post-colonial Mexican society. She mixed elements of fantasy with autobiographical realism to create her unique interpretation of Mexican culture and was a unique voice for women in art.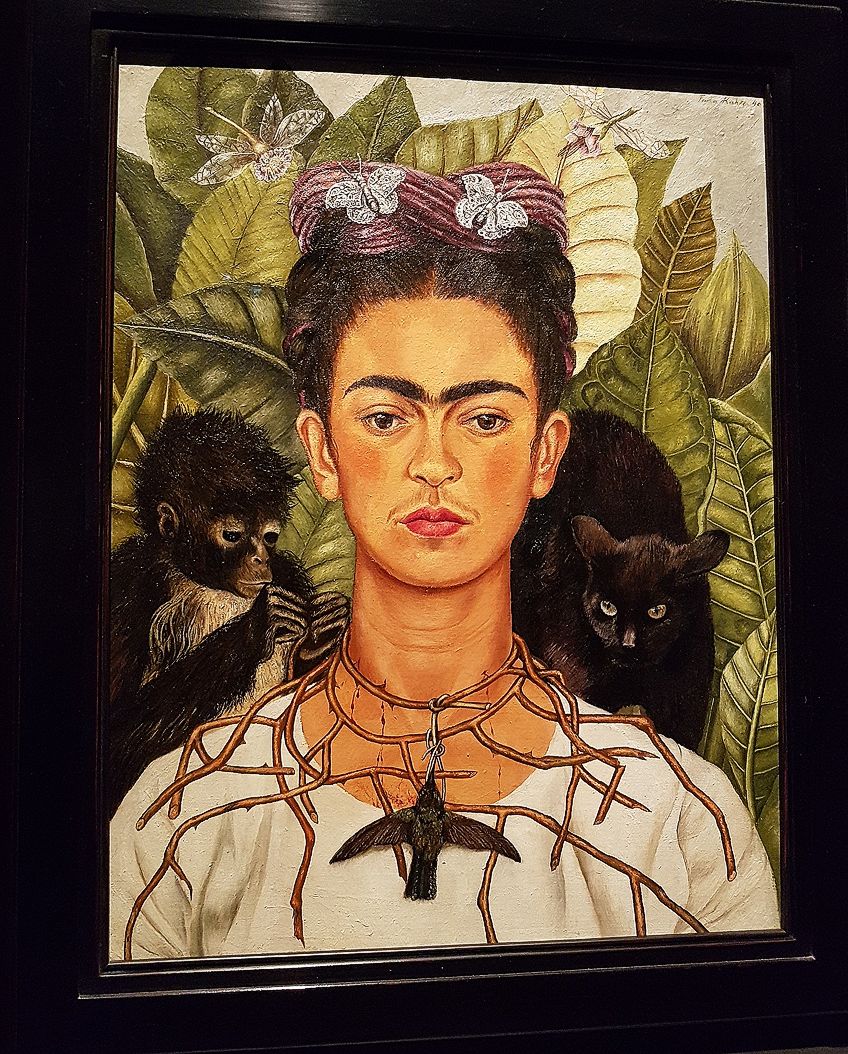 Self-portrait with necklace of thorns (1940) by Frida Kahlo; Ambra75, CC BY-SA 4.0, via Wikimedia Commons
This painting has drawn much interest among historians as it contains many symbolic elements that were personally meaningful to Kahlo.
In this artwork, she faces the viewer head-on. Behind her in the background is a collection of large green leaves. A black monkey seems to be working a thorn necklace around her neck, which is bleeding from the thorns. A small hummingbird can be seen attached to the noose-like thorns, and a black cat can be seen over the other shoulder. Despite the uncomfortable-looking scenario, she seems to patiently suffer through the pain, an expression of solemn calmness across her face.
Portrait of Dora Maar (1941) by Pablo Picasso
| | |
| --- | --- |
| Artist | Pablo Picasso |
| Year | 1941 |
| Medium | Oil on Canvas |
| Dimensions | 128 cm x 95 cm |
| Current Location | Private Collector |
Pablo Picasso was born on the 25th of October 1881 in Malaga, Spain. Well known by all, even today, Picasso was one of the pioneers and co-founders of what was known as the Cubist art movement. He demonstrated great artistic ability from a very early age, painting mostly in a naturalistic style for these earlier years. In the first ten years of the 20th century, his art went through many transformations as he experimented with various styles and techniques. He became more radical in his approach to art when he was inspired by the Fauvist movement, especially by artists such as Henri Matisse.
His unique style eventually led to Picasso becoming one of the most well-known figures of the 20th century.
In 1938 Picasso met a woman by the name of Dora Markovic, a photographer from Yugoslavia. She would become the model for his work Portrait of Dora Maar, considered a milestone in female portraits and a shift in how women in artworks could be portrayed. Dora is depicted seated in a chair, her smiling face showing a combination of a frontal and profile view, which was a distinctive hallmark of Picasso's work. By offering every angle of the subject to the viewer, he was able to offer a truer image of the person than a static view could.
Blue Marylin (1964) by Andy Warhol
| | |
| --- | --- |
| Artist | Andy Warhol |
| Year | 1964 |
| Medium | Offset Lithograph |
| Dimensions | 69.2 cm x 64.8 cm |
| Current Location | Tate Museum |
Completing our list is the world-renowned American artist, Andy Warhol, who was born in Pittsburgh, Pennsylvania in 1928. He was a filmmaker and artist known for blurring the lines between art forms and his experimentation with mixing mediums. He is most known for his silkscreen renditions of household products such as cans of soup. He is considered a renowned figure in the modern-day Pop art movement, taking the mass-produced and kitsch elements of commercial culture and applying fine art aesthetics to raise the piece to something of value and meaning.
Blue Marylin is one of four canvases created in 1964 collectively called The Shot Marylins. They were named The Shot Marylins after a photographer friend of Warhol, Dorothy Podber, saw the series of paintings stacked against a wall and asked him if she could shoot them. He naturally assumed she meant with a camera, but she then proceeded to pull out a small revolver and shot a bullet into the stack of paintings. There were five paintings in total, but one of them – the one with a turquoise background – was not in the stack at the time, and therefore it is not considered as one of the pieces included in The Shot Marylins collection.
So, we have learned that the female figure has been an inspiration for artists throughout our history on earth. The most influential artists of their time all created exquisite examples of female portraits in the styles prominent in their lifetimes, giving us female art that ranges from the real to life art styles, all the way to the weird and abstract.
We've created a Web Story about the famous paintings of women.
Frequently Asked Questions
Are All Paintings of Women Painted by Male Artists?
No, there are a few great examples of female artists that can be found in this very list. Each of them added their flavor to the movements of their respective eras and managed to stand out even among their male counterparts. These women include Frida Kahlo and her self portraits, Artemisia Gentileschi's gorgeous Baroque artworks, and Mary Cassatt's paintings of the daily life of the wealthy women from her era.
Are All Female Portraits Photorealistic?
No, there might be a few movements that strove to paint as true to life as possible, but most women in artworks throughout the history of humankind have been depicted in many styles. Being one of the most common subjects painted by artists, there are countless variations of how women are depicted in art, ranging from Impressionism to Cubism. From the realistic to the fantastic, our artists have always enjoyed celebrating the sensual lines and curves of the female form in their art.
Isabella studied at the University of Cape Town in South Africa and graduated with a Bachelor of Arts majoring in English Literature & Language and Psychology. Throughout her undergraduate years, she took Art History as an additional subject and absolutely loved it. Building on from her art history knowledge that began in high school, art has always been a particular area of fascination for her. From learning about artworks previously unknown to her, or sharpening her existing understanding of specific works, the ability to continue learning within this interesting sphere excites her greatly.
Her focal points of interest in art history encompass profiling specific artists and art movements, as it is these areas where she is able to really dig deep into the rich narrative of the art world. Additionally, she particularly enjoys exploring the different artistic styles of the 20th century, as well as the important impact that female artists have had on the development of art history.
Learn more about Isabella Meyer and the Art in Context Team.
Cite this Article