From blue horses to music, Wassily Kandinsky never created a dull moment in his colorful compositions. He transcended the boundaries of what art represented and delved right into the abstract world of wonder, as he was a traveler of dimensions through his art! This article will explore one of his abstract artworks titled Several Circles from 1926.
Artist Abstract: Who Was Wassily Kandinsky?
Wassily Kandinsky was born on December 4, 1866, in Moscow, Russia, and died in Neuilly-sur-Seine in France on December 13, 1944. He was one of the leading artists of abstract art, notably his application of colors and form, especially the role of music and how it translated into art.
He originally studied law at the University of Moscow but eventually studied art at the Academy of Fine Arts in Munich.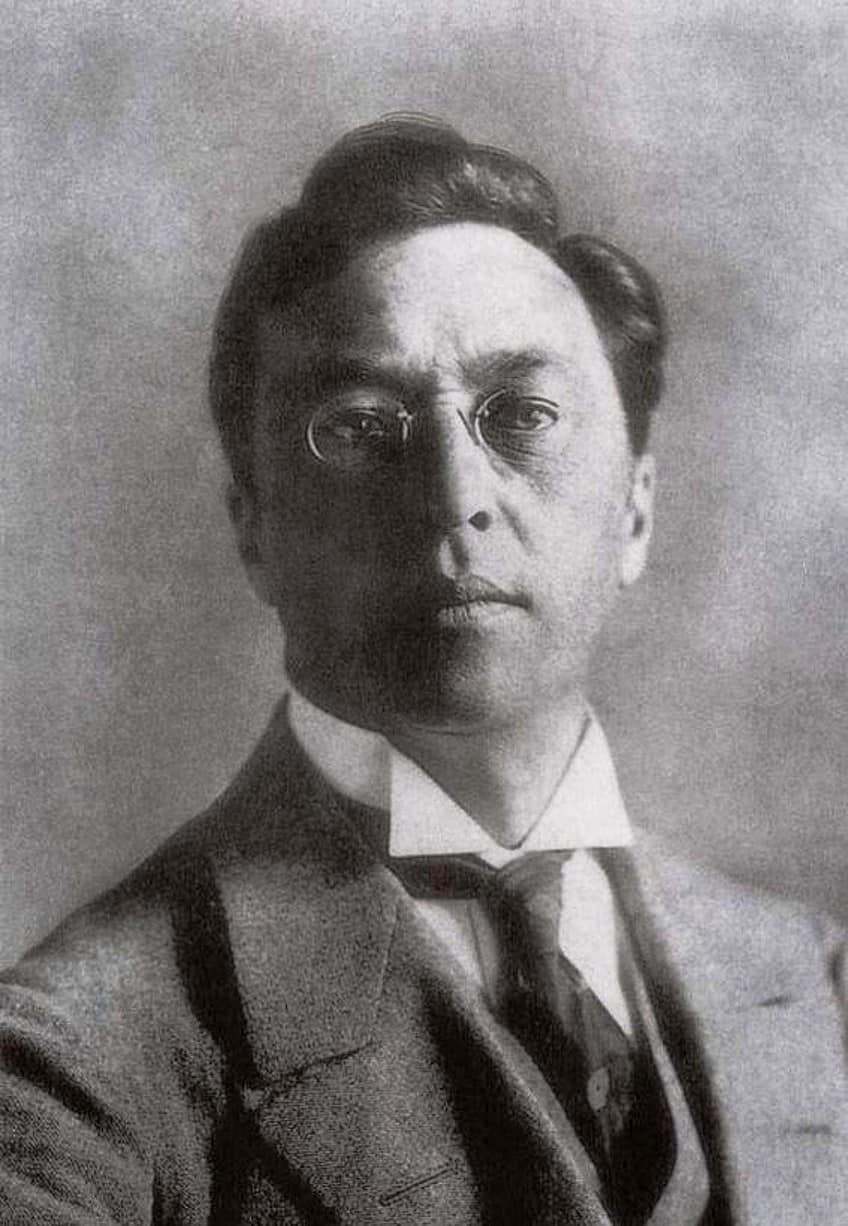 Photograph of Wassily Kandinsky; 未知上傳者, Public domain, via Wikimedia Commons
He started the well-known Der Blaue Reiter ("The Blue Rider") art group along with other artists in 1911. He also published his book titled Concerning the Spiritual in Art (1910). Several of his artworks include Der Blaue Reiter (The Blue Rider) (1903), Composition IV (1911), Composition VII (1913), and Composition VIII (1923).
Several Circles (1926) by Wassily Kandinsky in Context
| | |
| --- | --- |
| Artist | Wassily Kandinsky |
| Date Painted | 1926 |
| Medium | Oil on canvas |
| Genre | Abstract art |
| Period/Movement | Abstract art/Expressionism |
| Dimensions (cm) | 140.7 x 140.3 |
| Series/Versions | N/A |
| Where Is It Housed? | The Solomon R. Guggenheim Museum, New York City, United States |
| What It Is Worth | Acquired as a gift. The price and details of the provenance are uncertain. |
In the Several Circles analysis below, you will read more about the inspiration behind why Kandinsky painted it and when during his artistic career, which will be followed by a discussion of its formal qualities in terms of a visual description and the art elements and principles.
Contextual Analysis: A Brief Socio-Historical Overview
When Wassily Kandinsky painted Several Circles in 1926 he was already 60 years old and he taught at the Bauhaus, which was a German arts and crafts school, during 1922 to 1933. The Bauhaus was started in Weimar in 1919 by the architect Walter Gropius, and in 1926, it was stationed in the German city of Dessau where it moved to in 1925 due to misaligned political beliefs in Weimar. It eventually closed its doors in 1933, after it moved to Berlin in 1932. It was closed down by the Nazis.
Kandinsky's work at the Bauhaus included, what has been described as, some of his "major" paintings that had the circle as the main motif.
He reportedly created around 10 of these paintings during the years 1923 to 1929, for example, Circles in a Circle (1923) and Vertiefte Regung (Deepened Impulse) (1928). The circle's significance to Kandinsky has often been described by one of his quotes, where he said that "of the three primary forms, it points most clearly to the fourth dimension". The fourth dimension refers to something beyond the known three-dimensional reality, something that is more spiritual in nature.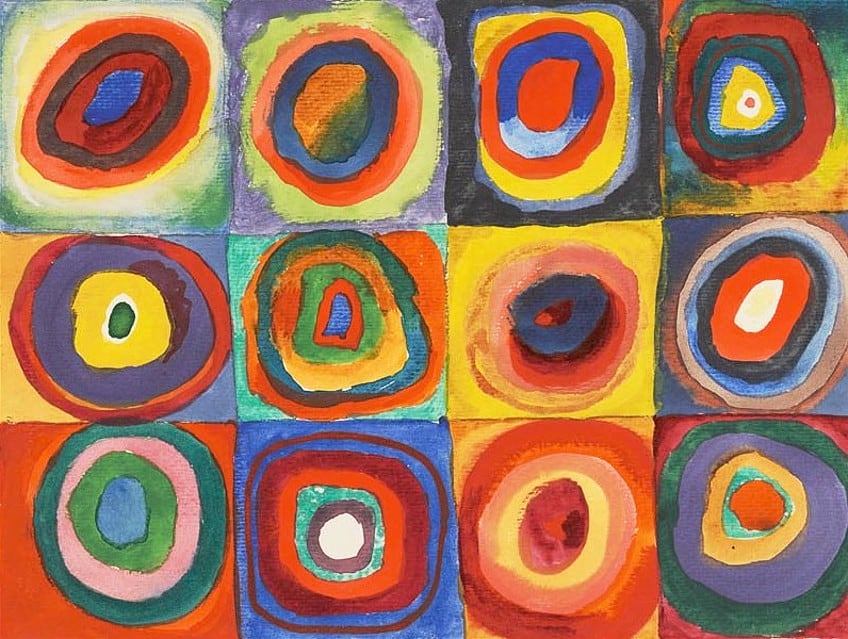 Squares with Concentric Circles (1913) by Wassily Kandinsky; Wassily Kandinsky, Public domain, via Wikimedia Commons
Kandinsky was reaching for this spirituality in his paintings and notably his circles. These circles were reportedly also like planets in space, or the cosmos, according to Kandinsky. They also represented the idea of "possibilities".
"Several Circles" by Wassily Kandinsky was part of a retrospective exhibition held by the Solomon R. Guggenheim Museum on October 8, 2021, to September 5, 2022.
Formal Analysis: A Brief Compositional Overview
Circles occur frequently in Wassily Kandinsky's paintings. This formal analysis will discuss the subject matter of Several Circles in more detail, which will be followed by how the art elements of color, texture, line, shape, form, and space are arranged.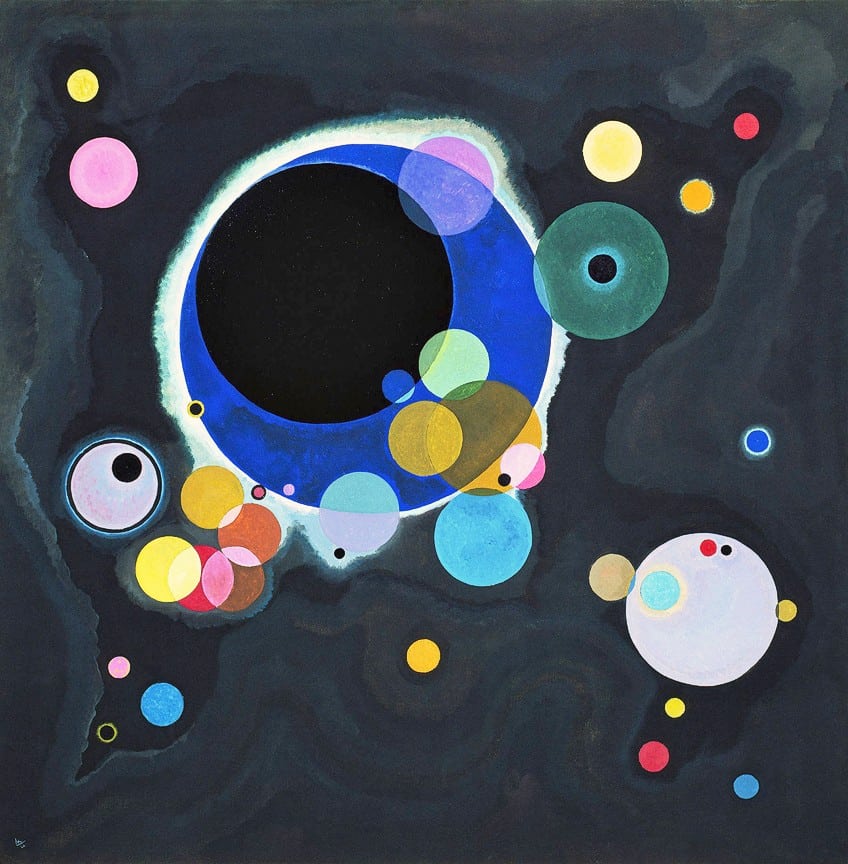 Several Circles (1926) by Wassily Kandinsky; Wassily Kandinsky, Public domain, via Wikimedia Commons
Subject Matter: Visual Description
Several Circles by Wassily Kandinsky depicts a black, almost dark-gray background with over 30 circles arranged around the composition. The circles are all in different sizes and colors and some are overlapping each other while others are depicted as singular.
The largest circular shape is off-center to the left and appears as a large, bright blue, inside-out crescent shape.
There is a slightly smaller black circle over it, which possibly creates this crescent shape, otherwise, the blue circular shape can also be viewed as a large circle with a black circle over it. There is a white, almost luminous light green-blue band of color around this blue circle, which creates a halo effect. There are several other smaller circles overlapping onto these central and larger two circles.
Color
While the background in Several Circles by Wassily Kandinsky appears dark gray/black, the circles in the composition are multi-colored, from pinks, yellows, oranges, blues, reds, greens, and what appears to be browns. The dark background creates a contrasting effect, highlighting the colors of the circles.
Texture
Kandinsky's brushstrokes are evident in his Several Circles painting; the paint appears thicker in some areas and thinner in others. Some of the circles appear with smoother brushstrokes while others, like the white halo around the large blue circle, appear somewhat scumbled along its edges creating a softening effect.
Line
The dominant types of lines in Several Circles by Wassily Kandinsky are curved and there are no straight lines evident.
Shape and Form
The dominant types of shapes in Several Circles by Wassily Kandinsky are geometric, notably circles, which are more two-dimensional. However, with other art elements like color and texture, some of the overlapping circles and their halo-like outlines could give the impression of a more three-dimensional form. Some of the other shapes include crescent shapes due to the overlapping circles, however, ultimately Kandinsky's circle encapsulates the composition, creating a balanced whole.
Kandinsky described the circle as a "synthesis of the greatest oppositions. It combines the concentric and eccentric in a single form and in balance".
Space
Wassily Kandinsky created a non-figurative, otherwise abstracted, space in Several Circles. There is minimal depth to indicate a sense of three dimensions, however, the various circles and the background, which appear almost cloud-like, convey the impression of an almost cosmic space.
Encircled by Kandinsky
Wassily Kandinsky pioneered what has been described as "abstract modernism", and he set the stage for innovative applications of form and color coupled with his love of music and spirituality, and while this Several Circles analysis above only briefly discussed one of Kandinsky's circle paintings, it should not go unsaid that his overall artistic style encircled the modern art world.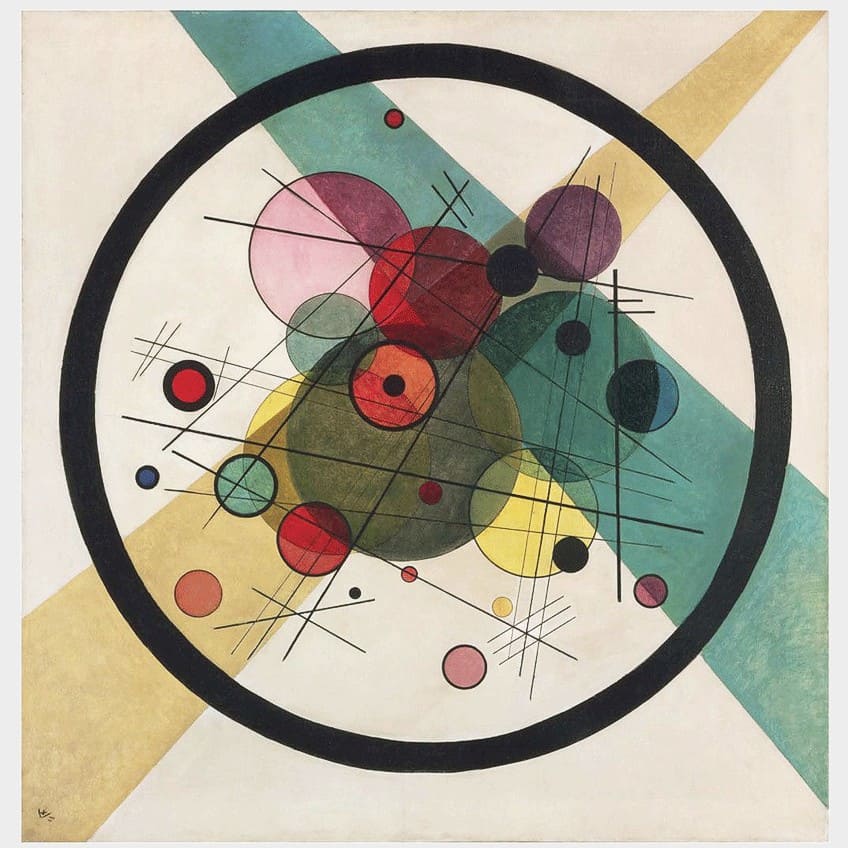 Circles in a Circle (1923) by Wassily Kandinsky; Wassily Kandinsky, Public domain, via Wikimedia Commons
Kandinsky was an inspiration and an important influence for artists and other art styles like Color Field Painting and Expressionism. He introduced new modes of self-expression, and ultimately, ran circles around what was understood as accepted and not accepted in art.
Frequently Asked Questions
Who Created the Circles Painting?
The abstract painter Wassily Kandinsky painted Several Circles in 1926, which is an oil painting on canvas measuring 140.7 by 140.3 centimeters. It is housed at the Solomon R. Guggenheim Museum in New York City in the United States.
What Do Several Circles by Wassily Kandinsky Symbolize?
Circles held a deeper meaning of unity and symmetry to Kandinsky and have often been described as a so-called universal symbol. The artist has also been quoted as stating how the circle relates to the so-called fourth dimension.
Where Is Wassily Kandinsky's Several Circles Painting Located?
Several Circles (1926) is housed at the Solomon R. Guggenheim Museum in New York City in the United States. It was reportedly acquired by the museum as a gift, although the exact details of its provenance are unclear.
Alicia du Plessis is a multidisciplinary writer. She completed her Bachelor of Arts degree, majoring in Art History and Classical Civilization, as well as two Honors, namely, in Art History and Education and Development, at the University of KwaZulu-Natal, South Africa. For her main Honors project in Art History, she explored perceptions of the San Bushmen's identity and the concept of the "Other". She has also looked at the use of photography in art and how it has been used to portray people's lives.
Alicia's other areas of interest in Art History include the process of writing about Art History and how to analyze paintings. Some of her favorite art movements include Impressionism and German Expressionism.  She is yet to complete her Masters in Art History (she would like to do this abroad in Europe) having given it some time to first develop more professional experience with the interest to one day lecture it too.
Learn more about the Art in Context Team.