The world of art is not exempt from the silencing of and disregard for women. Throughout the centuries there have been many female artists, but they have struggled for recognition. Today, in this article, we honor the great female artists of the past few centuries by telling their stories and displaying their works of art. Women too deserve a place in the art history halls of fame.
Why Do We Know So Few Female Artists?
The freedoms most western women know today are relatively new. Famous female artists who lived a few centuries ago were not allowed a voice in politics, let alone any influence in the world of art. Making a living as an artist without the burden of being a female in Europe was hard enough between the 15th and 19th centuries.
Female artists were routinely barred from attending art academies and were paid less for their work. Often, cultural prejudices and social values painted women as the inferior sex.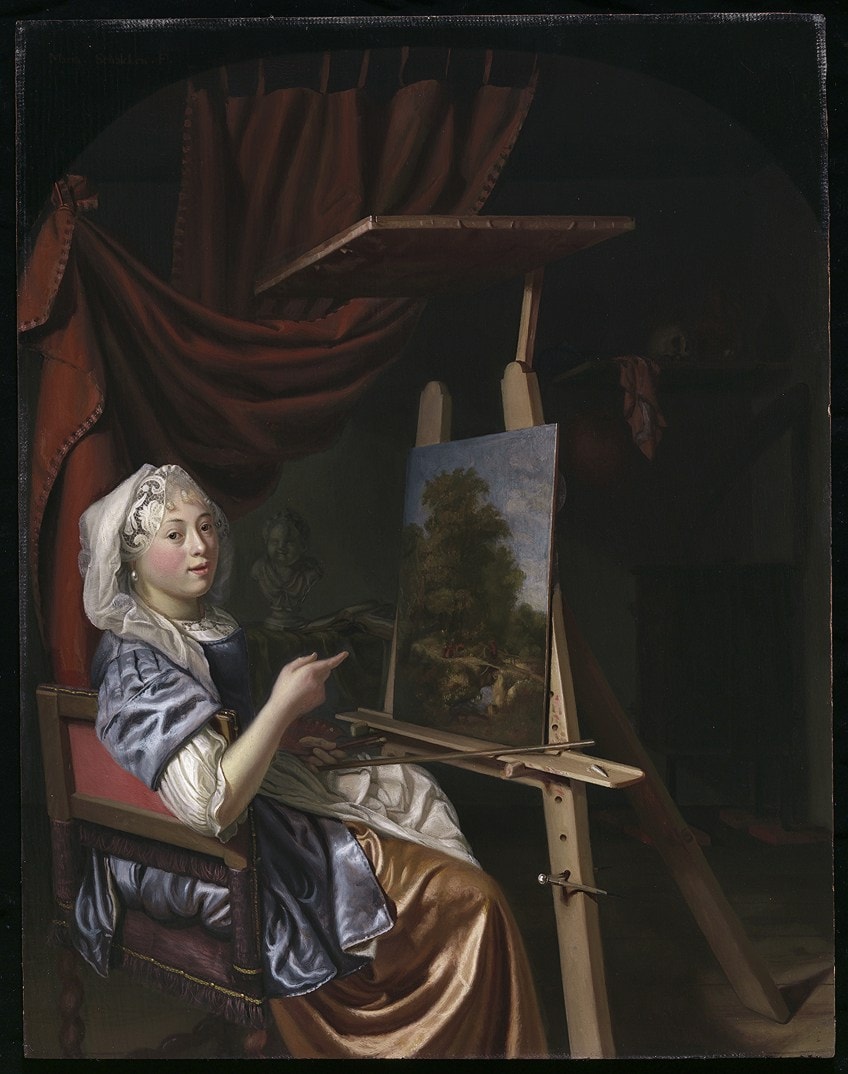 Maria Schalcken – selfportrait at her easel (17th century) by Maria Schalcken; By <a href="https://en.wikipedia.org/wiki/en:Maria_Schalcken" class="extiw" title="w:en:Maria Schalcken"><span title="painter from the Northern Netherlands (1645–1699)">Maria Schalcken</span></a> – Wallraf-Richartz-Museum &amp; Fondation Corboud, Public Domain, Link
Before the end of the 19th century, it was only possible for women to pursue a career in the arts if they were employed in royal or aristocratic houses, or within the church. Some women were able to be admitted into a guild, which represented a gateway to an artistic career, but this was typically only possible if their father was also an artist and could negotiate her entry.
After guild houses, art academies funded by the courts became the path to a career as an artist. The Academies were a step up for artists, allowing them to pursue careers as individuals, without the constraints imposed by the guilds.
Academic learning also carried an enhanced social value. The artistic styles taught in these academies were like a new form of science, following strict rules. As the power of the church and the aristocracy began to dwindle after the 18th century, art academies became more influential. Women continued to be excluded from academies, and as such, there are not many famous female painters from this time.
A further constraint on the artistic expression of female painters was that of the subject. Due to their perceived sensitivities, women were not permitted to paint in front of nude models. This lack of opportunity was a serious blow as nude paintings were an important branch for a long time. Female artists had to look at other options for subjects, with the most popular being still life. This lack of participation in the most popular form of art was a restriction for early female painters.
Moving Towards Equal Opportunity
For much of the 15th to 19th centuries, only women from wealthy families could have an arts education. These women could get private training from established painters. Wealthy women also had the opportunity to attend one of the few private training schools, but these were not available to ordinary women.
In around 1860, "Ladies' Academies" started to appear. For example, the Académie Julian and the Académie Colarossi. These academies were privately run and allowed women to learn the basics of painting on their own. These academies were not state-funded. Women had to pay high fees to attend these academies, so only wealthy women had this opportunity for an arts education.
The restrictions on female painters only began to lift gradually after the First World War. Despite the growing equality, women were not allowed full creative capacity. The number of full-time female artists only began to increase significantly after legal gender equality was realized. Even then, women faced barriers to painting during the Second World War due to the pressure of being the "national socialist" woman.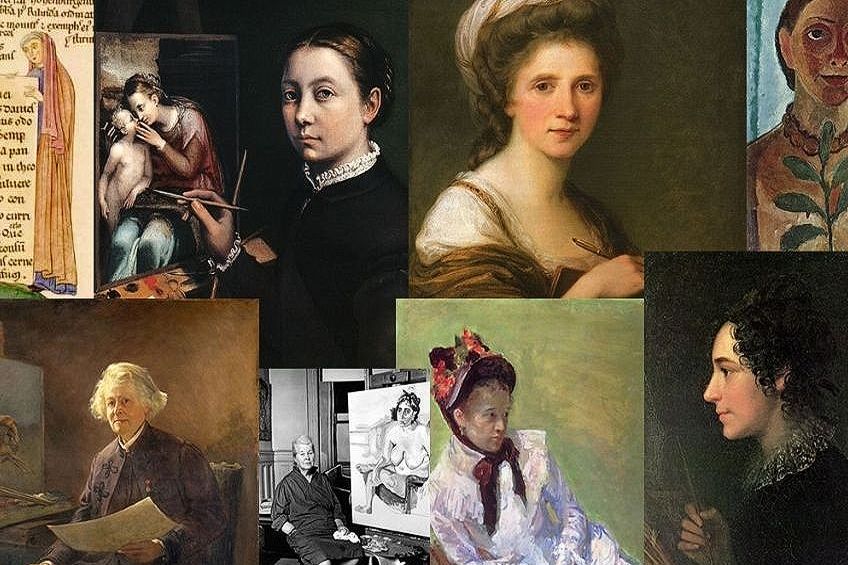 Famous Women Artists Throughout the Centuries
Let us take a look at some of the famous female painters who produced beautiful art, despite the restrictions they faced.
Herrad von Landsberg
Herrad von Landsberg is arguably one of the most famous artists of the Romantic Period. During this time, female artists either worked anonymously or on religious works. Herrad von Landsberg was an abbess, who was taught to paint as a nun by the abbess Richlint. As abbess from 1167 to 1195, von Landsberg was also an author and illustrator. Perhaps one of her more famous works, von Landsberg created the Hortus Deliciarum, or the garden of delicacies.
A Latin encyclopedia, this work summarised the accumulated knowledge of the late middle ages.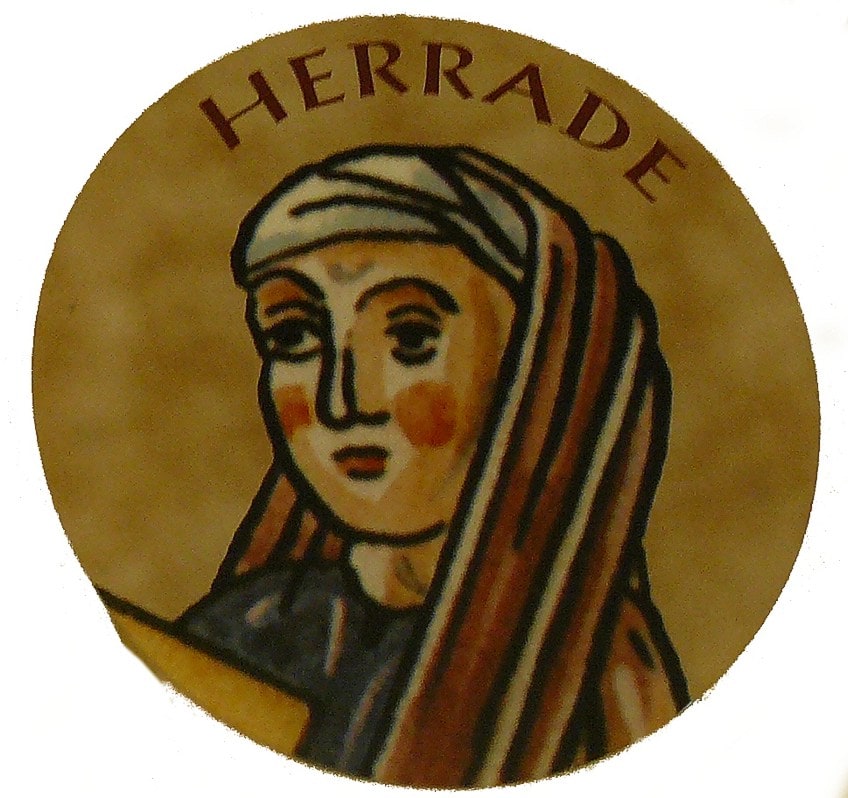 Portrait of Abbess Herrad von Landsberg (1176-1195); Mont_Sainte_Odile_037.JPG: Bernard Chenalderivative work: DaB., CC BY-SA 3.0, via Wikimedia Commons
Sofonisba Anguissola
It was during the Renaissance period that a few female artists first achieved fame in Europe. The focus of art had moved away from religious themes, and artists began to create pieces about the human body, art history, and mathematics. Art became increasingly intellectual and philosophical due to the emergence of humanism.
Sofonisba Anguissola was arguably one of the most famous female artists of this period. Born in Italy to a family of painters, Anguissola could pursue portrait painting rather than the theme of still life that restricted many other women at the time.
Anguissola got her artistic breakthrough when the Duke of Alba recommended her to the Spanish royal family. At the Spanish court, she painted portraits of King Philip II and the rest of the royal family. King Philip loved her works to such an extent, that he made her a lady-in-waiting, allowing her to spend most of her time painting.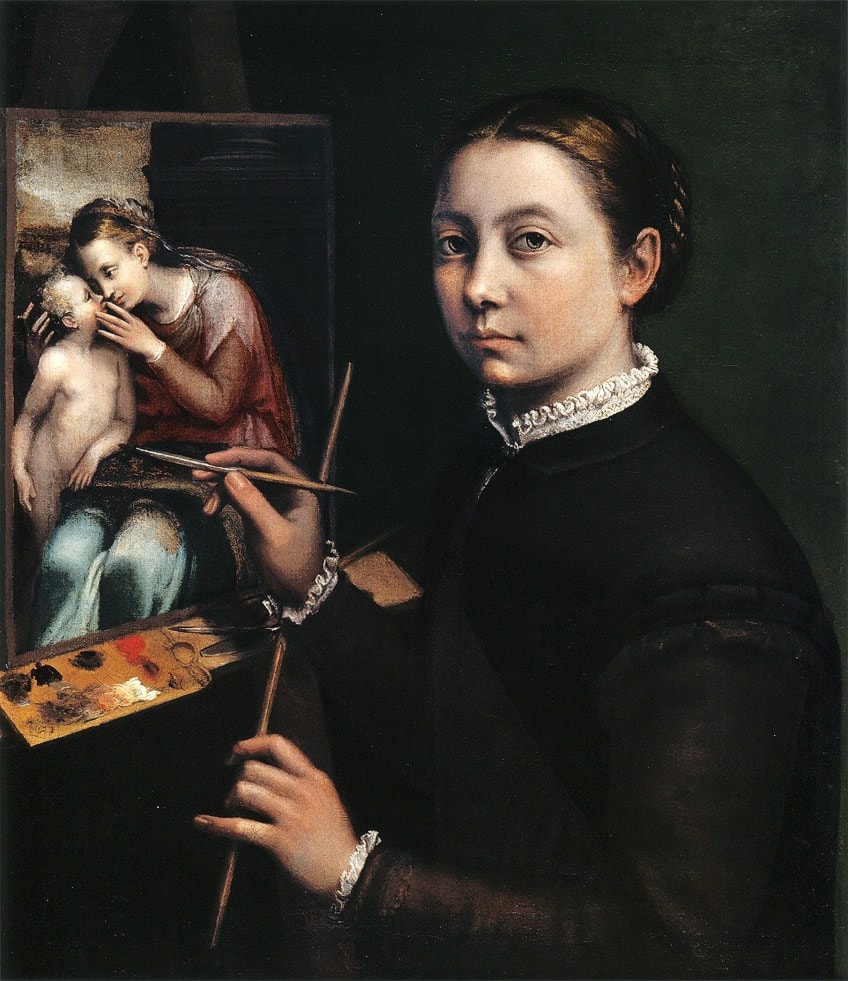 Self-portrait at the easel (1556) by Sofonisba Anguissola; Sofonisba Anguissola, Public domain, via Wikimedia Commons
In her later life, Anguissola moved to Genoa, where she continued to paint and give lessons. The Game of Chess is said to be Anguissola's most famous work. Art historians regard this piece as the first illustration of an everyday Italian scene.
Angelica Kauffmann
Angelica Kauffmann was a swiss painter in the Classic art period, born to a father who was a fresco painter. Her father opened the door into the world of art for her, teaching and encouraging her artistic talent. Kauffman received commissions from noble houses before moving to Florence with her father.
In Florence, Kauffmann studied the art of the Renaissance period and painted several well-known people, including Johann Joachim Winckelmann, a famous art historian and archaeologist. After this breakthrough, Kauffmann entered the Accademia Clementina di Bologna as an honorary member.
Kauffmann's fame extended beyond Florence to England, where, alongside Mary Moser, she was the only female artist in the Royal Academy. In her later life, Kauffmann moved to Rome to continue to paint.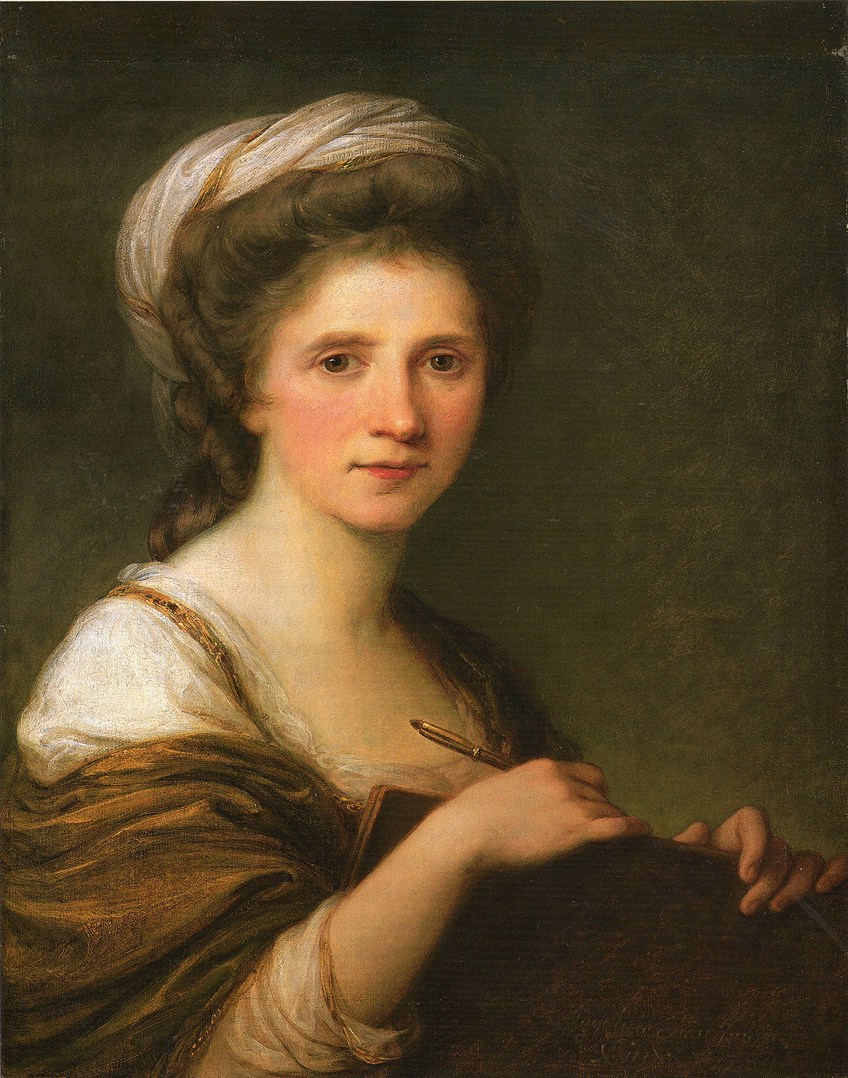 Self-portrait (1784) by Angelica Kauffmann; Angelica Kauffmann, Public domain, via Wikimedia Commons
Marie Ellenrieder
Marie Ellenrieder was a well-known female artist from the Romantic era. Born to a family of painters in Constance, she apprenticed with Joseph Einsle, a miniature painter. After her apprenticeship, Ellenrieder became the first female artist in the Academy of Fine Arts in Munich. After studying, Ellenrieder painted several royal portraits, becoming one of the most popular artists of her time, despite her gender.
As a woman, Ellenreider had a good reputation during her life, receiving the Patriotic Order of Merit from the Grand Duke Ludwig and the Golden Medal for Art from the Baden Art Association. Despite her success, her male colleagues did not take her seriously.
As she got older, Ellenreider began to paint religious art exclusively. She is well-known for painting the St. Stephan church in Karlsruhe and the high altarpiece in the St. Bartholomew church in Offenburg.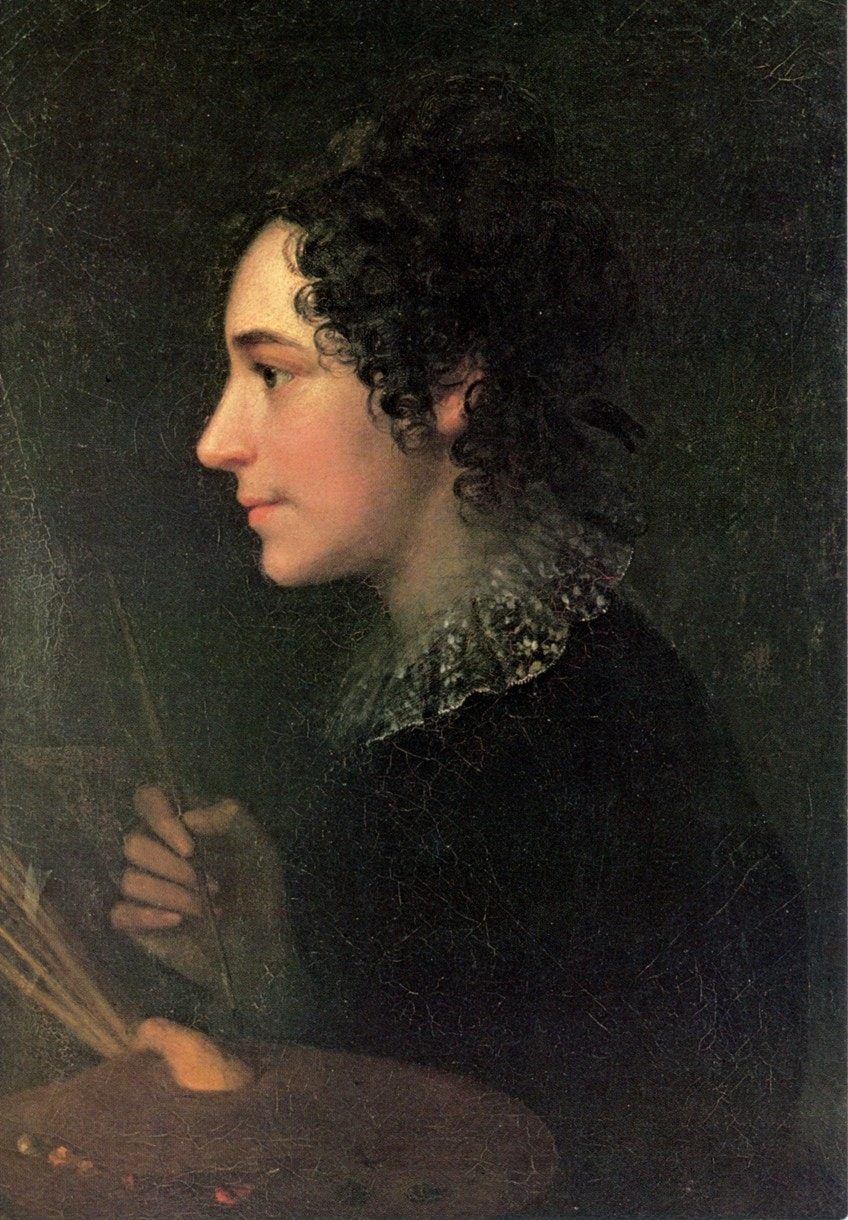 Self-portrait (1819) by Marie Ellenrieder; Marie Ellenrieder, Public domain, via Wikimedia Commons
In 1829, Ellenrieder was appointed the court painter for Grand Duke Ludwig. She was commissioned to paint the portrait of the family of Grand Duchess Sophie and her children, over two years. Ellenrieder also painted two large religious pieces for Queen Victoria of England, which confirmed her position as one of the most famous female painters of her time.
Rosa Bonheur
Like all of the female artists we have mentioned so far, Rosa Bonheur was born into a family of artists. Taught by her father, Raymond Bonheur, Rosa specialized in painting animals and other natural scenes. Preferring to paint large animals like horses and cows, Bonheur achieved considerable success and is one of the few famous female artists of the Naturalism period.
Bonheur even exhibited her paintings in 1841 at the Paris Salon. It was after this that she took off, with her breakthrough piece, The Horse Market. Ernest Gambart was Bonheur's gallerist and introduced her to wealthy collectors like Cornelius Vanderbilt and even Queen Victoria.
Always aiming for perfection, Bonheur often had unconventional ways of creating her paintings. She often worked on farms, at horse markets, or kept animals in her studio to achieve the most realistic paintings possible.
Rosa Bonheur was a very successful female painter. She enjoyed the fruits of her labor during her lifetime, eventually buying a castle for herself with her earnings. Here, she lived out the rest of her days painting in peaceful retirement.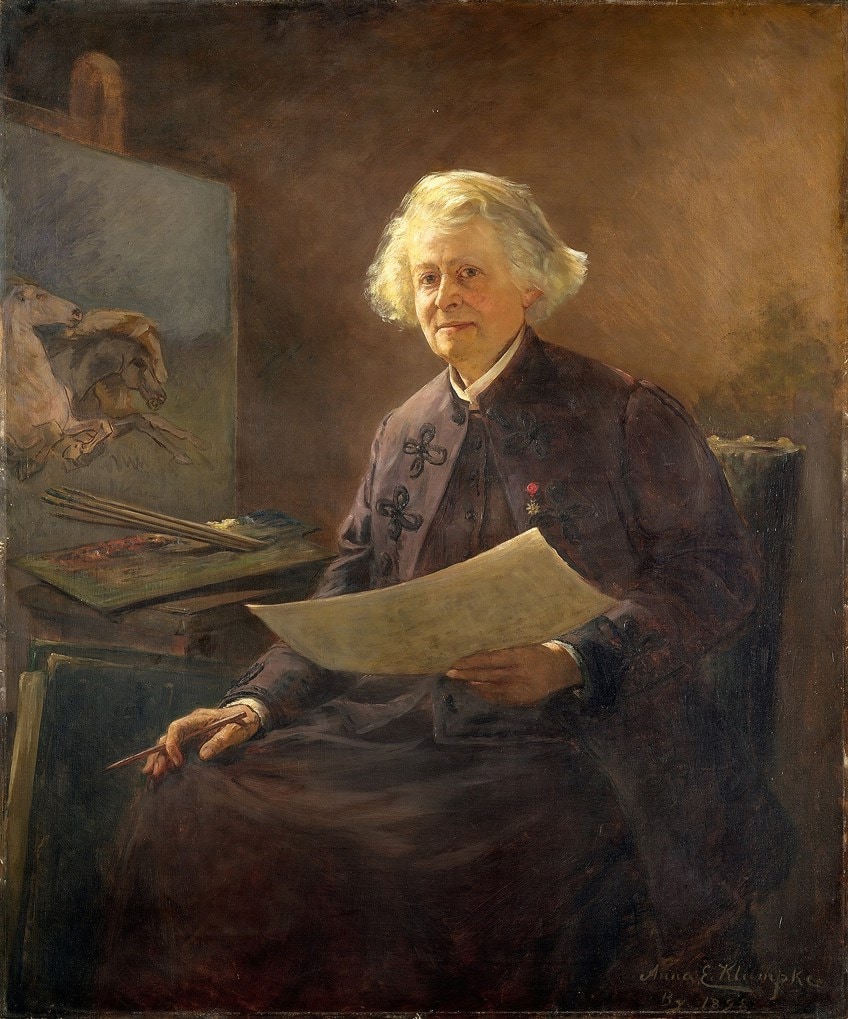 Painting of Rosa Bonheur by Anna Elizabeth Klumpke, 1898; Anna Elizabeth Klumpke, Public domain, via Wikimedia Commons
Mary Cassatt
As part of the famous circle of impressionists with Paul Cezanne, Edgar Degas, and Paul Signac, Mary Cassatt was a renowned Impressionist artist. Exhibiting her work in the Paris Salon, she was encouraged by Degas to join the Impressionists.
Cassatt's preferred subjects were women and children, and in her later years, she dabbled in graphic art. She produced many famous paintings of women and children in her lifetime. She was a source of inspiration and support for other female art students at the time.
Just like Bonheur, Cassatt was financially independent and was able to buy a castle for herself. She is rightfully heralded as one of the most successful female artists, receiving several awards for her work.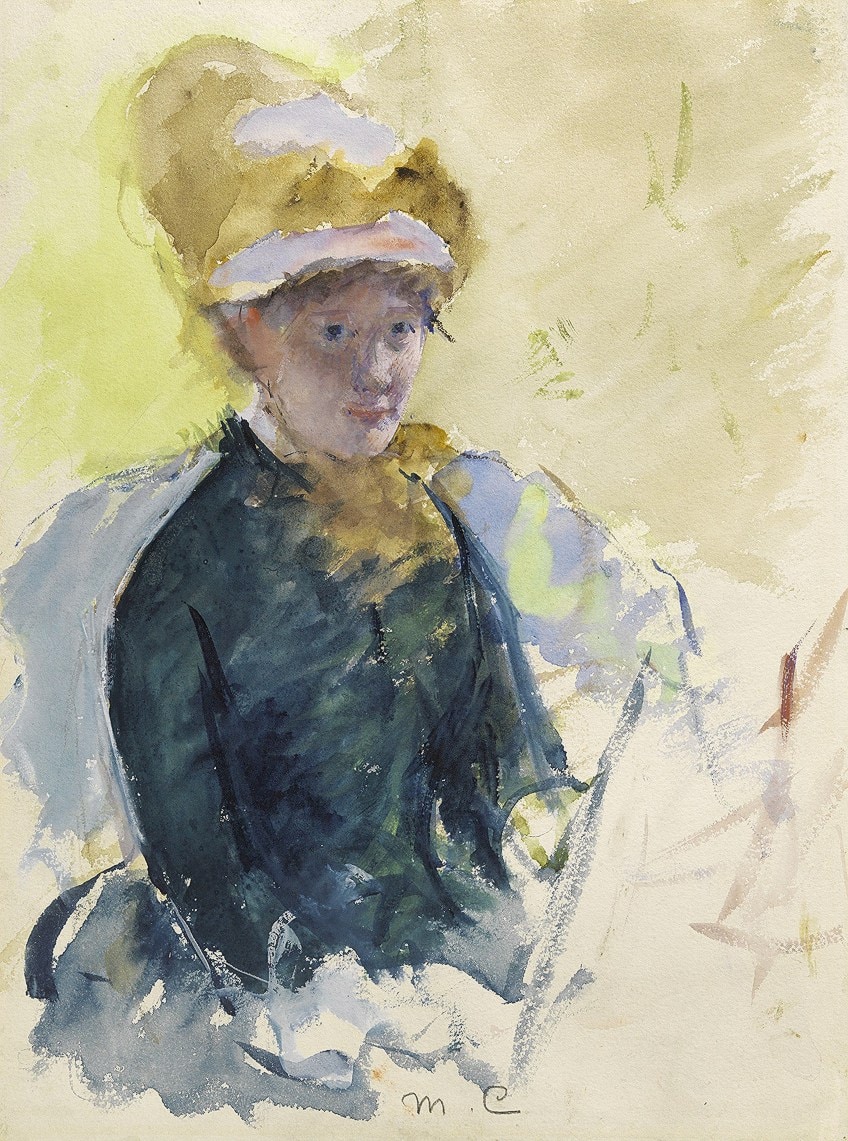 Mary Cassatt Self-Portrait, c. 1880; Mary Cassatt, CC0, via Wikimedia Commons
Irma Stern
Irma Stern was a South African-born artist who achieved national and international acclaim during her lifetime. After moving to Berlin to study art during the First World War, Stern had her first solo exhibition in 1916. On returning to South Africa, Stern's work was initially not well-received. She has grown, however, to be the most acclaimed South African artist.
Both a painter and sculpture, Stern traveled throughout South Africa capturing the likeness of the landscapes and people. Her characteristically bold and colorful expressive portraits are perhaps her most famous works.
Her piece Street Scene, Madeira, painted in 1931, demonstrates her saturated style beautifully. Irma Stern died in Cape Town, South Africa, in 1966, and her house is now the Irma Stern Museum.
Paula Modersohn-Becker
One of the few world-famous female modernist painters, Paula Modersohn-Becker adopted stylistic elements from Fauvism, Expressionism, and Cubism to create her style. The subjects of her paintings were often rough around the edges and very serious. Her artistic style was unusual for the time and was routinely met with confusion.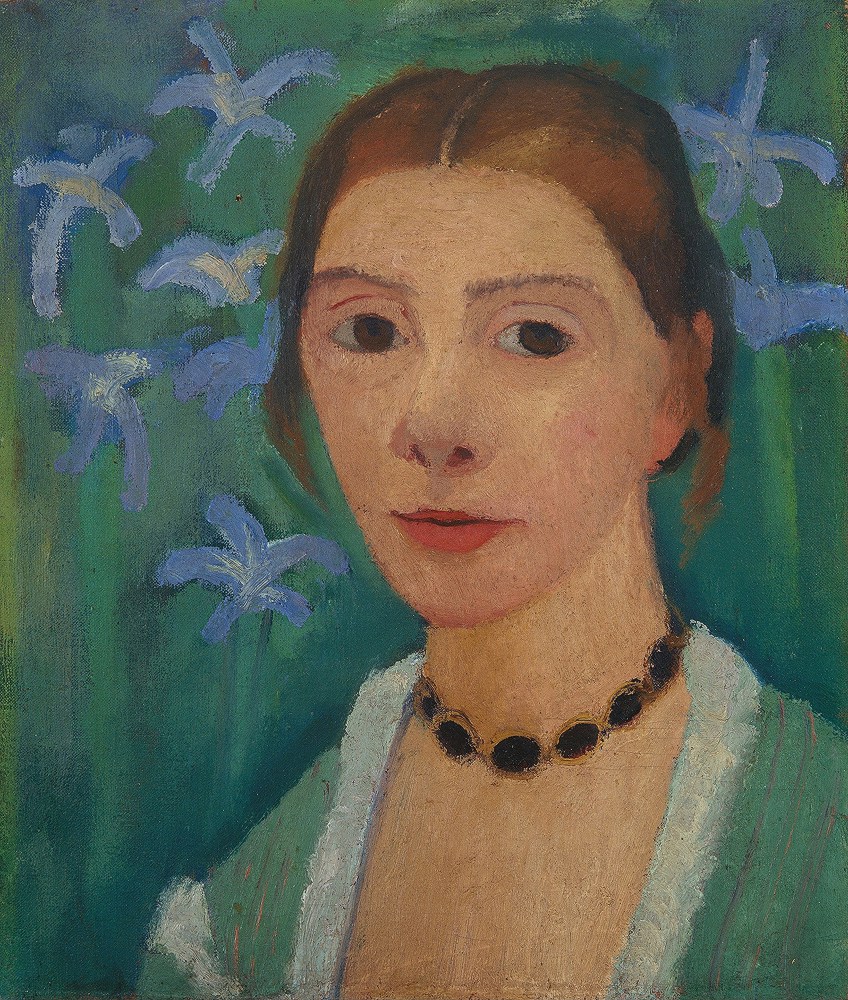 Self-portrait in front of a green background with a blue iris (between 1900 and 1907) by Paula Modersohn-Becker; Paula Modersohn-Becker, Public domain, via Wikimedia Commons
Later in her life, Modersohn-Becker also painted still life scenes that included elements of geometric cubism. Paula Modersohn-Becker was also groundbreaking in her nude self-portraiture. Sadly, her artistic promise was cut short, as she died when she was only 31 years old.
Frida Kahlo
Arguably the most well-known female Mexican painter of all time, Frida Kahlo is revered by many. In her lifetime, she painted between 150 and 200 different pieces, with her early work showing influences from the European avant-garde and the Renaissance eras. In her later life, Kahlo drew her inspiration from Mexican folk artists, with themes including fantasy, passion, death, and violence.
Kahlo is perhaps most famous for her portraits of herself and others, particularly her famous paintings of women which explore questions around gender, class, race, identity, and postcolonialism in Mexico.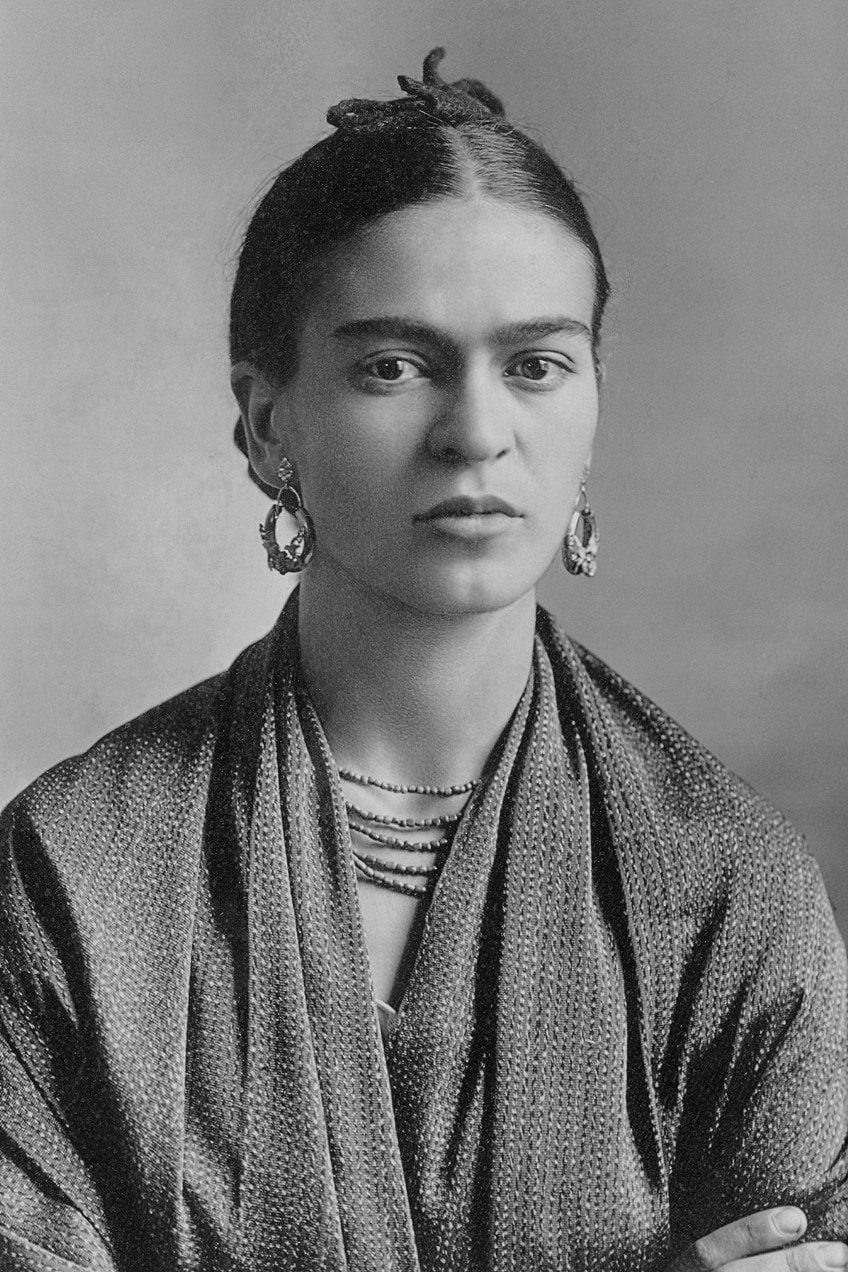 Photograph of Frida Kahlo, 1932; Guillermo Kahlo, Public domain, via Wikimedia Commons
Alice Neel
With a focus on portrait painting, Alice Neel attended the Philadelphia School of Design for Women. She aimed to make the internal world visible through her painting, and she painted people from her circle of cultural workers and acquaintances. There is a sense of openness to all of her portraits.
Throughout her life, Neel struggled for a place in an art scene that was dominated by men. It was only in the 1970s, in the context of feminist activism that she finally received the recognition she deserved. Today she is one of the most well-known women painters. Her works grace many American museums and are sought after across the globe.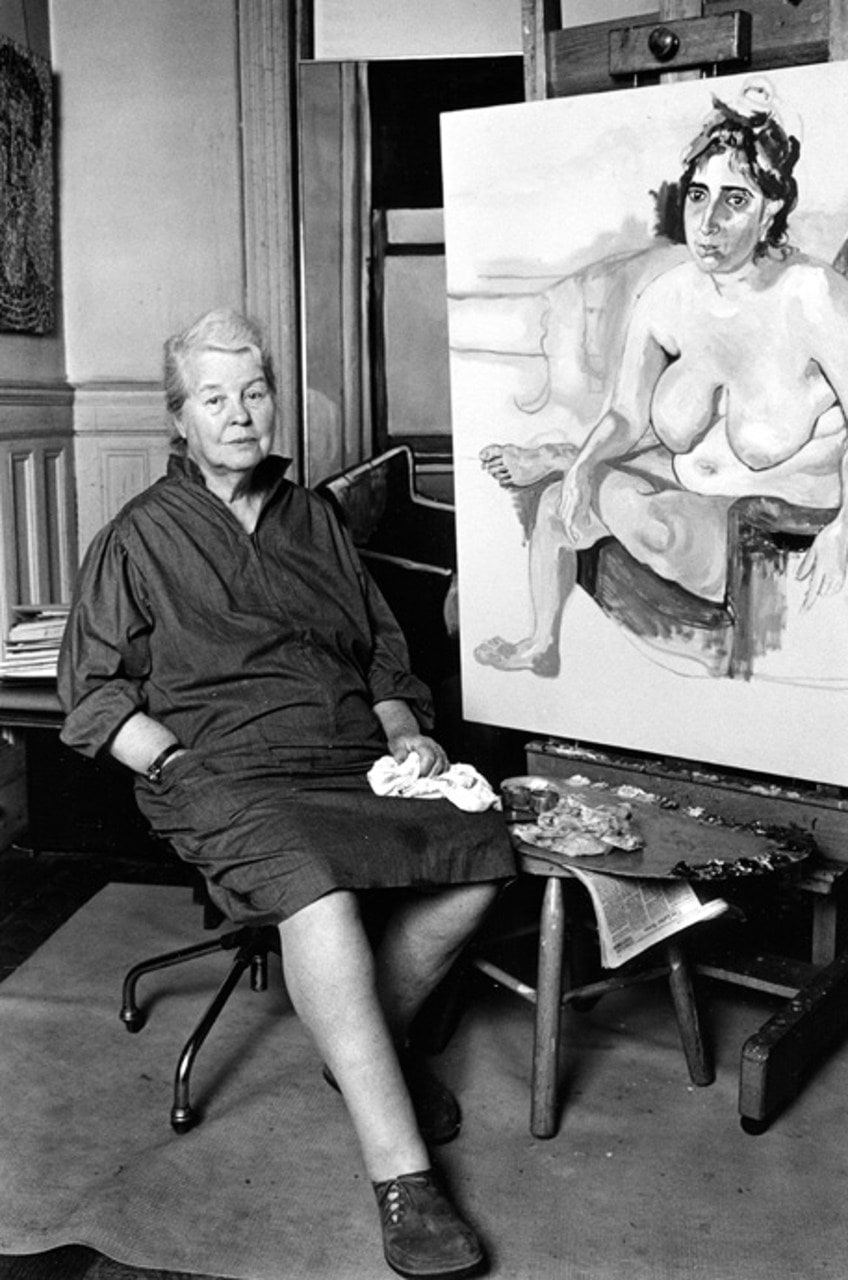 Alice Neel portrait in her studio, 1976; Lynn Gilbert, CC BY-SA 4.0, via Wikimedia Commons
Lee Krasner
Lee Krasner's marriage to Jackson Pollock has tended to overshadow her work. Beginning with figurative painting, Krasner was exposed to abstract expressionism through Jackson Pollock. She was a famous female painter specializing in abstract expressionism and collage.
After Pollock's death, Krasner found new artistic strength, creating over 600 pieces. Today, Krasner is one of many famous women painters, despite her work having been overshadowed.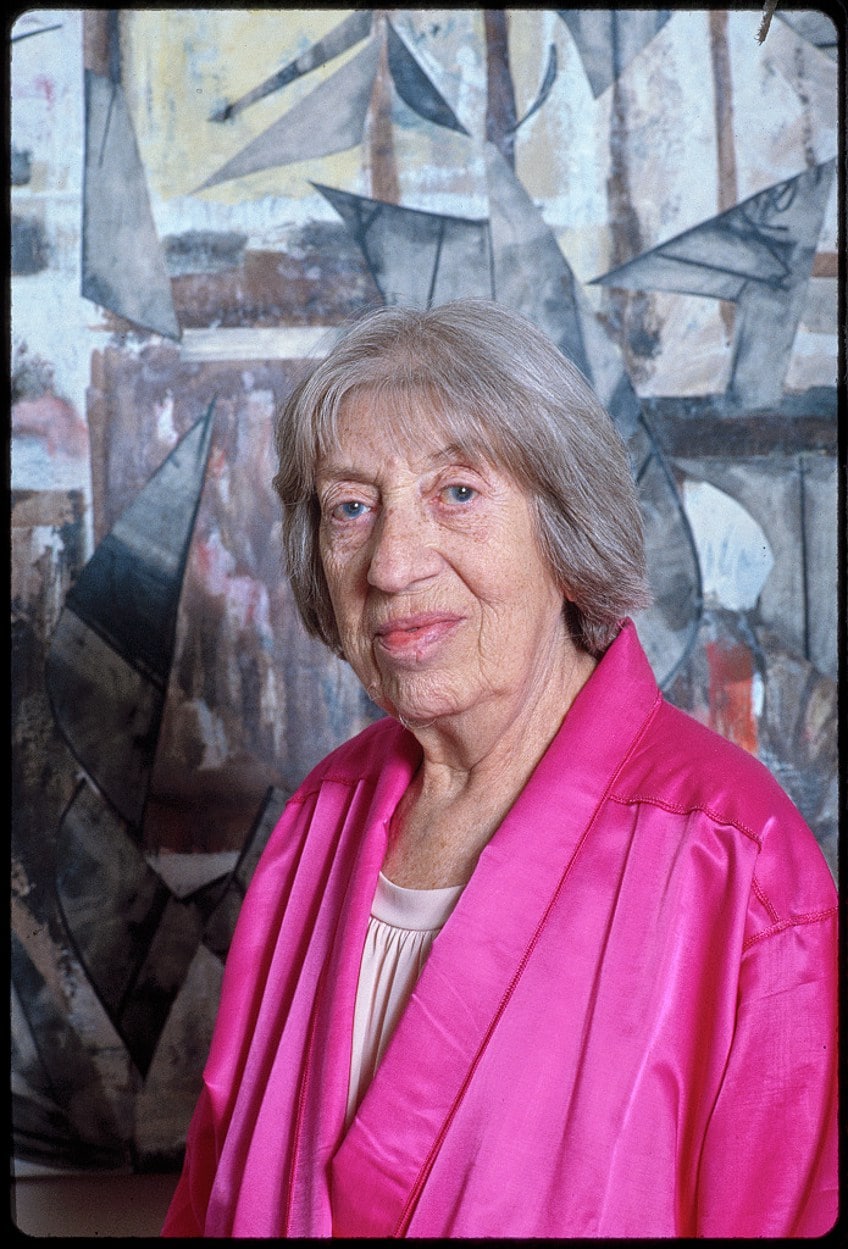 Photograph of Lee Krasner, 1983; Gotfryd, Bernard, photographer, Public domain, via Wikimedia Commons
Book Recommendations for Learning More About the Women in Art History
Women have always been artistically creative, although their social position has often sidelined their work. Below are some books we recommend to those that would like to learn more about famous female painters of the 21st century.
Women Artists in the 20th and 21st Century by Ilka Becker and Uta Grosenick
This hefty 576-page book is an encyclopedia of over 90 international female artists who worked from the 1920s into the 21st century. Covering different art styles and mediums including sculpture, performance, painting, video, and photography, this book will give you an insight into the most famous female artists of the past century.
Women, Art, and Society by Whitney Chadwick
This book is called a definitive account of the history of female artists. From famous female painters of the middle ages to the most famous female painters of the 21st century, this book has it all. This book also explores the social contexts in which the most famous female painters flourished despite restriction.