The world of art is not exempt from the silencing of and disregard for women. Throughout the centuries, there have been many female artists who have struggled to receive the same level of recognition as that of male artists. In this article, we will explore a selection of the best female artists in art history, whose works have impacted the course of Modern and Contemporary art. Keep reading for more about these incredible women in art!
A History of Women in Art
According to history, women in art were significantly restricted to make and exhibit art as part of the art world for many centuries. In the past two centuries, women have fought hard to make their voices known and advocate for their own place in a male-dominated art world. Between the 15th and the 19th centuries, women struggled with the worst aspects of patriarchy, without voting rights or much of a say in any matter concerning their own lives. Luckily, many brave and talented women continued to pursue their passions in art and provide us with some of the world's best masterpieces.
In the past, female artists were barred from attending art academies and paid significantly less for their work as compared to men. Cultural prejudices and social values previously painted women as the inferior sex, which made pursuing an art career incredibly difficult.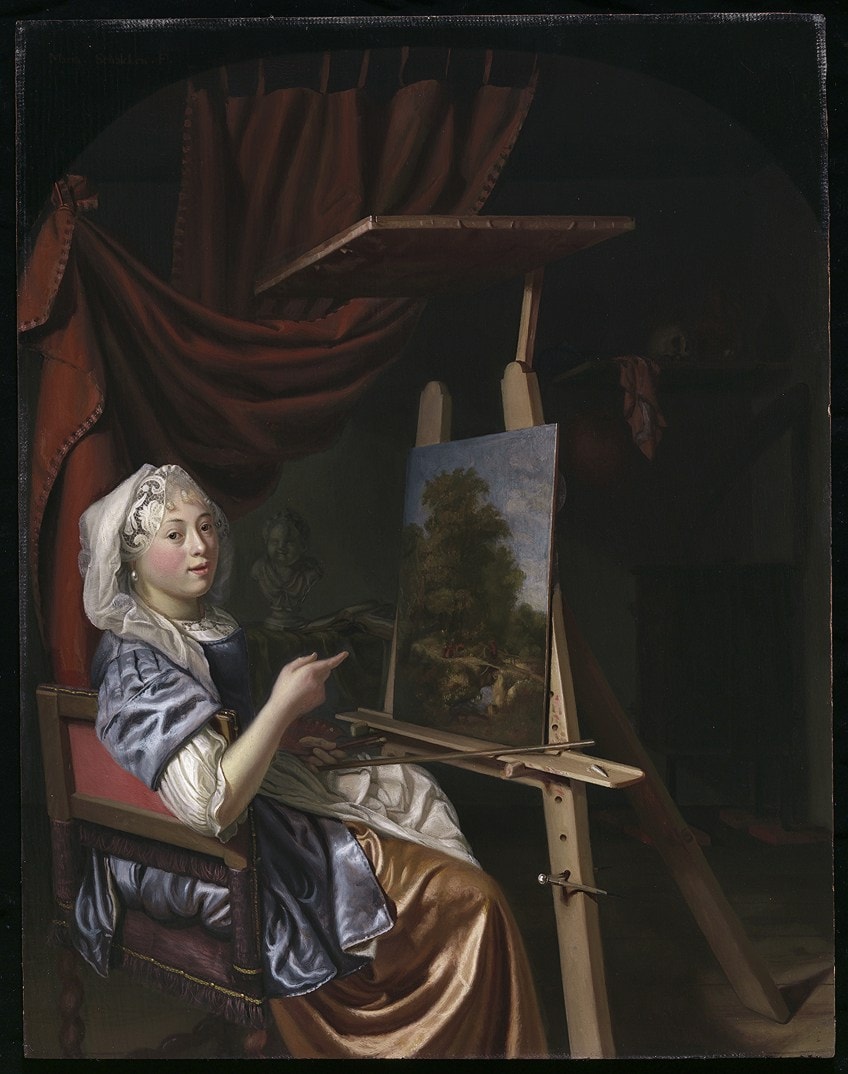 Self-portrait (17th century) by Maria Schalcken; Maria Schalcken, Public domain, via Wikimedia Commons
Before the end of the 19th century, it was only possible for women to pursue a career in the arts if they were employed in royal or aristocratic houses, or within the church. Some women were allowed admittance into a guild, which represented a gateway to success in art, however, this was typically only possible if their father was also an artist who could negotiate a female artist's entry. Art academies funded by the courts were another alternative path for women to become artists, which enabled a few women to escape the constraints imposed by guilds. While academies had their own strict guidelines for art-making, women were afforded the limited opportunity to create in line with the standards set by the academy, which carried significant social value.
The artistic styles taught in these academies were like a new form of science and as the power of the church and aristocracy dwindled, art academies became more influential.
A further constraint on the artistic expression of female painters was that of the subject. Due to their "perceived sensitivities", women were not permitted to paint in front of nude models. This lack of opportunity was a serious blow to the potential for the art world of the 18th century since nude paintings were an important genre for a long time.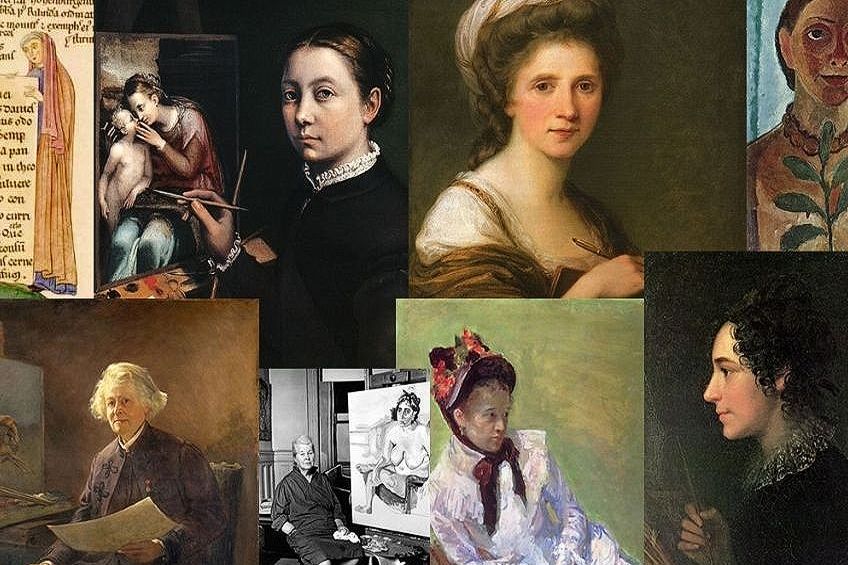 Female artists had to seek other options for subjects, with the most popular being still-life. Today, one might blow a gasket pondering over the restrictions that women in art had to face back in the day. It comes of no surprise that women have had to stress the importance of representation in the arts to be able to express world views that would have otherwise gone unacknowledged and unseen. By including the art of women in the broader review of art history, one is able to grow closer to a more nuanced and accurate representation of history itself, which reflects what is present and absent at certain time periods.
It is also equally as important to recognize that only certain women in art history were able to access resources and connections that enabled them to receive the recognition they deserved.
To receive an arts education in Renaissance times, one had to come from a wealthy background or take up private tuitions from established artists. Many women who could not access these opportunities were wholly excluded from the idea of even pursuing a career in the arts, even though they may have fostered an appreciation for it. By the 1860s, new "ladies' academies" emerged in Europe that were privately run and allowed women to learn the basics of painting. Women had to pay high fees to attend such academies, and as such, only wealthy women could attend.
The restrictions on female painters only began to lift after the First World War. Despite the gradual equality, women were not allowed to practice at their full creative capacities. The number of full-time female artists only began to increase significantly after the notion of gender equality was realized. The 20th century saw the rise of many feminist painters in the art world, who advocated for the historicization of their personal histories through the exploration of themes such as beauty, gender, politics, sexuality, culture, identity, and society, which proved impactful in helping society recognize the lack of representation around women artists in the past.
The Top 15 Female Master Artists in Art History
It is incredibly important to not only recognize the contributions of women in art, but to also appreciate and analyze the works that continue to inspire and lead a new generation of artists. From abstract expressionists to feminist artists, below is a selection of female artists from art history, who have created many unique and influential artworks, yet have not received as much credit as they ought to. You may be surprised by a few of these names, who due to historical literary negligence and toxic patriarchy, have not been included among the ranks of master artists.
Herrad von Landsberg (1130 – 1195)
| | |
| --- | --- |
| Artist Name | Herrad of Landsberg |
| Date of Birth | 1130 |
| Date of Death | 1195 |
| Nationality | Alsatian |
| Associated Movements, Themes, and Styles | Medieval art, allegory, and religious art |
| Mediums | Painting, writing, drawing, and calligraphy |
Herrad von Landsberg was arguably one of the most famous female painters of the Medieval period, who was credited as being a pioneer of women's art and education in the 12th century. During the period, women in art worked primarily for religious institutions or anonymously, and Herrad of Landsberg was one such artist and author who did not stray from the spotlight for the sake of pleasing others. Herrad learnt how to paint as a nun and was taught by the abbess Richlint. Herrad herself became an abbess from 1167 until her death and is recognized as the illustrator and author of the encyclopedia Hortus Deliciarum, also known as The Garden of Delights.
"Hortus Deliciarum" was a Latin encyclopedia, which summarized the accumulated knowledge of the late Middle Ages, as documented by male authors, but reinterpreted by Herrad with a Contemporary view for women.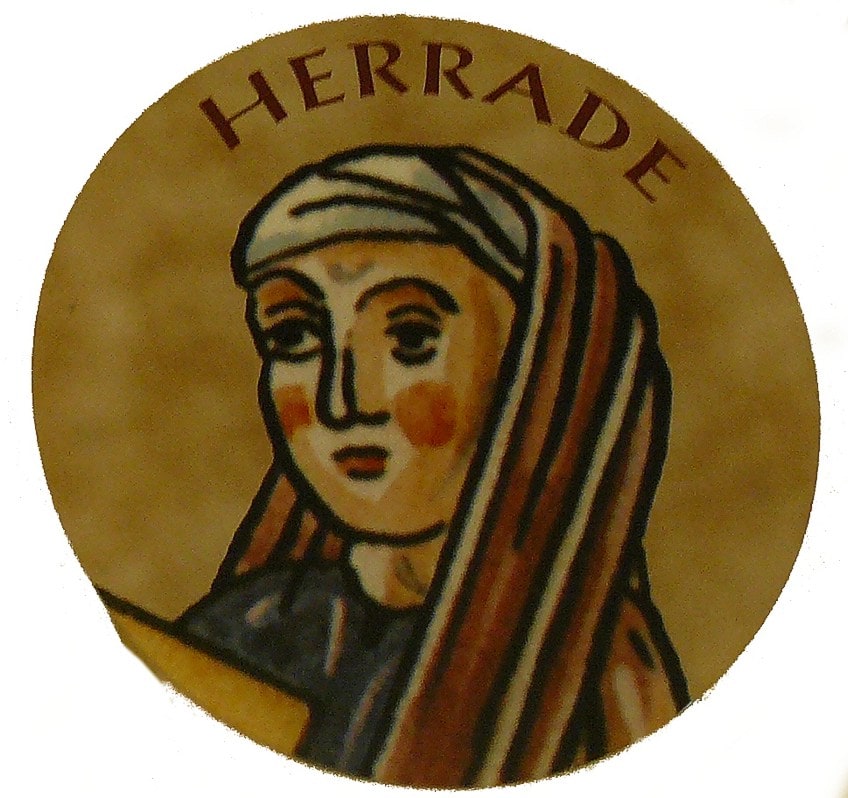 Portrait of Abbess Herrad von Landsberg (1176 – 1195); Mont_Sainte_Odile_037.JPG: Bernard Chenalderivative work: DaB., CC BY-SA 3.0, via Wikimedia Commons
It is important to recognize that during the Middle Ages, women were either categorized in to convenient archetypes defined by the male gaze and one could be either the temptress led by the devil or the virtuous Virgin Mary.
Sofonisba Anguissola (c. 1532 – 1625)
| | |
| --- | --- |
| Artist Name | Sofonisba Anguissola |
| Date of Birth | c. 1532 |
| Date of Death | 16 November 1625 |
| Nationality | Italian |
| Associated Movements, Themes, and Styles | Italian Renaissance, portraiture, self-portraiture, Caravaggisti, and Feminism |
| Mediums | Painting and drawing |
It was during the Renaissance period that only a few female artists succeeded in achieving the recognition they deserved. The focus of art in the Renaissance moved away from religious themes and artists began to narrow in on themes related to the human form, classical art, and mathematics. Art became increasingly intellectual and philosophical due to the spread of Humanism.
Sofonisba Anguissola was arguably one of the most famous female artists of the Italian Renaissance, who was born into a family of painters in the 16th century.
Anguissola was the first woman to achieve global recognition for her talents in portraiture, with her most famous works being her self-portraits, which were also recognized by the Duke of Alba. The Duke recommended her to the Spanish royal court, where she painted portraits of King Philip II and the rest of the royal family.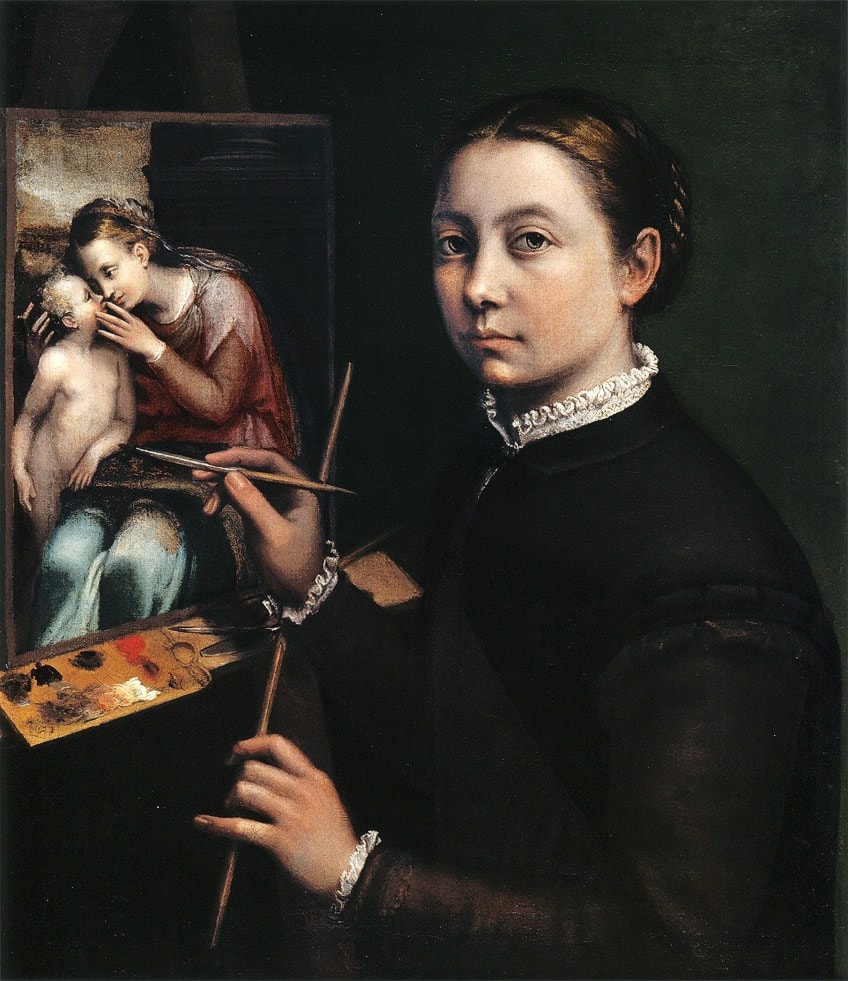 Self-portrait at the easel (1556) by Sofonisba Anguissola; Sofonisba Anguissola, Public domain, via Wikimedia Commons
King Philip loved her works to such an extent that he appointed her as a lady-in-waiting, enabling Anguissola to dedicate most of her time to painting. Anguissola's style was shaped by the popular Caravaggisti aesthetic, which inspired Anguissola's unique approach and made her one of the best painters of the style. Later in her career, Anguissola moved to Genoa, where she started art classes to teach other women how to paint.
Artworks such as "The Game of Chess" (1555) is recognized as one of Anguissola's most famous paintings and is celebrated by historians as the first illustration of 16th century Italian life from a casual point of view.
Artemisia Gentileschi

(1593 – 1656)
| | |
| --- | --- |
| Artist Name | Artemisia Gentileschi (also known as Artemisia Lomi) |
| Date of Birth | 8 July 1593 |
| Date of Death | c. 1596 |
| Nationality | Italian |
| Associated Movements, Themes, and Styles | Italian Renaissance, Baroque art, Caravaggisti, allegory, portraiture, myths, and religious art |
| Mediums | Painting and drawing |
Artemisia Gentileschi, who was also known as Artemisia Lomi, was among the most talented and famous female artists of the Italian Renaissance. Gentileschi specialized in allegorical and mythological paintings, which often featured women from well-known narratives depicted in positions of power and strength.
Gentileschi was also recognized as the first female artist to become a member of the Florence Accademia di Arte del Disegno, where she honed her skills and presented some of the earliest examples of the female gaze in Renaissance art.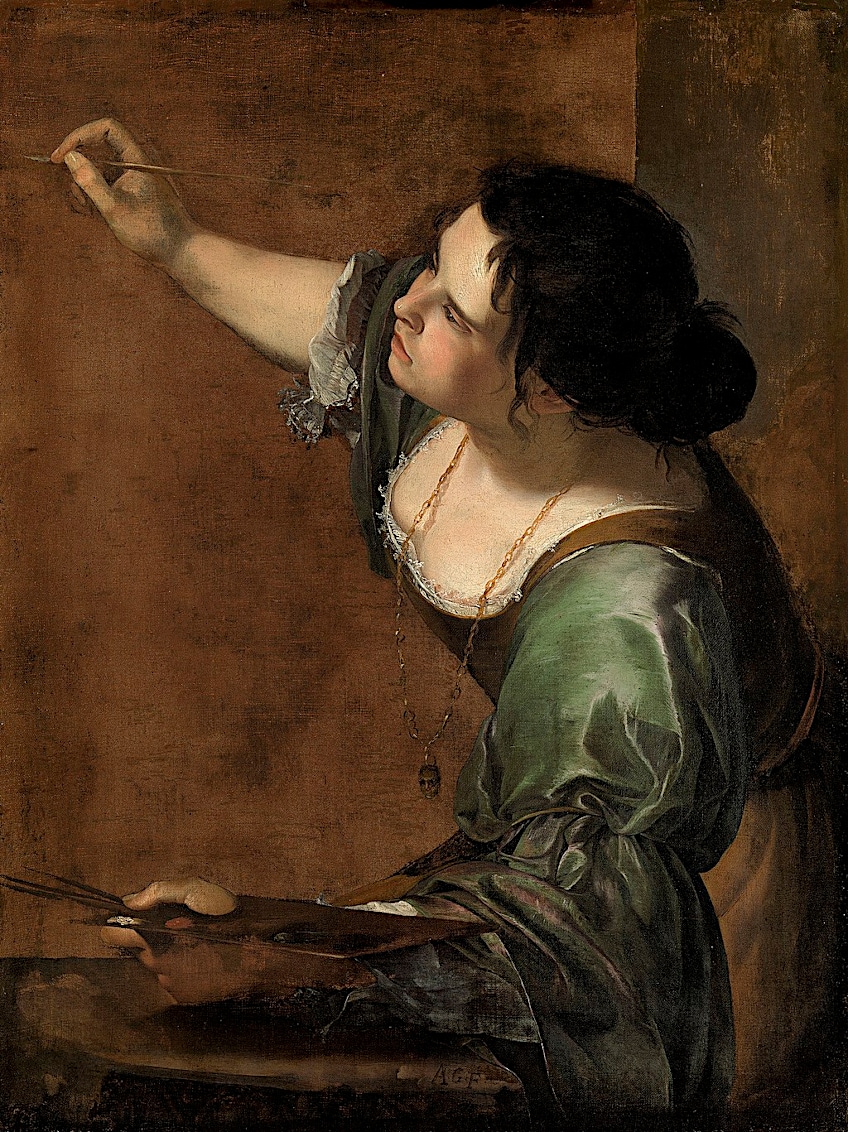 Self-portrait as the Allegory of Painting or La Pittura (1638 – 1639); Artemisia Gentileschi, Public domain, via Wikimedia Commons
The prolific Italian painter was also inspired by the Baroque style of chiaroscuro and the Caravaggisti aesthetic, which helped Gentileschi establish herself as one of the best Baroque artists of the 17th century. Today, Gentileschi continues to be celebrated for her contributions to Realism and the expanded representation of women in painting.
Angelica Kauffmann (1741 – 1807)
| | |
| --- | --- |
| Artist Name | Maria Anna Angelika Kauffmann |
| Date of Birth | 30 October 1741 |
| Date of Death | 5 November 1807 |
| Nationality | Swiss |
| Associated Movements, Themes, and Styles | Neoclassical art, decorative art, portraiture, history painting, and landscape art |
| Mediums | Painting and drawing |
Angelica Kauffmann was a famous Swiss painter of the Neoclassical art era, who was tutored by her father, a fresco artist, from an early age. Kauffman's talents immediately recognized as significant by her father and soon Kauffmann received commissions from noble members of society, enabling her to relocate to Florence. In Florence, Kauffmann studied the art of the Renaissance period and painted the portraits of several well-known people, including Johann Joachim Winckelmann, a famous art historian and archaeologist. After this breakthrough, Kauffmann entered the Accademia Clementina di Bologna as an honorary member.
Kauffmann's fame extended beyond Florence to England, where, alongside Mary Moser, she was the only female artist in the Royal Academy.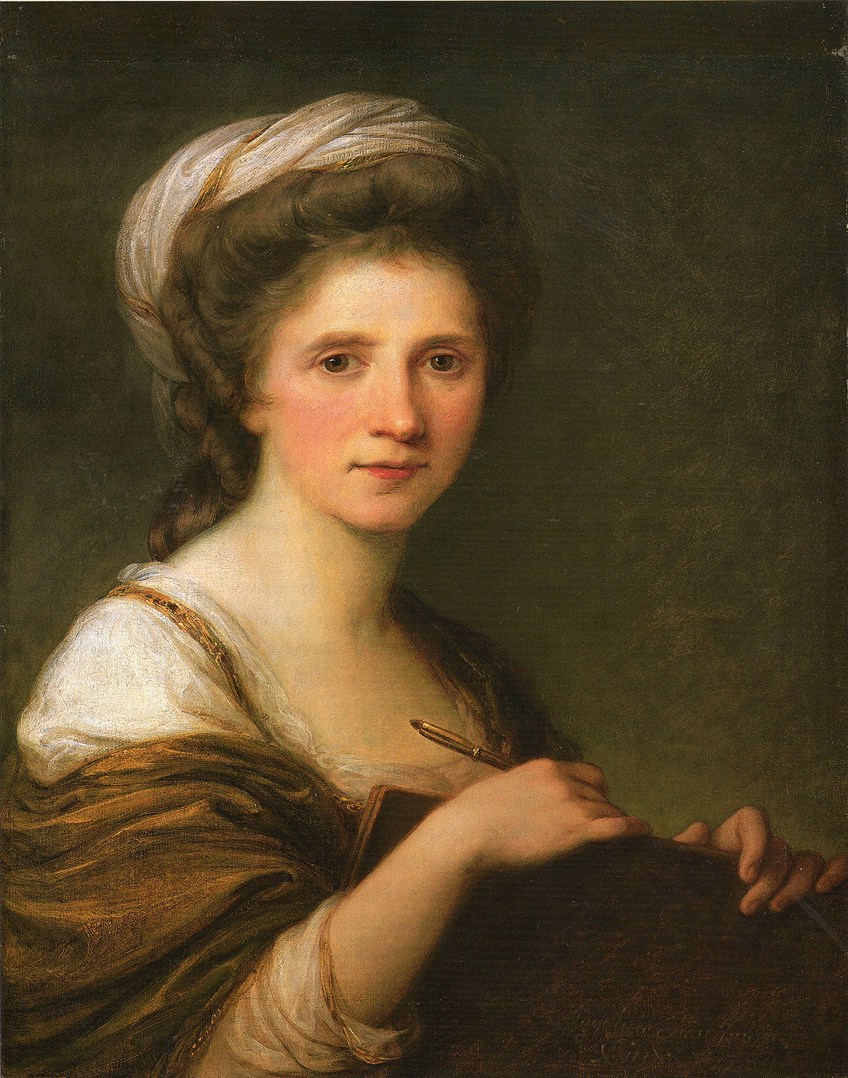 Self-portrait (1784) by Angelica Kauffmann; Angelica Kauffmann, Public domain, via Wikimedia Commons
Marie Ellenrieder (1791 – 1863)
| | |
| --- | --- |
| Artist Name | Marie Ellenrieder |
| Date of Birth | 20 March 1791 |
| Date of Death | 5 June 1863 |
| Nationality | German |
| Associated Movements, Themes, and Styles | Baroque art, religious art, and portraiture |
| Medium | Painting |
Marie Ellenrieder was a well-known female artist from the Baroque era, who was born into a family of painters in Konstanz, Germany. Ellenrieder apprenticed under Joseph Einsle, a miniature painter, and later attended the Academy of Fine Arts in Munich as the first female painter in the school. After her studies, Ellenrieder created several royal portraits, which earned her the reputation as one of the most popular female artists of her time.
Among Ellenreider's top achievements were the Patriotic Order of Merit from the Grand Duke Ludwig and the Golden Medal for Art from the Baden Art Association. Despite her success, her male colleagues did not take her art or her role in the industry seriously.
As she got older, Ellenreider began to paint religious art almost exclusively. Among her most famous works include paintings at the such as the St. Stephan Church in Karlsruhe and an altarpiece at the St. Bartholomew Church in Offenburg.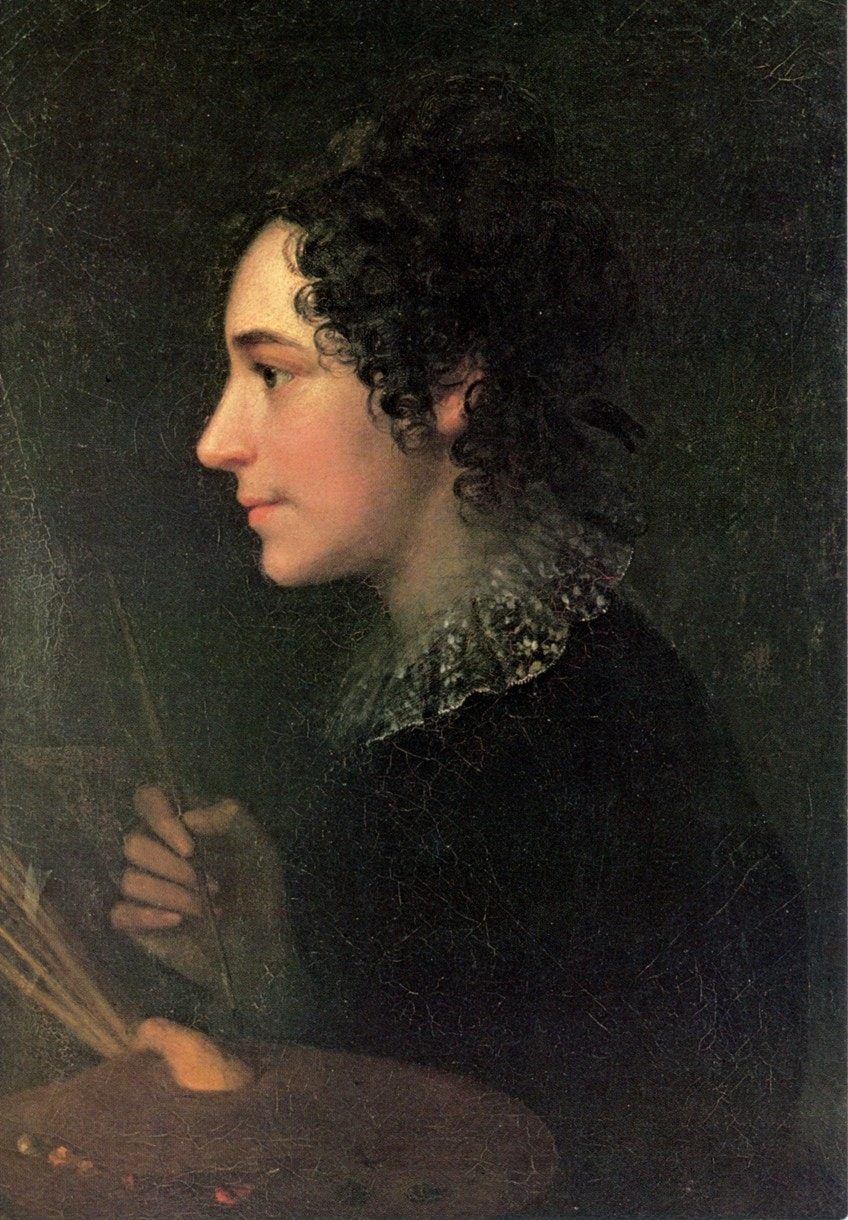 Self-portrait (1819) by Marie Ellenrieder; Marie Ellenrieder, Public domain, via Wikimedia Commons
By 1829, Ellenrieder was appointed as a court painter for the Grand Duke, Ludwig, and was commissioned to paint a family portrait for the Grand Duchess Sophie and her children, which engaged her for more than two years at court. Ellenrieder also painted two large religious pieces for Queen Victoria of England, which cemented her position as one of the most famous and well-respected female painters of her time.
Rosa Bonheur (1822 – 1899)
| | |
| --- | --- |
| Artist Name | Rosa Bonheur |
| Date of Birth | 16 March 1822 |
| Date of Death | 25 May 1899 |
| Nationality | French |
| Associated Movements, Themes, and Styles | Realism, animal painting, anatomy, and nature |
| Mediums | Painting and sculpture |
Rosa Bonheur was among the most famous Realist artists of the 19th century who was born into a family of artists and taught by her father, Raymond Bonheur. Bonheur specialized in animal painting and honed her skills in Realism, such that her works were among the most respected for her technical talent. Bonheur preferred to paint natural scenes and perfected her hand at animal anatomy. From cows to horses and dogs, Bonheur was one of the most successful animal painters of the surviving Naturalist era.
Bonheur exhibited her paintings at the 1841 Paris Salon, which skyrocketed her career and earned her significant recognition. Her breakthrough painting, The Horse Market, was the first painting to attract the attention of art critics as a masterpiece of Realistic art. Bonheur's gallerist, Ernest Gambart, introduced her to wealthy collectors such as Cornelius Vanderbilt and Queen Victoria, who greatly admired her work.
Always striving for perfection, Bonheur adopted unconventional ways of creating her paintings and often worked at farms and horse markets to create works that were as close to reality as possible.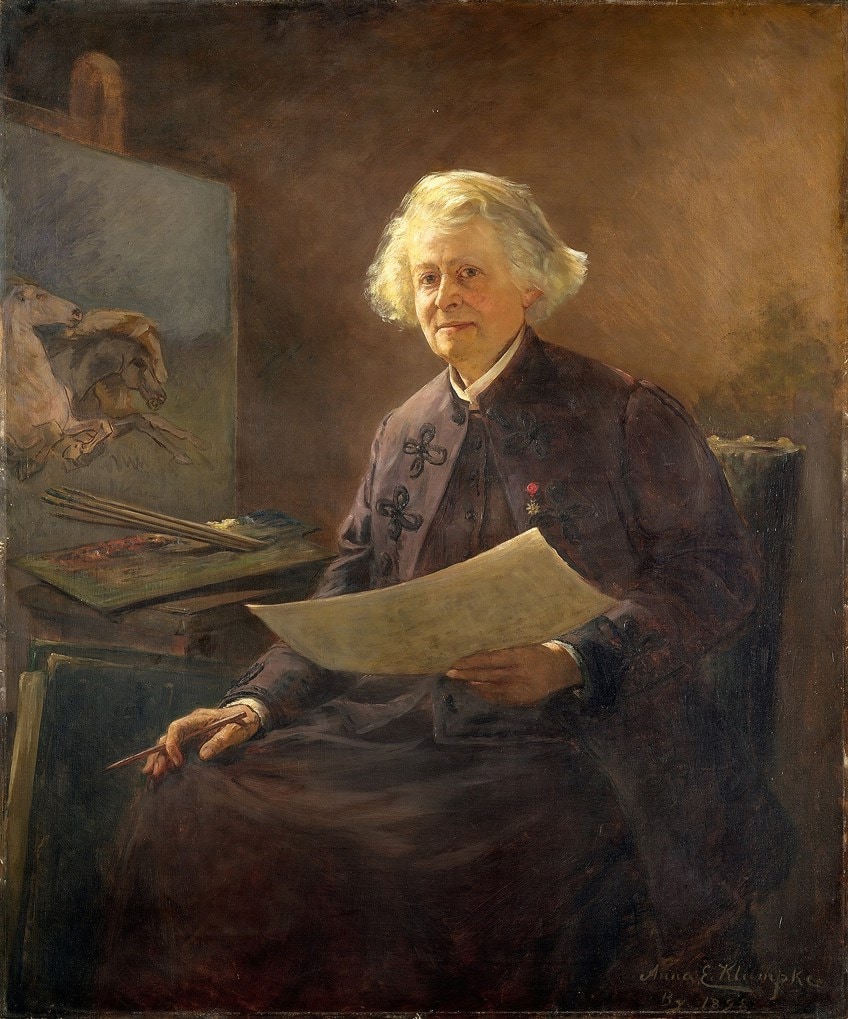 Painting of Rosa Bonheur by Anna Elizabeth Klumpke, 1898; Anna Elizabeth Klumpke, Public domain, via Wikimedia Commons
Rosa Bonheur was an incredibly successful female painter who managed to enjoy the fruits of her labor during her lifetime. Bonheur eventually secured her own castle, where she retired and spent the rest of her days painting.
Mary Cassatt (1844 – 1926)
| | |
| --- | --- |
| Artist Name | Mary Stevenson Cassatt |
| Date of Birth | 22 May 1844 |
| Date of Death | 14 June 1926 |
| Nationality | American |
| Associated Movements, Themes, and Styles | Impressionism, American Impressionism, French Impressionism, portraiture, motherhood, and women |
| Mediums | Painting and printmaking |
As part of the famous circle of Impressionists, Mary Cassatt was among the most prolific female painters of the 19th century. Working alongside the likes of Paul Cezanne, Edgar Degas, and Paul Signac, Mary Cassatt established herself as a renowned Impressionist and exhibited her work at the Paris Salon, where she was encouraged by Edgar Degas to join the French Impressionists. A prominent woman in the American and French Impressionism circles, Mary Cassatt explored the mediums of painting, printmaking, and graphic art, while showcasing the intimate and nuanced experiences of the women around her.
Cassatt's art explored themes such as motherhood, children, and the many complex narratives in between that became a source of inspiration and support for other female artists.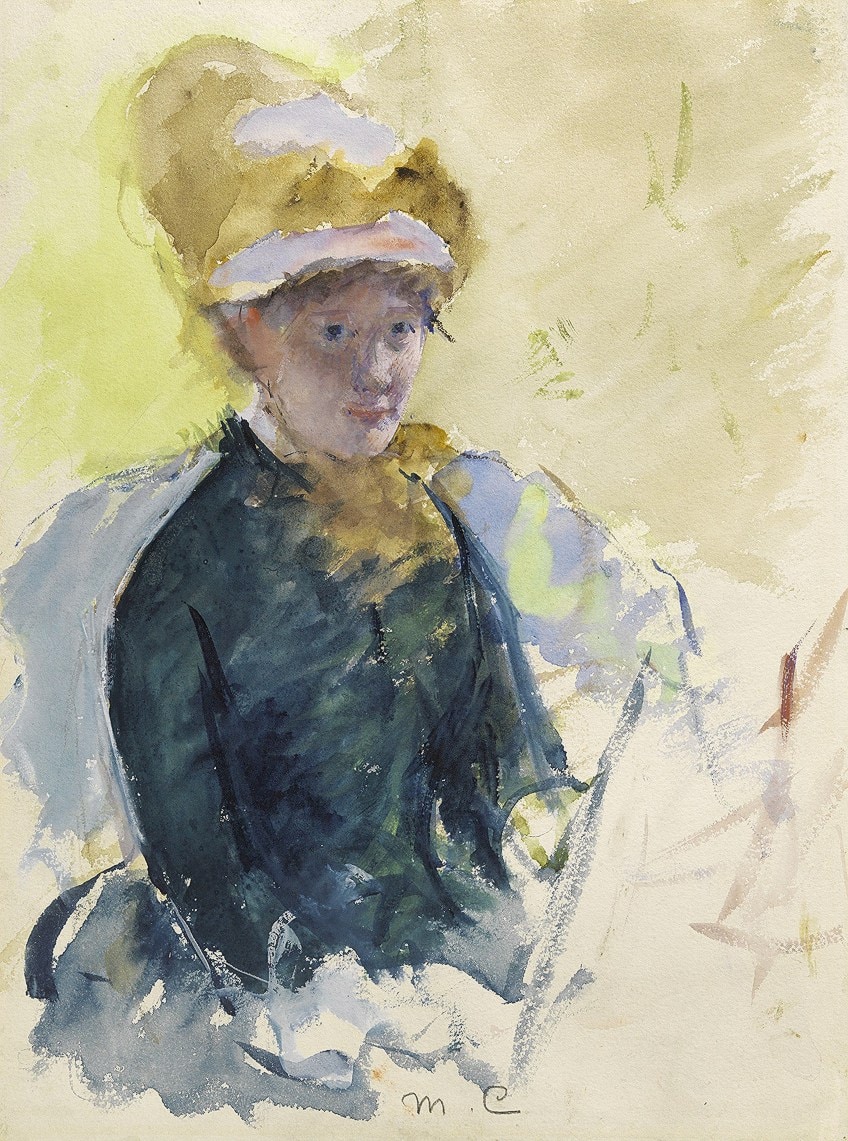 Mary Cassatt Self-Portrait, c. 1880; Mary Cassatt, CC0, via Wikimedia Commons
Similar to Bonheur, Cassatt was financially independent and also purchased her own castle. Today, she is rightfully celebrated as one of the most successful female artists of her time and has received over several awards for her contributions to American Impressionism.
Hilma af Klint (1862 – 1944)
| | |
| --- | --- |
| Artist Name | Hilma af Klint |
| Date of Birth | 26 October 1862 |
| Date of Death | 21 October 1944 |
| Nationality | Swedish |
| Associated Movements, Themes, and Styles | Abstract art and Naturalism |
| Mediums | Painting and drawing |
Hilma af Klint was among the finest painters of Western Abstract art, who was also a known mystic and member of a collective of five women who followed the Theosophy faith. Klint's ideas translated onto canvas as abstract and complex diagrams, which were believed to be inspired by her experiences in mystic practices, whereby the group often held seances attempting to contact the high masters of the world.
What makes Klint's Abstract art so unique was that her work debuted well before the work of later master Abstract artists such as Wassily Kandinsky and Kazimir Malevich, making Klint the earliest painter of Abstract art.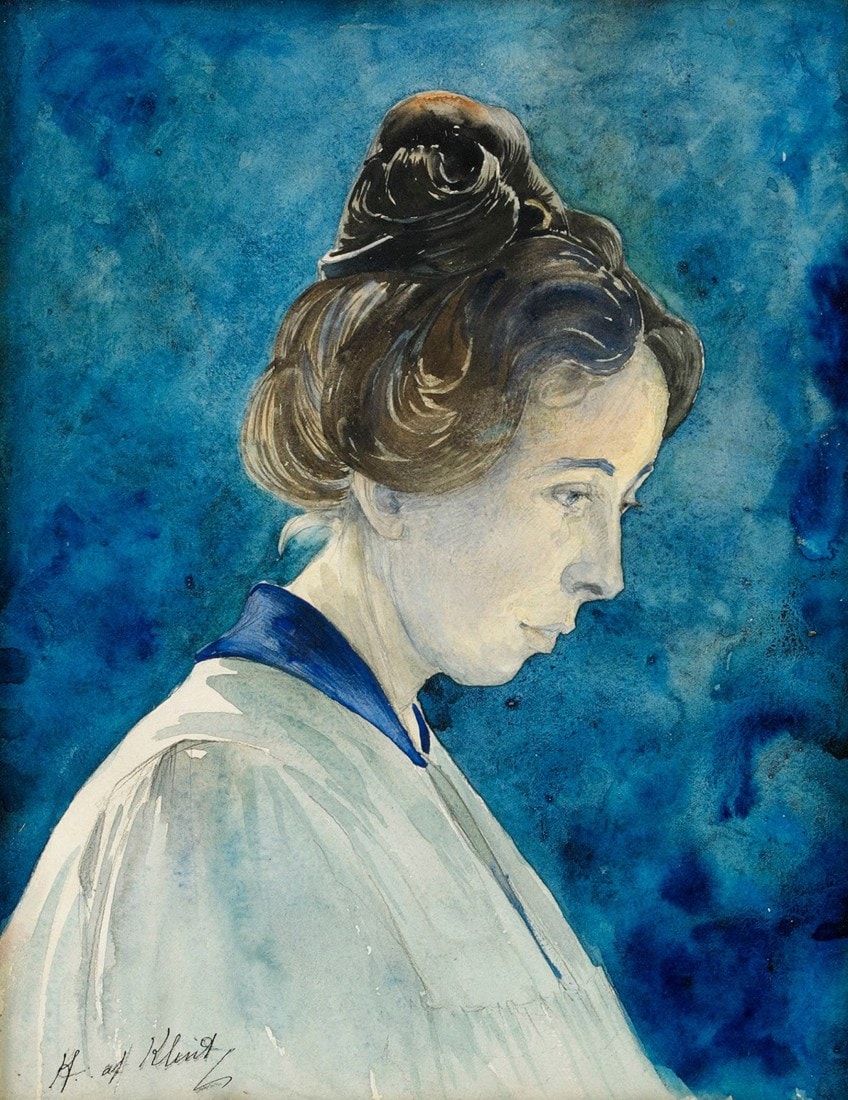 Self Portrait (c. 1880) by Hilma af Klint; Hilma af Klint, Public domain, via Wikimedia Commons
In her childhood, Klint displayed a great interest for subjects like botany and mathematics, including visual art, which she learned during her time in Stockholm. While she provided for herself financially with her conventional paintings, Klint's life work possessed an entirely different nature connected to her spiritism. Klint's style also reflects the growing pains of artists of the 20th century, who sought new forms of representation in subjects such as politics, scientific systems, womanhood, and spirituality.
Paula Modersohn-Becker (1876 – 1907)
| | |
| --- | --- |
| Artist Name | Paula Modersohn-Becker |
| Date of Birth | 8 February 1876 |
| Date of Death | 20 November 1907 |
| Nationality | German |
| Associated Movements, Themes, and Styles | German Expressionism, nude art, portraiture, and motherhood |
| Medium | Painting |
One of the few globally recognized 19th-century female modernist painters, Paula Modersohn-Becker, was a leader in German Expressionism and portraiture. Modersohn-Becker's style was inspired by the visual characteristics of Fauvism, Expressionism, and Cubism, fused together to unpack themes of motherhood, the female nude, and identity. Her artistic style was unusual for the time and was routinely met with confusion.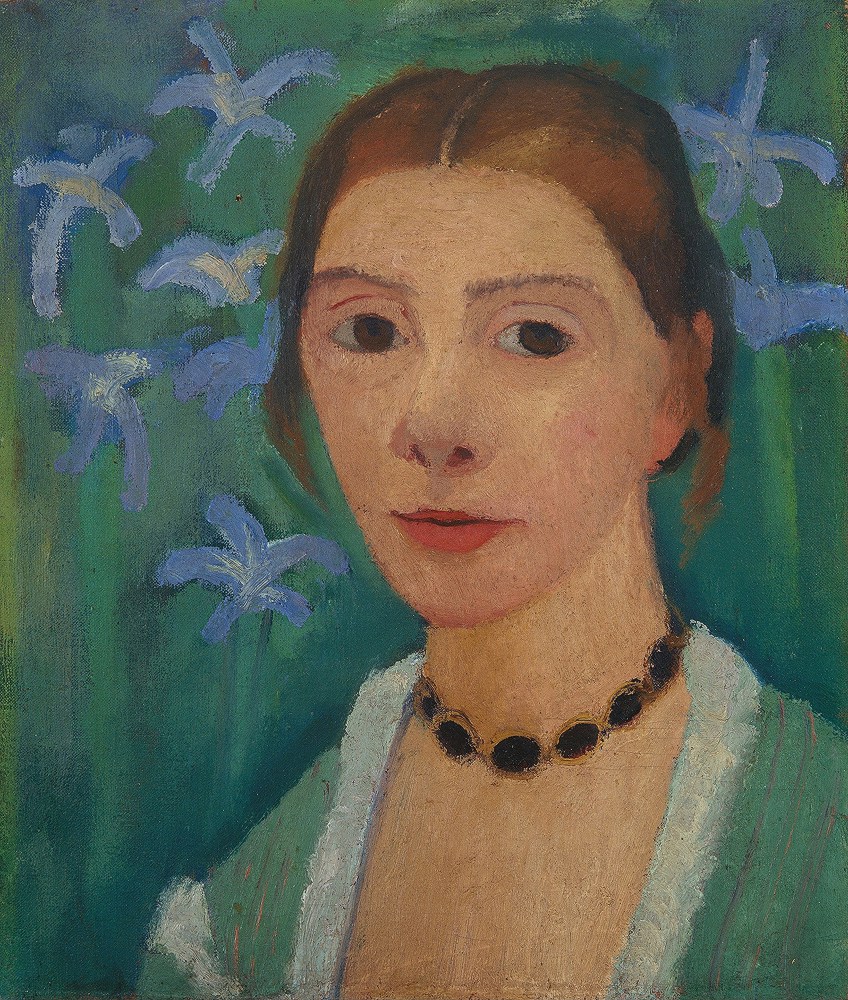 Self-portrait in front of a green background with a blue iris (between 1900 and 1907) by Paula Modersohn-Becker; Paula Modersohn-Becker, Public domain, via Wikimedia Commons
Later in her life, Modersohn-Becker painted still-life scenes, which included elements of Geometric Cubism. Paula Modersohn-Becker was a groundbreaking female artist who also explored the female nude in many of her self-portraits. Sadly, her artistic career was cut short when she passed away at the young age of 31.
Georgia O'Keeffe (1887 – 1986)
| | |
| --- | --- |
| Artist Name | Georgia Totto O'Keeffe |
| Date of Birth | 15 November 1887 |
| Date of Death | 6 March 1986 |
| Nationality | American |
| Associated Movements, Themes, and Styles | Modernism, American Modernism, and Precisionism |
| Mediums | Painting, drawing, and sculpture |
Georgia O'Keeffe was a prolific American Modernist painter who was best-known for her large abstract paintings of flowers and landscapes, which were iconic works of Modernism. Despite her struggle with depression and her loss of eyesight in her later career, O'Keeffe continued to attract the attention of many global admirers. She often disagreed with her interpretations of her work and at one point, shattered the art market record for the most expensive painting made by a female artist.
O'Keeffe's approach to painting was shaped by her interpretation of modern scenes and use of evocative forms, which made her one of the most famous female artists of the 20th century.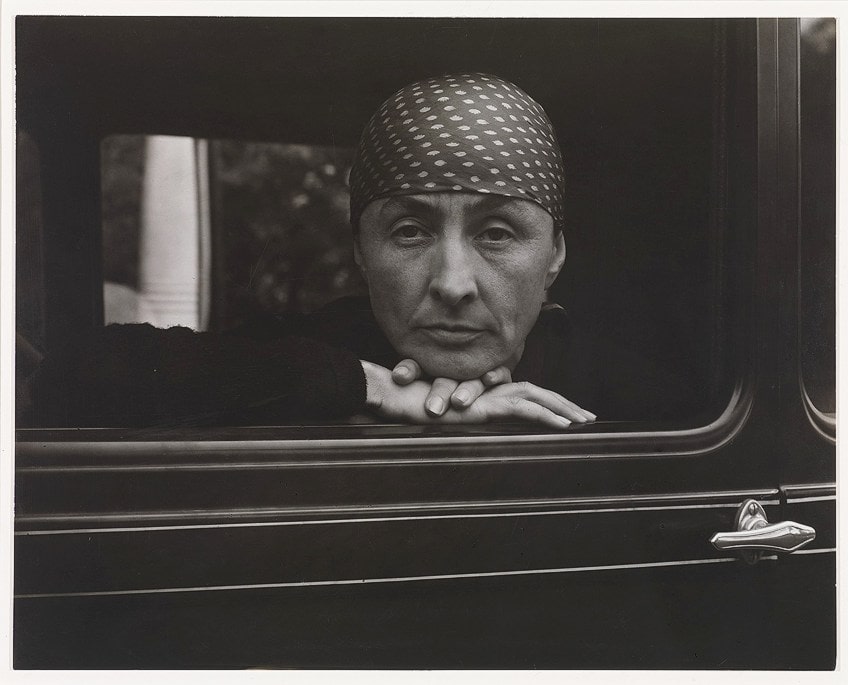 Photograph of Georgia O'Keeffe by Alfred Stieglitz, 1932; Alfred Stieglitz, CC0, via Wikimedia Commons
Nicknamed the "mother of American Modernism", O'Keeffe is recognized for the provocative flower paintings, which resembled elements of the female reproductive system and was harshly criticized by art critics who thought her work to be overly vulgar. However, O'Keeffe's massive 2,000 painting portfolio has continued to inspire many women in the 21st century to engage in themes and discourses that would have otherwise been restricted or censored heavily in the 20th century.
Irma Stern (1894 – 1966)
| | |
| --- | --- |
| Artist Name | Irma Stern |
| Date of Birth | 2 October 1894 |
| Date of Death | 23 August 1966 |
| Nationality | South African |
| Associated Movements, Themes, and Styles | Modern art, portraiture, still-life, and post-Impressionism |
| Medium | Painting |
Irma Stern was an internationally-recognized South African artist whose extensive travels and expressive portraiture earned her the reputation as one of the most famous female artists of the early 20th century. Stern moved to Berlin to pursue art during the First World War and held her first solo exhibition in 1916. When she returned to South Africa, her work was not well-received, however, her work gained traction as her reputation climbed among international collectors.
As a respected painter, Stern's travels across South Africa captured not only the beautiful landscapes of the country, but also its people through bold and gestural post-Impressionist portraits. Stern explored saturated and flat color palettes in her work, which can be seen in paintings such as Street Scene, Madeira (1931).
Today, Irma Stern's legacy remains an iconic part of South African art history with her home, which was converted into the Irma Stern Museum after her death in 1966.
Alice Neel (1900 – 1984)
| | |
| --- | --- |
| Artist Name | Alice Neel |
| Date of Birth | 28 January 1900 |
| Date of Death | 13 October 1984 |
| Nationality | American |
| Associated Movements, Themes, and Styles | Expressionism, portraiture, the female gaze, and Communism |
| Medium | Painting |
Renowned American portrait painter Alice Neel was among the most impactful painters of the 20th century, who focused her painting on the impact of the male gaze on women through her assertion of the female gaze. Neel attended the Philadelphia School of Design for women and aimed to make her internal world visible through painting.
Neel's portfolio showcases the many unique personalities of people from her inner circle, which comprised of intellectuals, Communist supporters, cultural workers, and acquaintances.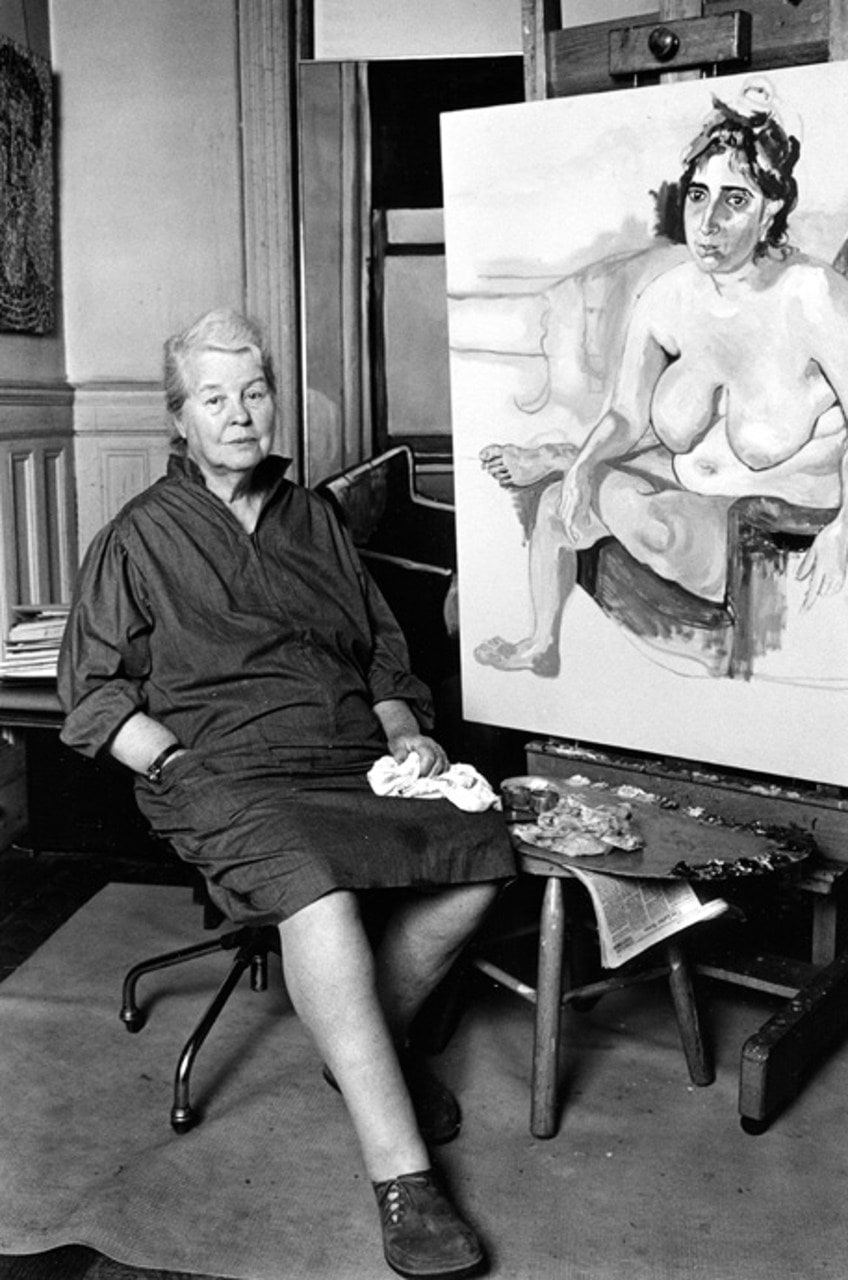 Alice Neel portrait in her studio, 1976; Lynn Gilbert, CC BY-SA 4.0, via Wikimedia Commons
Across her works, one can admire the sense of freedom, comfort, and openness displayed in her models' faces. Throughout her life, Neel struggled for a place in the art scene that was dominated by men. It was only in the 1970s, with the rise of feminist activism, that Neel finally received the recognition she deserved. Today, Alice Neel is recognized as one of the most well-known women painters, whose works grace the collections of many American museums.
Frida Kahlo (1907 – 1954)
| | |
| --- | --- |
| Artist Name | Magdalena Carmen Frida Kahlo y Calderón |
| Date of Birth | 6 July 1907 |
| Date of Death | 13 July 1954 |
| Nationality | Mexican |
| Associated Movements, Themes, and Styles | Magical Realism, Symbolism, Surrealism, Modern art, portraiture, identity, Mexican culture, love, and Cubism |
| Mediums | Painting and drawing |
Arguably the most well-known female Mexican painter of all time, Frida Kahlo was revered by many for her complex surreal self-portraits that touched on her personal experiences with love, heartbreak, identity, pain, and Mexican culture. Throughout her lifetime, Kahlo painted between 150 and 200 different paintings, with her early work showing influences from the European Avant-Garde scene and the Renaissance. In her later career, Kahlo drew inspiration from Mexican folk art and openly discussed themes of fantasy, passion, death, and violence.
Frida Kahlo was perhaps the most famous portraiture artist of the 20th century, who used her own image to explore notions of gender, class, race, identity, and post-Colonialism in Mexico.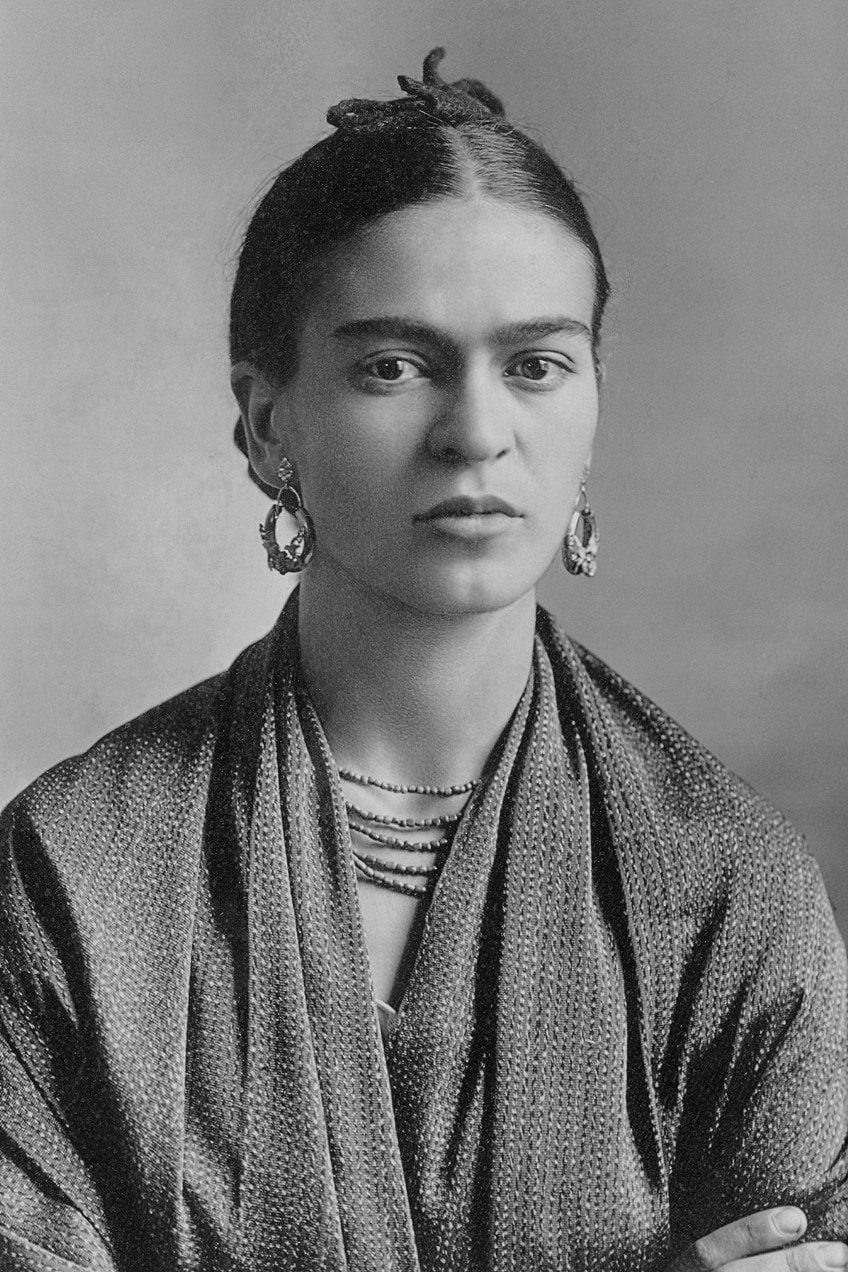 Photograph of Frida Kahlo, 1932; Guillermo Kahlo, Public domain, via Wikimedia Commons
Lee Krasner (1908 – 1984)
| | |
| --- | --- |
| Artist Name | Lenore "Lee" Krasner |
| Date of Birth | 27 October 1908 |
| Date of Death | 19 June 1984 |
| Nationality | American |
| Associated Movements, Themes, and Styles | Abstract Expressionism, Modern art, Abstract art, collage, portraiture, assemblage, mosaic art, and Cubism |
| Mediums | Painting, drawing, and sculpture |
Lee Krasner's marriage to Jackson Pollock has tended to overshadow her legacy in the art world. A pioneer of Abstract Expressionism and portraiture, Lee Krasner was a famous female painter, who explored many art forms, including sculpture, assemblage, and collage, which culminated in her impressive portfolio of over 600 artworks. Krasner also introduced Pollock to the renowned art critic Clement Greenberg, as well as numerous other Modern art icons.
As an arts activist and member of the American Abstract Artists group, Krasner was admired by many, including art dealers who remarked that she knew more about painting at the time than any other artist of the 20th century.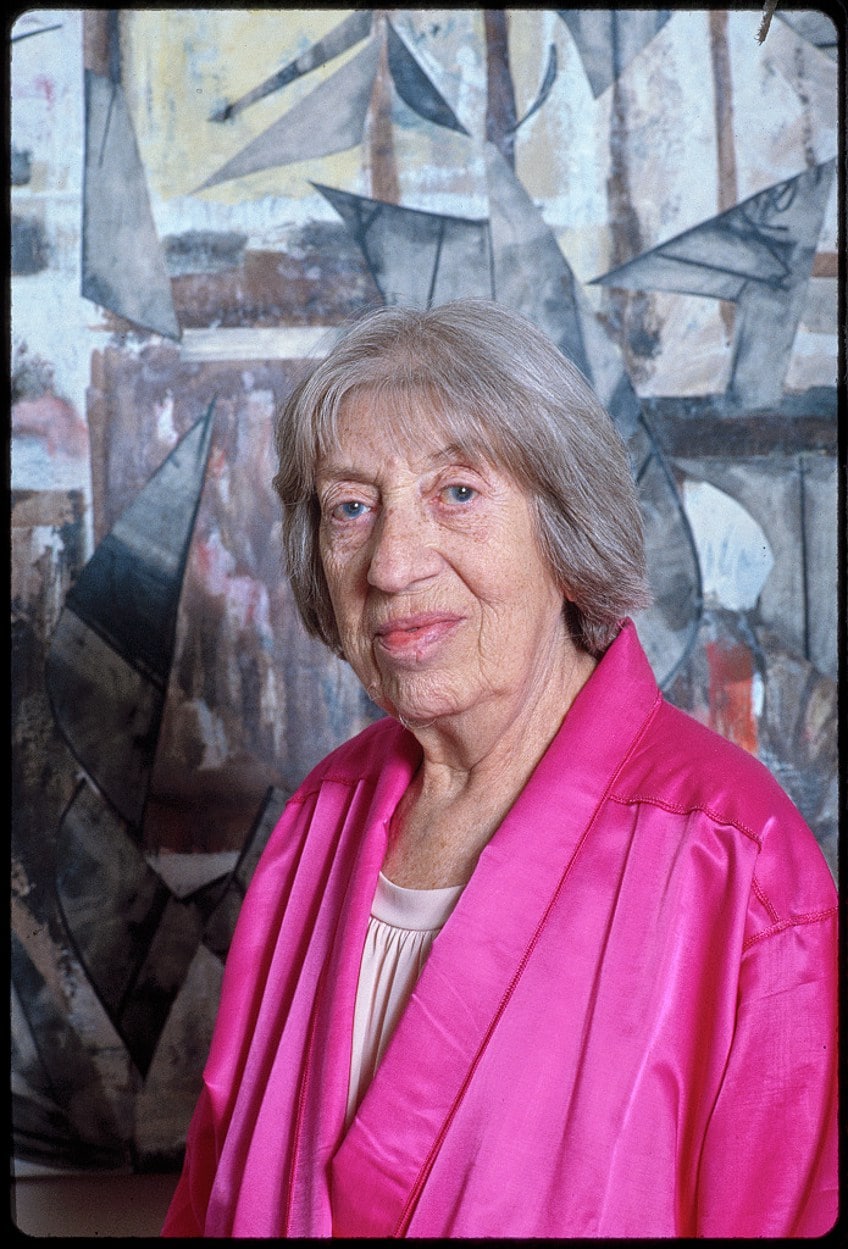 Photograph of Lee Krasner, 1983; Gotfryd, Bernard, photographer, Public domain, via Wikimedia Commons
Yayoi Kusama (1929 – Present)
| | |
| --- | --- |
| Artist Name | Yayoi Kusama |
| Date of Birth | 22 March 1929 |
| Date of Death | Present |
| Nationality | Japanese |
| Associated Movements, Themes, and Styles | Modern art, Contemporary art, Pop art, Environmental art, Feminism, and Minimalism |
| Mediums | Painting, sculpture, installation, performance, photography, video art, and poetry |
Yayoi Kusama is a name you cannot miss and remains an icon of the Modern and Contemporary art periods. Kusama is a world-renowned Japanese artist who has explored almost all forms of art, including sculpture, installation, and painting while tackling themes such as identity, fashion, sexuality, and psychology. What makes Kusama's work stand out is her obsession with polka dots, which explored themes of repetition that initially emerged as a response to the artist's anxiety, obsessions, and intrusive thoughts.
The polka dots in Kusama's work were also inspired by her childhood experiences with hallucinations and culminated in her passion for art as a coping mechanism.
In 1968, Kusama established her own fashion label and began selling uniquely designed clothing at Bloomingdales. To date, she had completed several large-scale public commissioned sculptures and published numerous books and poems. Kusama also referred to her polka dots as "infinity nets", which she first incorporated in her art at the early age of 10.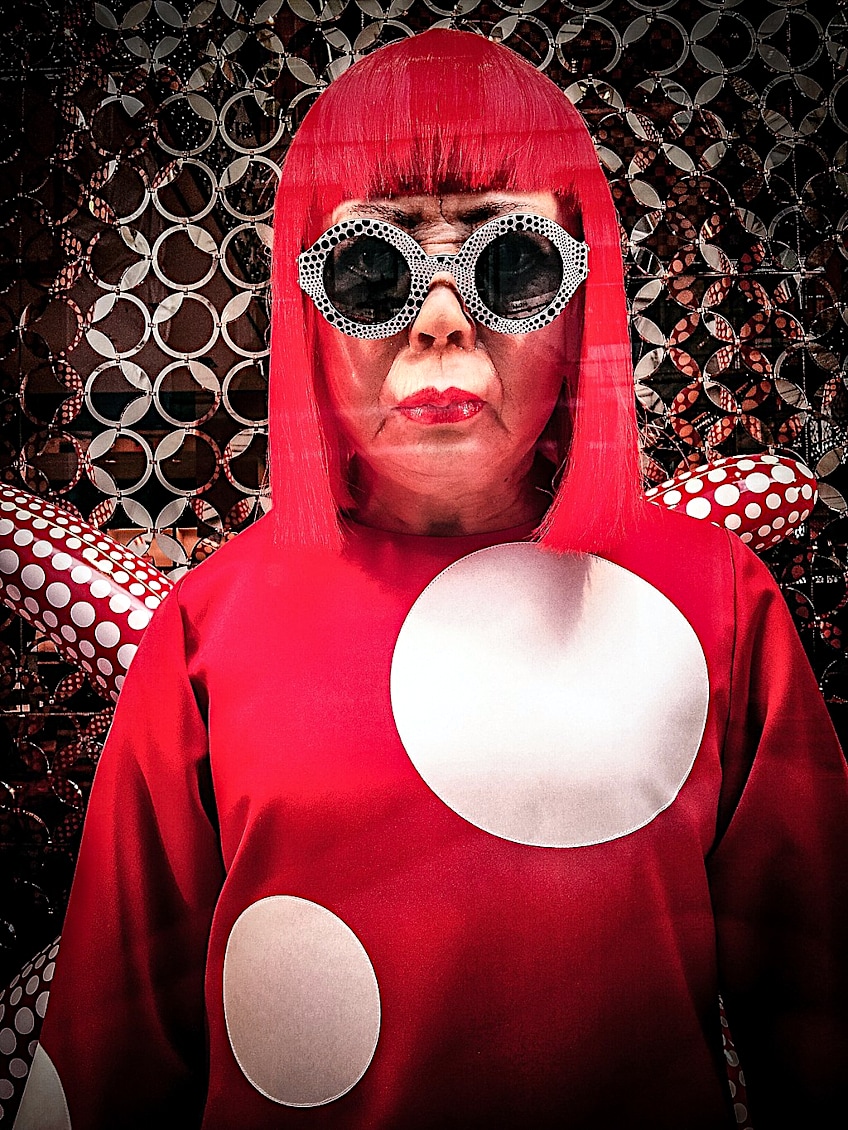 Yayoi Kusama's wax model at Louis Vuitton for 2012 collection unveiling; Garry Knight, CC BY 2.0, via Wikimedia Commons
Today, Kusama remains an important icon in Contemporary and Avant-Garde art. While Yayoi Kusama continues to inspire many women with her Feminist art and anti-patriarchal vision, there are many other famous female painters and creatives such as Élisabeth Louise Vigée le Brun, Helen Frankenthaler, Cindy Sherman, Judith Leyster, and Judy Chicago, who have dominated the art scene.
Book Recommendations
Over the centuries, it has been clear that women have had to represent themselves in ways removed from the male gaze, that offer more value for understanding the creativity and contributions of female artists. Below are a few important book recommendations that will help you gain a better idea of the different innovations led by women in art.
Great Women Painters (2022) by Alison M. Gingeras and Phaidon Editors
Great Women Painters is a book that everyone should include in their art history library, which features more than 300 female artists from around the world in a diverse compilation of historical and current artists. The highly-rated book features female artists such as Hilma af Klint, Artemisia Gentileschi, Georgia O'Keeffe, Yayoi Kusama, and many more iconic women in art who continue to leave resounding legacies in the art world.
A survey of over 300 women painters and their work
The book spans almost five centuries of artwork
Covers nearly 500 years of skill and innovation
View on Amazon
Unravelling Women's Art: Creators, Rebels, & Innovators in Textile Arts (2022) by P. L. Henderson and Cheryl Denise Robson
This incredible publication is one that you should definitely add to your cart. This highly-rated book covers the global and historical trajectory of female textile artists, whose unique and varied production process showcase the growth and development of textile art over centuries. From dress design to Contemporary and ancient practices, women in art have been championing textile art as a means of shaping their individual identities and leveraging it in history as tools, spying devices, and forms of personal expression.
Offers a unique overview of female textile art production
Includes more than 20 interviews with contemporary artists
Provides an intriguing insight into the practices and themes of this art
View on Amazon
Women in Design (World of Art) (2023) by Anne Massey
Another underrepresented arena of art is design, which this impressive publication provides and in-depth review of. Women in design have often left behind in terms of recognition as compared to their male contemporaries. Notable figures such as Zaha Hadid, Mary Quant, Annie Albers, and Eileen Gray are among the many significant women in art covered in this book, and is a must-have for those who wish to treasure and honor the crucial roles of women in art.
An in-depth history of women designers who work internationally
Ranges from 1900 to the present day
Includes 149 illustrations throughout
View on Amazon
While there are many female artists in art history to explore, these top 15 master artists will remain iconic in the history of art. We hope that you have thoroughly enjoyed reviewing this list of famous female artists, whose contributions to art have proved priceless to the development of art, and has inspired many women to engage in professional art practices.
Frequently Asked Questions
Who Were the Three Most Influential Female Artists in Art History?
Among the many women artists in art history, were crucial figures such as Artemisia Gentileschi, Mary Cassatt, and Georgia O'Keeffe, whose art contributed significantly to the development of art styles and recognition of women in art, in each of their respective periods. These artists were among the most influential female artists of all time.
Which Female Artists Work With Light?
Many female artists work with light to enhance their art and create unique experiences of art. These include female artists such as Yayoi Kusama, Jenny Holzer, and Nancy Holt. These women are considered to be the most famous light artists of the 21st century.
Who Was the First Internationally Recognized Female Artist?
Lavinia Fontana is considered by many art historians to be the first woman in Western art history to achieve significant recognition. Fontana led her own art workshop and created many paintings showcasing a wide variety of subjects, which led to her fame and success.
Why Were Female Artists Overlooked in the Past?
Most women in art were overlooked in the past due to their existence as women and were only recognized in the presence of a man. Common societal gender roles dictated that women were to fulfill specific roles defined by patriarchy, and were afforded little to no opportunities to pursue equal art education to achieve success. Art produced by female artists were also overlooked by institutions and mis-attributed to the closest male artist who displayed similar styles.
Who Is the Most Expensive Female Artist?
Today, the most expensive female artist is recognized as Yayoi Kusama, whose auction turnover amounted to an estimated $889 million in 2022. Other female artists who closely follow Kusama are Joan Mitchell and Louise Bourgeois.
Isabella studied at the University of Cape Town in South Africa and graduated with a Bachelor of Arts majoring in English Literature & Language and Psychology. Throughout her undergraduate years, she took Art History as an additional subject and absolutely loved it. Building on from her art history knowledge that began in high school, art has always been a particular area of fascination for her. From learning about artworks previously unknown to her, or sharpening her existing understanding of specific works, the ability to continue learning within this interesting sphere excites her greatly.
Her focal points of interest in art history encompass profiling specific artists and art movements, as it is these areas where she is able to really dig deep into the rich narrative of the art world. Additionally, she particularly enjoys exploring the different artistic styles of the 20th century, as well as the important impact that female artists have had on the development of art history.
Learn more about the Art in Context Team.