His appreciation of natural settings, as well as powerful and appealing feminine forms, made John William Waterhouse's painting genuinely unique and incredibly popular with his customers. John William Waterhouse's paintings of mythical and classical subjects demonstrate a genuine synthesis of Neoclassical topics and Romantic aesthetics, which would be developed by other painters during the remainder of the 19th century. We will be taking a look at John William Waterhouse's biography and art style today, and finding out what made him such a renowned figure in the art world.
John William Waterhouse's Biography
| | |
| --- | --- |
| Nationality | English |
| Date of Birth | 6 April 1849 |
| Date of Death | 10 February 1917 |
| Place of Birth | Rome, Roman Republic |
John William Waterhouse emerged in the mid-19th century, during a period when the Industrial Revolution was in full effect and destitution was rampant in England's poorest regions. Many experts in the world of art were revolting against the clean and accurate lines of the preceding Neoclassical era. They began to create artworks and sculptures that transported the observer to another universe, far away from the reality of daily life.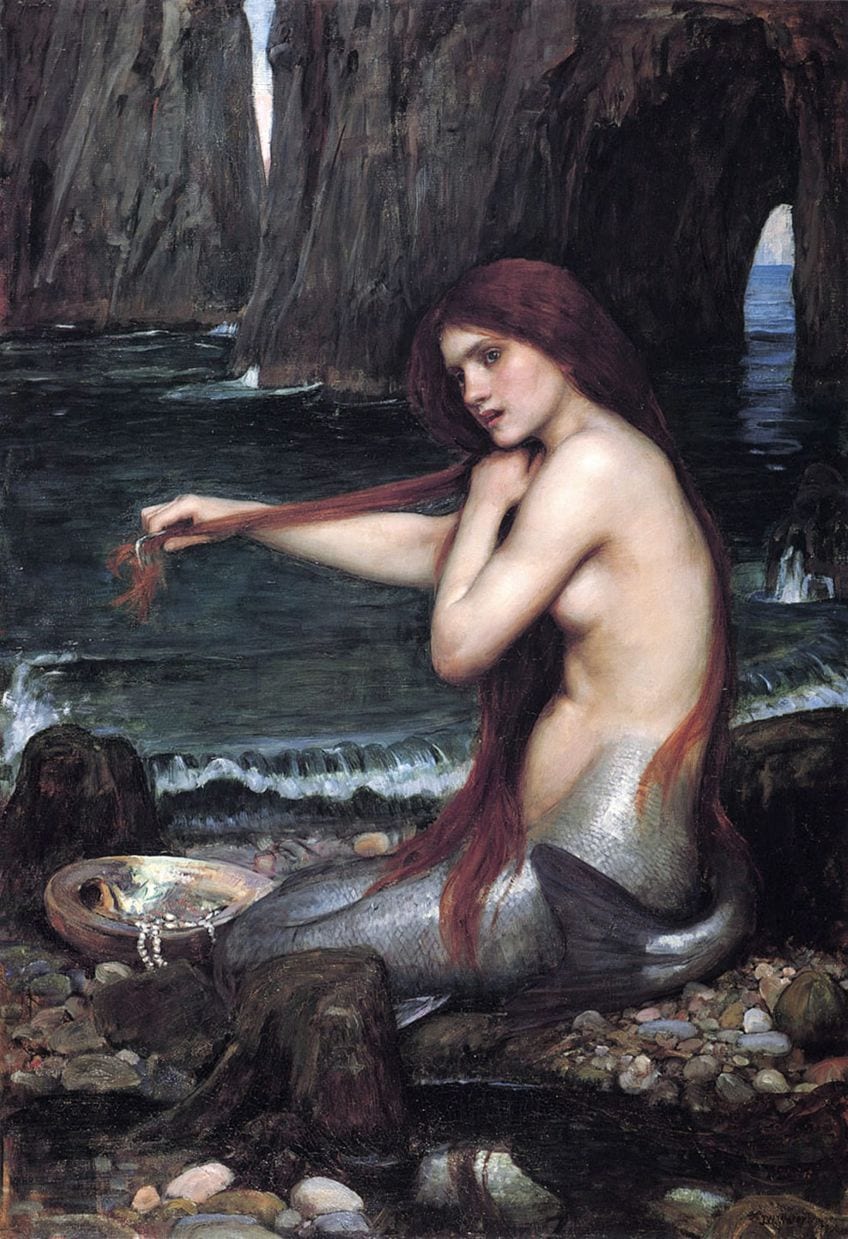 A Mermaid (1900) by John William Waterhouse; John William Waterhouse, Public domain, via Wikimedia Commons
Early Life
The English painter, John William Waterhouse, was born in Rome in 1849 to English artists Isabella and William Waterhouse, in the same year that the Pre-Raphaelite Brotherhood – which included John Everett Millais, Dante Gabriel Rossetti, and William Holman Hunt – was generating a buzz in London's art community. The actual date of his birth is uncertain; however, he was baptized on the 6th of April, and Peter Trippi, a subsequent researcher of John William Waterhouse's paintings, believes he was probably born sometime between the 1st and 23rd of January.
Several of his later works were set in ancient Rome or inspired by images from Roman mythology, which has been attributed to his early upbringing in Italy.
In 1854, the family returned to England and settled in South Kensington, London, nearby the newly established Victoria & Albert Museum. Waterhouse grew up in an artistic household and was urged to produce art. He frequently drew paintings he saw at the National Gallery as well as the British Museum. In 1871, he enrolled at the Royal Academy of Art, first to study sculpting before transitioning to studying the art of painting.
Early Career
His initial works were not Pre-Raphaelite in character, but rather traditionally classical, in the manner of Frederic Leighton and Alma-Tadema. These early pieces were shown at the Society of British Artists, and his work Sleep and his Half-brother Death (1874) was included at the Royal Academy summer exhibition in 1874. Waterhouse's artwork was a success, and he continued to show at the yearly exhibition until 1916, except for the years 1890 and 1915. He then rose through the ranks of the London art world, with his work After the Dance (1876) earning first place in that year's summer show. Perhaps as a result of his popularity, his paintings grew larger and larger.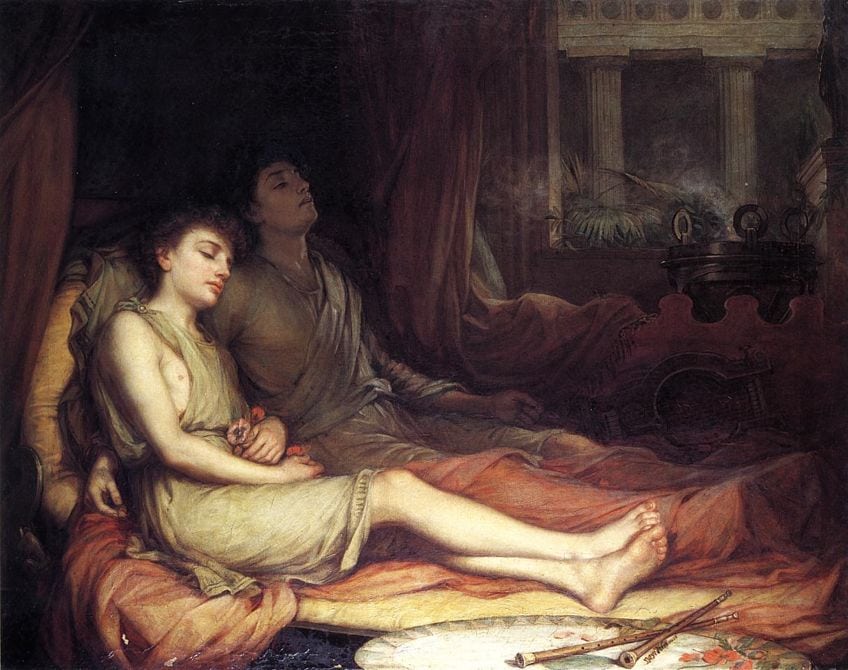 Sleep and his Half-brother Death (1874) by John William Waterhouse; John William Waterhouse, Public Domain, via Wikimedia Commons
Later Career
Waterhouse wedded Esther Kenworthy in 1883, who had presented her own floral works at the Royal Academy and internationally. Waterhouse was elevated to the rank of full Academician in 1895. The Lady of Shalott, who dies of a strange curse after staring squarely at the handsome Lancelot, is one of Waterhouse's most well-known themes. He produced three distinct versions of this figure between 1888 and 1916.
Ophelia was yet another of his favorite themes; the most well-known of his works of Ophelia portrays her just before her demise, with flowers in her tresses as she rests on a tree limb bending over a lake.
It depicts a woman dying in water, similar to The Lady of Shalott and other John William Waterhouse works. He might possibly have been influenced by John Everett Millais and Dante Gabriel Rossetti's paintings of Ophelia. He exhibited his Ophelia (1888) to the Royal Academy in order to get his certificate. The work thereafter went missing until the 20th century. It is presently on exhibit in Lord Lloyd-collection.
The Technique and Style of John William Waterhouse
John William Waterhouse is frequently categorized as a Pre-Raphaelite artist due to his devotion to depicting beautiful ladies, love of the femme fatale, and naturalism. Scholars noticed Waterhouse's preference for picking sad or harsh themes and discovering the beauty or serenity in them by drawing on well-known legends or mythology. St. Eulalia (1885), the tale of a little Spanish girl who was horrifically crucified in Roman times, is one illustration of this. Waterhouse displays her dying corpse rather calmly, rather than displaying some of her awful injuries or the act of martyrdom. Her damaged torso is partially covered in scarlet robes, and the falling snow creates an almost surreal and enchanting atmosphere.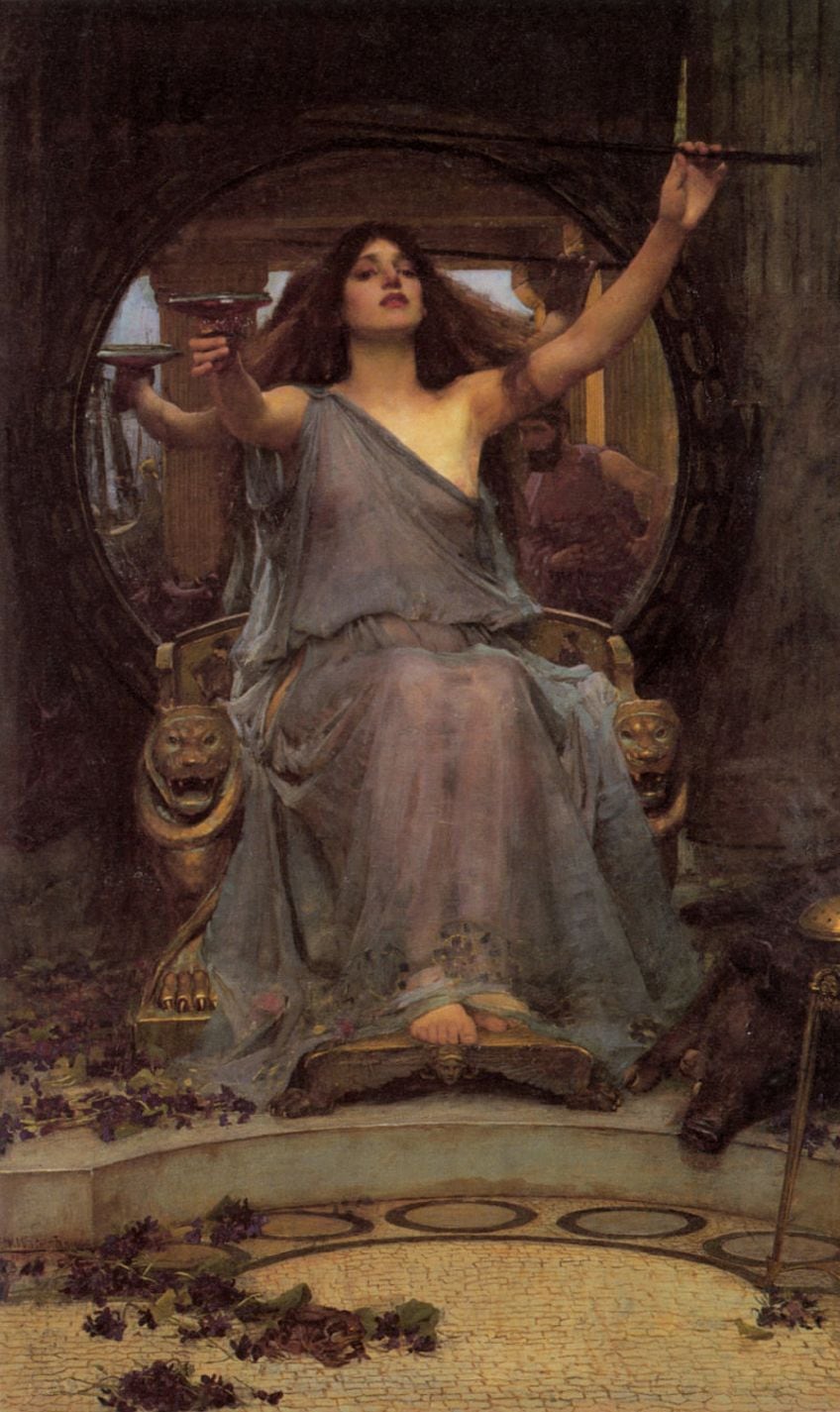 Circe Offering the Cup to Ulysses (1891) by John William Waterhouse; John William Waterhouse, Public domain, via Wikimedia Commons
Circe Offering the Cup to Ulysses (1891) is a work that employs nearly all of Waterhouse's compositional approaches. Waterhouse illustrates the instant when the sorceress Circe is preparing to deceive the hero, Ulysses. Waterhouse depicts her in a high seat, her face inclined skyward, her gaze fixed on the observer. This superior position demonstrates the woman's dominance over others. Circe's torso is framed by the mirror and chair behind her, almost like a throne. Waterhouse frequently opted to depict stories about strong masculine heroes, but in his works, they resemble background figures, with their faces turned aside or partially hidden.
This method allowed Waterhouse to concentrate on his love, the lovely heroine, while frequently expressing how the audience should view the woman in front of them.
For example, in Circe Offering the Cup to Ulysses, Ulysses is only visible in the mirror, dwarfed by Circe, and with his head a little bit lower. This demonstrates the woman's higher position once again. Waterhouse's women usually have brilliant porcelain complexions, making them appear pure, angelic, and otherworldly. The skin tone was undeniably trendy and regarded as the pinnacle of beauty in Victorian England.
This pale skin is frequently complemented by black eyes and Titian-like hair. The artist added as much attention to the backdrop of his works as he did to the subject, and his utilization of color throughout complements this. The colors used in the backdrop are frequently subdued in as not to detract from the primary picture, but they also express the piece's tone and atmosphere. Waterhouse's choice of dress for his women is essentially romantic. The artist employs draperies to generate movement in his work, which is a mix between medieval and Greco-Roman in style. Waterhouse also used color to convey the personality of the person depicted.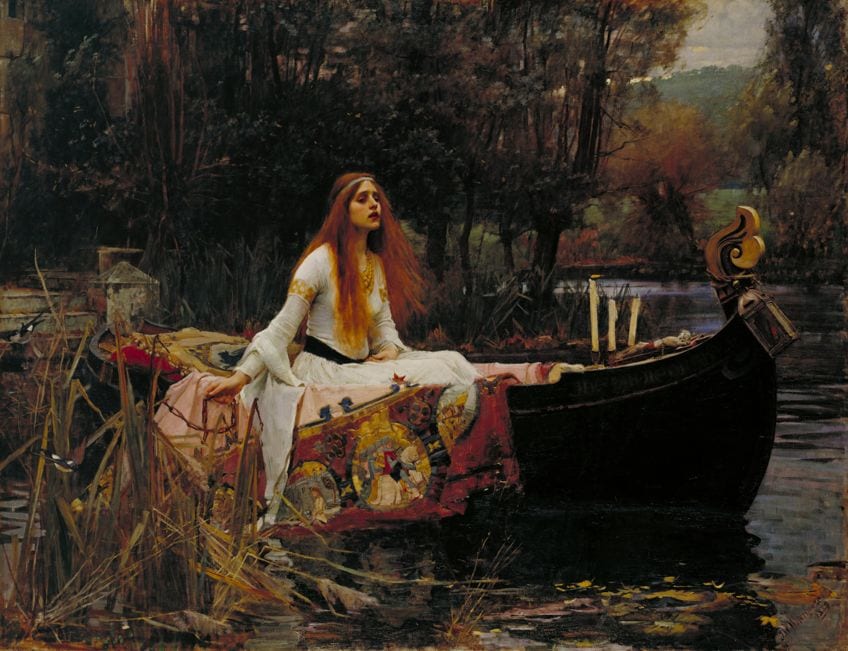 The Lady of Shalott (1888) by John William Waterhouse; John William Waterhouse, Public domain, via Wikimedia Commons
Dark blues and purples, for example, are frequently utilized for menacing or strong ladies. Pinks and milder colors are more typically chosen to convey a brighter attitude. Translucent cloth is utilized to give the women a subtle eroticism without their being entirely naked or overly suggestive. Waterhouse creates a lot of movement in his works, which adds realism and makes the audience feel like they are practically in the action as well. To accomplish this, he used light and shadow, as well as rippling clothing and wild hair.
John William Waterhouse's paintings' degree of detail surely contributes to this movement; without it, the works would look dreamlike and fantastical.
Notable John William Waterhouse Paintings
Waterhouse, such as the Pre-Raphaelite brothers from whom he drew so much influence, employed symbolism to create important themes in each work, giving his artworks a story. The artist employs the process of weaving as a representation of the women's stagnant existence, continually waiting and occupying her time with useless pastimes, in his paintings that feature women weaving. Although attractiveness was one of Waterhouse's prime priorities, this symbolism demonstrates that, like other pre-Raphaelite painters, he believed that art should have significance.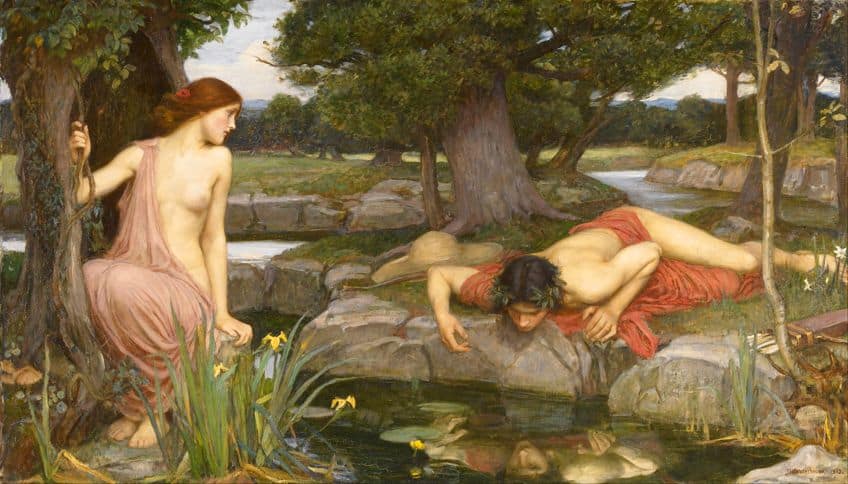 Echo and Narcissus (1903) by John William Waterhouse; John William Waterhouse, Public domain, via Wikimedia Commons
Waterhouse frequently drew many studies of the same person's tale, demonstrating his ability to describe and modify individuals. This not only enthralls the audience but also demonstrates his development as an artist. Waterhouse, like many other painters of his period, sketched or painted from life models. Although there is no formal record of the sitter he employed, the artist's personal letters suggest that his sister, wife, and sister-in-law all posed for him at various times. Some of his works include famous models of the time, such as Beatrice Flaxman and Jennifer Flora. Here is a list that includes several of the artist's most notable artworks.
| | | | |
| --- | --- | --- | --- |
| Artwork Title | Date Completed | Medium | Current Location |
| The Lady of Shalott | 1888 | Oil on canvas | The Tate Museum, London, United Kingdom |
| A Mermaid | 1900 | Oil on canvas | Royal Academy of Arts, London, England |
| The Crystal Ball | 1902 | Oil on canvas | Private collection |
| Echo and Narcissus | 1903 | Oil on canvas | Walker Art Gallery, Liverpool, England |
| Jason and Medea | 1907 | Oil on canvas | Private collection |
Recommended Reading
That covers it for John William Waterhouse's biography and paintings for today. But if you want to discover more details about the artist's life, why not consider getting a book on John William Waterhouse? Here are a few selected recommendations for you to choose from.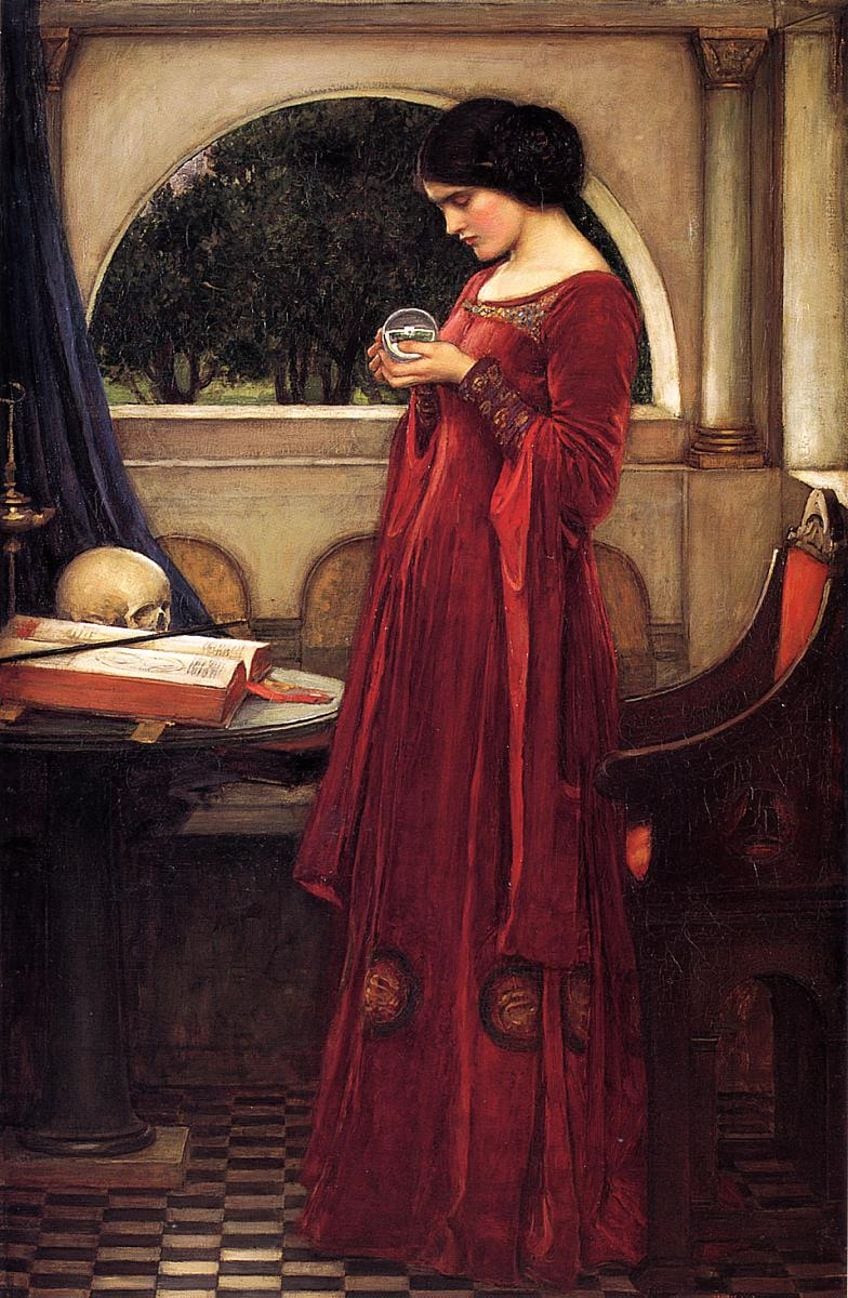 The Crystal Ball (1902) by John William Waterhouse; John William Waterhouse, Public domain, via Wikimedia Commons
The Women of Waterhouse (2006) by John William Waterhouse
John William Waterhouse, one of the greatest and most renowned Victorian-era British artists, successfully merged classical mythology with European folklore in his numerous paintings. His dramatic images of forlorn, long-haired ladies have become feminine symbols, attracting spectators with their exceptional sense of tension and precise detail. 24 of his best works, including The Soul of the Rose, The Lady of Shalott, and La Belle Dame Sans Merci, feature in card format in this book.
24 postcards depicting John William Waterhouse's most beautiful women
Marvel at the strong femininity captured in these works
Collect the best works of this neoclassical painter
View on Amazon
Delphi Complete Paintings of John William Waterhouse (2022) by Peter Russell
John William Waterhouse was a renowned English artist and draftsman best renowned for his Pre-Raphaelite works. He was born in Italy to a household of artists in 1849. He was drawn to natural landscapes and was influenced by powerful, beautiful feminine forms. This increased the popularity of his art among his patrons. Throughout the 1870s and 1880s, he traveled to Italy and other regions of Europe, where he found ideas for his works. This collection beautifully details Waterhouse's entire body of work, with succinct introductions, hundreds of high-quality photographs of his works, and the typical Delphi additional content.
A complete collection of John William Waterhouse Paintings
In-depth insight into the composition and history of each work
Follow the life of John William Waterhouse
View on Amazon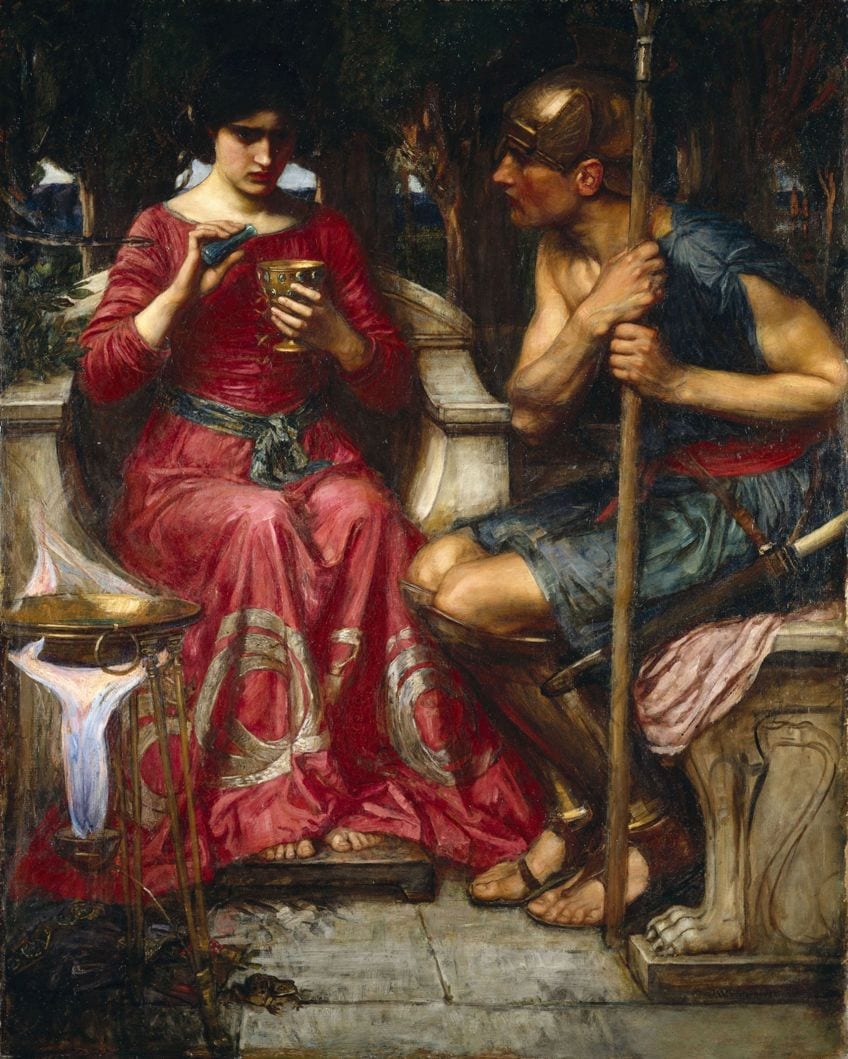 Jason and Medea (1907) by John William Waterhouse; John William Waterhouse, Public domain, via Wikimedia Commons
John William Waterhouse, a late Victorian artist, created exquisite paintings of ladies from ancient mythology, Arthurian romance, and Shakespearean theater. Waterhouse was a favorite of the Royal Academy, where he showed practically every year of his lengthy career, and he created paintings that were praised for their rich, luminous color and veiled sexuality. Waterhouse created dramatic, gorgeous, and haunting female figures in the manner of the Pre-Raphaelite Brotherhood, which had broken up some decades previously, refining his own version of the all-powerful female form. John William Waterhouse's paintings have a dreamlike, romantic feel to them, with a sensual manipulation of paint that gives them a distinct personality.
Take a look at our John William Waterhouse paintings webstory here!
Frequently Asked Questions
What Art Style Were John William Waterhouse's Paintings Produced In?
John William Waterhouse had a distinct painting technique that depicted classical and mythical settings. In the purest sense, he was a romantic and impassioned painter. He was obsessed with natural beauty and powerful, attractive feminine bodies. He produced beautiful portraits of some of the most well-known female celebrities of the time. Most of John William Waterhouse's paintings were done with oil. In his works, he employed vibrant color schemes, natural locations, and stunning lighting. His paintings reflected the love and tragic stories portrayed by female muses.
Where Did John William Waterhouse Get His Love for Painting?
John William Waterhouse was born to English artists in early 1849. While his family moved to England when he was still fairly young, it is this initial access to the Classical sounds, sights, and aesthetics of Rome that may be credited to much of his subsequent inspiration and thematic images. He was motivated to draw from an early age and could often be seen drawing masterpieces in the National Gallery, the British Museum, and the Victoria and Albert Museum, all of which were close to his home in South Kensington. He also developed an early interest in ancient history and used his school time to study the accompanying classical myths and stories.
Isabella studied at the University of Cape Town in South Africa and graduated with a Bachelor of Arts majoring in English Literature & Language and Psychology. Throughout her undergraduate years, she took Art History as an additional subject and absolutely loved it. Building on from her art history knowledge that began in high school, art has always been a particular area of fascination for her. From learning about artworks previously unknown to her, or sharpening her existing understanding of specific works, the ability to continue learning within this interesting sphere excites her greatly.
Her focal points of interest in art history encompass profiling specific artists and art movements, as it is these areas where she is able to really dig deep into the rich narrative of the art world. Additionally, she particularly enjoys exploring the different artistic styles of the 20th century, as well as the important impact that female artists have had on the development of art history.
Learn more about the Art in Context Team.