Famous Landscape Paintings – A List of the Best Painted Landscapes
Landscapes are the perfect subject matter for artists. The vibrant colors and textures of nature offer landscape painters an infinite palette of ideas to play with. Art has the ability to transport the viewer to another time and place, to not only see the landscapes that famous landscape artists saw but to see the world through their eyes and their stylistic interpretations of nature.
Why Artists Painted Landscapes
Many famous landscape artists were rather reclusive people and stayed in rural areas, and others worked in the cities and would spend their summers by lake houses and vacation homes. It was surrounded by these beautiful scenes of nature that many artists were inspired to create some of the famous landscapes that we love today. Other artists were commissioned to paint famous landscapes of cities and towns.
Many of these landscape artists came from completely different movements and styles, resulting in painted landscapes that vary from Impressionist interpretations to naturalistic and realistic landscape paintings.
Our Top 15 Famous Landscape Paintings
Today we will look at fifteen examples of famous landscape paintings and the landscape painters that created them. Each artist painted landscapes through their unique personal interpretations of art, revealing much about their style and view of the world.
The Hunters in the Snow (1565) by Pieter Bruegel the Elder
| | |
| --- | --- |
| Artist | Pieter Bruegel the Elder (c. 1525-1569) |
| Date | 1565 |
| Medium | Oil on Panel |
| Dimensions | 117 cm x 162 cm |
| Location | Kunsthistorisches Museum, Vienna |
Pieter Bruegel the Elder was a Flemish landscape painter born around 1525 in Breugel. Known for his painting and printmaking, Bruegel is considered by scholars to be the most prominent figure of the Flemish and Dutch Renaissance. Bruegel was part of the first generation of artists not to be restricted to painting solely religious subject matter, and the subject matter of his choice has been described as innovative.
It was Pieter Bruegel the Elder who helped usher in the Dutch Golden Age of painting.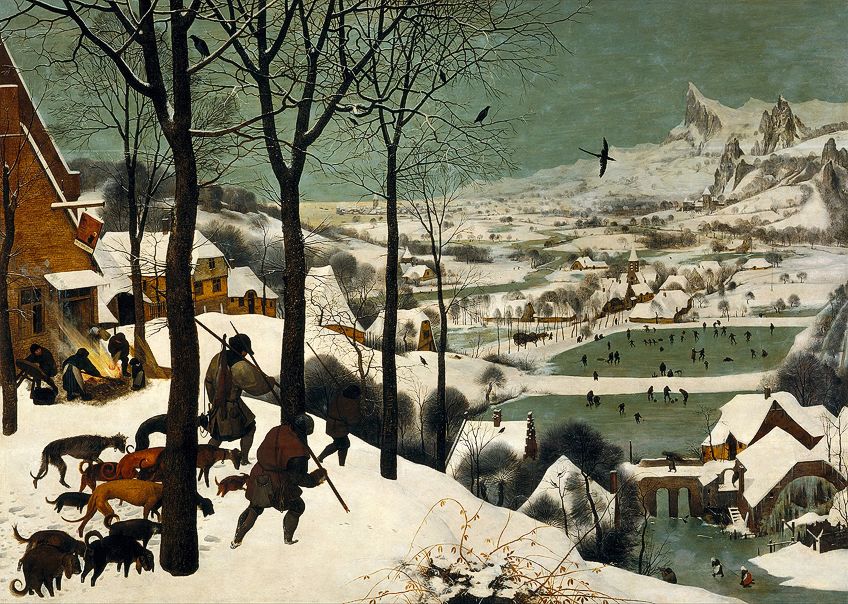 The Hunters in the Snow (winter) (1565) by Pieter Bruegel the Elder; Pieter Brueghel the Elder, Public domain, via Wikimedia Commons
The Hunters in the Snow was painted with oil onto a wood panel and was completed in 1565. The scene in the painting is set in the dead of winter and is part of a series of works that represent various times of the year, five of which still remain in existence. In Bruegel's era, each period of the year was visually represented by the work done by people during those periods, a tradition from the early Renaissance known as Labours of the Months.
In this specific painting, we can see that it is the winter season and three hunters accompanied by their dogs are returning from a hunt. The worn-out look of both dog and hunter, as well as the single fox's body, indicate that it was not a particularly successful hunt, symbolic of the struggles of the season.
View of Toledo (c. 1600) by El Greco
| | |
| --- | --- |
| Artist | El Greco (1541-1614) |
| Date | c. 1600 |
| Medium | Oil on Canvas |
| Dimensions | 48 cm x 43 cm |
| Location | The Metropolitan Museum of Art |
El Greco was born in Crete in 1541 and was most active as an artist in Spain. He is often cited by scholars as being one of the leading and most prominent members of the 15th and 16th century Spanish Renaissance. Before the change in subject matter that his work brought about, landscape art was not a common practice among artists in the western part of the world. Scenery and flora and fauna were usually just used as a background setting for some kind of human activity.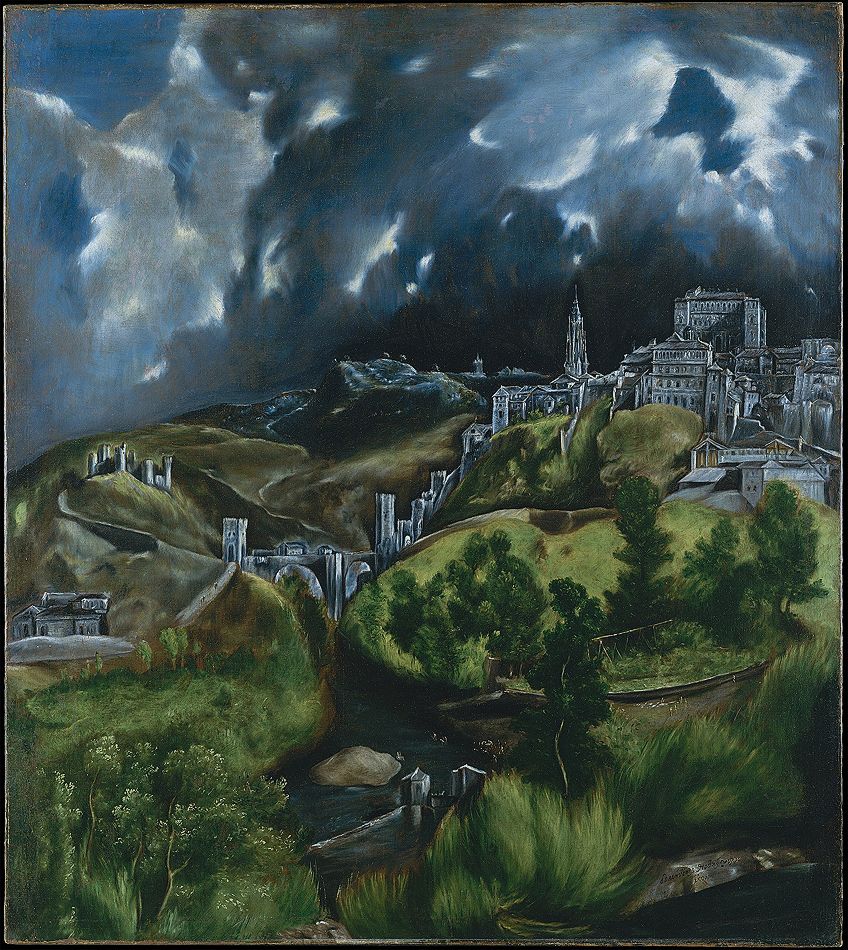 View of Toledo (c. 1600) by El Greco; El Greco, Public domain, via Wikimedia Commons
Some have speculated that due to the rarity of landscape art prior to El Greco's work, this existing piece might have originally been a part of a larger canvas, although there has been no solid proof to back up this theory as yet. Others have referred to the View of Toledo as the first landscape painting of its time to come out of Spain.
Although it might seem ridiculous for there not to be a history of landscape artists prior to that period, there was a ban on landscape painting by the Council of Trent, which seems to be the most likely reason that El Greco was the first Spanish artist to do so.
Spring (The Earthly Paradise) (1660- 1664) by Nicolas Poussin
| | |
| --- | --- |
| Artist | Nicolas Poussin (1594-1665) |
| Date | 1660 – 1664 |
| Medium | Oil on Canvas |
| Dimensions | 117 cm x 160 cm |
| Location | Louvre Museum |
Nicolas Poussin was born near Les Andelys in Normandy in 1594 and was a classical French Baroque style painter who worked mostly from Rome in Italy. He worked in Paris for a while, painting for Cardinal Richelieu and King Louis XIII before returning to Rome. Poussin's work is typified by order, reason, and clarity, and he favored line over color in his painted landscapes. Poussin is noted as the creator of the concept of the ideal and perfect landscape, where humans are deeply connected to the surrounding natural world.
He depicted Man in an exalted and glorious manner, with the desired effect of causing the viewer to contemplate the relationship of the children of Adam and Eve with the Divine aspect of the universe.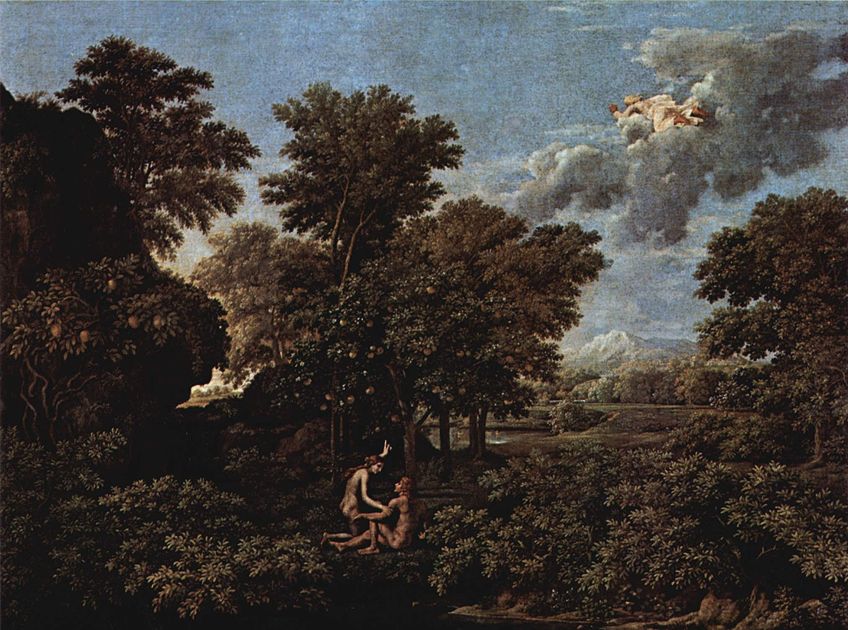 Spring (c. 1660-1664) by Nicolas Poussin; Nicolas Poussin, Public domain, via Wikimedia Commons
Poussin created a series of famous landscape paintings called the Cycle of Four Seasons between 1660 and 1664. One of those was called Spring and was painted in the landscape artist's later years for the Duke of Richelieu. Each scene depicts a story from the Old Testament, with an emphasis and focus being put on the landscape and season. Adam and Eve are portrayed nude and surrounded by the glorious nature of Eden, including the infamous apple tree, which served to tempt the humans. God can be seen in the top right corner of the painting, hastening to the heavens to plan the punishment for their transgressions.
The Grand Canal at the Church of La Salute (c. 1730) by Giovanni Antonio Canal
| | |
| --- | --- |
| Artist | Giovanni Antonio Canal (1697-1768) |
| Date | c. 1730 |
| Medium | Oil on Canvas |
| Dimensions | 151 cm x 121 cm |
| Location | Louvre Museum |
Giovanni Antonio Canal was an Italian landscape artist from Venice. Commonly known a Canaletto, he was a highly regarded figure of the Venetian School in the 18th century. He painted landscapes of city views such as London, Rome, and Venice. Besides realistic landscape paintings, he also painted views from his imagination, with some of his works being a subtle mixture of both. Canaletto's The Grand Canal at the Church of La Salute is a prime example of a Veduta, which is a style portraying realistic landscape paintings.
To achieve this, artists would often use several visual measuring tools and instruments to get the angles and proportions of the view correctly laid out.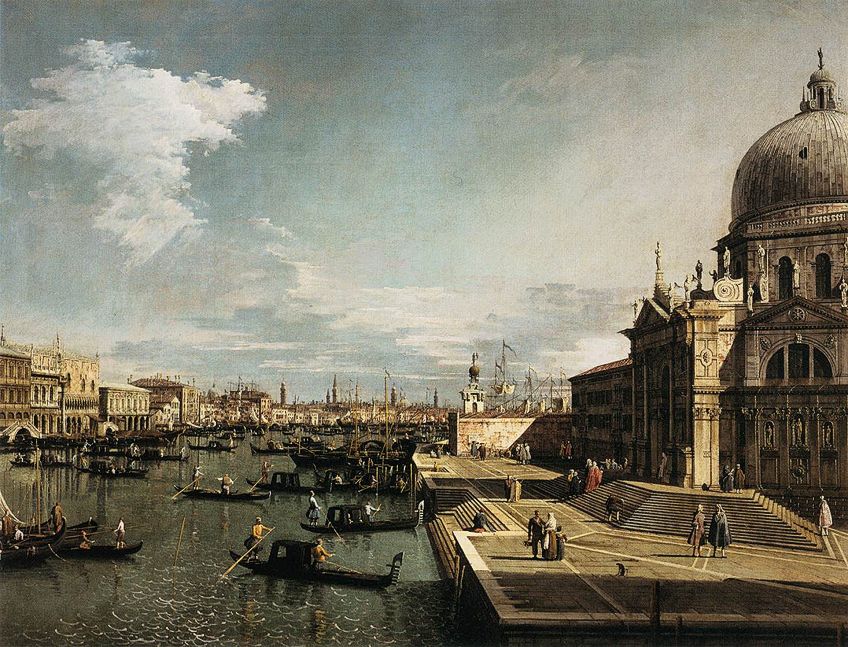 Entrance to the Grand Canal and the Church of La Salute (c. 1730) by Giovanni Antonio Canal (Canaletto); School of Bernardo Bellotto, Public domain, via Wikimedia Commons
Despite the accurate depiction of topographical elements, the painting still manages to portray a feeling of splendor and poetic beauty. The translucent light casts a warm glow over the scene, creating a sense of a city at work in the later hours of the afternoon. The people of Venetian society can be seen carrying out their daily duties; merchants mingle with travelers from the East and gondoliers can be seen leaving the dock and heading to other parts of the city under a pale pink setting sun in the distance.
The Monk by the Sea (1808-1810) by Caspar David Friedrich
| | |
| --- | --- |
| Artist | Caspar David Friedrich (1774-1840) |
| Date | 1808 – 1810 |
| Medium | Oil on Canvas |
| Dimensions | 1,1 m x 1,72 m |
| Location | Alte Nationalgalerie |
Caspar David Friedrich was a German Romantic landscape artist born in Greifswald, 1774. He is widely regarded by many scholars as possibly the most eminent painter of his generation to come from Germany. His famous landscapes were largely themed with philosophical and allegorical meaning, with many of his painted landscapes featuring human figures silhouetted against dramatic scenes of nature.
Landscape painters like Friedrich were part of the Romantic movement who sought to portray the metaphysical and emotional aspects of a scene in order to evoke a deep response from the viewer.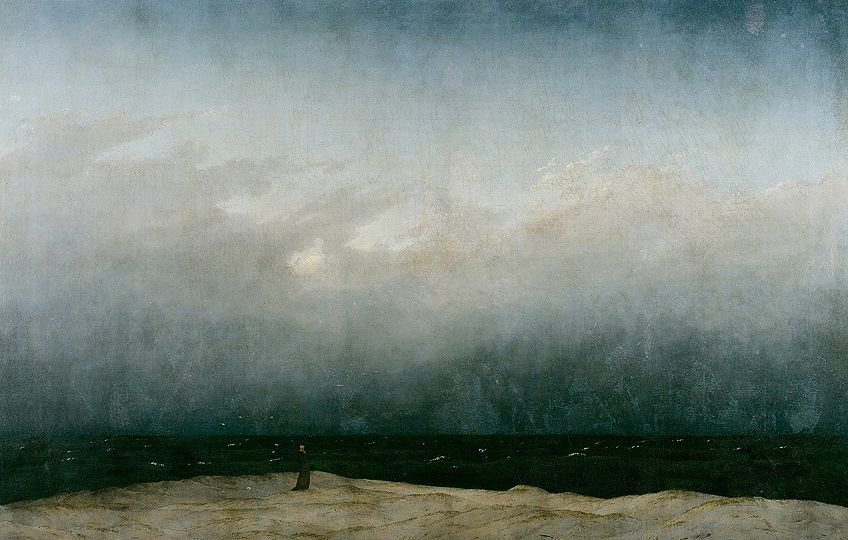 The Monk by the Sea (1808-1810) by Caspar David Friedrich; Caspar David Friedrich, Public domain, via Wikimedia Commons
The monk in this painting can be seen near the ocean's edge, overlooking a vast and looming scene of a cold and misty morning. The monk looks deep in contemplation at the sheer enormity of the landscape, aware of his diminished stature compared to such an expansive and powerful force as the sea. With its sparse details, the viewer is drawn into the elemental turmoil and scale of the painting, demanding the viewer to think about their own role within the infinite universe. It begs us to ask how we perceive the unpredictable and unknown.
The Hay Wain (1821) by John Constable
| | |
| --- | --- |
| Artist | John Constable (1776-1837) |
| Date | 1821 |
| Medium | Oil on Canvas |
| Dimensions | 1.3 m x 1.85 m |
| Location | The National Gallery |
John Constable was born in Suffolk, England in 1776, and was an English landscape artist who painted in the style known as Romanticism. He rose to fame painting the natural scenes surrounding his home and is regarded by art historians as being responsible for revolutionizing landscape painting as a genre.
His work became so synonymous with the area known as Dedham Vale that it gained the new title "Constable Country". However, Constable never managed to make a financial success out of his art in his lifetime, although he received much public recognition and critical acclaim posthumously.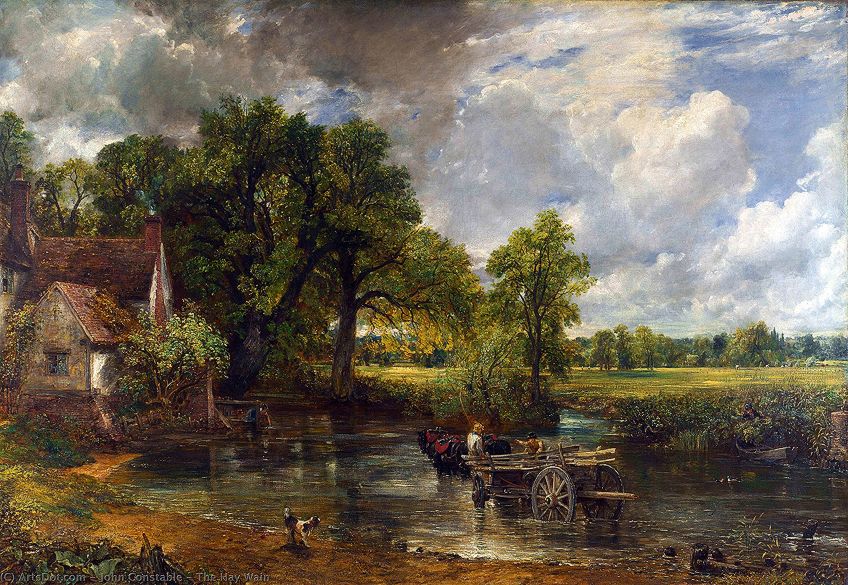 The Hay Wain (1800) by John Constable; ERNST LUDWIG KIRCHNER, CC0, via Wikimedia Commons
Like other English artists that were a part of the Romanticism movement, he favored the landscape genre, and The Hay Wain is one of the most well-known of his landscape paintings. It portrays a farm next to the River Stour, which runs between the towns of Essex and Suffolk in England. In the center of the piece is a large wooden cart being pulled by three horses across the river. The landscape depicts an area close to a mill known as Flatford Mill, which was owned by Constable's father.
The painting is highly regarded as one of the greatest Romantic landscape paintings in history.
The Oxbow (1836) by Thomas Cole
| | |
| --- | --- |
| Artist | Thomas Cole (1801-1848) |
| Date | 1836 |
| Medium | Oil on Canvas |
| Dimensions | 130 cm x 193 cm |
| Location | Metropolitan Museum of Art |
Thomas Cole was a famous landscape artist born in Lancashire, England in 1801. Cole was the founding member of the Hudson River movement, an American movement heavily inspired by the work of Romantic artists, and he is regarded as one of the greatest artists of 19th-century America.
Cole's artwork is remembered for its depiction of the wilderness landscape in America.
Between the years of 1833 and 1836, Cole was working on his commissioned series for Luman Reed called The Course of Empire. The series was to be composed of five paintings, each one representing a different historical composition. At first, Cole was excited by the prospect, but towards the end of the long and slow process, he grew increasingly depressed by the task. Thus, Reed suggested that he take a break from the series and create something that he enjoyed more, such as his pastoral landscape paintings for the upcoming National Academy of Design's annual exhibition.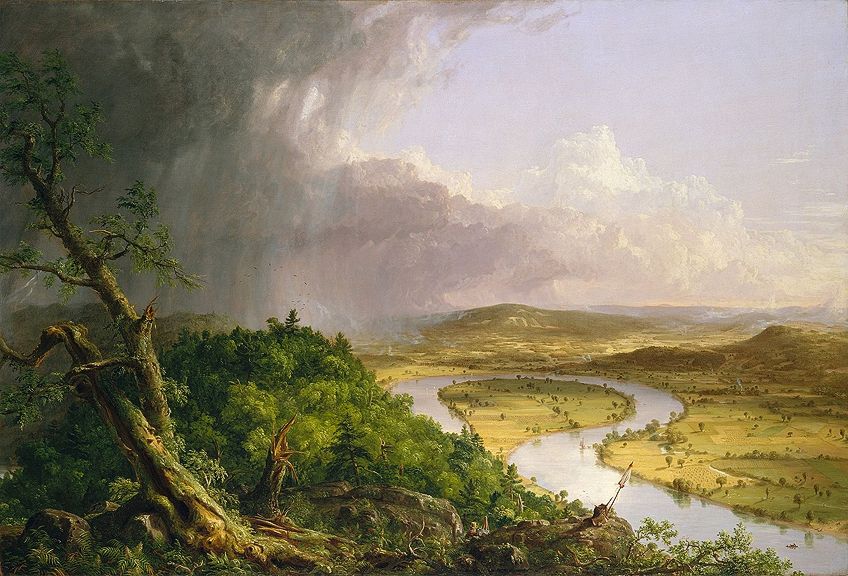 View from Mount Holyoke, Northampton, Massachusetts, after a Thunderstorm – The Oxbow (1836) by Thomas Cole; Thomas Cole, Public domain, via Wikimedia Commons
Cole replied that he would finish his work on the final painting in the series and display that, but Reed preferred to wait until they could all be exhibited at the same time, and urged Cole to paint The Oxbow instead. This painting features an oxbow river on the banks of the Connecticut River near Northampton, Massachusetts. The scene is painted as the view from Mount Holyoke after a thunderstorm.
The Fighting Temeraire (1839) by J.M.W Turner
| | |
| --- | --- |
| Artist | J.M.W. Turner (1775-1851) |
| Date | 1839 |
| Medium | Oil on Canvas |
| Dimensions | 91 cm x 122 cm |
| Location | The National Gallery |
J.M.W Turner was an English artist born in Covent Garden in London, 1775. He was a painter and printmaker in the Romanticism movement and was best known for his imaginative and sometimes violent depictions of marine vessels and marine life.
His landscape painting, "The Fighting Temeraire", is based on an actual war vessel that was made famous due to its heroic battle between the navies of the UK and those of France and Spain.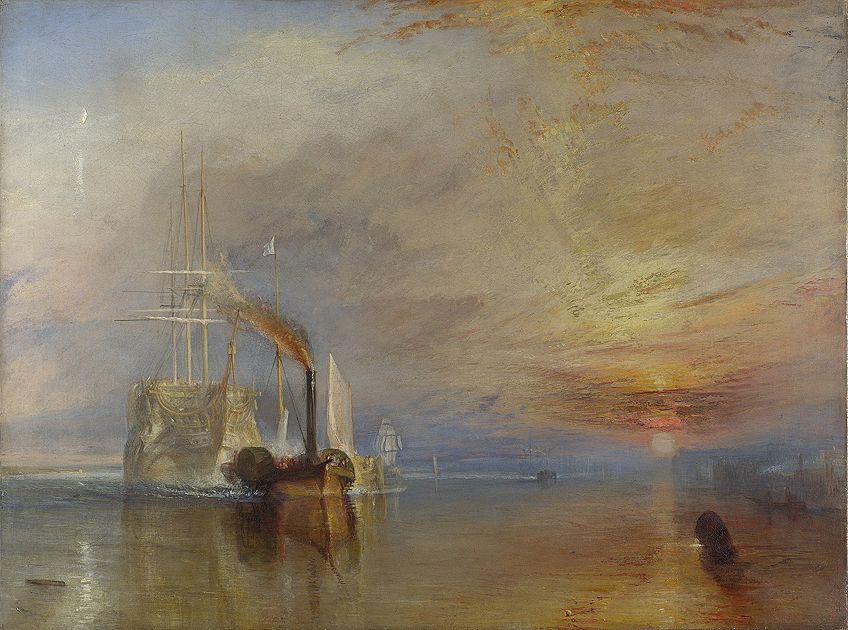 The Fighting Temeraire tugged to her last berth to be broken up, 1838 (1839) by J. M. W. Turner; J. M. W. Turner, Public domain, via Wikimedia Commons
Belonging to the English Royal Navy, the HMS Temeraire was a second-rate warship with 98 guns. Despite the ship's glorious past, it is depicted in the paintings as it is being pulled along by a tugboat on its way to being taken apart for scrap. This landscape painting was made in tribute to the last days of the magnificent sailing vessels of the day as they made room for the new and improved steam-powered models that were taking over. The end of the ship's journey is reflected in the setting sun, marking both the end of the day and the end of the vessel's long and colorful journey.
Ploughing in the Nivernais (1849) by Rosa Bonheur
| | |
| --- | --- |
| Artist | Rosa Bonheur (1822-1899) |
| Date | 1849 |
| Medium | Oil On Canvas |
| Dimensions | 180 cm x 260 cm |
| Location | Musée d'Orsay, Paris |
Rosa Bonheur was born to a family with socialist political leanings, believing that distinctions between gender and class should be eradicated. It was due to this outlook that Bonheur grew up with a defiant and liberal outlook towards life in an era when women were expected to be involved in domestic responsibilities and were not even allowed to study in art institutes.
However, largely due to her father's encouragement and support, she started painting numerous works from her early teenage years, achieving many accolades that had previously been exclusively bestowed upon men when she was only halfway through her artistic career.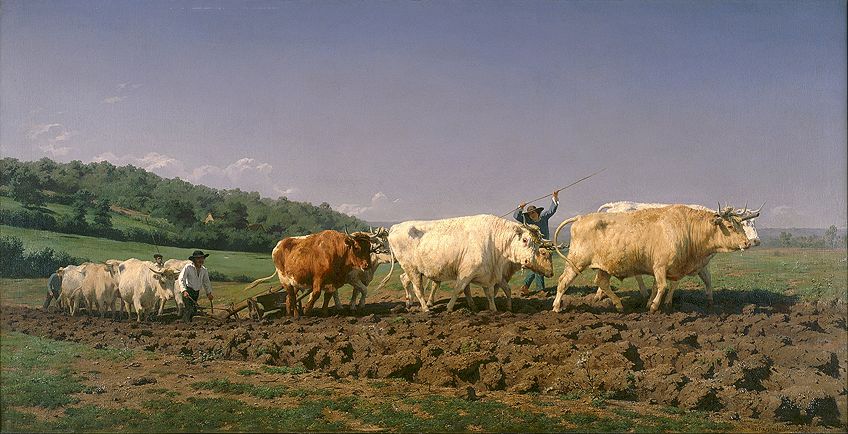 Ploughing in the Nivernais (1849) by Rosa Bonheur; Rosa Bonheur, Public domain, via Wikimedia Commons
Ploughing in the Nivernais was Bonheur's first breakthrough artwork and was commissioned by the French government in 1849. Most of her landscape art included the depiction of farm and work animals. In this large oil painting, the land is being plowed by twelve oxen.
Her landscapes capture the humble and timeless aspects of rural life and reflect the age-old traditions of the peasant farmers, maintaining respect for realism.
Bonheur uses a series of diagonal lines to draw the viewer into the plowed field, creating a sense of epic scale with her masterful use of perspective, recalling the works of the top artists of the Romanticism period. One can also observe an influence from the Dutch artists with her use of a subtle and elegant color palette.
The Beach at Trouville (1865) by Eugène Boudin
| | |
| --- | --- |
| Artist | Eugène Boudin (1824-1898) |
| Date | 1865 |
| Medium | Oil on Canvas |
| Dimensions | 38 cm x 62 cm |
| Location | National Gallery of Art, Washington |
Eugène Boudin was born in Honfleur in France and was one of the first French painters to paint en plein air, which is to paint outdoors. He painted landscapes of oceans and seashores, masterfully creating painted landscapes full of beautiful skies and ocean reflections of Normandy. Being a lover of nature and the sea, Boudin found himself at odds with the stifling environment of academic art and preferred to paint outside.
His works show many similar stylistic elements to that of the Impressionists, although he precedes the movement chronologically. His work captures the same fleeting essence of a scene and the transience of light upon it.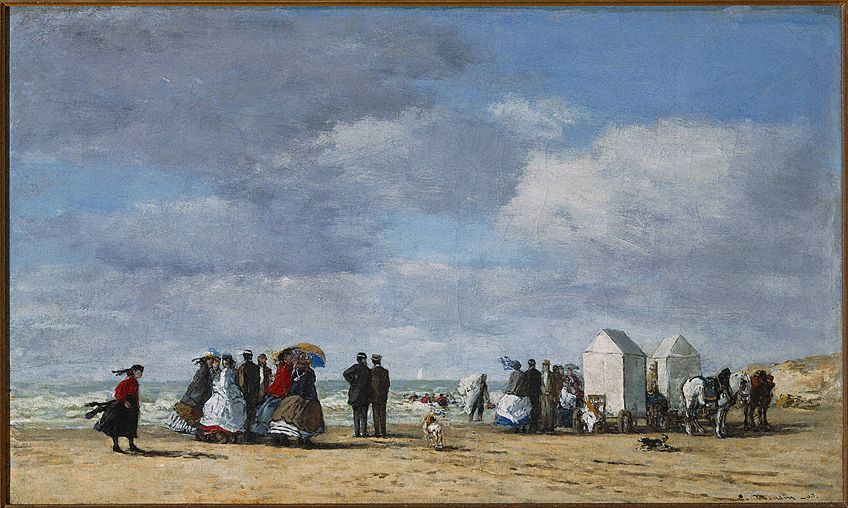 The Beach at Trouville (1865) by Eugène Boudin; Eugène Louis Boudin, Public domain, via Wikimedia Commons
Within The Beach at Trouville, he managed to capture the feeling of the sheer magnitude in size of the skies of Normandy. He would patiently observe the changing atmospheric conditions and illustrate the feeling of natural elements with expressive brush strokes. His suggestive strokes create a sense of the movement and texture in his compositions without needing to add descriptive details. The scene in The Beach at Trouville portrays the bourgeoisie by the beach in their fine suits and dresses. They are warmly dressed and we can see a suggestion of a stiff breeze in the movement of their clothing.
Sunlight and Shadow: The Newbury Marshes (c. 1875) by Martin Johnson Heade
| | |
| --- | --- |
| Artist | Martin Johnson Heade (1819-1904) |
| Date | c. 1875 |
| Medium | Oil on Canvas |
| Dimensions | 30 cm x 67 cm |
| Location | National Gallery of Art |
Martin Johnson Heade was an American landscape painter born in Lumberville, Pennsylvania in 1819. The subject matter of his highly regarded work included seascapes, landscapes, lotus blossoms, tropical birds, and still life paintings. He produced his first paintings in his early 20s, mostly portraits, but after befriending several artists from the Hudson River School, he soon started showing more of an interest in landscape painting.
Heade first came across the Newbury Marshes sometime around 1859, and by the end of his artistic career, he had created more than 100 paintings with the marsh as his subject matter.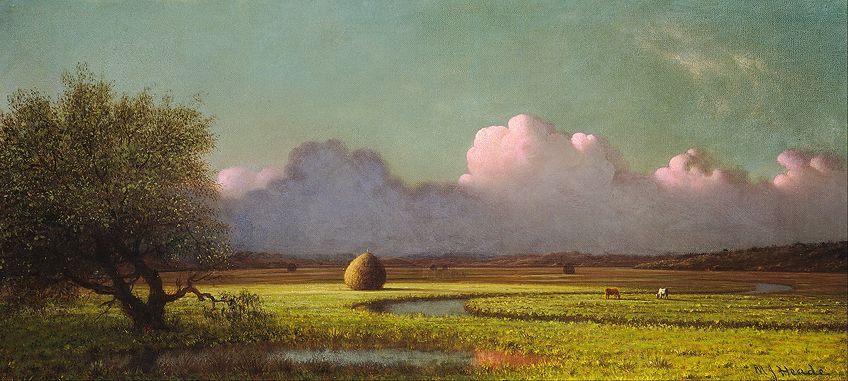 Sunlight and Shadow: The Newbury Marshes (c. 1875) by Martin Johnson Heade; Martin Johnson Heade, Public domain, via Wikimedia Commons
These marsh paintings would account for about one-fifth of the output of his artistic work in total. Over the span of those 100 paintings, he portrayed the marsh in various different seasonal and climatic periods, how those elements helped nurture and shape the swamp over time, and how the swamp was used by animals and man alike for fishing and hunting. It is said that he was alone in his dedication and left detailed assessments and visual portrayals of the marsh.
The Starry Night (1889) by Vincent van Gogh
| | |
| --- | --- |
| Artist | Vincent van Gogh (1853-1890) |
| Date | 1889 |
| Medium | Oil on Canvas |
| Dimensions | 74 cm x 92 cm |
| Location | The Museum of Modern Art |
Vincent van Gogh was born in Zundert in the Netherlands and was a post-impressionist Dutch painter. He painted many portraits, still lifes, and landscape paintings during his lifetime, but only received fame and critical recognition after his suicide in 1890. Van Gogh created over 2,100 artworks, many of them within the last ten years of his life. His style helped lay the groundwork for modern art and is instantly recognizable for its dramatic application of color and expressively spontaneous brush strokes.
Although now recognized and applauded around the world, he spent his life in poverty and suffered heavily from delusions and psychosis. He even infamously cut off his ear due to an argument with fellow artist Paul Gauguin, and admitted himself to an asylum in 1889.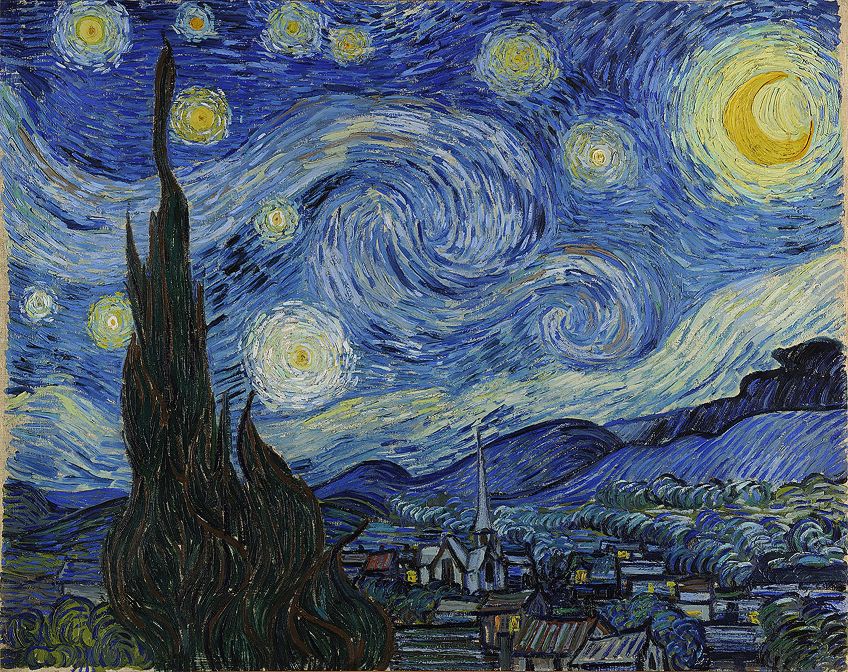 The Starry Night (1889) by Vincent van Gogh; Vincent van Gogh, Public domain, via Wikimedia Commons
The Starry Night was painted in 1889 during van Gogh's stay at the asylum of Saint Paul, located near Saint-Rémy in the south of France, near Provence. It is said to portray the view from the window of his room, depicted just before sunrise.
Although this landscape portrays a brilliantly illuminated scene with flowing constellations and waves of blue, the weirdly jagged features and out-of-place spirals do hint at the hellish turmoil that the landscape painter was experiencing at the time. The composition contains an imaginary village that did not exist outside of the asylum, but the stars are said to represent real constellations that would have been visible.
The Sainte-Victoire mountain seen from the Bibémus quarry (1897) by Paul Cézanne
| | |
| --- | --- |
| Artist | Paul Cézanne (1839-1906) |
| Date | 1897 |
| Medium | Oil on Canvas |
| Dimensions | 65 cm x 81 cm |
| Location | Baltimore Museum of Art |
Paul Cézanne, born in 1839, was a French artist famous for his Post-Impressionism paintings. It was his 19th-century artwork that laid down the very foundations for more modern art movements in the 20th century, particularly that of Cubism.
It was during his time at Provence-Alpes-Côte d'Azur that the famous landscape artist from France began to head toward retirement. In this beautiful environment surrounded by mountains, trees, and sunshine, the artist found great inspiration for his famous landscapes. The Sainte-Victoire mountains would feature in around 80 of his painted landscapes.
Unlike other famous landscape artists who painted in the style of Impressionism, he did not blur the lines between objects in his compositions but rather represented them distinctly with black outlines.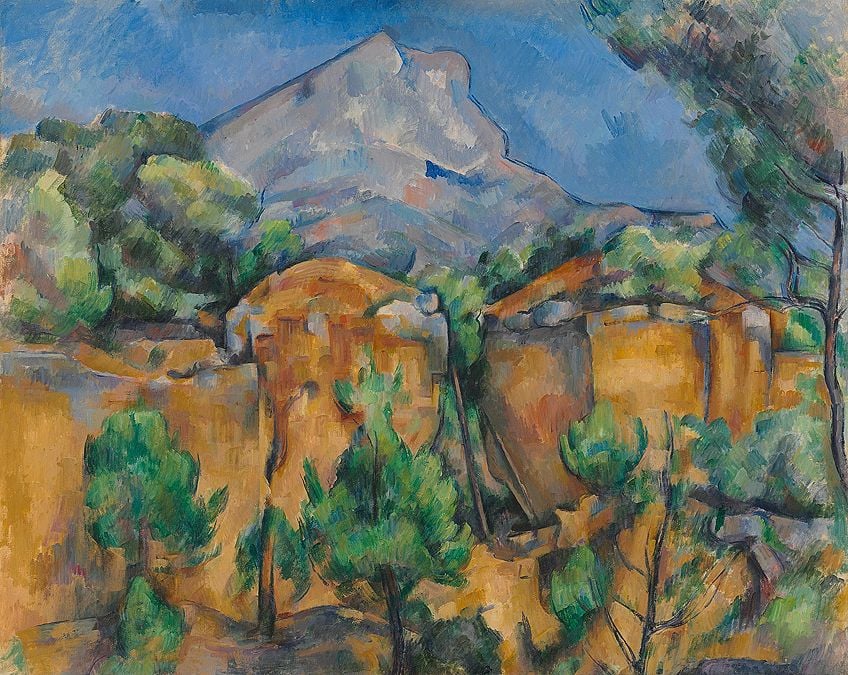 The Sainte-Victoire mountain seen from the Bibémus quarry (1897) by Paul Cézanne; Paul Cézanne, Public domain, via Wikimedia Commons
He did not paint realistic landscape paintings but preferred to stylistically portray them through his unique depiction of irregular objects formed by geometric shapes, quite similar to Cubism. He added the strokes in thick layers to highlight the painting's surfaces, a technique known as impasto. The mountains were said to be hugely fascinating to him for their majesty and scale, and many regard them as his muse, which caused a ceaseless supply of creativity and inspiration for Cézanne.
L'Estaque (1906) by André Derain
| | |
| --- | --- |
| Artist | André Derain (1880-1954) |
| Date | 1906 |
| Medium | Oil on Canvas |
| Dimensions | 35 cm x 45 cm |
| Location | Beck Collection at the Museum of Fine Arts, Houston |
André Derain was a French landscape artist born in 1880, and along with Henri Matisse, was a co-founder of the Fauvism movement. Fauvist landscape painters created vividly colorful scenes that were more focused on the emotive use of color rather than creating realistic landscape paintings. They set aside the restrictions of conventional art and instead painted landscapes that depicted the artist's own emotional response from being in that environment.
This landscape painting makes creative use of contrasting colors by pairing them in the composition, such as the rich reds paired with the vivid greens, and the deep blues paired with the bright oranges.
The village of L'Estaque is said to be a well-known source of creative inspiration for many visiting artists in the same way that the Sainte-Victoire mountains were for Paul Cézanne. The gorgeously vibrant colors of the area are said to have been a creative getaway haven for revered artists such as Derain, Raoul Duffy, Henri Matisse, and Georges Braque. Much like other Fauvist landscape painters, Derain used extremely cool and warm colors in preference over the natural subdued tones of nature, and he was a firm believer of the concept of letting color take center stage over any other element of the composition.
The Dream (1910) by Henri Rousseau
| | |
| --- | --- |
| Artist | Henri Rousseau (1844-1910) |
| Date | 1910 |
| Medium | Oil on Canvas |
| Dimensions | 2 m x 2.3 m |
| Location | Museum of Modern Art |
Henri Rousseau was a Post-Impressionist painter born in France in 1844. He was a self-taught artist who painted in a style similar to that of the Primitivism movement and the Native style. He was a tax collector by trade and only started painting seriously in his early forties, eventually retiring at the age of 49 to focus on painting full time.
Although his work was not seen in a favorable light by critics in his lifetime, he was eventually regarded as a self-taught master whose artworks of great quality became a source of inspiration for many future generations of artists in the avant-garde movement.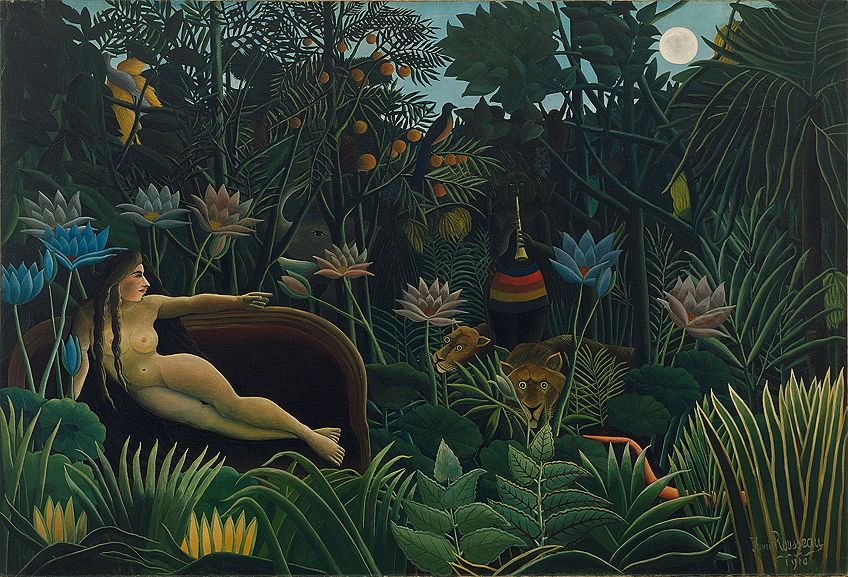 La Rêve (The Dream) (1910) by Henri Rousseau; Henri Rousseau, Public domain, via Wikimedia Commons
Rousseau's work embodied many of the artistic concepts of Primitivism, and the artist was seen as a prominent member of the Native movement, which was popular between 1885 and 1930. Creating a colorful world that seems to be seen through the eyes of a child or primitive person, the style is typified by a purposeful denial of the dimensions and perspective of the real world.
In this Rousseau's The Dream, a woman reclines naked in a lush forest setting, listening to a flutist playing music. Various animals can be seen in the vegetation such as elephants, birds, and lions. The female's pose is painted in an enigmatically erotic manner, while lotuses of many colors are seen blossoming around her.
Today, we have learned about some of the most famous landscape artists in the history of art. Artists from almost every movement have created monumental works of art that still impress and inspire us in the modern era. Through their skills and techniques, these landscape artists have given us a glimpse into the way they view the world around them in the most emotive and beautiful way possible – through art.
Take a look at our landscape paintings webstory here!
Frequently Asked Questions
Are the Painted Landscapes by Famous Landscape Artists Real or Made Up?
Some famous landscape artists have tried to capture their favorite places exactly as they exist, while some have tried to capture the feeling or essence of a place based on the impression it left on them. Others prefer to create landscapes from their imagination, while some even create fascinating hybrid paintings that are both real and fabricated. No matter the original inspiration or source material, it is through their artwork that we are able to appreciate these places as experienced through the eyes of the landscape artists who created them, whether real or not.
Are There Landscape Painters Outside of Europe and America?
Yes, you can find famous landscape paintings from many corners of the planet. In fact, Asia, specifically Japan and China, where there is a long and colorful history of landscape painting tradition. Interestingly, there was no traditional word in China or Japan for landscape, which was rather just referred to as "mountain and water". There are two types of traditional Asian landscape painting, with the one being the China Song Dynasty's monochromatic depictions of pruned trees and swirling mist, and the other being a more colorful and contemporary version. The latter of the two was less topographical than the traditional version and was more ornamental, often utilizing gold leaf in the elaborate designs of the painted landscapes.
Did All Landscape Artists Only Paint Landscapes?
Although there are several artists whose niche was landscape painting, many of them were able to paint anything from portraits to still lifes in addition to landscapes. Some were required to paint religious or civic themes for their patrons, and landscape painting was a personal way for them to relax and express themselves.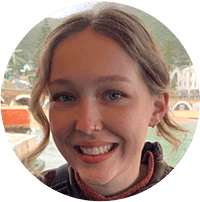 Emma completed her Bachelor's Degree in International Studies at the University of Stellenbosch. She majored in French, Political Science, and History. She graduated cum laude with a Postgraduate Diploma in Intercultural Communication. However, with all of these diverse interests, she became confused about what occupation to pursue. While exploring career options Emma interned at a nonprofit organization as a social media manager and content creator. This confirmed what she had always known deep down, that writing was her true passion.
Growing up, Emma was exposed to the world of art at an early age thanks to her artist father. As she grew older her interests in art and history collided and she spent hours pouring over artists' biographies and books about art movements. Primitivism, Art Nouveau, and Surrealism are some of her favorite art movements. By joining the Art in Context team, she has set foot on a career path that has allowed her to explore all of her interests in a creative and dynamic way.
Learn more about the Art in Context Team.
Cite this Article