Artemisia Gentileschi is regarded by many historians to be one of the most important painters of the 17th century. Already creating artwork at 15 years of age, her first creations were produced in the Caravaggio style, before moving on to the Baroque movement. Her story is one of perseverance and tenacity, as she chose a career in art during a period dominated by men in most spheres of life.
Artemisia Gentileschi Paintings
Born in Rome in 1593 Artemisia Gentileschi was the finest female painter of the Baroque period and among the most outstanding disciples of the fiery painter Caravaggio, whose frightening image of Judith and Holofernes impacted her work. She retaliated against the masculine aggression that ruled the environment she resided in by using language and visuals.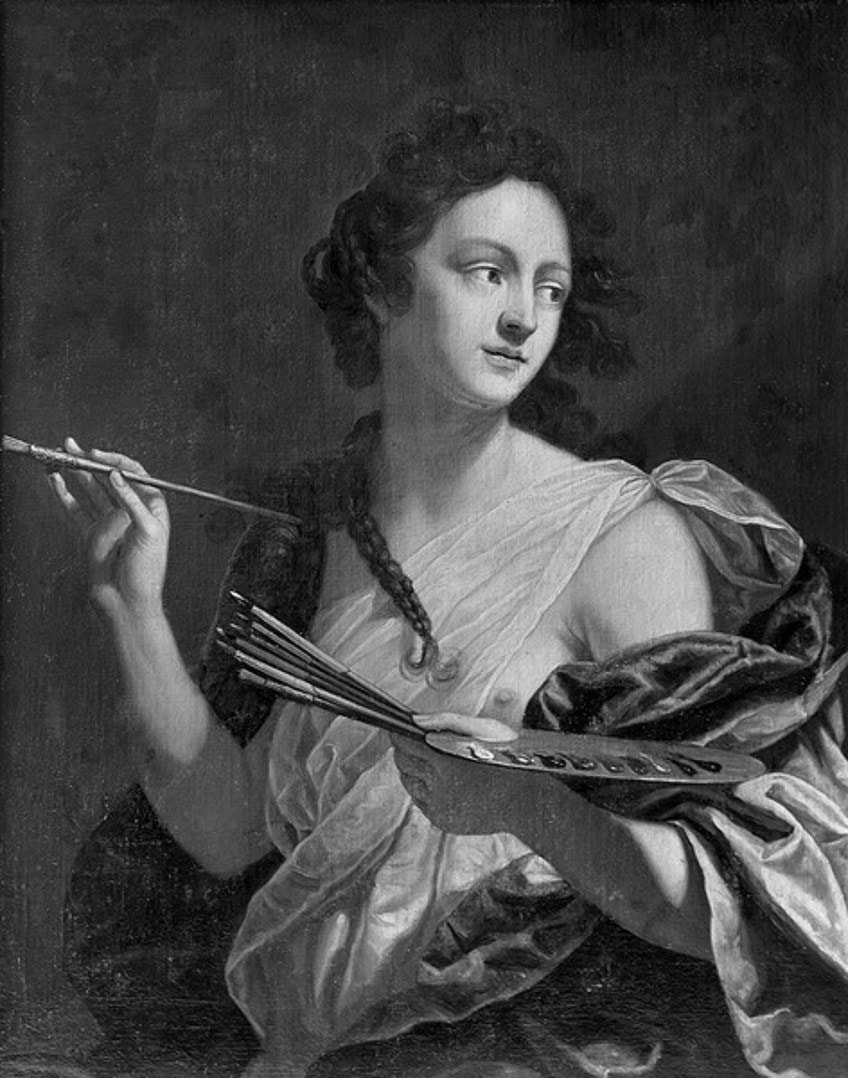 Self-portrait (17th century) by Artemisia Gentileschi; Artemisia Gentileschi, Public domain, via Wikimedia Commons
She accomplished something that is so improbable, so near to unattainable, that she ought to be considered one of the world's greatest painters. She was an extremely accomplished artist during a time when unions and institutions were restricted to females, and she poured her life into her artwork.
Let us take a deeper look at some of her most important works.
Susanna and the Elders (1610)
| | |
| --- | --- |
| Date Created | 1610 |
| Medium | Oil on Canvas |
| Dimensions | 170 cm x 119 cm |
| Currently Housed | Schönborn Collection, Pommersfelden |
Susanna and the Elders was created when Gentileschi was only 17 years old and is among the earliest fully finished Artemisia Gentileschi artworks that we know of. The piece depicts a commonly portrayed scriptural scenario: two nosy seniors eavesdrop on the pious Susanna as she is soaking, then seek to intimidate her into having sexual intercourse with them by falsely accusing her of infidelity. While several painters have selected this topic, Susanna is typically portrayed as unaware of the seniors' existence, or perhaps flirtatiously embracing them.
Gentileschi, on the other hand, depicts the subject's discomfort at being observed and harassed by the elders, portraying the experience as painful.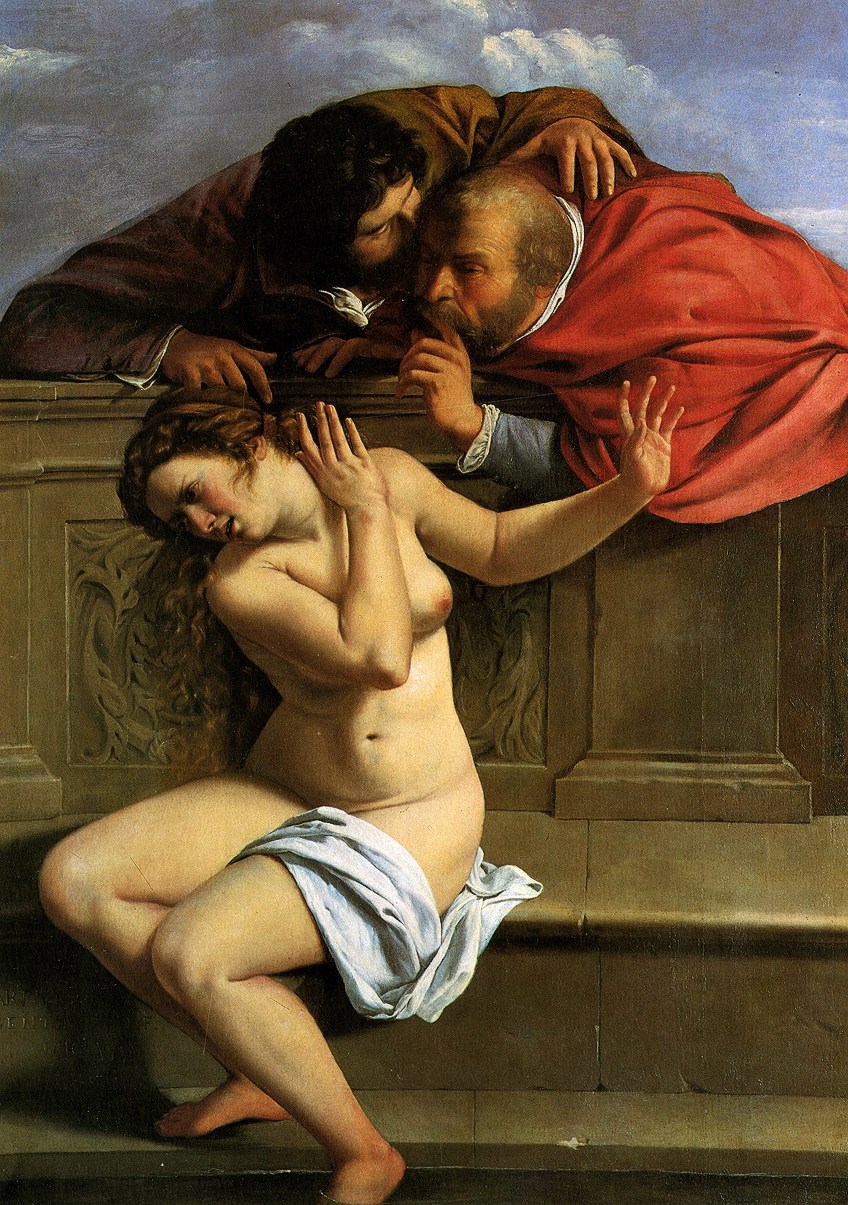 Susanna and the Elders (c. 1610) by Artemisia Gentileschi; Artemisia Gentileschi, Public domain, via Wikimedia Commons
Even though the work clearly reflects her dad's artistic influences, the topic is more emotional and emotive than his. Susanna's reaction is at the core of the picture, displaying Gentileschi's groundbreaking emotional authenticity, especially in her portrayal of women. Artemisia's version of Susanna offers us a picture unusual in art, of a fleshed-out female heroine who is courageous. Gentileschi's painting's expressive center is the protagonist's suffering, not the antagonists' expected enjoyment, and thus presents a wholly distinct set of considerations to most of her male colleagues.
Gentileschi created this work before she was raped by Tassi, and the theme might represent the harassment she experienced at the hands of Tassi and other painters once she started training at his workshop.
Danaë (1612)
| | |
| --- | --- |
| Date Created | 1612 |
| Medium | Oil on Copper |
| Dimensions | 41 cm x 52 cm |
| Currently Housed | Saint Louis Art Museum, US |
Danaë is a Greek tale about a teenage girl who is imprisoned in her bedroom by her dad, King Acrisius of Argos. It was a ruse to keep her from becoming impregnated since an omen had foretold that she would birth a son who would kill Argos. Zeus, the King of the Gods, turned himself into a downpour of gold and prevailed in inseminating her in this manner, which Gentileschi shows here. Danaë delivered Perseus, who subsequently realized the prophecy.
Danaë was a popular painting subject, having been portrayed by painters such as Titian and Tintoretto. Danaë was shown as either clean and pure or reckless and unscrupulous, greedily embracing the wealth. Gentileschi acknowledges some of these clichés in the piece, such as the maid collecting the gold in the backdrop, but she also upends them.
Gentileschi's "Danaë" is neither overtly sexual nor naively ignorant; rather, she is depicted in the midst of the climax.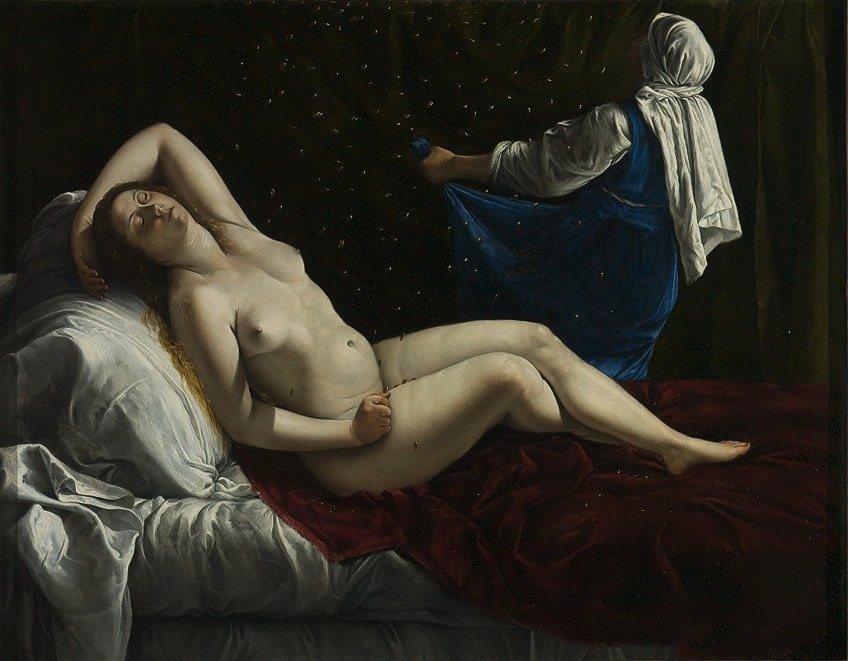 Danaë (c. 1612) by Artemisia Gentileschi; Artemisia Gentileschi, Public domain, via Wikimedia Commons
There is significant disagreement about the interpretation of this, and art historians have speculated that the picture shows the sexually stimulated Danaë. They go on to say that Danaë's palm, with the pennies pressed within her clenched fingertips, is a symbol for a physical embrace, and that she is portrayed relishing her sexual connection with Zeus. Professors, on the other hand, have suggested that this picture depicts sexual aggression and struggle as Zeus throws himself upon Danaë.
This is consistent with Gentileschi's early writings, which were semi-autobiographical and frequently referenced sexual assault. This picture was previously ascribed to her father, but this was changed in the late 1990s owing to parallels in her stance and arrangement with Artemisia's Cleopatra, which was painted 10 years later.
Vivid hues, delicate skin tones, and textures are also visible in Artemisia's painting, notably in the crimson sheets and the juxtaposition between both the metal coins and Danaë's naked flesh.
Judith Slaying Holofernes (1613)
| | |
| --- | --- |
| Date Created | 1613 |
| Medium | Oil on Canvas |
| Dimensions | 158 cm x 125 cm |
| Currently Housed | Uffizi Gallery |
Gentileschi paints another classic scriptural scenario (which she herself returned to several times during her lifetime) in this artwork about Judith's killing of Holofernes. Typically, depictions of Judith have concentrated on her attractiveness and bravery instead of the procedure of decapitation itself. Caravaggio, on the other hand, depicted the subject with an extraordinary level of detail in 1598. Gentileschi expanded on this authenticity (both psychologically and physically) by contemplating the identity of the ladies as well as the substantial physical difficulties involved in butchering somebody.
The picture is full of intensity, from Holofernes' clutching hand to the female's attempt to complete the job to the spewing lifeblood from the severed artery. The use of vibrant hues and striking chiaroscuro emphasizes this energy even more.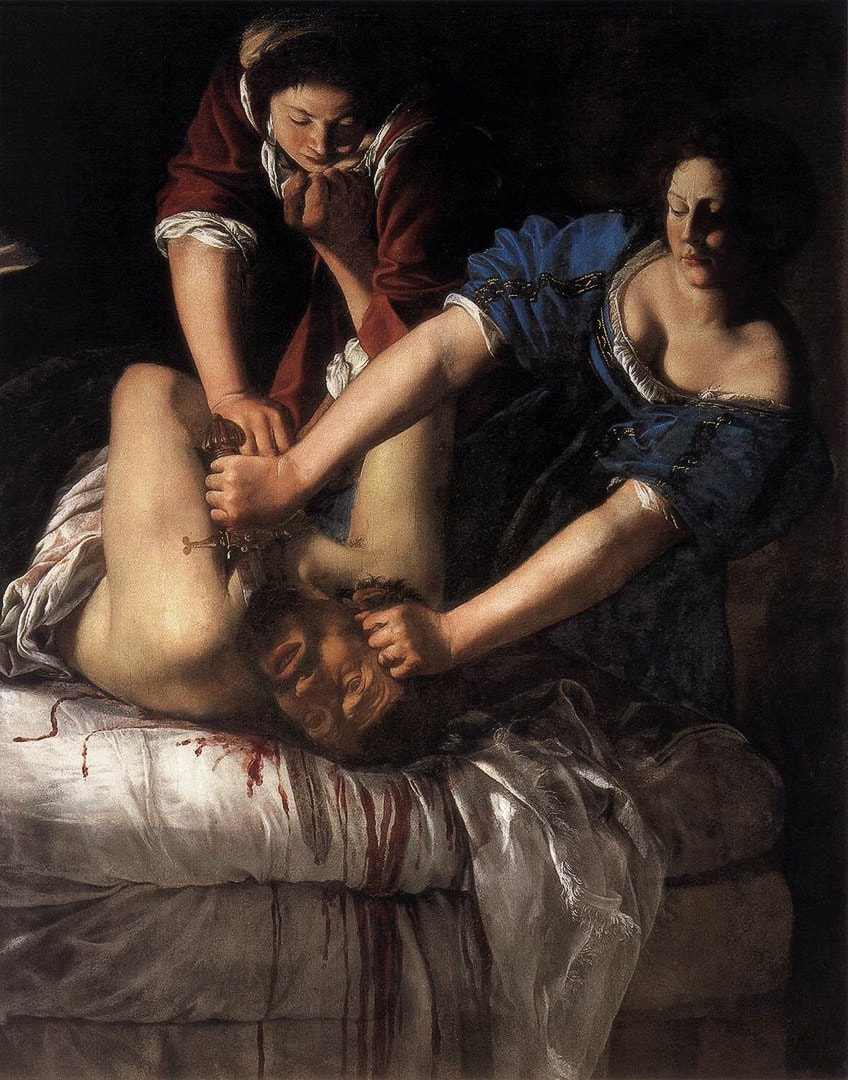 Judith Slaying Holofernes (1612-1613) by Artemisia Gentileschi; Artemisia Gentileschi, Public domain, via Wikimedia Commons
Gentileschi created a depiction of a female's courage in this artwork, while at the same time emphasizing her own strength as an artist with the ability to choose her own themes and make her own decisions on how they should be approached. In most artworks, particularly Caravaggio's hallucinogenic rendition, Judith is accompanied by a maid who awaits the decapitated head.
Gentileschi, meanwhile, transforms the maid into a powerful young lady who takes part in the murder. This in turn accomplished two things. It brought a layer of the grim reality that even Caravaggio would not have considered – it really would take two ladies to slay this beast. However, it also lends the scenario a radical undertone. "What if ladies pulled together?" asks Gentileschi. "Would we be able to retaliate against a world controlled by males?"
Interestingly, this is one of Gentileschi's several paintings in which women exact retribution or penalize males.
Self-Portrait as a Lute Player (1618)
| | |
| --- | --- |
| Date Created | 1618 |
| Medium | Oil on Canvas |
| Dimensions | 77 cm x 71 cm |
| Currently Housed | Wadsworth Atheneum of Art |
This Gentileschi self-portrait was completely unknown until it was auctioned off in 1998 in London at Sotheby's. It has become one of Gentileschi's most recognizable pieces (and is owned by the Wadsworth Atheneum Museum of Art in Connecticut, which purchased it for more than $3 million in 2014). Artworks of people enjoying musical instruments were popular at the time. Caravaggio and others made similar pieces; some historians believe Gentileschi has positioned herself as the type of woman who normally appeared in such works.
She portrays herself as a "gypsy-musician," as shown by the headdress and shirt; these types of performers would have featured at Italian court events.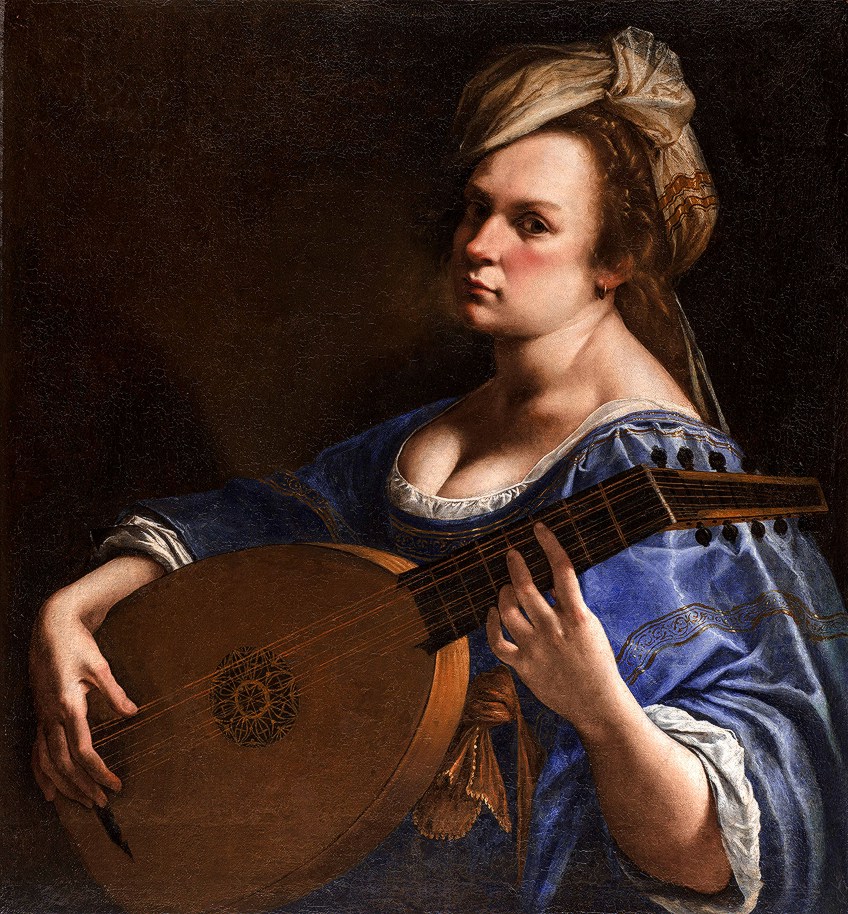 Self-Portrait as a Lute Player (1615-1617) by Artemisia Gentileschi; Artemisia Gentileschi, Public domain, via Wikimedia Commons
Scholars believe that the painter had firsthand knowledge of the lute because of the realistic portrayal of the instrument and finger location. The arrangement is similar to two other contemporary representations of Saint Catherine of Alexandria, suggesting that she was utilizing her self-portraits to cement her name in the city of Florence. According to an inventory from 1638 of Villa Medici in Artimino, it is thought to have been produced in Florence for the Medici family. Its history remained unclear from 1683 until it was auctioned in 1998.
Jael and Sisera (1620)
| | |
| --- | --- |
| Date Created | 1620 |
| Medium | Oil on Canvas |
| Dimensions | 86 cm x 125 cm |
| Currently Housed | Museum of Fine Arts |
The canvas's theme is drawn from the Book of Judges. It shows the moment when Jael, a Kenite lady, is poised to assassinate Sisera, a beaten Canaanite commander. After being defeated by the Israelis, he runs to a neighboring village, where Jael invites him in, offers to nourish him, and keeps him hidden from the officials. She nails a tent pin into his forehead as soon as he falls asleep, a deed that won Jael credit for her bravery in the biblical narrative. This topic is rarely represented in 17th-century art, and there are just a handful of instances contemporaneous with this picture.
Historians say this is because her acts were morally dubious in comparison to other scriptural females.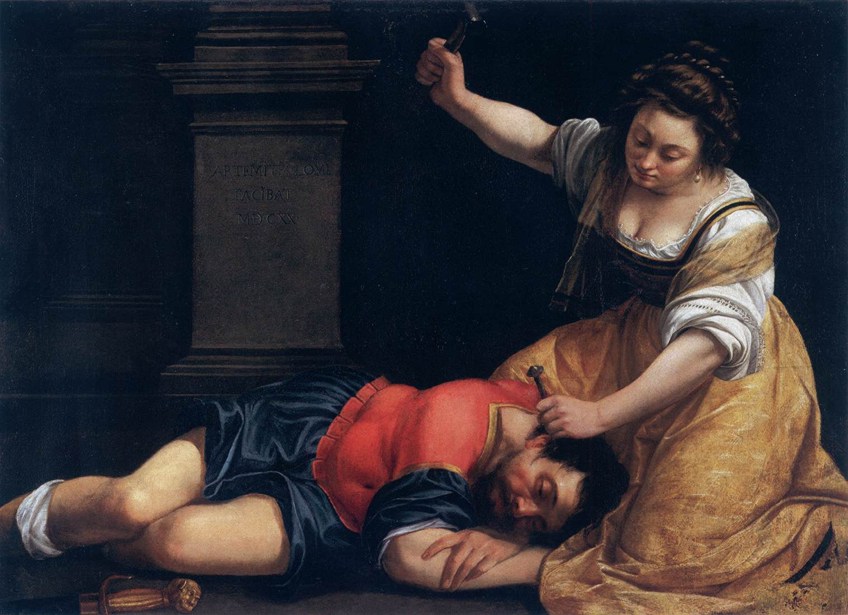 Jael and Sisera (c. 1620) by Artemisia Gentileschi; Artemisia Gentileschi, Public domain, via Wikimedia Commons
While this narrative was less commonly depicted in the painting, scholars believe Artemisia's work was inspired by Ludovico Cigoli's oeuvre. Her representation, nevertheless, varies in that it creates a distinct visual difference between the two individuals, as contrasted to Cigoli's compacted picture. Jael's golden robe stands in contrast with Sisera's blue and red outfits, signaling her "morality and impending triumph." The year 1620 is etched into the column at the base of her conspicuous signature.
The uncomfortable positioning of Jael's right hand is considered to have been done on purpose to draw attention to the signature.
Despite the fact that the period places Artemisia in Rome, she signs this picture "Artemisia Lomi," implying a Florentine benefactor. While working and living in Florence, Artemisia used this moniker to emphasize her link to her uncle Aurelio, who was already well-established in the region, instead of the Roman Gentileschi, in order to enhance her connections to possible benefactors.
Lucretia (c. 1620)
| | |
| --- | --- |
| Date Created | c. 1620 |
| Medium | Oil on Canvas |
| Dimensions | 100 cm x 77 cm |
| Currently Housed | Gerolamo Etro, Milan |
Gentileschi depicts Lucretia, a character from Greek mythology who was violated and committed suicide after admitting what had occurred. She became a famous emblem of feminine rebellion against patriarchal power as a result. Gentileschi gives a visual representation of the moment Lucretia decides to kill herself in this scene.
The painting is simplified in terms of presentation; Lucretia is devoid of jewels or the symbols of luxury shown in other depictions, and she is dressed in only a tattered robe, possibly implying that the assault has occurred recently.
This minimalism, combined with lighting effects that emphasize her head and bosom, focuses on Lucretia, portraying her as a lonely character and stressing her own power in her willingness to commit suicide after being abused by men. Other (male) painters have frequently represented Lucretia's assault or the tragedy of her demise, while Gentileschi concentrates on the psychological aspects of the rape.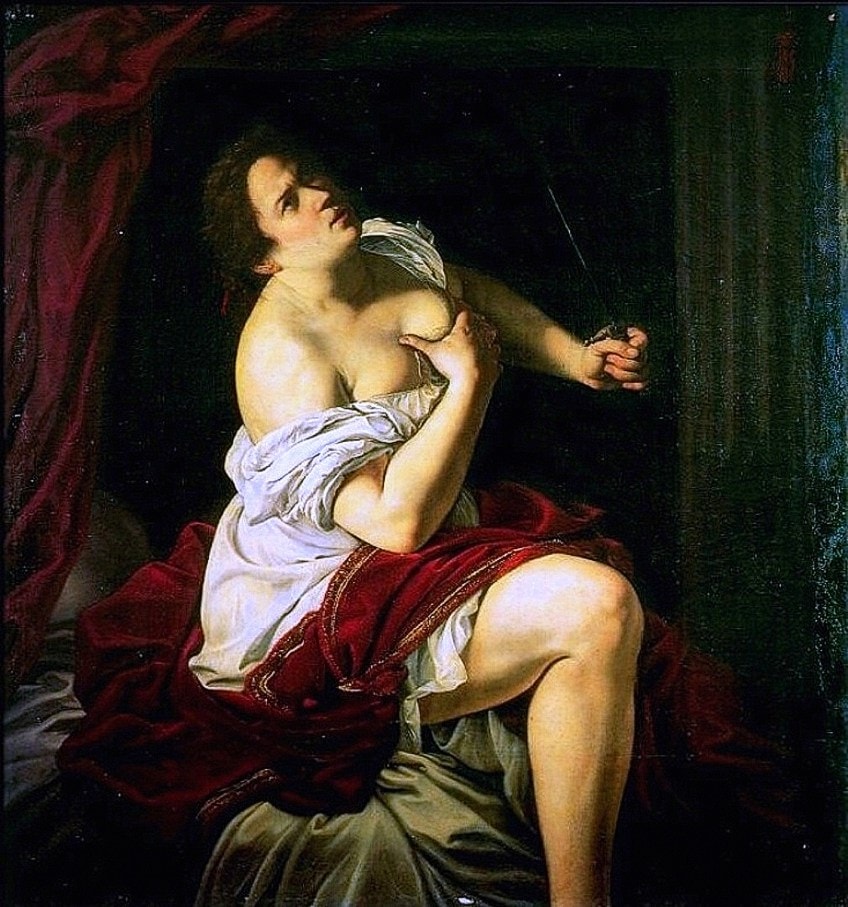 Lucretia (1620-1621) by Artemisia Gentileschi; Artemisia Gentileschi, Public domain, via Wikimedia Commons
Gentileschi emphasizes the protagonist's softness and the fostering capacity of the lady while also emphasizing her strong aim by simultaneously clutching her bosom and the blade. The deed that is going to take place is foreshadowed by the blood crimson of the cloth that flows across her body and out of the picture frame. This portrayal of Lucretia is an outstanding example of what art historians refer to as the artist's production and dissemination of the "female superhero" in her art – a fleshed-out female protagonist who is courageous in the classical sense" – which is normally lacking in 17th-century painting.
Gentileschi constantly depicts women in this manner by concentrating on the psychology of her subject matter and evoking sentiments of sorrow and awe in the audience.
Esther and Ahasuerus (1630)
| | |
| --- | --- |
| Date Created | 1630 |
| Medium | Oil on Canvas |
| Dimensions | 2,08 m x 2,70 m |
| Currently Housed | Metro Museum of Art |
Esther and Ahasuerus depicts the legendary figure Esther approaching Ahasuerus and pleading with him to save her countrymen. Elinor Dorrance Ingersoll donated the artwork to the Metropolitan Museum of Art in 1969. It is not the most famous of the Artemisia Gentileschi artworks, but her utilization of lighting, personality, and technique aid in depicting Esther as both a scriptural hero and the work's major protagonist.
The picture is not clearly dated, and the client or patron remains unclear. Historians of Baroque art disagree on when the artwork was made; many assume it was produced around the 1630s, in Artemisia's initial Neapolitan phase.
The scenario in the picture is from the Book of Esther and portrays Esther, King Ahasuerus' Jewish wife (occasionally referred to as Xerxes in contemporary texts). After the Persian Empire's monarch ordered the murder of all Israelis, Esther came to him to implore the king to save her people.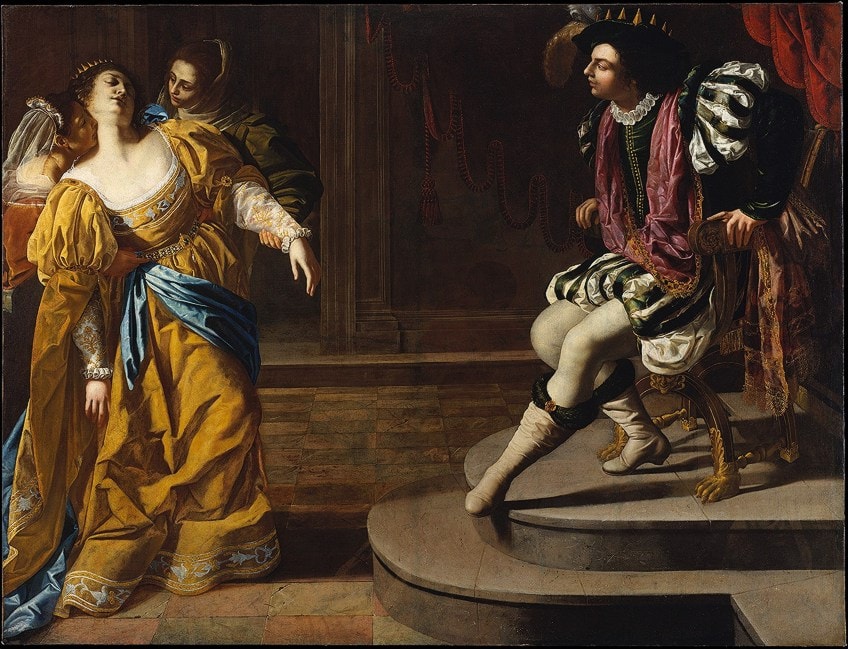 Esther and Ahasuerus (c. 1630) by Artemisia Gentileschi; Artemisia Gentileschi, CC0, via Wikimedia Commons
Esther endangered her life by breaking court decorum. She ended up collapsing in front of the monarch, as represented in Gentileschi's painting. Her actions softened the king's judgment, and he let the Israelites protect themselves against his onslaught, averting their annihilation. While the topic of this piece is the scriptural event of Esther coming before Ahasuerus to appeal to him for her people, the dress and surroundings are more modern.
The relevance of Gentileschi's portrayal of both Esther and the monarch testifies to her technique and beliefs.
Esther is displayed in greater illumination, whereas Ahasuerus is in darkness, and the monarch is also represented with an elaborate feathered headdress and fleece, bejeweled footwear. Esther, on the other hand, is dressed more elegantly and refinedly.
Cleopatra (1635)
| | |
| --- | --- |
| Date Created | 1635 |
| Medium | Oil on Canvas |
| Dimensions | 117 cm x 175 cm |
| Currently Housed | Private Collection |
Gentileschi depicts yet another female who has been exoticized as a seductive tease by her male colleagues in this painting. She depicts a scene wherein two of Cleopatra's feminine servants uncover her suicide. Cleopatra's rigid stance denotes the start of rigidity, emphasizing her aim for authenticity, and several of the features correspond to Plutarch's depiction of Cleopatra's death.
The posture is also suggestive of the Hellenistic statue Sleeping Ariadne (whom the 17th century thought was Cleopatra), demonstrating Gentileschi's understanding of art history. Gentileschi depicts a complex image of feminine power and weakness in this painting. She depicts Cleopatra's isolated demise as a result of the men's abuse of her.
In some respects, this is an example of feminine autonomy in that she made the conscious decision to react in this way.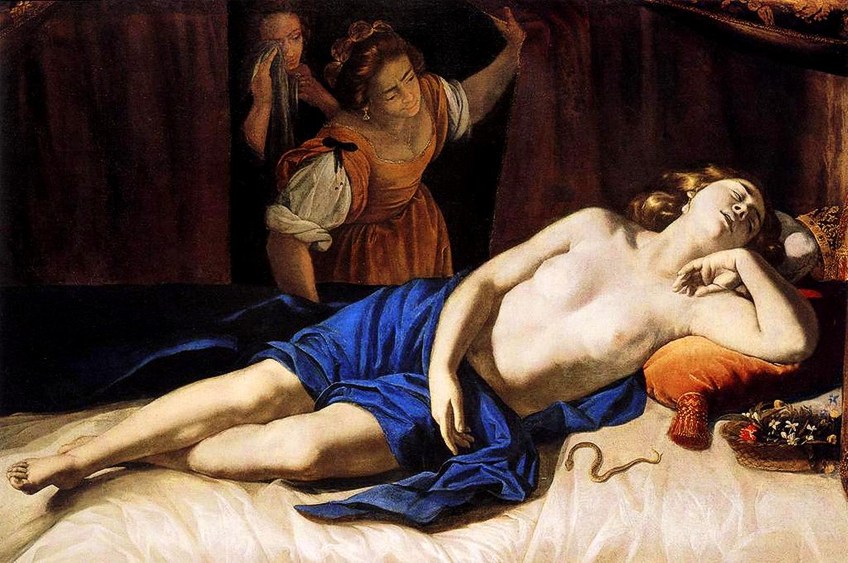 Cleopatra (c. 1633-1635) by Artemisia Gentileschi; Artemisia Gentileschi, Public domain, via Wikimedia Commons
In contrast, by concentrating on the consequences rather than the choice itself, like in Lucretia, the picture serves as a striking representation of the absence of relief accessible to females and the effect this had on others around them, in this case, the lady maids towards the rear of the artwork. Gentileschi, on the other hand, employs several clichés common to male artists of the time to provide the spectator with Cleopatra's semi-nude figure.
Gentileschi depicts naked ladies in slumber or dead in this and other related works, putting the observer in the role of a peeping tom. Some art historians believe that Artemisia occasionally performed to the requirements of the art scene in displaying a few of her heroines. The portrayal of a sleeping woman raises a lot of questions regarding reading Artemisia's symbolism in terms of assertive leading ladies with whom the artist could identify.
While she has reduced some of the overtly sexual overtones employed by other painters, she has depicted a fragile woman, unconscious of the audience's attention, who becomes an unintentional focus of sexual impulses, demonstrating Artemisia's readiness to react to male clients' wishes.
Self-Portrait as the Allegory of Painting (1639)
| | |
| --- | --- |
| Date Created | 1639 |
| Medium | Oil on Canvas |
| Dimensions | 96 cm x 73 cm |
| Currently Housed | Royal Collection, London |
Artemisia Gentileschi provides a metaphor of art in this bold later piece. This Gentileschi self-portrait is regarded as important for many reasons. Painting was usually depicted as a female in metaphorical settings, providing the artist with a unique chance to exhibit herself in the position of a skilled female painter.
In doing so, she paints a precise portrayal of an artist at work, using fast and efficient brushwork to precisely represent the instruments of her craft including the brushes and canvas. The brownish backdrop is occasionally regarded as an empty slate on which the artist is creating, emphasizing her never-ending and incomplete labor as a painter.
In "Self-Portrait as the Allegory of Painting", Gentileschi adheres to the traditional iconography for painting allegory.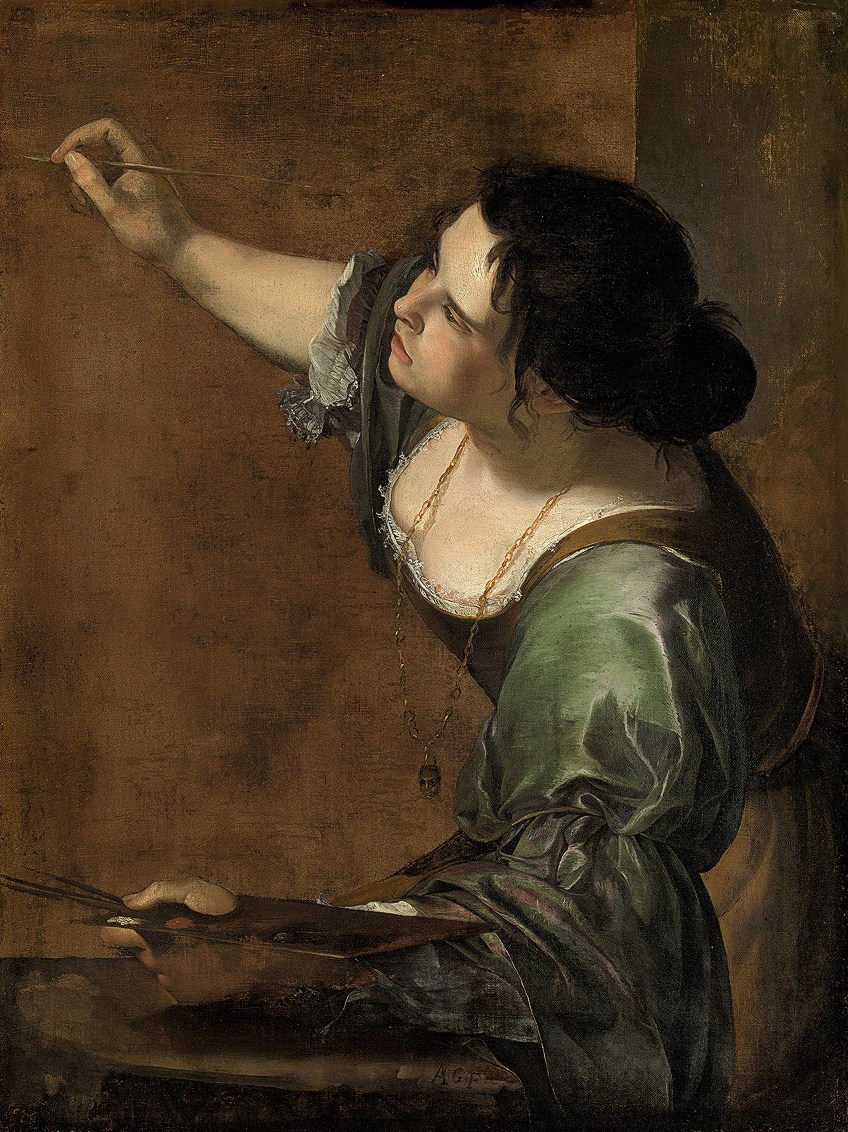 Self-Portrait as the Allegory of Painting (1638-1639) by Artemisia Gentileschi; Artemisia Gentileschi, Public domain, via Wikimedia Commons
This is defined as "a gorgeous female", with lush dark hair, disheveled, and tangled in different ways, with arched brows that display inventive thought, the mouth obscured with a fabric tethered behind her ears, with a string of gold at her neck from which dangles a visor. The gagging cloth, meant to imply that art is quiet, is conspicuously lacking from this image.
Gentileschi's absence implies both the capacity of a work to say reams and her personal unwillingness to be silent as a female and as a painter. According to passages in her personal letters, Gentileschi's self-portraits were numerous, but few remain, and it is probable that they were sought from collectors drawn to her talent as a painter and her uncommon position as a great women artist.
That brings to a close our list of Artemisia Gentileschi paintings. They have given us insight into why many scholars regard her to be one of the most prominent painters of the 17th century. Her journey truly is one of perseverance, choosing to create art during an era completely dominated by men. Today Artemisia Gentileschi artworks are highly revered masterpieces from early works such as "Susanna and the Elders" to later pieces such as "Self-Portrait as the Allegory of Painting".
Frequently Asked Questions
How Did Artemisia Gentileschi Learn to Paint?
Artemisia was taught to paint at her dad's studio, and she demonstrated far more zeal and ability than her siblings, who worked side by side with her. She studied sketching, color mixing, and painting. Her dad would brag about her outstanding abilities by 1612, when she was still not even 19 years old, saying that she had no equal in the trade of art, which she had practiced for only three years.
What Style Are Artemisia Gentileschi Artworks Painted In?
Gentileschi's father's art was heavily affected by Caravaggio at the time, therefore her style was heavily impacted by him as well. Artemisia's attitude to the nature of the content, on the other hand, differed from her dad's. Her works are quite realistic, whereas Orazio's are stylized. Artemisia had to conquer her conventional mentality and mental acquiescence to this indoctrination and jealousy of her evident skill at the same time. As a result, she received a lot of respect and attention for her work.
Isabella studied at the University of Cape Town in South Africa and graduated with a Bachelor of Arts majoring in English Literature & Language and Psychology. Throughout her undergraduate years, she took Art History as an additional subject and absolutely loved it. Building on from her art history knowledge that began in high school, art has always been a particular area of fascination for her. From learning about artworks previously unknown to her, or sharpening her existing understanding of specific works, the ability to continue learning within this interesting sphere excites her greatly.
Her focal points of interest in art history encompass profiling specific artists and art movements, as it is these areas where she is able to really dig deep into the rich narrative of the art world. Additionally, she particularly enjoys exploring the different artistic styles of the 20th century, as well as the important impact that female artists have had on the development of art history.
Learn more about the Art in Context Team.