Famous American Painters – The Must-Known American Artists
The early American art classics were primarily based on the English style of painting. Although several famous American artists arose during the 19th century, it would not be until the 20th century that the great American painters started to be recognized internationally. Today we will discover the most important famous American painters that left their mark on the world of art.
An Introduction to Art in America
What distinguishes great American painters, whether born in the United States or somewhere else? Without a doubt, it would have to be somebody that can represent the country's vastness, whether in its scenery or in its abundance of consumer products. However, throughout most of the history of the United States, famous American artists had to take second place to their European counterparts, particularly the French artists who contributed to making Paris the creative center of the 19th century.
This all shifted after World War II when the New York Style superseded the Art of Paris as a result of America coming from the war undamaged while the rest of the Continent lay in devastation.
Since then, a slew of new art styles has emerged across the United States, most of which may be loosely classified under the umbrellas of Modern and Postmodern art. While the country's influence in this cultural art form continues to grow, nations with new funds, including China, Russia, and many Arab nations, are also seeking to participate in high-profile bids. With the majority of historic art already protected, it is becoming increasingly unusual for anything noteworthy to come available for sale, boosting the realized prices even higher.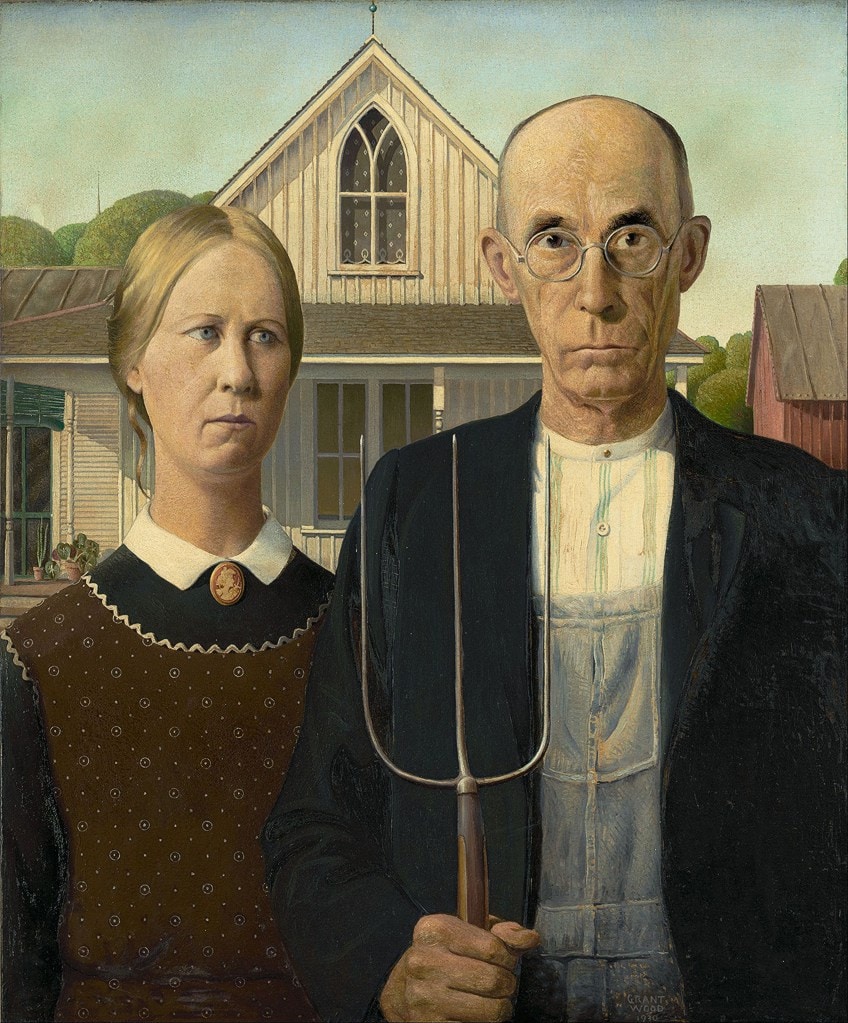 The famous painting American Gothic (1930) by Grant Wood; Grant Wood, Public domain, via Wikimedia Commons
Realism, which represented actual societal issues and regular folks ' lives, was the first significant art trend in the United States. Abstract Expressionism was the first distinctly American trend to earn international acclaim. It stressed the use of abstraction to communicate strong emotional or expressive meaning. It was succeeded by the Pop Art style, which was distinguished by the use of identifiable images from pop media, such as commercials, stars, and graphic novel figures. The United States was also influential in Neo-Expressionism, and Street art.
The potential of American art is promising, with hitherto unexplored segments of civilization, such as ethnic minority groups and feminine artists, receiving significant attention and publicity for the first time.
Our List of Famous American Painters
As we have learned, American art was initially heavily inspired by English art. However, American artists soon developed their own regional styles that reflected life in America. Next, we will look at the best examine the famous American artists who took their styles to the next level and achieved national and international recognition.
Gilbert Stuart (1755 – 1828)
| | |
| --- | --- |
| Place of Birth | Saunderstown, Rhode Island |
| Date of Birth | 3 December 1755 |
| Associated Style | Portrait Painter |
| Date of Death | 9 July 1828 |
Gilbert Stuart, the most prolific and inventive oil painter of America's early national era, owned an abundance of natural skill that he dedicated to the depiction of human similitude and personality, having brought his humorous and impetuous ways to exert on every one of his creations, such as his astute portraits of George Washington. The apparently conflicting parts of Stuart's life characterize his reputation and legacy.
Despite episodes of melancholy that kept him in bedridden for weeks on end, he was extremely creative, completing over 1,100 portraits.
Self-portrait (c. 1778) by Gilbert Stuart; Gilbert Stuart, Public domain, via Wikimedia Commons
He is recognized for his masterpieces, as are other artists of his quality, despite a history of failing to complete or completing works that bored him. He demanded hefty rates yet was always on the edge of bankruptcy. Many of the sitters who loved his company and expected a good portrait were frustrated by the artist's sluggish, delaying work habits.
"Mr. Stuart feels it is the privilege of genius to scorn the execution of his commitments," said John Adams, who sat for the artist numerous times. He was well-versed in portraiture traditions, readily portrayed the qualities of gentility and luxury, and excelled time and again in creating pictures that met the needs and goals of his clients in visual terms.
Nonetheless, he claimed that his popularity was due more to his own creative talents than to the personality or achievements of his sitters.
A few of this artist's most notable American art classics include:
George Washington (1796)
The Skater (1782)
John Adams (1824)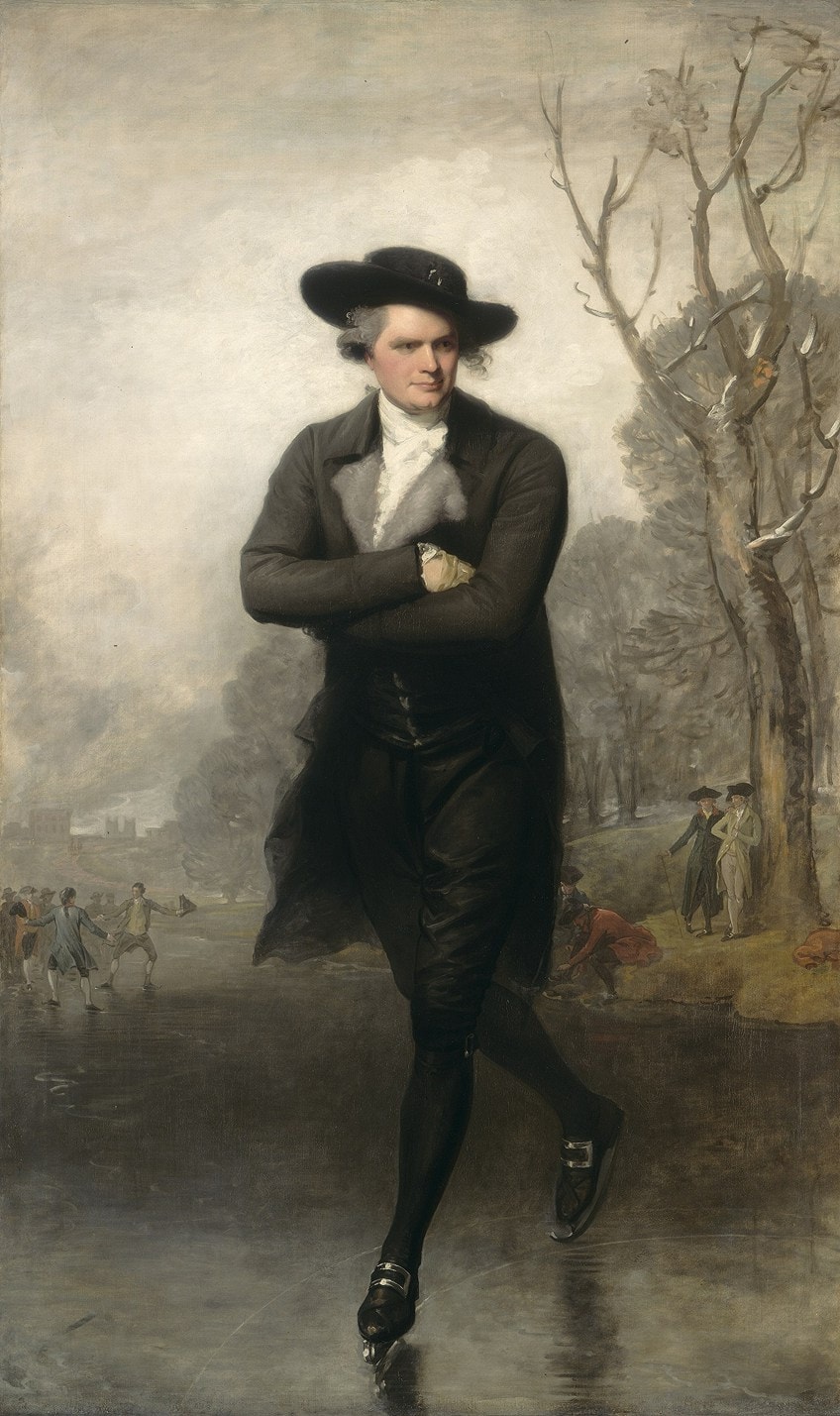 The Skater (Portrait of William Grant) (1782) by Gilbert Stuart; National Gallery of Art, CC0, via Wikimedia Commons

Frederic Church (1826 – 1900)
| | |
| --- | --- |
| Place of Birth | Hartford, Connecticut |
| Date of Birth | 4 May 1826 |
| Associated Style | Landscape Painting |
| Date of Death | 7 April 1900 |
As a counter-movement to the rationality of the Age of Enlightenment, Romanticism was popular in France and Britain in the 1800s. Romantic artists frequently represented landscapes in romanticized settings that emphasized the wealth and majesty of creation, often with a focus on its vast scale. This legacy is continued in the works of Frederic Church, who venerates an unbroken nature, as seen by his meticulously detailed paintings. The focus on nature is aided by low horizontal lines and heavy use of skies.
Church's brushstrokes were generally "hidden" so that the painted area was flat and the artist's "character" was presumably nonexistent.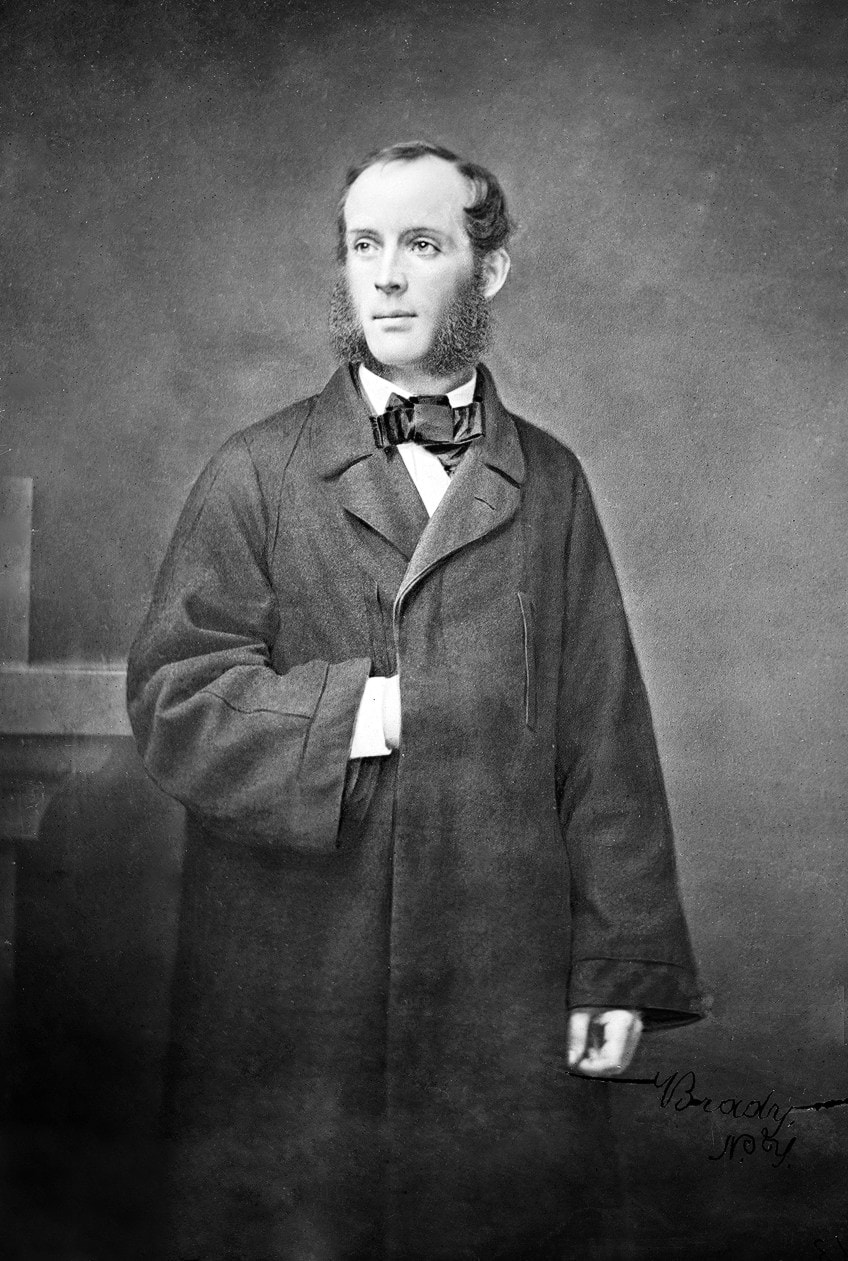 A portrait of Frederic Edwin Church, between 1855 and 1865; Mathew Benjamin Brady, Public domain, via Wikimedia Commons
Frederic Church was a member of the Hudson River School's second wave, a style in American painting started by his master, Thomas Cole. Church and Cole were both fervent Protestants, and Church's views influenced his works, particularly his early works. The Hudson River School artworks were distinguished by their emphasis on classic pastoral locations as well as their Romantic characteristics.
They sought to convey the raw reality of an unstable America that was rapidly fading, as well as the respect for natural features.
His landscapes of the American frontier reflect the "colonial expansion and hopeful perspective of the United States in the mid-19th century." Church's art subjects varied from Cole's in that he favored naturalistic and frequently magnificent settings to Cole's proclivity for allusion. Church's art has been progressively re-examined in light of motifs and implications.
A few of this artist's most notable artworks include:
The Heart of the Andes (1859)
The Icebergs (1861)
Aurora Borealis (1865)
Aurora Borealis (1865) by Frederic Edwin Church; Frederic Edwin Church, Public domain, via Wikimedia Commons
James Abbott Mcneill Whistler (1834 – 1903)
| | |
| --- | --- |
| Place of Birth | Lowell, Massachusetts |
| Date of Birth | 11 July 1834 |
| Associated Style | American Gilded Age |
| Date of Death | 17 July 1903 |
James McNeill Whistler took part in the creative upheaval of late-19th-century London and Paris, designed a unique aesthetic from varied references, and emerged with a variant of Post-Impressionism in the mid-1860s when the majority of his avant-garde peers were still discovering Impressionism and Realism.
Whistler was born in Lowell, Massachusetts, but spent a portion of his childhood in Saint Petersburg, Russia, where his father consulted on the development of the railway to Moscow and Whistler attended art lessons at the Imperial Academy of Sciences. Whistler returned home and enrolled in the US Military Academy at West Point.
He pursued painting with Robert W. Weir but had less ability in other areas, including chemistry, which led to his expulsion from the school in 1854.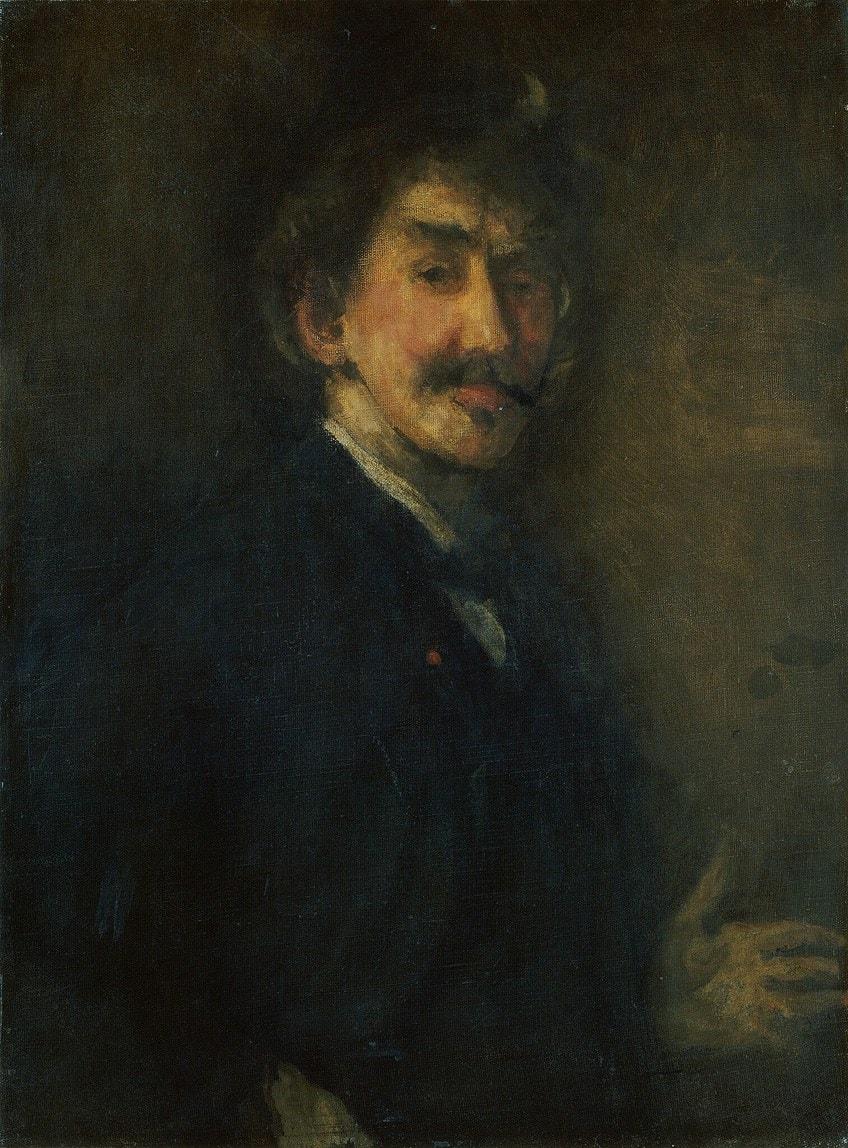 Gold and Brown: Self-Portrait (c. 1896/1898) by James McNeill Whistler; James McNeill Whistler, Public domain, via Wikimedia Commons
Whistler—already proficient in French from his early years in Russia—decided to follow a vocation as a painter by training in Paris after serving in the designs department of the United States Coast and Geodetic Survey, where he obtained his initial instruction in etching.
Whistler created a monogrammed signature—a fanciful butterfly modeled on his initial letters used it as a composition feature rather than merely a maker's signature.
His commitment to total unity stretched to interior design, furnishings, and the creation of frameworks and even complete exhibits. He became a pivotal character in the Aesthetic movement, which stressed aesthetic ideals, refined taste, and creative experimentalism in the design and manufacture of furnishings, metallurgy, pottery and glassware, fabrics and wallpapers, and other items.
A few of this artist's most notable artworks include: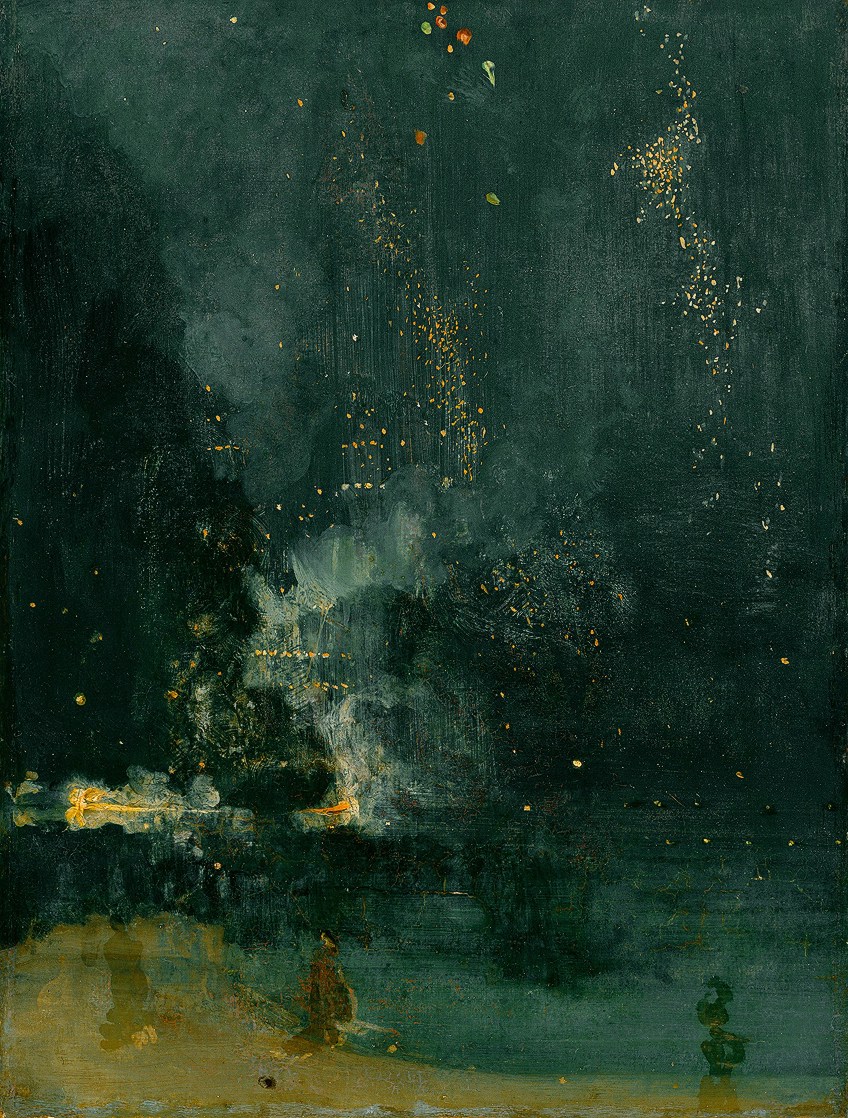 Nocturne in Black and Gold: The Falling Rocket (1875) by James McNeill Whistler; James McNeill Whistler, Public domain, via Wikimedia Commons
Mary Cassatt (1844 – 1926)
| | |
| --- | --- |
| Place of Birth | Allegheny City, Pennsylvania |
| Date of Birth | 22 May 1844 |
| Associated Style | Impressionism, Modern Art |
| Date of Death | 14 June 1926 |
Mary Cassatt was a pivotal figure in the Impressionist movement. When she moved to Paris, where she would spend the remainder of her life, she became friends with Edgar Degas. Her progressively bad eyesight effectively put a stop to her professional art after 1910, and she passed away in 1926.
Despite the fact that females were prohibited from establishing careers at the time, Cassatt studied at the Pennsylvania Academy of the Fine Arts when she was only 16 years old.
Unsurprisingly, she discovered the male teachers and her classmates to be condescending and hostile of her presence. Cassatt was also dissatisfied with the curriculum's sluggish tempo and limited program options. She opted to drop out of school and go to Europe, where she could explore the paintings of the Old Masters for herself.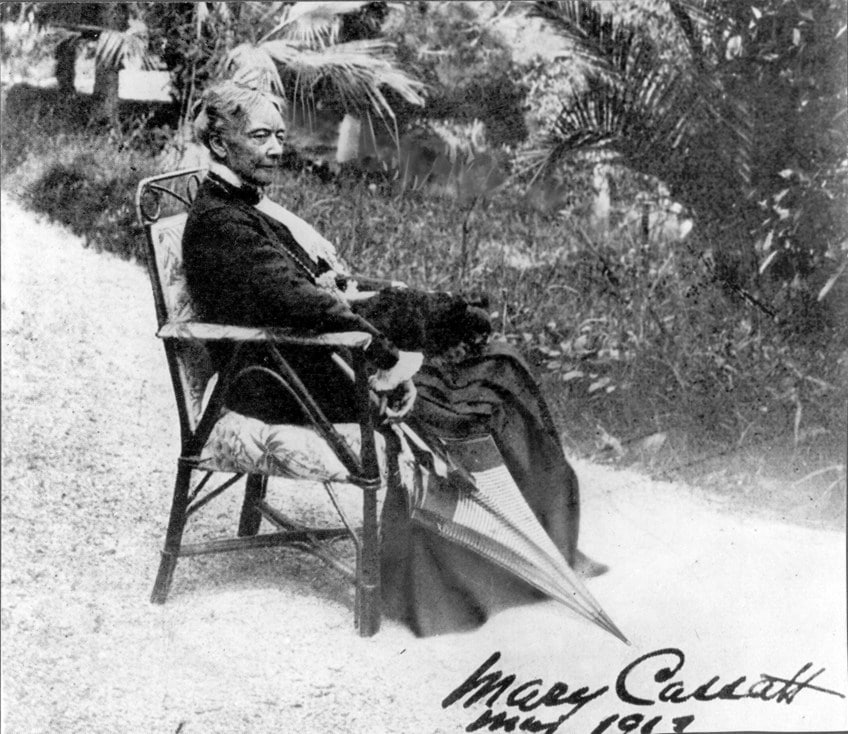 Mary Cassatt seated in a chair with an umbrella. Verso reads "The only photograph for which she ever posed. Courtesy of Durand-Ruel.", 1913; Durand-Ruel, Public domain, via Wikimedia Commons
In 1872 and 1874, the Paris Salon accepted her works for display, establishing her as a recognized artist. She studied and painted in Spain, Belgium, and Rome before moving permanently to Paris. Despite her gratitude to the Salon for helping her career, Cassatt came to feel more restricted by its rigid standards. She started experimenting creatively, no longer bothered with what was popular or marketable.
Her new art was criticized for its vivid colors and harsh depiction of its people.
During this period, she found inspiration in the pastels of painter Edgar Degas, whose work pushed her to pursue her own path. Cassatt became well-known for her portraiture. She was particularly interested in females involved in daily household scenes, particularly moms with children. Cassatt's portraits, unlike the masterpieces and of the Renaissance, were unusual in their straightforward and honest character.
A few of this artist's most notable artworks include:
The Child's Bath (1893)
The Cup of Tea (1879)
The Boating Party (1893)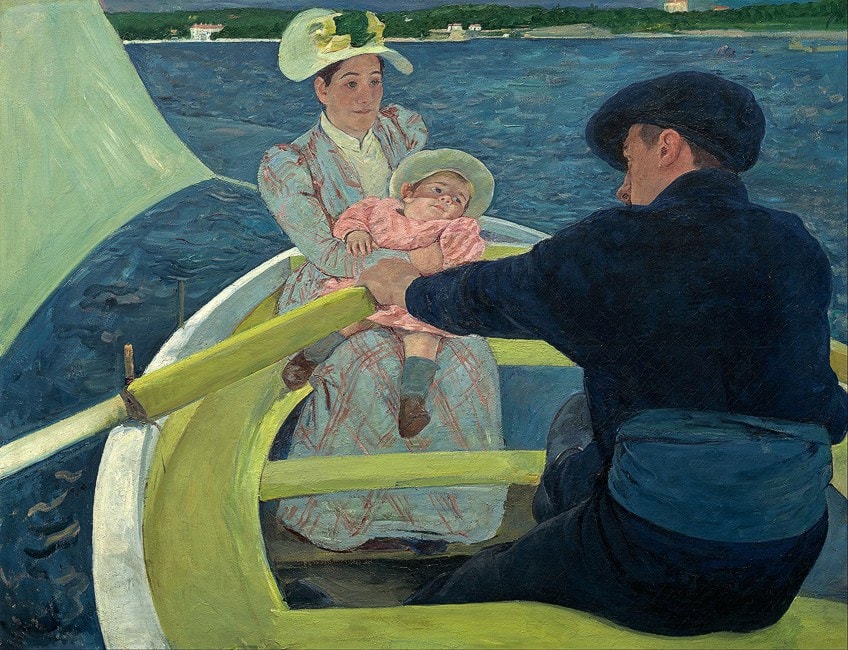 The Boating Party (1893-1894) by Mary Cassatt; Mary Cassatt, Public domain, via Wikimedia Commons
John Singer Sargent (1856 – 1925)
| | |
| --- | --- |
| Place of Birth | Florence, Italy |
| Date of Birth | 12 January 1856 |
| Associated Style | Portrait Painting |
| Date of Death | 14 April 1925 |
In 1856, John Singer Sargent, the child of a doctor from America, was born in Florence. He learned art in France and Italy and his image of Madame Gautreau made a stir at the Paris Salon in 1884. People claimed that the picture, which was displayed as Madame X, was seductively sexual. The controversy compelled Sargent to relocate to Britain, where he quickly positioned himself as the region's top painter of portraits. Sargent produced a painting of Carolus-Duran in 1879; the virtuosic attempt received popular praise and signaled the path his mature art would follow. Its exhibition at the Paris Salon served as a memorial to his master as much as a pitch for portraiture assignments.
Henry James said of Sargent's early artwork, "the "unnerving" vision of a genius on the very brink of its profession with little else to master."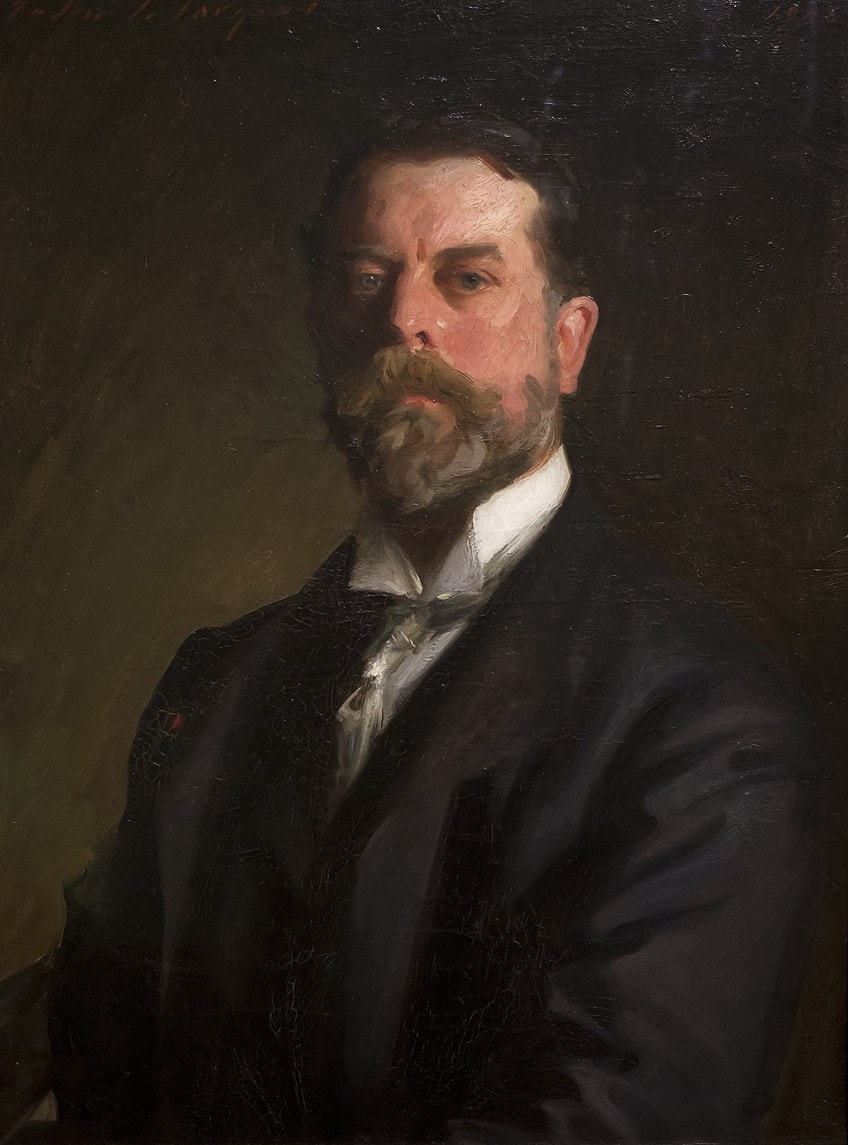 Self-portrait (1906) by John Singer Sargent; John Singer Sargent, Public domain, via Wikimedia Commons
Sargent's greatest portraiture reflects the sitters' uniqueness and character; his most passionate fans believe he is only equaled in this by Velázquez, who was a major influence on Sargent. Sargent abandoned portraiture in 1907 and concentrated on landscapes in his later years; he also created sculptures later in life.
His work recounts his travels across the globe, from Venice to Corfu, Florida, and Montana, and each location provided visual riches. Sargent seemed to be producing almost entirely for himself in several of his later pieces. His watercolors, which typically depicted landscapes from his trips, were done with a joyous fluidity.
In both oils and watercolors, he depicted his family and friends in Orientalist costumes, resting in brightly lighted settings that permitted for more vibrant colors and creative treatment than his contracts did.
A few of this artist's most notable artworks include:
Portrait of Madame X (1884)
El Jaleo (1882)
Carnation, Lily, Lily, Rose (1886)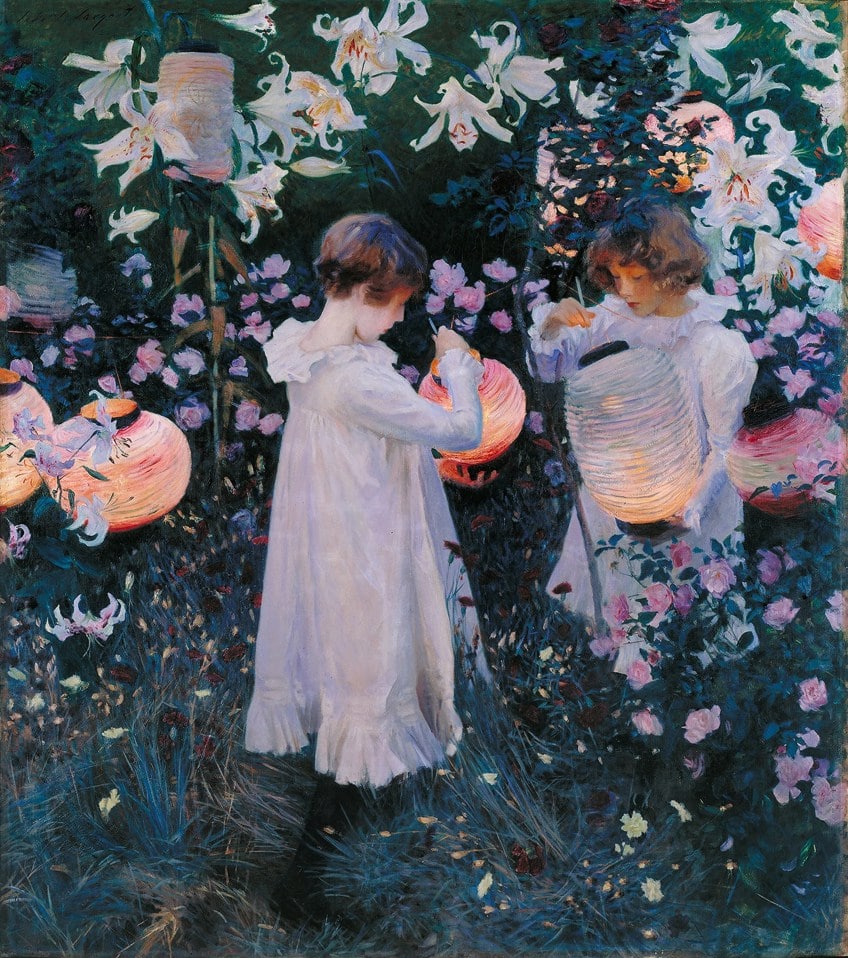 Carnation, Lily, Lily, Rose (c. 1886) by John Singer Sargent; John Singer Sargent, Public domain, via Wikimedia Commons
Edward Hopper (1882 – 1967)
| | |
| --- | --- |
| Place of Birth | Nyack, New York |
| Date of Birth | 22 July 1882 |
| Associated Style | Realist Painting |
| Date of Death | 15 May 1967 |
Edward was a highly renowned oil painter of America whose realistic portrayals of ordinary urban landscapes startle the observer into noticing the oddity of their environment. He had a significant effect on Pop art and New Realist artists of the late 1960s and early 1970s. Hopper began his career as an illustration artist. From 1901 to 1906, he learned art under Robert Henri, a founder of the Ashcan School of artists.
Hopper visited Europe on several occasions, but he was unaffected by the exploratory work that was thriving among the French at the time, and he continued to pursue his own creative path throughout his lifetime.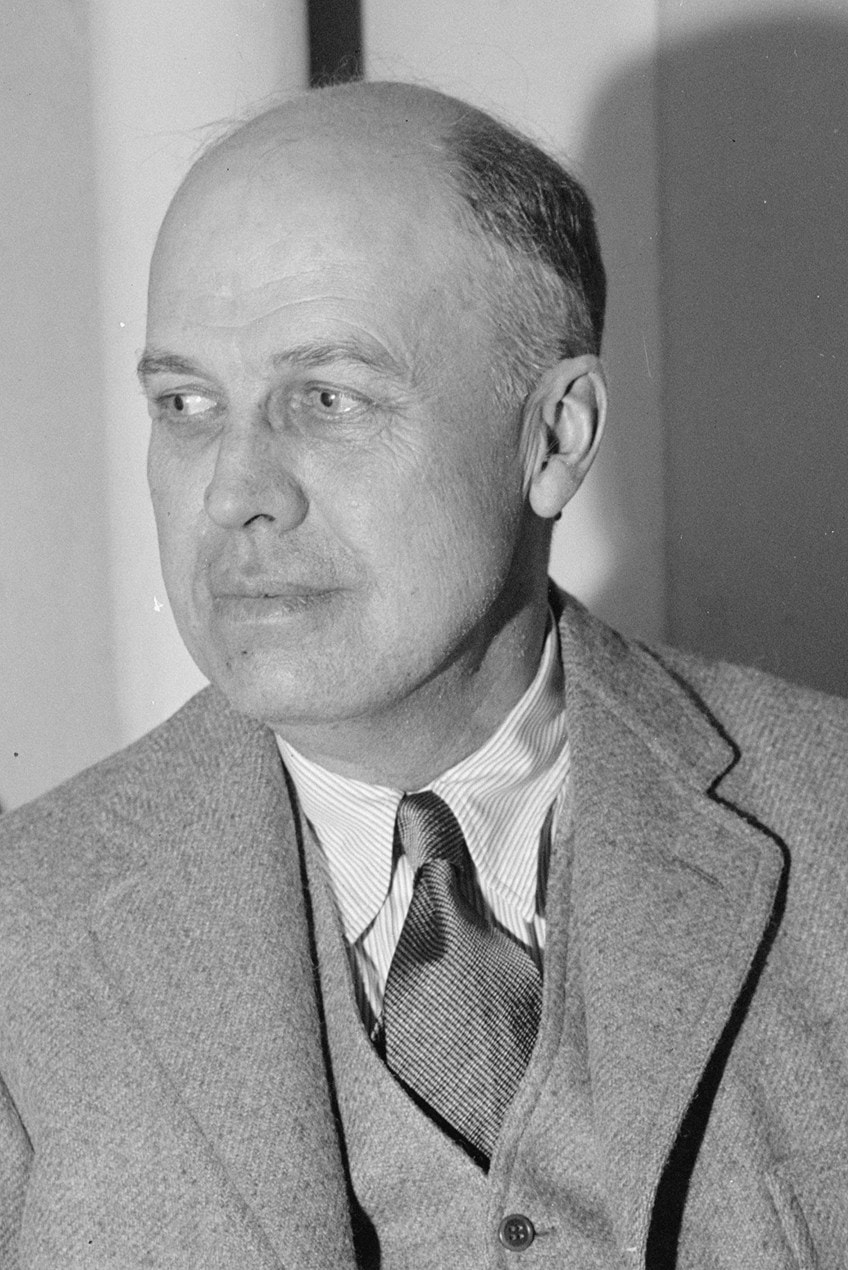 Portrait photograph of Edward Hopper, 1937; Harris & Ewing, photographer, Public domain, via Wikimedia Commons
Hopper, like the Ashcan School artists, depicted the timeless truths of city life. However, in contrast to their haphazardly arranged, lively canvases, his artworks depict motionless, nameless people and austere geometric shapes within snapshot-like arrangements that convey an unavoidable sensation of isolation.
Hopper's distinctive use of lighting to isolate individuals and elements in space, whether it be in glaring dawn light or the ominous glow of an all-night café, intensified this alienation of his characters.
By the mid-1920s, Hopper's mature style had already emerged. His following growth revealed continual refining of his vision. Late works, such as Second-Story Sunlight (1960), are marked by exceedingly delicate spatial connections and an even better understanding of lighting than in his work from the 1920s.
A few of this artist's most notable artworks include:
Nighthawks (1942)
Early Sunday Morning (1930)
House by the Railroad (1925)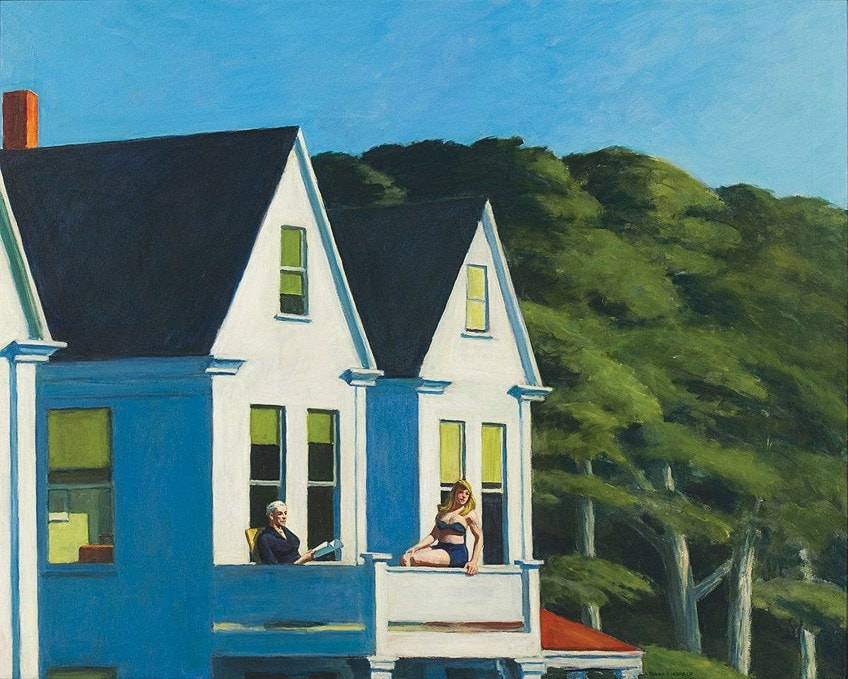 Second-Story Sunlight (1960) by Edward Hopper; Edward Hopper, Public domain, via Wikimedia Commons
Georgia O' Keeffe (1887 – 1986)
| | |
| --- | --- |
| Place of Birth | Sun Prairie, Wisconsin |
| Date of Birth | 15 November 1887 |
| Associated Style | Modernism, Precisionism |
| Date of Death | 6 March 1986 |
In a career that spanned over 70 years, Georgia O' Keeffe was a highly renowned American Fine artist. Despite evolving art styles, she remained true to her own aesthetic, which was centered on identifying the fundamental, abstract shapes in life. She captured delicate subtleties of color, form, and light that energized her works and drew a large following with her unusually sharp skills of perception and remarkable dexterity with a brush.
Her major topics were sceneries, flora, and bones, which she studied in series over many years, if not decades. The paintings were inspired by her life experiences and were either generic or unique to the locations she inhabited. Between 1911 and 1918 she became an art teacher and taught at a variety of elementary, middle, and high schools.
Throughout this time, she created a spectacular sequence of charcoal sketches that catapulted her art—and her career—into new territory. These bold paintings used line, form, and hue to create abstract compositions.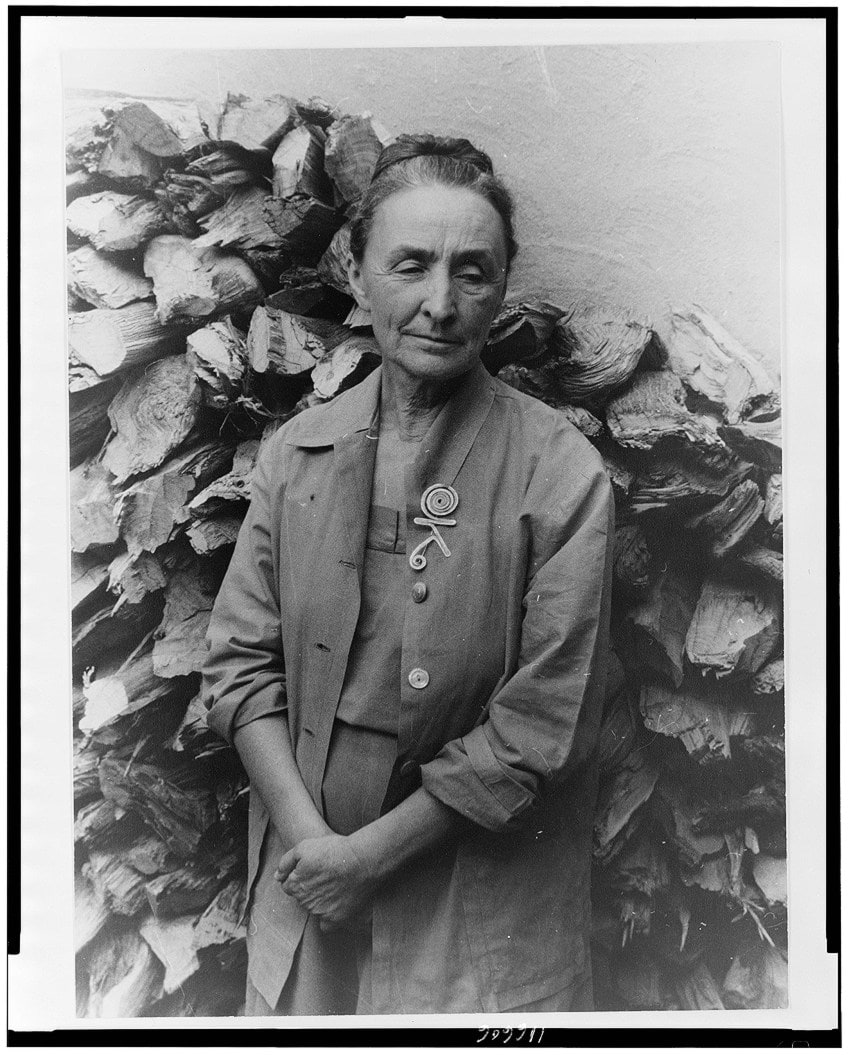 Portrait of Georgia O'Keeffe, 1950; Carl Van Vechten, Public domain, via Wikimedia Commons
These sketches brought O'Keeffe to the notice of Alfred Stieglitz, a well-known photographer, and gallery owner. With his support and financial assistance, O'Keeffe quit teaching in June 1918 and moved to New York to pursue a vocation as a painter. O'Keeffe's enlarged close-ups of blossoms, which she began in 1924, immerse the observer in the scene. Expanding the smallest petals to span a whole 30 × 40 inch canvas accentuated their forms and lines, making them look abstract when they were really based on her studies of nature.
Such bold compositions aided in establishing O'Keeffe's image as a forward-thinking modernist.
A few of this artist's most notable artworks include:
Lake George Reflection (1921-1922)
Jimson Weed (1936)
Black Iris (1926)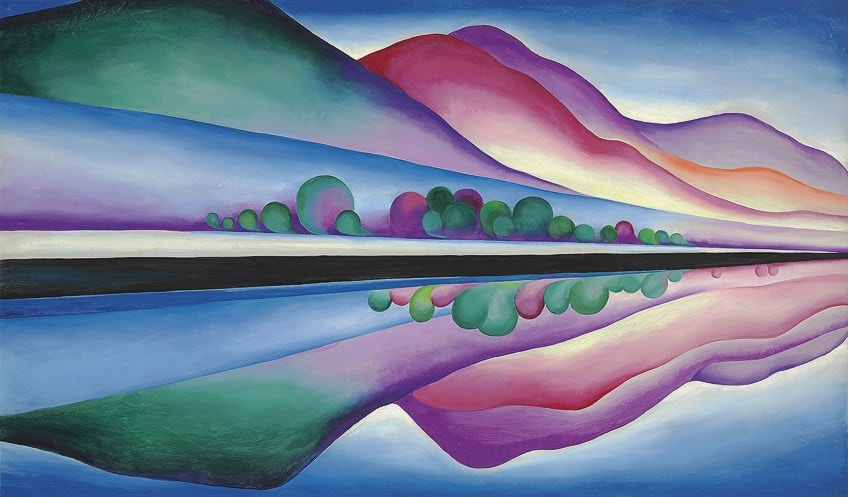 Lake George Reflection (c. 1921-1922) by Georgia O'Keeffe; Georgia O'Keeffe, Public domain, via Wikimedia Commons
Norman Rockwell (1894 – 1978)
| | |
| --- | --- |
| Place of Birth | New York, New York |
| Date of Birth | 3 February 1894 |
| Associated Style | Regionalism |
| Date of Death | 8 November 1978 |
At the age of 14, Norman Rockwell realized he aspired to be a painter and enrolled in studies at The New School of Art. When he was only 16 years of age, he was so dedicated to his craft that he left school and joined the National Academy of Design. Rockwell got instant employment as an artist for Boys' Life magazine after graduation. He married Mary Barstow, a schoolteacher, in 1930, and they had three boys. In 1939 the Rockwell family moved to Vermont, and the fresh environment that welcomed the artist provided him with plenty of material to work with.
Rockwell's popularity was largely due to his keen awareness of common American settings, particularly the charm of the small-town lifestyle.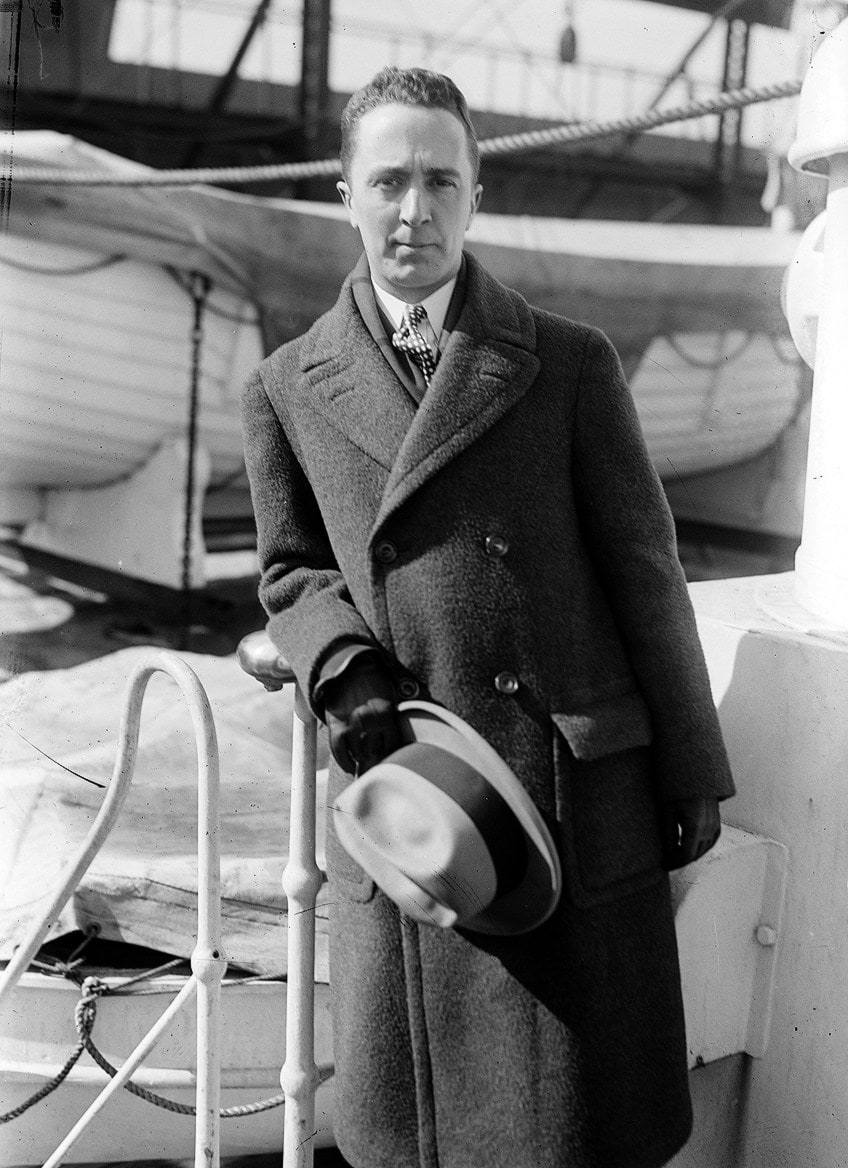 A photograph of Norman Rockwell; Bain News Service, publisher, Public domain, via Wikimedia Commons
What he showed was frequently presented with basic beauty and a sense of humor. Some reviewers regarded him as lacking genuine artistic quality, yet Rockwell's motivations for depicting what he painted were rooted in the reality around him.
"Perhaps as I grew older and discovered that the earth was not the perfect paradise I had imagined it to be, I instinctively concluded that if it wasn't an ideal environment, it ought to be, and so depicted just the ideal elements of it," he once stated. Nonetheless, Rockwell did not entirely disregard the concerns of the day. He painted the Four Freedoms in 1943, inspired by President Franklin D. Roosevelt.
A few of this artist's most notable artworks include:
Freedom From Want (1943)
Freedom From Fear (1943)
Freedom of Speech (1943)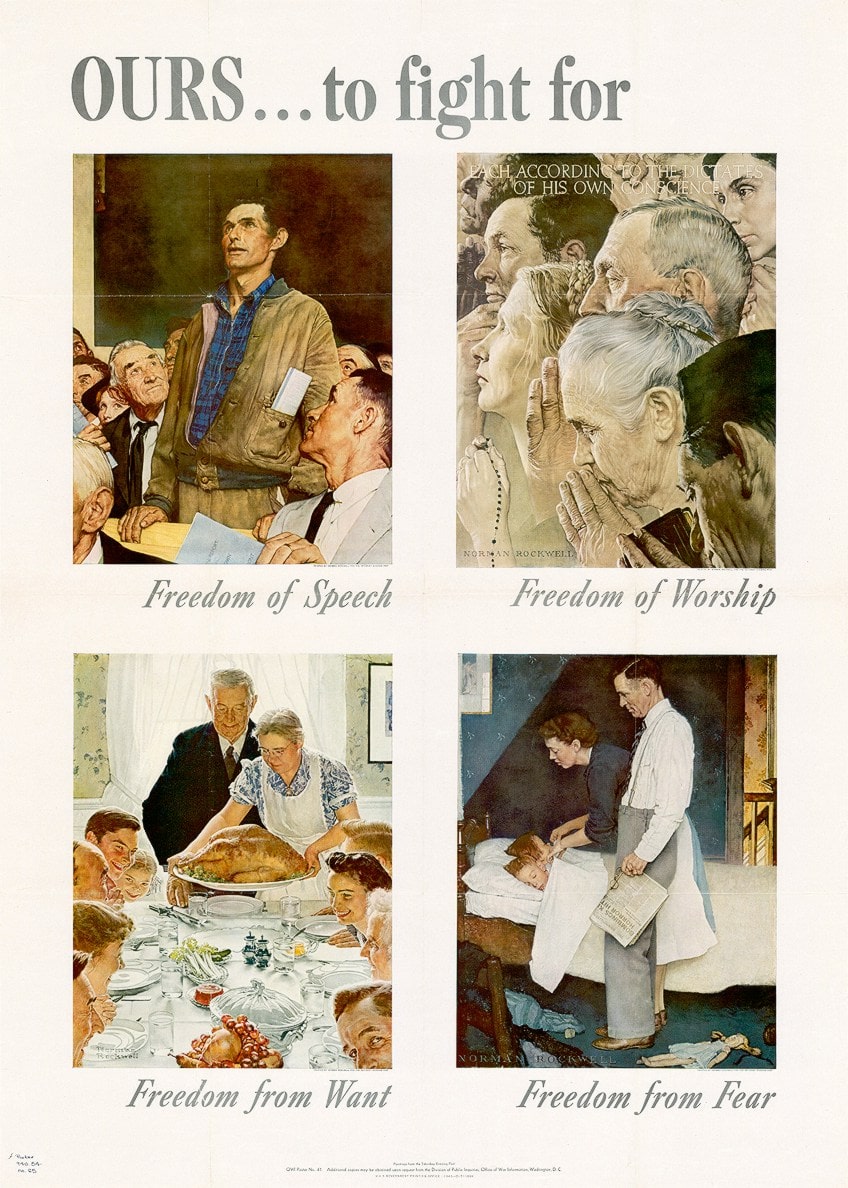 "Ours to Fight For — Freedom of Speech, Freedom of Worship, Freedom from Want, Freedom from Fear". Poster illustrated by four paintings by Norman Rockwell for The Saturday Evening Post magazine's "Four Freedoms" series, 1943; Office of War Information, Public domain, via Wikimedia Commons
Jackson Pollock (1912 – 1956)
| | |
| --- | --- |
| Place of Birth | Cody, Wyoming |
| Date of Birth | 28 January 1912 |
| Associated Style | Abstract Expressionism |
| Date of Death | 11 August 1956 |
Jackson Pollock was born in 1912 in Cody, Wyoming. Pollock began studying art while still in junior high. Pollock moved to New York at the age of 18 to attend the Art Students League under Thomas Hart Benton, who would inspire and support him for the following decade. During the Great Depression, Pollock worked for the WPA, a government organization that supplied him with a source of money and allowed him to dedicate his time to creative growth.
Some of Pollock's WPA works have since been lost, but those that have survived show the steady formation of a profoundly personal visual language that incorporated references to Native American symbols, mythology, ceremonies, and his own visions.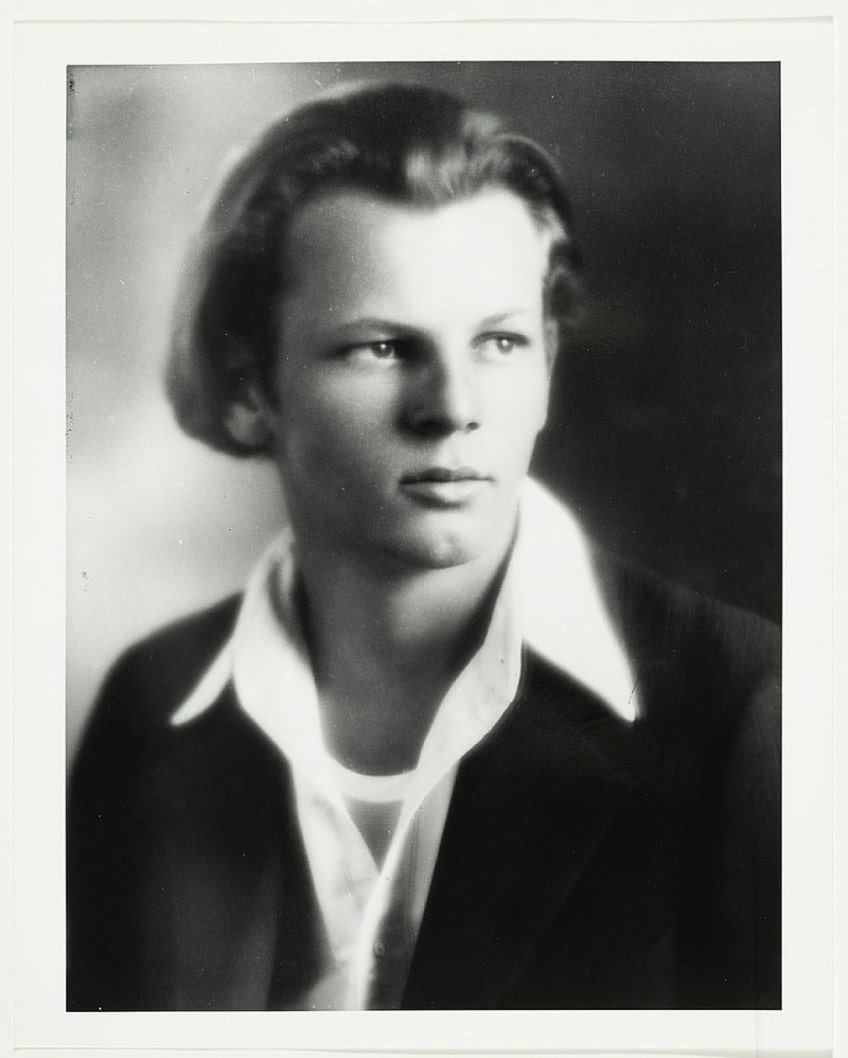 Portrait of Jackson Pollock, 1928; Smithsonian American Art Museum, Public domain, via Wikimedia Commons
Pollock was not a traditional American Fine artist but pioneered a new method of producing. Pollock spilled, splashed, and poured paints and enamel over the unprimed canvas that was lying flat on the hardwood floor of his Long Island workshop, utilizing his full body in the endeavor. This technique reimagined the methods and equipment of conventional easel art and became known as action painting, a technique that required the artist's complete bodily engagement.
Pollock's all-over painting approach eschewed any centers of focus, resulting in complex interwoven patterns that mirrored Pollock's motions and moved around the canvas.
A few of this artist's most notable artworks include
Mural (1943)
Blue Poles (1952)
Autumn Rhythm (1950)
Roy Lichtenstein (1923 – 1997)
| | |
| --- | --- |
| Place of Birth | Manhattan, New York |
| Date of Birth | 27 October 1923 |
| Associated Style | Pop Art |
| Date of Death | 29 September 1997 |
Roy Lichtenstein, a crucial character in the Pop art movement, founded his tremendously innovative vocation on emulation, beginning with images borrowed from graphic novels and adverts in the early 1960s and ultimately embracing those of ordinary items, art forms, and fine arts itself. Richard Hamilton wrote about Lichtenstein's normalizing method of the topics he selected for his paintings: "reproducing a Lichtenstein is like throwing a fish back into the water." He utilized punctured templates to mimic and frequently exaggerate the dot patterning seen in printed images.
This pattern, known as Ben-Day dots, became a trademark aspect of his work, incorporating the appearance of mechanical replication into the works of American fine art.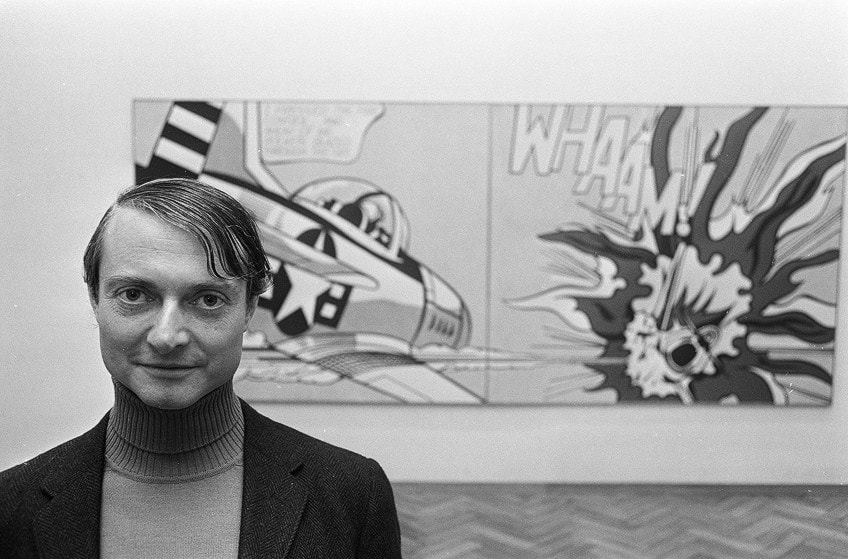 Roy Lichtenstein in front of his painting Whaam! (1963) at an exhibition in Stedelijk Museum, 1967; Eric Koch, CC0, via Wikimedia Commons
His color palette was generally reduced to saturated primaries, extraneous details were removed, contrasts were increased, and he "emphasized the visual clichés and visual rules of commercially produced images." He mimicked the expressive mark-making typical of Abstract Expressionism with strong, graphic reproductions of brushstrokes in prints. However, where Jackson Pollock was perceived imbuing his strands of color with virtuosic intensity and drive, Lichtenstein transformed that technique into something hackneyed, commercialized, and repeatable.
"Visible brushwork in an artwork creates a feeling of great motion; nevertheless, in my hands, the brushstroke becomes a portrayal of a grandiose motion," he explained afterward.
A few of this artist's most notable artworks include:
Whaam! (1963)
Drowning Girl (1963)
Look Mickey (1961)
Andy Warhol (1928 – 1987)
| | |
| --- | --- |
| Place of Birth | Pittsburgh, Pennsylvania |
| Date of Birth | 6 August 1928 |
| Associated Style | Pop Art, Modern Art |
| Date of Death | 22 February 1987 |
Andy Warhol, the American pop artist icon, began his career in New York as a corporate and graphic artist. In his short and eventful lifetime, he caught the spirit of American society as an artist and filmmaker, poet and writer, and devoted Catholic. He was a major personality in the arts, but he also defied tradition by openly embracing his homosexuality.
Warhol was a pioneer of pop art, an art style that attempted to capitalize on imagery and patterns from popular culture, particularly commercials and mainstream media.
Warhol intended to concentrate on comic books, but he believed that this field had been taken over by another renowned American pop artist, Roy Lichtenstein. Alternatively, Warhol focused on commercial goods like soup cans, cartons, Brillo soap pads, peaches by Del Monte, and ketchup.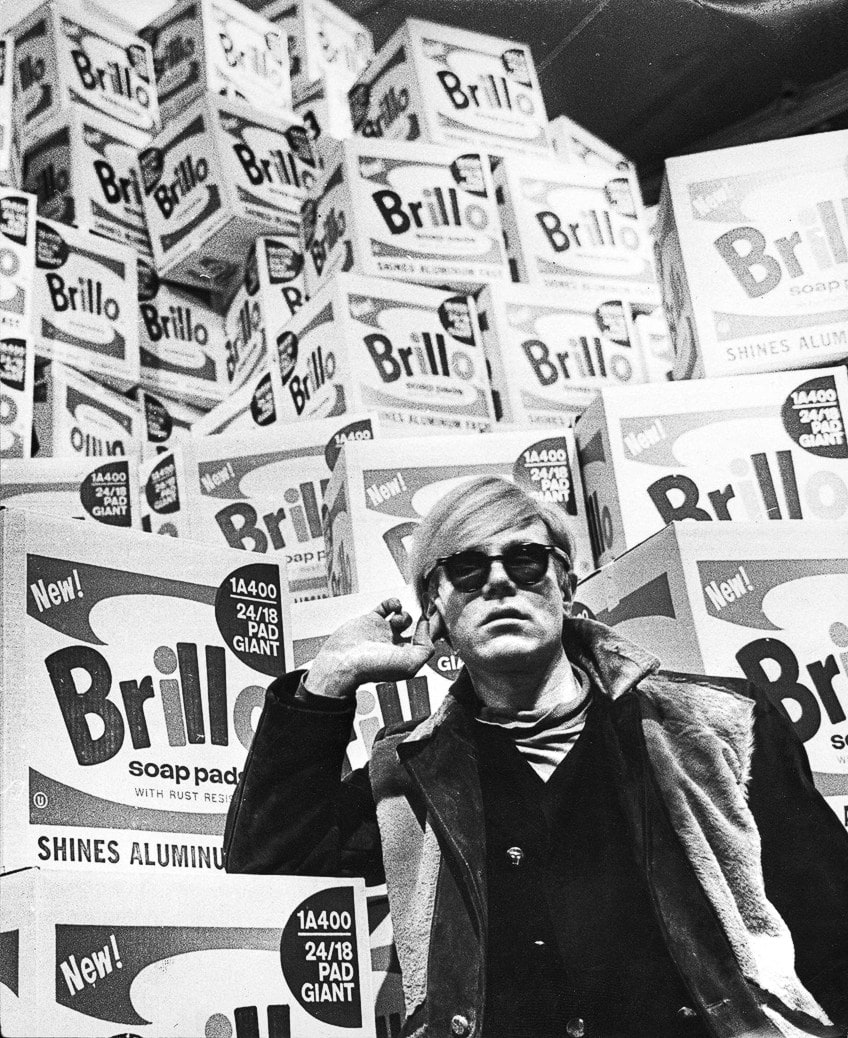 Photograph of the American artist Andy Warhol in Moderna Museet, Stockholm, before the opening of his retrospective exhibition with Brillo boxes in the background, 1968; Lasse Olsson / Pressens bild, Public domain, via Wikimedia Commons
Soup cans are often exhibited at a grocery shop, lined up like soldiers in an infinite series. Food, on the other hand, was not always attractive in Warhol's works. Warhol was a fan of series, such as cows, florals, and dollar notes.
Shortly after the passing of Marilyn Monroe, he produced a series of the starlet in stunningly vivid psychedelic hues that accentuated her face. Warhol was known as the "Painter of Modern Consumption." However, his preoccupation with shows reveals dread of loss. According to legend, he called all of his male cats Sam, a pattern that may be seen as an urgent need to safeguard the present against dying.
In Warhol's instance, the future has confirmed his place as one of America's most important personalities, whose creative techniques and humorous witticisms have become a component of the American aesthetic and cultural environment.
A few of this artist's most notable artworks include:
Campbell's Soup Cans (1962)
Shot Marylins (1964)
Marylin Diptych (1962)
Jean-Michel Basquiat (1960 – 1988)
| | |
| --- | --- |
| Place of Birth | Brooklyn, New York |
| Date of Birth | 22 December 1960 |
| Associated Style | Neo-Expressionism |
| Date of Death | 12 August 1988 |
Jean-Michel Basquiat showed an early aptitude for painting, learning to sketch and paint with his mother's support and frequently using resources (such as papers) sent home from his father's profession as an auditor. Basquiat and his mother went to numerous museum shows in New York regularly. As Basquiat put it, "I never attended art class. I flunked the art classes I did take in high school. I just looked at a bunch of different stuff. And it was by gazing at art that I learned about it ".
Basquiat's art was significantly influenced by the 1970s New York City graffiti movement. Basquiat was often destitute, sleeping in friends' residences or on wooden benches, and supported himself by panhandling, distributing narcotics, and selling T-shirts and postcards.
He began to acquire more possibilities to display his art as a result of his absorption in the downtown scene, and he became a prominent player in the emerging downtown creative scene.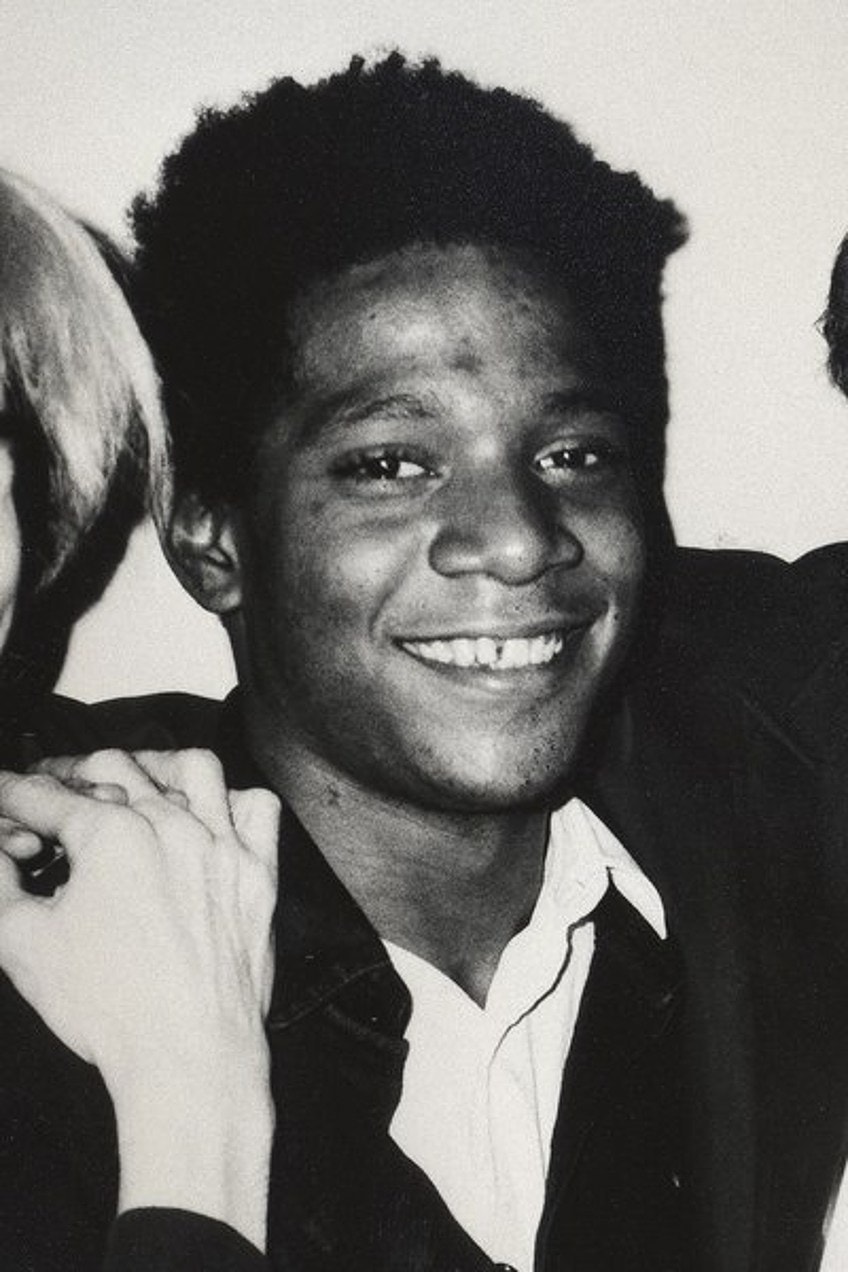 A cropped photograph of Jean-Michel Basquiat in 1984; Galerie Bruno Bischofberger, CC BY-SA 4.0, via Wikimedia Commons
He also established and played with his band Gray around this time. Nevertheless, Basquiat was skeptical of the paucity of people of color in the downtown culture and started devoting time uptown with street artists in Harlem and the Bronx in the late 1970s. Basquiat's intensity in method, with slices of paint and rapid slashes of lines, was meant to disclose what he viewed as his characters' inner self, secret sentiments, and innermost aspirations. Rather than focusing on the idealized Black man's body, these works emphasized the intelligence and passion of their protagonists.
A few of this artist's most notable artworks include:
Warrior (1982)
Head (1981)
Untitled (1982)
And that concludes our list of great American painters. Thanks to these artists, we today still have many American art classics to appreciate and enjoy. Whether an early oil painter of America or a modern graffiti artist, the famous American artists all brought something fresh which helped them stand out from their peers.
You can also have a look in our google web story.
Frequently Asked Questions
What Style Were the American Art Classics Produced In?
Famous American painters worked in a large variety of styles. American fine artists embraced many movements throughout the years. Depending on the era, the style could have been Post-Impressionist, Pop art, or even Modern art.
Who Is the Most Famous Oil Painter of American Art?
It is said that Jackson Pollock is the most well-known oil painter from America. His style was very unique. He used the motion of his entire body to create his artwork. Other famous American artists include Edward Hopper, Norman Rockwell, Andy Warhol, Roy Lichtenstein, Georgia O'Keeffe, and Mary Cassatt.
Isabella studied at the University of Cape Town in South Africa and graduated with a Bachelor of Arts majoring in English Literature & Language and Psychology. Throughout her undergraduate years, she took Art History as an additional subject and absolutely loved it. Building on from her art history knowledge that began in high school, art has always been a particular area of fascination for her. From learning about artworks previously unknown to her, or sharpening her existing understanding of specific works, the ability to continue learning within this interesting sphere excites her greatly.
Her focal points of interest in art history encompass profiling specific artists and art movements, as it is these areas where she is able to really dig deep into the rich narrative of the art world. Additionally, she particularly enjoys exploring the different artistic styles of the 20th century, as well as the important impact that female artists have had on the development of art history.
Learn more about Isabella Meyer and the Art in Context Team.
Cite this Article