John Singer Sargent's paintings have always been marked by exceptional technical skill, notably in his aptitude to sketch with a brush, which has earned him praise as well as criticisms for a perceived superficiality. John Singer Sargent's artworks reflected the majestic style of portraiture, while his casual studies and landscape works reflected Impressionism's influence. John Singer Sargent's watercolors depict travel across the world, from Venice to Corfu, Tyrol, the Middle East, Maine, Montana, and Florida.
The Biography of John Singer Sargent
| | |
| --- | --- |
| Nationality | American |
| Date of Birth | 12 January 1856 |
| Date of Death | 14 April 1925 |
| Place of Birth | Florence, Grand Duchy of Tuscany |
Naturalism, vibrant mark-making, and a feeling of spontaneity define John Singer Sargent's drawings and paintings. John Singer Sargent's portraits were highly sought after, but he did n really enjoy creating them – especially for the upper-class elites. At the beginning of the century, John Singer Sargent was among the most sought-after artists.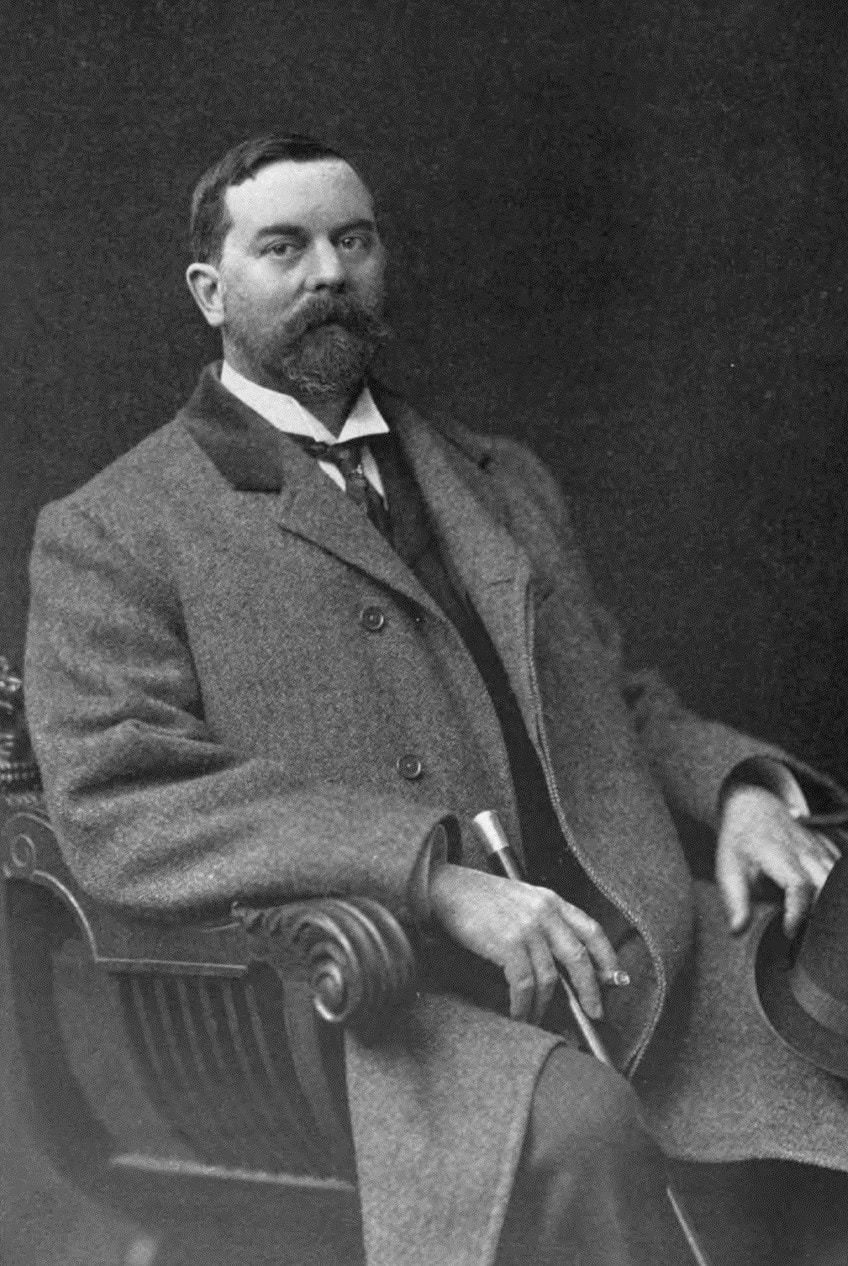 John Singer Sargent, 1903; J.E. Purdy, Public domain, via Wikimedia Commons
Childhood
John Singer Sargent's relatives were one of the earliest colonial immigrants to Massachusetts. Sargent's father quit the family shipping firm to become an optometrist in Philadelphia. In 1850, he wedded the daughter of a famous Philadelphian merchant, Newbold singer. Their first baby was born in 1851 and died the same year. The next year, their first child was born and died in the same year. The couple departed the United States for a lengthy stretch of time, heartbroken. From their base in Paris, they traveled across Western Europe, including Germany, Italy, and Switzerland.
He did not come back to his birthplace until he was 20 years old, although had become an American.
Because of his family's itinerant lifestyle, he had minimal official schooling and was instructed in linguistics, history, mathematics, and music by his father. He learned to speak German, Italian, and French. Fitzwilliam hoped his child would enter the American Navy one day. Meanwhile, Sargent's mother, an enthusiastic painter herself, fostered his early passion for painting and sketching. "If we just arrange to give him extremely good instruction," she allegedly stated, "he'd certainly be a really wonderful artist." His parents organized watercolor instruction with Carl Welsch, a German landscape artist residing in Florence.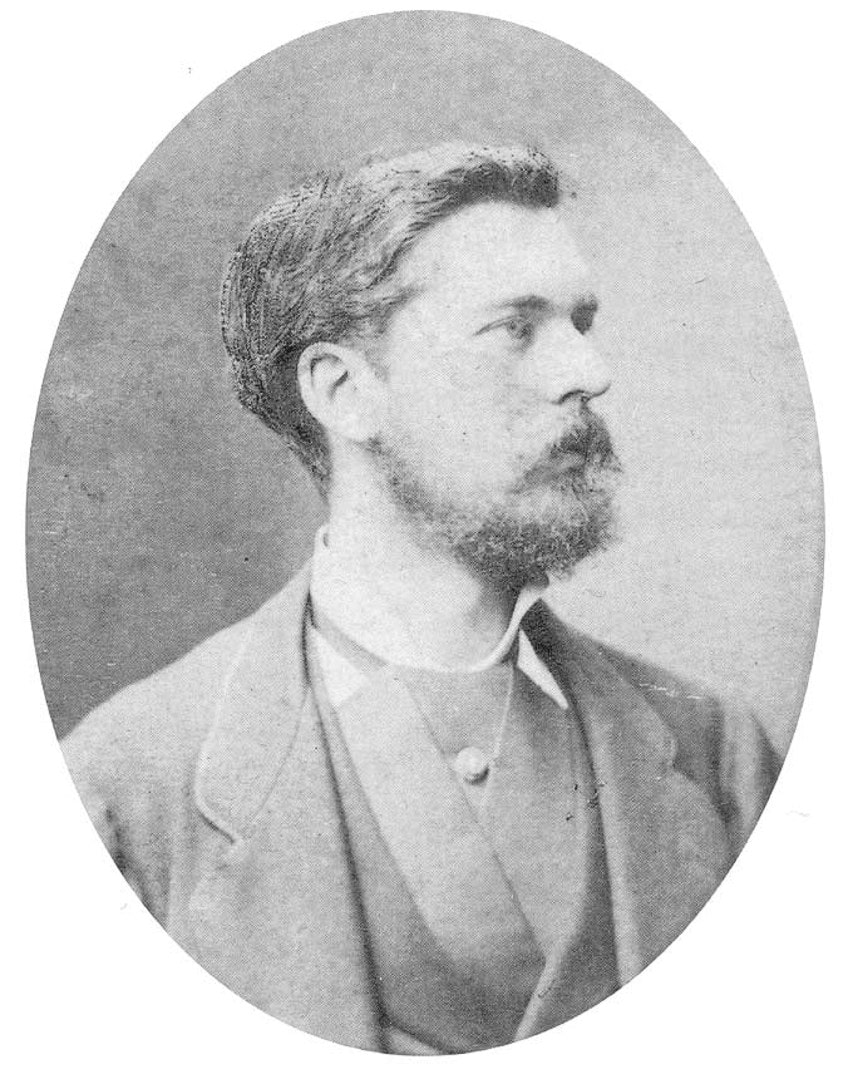 Portrait of British painter John Singer Sargent, c. 1880, Paris; Paul Marcellin Berthier, Public domain, via Wikimedia Commons
Early Training
His parents believed that Paris was the greatest place for their son's potential to blossom. Sargent started to study portraiture under Charles Auguste Émile Carolus-Duran in 1874. Over the next two years, this Frenchman proves to have a significant effect on the growth of his style and attitude toward art, urging his pupils not to rely on preliminary drawings when producing a portrait, but to start with the subject's face straight away.
Sargent passed the tough entry test for France's preeminent art school, the École des Beaux-Arts, in 1874, and received rapid notice from fellow painters and influential players in the contemporaneous art world.
A view of the façade and gates of the École des Beaux-Arts, Paris, 1855; Brown University Library, Public domain, via Wikimedia Commons
J. Alden Weir saw Sargent around this time and characterized him as "amongst the most creative people I have ever known." Sargent met Claude Monet, James McNeill Whistler, Auguste Rodin, and Edgar Degas while studying at the École des Beaux-Arts. Through him, he met Claude Monet, James McNeill Whistler, Auguste Rodin, and Edgar Degas.
Sargent visited America for the first time in 1876, accompanying his family to the Philadelphia Centennial festivities and Niagara Falls. In 1877, he began exhibiting his work in the Paris Salons, where he quickly gained popular acclaim for his use of extremely theatrical clothing and postures that gave his figures a distinct, dramatic appearance.
In order to expand his study of the Old Masters, he embarked on an extended vacation to Holland, Venice, and Spain in 1879.
Mature Period
Sargent returned to Paris with many portrait commissions. His full-length portraits of high-society women received a lot of attention, and he quickly established a reputation for accurately representing the characteristics of his customers. On a more personal level, he had a reputation among his peers as someone who valued the finer things in life. He had a strong appetite, a stocky frame, was a heavy smoker, and was an urbane, if shy, speaker. His Portrait of Madame X generated a stir in 1884, compelling him to go to London.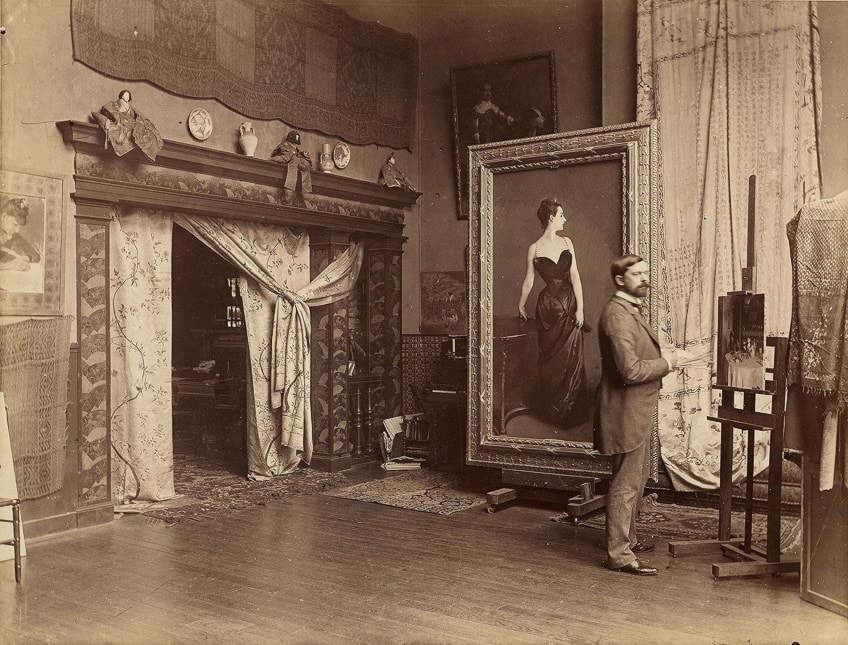 John Singer Sargent in his studio, 41 Boulevard Berthier, XVIIth arrondissement, Paris, France, with the Portrait of Madame X (Madame Pierre Gautreau), photograph taken in 1884; photograph attributed to A. Giraudon, Public domain, via Wikimedia Commons

Many portrait commissions awaited him on his return to London in 1886 after he had sent six paintings to the Royal Academy in London for exhibition. The frigid British critics who first condemned his work warmed around to him, and he spent the remainder of his life in London. Sargent started experimenting with Plein air painting in 1885 and 1886, driven in part by his friendship with Impressionist Claude Monet. Several of these paintings were done in the company of Monet during visits to Giverny. Sargent also painted in the open air at the English village of Broadway, which is located in the Cotswolds.
As a consequence of the excellent response to the work, Sargent obtained more British and American clients. By the 1890s, he was well-known enough to charge $5,000 for a portrait and was often requested to go to the United States for commissions.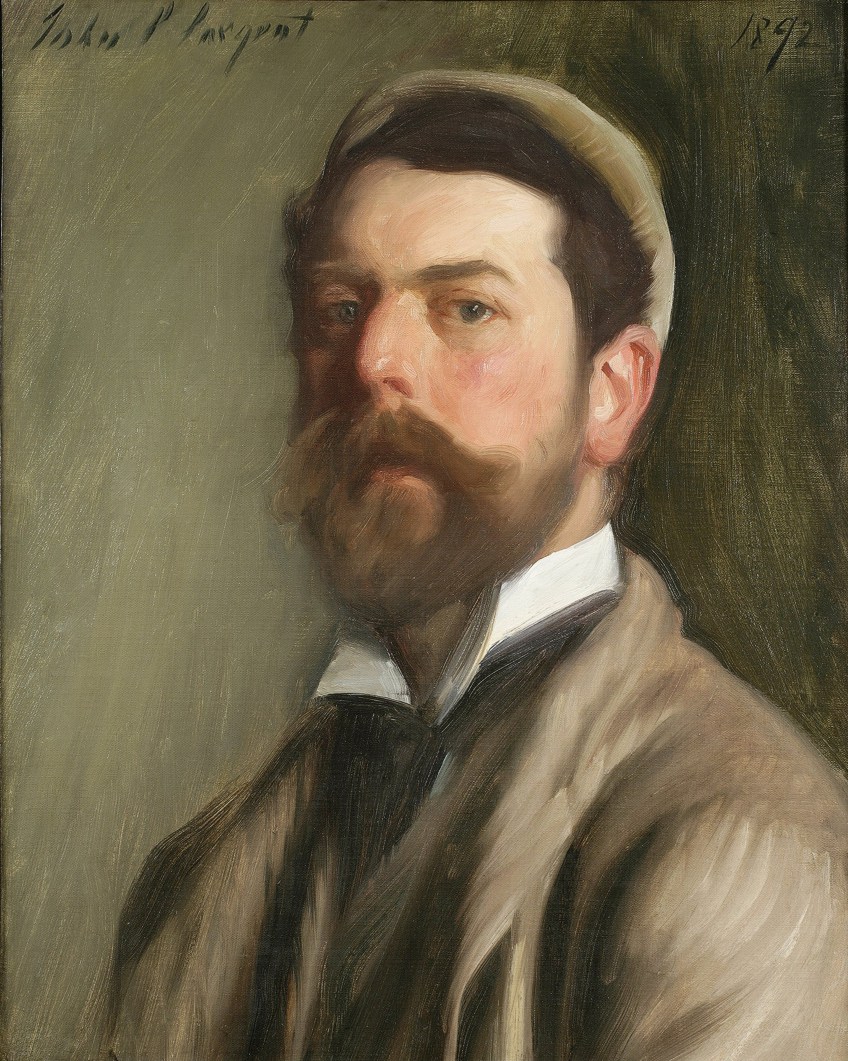 Self-portrait (1892) by John Singer Sargent; John Singer Sargent, Public domain, via Wikimedia Commons
During the period between the 1880s and 1890s, Sargent formed a close acquaintance with Henry James, another American exile in London. The two men had a lot in common: they were both extremely private about their sexual relationships (perhaps due to a lack of interest in women), incredibly diligent and prolific, and keenly engaged in the intricate workings of high society. Sargent was most likely to have drawn the individuals about whom James spoke. Novelist Edith Wharton requested Sargent to portray James in 1913.
Though James was delighted with the finished result, both Wharton and Sargent were not.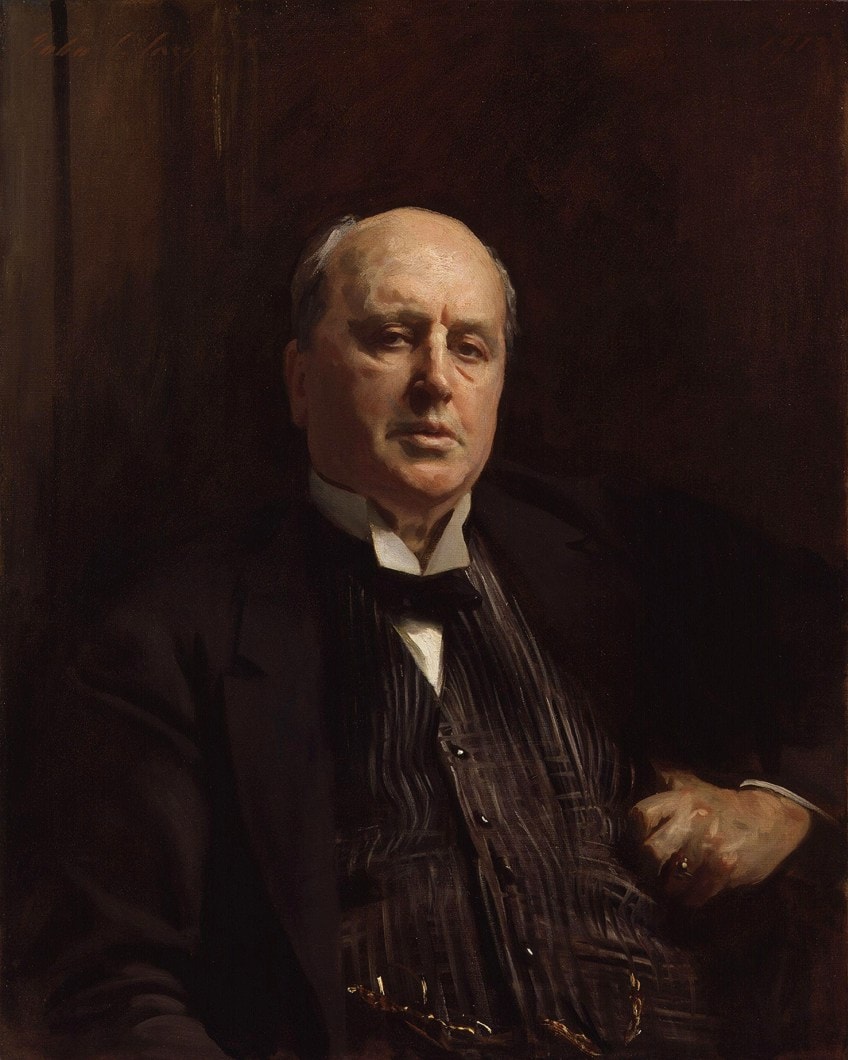 Henry James (before 1925) by John Singer Sargent; National Portrait Gallery, Public domain, via Wikimedia Commons
Late Period
Sargent was at the zenith of his reputation around the beginning of the century, but he was tired of portraiture and the constraints of commission paintings. In 1907, he shut his workshop and focused on landscapes, watercolors, and architectural studies. With the rise of Futurism, Fauvism, and Cubism in Europe and America, many reviewers dismissed Sargent's art as antiquated and out of date.
Nonetheless, between 1916 and 1918, he continued to push his artistic boundaries, creating landscapes around North America as well as notable portraits of Woodrow Wilson and John D. Rockefeller.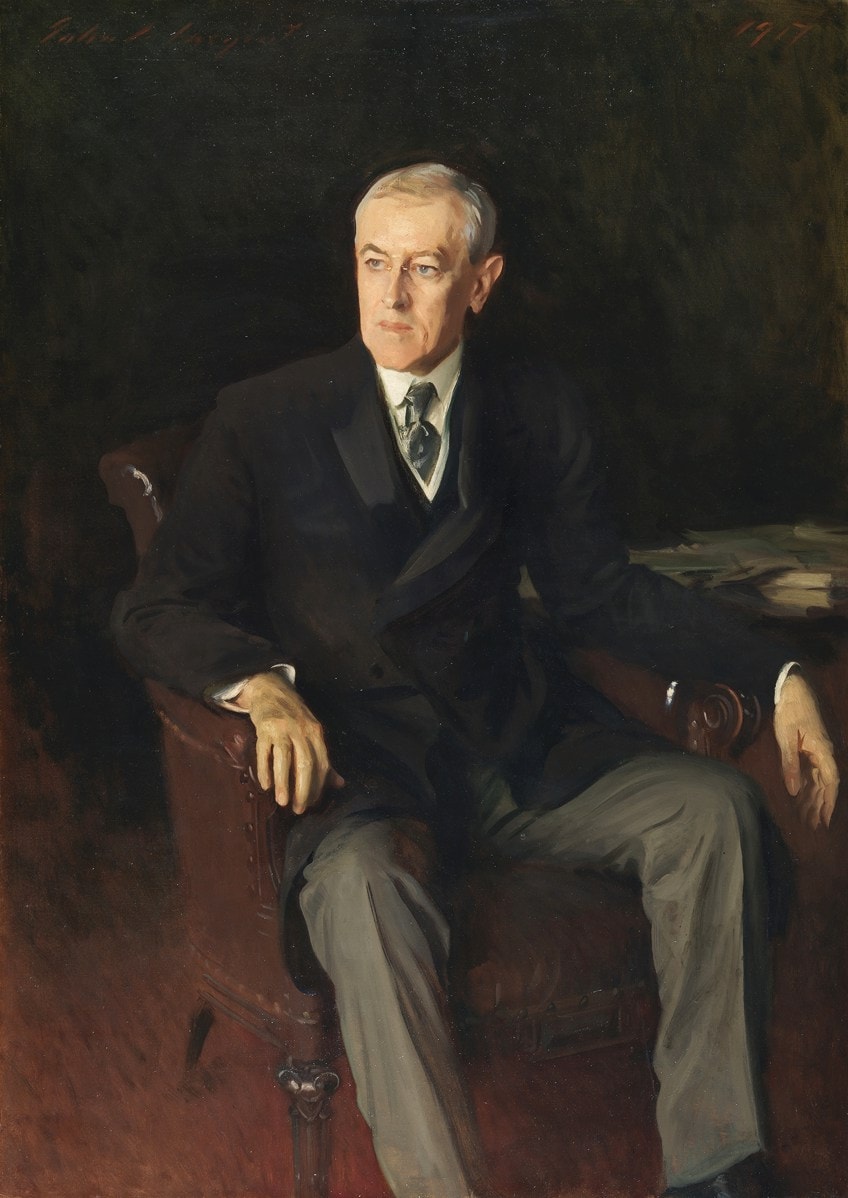 Portrait of Woodrow Wilson (1856-1924), American President (1917) by John Singer Sargent; National Gallery of Ireland, Public domain, via Wikimedia Commons
When he came back in 1918, he was hired as a wartime painter by the British Ministry of Information, and he proceeded to reproduce scenes from the First World War. With artists Edmund Greacen and Walter Leighton Clark, he co-founded a gallery and academy in New York in 1922. He traveled to England in 1925 and passed away in his sleep at the age of 69 from a heart condition.
Legacy
Sargent, largely recognized as the best portrait painter of his day, if not all of American art history, created around 2,000 watercolors, 900 oil paintings, and an incredible number of works on paper. Although his work went out of favor with critics during the peak of modernism, interest in his contributions had steadily increased during the 1950s and 1960s. Sargent's influence on the art world cannot be overstated, as seen by his friend Emil Fuchs' aristocratic portraits, the works of contemporaneous British portrait painter Isabella Watling, and the earliest portraits of American modernist artist Archibald Motley.
Andy Warhol, whose paintings, if not a direct tribute to Sargent's technique/mirror the beauty of Sargent's best-known portraits, stated that Sargent "made people seem wonderful."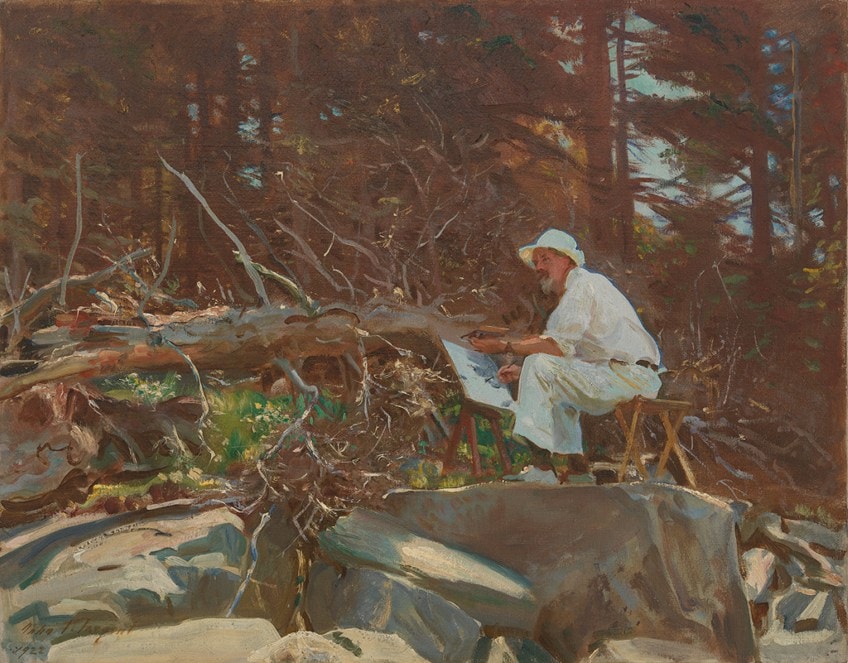 The Artist Sketching (1922) by John Singer Sargent; John Singer Sargent, Public domain, via Wikimedia Commons
Accomplishments
Sargent's unique technique of bringing out the finest in his subjects while also conveying their characters, interests, inclinations, and distinctive characteristics set him apart from other portrait artists. After seeing the finished product, several clients complained or simply refused to accept the project. For instance, his iconic photograph of Madame X, which accentuated the sitter's scandalous behavior, was widely panned by both the sitter and the big crowd at the annual Salon.
Sargent combined the best of formal compositional development gained from Old Masters like Diego Velázquez and Anthony Van Dyck with a pseudo-Impressionist style taught by an anti-academic master.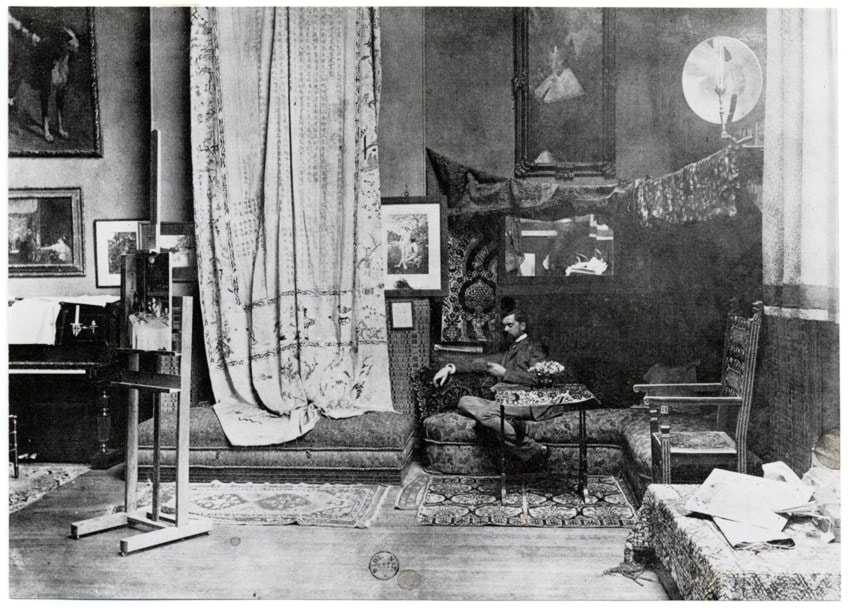 A photo of Sargent in his studio in Paris, 1885; Smithsonian Institution, Public domain, via Wikimedia Commons
As a consequence, a livelier style of portraiture emerged, boosted by its roots in the finest of the past. John Singer Sargent's paintings of sensual nude models, which he carefully tucked away so as not to compromise his rich reputation as a social painter, reflect a degree of inquiry not hitherto seen in his works.
There is much conjecture about the artist's sexual preferences, as evidenced by his output and his friendship with Henry James.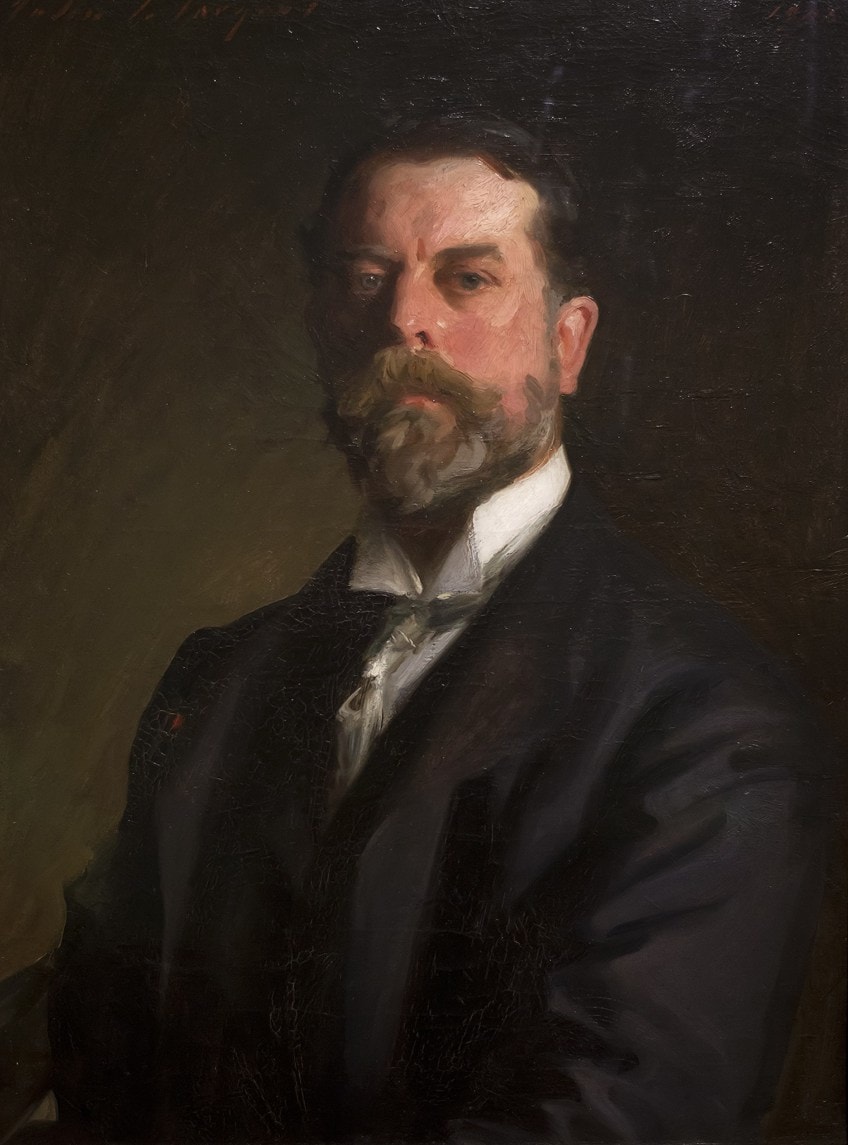 Self-portrait (1906) by John Singer Sargent; John Singer Sargent, Public domain, via Wikimedia Commons
John Singer Sargent's Artworks
John Singer Sargent's watercolors feature sweeping, slashing brushstrokes and dazzling colors that convey the unintentional and the capture of a certain moment. He was a genius at using props and artistic effects to convey the class and occasionally the employment of his subjects, and he was shockingly unrepeatable in his portraiture, responding to each sitter differently.
John Singer Sargent's portraits catch his subjects in an unexpected, revealing moment.
The Daughters of Edward Darley Boit (1882)
| | |
| --- | --- |
| Date of Completion | 1882 |
| Medium | Oil on canvas |
| Dimensions | 222 cm x 222 cm |
| Current Location | Museum of Fine Arts, Boston |
This early painting demonstrates Sargent's interest in the Old Masters. In Las Meninas (1656), he used Diego Velázquez's unconventional square format, as well as the Spanish creator's approach of depicting people in an unstaged, natural manner in order to express something about their characteristics. The composition differs from a standard group portrait, in which each subject is given equal weight.
The females are dispersed haphazardly about the gloomy, impeccably arranged room, overshadowed by furniture pieces such as two large white and blue porcelain vases.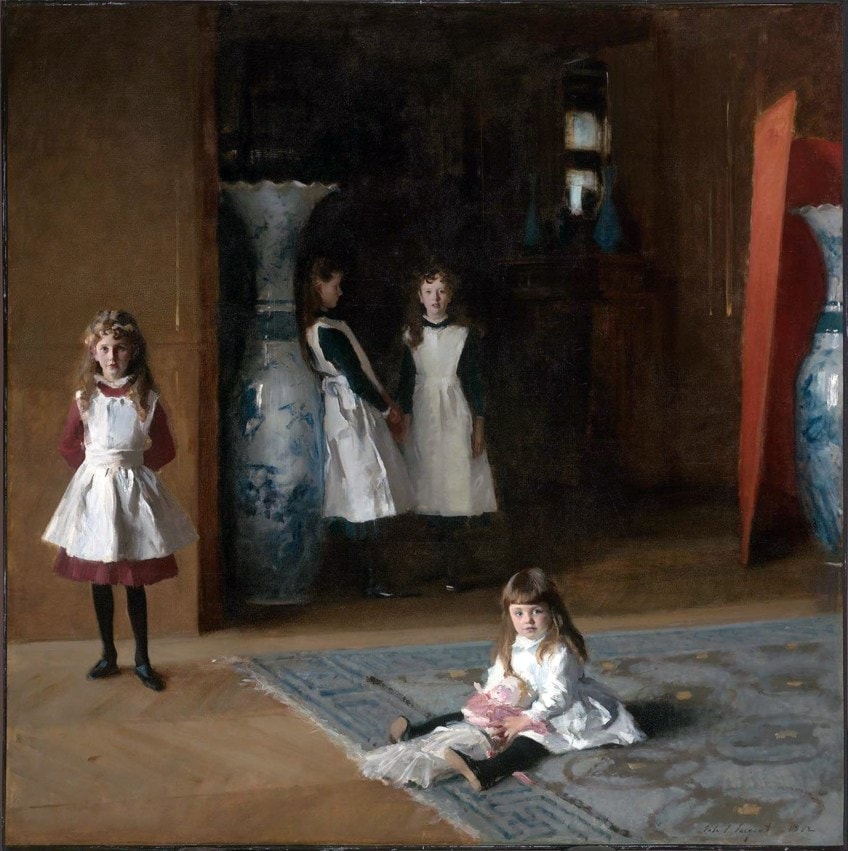 The Daughters of Edward Darley Boit (1882) by John Singer Sargent; John Singer Sargent, Public domain, via Wikimedia Commons
Three of the four girls look directly at the spectator, while the fourth, dressed in an identical black and white attire, looks at her sister. The younger daughter's relaxed stance contrasts strikingly with the elder daughter's prim, almost rigid, posture behind her. The two oldest girls are partially veiled in shadow as they stand in the entryway to another room. Several reviewers have remarked on how the picture goes beyond its duty as a group portrait to indicate the metaphorical loss of innocence that comes with age.
Sargent's picture vividly demonstrates how people preferred to hide their actual selves behind "walls" of etiquette and politeness, reflecting the tight, oppressive circumstances in which young, upper-class ladies were nurtured during the period.
Portrait of Madame X (1884)
| | |
| --- | --- |
| Date of Completion | 1884 |
| Medium | Oil on canvas |
| Dimensions | 234 cm x 109 cm |
| Current Location | The Metropolitan Museum of Art, New York |
Sargent's most famous painting depicts a young aristocrat, an American ex-pat known as Madame X, who was wedded to a French banker named Pierre Gautreau. Gautreau did not commission the work. Sargent, in fact, was the one who initiated the project, intrigued by the opportunity to picture this infamous Parisian societal personality known not only for her brilliant beauty but also, according to stories, for her love affairs.
The concept of creating a portrait that portrays the personality of the sitter was completely novel. As a consequence, Sargent's painting is considered one of the best modern portraits.
Sargent emphasizes her commanding presence by revealing her porcelain skin with a provocative décolleté and placing her against a background of soft, subdued brown tones. The exposing, corseted, black satin gown with thin, jeweled straps in which she is posed accentuates her magnificent form and, when paired with the intricate styling of her auburn hair and powder complexion, sets a new benchmark for modern aristocratic beauty. Her infamous notoriety is hinted at by her exceptionally confident posture.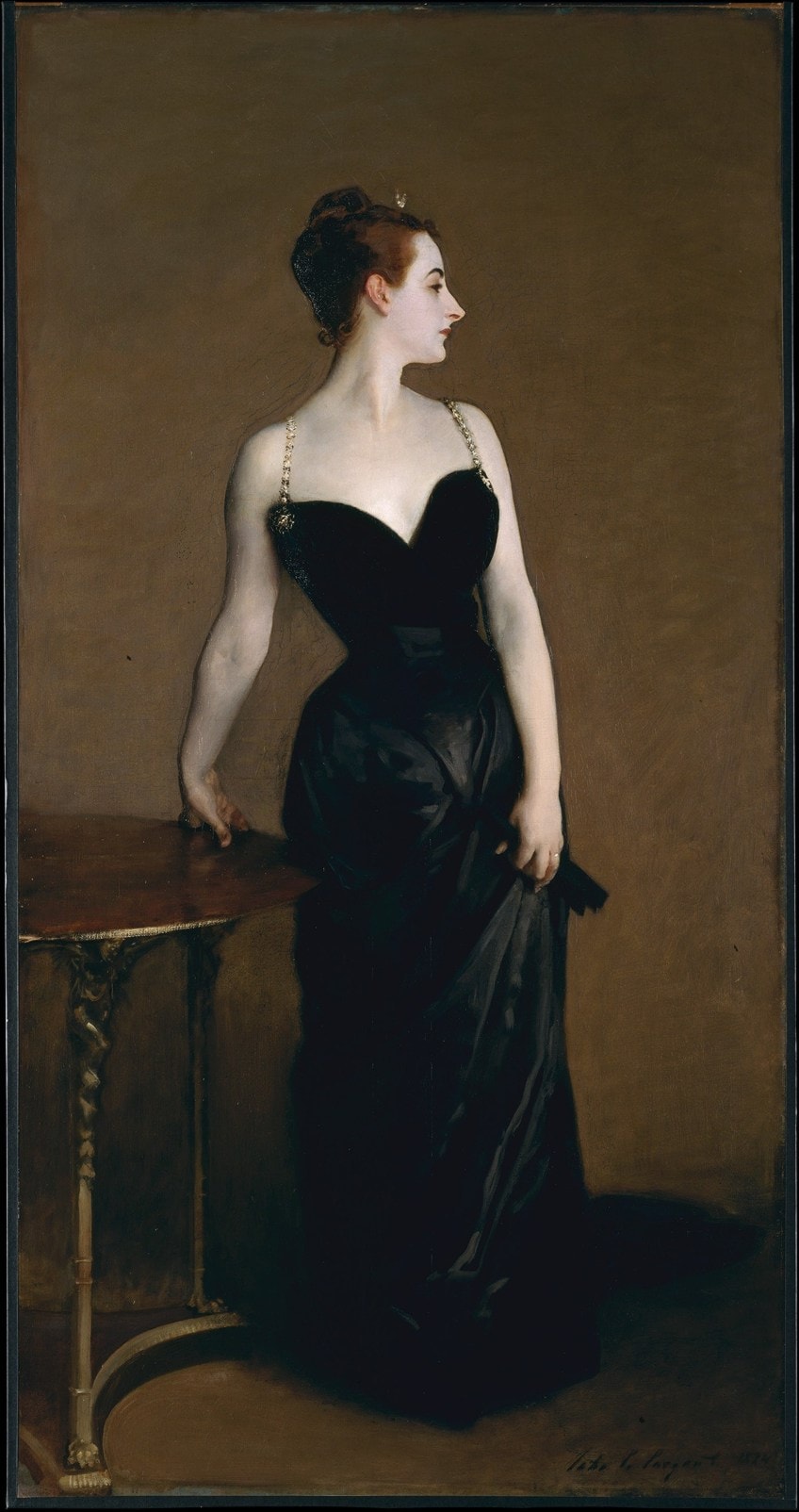 Portrait of Madame X (1884) by John Singer Sargent; Metropolitan Museum of Art, Public domain, via Wikimedia Commons
Both Sargent and Gautreau struggled to complete this image. In fact, over the period of many months, the artist sketched and painted nearly thirty studies of Gautreau, eventually utilizing an altogether different position than that initially planned. Gautreau apparently became bored with their meetings and would regularly go to other social engagements, prompting Sargent to bemoan "Madame Gautreau's unpaintable beauty and hopeless lethargy."
Despite the fact that both the artist and the sitter had great hopes for the picture, it was not well received when it was shown at the Salon de Paris in 1884. This setback ultimately ended Sargent's dreams of becoming a social artist in France, and it was partly responsible for his relocation to London.
Despite the controversy surrounding this piece, the artist saw it as a triumph, saying later in 1916, "I guess that is the finest thing I have done." Of course, it is his most famous work right now.
Claude Monet Painting by the Edge of a Wood (1885)
| | |
| --- | --- |
| Date of Completion | 1885 |
| Medium | Oil on canvas |
| Dimensions | 54 cm x 64 cm |
| Current Location | Collection of the Tate, United Kingdom |
Though many people associate John Singer Sargent's work with his later years, this painting demonstrates how he dabbled with a variety of mediums and methods while establishing himself as the preeminent portrait artist of the social elite. While attending the École des Beaux-Arts in Paris, Sargent met Monet, and their friendship deepened over time. Throughout the 1880s, Sargent paid frequent visits to Monet's residence at Giverny, near Paris.
Sargent used Monet's en plein air approach in this photograph of a friend painting nature straight outside.
Claude Monet Painting by the Edge of a Wood (1885) by John Singer Sargent; Claude Monet, Public domain, via Wikimedia Commons
Even though the painting Monet is creating on the easel displays a sky setting, Sargent's work concentrates on the two individuals as well as the movement of light on the grass and trees. Sargent's use of the impressionist technique here contrasts sharply with his more realistic approach in his portrait work.
Having said that, the examination of Monet and Alice's connection is precisely the type of subject for which Sargent is best known.
Mrs. Carl Meyer and Her Children (1896)
| | |
| --- | --- |
| Date of Completion | 1896 |
| Medium | Oil on canvas |
| Dimensions | 210 cm x 134 cm |
| Current Location | Collection of the Tate, United Kingdom |
This picture is an excellent instance of the commissioned portraiture of the upper classes that brought Sargent prominence. Adele Meyer, her son Frank, and her daughter Elsie are seen. Baronet Meyer was a British financier and diamond miner who had ties to the Rothschilds and the De Beers organization. Wealthy plutocrats like Meyer commissioned portraits by great artists like Sargent to portray their money and prestige within elite social circles, making use of the artist's perfect ability to depict themselves in the most favorable, glamorous light possible.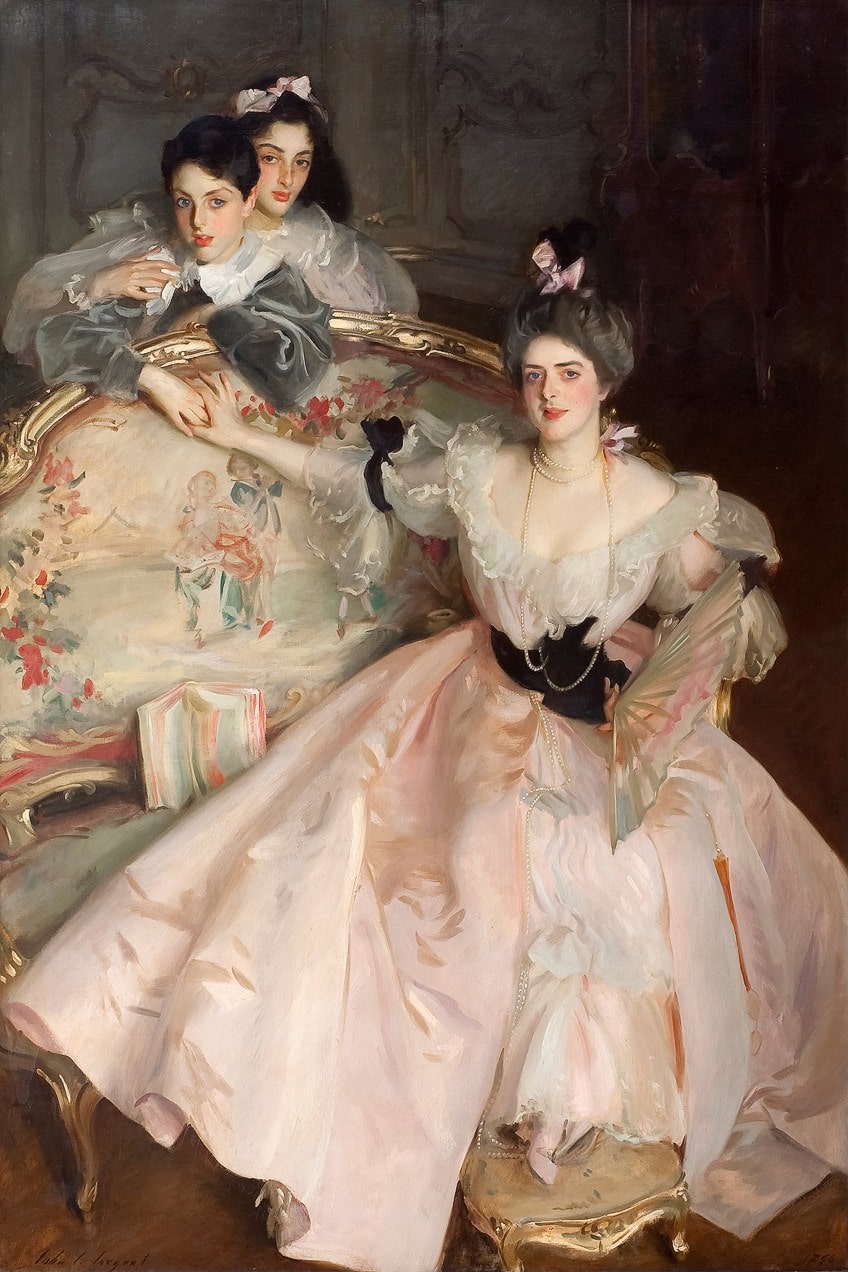 Mrs. Carl Meyer and Her Children (1896) by John Singer Sargent; John Singer Sargent, Public domain, via Wikimedia Commons
The clothing of the family and the furniture seen in the photograph reflect the height of grandeur in 18th-century Britain. Mrs. Meyer's robe and the beautifully patterned gilded couch appear like they're straight out of Louis XIV's Palace of Versailles. Meyer was deliberately surrounded by objects of opulent luxury by Sargent in order to accentuate her status as a rich member of London's upper crust.
As previously noted, Sargent was motivated by the most prominent Old Master portrait painters, such as Van Dyck, in his use of beautiful features.
Mrs. Meyer is front and center, with her children mainly hidden behind the sofa and viewable only from the shoulders up, hinting that the three are related. Mrs. Meyer apparently felt it was more necessary to showcase her personal splendor as well as the glitter of her surroundings than to place so much attention on her children.
Bedouins (1906)
| | |
| --- | --- |
| Date of Completion | 1885 |
| Medium | Oil on canvas |
| Dimensions | 54 cm x 64 cm |
| Current Location | Collection of the Tate, United Kingdom |
Sargent went around what was then known as the Ottoman Levant from September 1905 to January 1906, seeing Jerusalem, Syria, and Beirut. Prior to his trips, he had a long-standing interest in the region and had studied a variety of books about its culture and history.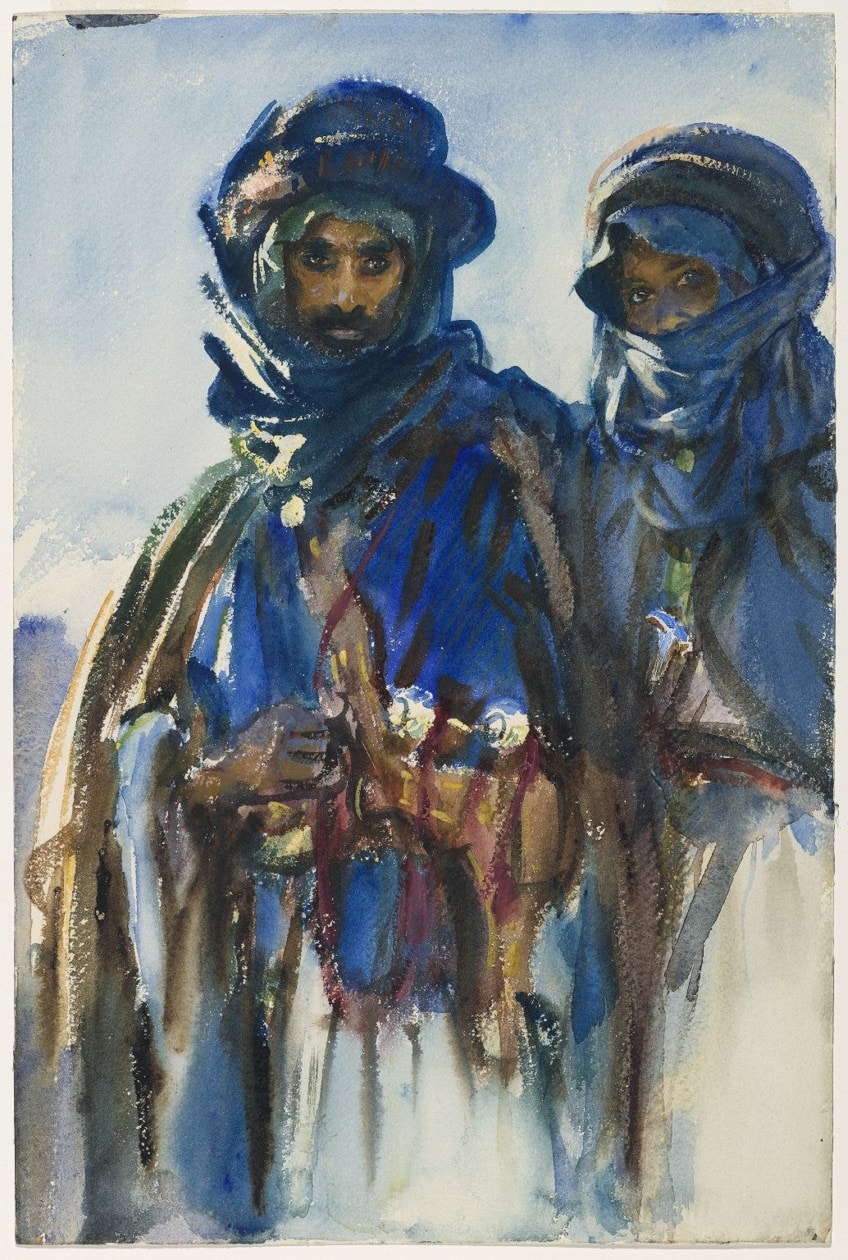 Bedouins (1906) by John Singer Sargent; John Singer Sargent, Public domain, via Wikimedia Commons
This fascination was most likely fueled by his friendship with Gertrude Bell, an academic who focused on Levantine archeology and Arab culture. Sargent rode his horse through the Jordan Valley, seeing Bedouin communities and drawing inspiration for his huge mural cycle, Triumph of Religion (1916).
This image demonstrates the same lifelike subtlety and precision for which his portraits were known, but with more Impressionistic handling of the environment as well as the men's attire.
With a palette of vivid indigo blue, warm brown, and fuchsia tones, the artwork exudes warm color. The men's headscarves are speckled with white gouache accents, reflecting the burning midday sun in the desert.
Venetian Canal (1913)
| | |
| --- | --- |
| Date of Completion | 1913 |
| Medium | Watercolor on canvas |
| Dimensions | 54 cm x 64 cm |
| Current Location | The Metropolitan Museum of Art, New York |
Sargent, like most of his colleagues, was attracted by Venice's beauty and character; he visited the city repeatedly between 1898 and 1913. The photograph is seen from the water level, giving the observer the viewpoint of someone seated in a gondola. With his significant use of opaque white watercolor, Sargent deviated from traditional watercolor painting.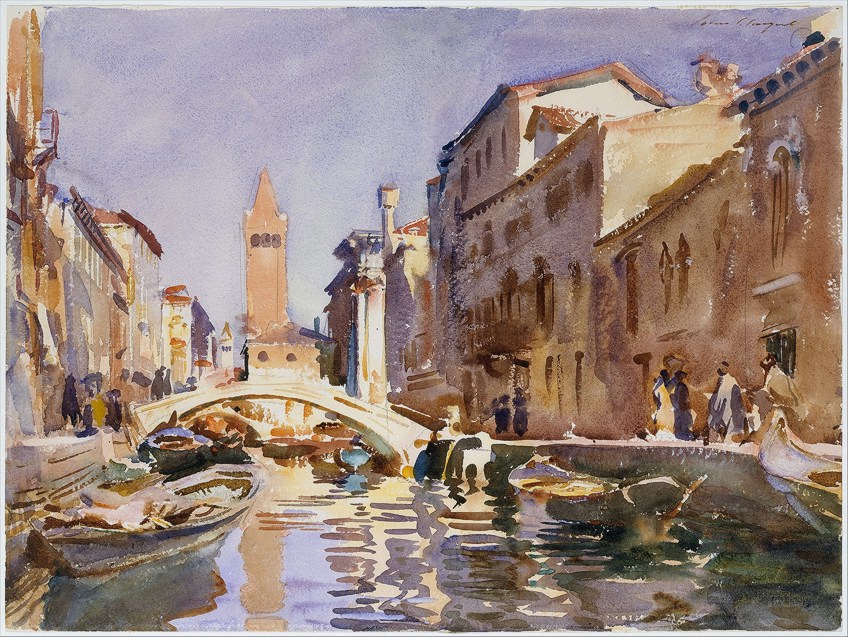 Venetian Canal (1913) by John Singer Sargent; John Singer Sargent, CC0, via Wikimedia Commons
Traditionalists liked the transparent nature of watercolors, which substituted the canvas or paper for white. Sargent made excellent use of these patches of gouache with their shiny sheen, emphasizing the play of light on numerous surfaces. This is obvious in the water represented in the canvas's foreground.
The many textures of the sea and buildings are portrayed using a variety of brushstrokes – some evident, others not – that depict these complex and unique surfaces.
Gassed (1919)
| | |
| --- | --- |
| Date of Completion | 1919 |
| Medium | Oil on canvas |
| Dimensions | 231 cm x 611 cm |
| Current Location | Imperial War Museum, London |
Sargent was hired by the British Ministry of Information in 1918 to illustrate troops' combat experiences and the spirit of Anglo-American collaboration. Sargent met troops on the front lines in Belgium and France in preparing for these paintings.
This massive mural depicts the aftermath of a mustard gas assault in Germany.
The color pallet stands in stark contrast to much of Sargent's other work, which is dominated by dismal khakis, greens, and beiges. Two groups of wounded soldiers march toward a medical assistance tent, hanging onto one other's shoulders because the gas has impaired their eyesight.
Gassed (1919) by John Singer Sargent; John Singer Sargent, Public domain, via Wikimedia Commons
Numerous dead bodies litter the roadside. The line of disabled men going in single file resembles Pieter Bruegel the Elder's Flemish Renaissance masterpiece, The Blind Leading the Blind (1568), updating and modifying the original picture for its current purpose. The First World War witnessed the widespread deployment of chemical and biological weapons in warfare for the first time.
Mustard gas causes huge blisters to grow on exposed skin and in the lungs if breathed. Its effects are not felt for around 24 hours after contact and, while not often deadly, are excruciating.
Recommended Reading
This article covered John Singer Sargent's drawings, paintings, and lifetime. There is always more you can discover though. Here are some books you can explore to learn more about John Singer Sargent's artworks and life.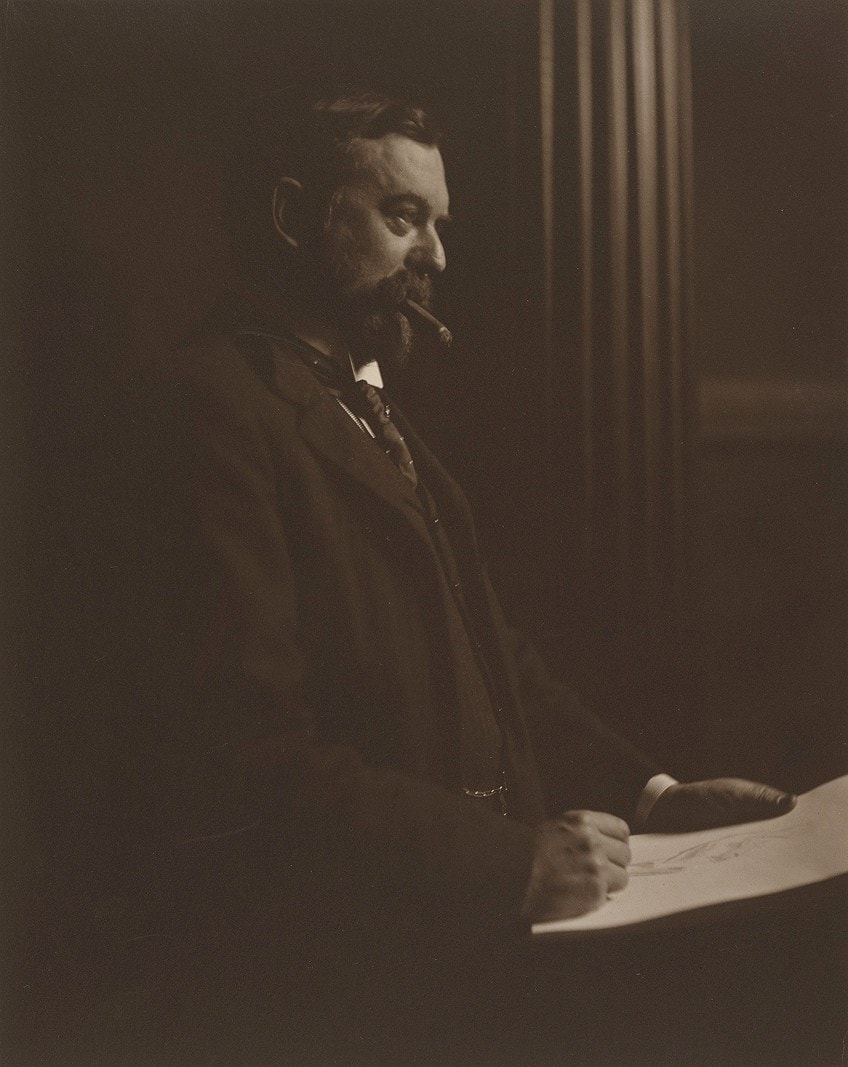 John Singer Sargent, c. 1890; Sarah Choate Sears, Public domain, via Wikimedia Commons
Strapless: John Singer Sargent and the Fall of Madame X (2004) by Deborah Davis
John Singer's topic Virginie Gautreau, a 23-year-old New Orleans Creole who migrated to Paris and rapidly became the "it girl" of her day, was Sargent's most renowned picture. Sargent, relatively unknown in that period, obtained the commission to paint her; the two must-haves detected a similar yearning for recognition in one other.
Gautreau's image received the attention she desired when it was unveiled at the 1884 Paris Salon, but it led to notoriety rather than glory. Sargent had painted one of Gautreau's dress straps dropping from her shoulder, implying either the preparation for or the aftermath of intercourse. Gautreau departed from public life, her reputation severely harmed, and destroyed all the mirrors in her house.
The story behind John Singer Sargent's famous painting
A tale of art and celebrity, obsession, and betrayal
Draws on documents from private collections and unseen materials
View on Amazon
Sargent (2014) by Donald Wigal
Sargent, the son of educated parents, was born in Florence in 1856. Sargent excelled much above the typical student when he enrolled at Carolus-Duran. His father was a distinguished Massachusetts gentleman who had been a physician in Philadelphia. Sargent's home life was infused with sophistication, and outside of it were the lovely influences of Florence, which combined the charms of sky and hills with the wonders of art in galleries and the opportunities of an intelligent and creative society.
As a consequence of his study of the Italian masters, Sargent came to Paris not only as a skilled draughtsman and painter but also with a refined and developed taste, which may have had an even bigger impact on his career.
A retrospective of John Singer Sargent's life and art
Includes high-quality, crisply reproduced paintings
Discover Sargent's upbringing and artistic influences
View on Amazon
John Singer Sargent was the most accomplished portrait painter of his generation, as well as a talented landscape and watercolorist. Sargent is an American, yet some regard him as a global citizen or cosmopolitan. The aesthetic influences that influenced him were European. However, his Americanism can be seen in his exceptional ability to absorb impressions, the individualism he developed, and the subtlety and reserve of his approaches – all of which are characteristics of the finest American art.
Frequently Asked Questions
Who Was John Singer Sargent?
Sargent, who was born in Florence in 1856 to American parents, had creative talent at a young age and was accepted into the city's Academia delle Belle Arti. Later, he trained with Parisian artist Carolus Duran, where he developed his signature free, Impressionistic technique. International reputation as a portrait artist came early in his career and stayed with him.
What Was John Singer Sargent's Art Style?
Sargent's oil portraits are highly renowned; they may be seen in major museums throughout the world. Portrait drawings, a lesser-known but no less appreciated component of his output, are the subject of this collection. Early works in pencil and pastel are included, as well as later renditions in charcoal, a media Sargent preferred after 1910. They were chosen by art historian Trevor J. Fairbrother from both formal and informal collections and speak to Sargent's technical mastery, variety, and agility in three distinct mediums.
Isabella studied at the University of Cape Town in South Africa and graduated with a Bachelor of Arts majoring in English Literature & Language and Psychology. Throughout her undergraduate years, she took Art History as an additional subject and absolutely loved it. Building on from her art history knowledge that began in high school, art has always been a particular area of fascination for her. From learning about artworks previously unknown to her, or sharpening her existing understanding of specific works, the ability to continue learning within this interesting sphere excites her greatly.
Her focal points of interest in art history encompass profiling specific artists and art movements, as it is these areas where she is able to really dig deep into the rich narrative of the art world. Additionally, she particularly enjoys exploring the different artistic styles of the 20th century, as well as the important impact that female artists have had on the development of art history.
Learn more about the Art in Context Team.