Jeff Koons' Balloon Dog – A Look at the Iconic "Balloon Dog" Sculpture
Have you ever seen a dog so big that it almost reaches the ceiling? One that looks like one of those helium balloons in the shape of a dog – that seem to always end up bumping and floating along the ceiling? Only, the balloon dogs we will explore in this article are from Contemporary artist Jeff Koons' stainless-steel sculptures, and they do not float. Let us have a closer look.
Artist Abstract: Who Is Jeff Koons?
Jeffrey Lynn Koons is an American artist who was born on 21 January 1955, in York, Pennsylvania, where he also lives and works, including New York City. He painted from an early age having been inspired by Salvador Dalí. Koons studied at the Maryland Institute College of Art in Baltimore and the School of the Art Institute of Chicago. He is a Contemporary artist well-known for his large-scale sculptures that are Pop-Cultural icons depicting items of mass media, such as toys, birthday gifts, ornaments, and various other paraphernalia we would find in stores.
The Balloon Dogs by Jeff Koons in Context
The Balloon Dogs (1994 to 2000) by Jeff Koons come in five colors, namely, blue, magenta, orange, red, and yellow. They are what you will find for an eight-year-old's birthday present, however, this is exactly what they are all about. The Balloon Dogs touch on the idea of celebration. They are worth millions of dollars, in fact, Balloon Dog (Orange) (1994 to 2000) was sold for $58.4 million.
Koons has not only made balloon dogs, but a whole menagerie of other animals like monkeys, rabbits, and swans, among other accessories like hearts, flowers, and jewelry.
We will explore in more detail Koons' Balloon Dogs by first discussing a bit of a historical contextual around why he created these sculptures and that they are a part of his series called Celebration. We will then discuss the stylistic approach taken by the artist by discussing the subject matter, easily understood when we look at it, as well as the material he utilized.
| | |
| --- | --- |
| Artist | Jeffrey Lynn Koons |
| Date of Production | 1994 to 2000 |
| Medium | Mirror-finished stainless steel with a translucent coating of color paint |
| Genre | Pop Art, Neo-Pop Art, Conceptual Art |
| Period | Contemporary Art |
| Dimensions | 307.3 x 363.2 x114.3 centimeters (Balloon Dog – Blue) |
| Series / Versions | Five versions (Blue, Magenta, Orange, Red, Yellow) as part of the "Celebration" Series (1994 to 2011) |
| Where Is It housed? | Exhibited worldwide |
| What It Is Worth | Over $50 million |
Contextual Analysis: A Brief Socio-Historical Overview
The Balloon Dogs (1994 to 2000) by Jeff Koons is part of the artist's series called Celebrations, which he started in 1993. It consists of a variety of sculptures and paintings focusing on the idea of celebration, and items we would utilize for celebrations like holidays or parties, especially birthday parties. Against the backdrop of Koons' artistic career, the playful yet quite daunting large balloon dogs are continuations of his style.
He has utilized inflatables since the 1970s and has always explored the question of consumerism and the "commodity culture" as it is called.
Some of his earliest sculptural works come from his series called Inflatables (c. 1970s), which consisted of flowers and toys bought from shops in New York where he moved to during 1977. During the 1980s he started several exhibitions showcasing his veer towards conceptual art. We see this in his Equilibrium Series (1983), which featured basketballs suspended in distilled saline water in what appears to be a fish tank. Alongside this were posters depicting famous Basketball players.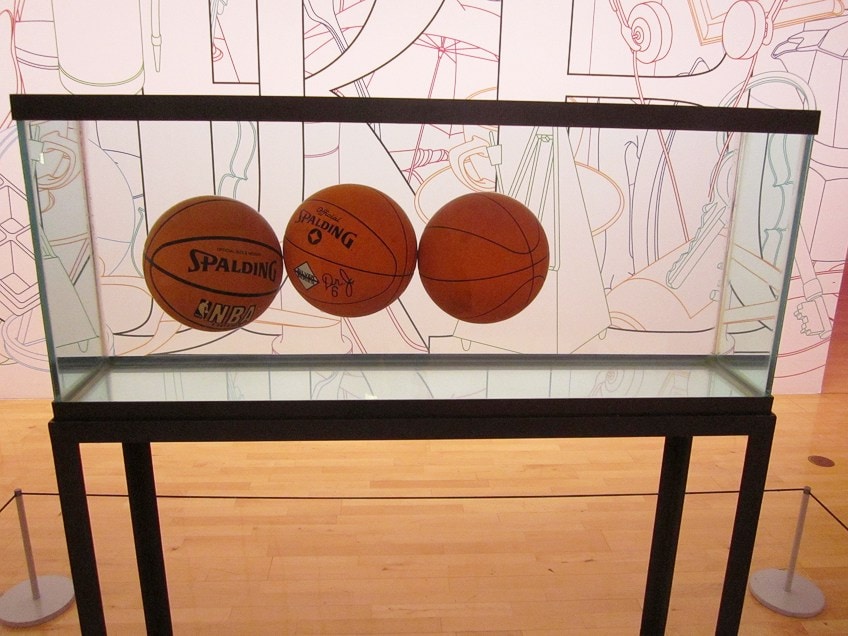 Three Ball Total Equilibrium Tank by Jeff Koons, Tate Liverpool, England; Rept0n1x, CC BY-SA 3.0, via Wikimedia Commons
Apart from Basketballs, Koons also utilized daily cleaning equipment like vacuum cleaners, seen in his The New Series (the 1970s). These showcased vacuum cleaners like Hoovers also in Perspex cases. The way Koons arranged the items, which he exhibited in 1980 at the New Museum of Contemporary Art in New York, also touched on aspects of how items like these would be housed in a shop or showroom.
Koons' Banality Series (1988) was another famous and quite controversial exhibition. It showcased large-scale sculptures of celebrities like Michael Jackson, but with the undertone of it being like a piece of ornament or as some sources describe it "collectible figurines".
What made this series controversial were lawsuits against the artist due to some imagery copied from original images.
A famous piece from this collection is Michael Jackson and Bubbles (1988) depicting Jackson with his pet monkey called Bubbles. This was reportedly taken from a photographic source and made into a sculpture that is larger than life-size. Furthermore, Koons added gold in the sculpture because he aimed to convey a sense of godliness in Michael Jackson connecting the idea of pop icons with the idea of worship and iconography.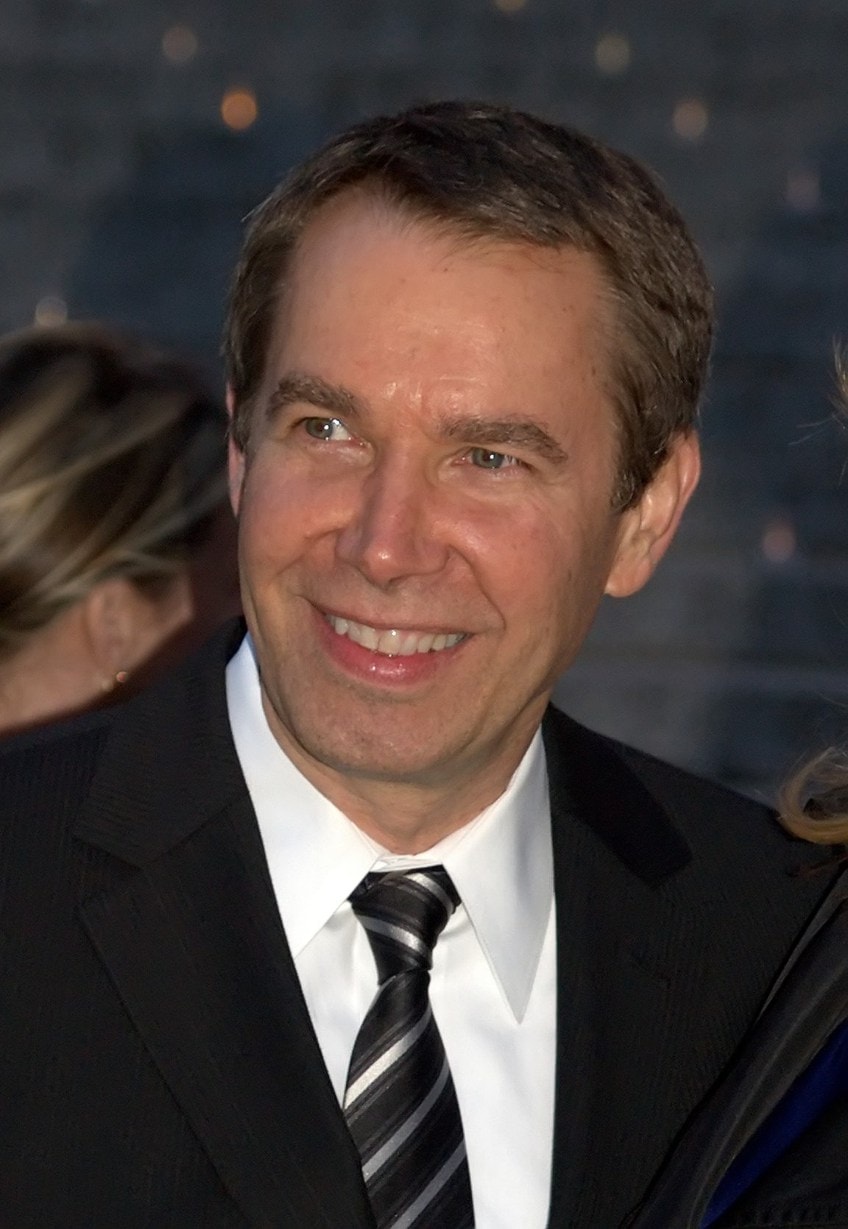 Jeff Koons at the Vanity Fair kickoff part for the 2009 Tribeca Film Festival; David Shankbone, CC BY 3.0, via Wikimedia Commons
Another famous piece from this series is Pink Panther (1988) which depicts the popular Hollywood starlet Jayne Mansfield holding the adored Pink Panther. It is made from glazed porcelain and stands 41 inches tall. The figure appears without any upper garments to cover herself and her breasts are exposed as she holds the Pink Panther in her left arm.
She is covering her right breast with her right hand. She looks at the viewers with a charming smile as if she is soaking up the attention, but the facial expression of the Pink Panther appears sullen. Along her waist, we see a light green dress barely covering her buttocks.
This piece contains sexual overtones and as Koons has been reported to state that it was aimed to be about masturbation.
Made In Heaven (1989) is another controversial series by Koons, depicting himself in photographs and sculptures with his then-wife, Ilona Staller, in explicit and sexual poses. Many people disliked this series because of its content, and some regarded it as an expression of ideas of shame. Koons apparently destroyed this series during the custody case between him and Staller for their son, Ludwig.
Celebration Series (1994 – 2000)
During the early 1990s, Koons started what we have come to know as his signature sculptural pieces, or among the most prominent of his sculptural pieces, the Celebration series. These were also inspired by children's toys and blow-up balloon animals, especially with his son Ludwig still very young at that time.
As previously mentioned, the series included pieces like flowers, hearts, Easter eggs, and an assortment of balloon animals. There is a playfulness to the sculptures and an inherent play on other ideas like life and death and the loss of innocence from childhood that almost turns into this desire for material things and status.
Koons created 20 different sculptures and 16 oil paintings in his "Celebration Series" and is reportedly still in the production process of some of the sculptural pieces.
Of these, there are different versions in a variety of colors, including the award-winning Cracked Egg (1994 to 2006), Diamond (1994 to 2005), Tulips (1995 to 2004), Balloon Flowers (1995 to 2000), Hanging Heart (1995 to 1998), and the well-known Balloon Dogs (1994 to 2000) among many others.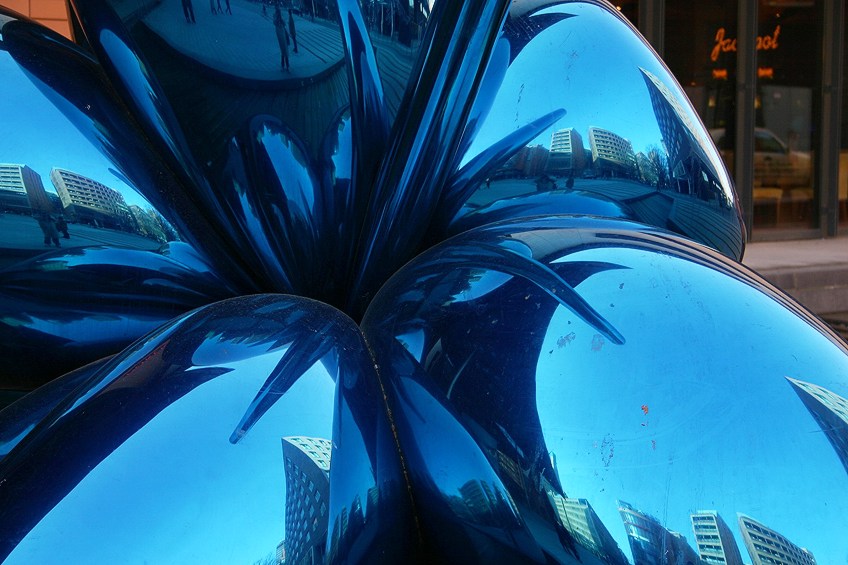 Mirrored bubble sculpture (detail) by Jeff Koons at the Potsdamer Platz, Berlin (Marline-Dietrich Platz)/Germany; Jeff Koons, CC BY 2.0, via Wikimedia Commons
Formal Analysis: A Brief Compositional Overview
The Balloon Dog sculpture comes in five different colors, or versions, namely, Blue, Magenta, Orange, Red, and Yellow. It seemingly reflects the act of how we would be able to pick and choose our own colors if these were real balloon animals blown up by a clown at a birthday party. Below we take a closer look at Jeff Koons' Balloon Dog sculptures and just what they are made of and what they possibly stand for if anything.
Subject Matter
Each Jeff Koons Balloon Dog appears identical, sporting its bright colors. When we look at each one it resembles a perfect, albeit giant size, balloon dog. It stands on all four legs looking ahead as if it is going to playfully run or jump any minute.
The end tip of the "balloon" makes its short pencil-shaped tail and the opening of the balloon, where the knot would go, makes a small snout for its nose.
If we look at the Balloon Dog, all of them, we almost want to touch it and feel its apparent softness, but if we move closer, we are not only met with its larger-than-life size and luminosity but we are met with a hard, reflective surface.
Scale and Material
Each Jeff Koons Balloon Dog measures around 307.3 x 363.2 x 114.3 centimeters (around 10 feet) and it weighs around a ton – as we previously mentioned, it is a life-size dog. All five dogs are made, or shall we say engineered, from mirror-polished stainless steel, which is then given a translucent coat of colored paint, namely, Blue, Magenta, Yellow, Red, and Orange. The mirror-polished surface on the stainless steel, including the paint, gives the Balloon Dog that balloon-like reflective surface.
It also adds to the richness of the entire structure, almost drawing us in to engage with it just like a real toy would appeal to our senses and desire to play.
Critique: Is It Art?
Jeff Koons' artwork has received considerable critique throughout the art communities and public; there are lovers and haters. One of the important questions that have bounced around most of Jeff Koons' art is, "Is it art?". The artist himself has been widely successful and received significant remuneration for several of his sculptures. He has also become quite popular among the masses.
For example, in 2013, Balloon Dog (Orange) was sold for $58.4 million at Christie's Post-War and Contemporary Art Evening auction sale. It reportedly reached the record of the highest paid price for an artist that is still living. Koons' Tulips were sold for $33.7 million at this same auction.
Many question the "craftsmanship" of Jeff Koons' work and whether it falls within the realm of artwork and what subjects denote art. It also questions the idea of high art and low art, and his sculptures stand tall and quite abruptly in your face as if to say they are here to upend the traditional notions of what art should be and how it should look.
Jeff Koons' art has often been likened to being kitsch within the Postmodern art scene.
The word kitsch is of German origin used to describe objects that were of cheaper, more mass-produced, and "low brow" quality compared to the quality we would find from "high art". It is often objected that they are popular only to the masses and not a more refined group of admirers. The idea of kitsch also has irony in its conveyance, and maybe that is what we find in Jeff Koons' and so many other Pop Art and Contemporary artists of the times.
In fact, we see this type of play on "high" and "low" art when Balloon Dog (Magenta) was put on display in 2008 in the Château de Versailles in France, a stark contrast to the elaborate Baroque architecture and traditional modes of art from the past. Although the Baroque period was itself quite rich in ornament and gilded grandeur, maybe something the Baroque past and Balloon Dog present have in common?
It also points us to the inherent symbolism in Koons' work if any at all. While we know the large Balloon Dog represents something that takes us back to a time of childhood and celebration, it may even symbolize a sense of innocence, however, with the way it has been constructed, and to the size, it could also symbolize the critique of mass culture and commoditization.
Koons has been reported to state he does not intend any other meanings in his works other than it just being what you see. He said, "A viewer might at first see irony in my work…but I see none at all. Irony causes too much critical contemplation". For Jeff Koons' Balloon Dog, the artist is widely quoted in his explanation of why he possibly constructed these, saying:
"I've always enjoyed balloon animals because they're like us. We're balloons. You take a breath and you inhale, it's an optimism. You exhale, and it's kind of a symbol of death".
A Pop Icon
Since the Celebration Series Koons have continued making his Pop-Cultural sculptures, for example, his Play-Doh (1994 to 2004), Hulk (Organ) (2004 to 2014), and the more recent Seated Ballerina (2017) as part of his Antiquity Series, among many others. The artist has worked with and inspired many other pop icons like singers Lady Gaga and Jay Z and other visual artists like the British Damien Hirst, from the Young British Artists group.
He has become like the embodiment of celebration among the celebrities but has done well for himself having been given achievements, for example, in 2008 the School of the Art Institute in Chicago awarded him with an honorary doctorate. In 2002 he became the Chevalier of the French Legion of Honor and in 2007 the Officier.
He has also received numerous awards, namely, the BZ Cultural Award (2000) and Skowhegan Medal for Sculpture (2001) in Berlin, the Wollaston Award (2008) from the Royal Academy of Arts, London, the U.S. State Department's Medal of Arts (2013), the Golden Plate Award of the American Academy of Achievement (2014), and during 2017 he was awarded for Outstanding Contribution to Visual Culture as part of the annual Honorary Membership Award through the Edgar Wind Society.
Jeff Koons is almost like a Willy Wonka of the art world – someone who creates rich and colorful objects for the public to delight in, although in this case, it is not chocolate but instead a factory of shiny sculptures that all appear as if they have come out of a fantasy book and doubled or tripled in size. Indeed, Jeff Koons' art reminds us of our childhood – imagining a grandiosity that falls outside of what is real.
Frequently Asked Questions
What Are the Balloon Dogs?
The Balloon Dogs (1994 to 2000) by Jeff Koons are five dogs that appear like blown-up balloon animals. They are a part of the artist's series called Celebrations, which he started in 1993. It consists of a variety of sculptures and paintings focusing on the idea of celebration and items we would buy or see like inflatables, hearts, Easter eggs, flowers, as well as the type of toys children would be fond of playing with.
How Many Balloon Dogs Did Jeff Koons Make?
There are five versions of Jeff Koons' Balloon Dogs (1994 to 2000). The versions all appear identical in shape and size, but they are in five different colors, namely, blue, magenta, orange, red, and yellow.
What Are Jeff Koons' Balloon Dogs Made Of?
Jeff Koons' Balloon Dogs are made from mirror-polished stainless steel and painted over with a coating of translucent paint in the respective colors we see in all five versions.
What Is the Cost of Jeff Koons' Balloon Dogs?
Jeff Koons has been one of the highest-paid living artists and his artworks sell for millions of dollars. In 2013, Balloon Dog (Orange) was sold for $58.4 million at Christie's Post-War and Contemporary Art Evening auction sale and his Tulips were sold for $33.7 million at this same auction.
Isabella studied at the University of Cape Town in South Africa and graduated with a Bachelor of Arts majoring in English Literature & Language and Psychology. Throughout her undergraduate years, she took Art History as an additional subject and absolutely loved it. Building on from her art history knowledge that began in high school, art has always been a particular area of fascination for her. From learning about artworks previously unknown to her, or sharpening her existing understanding of specific works, the ability to continue learning within this interesting sphere excites her greatly.
Her focal points of interest in art history encompass profiling specific artists and art movements, as it is these areas where she is able to really dig deep into the rich narrative of the art world. Additionally, she particularly enjoys exploring the different artistic styles of the 20th century, as well as the important impact that female artists have had on the development of art history.
Learn more about Isabella Meyer and the Art in Context Team.
Cite this Article