Piet Mondrian is one of the most popular modern artists to date. He set the foundations for Abstract art as we know it, exploring the relationships between the abstract, spiritual, and fundamental in basic forms. We can easily spot a Mondrian artwork by its distinguishing lines, rectangles, and squares, depicted in primary colors. In this article, we explore one of Mondrian's later oil paintings from around 1930, Composition with Red, Blue and Yellow.
Artist Abstract: Who Was Piet Mondrian?
Piet Mondrian, originally named Pieter Cornelis Mondriaan, was born in 1872, March 7, and died in 1944, February 1. He was born in the city Amersfoort in the Netherlands and was exposed to art from youth and learned art from his father and uncle. Mondrian studied at the Royal Academy of Visual Arts, otherwise known as the Rijksakademie van beeldende kunsten, located in Amsterdam from 1892.
Mondrian started painting landscapes and eventually more abstract artworks.
He was deeply influenced by the Theosophical Society and people like Madame Blavatsky and Rudolf Steiner. Mondrian was the pioneer of the artistic theory called Neo-Plasticism, part of the De Stijl art style, which he co-founded with Theo van Doesburg. In 1911/1912 he relocated to Paris, where he was influenced by the art of Cubism and artists like Pablo Picasso. He also lived in London and eventually relocated to New York in 1940, where he stayed for the remainder of his life. In 1944 he died of pneumonia.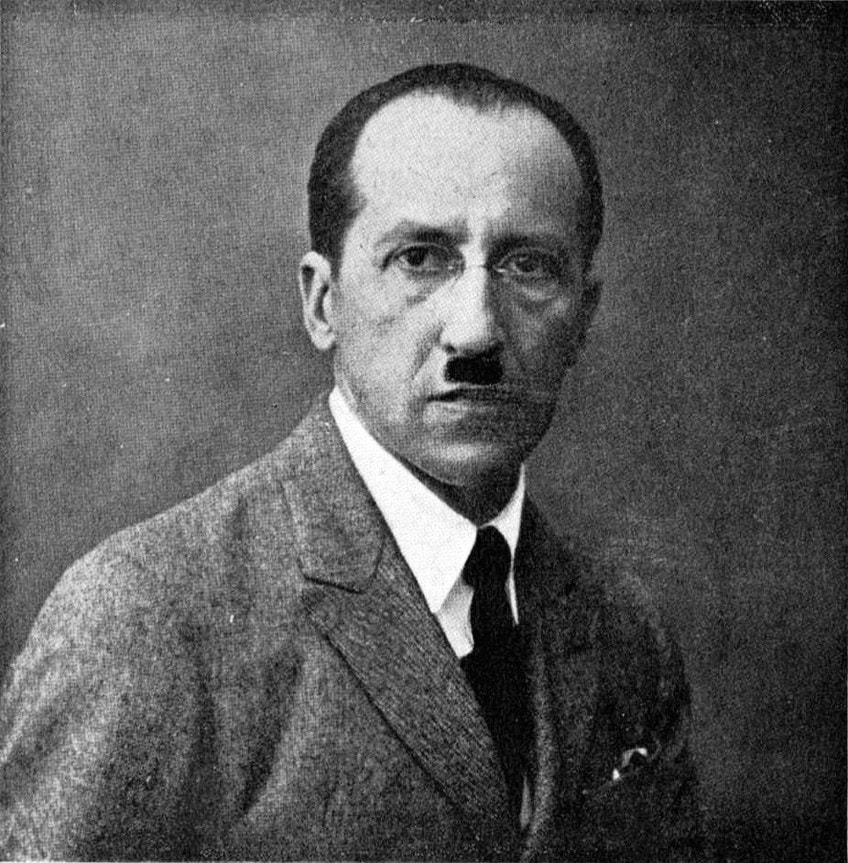 A photograph of Piet Mondrian from De Stijl, vol. 5, nr. 12 (December 1922): p. 179.; Anonymous (photographer), Public domain, via Wikimedia Commons
Composition with Red, Blue and Yellow (c. 1930) by Piet Mondrian in Context
Piet Mondrian wrote, "I wish to approach truth as closely as is possible, and therefore I abstract everything until I arrive at the fundamental quality of objects". This is at the heart of the evolution of Mondrian's compositions. His later Composition with Red, Blue and Yellow (c. 1930) is just one example, which we will look at in more detail below.
We will first provide a brief contextual analysis about what underpins Mondrian's artistic and theoretical approach, followed by a formal analysis exploring Mondrian's stylistic approach.
| | |
| --- | --- |
| Artist | Piet Mondrian |
| Date Painted | c. 1930 |
| Medium | Oil on canvas |
| Genre | Abstract art |
| Period / Movement | De Stijl and Neo-Plasticism |
| Dimensions | 59.5 x 59.5 centimeters |
| Series / Versions | This painting is similar to a previous composition done in 1929 |
| Where Is It Housed? | Kunsthaus Zürich |
| What It Is Worth | Estimated worth is in the millions of dollars |
Contextual Analysis: A Brief Socio-Historical Overview
For us to better understand Piet Mondrian's artistic approach, otherwise referred to as "aesthetic theory" and the underpinnings of Composition with Red, Blue and Yellow, it is important to first discuss the tenets of the art style called De Stijl and Neo-Plasticism, of which he was a pioneer alongside Theo van Doesburg. The two artists pioneered the movement called De Stijl, which means "The Style".
The Dutch movement began around 1917, including other artists like J.J.P. Oud, Robert van 't Hoff, Bart van der Leck, Vilmos Huszár, and others.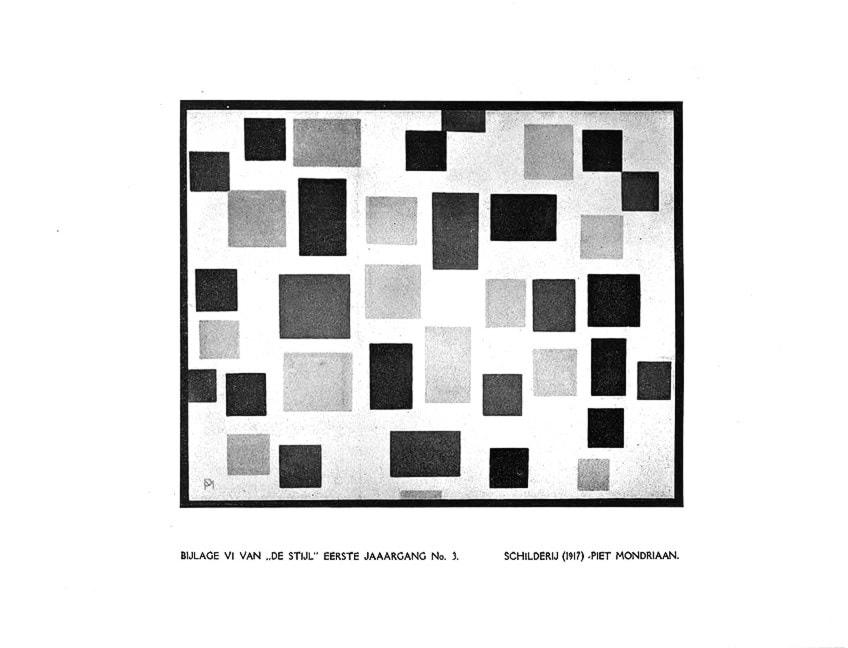 A page from De Stijl, jr. 1, nr. 3, annex VI, with an artwork by Piet Mondrian; Piet Mondrian, Public domain, via Wikimedia Commons
The art movement had an art journal titled De Stijl, which outlined the group's artistic theories and approaches. Some of the inspirations and influences for its development came from M.H.J. Schoenmaeker's publications around mathematical theories, namely, Het nieuwe wereldbeeld, or "The New Image of the World" (1915) and Beginselen der beeldende wiskunde, or "Principles of Plastic Mathematics" (1916).
The group was also influenced by the spiritual tenets of the Dutch Theosophical Society, of which Mondrian was also a member. The theories of the famous Theosophist Helena Petrovna Blavatsky, commonly called Madame Blavatsky were also applied.
The underpinning theory of De Stijl explored the concept that Mondrian developed from these various influences mentioned above, it was called Neo-Plasticism. He also wrote about in his essay titled Neo-Plasticism in Pictorial Art, in Dutch "De Nieuwe Beelding in de schilderkunst", which was published in the De Stijl journal.
Advertisement of Mondrian's booklet Le Neo-Plasticisme from De Stijl (1924); The original uploader was Vincent Steenberg at Dutch Wikipedia., Public domain, via Wikimedia Commons

Neo-Plasticism embraced a new type of art, one that would be expressed through abstraction. This abstraction was to be composed out of the ideas of harmony, order, and the fundamental basics of the universe expressed through basic forms like straight lines (horizontal and vertical), cubic shapes, and primary colors, as well as white and black.
Neo-Plasticism was about the reduction of art, "reducing" art to these fundamental elements.
The artists explained that "As a pure representation of the human mind, art will express itself in an aesthetically purified, that is to say, abstract form…this new plastic idea will ignore the particulars of appearance, that is to say, natural form and colour. On the contrary, it should find its expression in the abstraction of form and colour, that is to say, in the straight line and the clearly defined primary colour".
When referring to plastic art, it simply refers to different types of art that can be "molded" especially with regards to three-dimensionality, for example, sculpture. However, in the case of the De Stijl movement, it included a wide range of art modalities like painting, sculpture, architecture, as well as interior designing. The latter we see executed by Gerrit Rietveld's The Red and Blue Chair (1923) and the Rietveld Schröder House (1924).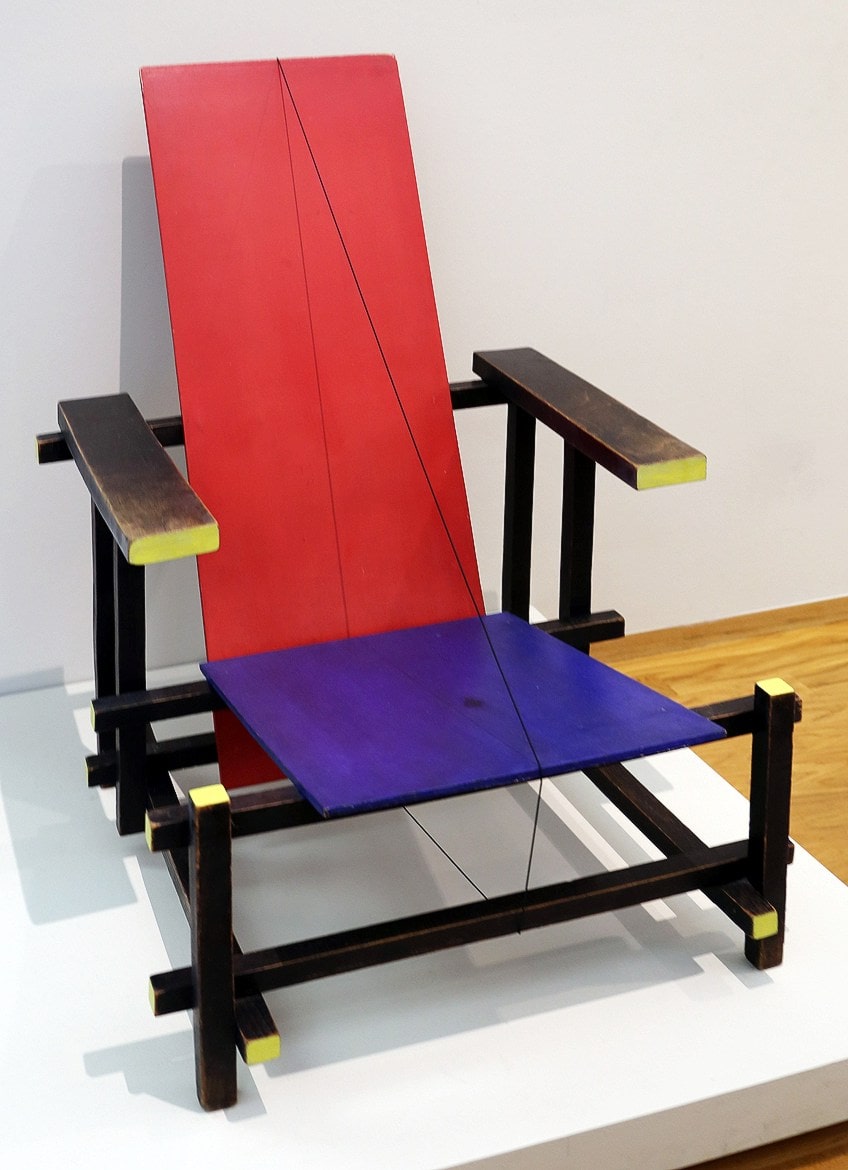 Gerrit Rietveld's The Red and Blue Chair (1923) in the Gemeentemuseum Den Haag; Sailko, CC BY 3.0, via Wikimedia Commons
Formal Analysis: A Brief Compositional Overview
While we have a basic understanding of the De Stijl movement's ideologies and artistic theories, let us look closer at one of the Piet Mondrian paintings. This is an exemplary artwork providing a visual representation of all the basic elements of art that ultimately communicates the essence, or harmony, inherent in the universe.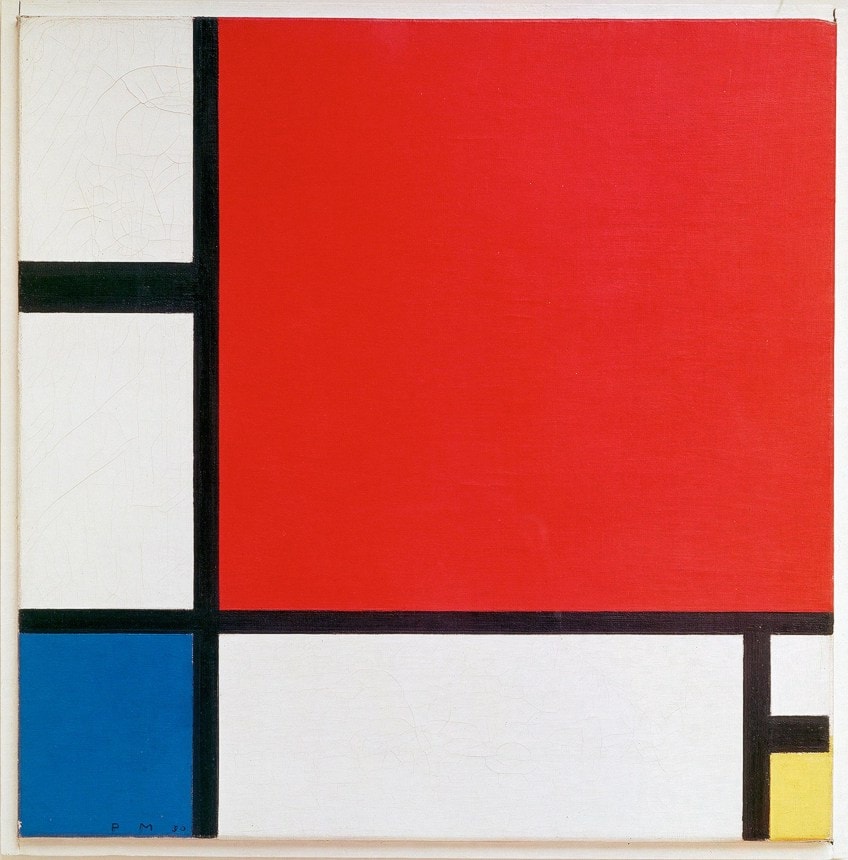 Composition with Red, Blue, and Yellow (c. 1930) by Piet Mondrian; Piet Mondrian, Public domain, via Wikimedia Commons
Subject Matter
In Composition with Red, Blue and Yellow, Piet Mondrian introduces a square composition within a square frame. It is composed of seven square and rectangular shapes in different sizes and colors divided by thick black outlines.
Starting in the top left corner, there is a white rectangle, followed by another white rectangle below it.
Below this is a blue square in the lower-left corner. Next to the blue square is a longer white rectangle that extends to two small squares on top of one another in the bottom right corner. The small square on top is white and below it is a small yellow square.
Above these, and what composes most of the composition, is a large red square on the right-hand side. This square almost pushes the other squares to the sides of the frame. What makes this composition unique is that all the squares and rectangles appear to continue beyond the frame, where we cannot view it.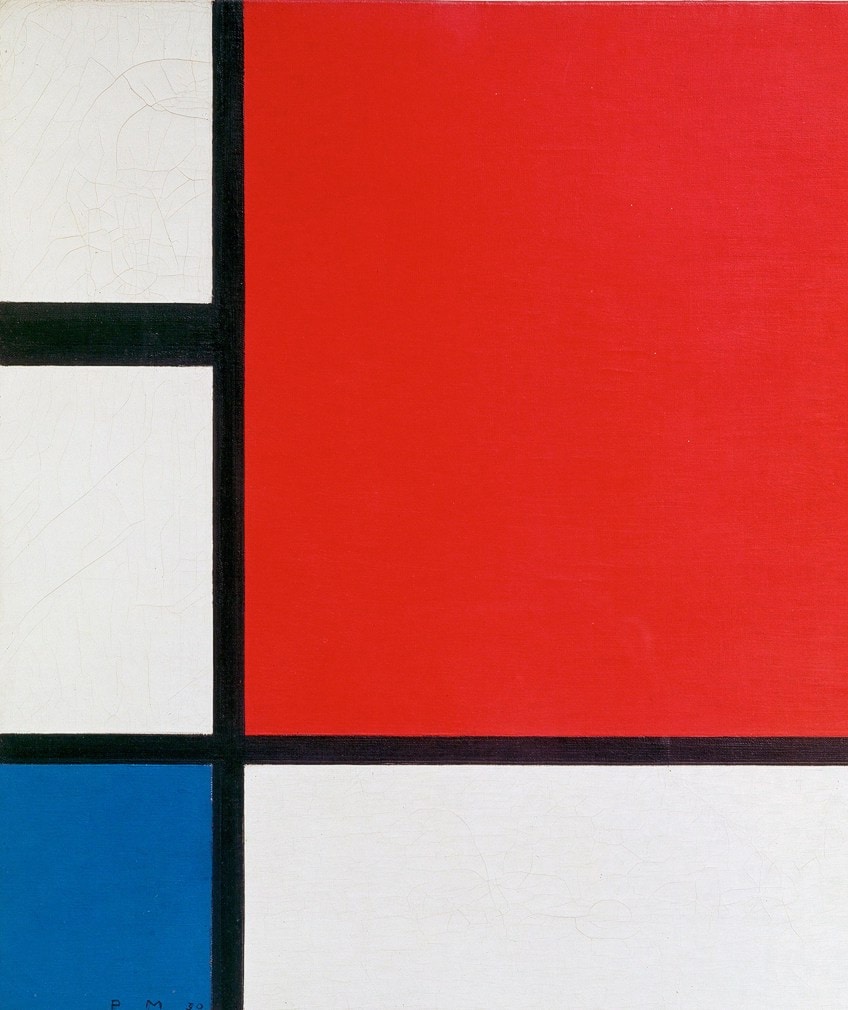 A close-up of Composition with Red, Blue, and Yellow (c. 1930) by Piet Mondrian; Piet Mondrian, Public domain, via Wikimedia Commons
There are also no outlines along the frame's edge to suggest that these shapes stop. Additionally, if we look at the black lines, these also extend beyond the canvas visible to us. However, this is also open to interpretation.
Looking at the black lines, these separate the colored squares and rectangles from one another in vertical and horizontal arrangements.
There are three horizontal lines and two vertical lines. These also vary in thickness. The horizontal line in the upper left portion of the composition, between the two white rectangles, is considerably thicker, doubled in thickness than the other lines. Similarly, so is the horizontal line between the two small squares in the bottom right corner.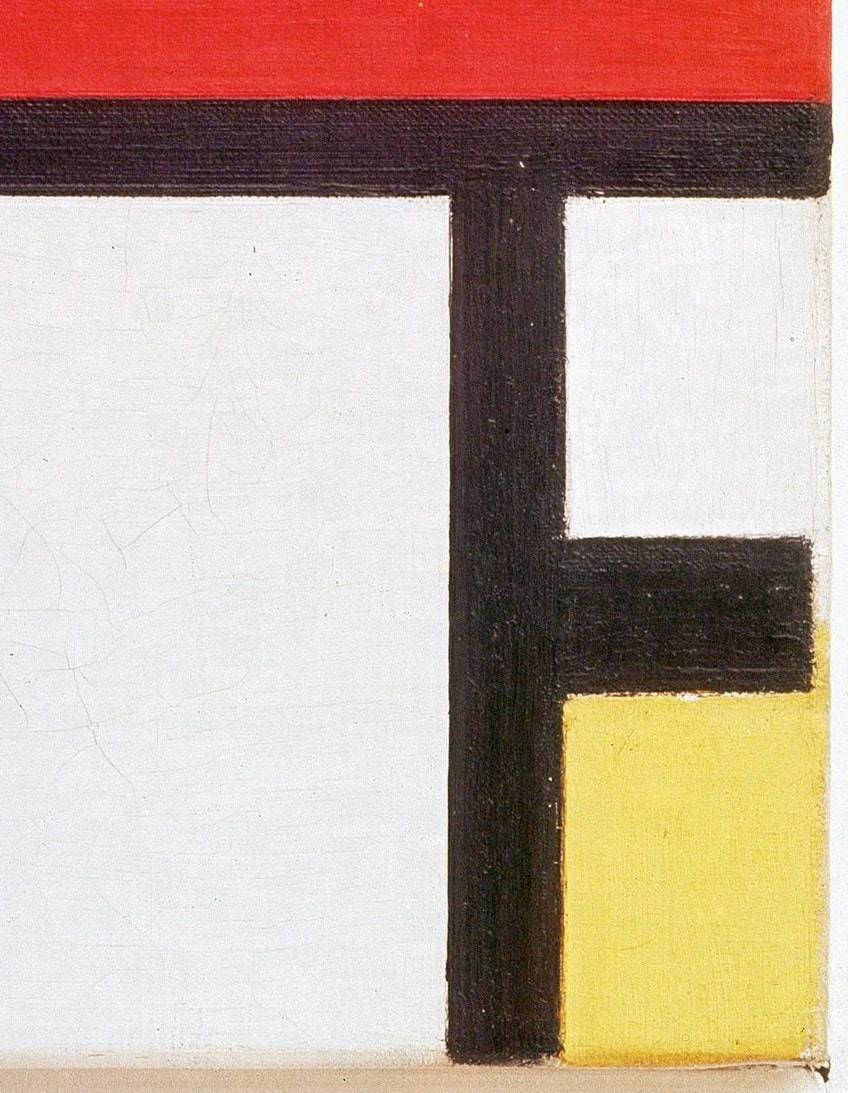 A detail of Composition with Red, Blue, and Yellow (c. 1930) by Piet Mondrian; Piet Mondrian, Public domain, via Wikimedia Commons
It is also important to note that the black lines also become like the areas of color within them and are not mere outlines. There is also a slight gap between the horizontal line and the canvas's frame in the lower right corner. It is as if Mondrian deliberately stopped just before the line could meet the frame, which adds to the asymmetry and spatial ordering of the painting.
Color
In Composition with Red, Blue and Yellow, Piet Mondrian utilizes colors that appear to be positioned asymmetrically. In other words, if we look at the large red square to the right of the composition, it makes up almost two-thirds of the composition and becomes a large visual focal point.
However, just opposite this red square is the smaller blue square in the lower-left corner, which almost balances the other while simultaneously creating an off-balance.
Mondrian also utilized varying shades of colors. For example, there are slightly different shades of black in the lines, including the white areas of color. To ascertain the differences in color, we need to view the painting from up close.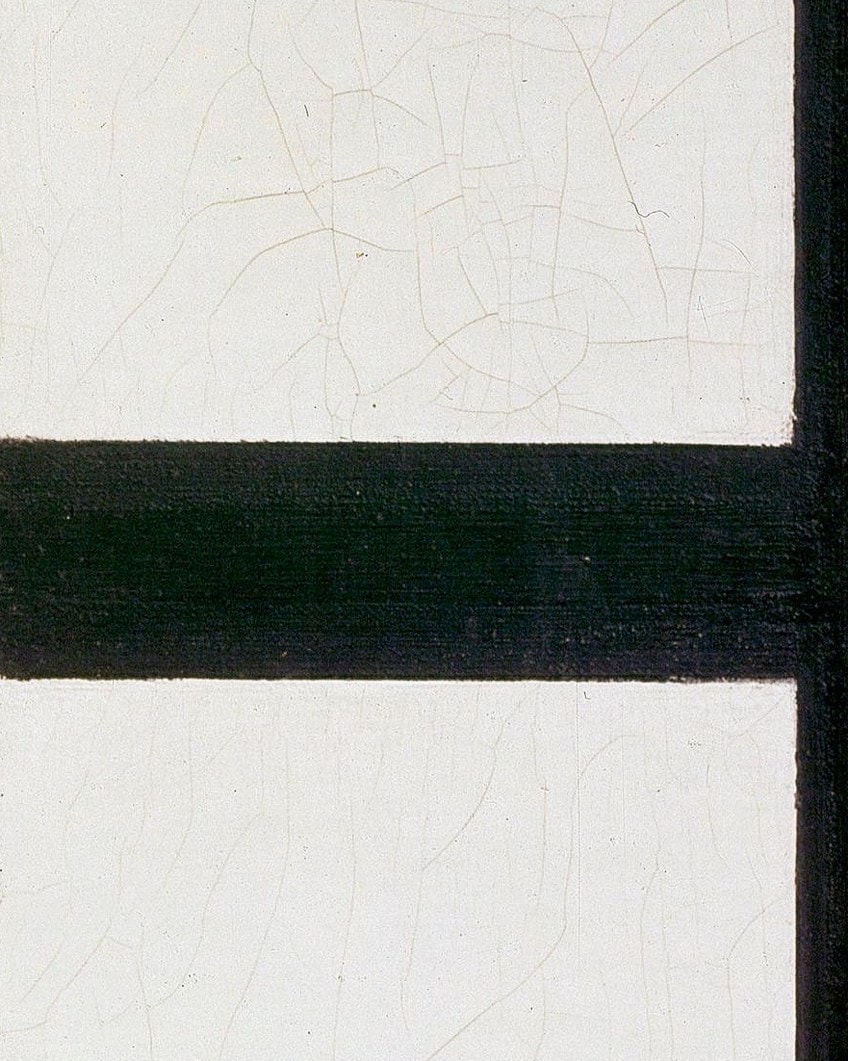 Color in Composition with Red, Blue, and Yellow (c. 1930) by Piet Mondrian; Piet Mondrian, Public domain, via Wikimedia Commons
Brushwork and Texture
Similarly, to understand and experience the textural qualities from the brushwork in this Mondrian artwork it is necessary to view it close-up. We will also notice the brushstrokes and the meticulous precision with which Mondrian applied his paint; there are no overlaps of color and brushstrokes, and it appears as straight and clean as can be.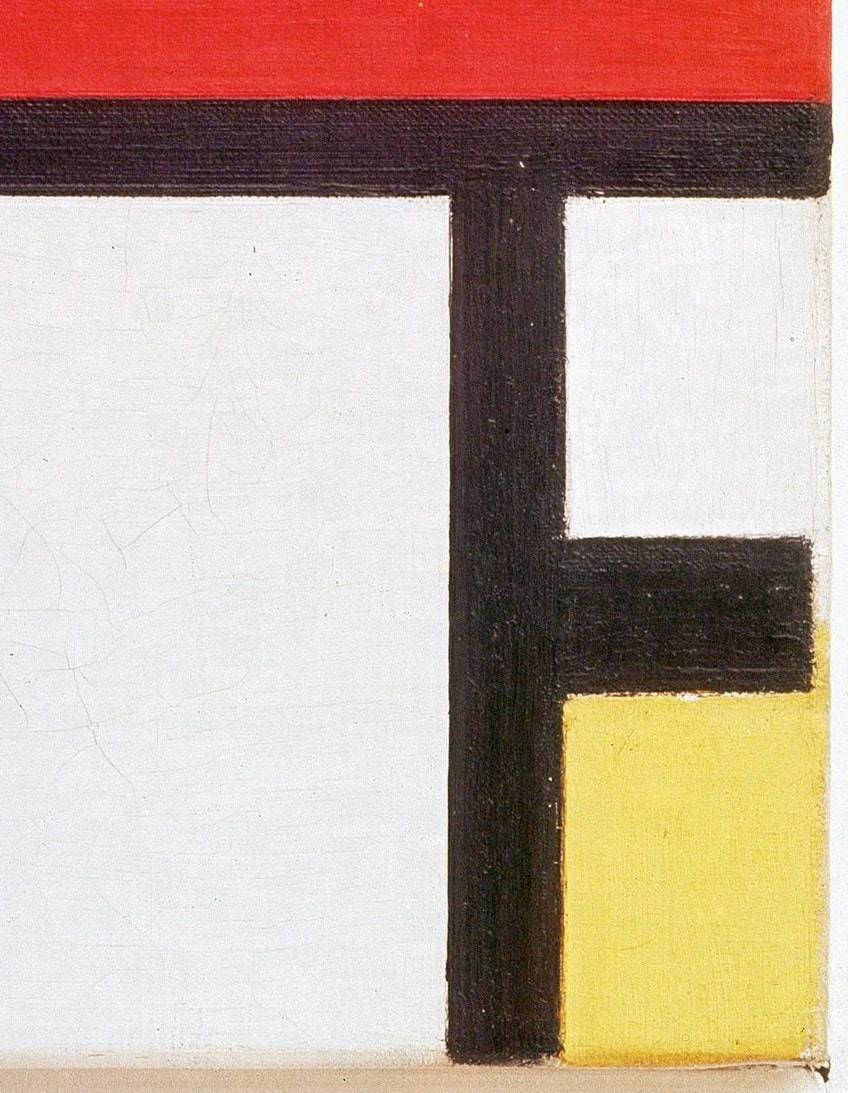 Brushwork in Composition with Red, Blue, and Yellow (c. 1930) by Piet Mondrian; Piet Mondrian, Public domain, via Wikimedia Commons
Piet Mondrian: Forever Composing
Piet Mondrian has been and still is a name in art history that will never be forgotten. He was described as a "supreme" and "great" artist and influenced numerous other artists. His artworks, especially his abstract compositions, have become icons for pop culture, everything from references in television series like Star Trek: The Next Generation (1987), Hustle (2004), and the musical series titled The Partridge Family (1970 to 1974), including music album covers for bands like Silverchair and the White Stripes, as well as the recent video game titled Mondrian Squares (2021).
We will also find him in fashion, most notably The Mondrian Collection (1965) by the French fashion designer, Yves Saint Laurent as well as see his name used in computer programming and coding; some say he was the forerunner of graphic design because of the "grid-style" of his paintings.
Mondrian certainly made a name for himself long after he died in 1944. Maybe we can describe Piet Mondrian's paintings as meticulous, thought-out, compositions that depict the fundamentals of the universe. These are not mere shapes and lines, yet simultaneously that is exactly what they are. Mondrian orchestrated a painted symphony on canvas and is forever composing through the art of others.
Read also our composition with red blue and yellow web story.
Frequently Asked Questions
Who Painted Composition with Red, Blue and Yellow (1930)?
Piet Mondrian, who was a Dutch artist and co-founder of the De Stijl art movement and Neo-Plasticism, painted Composition with Red, Blue and Yellow in 1930. He also produced numerous other paintings or so-called compositions; some were with similar titles to the above.
From Which Art Movement Is Composition with Red, Blue and Yellow (1930)?
Composition with Red, Blue and Yellow (1930) by Piet Mondrian was from the Dutch De Stijl art movement. The movement followed the ideologies that developed from Mondrian's Neo-Plasticism art theories that sought to reduce art to its fundamental properties in terms of colors and shapes, which included primary colors, blacks, grays, and whites, and squares, rectangles, vertical and horizontal lines. There was an inherent search for the absolute in the abstract.
Where Is Mondrian's Composition with Red, Blue and Yellow Now?
Piet Mondrian's oil painting Composition with Red, Blue and Yellow (c. 1930) is housed at the Kunsthaus Zürich art museum located in Zürich in Switzerland. Other Piet Mondrian paintings are housed throughout the world, some are at the Museum of Modern Art in New York, the Gemeentemuseum in the Hague, Netherlands, and others.
How Many Compositions Did Piet Mondrian Paint?
Piet Mondrian painted several abstract paintings that have titles starting with the word composition, namely Composition with Red, Blue and Yellow 1930, Composition No II, with Red and Blue (1929). Some other earlier Mondrian paintings include Composition with Color Planes (1917) and Composition with Large Red Plane, Yellow, Black, Gray, and Blue (1921).
Did Mondrian Only Paint Color Blocks?
Piet Mondrian also painted other abstract paintings that appeared grid-like, but different from his famous compositions, for example, his later painting like Broadway Boogie-Woogie (1942 to 1943). Mondrian was inspired by New York City and Jazz music, which is where he lived when he painted this. It appears livelier with smaller squares and more yellow instead of thick black outlines. During Mondrian's earlier periods he also painted landscapes or more "naturalistic" paintings, these were influenced by the post-Impressionistic style of art. He was also influenced by the Cubist style of art evident in his earlier painting, The Gray Tree (1912).
Alicia du Plessis is a multidisciplinary writer. She completed her Bachelor of Arts degree, majoring in Art History and Classical Civilization, as well as two Honors, namely, in Art History and Education and Development, at the University of KwaZulu-Natal, South Africa. For her main Honors project in Art History, she explored perceptions of the San Bushmen's identity and the concept of the "Other". She has also looked at the use of photography in art and how it has been used to portray people's lives.
Alicia's other areas of interest in Art History include the process of writing about Art History and how to analyze paintings. Some of her favorite art movements include Impressionism and German Expressionism.  She is yet to complete her Masters in Art History (she would like to do this abroad in Europe) having given it some time to first develop more professional experience with the interest to one day lecture it too.
Learn more about the Art in Context Team.