When thinking of artworks that only made use of the three primary colors and various straight lines, Dutch artist Piet Mondrian is usually the first to come to mind. Best known for his abstracted paintings, Mondrian was one of the first artists to explore the features of squares and straight lines in art, turning these seemingly simple concepts into iconic paintings that are still revered today. Today, Mondrian is remembered for his immense influence on 20th-century art. Below, we will be taking a closer look at Mondrian's life and career.
Who Was Piet Mondrian?
| | |
| --- | --- |
| Years Lived | 1872 – 1944 |
| Nationality | Dutch |
| Where Artist Lived | The Netherlands, France, and America |
| Art Movements | De Stijl, Neoplasticism, Neo-Impressionism, and Abstract art |
| Preferred Medium | Painting |
A pioneer within 20th century Abstract art, Dutch painter Piet Mondrian is famously remembered for his unique contribution to the art world. Born as Pieter Cornelis Mondriaan in Amersfoort in the Netherlands, Mondrian later dropped an "a" from his surname to officially become "Piet Mondrian" in 1906. This was done after his first move to Paris to emphasize his departure from the Netherlands and to display his open acceptance of the Parisian avant-garde that was flourishing at the time.
Reducing both the art world and his style into simple geometric elements and primary colors, Mondrian became a leader in figurative painting before focusing entirely on abstract painting.
Mondrian was acknowledged for the clarity of his abstractions and the systematic procedure through which he arrived at them, as he drastically reduced the elements in his paintings to reflect what he thought to be a clear and pleasing order of the world. Creating an aesthetic language in his works, he pushed the boundaries of shapes and lines as far as he could.
This famous color block artist was also one of the founders of the iconic Dutch modern art movement known as De Stijl, which was founded in 1917.
Viewed as one of the greatest artists to come from the 20th century, Mondrian proved himself to be both a phenomenal painter and art theoretician through the simplified yet contemplative works that he produced. Mondrian's artworks went on to have a great influence on the development of several major styles and movements, like Abstract Expressionism, Minimalism, and Color Field painting.
A Piet Mondrian Biography
Growing up as the second of five children in central Holland, Mondrian was encouraged to pursue art from an early age. Music and art became constant features in his household, as his father was something of an amateur but enthusiastic and qualified artist, who gave drawing lessons to Mondrian. However, it was Mondrian's uncle, skilled artist Fritz Mondriaan, who was said to have had a great influence on his life, as it was him who taught the young boy to paint. With his father and uncle, Mondrian often painted and sketched by the Gein river.
After studying at the Academy for Fine Art in Amsterdam, Mondrian qualified as a teacher and began to work within the primary education sector. At this point in his career, he practiced painting in his spare time, preferring works of a pastoral nature. The paintings he produced in his early 20s depicted country scenes of his local surroundings, with Mondrian sticking to landscapes that made use of an Impressionistic and Naturalistic style.
While searching for his own style, his paintings demonstrated the influence of other movements.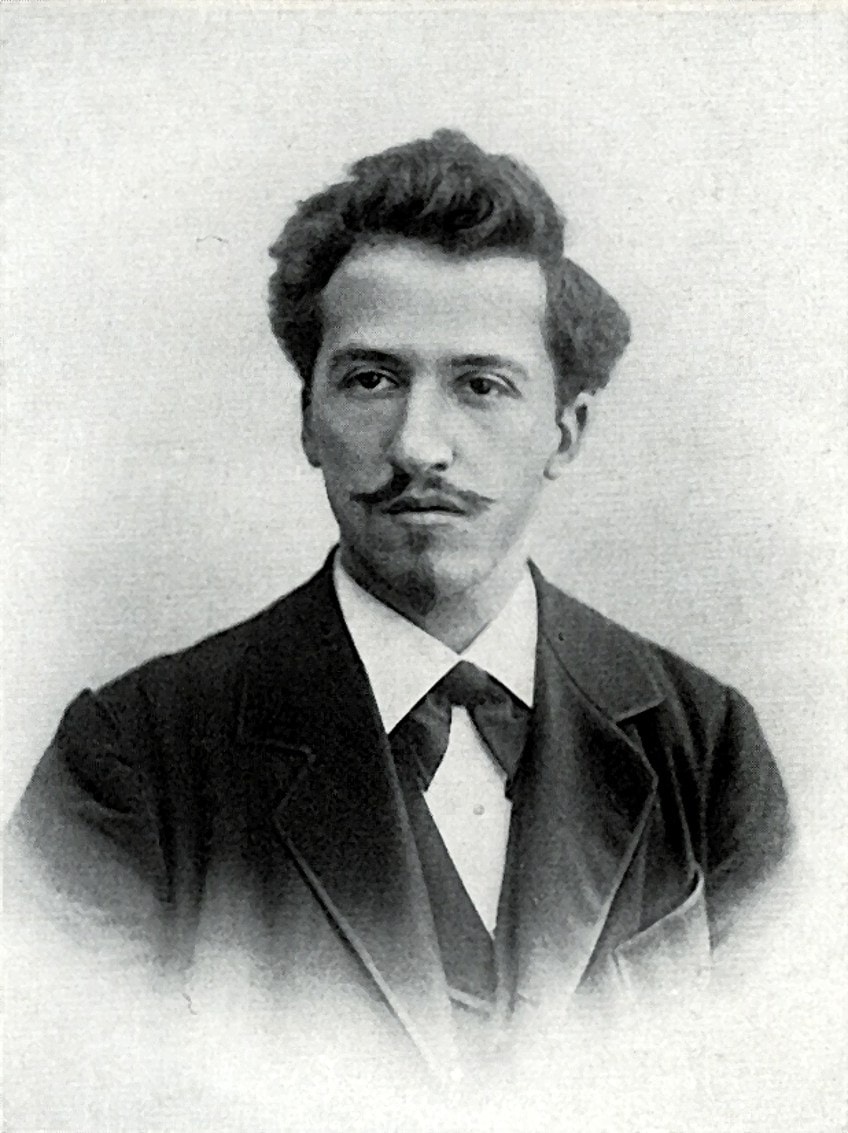 Piet Mondrian, 1899; Anonymous Unknown author, Public domain, via Wikimedia Commons
Mondrian's three years of academic training focused mainly on drawing, as he worked to replicate different genre paintings and the works of Old Masters. These were the skills that would eventually lead him into becoming such an iconic artwork, as his ability to copy museum paintings and scientific drawings helped him sharpen the skills he so clearly possessed. Additionally, while still teaching, Mondrian frequently taught private drawing lessons in his studio, which helped focus his attention completely on art.
Some of Mondrian's earlier post-Impressionist artworks were incredibly different from the abstracted works that he was later known for.
Paintings such as Willow Grove: Impression of Light and Shadow (c. 1905) and Trees in Moonrise (1908) illustrated Mondrian's preference for landscape scenes with ever-so-slightly abstracted versions of trees. However, what these early works did display was Mondrian's initial experiments with working solely with primary colors, as they were painted using primarily reds, yellows, and blues.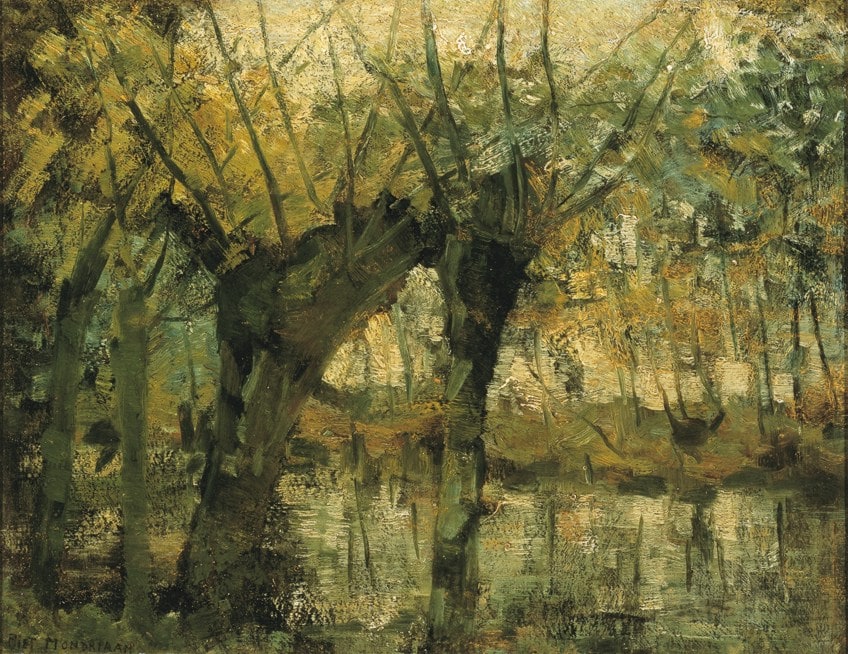 Willow Grove: Impression of Light and Shadow (c. 1905) by Piet Mondrian; Piet Mondrian, Public domain, via Wikimedia Commons
Until 1908, Mondrian's paintings were mainly Naturalistic in style. The following year, in 1909, he joined the Theosophic Society, which was a spiritual organization that had a prevalent influence in Europe at the start of the 20th century around the teachings of Buddhism. A theme that was explored focused on the cycle of death and rebirth, which captivated Mondrian. This led to a level of spirituality in his paintings, which he believed helped his artworks and audiences reach a holy type of realm when viewing his works.
Although he ended up disagreeing with some members of the group, his involvement within Theosophy went on to influence Mondrian's goal of portraying complete and absolute harmony in his works. This was expressed through the meticulous balance and tension that he managed to create between his choice of forms and colors.
After this, Mondrian soon moved on to play around with the styles of Pointillism and Cubism, which helped the development of his precision and clarity within his abstract works.
After viewing Cubist artworks by Pablo Picasso and Georges Braque at an exhibition in Amsterdam, Mondrian decided to move to Paris. Between 1912 and 1914, he worked to develop a more independent and abstracted style of painting. It was in these early works that Mondrian demonstrated his preference of working in a series, as he chose to focus on a singular subject and went on to carry that subject through several paintings. This tendency, as well as the evolution of his style, proved invaluable as his skills matured over the years.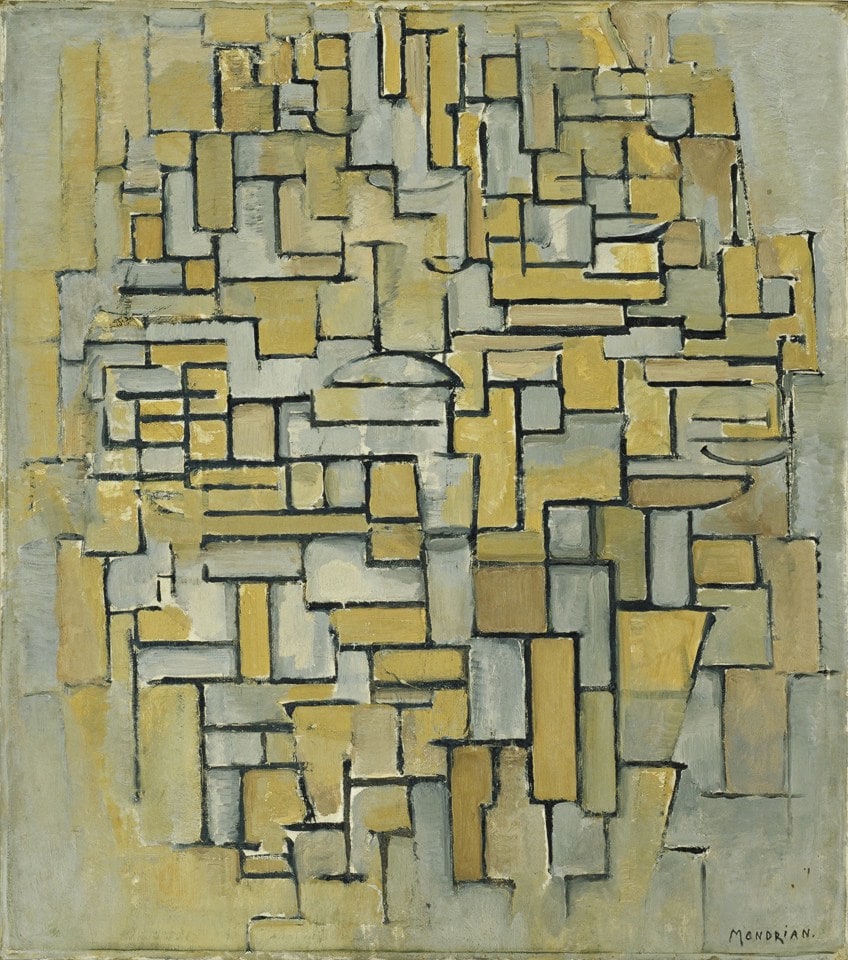 Composition in Brown and Gray (1913) by Piet Mondrian; Piet Mondrian, Public domain, via Wikimedia Commons
Just as World War One broke out, Mondrian was visiting the Netherlands from Paris. As the war prohibited him from returning to Paris, Mondrian remained in Holland and worked on his reduction and minimization of colors and geometric shapes. This led to the start of a new painting style for Mondrian, as it was during this time that he began to formulate and establish his abstract Neoplastic style.
All of this hard work brought Mondrian to a career-defining moment in 1917, where he became one of the founders of the De Stijl movement.
After the end of the First World War, Mondrian was able to move back to Paris where he began creating the infamous abstracted paintings that he became known for. During the 1920s, Mondrian went on to produce a range of abstract paintings within the modern movements of Surrealism and Dadaism, where he used certain features of both movements to add to his works. Therefore, Mondrian's paintings from the 1920s best represent his theory of purity and all-around harmony, as they exist as the clearest expressions of his ideas.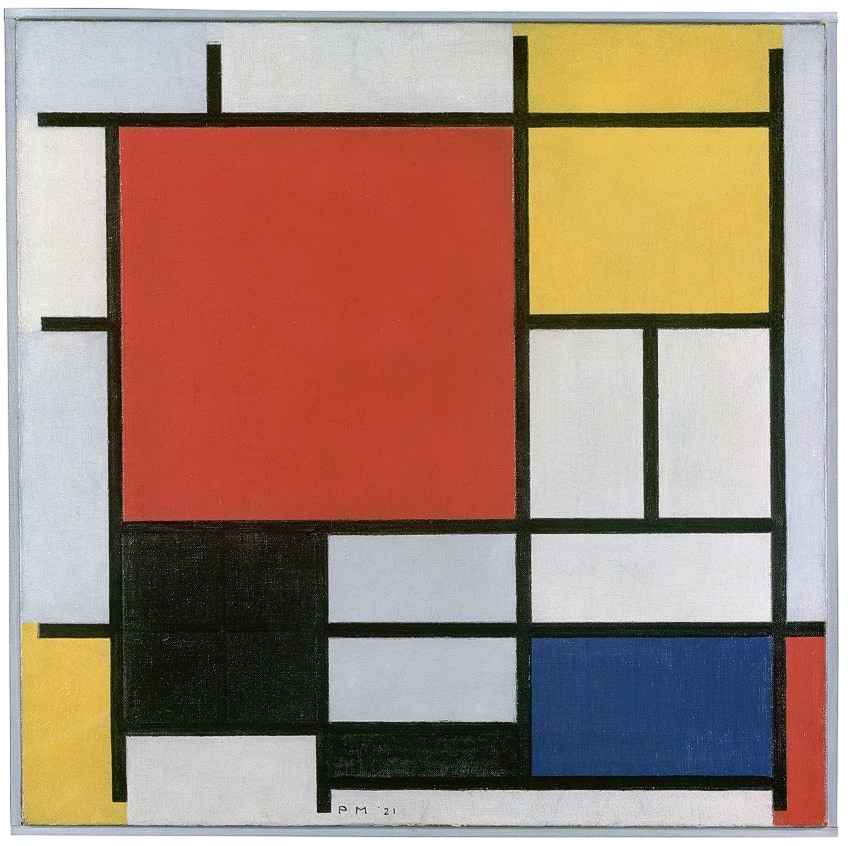 Composition A (c. 1920/1921) by Piet Mondrian; Piet Mondrian, Public domain, via Wikimedia Commons
Despite producing artworks for a significant period of time, Mondrian only began to be acknowledged for his contribution to Modernism around 1925. It was at this point that his paintings started to enter the collections of affluent Europeans and Americans, which brought him instant fame. Mondrian continued to move around frequently and prior to the start of World War Two, he moved to London before continuing on to New York City in 1940. While in London, he befriended Peggy Guggenheim, who later exhibited his works.
While living in New York, Mondrian was quickly introduced to the flourishing avant-garde art scene that was establishing itself.
There, he joined the American Abstract Artists group, where he helped to support and legitimize their position within modern art through his own teaching and mentorship of European abstraction. Continuing to publish writings on Neoplasticism, Mondrian further developed and evolved his painting style considerably in response to the advancements that were occurring in the New York art scene.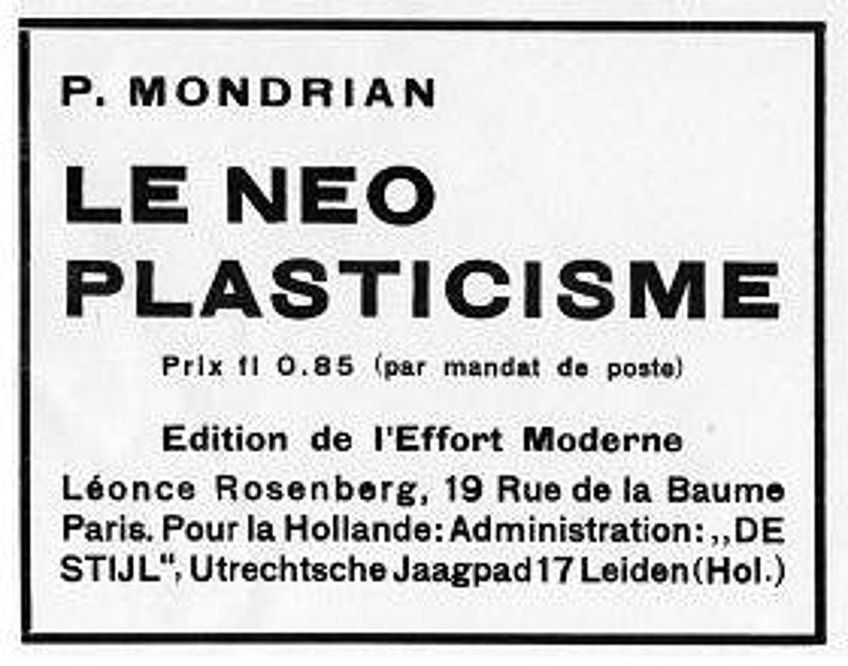 Advertisement of Mondrian's booklet Le Neo-Plasticism, in De Stijl (1924); The original uploader was Vincent Steenberg at Dutch Wikipedia., Public domain, via Wikimedia Commons
After a long career marked by plenty of experiments with color and form, Mondrian finally held his first solo exhibition at a gallery in New York in 1942. After developing a more colorful style made up of lines and syncopated rhythms, this exhibition was widely accepted by audiences worldwide and his colleagues in the art world, which firmly placed Mondrian on the list of iconic artists. However, Mondrian's fame may seem short-lived today, as he succumbed to pneumonia at the age of 71 and died in 1944, a mere two years after this show.
Piet Mondrian Was a Founder of Which Movement?
Also known as the Neoplasticism movement, De Stijl was founded in Leiden in the Netherlands and translates to "The Style". Consisting of both artists and architects, the art movement encompasses specific works that were produced between 1917 and 1931, which adhered to its stylistic principles. The fundamental concept of De Stijl was pure abstraction, which was achieved through the reduction of form and color. Artists reduced visual artworks into vertical and horizontal lines, using only black, white, and primary colors.
In addition to his unmistakable style, Mondrian was best known for being one of the founders of the Dutch modern art movement known as De Stijl.
In 1917, Mondrian joined forces with three other painters, Theo van Doesburg, Bart van der Leck, and Georges Vantongerloo, to establish the artistic style that went on to be called De Stijl. Continuing with his revolutionary developments, Mondrian and the others extended his ideals of abstraction and simplification beyond painting to include architecture and the graphic and industrial region within De Stijl.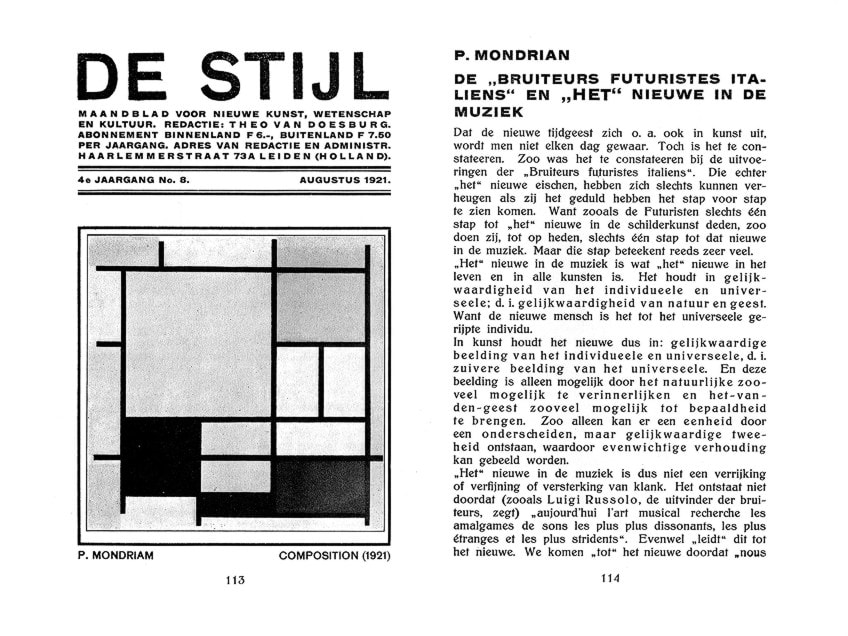 A spread from De Stijl, volume 4, number 8, pages 113-114; Piet Mondriaan, Public domain, via Wikimedia Commons
As the group promoted a complete rejection of visually observed reality in favor of depicting pictorial language in its simplest elements, Mondrian was recognized for the purity of his abstractions and his orderly methods. He radically streamlined his paintings to adhere to the ideals of De Stijl, as well as to portray the distinct and universal aesthetic he was aiming for. Mondrian also wrote essays on abstract art whilst working in the De Stijl movement, which were frequently published in the De Stijl periodical.
As Mondrian played such a large role in the first periodical that was released, he was able to fully present most of his visual theories. Due to this, the earlier style of the De Stijl movement closely resembled Mondrian's own style, as he was the largest contributor at the time.
However, as the years passed, De Stijl eventually came to reflect the ideas and styles of Theo van Doesburg, who emerged as the real leader of the movement.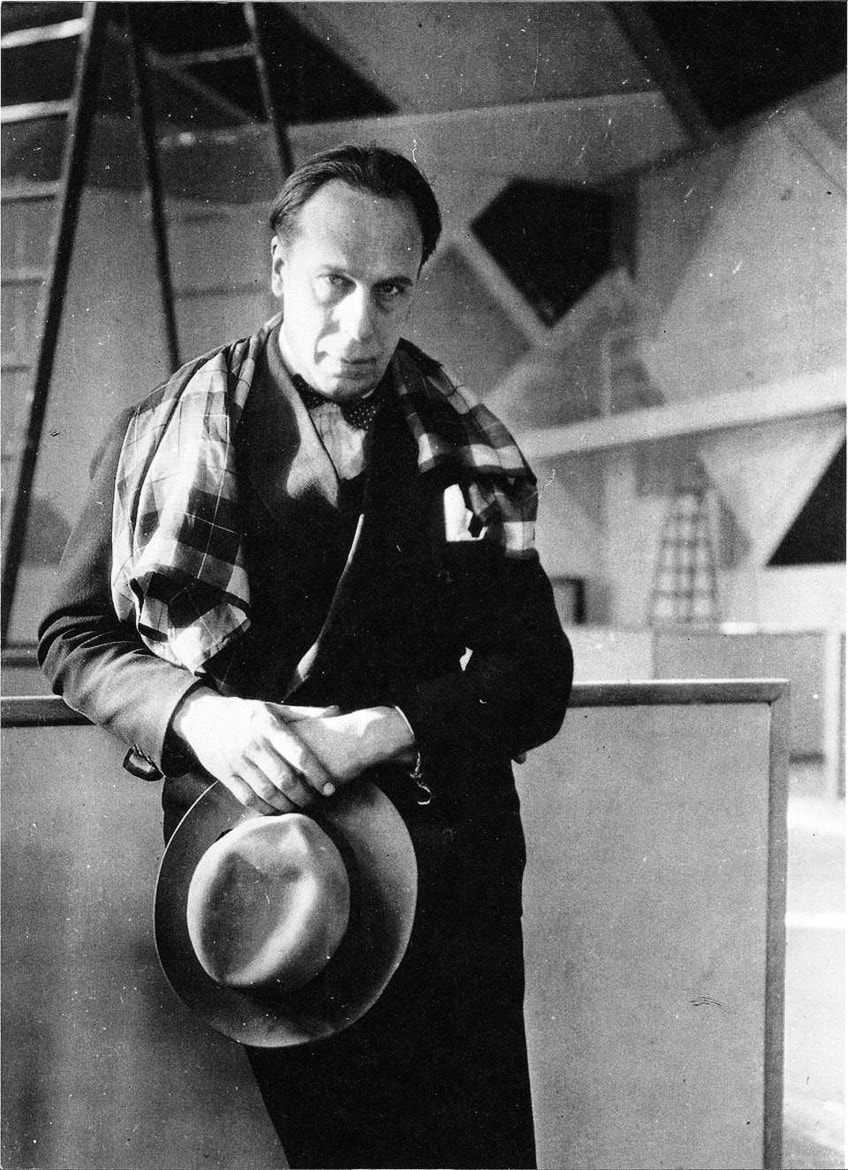 Theo van Doesburg in the Aubette, Strasbourg, 1927; Anonymous Unknown author (photographer), Public domain, via Wikimedia Commons
Working with the group until the early 1920s, Mondrian went on to produce some of his best-known paintings during this time. These artworks, which emphasized his use of line and basic color palette, have become iconic abstract artworks and remain hugely influential in popular culture today. Mondrian exhibited for a few years with De Stijl until around 1925, when he resigned from the group. His absence came after van Doesburg reinstated diagonal elements into his work and the group, which Mondrian did not agree with.
Piet Mondrian's Artist Style
Today, almost everyone would be able to identify a Mondrian art piece, as his style has become synonymous with modern art from the 20th century. His art style was incredibly utopian, as he worked to create a "universal beauty" through order and simplicity. In order to convey his ideas, Mondrian limited his use of artistic elements to the three primary colors (red, blue, and yellow), the three main values (black, white, and gray), and the two key directions (horizontal and vertical).
These became the main defining features of his works.
As both a theorist and writer, Mondrian stated that art echoed the fundamental spirituality of nature. This essentially allowed him to simplify the subjects within his paintings down to their most fundamental elements. In doing so, Mondrian was able to display the essence of the balance between nature and the universe, reflecting this force in his paintings.
Thus, when producing artworks, Mondrian reduced his portrayal of the world to their most fundamental vertical and horizontal elements, which he did through the use of line.
Mondrian's exceptional view of modern art was explicitly illustrated in the methodical advancement of his artistic style from conventional representation to total abstraction. When viewing Mondrian's paintings, several specific contrasts can be seen. These are the conflicting forces of positive and negative, the dynamic and static, and the masculine and the feminine. His style evolved in an extremely logical and step-by-step manner, which allowed audiences to detect the hits of Impressionism, Luminism, and Cubism in his artworks.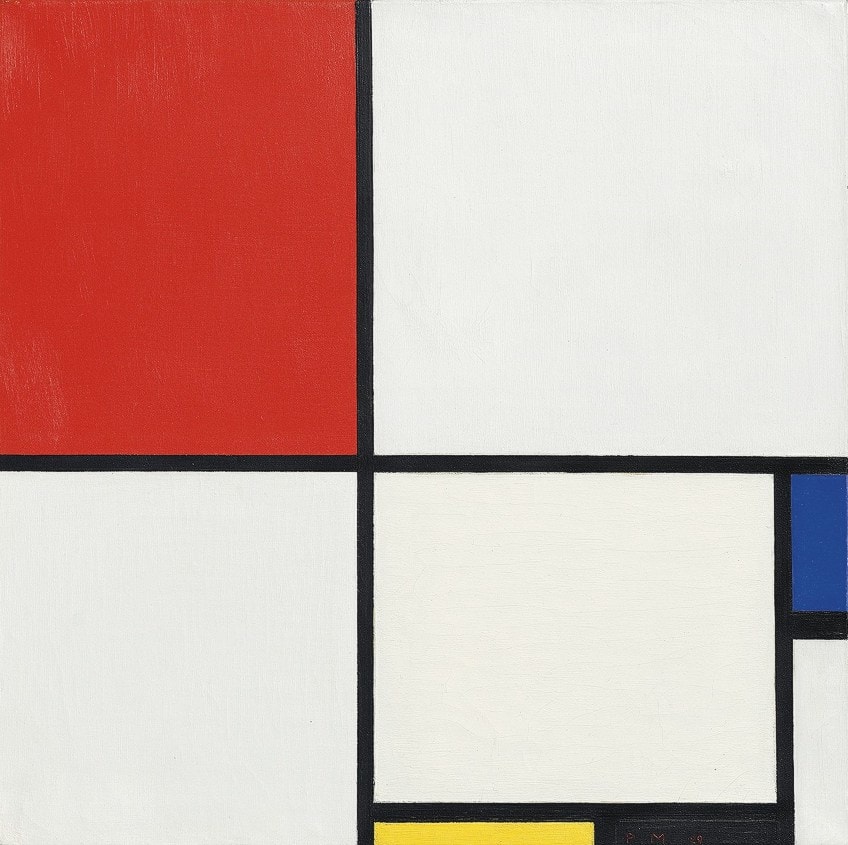 Composition No. III with Red, Blue, Yellow, and Black (1929) by Piet Mondrian; Piet Mondrian, Public domain, via Wikimedia Commons
The impact of Cubism on his artworks was perhaps the most important influence that Mondrian had. Cubism marked a significant turning point in Mondrian's career, which guided him in the direction of the avant-garde art world. After moving to Paris, he became familiar with the paintings by iconic Cubists Picasso and Braque, as he witnessed their shift from a representational and Neo-Impressionist style to a more modern and abstracted one.
During Mondrian's early years in Paris, he briefly endorsed the color scheme of Cubism.
The Gray Tree (1912) by Piet Mondrian; Piet Mondrian, Public domain, via Wikimedia Commons
Painting a few artworks with the subdued grey and yellow/brown color palette, such as The Gray Tree (1912), he soon realized that the painting surface itself held more importance for him. While the dull color palette was important to the Cubists, as it gave off the illusion of three-dimensional depth, Mondrian sought to extend the evident flatness of the canvas by using other colors and elements.
This led to the growth of his pictorial vocabulary, where Mondrian introduced his double lines and color lines.
Eventually, the black grid that he typically made use of was changed to vibrating lines of color squares, which soon became known as the infamous "Mondrian pattern". When drawing his lines, Mondrian seldom used a ruler. Thinking carefully about where to place each line, Mondrian preferred to free-hand this element. Additionally, he never used paint directly from a tube, choosing to mix his own colors.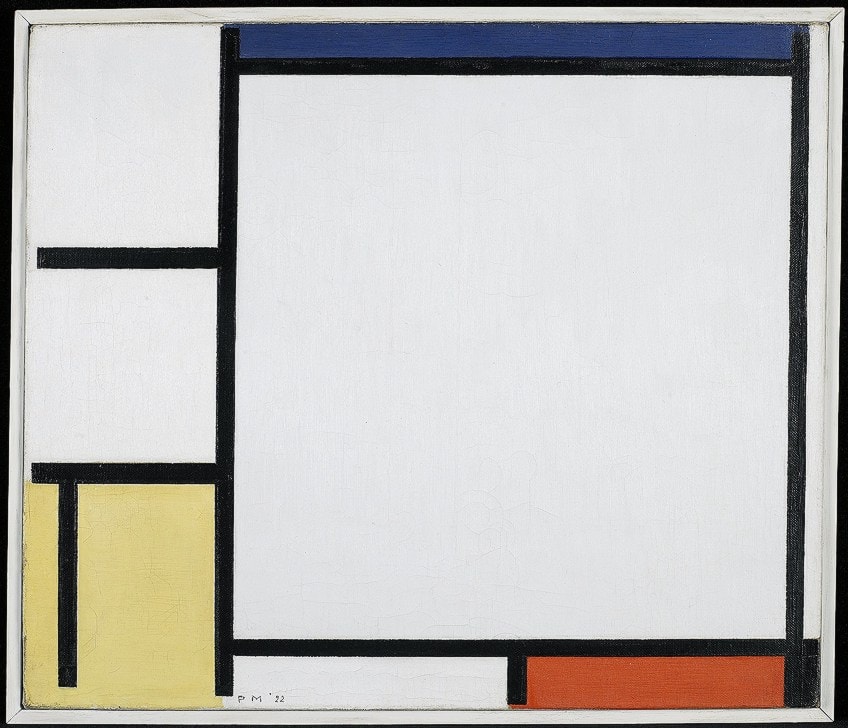 Composition with Blue, Red, Yellow, and Black (1922) by Piet Mondrian; Piet Mondrian, Public domain, via Wikimedia Commons
Most Well-Known Piet Mondrian Paintings
As a member of the De Stijl movement, this famous color block artist went on to produce several iconic paintings during the group's peak. Eventually honing in on his specific style, Mondrian created artworks that demonstrated his own ideas and impressions of reality. The majority of his later works were predominantly made up of off-white canvases that were divided by lines into individual blocks of primary colors.
Below, we will be taking a look at some of the most well-known Piet Mondrian paintings made.
Tableau I (1921)
| | |
| --- | --- |
| Date | 1921 |
| Medium | Oil on canvas |
| Dimensions | 96.5 cm x 60.5 cm |
| Where It Is Currently Housed | Museum Ludwig, Germany |
In 1921, two years after moving from the Netherlands to Paris, Mondrian created Tableau I. This painting demonstrated the new Mondrian art era that he had entered, as his living in Paris allowed for an entirely new period of creativity and artistic freedom to occur. Moving away from the traditional and naturalistic approach that he was taught back home in the Netherlands, Mondrian created Tableau I with his infamous black grid lines and primary colors to display his new style.
Existing as one of the first Mondrian art pieces to clearly show his newfound and methodical style, "Tableau I" is therefore regarded with much importance.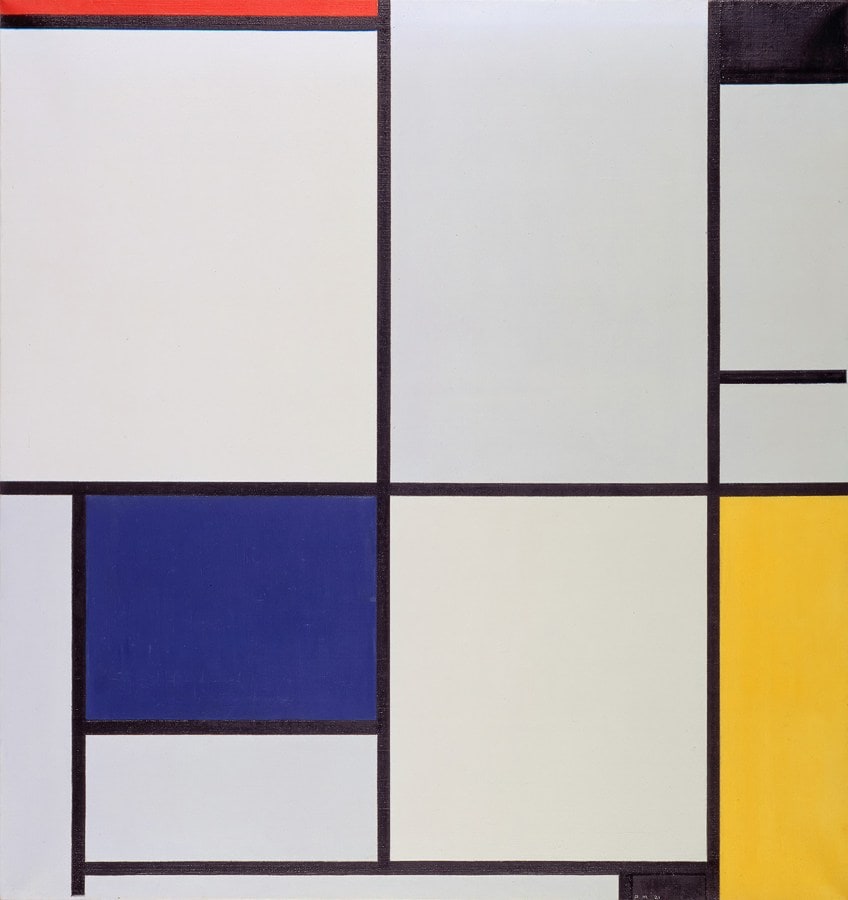 Tableau I (1921) by Piet Mondrian; Piet Mondrian, Public domain, via Wikimedia Commons
Thought to signal the start of the Mondrian pattern in art, Tableau I provided a transparent snapshot of the new approach that he took to his paintings, as the artwork documented a key stage in Mondrian's artistic development. As the work was made up of blocks of red, yellow, blue, white, and black, all separated by black grid lines, it showed Mondrian's evolution into the purely abstract.
By the early 1920s, Mondrian went on to dismiss the conventional way in which art was created, as he did not share in the belief that art had to be a realistic portrayal of reality.
His use of geometric blocks, clear-cut lines, and vibrant blocks of primary colors in Tableau I demonstrated his move away from the traditional world, as he created a composition that did not resemble reality at all. Despite the blocks being different sizes and made up of different colors, the way in which Mondrian combined them helped to form one cohesive work.
Composition with Large Red Plane, Yellow, Black, Gray, and Blue (1921)
| | |
| --- | --- |
| Date | 1921 |
| Medium | Oil on canvas |
| Dimensions | 95.7 cm x 95.1 cm |
| Where It Is Currently Housed | Kunstmuseum, the Hague |
Another well-known Mondrian artist painting from the 1920s is Composition with Large Red Plane, Yellow, Black, Gray, and Blue. Creating many of his iconic and definitive abstract paintings during this time, this composition exists as another excellent example of Mondrian's artistic style at the time. Along with other artworks that he created in the 1920s, this painting exists as one of his most well-known pieces, as it completely embodied the definitive and abstracted style that he was aiming for.
Constructing the composition out of thick black lines and blocks of solid and bright colors, he was able to create his distinct Mondrian pattern via the squares that he used.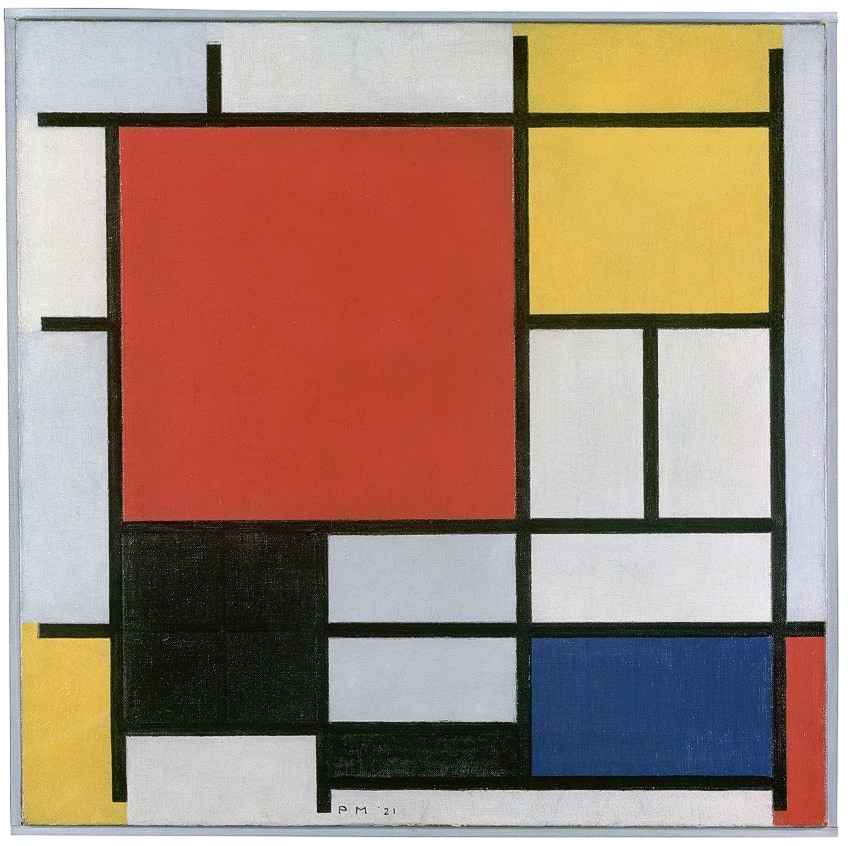 Composition with Large Red Plane, Yellow, Black, Gray, and Blue (1921) by Piet Mondrian; Piet Mondrian, Public domain, via Wikimedia Commons
As Mondrian believed that art should be viewed in a more abstract sense, he saw to it that the names for his paintings were in keeping with the abstracted style he was using. By naming this painting Composition with Large Red Plane, Yellow, Black, Gray, and Blue, Mondrian leaves no room for interpretation when viewing the work, as it clearly labels it exactly as it is.
As the gigantic red block on the far left is widely considered to be the main focal point of the work, an incredibly asymmetrical painting was created.
The famous color block artist was known for his uneven paintings during his mature period, as one single block tended to dominate the composition and act as the central point of attention. However, when looking at this work, it still maintains an illusion of balance, thanks to the placement of the smaller blocks of yellow, gray, blue, and white around it.
Composition with Red, Blue and Yellow (1930)
| | |
| --- | --- |
| Date | 1930 |
| Medium | Oil and paper on canvas |
| Dimensions | 46 cm x 46 cm |
| Where It Is Currently Housed | Kunsthaus, Zürich |
Possibly one of the most spoken-about paintings of Piet Mondrian is Composition with Red, Blue and Yellow, which he painted in 1930. The reason that this artwork is considered to be such an important one, despite being produced nearly 10 years after Mondrian began experimenting with an abstract style, was that it marked a very understated yet notable change in the development of his unique and singular style of painting. Demonstrating a subtle move away from Neo-Plasticism, this work was more geometric and Cubist in style.
When looking at this work, it may not be immediately apparent as to why it is so remarkable.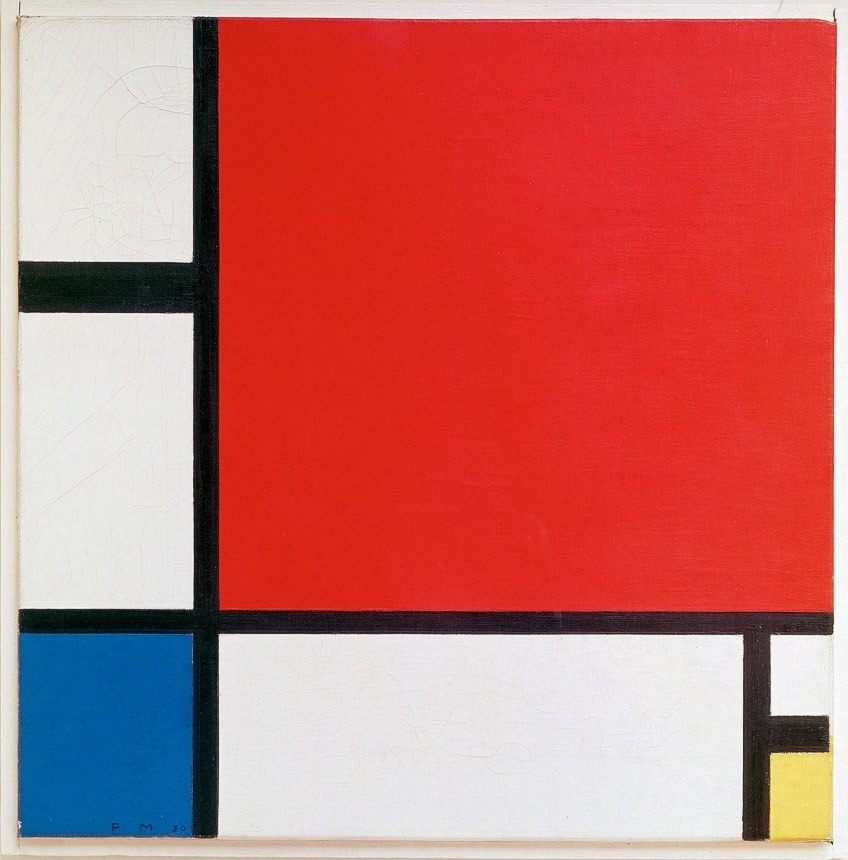 Composition with Red, Blue and Yellow (1930) by Piet Mondrian; Piet Mondrian, Public domain, via Wikimedia Commons
However, certain aspects of the painting clearly set it apart from the many others that Mondrian made during the same time frame. One of the reasons for this is the way that Mondrian used lines in Composition with Red, Blue and Yellow to create the illusion of balance in this composition. Using line in conjunction with color and the sizes of the shapes, he was able to create a work that appeared both balanced and off-balanced when viewing it.
Another fascinating aspect of this work is that Mondrian left the fields of color unframed at the edges of the canvas, which he rarely did in his other paintings.
This was unusual, as he tended to tightly fence his blocks of color in through the use of solid black lines. A potential reason was given for Mondrian leaving his shapes open and exposed within Composition with Red, Blue and Yellow, which was that he never actually intended to have this specific painting framed. Despite this, the true reason for this anomaly remains unknown.
Broadway Boogie-Woogie (1942 – 1943)
| | |
| --- | --- |
| Date | 1942 – 1943 |
| Medium | Oil on canvas |
| Dimensions | 127 cm x 127 cm |
| Where It Is Currently Housed | Museum of Modern Art, New York City |
The final artwork on the list of famous Piet Mondrian paintings that we will be looking at is Broadway Boogie-Woogie, which he painted between 1942 and 1943. This work was created when Mondrian was living in New York City and was thought to have been inspired by the spirit of the city, as well as the liveliness and fast-paced atmosphere that he experienced while living in America. Encouraged by the towering buildings in the metropolis, Mondrian's late artwork demonstrated a newfound understanding of energy and complexity.
When looking at this painting, a reference to the city grid of Manhattan is made through the intersecting lines of primary color.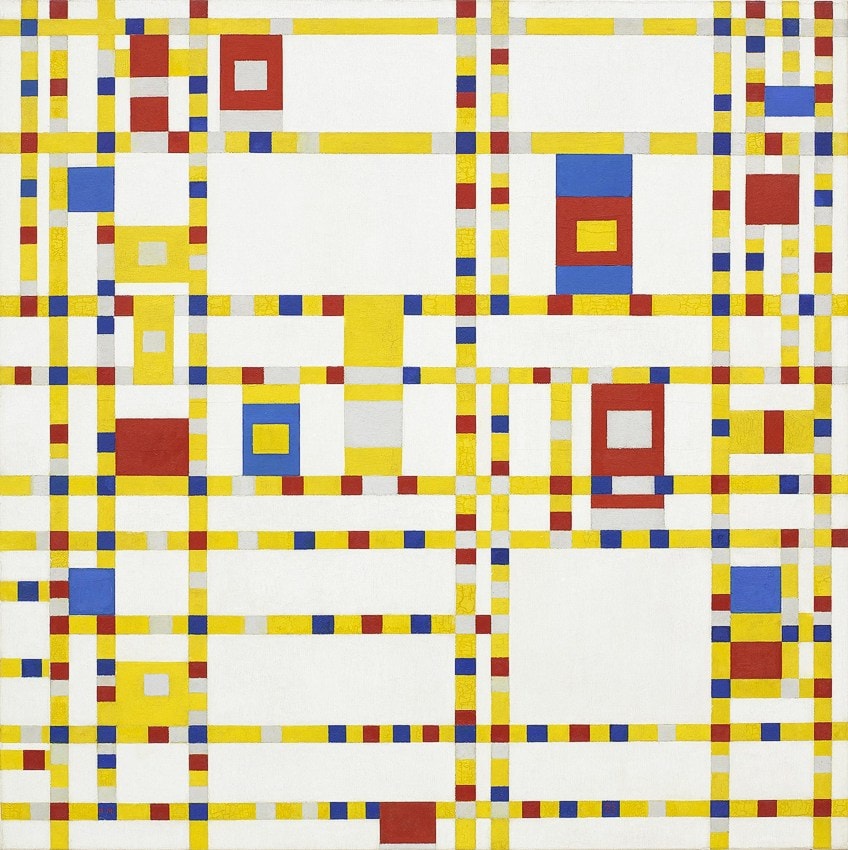 Broadway Boogie-Woogie (1942-1943) by Piet Mondrian; Piet Mondrian, Public domain, via Wikimedia Commons
Broadway Boogie-Woogie demonstrated Mondrian's lifelong pursuit of order, as he replaced his traditional black lines with lines of pulsating primary colors. This added to the revitalized energy felt in this work, which was further emphasized by the painting's title. Naming the work after the blues genre of music, Mondrian captivated the sense of movement and animation through the colorful lines and squares.
While the work hinted at the business of the city, it also advertised New York's growing role as the new center of modern art after the end of World War Two.
Another reason for Broadway Boogie-Woogie's importance was the fact that it was the last painting that Mondrian produced before he succumbed to pneumonia in 1944. Despite the painting's importance, it was bought by Brazilian sculptor Maria Martins for only $800 around 1943. She later donated it to the Museum of Modern Art in New York City, where it remains today.
The Legacy of Piet Mondrian
Remembered today as an icon, this famous color block artist went on to become an enormous influence on the 20th-century art that was developing. Mondrian influenced both the development of abstract painting, as well as numerous other major styles and art movements such as Abstract Expressionism, Minimalism, and Color Field painting during his time. Mondrian's style went on to have such an incredibly wide reach that it even impacted other forms of art, such as design, architecture, furniture design, and even fashion.
The seamless advancement of Mondrian's style towards total abstraction was viewed as an excellent achievement in the history of modern art, with his paintings foreshadowing the rise of abstract art that would later occur in the 1940s and 1950s.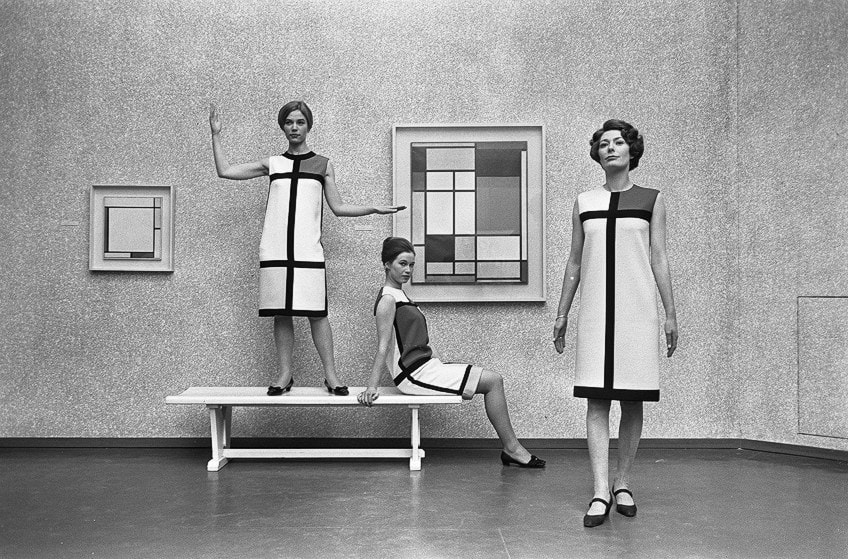 Models wearing Mondrian-inspired dresses by Yves Saint Laurent, The Hague Municipal Museum, 1966; Eric Koch / Anefo, CC0, via Wikimedia Commons
However, Mondrian art went beyond mere aesthetic considerations, as his quest for harmony and balance through painting brought about an entirely new meaning as to what art truly stood for. His theories and work influenced lots of later artists and helped modify the traditional standards of the art world.
As an artist of the De Stijl movement and an advocate of pure abstraction, Mondrian demonstrated his complete support of these ideas through all of the artworks that he produced. Painting until his hands blistered, he would sometimes compel himself to be sick or make himself cry from utter exhaustion to achieve the desired level of abstraction and harmony in his works.
Mondrian displayed a devotion so rare to his paintings and the discipline of his art style that most artists today could not even begin to compare.
Through using basic shapes and primary colors, Mondrian strongly believed that his idea of modern art would go beyond divisions in culture and act as a new common language of art. He based this concept on his use of pure colors, flattened forms, and the vigorous and powerful tension that he was able to create in all of his compositions. His style and works evolved dramatically throughout his lifetime and had a dramatic effect on the subsequent development of modern art that began while he was alive and continued after his death.
Feeling the most creative in his Manhattan studio, Mondrian went on to produce his most impressive pieces while living in New York City.
While in his apartment, he reshuffled large colored panels on his walls and painted others, creating giant replicas of his paintings as he worked on them. Stating that the constantly changing surroundings in his studio allowed for the best and most creative space that he ever occupied, the panels were turned into a traveling exhibition called "Wall Works" by a friend after Mondrian died.
Remaining single throughout his life and living simply with very few worldly possessions, Mondrian died in 1944 at the age of 71 after battling pneumonia. A funeral was held in Manhattan with nearly 200 people, including other notable artists such as Marcel Duchamp, Marc Chagall, Fernand Léger, and Robert Motherwell, among others. Today, many art historians associate Mondrian with Modernism, with his name automatically conjuring up the ideals of the style and the true purpose of the movement.
Piet Mondrian Art References in Popular Culture
Influential in many areas in addition to art, Piet Mondrian's far-reaching impact can be seen encompassing all facets of modern and postmodern culture. From furniture to fashion, the Mondrian artistic style has pervaded at almost every level of creative production and artistic thinking. Some significant references to Mondrian art that have been made in popular culture throughout the years include:
Hermès' range of luggage and bags inspired by Mondrian's abstract works
Yves Saint Laurent's "Mondrian color-blocking day-dress" collection
L'Oréal make-up line
Nike's "Dunk Low SB" sneakers inspired by Mondrian's Neoplastic style
White Stripes De Stijl album cover inspired by Mondrian's Neoplastic style
The character "Data" in Star Trek: The Next Generation has a replica of Tableau I (1921) in his residence
Suggested Reading
The above Piet Mondrian artist biography gives us a great insight into the life and artworks of this amazing artist, but there is so much more that can still be learned. Many more notable Piet Mondrian paintings exist, as well as other Mondrian pattern paintings that can be discussed.
If you would like to find out more about this famous color block artist, we suggest the below book for you.
Mondrian (2015) by Susanna Deicher
Despite only being made up of 96 pages, this hardcover packs quite a punch with the sheer amount of information on Mondrian's life and career. Accompanied by a concise biography and about 100 beautiful photographs of Mondrian's art, this book sheds some light on the phenomenal painter, outstanding art theoretician, and central figure in the international avant-garde art scene. Supplemented by important keywords and snappy texts, this book is the perfect introduction to Mondrian's distinct oeuvre and the influence that he had on others.
An introduction to Piet Mondrian's distinctive and pioneering oeuvre
A detailed chronological summary of Mondrian's life and works
Approximately 100 illustrations with explanatory captions
View on Amazon
Piet Mondrian is remembered as a remarkable artist, who had an enormous and influential impact on the development of Modernism in the art world. Choosing to simplify his visual world to basic lines and elements, he was able to create artworks that spoke to balance and unity whilst being made up of simple black lines and blocks of vibrant primary colors. Today, his paintings are immediately recognizable by both art professionals and novices alike. If you have enjoyed learning about this exceptional artist, we encourage you to research further.
Frequently Asked Questions
Piet Mondrian Was a Founder of Which Movement?
Beginning in 1917, De Stijl was an art movement that was established by Piet Mondrian and Theo van Doesburg, among others. Also known as Neoplasticism, this Dutch movement promoted pure abstraction through the reduction of form and color. Mondrian, along with other artists who experimented with the style, created artworks that were simply made up of shapes and basic colors. De Stijl proved to be a movement with significant international influence, as it affected art, architecture, typography, and interior design all over the world.
Do Any Piet Mondrian Portrait Works Exist?
As a famous De Stijl artist, Piet Mondrian's painting style was specifically grounded in the abstract. However, he began his artistic career by painting trees, so it is only natural to wonder if any Piet Mondrian portrait works exist. Mondrian detested realistic painting and chose to focus on the elements of unity, harmony, and balance within his works. However, two self-portraits do exist, which were painted during the Post-Impressionism era. The artworks are both titled Self Portrait and were painted by Mondrian in 1900 and 1918.
Isabella studied at the University of Cape Town in South Africa and graduated with a Bachelor of Arts majoring in English Literature & Language and Psychology. Throughout her undergraduate years, she took Art History as an additional subject and absolutely loved it. Building on from her art history knowledge that began in high school, art has always been a particular area of fascination for her. From learning about artworks previously unknown to her, or sharpening her existing understanding of specific works, the ability to continue learning within this interesting sphere excites her greatly.
Her focal points of interest in art history encompass profiling specific artists and art movements, as it is these areas where she is able to really dig deep into the rich narrative of the art world. Additionally, she particularly enjoys exploring the different artistic styles of the 20th century, as well as the important impact that female artists have had on the development of art history.
Learn more about the Art in Context Team.