Still life artists have been creating paintings portraying arrangements of inanimate objects since the middle ages. In the later period of the 16th century, still life oil paintings had risen to a significant and distinct genre with specialized artists that portrayed both man-made and natural compositions of everyday objects. In the early days of the art form, the objects often were used as religious symbols, but in later periods they were used by some artists as purely aesthetic subject matter.
Famous Still Life Artists and Paintings
What is a still life? A still life painting can contain a number of objects which are placed in a certain arrangement. Due to it being a popular genre, artists have created everything from realistic still-life fruit paintings to abstract still lifes – each giving the objective arrangement of various objects their own unique interpretation.
Today, we will discover more about the most famous still-life artists and the paintings that are considered to be their best work.
Michelangelo Merisi da Caravaggio (1571 – 1610)
| | |
| --- | --- |
| Nationality of Artist | Italian |
| Country of Birth | Italy |
| Date of Birth | 29 September 1571 |
| Associated Style | Baroque |
Caravaggio was a divisive and important Italian painter. He was abandoned when he was 11 years old and trained with an artist in Milan. He relocated to Rome, where his art became well-known for the tenebrism method he employed, which used shadow to highlight brighter regions. His success, unfortunately, was brief. Caravaggio departed Rome after killing a person in a scuffle.
Chalk portrait of Caravaggio by Ottavio Leoni, circa 1621; Ottavio Leoni, Public domain, via Wikimedia Commons
Scandal, on the other hand, fuelled Caravaggio's popularity. And as the painter's fame increased, so did his emotional anguish. He has the potential to be a violent individual with extreme emotional ups and downs and a penchant for gambling and drinking. He was a habitual brawler, finally serving a brief jail term in 1603 in response to another artist's accusation that Caravaggio had assaulted him.
Caravaggio's anger only became stronger during the course of the years that followed.
Basket of Fruit (c. 1595)
| | |
| --- | --- |
| Year of Completion | c. 1595 |
| Medium | Oil on Canvas |
| Dimensions | 31 cm x 47 cm |
| Currently Housed | Biblioteca Ambrosiana, Milan |
The artwork portrays a simple still-life scene. Caravaggio depicted withered foliage, drooping grapes, and even evidence of infection in his vivid, gritty style as evidenced by the wormhole in the fruit. Maybe this is a metaphor for life's flaws. Or maybe Caravaggio simply depicted what he observed; we can only guess.
Basket of Fruit is a lovely example of patterning and repetitions. Take note of the round fruit, organic leaf designs, leaf groupings, and woven container. This is visually appealing because it provides a feeling of order across the picture.
Still lifes are generally depicted from a lower angle. This makes sense given that many still life compositions are found on tabletops or shelving throughout the home, generally beneath eye level.
Basket of Fruit (c. 1595) by Caravaggio; Caravaggio, Public domain, via Wikimedia Commons
With Basket of Fruit, he used a new technique, working from a flat viewpoint with his eyes matching up with the base of the box. It's hard to obtain a sense of depth and structure from this vantage point. Consider the wicker to be nothing more than a simple cylinder shape. We can't see the bottom or upper planes from this angle, and the curving borders seem more like straight lines. The cylinder seems to be a flat rectangular shape rather than a three-dimensional shape.
Clara Peeters (1594 – 1657)
| | |
| --- | --- |
| Nationality of Artist | Flemish |
| Country of Birth | Belgium |
| Date of Birth | 15 May 1594 |
| Associated Style | Flemish Still Life |
Considering constraints on female accessibility to creative instruction and union admission, Clara Peeters is renowned as the greatest Flemish female artist of her era, one of the very few female painters practicing actively in 17-century Europe. Peeters excelled in still-life paintings with meals and was a key figure in shaping the customs of Dutch "breakfast works," images of basic dishes, and "banquet works," with lavish glasses and containers in rare metals.
Possible self-portrait of Clara Peeters, seated at a table with precious objects, c. 1618; Clara Peeters, Public domain, via Wikimedia Commons
By 1611 she had established herself in Amsterdam and was first registered in 1617 in The Hague. A few have speculated that because there are no visible works by Peeters after 1621, she basically stopped creating after marrying, as Judith Leyster had. Some think that Peeters may have led a modest studio of painters based on the number of purported reproductions of her artwork by multiple hands.
There is no record of Peeters' death date; nevertheless, academics hypothesize on several possibilities.
Still Life with Cheeses, Almonds and Pretzels (1615)
| | |
| --- | --- |
| Year of Completion | 1615 |
| Medium | Oil on Wood |
| Dimensions | 34 cm x 49 cm |
| Currently Housed | Mauritshuis |
The meaning of this artwork is not completely understood. It might be a prod to moderation or an allusion to The Last Supper. Or it might just be a show of luxury and riches. In addition to the things mentioned in the title, there are swirls of cream, figs, and a baguette in this picture. A gold-plated Venetian glass may be seen in the distance. The figs and nuts are on a plate made of Wanli China.
The items in this artwork were frequently utilized in Peeters' still lifes.
Still Life with Cheeses, Almonds and Pretzels (c. 1615) by Clara Peeters; Clara Peeters, Public domain, via Wikimedia Commons
Her name is painted on the hilt of the silver marital blade. Peeters' image is mirrored on the sleeve of the pitcher situated behind the cheeses. She so followed in the footsteps of Jan van Eyck, who depicted himself in the reflection in his Arnolfini Portrait. Peeters created seven self-portraits altogether. The artwork's historical background is unknown. It was in personal ownership in France from 1920 until 1998, when it was sold at Drouot-Richelieu in Paris.
It was purchased by the Richard Green Gallery and transferred to a private buyer in the United States in 2000. In June 2012, the Mauritshuis Museum in the Hague purchased the artwork.
Jacob Van Es (1596 – 1666)
| | |
| --- | --- |
| Nationality of Artist | Flemish |
| Country of Birth | Belgium |
| Date of Birth | c. 1596 |
| Associated Style | Baroque |
Jacob van Es was well-known for his still life paintings, often of food, but also of flowers on occasion. He worked on garland paintings alongside other painters. He was a key figure of the archaizing style in Flemish still-life art, with Clara Peeters and Osias Beert. There is not much information available regarding Jacob Foppens van Es' life. According to the text on a painting, he was most likely born in Antwerp. He was appointed head of the Antwerp Guild of St. Luke in 1617.
A portrait of Jacob van Es, 17th century; Wenceslaus Hollar, Public domain, via Wikimedia Commons
He had already been betrothed to Joanna Claessens when he registered as a master in Antwerp, and they had a son named Nicolaas. In 1648, he was elected as one of the guild's masters. Van Es had four additional children, three males, and three girls. His accomplishment as a painter is evidenced by the fact that his paintings were documented in several Antwerp collections from the 17th century.
Two of his paintings were listed in the catalog of the famous Flemish Baroque artist Peter Paul Rubens.
Still Life with Fruits in Porcelain (1630)
| | |
| --- | --- |
| Year of Completion | 1630 |
| Medium | Oil on Canvas |
| Dimensions | 60 cm x 45 cm |
| Currently Housed | Getty Center Museum |
Still Life with Fruits in Porcelain portrays numerous fruits arranged on a tabletop with mild light illuminating the scene, accentuating the shape of each element of the picture. Van Es artist completed the piece in 1630, and it has stayed one of history's most iconic still life works.
Van Es' command of light and shadow, as well as the organic coloring of each fruit and veg, were all on display in the picture.
Still Life with Fruits in Porcelain (c. 1630) by Jacob van Es; Jacob van Es, Public domain, via Wikimedia Commons
Take note of the rendering of light on the semi-translucent fruits, as well as the obvious contrast between background and foregrounds created by the application of shadows. Art critics have attributed numerous interpretations to the objects on the desk, as they did with A Table of Desserts. According to one explanation, the red fruit in the tiny dish in the lower right corner of the frame represents passion and sexual love. However, the plum and yellowish colors might indicate folly or faithfulness.
Pieter Claesz (1597 – 1661)
| | |
| --- | --- |
| Nationality of Artist | Flemish |
| Country of Birth | Belgium |
| Date of Birth | c. 1597 |
| Associated Style | Dutch Golden Age |
Claesz's instructor is unclear, although his earliest dated pieces recall Antwerp artists Osias Beert and Clara Peeters's meticulously arranged table scenes. Claesz's table pictures were filled with a broad variety of food and beverage, tobacco devices, and musical equipment. He painted with meaningful precision and carefully examined light effects, and pursued to augment the optical illusion by organizing items on the table so that they would seem to fade away in space.
Claesz used a more muted, monochrome palette between 1630 and 1640.
A close-up of Vanitas Still Life with Self-Portrait (c. 1628) by Pieter Claesz, showing the reflection of the artist; Pieter Claesz, Public domain, via Wikimedia Commons
Claesz impacted artists in Haarlem and beyond with his creative arrangements and unique ability to rearrange the same set of elements into a plethora of fresh and captivating combinations. When Willem Claesz Hed began painting still lifes in 1628, he turned to Claesz for themes as well as structural and aesthetic answers.
Constantijn Huygens put Claesz on a 1647 list of artists talented enough to help towards the ornamentation of the Huis ten Bosch's Oranjezaal, especially portions showing silver and gold items, however, it has not been verified that Claesz was involved in the commission
Vanitas with Violin and Glass Ball (1628)
| | |
| --- | --- |
| Year of Completion | 1628 |
| Medium | Oil on Canvas |
| Dimensions | 36 cm x 59 cm |
| Currently Housed | Germanisches Nationalmuseum, Nuremberg |
Pieter Claesz presents a concept of his art in this artwork. The lighting draws the observer's eye to the numerous features. The spilled glass, emptied to the final droplet, appears to represent the fleeting nature of earthly pleasures. The pocket timepiece is turned away from the viewer and has its back open, as though someone had attempted to comprehend the enigmatic essence of time. The violin is oriented diagonally towards the backdrop, with its bow resting diagonally across its frets.
The instrumentation most likely represents the contrast and conflict between the two arts of music and art.
Vanitas Still Life with Self-Portrait (c. 1628) by Pieter Claesz; Pieter Claesz, Public domain, via Wikimedia Commons
The quill and its carrier, along with the volume, allude to writings, literacy, and the vanitas' doctrinal nature. The glass ball is an intriguing and uncommon theme. A self-portrait of the artist at his workstation is reflected in its spherical surface. Because he is represented in effigy, the painter does not have to autograph the board, which thus becomes a real autobiographical record: the artist is in the image. The projection of his self-portrait in his still life painting may also be seen as a hint that every artwork conceals more than it shows.
Rachel Ruysch (1664 – 1750)
| | |
| --- | --- |
| Nationality of Artist | Dutch |
| Country of Birth | Netherlands |
| Date of Birth | 3 June 1664 |
| Associated Style | Baroque, Dutch Golden Age |
Rachel Ruysch's mother's father, Pieter Post, was a well-known designer, and her dad, Frederik Ruysch, was a renowned physicist. She learned how to accurately watch and document wildlife from her dad. At the age of 15, Ruysch became an assistant to Willem van Aelst the prominent flower painter. From then on, she created a variety of still lifes, primarily floral compositions and forest settings. She joined the artists' association in the Hague in 1701.
Portrait of Rachel Ruysch (before 1706) by Rachel Ruysch (self-portrait); Godfried Schalcken, Public domain, via Wikimedia Commons
At the time, she started creating big floral pieces for a worldwide clientele. Ruysch was called to Düsseldorf many years later to work as a royal painter to Elector Palatine of Bavaria, Johann Wilhelm. She stayed there from 1708 to 1716, when the prince died. Ruysch continued to paint fruits and floral images for a wealthy clientele after relocating to Holland. She continued to be a painter, confidently scrawling her age on a painting she finished in 1747, aged 83.
Ruysch's renown has never dwindled, amid fluctuations in the appeal of floral works in the years following her passing.
Flowers in a Glass Vase (1704)
| | |
| --- | --- |
| Year of Completion | 1704 |
| Medium | Oil on Canvas |
| Dimensions | 83 cm x 66 cm |
| Currently Housed | Toledo Museum of Art |
This masterpiece is a renowned part of Ruysch's output, showcasing her abilities at the pinnacle of her profession. The viewer's nostrils are filled with the pleasant, seductive scent of blossoming flowers. Beetles, butterflies, and other bugs hum and flutter from one bloom to the next and from one bud to the next. Some appear to be on the lookout for the tastiest pollen, while others sit calmly on the buds and foliage of the arrangement, their antennae intermittently moving in different directions to keep a sense of their environment.
The bouquet's dynamic bends and curves, including its intricate, overlaying levels, make it difficult for the observer to identify a single point of entry into Ruysch's dense arrangement.
Flowers in a glass vase on a marble table (1704) by Rachel Ruysch; Rachel Ruysch, Public domain, via Wikimedia Commons
The vast quantity of floral varieties, their diversity of sizes and forms, and their vibrant hues dazzle the audience's mind and imply a high degree of biological expertise. The hues of the blossoms intensify and increase against the artwork's dark, gloomy backdrop. The vivid white and orange flowers in the middle instantly draw the audience's eye. From this vantage point, the spectator observes the three delicate pink cabbage roses that make a gentle arc towards the bouquet's base.
Paul Cézanne (1839 – 1906)
| | |
| --- | --- |
| Nationality of Artist | French |
| Country of Birth | France |
| Date of Birth | 19 January 1839 |
| Associated Style | Post-Impressionism |
The work of Paul Cézanne set the groundwork for the move from a 19th-century idea of artistic creation to a fresh and fundamentally altered world of art in the 20th century. Cézanne can be seen as bridging the gap between late 19th-century Impressionism and the early 20th-century new path of creative exploration, Cubism.
The adage ascribed to both Picasso and Matisse that Cezanne "is the parent of us all" is difficult to ignore.
Self-portrait against a pink background (c. 1875) by Paul Cézanne; Paul Cézanne, Public domain, via Wikimedia Commons
Cézanne's work exemplifies his expertise in composition, colors, arrangement, and modeling. His brushwork, which is typically recurring, delicate, and inquisitive, is distinctive and easily identifiable. He utilized color planes and tiny brushstrokes to create intricate areas that were both a direct reflection of the seeing eye's perceptions and an abstract from what can be seen in nature.
His thorough evaluation of his objects, a probing look, and tenacious attempt to deal with the complexities of human visual processing are all conveyed in the paintings.
Curtain, Jug and Fruit Bowl (1894)
| | |
| --- | --- |
| Year of Completion | 1894 |
| Medium | Oil on Canvas |
| Dimensions | 59 cm x 72 cm |
| Currently Housed | Private Collection |
Cezanne's talent to create still life objects with astounding accuracy is on full show in his piece titled Curtain, Jug and Fruit Bowl. He created this piece in 1894, and it has been praised for the artist's distinctive way of filling out the arrangement with a nuanced view. This piece is among the most valuable still-life fruit paintings ever bought during an auction, fetching more than $60 million in 1999.
A closer examination of the picture makes the spectator feel as though they could stretch out and grab one of the ripening apples or pears.
Curtain, Jug and Fruitbowl (1893-1894) by Paul Cézanne; Paul Cézanne, CC BY 3.0, via Wikimedia Commons
Cézanne's skill to harmonize the hues of every piece of fruit, which ranged from orangish tones to deep green, was lauded by many art experts. He effectively addressed the problem of space; it appears three-dimensional, despite the fact that the painting's surface is two-dimensional. The picture recalls the scent of the fruit, which appears to be lifted off the table, and produces a nice, familiar environment.
The artist's feeling of beauty and enjoyment is conveyed via the work.
Paul Gauguin (1848 – 1903)
| | |
| --- | --- |
| Nationality of Artist | French |
| Country of Birth | France |
| Date of Birth | 7 June 1848 |
| Associated Style | Symbolist, Post-Impressionism |
Paul Gauguin was a major Post-Impressionist artist. His daring coloration experiments opened the way for the Synthetic style of contemporary art, whereas his presentation of the intrinsic significance of the themes in his canvases, influenced by the cloisonne style, paved the way for Primitivism and a reintroduction to the pastoral. He was also a prominent proponent of the forms of art of woodcuts and engravings.
Gauguin was a key player in the early 1900s Symbolist painting movement.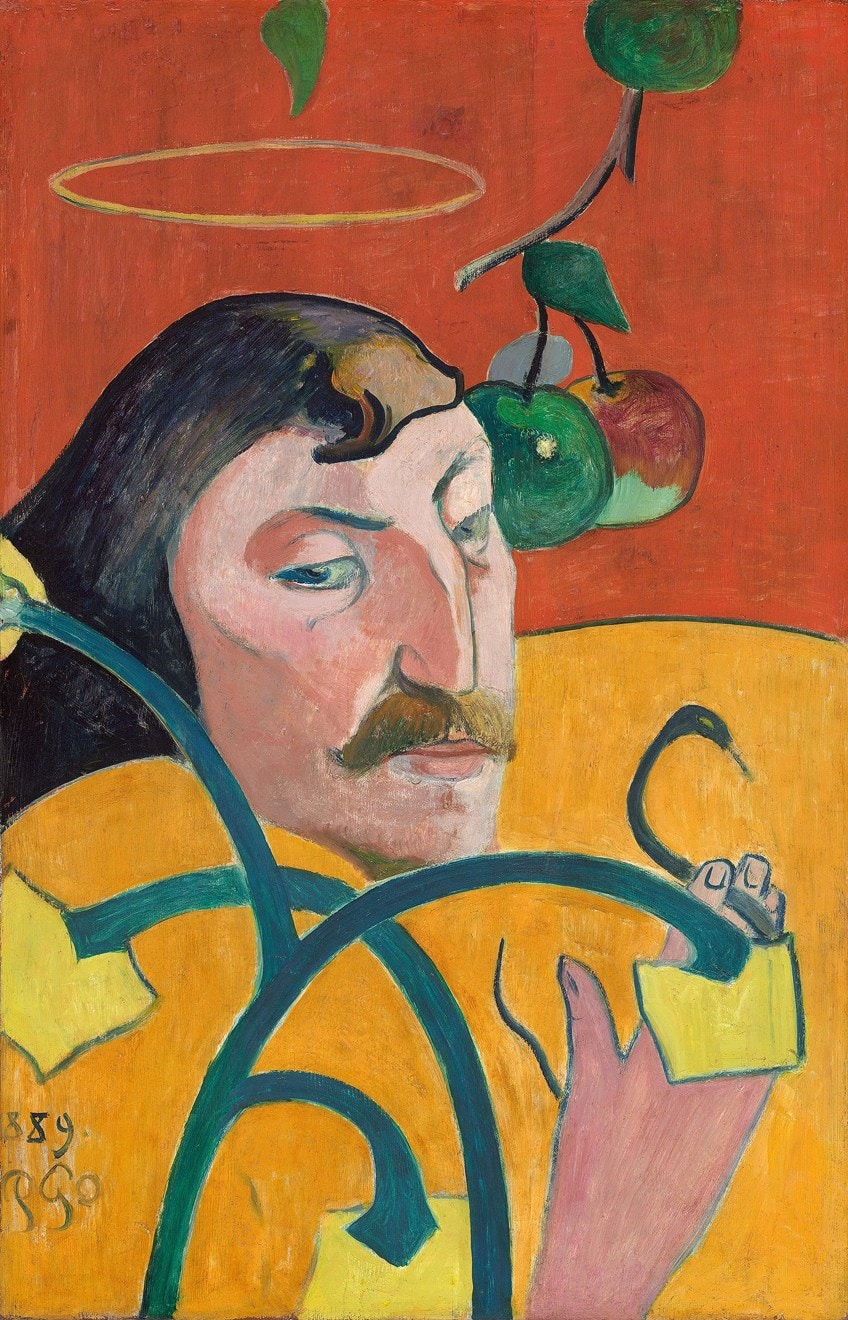 Self-Portrait with Halo or Self-portrait with Snake (1889) by Paul Gauguin; Paul Gauguin, Public domain, via Wikimedia Commons
His utilization of vivid colors, accentuated body proportions, and striking contrasting elements in his canvases distinguished him from his peers, paving the way for the Primitivism art style. Gauguin aspired to flee the constraints of European society in 1891, and he believed that Tahiti could provide him with some emotional and artistic independence.
When Gauguin arrived in Tahiti, he was unhappy to discover that French colonial officials had westernized most of the country, so he opted to live among the indigenous peoples rather than among the Europeans residing in the city.
Wood Tankard and Metal Pitcher (1880)
| | |
| --- | --- |
| Year of Completion | 1880 |
| Medium | Oil on Canvas |
| Dimensions | 40 cm x 33 cm |
| Currently Housed | Chicago Art Institute |
The painter Paul Gaugin was very similar to the renowned still-life artist Vincent Van Gogh to the extent that their painting techniques were quite comparable. Wood Tankard with Metal Pitcher by Gauguin has identical tones to many of Van Gogh's paintings.
However, it also has the unique distinct qualities that make it one of the most renowned still life paintings in existence.
Wood Tankard and Metal Pitcher (1880) by Paul Gauguin; Paul Gauguin, Public domain, via Wikimedia Commons
This piece, produced in 1880, has long been praised by critics and art enthusiasts alike for its use of opposing elements. The artist depicts the wood flask and the metal jug in such a manner that each item's unique method of light reflecting is highlighted, drawing the audience's entire attention to each object. The painting is now housed at the Chicago Art Institute.
Vincent van Gogh (1853 – 1890)
| | |
| --- | --- |
| Nationality of Artist | Dutch |
| Country of Birth | Holland |
| Date of Birth | 30 March 1853 |
| Associated Style | Post-Impressionist |
Vincent van Gogh, the son of a preacher and raised in a traditional and sophisticated environment, was an extremely emotional person, who did not have much self-belief and grappled with his personality and vocation. He thought his actual purpose was to evangelize; nevertheless, it required years to find his actual destiny as a painter.
Once he made a decision on becoming a painter, between the years 1860 and 1880, van Gogh had already had two unsatisfactory and disappointing love interests and had worked ineffectively as a cashier in a bookshop, an art sales representative, and an evangelist.
Self-Portrait (c. 1887) by Vincent van Gogh; Vincent van Gogh, Public domain, via Wikimedia Commons
Van Gogh's best works were created in fewer than three years, using a style that became increasingly passionate about brushstroke, metaphorical and vivid colors, surface tension, and the motion and resonance of contours and form. Van Gogh's distinctive combination of content and form is strong; passionate, poetically harmonic, creative, and passionate, for the painter was totally involved in the endeavor to convey either his battle with lunacy or his understanding of the divine essence of nature and god.
Sunflowers (1889)
| | |
| --- | --- |
| Year of Completion | 1889 |
| Medium | Oil on Canvas |
| Dimensions | 95 cm x 73 cm |
| Currently Housed | Van Gogh Museum, Amsterdam |
Sunflower artworks by Vincent van Gogh are among his most well-known. He produced them in Arles, France's southernmost city. Van Gogh created five huge paintings with sunflowers in a container in three different hues of yellow "and nothing else." In this approach, he proved that it was feasible to produce a still life oil painting with many changes of a specific color while maintaining elegance.
The sunflower paintings had a unique meaning for Van Gogh: they expressed "appreciation," he remarked.
Sunflowers (Third Version) (1888) by Vincent van Gogh; Vincent van Gogh, Public domain, via Wikimedia Commons
The first two were hung in the bedroom of his acquaintance, the artist Paul Gauguin, who went to live with van Gogh for a while. The sunflowers, which Gauguin believed were "totally Vincent," wowed him. During his friend's visit, Van Gogh had already created a fresh version, and Gauguin subsequently requested one as a present, which van Gogh was hesitant to offer him. However, he later created two separate versions, one of which is currently housed in the Van Gogh Museum.
Henri Matisse (1869 – 1954)
| | |
| --- | --- |
| Nationality of Artist | French |
| Country of Birth | France |
| Date of Birth | 31 December 1869 |
| Associated Style | Fauvism |
Henri Matisse, a French painter noted for his utilization of color and flowing and innovative draughtsmanship was among the indisputable leaders of 20th-century painting. He was a designer, painter, and sculptor, but he is best known as a painter.
Matisse, together with Marcel Duchamp and Picasso, is widely recognized as one of the three artists who contributed to characterize the revolutionary developments in the art forms in the early 20th century, credited for exciting changes in sculpture and painting.
Portrait of Henri Matisse, 1933; Carl Van Vechten, Public domain, via Wikimedia Commons
Despite being first dubbed a Fauvist, by the 1920s he was widely regarded as a defender of French painting's classical legacy. His command of the dynamic languages of color and sketching, as evidenced by an oeuvre stretching more than a half-century, earned him prominence as a prominent leader in contemporary art.
In 1952, he founded a museum to house his oeuvre in his native city, which currently houses the third-largest archive of Matisse paintings in France.
Still Life with a Pewter Jug and Pink Statuette (1910)
| | |
| --- | --- |
| Year of Completion | 1910 |
| Medium | Oil on Canvas |
| Dimensions | 90 cm x 117 cm |
| Currently Housed | Hermitage Museum, Russia |
Still Life with a Pewter Jug and a Pink Statuette is one of the most renowned paintings of all time. The picture was painted in 1910 and depicts items in vivid colors upon a cabinet of some kind. This piece is from Matisse's Fauvist phase when he was recognized for combining extremely brilliant hues with a linear painting style.
The picture has the well-known blue walls that were common in several of Matisse's paintings since they represented the overall look of his residence near Paris. Fauvism was a painting technique that emphasized pulling out the vibrant colors within each unique item as Matisse achieves in this picture.
This approach would subsequently propel him to a prominent position among painters working in 20th-century Modernism.
Georges Braque (1882 – 1963)
| | |
| --- | --- |
| Nationality of Artist | French |
| Country of Birth | France |
| Date of Birth | 13 May 1882 |
| Associated Style | Fauvism, Cubism |
Georges Braque was at the vanguard of Cubism, an innovative artistic style. Throughout his career, Braque's work was centered on still lifes and methods of viewing items from multiple viewpoints using hue, form, and textures. While his cooperation with Pablo Picasso and their Cubist works are most remembered, Braque had an illustrious artistic career that lasted much beyond that time frame.
Although he began as a follower of the Fauves, it wasn't until he met Picasso that Braque started to establish a Cubist technique.
Photograph of Georges Braque, 1908-1910; Photographer non-identified, anonymous, Public domain, via Wikimedia Commons
While both canvases had many parallels in color, technique, and source material, Braque said that his artwork, unlike Picasso's, was "bereft of iconological remark" and was preoccupied solely with imagery and arrangement. In his works, Braque pursued harmony and balance, particularly using paper collés, a glued paper composite method created by Braque and Picasso in 1912. Braque, on the other hand, pushed collage art to the next level by pasting cut-up advertising into his artworks.
This predicted contemporary art trends focused on media criticism, such as Pop art.
Violin and Candlestick (1910)
| | |
| --- | --- |
| Year of Completion | 1910 |
| Medium | Oil on Canvas |
| Dimensions | 61 cm x 50 cm |
| Currently Housed | Museum of Modern Art, San Francisco |
Georges Braque's opus is Violin and Candlestick and was created in Paris in 1910. It is produced in a monochromatic manner, which means that it only uses one hue but with many distinct tones of that hue. It also includes a still-life motif, which implies that the elements in the picture have been meticulously placed. Some of the things, such as the violin and candle, can be plainly seen, but it is difficult to identify what the other items are.
This is an artwork that fractures, breaks, and compresses familiar things and reassembles them in various point-perspectives on a tiny scale, as a consequence of his passion for solidity and shape and his ambition to explore with Analytic Cubism.
He described segmentation as a strategy for getting closer to an object. He arranges numerous surfaces on a flat canvas to give visitors a three-dimensional perspective on a two-dimensional background. This picture has been designed to be observed from many perspectives. In addition, he combines the items with the backdrop by opening up the black-outlined pieces and overlaying their borders with earth-toned hues throughout the image.
Giorgio Morandi (1890 – 1964)
| | |
| --- | --- |
| Nationality of Artist | Italian |
| Country of Birth | Italy |
| Date of Birth | 20 July 1890 |
| Associated Style | Futurism |
Giorgio Morandi, a famous Italian artist, created works that are both basic and sophisticated. His favorite method of communication is still lifes of bottles set against neutral backdrops, which some find dull but others find endlessly appealing. It's the type of artwork you can gaze at for hours, engrossed in its tranquillity. And they're the type of canvases that make gazing at them seem like you're gazing at art itself – the process, the outcome, the strange dialogue that a painting may emit.
Whilst Morandi's status amongst art connoisseurs is safe, he remains a unique and somewhat mysterious character who is not strongly associated with any one school or period.
Photograph of the Italian painter Giorgio Morandi (before 1965); Anonymous Unknown author / Imagno, Public domain, via Wikimedia Commons
Prior to his passing in 1964, he seemed to operate beyond time, in his own universe. He was an artist whose life might appear as mysterious and contemplative as the images he created. Possibly fitting for a painter whose viewpoint was so close and personal, he was known to stay near Bologna – the location of his death as well as his life, and the residence of a museum dedicated to his artwork as well as his maintained studio, both of which can be visited.
Natura Morta (1951)
| | |
| --- | --- |
| Year of Completion | 1951 |
| Medium | Oil on Canvas |
| Dimensions | 24 cm x 32 cm |
| Currently Housed | Museum of Modern Art, San Francisco |
Morandi's trademark style was tranquility and seclusion He was shifting away from di Chirico and into his own trademark aesthetic by 1920. He has forsaken intense shadowing and sharp, dark lines in this artwork in favor of softer, ambient lighting. The loaf, fruit, and empty vessel in the artwork allude to a modest dinner, in line with the narrative that has grown up around Morandi.
He is regarded as a modest, secluded man known as "The Monk".
He was a permanent bachelor who spent most of his professional life in a small flat with his sisters, his room also serving as a workshop. The simplicity of this piece draws the viewer's attention to the forms of each object rather than the hues that would normally accompany each one. Many critics have remarked on Morandi's artwork because it did not conform to any sort of still life painting and appeared to be in its distinct genre.
Salvador Dalí (1904 – 1988)
| | |
| --- | --- |
| Nationality of Artist | Spanish |
| Country of Birth | Spain |
| Date of Birth | 11 May 1904 |
| Associated Style | Surrealism |
When Dalí was a child he was often told that he is the reincarnation of his brother that had passed away, which most certainly imprinted a variety of beliefs in the sensitive child. His larger-than-life character grew alongside his passion for painting from a young age. He is said to have had erratic, frantic, rage-filled tantrums against his relatives and friends.
Dalí found significant inspiration in his early surroundings in Catalonia, and many of its scenes would become recurring subjects in his later major artworks.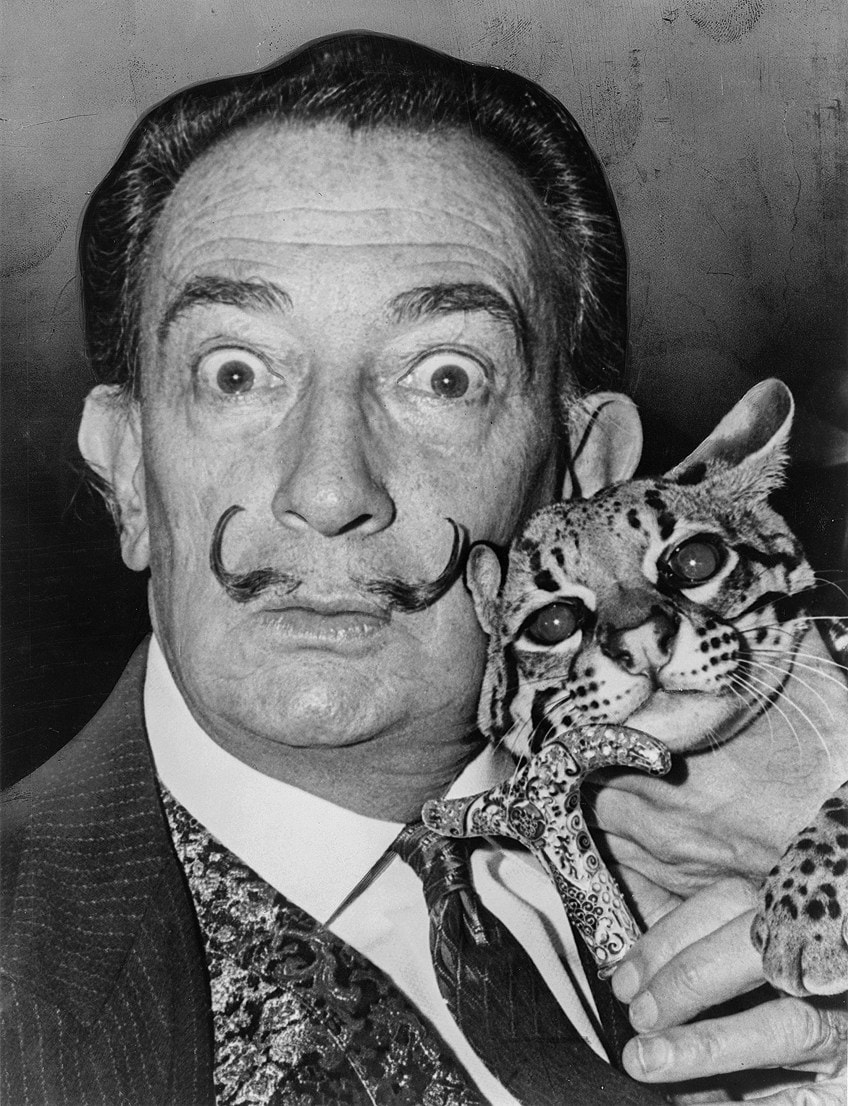 Salvador Dali with his pet ocelot, Babou, and cane, 1965; Roger Higgins, World Telegram staff photographer, Public domain, via Wikimedia Commons
His lawyer father and his mother fostered his emerging interest in painting. Dalí's paintings in the mid-1930s were particularly indicative of his views regarding the psychological condition of paranoia and its significance as subject matter. He depicted corpses, bones, and metaphorical items that represented sexualized concerns of father figures and sterility, as well as motifs that alluded to worry over the passage of time. Many of Dalí's most renowned works date from this prolific time.
Living Still Life (1956)
| | |
| --- | --- |
| Year of Completion | 1956 |
| Medium | Oil on Canvas |
| Dimensions | 125 cm x 160 cm |
| Currently Housed | Salvador Dali Museum |
Salvador Dalí created Living Still Life during a phase he referred to as "Nuclear Mysticism." It is often composed of many ideas attempting to explain the connections between conscious awareness and quantum theory. Nuclear science, contemporary art, and traditionalism, as well as Spanish thinkers, are all incorporated into the many ideas. The artwork was completed in 1956 and is presently housed in the Salvador Dalí Museum in St. Petersburg, Florida.
The term is derived from the French term "nature morte", which means "dead nature."
As a result, by adding "Vivante," which means "rapid activity plus a certain vivacious character," Dalí effectively titled the piece "dead nature in motion." This ties up with his Nuclear Mysticism concept, which combines art, physics, and science. Dalí was inspired by Floris van Schooten and his artwork Table with Food for his work.
Van Schooten's work, which was a prevalent style of art at the time, was a conventional still life displaying beverages and food on a table with a lovely clean white tablecloth. Dalí wanted to add his take on it, and by depicting all of the things in motion, he provided it with his surrealist stamp.
And that concludes our list of famous still life artists and paintings. These still-life oil paintings have managed to capture the imagination of the populace more than most others. From Still life fruit paintings to surreal and abstract still lifes, they continue to enthrall audiences through the ages.
Take a look at our famous still life paintings webstory here!
Frequently Asked Questions
What Is a Still Life?
A still life is a type of art form in which the artist tries to capture a specific set of objects. These objects are usually inanimate and can be organic or man-made. Even though the artist might portray everyday objects, every still life will be unique based on the artist's interpretation.
What Objects Usually Appear in Still Lifes?
Artists use anything from natural objects to objects created by humans. Some of the first still lifes used objects that had religious significance. Now they use anything that they feel represents their own message or simply for the aesthetic value of the object.