Gray is not something most people would choose as their favorite color. Categorized as being somewhere in-between white and black, there is a lot more to this color than meets the eye. For one, you do not only have a single gray color but there are many types of gray, from light gray to dark gray colors. Surprisingly, gray has played a big role in history, art, and design over the years, and is not as boring of a color as you might think.
Shades of Gray Color: A Brief History
The gray color name was first recorded in English during the seventh century. There are two different ways that the color is spelled, gray being European English, while gray is the accepted spelling in the United States, since the early 19h century.
During the Middle Ages, most of the common peasants wore outfits made from undyed wool, which was a type of gray. So, it was seen as the color associated mostly with poverty. Since the color had this association and was also considered a symbol of humility, Franciscan friars and monks amongst other orders wore the color gray. The English and Scottish Franciscan friars became well-known as the "gray friars" because of their attire. Many other religious clergies have also incorporated the color gray into their outfits over the years.
Whistler's Mother (1871) by James MacNeil Whistler; James McNeill Whistler, Public domain, via Wikimedia Commons
Gray also had a place during the Renaissance, where color became popular in fashion as well as art. Black became a popular color during the later renaissance period, and gray along with white were appropriate complementary colors. During this time, various artists flourished and from this certain painting techniques developed.
One of these techniques is known as grisaille. This involved first creating a white and gray painting, after which more colors were added in a glaze or transparent effect over the painting. The white and gray base would form the shading to the overlapping colors. Sometimes, artists would simply leave the base white and gray painting as is, which made it look more like a carved or sculpted image.
Some of the more famous artists who used gray often applied the color as a background as well as used it to create various skin tones. Artists like Rembrandt used the gray color for portrait backgrounds, for example in, The Portrait of Margaretha de Beer (1661). El Greco, a famous Greek painter, used the color to highlight costumes and faces in his paintings. Another famous painting was done later by James MacNeill Whistler, Arrangement in Gray and Black No.1 (1871), which uses a shade of gray for the background. This painting is more commonly known as Whistler's Mother.
Remaining in the early 19th century, a British watercolor artist by the name of William Payne, developed the color known as Payne's gray quite by accident. The color only became known after his death and can be described as a dark blue-gray, which was created by mixing Prussian blue, yellow ochre, and crimson lake.
Going back a little to the 18th century, and moving into the 19th century, gray became quite fashionable. This was true for men's coats as well as waistcoats and women's dresses. Going a bit further into the 19th century, the business suit became popular in London, with both light gray and dark gray colors in summer and winter respectively. In places like Paris, gray outfits were also worn by factory workers.
During various wars, for example, during the American Civil War, gray became the color of the soldier uniforms of the Confederate army, as the color was difficult to see. The cadet gray became the standard color for uniforms in 1861. The color uniform remains today for cadets in some of the Military academies. Other armies like Germany also wore gray uniforms during the First and Second World Wars. The specific color that was chosen was known as Field Gray, which is a grayish-green color that was difficult to spot over a distance.
In the 20th century, during the early 30s, the gray color became a symbol of industrialization, and of course, war. One of the famous painters, Pablo Picasso, painted a graphic image of war, which was inspired by the Spanish Civil War known as Guernica (1937).
After the World War, gray grew in popularity again and was used in creating business suits, which displayed your position within society and business. The color represents seriousness and style, and moving from the older frock coat design, the suit changed into a lounge suit that was less stylish or formal. The design evolved some more into an English-style suit, which was known as a drape suit.
Later the suit changed again, and it was produced in a slimmer fit, which became known as a continental cut.
The Meaning of Different Shades of Gray
All colors have meaning, and gray is no exception. Shades of gray are mostly identified with uncertainty or indecisiveness, indifference, neutrality, boredom, old age, humility, depression, loss, and modesty. Unfortunately, the color is not a favorite of many, and only about one percent admit that gray is their favorite color. The saying, "it is a gray area", is used to describe situations where the solution or answer is not clear.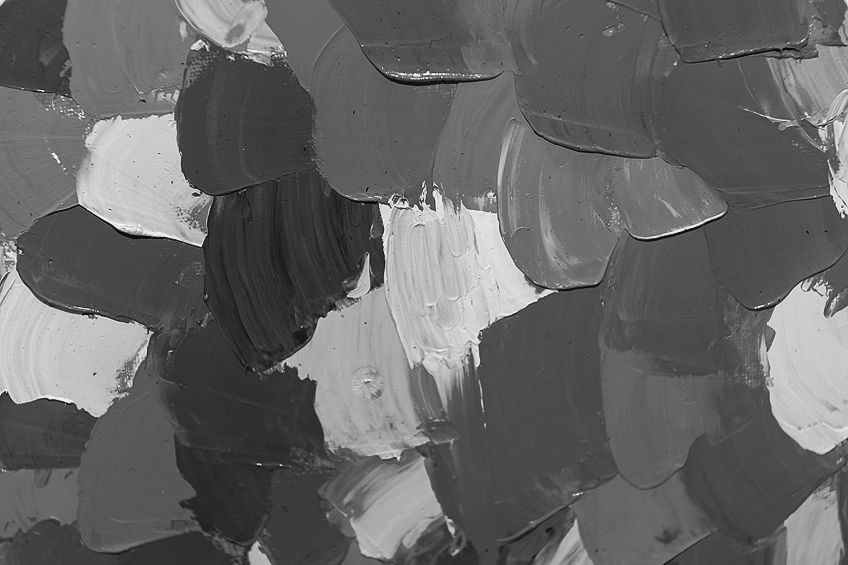 This might look like it is mainly associated with negative things, but there is humility and also balance. The color is in-between black and white, offering a kind of balance. Various types of gray can be successfully used as graphics or fonts in online designs that appeal to and attract an audience. For example, the company Apple uses gray to great effect in their advertising and products. A gray color palette is also popular when designing interiors as it is a neutral color that can work well with many other colors, creating a soothing and inviting environment.
Where Does Gray Fit Into Color Theory?
Describing colors can seem like a challenging and complicated matter. However, there are tools like the color wheel, which help us identify colors and how they interact with each other. The color wheel is simply a circular visual interpretation of the various colors.
The three main terms that pop up when describing color theory include hue, chroma, saturation, and color value.
Hue: This is just another word for your actual color like green, red, or blue.
Chroma: The chroma is how pure the color is, for example, a color with a high chroma will have no gray, white or black added to it.
Saturation: The saturation of a color is how strong or weak a color appears.
Color Value: The color value can be described as how light a color is, or how dark. A high color value means the color is lighter.
Gray is seen as a neutral color and as with all neutral colors, it can technically not be found on the color wheel. Your other neutral colors are white, black, and a few shades of brown. Your basic gray is a mixture of your neutral colors white and black. Your white color is a pure color, meaning you cannot mix any color to get white. However, black can be blended and this is where you get your various shades of gray.
This is where you can get warm or cool gray colors, also known as color temperature. On the color wheel, you should notice that your red, orange, and yellow colors are on one side, and your green and blues are on the other side. These form your warm and cool colors, like red, for example, represents heat and warm colors, while blue represents cold, ice, and cool colors.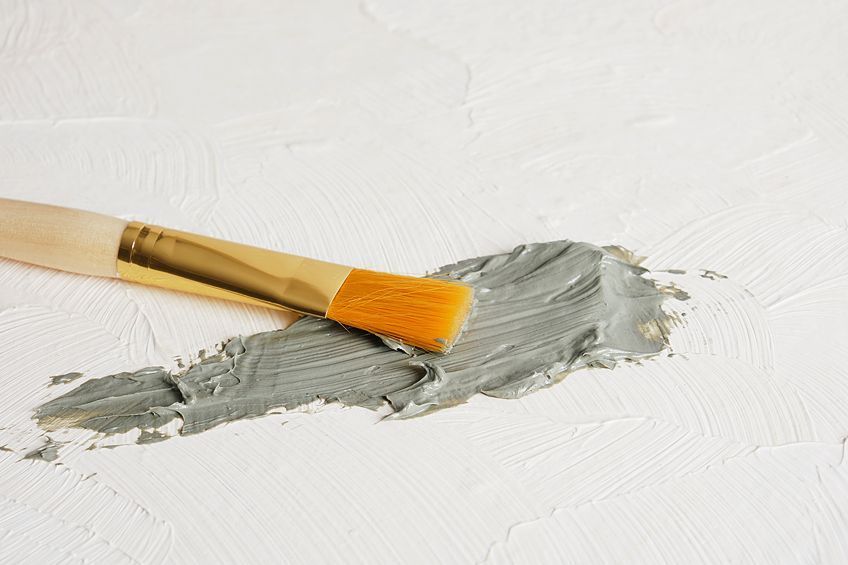 Connected to these colors are your meanings, red being energetic, while blue represents more of a calming effect. Since the black in gray can be manipulated by adding different colors, it all depends on how the colors are mixed to form warm and cool shades of gray. A neutral gray has no added color.
The different shades of gray are not only created with paints, as today we also have computers, graphics, and printing. To differentiate, people developed various models to work from to create and identify the correct colors. For example, painters use the RBY or red, blue, and yellow model, while the RGB model, which represents your red, green, and blue colors, is for your computers and televisions.
When it comes to printing, the CMYK color model is used, which uses the colors cyan, magenta, yellow, and black to create all other colors. For example, gray is obtained by combining the same amount of cyan, magenta, as well as yellow.
Gray Color Names
Below are a few shades of gray with their gray color names. Each of these colors can be identified online by using a gray hex code. The hex code is a simple representation of the different colors involved in creating a specific color. The tables below also show your RGB and printing codes for easy reference.
Gray
This can be classified as a dark gray color and is the color that can be found between white and black. As you can see from the percentage of color for printing, only 50 percent black is used, with no other colors.
This particular color is considered the standard gray.
| | | | | |
| --- | --- | --- | --- | --- |
| Shade of Gray | The shade of Gray Hex Code | CMYK Shade of Gray Color Code (%) | Gray RGB Color Code | The shade of Gray Color |
| Gray | #808080 | 0, 0, 0, 50 | 128, 128, 128 | |
Charcoal Gray
This is a cooler blueish-gray that is quite dark and is named after the charcoal substance of burnt wood. However, you can also get shades of this color that are warmer. If you want to add a bit of color with this shade of gray, coral works nicely. The color also works well with other neutrals like soft whites, black, and other shades of gray.
| | | | | |
| --- | --- | --- | --- | --- |
| Shade of Gray | The shade of Gray Hex Code | CMYK Shade of Gray Color Code (%) | Gray RGB Color Code | The shade of Gray Color |
| Charcoal | #36454f | 32, 13, 0, 69 | 54, 69, 79 | |
Cadet Gray
As mentioned, this shade of gray is in reference to the use of military uniforms, especially the ones used by the Confederate army during the Civil War. The color has a distinct blue undertone and will work well as a complementary color to a grayish-orange.
The color was first recorded as cadet gray in 1912.
| | | | | |
| --- | --- | --- | --- | --- |
| Shade of Gray | The shade of Gray Hex Code | CMYK Shade of Gray Color Code (%) | Gray RGB Color Code | The shade of Gray Color |
| Cadet Gray | #91a3b0 | 18, 7, 0, 31 | 145, 163, 176 | |
Ash Gray
The name explains it all, and the color should be similar to ashes. The color was first recorded and used as a gray color name in 1374. You can describe this color as a low saturated, greenish-gray. Ash gray, which is a light gray, is a popular hair color.
| | | | | |
| --- | --- | --- | --- | --- |
| Shade of Gray | The shade of Gray Hex Code | CMYK Shade of Gray Color Code (%) | Gray RGB Color Code | The shade of Gray Color |
| Ash Gray | #b2beb5 | 6, 0, 5, 25 | 178, 190, 181 | |
Payne's Gray
Named after the painter known as William Payne, it is on the darker side of gray, with a blue undertone. This shade of gray is a popular choice as a replacement for black when mixing colors. The color is less intense than your black and can produce better color results. The first time the color was recorded and used was in 1835.
There seems to be a bit of variety with this color as there are different hex codes for this color that provide lighter or darker versions. Choose the one that you like best.
| | | | | |
| --- | --- | --- | --- | --- |
| Shade of Gray | The shade of Gray Hex Code | CMYK Shade of Gray Color Code (%) | Gray RGB Color Code | The shade of Gray Color |
| Payne's Gray 1 | #40404f | 19, 19, 0, 69 | 64, 64, 79 | |
| Payne's Gray 2 | #536878 | 31, 13, 0, 53 | 83, 104, 120 | |
| Payne's Gray 3 | #344d4d | 32, 0, 0, 70 | 52, 77, 77 | |
Battleship Gray
This color comes from the paint used to cover both steel and iron battleships, to help prevent the ships from rusting. The color can be described as a darker gray, with a slight yellow undertone. Audi brought the color in for their cars, and it has now become a popular color in the automotive industry.
| | | | | |
| --- | --- | --- | --- | --- |
| Shade of Gray | The shade of Gray Hex Code | CMYK Shade of Gray Color Code (%) | Gray RGB Color Code | The shade of Gray Color |
| Battleship Gray | #848482 | 0, 0, 2, 48 | 132, 132, 130 | |
Platinum
This shade of gray can be described as a light gray, with an orange undertone. The color is associated with the metal platinum, but it is difficult to represent metallic colors on a computer screen.
The color was first recorded as being used at the beginning of the 20th century.
| | | | | |
| --- | --- | --- | --- | --- |
| Shade of Gray | The shade of Gray Hex Code | CMYK Shade of Gray Color Code (%) | Gray RGB Color Code | The shade of Gray Color |
| Platinum | #e5e4e2 | 0, 0, 1, 10 | 229, 228, 226 | |
Gunmetal Gray
This is a very dark gray color, with blue or purplish undertones, and is mainly categorized as a cool color. The color can be associated with various metals like the bronze alloy, which was used in the creation of cannons and guns.
| | | | | |
| --- | --- | --- | --- | --- |
| Shade of Gray | The shade of Gray Hex Code | CMYK Shade of Gray Color Code (%) | Gray RGB Color Code | The shade of Gray Color |
| Gunmetal Gray | #2a3439 | 26, 9, 0, 78 | 42, 52, 57 | |
Painting With Shades of Gray Color
The various shades of gray have been mainly created by blending black and white paint in different quantities. Then by adding a little red or a small amount of blue, you could make the color warmer or cooler. So, when dealing with black and white, you can manipulate the black to create your warmer or cooler gray colors.
Create a black by blending blue and brown, using darker colors. For example, dark umber and indigo blue.
By adding a little more blue, you create a cooler black color. This also works the other way around, by adding in more umber, it creates a warmer black.
You then add in small amounts of white to get your shades of gray.
You can also change the mixture by using various shades of blue and brown. For example, try using Prussian blue mixed with burnt umber.
Gray can also be created by combining your complementary colors. These are colors on a color wheel, which are found opposite one another. Below are some ideas for creating various shades of gray. You can experiment with all the primary colors and cool and warm colors to create an extensive gray color palette.
Create a green using ultramarine blue and lemon yellow then add a small amount of cadmium red, which will come up as a greenish-gray. Lighten the color by adding in a small amount of white.
Combine cadmium red and yellow, then add ultramarine blue. Add a little white to show off the gray color.
Combine alizarin and ultramarine blue to create a violet color, then add a little azo yellow to create a mauve-gray. Mix in a little white to lighten and highlight the gray color.
When painting, it will be up to you to decide whether you need to use warm or cool gray colors. The decision will rely heavily on what you are painting. Of course, you can also use both warm and cool grays in a single painting. In certain instances, the decision to use a certain color is natural, for example, if you are painting in shadows, this will naturally be a cooler shade of gray. Warmer grays can then be used to create more contrast within a painting.
Remember, that when you are experimenting with creating various shades of gray, you should create and document the gray color palette so you can create the same color again.
Design and Shades of Gray
When considering shades of gray for a website, you can make it look great by using contrasting colors. This can create a beautifully modern and sophisticated look. Gray can be an extremely understated color, sitting in the background. You may not even realize gray is a big part of a design. Some big companies that incorporate a gray color palette into their design include Facebook and YouTube. Even though these companies are associated with other colors like blue and red, gray also plays a dominant role in the design, however at more subtle levels.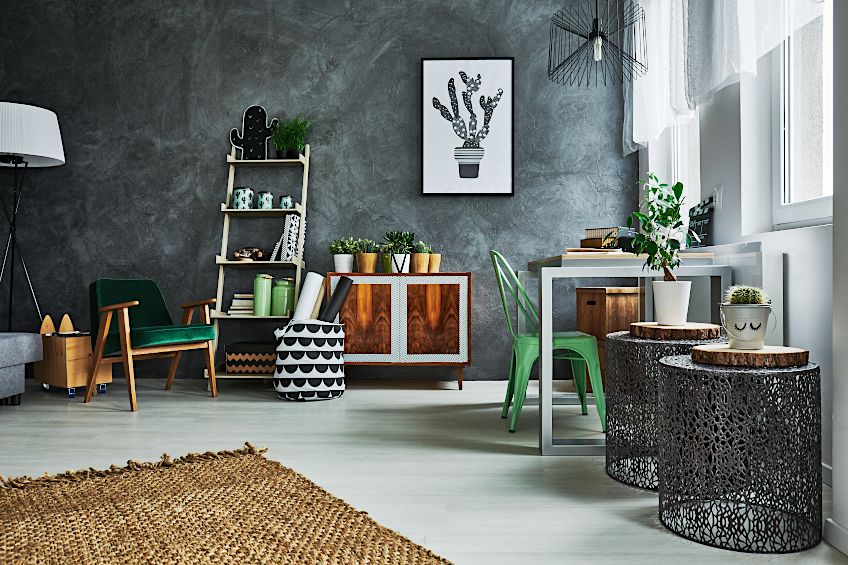 If you look closely, you will notice that many websites use gray for the text or backgrounds, from light gray to darker gray colors. Solid black is avoided as a background with lighter text as it can cause blurring in people with astigmatism, an eye disorder suffered by quite a large percentage of the population. Another term for this is known as "halation," which refers to the "halo" effect the image produces. Using a shade of gray instead of black produces less strain on the eye and reading is easier.
Now that we have discovered that gray plays a major role in website design, we are now going to find out how gray and interior design work together.
Interior Design Gray Color Palettes
Gray has become extremely popular as it is so versatile and can be used with many other colors and accessories as it provides a sense of balance. You may think gray is a cool color, but we have learned you can get warmer gray colors as well.
Various shades of gray work extremely well with white and other neutrals. When choosing a warmer gray, these pair best with natural elements like wood and stone. Darker gray colors can be more intense and sophisticated, while light gray provides more of a soothing and welcoming effect.
Another reason for the popularity of gray is that it can be used in any room of the house. You can also paint the outside of the house gray. When painting or decorating a room, it is also important to check how much light enters the room. Does the sunshine enter a room or does it remain quite dark and cool throughout the day? If it is a dark room, you might want to go for a warmer gray color as a cool gray will make the room feel even colder.
When painting walls, you can create a more sophisticated and luxurious look by using gray paint that is glossy or has a semi-gloss finish. Shades of gray color are also a good idea for open spaces and areas like hallways and provide a neutral zone that can lead to other rooms. Sherwin-Williams and Benjamin Moore are both popular brands that offer a variety of different types of gray.
Below are some recommended color combinations.
Dark Gray Color and Pink
Pastel colors can work well with dark gray colors and tend to lessen the intensity of the darker colors. The gunmetal gray can be categorized as a masculine color, so adding a softer color like a pastel pink can help to soften the look. For example, soft pink walls with gunmetal couches and pastel cushions.
| | | | | |
| --- | --- | --- | --- | --- |
| Shade | Shade Hex Code | CMYK Color Code (%) | RGB Color Code | Color |
| Gunmetal Gray | #2a3439 | 26, 9, 0, 78 | 42, 52, 57 | |
| Plaster Pink | #f5e4de | 0, 7, 9, 4 | 245, 228, 222 | |
Yellow and Gray
Gray and yellow can work great together, as the gray helps to balance the brighter yellow colors. The warmer yellow colors can also help to lift gray colors that have a cooler undertone.
To get the look you want, you need to always check the color undertones before going ahead.
| | | | | |
| --- | --- | --- | --- | --- |
| Shade | Shade Hex Code | CMYK Color Code (%) | RGB Color Code | Color |
| Soft Gray | #d2d2cf | 0, 0, 1, 18 | 210, 210, 207 | |
| Buttercup Yellow | #f5b31e | 0, 27, 88, 4 | 245, 179, 30 | |
Coral and Gray
Coral is the perfect complement to gray and can range in color from softer oranges to brighter reds. The color is perfect for adding warmth to a room and works great as an accent color when used with gray. Both of these colors can provide a warm and soft effect. Gray can easily be used as the background color on walls and floors, while the color is nest used as a statement color in cushions, lampstands, or headboards.
| | | | | |
| --- | --- | --- | --- | --- |
| Shade | Shade Hex Code | CMYK Color Code (%) | RGB Color Code | Color |
| Ash Gray | #b2beb5 | 6, 0, 5, 25 | 178, 190, 181 | |
| Coral | #ff7f50 | 0, 50, 69, 0 | 255, 127, 80 | |
Green and Gray
Again, gray is best as a neutral background color, to which you can add pops of color. As with most other colors that work with gray, green can bring life into any room and is a refreshing color to add to any color scheme. Just remember to balance your colors and try to include different textures for added dimension.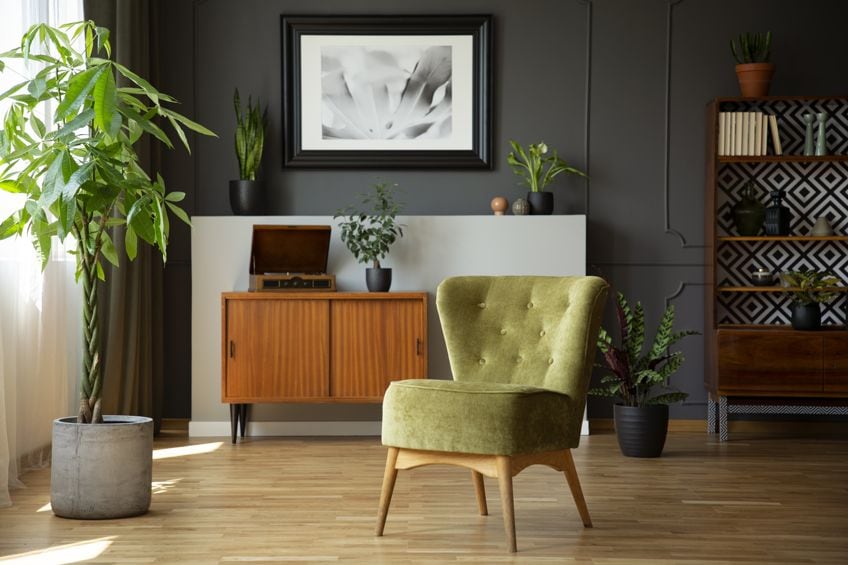 | | | | | |
| --- | --- | --- | --- | --- |
| Shade | Shade Hex Code | CMYK Color Code (%) | RGB Color Code | Color |
| Charcoal | #36454f | 32, 13, 0, 69 | 54, 69, 79 | |
| Mint Green | #98ff98 | 40, 0, 40, 0 | 152, 255, 152 | |
The color gray is perfect to experiment with, and you cannot go wrong with a gray color palette in your home. There are many shades of gray that you can use, both warm and cool, making it a versatile color that works well with most colors.
Take a look at our gray color palette webstory here!
Frequently Asked Questions
Is Gray a Cool Color?
Yes, gray is a color and can be used in art, website design, and as a versatile color for your home. Gray can be seen as somewhere in-between white and black, however, there are many shades of gray that can have warm or cool undertones.
Is Greige a Shade of Gray?
Yes, greige is a shade of gray and is a combination of gray and beige. By adding the beige to the gray, it produces a luxuriant color that can work well with both cool and warm color schemes.
What Color Compliments Gray?
Gray is seen as a neutral color and is not located on the color wheel like other colors. However, gray can possess various undertones varying from cool or blue undertones to warmer orange and red undertones. When it comes to your cooler, standard gray, a coral color can complement gray nicely. A crisp white also works well with darker gray colors to create contrast.
In 2005, Charlene completed her Wellness Diplomas in Therapeutic Aromatherapy and Reflexology from the International School of Reflexology and Meridian Therapy. She worked for a company offering corporate wellness programs for a couple of years, before opening up her own therapy practice. It was in 2015 that a friend, who was a digital marketer, asked her to join her company as a content creator, and this is where she found her excitement for writing.
Since joining the content writing world, she has gained a lot of experience over the years writing on a diverse selection of topics, from beauty, health, wellness, travel, and more. Due to various circumstances, she had to close her therapy practice and is now a full-time freelance writer. Being a creative person, she could not pass up the opportunity to contribute to the Art in Context team, where is was in her element, writing about a variety of art and craft topics. Contributing articles for over three years now, her knowledge in this area has grown, and she has gotten to explore her creativity and improve her research and writing skills.
Learn more about the Art in Context Team.