Minimalist art began as a post-World War Two movement in American visual arts during the 1960s and 1970s. Thought to be a direct response to the styles of Abstract Expressionism and Modernism, Minimalism embraced geometric forms, neutral surfaces, and industrial materials over loud and chaotic artworks. As Minimalism appeared to deny such vivid expression, the artworks that were made deliberately avoided the appearance of fine art, with these sleek and geometric works deliberately eluding common artistic appeal.
Our Top 10 Most Famous Minimalist Painters and Their Top Artworks
Spreading to visual arts, music, and other media, Minimalism art expanded on the abstract notion that art should come from its own reality and not be a mere replica of something else. Minimalist painters and artists only responded to what was immediately in front of them, with the artworks created forcing viewers to only relate to what they could see. Below, we will be discussing some of the best Minimalist artists to come from the movement and their equally notable artworks.
Tony Smith (1912 – 1980)
Nationality
American
Where Artist Lived
New Jersey, America
Art Movements
Minimalism
Most Famous Artworks
Louisenberg #8 (1953 – 1954)

Cigarette (1961)

Light Up (1971)
One of the famous Minimalism artists to come from the 20th century was an American sculptor and painter Tony Smith. Despite being considered quite a strange figure within the art world, as he only decided to exhibit his works from his 50s onwards, Smith contributed much to the emergence of the Minimalism movement in the early 1960s.
Smith was well-known throughout his career for his large geometric sculptures which were typically placed outdoors.
Smith was educated at the New Bauhaus school in Chicago during the 1930s and was inspired by the developments in American art after the Second World War. His artworks combined several traditions of European modernism along with these advancements to create Minimal art pieces that were not restricted by any medium boundaries.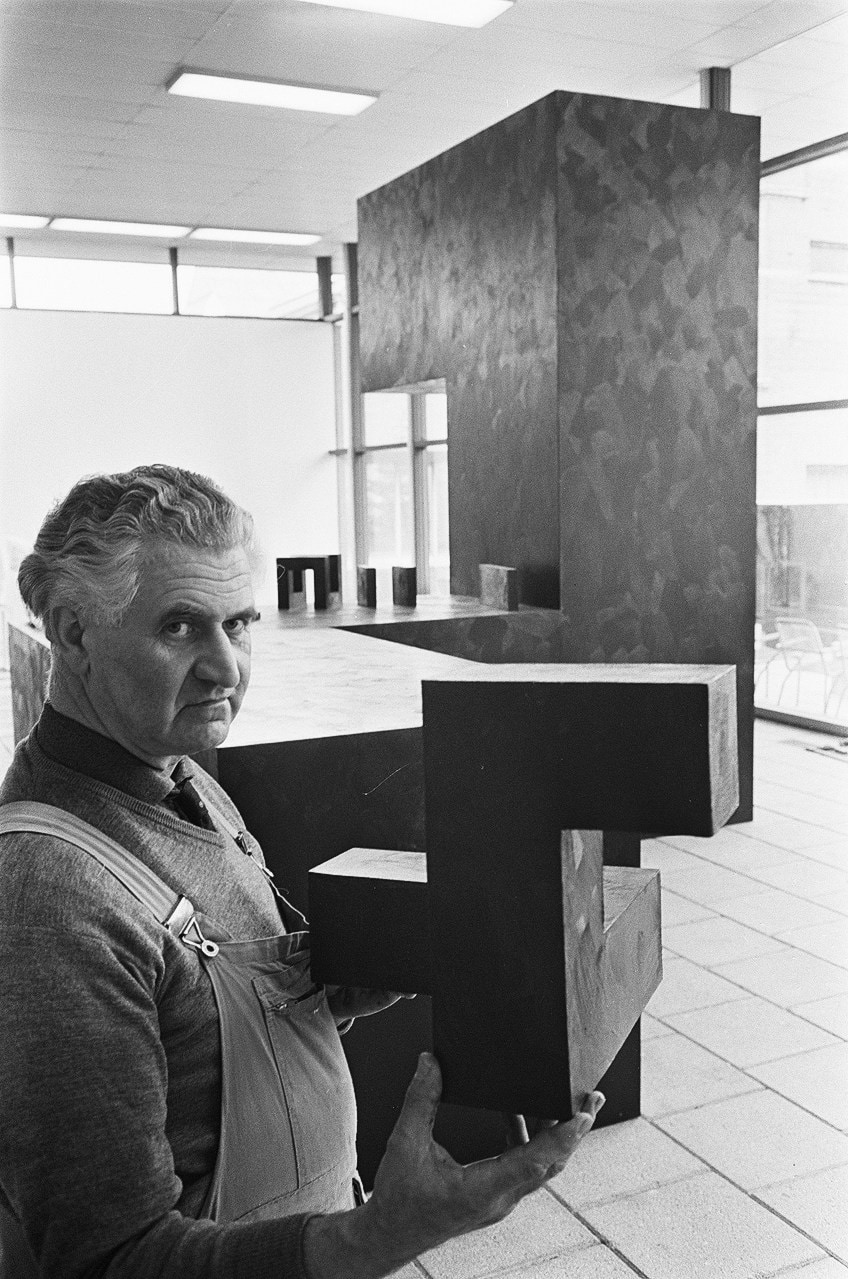 Tony Smith and one of his artworks, Haags Gemeentelijk Museum, 1968; Eric Koch / Anefo, CC0, via Wikimedia Commons
Despite associating with the Abstract Expressionists, his work took no resemblance to the chaotic spontaneity of the movement. In the early 1960s, Smith abandoned painting to fully focus on sculpture. It has been debated that Smith's sculptures provide the truest expression of his skills as an artist, as the enormous structures effortlessly combine the physical presence of architecture along with the conceptual resonance of abstract painting. His contribution to the development of American art is beyond words, as Smith went on to teach at several well-known schools of art and design throughout the country.
Excelling at painting, sculpture, and architecture, exhibitions of his work have been staged in many of the best art museums around the world.
Louisenberg #8 (1953 – 1954)
| | |
| --- | --- |
| Date Painted | 1953 – 1954 |
| Medium | Oil on canvas |
| Dimensions | 50.8 cm x 70.4 cm |
| Where It Is Currently Housed | Tony Smith Estate |
Forming part of a series that was painted between 1953 and 1955, the Louisenberg artworks were made up of 25 vivid and geometric paintings that were connected by a fundamental compositional model. Each painting within the series is made up of differently colored yet equally painted circles that come together to form strange shapes that have been likened to peanuts or amoeba. In Louisenberg #8, these shapes appear to be arranged into a tight grid, with each shape having a designated spot.
A great sense of order is seen when viewing Louisenberg #8, as each different shape follows the same compositional structure. For example, the circles take up a single space, the peanuts take up two spaces, and the largest amoeba-like form takes up four spaces. In this painting, Smith demonstrated a fairly simple way of working, as he merely produced variations of a single design and arranged them in a variety of ways to create new compositions. Based on this, Louisenberg #8 exists as a loosely inverted version of Louisenberg #4.
Created during Smith's stay in Germany, his "Louisenberg" series was named after a geological location near the city of Bayreuth that was made up of unique peanut-shaped rocks.
Showing his training as an architect, Smith followed a precise formula that was meticulously expressed in his paintings. His inspiration for his series of Minimalist paintings was quite abstract, as they represented his captivating mixture of North American and Northern-European artistic influences with a subtle reference to the Abstract Expressionist style.
Additionally, Smith's use of recurring elements in Louisenberg #8, along with the other paintings in this series, existed as a two-dimensional manifestation of his growing interest in modular architecture. Later in his career, Smith focused exclusively on this type of adaptive architecture.
Agnes Martin (1912 – 2004)
Nationality
Canadian
Where Artist Lived
Macklin, Canada; New Mexico, America
Art Movements
Minimalism, Abstract Expressionism
Most Famous Artworks
White Flower (1960)

Night Sea (1963)

Untitled #4 (1984)
One of the only famous Minimalist painters to come out of Canada was Agnes Martin, who proved to be an influential member of both the Abstract Expressionism and Minimalism movements. Despite her iconic spectral grid artworks being referred to as true Minimalist paintings, Martin considered her style to be closely aligned to that of Abstract Expressionism.
Before the 1950s, Martin's paintings were entirely representational but midway through the decade, she turned her attention to Abstract art and discovered her true style.
Martin produced large square monochromatic compositions that were usually layered with gesso, hand-drawn pencil lines, and diluted coats of oil or acrylic paint. In 1950, after she became an American citizen, Martin moved to downtown Manhattan where she was inspired to develop her very influential style that incorporated light-colored, square grids of repeated lines. Using a grid as an organizational element in her paintings that incorporated some color, Martin was able to seamlessly blend the styles of Color Field painting and Minimalism.
While her absence of narratives and unnecessary details placed Martin firmly in the style of Minimalism, she stated that her aim was to create artworks that centered around emotions as opposed to highbrow forms of abstraction. While Martin's works were non-representational, the titles and her explanations of her paintings indicated that she was greatly influenced by nature.
As a schizophrenic, she did not easily connect to other individuals, so her focus on nature in her works represented a peaceful and ordered sanctuary.
When considering her paintings, Martin's Minimalist paintings were based on a grid design with accurately edged, uniform geometric forms, and fixed areas of cool colors that were carefully applied so as to leave no trace of a brush. Her abstract works freed her from the trouble of depicting traditional subject matter and allowed her to experiment with the endless variations of understated color. As one of the more unusual painters of her time, who led an equally strange lifestyle, Martin was said to hear voices that influenced what she painted.
White Flower (1960)
| | |
| --- | --- |
| Date Painted | 1960 |
| Medium | Oil on canvas |
| Dimensions | 182.6 cm x 182.9 cm |
| Where It Is Currently Housed | Guggenheim Museum, New York City |
One of Martin's early famous Minimalist paintings is White Flower, which she created soon after creating her distinctive style. Making use of a grid structure and bland colors, White Flower consists of non-hierarchical white lines that cross over to construct individual rectangles. Further highlighted by white dashes and placed on a cool, gray background, this painting seems to resemble a type of woven fabric.
What appears consistent throughout "White Flower", and most of Martin's other works, is the complete symmetry of form.
Despite being produced in the early stages of Martin's Minimalist style, White Flower displays her already-rigorous commitment towards formal balance that would regularly feature in the rest of her paintings. While this painting can be viewed as an individual entity, it was not made up of singular elements. This demonstrates the true complexity of Martin's paintings, as her freely drawn grids of fading and fragile lines require more reflection for their nuances to be truly exposed and understood.
Carmen Herrera (1915-Present)
Nationality
Cuban American
Where Artist Lived
Havana, Cuba; New York City, America
Art Movements
Minimalism, Abstract Expressionism
Most Famous Artworks
Untitled (1952)

Tondo: Black and White II (1959)

Untitled (2007)
At 106 years old, Cuban American artist Carmen Herrera is the oldest member of the Minimalism movement. Herrera's career as an artist is a particularly inspiring one, as she only sold her first artwork when she was 89 years old. While she only achieved international recognition and appreciation later in life, Herrera practiced as an artist and produced several notable artworks throughout her life before she was celebrated for it. However, what makes her story so interesting is the quality of her work and not the circumstances of her discovery.
Herrera first came onto the art scene in the 1940s when she was living in Paris, before settling permanently in New York City in 1954.
Since starting her career, Herrera has perfected her style of painting and sculpting crisp and immaculate artworks using an abstract geometric Minimalist style. In the majority of her works, Herrera has brought a sense of warmth and physicality that emphasizes the aspects of wisdom, vitality, and life when viewing her abstract forms.
While Herrera's artworks have been linked to other Neo-Concrete artists who appeared after World War One, her use of flat forms and a restricted color palette share many aspects with New York Minimal art.
Herrera's creative identity only fitted into the general art scene in the 1960s after the discovery of other Minimalist artists like Frank Stella. Initially inspired by Op Art, many of Herrera's artworks contain some form of optical illusions in addition to other abstracts of Minimalism. Thus, she is seen as a modern artist of considerable significance.
Untitled (1952)
| | |
| --- | --- |
| Date Painted | 1952 |
| Medium | Synthetic polymer paint on canvas |
| Dimensions | 63.5 cm x 152.4 cm |
| Where It Is Currently Housed | Museum of Modern Art, New York City |
One of Herrera's famous Minimalist paintings is Untitled, which she produced while she was still relatively unknown. In this stark monochromatic work, black and white lines run up and down the canvas and are severed by a jagged line, which works to split the frame into two unequal triangles. Herrera's Op Art influence can clearly be seen in Untitled, as this bare image with meticulously sharp edges generates a palpable vibration that can be thought of as an optical illusion.
It has been pointed out that in this artwork, and the majority of Herrera's other paintings, little evidence of her actually having painted the work can be seen.
This was a key aspect of Op Art at the time, further aligning this painting with that movement as well. Considering the process of how viewers understand shapes and colors on a canvas, Herrera questioned the role of the artist in the new technological age of precision. The use of a jagged line speaks to Herrera's love for design and urban life, as she references the outline of industrial space.
Anne Truitt (1921 – 2004)
Nationality
American
Where Artist Lived
Washington D.C., America
Art Movements
Minimalism, Color Field Painting
Most Famous Artworks
A Wall for Apricots (1968)

Way VII (1974)

Peke (1974)
Another of the most celebrated female Minimalism artists was American sculptor Anne Truitt, who gained critical acclaim in the 1960s for being one of the earliest Minimalists of the movement. Supported by the notable art critic Clement Greenberg, Truitt kept a distance from the New York art scene and spent years balancing her artistic career alongside raising her family. Despite being associated with two major art movements, Color Field painting, and Minimalism, Truitt graduated with a degree in Psychology and went on to become a nurse.
Truitt only became a full-time artist in the 1950s and began to make what was seen as her most important contributions to the movement in the early 1960s.
While she felt that her artworks differed greatly from the artistic trends of the Minimalism movement, Truitt's painting and sculptural style anticipated many other notable Minimalism artists like Donald Judd and Ellsworth Kelly. However, she was unlike most of the Minimalists in many other ways, with her focus on the poetics of form and material being influential for younger artists.
As a devoted sculptor, Truitt experimented with clay, steel, and plaster after viewing Barnett Newman's work at the Guggenheim in 1961.
Following Abstract Expressionism, Truitt created sculptures that were intricate and detailed, yet they concealed their true simplicity. As Truitt explored the depths of her emotional and psychological life in her artworks, she was often seen as a Minimalist despite having more in common with Abstract Expressionism. Her artworks were infused with emotion, which was not a common feature of Minimalism.
Way VII (1974)
| | |
| --- | --- |
| Date Painted | 1974 |
| Medium | Acrylic on canvas |
| Dimensions | 103.5 cm x 220.9 cm |
| Where It Is Currently Housed | Unknown |
As a sculptor, Truitt did not produce many paintings. However, her Minimalism painting, Way VII, exists as a well-known work of hers. The huge canvas is painted over in an umber red color, with a few slim lines depicted vertically. Thought to represent some fragments of light shining through, the widths of the lines vary which suggests their different intensities beyond the surface of the painting.
As she was best known for her sculptures, she has been described as "a painter working in three dimensions" in the few paintings she has made.
During the 1960s and 1970s, Truitt became an important leader in the Washington Color School, which defined artworks by flat and solid areas of vivid color. This aesthetic can be seen in Way VII, as a large expanse of bright red paint is seen. Due to the intensity of the color, a claustrophobic feel is felt when looking at the painting. Greatly influenced by the Color Field paintings of Barnett Newman and others, Truitt intersected her monochromatic canvas with thin bands of color in Way VII.
Ellsworth Kelly (1923 – 2015)
Nationality
American
Where Artist Lived
New York City, America
Art Movements
Minimalism
Most Famous Artworks
Colors for a Large Wall (1951)

Cite (1951)

Red Blue Green (1963)
An important figure in American art in the 20th century was Ellsworth Kelly, who was best known as a painter throughout his career. Seen as a powerful force in the post-war art world, Kelly rose to fame in the 1950s after he began to produce his iconic bright and mainly monochromatic multi-paneled canvases. Concentrating on the forceful relationship between color, form, and shape, Kelly was one of the first artists to produce oddly shapes canvases and get away with it.
Making use of layered reliefs and line drawings to challenge the notion of space, Kelly meant for viewers to experience his artworks in a way that would provoke a physical response to the structure and color used.
Ellsworth Kelly arrives at LACMA's Gala Opening of the Broad Contemporary Art Museum on February 9, 2008 in Los Angeles, CA; Jeremiah Garcia, CC BY 2.0, via Wikimedia Commons
As he played around with Minimalist drawing in addition to painting and sculpture, he never adhered to one single movement. Rather, his artworks displayed influences from a variety of movements including Minimalism, Hard-edge painting, Pop art, and Color Field painting.
By the early 1960s, Kelly had built an international relationship for himself in terms of non-objective art. Turning to the De Stijl movement for inspiration in his paintings, Kelly produced artworks that used structured color set against geometric layouts. In 1970, Kelly moved upstate and away from geometric forms towards curves, possibly in response to his new environment.
Kelly is regarded as one of the great leaders in American painting and one of the most prominent postmodern artists of the 1960s in both abstract painting and sculpture.
Colors for a Large Wall (1951)
| | |
| --- | --- |
| Date Painted | 1951 |
| Medium | Oil on canvas |
| Dimensions | 240 cm x 240 cm |
| Where It Is Currently Housed | Museum of Modern Art, New York City |
At the time of its creation, Colors for a Large Wall was one of the biggest paintings that Kelly had ever made. Demonstrating his early experimentations with multi-paneled compositions, this style of painting would later become an essential aspect of his career. This painting was said to have helped introduce Kelly to his understanding of paintings existing as objects. Not only was Colors for a Large Wall an object in itself, but it was also made up of many smaller objects in the form of panels that came together to create the overall artwork.
Bringing together some fundamental Modernism strategies in this artwork, each square was supposed to give off the idea that they had come together by complete chance.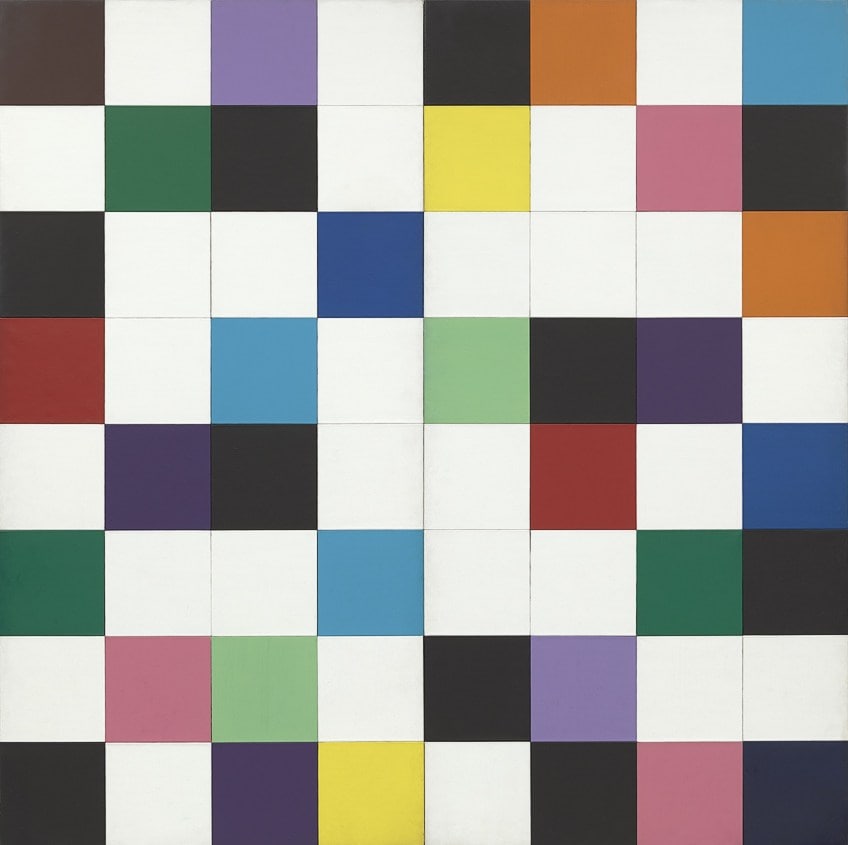 Colors for a Large Wall (1951) by Ellsworth Kelly; Ainhoa Díaz, CC BY-SA 4.0, via Wikimedia Commons
Painting each of the 64 squares separately in a single color, Kelly joined them in a collage format that he haphazardly arranged. The result was a painting in which no aspect of its appearance was decided upon by Kelly's own choices. This painting also hinted at the idea of the readymade and its usefulness in art, as Kelly created each panel from different sheets of craft paper.
Sol LeWitt (1928 – 2007)
Nationality
American
Where Artist Lived
New York City, America
Art Movements
Minimalism, Conceptual Art
Most Famous Artworks
Wall Drawing #16 (1969)

Wall Drawing #439 (1985)

Wall Drawing #1136 (2004)
Seen as a leader in the Conceptual movement, American sculptor, painter, and writer Solomon "Sol" LeWitt helped to develop the Minimalism movement in postwar American art. Achieving fame in the late 1960s thanks to his iconic wall drawings and modern abstract sculptures, LeWitt went on to experiment with a wide range of media that included painting, drawing, printmaking, and photography. Since 1965, he has been the subject of countless solo exhibitions around the world.
LeWitt's belief that an artist existed as a creator of ideas, with this thinking proving to be incredibly important in the changeover from the modern to the postmodern era.
LeWitt also considered that an idea itself could form an artwork, meaning that an artist could conceive of an idea and still have full ownership of the work before handing the actual production over to someone else. His wall drawings with geometric patterns derived from a set of instructions are his most well-known, with him turning to conceptual pieces as his career progressed.
Most of LeWitt's artworks consisted of basic lines, colors, and simplified shapes that were all utilized based on certain mathematical and architectural specifications.
LeWitt also viewed the directions for producing art as the artwork themselves, which meant that an artwork no longer needed an actual material presence to be seen as "art". Despite being one of the best-known innovative American sculptors and respected Postmodernists, LeWitt loathed all publicity and stardom, regularly turning down awards and avoiding interviews.
Wall Drawing #439 (1985)
| | |
| --- | --- |
| Date Painted | 1985 |
| Medium | Color ink wash |
| Dimensions | Unknown |
| Where It Is Currently Housed | Massachusetts Museum of Contemporary Art, America |
Throughout LeWitt's career, his series of wall drawings proved to be his most popular artworks. Wall Drawing #439 demonstrated his bold use of color and triangular shapes on a flat plane, which created a more complete and three-dimensional form for the viewer to look at. Within this Minimalist drawing, as well as his countless others, LeWitt worked to establish a firm connection between the styles of Minimalism and Conceptual art.
This can be seen through the use of vibrant colors painted in geometric forms and placed on a wall.
Using color ink washes that have been layered onto one another, LeWitt created an asymmetrical pyramid made up of several multicolored facets. Possibly influenced by a trip to Italy, Wall Drawing #439 was inspired by the frescoed effect and can be seen upon closer inspection. Depth is created by the descending triangle fragments, which draws the eyes of viewers in as they work to stimulate the deception of unity despite being painted on a flat wall.
Jo Baer (1929 – Present)
Nationality
American
Where Artist Lived
Seattle, America; Amsterdam, Netherlands
Art Movements
Minimalism
Most Famous Artworks
Untitled (1966 – 1974)

Stations of the Spectrum (Primary) (1967 – 1969)

H. Orbitaster (1973)
Another of the important female Minimalist painters to come out of America is Josephine "Jo" Baer, known for her great contribution to the Minimalism movement. Initially studying research psychology, Baer turned her attention to artmaking and decided to make a full-time career out of it. In the 1950s, Baer started by working in a painterly way that was inspired by the Abstract Expressionist style and also further encouraged by her stay in Los Angeles. It was only in the mid-1960s that she began to exhibit her work at contemporary art venues.
After returning to New York, Baer eased into her style of abstraction which highlighted hard edges and the apparent emptiness of canvases. Due to this, it is not surprising that her artworks caught the attention of the Minimalist group, as all possible pictorial narratives were lacking from her paintings.
Baer's accurately painted artworks from the 1960s have remained her most identifiable, as they were mostly made up of a main blank canvas that was framed with a band-like painted border.
Jo Baer in her studio, Amsterdam 2014; Billiesavage, CC BY-SA 4.0, via Wikimedia Commons
Her artworks from the 1960s were normally exhibited as diptychs or hung near the floor to emphasize their great physicality. Due to the distinct "emptiness" in her artworks, they have been viewed as Minimalist works in addition to the way that they point out all types of structural relationships above the subject matter.
By 1975, Baer abandoned abstracted painting completely and began to focus on a type of "radical figuration" whereby she joined images, symbols, words, and phrases in a dreamy and whimsical way.
Stations of the Spectrum (Primary) (1967 – 1969)
| | |
| --- | --- |
| Date Painted | 1967 – 1969 |
| Medium | Oil paint and damar resin on three canvases |
| Dimensions | 183.5 cm x 182.9 cm (all three canvases) |
| Where It Is Currently Housed | Tate Modern, United Kingdom |
Stations of the Spectrum (Primary), made up of three identically sized canvases that were blank and framed, was originally a triptych before three more panels were added to make it a six-part artwork. Similar to all of Baer's other paintings from this time, the rectangular panels in this artwork were limited to a very straightforward and symmetrical format. Each panel was given a regular black stripe as a border, making them indistinguishable from one another to the naked eye.
However, if you look closer, a subtle difference can be seen across the three panels.
Each canvas was differentiated by a thin line of a different color which ran parallel to the black border. As suggested by the term "primary" in the title, the colored lines were made up of blue, green, and red, which are known as the primary colors in the light spectrum. The position of these colors was purposeful because, at certain moments and distances, their differences would be discernable in a viewer's peripheral vision.
Frank Stella (1936 – Present)
Nationality
American
Where Artist Lived
Massachusetts, America
Art Movements
Minimalism, Modernism, Abstract Expressionism, Geometric abstraction, Abstract illusionism, Lyrical abstraction, Hard-edge painting, Shapes canvas painting, Color Field painting
Most Famous Artworks

Black Paintings (1959)

Harran II (1967)

Michapol I (1971)
American painter Frank Stella was among the most famous Minimalist painters to emerge from the movement. Experimenting in a variety of other art styles in addition to Minimalism, Stella quickly rose to fame around 1959 for his unique Minimalist take on Abstract Expressionism painting. Creating a series of impersonal black striped paintings that went against the communicative brushwork and existential fear associated with the Abstract Expressionism movement, Stella gained immediate recognition as an innovative artist.
Concentrating on the formal elements of artmaking, Stella produced increasingly intricate artworks that followed a natural progression of complexity, vitality, tactility, and size.
He expanded his monochromatic color palette to include more vibrant colors, eventually moving on to create paintings that integrated non-painterly elements that hinted at three-dimensionality. This led to the production of complex freestanding sculptures, with Stella's works influencing the development of both Minimalism and Color Field painting.
After opening up a studio in New York, Stella seemed to attract attention instantly. His painting methods, which focused on the basic elements of color, shape, form, and composition, differed greatly from the previous style of art and helped to define the emerging Minimalism movement. According to Stella, a painting was nothing but a flat surface with paint on it, which revealed his view of art as an entity of its own.
One of the youngest artists to have a retrospective at MoMA, Stella remains one of the most innovative artists today.
The Marriage of Reason and Squalor, II (1959)
| | |
| --- | --- |
| Date Painted | 1959 |
| Medium | Enamel on canvas |
| Dimensions | 230.5 cm 337.2 cm |
| Where It Is Currently Housed | Museum of Modern Art, New York City |
At a mere 23 years of age, Stella received much critical acclaim for his series of Black Paintings which he produced between 1958 and 1960. This series of artworks comprised of straightforward stripes of black house paint that were set out in sharp but monotonous patterns. Within this series is The Marriage of Reason and Squalor, II, where Stella painted black panels with thin inverted and parallel lines in the form of a U-shape.
Creating a geometric pattern, the thick black stripes are only divided by the thin lines of white paint.
When viewing the painting, the work's absence of different outlines and expressive brushwork causes viewers to recognize it as a flat surface as opposed to a painting. While the parallel lines go on to create a form of illusionistic three-dimensionality in the space, the utter simplicity and emptiness of the canvas give the painting a very impersonal feeling. This lack of emotion, along with the repeated use of a geometric form, makes The Marriage of Reason and Squalor, II an excellent example of Minimal art as it adheres to its main features.
Robert Mangold (1937 – Present)
Nationality
American
Where Artist Lived
New York, America
Art Movements
Minimalism
Most Famous Artworks
Circle In and Out of a Polygon 2 (1973)

Four Color Frame Painting #5 (1984)

Column Structure XXII (2008)
One of the lesser-known Minimalism artists associated with the Minimalism movement is American painter Robert Mangold. However, he was an active participant of the style from the moment of its conception and is held in high regard by several other Minimalist artists. After being hired alongside fellow artist Sol LeWitt as a security guard at the Museum of Modern Art in New York, Mangold steadily made a name for himself after his involvement in a series of popular Minimalism painting exhibitions held during the 1960s.
Like other famous Minimalist painters, Mangold's paintings tended to incorporate a brighter and bolder color palette, which eventually gave rise to the development of Post-Minimalism in the following decade.
A portrait of Robert Mangold, the minimalist painter, 2013; Sylvia Mangold, CC BY-SA 3.0, via Wikimedia Commons
Although he is considered to be a Minimalist painter, Mangold's artworks tend to exist on the border between painted and sculptural forms. Using the techniques of layering, division, and blending, Mangold's works emphasize the presence of form through his painted surfaces, as subtle sculptural effects are created.
Mangold is well-known for his ability to speak with articulate clarity and frankness when discussing his artistic practice.
His paintings are considered to be truly Minimalistic, as their lack of medium-specific processes formed a key feature of the movement. While his earlier works were created in paler and more monochromatic tones, he switched over to brighter and more daring color combinations in the 1980s. This was somewhat attributed to the budding digital space that was emerging, which greatly influenced new colors and shapes.
Column Structure XXII (2008)
| | |
| --- | --- |
| Date Painted | 2008 |
| Medium | Acrylic, graphite, and black pencil on canvas |
| Dimensions | 304.8 cm x 243.8 cm |
| Where It Is Currently Housed | Albert-Knox Art Gallery, New York |
As he still works as an artist today, much of Mangold's more recent works contain elements of Minimalism. 40 years after he began playing around with shaped and geometric canvases, Mangold demonstrated that he could still create equally intriguing works despite so much time passing. Column Structure XXII is made up of alterations of the column form that have been joined to form an irregular cross.
The shape of this painting made an obvious reference to Christian iconography and Kazimir Malevich's Suprematist composition.
When creating this painting, Mangold joined several painted canvases together to form the cross. Like many of his other artworks, Column Structure XXII alludes to some architectural and structural concepts despite being mainly thought of as a painting. When considering the cross, a sense of tension can be felt through the interaction of the lines that curve along with the form. These lines go on to section off the cross into grids, with Mangold complicating the mathematical uniformity of the grip by introducing curved and not straight lines.
Mary Obering (1937 – Present)
Nationality
American
Where Artist Lived
Louisiana, America
Art Movements
Minimalism, Abstract Art
Most Famous Artworks
Firefall (1975)

Untitled III (1986)

Center Blue (1990)
When looking at the list of Minimalist artists, someone who is often overlooked is American painter Mary Obering. Producing very grid-like images that are made up of monochromatic and geometric shapes, Obering combines certain Minimalist concepts with traditional materials like egg tempera and gold leaf.
Receiving a bachelor's degree in experimental psychology and a master's degree in behavioral science, Obering only began to experiment with art in the early 1970s after visiting Italy and meeting artist Carl Andre.
After moving to New York in 1972, Obering bought herself a studio and became fully ingrained in the art scene, still living and working from there today. Her earlier artworks, which were thought to have been inspired by Frank Stella, are comprised of shaped panels that combine elements of painting and sculpture.
This has given her paintings a very hard-edged type of abstraction, with her precisely painted squares and rectangles adding to the uniformity and meticulousness of her work.
Obering has stated that her painting style is inspired by the Old Masters in Italy, where she has spent a lot of time. This can be seen in her use of rich and layered pigments, egg tempera, gessoed panels, and gold leaf in her works. While these aspects tend to go against the stricter philosophies of Minimalism, Obering established herself as a firm member of the group by working within a circle that was seen as the cutting edge of the Minimalism movement in the 1970s. The scrupulous structure of her artworks also adds to the Minimalist feel.
Firefall (1975)
| | |
| --- | --- |
| Date Painted | 1975 |
| Medium | Acrylic on canvas |
| Dimensions | 167.6 cm x 335.3 cm |
| Where It Is Currently Housed | Museum of Modern Art, New York City |
In all of the paintings that Obering has produced throughout her career, she has always kept up her firm sense of opulent color, which has been thought of as Maximalist as opposed to Minimalist at times. Within Firefall, Obering produced a very structured impression of a cut-off square that was placed on a rectangle through the two parallel lines in pink.
As one line is longer than the other, the hint of a shadow can be seen, as demonstrated by the red.
Through her incorporation of a shape that appears to be slipping off the rectangular canvas, as well as its slight shadow, Obering was able to combine elements of painting and sculpture in this artwork, as a three-dimensional effect is given off when considering the composition. The use of rich colors in green, pink, and red tones adds to the opulence of the painting.
The Minimalism movement proved to be a very innovative art style, as it differed greatly from the previous Abstract Expressionism movement. After learning about the top 10 most famous Minimalist painters above, it is clear to see that so much more can still be learned about this style, along with other equally celebrated artists who are not always included on the list. If you have enjoyed reading up about these artists, we encourage you to look up our Minimalism Art article as well and further your knowledge of the movement.
Take a look at our Minimalist artists webstory here!
Frequently Asked Questions
What Was the Minimalism Art Movement?
Developing in the United States, Minimalism exploded onto the art scene during the 1960s. Artists who experimented with this new style created paintings and sculptures that were made up of straightforward geometric shapes, such as rectangles and squares. Minimalist artworks demonstrated an appreciation for qualities like honesty, structure, simplicity, and balance.
Who Was the Most Well-Known Minimalist Artist?
As Minimalism grew rapidly during the 1960s and 1970s, several notable artists were seen as trailblazers for the development of the movement. These artists included Agnes Martin, Sol LeWitt, Dan Flavin, Donald Judd, and Carl Andre, to name a few. Generally, the first Minimalist artist was thought to be Frank Stella, who began creating his iconic "pinstripe" paintings in the late 1950s already.
Isabella studied at the University of Cape Town in South Africa and graduated with a Bachelor of Arts majoring in English Literature & Language and Psychology. Throughout her undergraduate years, she took Art History as an additional subject and absolutely loved it. Building on from her art history knowledge that began in high school, art has always been a particular area of fascination for her. From learning about artworks previously unknown to her, or sharpening her existing understanding of specific works, the ability to continue learning within this interesting sphere excites her greatly.
Her focal points of interest in art history encompass profiling specific artists and art movements, as it is these areas where she is able to really dig deep into the rich narrative of the art world. Additionally, she particularly enjoys exploring the different artistic styles of the 20th century, as well as the important impact that female artists have had on the development of art history.
Learn more about the Art in Context Team.