Abstract Sculptures – Non-Naturalistic Representation in 3-D Art
Since Modernism's inception, certain questions have been expressed concerning the nature of and the distinction between two-dimensional art and abstract sculpture artwork. Constantin Brancusi highlighted the fundamental issue of what famous abstract sculptures were supposed to transmit in the early years of the 20th century: a subject's representation or its essential nature? Pablo Picasso demonstrated in the following years that an abstract statue or sculpture did not need to be chiseled, sculpted, or molded: it could be built or assembled. Below, we will be taking a look at some well-known abstract sculpture artists and their works.
The History of Abstract Sculpture Art
Abstract sculpture was born as a result of the heavy hand of industrialization and an ever-increasing quantity of sculptors distancing themselves from a conventional concept of sculpture. Auguste Rodin, without a fervent desire to defy tradition, was, in reality, the founder of modern sculpture. Rodin removed the harsh contour of traditional 3D creation in order to make place for his massive sculptures in the approaching contemporary 19th century.
Closely following some of the most significant and crucial avant-garde developments and their inventions in 2D works, a new notion of object utility was presented. Such study aided in the formation of a novel link between the item and the environment, not to mention the development of a unique aesthetic lexicon.
The incorporation and use of common resources deviated from conventional modeling concepts and materials like ceramic, plaster, stone, or metal. The 3D objects started to dance, move, and sparkle, calling into question their basic essence as well as the nature of artistic creation.
The Early Days of Abstract Sculpture Art
It took some time for the abstract sculptures to break through. It had to break the chains from generations of traditions that praised the ideal human form in portraits, busts, and sculptures. Three-dimensional performances began to embrace a distinctive form and purpose with the development of Cubism.
Picasso's Cubist sculptures, seen as another area for exploration as they broke away from the conventional idea of modeling, demonstrated that these new items also permitted the interplay of geometrical forms, flattening of their surfaces, and fracturing.
The sculpture was no longer required to depict anything; instead, it was free to just exist and serve as a representation of a unique type of art.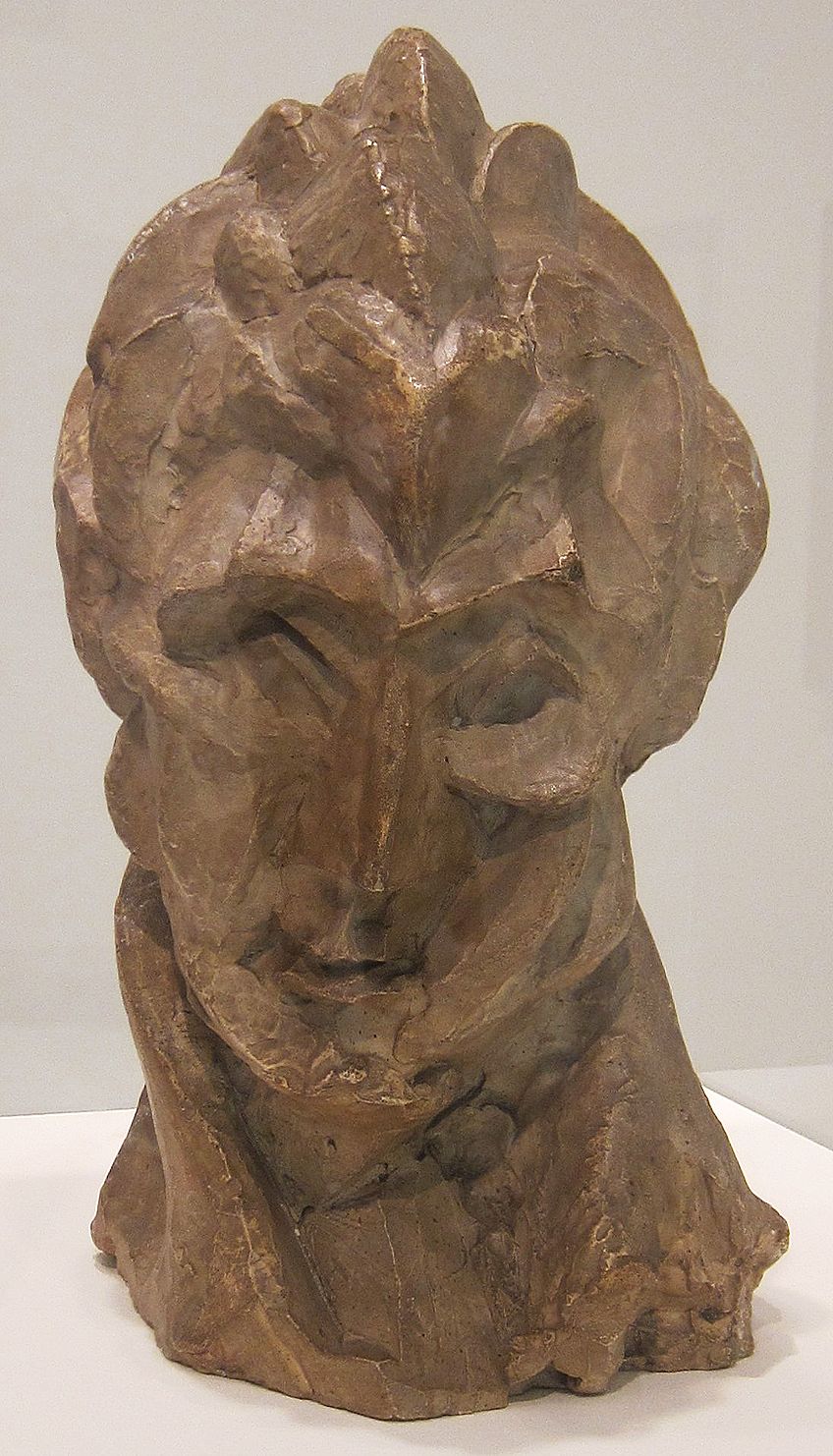 Head of a Woman (Fernande) plaster sculpture (1909) by Pablo Picasso, located in the Tate Modern in London; Wmpearl, CC0, via Wikimedia Commons
On the one hand, it desired to connect with the spiritual, intellectual, and ceremonial symbols of remote African, and Asian civilizations. The other side portrayed the post-war period's clash and the hardship of each day. Picasso sought for whatever was available to him in his Paris studio during the war, and began to gather his non-representative, and sometimes very provocative, items.
This was a novel way of looking at and constructing the sculpture, and it immediately became popular. Similar to Picasso's and Georges Braque's collage works, the initial concept of what a sculpture may look like and be was allowed to utilize any material it thought essential.
The Significant Influences That Shaped Abstract Sculpture
The concept that Abstract statues could be made as assemblage objects and that famous sculpture artists did not have to depend on the conventional use of marble or wood was adopted by Italian Futurism, Dada, Abstract Expressionism, Surrealism, and Minimalism.
Each of the aforementioned movements added another significant characteristic to the increasingly global phrase Abstract Sculpture.
Cubism provided a new perspective on materials, whereas Italian Futurism gave art a new purpose, that of a medium to embrace movement, dynamism, and technology. Kinetic Sculpture arose from this point of view, bringing with it a unique perspective on the concept of mass and its dissolution via the delicate influences of light and motion.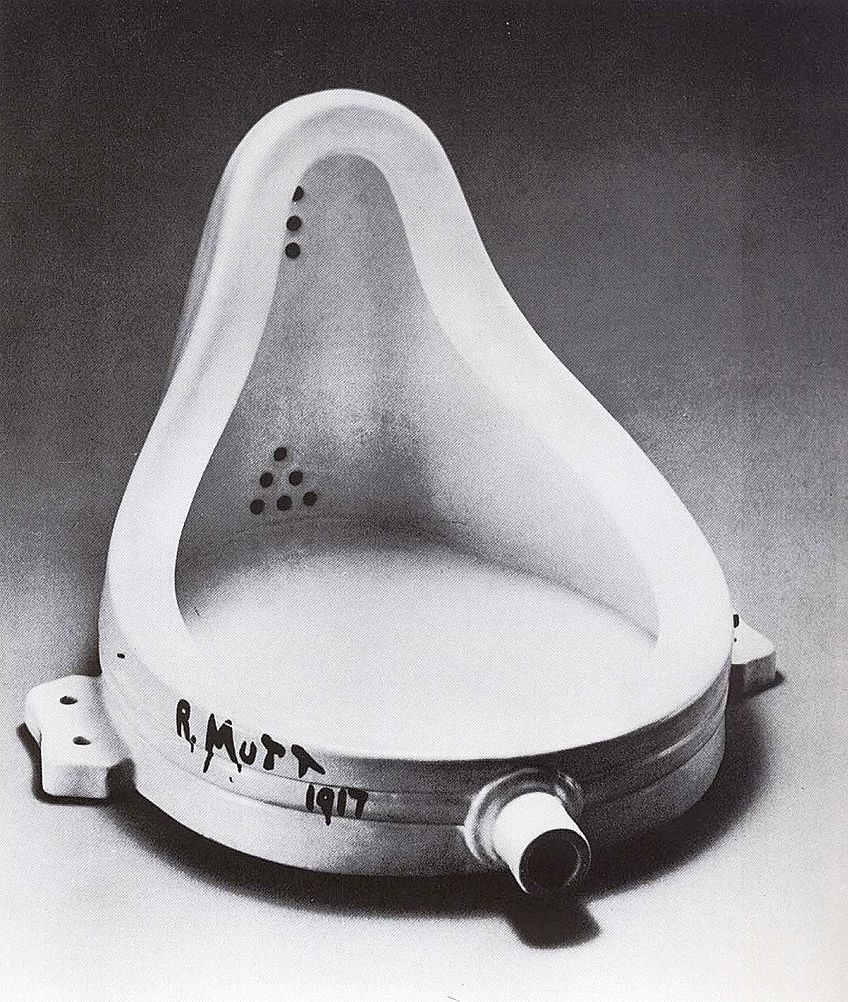 Replica of Fountain (1917) by Marcel Duchamp; Marcel Duchamp, Public domain, via Wikimedia Commons
Enthralled by this concept was Marcel Duchamp, pioneer of one of the finest radical art movements, Dadaism, who soon implemented the utilization of mechanical motion in his output. Before this, he first introduced his notion of the "readymades", which added a spin of his own to the interpretation of sculpture.
Everyday objects stepped in, bringing with it trends including Recycled and Junk Art, as well as phrases such as combines, which were used to characterize the combination of painting and sculpture in Robert Rauschenberg's work.
"What is true is not the exterior shape of things, but their core. Starting with this principle, no one can express something basically true by mimicking its outward surface," said Brancusi. However, like with every creative form, the urge for the soul sneaks in and begs for a glimpse of life inside the frigid materials.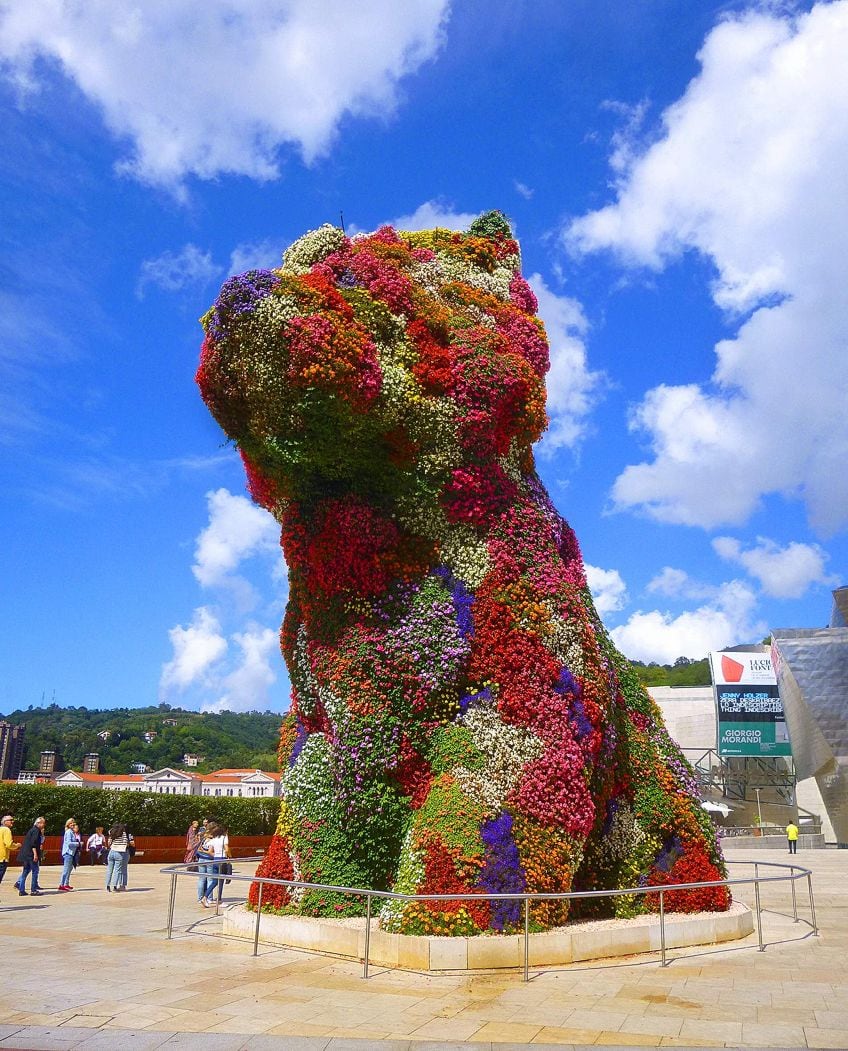 Puppy (1992) by Jeff Koons, an example of modern-day sculpture; Zarateman, CC0, via Wikimedia Commons
Working with elements was one end of the spectrum, and the other was a softer side that centered on attempting to comprehend how sculpture might be utilized as a medium of expression for diverse realities of life rather than a vehicle of duplication of the world.
The renowned Constantin Brancusi remark aptly characterizes the abstract sculpture art that actually revolutionized the space/object interaction and moved away from the previous canons. Along with his production, the acclaimed sculptor Henry Moore's production promotes deeper inquiry into forms, processes, and proportions.
Both emphasized the concept of straightforward carving, surreal biomorphic forms, and the appreciation of raw resources, which aided sculpture in branching out and forming the two parallel threads of its development.
Famous Sculpture Artists of Abstract Art
Famous sculpture artists of the 20th century were pioneers in exploring the full range of 3D abstraction. The abstract sculpture artists on this list have all blasted a current of fresh air into the spirit of 20th century sculpture, which completely changed the trajectory of modern art.
This is due to their disruptive innovations of shape, content methods and materials, analytical processing of the environment, and differing views and perspectives to what art is.
From creating abstract wood sculptures to working with less traditional materials, these artists have all contributed something unique to Abstract sculpture art. Here is our list of influential sculptors and their famous abstract sculptures.
Constantin Brâncusi (1876 – 1957)
| | |
| --- | --- |
| Nationality | Romanian |
| Date of Birth | 19 February 1876 |
| Date of Death | 16 March 1957 |
| Place of Birth | Hobita, Romania |
Constantin Brâncusi, a prominent 20th century sculptor, combined modernism and transcendence in his works, which exhibit ideal and archetypical renderings of their subject matter. His visionary sculptures, with their basic and simplified shapes and streamlined look, seek to disclose hidden truths.
He stated that the artist should be able to "dig out the being that is within matter." He devoted special attention to his media while pioneering the method of direct carving.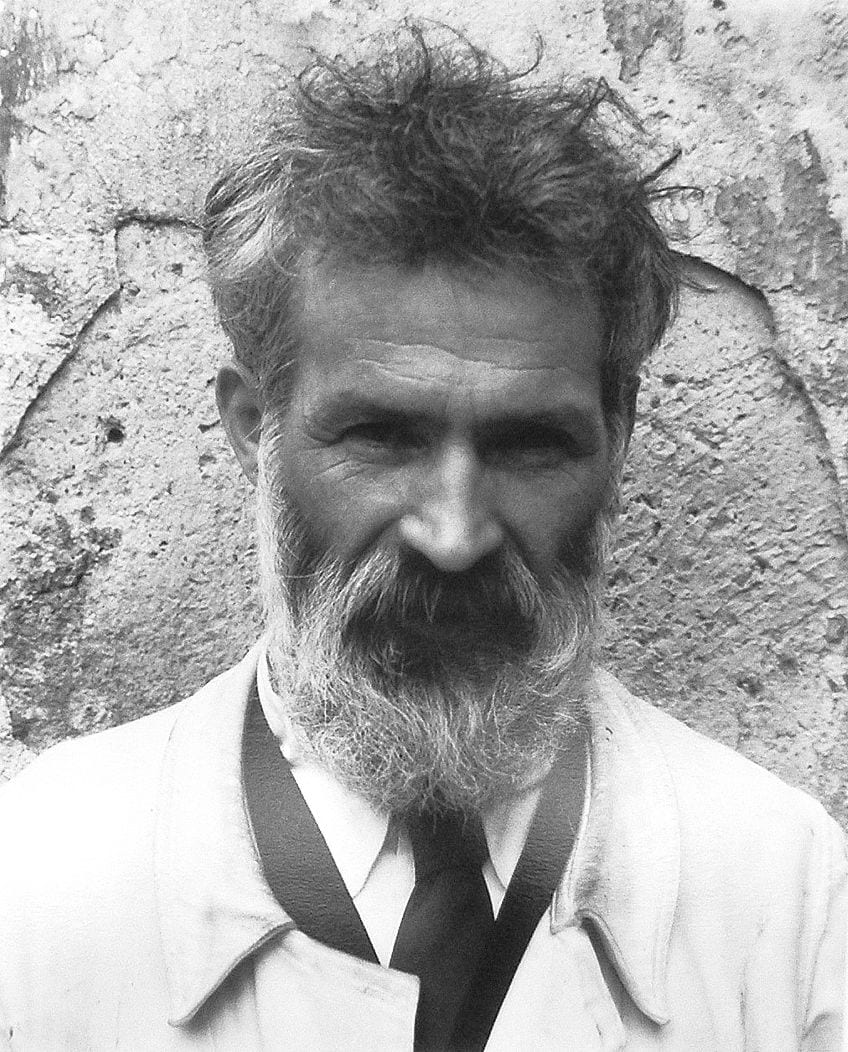 Photographic portrait of Constantin Brâncusi, taken by Edward Steichen in 1922; Edward Steichen, Public domain, via Wikimedia Commons
Working mostly with stone, marble, bronze, woods, and metal, he refined his final sculptures for days to get the illusion of 'proceeding out from the bulk into some flawless and full reality.' Brancusi's art was heavily influenced by tales, folklore, and "primitive" societies, despite his insistence on the representational aspect of his subject.
The Kiss (1908)
| | |
| --- | --- |
| Year of Production | 1908 |
| Medium | Bronze |
| Dimensions | 237 cm × 234 cm × 54 cm |
| Current Location | Barbara Hepworth Museum |
Brancusi made several variations of The Kiss, with each one reducing geometric outlines and sparse items and moving the work farther toward abstraction. His abstract technique stresses basic geometrical lines that harmonize the natural shapes of his resources with the symbolic references of representational painting. The form of the initial block of material is preserved here. Another rendition of The Kiss is adorning a gravestone at Montparnasse Cemetery.
It is a symbolistic abstract statue of two lovers embracing, a motif depicted in several erotically charged works of art.
Jean Arp (1886 – 1966)
| | |
| --- | --- |
| Nationality | German-French |
| Date of Birth | 16 September 1886 |
| Date of Death | 7 June 1966 |
| Place of Birth | Strasbourg, France |
Jean Arp's style was identified with Dadaism and the Surrealist movement, and was regarded as a forerunner of abstract art. He was most renowned for his biomorphic objects which were made of plaster, bronze, and stone. However, he also painted, drew, collaged, and wrote poetry. He alluded to his abstract statues as organic abstraction since they were characterized by wavy lines.
His art was deeply based on nature, but still being non-representational.
His most abstract creations, which include plants or human beings, allude to biological aspects. He limited the participation of the conscious mind by integrating coincidence and serendipity as important components of his creative approach.
He is widely considered one of the most inventive sculptors of the 20th century. These biomorphic designs influenced by nature had a major effect on the following generations of abstract artists.
Sculpture to be Lost in the Forest (1932)
| | |
| --- | --- |
| Year of Production | 1932 |
| Medium | Bronze |
| Dimensions | 90 mm × 222 mm × 154 mm |
| Current Location | Tate Modern |
Arp created a style of biomorphic sculpture in the 1920s and 1930s that implied a link between creative invention and natural creation. The shapes in his work recall weathered stones, blossoms, and other naturally occurring substances, as seen in 'Sculpture to be Lost in the Forest.'
He made these sculptures by a semi-automatic method of sanding down the plaster figure until he was happy with the form.
"I labor till a sufficient amount of my life has spilled into its body," he explained. To connect his art with nature, he placed sculptures in the forests near his house in Meudon, where they may be discovered by unwitting passers-by.
Naum Gabo (1890 – 1977)
| | |
| --- | --- |
| Nationality | Russian |
| Date of Birth | 5 August 1890 |
| Date of Death | 23 August 1977 |
| Place of Birth | Bryansk, Russia |
Naum Gabo, a Russian sculptor, was a forerunner of Kinetic Art. Gabo and his brother, Antoine Pevsner, claimed in the Realist Manifesto of Constructivism that art had a value and role outside of the state and that the geometrical concept should be the foundation for sculpture.
He fractured solids into interconnected lines, planes, and geometric forms by using translucent materials to represent volumes of empty space.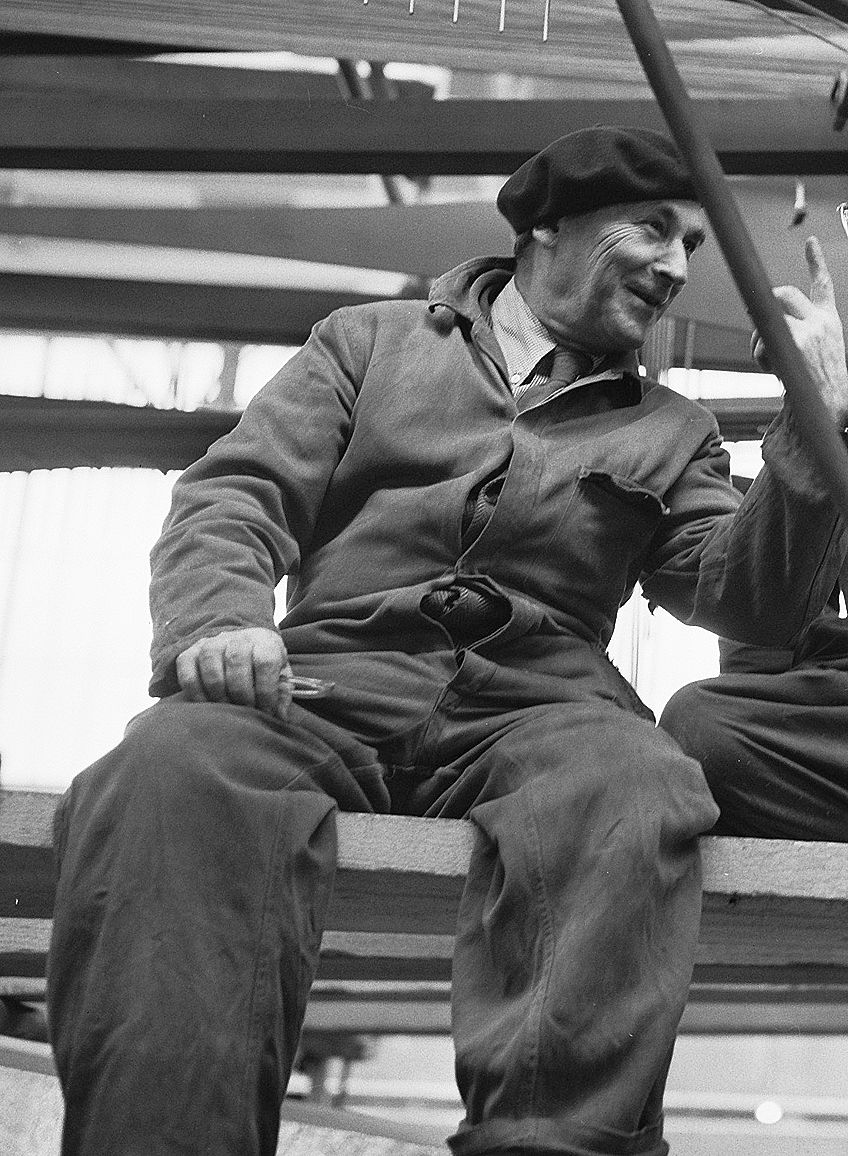 Photograph of Naum Gabo sitting on his artwork Flower and Bee, taken in 1957; Herbert Behrens (ANEFO), CC0, via Wikimedia Commons
He wrote that' space and time are the only structures on which life is based, and hence art must be produced since these were his essential ingredients. His abstract creations were usually made of glass, metal, and plastic.
His revolutionary approach to sculpting and visual language paralleled society and mankind.
Construction in Space (1939)
| | |
| --- | --- |
| Year of Production | 1939 |
| Medium | Cellulose Acetate |
| Dimensions | 220 × 270 × 180 mm |
| Current Location | Tate Modern |
Throughout Naum Gabo's period of stay in London, starting in March of 1936 and during the outbreak of World War II in September 1939, he created several significant works in plastic, including Construction in Space. Whereas Gabo's earlier sculptures used a range of components and tones, these projects were crafted out of clear plastics.
Through this, he was able to accomplish a new level of conceptual purity. Construction in Space was the first piece composed completely of translucent planes, and existed as an exquisite formal answer to the issue Gabo set himself to 20 years before of showing the dynamic inner of objects.
Henry Moore (1898 – 1986)
| | |
| --- | --- |
| Nationality | English |
| Date of Birth | 30 July 1898 |
| Date of Death | 31 August 1986 |
| Place of Birth | Castleford, United Kingdom |
Henry Moore, widely considered to be the founder of contemporary British sculpture, was mainly remembered for his semi-abstract gigantic bronze sculptures that can be found all over the globe as public pieces of art. His style was influenced by Pre-Columbian, Classical, and African Art, as well as Surrealism.
Moore was also greatly influenced by renowned modernists such as Arp, Picasso, Brancusi, and Giacometti.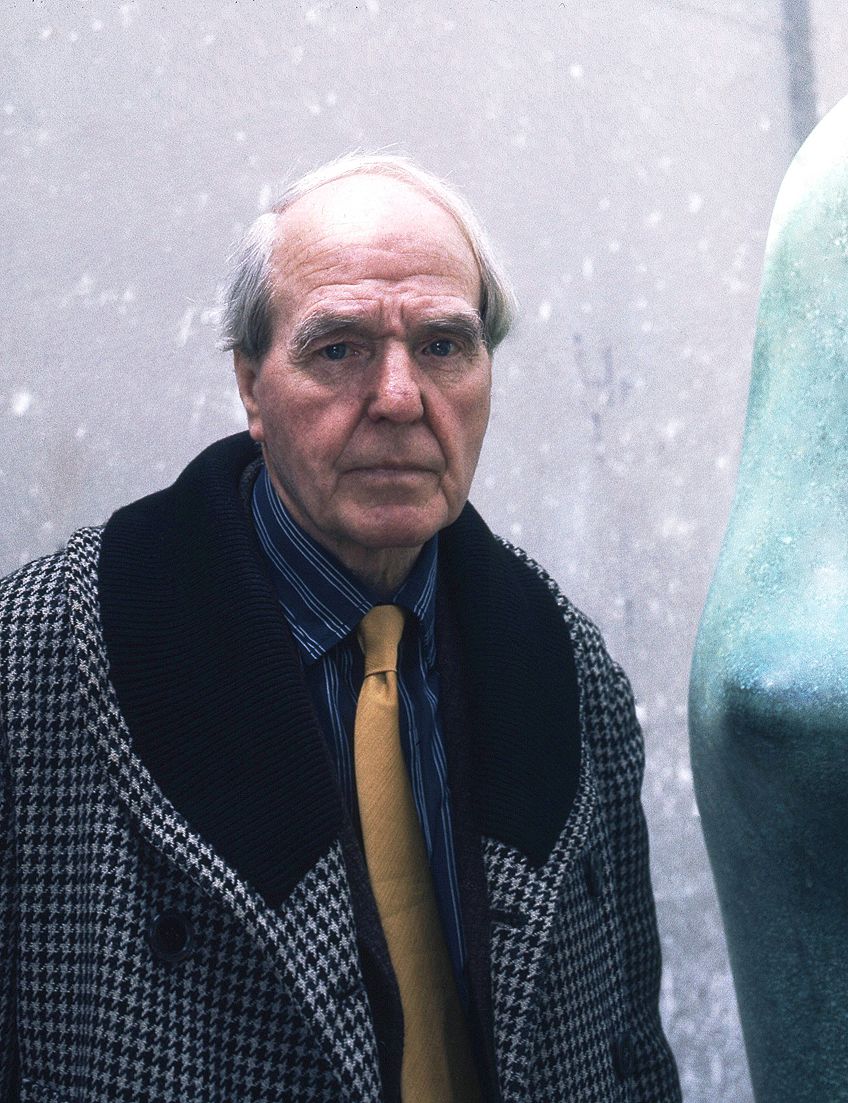 Photograph of Henry Moore in his studio in England, taken in 1973; Allan warren, CC BY-SA 3.0, via Wikimedia Commons
The mother and child, as well as the reclining figure, were common subjects in his work. He was captivated with scenery and nature, thus he used abstract forms to draw similarities between the human body and the world.
Using the direct carving technique, he mostly concentrated on materials such as wood and stone.
Three Standing Figures (1947)
| | |
| --- | --- |
| Year of Production | 1947 |
| Medium | Stone |
| Dimensions | 2.1m |
| Current Location | Battersea Park |
The abstract statue consists of three standing ladies dressed in flowing clothes, two of whom are closer together and are being viewed by the third. Each contains basic face traits like eye openings. Moore's figures arose from a series of sketches influenced by his experiences of individuals in subterranean bomb shelters during WWII.
It may be inspired by Moore's 1948 drawing of the Three Fates, which is similar to the Three Graces. In 1968, Moore remarked that his sculpture was "as though the three ladies are waiting there, anticipating something to fall from the sky."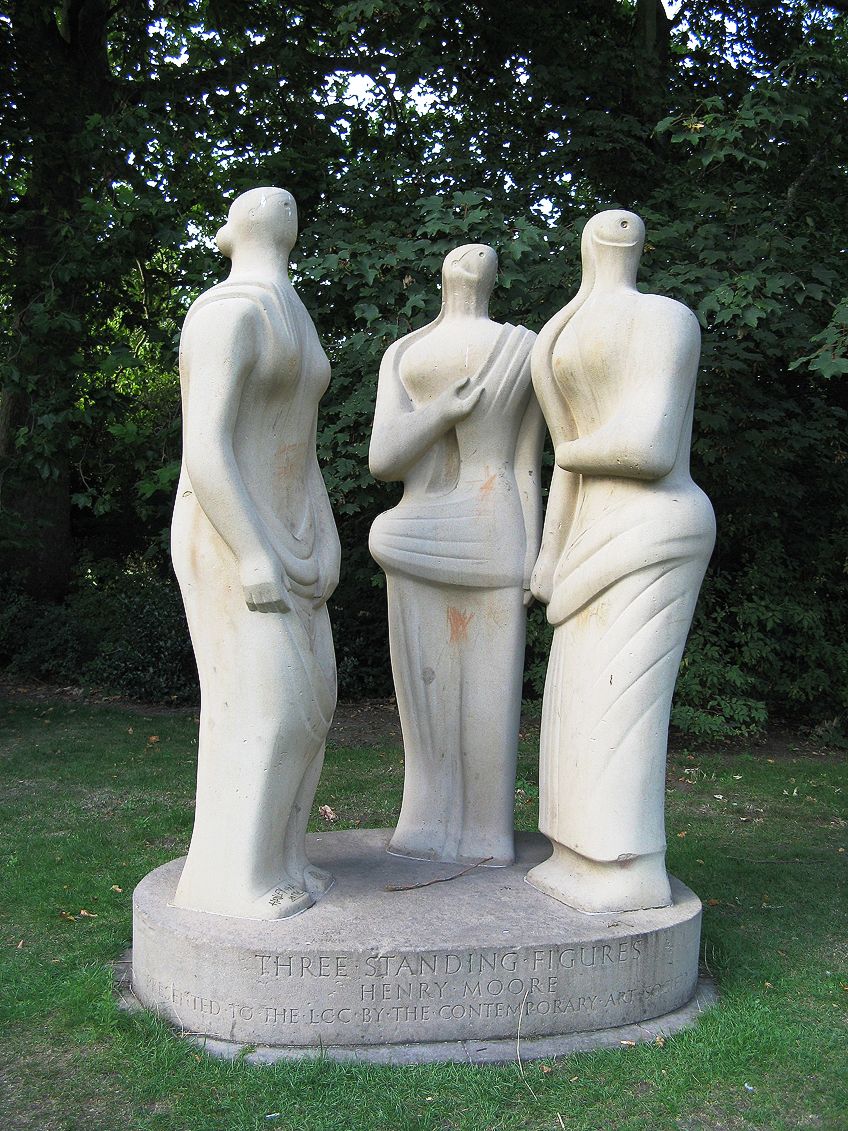 Three Standing Figures (1947) by Henry Moore, located in Battersea Park in London; Yair Haklai, CC BY-SA 3.0, via Wikimedia Commons
Louise Nevelson (1899 – 1988)
| | |
| --- | --- |
| Nationality | American |
| Date of Birth | 13 September 1899 |
| Date of Death | 17 April 1988 |
| Place of Birth | Pereiaslav, Ukraine |
Louise Nevelson's work was connected with different styles such as Cubism, Abstract Expressionism, and Surrealism, and she is most recognized for her room-sized abstract wood sculptures. Her enormous assemblages utilized a method motivated by the notion of the readymades, in which she used abandoned wooden artifacts obtained from urban waste dumps.
These wooden artifacts were painstakingly placed to create novel narratives after being purposefully chosen for their evocative capacity to call to memory the shapes of the city, nature, and heavenly bodies.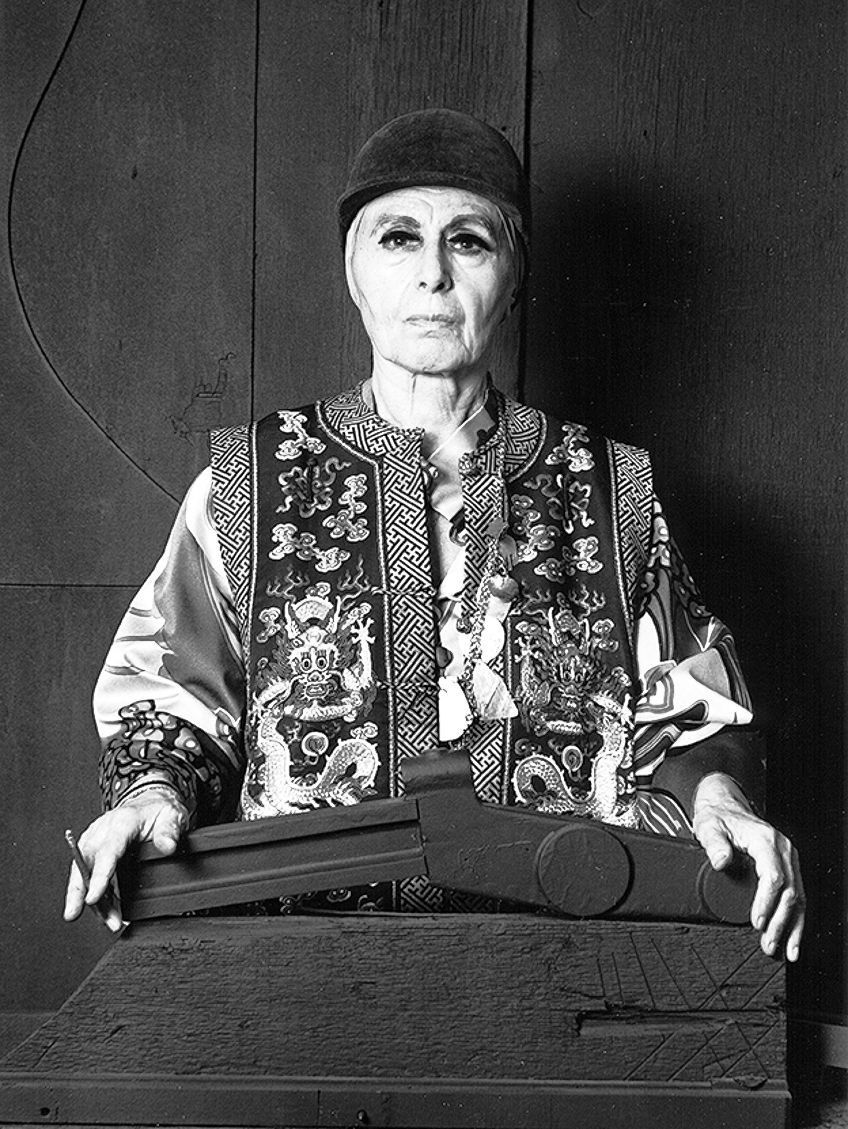 Photograph of Louise Nevelson, taken by Lynn Gilbert in 1976; Lynn Gilbert, CC BY-SA 4.0, via Wikimedia Commons
These sculptures, mostly monochrome and black, with occasional forays into gold and white, expressed her personal tale of displacement and self-invention. During her later years, she experimented with commercial materials such as aluminum, plexiglass, and steel.
Royal Tide 1 (1960)
| | |
| --- | --- |
| Year of Production | 1932 |
| Medium | Bronze |
| Dimensions | 90 mm × 222 mm × 154 mm |
| Current Location | Tate Modern |
The shimmering gold reaching from floor to ceiling gives Royal Tide I the appearance of a luxurious gilded altarpiece, as if the sculpture's abstractions were alchemically enchanted in their metamorphosis from everyday castoff to art item.
It's noteworthy that she referred to Royal Tide I and comparable works as her "Baroque period," thus connecting her modern abstract sculpture to the lavish and opulent works of the 16th-century Baroque era.
Unlike her other freely formed works, Nevelson placed the various components in Royal Tide I inside a matrix of uniformly sized wooden boxes and enforced a cohesive order across the work.
Barbara Hepworth (1903 – 1975)
| | |
| --- | --- |
| Nationality | American |
| Date of Birth | 13 September 1899 |
| Date of Death | 17 April 1988 |
| Place of Birth | Pereiaslav, Ukraine |
Barbara Hepworth was a forerunner of abstract sculpting, identifying herself as a world-renowned sculptor in an era when female sculptors were uncommon. She is well renowned for her stone-carved biomorphic works, which were inspired by her early love with organic structures and materials.
She integrated a broad variety of physical elements with an exceptional awareness of their attributes, using a sophisticated and multi-faceted sculpted language and concepts.
She reflected the link between dimension and space by investigating the absence as well as the presence in sculpture. Her abstract pieces frequently feature empty internal voids that disturb the smooth surface textures.
Two Forms (1969)
| | |
| --- | --- |
| Year of Production | 1969 |
| Medium | Bronze |
| Dimensions | 237 cm × 234 cm × 54 cm |
| Current Location | Barbara Hepworth Museum |
This abstract sculptural artwork is widely regarded as one of the most recognizable pieces in the United Kingdom. The sculpture was constructed barely six years before Hepworth's death in a fire at her workshop in St Ives in 1975.
It consists of two vertical bronze semi-circles that create a broken circle about two meters across, each pierced by one huge hole. Both pieces are soldered to a bronze foundation.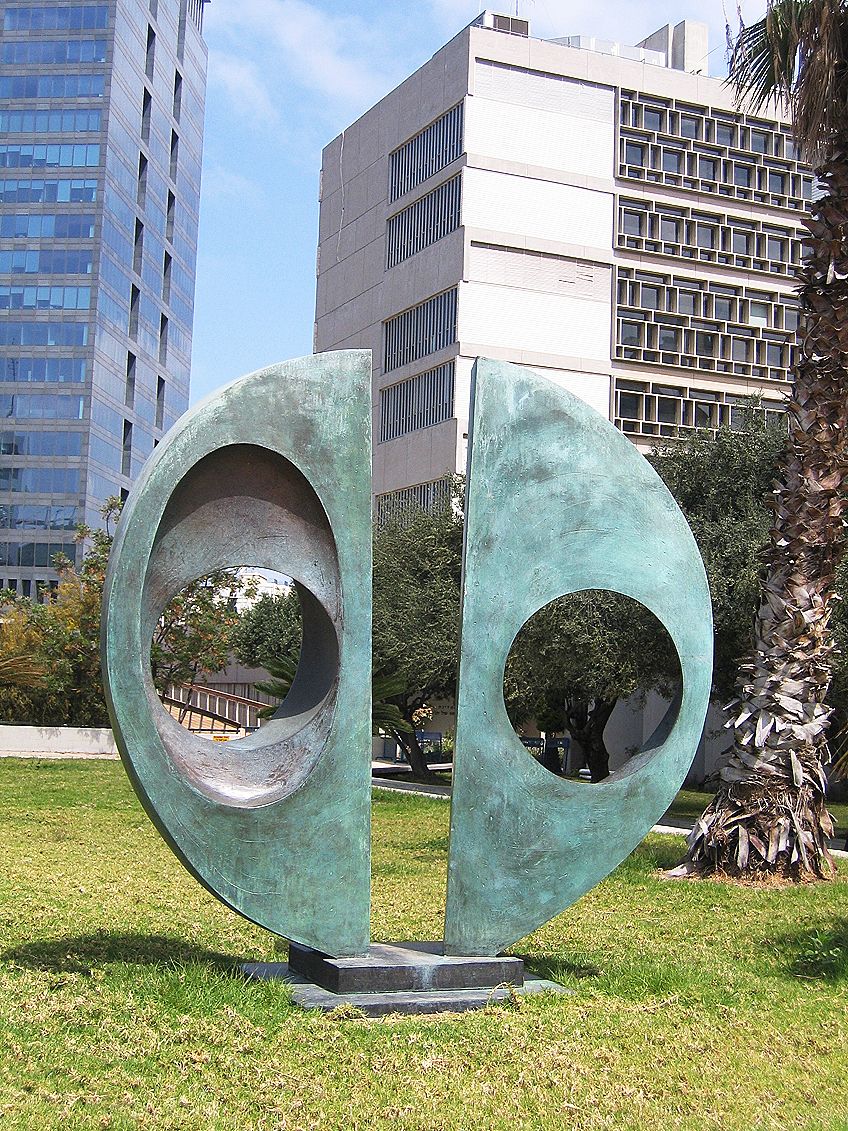 Two Forms (1969) by Barbara Hepworth; Talmoryair, CC BY-SA 3.0, via Wikimedia Commons
Morris Singer cast all three components in London, and they are all empty. In 1966, after she was diagnosed with cancer, Hepworth created the artwork. "You can go through the Divided Circle – you should not have to do it physically to feel it," she said, wanting the viewer's physicality to be involved with her artwork.
Anthony Caro (1924 – 2013)
| | |
| --- | --- |
| Nationality | English |
| Date of Birth | 8 March 1924 |
| Date of Death | 23 October 2013 |
| Place of Birth | New Maiden, United Kingdom |
Anthony Caro, a significant figure in modern sculpture for almost a half-century, investigated all the capabilities of 3D abstraction. He produced huge creations that were grandiose in both shape and size, using a range of materials ranging from wood to ropes.
Despite the fact that part of his work adheres to a precise, logical geometry, his signature sculptures convey lyrical motion, seeming weightlessness, spontaneity, and serendipity.
His metal abstract sculptures were presented without plinths, straight on the ground, pushing boundaries. The removal of the pedestal was a dramatic move at the time, altering the interplay between art and the observer.
Early One Morning (1962)
| | |
| --- | --- |
| Year of Production | 1962 |
| Medium | Metal |
| Dimensions | 2.9 m x 6.2m x 3.35m |
| Current Location | Tate Gallery |
In the 1950s, Caro worked as an apprentice to Henry Moore, but David Smith's artwork encouraged him to shift away from Moore's semi-figurative art and toward more abstracted pieces created from industrial metal parts.
Early One Morning was created at Caro's house, but the massive work could not be fully observed in the small room, so Caro and a friend disassembled it late at night and reconstructed it outdoors.
Caro's first proper look of the sculpture, early the next morning, inspired the moniker. It was initially painted green to bring the different pieces together into a single piece. Caro was dissatisfied with the outcome, so his wife Sheila proposed coloring it red rather.
Sol LeWitt (1928 – 2007)
| | |
| --- | --- |
| Nationality | American |
| Date of Birth | 9 September 1928 |
| Date of Death | 8 April 2007 |
| Place of Birth | Connecticut, USA |
Sol LeWitt, a pioneer in both Minimalism and Philosophical art, was most known for his geometrical abstract sculptures, although he created wall drawings, constructions, paintings, and conceptual works as well.
Establishing a unique radical style of art in the 1960s, LeWitt considered that the most significant part of the work is the idea or concept.
He employed simple designs applied to his own formulae approximating mathematical equations, emphasizing concepts and processes, and reducing art creation to its essence. He often gave vague instructions to his apprentices or helpers for making the piece of art he had previously envisaged.
This was because LeWitt believed that the ultimate product should not be entirely controlled by the artist, which questioned core notions about art.
Four-Sided Pyramid (1999)
| | |
| --- | --- |
| Year of Production | 1999 |
| Medium | Concrete Blocks and Mortar |
| Dimensions | 458 cm x 1012 cm x 970 cm |
| Current Location | National Gallery of Art Sculpture Garden, Washington D.C. |
Sol LeWitt was at the vanguard of conceptual and minimal art for over five decades, beginning in the early 1960s. Structures (a name he favored over sculptures) by Sol LeWitt are often made of modular, quasi-architectural shapes.
As with many of his works, LeWitt devised a plan and a series of steps to be carried out by others for the Four-Sided Pyramid.
Four-Sided Pyramid (1999) by Sol LeWitt, located in the National Gallery of Art Sculpture Garden in Washington D.C.; David from Washington, DC, CC BY 2.0, via Wikimedia Commons
A group of stonemasons and engineers worked with the artist to build the Four-Sided Pyramid on this location. The tiered pyramid, which LeWitt originally used in the 1960s, refers to the 1961 abolition of early 20th century setback rules for New York City buildings. The geometric structure of the Four-Sided Pyramid also relates to the ancient Mesopotamian ziggurats.
That concludes our look at the history and famous sculpture artists of Abstract sculpture. We have looked at some of the best examples of famous Abstract sculptures and the amazing sculptors who created them. From Abstract wood sculptures to massive metal Abstract statues, these examples of Abstract sculpture art tested the boundaries of what sculpture could represent.
Frequently Asked Questions
What Is Abstract Sculpture Art?
Abstract sculpture arose as a result of industrialization's heavy touch and an ever-increasing number of sculptors distancing themselves from a traditional understanding of sculpture. Without a strong desire to challenge tradition, Auguste Rodin is often regarded as the father of contemporary sculpture. Rodin eliminated the rough contours of traditional 3D production to make room for his gigantic sculptures in the coming modern 19th century.
What Influenced Abstract Sculpture Art?
The idea that abstract statues could be made as assemblage objects, and that famous sculpture artists did not have to rely on the traditional use of marble or wood, was adopted by Dada, Abstract Expressionism, Surrealism, and Minimalism. Each of the aforementioned movements added another significant feature to the increasingly global phrase of abstract sculpture. Cubism gave art a new perspective on materials, but Italian Futurism gave art a new purpose as a vehicle to embrace movement, energy, and technology. Kinetic sculpture evolved from this viewpoint, bringing with it a completely distinct take on the notion of mass and its breakdown through the subtle forces of light and motion.
Isabella studied at the University of Cape Town in South Africa and graduated with a Bachelor of Arts majoring in English Literature & Language and Psychology. Throughout her undergraduate years, she took Art History as an additional subject and absolutely loved it. Building on from her art history knowledge that began in high school, art has always been a particular area of fascination for her. From learning about artworks previously unknown to her, or sharpening her existing understanding of specific works, the ability to continue learning within this interesting sphere excites her greatly.
Her focal points of interest in art history encompass profiling specific artists and art movements, as it is these areas where she is able to really dig deep into the rich narrative of the art world. Additionally, she particularly enjoys exploring the different artistic styles of the 20th century, as well as the important impact that female artists have had on the development of art history.
Learn more about Isabella Meyer and the Art in Context Team.
Cite this Article