Donald Judd's artwork embodied the abandonment of conventional sculpture and painting, and he viewed art as something that was based on the subject as it exists within a specific context. Donald Judd's artworks are often described as representative of the Minimalist movement, whose objective was to free art from the Abstract Expressionists' dependence on the self-referential mark of the artist in order to make works that were devoid of emotion. To achieve this objective, artists like Donald Judd developed pieces composed of single or repetitive geometric patterns created from industrial materials that lessened the influence of the artist's hand. In this article, we will take a look at how Donald Judd's sculptures and paintings were shaped by his life experiences and unique artistic vision.
The Life and Art of Donald Judd
| | |
| --- | --- |
| Nationality | American |
| Date of Birth | 3 June 1928 |
| Date of Death | 12 February 1994 |
| Place of Birth | Excelsior Springs, Missouri, USA |
Donald Judd's modular and geometric creations have frequently been lambasted for their apparent lack of meaning. Nevertheless, it is this very simplicity that raises questions about the intrinsic nature of artwork and thereby places Minimalist sculptures as objects of introspection, whose persistent presence reveals the process of observation and examination (although, it should be noted that Judd vehemently rejected having his work labelled as Minimalist).
Donald Judd's intention was to design pieces that stood alone as part of a larger spectrum of image production which did not hint at anything else other than their own physicality. As a consequence, Donald Judd's artworks, like that of many Minimalists, are sometimes referred to as Literalist artworks.
Reflection on water of fountain designed by Donald Judd in Winterhur, Switzerland (1991); Andi Gentsch from Winterthur, Schweiz, CC BY-SA 2.0, via Wikimedia Commons
Childhood and Early Training
Donald Judd spent the majority of his youth on his grandparents' farm and also lived with his parents in the Midwest until they relocated to New Jersey. He worked for the army as an engineer from 1946 until 1947 before enrolling in the College of William & Mary in 1948. Afterward, he switched to Columbia University, where he got a B.A. in philosophy and studied toward an art history master's degree with Meyer Schapiro and Rudolf Wittkower while still taking lectures at the Art Students League. He produced art critiques for prominent American art publications from 1959 through to 1965.
Donald Judd began his career painting in the late 1940s before transitioning to the discipline of woodcut, whose linear properties allowed him to transcend from figurative representations to more abstract creations. He had completely given up on the two-dimensional picture plane by the beginning of the 1960s and had started to focus on three-dimensional forms, in which the idea of physicality was crucial.
Small Box by Donald Judd (1969); Rino Porrovecchio from Palermo, Italy, CC BY-SA 2.0, via Wikimedia Commons
Specific Objects, a manifesto-like article written in 1964 by Judd, called for a renunciation of the outdated, European ideal of illusionism and advocated for an art based on actual materials. Judd collaborated with other New York-based creators such as Jasper Johns, John Chamberlain, and Dan Flavin, whose works also used unconventional materials such as aluminum, steel, found objects, and neon lighting. These artists, like Donald Judd, had come to see the physical surroundings as an inherent component of the artwork and that three-dimensional design represented the most effective method for addressing spatial issues.
Mature Period
By 1963, Judd's worldwide reputation had grown, and his second solo exhibition was staged at New York's Green Gallery. In 1966, the prominent art dealer Leo Castelli presented the first of several solo exhibits of Donald Judd's artworks, ensuring his fame in the New York art community. He then worked as a teacher at Brooklyn College from 1962 to 1964. Judd taught sculpture at Yale the next year after serving as a guest artist in 1966 at Dartmouth College. Throughout the 1960s and 1970s, he was the recipient of several grants and honors from institutions including the Swedish Institute and the National Endowment for the Arts.
Untitled (from the Progression series) by Donald Judd (1973); Rept0n1x, CC BY-SA 3.0, via Wikimedia Commons
The Whitney Museum of American Art presented the first retrospective of Donald Judd's paintings and sculptures in 1968, establishing his significance in the world of contemporary art. Donald Judd's sculptures started becoming bigger and progressively more intricate in the early 1970s, for example, large, hollow boxes made from copper or steel, frequently colored with an enamel surface and set directly on the ground. Judd deviated from the typical method of showing three-dimensional artworks, which was normally put on a plinth, by displaying his pieces in this way.
Judd's strategy of erasing the psychological and physical separation between the observer and object served to redefine this interdependence; instead of functioning as a separate piece of art, Donald Judd's artworks form part of the surroundings and insist to be encountered as part of the audience's own experiential existence.
Late Years and Death
In 1971, he rented a home in Marfa, Texas, where the arid settings matched the artist's style and served as an alternative to his New York City workshop. With the help of the Dia Foundation, he purchased a strip of desert land outside of town in 1979 that housed dilapidated remnants of the previous Military Fort and served as the base for the Chinati Foundation, which emerged in 1986. His Minimalist approach was complemented by the terrain and wide-open areas.
Judd was able to expand the frameworks of his symbolic imagery, typically using concrete or aluminum and blending the artworks into their environments.
15 Untitled Works in Concrete (also known as Judd's Cubes) by Donald Judd (1980-84); Carol M. Highsmith, Public domain, via Wikimedia Commons
In addition, Judd was able to permanently display a number of large-scale pieces that met his aesthetic standards thanks to the founding of the Chinati Foundation, which also provided a space for other artists who shared his aesthetic values to exhibit their work. He began designing furniture in 1984 and broadened his materials to also include acrylic and anodized aluminum. On the 12th of February, 1994, Judd passed away from lymphoma.
Legacy and Accomplishments
Despite his rejection of the label and skepticism of artistic minimalism, Judd was a Minimalist movement pioneer who contributed to the establishment of an appreciation for the sleek lines and clean spaces that are commonly valued in interior design. The Chinati Foundation, founded by Judd, serves as a museum, artist community, and research site today. In 1976, Judd expanded his focus beyond Marfa, when he acquired land in Presidio, where he formulated concepts on farmland architecture and environmental preservation that have impacted individuals in this field of expertise.
To this day, Judd's essays are regarded as the most thorough expression of Minimalist art; Donald Judd's artworks created a new language of sculptural concerns while also contributing to a revised idea of the act of observation.
Donald Judd's sculptures are positioned directly on the floor, requiring the viewer to encounter them in the setting of their true, physical existence. This was in contrast to classical sculpture, which was placed on a pedestal to designate it as a work of art. He used highly polished, industrialized materials including steel, iron, Plexiglas, and plastic, as well as methods and techniques synonymous with the Bauhaus School, to lend his creations an emotionless, factory-like character.
Untitled Object by Donald Judd (1982/3); Wikifrits, Public domain, via Wikimedia Commons
This helped to distinguish Donald Judd's artworks from that of the Abstract Expressionists, whose reliance on the artist's touch provided his works with a transparent, personal meaning. Judd frequently displayed his work serially, a tactic that reflected the realities of postwar consumer society as well as the uniformity and non-subjectification of character of identical structures or systems.
The usage of multiples was another strategy to highlight their materiality. This method was also viewed as a component of a greater movement toward the liberalization of the arts or opening it up to a wider community because it was composed of manufactured parts.
Donald Judd's Prints
Donald Judd made hundreds of prints over the span of 40 years, utilizing etching, aquatint, and screen-printing methods, though woodcut was his major print medium. Judd started making figurative prints at the Art Students League in 1951, evolving to abstract pictures by the mid-1950s. Judd began with lithographs before moving on to woodcuts, which became his primary medium around 1953.
As a printer, Judd explored many of the same form and color challenges that he did in his paintings and sculptures.
Stage Set by Donald Judd (1991); KlausFoehl, CC BY-SA 3.0, via Wikimedia Commons
Judd created and drew a parallelogram woodcut series in 1961. This is built on 13 alternative configurations of 12 parallel lines and their mirror counterparts, resulting in a total of 26 prints. Between 1967 and 1992, Judd created eight distinct sets of works in quantities ranging from 200 to 300 in a variety of materials, including galvanized iron, stainless steel, anodized aluminum, cold-rolled steel, acrylic sheet, and wood.
Architecture and Furniture Design
Judd also worked in the disciplines of architecture and furniture design. He was determined to separate his design work from his paintings, noting in 1993: "Art's arrangement and size cannot be translated into furniture or architecture.
The intention of art differs from that of functionality. It is absurd if a chair or a structure is not practical and claims to be merely art. The art of a chair is partially its logic, practicality, and size as a chair, not its similarity to art. A piece of art remains as a work of art; a chair remains a chair ".
Judd designed the first pieces of furniture, a sink, and a bed for Spring Street in 1970. After relocating from New York to Marfa, he began designing mattresses, chairs, desks, shelves, and tables. Judd's dissatisfaction with the commercially accessible options in Marfa inspired his furniture. Initially built of crude, lumberyard-cut pine, but he constantly improved the construction of his furniture, engaging artisans from all over the world who used a range of materials and techniques. Judd's involvement in architecture began in 1978 when he was professionally and emotionally connected with the Italian-born artist and architect, Lauretta Vinciarelli. She worked and lived with Judd for over 10 years in Marfa and New York, collaborating on initiatives for Cleveland and Providence. Her impact can be seen in his architectural and furniture designs.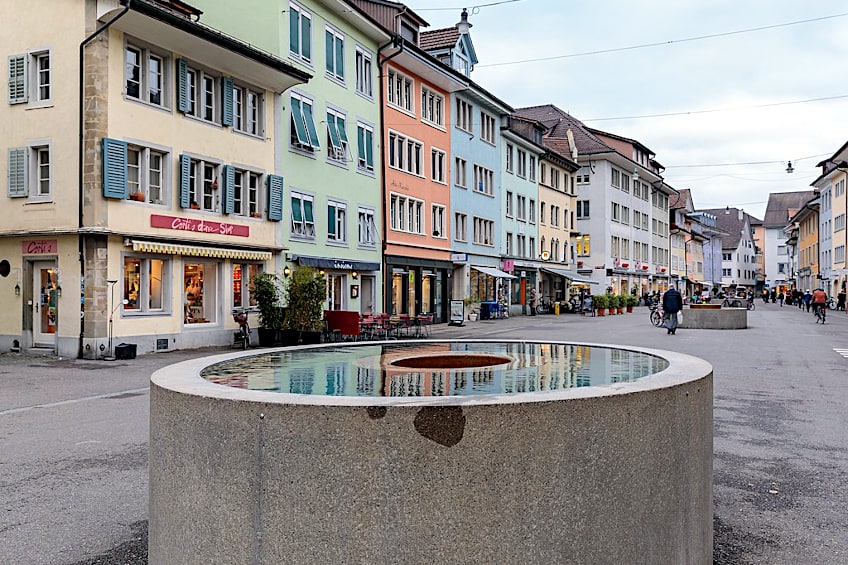 Three fountain basins in Winterthur, Switzerland designed by Donald Judd (1991); JoachimKohlerBremen, CC BY-SA 4.0, via Wikimedia Commons
Judd was engaged in designing a set of three fountains that appear to have hollow cores for the city of Winterthur, Switzerland, in 1991, when he died.
In 1984, Judd commissioned Lehni AG, a multi-hued metalwork fabricator in Dübendorf, Switzerland, to make his furniture pieces in sheet metal, with finishes of monotone colored powder coat derived from the RAL color standard, solid copper, or transparent anodized aluminum. Lehni AG still manufactures Judd metal furniture in 21 hues, marketed alongside his plywood furniture.
Academic Work and Writing
Judd taught at the Brooklyn Institute of Arts and Sciences, the Allen-Stevenson School, Dartmouth College, and Yale University, among others. He was the Baldwin Professor at Oberlin College in 1976. Beginning in 1983, he taught art and its link to architecture at colleges around Europe, the United States, and Asia.
During his lifetime, Judd wrote a substantial corpus of theoretical papers in which he vigorously championed the cause of Minimalist Art; these essays were released in two books in 1975 and 1987.
Desk with drawing tools in Donald Judd's studio in New York, NY; Chohlasa, CC BY 3.0, via Wikimedia Commons
Judd reviewed the works of over 500 artists who were exhibiting in New York in the 1960s for journals such as Arts Magazine, ARTnews, and Art International. He presented a critical assessment of this important period in American art history while exploring the political and social implications of art production. His 1965 article Specific Objects remains fundamental to the study of the new art movement in the early 1960s.
Notable Examples of Donald Judd's Artworks
Donald Judd sought independence and clarity for the manufactured item and the space it produced in his works, eventually reaching a strictly democratic presentation devoid of compositional structure. He is widely regarded as the foremost international proponent of "minimalism", as well as its most prominent theorist.
Judd expressed his unconventional view on minimalism, saying, "The new three-dimensional work is not part of any school, discipline, or style. The shared characteristics are too broad and too few to identify a movement. The contrasts outnumber the similarities".
Here is a list of Donald Judd's notable works.
| | | | | |
| --- | --- | --- | --- | --- |
| Artwork Title | Date | Medium | Dimensions (cm) | Location |
| Untitled | 1968 | Enamel on aluminum | 56 x 95 | The Solomon R. Guggenheim Museum, New York City, United States |
| Untitled | 1972 | Copper, enamel, and aluminum | 91 x 155 x 178 | Collection of the Tate, United Kingdom |
| Untitled | 1973 | Brass and red fluorescent Plexiglas | 86 per unit | The Solomon R. Guggenheim Museum, New York City, United States |
View looking through 15 Untitled Works in Concrete (also known as Judd's Cubes) by Donald Judd (1980-84); sbmeaper1, CC0, via Wikimedia Commons
Recommend Reading
In this article we have looked at the life and artworks of Donald Judd. You might be keen to learn even more about Donald Judd's paintings and sculptures, though. Here are a few select book recommendations for you to check out.
Donald Judd Writings (2016) by Donald Judd
This timely book comprises Judd's best-known articles as well as new unpublished pieces in limited copies. This new volume also contains previously unpublished undergraduate essays and scores of never-before-seen notes, which were an important but unknown element of Judd's writing routine. Judd's early published writing, which was mostly art editorials for hire, established the boundaries of art critique in the 1960s, but his articles as an undergrad at Columbia University, which are now being published for the first time, incorporate the seeds of his subsequent writings and enable readers to discover the growth of his critical style.
Most comprehensive assembled collection of Judd's writings
Includes previously unpublished essays, letters, and notes
Provides clarity and insight into Judd's thinking and his art
View on Amazon
Judd (2020) by Ann Temkin
This is the first exhibition of American innovator Donald Judd's minimalist art, architecture, and furniture in 30 years. This book investigates the works of an artist who, throughout the course of his career, established a physical and formal language that altered the field of contemporary sculpture. This lavishly illustrated catalog examines Judd's accomplishments and, by utilizing newly available archive resources at the Judd Foundation and elsewhere, broadens scholarly viewpoints on his works. The writings include topics such as his early painting days, the creation of his sculptures, site-specific works, and his efforts in architecture and design.
Catalog for the first major retrospective of Judd's work in 30 years
Provides a clear and concise overview of Judd's multifaceted career
Well-illustrated and includes newly released archival materials
View on Amazon
While producing art critiques and studying art history, Donald Judd started his successful career as an artist. One of the most important sculptors of our time, he resisted efforts to label his work because his innovative approach to design, materials, working techniques, and exhibition went further than the available styles in midcentury New York. In turn, Donald Judd's artworks altered the idiom of modern sculpture.
Frequently Asked Questions
Who Was Donald Judd?
Donald Judd is a pivotal figure in postwar art history. He studied art history and philosophy at the Art Students League in the 1950s. From 1959 until 1965, he gained widespread recognition as an art critic by authoring reviews for arts magazines. During this period, he transitioned from an artist to the creator of the hollow, rectilinear shapes for which he became famous.
What Was Unique About Donald Judd's Artworks?
Judd enlisted the help of skilled sheet-metal fabricators to create his work using aluminum, galvanized iron, stainless steel, copper, and brass. This completely eliminated any hands-on art creation from the artist's studio, a movement that would be crucial for the then-rising group of Conceptual artists, who believed that ideas alone, free of any materialization, could exist as art. Judd created and displayed a substantial number of his famous figures in the mid-to-late 1960s. Stacks, which are strung at equal intervals from floor to ceiling; progressions, whose measures follow basic numerical patterns; bull-nosed shaped protuberances from the wall; and box-like structures that are set directly on the ground are examples of these.
Isabella studied at the University of Cape Town in South Africa and graduated with a Bachelor of Arts majoring in English Literature & Language and Psychology. Throughout her undergraduate years, she took Art History as an additional subject and absolutely loved it. Building on from her art history knowledge that began in high school, art has always been a particular area of fascination for her. From learning about artworks previously unknown to her, or sharpening her existing understanding of specific works, the ability to continue learning within this interesting sphere excites her greatly.
Her focal points of interest in art history encompass profiling specific artists and art movements, as it is these areas where she is able to really dig deep into the rich narrative of the art world. Additionally, she particularly enjoys exploring the different artistic styles of the 20th century, as well as the important impact that female artists have had on the development of art history.
Learn more about the Art in Context Team.