An American painter, printmaker, and sculptor, Ellsworth Kelly's art is associated with minimalism, color field, and hard-edge painting styles. Kelly's work is distinguishable by his use of bold blocks of color and his appreciation for form and simplicity. Throughout his long artistic career, Kelly produced 140 sculptures and countless paintings and lithographs. He is hailed as one of the great American artists of the 20th century.
Early Life, Education, and Work
Ellsworth Kelly's artistic flair was clear from a young age. Despite his parent's reluctance with his chosen career path, he continued to pursue an artistic education, even after the war.
Childhood Inspiration: Sowing the Seeds
In 1923, Ellsworth Kelly was born to a school teacher and insurance executive in Newburgh, New York. At a young age (around eight or nine years old), Kelly's grandmother introduced him to the field of ornithology. A branch of zoology, ornithology is interested in the methodological study of birds, and many believe this to be the spark of Kelly's love of form and color.
John James Audubon, a famous watercolor artist, naturalist, and ornithologist, is thought to be an inspiration for Kelly.
Early Education: Where it all Began
Kelly went to a public school for his education, and it was here that he began to move towards art as a career. Despite his parents' reluctance towards his dream of pursuing art, Kelly's art teacher encouraged him to study further. After school, Kelly attended the Pratt Institute in Brooklyn up until he entered the U.S. Military in 1943.
Service in the Military: Different Artistic Avenues
When Kelly joined the army, he specially requested to be placed in the Engineer's Camouflage Battalion because this particular battalion had many artists. In the Second World War, Kelly served the Ghost Army with other designers and artists.
Using his experience in the Camouflage Battalion, Kelly worked on various components of deception, including inflatable trucks and tanks to mislead the Axis forces. Kelly remained a part of this unit until the end of the war in Europe.
Education After the War: Cultural Immersion
After his time in the U.S military, Kelly continued his studies in Boston at the School of the Museum of Fine Arts. It was in Boston that Kelly participated in his first group exhibition at the Boris Mirski Gallery. During this time, Kelly was a teacher in Roxbury at the Norfolk House Center.
In 1948, having heard a lecture on Paul Cezanne, Kelly went on to study in Paris at the Ecole Nationale Superieure des Beaux-Arts. It was in Paris that Kelly began to ascertain his distinct aesthetic. Although Kelly did not attend classes religiously, he spent much of his time soaking himself in the rich cultural resources that Paris offers.
During his time in Paris, Kelly encountered several artists who would later influence his style. Kelly met Merce Cunningham and John Cage, who were exploring dance and music, as well as Jean Arp, a French Surrealist artist.
Many art historians believe that the simplified natural forms of abstract sculptor Constantine Brancusi were an inspiration for some of Kelly's later work. Kelly also found inspiration in visiting the studios of artists like Alberto Giacometti, Francis Picabia, Georges Vantogerloo, and Alberto Magnelli.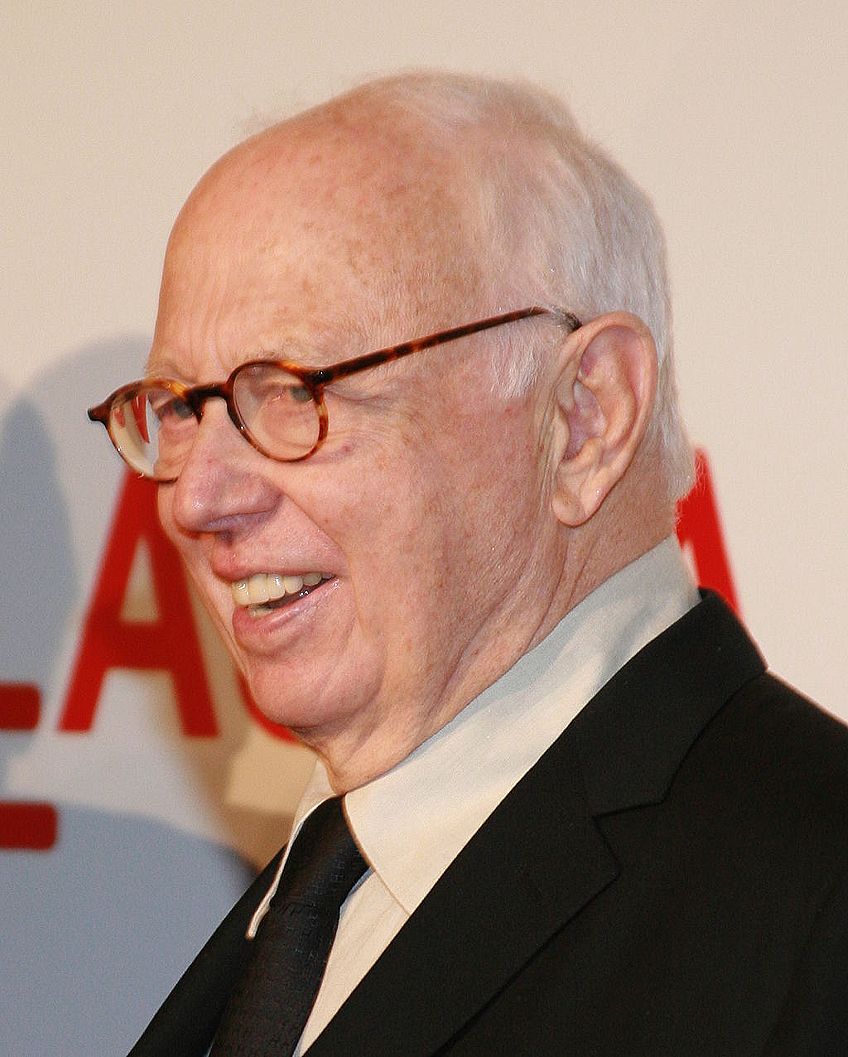 Ellsworth Kelly at the LACMA's Gala Opening of the Broad Contemporary Art Museum on February 9, 2008 in Los Angeles, CA; Jeremiah Garcia, CC BY 2.0, via Wikimedia Commons
The Artistic Career of Ellsworth Kelly
During his time in Paris, Kelly mostly painted figures. May 1949 was a turning point when Kelly produced his first abstract paintings. Kelly was an early pioneer of hard-edge painting throughout the 1940s and '50s.
The hard-edge movement celebrates solid separations between distinct blocks of color relating to geometric abstraction. The colored areas in hard-edge pieces tend to be unvarying.
Kelly was also involved in the color field painting movement, an abstract style that emerged in the '40s and '50s in New York. Color field painting takes inspiration from abstract expressionism and European modernism. You can also clearly see the minimalist influence in Kelly's paintings and sculptures. Elements are simple, neat, and uncomplicated.
Troubled Beginnings
In 1953, after eviction from his studio, Kelly returned to America after six years in France, having sold only one painting. The art world in New York was very different from the French environment he had grown accustomed to.
Many individuals in the American art scene found Kelly's work to be too European, and it was not until May 1956 that Kelly had his first exhibition at the Betty Parsons Gallery in New York. Kelly exhibited his work for a second time at this gallery in 1957.
Following this second exhibition, Kelly had the opportunity to present three of his pieces as part of the "Young America 1957" exhibition at the Whitney Museum of American Art. These three pieces, Bar, Atlantic, and Painting in Three Panels, were thought by many to be a radical departure from the work of the other 29 artists in the exhibition.
Painting in Three Panels was the least well-received, with many questioning the necessity of creating a work over three canvases. Critic Michael Plante noted that the multiple-canvas pieces were ill-suited for the architecture of the exhibition room.
Despite the critics, Kelly continued to stay true to his unique aesthetic. In 1970, Kelly moved from New York to Spencertown. Jack Shear, photographer and Kelly's partner of 30 years, joined him here in 1984.
Ellsworth Kelly's Paintings
We can trace Kelly's artistic development throughout his life by looking at some of his most notable paintings. What follows is a chronological exploration of some of the key moments in Kelly's artistic career.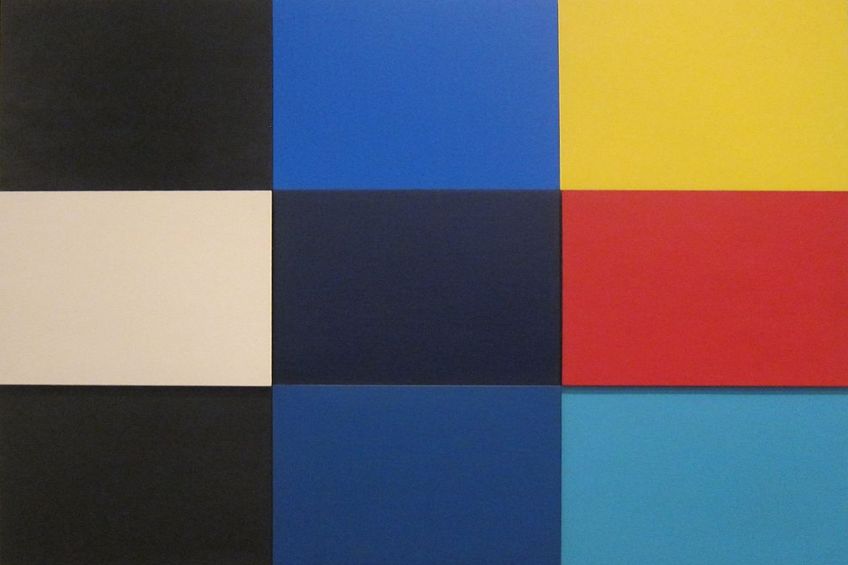 Méditerannée (19520 by Ellsworth Kelly; Wmpearl, CC0, via Wikimedia Commons
Siene (1950)
Siene, painted in 1950, was an abstract observation of the dispersion of light on the surface of the water. Kelly aptly captures the glistening surface through the random placement of black and white rectangles on the canvas. This painting is a clear example of Kelly's hard-edge and abstract painting style.
Spectrum Colors Arranged by Chance I to VIII (1951)
This work is a series of eight collages constructed out of colored paper. Each paper slip referred to one of 18 different color hues, placed randomly on a 40×40 inch grid. Not only can we see the development of Kelly's unique hard-edged artistic aesthetic in this series, but it signposts his distinct use of bright and bold color blocks.
Black Ripe (1955)
The later works of Monet inspired Kelly to be more liberal with his artistic license. We can see how he began to work in large formats, exploring the concepts of monochrome and non-rectilinearity in this piece, Black Ripe.
This solid black and solitary form also highlights Kelly's movement away from American geometric abstraction and towards the more reductive and minimalist art of the 1960s and '70s.
Yellow Piece (1966)
Throughout the 1960s, Kelly began to challenge the definition of the figure-ground relationship of paintings. Yellow Piece, completed in 1966, is a perfect example of Kelly's explorations of this time.
This piece uses a shaped canvas with a single all-encompassing color. The canvas is no longer the ground for the composition but rather becomes the composition. The wall behind the canvas becomes the ground of the composition. Kelly continued to experiment with curved canvases throughout the 1970s.
The Chatham Series (1970s onwards)
At the beginning of the 1970s, Kelly moved away from New York to Spencertown. During this time, he used an old theatre space in nearby Chatham as his studio. It was in this studio that he created the Chatham Series of 14 paintings.
Two rectangular canvases joined to create an "L" shape for each of the 14 pieces. Each of the two canvases was monochromatic in color, and each piece distinct in size, proportion, and color palette.
Ellsworth Kelly's Drawings and Lithographs
From the end of the 1940s, Kelly began to draw flowers and plants. It is interesting to trace Kelly's movement towards minimalism through his drawings.
Typically, Kelly's plant studies are contour drawings of the flowers, leaves, and stems. The strokes of the pen or pencil are clean and deliberate. Kelly was also an avid printmaker, and he infused his lithographs with the same freedom of expression and large-scale exploration as we have seen in his paintings.
Colors for a Large Wall (1951) by Ellsworth Kelly; Ainhoa Díaz, CC BY-SA 4.0, via Wikimedia Commons
Ailanthus (1948)
It is possible to see Kelly's distinctly minimalist style already in this drawing, despite its complexity compared to his later works. This piece was Kelly's first plant drawing, yet it is characteristic of his drawing style; graphite on paper producing thin lines with minimal shading.
Hyacinth (1949)
Despite being drawn only a year later in Paris, we can see a distinct change between Ailanthus and Hyacinth. The composition is much more focused on a smaller portion of the plant, and there is a greater focus on fine lines. The composition of flowers, stems, and leaves is typical of Kelly's drawings.
Suite of Twenty-Seven Color Lithographs (1964-66)
Kelly seriously took up printmaking in the middle of the 1960s, when he created this series of lithographs in Paris with Maeght Editeur. We can clearly see Kelly's minimalist and hard-edge influences in these lithographs. Each piece is unique in the combination of bright blocks of color. It is also possible to see that these lithographs stem from the same period as his paintings like Black Ripe, where Kelly experimented more with curved shapes.
Suite of Plant Lithographs (1970 onwards)
Kelly began to compile this suite of lithographs in 1970, and the collection eventually grew to 72 prints and a myriad of drawings.
Purple/Red/Gray/Orange (1988)
Measuring 18 feet long, this lithograph could very well be the largest ever produced on a single sheet. The print features four shaped blocks of purple, red, gray, and orange in that order from left to right. The colors are fairly muted, with the red and orange and the purple and gray alternating colors being almost indistinguishable from each other.
Ellsworth Kelly's Sculptures
Not only was Ellsworth Kelly a renowned American painter and printmaker, but he also created a variety of sculptures throughout his career. Kelly's first sculptures were wooden, and he made 30 sculptures from this medium throughout his career, also exploring aluminum, steel, and bronze.
Throughout his career, Kelly produced 140 sculptures, many of which he made in the 1980s. Kelly's sculptures are simple forms, expressing his love of minimalism and form.
Snowed monolith by Ellsworth Kelly in the Parc de la Creueta del Coll, Barcelona; Esv – Eduard Solà Vázquez, CC BY-SA 3.0, via Wikimedia Commons
Concorde Relief I (1958)
This wooden carved sculpture is one of Kelly's first. Made from elm, this piece is a carved wall relief exploring balance and visual play. The sculpture consists of two rectangular bodies placed on top of each other. The wooden form that sits on the top is slightly smaller than the bottom one and has the bottom left and top right corners missing.
Pony (1959)
This painted aluminum sculpture forms part of Kelly's Rocker series, which he began in 1959. The inspiration for this series and this piece, in particular, is thought to be the paper lid of a takeaway coffee cup. After cutting and folding the cup, Kelly found that it rocked when placed on a table. The title for this piece stems from a children's hobby horse.
Curve XXIII (1981)
At the beginning of the 1970s, Kelly began to create large-scale sculptures for outdoor environments. Kelly also moved away from painting the surfaces of his sculptures, opting instead for raw, unaltered aluminum, bronze, and steel.
The Curve XXIII is a perfect example of his sculptures of this time, with the totem-like arrangements. This particular sculpture is a three-meter-tall flat, yet rounded pillar constructed out of stainless steel.
White Curves (2002)
One of Kelly's later sculptures, White Curves was commissioned for the Fondation Beyeler in Switzerland, where it stands today. The sculpture is a combination of painted stainless steel and aluminum. The shape is distinctive of Ellsworth Kelly's forms and minimalist style.
Exhibitions and Awards
During his long career, Kelly's artworks were the substance of a multitude of solo exhibitions. In 1973, Kelly exhibited his work at the Museum of Modern Art. Nine years later in 1982, Kelly's art was exhibited at the Whitney Museum of American Art.
Kelly was elected to be part of the National Institute of Arts and Letters in 1974, and he received the Art Institute of Chicago's Painting Prize in the same year. In 1993, Kelly was also elected to be part of the French Legion of Honor and seven years later, he received the Praemium Imperiale prize for painting from the Japan Art Association in 2000.
In 2012, Kelly was the recipient of the National Medal of arts. Three years later in 2015, Kelly's design for a freestanding stone building was accepted by the Blanton Museum of Art located in Austin, Texas. This building, named Austin, was freestanding and featured an interior colored glass window of Kelly's design. Although Kelly was never able to see the building constructed, it is open to the public and stands as a kind of memorial to a celebrated American artist.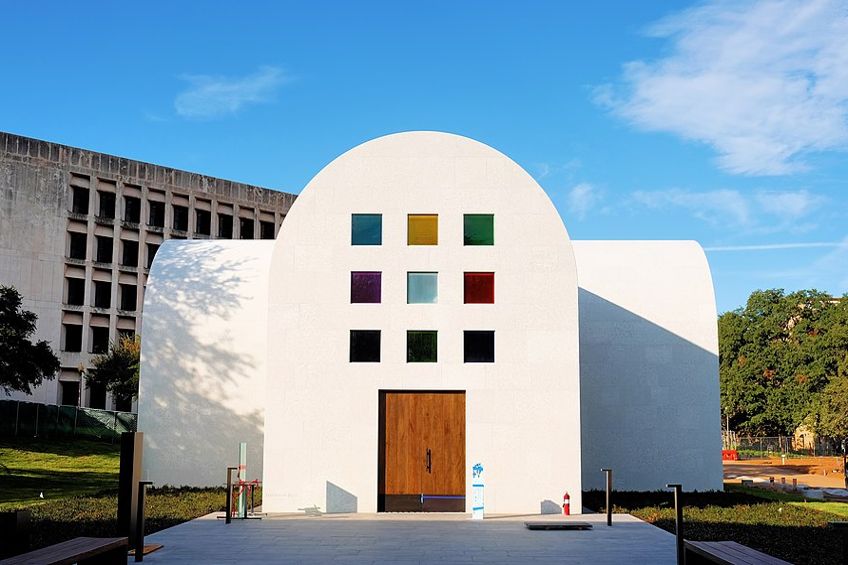 Ellsworth Kelly's Austin, donated in 2015; Lars Plougmann from United States, CC BY-SA 2.0, via Wikimedia Commons
Book Suggestions: Learn More About the Life and Art of Ellsworth Kelly
The life and artworks of Ellsworth Kelly offer a fascinating entry into the shifting American art scene throughout the 20th century. If you would like to explore Kelly's artwork in more detail, we recommend reading one of the books we suggest below.
Ellsworth Kelly: Thumbing Through the Folder- a Dialogue on Art
Written by Hans Ulrich Obrist and Ellsworth Kelly himself, this book offers an insightful and in-depth exploration of Kelly's life and art. The book is an interview interlaid with prints of some of his greatest works across his entire career. In the book, Kelly discusses his artistic inspirations, conceptual developments, and the projects he was never able to complete.
An interciew interspersed with Kelly's lithographs
Unrealized projects, art development, and inspirations
Learn more about Kelly's work in the context of his life
View on Amazon
For Ellsworth Kelly, art is not so much about theory and conceptualization as it is about observation. In these pages, you will learn that for Kelly, artwork is about bridging the gap between the natural world and the world of artistic expression. This book is a little pricey, but if you are invested in learning more about this great American artist, we cannot recommend it enough.
Ellsworth Kelly
If you are looking for a more rounded approach to Kelly's art and life, then this is the book for you. Written by Tricia Paik, an expert on Kelly, this book combines interview snippets with critic essays in a chronological monograph. This book is one of the last to be created in collaboration with Kelly himself and includes images from his personal archives.
The definitive monograph on Ellsworth Kelly
Last close collaboration with the artist
Critically acclaimed volume in hardback edition
View on Amazon
Including many unpublished images, this illustrated narrative work provides one of the most in-depth explorations of Ellsworth Kelly's paintings, sculptures, and lithographs. The monograph is of the highest quality, coming with a red cloth slipcase. If you want to gain more insight into the process and conceptualization that lies behind Ellsworth Kelly's art, this is a fantastic book.
Isabella studied at the University of Cape Town in South Africa and graduated with a Bachelor of Arts majoring in English Literature & Language and Psychology. Throughout her undergraduate years, she took Art History as an additional subject and absolutely loved it. Building on from her art history knowledge that began in high school, art has always been a particular area of fascination for her. From learning about artworks previously unknown to her, or sharpening her existing understanding of specific works, the ability to continue learning within this interesting sphere excites her greatly.
Her focal points of interest in art history encompass profiling specific artists and art movements, as it is these areas where she is able to really dig deep into the rich narrative of the art world. Additionally, she particularly enjoys exploring the different artistic styles of the 20th century, as well as the important impact that female artists have had on the development of art history.
Learn more about the Art in Context Team.