Self-portraiture has remained a constant throughout art history and has become a staple custom amongst many artists. These artworks, which extend back to antiquity, became a popular medium through which artists could depict themselves during the Early Renaissance in the mid-15th century. Due to this, the technique of self-portrayal managed to transcend every relevant art movement and can still be found today. Prominent artists throughout history have created some of the most famous self-portraits to exist, with these artworks proving the resilience of self-portraits art.
Twenty of the Most Famous Self-Portraits in Art History
The idea of representing oneself through visual art encapsulates the attraction of self-portraits, with some artists finding great pleasure in being able to accurately capture their ever-changing selves. Below are 20 of the most famous self-portrait artists in history, along with an explanation of their famous portrait paintings.
Jan van Eyck (1390-1441)
Existing as one of the most famous portrait paintings of Northern Renaissance art, Jan van Eyck created Portrait of a Man in a Red Turban in 1433. Despite the identity of the man in the artwork not definitively known to be van Eyck, it can be assumed that this artist self-portrait was indeed his. Today, this artwork is owned by London's National Gallery.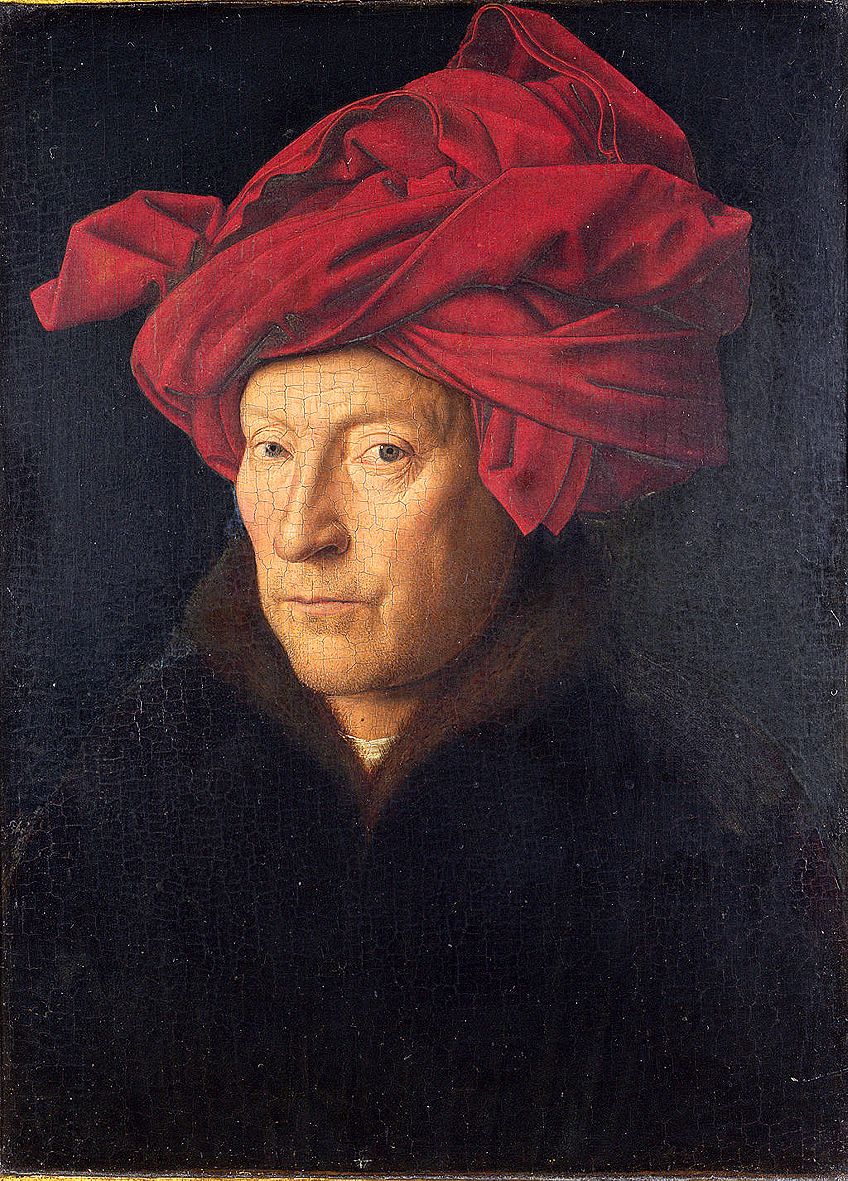 Portrait of a Man in a Red Turban (1433) by Jan van Eyck; Jan van Eyck, Public domain, via Wikimedia Commons
The inscription at the top of the frame, which reads "Als Ich Can" and translates to "as I/Eyck can", seems to exist as strong evidence as to the identity of van Eyck in the painting. The mirror-like polish that the paint takes on is a typical trademark of painting associated with van Eyck, as his use of thin layers of sheer color pigments helps to create this smooth result. Due to this painting style, van Eyck's portrait takes on an incredibly lifelike quality, as even the capillaries in the left eye can clearly be seen.
Another of his famous self-portraits, in which van Eyck inserts himself into a portrait of someone else, is The Arnolfini Wedding, painted in 1434. This double portrait continues to be one of the most complex portraits in Western art history due to the mirrors and symbols van Eyck used to create this portrait. If you look carefully at the mirror within the center of the image, you can see the subject matter as well as an individual who is believed to be van Eyck, busy painting them. Above the mirror, a Latin signature translates to "Jan van Eyck was here", which helps support the idea that van Eyck was present within the work as well.
Leonardo da Vinci (1452-1519)
One of the earliest depictions of an artist self-portrait belongs to none other than Leonardo da Vinci. However, what makes this portrait so interesting is that there is no certainty that the man depicted in the image is da Vinci himself. Dating back to approximately 1510, Portrait of a Man in Red Chalk is speculated to be one of the scarce self-portraits found of the artist, although this belief does not always carry universal acceptance. This iconic piece is now permanently displayed in the Royal Library of Turin in Italy.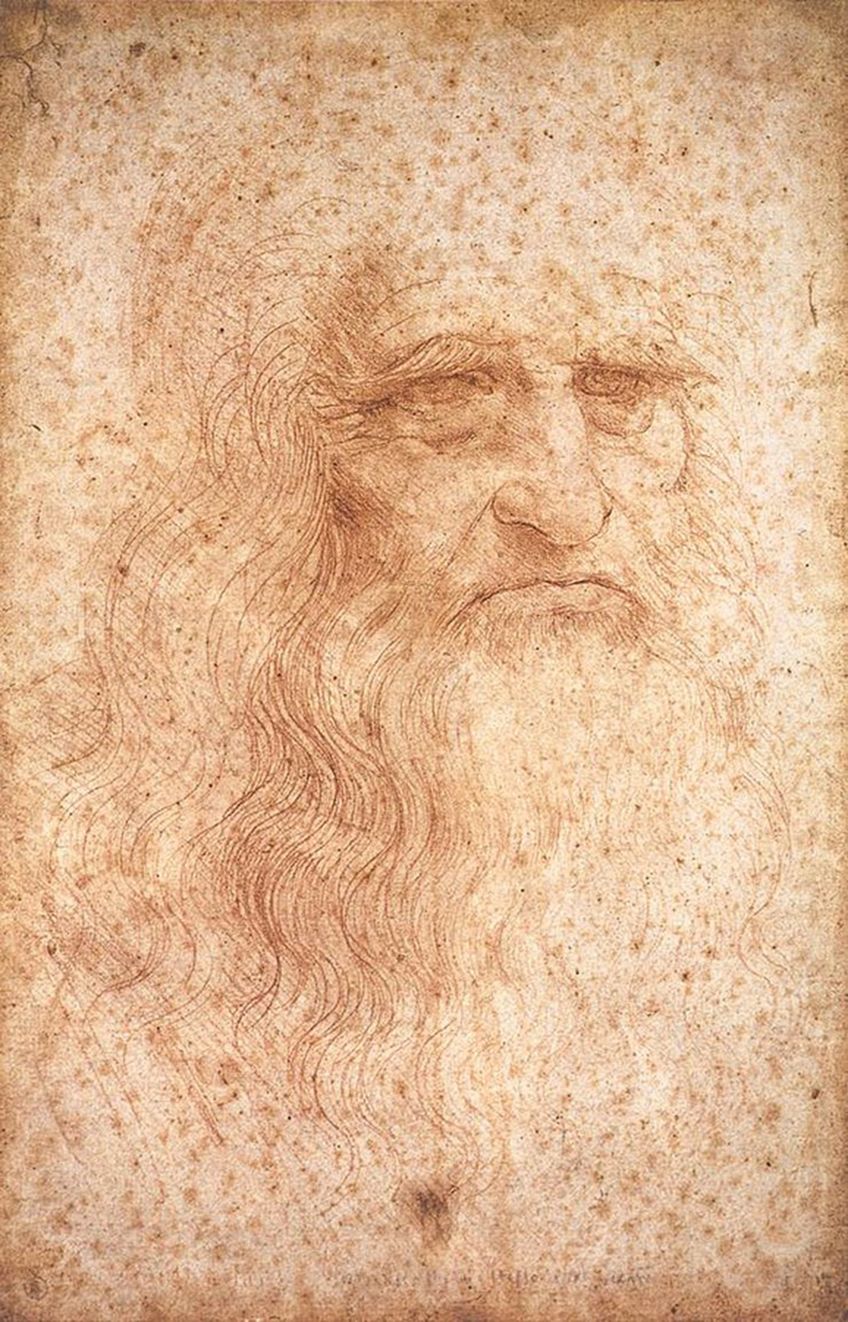 Portrait of a Man in Red Chalk (c. 1510) by Leonardo Da Vinci; Leonardo da Vinci, Public domain, via Wikimedia Commons
Da Vinci's supposed self-portrait remains unique as it was drawn with red chalk on paper as opposed to being painted. Countless reproductions of this portrait have been made throughout the ages, as it exists as an iconic representation of da Vinci as the "Renaissance Man."
It is believed that his self-portrait was completed at nearly 60 years of age, with the elderly gentleman pictured accurately representing the age he would have been at the time of its creation.
It has been argued that this artwork is a true self-portrait of da Vinci, as the style and quality of the drawing remained consistent with his other work. Despite this, various historians have disagreed over the identity of the man in the portrait, meaning that we may never know the truth.
Albrecht Durer (1471-1528)
At only 13 years old, German Renaissance artist Albrecht Durer drew his first self-portrait. As he got older and his artistic talents grew, Durer painted and engraved several more self-portraits, with each work demonstrating his growing self-confidence. Of all his paintings, his Christ-like Self-Portrait is considered his most intimate and complicated self-portrayal. Today, this painting is part of the Alte Pinakothek collection.
In his earlier self-portraits, Durer painted with a three-quarter view, but is looking directly at the viewer in Self-Portrait. This was quite controversial, as a straight-on pose was usually reserved for rendering images of Christ during that time. Durer is depicted posing against a black background, with his hand slightly touching the fur coat of his collar. Again, this was quite contentious, as the gesture was known to emulate Christ's blessing and was therefore quite religious.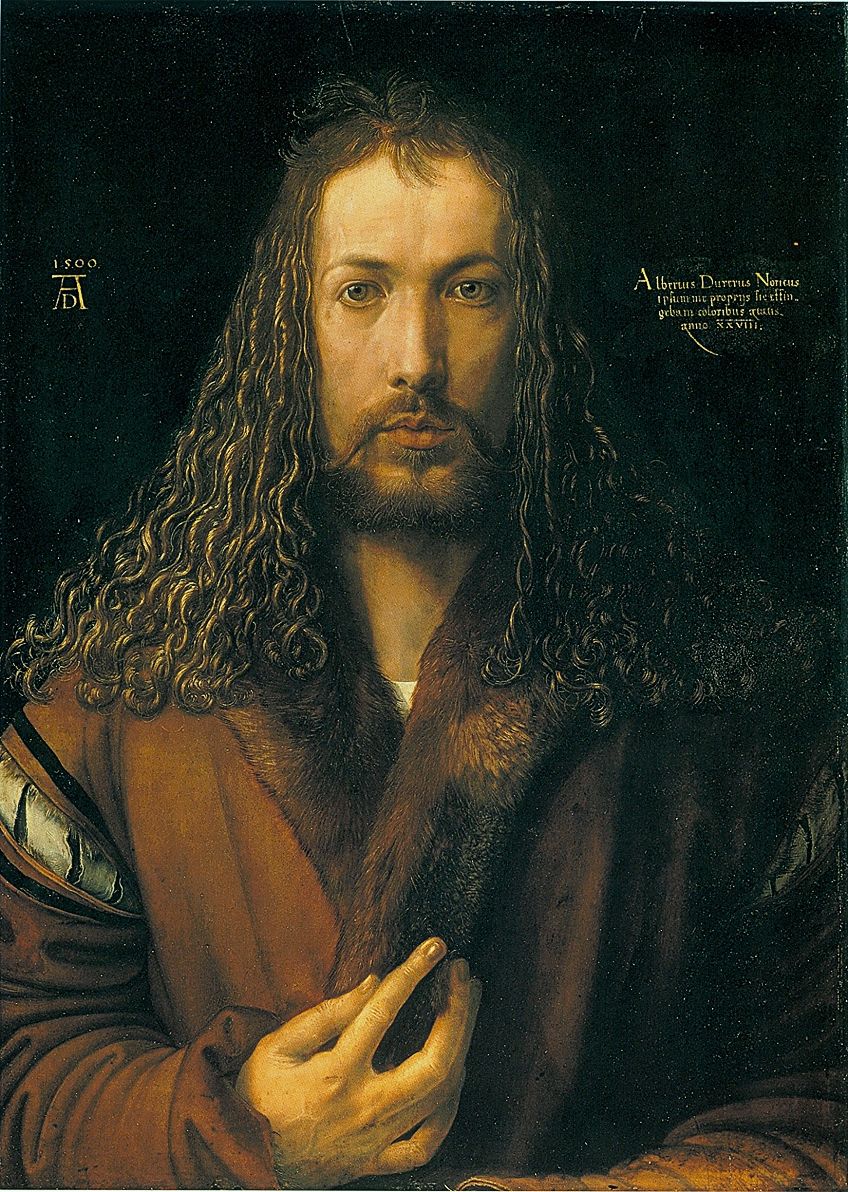 Self-Portrait (1500) by Albrecht Durer; Albrecht Dürer, Public domain, via Wikimedia Commons
The composition created is incredibly symmetric and draws immediate attention to Durer's eyes, which stare unfalteringly at the viewer. His initials and the Latin inscription painted at eye-level on either side of his head helps to strengthen the symmetry and balance present in the work.
Self-Portrait was the last of the three self-portraits Durer ever painted, yet it is his most iconic of his self-portraits art. The striking parallel he draws between himself and the holy savior is the most notable element in the painting, as it captivated audiences then and continues to do so today.
Rembrandt van Rijn (1606-1669)
With self-portraits and depictions circulating from the late 1620s, Rembrandt van Rijn created approximately 100 renderings of himself spanning the majority of his career. Within these self-portraits, van Rijn documented himself in his early days as an artist up until the year of his death. His portraits are made up of about 40 self-portraits paintings, 30 etchings, and a few drawings.
His artwork titled Self-Portrait, painted in 1660, is seen as the most accurate depiction of his style as an artist, as it displayed his trademark gloomy color palette and delicate brushstrokes. Additionally, van Rijn tended to use the same simple backdrop in the majority of his self-portraits and was always pictured from the torso up, as demonstrated within Self-Portrait.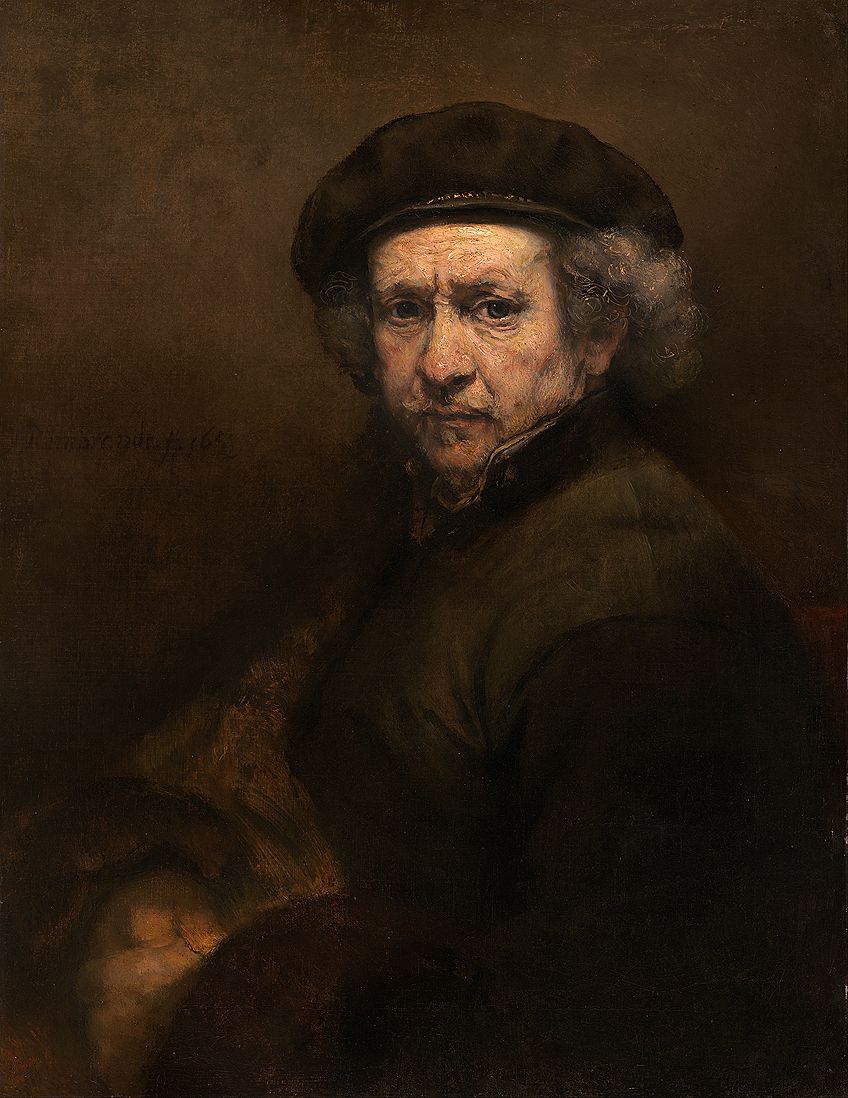 Self-Portrait (1660) by Rembrandt van Rijn; Rembrandt, Public domain, via Wikimedia Commons
Due to the sheer number of self-portraits, his work typically demonstrated the various changes he went through as an artist and displayed his increasing age. In his works towards the end of the 1620s, van Rijn can be recognized through his porcelain skin and curly hair which tended to cover his face.
It can be said that the sheer volume of van Rijn's self-portraits was able to document his great progress as an artist in a way that has not been replicated since. While he has many works to choose from, Self-Portrait perfectly captured his ability to represent himself and the talent he displayed for this genre. This oil painting is now part of a permanent collection located at the Metropolitan Museum of Art.
Artemisia Gentileschi (1593-1653)
As one of the first women accepted into the Florentine Academy of Design, Artemisia Gentileschi existed as an important figure for women in the field of art during the 17th century. During this time, images of female painters were practically non-existent, making Gentileschi's Self-Portrait as the Allegory of Painting (1638-1639) so significant.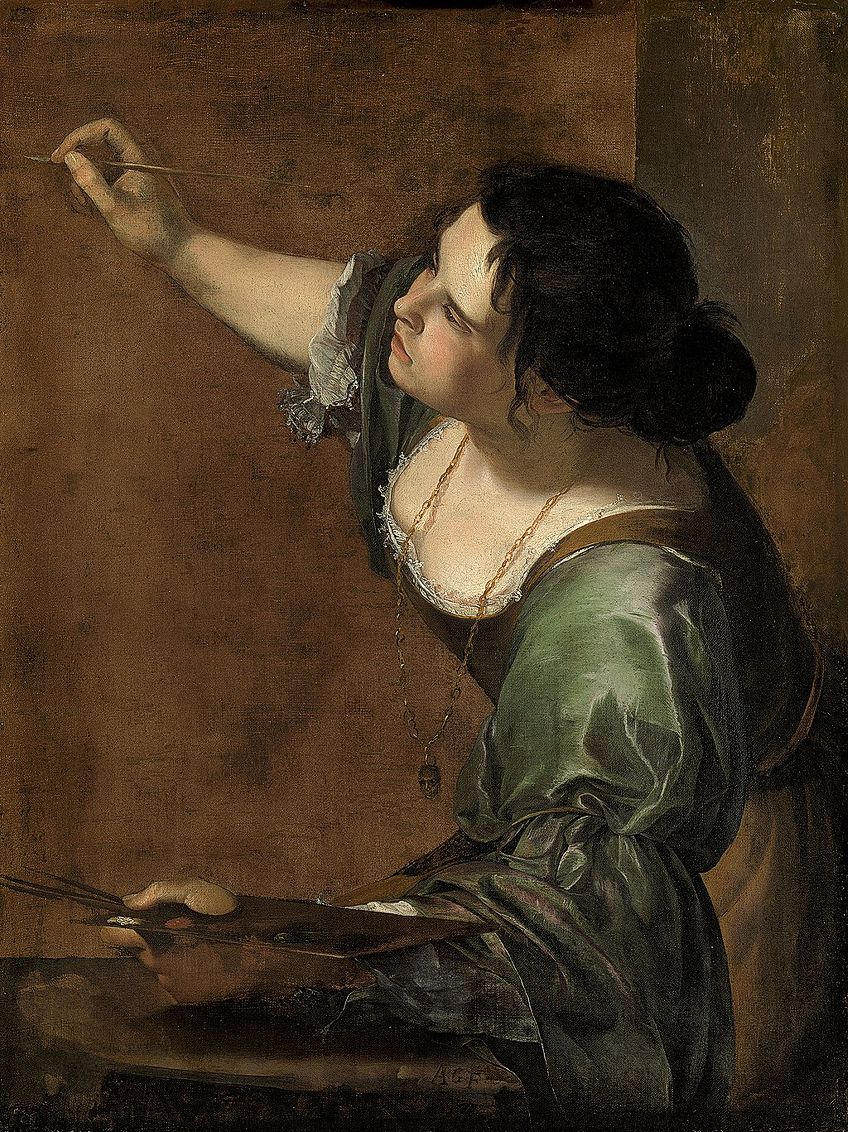 Self-Portrait as the Allegory of Painting (1638/39); Artemisia Gentileschi, Public domain, via Wikimedia Commons
Self-Portrait as the Allegory of Painting depicts Gentileschi painting herself, as she essentially was the female personification of the painting and portrays herself as an empowered woman. However, during this time of art history, undertones of feminism that were visible in a painting were an incredibly bold move, as the art world was still dominated by men.
Within her other works, Gentileschi managed to convey images of powerful women since women in art were typically depicted in a crude and obscene light during the Baroque era. At the age of 17, Gentileschi was raped by a painting teacher at the workshop she was studying at and refused to keep quiet about her traumatic experience. Her raging anger, which she manipulated into creating artworks of powerful women, can be seen in her iconic 1620 painting, Judith Slaying Holofernes, in which Gentileschi portrayed herself as the enraged Judith beheading her rapist, Holofernes.
Diego Velazquez (1599-1660)
Having painted one of the most analyzed self-portraits painting in Western art history, it is interesting to note that Diego Velazquez's iconic self-portrait does not only feature himself. Painted in 1656 and titled Las Meninas ("The Ladies-in-Waiting"), this painting contains many details to be looked at. Existing as a portrayal of Madrid's royal court, the five-year-old Margarita Theresa is said to be the focus of the painting, as it is her portrait which Velazquez is busy painting. Las Meninas raises questions about reality and illusion, as an uncertain relationship between the viewer and the figures is created.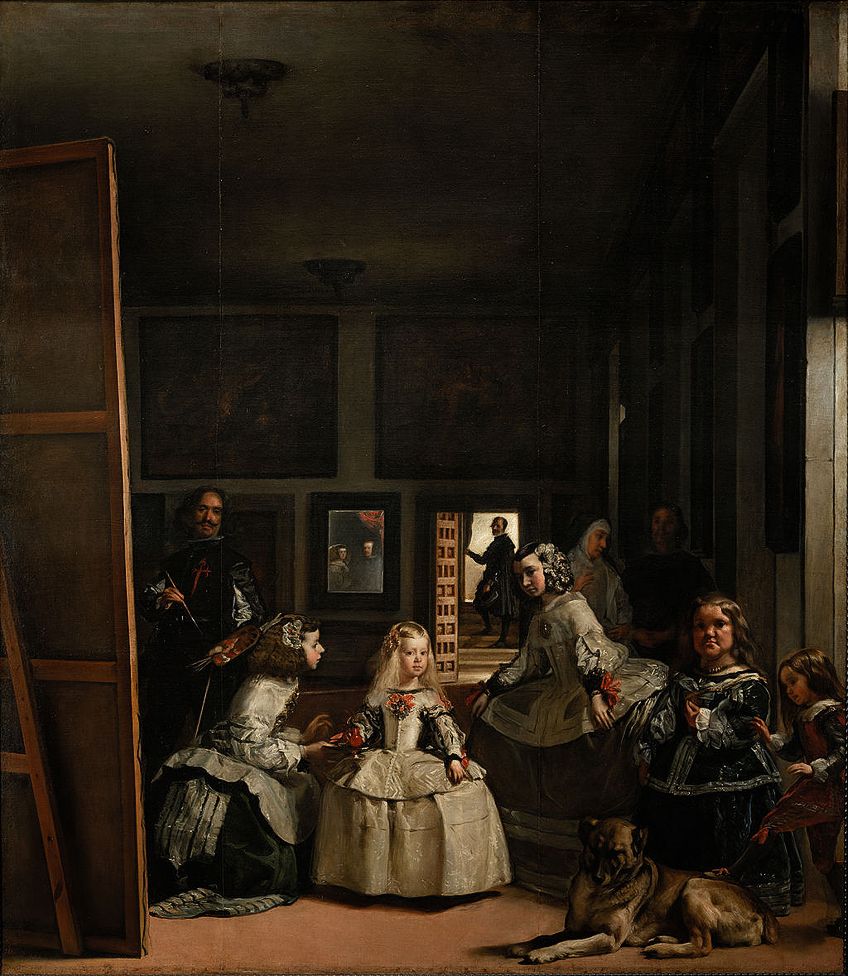 Las Meninas (1656) by Diego Velazquez; Diego Velázquez, Public domain, via Wikimedia Commons
However, Velazquez included himself in the left-hand corner and is depicted standing against his easel holding his palette and brushes. Going against what traditionally made a self-portrait, this portrait is a well-known example of artists who have chosen to include themselves in unexpected compositions instead. In doing so, Velazquez subtly creates a self-portrait in and amongst the chaos of the other subject matter. Les Meninas is part of the Museo Nacional del Prado's permanent collection.
Louise Elisabeth Vigee le Brun (1755-1842)
Thought to be the most stylish painter in France during the Revolution, Louse Elisabeth Vigee Le Brun was a leading portraitist who was renowned for depicting her subject matter in a favorable and graceful style. Le Brun was considered to be one of the most fashionable portraitists of her time and was the favorite artist of Marie Antionette.
After catapulting her career depicting others, Le Brun expressed a desire to begin painting herself. Her earliest self-portrait was said to be painted around 1782 and was titled Self-Portrait in a Straw Hat. This artwork demonstrates Le Brun's move away from the Rococo movement to a simpler, more natural look, as exemplified by the colors, fabrics, and skin tones used.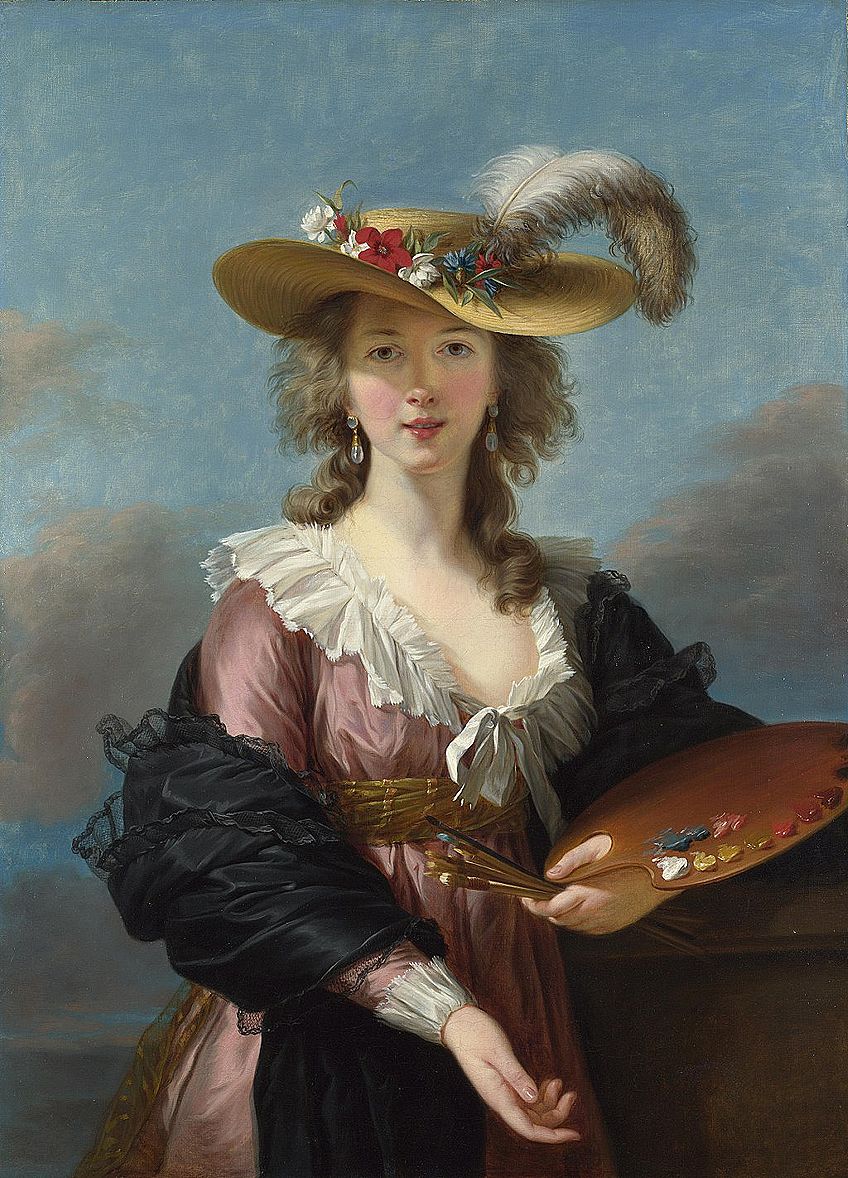 Self-Portrait in a Straw Hat (1782) by Elisabeth le Brun; Élisabeth Louise Vigée Le Brun, Public domain, via Wikimedia Commons
Le Brun stands in the open air, gazes at and engages with the audience, and holds her painting tools in her hand. The sunlight depicted helps to illuminate her neck and chest, with her straw hat casting a slight shadow over her face. While her hair and outfit may appear simple, Le Brun's attire was in keeping with the late 18th century French high fashion. Her clothing, juxtaposed with the simplicity of her face, demonstrates that Self-Portrait in a Straw Hat addresses the various social implications that existed during that time.
Another of her famous self-portraits painting is her Self-Portrait (1790), in which she also represents herself holding her painting tools and standing in front of a canvas. Again, her clothing emulates the high fashion depicted in her earlier self-portrait, as she is dressed in an exquisite black silk gown while working. Due to the prestige gained through her position as a royal portraitist, this work aimed to elicit an image of power and status.
Gustave Courbet (1819-1877)
Out of all his artworks, Gustave Courbet is most well-known for his 1845 self-portrait, titled Le Désespéré ("The Desperate Man"). Additionally, this artwork is also seen as one of the most famous self-portraits of all time. As the pioneer of the Realism movement, Courbet combined elements of both Romanticism and Realism within his iconic self-portrait. Today, this artwork is part of a private collection.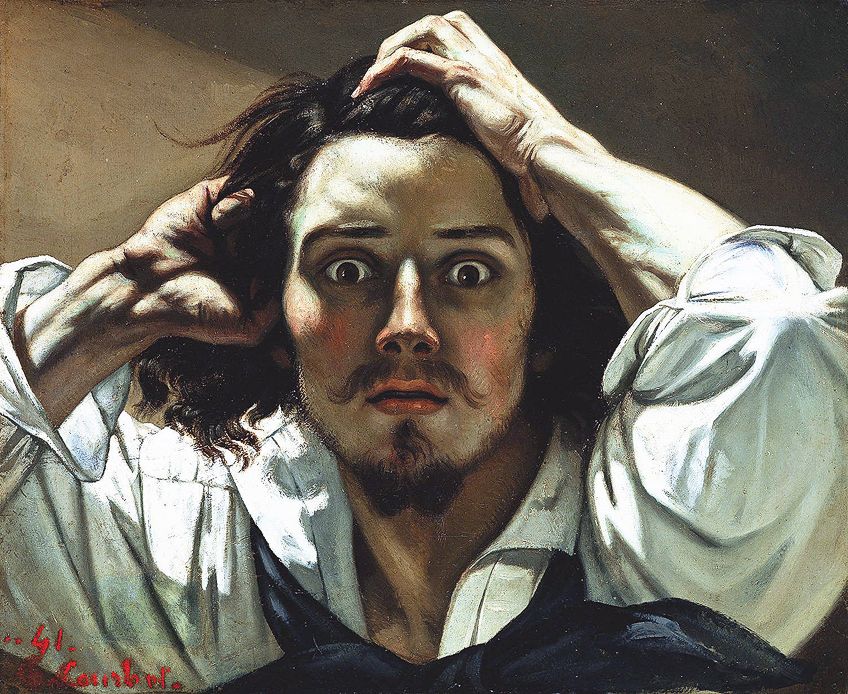 Le Désespéré (1845) by Gustave Courbet; Gustave Courbet, Public domain, via Wikimedia Commons
Within his self-portrait, Courbet depicts himself as a young man in misery. The focal point in the painting is his widened eyes, which seem to immerse themselves into the viewer. With his wild eyes, hands gripping his unkempt hair, and his billowing white shirt and smock, Courbet appears the typical Romantic artist who was desperate for recognition. His portrayal of himself takes on that of a tortured genius, with the anxiety seen in this artwork depicting a young man still in the process of building up his reputation. Thus, the emotions in his self-portrait can be viewed as a literal depiction of his lived experience at the time
The stark realism displayed in Le Désespéré helped establish Courbet as a supporter of the new art that was developing, which attempted to reflect all classes of life. In addition to the realism displayed, another element that makes this self-portrait so interesting is that it was painted using a landscape orientation. At the time, portraits were traditionally vertical, with Courbet's work going against convention.
Claude Monet (1840-1926)
One of his several self-portraits, Self-Portrait with a Beret exists as one of Claude Monet's most famous portrait paintings. Painted in 1886 when Monet was 46 years old, the composition demonstrates his characteristic hazy brushstrokes, use of unpainted canvas, and perfect representation between light and dark. This oil painting is part of a private collection today.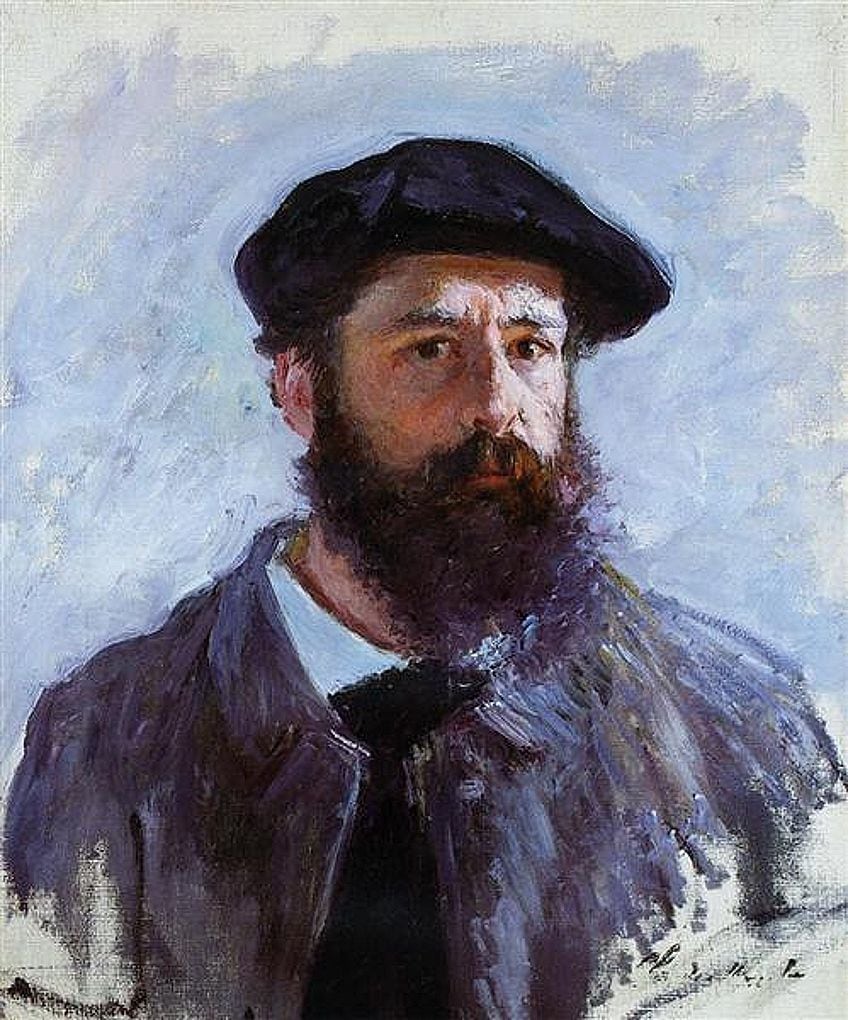 Self-Portrait with a Beret (1886) by Claude Monet; Claude Monet, Public domain, via Wikimedia Commons
Within the self-portrait, Monet depicts himself wearing a grey coat over a white shirt with a black beret, standing against a blue background. His coat and beard have been painted over with other colors and smaller strokes to depict their texture, existing as a perfect demonstration of his blurred brushstrokes. His gaze does not quite meet the viewer's eye as his face is angled slightly away from the center, with light falling on the left side of his face. This demonstrates Monet's rendering of light and dark, as he carefully depicted where light would fall to contrast it out with darker shadows.
Paul Cézanne (1839-1906)
While Paul Cézanne is mostly known for his still lifes and landscapes, he frequently painted portraits. He is known for his distinctively repetitive and experimental brushstrokes, as well as his unusual color palette, which can be seen in his widely known Self-Portrait. This artwork was painted from 1878 to 1880 and can be viewed in the Phillips Collection in Washington, D.C.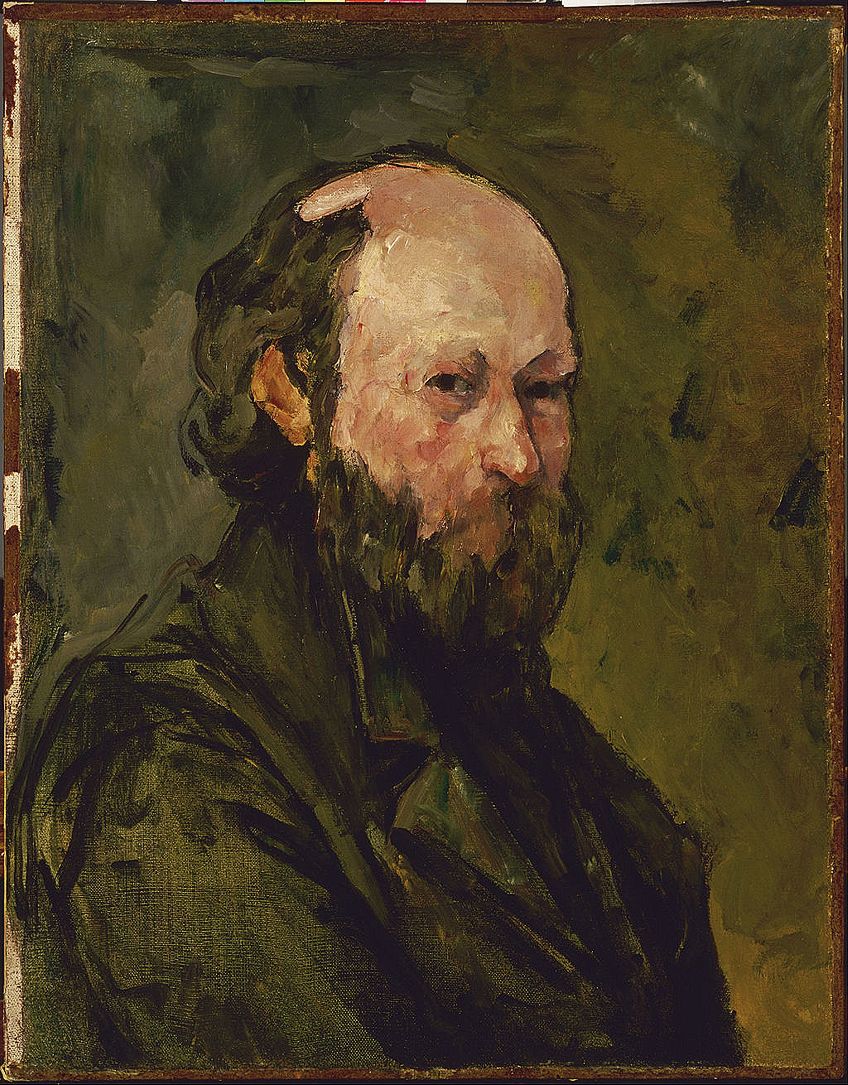 Self-Portrait (1878-80) by Paul Cézanne; Paul Cézanne, Public domain, via Wikimedia Commons
Cézanne's brushstrokes are viewed as highly characteristic and can be identified immediately within his artworks. He tended typically to use small brushstrokes that were built up to help form the various complicated fields he was attempting to create. In addition to Self-Portrait, Cézanne also painted Self-Portrait in a Felt Hat in 1894, with both works displaying the typical styles he used for self-portraiture.
In these two works, Cézanne is glancing at viewers from sideways, with only three-quarters of his face shown. A blank background and cool tones are depicted in both, which were believed to draw the viewer's focus to the expression of the artist.
As seen by his two self-portraits, Cézanne painted with great intensity and intellect. While his style is very similar within his portraits that are mentioned, they depict a great structure that grounds his work and focuses the viewer's attention on his figure in the middle.
Paul Gauguin (1848-1903)
Having created over 40 self-portraits, Paul Gauguin's Self-Portrait with Halo and Snake remains his most well-known avant-garde art piece. Painted in 1889, this artwork captures Gauguin's typically vibrant color palette as well as subtle religious themes, which added to the absurd nature of the artwork. Today, this self-portrait is housed in the National Gallery of Art in Washington, D.C.
Self-Portrait with Halo and Snake (1889) by Paul Gauguin; Paul Gauguin, Public domain, via Wikimedia Commons
Gauguin is depicted holding a snake in front of a red background with apples hanging next to him and a halo above his head. He is partially blocked by what seems to be plants or flowers in the foreground of the painting and his head, which appears to be floating between unstructured zones of red and yellow, seems disconnected to his hand. The facial features depicted have been likened to an unkind caricature of Gauguin, which adds to the feeling of uncertainty when viewing the work.
The religious imagery that is implied within this artwork remains uncertain, as it has been speculated that Gauguin could be representative of both Christ and Satan. The inclusion of both the apples and snakes refers to the biblical story of Adam and Eve, yet it is guessed that Gauguin is not referring to himself as Christ. Rather, it can be said that he recognizes the talent which he possesses and created this piece as a way to challenge his colleagues.
Vincent van Gogh (1853-1890)
Known as one of the most famous self-portrait artists of the 19th century, Vincent Van Gogh built up an impressive collection of about 30 self-portraits over four years. Despite his many famous self-portraits, his most iconic work is Self-Portrait with Bandaged Ear, painted in 1889. This artwork depicts the infamous incident where Van Gogh cut off his ear due to the decline in his emotional and physical health, and prominently features a bandage over his injured ear.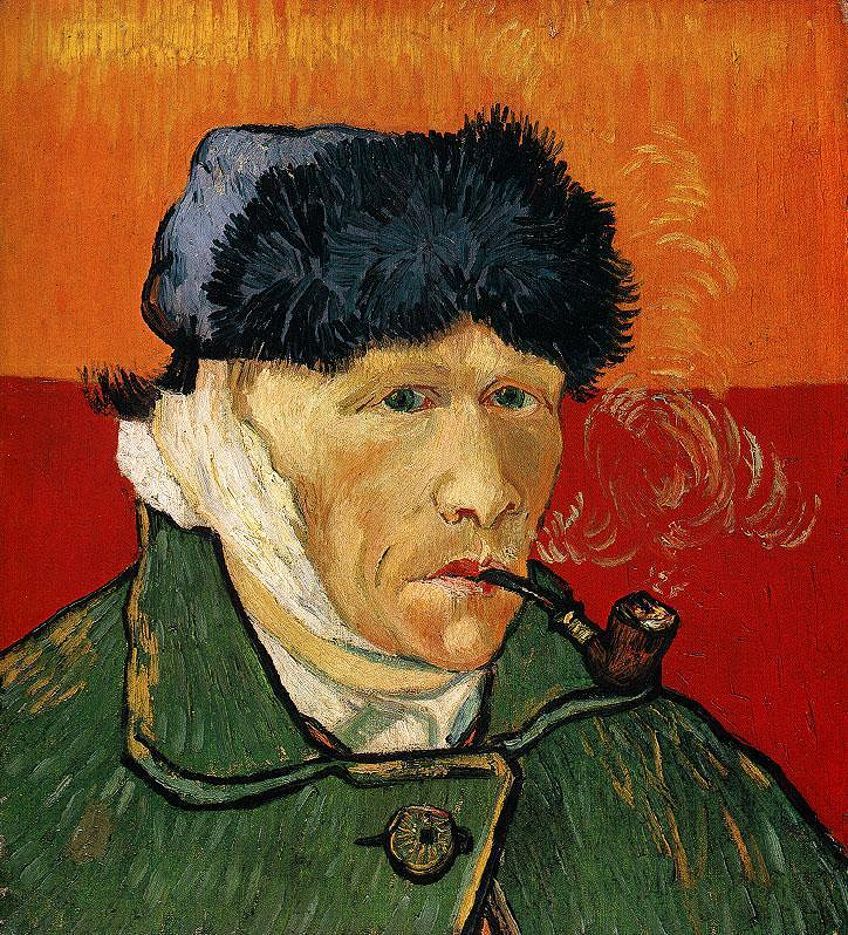 Self-Portrait with Bandaged Ear (1889) by Vincent van Gogh; Vincent van Gogh, Public domain, via Wikimedia Commons
After Self-Portrait with Bandaged Ear was painted, Van Gogh created only two more works that depicted his injury and following 1889, stopped painting any new self-portraits completely. This well-known artwork of the tortured artist can be viewed at the Courtauld Gallery in London.
Before his more well-known self-portraits, Van Gogh mostly painted landscapes and interiors. Towards 1886, he began to lean more towards the work of self-portraiture artists and expressed a desire to refine his skills within that genre. However, van Gogh was a struggling artist at the time, so could not afford to hire models to sit for him. His solution to this was that he would begin to paint himself to perfect his painting style.
He believed that if he was able to accurately capture his red hair, which he thought to be a difficult task, he would have mastered the skills needed. Thus, his self-portraits displayed the rhythmic brushstrokes and swirls within his hair that characterized his style.
While his self-portrait depicting his injury may be his most well-known, two of his other self-portraits are equally renowned. Self-Portrait, painted in 1889, exists as one of van Gogh's later works, and the style and color palette used depicted his emotional state at the time. Self-Portrait was painted soon after he left the St. Remy asylum that same year, and depicts a man at war with his inner demons. It is said that this artwork may be one of the most intense self-portraits within art history.
The second artwork, Portrait of the Artist Without his Beard, also painted in 1889, is believed to be the final portrait that van Gogh painted himself. This exists as one of his most unique self-portraits, as it is his only artwork where he does not have his iconic beard. It is also one of the most expensive self-portraits ever auctioned, selling for $71.5 million in 1998.
Pablo Picasso (1881-1973)
When comparing his multitude of self-portraits, Pablo Picasso's ever-changing style can best be seen within these artworks. His self-portraits range from being painted, drawn, and sculpted, and span the course of his career. His Self-Portrait, painted in 1907, famously demonstrated his artistic shift from Primitivism into Cubism, which existed as his most well-known period of work. Within this portrait, Picasso's features take on an angular and geometric look, which went on to influence his later works. Self-Portrait is currently held at the Narodni Gallery in Prague.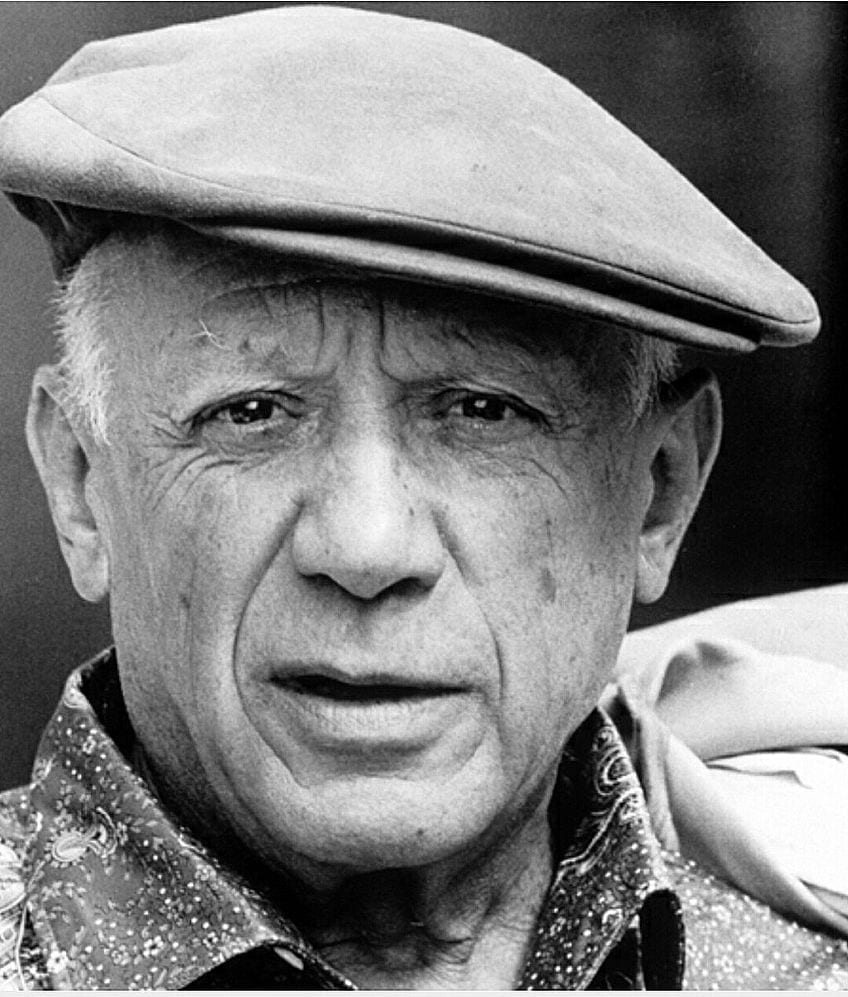 A photograph of Pablo Picasso; Argentina. Revista Vea y Lea, Public domain, via Wikimedia Commons
Picasso is best known for his great experimentation and reinvention that can be seen throughout his artwork, especially within his self-portraits. At the age of 15, his portraiture took on a more romanticized style, which eventually turned into a more fragmented style by the time he was 90. By 1901, at the start of his Blue Period, Picasso's creativity truly flourished as his style shifted.
However, few self-portraits of his exist after 1907, except for a few images of himself that were drawn in crayon and pencil during 1972. Of all of these drawings from 1972, his Self-Portrait Facing Death is the most iconic. Picasso depicts himself looking exhausted and exposed, with his big eyes said to be facing his mortality. This self-portrait was completed less than a year before he died and depicts a man who is both scared and courageous at the same time.
Picasso's most expensive portrait was titled Self-Portrait Yo Picasso and was painted in 1901 when he was just 19 years old. It was part of three self-portraits series and depicts Picasso with an air of pride and conviction. In 1989, this artwork was auctioned for $47.9 million and became one of the most exorbitant paintings ever sold.
Tamara de Lempicka (1898-1980)
Nicknamed the baroness with a paintbrush, Tamara de Lempicka represented the modern woman of the Roaring Twenties. Her painting technique formed part of the experimental movements of Neo-Cubism, Art Deco, and Futurism. In 1929, de Lempicka created her most well-known self-portrait, titled Tamara in a Green Bugatti, which exists as one of the most famous female self-portraits in history. Her artwork was commissioned by the German fashion magazine 'Die Dame' to celebrate the independence of women and is one of the most well-known examples of Art Deco portrait painting.
Tamara in a Green Bugatti was created in typical Art Deco style and depicts de Lempicka as an independent and sexually liberated woman. She arrogantly stares at the viewer from inside her car, with her scarf flowing out in the wind. De Lempicka is depicted as the epitome of beauty in the racing car, as the wealth and inaccessibility attached to her clothing and car automatically elevates her status.
The car exists as an additional symbol of her freedom, as the sight of women driving during the 1920s was not common. It also signals the contemporary Futurist movement, as everything that was fast and associated with the modern world was highly regarded.
M.C. Escher (1898-1972)
Known for his prints with bizarre optics, Maurits Cornelis Escher was a graphic designer who added spheres to the majority of his works. His 1935 self-portrait, titled Hand with Reflecting Sphere, is one of his most recognizable works but is quite different from any of the other self-portraits on the list. This is because he painted his portrait while looking in a reflected sphere so that viewers are given a mirror image of Escher and can view his background as well. Escher was interested in finding unusual vantage points for paintings, which he described as 'mental imagery.'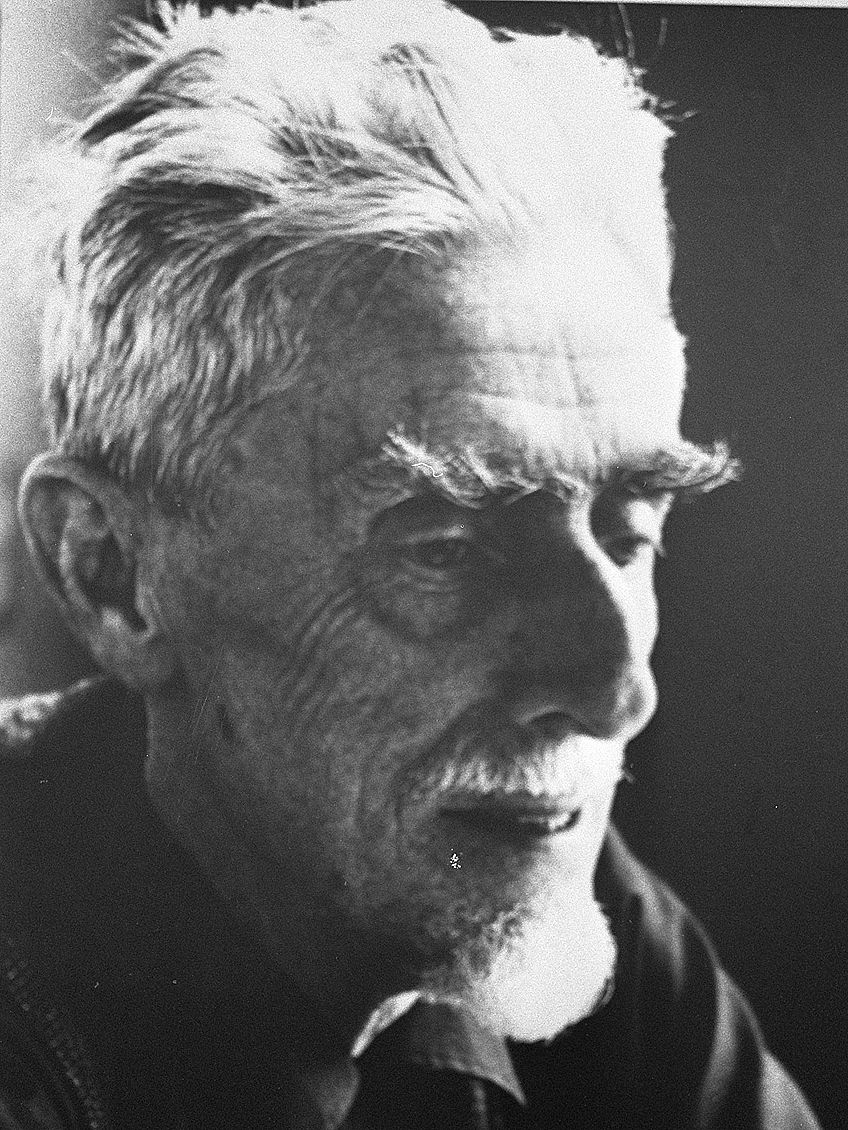 A photograph of M. C. Escher; Photographer: Hans Peters (ANEFO), CC0, via Wikimedia Commons
Escher studied graphics at the School for Architecture and Decorative artists, where he began making use of geometric grids in his designs. Based on his work, he is also known as the father of contemporary tessellations. Within his self-portrait, Escher incorporated his love for spheres and geometric objects, to create this unique artwork. What is most interesting about his self-portrait is that viewers can see the artist as well as his surroundings. Behind him, one can see various pieces of furniture and that his walls are covered in some framed pictures
Self-portraits in reflective and curved surfaces were a common feature of Escher's work. However, what makes Hand with Reflecting Sphere so unusual is that he includes his actual hand as well. Within this artwork, Escher is less concerned about the portrayal of his image, instead choosing to focus on the way that space has been twisted by the sphere.
Frida Kahlo (1907-1954)
Perhaps one of the most well-known female self-portraiture artists is Frida Kahlo, whose iconic self-portraits have gone on to cement her face into art history. Kahlo's signature facial features which include her prominent black unibrow, slight mustache, and bright lips and cheeks, have been depicted in all of her self-portraits, effectively turning her face into a symbol for cultural awareness. She began painting self-portraits while she was still a teenager and created over 50 self-portraits throughout her career.
Kahlo often painted herself among the animals and tropical plants that were native to her country and existed as an advocate to Mexico's indigenous cultures, presenting herself as a bold yet unhappy artist within all of her self-portraits.
One of her most notable and recognizable pieces is the self-portrait titled The Two Fridas, painted in 1939, which depicts two versions of Kahlo sitting side by side. This work was thought to symbolize her agony during her divorce from Diego Rivera and expertly displays her changing identity. The Frida on the left, wearing a white dress, was her before her marriage, while the Frida on the right is her as she began to embrace her traditional Mexican heritage. Additionally, the bleeding heart refers to the emotional and physical pain she depicted in the majority of her works.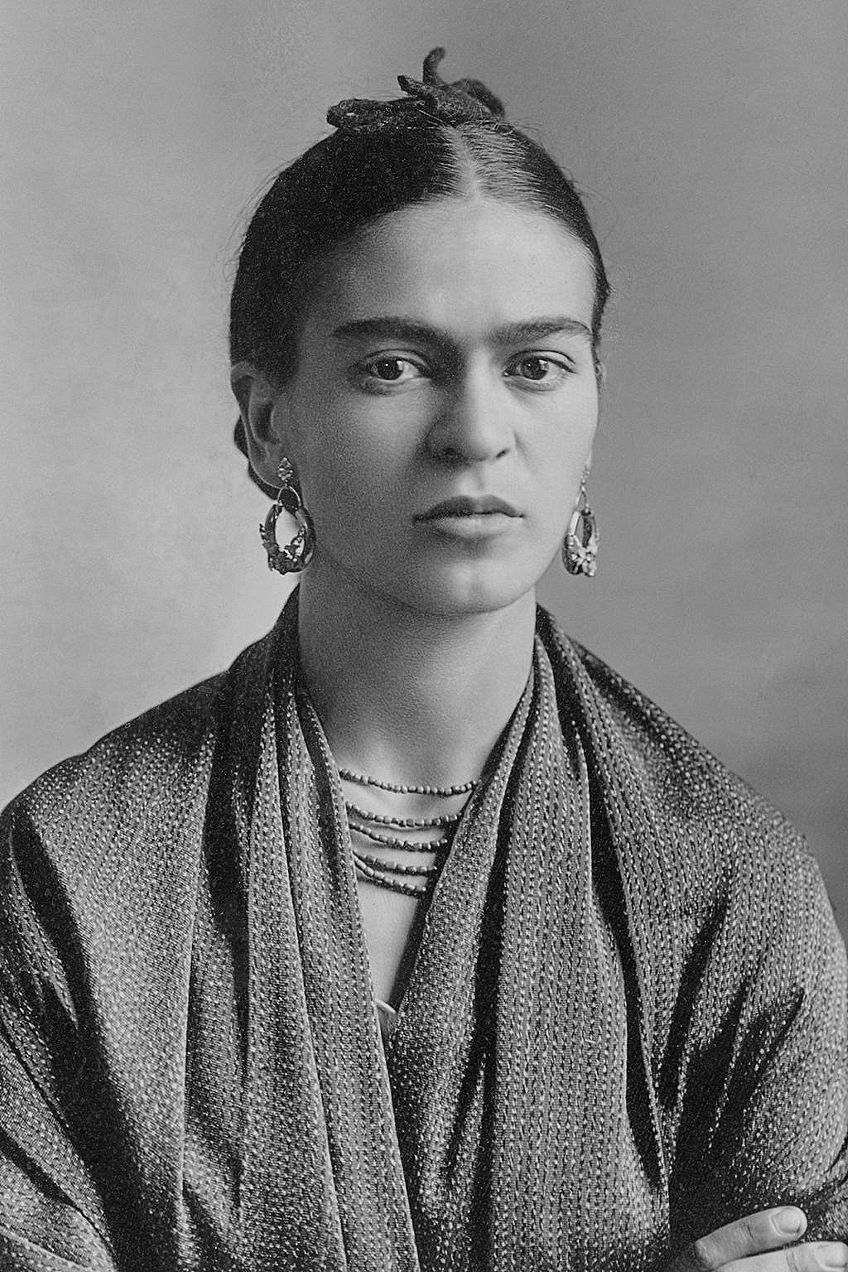 A photograph of Frida Kahlo; Guillermo Kalho, Public domain, via Wikimedia Commons
Perhaps her most valued artwork is Self-Portrait with Thorn Necklace and Hummingbird, painted in 1940, where she depicts various emblems and ideas that were prevalent throughout her portfolio. Within this oil painting, Kahlo includes images of wildlife and foliage, intermixed with the portrayal of her concept of suffering. This work can be found at the University of Texas and is part of the Nickolas Muray Collection.
The Mexican artist often depicted concepts of pain and suffering within her self-portraits, to communicate the chronic pain she experienced as a result of a near-fatal bus accident when she was 18 years old. Another self-portrait, titled The Broken Column and painted in 1944, expresses the agony she felt after undergoing spinal surgery due to the problems she was experiencing. Metal nails are shown puncturing the crying Kahlo, with the column inside her referencing the iron handrail that impaled her years ago. Throughout her self-portraits, the dominant theme of anguish is made apparent.
Lois Mailou Jones (1905-1998)
Achieving her reputation during the 1930s and 1940s while she was living in Paris, Lois Mailou Jones became one of the most important artists to attain great prominence as a black expatriate artist. Her artwork focuses on incorporating influences from Africa and the Caribbean, which can be seen in her vivid color choice and rhythmic forms created.
Her Self-Portrait, painted in 1940, accurately demonstrates her stylistic influences, yet she would only go on to visit Africa for the first time in 1970. Within her portrait, Jones links her identity with traditional African cultures through the rhythmic cadences and vibrant colors chosen.
What makes her paintings so interesting is that she typically tends to feature other artworks within her art. Within her Self-Portrait, sculpted figures can be seen in the background. Based on her stylistic influences, these figures are thought to be symbolic of her African roots.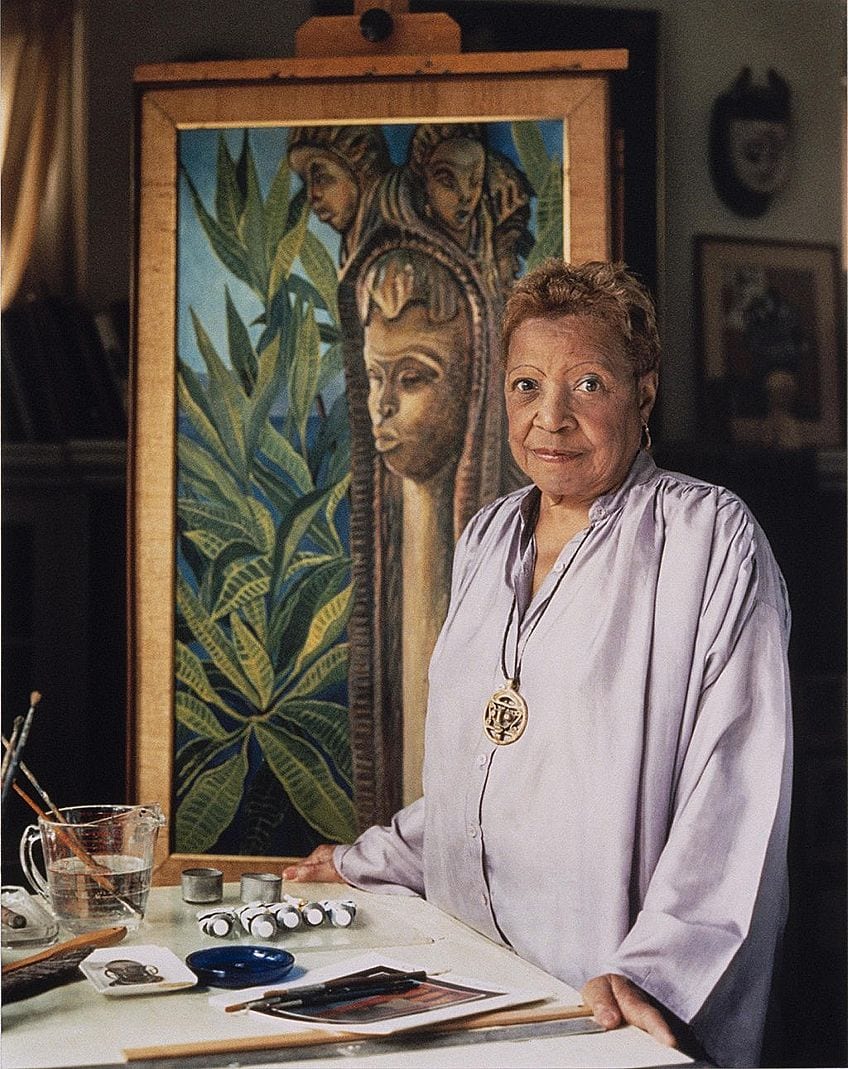 Lois Mailou Jones posing in front of one of her portraits; Schlesinger Library, RIAS, Harvard University, No restrictions, via Wikimedia Commons
Salvador Dali (1904-1989)
When it came to self-portraits, Surrealist artist Salvador Dalí took an eccentric approach when depicting himself in his works. Perhaps one of his less conventional portraits, Soft Self-Portrait with Grilled Bacon, painted in 1941, demonstrates a caricature of the artist. The face within this piece is represented by a bust resting on a plinth and seems to embody the idea of a trophy. The base bears the title of the work, with a single piece of fried bacon lying beside the mask. Dalí's self-portrait is on display at Catalonia's Dalí Theatre-Museum.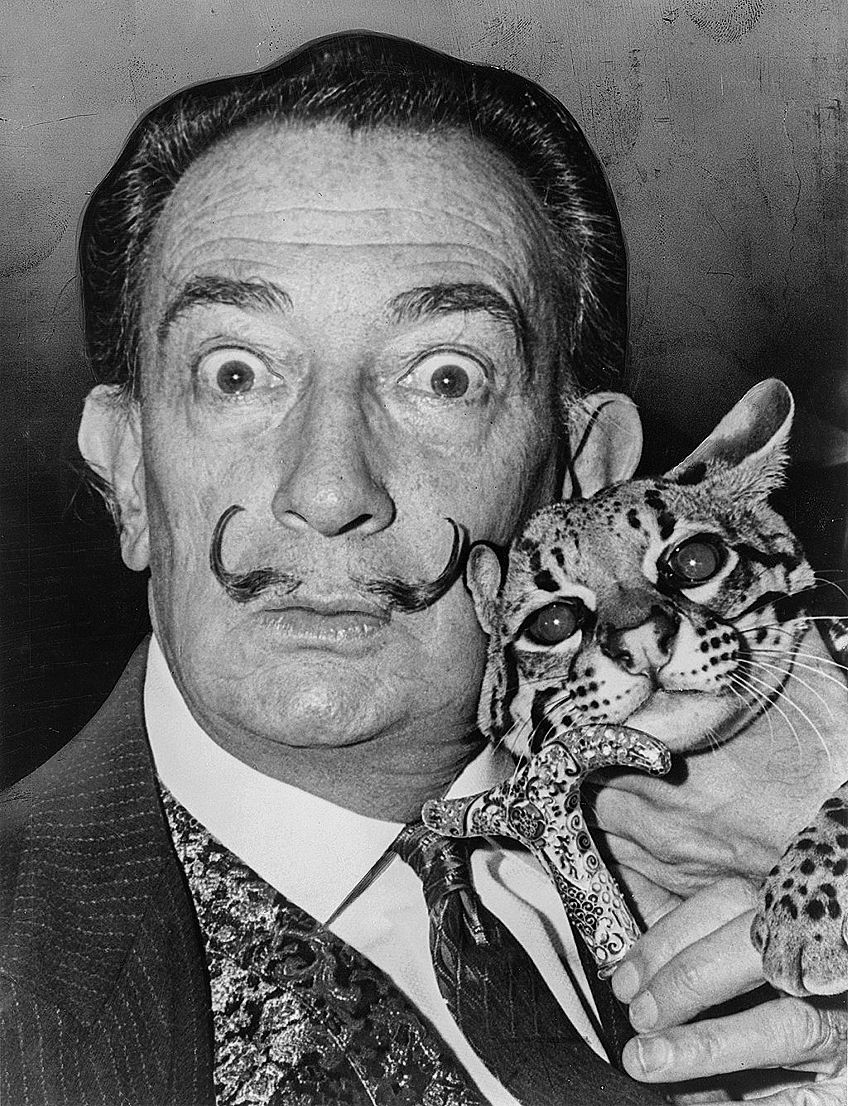 A photograph of Salvador Dalí; Roger Higgins, World Telegram staff photographer, Public domain, via Wikimedia Commons
At first glance, this organic and ambiguous representation of a human face could easily be reminiscent of any surreal artist. However, upon closer inspection, you will notice Dalí's iconic upturned mustache, confirming that this structureless shape indeed appears to be a self-portrait of the artist. Sections of the mask-like face are propped up on crutches, with Dalí managing to expertly create the illusion of liquidity in his work with the mask seemingly melting off and sliding down the plinth.
Like the majority of his work, symbolism can be gathered from the various objects that he chose to include in his paintings. Whilst many explanations exist as to why he decided to portray himself in this manner within Soft Self-Portrait with Grilled Bacon, it can be said that this artwork remains as mystifying and captivating as Dalí himself.
Cindy Sherman (1954-Present)
A different form of an artist self-portrait can also be captured through photography, as displayed by Cindy Sherman. However, while her photographs all depict her dressed up, her artworks are not considered true self-portraits in the technical sense. Instead, Sherman uses her body as a canvas to bring a multitude of different characters to life in her photography, playing both the artist and the subject in her work. What makes her series of self-portraits so interesting is that the more we see of her, the less we recognize her. Sherman's works encourage a sense of self-reflection in viewers, as her various disguises comment on the idea that gender is a volatile and entirely constructed position within society.
Of her works created in 1981, Untitled #96 is one of her most well-known pieces and depicts Sherman dressed as a teenage girl with short blond hair, wearing an orange top and a short skirt. In this photograph, Sherman is lying on a linoleum floor and clutching a scrap of newspaper. Turning the camera on herself, Sherman directly addresses the question of fragility and its association with women. Thus, choosing an orange undertone was a clever move on her part, as she manages to escape the traps of misogynistic feminism through using this color. In 2011, a print of this piece was sold at an auction for $3.89 million, making this one of the most expensive photographs ever sold.
Sherman continues to assume the role of this artist-model-actress hybrid, and the photos she takes today still showcase her various characters in a self-portrait type of setting. The main tenet of her creative practice is that she will never truly take a photo of herself and if she does, it will be digitally altered beyond recognition. It is believed that her stylistic choice of hiding and altering her face can be seen as a comment to the filters that have populated social media platforms such as Instagram for the last few years.
Andy Warhol (1928-1987)
A prominent figure in the Pop Art movement, Andy Warhol is best known for his multicolor, repeated silkscreen portraits. However, he also created various self-portraits of himself in this style. Similar to Cindy Sherman, Warhol's self-portraits center around the idea of the self as an artificial construct.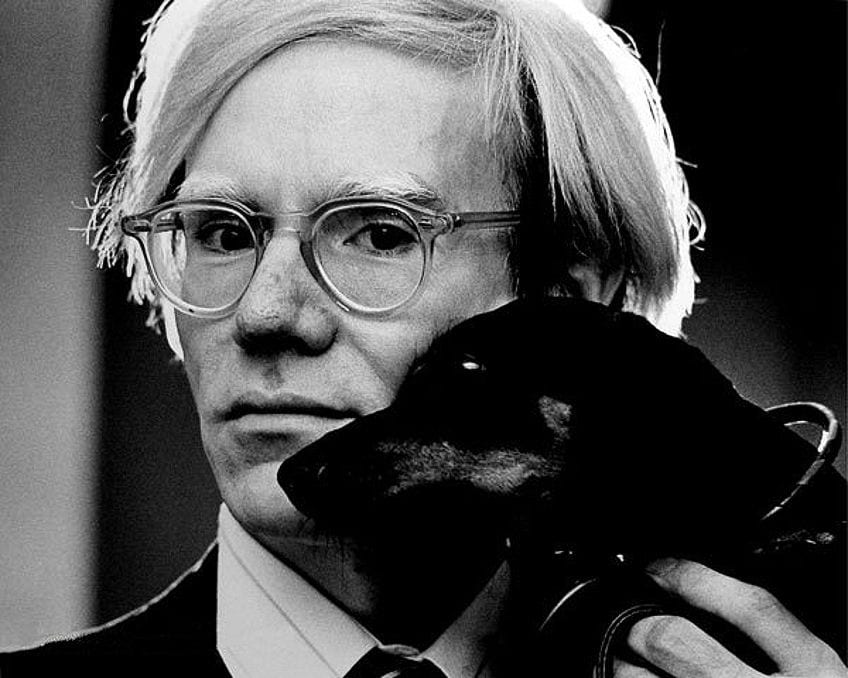 A photograph of Andy Warhol; Jack Mitchell, CC BY-SA 4.0, via Wikimedia Commons
One of his most well-known self-portraits, created in his iconic style, is his 1966 Self-Portrait, which depicts a grid of nine images of Warhol in his signature primary and secondary colors. This self-portrait likened Warhol to the numerous celebrities he reproduced in his silkscreen artworks. However, his self-portrait is more obscured than his other works, as his facial features are partially hidden and overwhelmed by the color and shadow used. This portrait now belongs to New York City's Museum of Modern Art.
Warhol was said to create his self-portraits as a reminder to himself that he was still living. His final self-portraits created in 1986, titled Six Self-Portraits, depicts Warhol looking incredibly natural without any costumes or alterations. His brightly lit head was juxtaposed against a black background, which had the effect of creating a frightening mood within his works. This series of self-portraits were believed to foreshadow Warhol's death in 1987, as he seemed acutely aware of his imminent death. His red-on-black Self-Portrait, also created in 1986, went on to sell for $27.5 million.
While many other great self-portraits exist, the 20 artists and their accompanying work that have been listed here encapsulate some of the most iconic and famous portraiture work of all time. However, artists would often go on to create more than one self-portrait throughout their career, meaning that several significant artworks can come to mind when discussing their work. Like all art, the style of portraiture is subjective, and you may find yourself drawn to less well-known works when thinking about self-portraits.
Take a look at our self portraits webstory here!