Swirls, splatters, and splashes of paint in a flashy array in an era of change. This almost sums up the iconic and monumental paintings of Jackson Pollock. While the artist produced numerous drip paintings, this article will dive into the sea of brushstrokes from his 1950 Autumn Rhythm (Number 30) painting.
Artist Abstract: Who Was Jackson Pollock?
Jackson Pollock was born on January 28, 1912, and died in a car accident on August 11, 1956. He was born in Cody, Wyoming in the United States of America, but his upbringing was in Arizona and California. After his schooling years, he studied at The Art Students League in New York City where he was taught by Thomas Hart Benton.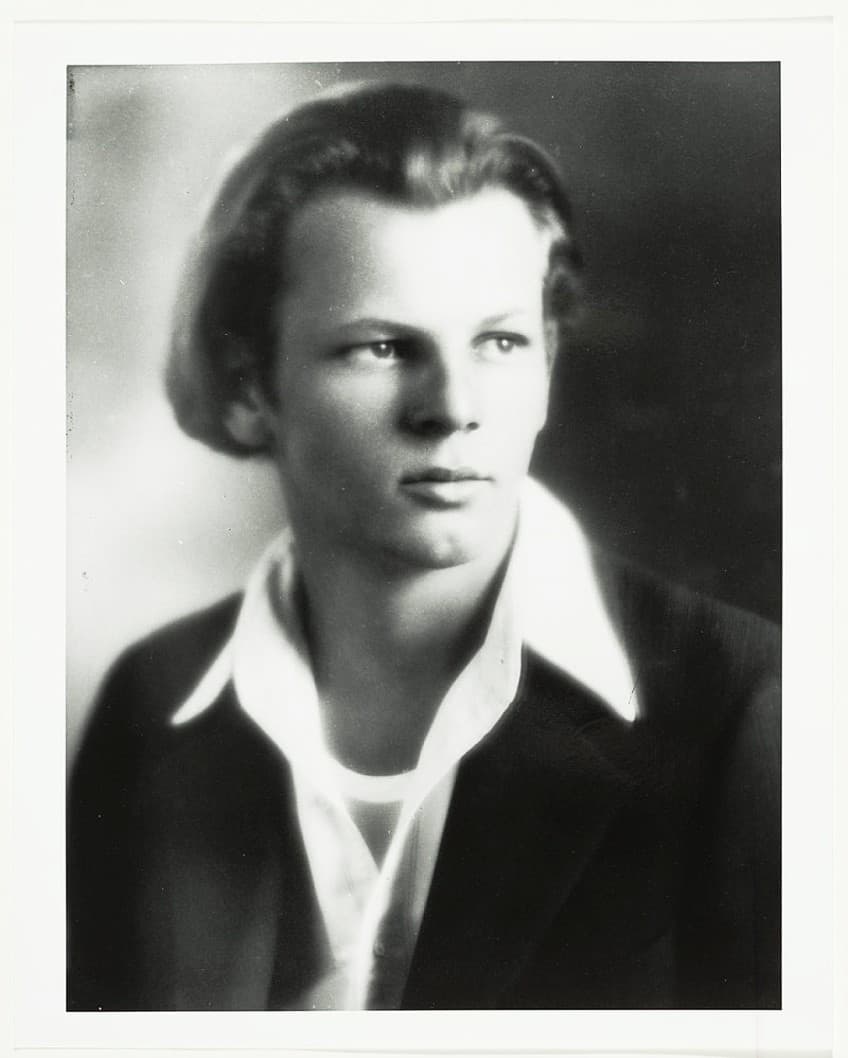 Studio portrait of Jackson Pollock at about age 16 (circa 1928); Smithsonian Institution, Public domain, via Wikimedia Commons
He was also influenced by Mexican murals, notably that of José Clemente Orozco. His art style changed during his career, from figuration to abstraction, which included elements of Native art, Cubism, and Surrealism. Pollock's private life was challenging due to his alcoholism, and he was married to Lee Krasner in 1945.
Some of Pollock's other artworks include "Going West" (1934 – 1935), "Full Fathom Five" (1947), and "Blue Poles" (1952).
Autumn Rhythm (Number 30) (1950) by Jackson Pollock in Context
| | |
| --- | --- |
| Artist | Jackson Pollock |
| Date Painted | 1950 |
| Medium | Enamel paint on canvas |
| Genre | Abstract art |
| Period/Movement | Abstract Expressionism |
| Dimensions (cm) | 266.7 x 525.8 |
| Series/Versions | N/A |
| Where Is It Housed? | The Metropolitan Museum of Art, New York City, United States |
| What It Is Worth | Acquired for $20,000 in 1957 |
In the article below, the analysis of the Autumn Rhythm painting by Jackson Pollock will explore its origins and inspiration including a closer look at the artwork in question, describing it, and discussing how the art elements and design principles compose it. It will also explore the question, "What's the Autumn Rhythm painting worth?".
Contextual Analysis: A Brief Socio-Historical Overview
Jackson Pollock was known as an Abstract Expressionist, but what exactly was Abstract Expressionism? It was an art style that developed during the 1940s and 1950s in the United States of America, notably in New York City. It was post-World War II also, which influenced the way artists saw the world. There were two distinct subsidiary styles within this movement, namely Action Painting and Color Field Painting. The former involved gestural movements while creating artworks, in fact, the gestural movements defined this style.
Artists like Jackson Pollock would actively apply paint to the canvas via vigorous brushstrokes, pouring, or dripping paint directly onto the canvas. Sometimes Pollock utilized different tools other than paintbrushes to apply the paint. It has also been known as the "drip technique".
Color Field Painting is widely described as depicting large "areas" or "fields" of color, which appear flat. The focus of these paintings was the colors, in other words, the colors were the main subject matter. Abstract Expressionist artists included Jackson Pollock, Mark Rothko Barnett Newman, Willem de Kooning, Clyfford Still, Lee Krasner, and Helen Frankenthaler, among others. Some artists also emigrated from Europe due to the war, for example, the German artist Hans Hofmann.
He was well-known for being one of the leading teachers to the Abstract Expressionists because of his in-depth experience and knowledge of modern European art styles like Cubism and Fauvism, among others. Soon after he emigrated from Germany to New York, which was around the early 1930s, he started his own school named the Hans Hofmann School of Fine Arts in 1934.
Interestingly, Lee Krasner, who married Jackson Pollock in 1945, studied at Hofmann's school from 1937 and introduced Hofmann to Pollock in 1942.
Autumn Rhythm (Number 30) by Jackson Pollock was in the artist's estate during 1957, which was the year the Metropolitan Museum of Art acquired it for $20, 000. The painting would possibly be worth millions in the present day.
Formal Analysis: A Brief Compositional Overview
At first glance, the painting Autumn Rhythm by Jackson Pollock might conjure up confusion about where to start looking at it, or how to look at it. The formal analysis of the Autumn Rhythm painting will provide a bit of a starting point for how to view the artwork. It will discuss a visual description of the subject matter, followed by an overview of how the art elements of color, texture, line, shape, form, and space compose this piece, with a mention of how the principles of design occur also.
Subject Matter: Visual Description
This autumnal abstraction, Autumn Rhythm by Jackson Pollock, consists of a visual wilderness of strips, curls, clots, dots, and dashes of enamel paint poured and applied in a variety of manners onto the canvas. The canvas, which is a large rectangular shape, and horizontally oriented, is filled with paint.
However, Pollock left the outer edges more open, as if leaving space for the often-described "chaos" to breathe and pulsate within the picture plane.
The Making of Autumn Rhythm (Number 30)
Part of Pollock's painting process was documented by the German photographer Hans Namuth, who reportedly spent the months of Summer to October/November 1950 photographing Pollock in his studio in Springs in East Hampton, New York. This was an up close and personal documentation of Pollock's famed action painting, of which included the making of Autumn Rhythm (Number 30) among others. Reportedly, Pollock started with, as widely described, the "right third" part of the canvas.
Pollock's studio floor in Springs, New York; the visual result of being his primary painting surface from 1946 until 1953; Rhododendrites, CC BY-SA 4.0, via Wikimedia Commons
Here he first applied the color black, and the lines were thin. Following this, he applied the other colors, namely brown, white, and blue. He then reportedly moved to the center of the canvas and lastly the left side. Throughout the process he applied the paints by pouring, dripping, or splashing.
Color
The overall color scheme of Autumn Rhythm by Jackson Pollock is neutral. The background is a light beige color, which sets the stage for the poured paints. Pollock utilized a limited color palette, which consists of black, white, brown, and blue (this has been described either as a teal or grayish blue).
Texture
The texture in Autumn Rhythm by Jackson Pollock relates mostly to the physical or tactile texture of the paints utilized. There are thick and thin areas of paint, and the enamel paint utilized appears somewhat smooth in its consistency.
A subtle contrast is created by the slightly rougher texture of the canvas, which becomes evident upon a closer view of the artwork. Furthermore, the thinner area of paint appears absorbed into the canvas, which further creates a coarser texture.
Line
Lines as art elements can include the outline of the subject matter, which provides its form. It can also occur in a variety of types, and in the case of Autumn Rhythm by Jackson Pollock, lines seemingly are the subject matter. The types of lines in this painting include curly, looped, diagonal, vertical, and horizontal.
There are various sizes, from short, long, thin, and thick. This mishmash of lines creates movement and rhythm, but harmony is also created through the repetition of irregular lines.
Shape and Form
Autumn Rhythm by Jackson Pollock does not depict any "known" shapes or forms, whether geometric or more naturalistic/figurative. The composition results in abstraction, created by the artist's drip technique of paint.
Space
Space as an art element is often described in terms of how it relates to the "area" that is utilized on a canvas (the pictorial surface) or around a sculpture. It also relates to how depth is conveyed, which can be done through different techniques like colors or scale.
"Autumn Rhythm" by Jackson Pollock is a large canvas that the artist created by walking around it while it was placed on the floor. This dynamic interaction with the canvas indicates Pollock's utilization of space, the space around his canvas, and the space on his canvas.
Furthermore, the composition appears seemingly flat and two-dimensional, but with the crisscrossing lines and colors, an imaginary sense of depth can be found. There is no perspective utilized to indicate a main focal area, and seemingly, the entire composition becomes the focal area.
Autumn Rhythm: Not Just Another Number
Jackson Pollock exhibited Autumn Rhythm (Number 30) at the Betty Parsons Gallery in New York in 1951 along with other of his artworks. Additionally, this painting has been exhibited numerous times throughout the years, notably in 1952 at the Museum of Modern Art's (MoMA) "15 Americans" exhibition.
Exhibition with Jackson Pollock's paintings at Moderna Museet (1963); Lindgren, Herbert (1919–1987), Stockholms stadsmuseum, CC BY 4.0, via Wikimedia Commons
Pollock was known for numbering his artworks, which was reportedly to avoid creating any additional or alternative interpretations of them. However, he is believed to have given Autumn Rhythm its title. Although it correlates with the season he painted it in, numerous sources suggest that Pollock did not provide the reason for why he titled it.
This article discussed "Autumn Rhythm (Number 30)" by Jackson Pollock. It explored part of Abstract Expressionism as an art style, as well as the artist's process while painting this life-sized canvas. Pollock's paintings were vigorous and visceral – they left a mark on the modern art world that moved beyond figuration and into abstraction, inspiring thousands.
Frequently Asked Questions
What Is Autumn Rhythm?
Autumn Rhythm (1950) is an enamel on canvas painting by the Abstract Expressionist Jackson Pollock. It is alternatively titled Number 30. The painting measures 266.7 x 525.8 centimeters.
Where Is the Painting Autumn Rhythm by Jackson Pollock Located?
The enamel on canvas Autumn Rhythm (Number 30) (1950) by Jackson Pollock is housed at the Metropolitan Museum of Art, also known as the Met, in New York City, the United States.
What's the Autumn Rhythm Painting Worth?
The Metropolitan Museum of Art acquired Autumn Rhythm (Number 30) (1950) by Jackson Pollock for $20,000 in 1957 from the artist's estate. However, the exact monetary worth of the artwork is uncertain, but its price could be estimated to be in the millions today.
Alicia du Plessis is a multidisciplinary writer. She completed her Bachelor of Arts degree, majoring in Art History and Classical Civilization, as well as two Honors, namely, in Art History and Education and Development, at the University of KwaZulu-Natal, South Africa. For her main Honors project in Art History, she explored perceptions of the San Bushmen's identity and the concept of the "Other". She has also looked at the use of photography in art and how it has been used to portray people's lives.
Alicia's other areas of interest in Art History include the process of writing about Art History and how to analyze paintings. Some of her favorite art movements include Impressionism and German Expressionism.  She is yet to complete her Masters in Art History (she would like to do this abroad in Europe) having given it some time to first develop more professional experience with the interest to one day lecture it too.
Learn more about the Art in Context Team.