German artists have been integral to many major art periods throughout the past few centuries. From the Renaissance period to Cubism, German artists have produced stunning works of art. We have crafted a definitive list of 12 of the most famous German artists from several art eras.
A Timeline of Famous German Artists
Before we delve into our top 12 German artists, we would like to give you a timeline of some prominent German artists from the last few centuries. From this timeline, you can see just how diverse the history of art has been in Germany. We also encourage you to look into some of these artists further if you want to learn more about Germany's art history.
| | | |
| --- | --- | --- |
| Artist | Lifetime | Art Period |
| Matthias Grünewald | 1470-1528 | Northern Renaissance |
| Lucas Cranach | 1472-1553 | Northern Renaissance |
| Albrecht Altdorfer | 1480-1538 | Northern Renaissance |
| Philipp Otto Runge | 1777-1810 | Romanticism |
| Heinrich Reinhold | 1788-1825 | Romanticism |
| Franz Xaver Winterhalter | 1788-1825 | Romanticism |
| Andreas Achenbach | 1815-1910 | Romanticism |
| Gabriel von Max | 1840-1915 | Art Nouveau |
| Curt Herrmann | 1854-1929 | Impressionism, Neo-Impressionism |
| Lovis Corinth | 1858-1925 | Expressionism |
| Heinrich Zille | 1858-1929 | Avante-Garde |
| Julie Wolfthorn | 1864-1944 | Impressionism |
| Otto Mueller | 1874-1930 | Expressionism, German Expressionism |
| Gabriele Münter | 1877-1962 | Expressionism, German Expressionism |
| Ernst Ludwig Kirchner | 1880-1938 | Expressionism, Modern Art |
| Georg Tappert | 1880-1957 | German Expressionism |
| Max Pechstein | 1881-1955 | Expressionism, German Expressionism |
| Erich Heckel | 1883-1970 | Expressionism |
| Max Beckmann | 1884-1950 | New Objectivity, German Expressionism |
| Karl Schmidt-Rottluff | 1884-1976 | Expressionism, German Expressionism |
| Hans Arp | 1886-1966 | Dadaist and Abstract Painter |
| Kurt Schwitters | 1887-1948 | Dadaism, Surrealism, Modern Art |
| Josef Albers | 1888-1976 | Abstract Painter |
| Oskar Schlemmer | 1888-1943 | Modern Art, Bauhaus, Constructivism |
| Karl Hofer | 1894-1954 | Expressionism |
| Christian Schad | 1894-1982 | New Objectivity, Magic Realism, Dadaism, Expressionism |
| Georg Baselitz | 1938- | Neo-Expressionism |
| Jörg Immendorff | 1945-2007 | Neo-Expressionism |
| Daniel Richter | 1962- | Neo-Expressionism |
Our Top 12 Most Famous German Artists
Now that you perhaps have some idea of the extent of German art, we will look at our top 12 most famous German Artists. These artists have been, and many remain, influential figures in several art movements, including Expressionism, Surrealism, and Dadaism.
Albrecht Durer (1471-1528)
Period: Renaissance
Works: 70 paintings, more than 900 drawings, 100 copperplate engravings, and 350 woodcuts
You could not ask for a more influential German artist than Albrecht Durer to begin this list. Durer is arguably the most versatile and influential German and even European artist of his time. Known for his engravings and prints, Durer was also the author of several books about painting.
Durer was born as one of 18 children in Nuremberg in 1471. His father, Albrecht Durer Senior, was a goldsmith, and it was as his father's apprentice that Durer began his artistic career. Much of Durer's work focuses on devotional pieces, altarpieces, and portraits. His greatest achievement is that of the groundbreaking advances he made in woodcuts and engravings.
The realism that Durer infused into his engravings was revolutionary at the time. You can see the subtleties and incredible detail of Durer's style in Adam and Eve, one of his most famous works. The two human figures are symmetrical to one another on either side of the tree of knowledge, and you can see the intricate details of the figure's skin and the bark of the tree.
On a 1521 trip to the Netherlands, Durer contracted what we believe to be Malaria. Frequent doctor visits and bouts of fever followed Durer for the rest of his days. In 1528, Durer passed away, aged 56.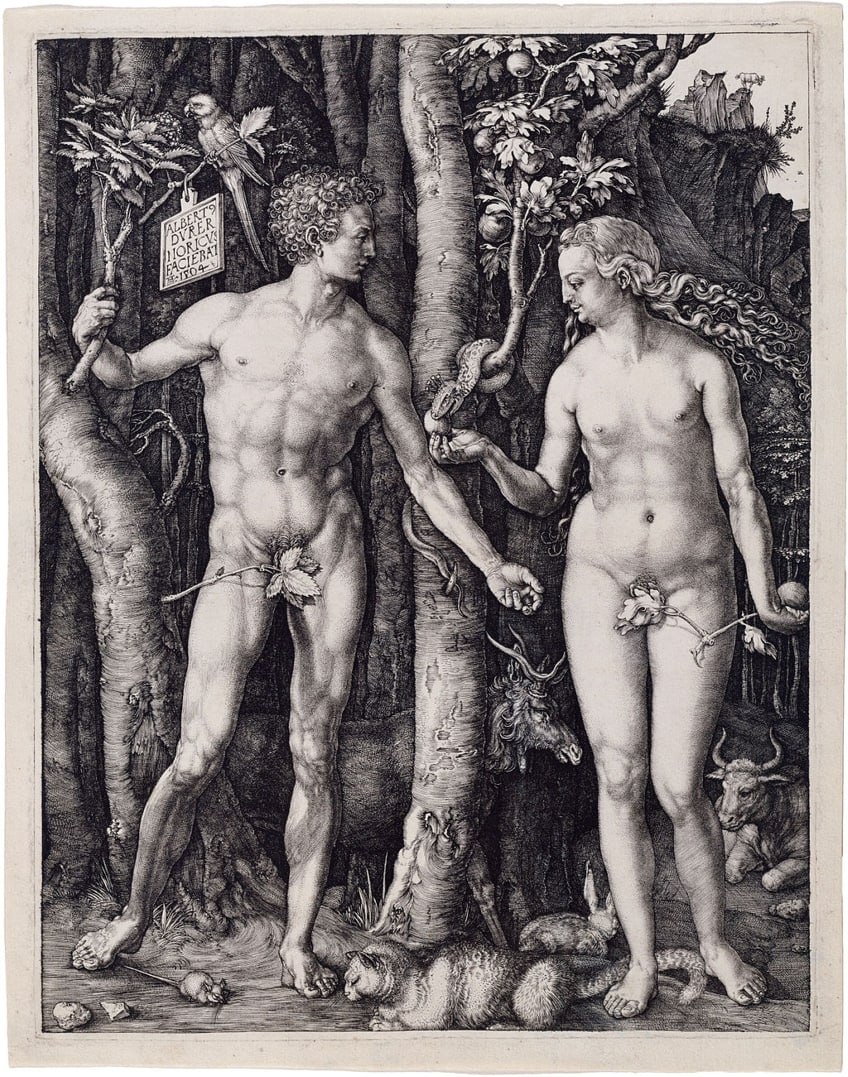 Adam and Eve (1504) by Albrecht Dürer; Albrecht Dürer, Public domain, via Wikimedia Commons
Hans Holbein (1497-1543)
Period: The Renaissance Era
Works: 24 works on paper and around 220 paintings
Hans Holbein Junior was born into a family of artists, which certainly contributed to his career as an artist. It was in his father's studio that Holbein got his artistic training. Although born in Germany, Holbein married and settled in Switzerland. In Later life, King Henry VIII appointed Holbein as the court painter in England. While in the English court, Holbein painted several portraits of the King and potential marriage candidates.
Holbein infused his paintings with knowledge, beauty, and transience. Many of Holbein's most influential and significant works are portraits that he infused with incredible realism and detail. Holbein's portrait of his two friends, Jean de Dinteville and Georges de Selves, is perhaps his most famous work. You can see the incredible attention to detail that characterizes Holbein's work in this portrait. Sadly, Holbein died early in London from what many believe to be the plague.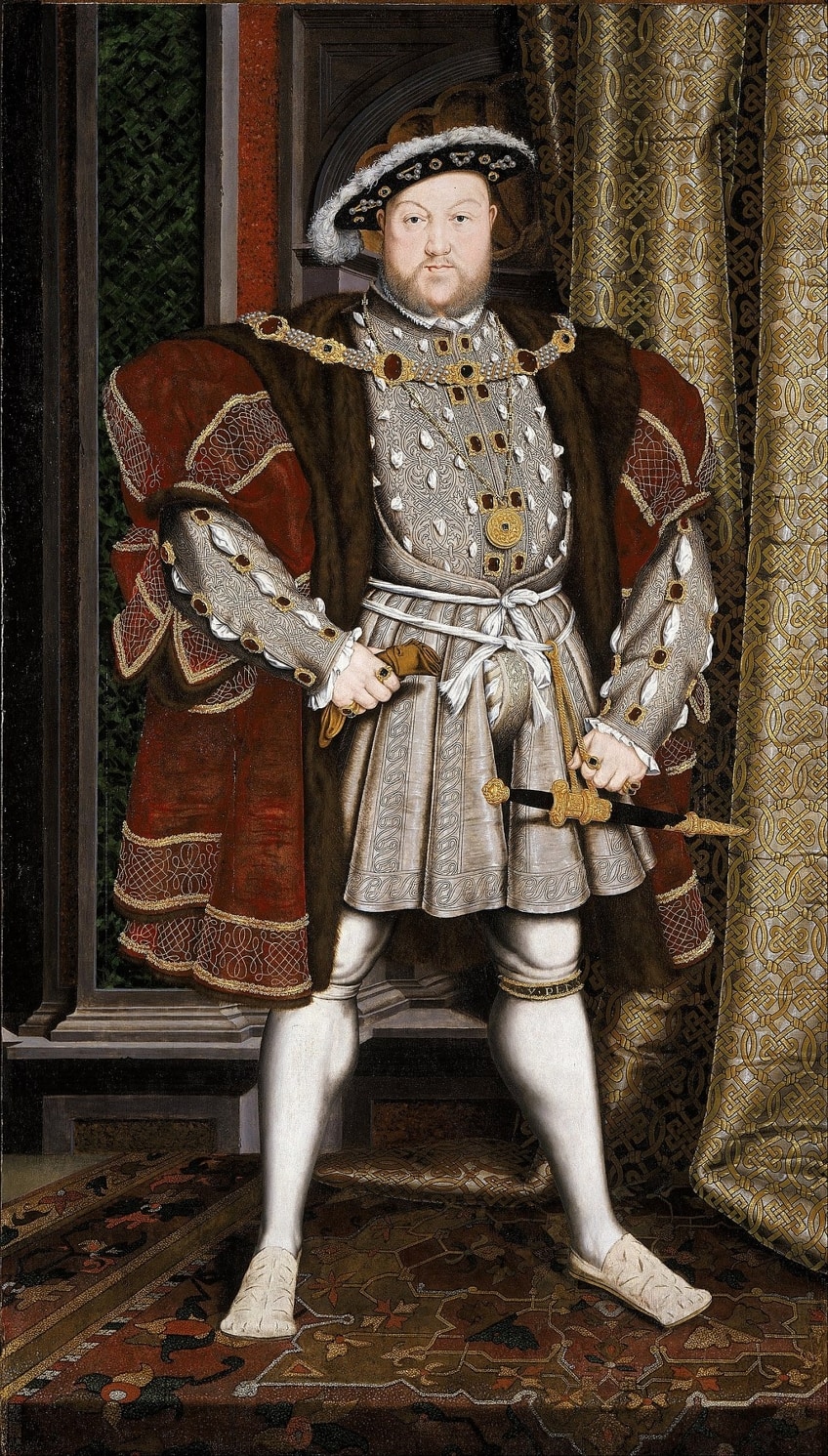 Portrait of Henry VIII (after 1537) by Hans Holbein Junior; After Hans Holbein, Public domain, via Wikimedia Commons 
Casper David Friedrich (1774-1840)
Period: Romanticism
Works: 257 paintings (that we know of)
One of the most famous German artists of the 19th Century, Caspar David Friedrich was a Romantic landscape painter born in Greifswald. In 1798, Friedrich studied in Copenhagen before starting his career as a painter. Friedrich's story is one of success and failure. In the early years of his career, many sought Friedrich's paintings, but as the art movement shifted, he fell out of favor. Sadly, Friedrich died in poverty.
Despite the lack of appreciation in his day, his paintings are prized by collectors today. A 1906 Berlin exhibition presented some of Friedrich's paintings, and his fame grew throughout the 20th Century. Friedrich's paintings are said to have inspired many works by Expressionist and Surrealist artists.
The focus of much of his work was on the spirituality and unity of nature. Most of Friedrich's paintings are landscapes, but later in his career, he began to incorporate people into his compositions. These later works are particularly sought after by collectors.
Max Liebermann (1847-1935)
Period: Impressionism
Works: 826 pictures, 3,400 prints, and 1,420 works on paper
A leading pioneer of German Impressionism, Max Liebermann was a Jewish-German painter with a strong preference for landscapes. Although he was an active Impressionist artist, Liebermann's paintings of figures and landscapes are tinted with realism. In addition to his favored landscapes, Liebermann painted over 200 portraits, including one of Albert Einstein.
There was no report of Liebermann's death in 1935 because Berlin was under the power of the National Socialist regime. It was only after the Second World War that his paintings received the attention they rightfully deserve.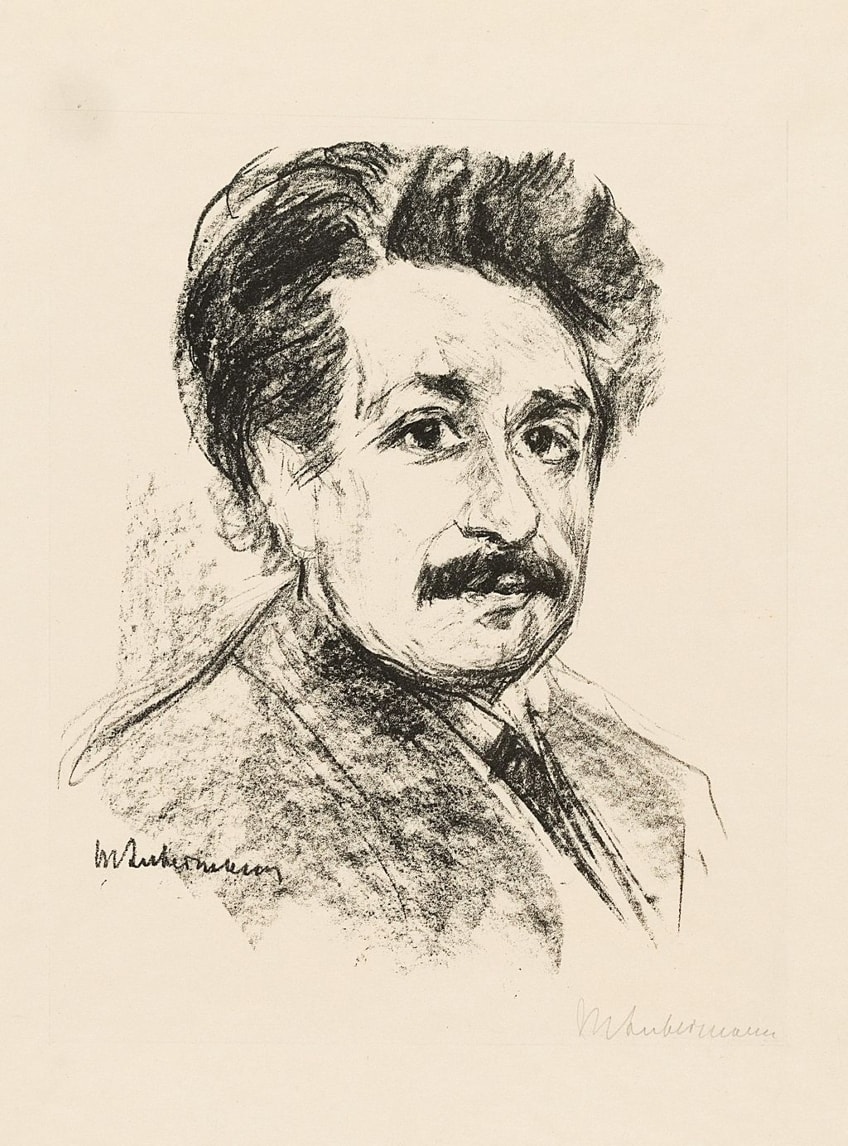 Portrait of Albert Einstein (1925) by Maz Liebermann; Max Liebermann, Public domain, via Wikimedia Commons 
Emil Nolde (1867-1956)
Period: Expressionism
Works: Seven sculptures, 320 paintings, and nearly 2,000 works on paper
Born in Germany in 1867, Emil Nolde was a leading German Expressionist with a penchant for landscapes and floral designs. Perhaps his rural upbringing had some influence on his chosen subjects. Nolde's works present a combination of bright, 20th Century colors and religious imagery.
In his later career, Nolde was an active member of Der Blaue Reiter and Die Brucke, both well-known German artist collectives. It was with his colleagues from these collectives that Nolde participated in several exhibitions. Nolde's favor with the Nazi government fell through during the Second World War. Despite their assertions of his work as degenerate, Nolde continued to create an impressive number of artworks until he died in 1956.
Paula Modersohn Becker (1876-1907)
Period: Expressionism
Works: 200 prints, 136 works on paper, and nearly 150 paintings
Despite her early death from an embolism, Paula Modersohn Becker was one of the most famous Expressionist painters of her time. Expressive self-portraits make up a significant portion of her lifetime works, but Becker also painted landscapes and women with children. Tempera and oil paints were Becker's preferred mediums, and you can see her distinctive rough brush strokes and rich colors throughout her oeuvre.
If you would like to learn more about the life and art of Paula Modersohn Becker, you can watch the film made about her life, or visit her private museum. Regardless of her short life, Becker made a lasting impression on German art.
Paul Klee (1879-1940)
Period: Expressionism, Surrealism, Cubism
Works: More than 9,000 drawings and paintings
Although he was born in Switzerland, Paul Klee had German citizenship. Throughout his career, Klee was an instrumental artist in the Expressionist, Cubist, and Surrealist art movements. In the typical Cubist fashion, Klee created pieces from a range of materials, including cotton, canvas, paper, jute, cardboard, and wood.
A pioneer of collage techniques alongside Picasso, Klee's work is unique in its form, structure, and style. Klee was always eager to experiment and push the artistic boat out beyond conventionally accepted practices. Over his career, Klee created an unbelievably large number of paintings and collages that are a testament to his talent.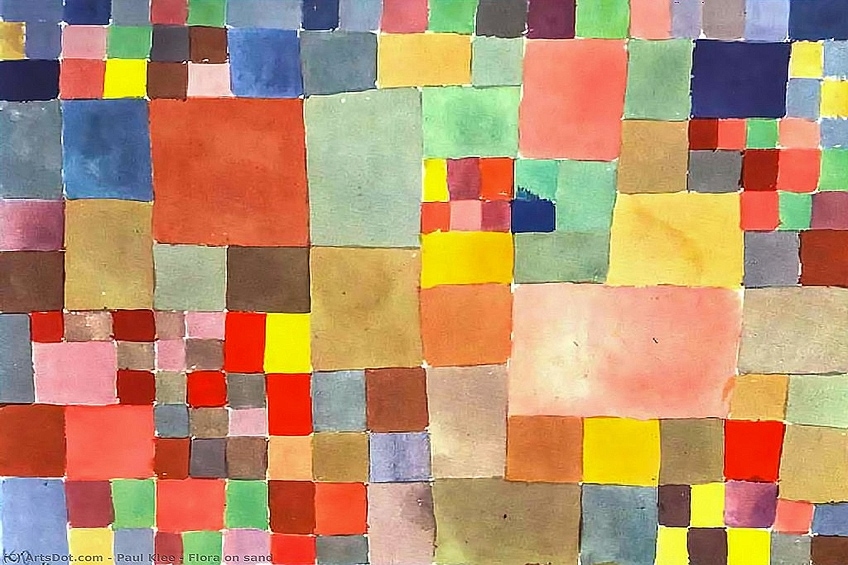 Flora on Sand (1927) by Paul Klee; Paul Klee, Public domain, via Wikimedia Commons 
Franz Marc (1880-1916)
Period: Expressionism
Works: Five sculptures, 163 works on paper, 640 prints, and 50 paintings
Franz Marc was a famous German Expressionist painter born in Munich. Marc's love for painting is said to come from his father. Pursuing a career as an artist, Marc studied at the Munich Academy of Fine Arts before traveling across Europe. Marc, like Nolde, was a member of Der Blaue Reiter. Marc, along with August Macke, Wassily Kandinsky, and Alexej von Jawlensky, was a founding member of this artist group.
Marc's style of painting is very distinctive. Known for his landscapes that included animals in a cubist-style, Marc often used rich primary colors. Marc met an untimely death during the First World War, but his work has continued to flourish. You can find most of Marc's works in collections held by the Washington National Gallery of Art and the Art Institute of Chicago, among others. Marc is one of the most important artists in Expressionism, and his place on this list is well deserved.
Max Ernst (1891-1976)
Period: Dadaism, Surrealism
Works: 900 sculptures, 6,500 prints, 820 works on paper, and 1,260 pictures
With such an impressive oeuvre, it is no surprise that Max Ernst is one of the most famous German artists of the last few centuries. Not only did he produce an incredible number of varied works, but he was also involved in co-founding the Dadaist and Surrealist art movements.
True to the unconventional practices of both of these art movements, Ernst's works incorporate a multitude of media, including collage, film, and painting. Oedipus Rex, The Elephant Celebes, and Europe After the Rain are three of Ernst's most famous works. You can see Ernst's works in collections throughout the world.
Otto Dix (1891-1969)
Period: New Objectivity
Works: Nine sculptures, 3,300 prints, 1,200 works on paper, and 285 pictures
Otto Dix must surely be one of the most famous German painters of the 20th Century. Dix studied art before being drafted for the First World War. His experiences during the war were significant influences for his unique style, which incorporated disturbing visions and pictures from the war and grotesque portraits. Although his artworks were terribly realistic and scathing, there was a satirical edge to his social commentary. The demoralization and corruption of post-war Germany was a common theme in his works.
Dix remained a German resident during the Second World War. During this time, his style shifted because of the Nazi regime. Gone were the graphic depictions of war, and in their place, Dix created works with Christian imagery and landscapes. After the war, he resumed his unique style and enjoyed great success until his death in 1969.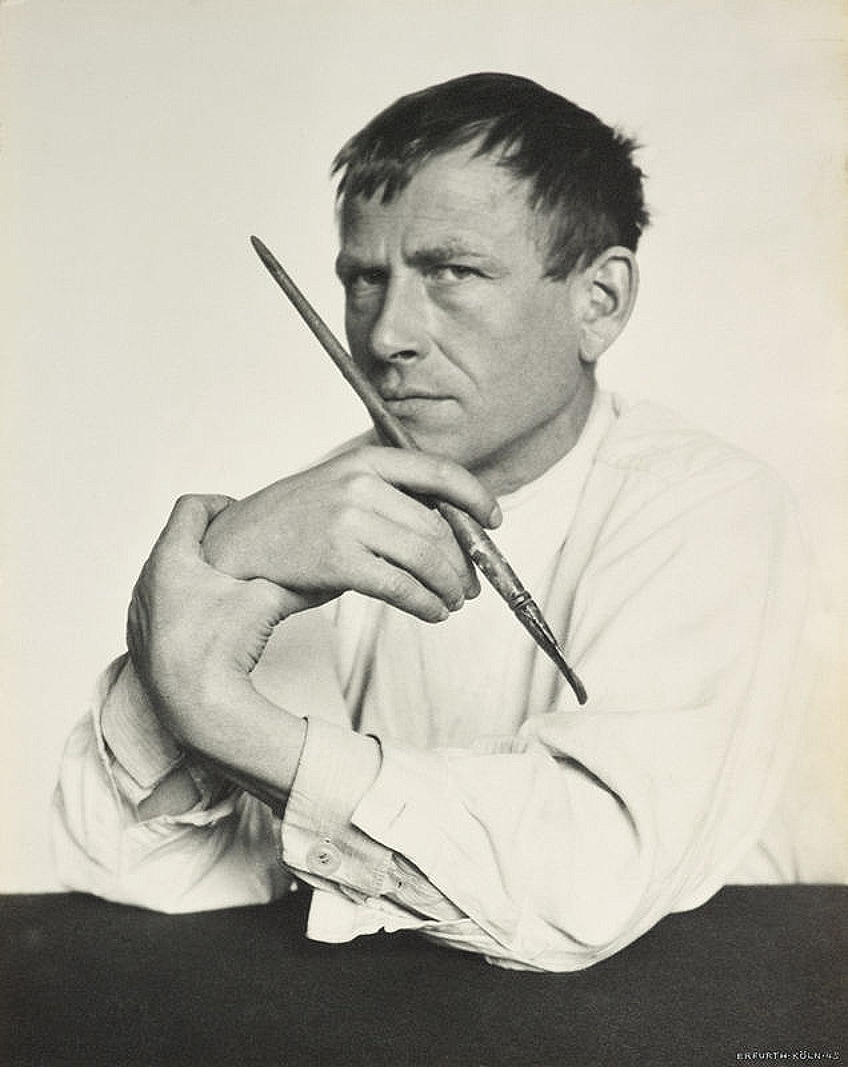 A photograph of Otto Dix holding a paintbrush, 1929; Hugo Erfurth, Public domain, via Wikimedia Commons 
Gerhard Richter (1932-)
Period: Contemorary Art
Works: 90 sculptures, 2,000 pictures, 211 works on paper, and 3,550 prints
Gerhard Richter remains one of the most influential contemporary German artists of the 20th Century. After the Second World War, Richter came to know and experiment with the social-realistic wall painting. After fleeing to West Germany in 1961, Richter was a student at the Dusseldorf Art Academy, where he developed his own style.
Richter is an experimental artist who creates works that combine photographic painting with abstraction. An interesting method that Richter uses is to squeeze tubes of paint all over a canvas and call it a day. Thanks to his incredible popularity, Richter's art sells for an exorbitant amount of money. You can view Richter's works of art in many art museums throughout the world.
Anslem Kiefer (1945-)
Period: Contemporary and Neo-Expressionism
Works: 60 sculptures, 510 paintings, 54 prints, and 140 works on paper
You could not ask for a more apt representative of German art than Anslem Kiefer. Not only a sculptor and installation artist, but Kiefer is also well-known for his large-format pictures and paintings. Kiefer studied art in Dusseldorf alongside conceptual artist Joseph Beuys. Jorg Immendorf and Georg Baselitz, Neo-Expressionist painters, were also influential to Kiefer.
Kiefer's artworks explore the mythology and history of Germany through unconventional materials like straw, shellac, ash, and lead. Although Kiefer was born in Germany, he now lives and works in Paris. You can see more of his works at the Tate Gallery in London, the Art Institute of Chicago, and the Museum of Modern Art, among others.
We have covered just a few of the most famous and influential German artists of the last few centuries. German artists have been instrumental in the founding and development of several art movements. From Expressionism to Surrealism, German artists have created an international impression.
Isabella studied at the University of Cape Town in South Africa and graduated with a Bachelor of Arts majoring in English Literature & Language and Psychology. Throughout her undergraduate years, she took Art History as an additional subject and absolutely loved it. Building on from her art history knowledge that began in high school, art has always been a particular area of fascination for her. From learning about artworks previously unknown to her, or sharpening her existing understanding of specific works, the ability to continue learning within this interesting sphere excites her greatly.
Her focal points of interest in art history encompass profiling specific artists and art movements, as it is these areas where she is able to really dig deep into the rich narrative of the art world. Additionally, she particularly enjoys exploring the different artistic styles of the 20th century, as well as the important impact that female artists have had on the development of art history.
Learn more about the Art in Context Team.