Harlem Renaissance Art – A Timeline of Art in the Harlem Renaissance
The Harlem Renaissance was a cultural birth of new ideas and artistic expressions during the 1920s in the Harlem neighborhood in New York City. It consisted of many disciplines like visual arts, music, theatre, and literature. Rooted in the foundations of African American culture, artists sought to take a stand for their independence, self-worth, and rightful place in society. Below we explore this further and some of the well-known Harlem Renaissance artists.
What Was the Harlem Renaissance?
When we look at the Harlem Renaissance timeline, we will see that it started during the late 1910s and early 1920s in New York City, around the end of World War I. It lasted until the 1940s, around the time of World War II. However, some sources indicate that it ended around 1929, which was during the time of the Stock Market Crash that led to the Great Depression in 1930. The Harlem Renaissance's origins lie in the events leading up to the Great Migration in Southern America around 1916.
Millions of black Americans migrated from places like Mississippi, South Carolina, and Louisiana to Northern American cities like New York, Los Angeles, and Washington D.C, among others. This was known as the Great Migration.

There were many factors that caused Black Americans to migrate, primarily the rise and unceasing racial segregations, lynching, and poor social and economic treatment of the African American communities in the South. The Jim Crow laws also negatively affected any positive chances of betterment for the African American communities.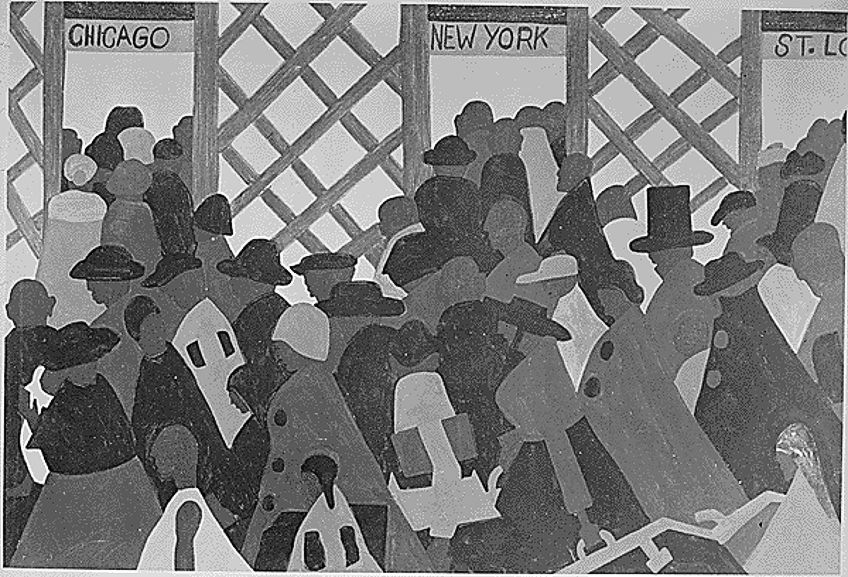 Panel 1 from Migration of the Negro (1940-1941) by Jacob Lawrence; Jacob Lawrence (1917 – 2000), Harmon Foundation, Public domain, via Wikimedia Commons
There were also new work opportunities from Northern cities. Many factories and other industries needed workmen because of World War I and the shortage of hands it created. This gave Black Americans the chance to find new homes and establish themselves within the Northern urban areas. It also led to new cultural expressions within these communities.
White communities caused an uproar as a result of the Great Migration, resisting the move of African American communities to areas further north. In the Summer of 1919, white veterans who had returned home from the war started attacking the black veterans who had also served in the war.
This event was called the Red Summer.
The attacks took place in various cities, with many African Americans (including women and children) being lynched and killed. Homes and businesses were burnt down and destroyed, and there was an overall surge of violence among the white communities to eradicate what they believed was a threat to them and the Jim Crow laws.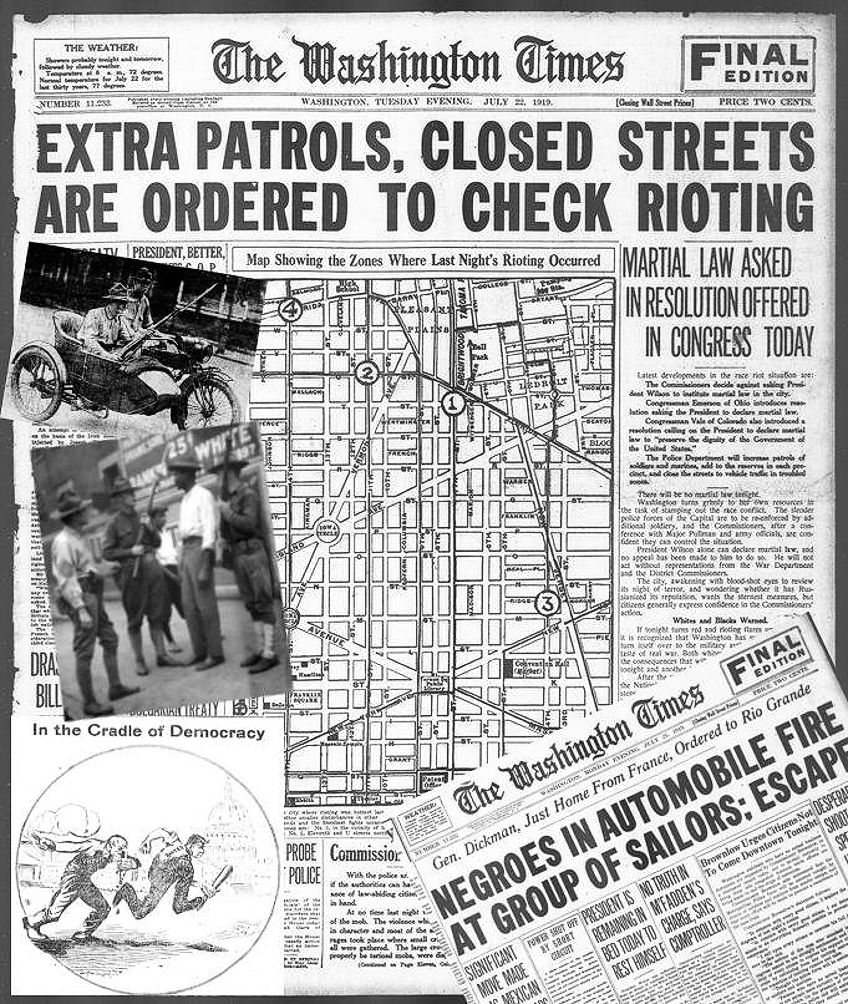 Coverage of the Washington DC race riots, known as Red Summer, The Washington Times, 1919; The Washington times. July 22, 1919The Washington Times. July 21, 1919, File:Motorcycle involved in the Washington race riot of 1919.jpg, File:Richmond planet Newspaper Editorial Cartoon about race riots.jpg, File:Soldiers with Black Resident of Washington, D.C., 1919.png, Public domain, via Wikimedia Commons
When the black veterans who had served in the war returned home, they had a new sense of personal power and agency to stand up against racial injustices. This was undoubtedly regarded as a threat to the racial laws already in place.
The events from the Red Summer compelled many African Americans to stand in unity as a culture. This is also read in the poem written by famous Harlem Renaissance writer, Claude McKay, titled, If We Must Die (1919). While the poem does not make a direct reference to any cultural or racial group, it remains a testament to solidarity.
It was also considered the starting point of the Harlem Renaissance and its values of justice and equality.
The "New Negro" Movement
Alain LeRoy Locke was born in Philadelphia and was an important writer, philosopher, educator, and art patron during the early 1900s. He is well-known for having created the theoretical framework for the Harlem Renaissance and everything it stood for. He is often described as being the "Dean" of the Harlem Renaissance.
It started when he wrote the article titled Harlem, Mecca of the New Negro (1925) for the Survey Graphic magazine in America. The article was an informative and educational exploration of the African American culture based in Harlem.
This article led to Locke producing and co-writing an anthology with several more essays, fiction pieces, and poems about this burgeoning culture in what was titled The New Negro: An Interpretation. It included the following essays: Forward, The New Negro, Negro Youth Speaks, The Negro Spirituals, and The Legacy of Ancestral Arts.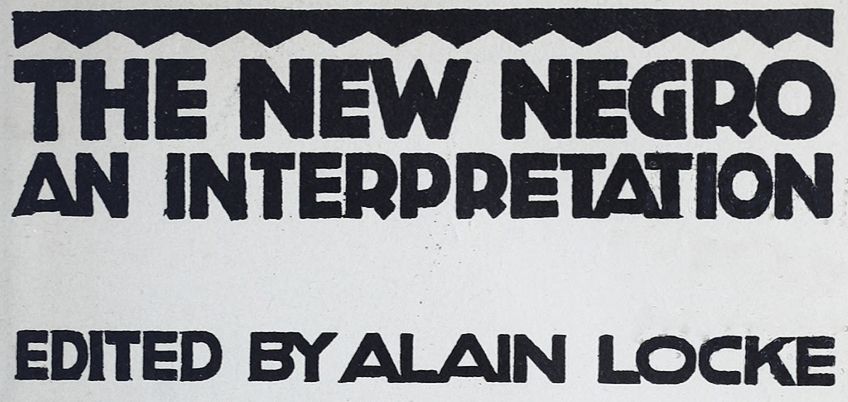 Cover of The New Negro: An Interpretation (1925) by Alain Locke; Alain Locke, Public domain, via Wikimedia Commons
Some of the writers who co-wrote with Locke included Claude McKay, Countee Cullen, Eric Walrond, Jean Toomer, Langston Hughes, and Zora Neale Hurston. The abovementioned writers were all multi-talented novelists, playwrights, poets, columnists, and journalists, among others. The anthology was a milestone in the cultural development and evolution of the African American community.
It explored themes based around self and social awareness, identity, solidarity as a community, and the strength inherent in African American people regardless of the atrocities and injustices that they experienced over the decades. The New Negro also expanded on the concepts of "Old Negro" and "New Negro", exploring the differences between the two and how the latter had been revived in Harlem. Indeed, the culture of the "New Negro" went through a rebirth of sorts, hence a Renaissance in Harlem.
This rebirth brought on new forms of self-expression and freedom from slavery, oppression, and the limiting constraints of the Jim Crow laws put in place.
Locke describes this rebirth as a "spiritual emancipation" and uses the analogy of "shedding the old chrysalis". Furthermore, The New Negro was almost like the manifesto for the Harlem Renaissance movement.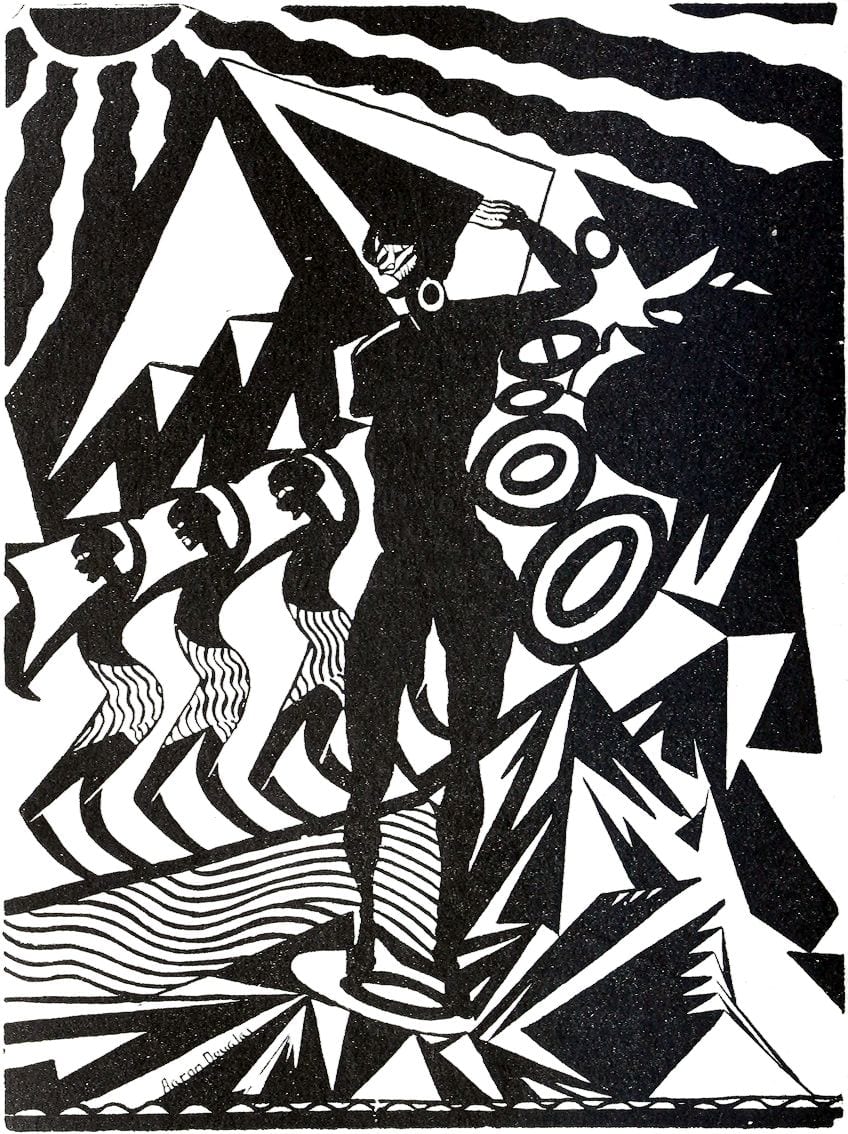 An image by Aaron Douglas from Alain Locke's The New Negro: An Interpretation (1925); By Alain Locke, Public Domain, Link
Before Locke's introduction of The New Negro, there were important figures within the African American community who had laid the foundations of discourse on oppression and racism in African American communities. Some of these figures include Booker T. Washington and Hubert H. Harrison.
W.E.B. Du Bois was also an important figure, being an activist, socialist, and writer. His main contributions were in the Civil Rights movements and acting against the racial oppressions from Jim Crow laws and lynching, and he sought to educate all about African independence and equality.
Harlem Renaissance Artwork
Harlem art stands for all things to do with the Harlem Renaissance and its expression. Artists expressed themselves in a wide variety of modalities, namely, theater, film, poetry, literature, music like Jazz and the Blues, and the visual arts like painting in the form of murals, sculpture, photography, printmaking, and book illustrations.
Sowing (1939-1940) by William H. Johnson, screenprint on paper; William H. Johnson, Public domain, via Wikimedia Commons
It was a buzzing cultural awakening in Harlem, and it countered and questioned the throes of oppression felt from racism, slavery, and racial injustices, inequalities, and stereotypical perspectives. This cultural awakening was given life through the visual arts. Decades later, we still witness the resurgence of a new modern African American life in Harlem.
The Harlem Renaissance artists all participated in an interdisciplinary way, exploring and experimenting with different themes, influences, and perspectives in their art. It was also avant-garde in its style as artists combined different genres of art, such as, antiquity, modernism, realism, and African art.
Works Progress Administration (WPA) and the Harlem Artist's Guild
Because the Harlem Renaissance timeline fell along the same time as the Great Depression, many people, including artists, were not able to find work. The Works Progress Administration (WPA) was founded by President Franklin Delano Roosevelt in the 1930s and provided jobs for unemployed Americans.
One of the projects related to the WPA was the Federal Arts Project, through which thousands of artists were given financial stipends. The Harlem Renaissance artists were a part of the FAP and produced murals, sculptures, posters, and photographs for many public buildings like libraries, hospitals, theaters, and museums.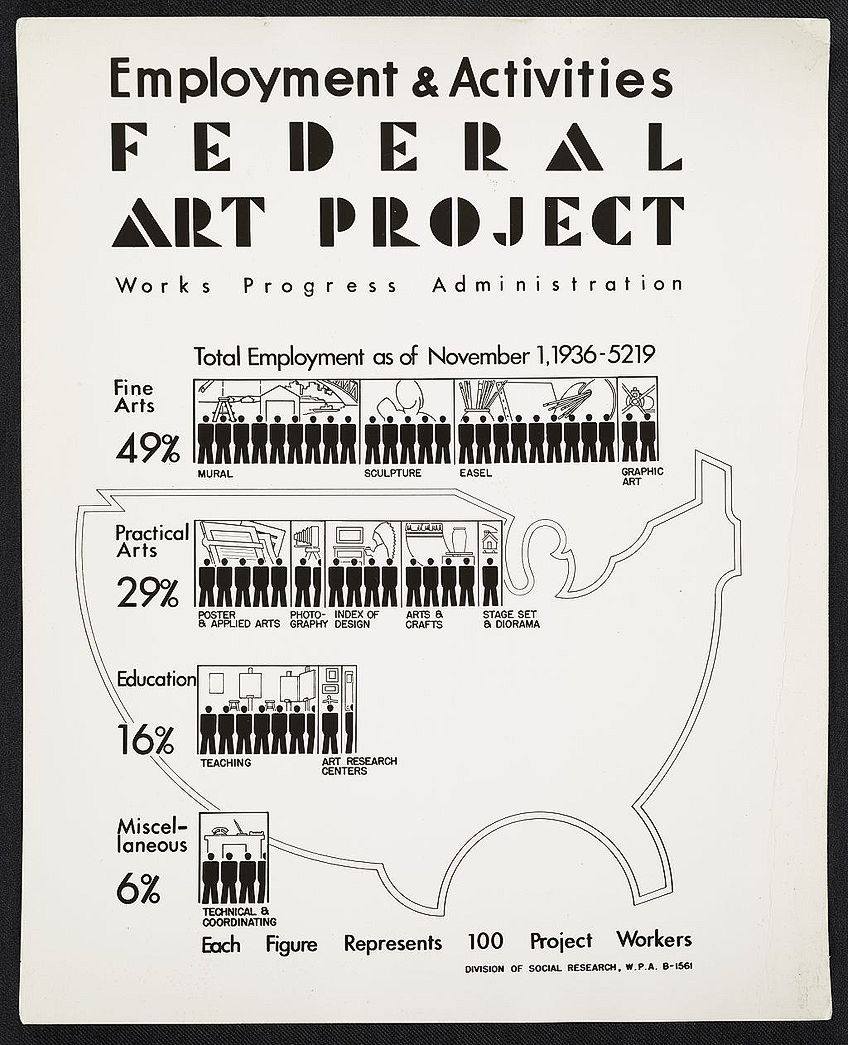 An employment and activities poster for the WPA's Federal Art Project, 1936; Archives of American Art, Public domain, via Wikimedia Commons
They were employed, so to say, as artists to uplift public spaces with new artworks. This gave everyone a renewed sense of hope during difficult economic times. Many artistic community centers and art schools opened to give artists the opportunities to work.
One of the more famous schools included the Harlem Artist's Guild, which was co-founded in 1935 by Harlem Renaissance artists Augusta Savage, Charles Alston, and Elba Lightfoot.
This also pushed the Federal Arts Project to give more opportunities to African American artists. In 1937, the WPA also funded the new Harlem Community Art Center, which was created by the Harlem Artist's Guild. It is also important to note that Augusta Savage was a leading artist and founder of the Savage School of Arts and Crafts in 1932. She taught many Harlem Renaissance artists and sought to educate and train young artists as well as to cultivate a deeper connection and sense of community within the Harlem art culture.
Major Harlem Renaissance Artists
While there were hundreds of Harlem Renaissance artists within many disciplines, below we look at some of the famous artists from the time. Some were painters, photographers, and sculptors, among other artistic disciplines.
James Van Der Zee (1886 – 1983)
James Van Der Zee was a photographer during the Harlem Renaissance period, born in Massachusetts. He was well-known for producing visual documentary records of the African American middle classes in New York and their lifestyles. He also opened a photography studio called the Guarantee Photo Studio.
Some of his photographs include Evening Attire (1922) and Couple in Raccoon Coats (1932), among many others. When we look at Couple in Raccoon Coats as an example, Van Der Zee photographed an African American couple by their car, which is a Cadillac roadster. The man is sitting in the car while the woman stands next to him.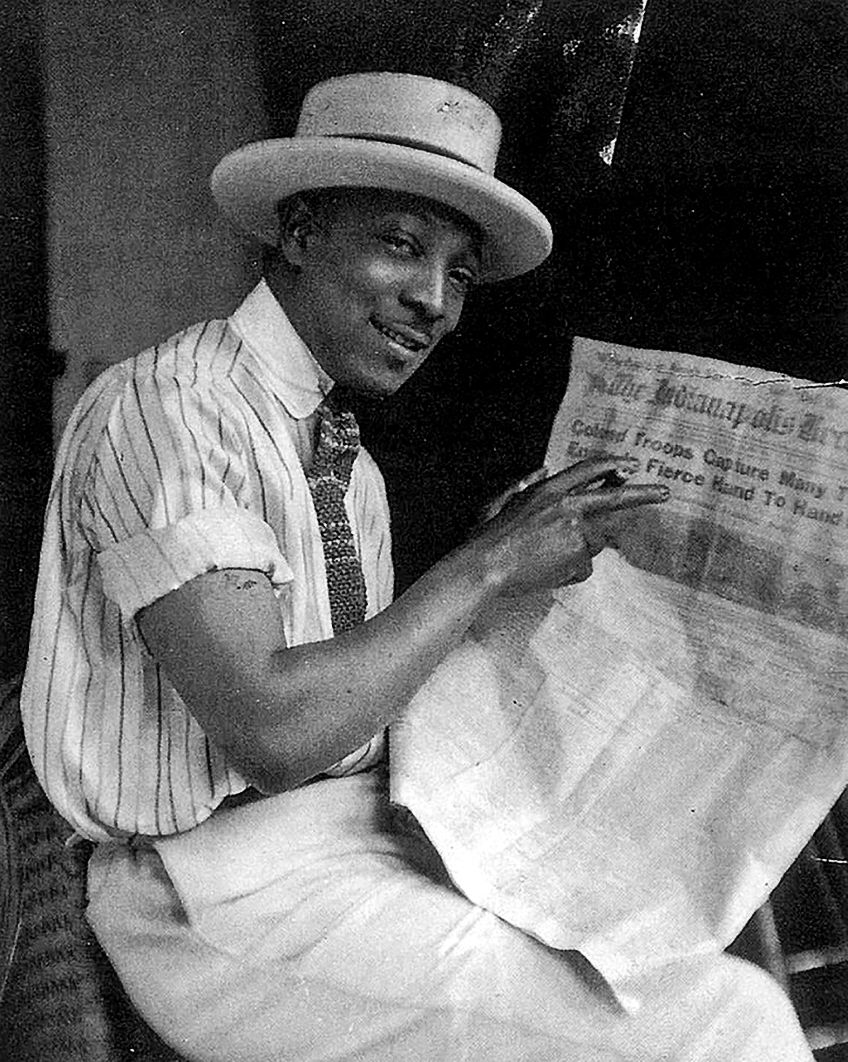 Self portrait of James Van Der Zee, taken in 1918; James Van Der Zee, Public domain, via Wikimedia Commons
The couple appears relaxed and stylish, both wearing raccoon coats. Furthermore, Van Der Zee touches on many stereotypes in this photograph and perceptions related to how African Americans lived. The raccoon coat was a prominent fashionable item, especially among the younger generation, but here the artist portrays both the man and woman adorning this item without any worry about who should wear it.
Van Der Zee took photographs in a wide variety of settings, such as community-based events, weddings, funerals, and portraits of families. He captured the hearts of many in his photographs, but an important point to remember is that he became an observer during a time of great change and innovation culturally, racially, and societally.
Augusta Savage (1892 – 1962)
Born in Green Cove Springs, Florida, Augusta Christine Fells Savage was a prominent sculptor (famous for her portrait sculptors) during the Harlem Renaissance period. What made her a leading figure within this movement was the fact that she was also an art teacher and the art director of the community-based Harlem Community Art Center.
In 1934, as the first African American, she was chosen as part of the National Association of Women Painters and Sculptors.
Savage also opened her own art school called the Savage Studio of Arts and Crafts. Here she taught and created opportunities for aspiring artists who were interested in different artistic modalities like drawing, painting, and sculpting. Many well-known Harlem Renaissance artists emerged from her school, including Jacob Lawrence and Norman Lewis, as well as the notable public figure in the Civil Rights Movement and children's education, Kenneth B. Clark, among many others. This art school eventually developed into the abovementioned Harlem Community Art Center.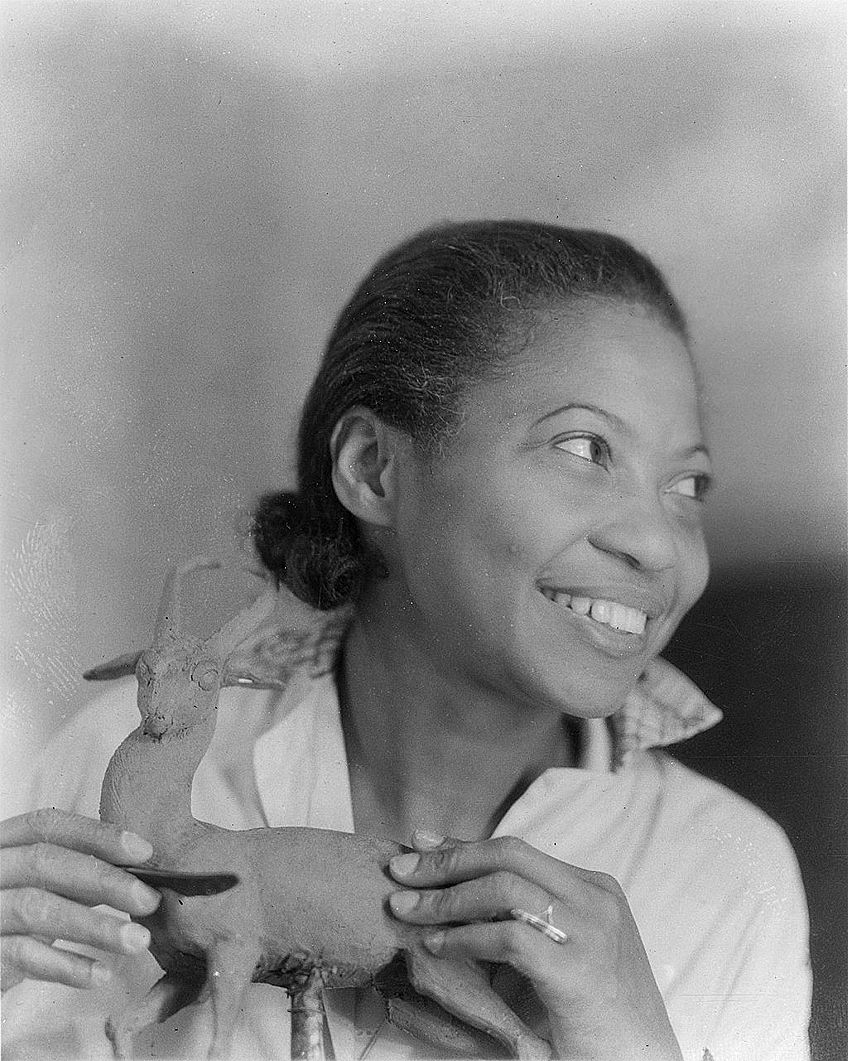 A photograph of Augusta Savage, between 1935 and 1947; US Gov., Public domain, via Wikimedia Commons
Some of Savage's notable artworks include Gamin (c. 1929), Gwendolyn Knight (1934 to 1935), Harlem Girl (1935), The Diving Boy (1939), Portrait Head of John Henry (1949), Young Boy (1940 to 1942), and The Harp (originally Lift Every Voice and Sing) (1939).
One of her famous commissioned artworks, a 16-foot plaster sculpture, was initially titled Lift Every Voice and Sing, named after a song by James Weldon Johnson, but it was later retitled to The Harp by the World's Fair, where it was being exhibited.
It depicts 12 elongated African American singers standing behind the other, each with their arms folded behind their backs.
The figures becoming smaller and smaller, with the last four figures held in an open hand. This open hand extends into an arm, which becomes the base to which all 12 figures seem to be attached. In front of the 12 singers is a figure of a man kneeling on his right knee and arms outstretched in front of him, giving the sense of receptivity and calm surrender. The singing figures behind him appear like a choir and the whole sculpture is in the shape of a harp. Furthermore, the figures are wearing long robes, which fold and fall into neat, symmetrically elongated lines, giving the impression of harp strings.
This piece was eventually destroyed, and Savage was not able to cast it in bronze. This was a popular sculpture during the World's Fair and reported to have been part of the most photographed sculptures. It also featured alongside artworks by Salvador Dalí and Willem de Kooning.
Another example by Savage is Gamin, the bust of a streetwise boy, which is indicated by the inscription at the base of the bust. It is reported the boy who modeled for this bust was Savage's nephew, Ellis Ford.
This was also one of Savage's more famous sculptures, which was emulated further into a life-sized piece and other smaller pieces.
The boy depicted is an African American youth, or gamin, which refers to a boy that frequents the streets, otherwise called a "street urchin". It suggests someone in poverty, which is emphasized by the boy's crinkled shirt and his cap (known as a bebop cap), which was usually worn by young people who worked or dropped off newspapers.
What adds to the emotional intensity of the bust is the tilt of the boy's head to the right. His facial expression is also quite subdued and sobering. He does not give the idea of being happy – in fact, he appears unemotional, like someone who has endured hardships and is growing up too fast.
When we look at Savage's sculptures, the important question of "what did Harlem Renaissance artists express through sculpture?" is undoubtedly answered by her unique rendering of subject matter closely tied to what was at the heart of Harlem art: expressing the poignant African American journey and culture.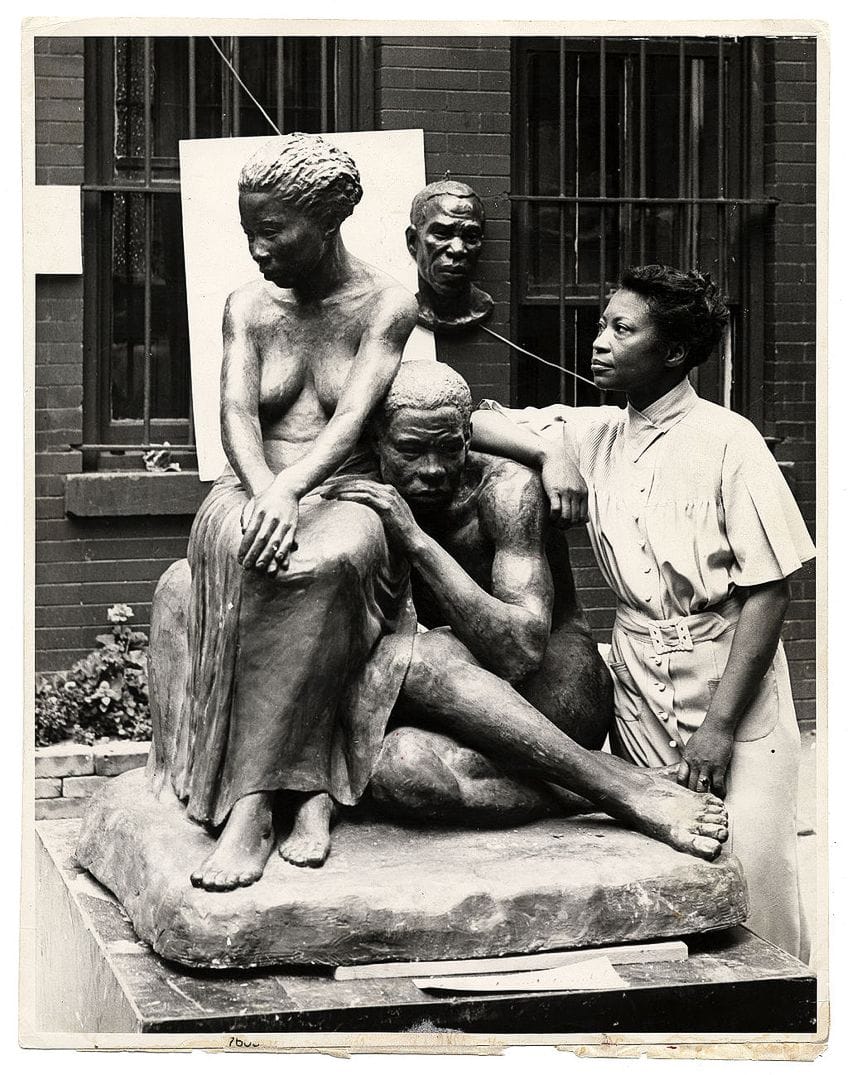 Augusta Savage posing with her sculpture Realization, created as part of the Works Progress Administration's Federal Art Project, photograph taken by Andrew Herman, c. 1938; Archives of American Art, Public domain, via Wikimedia Commons
Aaron Douglas (1899 – 1979)
Born in Topeka, Kansas, Aaron Douglas was known as the "Father of African American Art". He was a part of the Harlem Artist's Guild and was also involved in establishing Fisk University's Art Department. He inspired and taught many young aspiring artists and was an influential figure in Harlem Renaissance painting.
Some of the characteristics of Aaron's works include African American themes that appear Cubic-like. In fact, the artist was influenced by art movements like Cubism.
Some of his earlier works were also influenced by modern art movements like Art Deco and Art Nouveau, such as his piece, Sahdji (Tribal Women) (1925). The artist was also influenced by African art, especially West African art and the masks and sculptures from regions like Benin and Senegal.
He used various shapes and circles to inform his compositions, which also created an additional dynamism, although there was a stylistic two-dimensionality to the overall appearance of the works. His colors were often more subdued, and some words that describe his works include "figurative" and "decorative". Some of Douglas' other works include The Judgement Day (1927), Harriet Tubman (1931), The Negro in an African Setting (1934), An Idyll of the Deep South (1934), Defiance (1972).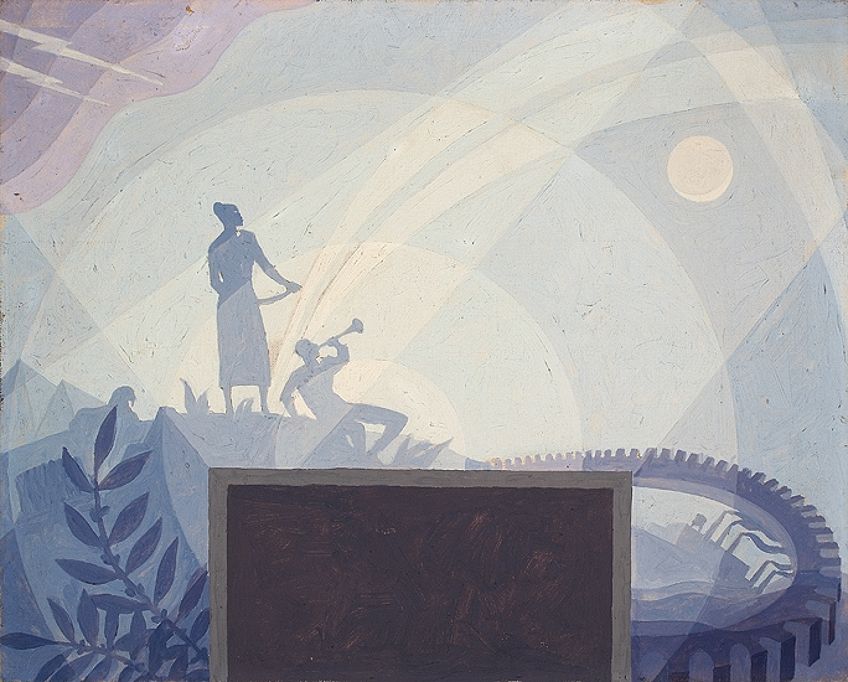 Study for Mural (1963) by Aaron Douglas; Delaware Art Museum, CC BY-SA 3.0, via Wikimedia Commons
When we look at Defiance, one of the artist's later works, we notice a similarity to his earlier-mentioned work Sahdji (Tribal Women). Both appear in a characteristic decorative composition; we see the familiar circular and angular shapes and stylized portrayal of figures. Both compositions also appear black and white in the color scheme.
In Sahdji, the central figure is a female. We notice the background (or landscape) depicts geometric pyramidal mountains with a quarter of a sun peeping out of the top left corner of the composition, its streaming rays delineated by thick wavy curls of lines.
In Defiance, the central figure is a male, more specifically, Brutus Jones from Eugene O'Neill's play Emperor Jones (1920). We notice that the landscape depicts various geometric forms of foliage. Furthermore, there is a confrontational feeling in the way the Jones character stands with his two feet in an extreme version of a duck-footed stance.
The composition is enlivened by the interaction of different shapes and lines.
We see the central figure standing on black wavy lines, suggesting water with two fish taking on both the black and white colors from the palette scheme, as though they were compositional chameleons. Furthermore, the foliage surrounding Jones appears to be a jungle setting, encroaching on him as he moves forward. The whip in his right hand folds over into the foliage behind him and joins with the stylistic patterning of colors from the leaves – again. almost like a compositional chameleon.
Beauford Delaney (1901 – 1979)
Born in Knoxville, Tennessee, Beauford Delaney was a prominent Harlem Renaissance artist, but his work also went alongside that of Abstract Expressionism. During Delaney's later years as an artist, there was influence from the art movements Impressionism and Fauvism. He was particularly influenced by the works of Vincent van Gogh and focused on depicting the nature of light and color in his compositions.
Delaney lived in Paris in his later years, and as a Harlem Renaissance artist as well as a gay African American, he was not received as avidly as other artists. However, his work still left a mark on many after his death. He was also seen as a courageous man after having struggled with many challenges.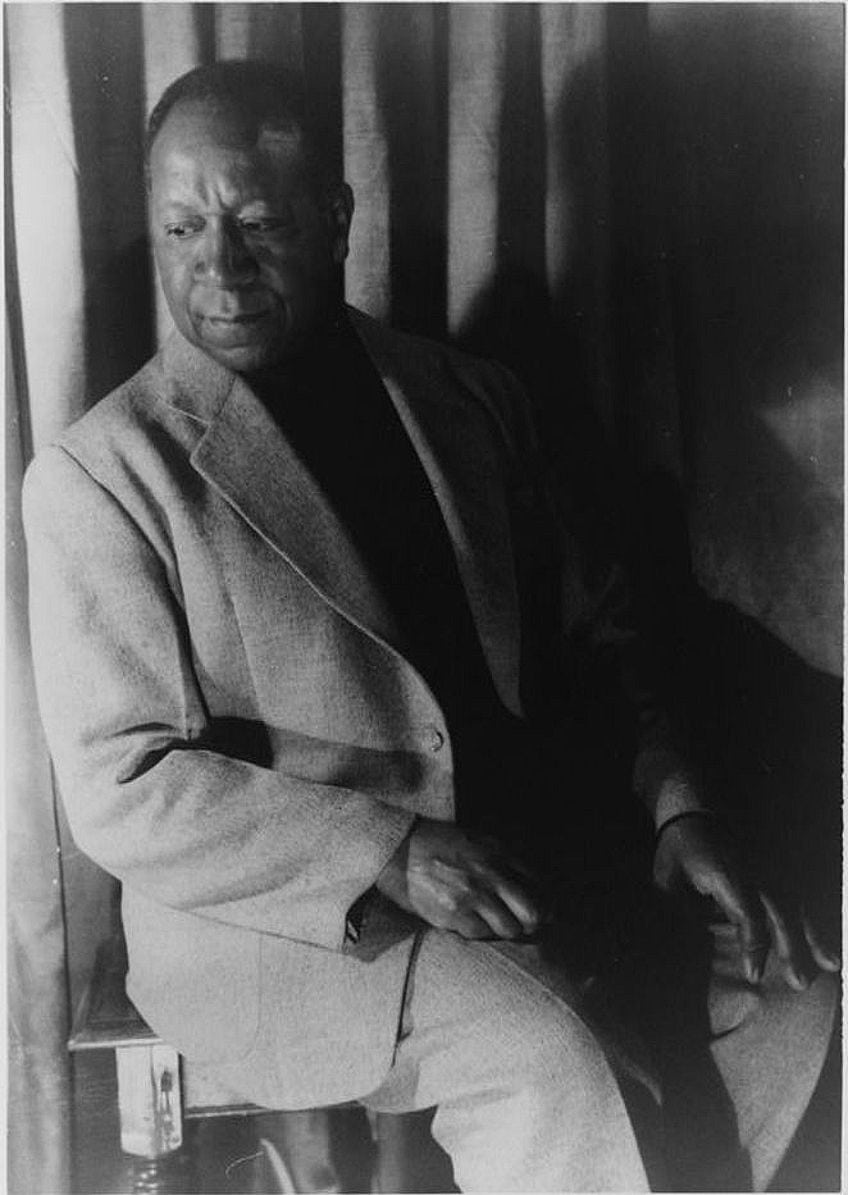 Portrait of American artist Beauford Delaney (1901–1979) by Carl Van Vechten, 1953; Carl Van Vechten, Public domain, via Wikimedia Commons
Some of his famous artworks include The Burning Bush (1941), Jazz Quartet (1946), Can Fire in the Park (1946), Portrait of James Baldwin (1955), and the Portrait of Ella Fitzgerald (1968). Delaney's work includes a mix between realism and figurative expressions of deeper meanings.
There is also a tendency towards the more spiritual aspects in many of Delaney's works.
For example, in The Burning Bush, an earlier work, Delaney incorporates biblical significance with a large literal and figurative fire taking over most of the composition, especially infiltrating the sky. There is also a vast expanse of land beyond the fire and what appears to be an ocean.
The colors utilized by Delaney are earthy in their tones: In the foreground, we see subdued green, yellow, orange, and patches of black, and in the background, we see the light blue and white from the sky. We also notice a thicker application of paint, which gives the composition more expressive impetus.
William H. Johnson (1901 – 1970)
Born in South Carolina, William Johnson was a painter known for having realism, expressionism, and Folk art as his dominant painting styles. He was also a teacher at the Harlem Community Art Center. He produced thousands of artworks like paintings, drawings, watercolors, and prints, which were donated to the Smithsonian American Art Museum.
Some examples of his works include Blind Singer (1941), Going to Church (1940 to 1941), Street Musicians (1939 to 1940), Sowing (1940), and Three Friends (1944). In the screen print, Blind Singer, we notice two happy musicians: a woman playing the guitar to the right and a man, who is a blind singer, standing to the left next to her.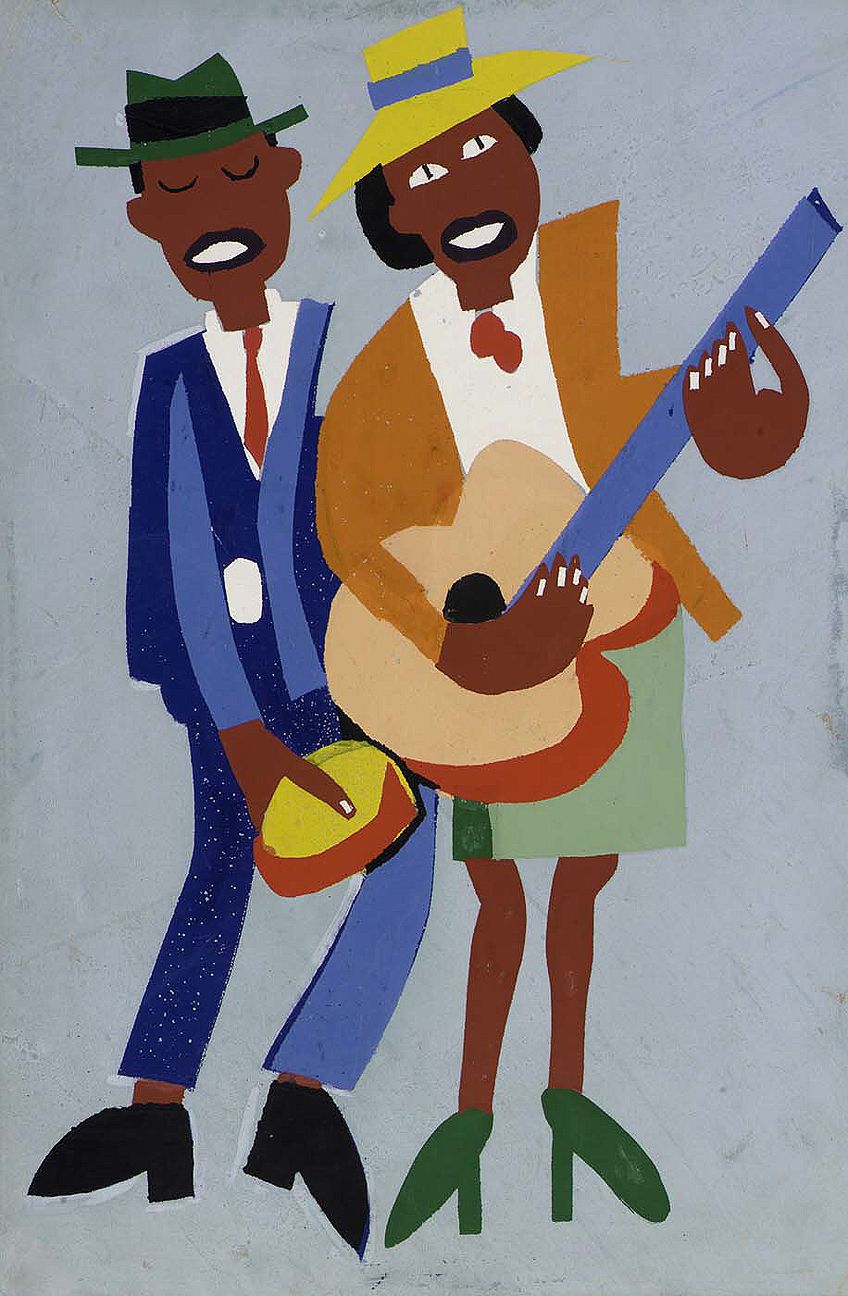 Blind Singer (c. 1939-1940) by William H. Johnson, serigraph on paper; William H. Johnson, Public domain, via Wikimedia Commons
We see the characteristic Folk-art style in the composition of the two figures. The work is also described as having a primitive appearance due to the characteristics of African art. There is also an angularity about their forms, which adds a dynamic effect.
Furthermore, there is a simplicity about their forms and the various shapes surrounding them, such as their shoes and the guitar. Their bodies are also simplified and unrealistic in proportion, which is evident in their legs and enlarged hands, but this was a part of the artist's expressionistic style. For Johnson, screen printing became a dominant form of making art, and in his other works mentioned above, we will notice that his style depicts more simplified forms, showing his interest in the primitive style.
He is quoted as having said, "My aim is to express in a natural way what I feel, what is in me, both rhythmically and spiritually, all that which in time has been saved up in my family of primitiveness and tradition, and which is now concentrated in me."
Jacob Lawrence (1917 – 2000)
Born in Atlantic City, New Jersey, Jacob Armstead Lawrence created compositions primarily with the historical subject matter and the everyday experiences of African Americans. His works were also characterized by a stylistic print-like quality – the artist intentionally utilized elements from print to include more realistic effects. There are also angular and abstract-like qualities inherent in his figures.
Some of his artworks include various series to portray narratives, for example, The Frederick Douglas Series (1938 to 1939), The Migration of the Negro series (1940 to 1941), and the Hospital Series (1950). Specific examples from these series include Panel 22 from The Migration of the Negro series and Sedation from the Hospital Series. In Panel 22 we notice three men with their backs facing us, golden handcuffs link them together. They stand with their heads appearing bowed, in a seemingly submissive posture.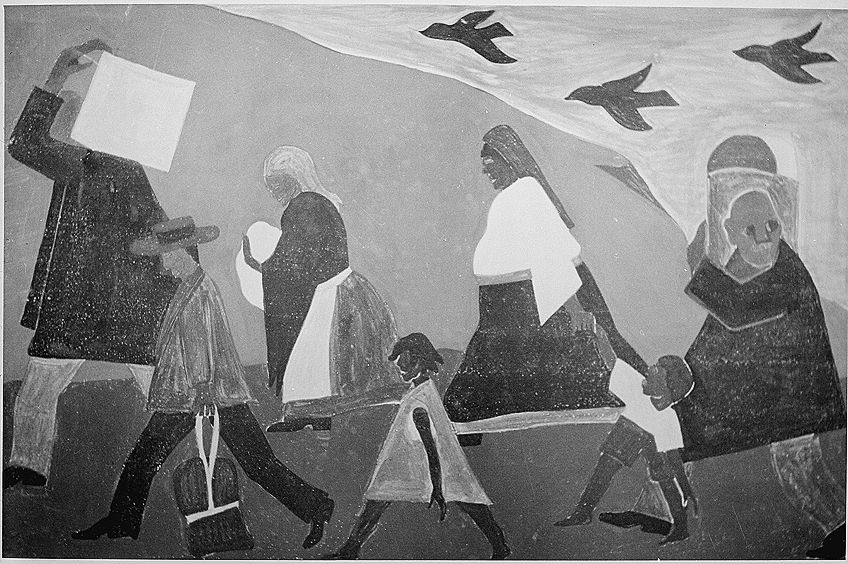 A panel from Jacob Lawrence's Migration of the Negro series, 1941; National Archives at College Park, Public domain, via Wikimedia Commons
In front of them is a wall with a long row of bars, suggesting that they are in prison. Both this painting and series explore the lives of African Americans during the times they endured enslavement and imprisonment before the Migration era. Stylistically, we notice a subdued monochromatic color palette with a play on the lines in the vertical bars and the vertical stripes on the figure's pants on the right.
The green stripes almost break the monotonous color scheme from the rest of the composition.
Sedation shows what appears to be seven figures standing around an enclosed space with blue, yellow, and red pills on a white surface, which appears to be a white linen cloth. The figures all look eerily and vacantly at the pills, almost as if they are just out of reach, which is causing them to appear even more downtrodden.
The way Lawrence depicted the figures also emphasizes the eeriness of the stark reality of being in a mental institution and being a patient within. The figures all appear clad in their pajamas and robes, standing closely next to one another with no spaces between them, which further emphasizes a sense of anxiousness to get to the pills in front of them.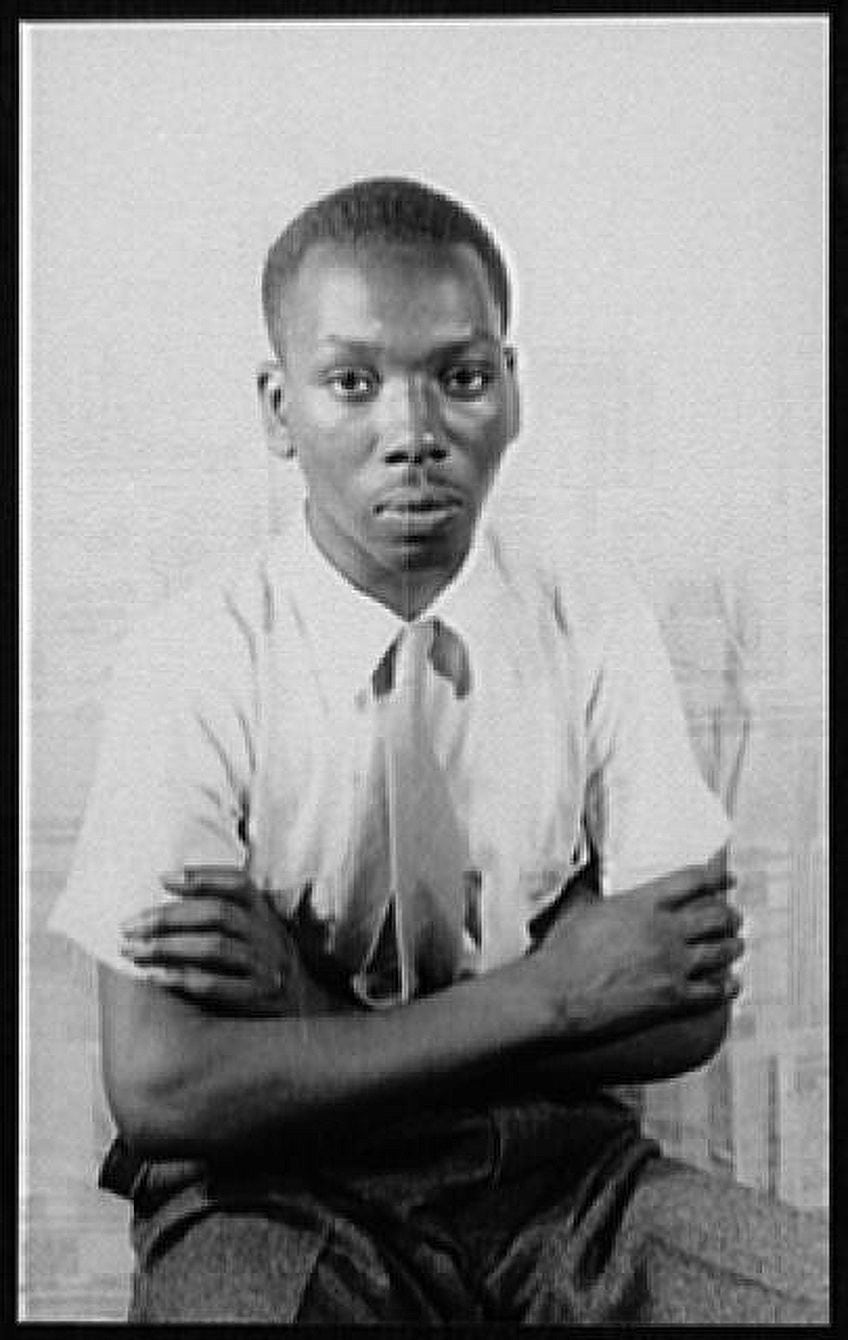 Portrait of Jacob Lawrence, 1941; Carl Van Vechten, Public domain, via Wikimedia Commons
Lawrence depicted the figures in subdued colors, where the color palette consists mostly of off-greens and some brighter blues in-between. The background appears kaleidoscopic in its use of geometric blue, yellow, black, and grey-brown shapes.
The composition shows an intermingling of a somewhat depressing and clashing spectrum of shapes and colors – a direct portrayal of what it must feel like being in the state we see portrayed by the figures.
The artist had first-hand experience of what it was like in a psychiatric ward as he admitted himself for a year in the Hillside Hospital located in Queens. This specific piece was done to explore the often ambiguous relationship between mentally ill patients and their intake of medication, and whether it is the medication that entraps them further in the mental institution.
This Harlem Renaissance painting was markedly different from Lawrence's other paintings, which depicted figures related with historical significance. The figures in this series are without hope and resigned to their fates. The artists also delved strongly into the recesses of psychological issues. Other notable works by Jacob Lawrence include This is Harlem (1943), Victory (1947), Two Rebels (1963), and The Builders (1980).
More Harlem Renaissance Artists
While the above-mentioned list of Harlem Renaissance artists includes important figures of the time, there were many more talented artists from different disciplines who created not only paintings, but photographs, sculptures, films, and written works.
Some of the other artists worth mentioning are Archibald John Motley Jr., Loïs Mailou Jones, Richmond Barthé, and Langston Hughes, the latter of whom was a famous Harlem Renaissance poet and co-founder of the Fire!! Magazine, a Harlem Renaissance publication.
Other well-known photographers were James Latimer Allen, Roy DeCarava, and Oscar Micheaux, who was a film director and producer, having created Homesteader (1919) and Within Our Gates (1920) among more than forty other films.
Other artists include Meta Vaux Warrick Fuller, who was an early Harlem Renaissance artist. Her extensive studies in Paris led her to meet W.E.B. Du Bois and the well-known sculptor, Auguste Rodin, who mentored her in creating sculptures with inherent realism. She also incorporated an Egyptian style in her sculptures. Some of her famous works include Ethiopia Awakening (1921).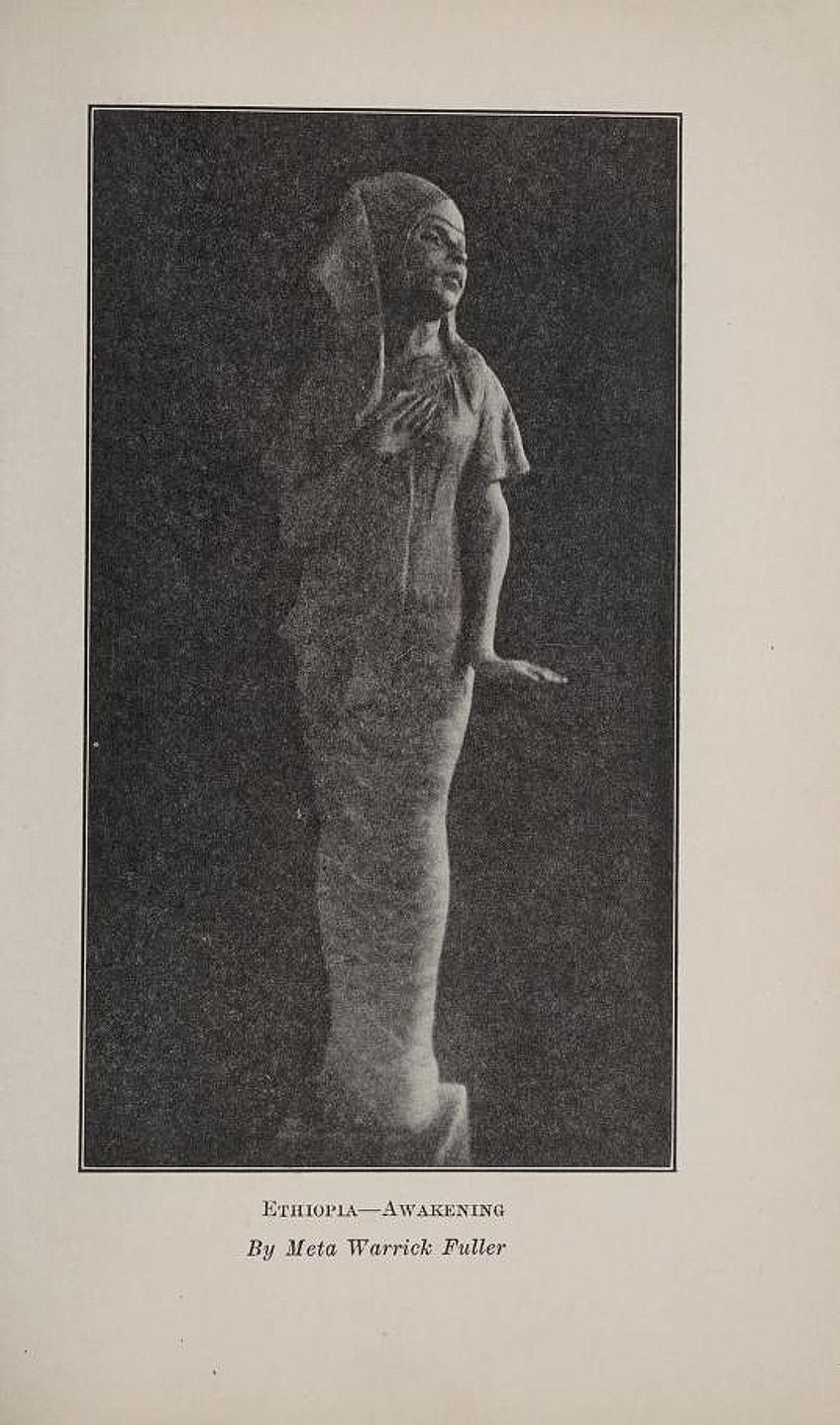 Photograph of a small maquette of Ethiopia Awakening by Meta Warrick Fuller, c. 1921; Photographer not credited. Published in Robert T. Kerlin, Negro Poets and their Poems (Washington, DC: Associated Publishers, Inc., 1923)., Public domain, via Wikimedia Commons
The African American Legacy
The Harlem Renaissance reached its endpoint between the 1930s and 1940s. While it may have ended as a movement, it certainly lived on in many second-generation artists. It also paved the way for many female artists to express their unique gifts and abilities. People like Augusta Savage inspired and led the way for what women are now able to do.
In fact, it was not only women that were inspired, but also any communities that had faced generations of oppression. They were given an outlet to express their skills and talents, whether it was sculpture, painting, photography, writing, making music, or acting in theater.
The Harlem Renaissance period also developed new philosophical ideals like Négritude, which was a new cultural movement started by the French Aimé Césaire, Leon Damas, and Léopold Senghor. They also influenced other philosophers like Jean-Paul Sartre, who was an important figure in French philosophical thought as well as Marxism.
Harlem Renaissance artwork contributed to the growth and evolution of African American art for decades to come. It influenced artists of all walks of life and backgrounds to create, produce, and express the heritage, traumas, and unique abilities within them. This movement grew beyond Harlem and inspired those on the fringes of society to come forward and unashamedly show the world who they were.
Frequently Asked Questions
When Was the Harlem Renaissance?
The Harlem Renaissance started during the late 1910s and early 1920s in New York City, around the end of World War I, and lasted until the 1940s, around World War II. There are other sources that report its ending date around 1929, during the time of the Stock Market Crash that led to the Great Depression in 1930, which led many people to lose their livelihoods.
How Did the Harlem Renaissance Start?
The Harlem Renaissance's origins lie in the events before the Great Migration, which is dated to around 1916 in Southern America. Due to slavery, lynching, and societal, cultural, and racial oppression, millions of black Americans migrated from places like Mississippi, South Carolina, and Louisiana to Northern American cities like New York, Los Angeles, and Washington D.C (among others), where they had better treatment and more opportunities.
What Was the Harlem Renaissance?
The Harlem Renaissance was a revival of cultural trends in the Harlem neighborhood of New York City. It was primarily a community of African American artists who questioned the oppression felt from racism, slavery, and racial injustices, inequalities, and stereotypical perspectives from issues like white supremacism.
What Was Harlem Renaissance Art?
The cultural awakening in Harlem, called the Harlem Renaissance, was expressed through the visual arts. There were artists from a variety of disciplines like theater and film, literature, and music like Jazz. Visual arts included paintings, sculptures, printmaking, and illustrations.
What Were the Characteristics of Harlem Renaissance Art?
There was a diverse group of people within the Harlem community, but some of the main characteristics were inspired by the modernist art movements that incorporated more abstractions and figurative portrayals of compositions. There was also an influence from African art, for example, African masks and motifs. Overall, the primary characteristics of Harlem Renaissance Art were self-expression and breaking the boundaries between prejudice and identity.
What Did Harlem Renaissance Artists Express Through Sculpture?
Harlem Renaissance artists used sculpture to express the inherent ideals of the Harlem Renaissance, which were to express their solidarity and uniqueness as a community and an African American culture. They also used sculpture to illustrate and embody their skills and widely learned skills, as well as the everyday lifestyles and occurrences of people.
Isabella studied at the University of Cape Town in South Africa and graduated with a Bachelor of Arts majoring in English Literature & Language and Psychology. Throughout her undergraduate years, she took Art History as an additional subject and absolutely loved it. Building on from her art history knowledge that began in high school, art has always been a particular area of fascination for her. From learning about artworks previously unknown to her, or sharpening her existing understanding of specific works, the ability to continue learning within this interesting sphere excites her greatly.
Her focal points of interest in art history encompass profiling specific artists and art movements, as it is these areas where she is able to really dig deep into the rich narrative of the art world. Additionally, she particularly enjoys exploring the different artistic styles of the 20th century, as well as the important impact that female artists have had on the development of art history.
Learn more about Isabella Meyer and the Art in Context Team.
Cite this Article