Auguste Rodin – Who Is Auguste Rodin and Why Is He Famous?
Today, we will be answering the question "Who is Auguste Rodin?" Modern art has been greatly influenced by famous Rodin sculptures. While artists usually make their mark quite early in life, August Rodin's paintings and sculptures only entered the mainstream consciousness when he was already in his 40s. In this article, we will be exploring many fascinating Auguste Rodin facts by examining his lifetime and art.
Who Is Auguste Rodin?
| | |
| --- | --- |
| Nationality | French |
| Date of Birth | 12 November 1840 |
| Date of Death | 10 November 1917 |
| Place of Birth | Paris, France |
Auguste Rodin spent his teenage years honing his artistic abilities before spending over 20 years in the decorative arts. Auguste Rodin's journey perfectly captures the plight of the modern artist. Despite his early display of artistic talent, he was born into mediocrity and was not taken seriously by the established academies.
Childhood
Rodin was born in the fifth arrondissement of Paris, known as an area stricken with poverty. He was sent to a boarding school in Beauvais by his parents in an effort to provide him with an aristocratic upbringing despite their meager income. He struggled in school, probably in part due to his narrow perspective.
At the age of 13 in 1854, he made the decision to study the arts and enrolled at the Petite École, which taught boys ornamental arts.
Early Training
Rodin submitted an application to the Grand École after three years of studying sculpting and sketching. He won the sketching contest but lost three times in the sculpture contest. Most likely, his interest in naturalism did not fit with the educational philosophy of the institution. At the age of 19, Rodin decided to settle for obtaining positions in plaster studios to make architectural embellishments after the third denial.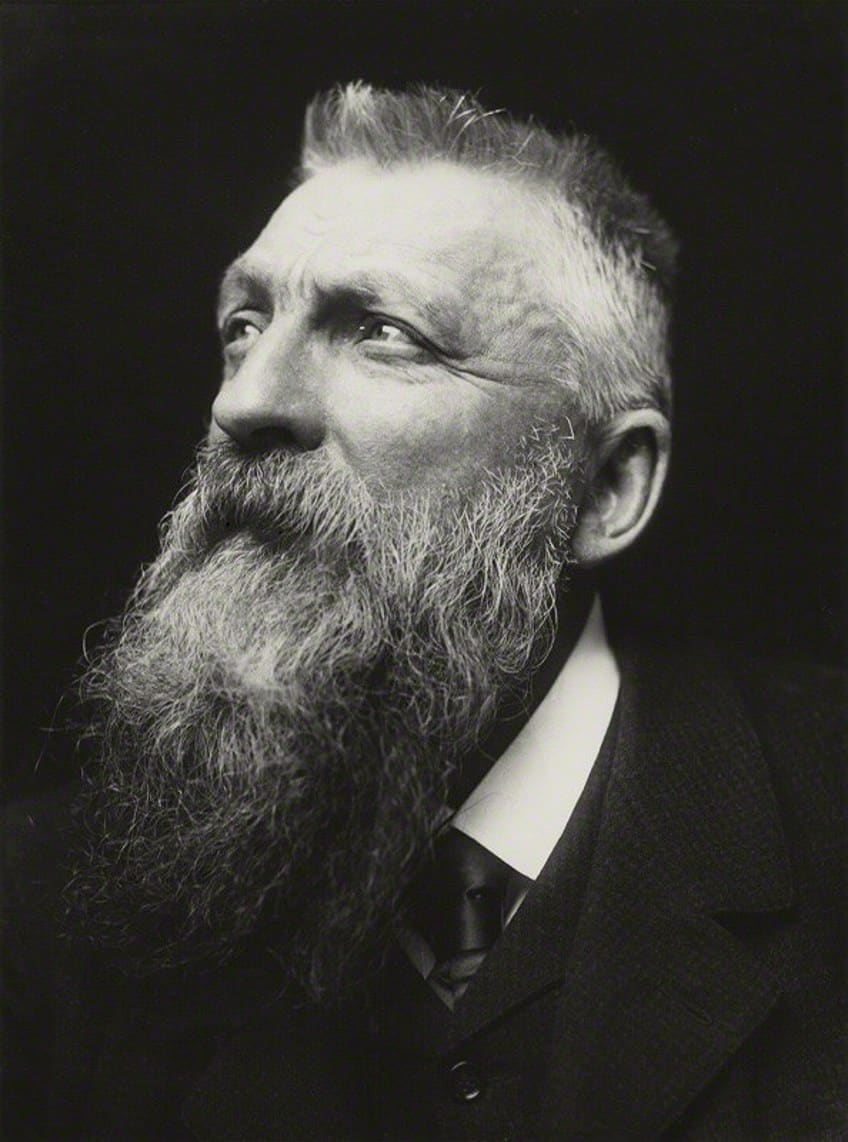 Auguste Rodin in 1902, photographed by George Charles Beresford; George Charles Beresford, Public domain, via Wikimedia Commons
These workshops gave him a poor income for the following 20 years despite the fact that he loathed working for others. He continued to create sculptures in his spare time, along with a bust of a Man with the Broken Nose (c. 1864).
When he presented it to the Paris Salon in 1864, he thought it was the greatest of his work, but it was turned down.
Man with the Broken Nose (c. 1864) by Auguste Rodin; Los Angeles County Museum of Art, Public domain, via Wikimedia Commons
Rodin first met Rose Beuret in 1866; despite having multiple relationships, she remained his lifelong partner. They welcomed a son that year named Auguste-Eugene Beuret, who Rodin never gave formal recognition.
Professionally, at this time, Rodin discovered more lucrative commissions in the studio of prominent commercial sculptor Albert-Ernest Carrier-Belleuse.
However, his stable employment and improved wealth were interrupted by the Franco-Prussian War in 1870. After serving as an officer up until the 1871 French capitulation, Rodin accompanied Carrier-Belleuse to Brussels.
Bust of Albert-Ernest Carrier-Belleuse (1882) by Auguste Rodin; sculpture Auguste Rodin, upload by User:David.Monniaux, Public domain, via Wikimedia Commons
Mature Period
After visiting Florence to view Michelangelo's creations, Rodin came back to Brussels in 1875. The Age of Bronze (c. 1876), a life-size sculpture he made of a young officer, was a turning point in his artistic career. The piece was accepted by the Salon in 1877, although there were questions about its veracity and accusations that he had cast it straight from the model's flesh. Most critics did not heed Rodin's concerns, but the piece was vindicated when Edmond Turquet, the Under-Secretary of the Ministry of Fine Arts, bought it.
Turquet would then hire Rodin to produce a massive bronze gateway for a future museum of ornamental arts.
The Age of Bronze (c. 1876) by Auguste Rodin; Auguste Rodin, Visipix, Attribution, via Wikimedia Commons
Despite the fact that the intended museum was abandoned and The Gates of Hell (1899), as the gates came to be known, was not even produced until after Rodin's passing, this project ended up being one of his best works.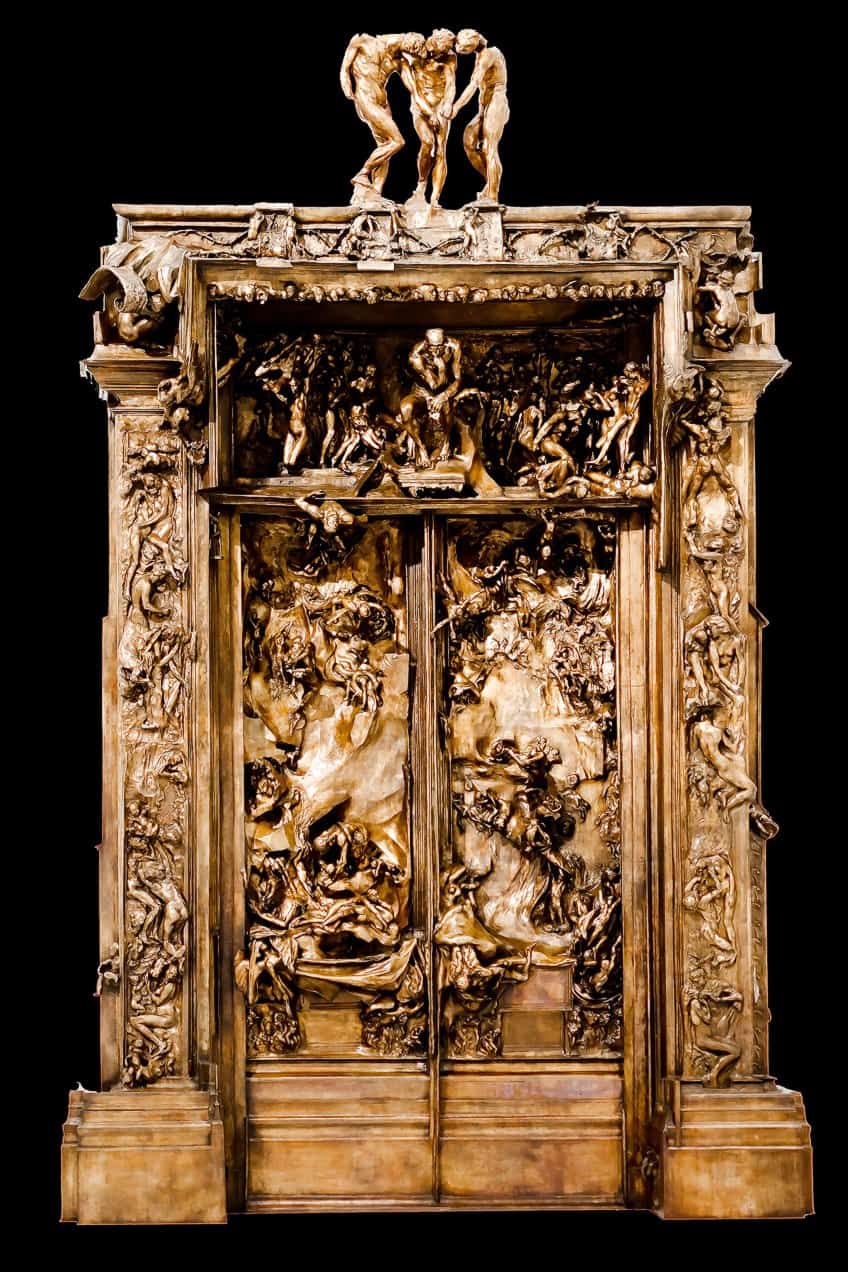 The Gates of Hell (1899) by Auguste Rodin; Jahuey, CC BY-SA 4.0, via Wikimedia Commons
Rodin's connection with Camille Claudel and the years he spent creating The Gates of Hell are related. Young sculptor Claudel, who entered Rodin's workshop as an apprentice in 1884, had a turbulent relationship with him that continued until 1892, but they kept in touch until 1898.
Rodin created a number of sexual sculptures of romantic lovers when they were together. When it became evident that Rodin would not abandon Rose to wed her, Claudel broke up with him.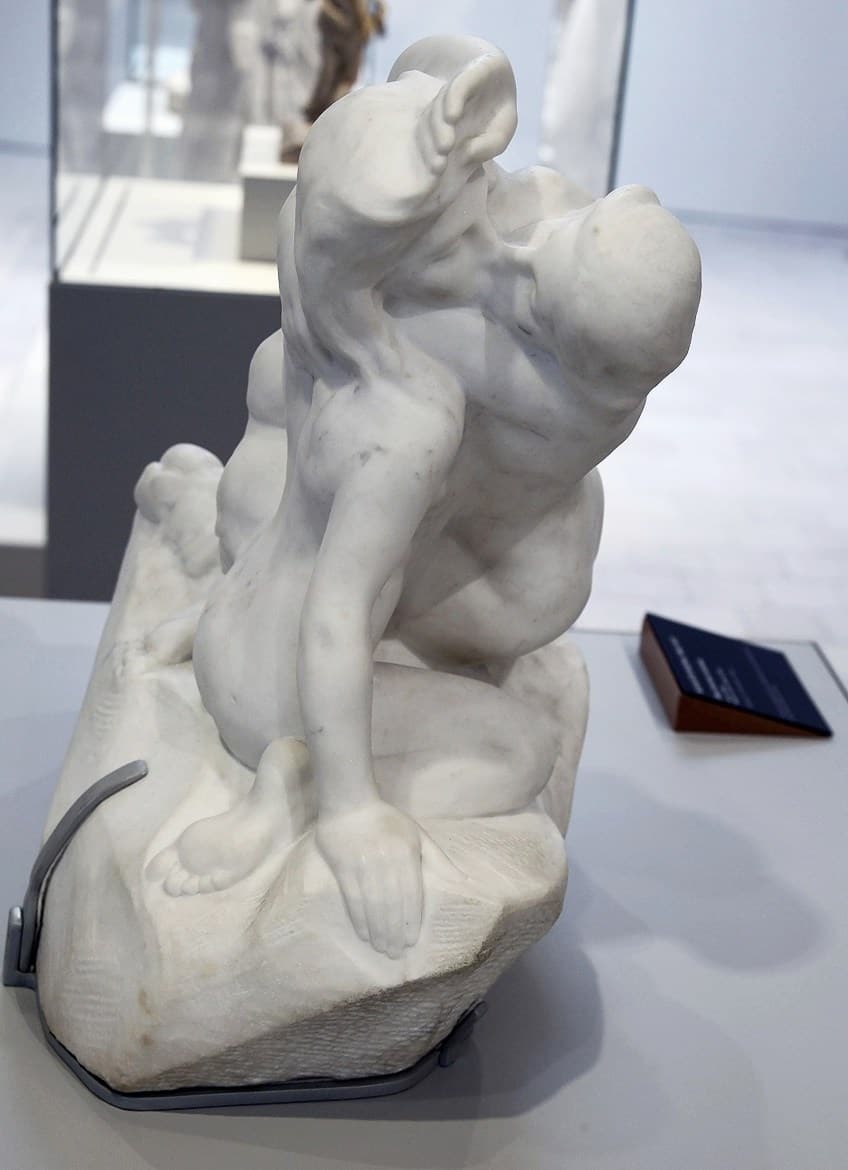 Bacchantes Entwined (before 1898) by Auguste Rodin at the Camille Claudel Museum, room 5; Vassil, CC0, via Wikimedia Commons

The Exposition Universelle, which took place in Paris in 1889, commemorated the French Revolution's 100th anniversary. At the Gallery of Georges Petit, Rodin and Claude Monet displayed 36 pieces in conjunction with the event. These were almost all characters from or influences on The Gates of Hell. After this significant exhibition, Rodin's approach evolved, becoming more impromptu and unstructured.
While his sculptures were frequently left "unfinished," with a smooth face or figure rising from rough stone, his paintings of the feminine form were reduced and abstracted.
Poster for the 1900 Rodin exhibition at Place de l'Alma by Eugène Carrière. In 1900, taking advantage of the Universal Exhibition, and thanks to sponsoring bankers and artist friends, Auguste Rodin managed to gather the necessary financial means to build a specific pavilion on the Place de l'Alma and exhibit his works there. This initiative will be successful. At the end of the Exhibition, the pavilion will be dismantled and installed on the grounds of his workshop in Meudon at the Villa des Brillants, now annexed to the Parisian museum; Jean-Pierre Dalbéra from Paris, France, CC BY 2.0, via Wikimedia Commons
Later Years
Rodin had a sizable workshop and several helpers by 1899. Yet, controversy and scandal continued to surround his work. Due to its portrayal of the city's heroes as defeated victims, The Burghers of Calais (1889) almost didn't get approved. Similar to this, the Society of Men of Letters hired Rodin in 1891 to design a monument in honor of the poet Honoré de Balzac. Rodin originally planned to finish the commission in 18 months, but after becoming obsessed with the subject, it took him seven years.
After much debate, Rodin opted to keep the artwork for himself even though the commission was eventually turned down.
A photograph of Auguste Rodin's monument of Honoré de Balzac (1898) in 1978; Osbornb from San Diego, California, United States, CC BY 2.0, via Wikimedia Commons
After the Balzac sculpture, Rodin's output slowed significantly, although he was still a commercial success. He gained international fame thanks to a number of exhibits around the turn of the century. In 1899, he held exhibitions in Holland and Belgium, and in 1900, Paris presented his first retrospective. Later performances were held in Germany, New York, and Prague.
In 1908, Rodin relocated to the now-famous Hotel Biron, where he shared lodgings with luminaries including Henri Matisse, Rainer Maria Rilke, and Isadora Duncan.
His new workshop and the location of his liaison with the Marquise Claire de Choiseul was the hotel. Before she was charged with stealing a package of paintings, she had enormous influence over his life and the selling of his artwork for seven years.
Henri Manuel's photograph of Auguste Rodin and the Duchesse de Choiseul at the Hôtel Biro in 1910; Henrie Manuel, Public domain, via Wikimedia Commons
Friends persuaded Rodin to wed Rose Beuret in January 1917 as a result of her deceit and that of the other ladies who were around him. Rodin was found dead in November that year, and Rose died tragically two weeks after the ceremony.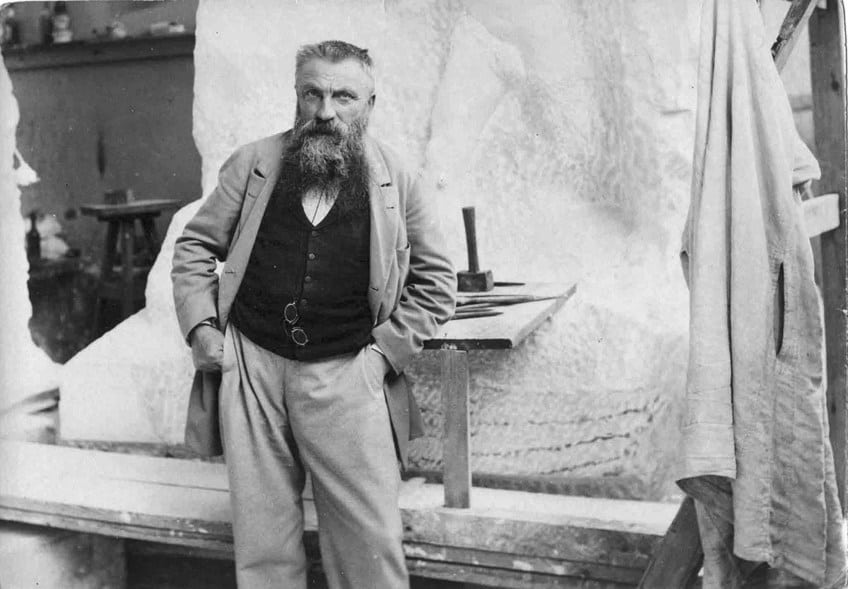 August Rodin photographed in his studio by Paul François Arnold Cardon (also known as "Dornac") in 1898; Paul François Arnold Cardon (a) Dornac (1858-1941), Public domain, via Wikimedia Commons
Legacy
In order to establish a museum in the Hotel Biron in Meudon, Rodin left the French government all of his sketches, sculptures, and documents before passing away. His artwork would have had a significant influence on upcoming painters even in the absence of a national museum. Henri Matisse was affected by the impulsiveness of his works, and the Cubists and Futurists were mesmerized by the fragmented human figures and his feeling of motion.
Even though Rodin's reputation suffered in the years immediately after his passing, his disobedience to academic conventions and vivid depictions of the human form served as the inspiration for a new school of French sculpture.
Famous Rodin Sculptures and Paintings
Now that we have covered the important Auguste Rodin facts, we can dive into Auguste Rodin's paintings and sculptures. The key to Auguste Rodin's success as an artist was his ability to use the harsh materiality of sculpture to convey the fleeting mobility of the modern human.
To do this, he rejected the polished and idealized forms of academic sculpture in favor of coarser, more imperfect surfaces that more accurately conveyed agitation, physical existence, and motion.
The Age of Bronze (c. 1876)
| | |
| --- | --- |
| Date Completed | c. 1876 |
| Medium | Bronze |
| Dimensions | 180 cm x 71 cm x 58 cm |
| Current Location | Metropolitan Museum of Art, New York |
The statue of Dionysus (c. 3rd century BCE) by an unknown sculptor in the Museum's Roman art exhibit and Renaissance statues like Michelangelo's Dying Slave (1513) were influences on Rodin, but his visceral characters transformed European sculpture as a whole. His first full-length piece was displayed at the Salon, an annual exhibition of contemporary art in Paris, in a life-size rendition of The Age of Bronze.
Those used to the traditions of sculpture based on historic or mythical topics were bewildered by the figure's equivocal position. The man couldn't be recognized, and critics were unsure of how to understand his outstretched arms and closed eyes.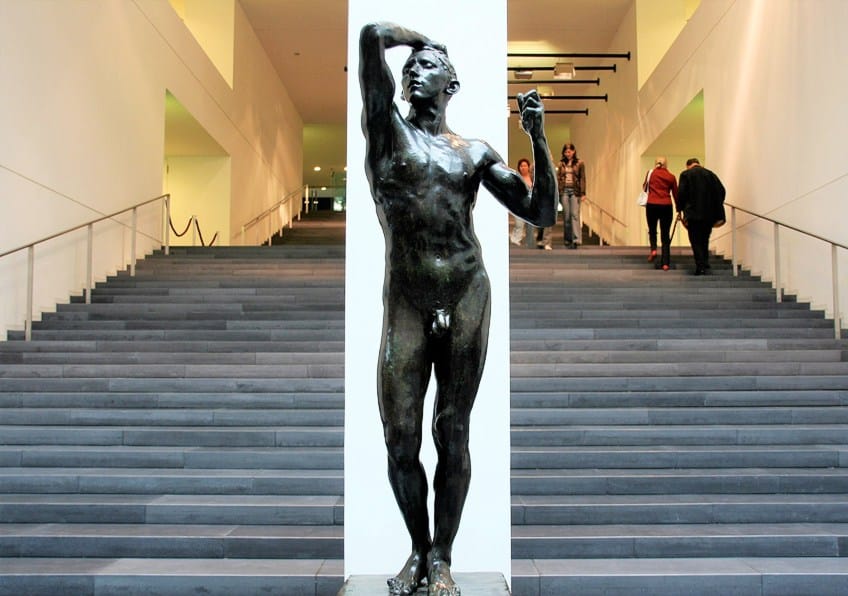 The Age of Bronze (c. 1876) by Auguste Rodin; Cédric Puisney from Brussels, Belgium, CC BY 2.0, via Wikimedia Commons
This sculpture, which served as Rodin's first significant "success of a scandal," in his profession, was modeled after a young officer. By academic standards, the figure's texture and composition were unusual. Rodin had exposed an ordinary man, nude, rather than covering his picture of a man with revered iconography, leaving the subject matter unclear and confusing to critics. The title merely vaguely suggested classical art. But the claims that the object was a direct cast from the body instead of a sculpture that was modeled finally became the subject of contention.
The accusations demonstrated Rodin's technical prowess, but the sculptor was deeply insulted by the insinuation that he had secretly cheated and was able to refute it with images of his model.
The Thinker (1880)
| | |
| --- | --- |
| Date Completed | 1880 |
| Medium | Bronze |
| Dimensions | 185 cm |
| Current Location | Musée Rodin |
Even though the Gates of Hell (1899) were never realized to Rodin's satisfaction during his lifetime, his efforts in the design inspired numerous other finished pieces, the most renowned of which being The Thinker. Dante, the writer of the Divine Comedy (1899) that prompted The Gates of Hell, is represented by a character at the top of the monument who looks sorrowful over the horrible sights below him.
The figure, heavily influenced by Michelangelo, also depicts a contemporary, secular man – powerful in mind and physique, yet lonely and uncertain of his place as lord of his own world.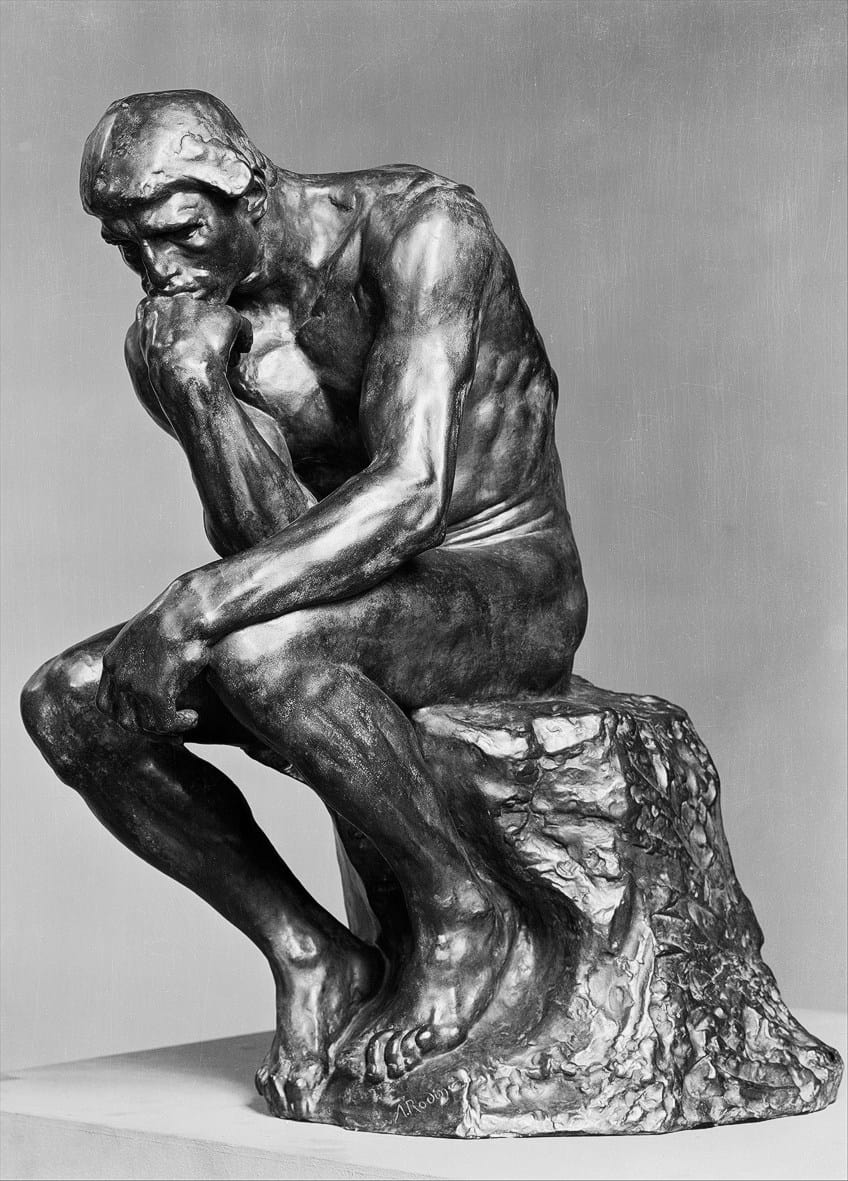 The Thinker (1880) by Auguste Rodin; Auguste Rodin, CC0, via Wikimedia Commons
Despite the fact that the sitting man is immersed in meditation, the dynamic position gives him a sensation of mobility. The stance seems natural at first glance, however, the man's right arm is exaggeratedly twisted on his left knee. This sculpture was cast over 50 times and is now distributed over the world, rendering it one of Rodin's most famous works.
Rodin picked this sculpture as his gravestone as well.
Auguste Rodin seen in a parallel pose with Le Penseur ("The Thinker"), 1905; Edward Steichen, Public domain, via Wikimedia Commons
The Kiss (1882)
| | |
| --- | --- |
| Date Completed | 1882 |
| Medium | Marble |
| Dimensions | 181 cm x 112 cm x 117 cm |
| Current Location | Victoria and Albert Museum |
The Gates of Hell (1899) depicts figures from Dante's Inferno, and one such scenario depicts Paolo Malatesta's tragic shared affection for his sister-in-law Francesca de Rimini. Although this coupling was ultimately deleted from The Gates of Hell because it reflected a good condition, Rodin later created it as a full-size statue. Its sexiness and idealism combine to create an iconic vision of love.
While hearing the narrative of Lancelot and Guinevere, Rodin depicts the instant when the couple realizes their affection for one another and kisses for the first time.
Le Baiser ("The Kiss") (1882) by Auguste Rodin; Tylwyth Eldar, Public domain, via Wikimedia Commons
At this very time, Francesca's husband, Giovanni, spotted them and murdered them both, taking their life. Rodin portrayed the book itself, which can be seen in Paolo's hands, but he did not show the couple in any context or with proper apparel that would identify them to the observer.
Although Rodin's major inspiration for "The Kiss" could only have been literature, its classical composition was inspired by great sculptures of Rodin's period, none more so than the artwork of his mistress, Camille Claudel.
Rodin chose not to incorporate The Kiss in the completed piece, instead opting to present it to the world as a separate work. The piece was an instant success, and it was replicated in marble and bronze in various sizes. However, Rodin thought it was too typical, referring to The Kiss as "a big carved knick-knack following the customary pattern."
Burghers of Calais (1889)
| | |
| --- | --- |
| Date Completed | 1884-1889 |
| Medium | Bronze |
| Dimensions | 201.6 cm × 205.4 cm × 195.9 cm |
| Current Location | Calais, France |
Rodin was commissioned by the Borough of Calais to depict a group of brave city officials who martyred themselves in 1347 to preserve the town from an English King Edward III siege. Unlike previous artists who concentrated on the eldest guy, Rodin featured all six of them.
The figures are all grouped on one level, eschewing the "pyramid" structure common in the period for figure groupings.
Burghers of Calais (1884-1889) by Auguste Rodin; Thaddeus Zajdowicz, CC0, via Wikimedia Commons
The men appear depressed yet determined. They are clad in tatters and have expressively swollen hands and feet. Their uncomfortable aspect, however, did not imply the heroic depth that the people had envisaged, and the artwork was accepted with some trepidation and compromise.
It is still popular today as a symbol of civic devotion, with one copy surviving outside London's Houses of Parliament.
Monument to Balzac (1898)
| | |
| --- | --- |
| Date Completed | 1898 |
| Medium | Bronze |
| Dimensions | 127 cm x 73 cm x 59 cm |
| Current Location | Museum of Modern Art |
Rodin spent seven years crafting this sculpture to commemorate Honoré de Balzac, one of France's finest authors, researching the writer's life and career, positioning models who matched him, and procuring garments to his proportions. Ultimately, Rodin's goal was to capture a concept or spirit of Balzac, as well as a feeling of his creative vitality: "I think of his rigorous work, of the difficulties of his existence, of his continual struggles, and of his enormous heroism."
Several sketches for the piece are naked, but Rodin eventually dressed the figure in a robe inspired by Balzac's nighttime writing garment.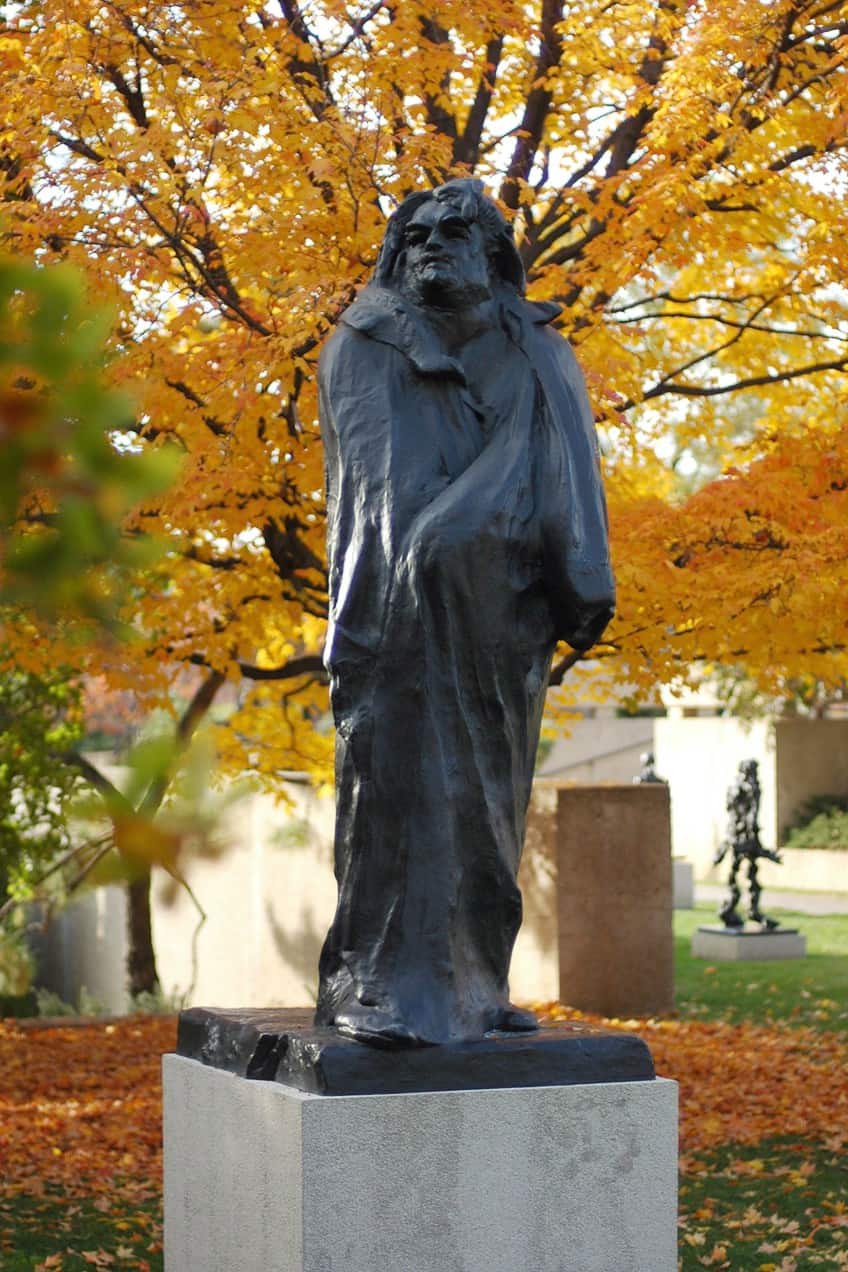 Monument to Balzac (1898) by Auguste Rodin; Jeff Kubina, CC BY-SA 2.0, via Wikimedia Commons
The result is a monolithic figure, a single upward-thrusting shape capped by the rough ridges and caverns that characterize the head and face. The Monument to Balzac is a narrative device for the author's vitality and intellect, but it was harshly criticized when it was first shown in Paris in 1898.
It was compared to a sack of coal, a snowman, and a seal by critics, and the literary club that commissioned it condemned it as a "crude drawing." Rodin retired the plaster figure to his suburban Paris house.
The Gates of Hell (1899)
| | |
| --- | --- |
| Date Completed | 1899 |
| Medium | Bronze |
| Dimensions | 4 meters x 1 meter |
| Current Location | Rodin Museum |
The Directorate of Fine Arts ordered the sculpture in 1880, with delivery scheduled for 1885. Up until his passing in 1917, Rodin would labor intermittently on this undertaking for another 37 years. The Directorate requested a warm welcome for a future museum of decorative arts, leaving Rodin's choice of topic up to him.
Rodin had already created several drawings of some of Dante's figures prior to receiving this assignment since he admired Dante's "Inferno". The museum was never completed.
On the bottom level of the Hôtel Biron, Rodin worked on this project. Rodin surrendered sculptures, sketches, and replication copyrights to the French state at the end of his life. The Hôtel Biron had become the Musée Rodin two years after his passing, featuring a cast of The Gates of Hell and associated artworks.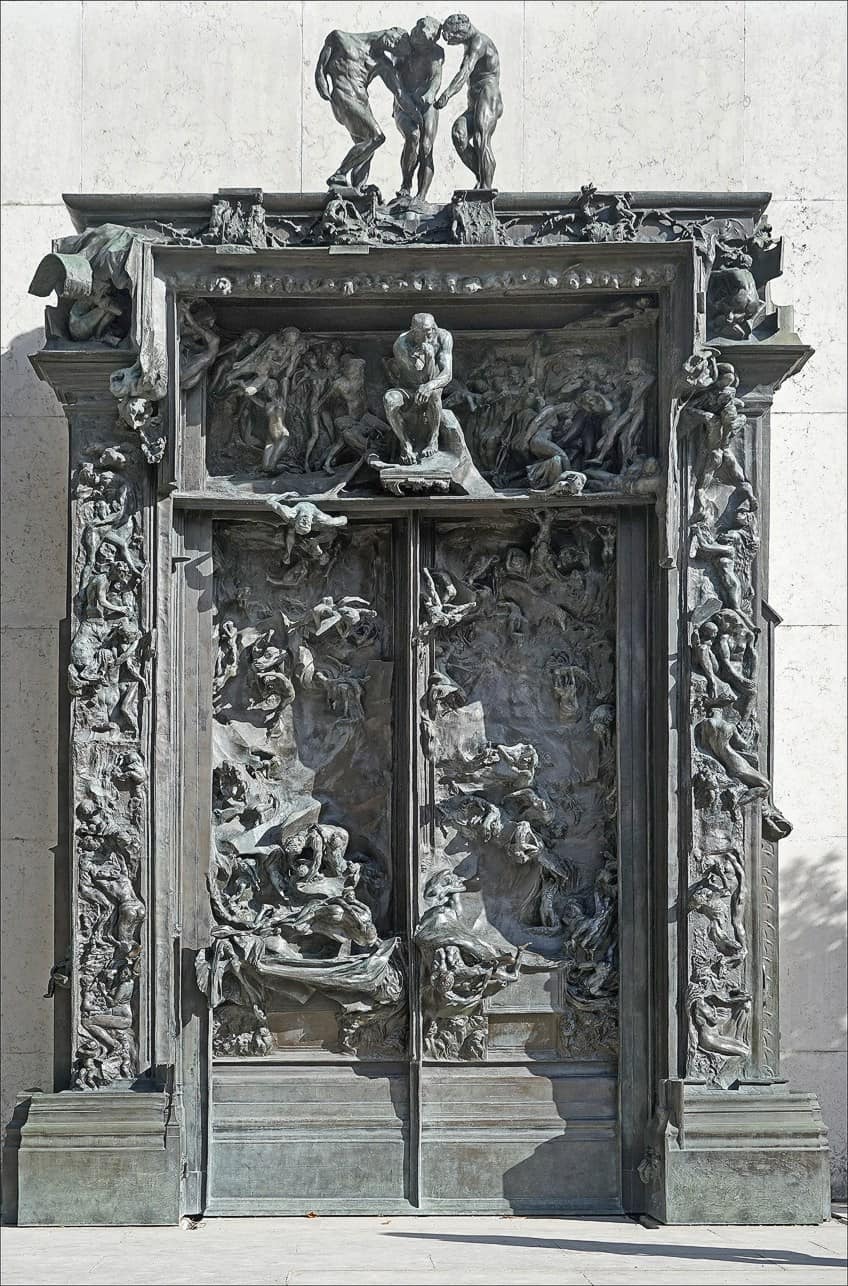 The Gates of Hell (1899) by Auguste Rodin in the gardens of the Rodin Museum in 1937; Jean-Pierre Dalbéra from Paris, France, CC BY 2.0, via Wikimedia Commons
It was an intentional attempt to compete with Lorenzo Ghiberti's famed bronze doors, the Gates of Paradise (1452), the rivalry which is often credited with igniting the Renaissance. Rodin originally intended to divide the work into sections, as Ghiberti had done, but after seeing photographs of Michelangelo's Last Judgment (1541), he decided on a more fluid arrangement of people. When the museum plans were scrapped, Rodin's desire to finish the sculpture diminished and the work dragged on.
In 1900, he displayed a plaster version of the sculpture at the Place de l'Alma in Paris, but it wasn't until 1925, eight years after his passing, that two bronze copies were completed.
Recommended Reading
In this article, we discovered many famous Rodin sculptures and many interesting Auguste Rodin facts. There is always so much more to learn though. Here are some books which cover the topic of Auguste Rodin's paintings in even greater depth.
Auguste Rodin in his studio, 1910; Vizzavona, Public domain, via Wikimedia Commons
Rodin (2004) by Raphaël Masson
This authoritative monograph on Rodin, the revolutionary artist who opened the path for modern sculpting, is now offered in an economical compact size from Rodin in Paris. Auguste Rodin, generally regarded as the finest sculptor of all time, whose emotive style foreshadowed that of the modern movement and abstraction sculpture, sparked significant debate during his lifetime, and his works were frequently treated with disdain and incomprehension by his contemporaries.
This book chronicles the life and career of the artist, from his formative years and early, impoverished apprenticeship to his most famous pieces, which have come to be regarded as icons; from his passionate and turbulent relationship with Claudel to his exceptional workshop, work procedures, and inspirations; and from these to his final years, which were characterized by illness and war.
A definitive monograph from the Musée Rodin in Paris
Traces the life and work of pioneering artist Auguste Rodin
A richly illustrated volume with drawings, watercolors, and more
View on Amazon
Rodin on Art and Artists (2012) by Auguste Rodin
In this intriguing and enlightening creative testament, the greatest sculptor of the 19th century shares his life philosophy with a close friend. Auguste Rodin talked frankly to Paul Gsell, who captured not only the master's practical techniques but also its aesthetic and philosophical roots. Here is the genuine Rodin – relaxed, personable, open, and enchanting a variety of reflections on sculpture's link to poetry, art, drama, and music. He also delivers insightful remarks about Michelangelo, Raphael, and other great artists, and he tells fascinating stories about Hugo, Balzac, and those who posed for him.
A fascinating and informative artistic testament by Auguste Rodin
A wealth of observations on the relationship of sculpture to art
Includes 76 superb illustrations of the sculptor's works
View on Amazon
Many of Rodin's most famous sculptures drew criticism because they went against the conventions of figurative sculpture, which favored ornamental, formulaic, or highly themed pieces. The majority of Rodin's original paintings avoided mythological and allegoric subjects. His sculptures promote individuality and physicality while modeling the human body in a naturalistic manner. Despite being aware of the controversy regarding his work, Rodin refused to alter his approach, and as a result, the government and the art world grew to appreciate him more and more.
Frequently Asked Questions
Who Is Auguste Rodin?
French sculptor Auguste Rodin is widely regarded as the father of contemporary sculpture. He had a conventional education and approached his profession in a craftsman-like manner. The capacity to create a complicated, tumultuous, and creating deeply pocketed texture in clay was a special talent of Rodin's.
What Was Auguste Rodin Known For?
Rodin's reputation expanded, and he rose to prominence as the foremost French sculptor of his period. His work ranged from the startling realism of his first significant figure – inspired by his 1875 trip to Italy – to the unusual monuments whose commissions he subsequently pursued. He achieved global acclaim as an artist by 1900. After his World's Fair show, Rodin's work was sought after by wealthy private clientele, and he frequently associated with prominent thinkers and artists.
Isabella studied at the University of Cape Town in South Africa and graduated with a Bachelor of Arts majoring in English Literature & Language and Psychology. Throughout her undergraduate years, she took Art History as an additional subject and absolutely loved it. Building on from her art history knowledge that began in high school, art has always been a particular area of fascination for her. From learning about artworks previously unknown to her, or sharpening her existing understanding of specific works, the ability to continue learning within this interesting sphere excites her greatly.
Her focal points of interest in art history encompass profiling specific artists and art movements, as it is these areas where she is able to really dig deep into the rich narrative of the art world. Additionally, she particularly enjoys exploring the different artistic styles of the 20th century, as well as the important impact that female artists have had on the development of art history.
Learn more about Isabella Meyer and the Art in Context Team.
Cite this Article