The artist whose name was the most synonymous with the Surrealist art movement was Salvador Dalí, who was renowned for his striking and bizarre images. As one of the most iconic creatives of the 20th century, Dalí was said to produce over 1500 artworks throughout his lengthy career. While he explored other mediums, such as sculpture, writing, filmmaking, printmaking, and fashion, he was mostly known for his phantasmagorical depictions and dreamlike hallucinations which brought him tremendous fame.
Who Was Salvador Dalí?
Spanish artist Salvador Dalí was considered to be the most prolific Surrealist of the entire movement, with his artworks going on to cement himself firmly within art history. Producing paintings until his death in 1989, Dalí's artworks stood out as incredibly distinctive, as he developed his own visual language in terms of portraying his own internal world, fantasies, and delusions.
Considered to be an extremely eccentric artist, Dalí experimented with other art mediums, which were seen as Salvador Dalí drawings, before committing to painting.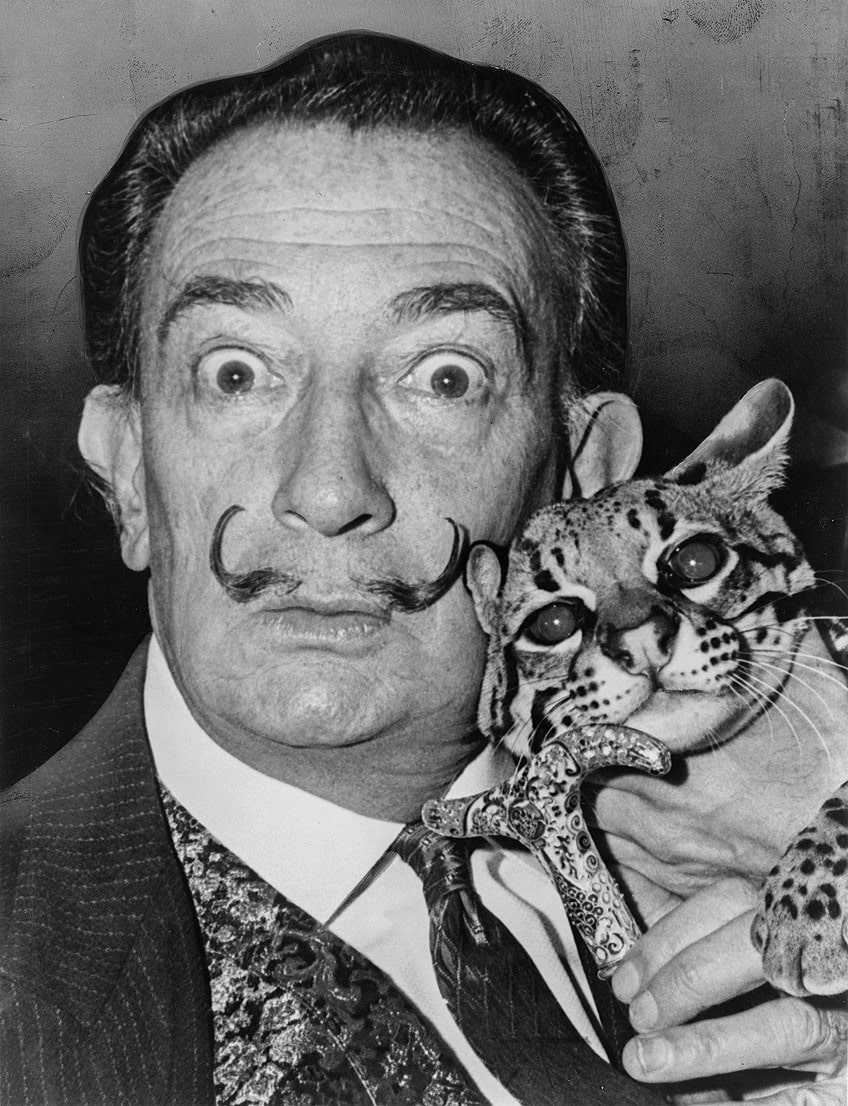 A photograph of Salvador Dalí with his pet ocelot, Babou, and cane, 1965; Roger Higgins, World Telegram staff photographer, Public domain, via Wikimedia Commons
Receiving an education in formal arts in Madrid, Dalí was heavily influenced by the artistic movements of Impressionism and the Renaissance before expressing an interest in other avant-garde movements like Cubism. Dalí's earlier works demonstrate his fascination with these genres, as seen through his hyper-realistic style and the religious imagery used. Dalí briefly practiced the characteristics of Surrealism before formally joining the group in 1929. After Dalí became involved, he quickly went on to become one of their chief artists.
After moving to America in 1940 and achieving commercial success, Dalí eventually made his way back to Spain. Upon his arrival, he declared that he had returned to the Catholic faith and began to develop his notable Salvador Dalí styles that were based on his fascination with classicism, mysticism, and scientific developments, with these elements all going on to appear in his artworks.
Celebrated for his technical ability, accurate draftsmanship, and the eye-catching yet peculiar images in his works, Dalí himself claimed that he did not always understand his own paintings.
However, he explained that this meant the meaning behind his artworks was so profound and complex that they escaped all simple analyses of logical intuition at the time. As Surrealism rejected all rationality in art and instead aimed at channeling the unconscious to unlock the power of imagination, Dalí made use of extensive symbolism in his paintings.
Dalí Atomicus (1948) by Philippe Halsman; Philippe Halsman, CC BY-SA 2.0, via Wikimedia Commons
As one of the most versatile painters to emerge from the 20th century, Dalí was known for his exuberant personality, his role as the mischievous instigator, as well as his indisputable technical expertise. Subscribing to the core tenets of the movement, Dalí forged a visual language that was able to render his dreams and hallucinations into an accessible form.
This led to the creation of some of the most famous and now omnipresent images associated with Surrealism, which elevated Dalí's status while he was alive and even after his death.
Whilst he subscribed to the theory of automatism, Dalí also created his own system of tapping into his unconscious mind, which he termed the "paranoiac-critical". This led to him exploring themes such as death, decay, and eroticism, which pervade the majority of his paintings while attempting to understand them in relation to the concept of time. Thus, Dalí drew on autobiographical material and his childhood memories, which made his paintings teem with ready-interpreted symbolism.
Portrait of Salvador Dalí, taken in Hôtel Meurice, Paris, 1972; Allan warren, CC BY-SA 3.0, via Wikimedia Commons
As the most famous Surrealist artist to exist, Dalí made an invaluable creative contribution to the movement. However, he was eventually expelled from the group as he clashed with the majority of its members. Despite this, the status he had gained helped carve him out to be the most influential Surrealist artist in the entire movement.
With his artworks going on to inspire other Surrealists, Pop Art, and Contemporary Art, Dalí is often considered to be the most renowned painter of the 20th century, right after Pablo Picasso.
Our Top 10 Most Famous Salvador Dalí Paintings
After such a lengthy career, many iconic Salvador Dalí works exist, as he was said to have produced over 1500 paintings during his lifetime. However, when considering his collection of artworks, a handful of Dalí paintings stand out as truly notable additions to the Surrealist movement. Whilst many more notable Salvador Dalí drawings and paintings can be added to the list below, we will discuss the 10 most celebrated and distinguished paintings produced by Dalí.
The Great Masturbator (1929)
| | |
| --- | --- |
| Date Painted | 1929 |
| Medium | Oil on canvas |
| Dimensions | 110 cm x 150 cm (43.3 in x 59.1 in) |
| Where It Is Currently Housed | Museo Nacional Centro de Arte Reina Sofia, Madrid |
Painted when he was just 25 years old in 1929, The Great Masturbator is one of Dalí's earlier paintings within the Surrealist genre. Within the same year, Dalí met his wife, Gala, who would go on to become his muse in the majority of his paintings. It was said that she was the reason Dalí underwent such an erotic transformation, with the evidence of this being seen in The Great Masturbator.
Within this painting, Dalí included a representation of himself in the main yellow area.
On the right, a large human face, said to be Gala, can be seen emerging from his head. The combination of himself and Gala was fitting, as it illustrated the type of illusion a man would typically visualize whilst occupied in the practice indicated by the title of the painting. With the placement of Gala's head being drawn to the male genitalia in the corner, The Great Masturbator was seen as an erotic fantasy that was coming directly out of Dalí's own mind.
As Dalí was thought to be a virgin when he first met Gala, the graphic nature of this painting becomes interesting as it represented a deep and severely conflicted attitude towards the idea of sexual intercourse. Dalí touches on his fear of female genitalia by placing a cut on the knees of the figure in the corner, as that was said to be a sign of suppressed sexuality, which was something that he was struggling with at the time.
Additionally, Dalí included other symbols associated with intercourse, as seen through the grasshopper depicted in the center, which represented both his signal for sexual anxiety and his childhood fear of the insect. The inclusion of other motifs, such as the ants and the egg, suggested death and fertility respectively, which demonstrated Dalí's complex relationship with intimacy. Thus, considered to be a controversial painting, The Great Masturbator was thought to glorify an act that was usually mocked and shamed.
Also seen as a bizarre and disturbing type of self-portrait, The Great Masturbator revealed Dalí's fantasies to be reaching a peak, as he exposed some of his inner-most thoughts, fears, anxieties, and lasting fixations. The rock head seen within this work proved to be popular, as Dalí would go on to include portrayals of it in future paintings.
As the landscape was said to vaguely resemble Dalí's hometown of Catalonia, Spain, the painting held sentimental value for Dalí, who requested to keep the artwork in his personal collection.
The Persistence of Memory (1931)
| | |
| --- | --- |
| Date Painted | 1931 |
| Medium | Oil on canvas |
| Dimensions | 24 cm x 33 cm (9.5 in x 13 in) |
| Where It Is Currently Housed | Museum of Modern Art, New York |
The most well-known Salvador Dalí artwork in existence, as well as the most recognizable Surrealist painting of all time, is unmistakably The Persistence of Memory. Painted in 1931, at the height of the Surrealist movement, artists were in the process of exploring the depths of their subconscious and went on to depict their own dreams in their paintings.
Dalí was guided by the "paranoiac-critical method" at the time, which involved him conjuring up a paranoid mindset to enable an artwork that captured deconstructed concepts of reality to be made.
Existing as one of his earlier Surrealist paintings, The Persistence of Memory was inspired by the work of Hieronymus Bosch and Giorgio de Chirico, with Dalí projecting his own psychological conflicts and phobias onto his artwork. Utilizing the concepts of both soft and hard, Dalí explored the fluidity of time and space through the portrayal of melting clocks spread across the Catalonian landscape. Dalí's ability to flip reality between these characteristics demonstrates the un-reality that was often found in our dreamscapes.
Inspired by a Surrealist depiction of cheese melting in the sun, these soft watches went on to be known as the "Camembert of time", with Dalí suggesting that the notion of time goes on to lose all coherent meaning in the unconscious world. A self-portrait of the artist is also included, in the form of a sleeping face-like figure that appears in the middle of the painting, with another melting clock shown to be draped over it. However, this anthropomorphic figure is met with much confusion, as Dalí never explained these objects.
The addition of ants swarming a lone pocket watch represent the concept of decay, which was something that Dalí was fascinated with and was found within the majority of his artworks. The juxtaposition of the ants on a metallic watch presents itself as an absurd notion, as metal cannot decay.
Instead, the unsettling image represents the underlying desires and insanities associated with the human mind, such as the involuntary anxiety of death.
The inclusion of the clocks has been speculated to represent the past, present, and future, with the face-down pocket watch thought to symbolize objective time. However, as Dalí never provided an explanation for this work, The Persistence of Memory has been analyzed many times over the years.
When asked about the clocks, Dalí responded that their liquified state made no difference to the concept, as long as they were able to tell the time accurately.
Considered to be one of the greatest masterpieces to come out of the 20th century, The Persistence of Memory went on to seamlessly combine the genres of still life, landscape, and self-portraiture. This was done in such a way that the public became obsessed with Dalí's eccentric artworks, as they went on to have a significant impact on the art world.
The Enigma of William Tell (1933)
| | |
| --- | --- |
| Date Painted | 1933 |
| Medium | Oil on canvas |
| Dimensions | 201.5 cm x 346 cm |
| Where It Is Currently Housed | Moderna Museum, Stockholm |
Within The Enigma of William Tell, painted in 1933, Dalí explores the famous Swiss legend of William Tell. This fable tells the story of a man who was coerced into putting an apple on top of his son's head and had to then shoot an arrow through it. Seen as a contemporary version of the Biblical sacrifice of Isaac by his father Abraham, Dalí added a distinctly Freudian twist to his depiction of the tale.
Dalí was known to have had a turbulent relationship with his family, with this being suggested within a few of his paintings. In The Enigma of William Tell, the figure is shown to be holding an infant that has been depicted with a lamb chop on its head.
With the figure assumed to be the father, a strange subject of paternal assault emerges, as it appears that the man is about to eat the child, along with the birds in the corner who are waiting for some scraps.
The meaning of the painting is further suggested by the title that has been engraved on the plinth, which identifies the subject matter as William Tell. Additionally, the figure was also said to represent the former head of the Soviet Union, Vladimir Lenin, who Dalí portrayed as an oppressive father figure. At the time, he was rebelling against his own family and brought the dilemma from his real-life into his painting through the use of shocking symbolism and subconscious representations.
The Enigma of William Tell depicts Lenin who has been stripped of his clothing from the waist down while displaying his naked buttock to viewers. Dalí adds to this sexual connotation by including a crutch that helps support Lenin's buttock, which was said to represent the figure's weakness and need for assistance. This concept applied to both Lenin, as Dalí stated that the buttock was the symbol of the Revolution, and to his complicated relationship with his own father, who was believed to have disowned him after he met Gala.
Due to this, the child seen in the painting was Dalí's representation of himself, as he thought of himself as a sort of sacrificial offering, with this concept being intensified by the raw lamp chop on his head. Gala was also represented through the nuts lying close to the figure's foot, as they were in constant danger of being stepped on.
Dalí also makes reference to "The Persistence of Memory" through the melted clock seen on the plinth, whose limpness echoes the support needed by Lenin's buttock.
This depiction of Lenin offended the other Surrealists when it was exhibited at the Salon des Independants in Paris in 1934, as Dalí gave no clear reason for why he was portraying Lenin in such a vulgar way. This led to artists trying to damage the Salvador Dalí art piece while it was on display, however, they could not reach the work. The Enigma of William Tell was crucial for Dalí's relationship with the Surrealist group, who were all leftist supporters of Lenin, and went on to remove him from the group.
Archeological Reminiscence of Millet's 'Angelus' (1933 – 1935)
| | |
| --- | --- |
| Date Painted | 1933 – 1935 |
| Medium | Oil on panel |
| Dimensions | 31.7 cm x 39.4 cm |
| Where It Is Currently Housed | The Dalí Museum, Florida |
Another significant Salvador Dalí art piece was his Archeological Reminiscence of Millet's 'Angelus', which he painted between 1933 and 1935. Said to be influenced by Jean-François Millet's The Angelus (1857 – 1859), Dalí often recalled a memory of him passing the hours at school by focusing on this specific painting of two farmworkers.
In the original painting, the two figures are shown to be reciting a devotional prayer just before their working day ends.
The Angelus (1857-1859) by Jean-François Millet; Jean-François Millet, Public domain, via Wikimedia Commons
In Dalí's homage to the painting, he depicted two shapely rock figures rising at sunset, which was an acknowledgment of the Catalonian landscape. The figure on the left is a woman, whose form represents that of a praying mantis, while the one on the right is a man. This insect became a dominant symbol in Dalí's artworks, as it indicated the contradictory feelings of appeal and misery in the realm of desire.
In his analysis of Millet's painting, Dalí believed that the work held messages of latent sexual aggression.
Due to this, the female rock formation of the praying mantis is depicted as the dominant partner in addition to being seen as a sexual threat, as female praying mantises are known to eat their partners after copulation. Archeological Reminiscence of Millet's 'Angelus' is symbolic of the suppression of men by women, which was thought to be a menacing threat to the male existence at the time.
With the female figure being depicted as ready to pounce, while the male figure is bowing his head and attempting to protect his genitals, the theme of female sexual power becomes more obvious. These representations are tied into Dalí's own long-standing anxieties of female sexuality, impotence, and castration. Thus, Archeological Reminiscence of Millet's 'Angelus' was used by Dalí as a way to explore this theme by removing his fears completely.
The low horizon line and deserted landscape painted by Dalí went on to accentuate the stateliness of the strange figures, as he turned them into monuments representing the principles of human sexuality. The introduction to sexuality is seen through the small boy at the bottom of the painting, who was thought to be a depiction of Dalí himself. Essentially, the boy symbolized the line that existed between the purity of childhood and the fears of adulthood.
Dalí was also obsessed with the idea that the two figures were praying over a buried child within Millet's original painting.
He became so persistent with this notion that an x-ray was eventually conducted over the canvas, which showed a painted-over geometric shape that bore a strong resemblance to a coffin. After this was done, Dalí attempted to personalize this theme within Archeological Reminiscence of Millet's 'Angelus', as he went on to explore the reasons for his lifelong fascination with Millet's painting.
Soft Construction with Boiled Beans (Premonition of Civil War) (1936)
| | |
| --- | --- |
| Date Painted | 1936 |
| Medium | Oil on canvas |
| Dimensions | 100 cm x 99 cm (39 5/16 in x 39 3/8 in) |
| Where It Is Currently Housed | Philadelphia Museum of Art, Philadelphia |
Painted about six months before the start of the Spanish Civil War in 1936, Soft Construction with Boiled Beans (Premonition of Civil War) was a representation of the horrors that would be seen. At the time, Dalí claimed that he had predicted that war was going to break out, with him using his painting to explain the prophet-like abilities associated with his subconscious mind.
However, while this has not been confirmed, Dalí was thought to have changed the name of his painting after the start of the war so that it better proved his prophetic quality.
Soft Construction with Boiled Beans (Premonition of Civil War) managed to express Dalí's political outrage felt at the time, as he portrayed the anxiety felt by society after witnessing the horror, violence, and destruction seen during the war. After this painting, Dalí would go on to later paint about politics in other compositions, such as a series of works he produced about Hitler during World War Two.
In the center of the work, two repulsively elongated and distorted bodies are shown to be engaged in a struggle, with neither appearing as the champion. The hideous creature was thought to represent the self-destructive nature of civil war, as the two human bodies appear to be breaking out into monstrosities of limbs just flailing about and tearing at one another.
A state of delirium is shown, as the painting looks incredibly realistic despite portraying clearly imaginary creatures.
Additionally, the bodies are shown to be geometric in form and seemingly connected to each other, demonstrating they are two parts of a whole. Thus, the figure is shown to be fighting itself, which was another reference to the pointlessness of war. In both the background of the work and the title of the painting, a reference to beans is made. This was said to pertain to the plain stew that was eaten by the poverty-stricken citizens who lived through this time of great hardship in Spain.
The desecration of the human body was a prominent obsession of Surrealist artists in general, with Dalí elevating this fascination within his artworks. In Soft Construction with Boiled Beans (Premonition of Civil War), Dalí managed to depict a figure in such a repulsive and vile way. This was done by exaggerating the figure's scowl, tense neck muscles, and terrifying fingers and toes to the point where a disgusting type of fascination was created.
Dalí was greatly affected by the Spanish Civil War, as he and Gala were forced to flee to Paris, his friend was killed, and his sister was imprisoned and tortured. Thus, Soft Construction with Boiled Beans (Premonition of Civil War) exists as a compelling portrayal of the atrocities of war that are seen in the unconscious mind.
Dalí's brilliant use of surrealist techniques within this painting helped to accurately depict the horrors of war, which is it is considered to be one of his greatest works.
The Burning Giraffe (1937)
| | |
| --- | --- |
| Date Painted | 1937 |
| Medium | Oil on panel |
| Dimensions | 35 cm x 27 cm (13.8 in x 10.6 in) |
| Where It Is Currently Housed | Kunstmuseum Basel, Basel |
The Burning Giraffe, painted in 1937, was produced just before Dalí's exile to the United States, which spanned from 1940 to 1948. Although Dalí claimed to be apolitical, The Burning Giraffe depicted his personal struggle with the Spanish Civil War that was raging on in his home county. The image of the giraffe in the background, which was on fire, was described by Dalí as a masculine and ominous monster that existed as a foreshadow of war.
Two female figures take up the majority of the space within this composition and appear to both have unidentified but phallic-shaped objects sticking out from their backs. Some have stated that these objects look like melted clocks, demonstrating a reference to The Persistence of Memory, and are shown to be held up by crutches, which also makes reference to The Enigma of William Tell. The dominant figure is the woman in the front of the work, who is shown to have drawers opening from her side like a chest.
The inclusion of the clocks, crutches, and drawers are known to be common archetypes in the majority of Dalí's artworks, which allows this painting to relate to his other works.
Placed in a twilight setting within a deep blue sky, the colors help to create an ominous atmosphere. The face, hands, and forearms of the closest figure are shown to be stripped right down to the muscular tissue underneath the skin, which gives her a meat-like resemblance. This is further echoed by the figure in the background, who is seen to be holding a bloodied strip of meat.
The drawers are seen as the focal points within The Burning Giraffe, as they were thought to be influenced by Freudian theories. As Dalí was a great supporter of Sigmund Freud, the inclusion of open drawers can be linked back to Freud's psychoanalytical method that referred to the inner subconscious found within individuals. Dalí later described the female figures as "femme-coccyx", which was a phenomenon that made another reference to Freud's theories.
Metamorphosis of Narcissus (1937)
| | |
| --- | --- |
| Date Painted | 1937 |
| Medium | Oil on canvas |
| Dimensions | 51.2 cm x 78.1 cm |
| Where It Is Currently Housed | Tate Modern, London |
A Salvador Dalí artwork that was painted during his paranoiac-critical period was Metamorphosis of Narcissus, which he produced in 1937. Dalí developed a technique, which he called the paranoiac-critical method, whereby he was able to create "hand-painted dream photographs" which represented the hallucinations he experienced in his subconscious while in a self-induced paranoid state. This was said to be his most celebrated painting that made use of his technique.
Seen as one of the major achievements of Surrealism, Dalí was able to create various complicated optical illusions and depictions within his paintings by capturing his systematic irrational thoughts.
Within Metamorphosis of Narcissus, a classic Greek tale is depicted about the beautiful Narcissus, who ended up falling in love with his own reflection in the water. Narcissus was said to only love himself which led to him breaking the hearts of many lovers. Because of this, the gods punished him by letting him fixate on his own reflection.
The story of Narcissus is somewhat a tragedy, as once he discovered that he could not embrace his own reflection, he died of disappointment. Therefore, in this painting, Dalí demonstrates the misfortune associated with placing value on great beauty. He depicts an ambiguous stone figure, said to be Narcissus, sitting and gazing down at the pool of water beneath his feet.
Dalí made use of a hand-painted color photography technique that portrayed the hallucinatory effect of Narcissus' transformation from a kneeling figure into a hand holding an egg and flower. According to the Greek tale, the gods yielded in their punishment of Narcissus, as they went on to immortalize him as a daffodil flower.
This is depicted by Dalí through the stone hand that holds an emerging daffodil, with this representation of double images demonstrating his deep fascination with hallucinations and delusions.
Within Metamorphosis of Narcissus, the notions of death and fossilization are implied, through Dalí depicting the second figure that appears to be mirroring the stone figure's posture. This is further suggested by the title including the term "metamorphosis", as it demonstrates the journey of Narcissus transforming from a human into the image of a hand that is rising out of his own reflection.
Dalí intended Metamorphosis of Narcissus to be viewed whilst reading a poem that he published in 1937. By completing these two activities together, a state of "distracted fixation" was said to occur, which resulted in the image slowly fading as it was being viewed until it was thought to be completely invisible.
This demonstrated the inclusion of hallucination within this and other Salvador Dalí paintings, with this painting existing as the first Surrealist work that provided a stable analysis of an illogical subject.
Dream Caused by the Flight of a Bee Around a Pomegranate a Second Before Awakening (1944)
| | |
| --- | --- |
| Date Painted | 1944 |
| Medium | Oil on wood |
| Dimensions | 51 cm x 40.5 cm (20 in x 15.9 in) |
| Where It Is Currently Housed | Thyssen-Bornemisza Museum, Madrid |
Another of Dalí's paintings created in the post-World War Two era is his Dream Caused by the Flight of a Bee Around a Pomegranate a Second Before Awakening, which was painted just before the war ended in 1944. Dalí stated that the purpose of this painting was to convey Freud's discovery of a typical dream with a lengthy narrative that one can be woken up from at any minute, as demonstrated by the wordy title of the artwork.
The composition depicts a sleeping figure in the nude, who was said to be Gala. She is shown to be floating slightly above a rock at Port Lligat, which was a small village located along the coast of the Mediterranean Sea.
Her state of motionlessness and suspended animation related to Dalí's fascination with atomic energy at the time, which had replaced his previous interest in Freudian Psychoanalysis.
https://www.youtube.com/watch?v=THajgAPjRFU
However, as suggested by the painting's title, dream imagery was still a core tenant of Dalí's aesthetic, as displayed by the frightening procession of dangerous animals and weapons that endanger the sleeping Gala. Next to her are two drops of water, a pomegranate, and a bee which also seem to be floating with her. Her dream appears to be prompted by the buzzing of the bee, with the succession of actions and images being shown in the upper half of the composition.
Following the title of the painting, Gala's dream portrays a bee flying around a pomegranate before it bursts open to release a large red fish.
From the mouth of the fish, two savage tigers emerge, along with a weapon, that will soon wake Gala from her deep sleep. The translucent elephant carrying an obelisk and seen walking on spindly, stilted legs in the background of the painting would later go on to become a recurring image in Dalí's paintings.
This deformed elephant, which was said to be based on a famous sculpture made by Italian artist Gian Lorenzo Bernini, existed as a symbol of war and destruction for Dalí. Its inclusion in the painting helped to create an atmosphere of terror and chaos that was considered to be suitable for such a hair-raising vision.
The Temptation of Saint Anthony (1946)
| | |
| --- | --- |
| Date Painted | 1946 |
| Medium | Oil on canvas |
| Dimensions | 89 cm x 119 cm |
| Where It Is Currently Housed | Musée Royaux des Beaux-Arts, Brussels |
The Salvador Dalí artwork titled The Temptation of Saint Anthony, painted in 1946 was seen as another iconic painting produced by the artist. Also known under the title of "Dalí Renaissance", this painting depicted a group of elephants and horses shown to be approaching Saint Anthony.
With elephants existing as a recurring image for Dalí, who believed that they symbolized war and conflict, towering depictions of this animal are shown within The Temptation of Saint Anthony. However, the elephants have been portrayed with spindly legs, making them appear incredibly ominous and sinister due to their added height.
Upon their backs, the animals appear to be carrying objects of temptation, with this bizarre parade being led by a horse, which was known to represent the temptation of power.
Marching towards the figure of Saint Anthony, the horse was seen to represent strength and voluptuousness. The elephants that are depicted carry the golden cup of lust, a nude woman, other nude figures, buildings representing home comforts, and a tall tower implying a phallic connotation.
These objects of temptation, lust, sex, and power are shown to be overpowering within the composition, as they make their way towards the gaunt figure of Saint Anthony, who is portrayed in the corner of the artwork.
His portrayal does not take up much room, with Dalí wanting to draw the focus away from him and use it to further emphasize the compelling nature of the temptations he was met with. Due to this, Saint Anthony appears battered but not beaten as the animals approach him, as he tried to resist them and ward them off with his cross.
Sex and the subconscious played a significant role in the majority of Dalí's earlier works, however, these themes are made apparent again within The Temptation of Saint Anthony. This painting is considered to be notable as it brings together several motifs that were seen in a variety of Dalí's paintings, in such a way that they are able to create a new and inspired composition.
Galatea of the Spheres (1952)
| | |
| --- | --- |
| Date Painted | 1952 |
| Medium | Oil on canvas |
| Dimensions | 54 cm x 65 cm |
| Where It Is Currently Housed | Dalí Theatre and Museum, Spain |
The final painting that has been included on our list of famous Salvador Dalí paintings is his Galatea of the Spheres, which he painted in 1952. This piece was created in honor of his wife and muse, Gala, as it was considered to be a three-dimensional type of self-portrait of her. Painted by using expanding spheres, Dalí captured only the neck, shoulders, and head of Gala in a discontinuous and fragmented setting.
Galatea of the Spheres was able to combine Dalí's great obsession with his wife, along with his newly discovered scientific curiosity in the world of molecules and atoms. After the atomic bombings of Hiroshima and Nagasaki, which occurred in 1945, Dalí displayed great captivation with nuclear physics and the theories of disintegration of the atom.
Additionally, around this time, Dalí expressed his renewed interest in Catholicism, with elements from both subjects finding their way into his later paintings.
This led to Dalí's Nuclear Mysticism period, in which he used ideas pertaining to modern science as a way to rationalize the Christian religion. After learning that all matter is made up of atoms, Dalí created his paintings to appear as if they were disintegrating into multiple atoms. Within Galatea of the Spheres, Dalí created a fractured image by composing Gala's face of densely populated spheres, said to represent atoms, which gave his painting a wonderful three-dimensional effect.
With the title of the artwork referring to a sea-nymph named Galatea in Classical Mythology, Galatea of the Spheres existed as an astonishing example of Dalí's skills at blending hyper-realism and Surrealism. Painted during the height of his Nuclear Mysticism period and considered to be the best painting to come from that era, this artwork demonstrated Dalí's experimentation of diminishing the line between figuration and abstraction. He replicated this idea in other paintings, in which he painted separate objects suspended in specific formations.
After going through the top 10 most iconic Salvador Dalí paintings, it becomes clear that much of his inspiration came from Gala. Without her in his life, it has been suggested that the Salvador Dalí works and influence in the world may not have flourished the way it did. While we have only touched on a handful of his works, many other significant Salvador Dalí styles and paintings exist. If you have enjoyed learning about these works, we encourage you to further explore other well-known Dalí paintings.