Environmentalism Art – The Importance of Climate Change Art
Throughout the history of art and its many forms, artists have always been interested in representations of the natural world. Whether that be peaceful landscapes or awe-inspiring dramatic storms, as concerns about the state of the environment's health began to rise in the 20th century, artists began to adapt their representations and expressions of nature. These artists began developing works that expressed and brought attention to the issues of climate change and pollution, often collaborating with the physical environment itself.
The Environmentalism Art Movement
Environmental art, also known as Environmentalism art, or even climate change art, can be defined as a range of artistic practices that involves the representation and expression of the ecological issues of climate change, pollution, and similar themes involving the deteriorating health of the environment.
This movement gained significant attraction during the 1990s as artists, along with the rest of society, began to discuss how human beings affect the environment they live in.
The environmental art movement looks at the historical approach to depicting nature in art, as well as the more recent depictions which involve the more ecologically minded and politically motivated expressions, celebrating the artist's connection with nature, with the use of natural materials.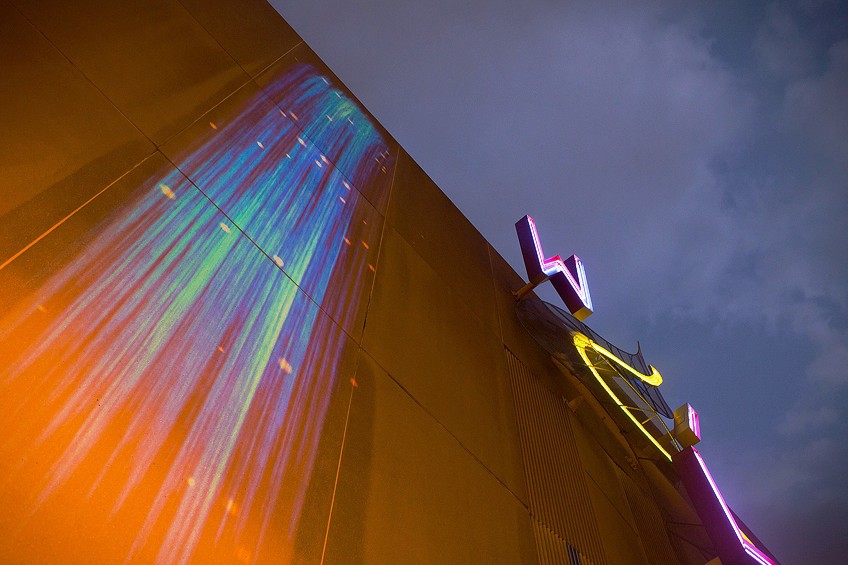 Photograph of the Particle Falls art installation on the outside of the Wilma Theater. Created by environmental artist Andrea Polli in 2013, the colors broadcast onto the wall are determined by the amount and types of particulate matter in the air at any given moment; Science History Institute, CC BY-SA 3.0, via Wikimedia Commons
Since the 1990s, the Environmental art movement has moved away from the more formal expressions, toward deeper representations that depict expressions of systems, processes, and phenomena in connection to the social-ecological concerns. This integrated expression initially developed in the 90s as an ethical stance on the issue. It is understood to be an expression of the relationship to the historical depictions of earth or Land art, as well as the field of ecological art.
Given its subject matter, the movement includes both science and philosophy, involving traditional as well as new media in its depictions of the environment.
Examples of these are the more natural landscapes from the rural areas, as well as the more industrialized suburban and urban environments. The movement has gained a very prominent place in the art field, becoming the focal point of many contemporary exhibitions all around the world as the conversations on issues of climate change and global environment concerns expanded.
History of Environmentalism Art
The physical and natural environment has always had its place in the art field, going back to the Paleolithic cave paintings, which often featured representations of animals or plants; things from nature that would be of importance to the prehistoric lifestyle. As art and its forms evolved over the centuries, expressions of the natural environment were seen through forms such as landscape paintings, which involved the artist painting an environment as they sat before it, developing a deep connection with their physical surroundings.
This can be seen in John Constable's sky paintings, such as "Cloud Study: Stormy Sunset" (1821 – 1822) as well as in Claude Monet's more industrialized London series, such as "Houses of Parliament" (1904).
However, as society has become more aware of its physical environment, and the ecological issues it faces, Environmental art had to adapt. Contemporary Environmental painters such as Diane Burko and Alexis Rockman incorporated these issues into their works, to bring attention to and ignite a discussion on how human beings and the constantly growing industrialization have negatively affected the physical environment. Burko's work is especially known for its representation of natural phenomena, as well as how it changes over time.
Cloud Study: Stormy Sunset (1821 – 1822) by John Constable, located in the National Gallery of Art in Washington D.C., United States; National Gallery of Art, CC0, via Wikimedia Commons
These representations about the passage of time not only convey ecological issues but also bring attention to the issue of climate change. Rockman is revered for her landscapes, which express a cynical and satirical view of climate change and how human beings cause damage to the environment, with a particular focus on genetic engineering; how humans tamper with other species for their own gain.
With the constant deterioration of the environment, and the broadening global discussion, Environmental painters and artists began to adapt their art.
Artists started expressing the way the environment is dying rather than simply expressing its beauty. The movement is noted as emerging in the 1960s, with prominent artists including Jean-Max Albert, Nils Udo, Piotr Kowalski, and Robert Smithson.
An Explanation of Environmental Art
Environmental art is a very broad concept, rather than a specific movement. There is no set definition of the term, but the movement encompasses a diverse set of social, political, and scientific subject matter and messages, and can be categorized into several sub-movements.
These sub-movements are Conceptual art, Earth art, Land art, and Sustainable art. A major common theme between all these sub-movements is the subject matter dealing with the climate crisis and eco-movement.
Environmental art actually evolved from the already existing Land art movement, incorporating the expressive use of space and using the natural environment to evoke a message. These artists would specifically seek out unorthodox locations for their work to be displayed, making a commentary and critique on the mainstream art industry, where museums and galleries usually controlled the production, selling, and exhibition of art pieces.
Seeking out new locations meant that the artists removed the power from the established industry, and therefore questioned the need for this commercialized industry at all. This use of location also allows artists to express the relationship between the human population and the physical environment by combining the two forces in their work, embedding their artistic ability and practice within the art itself.
Seagulls, the River Thames and the Houses of Parliament (1904) by Claude Monet, located in the Pushkin Museum of Fine Arts in Moscow, Russia; Claude Monet, Public domain, via Wikimedia Commons
These artists would aim to change the way these natural locations would normally be viewed or perceived, but at the same time, bring light to what was already naturally there, causing viewers to rethink how they view the natural environment and bring attention to the ecosystems in place.
The primary goal of Environmentalist artists is the expression of the relationship between human beings and the environment, by fusing the natural environment with their work. This is often expressed through the issues of ecology, Environmental health, and the associated human rights issues, making Environmental art a great medium for the representation of nature conservation and Environmentally-friendly politics.
Naturally, this means that these artists play an important role within greater society, rather than just from an art perspective, as their work raises awareness of ecological issues and the serious problems the environment is facing.
Their impact is worldwide and is represented through several organizations such as regional grassroots groups, as well as large organizations and institutions depending on the country. These artists use natural materials from the environment in their work, such as branches, flowers, leaves, sand, soil, and stone. This method allows artists to express a sense of harmony within the environment and also creates a space in which the artist must fall subject to the natural cycles of the environment, whether that be changes in weather, flowering, erosion, or decay.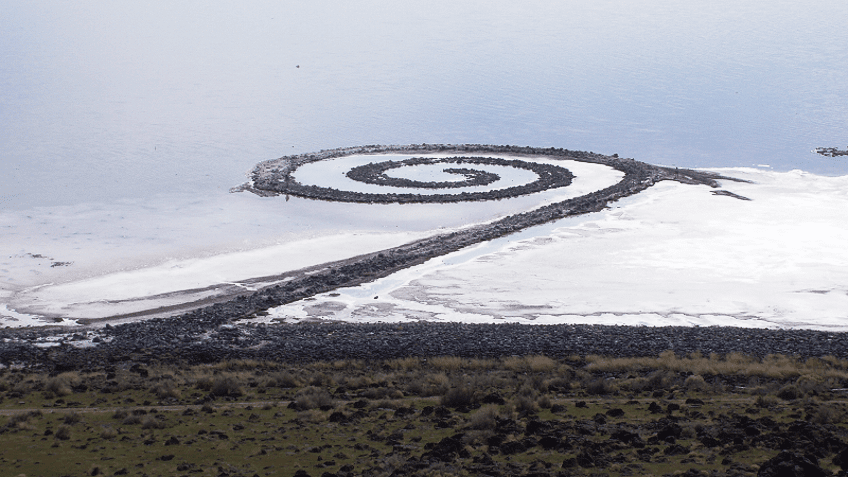 Spiral Jetty by Robert Smithson, viewed from atop Rozel Point in mid-April 2005; Sculpture: Robert Smithson 1938-1973Image:Soren.harward at en.wikipedia, Public domain, via Wikimedia Commons
The ability to adapt to the uncontrollable and unpredictable nature of the natural environment shows versatility in these artists and their use of a diverse range of styles, techniques, and media. These artists also tend to photograph their installations so that they can be viewed on a broader scale, whether in galleries and exhibitions or online. Within the field of Environmental art, there is the sub-category of ecological art, also known as Eco-art.
Although the two are often used synonymously, it is important that Eco-art is distinguished as a subcategory, with Eco-art being characterized by its expression of social justice in its work.
Similar to Environmental art, Eco-art also makes use of location-specific installations, using the natural environment to express a message. Within this type of Land art, the natural elements of the environment are the material used, creating an immersive experience for the viewer, rather than a distanced viewing, placing the value of the piece on its ability to bring awareness to ecological issues, rather than market value.
Land art is often associated with Eco-art, with Environmentalist artist Nancy Holt stating that Land art was fundamentally ecological in nature has it expresses the connection between the artist, the land, and the environment. In contrast, artists like Robert Morris rejected Eco-art, claiming that b were corrupted by the issues of economic factors, arguing that this kind of art actually did more damage to nature than good, as it involved a human coming in to disrupt the environment with their installation, which is the opposite of the conservation activism Environmental art was meant for.
Sandworm by Marco Casagrande, made for the 2012 Beaufort04 Triennial of Contemporary Art in Wenduine, Belgium; Härmägeddon, CC0, via Wikimedia Commons
Land art was, however, one of the first noted art movements that aimed to express the fragility of the natural environment. Land artists would look for locations in many different types of environments, from open fields to forests to deserts. Another sub-category of Environmental art is Reclamation art, also known as "ecovention", which refers to the art movement involving the rehabilitation of polluted or damaged natural spaces, as well as abandoned industrial spaces.
Although it is frequently linked to Land art, the creations of this movement enable ecological restoration and support the development of a sense of community with nature.
These artists would transform these spaces with their installations, altering the space to express a message of restoration, which can then be projected to the greater environmental issues. If an artist can transform a polluted space for the better, society can potentially do the same for the environment as a whole.
There are many different environmental perspectives on art and nature. Ecological representations can range from activism to awareness-raising at art festivals and exhibitions. To improve the planet and bring people and the environment closer together, artists attempt to increase public awareness through their creations.
Notable Environmentalist Artists and Their Works
There are several notable Environmental artists, painters, and creators who are known for their expressions of the global concerns surrounding the environment and its health. Some of the most well-known include Diane Burko and Olafur Eliasson.
Diane Burko (1945 – Present)
| | |
| --- | --- |
| Artist | Diane Burko |
| Birth/Death Year | 1945 – Present |
| Nationality | American |
| Preferred Mediums | Painting, photography |
Born in 1945 in Brooklyn, New York, Diane Burko is a contemporary Environmental painter and artist who currently resides in Philadelphia in the United States. She graduated from Skidmore College with a B.S. in art history and painting in 1966, and from the University of Pennsylvania with a master's in Fine Arts three years later.
She has taught at numerous institutions around the nation, including Princeton University, Arizona State University, and the Pennsylvania Academy of the Fine Arts.
Photograph of Diane Burko in her studio, 2016; Meanwhile88, CC BY-SA 4.0, via Wikimedia Commons
She currently has the title of professor emeritus at the Community College of Philadelphia, as well as a position on the board of directors of the College Art Association. She is best known for her paintings and powerful photography which represent the global concerns regarding the deteriorating environment.
Columbia Glacier Lines of Recession 1980 – 2005 (2011)
| | |
| --- | --- |
| Title | Columbia Glacier Lines of Recession 1980-2005 |
| Artist | Diane Burko |
| Medium | Oil on canvas |
| Dimensions (cm) | 129.54 x 152.4 |
| Date Created | 2005 |
| Current Location | Minneapolis Institute of Art |
She often went to extreme lengths to ensure accuracy in her works, as seen with her pieces on the icy glaciers of Antarctica, such as Columbia Glacier Lines of Recession 1980-2005 (2011) and Makalu – Himalaya (date unknown) These works involved Burko trekking into sometimes-dangerous deep, icy chasms to see for herself how quickly glaciers were melting.
This concerning representation of today's climate crisis is expressed through Burko's powerful artwork and photography, igniting a necessary discussion on the fragility of the environment.
She hopes that her work, which continues to this day, will allow viewers to reflect on how they contribute to the deteriorating environment and man-made climate destruction, stating that the world "will not be the same for our children…" Burko has visited all three of the world's major ice fields, recently returning from crossing the frozen rivers of Antarctica and the Viedma glacier in Argentina's Patagonian Ice Field, which is melting at an unprecedented rate.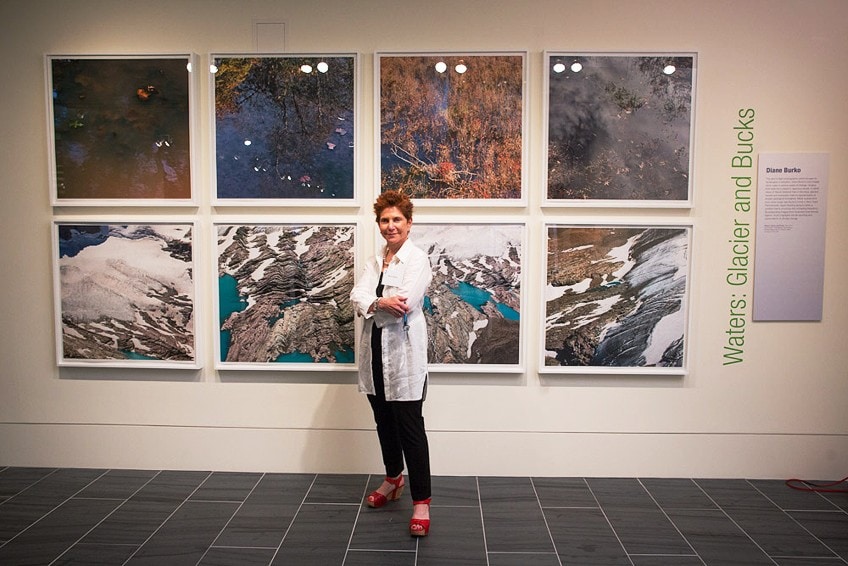 Diane Burko with her work, Waters: Glaciers and Bucks, 2007 – 2011, at the opening for the 2013 Sensing Change exhibit at the Chemical Heritage Foundation in Philadelphia, United States; Science History Institute, CC BY-SA 3.0, via Wikimedia Commons
She serves as a reminder of the massive glacier melting phenomenon that is taking place worldwide through her Environmental art. She claims, for instance, that there are now less than 25 glaciers in Glacier National Park, down from 150 in the 1850s. Although the formation of glaciers took thousands of years, it is astounding to observe how many have vanished in the previous 200 years, effectively starting with the dawn of the industrial age. This enormous rise in atmospheric carbon dioxide is caused mostly by global warming, which comes from the excessive burning of fossil fuels.
Burko admits that she has always had a "scientific curiosity," drawing the interest of the science community as a result. Scientists enjoy working with her, respecting and appreciating her artistic interpretation of their facts.
Burko routinely receives invitations to speak at symposiums and colloquia that concentrate on how the arts might convey scientific findings and phenomena. At the GSA (Geological Society of America) conference in Vancouver, Burko served as a guest speaker, holding a seminar, and meeting with the research scientists from INSTAAR (The Institute of Arctic and Alpine Research). Today, Burko has over thirty exhibitions across the US, and she continues to work on Environmental art, documenting the melting glaciers crisis, as seen with one of her most recent works, Summer Heat (2020).
Olafur Eliasson (1967 – Present)
| | |
| --- | --- |
| Artist | Olafur Eliasson |
| Birth/Death Year | 1967 – Present |
| Nationality | Icelandic-Danish |
| Preferred Mediums | Multi-material installations |
Icelandic-Danish artist, Olafur Eliasson is a well-known Environmental painter and creator, best known for his sculptures and grand-scale installations, inspired by the natural phenomena of the environment. His work is praised for his use of elemental materials, such as light, temperature, and water, all of which he uses to create an immersive experience for the viewer.
Olafur has worked on several public art projects, such as the city-wide installation Green River (1998) as well as the 2007 London Serpentine Gallery Pavilion, a transient structure designed in collaboration with Norwegian architect Kjetil Traedal Thorsen, and The New York City Waterfalls (2008) a Public Art Fund commission. He also designed the trophy for the Breakthrough Prize.
The sculpture, like most of his work, examines the areas where art and science can coexist. It is shaped like a toroid, evoking natural forms like seashells, DNA coils, and galaxies as well as black holes and galaxies.
Photograph of artist Olafur Eliasson; Vogler, CC BY-SA 4.0, via Wikimedia Commons
Since 2014, Olafur has served as an adjunct professor at the Alle School of Fine Arts and Design in Addis Abeba. From 2009 to 2014, he was a lecturer at the Berlin University of the Arts. The location of his studio is Berlin, Germany. He founded Studio Olafur Eliasson, a center for spatial research, in Berlin in 1995.
Eliasson also went on to establish Studio Other Spaces, an office for architecture and art, in 2014 with his long-time partner, German architect Sebastian Behmann.
In 2003, Olafur represented Denmark at the 50th Venice Biennale, an international cultural exhibition. Later that year, he installed The Weather Project (2003) in the Turbine Hall of the Tate Modern in London, which has been called a milestone in contemporary art.
The Weather Project (2003)
| | |
| --- | --- |
| Title | The Weather Project |
| Artist | Olafur Eliasson |
| Medium | Installation made from mono frequency lights, projection foil, haze machines, mirror foil, aluminum, and scaffolding |
| Dimensions (cm) | 2670 x 2230 x 15540 |
| Date Created | 2003 |
| Current Location | Turbine Hall, Tate Modern, London |
To express the ever-growing issue of global warming, The Weather Project (2003) was installed as part of the popular Unilever series, filling the vacant space within Turbine Hall. The exhibition is meant to appear as an overwhelming sun rising out of the mist, creating an awe-inspiring and immersive viewing experience.
This piece was not meant to create an illusion, but rather to have spectators comprehend every aspect of the artist's work.
Although the work itself was a type of tease that made fun of the public's understanding of the elements of weather, The Weather Project showed a profound grasp of the elements of the cosmos. It creates the idea of having a sky that never ends and a sun that is not particularly warm. The Turbine Hall produced a hum that, when combined with witnessing Eliasson's production, made visitors feel as though they were actually there, suggesting close contact. The sphere's red glow was also reminiscent of the planet Mars.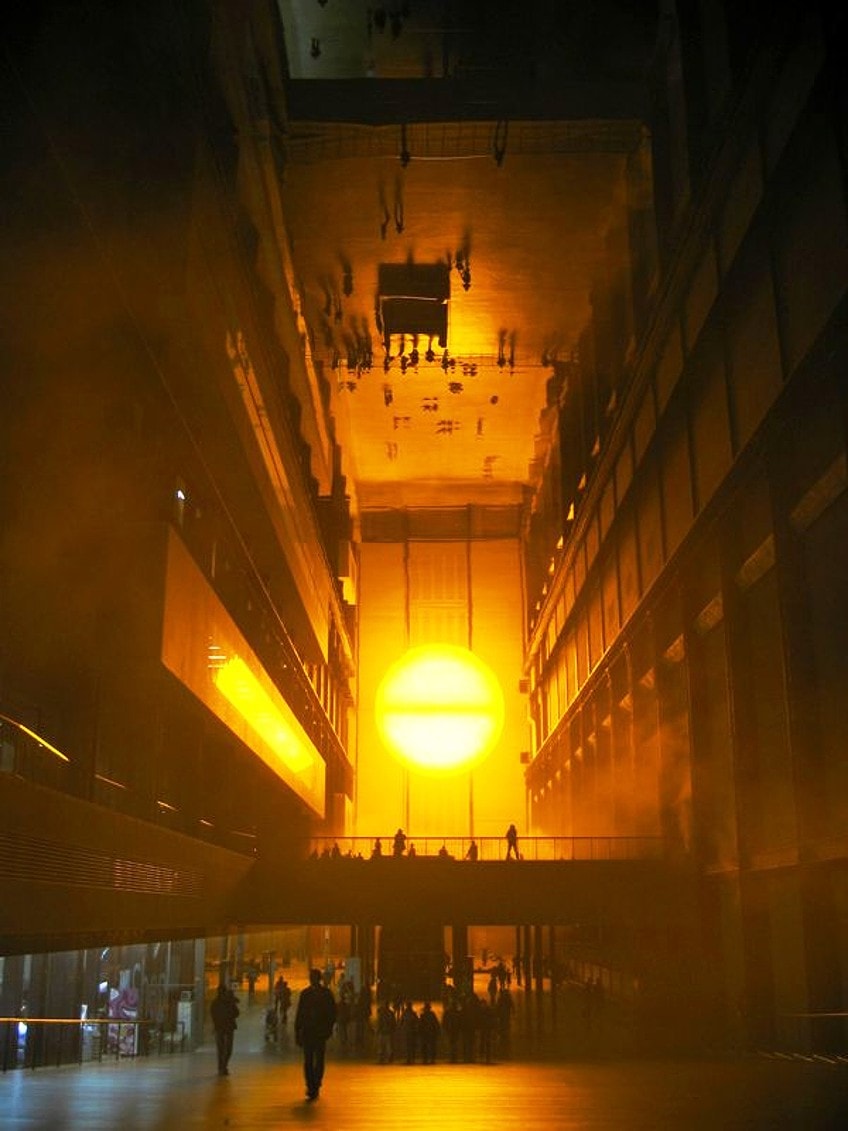 The Weather Project (2003) in the Tate Modern, London; Michael Reeve, CC BY-SA 3.0, via Wikimedia Commons
Olafur made use of humidifiers to produce a fine mist in the air using a solution of sugar and water, as well as a semicircular disc made of hundreds of monochromatic bulbs that emitted yellow light and was reflected by the ceiling mirror to appear circular. Visitors could see themselves as tiny black shadows against a sea of orange light, which served as the hall's ceiling and served as a representation of the sun. When viewing this exhibit, several people reclined on their backs and waved their hands and legs in response.
Viewers were "intoxicated with their own narcissism as they contemplate themselves hoisted into the sky" as art critic Brian O'Doherty described.
The thin mist that permeated the entire area and appeared to be coming from outside enveloped the space completely. Visitors who were looking up to see if the mist was escaping into space could notice that the ceiling had been replaced with a mirror-like image of the area below. At the end of the hall, there were 200 low-sodium mono-frequency bulbs as well. Typically seen in street lights, mono-frequency lamps generate light at such a low frequency that all colors other than black and yellow were undetectable.
The installation attempted to create an experience in which the spectators felt like they were near the sun within the clouds. The Weather Project was an extremely effective and highly successful piece of Environmental art. The exhibit reportedly attracted two million visitors over its six-month run, many of whom came back more than once.
In an interview with Frieze magazine in 2003, O'Doherty expressed enthusiasm for the installation and noted that it was "the first time [he'd] seen the hugely depressing space—like a coffin for a giant—socialized effectively." while Richard Dorment of The Telegraph hailed its "beauty and power."
It continues to be Eliasson's most well-known piece and came in at number eleven in a Guardian vote of the top pieces of art produced since 2000, with Jonathan Jones referring to Olafur as "one of the century's most significant artists."
Other Notable Environmental Artists
Amongst environmental artists like Burko and Eliasson, several other artists use their work to explore environmental issues, using a multitude of techniques and mediums. These include environmentalist artists like Vik Muniz and Janel Houton.
Vik Muniz (1961 – Present)
| | |
| --- | --- |
| Artist | Vik Muniz |
| Birth/Death Year | 1961 – Present |
| Nationality | Brazilian |
| Preferred Mediums | Collages of recycled materials |
There are several other Environmentalist painters and artists of note, such as Vik Muniz, whose work was known for its reuse of waste and recycled materials, including paper, magnets, toys, and even cigarette butts.
His most well-known works include "Postcards from Nowhere: West Palm Beach" (2014), "Mnemonic Vehicle No. 1" (2014), and "Repro (Monochromes): Green" (2017).
Janel Houton (1975 – Present)
| | |
| --- | --- |
| Artist | Janel Houton |
| Birth/Death Year | 1975 – Present |
| Nationality | USA |
| preferred Mediums | Paintings |
There is also Janel Houton, who based her work on the local culture of Boston, USA, as well as the natural environment that surrounds the city. Her work expresses themes of national and global ecological issues, such as the protection of the earth's deteriorating environment, and climate change. One of her most well-known works is Arctic Vision of St Francis (2017), which expresses the issue of global warming and its effects on the arctic regions and its indigenous fauna.
Environmental artists, particularly those active in the last ten years, have thought about their own relationship to the environment as well as the harmful repercussions of climate change. By incorporating the environment into their artistic work, these Environmental painters hope to better understand how humans interact with it. This alters the way we view the location of artistic creation; rather than using the artist's studio as the only space in which to create, Environmental artists interact with the natural world in a much more direct and active manner. They may do this by experimenting with new methods outside or by incorporating natural materials into novel settings.
Frequently Asked Questions
What Is Environmental Art?
Environmental art is an art movement that involves artistic works that are intended to enhance or become part of the environment, in an effort to make statements on environmental and ecological issues.
What Is an Example of Environmental Art?
Eco-friendly artwork is created by Environmental artists using only natural materials like flower petals, seashells, tree branches, sand, and water. For instance, Richard Shilling's above color wheel was made with fall leaves and an ash bark circle.
What Are the Characteristics of Environmental Art?
Environmental art often is designed for a specific location, cannot be transferred, and obviously cannot be displayed in museums or galleries. This is one of its key qualities. However, there are certain outliers because Environmental artists employ a diverse range of methods.
What Are the Types of Environmental Art?
Environmental art can be expressed in several sub-categories such as Eco-art, Land art, Climate Change art, Earthworks, and Earth art.
Why Is Environmental Art Important?
Not only does Environmental art create a space for the expression of the beauty of the natural environment, but it also creates a space for the spreading of important information, and raising awareness for ecological and Environmental issues such as global warming and climate change.
Isabella studied at the University of Cape Town in South Africa and graduated with a Bachelor of Arts majoring in English Literature & Language and Psychology. Throughout her undergraduate years, she took Art History as an additional subject and absolutely loved it. Building on from her art history knowledge that began in high school, art has always been a particular area of fascination for her. From learning about artworks previously unknown to her, or sharpening her existing understanding of specific works, the ability to continue learning within this interesting sphere excites her greatly.
Her focal points of interest in art history encompass profiling specific artists and art movements, as it is these areas where she is able to really dig deep into the rich narrative of the art world. Additionally, she particularly enjoys exploring the different artistic styles of the 20th century, as well as the important impact that female artists have had on the development of art history.
Learn more about Isabella Meyer and the Art in Context Team.
Cite this Article