James van der Zee was an African-American most well-known for his black Harlem Renaissance photography. James van der Zee's photography is not only appreciated for its artistic merits but also because it documented the era comprehensively. Today, we will take a look at James van der Zee's biography and photography to learn more about this important figure in Harlem Renaissance photography.
James van der Zee's Biography
| | |
| --- | --- |
| Nationality | African-American |
| Date of Birth | 29 June 1886 |
| Date of Death | 15 May 1983 |
| Place of Birth | Lenox, Massachusetts |
James van der Zee, with a career spanning over eight decades, is one of the most well-known Harlem Renaissance photographers. His extensive oeuvre captures a wide range of life in 20th-century Harlem, from the mundane to the idealistic. During this period, some of his most renowned subjects included Bill "Bojangles" Robinson, Marcus Garvey, and Countee Cullen.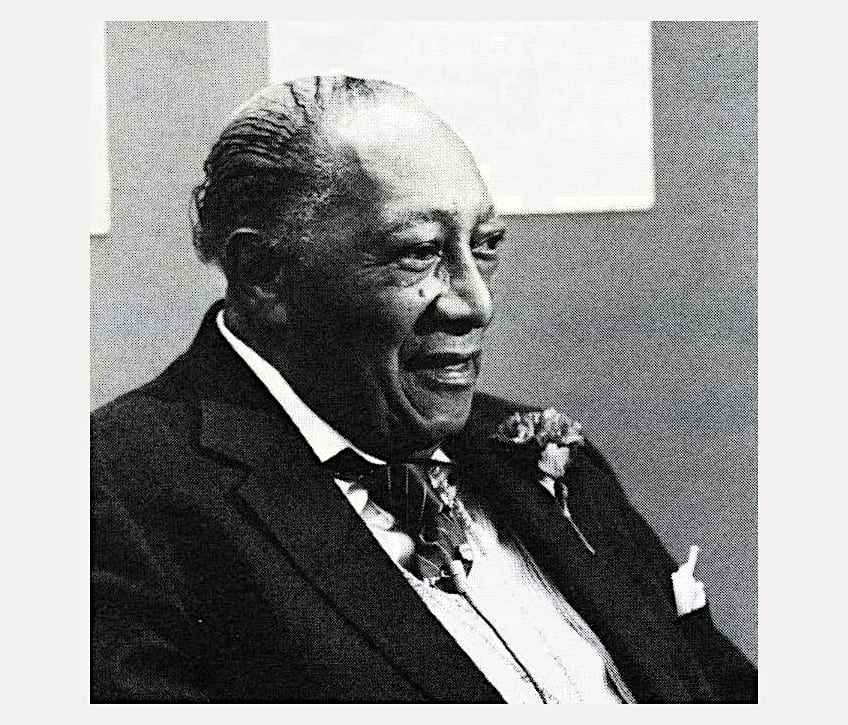 Photograph of James van der Zee taken in 1981; Rochester Institute of Technology, Public domain, via Wikimedia Commons
Childhood and Early Life
James van der Zee, who was born in Lenox, Massachusetts, showed an early talent for music and intended to be a concert violinist. His second passion was photography. When he was a youngster, he acquired his first camera and set up a studio at his parents' house. He photographed his family and his town of Lenox hundreds of times.
Van der Zee was among the first to capture visual documentation of his small-town life in New England.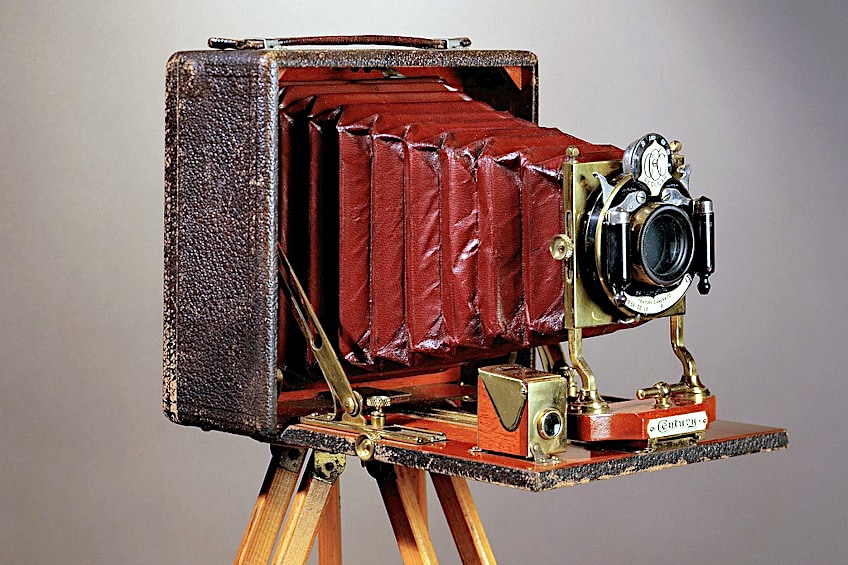 Example of a wooden camera with tripod from 1900; Rochester Optical Co., Public domain, via Wikimedia Commons
He relocated to New York City with his brother and father to work as a lift operator and waiter in Harlem in 1906. Van der Zee was now an accomplished pianist and prospective concert violinist.
Van der Zee would go on to become the major founder and also one of the performers in the Harlem Orchestra.
Van der Zee met and then married Kate L. Brown in March 1907, and the couple returned to Lenox in September to deliver their daughter, Rachel. They soon relocated to Virginia. Emile, their son, was born in 1908 but passed away a year later from a lung illness.
Early Career
He relocated to Newark in 1915, where he worked as a darkroom studio assistant and later as a portraitist. That same year, he switched to Catholicism and started accepting Church portraits. He returned to Harlem the next year, at a time when the city was seeing a surge in the number of Black migrants.
He established a studio with Jennie Louise Van de Zee, who established the Toussaint Conservatory of Art and Music in 1911.
James van der Zee and Gaynella Greenlee established the Guarantee Photo Studio in Harlem in 1916. In 1918, they married. During World War I, his company grew, and the pictures he photographed from that time until 1945 received the most critical attention.
War department image of the arrival of the 369th regiment in Hoboken New Jersey taken by an unnamed photographer; National Archives and Records Administration, Public domain, via Wikimedia Commons
In 1919, he shot the homecoming of the 369th Infantry Regiment, a mostly African American force known as the "Harlem Hellfighters". In 1927, at the height of his celebrity, his daughter Rachel, then 19, passed away of appendicitis in Portland, Maine. Van der Zee documented her burial, including poems and angelic imagery in the final prints.
Mid-Career
Hundreds of images were produced by him during the 1920s and 1930s to document Harlem's expanding middle class. Its citizens entrusted him with the photographic documentation of their funerals, weddings, sports stars, celebrities, and social lives.
Van der Zee quickly rose to prominence as Harlem's most prolific photographer.
Dancer Bill "Bojangles" Robinson, poet Countee Cullen, Charles M. "Daddy" Grace, Florence Mills, Joe Louis, and leader Marcus Garvey were among his many famous subjects.
Photograph from Views of America portfolio by James van der Zee (1920); Museum of Photographic Arts Collections, No restrictions, via Wikimedia Commons
By the early 1930s, Van der Zee was finding it more difficult to earn a living from his photographic business, partly due to the severe financial conditions of many of his clients, and partly due to the rising popularity of personal cameras, which lessened the need for professional photography.
Van der Zee mostly worked in the studio, employing a range of props such as architectural features, backgrounds, and costumes to create stylized tableaux in the late Edwardian and Victorian aesthetic traditions. Sitters frequently imitated superstars from the 1920s and 1930s in their stances and attitudes, and he meticulously edited negatives and prints to generate a glamorous atmosphere.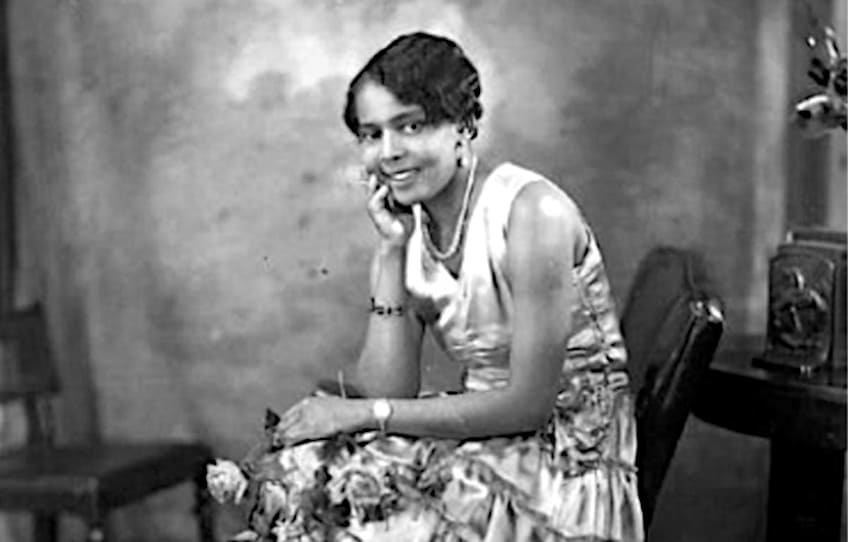 Photograph by James Van Der Zee of an unidentified sitter (c. 1923); Ramapith, CC BY-SA 4.0, via Wikimedia Commons
Later Career
Between the wars, he also photographed funeral shots. These pieces were eventually gathered in Toni Morrison's preface to The Harlem Book of the Dead (1978). Van der Zee captured 21-year-old artist Jean-Michel Basquiat in 1982, at the age of 96, for the January 1983 issue of Interview magazine. Van der Zee passed away on the 15th of May, 1983, in Washington, D.C.
Ten years later, as a posthumous homage, James van der Zee's photography was displayed at the National Portrait Gallery. Van der Zee was elected to the International Photography Hall of Fame and Museum in 1984.
James van der Zee's Photography
James van der Zee worked hard to capture his subjects' personalities, characters, and inherent beauty. His images are more than just documentation; they are celebrations of Harlem lifestyles that featured some degree of prosperity and an appreciation for minor luxuries – a beaded gown, a fur stole, a meticulously furnished home.
African Americans now had the ability to regard themselves as the center of their own world, just as white Americans might in mainstream culture.
Beau of the Ball by James van der Zee (1926); James van der Zee, Public domain, via Wikimedia Commons
This was mirrored in James van der Zee's meticulous framing of a world of refinement, elegance, and beauty that was sometimes unattainable in the world beyond his studio. He often retouched his works, adding elements that weren't originally there.
Techniques
Van der Zee's works are both creative and technically skilled. His work was in high demand, thanks in part to his experiments and proficiency with multiple exposures and editing negatives of children. The emerging black middle class was a recurring topic in his photography, which he documented using conventional techniques in often utopian compositions.
Van der Zee processed the photographic negatives to provide glitter and a grand atmosphere. This had an impact on the likeness of the person captured, but he believed that each image transcends the subject.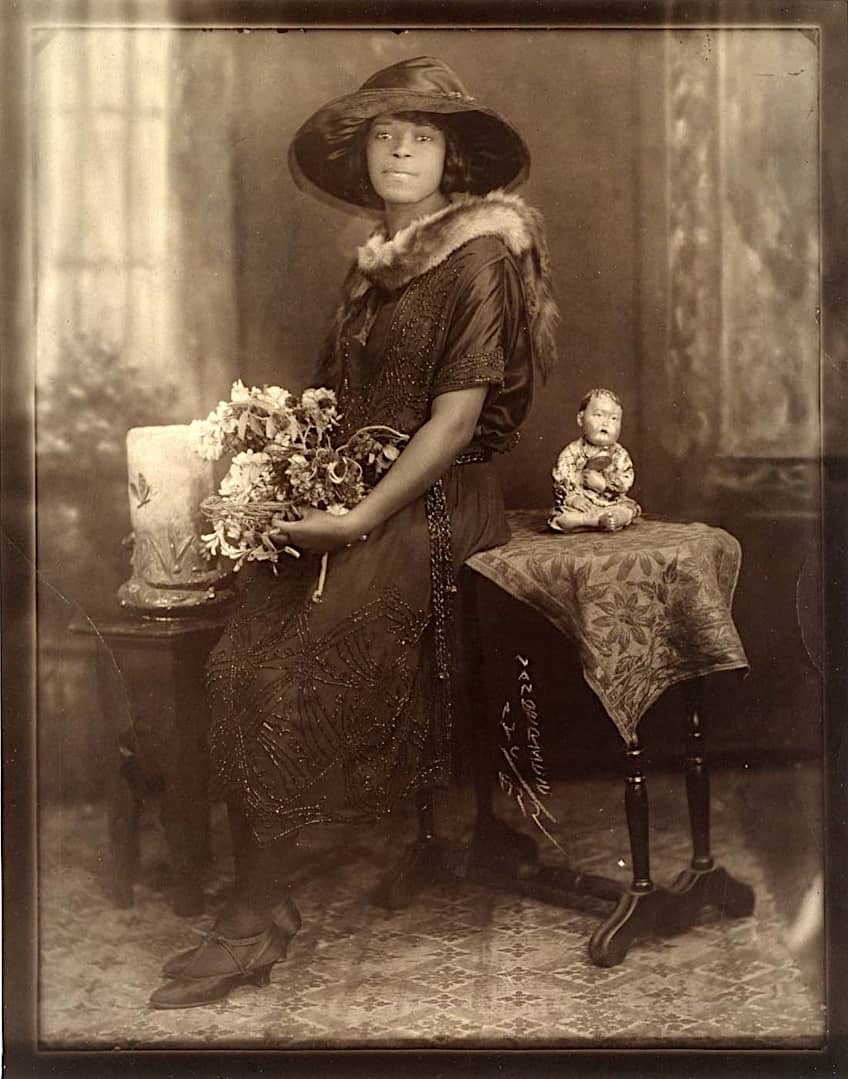 Evening Attire by James Van Der Zee (1922); Smithsonian American Art Museum, Public domain, via Wikimedia Commons
Examples of James van der Zee's Photography
James van der Zee's beautifully staged family photographs show that the family unit was an essential part of his life. Van der Zee occasionally merged many images in one photo, for instance, by superimposing a funerary image over a photograph of a deceased lady to create the impression of her spooky presence, or by superimposing a spectral infant over a shot of a wedding to represent the couple's future.
"I tried to make the lens take what I believed should be there." Van der Zee explained.
Alpha Phi Alpha Basketball Team (1926)
| | |
| --- | --- |
| Photographer | James van der Zee |
| Year | 1926 |
| Medium | Gelatin Silver Print |
| Location | Metropolitan Museum of Art, New York |
James van der Zee, like many photographers of the day, altered his negatives—just one of several ways he utilized to portray his subjects in their finest light. Van der Zee edited the sides of their noses and eyes in this portrait to smooth out wrinkles and shadows. He corrected the features more on the right side to combat a significant shadow cast by intense sunshine coming from the left. Van der Zee created these effects by drawing on the negative with something opaque, most likely a graphite pencil.
When the negative was used to generate a print, the pencil lines obstructed part of the light traveling through it. Under a microscope, retouching can appear sloppy, yet without magnification, viewers are unlikely to discern that the picture has been edited. The white lines against the deeper shadows provide the appearance of a smooth mid-tone region.
Lady With Wide-Brimmed Straw Hat (1934)
| | |
| --- | --- |
| Photographer | James van der Zee |
| Year | 1934 |
| Medium | Gelatin Silver Print |
| Location | Pepita Milmore Memorial Fund |
James van der Zee, on the other hand, went beyond the usual "touch-ups," adorning his subjects with jewelry in a number of his images. A wonderful illustration of this technique can be observed in Lady With Wide-Brimmed Straw Hat. The sitter appears to be wearing a ring and bracelet that sparkles white in the reflecting studio lights. However, under a microscope, the lines are plainly handmade.
By adding gems to the negative, Van der Zee embellished the woman's hand. These improvements demonstrate Van der Zee's eye for composition.
The brilliant white jewelry contrasts with his subjects' complexion, catching the viewer's attention. These embellishments, though, prove to be more than just compositional brilliance. They demonstrate the photographer's sensitivity and regard for his subjects. Van der Zee aimed to portray his subjects in their best, most adorned light.
Jean-Michel Basquiat (1982)
| | |
| --- | --- |
| Photographer | James van der Zee |
| Year | 1982 |
| Medium | Silver Print |
| Location | Bonhams, New York |
In this photograph, renowned painter Jean-Michel Basquiat is seated in a distinct and unique wooden chair, distractedly gazing away from the camera as the left side of his head rests in the palm of his left hand, while the fingers from his right hand are on his thighs, barely brushing a cat who is sitting in his lap with its head facing downward.
In this specific famous photography session, one photo even has Basquiat wearing a tie, a pair of jeans with dried-up splattered paint all over them, and a fine suit jacket.
Another shot shows Jean-Michel facing the camera as his artistic hands entwine. This photo shoot was done when Van der Zee was already in his 90s.
Recommended Reading
Now that we have had a look at James van der Zee's biography and art, maybe you would like to learn more about the famous photographer. There is only so much of James van der Zee's biography that can be shared in one article, so buying a book will provide much more information for you to enjoy.
James Van Der Zee self-portrait photograph taken in 1918; James Van Der Zee, Public domain, via Wikimedia Commons
VanDerZee: Photographer 1886 -1983 (1993) by Deborah Willis-Braithwaite
He was one of the greatest American photographers of the 20th century and the preeminent African-American photographer of his day. His portraits are included here, the first assessment of his work in more than 20 years, along with several fresh, previously unreproduced finds. References, notes, and 200 photographs in duotone are presented. He painted portraits of local celebrities, such as the performers of the several legitimate theaters that were operating in Harlem before the war, but his main source of income came from the area's burgeoning middle class. Van der Zee pursued his work with passion and vigor while working under similar commercial restraints, taking pictures of his subjects in front of elaborate backdrops or sets, and creating intricate group photographs.
Excellent analysis of the life and art of this premier photographer
Includes his portraits and previously unpublished images
The first comprehensive survey of James van der Zee in 20 years
View on Amazon
The James Vanderzee Studio (2004) by Colin Westerbeck
James van der Zee had a picture studio in Harlem at numerous locations from 1916 to 1969. He photographed notable Harlem people including the preacher Daddy Grace, Marcus Garvey, and Adam Clayton Powell Sr. during his prime, which was during the 1920s and 1940s. But in the latter stages of his work, he focused more of his time on a mail-order company that retouched and restored the old images of other individuals. However, in the same year that he shut down his final gallery, his work was on display at the Harlem on My Mind show at the Metropolitan Museum of Art in New York.
Ideal introduction to the photography of James van der Zee
Provides an intimate glimpse into his life and studio practice
Spotlights the aspirations of Van der Zee's middle-class clientele
View on Amazon
James van der Zee truly was the master of Harlem Renaissance photography. James Van der Zee's photographs manage to capture the essence of life in Harlem, yet also captured the spirit of how he perceived things should be. He was able to shoot, touch up, and edit photographs in a manner that changed the way Harlem and its residents were seen by others, and even themselves.
Frequently Asked Questions
What Is Harlem Renaissance Photography?
From the late 1910s until the mid-1930s, the Harlem area of New York City was the epicenter of an artistic explosion. It became a popular destination during the Great Migration, especially for African Americans who had left the southern regions in quest of better prospects. Over 170,000 African Americans were living in the Harlem area of Manhattan at this time. The influx of individuals into the neighborhood sparked the Harlem Renaissance, a time of ground-breaking creative and cultural innovation.
What Is James van der Zee's Photography Known For?
James van der Zee was a highly regarded photographer who took photographs of the daily lives of the inhabitants of Harlem. His artistic input helped to cultivate the emerging Harlem culture which saw African-Americans develop music, poetry, literature, and photography that spoke to the ambitions and desires of their people and culture. James van der Zee not only took photos of ordinary citizens but also of the individuals who played important roles within the community.
Jordan Anthony is a film photographer, curator, and arts writer based in Cape Town, South Africa. Anthony schooled in Durban and graduated from the University of the Witwatersrand, Johannesburg, with a Bachelor of Art in Fine Arts. During her studies, she explored additional electives in archaeology and psychology, while focusing on themes such as healing, identity, dreams, and intuitive creation in her Contemporary art practice. She has since worked and collaborated with various professionals in the local art industry, including the KZNSA Gallery in Durban (with Strauss & Co.), Turbine Art Fair (via overheard in the gallery), and the Wits Art Museum.
Anthony's interests include subjects and themes related to philosophy, memory, and esotericism. Her personal photography archive traces her exploration of film through abstract manipulations of color, portraiture, candid photography, and urban landscapes. Her favorite art movements include Surrealism and Fluxus, as well as art produced by ancient civilizations. Anthony's earliest encounters with art began in childhood with a book on Salvador Dalí and imagery from old recipe books, medical books, and religious literature. She also enjoys the allure of found objects, brown noise, and constellations.
Learn more about the Art in Context Team.