Aaron Douglas was part of the 1920s movement known as the Harlem Renaissance which reshaped African-American art. Aaron Douglas' paintings combined elements of traditional African culture and modern art. Aaron Douglas' art portrayed African-themed subjects in a bold style that was reminiscent of modern art, most notably Cubism. Let us learn more as we go through Aaron Douglas' Biography and answer questions such as "What was unique about Aaron Douglas' art?"
Aaron Douglas' Biography
| | |
| --- | --- |
| Nationality | African-American |
| Date of Birth | 26 May 1899 |
| Date of Death | 2 February 1979 |
| Place of Birth | Topeka, Kansas |
| Associated Movement | Harlem Renaissance |
Aaron Douglas' paintings represented an approach to art that combined Western experiences with non-Western traditions to elevate them both to an almost avant-garde level. He added a feeling of African-American culture in his works by incorporating visual interpretations of the repetitive and rhythmic patterns found in jazz music.
Douglas limited himself to a palette of only a few colors per artwork, instead relying on dramatic focal points such as radiating beams and various compositional elements to draw the viewer's eye in and guide it through the artwork.
Childhood
Aaron Douglas grew up in a considerably big African-American household in Kansas. Despite not being from a particularly well-off family, his parents were adamant that he understood the value of a decent education and that he always carried himself respectfully and with confidence. His father was a baker and his mother painted watercolors as a hobby, which was something they enjoyed doing together.
This sparked a lifelong passion for the arts, and he already knew from a young age that he wanted to become an artist more than anything else.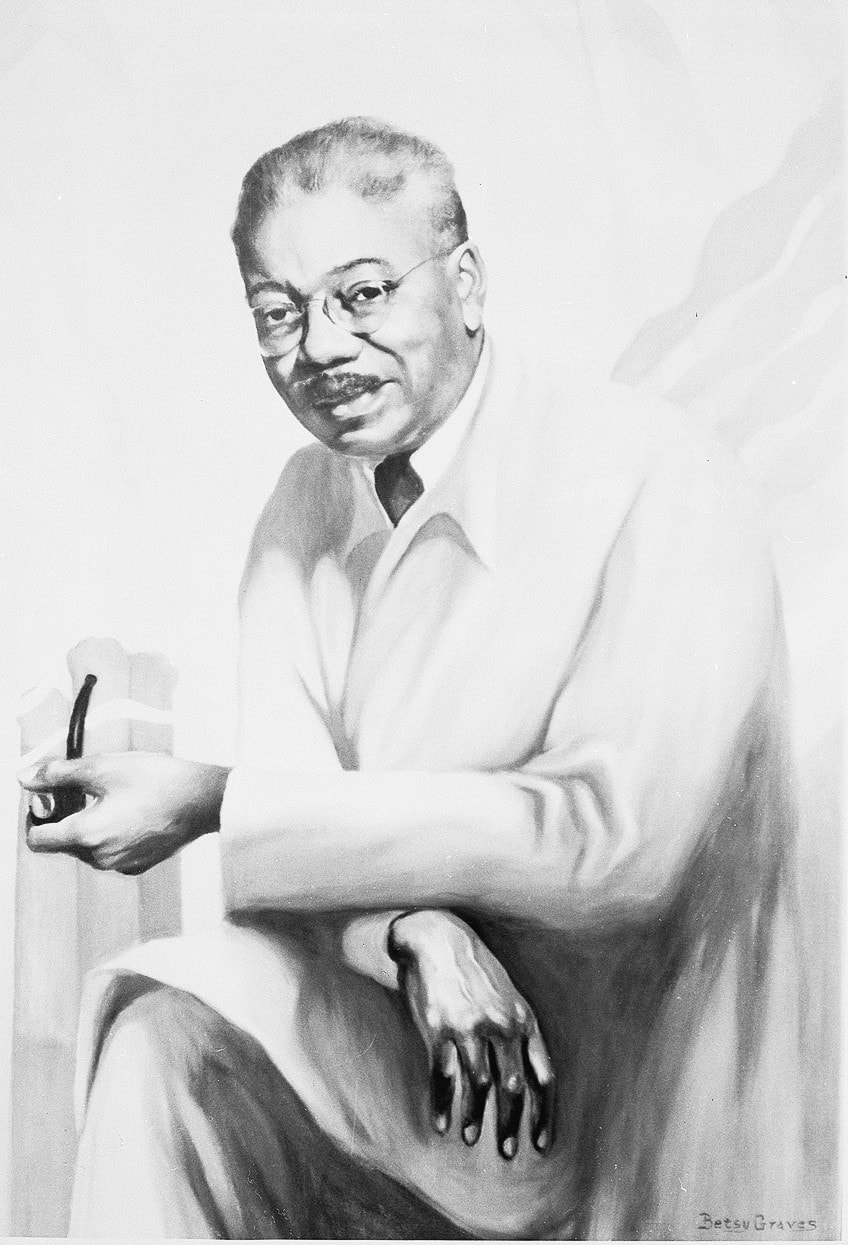 Portrait of artist Aaron Douglas by Betsy Graves Reyneau, located in the National Archives at College Park in Maryland, United States; National Archives at College Park, Public domain, via Wikimedia Commons
After he graduated from high school in 1917, he planned on attending university, yet did not have the finances to do so. He left Kansas and traveled to Detroit with a friend where he found temporary work at the Cadillac auto factory. At the factory, he was often subject to racial discrimination and given the dirtiest jobs to perform.
When he was not working at the factory, he would go to the Detroit Museum of Art to attend evening art classes.
Education and Training
Douglas would eventually enroll at the University of Nebraska, and by the time he left in 1922, he had received his Bachelor of Fine Arts degree. When he was not studying, he worked part-time as a waiter. After graduating he moved to Kansas City to teach art at Lincoln High School – one of only two African-Americans on the faculty. He felt restricted during his stay there and yearned to find a place where he felt free of the restrictions imposed upon him because of his color. As a result, he left Kansas City in 1925 and moved to New York.
It was in Harlem that he discovered the cultural scene that was thriving in the region, feeling almost overwhelmed by all the new sights and experiences.
One of those unique experiences was being in an area that was entirely populated by black people, a place where they were fully in charge, and the perfect environment for a new movement to flourish. Upon arriving in New York, he was allowed to study with the artist Winold Reiss after winning a scholarship. Reiss's mix of Native and African American portraits with commercial images would greatly influence Aaron Douglas' art.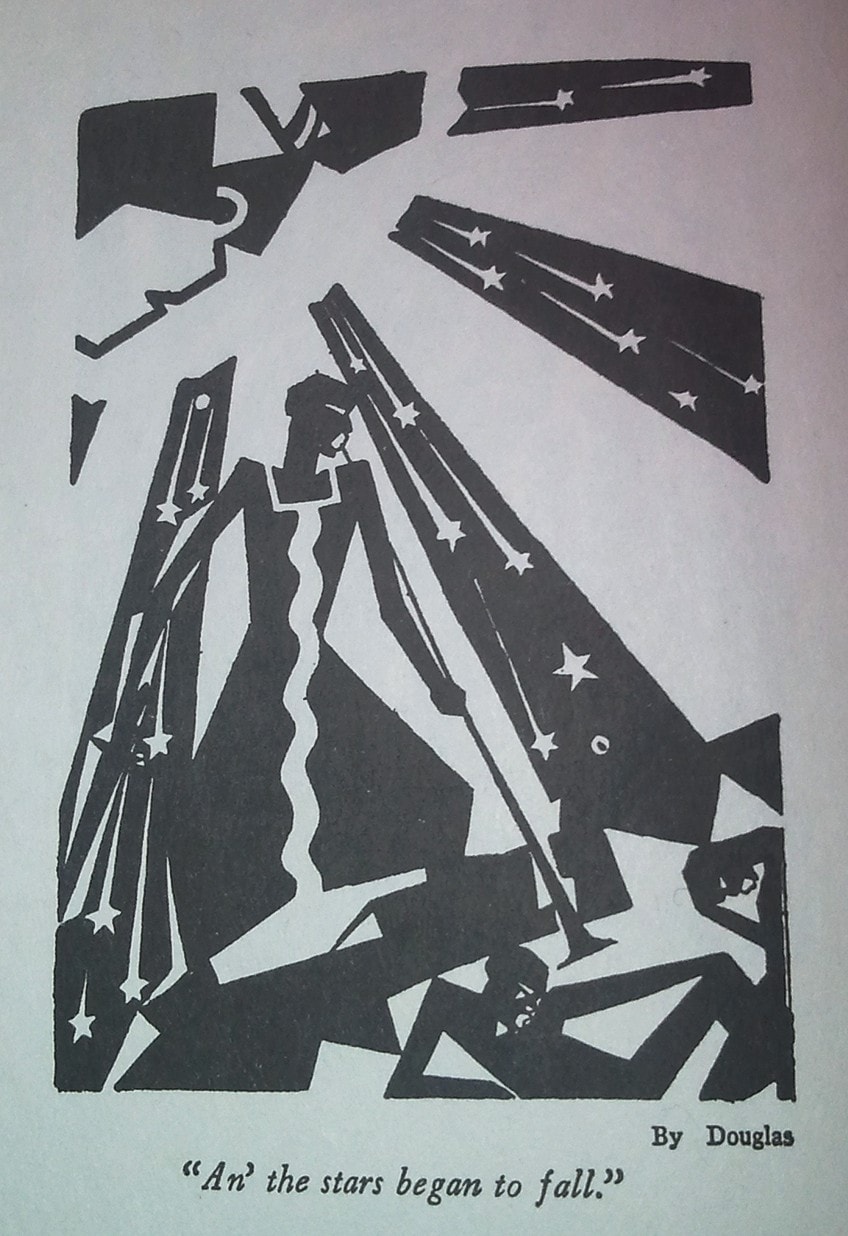 An' the Stars Began to Fall (1925) by Aaron Douglas; Aaron Douglas, Public domain, via Wikimedia Commons
It was also Winold Reiss who suggested to Douglas that he source his artistic inspiration from his African heritage. It was at this point that Aaron Douglas' paintings began to display his characteristic style which featured silhouettes surrounded by rhythmic patterns. He received several commercial commissions due to his distinct style and created illustrations for publications such as Opportunity and The Crisis.
In these pieces, Aaron Douglas' art reflected the challenges that marginalized groups faced on a daily basis, and he won several awards for these works.
Alain LeRoy Locke then commissioned Douglas to illustrate his anthology The New Negro (1925), after which he was approached by many other Harlem writers to produce illustrations for their works too. Douglas was the co-founder of Fire!!, a magazine that was to serve as a medium by which they could freely express themselves without the restrictions of the older generations or ideals imposed upon them.
They aimed to attempt to create a channel through which they could share these concepts with the world around them, with the ultimate goal of destroying the old perceptions of what a person of color should or could be. Despite often tackling an array of topics that were regarded as controversial at the time, many of the people within the Harlem Renaissance felt that it did nothing more than promote the stereotypical image of African-Americans and did not make it past the first edition.
Douglas married a teacher named Alta Sawyer on the 18th of June, 1926. She would turn out to be an inspirational force in his life and encouraged him throughout their time together until her sudden passing.
Aaron Douglas would start to receive financial aid from Charlotte Mason, a wealthy widower who was known for supporting several Harlem Renaissance artists and writers. However, she believed that African-Americans were more spiritual as they were somehow more primitive and less sophisticated, and this troubled Douglas and many of the other people she supported.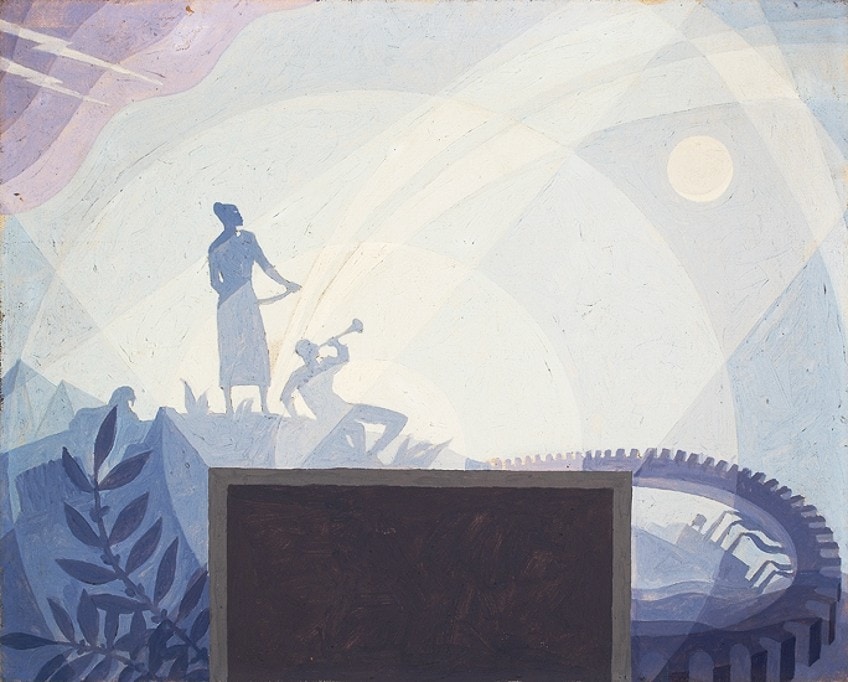 Douglas's study for a mural in the home of Dr. W.W. and Mrs. Grace Goens in Hockessin, Delaware, 1963. Currently located in the Delaware Art Museum in Delaware, United States; Delaware Art Museum, CC BY-SA 3.0, via Wikimedia Commons
Their relationship came to an abrupt end when she once said to the artist that his instincts had been dampened by his Western art education. In 1928, Douglas received a fellowship to study with Dr. Albert Barnes who curated an African and modern art collection in Pennsylvania.
Barnes was a physician and an art lover who had collected more than 120 African artworks from countries such as Ivory Coast, Mali, and the Congo.
Among the objects that he collected were various containers and vessels for drinking out of, as well as pieces of furniture and ceremonial masks. In an era when artifacts such as these were treated as curiosities, Barnes was unique in his choice of displaying the objects as works of art.
Mature Period
In the 1930s, Aaron Douglas' art career started to steadily rise and he was soon regarded as a prominent figure within the Harlem Renaissance movement. In 1930, Douglas was commissioned to create a set of murals for the Cravath Memorial Library while serving as Fisk University's resident artist. He befriended Othon Friesz, a Fauvist artist, and Charles Despiau the sculptor when he went to study at the Académie Scandinave in Paris in 1931.
He returned to Harlem in the following years and in 1935, he co-founded the Harlem Artists Guild which aimed to promote and support aspiring African-Americans who had a passion for the arts.
They also hoped to create public awareness of the struggles that were facing the African-American community, such as poverty, unemployment, and racism. In the period between 1918 and 1937, Douglas we a highly respected figure in the movement which itself was connected to the larger "New Negro" movement.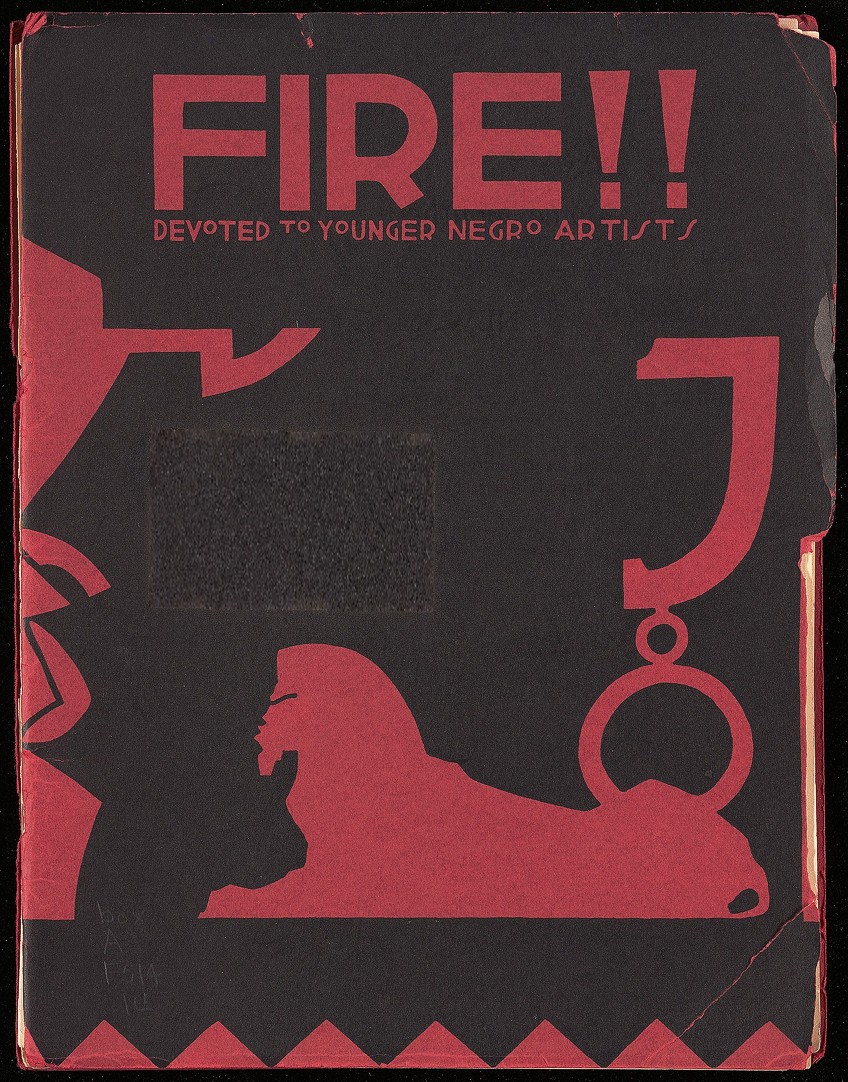 Front cover from Fire!! (1926) by Aaron Douglas; Aaron Douglas, Public domain, via Wikimedia Commons
During this period many organizations arose across the country to promote civil rights reforms, and African Americans sought to discover and define their own culture and heritage, creating an alternative to the racist stereotypes perpetuated by those that wanted to undermine their value and history. Several factors lead to the formation of the movement such as the migration of African-Americans from the countryside to the city in search of better prospectives, as well as a desire to fight against systematic racism.
Many African-Americans had fought in World War I and had gained a sense of patriotism for their country, yet believed it to be an injustice that they were meant to die for their country yet were barely allowed to live in it comfortably.
Late Period
Douglas received a fellowship to travel to various black colleges in the South in 1937. The Fellowship was awarded by Julius Rosenwald, a businessman who had personally funded the building of more than 5,000 schools in the South for African-American students. He was also responsible for financially supporting hundreds of black writers and artists.
Douglas was then asked to serve as the head of Fisk University's art department, which he did until he retired in 1966.
Douglas is renowned as an individual who helped facilitate massive changes and reforms regarding the education of African-Americans and the potential opportunities available to them. In the later years of his life, he would often travel between Frisk University and New York so that he could attend exhibitions and lectures.
The University presented him with an honorary doctorate in 1973 and continued to lecture until he passed away in 1979.
Notable Artworks
Douglas is often regarded as an influential figure in African-American history who helped define the cultural identity that they wished to create on their terms and by their own rules. This identity was formed by both African and modernist elements that represented the convergence of the traditional and the contemporary. Aaron Douglas' paintings represented African iconography in a way that was easily accepted by the African-American culture.
| | | | |
| --- | --- | --- | --- |
| Artwork | Date | Medium | Location |
| Sahdji (Tribal Women) | 1925 | Ink and graphite on woven paper | Howard University Gallery of Art, Washington, D.C. |
| The Judgment Day | 1927 | Illustration | Magazine cover |
| Harriet Tubman | 1931 | Oil on canvas | Bennet College Art Gallery, Greensboro, North Carolina |
| The Negro in an African Setting | 1934 | Oil on canvas | Schomberg Center for Research in Black Culture |
Recommended Reading
Aaron Douglas' biography reveals a man that was determined to use his art to make a difference in his community. He achieved more than that, helping to open the door for many aspiring young African-American artists. If you would like to learn more about Aaron Douglas' art, then check out one of these great books.
Aaron Douglas: Art, Race, and the Harlem Renaissance (1995) by Amy Helene Kirschke
Douglas was the first African-American artist to incorporate African themes into his modern art. This book takes a look at the role he played in transforming the American cultural landscape. It contains letters from his wife, Aaron Douglas' artworks, and much more.
Filled with reproductions of Douglas's art
An exploration of Douglas's life and career
Traces the struggle of this artist to advance the Harlem Renaissance
View on Amazon
Aaron Douglas: African American Modernist (2007) by Aaron Douglas
With his art, Douglas created a potent legacy of African-inspired modern art. Regarded as a key figure within the Harlem Renaissance, his work helped define the culture and art of his generation and people. This is a period in African-American history that deserves close study, as does this wonderful book.
A reflection of the rich interchange between visual arts and music
Explores the avenues that shaped Douglas's artworks
Beautiful reproductions of Douglas's murals
View on Amazon
Aaron Douglas was an important and influential African-American artist whose role in the Harlem Renaissance was seen as invaluable. He was involved in many aspects of social reform, from working with various groups that fought to end racism, to educational institutes where he taught students the importance of African-American culture as a self-defined movement of expression and change. Aaron Douglas' paintings were characterized by his unique blend of African motifs and modern art styling.
Frequently Asked Questions
What Was Unique About Aaron Douglas' Art?
Aaron Douglas' paintings were a mixture of traditional African motifs and modernist aesthetics, particularly Cubism. He managed to take tribal motifs and styles and re-interpret them through a contemporaneous lens, mixing the old and the new in the hope of discovering a new visual language that could be used to communicate this emerging cultural vocabulary. He added rhythmic elements to his art through the use of visual patterns, emulating the repetitive pulses and grooves of jazz music.
Who Was Aaron Douglas?
Aron Douglas was an artist and a social reformer. He helped set the tone for an emerging culture of African-Americans that were proud of their heritage and history. He was part of a movement that wanted to change the way black people were seen and treated in Western society, demanding civil rights and to be treated fairly. Douglas helped create many organizations that would further the education and artistic culture of many African-American people, promoting the idea that art could act as a means by which a new culture could express their desires and hopes for the future.
Isabella studied at the University of Cape Town in South Africa and graduated with a Bachelor of Arts majoring in English Literature & Language and Psychology. Throughout her undergraduate years, she took Art History as an additional subject and absolutely loved it. Building on from her art history knowledge that began in high school, art has always been a particular area of fascination for her. From learning about artworks previously unknown to her, or sharpening her existing understanding of specific works, the ability to continue learning within this interesting sphere excites her greatly.
Her focal points of interest in art history encompass profiling specific artists and art movements, as it is these areas where she is able to really dig deep into the rich narrative of the art world. Additionally, she particularly enjoys exploring the different artistic styles of the 20th century, as well as the important impact that female artists have had on the development of art history.
Learn more about the Art in Context Team.