Famous Watercolor Artists – History's Best Watercolorists
Almost everyone has tried watercolor painting at some point in their lives, be it in childhood art classes or in adult attempts to tap into that inner spark of creativity. Although watercolor painting is familiar to most, it has a rich and intricate history that is perhaps less well-known. In the following article, we hope to take you through some of the most influential watercolor artists who have shaped the medium into its present form.
What Makes Watercolor Painting Distinct?
Watercolor painting is a form of fine art painting, sitting alongside oils and acrylics. Watercolor paints consist of color pigments suspended in a water-based solution, typically gum arabic. Many artists also view inks, gouaches, and modern acrylic paints to be part of the watercolor medium due to their water solubility. Typically, you apply watercolor paints to paper rather than canvas, although the paints also produce beautiful effects on fabric, wood, vellum, and even some plastics and stone.
A Brief History of Watercolor Painting
Watercolor art has a much older origin than many would expect, with the oldest paintings originating from the Paleolithic era in Europe. Watercolors became increasingly popular during the middle ages, used to illustrate decorative designs and small scenes in books and manuscripts.
It was in the renaissance period that watercolor really began to take center stage. Painters like Albrecht Dürer began to use watercolors in new ways like sketches, informal drawings, and copies. Watercolor painting became a fundamental part of aristocratic education and was used widely in England to document travels and adventures. Despite its popularity, watercolor painting did not join oil painting and printmaking as the most revered art mediums during this period.
Watercolors did finally begin to climb the status ladder in the 19th century. Sparked by a growing global interest in the natural world, watercolor illustrations became common in scientific publications. An influential artist during this era was James Audubon, whose book The Birds of America portrayed 25 new species of birds in vivid watercolor illustrations. With this book, James Audubon set the stage for an artistic custom that continues today, field guides with watercolor illustrations.
Plate 2 of Birds of America by John James Audubon depicting Yellow-billed Cuckoo, 1827–1838; John James Audubon, Public domain, via Wikimedia Commons
Famous Watercolor Artists of the Past
There are several influential watercolor masters who have shaped the art form into its current expression. Let us now dive into some of the most famous watercolor painters from the past.
Albrecht Dürer (1471-1528)
We have already met Albrecht Dürer briefly, as many consider him to be the first prominent European watercolor artist. Although not exclusively a watercolor artist, his watercolor paintings are perhaps his most famous works. Covering a broad range of topics, including landscapes, nudes, animals, and plants, Dürer's work is celebrated for its intricate detail and impressive color contrast. Dürer's most well-known work is perhaps Young Hare, which is a perfect example of his skill with watercolor paints.
William Blake (1757-1827)
You are bound to know William Blake as one of the most famous English poets of his time, but he was also an accomplished watercolor artist and printmaker. Using unconventional methods, Blake made unique works of art that were a departure from his contemporaries. Building on his training in engraving, Blake perfected his style of "Fresco."
Blake began paintings in this style began by painting a design onto a surface like a copper plate. Blake then printed this design onto paper and finished it off with watercolor and ink. This process made sure that each painting was unique. The body of work by Blake that is perhaps most famous is a set of illustrations he created for Dante's Divine Comedy in 1826. Unfortunately, this collection is incomplete as Blake died a year later.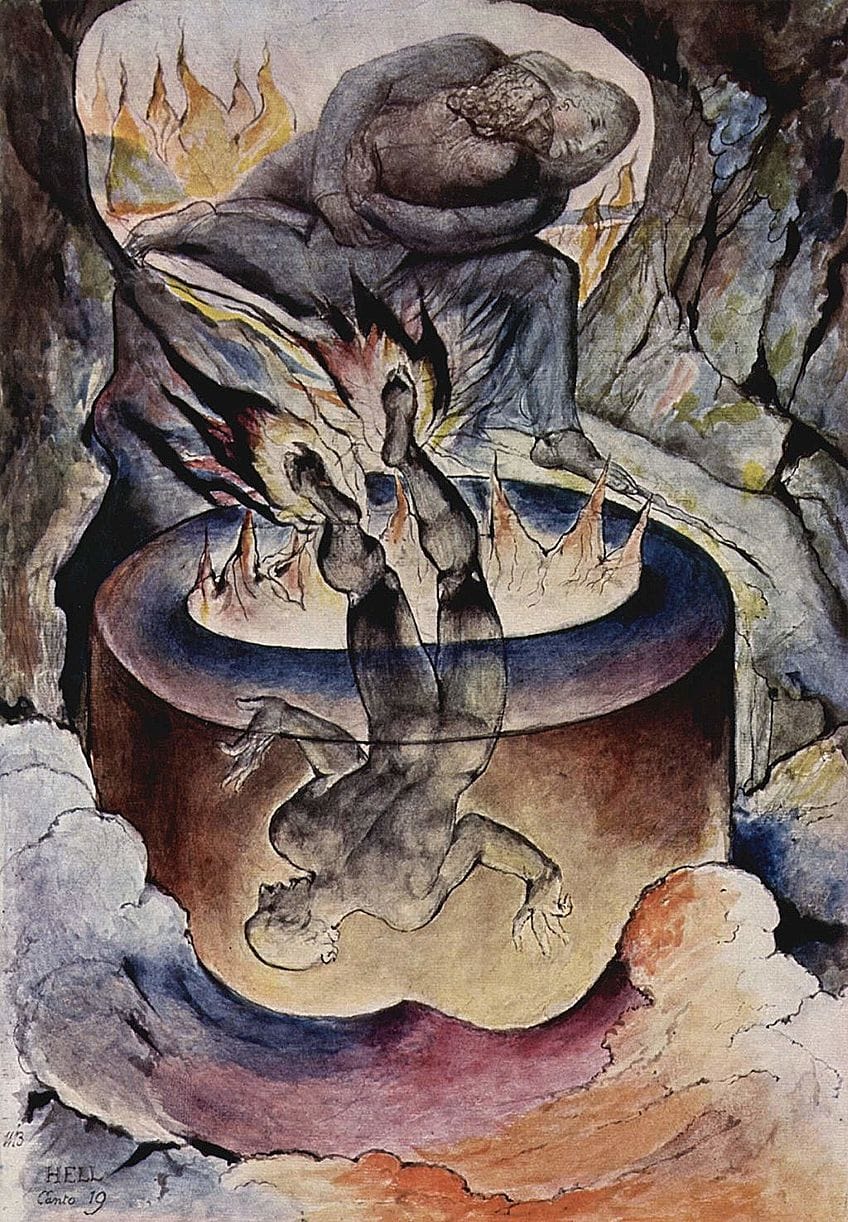 The Simonist Pope (1824-1827) from William Blake's series of illustrations for Dante's Divine Comedy ((1472); William Blake, Public domain, via Wikimedia Commons
J.M.W. Turner (1775-1851)
Joseph Mallord William Turner left this world with over 2000 famous watercolor paintings. Turner showed artistic talent from a young age. In 1790, at just 20 years of age, his first watercolor was accepted for exhibition at the Royal Academy. At the beginning of his artistic career, Turner used watercolors for commercial works and exhibited many paintings to earn an income. Later, Turner used watercolors to document his travels around the world.
A distinct feature of Turner's work is how he was able to capture the essence of the places he visited rather than produce a faithful depiction.
John Constable (1776-1837)
Although John Constable is perhaps most well-known for his oil paintings, after 1829 he began to focus on watercolors. The subjects of his paintings reflect those of his earlier oil sketches. Watercolors lend themselves to the expressive and naturalistic way in which Constable captured changes in the sky. Thicker brushes and more opaque pigments gave Constable the ability to communicate dark and emotive scenes.
John James Audubon (1785-1851)
We have already mentioned John Audubon and his book The Birds of America. Audubon was a naturalist and an artist, and his work perfectly encapsulates this. It is thanks to Audubon that we have the tradition of watercolor renderings of the natural world. You can identify Audubon's work by the intricate detail and fine-tuned color play he used.
Elizabeth Murray (1815-1882)
Elizabeth Murray is one of the most notable English watercolor artists to date. Having learned her craft from her father, Murray found her own recognizable style. Murray and her father traveled together throughout Morroco, Rome, Andalusia, and settled for a while in the Canary Islands.
Murray was fond of the traditional English watercolor method that involved superimposing delicate layers of intricately mixed colors to create a sense of depth. Her famous watercolor paintings are identifiable by her warm color choices that often included blues, violet, red, gold, brown, black, olive, and tan. In 1855, Murray founded the first Society of Female Artists.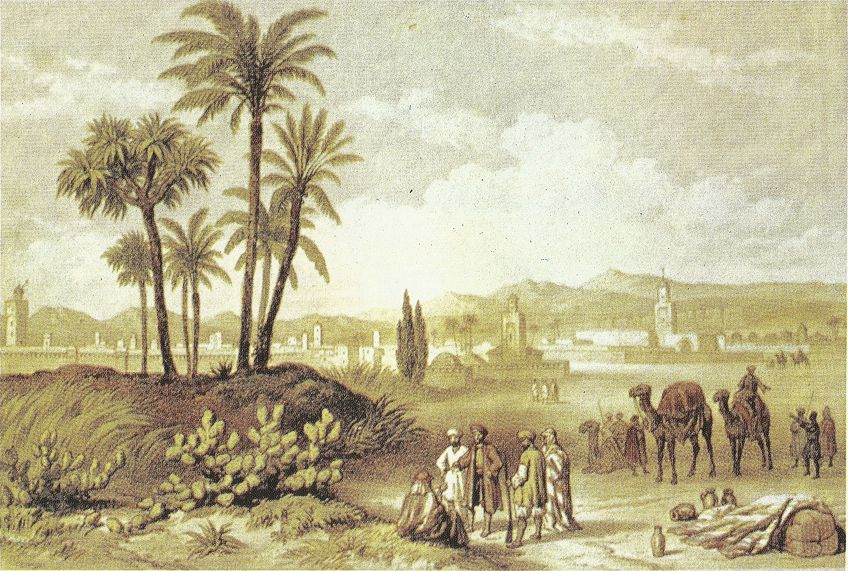 A watercolor of a landscape of Morocco during the stay of its painter, Elizabeth Murray, 1849; Elizabeth Heaphy Murray, Public domain, via Wikimedia Commons
Thomas Moran (1837-1926)
Renowned watercolor artist Thomas Moran is very well-known for watercolor landscapes. Moran's paintings were integral to the creation of the Yellowstone National Park in 1892. Moran attended the Rocky Mountain and Hudson River schools, and both of these schools were indispensable to the imagery and aesthetic of American landscape painting in the 19th Century.
John Singer Sargent (1856-1925)
Another well-known name in artistic circles is John Singer Sargent. Most famous for his portraiture, Sargent used watercolors to create fluid landscapes to document his travels throughout North Africa, Italy, and the Middle East. Creating more than 2000 watercolors, Sargent was only involved in two watercolor exhibitions in his life.
Sargent experimented with watercolor techniques where he played with negative space and often using sponges to mix wet washes. The watercolor paintings from Sargent have a sense of luminosity to them.
Paul Klee (1879-1940)
Many art historians regard Paul Klee as one of the most prominent painters of the past century. Klee's watercolor paintings are abstract, three-dimensional, and highly expressive, intended to challenge the viewer's perception. Sometimes Klee included lines within his watercolors to emphasize distinct surfaces within the composition.
Klee joined an artist group, Blaue Reiter, in 1911, and in this group he used his watercolor paintings to explore and express the spiritual realm. These works are interested in primitivism and non-figurative artistic forms, and the color was vitally important.
Tightrope (1880) by Paul Klee; Multiple Painters, CC0, via Wikimedia Commons
Charles Demuth (1883-1935)
Coming of artistic age during the Modern era, Charles Demuth infused aspects of cubism into his watercolor paintings. Watercolors were the first love of Demuth, as he only turned to oils later in life. The subjects of Demuth's watercolors ranged from fruit and flowers to his experiences of homosexuality. Taking influence from Cubism, Demuth's style incorporated structured elements and more diffuse watercolor washes. In this way, the work of Demuth brings together a sense of structure and flow.
Georgia O'Keefe (1887-1986)
Georgia O'Keefe is perhaps most well-known for her oil renditions of flowers, but in her late 20s, she used watercolors to experiment with composition and color while she headed up the West Texas State College art department.
The subjects of O'Keefe's watercolors were often abstract portrayals of the landscapes of Texas and nude bodies. Art historians consider O'Keefe's watercolor period as an essential part of her finding her artistic feet, as her later less-representational oil paintings flowed from her abstract watercolors.
Reginald Marsh (1898-1954)
American watercolor artist Reginald Marsh is well-known for his depictions of the bustling and gritty urban life. Throughout the 1930s and 40s, Marsh faithfully documented the everyday goings-on of New York City, including Coney Island and burlesque parlors. Marsh used his observational skills and skills with a watercolor brush to work for The Daily News newspaper.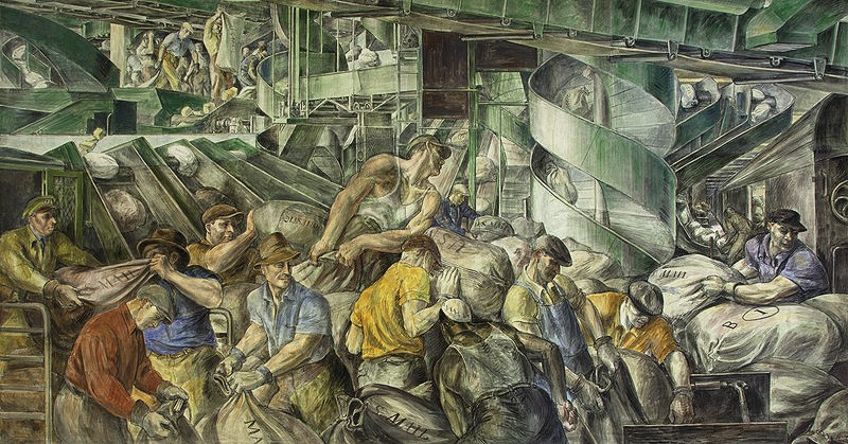 Photograph of mural Sorting the Mail by Reginald Marsh at the Ariel Rios Federal Building, Washington, D.C., 1936; Carol M. Highsmith, Public domain, via Wikimedia Commons
Andrew Wyeth (1917-2009)
Andrew Wyeth was one of a few watercolor masters who used watercolors from a young age. With guidance from his father, N.C Wyeth, who was a well-known illustrator, Wyeth had his first solo exhibition of watercolor paintings when he was 20 years old. After this sold-out show, Wyeth's career continued to prosper, and he began to expand his medium of expression to include egg tempera. Wyeth did continue to craft watercolors, typically inspired by solitary walks in Chadds Ford, his hometown.
Wyeth's paintings are recognizable by their muted color pallet, including browns, yellows, and tans. There is a distinct sense of melancholia and emptiness within his paintings.
Antonio Calderara (1903-1978)
A modernist painter, Italian Antonio Calderara was self-taught and also dabbled in graphic design and craftsmanship. Taking inspiration from modernist artists like Mondrian and Albers, Calderara is known for his use of non-figurative imagery and geometric abstraction. Calderara's paintings incorporate color fields and graphic elements like lines and geometric shapes.
Contemporary Watercolor Artists That You Can Follow
The artists that we have covered thus far are no longer alive and creating art. The road paved by these artists has led to an incredible number of contemporary watercolor painters. Below we present some of our favorite contemporary watercolor masters who you can actively follow and enjoy.
Tracy Emin
Although not predominantly watercolor-focused, Tracy Emin has a large number of watercolor pieces in her oeuvre. Emin's work draws on her own lived experiences, and many of her watercolor collections are emotionally poignant.
In a genre known as confessionary art, Emin has produced collections like her Abortion series in 1990 that depict particularly painful personal and collective experiences. Emin received a nomination for the Turner Prize in 1999. You can follow the work of Tracy Emin as she creates a new studio here.
Sukran Moral
Sukran Moral is a prominent contemporary Turkish water painting artist, known for her unapologetic grappling with the cultural injustices in our modern societies. Much of her work is performance art, but her watercolors are just as provocative, tackling topics like mental illness, immigration, transsexuals, and prostitutes. Moral's work tackles the role that religion plays in the continued oppression of women in her country. You can see more of Sukran Moral's work on Instagram here.
Dima Rebus
Dima Rebus inhabits the darker side of watercolor painting. Born in Russia, Rebus is a young artist whose work lives in the gap between surrealism and reality. Rebus' paintings often show humans in spooky situations and have slightly cheeky titles, a commentary on the world we inhabit today.
You can find Rebus' work in illustrations for several publishing houses and magazines. One of his most recent works is the image for Saints & Strangers, a National Geographic film. You can see Rebus' fine touch and intricate detail more on his website here.
Nadine Faraj
Sex is possibly one of the oldest topics for artistic expression, but Nadine Faraj adds a little more humanity to the subject in her abstract watercolor paintings. Faraj splatters, spills, and washes the watercolors onto the canvas in a way that makes them seem to be moving.
The nude bodies that Faraj brings to life are sometimes engaged in erotic scenes and sometimes seem simply to exist. You can see Faraj's work globally, recognizable by their sensual and sensitive depictions of sex and sexuality. If you are interested in following Nadine Faraj, you can visit her website here.
Ekaterina Smirnova
Ekaterina Smirnova is an American water painting artist based in Seattle. Smirnova is famous for her large-scale watercolor paintings inspired by space, science, and technology. To create her pieces, which are sometimes 2.5 meters tall, Smirnova uses large brushes to spray, wipe, wash, and splash paint onto rough textured paper. Recently, Smirnova has begun to incorporate electronic elements into her watercolor pieces. If you want to see where Smirnova takes the field of watercolor painting next, you can follow her on her website here.
Recommended Reading About Watercolor Artists
Below, we have listed two books that we think give valuable insight into the watercolor medium if you would like to explore this topic further.
Watercolor: Paintings of Contemporary Artists
This illustrated paperback by Leslie Dutcher, Sujean Rim, and Samantha Hahn presents the work of a number of contemporary watercolor artists. Watercolor painting has seen a sudden surge in popularity in the realms of fashion, art, and home décor. In this book, Dutcher explores the portfolios of over 20 top contemporary watercolor artists globally.
This volume surveys the current revival of watercolor painting
Watercolor stunningly showcases painterly brilliance
Includes artist profiles, an informative history, and inspiring preface
View on Amazon
Watercolor: A History
A comprehensive history of watercolor painting throughout the ages, this illustrated book by Louvre curator Marie-Pierre Sale is the definitive book on watercolor. This book will lead you through exploring watercolor techniques from the middle ages to the 20th Century. Although a little pricey, it is worth it if you are interested in learning more from such a reputable source.
Louvre curator Marie-Pierre Salé tells the story of watercolor painting
It features more than 300 full-color illustrations
400 pages of watercolor history from past to present
View on Amazon
Isabella studied at the University of Cape Town in South Africa and graduated with a Bachelor of Arts majoring in English Literature & Language and Psychology. Throughout her undergraduate years, she took Art History as an additional subject and absolutely loved it. Building on from her art history knowledge that began in high school, art has always been a particular area of fascination for her. From learning about artworks previously unknown to her, or sharpening her existing understanding of specific works, the ability to continue learning within this interesting sphere excites her greatly.
Her focal points of interest in art history encompass profiling specific artists and art movements, as it is these areas where she is able to really dig deep into the rich narrative of the art world. Additionally, she particularly enjoys exploring the different artistic styles of the 20th century, as well as the important impact that female artists have had on the development of art history.
Learn more about Isabella Meyer and the Art in Context Team.
Cite this Article