Paul Klee – Modernist, Colorist, Theorist, and Innovator
You may recognize the famous Swiss-born artist, Paul Klee for his contribution to color theory and his artworks, which revolved around the absurd, Surrealism, Cubism, and Expressionism. This article will introduce you to famous Paul Klee artworks and include a breakdown of the life and impact of the Swiss painter.
Paul Klee: Biography
A much-underrated artist of the 20th century, Paul Klee was born in Switzerland in 1879 to a German music teacher named Hans Klee and his wife Ida Marie Klee, who was a Swiss singer. Paul Klee was a natural draftsman, who over many years, developed his mastery over color and tonality. The variety expressed in his drawings and paintings ranges from highly polychromatic to monochrome artworks. His works are best known for his "dry" sense of humor and political commentary.
Klee's humorous observation of social power structures is evident in Two men meet, each assuming each other to be in a higher position (1903); The original uploader was DL5MDA at German Wikipedia., Public domain, via Wikimedia Commons
Klee was highly inventive for his time and his works even included references to musical notations, elements of poetry, and child-like expressions. Many described Klee's works as hard to classify into a particular genre or movement simply because of how experimental his work was.
| | |
| --- | --- |
| Artist Name | Paul Klee |
| Date of Birth | 18 December 1879 |
| Date of Death | 29 June 1940 |
| Nationality | German |
| Associated Movements | Surrealism, Bauhaus, Expressionism, Cubism, Abstraction, Orientalism, Cityscapes, early Modernist painting |
| Medium(s) Used | Drawing, watercolor, printmaking, painting |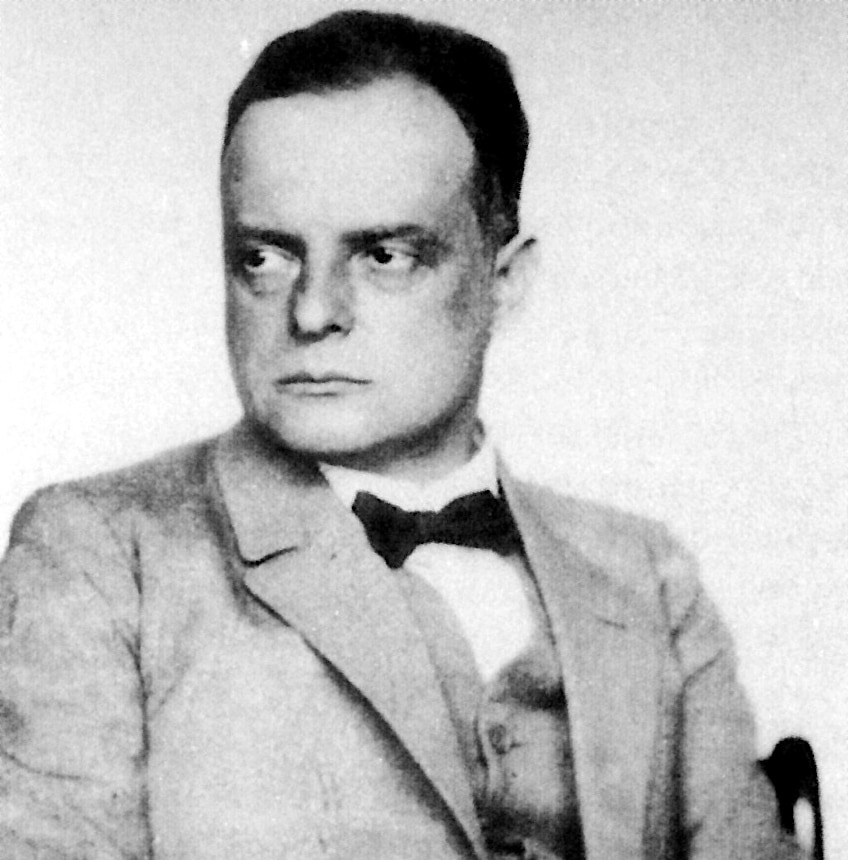 Photograph of Paul Klee by Hugo Erfurth (1927); ); Hugo Erfurth, Public domain, via Wikimedia Commons
From an early age, the Swiss-German artist Paul Klee was exposed to and encouraged to pursue music and became a young prodigy of the violin by age seven. In addition to music, Klee also dabbled in drawing and poetry but this was not as encouraging as a creative career as much as music was.
While Klee followed in his parents' wishes for him to pursue a career as a musician, he eventually followed his heart during his teenage years and took to the visual arts. By the age of 16, Klee was already making interesting developments in his landscape drawings and viewed music as not something that he had any passion for anymore. He was more invested in experimenting with innovative ideas.
An example of Klee's interest in combining visual and musical harmony is Fugue in Red (1921); Paul Klee, Public domain, via Wikimedia Commons
Around 1898, Klee attended the Munich Academy of Fine Arts along with future German painter, Franz von Stuck, where he acquired his artistic skills in painting. During his young adult years, he frequented many pubs and fathered an illegitimate child around 1900, who tragically died after several weeks. This happened all within the span of the young artist still enrolled at the academy.
After his graduation, Klee moved to Italy with the Swiss sculptor Hermann Haller, where the two embarked on an adventure of study of the classical masters. During his trip, he developed a different stance towards color and viewed it as a means of escape from pessimism.
Klee's lifelong fascination with color is evident from these pages in his notebooks (c. 1921-1931); Paul Klee (1879-1940), Public domain, via Wikimedia Commons
For Klee, the Roman Forum and the Vatican "spoke" to him and he became acutely aware of his "struggle" with color.
When the artist returned to his hometown in Bern, he took up additional art classes and by 1905 delved into experimentation. During this stage he began drawing with a needle on a black pane of glass from which he generated around 57 drawings.
Drohendes Haupt (1905); Paul Klee, Public domain, via Wikimedia Commons
Towards the end of Klee's career, he worked on many large-scale hieroglyphic-like paintings that also displayed his fate, since his health began to decline due to an autoimmune disease called scleroderma. In the period approaching his death, he produced 50 drawings depicting angels. Many Swiss authorities regarded his work at this time as "degenerate" due to the fact that he had not acquired Swiss citizenship despite being born in Switzerland.
Career Highlights and Influences
In 1914, Klee traveled to Tunisia, which further fueled his inclination toward color and light. He even exclaimed that "color and I are one". In a way, Klee was possessed by the quality of color he witnessed in Tunisia. It was here that Klee dove into the "cool Romanticism of Abstraction".
Garden in St. Germain, The European Quarter Near Tunis (1914); Paul Klee, CC0, via Wikimedia Commons
Between 1903 and 1905, Klee created his first series of works, Inventions, which consisted of 11 zinc plate etchings featuring grotesque-looking characters. During this period, Klee was still involved in music, theater, and concert reviews. Klee soon married a Bavarian pianist, Lily Stumpf, and he even tried to become a magazine illustrator, which unfortunately did not work out.
Klee held his first solo exhibition in Bern in 1910, after which he moved to three other cities.
Klee's graphic talents were also featured in the 1920 version of Candide by Voltaire edited by Kurt Wolffe. This was a great opportunity for Klee to begin his exploration into the absurd through the satirical writings of Voltaire. Alfred Kubin, an Austrian illustrator and printmaker, encouraged Klee to pursue the Voltaire project and introduced him to the German art critic Wilhelm Hausenstein. By 1911, Klee had also met Wassily Kandinsky (a Russian painter) and August Macke (a German Expressionist artist). During this time, he joined Der Blaue Reiter as a member of the editorial team.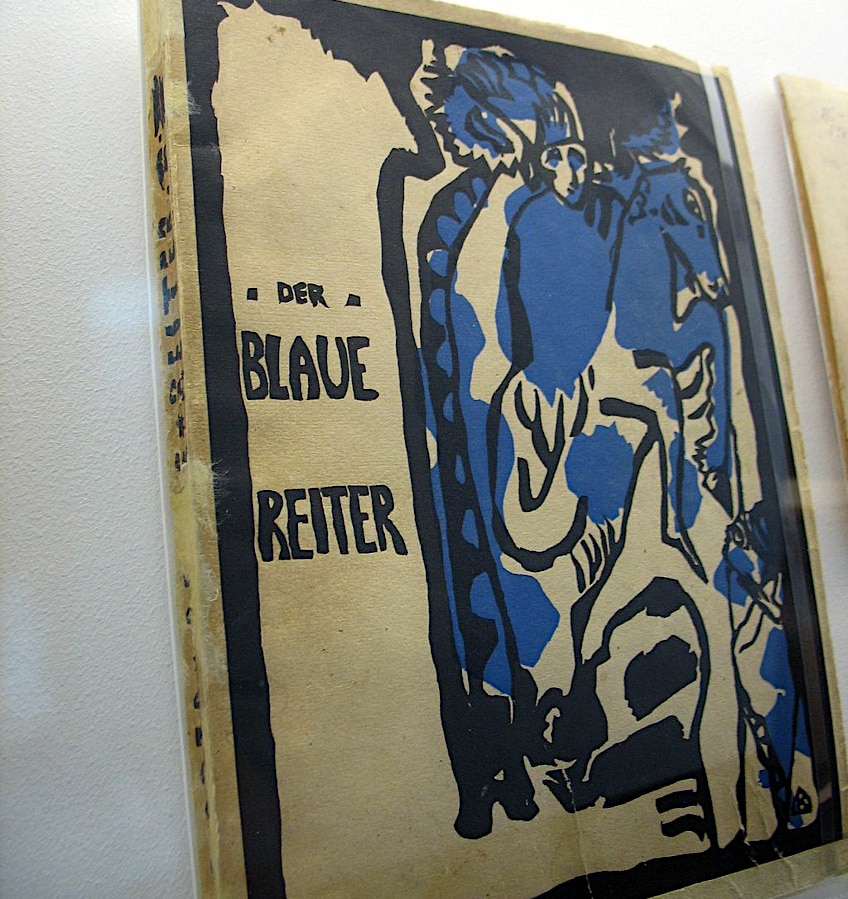 Cover of Der Blaue Reiter of 1912 with illustration by Klee's longtime friend Wassily Kandinsky; Goesseln, CC BY-SA 3.0, via Wikimedia Commons
Through these artistic associations, Klee began to revisit his exploration of color theories, and by 1912 he took to Paris where he encountered Cubism.
In the wake of World War I, Klee was initially unbothered by the historical event and claimed that he was already experiencing a war within him. Klee was conscripted as a reserve soldier in Prussia in 1916 and the effects of his experience in the war began to kick in after he lost two friends, August Macke and Franz Marc to the war. To express his despair, he took to art and created several lithographs. Throughout the war, he was transferred to different divisions, including the Oberschleissheim, the aircraft maintenance company, and the Royal Bavarian flying school. Klee still managed to produce artwork and exhibit during the war and by 1917, his work began to receive proper attention from art critics.
Paul Klee in military uniform, 1916; Deutsch: Fotograf unbekanntEnglish: Photographer unknown, Public domain, via Wikimedia Commons
Around 1919, Klee secured a contract with Hans Goltz, a German art dealer, where Klee gained more exposure and commercial success. In 1920, Klee's retrospective showcased over 300 artworks. Klee was also a form educator at the Bauhaus institution in Germany where he held workshops on bookbinding, mural painting, and glass staining. This is also where Kandinsky reunited with Klee and their friendship was back on track. Along with Kandinsky, Klee joined a group called The Blue Four in 1923. The group exhibited in the United States in 1925 and this is also where Klee gained favor with the French Surrealists in Paris after hosting his first Paris exhibition.
Newspaper page of the San Francisco Examiner from 1 November 1925 depicting Galka Scheyer and the Blue Four (1925); Erbsloeh at German Wikipedia Repro Andreas Erbslöh, Public domain, via Wikimedia Commons
Another target of the Nazis, Klee found himself being called out in a Nazi newspaper while serving at the Düsseldorf Academy. The Gestapo found their way to his home and raided it in a search – the result? He was fired from his post. By the end of 1933, also his last year in Germany, Klee created more than 500 artworks. By 1939, and after much encouragement from Kandinsky and Pablo Picasso despite his declining health, Klee delivered more than 1200 works.
In Germany, 17 of Klee's works were featured in a 1937 exhibition for "degenerate art" and approximately 102 of Paul Klee artworks were seized from public collections.
Degenerate Art exhibition catalogue entry on Paul Klee (1937-38); Fritz Kaiser and Verlag für Kultur- und Wirtschaftswerbung for the Amtsleitung Kultur of the Reichspropagandaleitung der NSDAP, the Central Party Propaganda Office of the German Nazi Party, CC BY-SA 4.0, via Wikimedia Commons
The Art of Paul Klee
Paul Klee often made work in isolation from his contemporaries and many of the key events in his life, as described above, influenced some of his most famous artworks. Below, we will take a look at some of the most famous Paul Klee paintings, prints, and drawings that showcase his varied style and approach to art.
Paul Klee Paintings
Paul Klee utilized a variety of mediums in his art practice, including watercolor, oil, pastel, and ink. Klee also incorporated spray painting into his artworks as well as a variety of painting techniques such as impasto, mixed media, glazing, knife applications, and mixed media. Below, you will find a few famous Paul Klee paintings that demonstrate his variety of paintings and expressions in color.
Fenster und Palmen (1914)
| | |
| --- | --- |
| Date | 1914 |
| Medium | Watercolor on grounding paper on cardboard |
| Dimensions (cm) | 44 x 46 |
| Where It Is Housed | Kunsthaus Zürich, Zurich |
Painted during his trip to Tunisia, Klee portrays an Abstract Expressionist or Cubist cityscape in watercolor, of which the style was most likely influenced by artists like Paul Cézanne. Fenster und Palmen, which translates to "Windows and Palm Trees" in English, is a study of the natural environment in a manner that does not imitate but serves as an analogous composition that utilizes a grid to help convey the scene.
Fenster und Palmen (1914); Paul Klee, Public domain, via Wikimedia Commons
Many of Klee's works draw inspiration from the colors of the orientalist environment and are examples of his period in painting referred to as the mystical-abstract period, which lasted between 1914 and 1919.
Red Balloon (1922)
| | |
| --- | --- |
| Date | 1922 |
| Medium | Oil on muslin primed with chalk |
| Dimensions (cm) | 31.8 x 31.1 |
| Where It Is Housed | Solomon R. Guggenheim Museum, New York |
Red Balloon is one of the most famous Paul Klee paintings that illustrate the artist's exploration of geometric painting coupled with his personal symbolic style and development of an abstract pictorial language. The painting is not a red balloon alone but rather a whimsical cityscape made up of different geometrical shapes. This artwork was made during the period when Klee taught at the Bauhaus and reunited with Kandinsky.
Red Balloon (1922); Paul Klee, Public domain, via Wikimedia Commons
Fright of a Girl (1922)
| | |
| --- | --- |
| Date | 1922 |
| Medium | Watercolor, India ink and oil transfer drawing on paper, with India ink on paper mount |
| Dimensions (cm) | 29.7 x 22 |
| Where It Is Housed | Solomon R. Guggenheim Museum, New York |
Fright of a Girl is an excellent example of Klee's mastery over watercolor and his ability to layer the pigment in such a way that it maximizes the medium. The darker tones of gray-blue illustrate his incorporation of ink as well to assist in highlighting the subject and outlining the background. The symbol of the arrow is also a famous element in his paintings and is seen facing the direction of the frightened girl whose face and body language suggests her frozen state.
Fright of a Girl (1922); Paul Klee, CC0, via Wikimedia Commons
The child-like expression in the face of shock is a key theme in this painting as many adults would normally try to hide their physical reaction to being scared. The lines in the figure's eyes also draw attention to the girl's state of confusion while the lines on the jewels of her necklace indicate that she is facing forward and the viewer occupies the position of the source of the shock.
Cat and Bird (1928)
| | |
| --- | --- |
| Date | 1928 |
| Medium | Oil and ink on gessoed canvas, mounted on wood |
| Dimensions (cm) | 38.1 x 53.2 |
| Where It Is Housed | Museum of Modern Art, New York |
Paul Klee was also considered to be one of the early Modernist artists who strived towards the "pure cultivation" of painting. For Klee, this meant that he placed importance on the display of art elements like shape, line, and color as opposed to the use of them to represent something else. This approach is also possibly an early foreshadowing of Minimalism.
Cat and Bird (1928); Paul Klee, Public domain, via Wikimedia Commons
In Cat and Bird, Klee depicts a calm cat in waiting but with a sense of fright as an underlying theme. His choice of colors is also suggestive of a calm mood as seen in the rose and blue-green hues. The bird can be found within the image of the cat, sitting on the cat's mind instead of physically present over the cat's head.
Klee draws attention to the idea of fantasy, appetite, and the hunger of the brain by making the subject of this painting a solitary head of a cat. The cat's desire is represented by a heart on the tip of the cat's nose.
According to Klee, one of his main aims in painting was to reveal secret visions through art. The soft, calm tones also evoke a sense of child-like drawing and suggest that, for Klee, children were closer to creativity than adults. Klee had taken much interest in the art of children and was fascinated by their use of line and shape to depict animals. More so, how children are able to reduce complex imagery into digestible, simple forms, thus evoking the purity of painting and illustration itself.
Ad Parnassum (1932)
| | |
| --- | --- |
| Date | 1932 |
| Medium | Oil on canvas |
| Dimensions (cm) | 100 x 126 |
| Where It Is Housed | Kunstmuseum Bern, Bern, Switzerland |
Prior to his teaching career at the Kunstakademie Düsseldorf, Klee embarked on a trip to Egypt, which inspired this painting in 1932. Klee created this painting by first applying a layer of muted squares on an unprimed canvas and then stamped smaller squares in white and other muted colors. The subject in focus is made clear by the dark line forming the apex of the pyramid and in the background, a bright orange sun in a solid circle of color. The painting is said to be inspired by the pyramids but also a depiction of Klee's home country where the Niesen overlooked Lake Thun. Ad Parnassum is also considered to be a prime masterpiece portraying the painting technique called Pointillism. This painting was celebrated in a 2007 exhibition at Zentrum Paul Klee.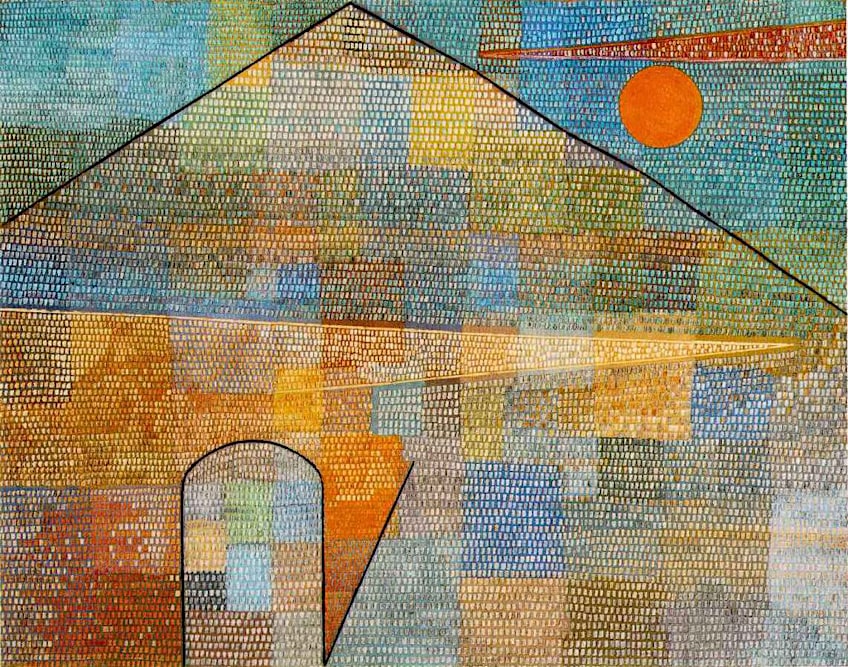 Ad Parnassum (1932); Paul Klee, Public domain, via Wikimedia Commons
Paul Klee Drawings
Many of Paul Klee's drawings are considered artworks in themselves and not preparatory sketches for paintings. His drawings often feature single continuous lines that suggest his fine-tuned control during execution. Below are just a few examples of Paul Klee's drawings.
Neu Gerichtet (1939)
| | |
| --- | --- |
| Date | 1939 |
| Medium | Chalk on paper on cardboard |
| Dimensions (cm) | 35 x 50 |
| Where It Is Housed | David Zwirner Gallery, New York |
Neu Gerichtet showcases Klee's Minimalist Abstract master over line by illustrating various abstract forms in a linear geometric manner while paying attention to the use of space, both positive and negative in his drawing. Using chalk, Klee illustrates what appears to be a dismembered human body, separated by space, which suggests the parts of the form originate from the same "form" or body but are merely connected through the controlled space around them. The forms seem to touch each other through proximity while not visually crossing paths. Neu Gerichtet also translates to Newly Adjusted and is a work produced in the year prior to his death, perhaps symbolic of his proximity to his life's end.
Im Liegen (1939)
| | |
| --- | --- |
| Date | 1939 |
| Medium | Grease crayon and pencil on primed paper on cardboard |
| Dimensions (cm) | Size unavailable |
| Where It Is Housed | David Zwirner Gallery, New York |
Im Liegen, which translates to "Lying Down" in English, is a crayon and pencil drawing that depicts an abstract figure lying down. The figure is not entirely filled in with color and was drawn in a scratchy motion with some portions of the figure showing more emphasis than others. The figure could likely represent Klee's state at the time, considering his condition worsened toward his last few years. The figure is also drawn with two prominent circles for eyes separated by the strong linear marking in the middle of the figure's face that gives shape to the figure's nose and mouth.
The Paul Klee foundation was established in 1947 following his widow's death. A new museum, Zentrum Paul Klee, was founded in 2005 that currently houses many of Paul Klee's drawings and paintings that were donated by the Klee family.
Paul Klee Prints
The prints of Paul Klee also draw attention to his use of a continuous line informed by his confidence in his imagination and an outlet for expression prior to his endeavors in painting and color theory. Below are a few Paul Klee prints, executed using lithography and etching techniques.
Virgin in the Tree (1903)
| | |
| --- | --- |
| Date | 1903 |
| Medium | Etching |
| Dimensions (cm) | 31.7 x 41.6 |
| Where It Is Housed | Museum of Modern Art, New York |
Virgin in the Tree is one of many Paul Klee prints etched between 1903 and 1905 as part of his first series, Inventions. In an act of rebellion, Klee provides a distorted representation of the female nude in this etching. Throughout his lifetime, Klee created more than 100 prints via lithography and etching techniques. For Klee, etching offered him more structure during a time when he was disappointed by his early paintings.
Virgin in the Tree (1903); Paul Klee (1879-1940), Public domain, via Wikimedia Commons
In providing a distorted version of the female nude, Klee expressed his individuality and freedom from the conservative mainstream art of the time and decided to focus on his imagination instead. The woman in the etching is seen lying over a gnarly-looking tree, which serves as a projection of the antithesis of the romanticized female nude.
"Inventions" was a crucial series that helped solidify and launch Klee's career. After he pursued painting, he still made time to make prints where he integrated ideas around Cubism, including the child-like aesthetic and the art of the mentally ill.
Der Selbstmörder auf der Brücke (1913)
| | |
| --- | --- |
| Date | 1913 |
| Medium | Line-block reproduction |
| Dimensions (cm) | 26 x 19.4 |
| Where It Is Housed | Museum of Modern Art, New York |
Der Selbstmörder auf der Brücke, translated in English as "Suicide on the Bridge", is a line-block reproduction print illustrating moments prior to a man committing suicide on a bridge. While it is unclear as to who the figure was meant to portray or perhaps it was a local happening that Klee was taken aback by, the print is an interesting work from Klee's early printmaking work. The composition consists of multiple images embedded in the greater image itself and what stands out from the composition are the visuals of the bridge, a large clock below the figure, the figure itself dressed in a top hat, and the steep descent that the figure is presented with.
Klee managed to capture the intensity of the moment as if the act of suicide for a suicidal man were like a ticking time bomb at the very last moment.
It is also as though Klee was unpacking what suicide could look like in the moments building up to the fall. His child-like drawing style is also as evident as ever and particularly clear in his depiction of the water below, as characterized by the U-shaped markings.
Angelus Novus (1920)
| | |
| --- | --- |
| Date | 1920 |
| Medium | Monoprint |
| Dimensions (cm) | 31.8 x 24.2 |
| Where It Is Housed | Israel Museum, Jerusalem, Israel |
Paul Klee was incredibly innovative and invented the oil transfer method, which was used to create this monoprint. Monoprinting is a printmaking technique used to create unique artworks. The German critic and writer, Walter Benjamin who bought Klee's print in 1921 expressed his interpretation of the subject, which was an angel as implied by the title, which translates to New Angel.
Angelus Novus (1920); Paul Klee, Public domain, via Wikimedia Commons
This iconic print was described by Benjamin as an image of an angel that appears as though "he is about to move away" from something that he was fixated on as suggested by the angel's gaze. The angel is also portrayed with his mouth open and wings spread out as if preparing to take flight. Benjamin's in-depth interpretation goes on to suggest that the angel was witnessing a catastrophe that kept piling in front of him and although the angel wished to remain and resurrect the dead or thing that has been shattered, he is prevented from doing so due to a storm "blowing from Paradise". The angel had his wings caught in the violence of the storm and therefore was unable to close his wings. The storm, according to Benjamin, was the device that "propelled him into the future". The storm was known as progress.
Benjamin later committed suicide in 1940 but always held onto the belief that the angel possessed a mystical quality. Since then, this angel became a source of inspiration for many artists, poets, and filmmakers, including John Akomfrah and Carolyn Forché.
Herzdame (1921)
| | |
| --- | --- |
| Date | 1921 |
| Medium | Lithograph |
| Edition | 100 with 1 known proof |
| Dimensions (cm) | 29 x 21.9 |
| Where It Is Housed | Museum of Modern Art, New York |
Also known as the Queen of Hearts, this lithograph by Klee is a perfect example of the whimsical talents of Paul Klee. Klee developed this style during his time at Bauhaus, which was marked by the appearance of geometric shapes coupled with signs and symbols in an abstract manner. The lithograph print shows a shaded heart that stands out amidst the many linear markings. The print featured in a section of volume two, number four of the journal, Der Ararat. Glossen, Skizzen und Notizen zur Neuen Kunst in 1921.
Herzdame (1921); National Gallery of Art, CC0, via Wikimedia Commons
Popular Book Recommendations
Paul Klee artworks are quite varied and for anyone taking an interest in artists who dabbled in mixed media, Expressionism, Cubism, Modernism, and Abstraction, Paul Klee makes for an excellent reference point. Below, you will find a list of popular books for more information on the life and art of Paul Klee.
The Diaries of Paul Klee (1898-1918) (1968) by Paul Klee and Felix Klee
Available in hardcover and paperback, this gem of a book is the perfect addition to your Swiss art history bookshelf. The Diaries of Paul Klee provides you with intimate details of the personal and professional life of Paul Klee, as written by the artist himself. The book contains the complete record of his life from age 19 until 40 and provides fans with a complete inner view of his backstory and personal events that shaped some of his iconic artistic periods. The book also contains valuable insights into the artist's creative processes and techniques, which make for a brilliant resource to any printmaker or painter.
Excellent translation of Paul Klee's diaries as edited by his son
Showcases Klee's talents as a writer, artist, and innovator
This account of first-hand creative explorations is ideal for enthusiasts
View on Amazon
Paul Klee: The Angels (2013) by Paul Klee, Michael Baumgartner, Walter Benjamin, et. al.
During the last stages of Paul Klee's life, he suffered from scleroderma, which went undiagnosed for many years until his death in 1940. Paul Klee: The Angels is a book that delves into the artist's fascination with angels toward the latter stages of his life. The figure of an angel is considered to be Klee's most important series of works and his portrayal of the angels themselves is even more remarkable. Klee often portrayed angels as trapped within human bodies and vessels that are more human than the earthly human itself. While Klee experienced his fear of death, he also highlighted the fragility of his state and existing in an incurable state. The book contains around 138 full-color reproductions of Paul Klee artworks, including texts by the artist and Walter Benjamin.
Beautifully illustrated compendium of Klee's depictions of angels
Includes essays on Klee by authors such as Walter Benjamin
Provides new insight into specific works such as "Angelus Novus"
View on Amazon
Paul Klee: Tierisches (2020) by Ulrich Luckhardt and Nina Zimmer
This highly-rated book by Nina Zimmer and Ulrich Luckhardt is a must-read for Paul Klee fans. Paul Klee: Tierisches is a book on the exploration of Klee's view of nature and animals, as well as the intersections between humans and animals. According to a diary entry by Paul Klee in 1904, he wrote of two mountains that were each belonging to the Gods and animals. The in-between area he described as the valley of humankind and this serves as the touchstone from which the book begins to unpack Klee's commentary and imagination towards animals, hybrid creatures, and the "multifaceted" relationships that exist between humans and animals.
Catalogue of the first exhibition exploring Klee's interest in animals
This compilation includes works rarely exhibited in public
Provides insight into the ideas that informed Klee's animal imagery
View on Amazon
Paul Klee is a noteworthy figure to draw inspiration from and a strong source of encouragement in the pursuit of imaginative expression and looking beyond the confines of academic teachings. Klee's inspiring experiences and complex portfolio of artwork are admirable, to say the least and offer a space of contemplation on the basic art elements that can be presented in such a profound way.
Take a look at our Paul Klee paintings webstory here!
Frequently Asked Questions
Why Is Paul Klee Considered an Important Artist?
Paul Klee is considered an important artist for his contribution to color theory through his exploration of color and incorporation of multiple styles derived from Cubism, Orientalism, Expressionism, Surrealism, Abstraction, and the use of different mediums.
Who Was Paul Klee's Greatest Source of Inspiration?
Paul Klee's greatest source of inspiration was his friendship with Wassily Kandinsky who is most famous for being dubbed the godfather of abstraction.
How Many Paintings Did Paul Klee Create in His Lifetime?
Paul Klee created over 10,000 paintings throughout his lifetime.
How Much Are Paul Klee Paintings Worth?
Paul Klee paintings are worth up to $6.7 million at the auction level.
What Are the Characteristics of Paul Klee's Artworks?
The characteristics of Paul Klee artworks include simple figures, an expression of fantastical images, child-like imagery, the use of mixed media, geometrical figures, abstract subjects, and both polychrome and monochrome works.
Isabella studied at the University of Cape Town in South Africa and graduated with a Bachelor of Arts majoring in English Literature & Language and Psychology. Throughout her undergraduate years, she took Art History as an additional subject and absolutely loved it. Building on from her art history knowledge that began in high school, art has always been a particular area of fascination for her. From learning about artworks previously unknown to her, or sharpening her existing understanding of specific works, the ability to continue learning within this interesting sphere excites her greatly.
Her focal points of interest in art history encompass profiling specific artists and art movements, as it is these areas where she is able to really dig deep into the rich narrative of the art world. Additionally, she particularly enjoys exploring the different artistic styles of the 20th century, as well as the important impact that female artists have had on the development of art history.
Learn more about Isabella Meyer and the Art in Context Team.
Cite this Article