Albrecht Dürer was one of the most prolific artists from the Northern Renaissance, and one that has been remembered for his mastery in depicting detailed portrayals of animals and plants, beyond the everyday depiction of peasants and saints. In this article, we will discuss one of his most popular paintings, Young Hare (1502).
Artist Abstract: Who Was Albrecht Dürer?
Albrecht Duerer (his surname is usually spelled as Dürer) was a German artist, born in Nuremberg, born on May 21, 1471, and died on April 6, 1528. His father, Albrecht Dürer the Elder, was a goldsmith and Barbara Holper was his mother's name. There were reportedly 18 children in his family. He apprenticed for his father from a young age, but eventually, he apprenticed for Michael Wolgemut, who was a printmaker and painter at the time.
He also studied under various other artists while he traveled Europe and became masterful at woodcuts, engravings, and painting.
He was inspired by the art from the Italian Renaissance and became a pioneering Northern Renaissance artist who also inspired artists from the Italian Renaissance, especially his prints. He was also known for his keen eye for detail and naturalistic depictions of subject matter. Some of his famous artworks include The Four Horsemen of the Apocalypse (1498) and Self-Portrait with Fur-Trimmed Robe (1500) and Praying Hands (1508).
Self-portrait (1500) by Albrecht Dürer; Albrecht Dürer, Public domain, via Wikimedia Commons
Young Hare (1502) by Albrecht Dürer in Context
We will discuss the Young Hare analysis in more detail below, starting with a brief contextual analysis of the characteristics of Albrecht Dürer's art within the scope of the Northern Renaissance, as well as why he possibly painted it. We will then discuss a formal analysis, taking a closer look at Dürer's rabbit and how he created it in terms of the art elements and principles.
It is important to note that Albrecht Dürer's surname can be spelled differently. We have introduced him here as Albrecht Dürer, although Duerer is another, less-common usage.
| | |
| --- | --- |
| Artist | Albrecht Dürer |
| Date Painted | 1502 |
| Medium | Watercolor and body color (gouache) on paper |
| Genre | Still-life painting |
| Period / Movement | Northern Renaissance |
| Dimensions (cm) | 25.1 x 22.6 |
| Series / Versions | N/A |
| Where Is It Housed? | Albertina Museum, Vienna, Austria |
| What It Is Worth | The exact value is uncertain |
Contextual Analysis: A Brief Socio-Historical Overview
Albrecht Dürer was a multi-talented artist with proficiency as a painter, engraver, drawer, draughtsman, writer, and theorist. He was active during the Northern Renaissance period, which ran alongside the Italian Renaissance, however, the stylistic approaches were different.
It is important to note some of the common differences to understand Dürer's "Young Hare", which was a subject matter not typically painted or acceptable to paint.
Northern Renaissance artists focused more on painting everyday scenes from the lives of peasants but related to religious devotion. The Italian artists painted mythological scenes from Classical Greece and Rome, as well as Biblical narratives.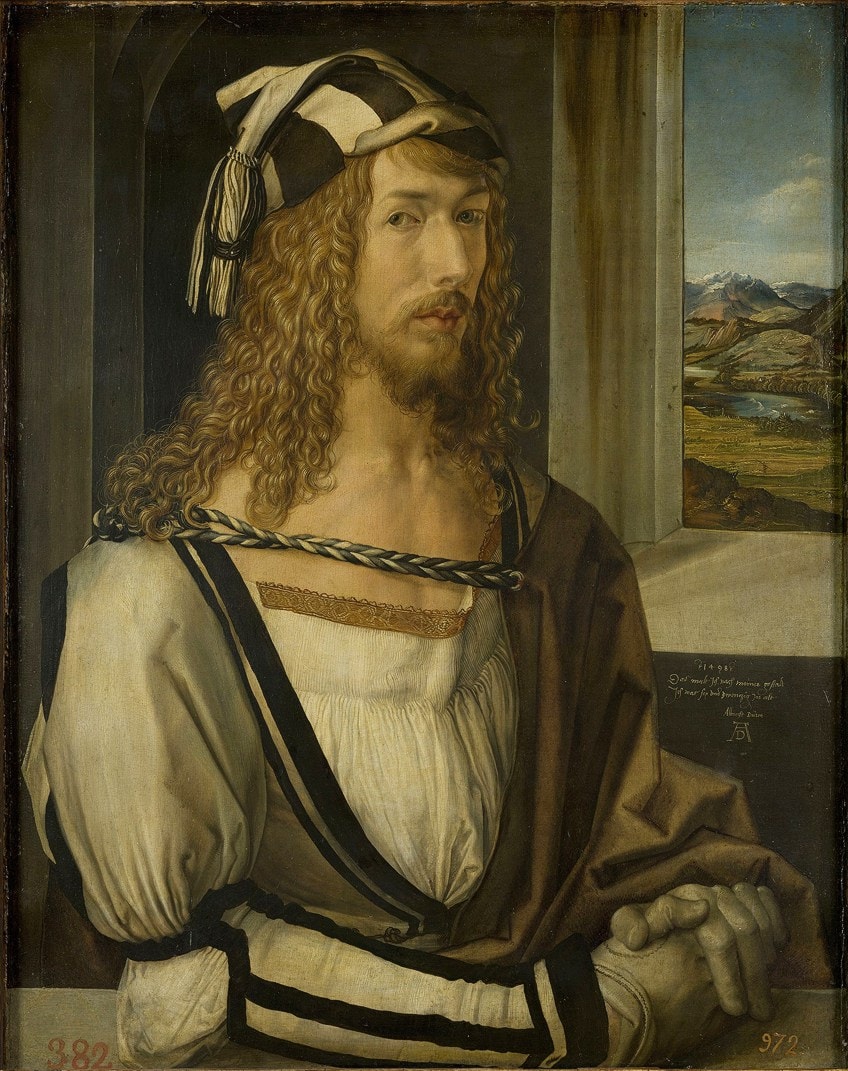 Self-portrait (1498) by Albrecht Dürer; Albrecht Dürer, Public domain, via Wikimedia Commons
Furthermore, the Italian Renaissance artists often painted in service to the Papacy, and there would be an element of idealization of the subject matter, whereas the Northern artists were influenced by the ideals held by Protestantism and the Reformation.
The Northern Renaissance artists then started painting different types of subject matter.
Among these were Dürer's still life paintings of nature and animals, some famous and often referred to examples include his other watercolor Great Piece of Turf (1503) and the later woodcut The Rhinoceros (1515), each depicting detailed "observations" or studies of the subject matter.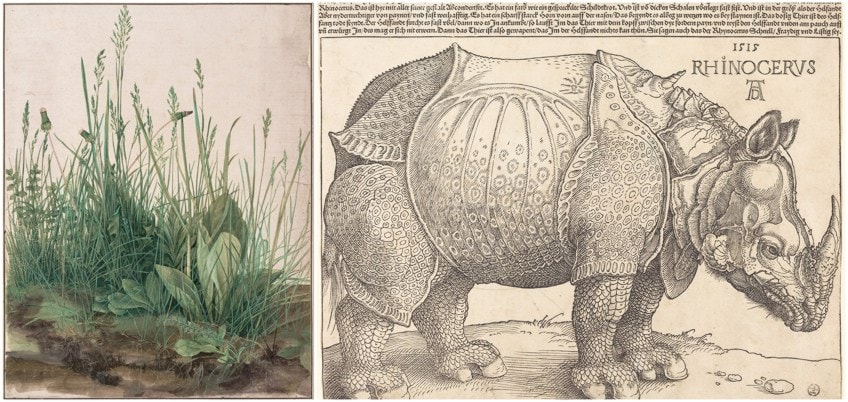 LEFT: Great Piece of Turf (1503) by Albrecht Dürer; Albrecht Dürer, Public domain, via Wikimedia Commons | RIGHT: The Rhinoceros (1515) by Albrecht Dürer; Albrecht Dürer, CC0, via Wikimedia Commons
Formal Analysis: A Brief Compositional Overview
Below we will discuss the Young Hare painting in more detail in terms of how Albrecht Dürer utilized colors, and brushwork, what types of lines and shapes are dominant, as well as how the compositional space is occupied. We will start with a visual description.
Subject Matter: Visual Description
The Young Hare by Albrecht Dürer depicts a brown-furred hare in a semi-rested position; it is propped up and almost lying down. Its front legs and paws are placed parallel to each other and placed under its furry chest, and its hind legs are tucked under its stomach area. Its eyes are focused in front of it and there is a visible glimmer of a reflection noticeable in its right eye (our left) and a partial glimmer in its left eye (our right). Its ears are propped up, but there is a partial twisting of its right ear (our left).
Some have described the hare as ready to jump away as if it has spotted someone or something (possibly us, the viewers?). Furthermore, the hare is depicted in a naturalistic manner, described as "hyper-realistic", with great attention to detail on Dürer's part.
Young Hare (1502) by Albrecht Dürer; Albrecht Dürer, Public domain, via Wikimedia Commons
It is also a contested question of whether Dürer painted a real-life hare or if he had a stuffed hare in his studio/workshop. Furthermore, many scholars have pointed out the reflection in the hare's right eye (our left), which appears to be a window.
This indicates that Dürer possibly painted the hare in a studio/workshop.
The idea that Dürer painted the hare in a studio/workshop is also questioned because the artist often painted effects like reflected light to add more vibrancy to the subject matter so that it appears more real. Therefore, the reflection could simply be an effect to give the hare more realism. At the bottom of the page or composition is Albrecht Dürer's monogram, which appears almost like a logo signature, depicting the artist's initials "A" and "M" as well as the date, "1502", above it.
A detail of the artist's signature in Young Hare (1502) by Albrecht Dürer; Albrecht Dürer, Public domain, via Wikimedia Commons
Color
The Young Hare appears in various hues of browns, from lighter tones to darker shades. There are also areas of white mixed with brown where its fur is softer and fluffier near its stomach area as well as near the right side (our left) of its face.
Reportedly, Dürer's painting process consisted of sketching the hare, followed by the application of watercolors and gouache.
He also applied what is known as a "wash" and then more variations of colors utilizing the bodycolor and watercolor paints to fill in the fur as well as other details like the eyes. He applied layers of paint to create various color and textural effects.
There is also a light source, which appears to originate from the left of the composition and casts the hare's shadow to the right of the composition. If the reflection in the hare's eye is indeed Dürer's studio/workshop window, the light source could possibly originate from it.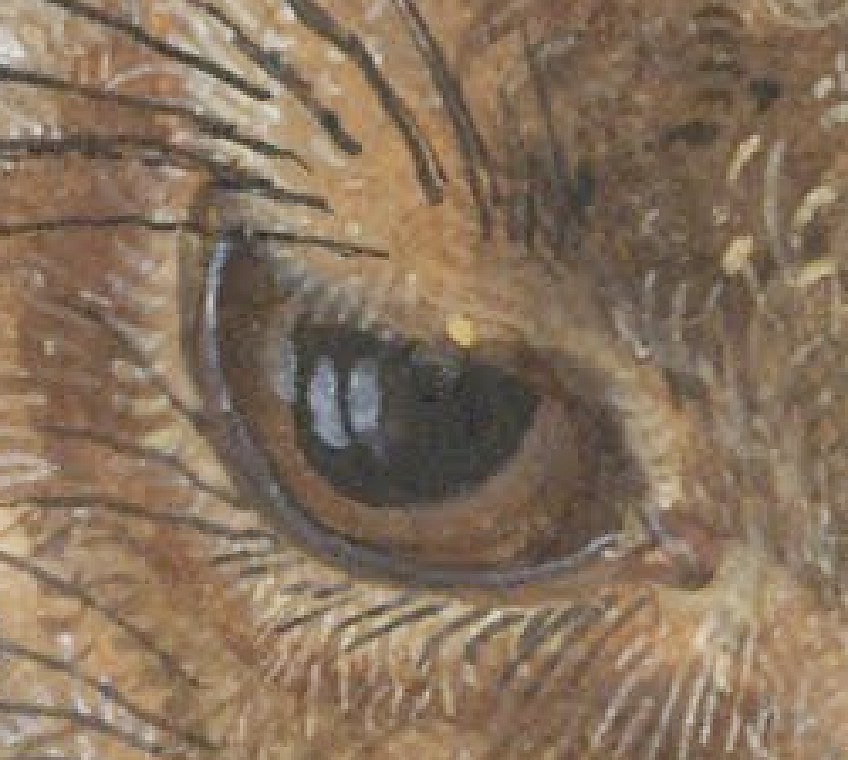 A detail of Young Hare (1502) by Albrecht Dürer; Albrecht Dürer, Public domain, via Wikimedia Commons
Texture
Texture is a significant part of the Young Hare by Albrecht Dürer, which appears as implied texture from the skillful application of brushstrokes as well as the physical appearance of the brushstrokes that also creates a visual embodiment of the animal.
Dürer applied variations of brushstrokes, from short, choppier, strokes, especially around its face and ears to longer, curvier brushstrokes to indicate the curls of the fur and hairs.
Additionally, the brushstrokes also vary in thicknesses, from thin strokes appearing around most of its body to indicate the thinner hairs to the thicker strokes visible on the tops of its front legs and around its nails.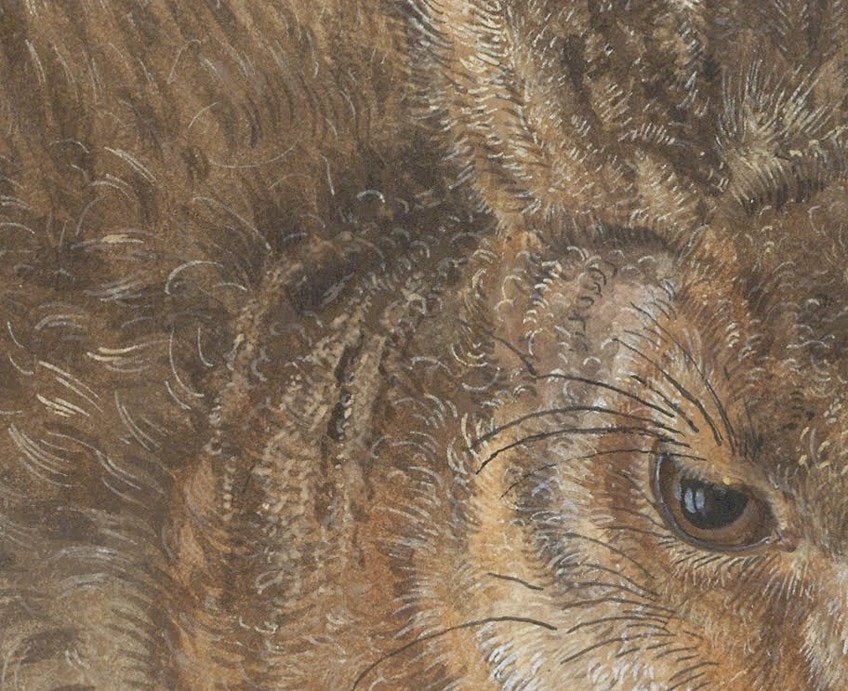 Texture in Young Hare (1502) by Albrecht Dürer; Albrecht Dürer, Public domain, via Wikimedia Commons
Line
There are primarily curved and curly lines created by the brushstrokes in Young Hare by Albrecht Dürer, which portray the hare's hair and fur. These types of lines are organic, thus creating a naturalistic depiction of the furry animal.
Shape and Form
The shapes and forms that dominate the Young Hare painting are organic, which means that it is based on natural forms, and in this depiction, it is the natural form of an animal.
Some of the dominant shapes that occur are more curved and rounded.
Examples include the shape of the hare's body to the more angular shape of its nose, which still holds a natural curvature. Its front legs create an almost rectangular elongated shape, but it too retains a curvature we only find in natural forms.
Shape and form in Young Hare (1502) by Albrecht Dürer; Albrecht Dürer, Public domain, via Wikimedia Commons
Space
Dürer depicted the hare facing us, the viewers, but from an angle; we mostly see the right side of the hare's body. Additionally, the angle is also slightly from above, as if we are looking down at the hare. This creates more dynamism in the painting and provides contrast.
If we look at positive and negative space, here the hare takes up the positive space and the rest of the area on the piece of paper is the negative space.
Dürer's Dear Rabbit
Reportedly there were around 13 copies made of Dürer's rabbit – a more endearing term as we have grown fond of this small mammal throughout the centuries. However, the Young Hare was also copied by Hans Hoffmann, another German artist, who also produced numerous other nature studies paintings.
While it may not be certain whether Albrecht Dürer painted the "Young Hare" strictly as an "observational" study of an animal or if he intended for it to have a deeper, more devotional, meaning beyond its naturalistic rendering, what remains clear is that the German artist excelled at recording fauna and flora in detail from the world around him.
Frequently Asked Questions
Who Painted the Young Hare?
The Northern Renaissance painter Albrecht Dürer, also known as Duerer, painted the Young Hare in 1502. It is also titled Feldhase in German, which translates to the so-called Field Hare. According to numerous examples that discuss the Young Hare analysis the animal is believed to be older than the title suggests.
Where Is the Young Hare Painting?
The Young Hare (1502) painting is housed at the Albertina Museum in Vienna, Austria. Reportedly it only goes on display every several years in the museum's so-called special exhibitions in an effort to maintain its preservation and limit its exposure to light due to its sensitivity.
Why Did Dürer Paint the Young Hare?
It is believed that Dürer painted the Young Hare (1502) simply to paint it and make a visual depiction or near scientific study of the animal. There is reportedly no inherent symbolism or meaning behind the composition; however, this is also questionable as some scholars believe it was to complement the development of his other artworks.