German artist Albrecht Dürer was a famed theorist, printmaker, and painter of the German Renaissance period. Albrecht Dürer's woodcuts helped establish his fame and influence throughout Europe when he was only in his 20s. Albrecht Dürer's etchings were only one part of his overall output though, and he was also known for his books and paintings. Albrecht Dürer's paintings were produced with watercolors and marked him as being one of the earliest European landscape painters, while Albrecht Dürer's woodcuts redefined the medium's possibilities.
Albrecht Dürer's Biography
Who was Albrecht Dürer and what is Albrecht Dürer known for? Dürer the artist's incorporation of classical elements into Northern artwork, aided by his understanding of Italian painters and the humanists of Germany, cemented his status as a pivotal individual of the Northern Renaissance. This is supported by the German artist and theorist's philosophical treatises, which include mathematical concepts, perception, and optimum proportions. But before getting into any more details about his artwork, let's start with his life by answering questions like "Where was Albrecht Dürer born?"
| | |
| --- | --- |
| Nationality | German |
| Date of Birth | 21 March 1471 |
| Date of Death | 6 April 1528 |
| Place of Birth | Nuremberg, Roman Empire |
Early Life
German artist Albrecht Dürer was born on the 21st of May, 1471, to Barbara Holper and Albrecht Dürer the Elder, who had a total of 18 children. Albrecht Dürer the Elder was a skilled jeweler who had relocated to Nuremberg from Hungary in 1455. When he graduated as a master himself, he wedded Holper, his master's daughter.
In the year Dürer was born, Anton Koberger, Dürer's godfather, quit goldsmithing to pursue a profession as a publisher and printer.
He rose to become Germany's most prolific publisher, eventually controlling 24 printing production lines and numerous offices in Germany and worldwide. The Nuremberg Chronicle, which had an unparalleled 1,809 woodcut drawings from the Wolgemut studio, was Koberger's most renowned publication.
A woodcut showing the Egidienplatz in Nuremberg in the early 16th century. On the left is the house where Koberger's printing shop operated; Anton Coberger, Public domain, via Wikimedia Commons

Young Dürer the artist may have contributed to some of these, given the initiative began when he was with Wolgemut. Dürer's life is thoroughly recorded in various sources since he left autobiographical memoirs and was well recognized by his mid-20s.
Dürer acquired the fundamentals of goldsmithing and sketching from his father after just a few years of schooling.
Despite his father's desire for him to continue his study as a goldsmith, he showed such an early skill in sketching that he began as an assistant in 1486 to Michael Wolgemut at only 15 years of age. In 1484, Dürer the artist created a silverpoint self-portrait, titled When I Was a Youngster according to his subsequent inscription.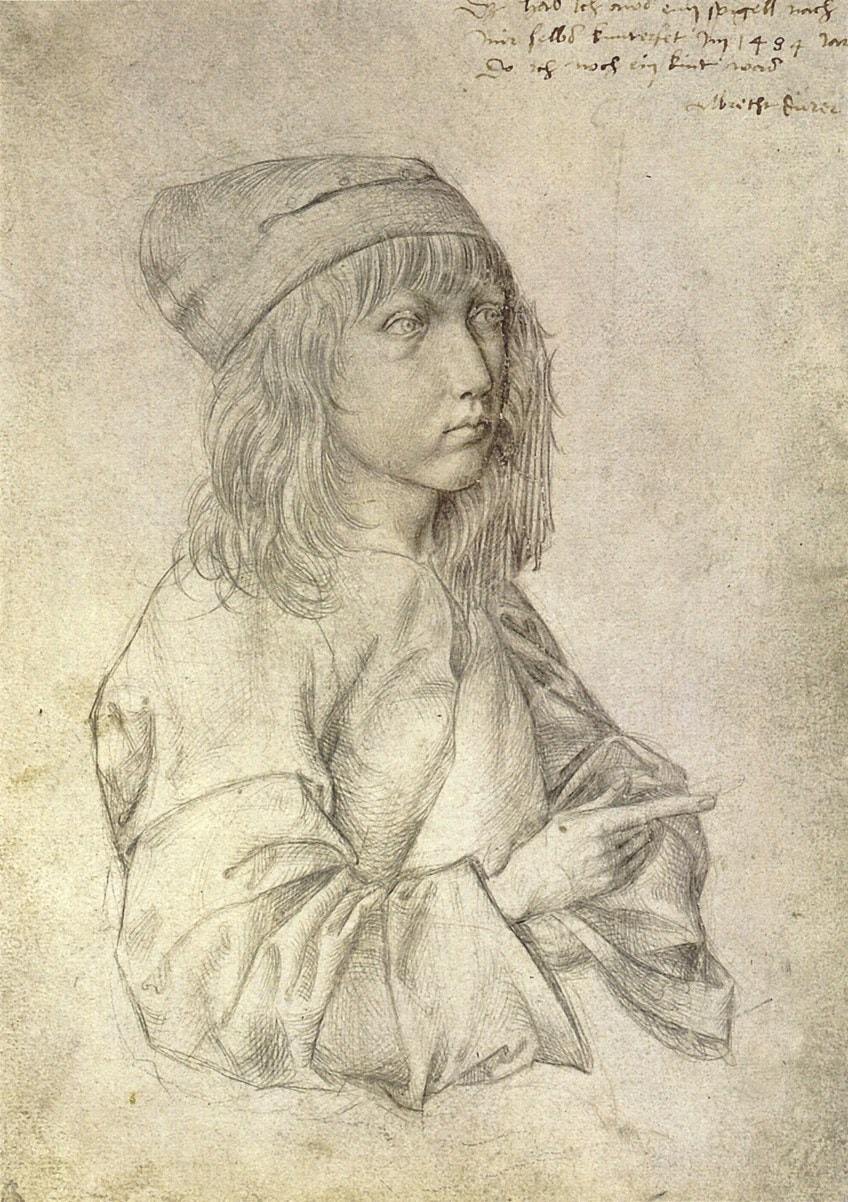 "When I Was a Youngster" self-portrait at age 13 (1484) by Albrecht Dürer; Albrecht Dürer, Public domain, via Wikimedia Commons
The picture is one of the oldest surviving children's sketches of any type, and it has helped identify Dürer's output as emanating from, and constantly tied to, himself. Wolgemut was the most prominent artist in Nuremberg at that time, with a huge studio creating a wide range of artwork, particularly woodcuts for books.
Nuremberg was a significant and rich city at the time, a center for publishing and numerous luxury enterprises. It had close ties with Italy, particularly Venice, which was only a short journey across the Alps.
Gap Years and Marriage
Following the completion of his training, Dürer followed the customary German practice of taking Wanderjahre, or "gap years," during which the trainee learned skills from craftsmen in various fields; Dürer was to spend around four years abroad. He departed around 1490, presumably to work under Martin Schongauer, Northern Europe's greatest engraver, who passed away shortly before Dürer's visit to Colmar in 1492.
It is unknown where Dürer traveled at this time, but it is possible that he visited the Netherlands.
Dürer created his first self-portrait, Self-Portrait (1493), during this period, most likely to send back to his betrothed in Nuremberg. Dürer married Agnes Frey shortly after his arrival back in Nuremberg, on the 7th of July 1494, after an agreement made during his exile.
Self-Portrait (1493) by Albrecht Dürer; Albrecht Dürer, Public domain, via Wikimedia Commons
Agnes was the offspring of a notable brass craftsman. Unfortunately, the marriage produced no progeny, and the Dürer surname faded out with Albrecht. The union of Albrecht and Agnes was not typically joyful, as evidenced by Dürer's letters to Willibald Pirckheimer, in which he remarked in an excessively harsh manner about his spouse.
He referred to her as an "old crow" and uttered other derogatory remarks.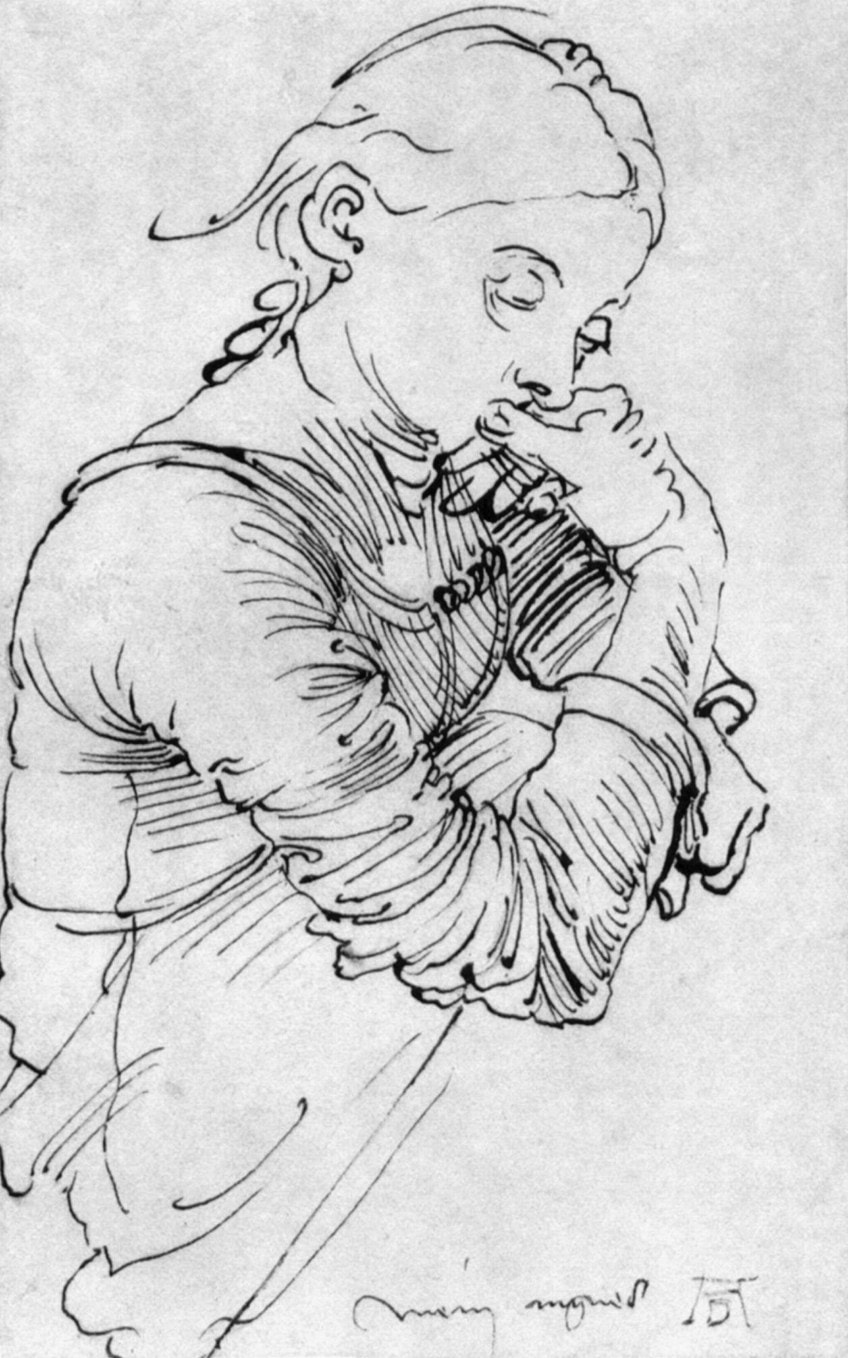 "My Agnes" (c. 1494) by Albrecht Dürer. Agnes, who still appears girlish, even childlike, here, is sitting at a table and supporting her head pensively on her right hand, her hair tied back. The intimacy of this everyday sketch is unusual, showing the depicted woman at a moment when she evidently thought herself to be unobserved; Albrecht Dürer, Public domain, via Wikimedia Commons
Pirckheimer likewise made no pretense of his dislike for Agnes, characterizing her as a selfish witch with a harsh tongue who contributed to Dürer's early death. One writer claims that Albrecht was bisexual, if not gay, based on the motifs of homosexual longing in numerous of his pieces, as well as the personal intimacy of his relationship with several extremely close male acquaintances.
First Time in Italy
Dürer went for Italy alone three months after his marriage, maybe prompted by a plague epidemic at Nuremberg. As he walked across the Alps, he did watercolor drawings. Some have survived, while others can be surmised from precise landscapes of genuine locations in his later career, such as Nemesis (1501-1502), one of Albrecht Dürer's etchings.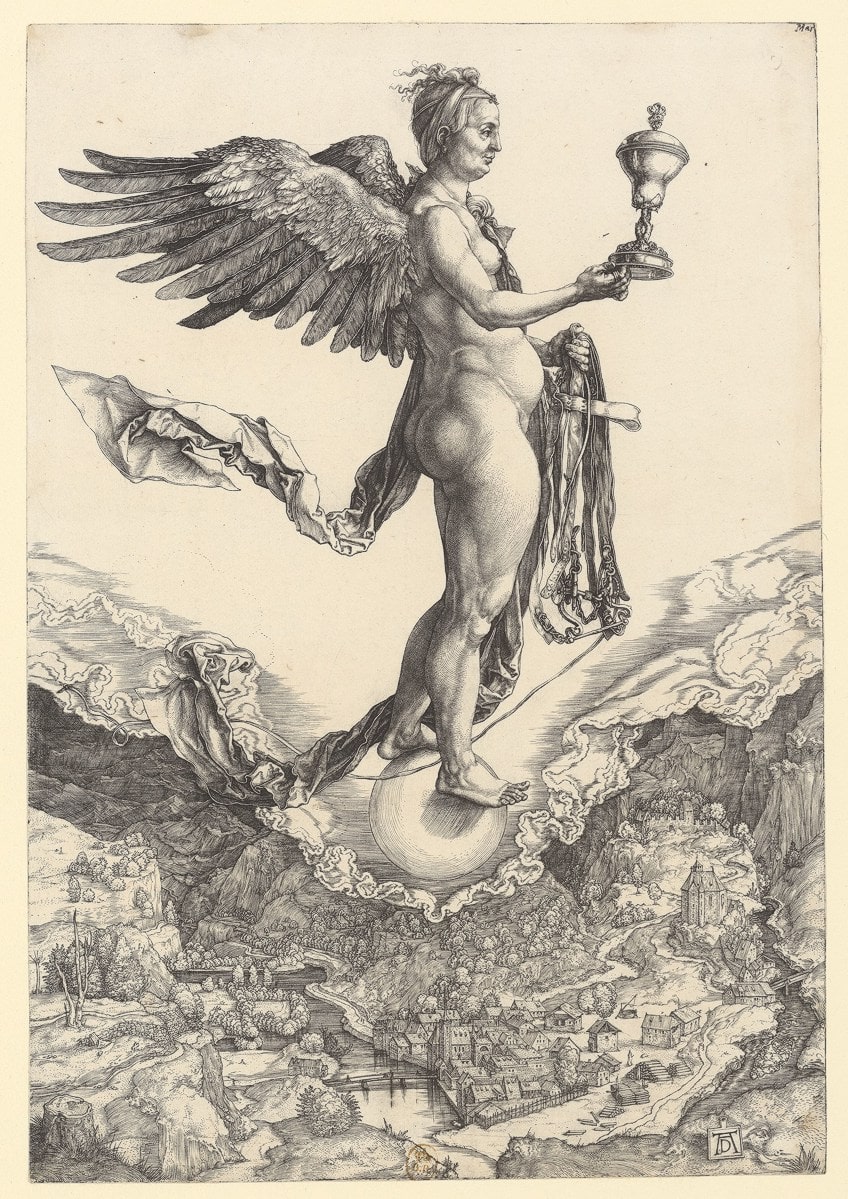 Nemesis (The Great Fortune) (1501-1502) by Albrecht Dürer; Albrecht Dürer, Public domain, via Wikimedia Commons
In Italy, he visited Venice to study the more evolved creative culture there. Dürer had learned how to create prints and produce woodcuts in the German style from Wolgemut, modeled on the creations of Schongauer.
He would have had access to certain Italian pieces in Germany as well, but his two trips to Italy had a huge impact on him.
He said that Giovanni Bellini was the eldest and greatest artist in all of Venice. His sketches and engravings reveal the influences of others, particularly Antonio Pollaiuolo, who was interested in bodily proportions; and Andrea Mantegna, whose works he copied while studying. On this journey, Dürer most likely also explored Mantua and Padua.
Return to Nuremberg
When Dürer returned to Nuremberg in 1495, he established his own workshop. Within the next five years, his work evolved to include more Italian elements into the core Northern shapes. Albrecht Dürer's woodcuts, predominantly religious but containing secular images such as The Men's Bath House (1496), were perhaps his greatest works in the early years of the studio.
The Men's Bath House (1496) by Albrecht Dürer; Albrecht Dürer, CC0, via Wikimedia Commons
These were bigger and finer cut than the vast majority of previous German woodblock prints, and significantly more complicated and harmonious in design. It is currently assumed that Dürer did not carve any of the woodblocks personally; this would've been done by a specialized artisan. Nevertheless, his apprenticeship in Wolgemut's workshop, which produced several engraved and decorated altarpieces as well as produced cut woodblocks clearly provided him a thorough grasp of what the method could yield and how to interact with block cutters.
Dürer either sketched his idea straight onto the woodblock or attached a sketch on paper to the block. In any case, his sketches were lost during the block's cutting.
His Apocalypse series of 16 designs are dated to 1498, as is his etching of St. Michael Fighting the Dragon. Within the same year, he completed the set of 11 works based on the Holy Family and saints. Dürer and his helpers completed the Seven Sorrows Polyptych, requested by Frederick III of Saxony in 1496. Dürer's father died in 1502. A few years later, Dürer completed the first 17 of a series depicting the Life of the Virgin, which he did not complete for some years. Although neither of these nor the Great Passion were issued as sets until many years later, prints were sold in large quantities.
St. Michael Fighting the Dragon (c. 1498) by Albrecht Dürer; Cleveland Museum of Art, CC0, via Wikimedia Commons
During the same time period, Dürer learned the arduous craft of engraving with the burin. It's conceivable he learned this technique during his initial instruction with his father, as it was a necessary skill for goldsmiths. His later landscapes, such as Willow Mill (1496-1498), are very distinct from his initial watercolors. The focus is considerably more on conveying ambiance than on showing landscape. He created several Madonnas, solo holy figures, and little settings with comedic peasant folk.
Willow Mill (1496-1498) by Albrecht Dürer; Albrecht Dürer, Public domain, via Wikimedia Commons
Prints are extremely portable, and Dürer's paintings quickly became well-known across Europe's major creative centers. Dürer met Jacopo de' Barbari in Venice, as well as when he toured Nuremberg in 1500, he stated he learned a lot about new discoveries in viewpoint, physiology, and proportionality from him.
De' Barbari refused to reveal anything he knew, so Dürer started his own research, which would become a lifetime obsession.
A sequence of existing sketches depicts Dürer's explorations with human proportion, which led to the renowned Adam and Eve (1504) engraving, which demonstrates his skill in texturing flesh surfaces with the burin. This is the only etching that has his whole name.
Adam and Eve (1504) by Albrecht Dürer; Albrecht Dürer, Public domain, via Wikimedia Commons
Many of Dürer's preliminary sketches, particularly for his paintings and prints, have survived, most notably the Praying Hands (c. 1508), a preparatory sketch for an apostle in the Heller altarpiece. He continued to paint in watercolor, along with a variety of still lifes of meadow areas or animals, such as his Young Hare (1502).
LEFT: Praying Hands (c. 1508) by Albrecht Dürer; Albrecht Dürer, Public domain, via Wikimedia Commons | RIGHT: Young Hare (1502) by Albrecht Dürer; Albrecht Dürer, Public domain, via Wikimedia Commons
Return to Italy
In Italy, he resumed painting, initially making a sequence of tempera on linen paintings. altarpieces, most notably the Adoration of the Magi, are among them. He went back to Venice in early 1506. By this time, Dürer's engravings had become extremely famous and were being reproduced. In Venice, he was granted a significant contract for the church of San Bartolomeo by the ex-pat German population. This was the Adoration of the Virgin altarpiece.
Portraits of the people of Venice's German population are included, yet there is a distinct Italian influence. It was eventually purchased by Emperor Rudolf II and moved to Prague.
Feast of the Rosary (Adoration of the Virgin) (1506) by Albrecht Dürer; Albrecht Dürer, Public domain, via Wikimedia Commons
Masterworks and Nuremberg
Notwithstanding the Venetians' high admiration for him, Dürer returned to Nuremberg in mid-1507 and remained in Germany until 1520. His renown had extended throughout Europe, and he was friends with and in contact with the majority of the famous painters, including Raphael. During this time, he also finished two woodcut sets, The Life of the Virgin and The Great Passion, both of which were published in around 1511.
LEFT: The Life of the Virgin (c. 1511) frontispiece by Albrecht Dürer; Albrecht Dürer, CC0, via Wikimedia Commons | RIGHT: The Great Passion: Christ, Man of Sorrows (c. 1511) by Albrecht Dürer; Cleveland Museum of Art, CC0, via Wikimedia Commons
Albrecht Dürer's woodcuts demonstrate his use of chiaroscuro modeling effects, which provide a mid-tone across the print against which shadows and highlights may be contrasted. Additional exceptional pen and ink works from Dürer's 1513 era of creative production were sketches for his acquaintance Pirckheimer. These sketches were eventually utilized to create the Lusterweibchen chandeliers, which combine an antler with a wood figure. In 1515, he produced his Rhinoceros based on a written report and drawing by another artist who had arrived in Lisbon, despite never seeing the animal firsthand.
The depiction of the Indian rhinoceros is so powerful that it is still one of his greatest and was still featured in certain German school textbooks as recently as the previous century.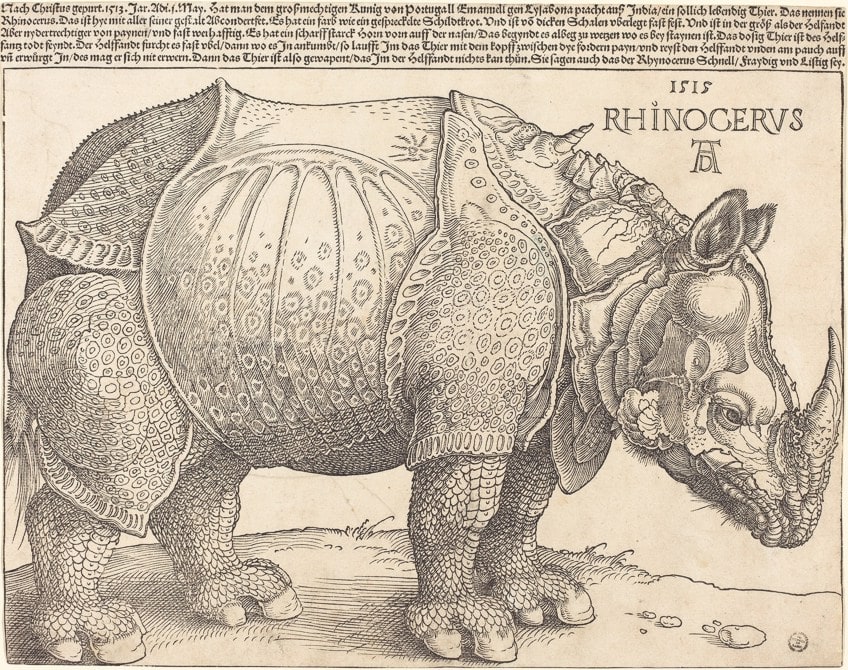 The Rhinoceros (1515) by Albrecht Dürer; Albrecht Dürer, Public domain, via Wikimedia Commons
In the years running up to 1520, he created a diverse array of artworks, such as the woodblocks for the very published star charts in the west in 1515 and tempera on linen portraits in 1516. His lone forays at etching occurred during this time period using a method he may have discarded as unsuitable for his orderly, classical taste.
Dürer used a pen to create the marginal illustrations for a version of the emperor's printed Prayer-Book; they were unnoticed until imitations were produced in 1808 as a portion of the very first book released in lithography. Dürer's production on the book was interrupted for an unknown cause, and the decorating was completed by painters such as Hans Baldung.
Dürer also painted numerous portraits of Maximilian, including one soon before his death in 1519.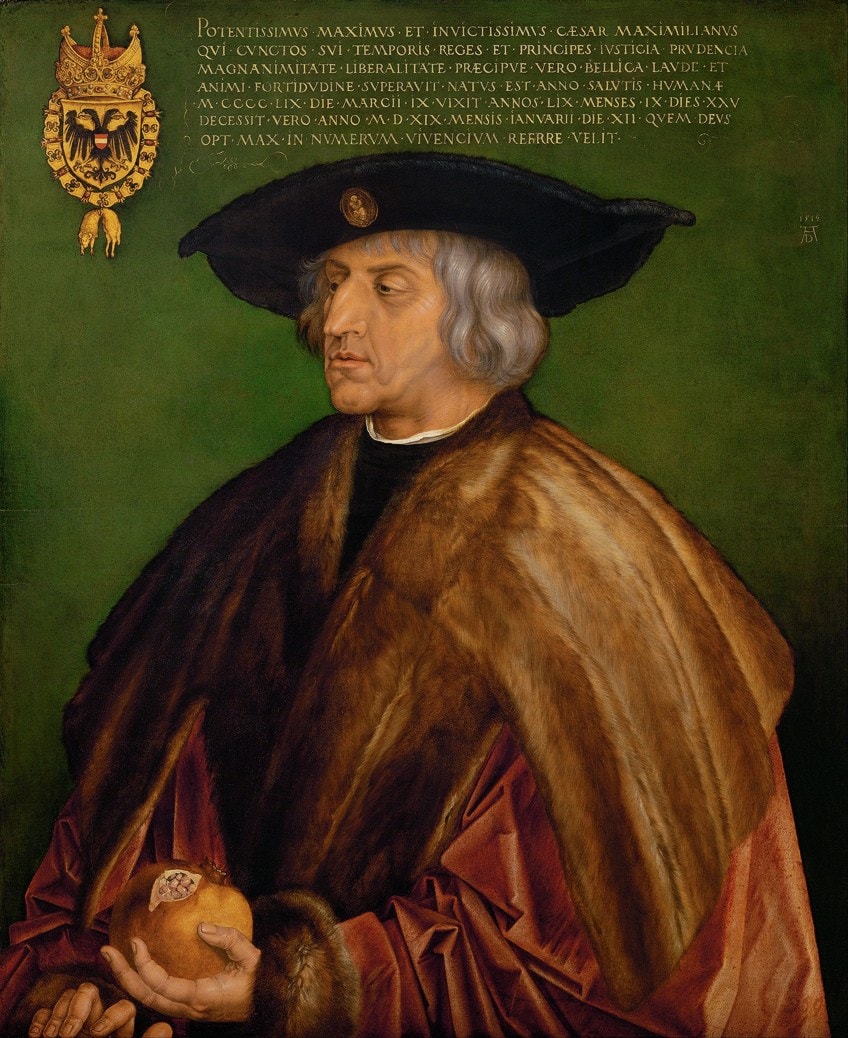 Emperor Maximilian I (1519) by Albrecht Dürer; Albrecht Dürer, Public domain, via Wikimedia Commons
Maximilian was a cash-strapped monarch who occasionally avoided paying, yet he was Dürer's most significant sponsor. Artists and scholarly men were esteemed in his courts, which was unusual at the period. Pirckheimer was an influential personality at the court and a major cultural patron, and he had a tremendous impact on Dürer as an instructor in classical understanding and humanistic rigorous assessment, as well as a partner.
Dürer worked in Maximilian's court among a slew of other renowned artists and academics of the period, including Konrad Peutinger, Johannes Stabius, and Conrad Celtes.
Portrait of Emperor Maximilian I (1519) by Albrecht Dürer; Albrecht Dürer, Public domain, via Wikimedia Commons
Dürer took great satisfaction in his abilities as a master of his trade. The emperor tried to draw with charcoal himself one day to offer Dürer an idea, but he constantly shattered it. Dürer snatched the charcoal from Maximilian's grip, finished the sketch, and said, "This is my scepter." On another occasion, Maximilian realized that Dürer's ladder was excessively short and unsteady, so he asked a noble to support it for him. The noble declined, claiming that serving a non-noble was beneath him.
Maximilian then approached the noble and informed him that he could create a noble out of a beggar any day, but he couldn't produce a painter like Dürer out of a peasant.
Trip to the Netherlands
Maximilian's passing occurred at a period when Dürer was anxious that he was possibly losing his "vision and mobility of hand" (possibly due to arthritis) and was becoming progressively influenced by Martin Luther's teachings. Dürer undertook his fourth and final big visit in July 1520, to extend the Imperial stipend Maximilian had granted him and to obtain the favor of the new ruler, Charles V, who was to be inaugurated at Aachen.
Dürer traveled over the Rhine with his spouse and servant to Antwerp, where he was warmly greeted and made several works in charcoal, silverpoint, and chalk.
Antwerp Harbour (1520) by Albrecht Dürer; Albrecht Dürer, Public domain, via Wikimedia Commons
Dürer brought a huge stock of artworks with him and kept a record of who he gifted, traded, or sold them to and how much he paid for them. This is unique information on the financial worth imposed on prints at the time. Unlike paintings, their sales were almost never documented.
While offering vital documentation evidence, Dürer's Dutch journal also demonstrates that the journey was not financially successful.
Dürer, for example, handed his last painting of Maximilian to his child, Margaret of Austria, but later swapped the painting for some white fabric after Margaret despised it and refused to take it. Dürer came home in July 1521, having contracted an unspecified ailment that would plague him for the remainder of his life and significantly impair his rate of labor.
Final Years
Dürer returned to Nuremberg and worked on a variety of large religious projects, such as a crucifixion scene, however, none was completed. This might have been owing to his fading health, but it could also have been due to the time he spent preparing his conceptual studies on geometry and viewpoint, the ratios of humans and horses, and construction.
However, as a result of this shift in concentration, Dürer accomplished very little as an artist during the latter years of his life.
Madonna and Child (1526) by Albrecht Dürer; Albrecht Dürer, Public domain, via Wikimedia Commons
Only Madonna and Child (1526), a portraiture of Hieronymus Holtzschuher, and Salvador Mundi (1526) were produced, the latter of which was never quite finished. Notwithstanding his complaints about his absence of a traditional classical background, Dürer was deeply engaged in intellectual topics and learned a great deal from his childhood companion Willibald Pirckheimer, with whom he no probably conferred on the substance of many of his works.
Salvador Mundi (1526) by Albrecht Dürer; Albrecht Dürer, Public domain, via Wikimedia Commons
He was particularly gratified by his connections and contact with Erasmus and other academics. During his lifetime, Dürer was able to complete two novels. The Four Books on Measurement, printed in Nuremberg in 1525, was the very first publication for grownups on mathematics in German, and it was later acknowledged by Kepler. The other, a study on city fortifications, appeared in 1527. After his death in 1528, The Four Books on Human Proportion were released posthumously.
The Four Books on Human Proportion (1528) by Albrecht Dürer; Anagoria, CC BY 3.0, via Wikimedia Commons
Dürer and the Reformation
Dürer's publications indicate that he was receptive to Luther's ideals, yet it is unknown whether he actually left the Catholic Church. "And God help me that I may travel see Dr. Martin Luther; therefore, I aim to produce a portrait of him with utmost care and etch him on a copper plate to leave a permanent remembrance of the Christian gentleman who aided me in overcoming so many problems," Dürer wrote in his journal in 1520.
"Due to our Christian beliefs, we have to suffer in ridicule and peril, for we are vilified and labeled heretics," Dürer stated in a message to Nicholas Kratzer in 1524.
The Last Supper (1523) by Albrecht Dürer; Albrecht Dürer, Public domain, via Wikimedia Commons
Subsequent works by Dürer have also been said to exhibit Protestant inclinations. His 1523 The Last Supper woodcut has frequently been seen as having an evangelical subject, centering on Christ preaching the Gospel and including the Eucharistic cup, a representation of Protestant utraquism, however, this view has been disputed. The delay in distributing the etching of St Philip, produced in 1523 but not released until 1526, might be attributed to Dürer's aversion to representations of saints.
Even though Dürer was not an ideologist, in his later years he assessed and challenged the function of art in faith.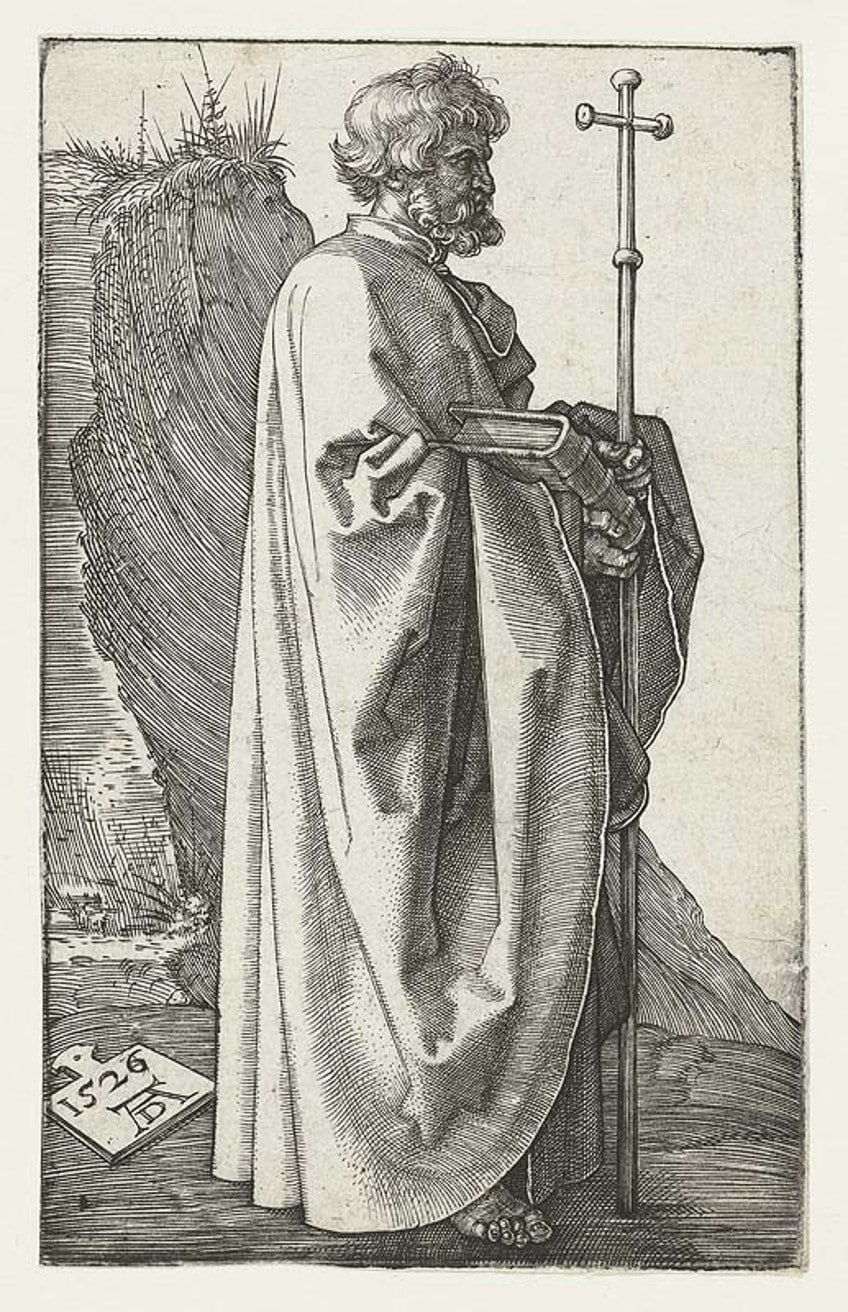 St Philip (1526) by Albrecht Dürer; Dürer, Public domain, via Wikimedia Commons
Albrecht Dürer's Art Style
Although he is most known as one of the finest artists to emerge from Northern Europe during the Renaissance, it is crucial to note that he produced a variety of styles and methods during his life. From his topics to the materials he employed, his creativity was diversified, albeit he concentrated on three key areas: paint, printing, and theoretical writings.
He built a studio after his homecoming from Italy in 1495 and polished his technique over the next five years, drawing on Italian Renaissance inspirations and integrating them with his northern European skill.
Exterior view of Albrecht Dürer's house in Nuremberg from the north-east, 1889; Photographic Archive of the Zentralinstitut für Kunstgeschichte, Public domain, via Wikimedia Commons
His major activity at the time was holy woodcut prints and intricate pieces of craftsmen with a harmonious composition. He began to learn the craft of engraving with burin in his workshop, which was influenced by his goldsmith training. His Prodigal Son (1494-1498) was a special masterpiece in this area since he utilized it to portray landscapes and animals. At the same time, he began combining watercolors with body colors before returning to Italy and experimenting with linen and tempera.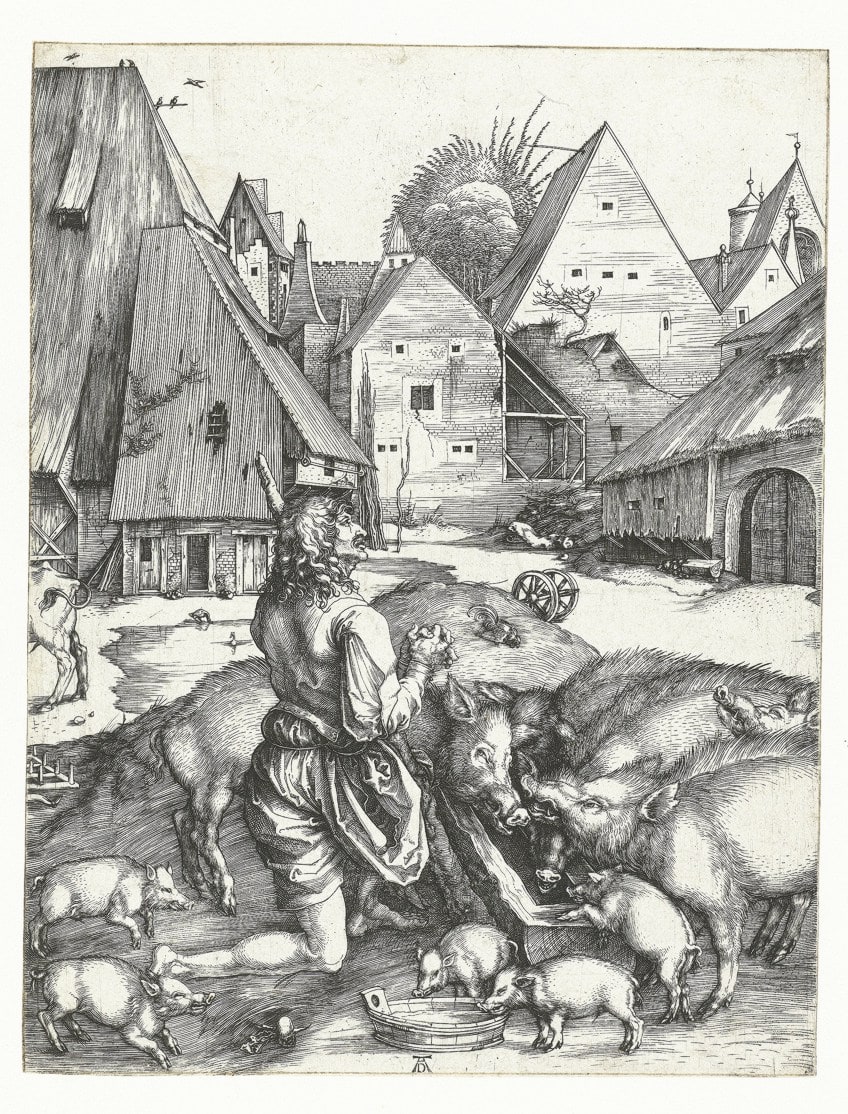 Prodigal Son amid the swine (1494-1498) by Albrecht Dürer; Albrecht Dürer, Public domain, via Wikimedia Commons
His altarpieces and portraiture from this time period clearly show the impact of Italian artwork as well as his Germanic heritage. The German artist returned to Nuremberg in 1507 and began making the works for which he is best known. He started with woodcuts with a significant Venetian influence and he created chiaroscuro effects on modeling. He was the first to realize that using a mid-tone in a print might emphasize and accentuate shadows.
Albrecht Dürer prioritized engravings, woodcuts, and linen portraits, but it wasn't until he was ordered by the emperors that he returned to painting.
Around 1518, he began to develop theoretical pieces before moving to the Netherlands, where he created numerous acclaimed drawings in charcoal, chalk, and silverpoint. Dürer was very conscious of what we would call his personal branding today. He began signing his paintings with his initials in the mid-1490s. Indeed, the "AD" monogram became so revered and precious that it was often forged by artists who copied his work. Dürer even brought one of them, Bologna's Marcantonio Raimondi, to court, resulting in the first copyright case in art history.
Monograms of Albrecht Dürer (15th/16th centuries); Albrecht Dürer, Public domain, via Wikimedia Commons
Influence and Legacy
Dürer had a major impact on subsequent generations of artists, particularly in printing, which was the medium via which his peers largely saw his art because his works were mostly in personal collections in just a few towns.
His success in extending his fame around Europe via prints was surely an influence for important painters such as Titian, Raphael, and Parmigianino, all of whom partnered with printmakers to market and disseminate their work.
His engravings appear to have frightened his German successors, the "Little Masters", who tried few big engravings but maintained Dürer's subjects in small, very constrained works. In the first third of the 16th century, Lucas van Leyden was really the only engraver from Northern Europe who successfully continued to make big engravings. Dürer's influence waned after 1515 when Marcantonio developed his new engraving technique, which spread across the Alps to rule Northern engraving.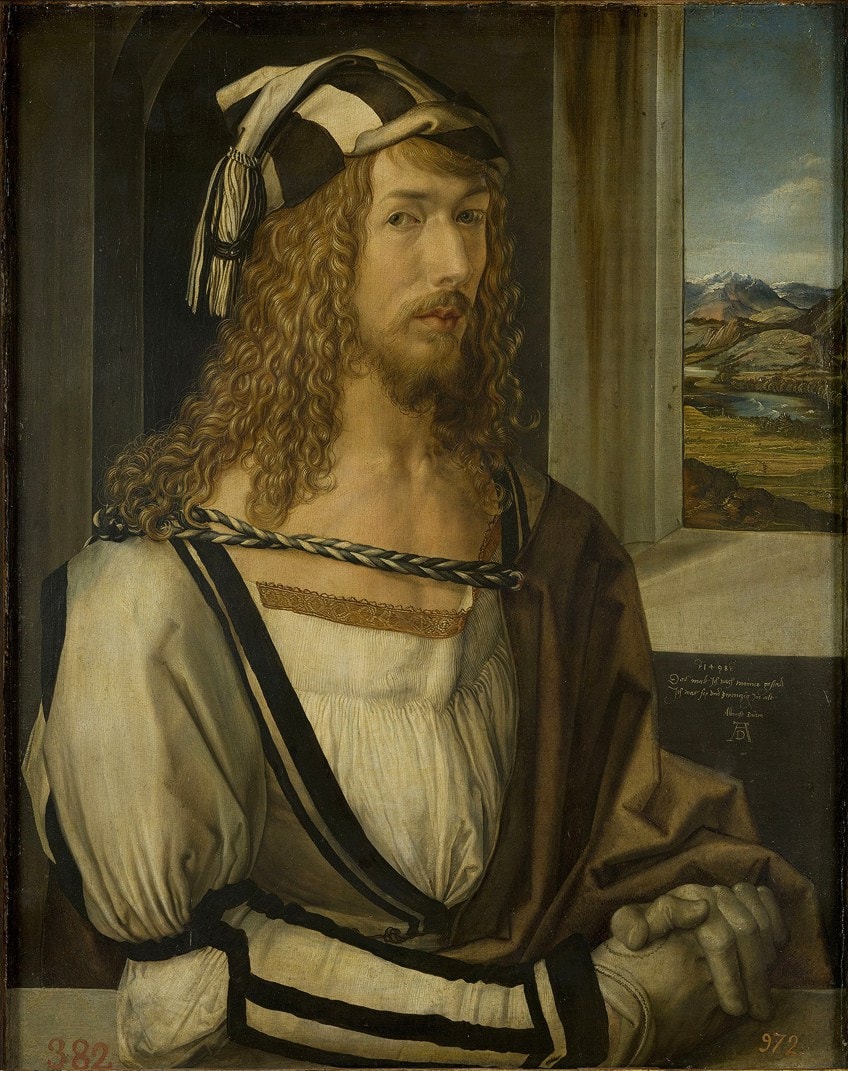 Self-portrait (1498) by Albrecht Dürer; Albrecht Dürer, Public domain, via Wikimedia Commons
In painting, Dürer had minimal impact in Italy, where his altarpiece in Venice was probably the only work viewed, and his German followers were less efficient in mixing German and Italian traditions. His powerful and self-dramatizing self-portraits have had a lasting impact, particularly on artists of the 19th and 20th centuries seeking a more theatrical portrait approach.
Dürer's paintings have never gone out of favor with critics, and there have been large revivals of enthusiasm in his oeuvre in Germany during the Dürer Renaissance.
Popular Artworks
The German artist was one of the first painters in Northern Europe to shift the perception of painting from a professional craft to a highly sought-after manifestation of brilliance. He was free to travel and deepen his studies after finishing his apprenticeship at the age of 19, and this understanding allowed him to create strong and inventive paintings that affected the rest of Europe. He was gifted, since he comprehended art and his part in its development, and he created a permanent influence on the art world. Here are some of his most renowned works of art.
Self-Portrait (1500)
Young Hare (1502)
Adam and Eve (1507)
Praying Hands (1508)
Rhinoceros (1515)
The Four Apostles (1526)
Madonna and Child (1526)
Self-Portrait (1500) by Albrecht Dürer; Albrecht Dürer, Public domain, via Wikimedia Commons
Recommended Reading
Did you enjoy learning more about Albrecht Dürer's biography and art? Maybe you want to explore Albrecht Dürer;s etchings even further. If so, simply click on any of the books below to discover even more!
Artist of the Reformation: The Story of Albrecht Dürer (2005) by Joyce McPherson
A history of Albrecht Dürer, one of the Renaissance and Reformation's most prominent artists. He published volumes on geometry, fortification, and human proportions, in addition to generating hundreds of engravings, woodcuts, sketches, and paintings. In his artwork textbook, Food for Young Artists, he deconstructed the concept of beauty. He introduced a Christian vision to the area of art, which is still important today.
Dürer was regarded as one of the most important intellectuals of the 16th century.
He observed the approaching Reformation and met persons like Martin Luther and Emperor Maximilian. Despite the fact that he produced works of art for affluent clientele, he rendered his woodcuts cheap to the general public. Dürer's stunning depictions of the biblical story and other topics gave the Bible to a large audience in this way. This biography contains more than 20 pictures by Albrecht Dürer, who remarked, "Painting is a beneficial skill when it is of a godly kind and applied for holy edification." Dürer's life and art are food for all who seek elegance and honesty, not only youthful artists.
A biography of one of the most influential artists of the Reformation
Includes over 20 brilliant illustrations by Albrecht Dürer
Written on a 5th- to 6th-grade reading level, appealing to all readers
View on Amazon
The Reformation Devotional (2017) by Mark Odland
This book showcases two of the Reformation's brightest thinkers. Martin Luther and Albrecht Dürer. Despite the fact that they never met, their life and religious paths intersected profoundly. With the development of the printing press, Luther's writings and Dürer's woodcuts were widely transmitted to not only the Germans, but to all of Europe, and thereby flipped the world on its head. In an era of political turmoil, religious warfare, and rampant sickness and violence, their positive message endures to this day.
This book features two of the greatest minds of the Reformation
A powerful devotional book that pairs Luther's words with Dürer's art
Creates dynamic and thought-provoking meditations
View on Amazon
Albrecht Dürer the artist was a well-known thinker, printer, and painter of the German Renaissance period. When Albrecht Dürer was just in his twenties, his woodcuts helped establish his popularity and influence throughout Europe. Albrecht Dürer's etchings, however, were only one aspect of his entire production; he was equally famed for his writings and paintings. Albrecht Dürer's watercolor works established him as one of the early European landscape painters, while his woodcuts broadened the medium's capabilities.
Frequently Asked Questions
Who Was Albrecht Dürer?
Albrecht Dürer is largely recognized as the best Renaissance artist to have emerged from Germany, and he is known as a respected thinker and painter. Dürer the artist's infusion of classical themes into Northern artwork, helped by his mastery of Italian artists and German humanists, established him as a prominent figure of the Northern Renaissance. This is reinforced by the philosophical treatises of the German artist and thinker, which incorporate mathematical principles, perception, and optimal proportions.
Where Was Albrecht Dürer Born?
The famous German artist was born in Nuremberg. At that time Nurenberg was part of the Holy Roman Empire. He was born on the 21st of May in 1471.
What Is Albrecht Dürer Known For?
Albrecht Durer is widely acknowledged as the best German Renaissance artist, and he is known as a respected painter, thinker, and woodblock producer. Dürer's paintings show a keen eye for detail and texture, as well as a fascination with the natural world. Dürer's figures are lifelike, with physical likeness and personality, as well as correct proportions. Dürer's paintings contain symbolic motifs.
Isabella studied at the University of Cape Town in South Africa and graduated with a Bachelor of Arts majoring in English Literature & Language and Psychology. Throughout her undergraduate years, she took Art History as an additional subject and absolutely loved it. Building on from her art history knowledge that began in high school, art has always been a particular area of fascination for her. From learning about artworks previously unknown to her, or sharpening her existing understanding of specific works, the ability to continue learning within this interesting sphere excites her greatly.
Her focal points of interest in art history encompass profiling specific artists and art movements, as it is these areas where she is able to really dig deep into the rich narrative of the art world. Additionally, she particularly enjoys exploring the different artistic styles of the 20th century, as well as the important impact that female artists have had on the development of art history.
Learn more about the Art in Context Team.